Uber
Uber Complaints Continued... (Page 4)
229+ reviews added so far. Upset? Call Uber corporate: 415-986-2104

Chris lopez
from Salem, OR
Hello I used in Uber yesterday 07-28-16 in Paris, France. I estimated that it was going to be 35-45 euros. I found out today that I was charged 95 euros....$105 US. I am shocked the distance from 9 villa de saxe Paris France to CDG airport was about 30-35 miles and took about 35 mins to get there from our hotel. I don't mind paying a fair price at all, but this is ridiculous and unacceptable. I used uber in Paris because, Did not want to pay for outrageous taxi prices. I am a loyal uber customer and am requesting a refund or a credit to my account of the difference. Please contact m via email, call or text about my complaint.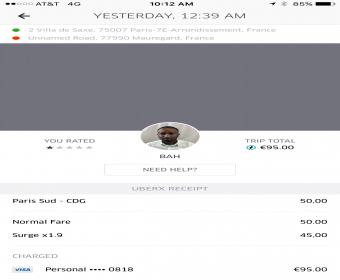 Shafiq Rehman
from Kenton, ENG
I picked up a job yesterday from NW3 going to TN15 the passengers was nice no problem they said you are a 5 stars driver. I asked them the route so we agreed to take M25 it was about 65 miles they requested air condition so I put it on for them I got to the destination got paid £119 for uber XL. This morning they deducted £54 I was very upset because customer complained.
I went the long way that's not true if I went via A2 it would have taken 3 hours. I always do my best to please riders but riders takes the advantage from us it's not fair I need my money back it's ridiculous. I always complained about the feedback I get bad rating no one listens to us but you listen to riders. Something needs to be done quickly it's not right please ask the drivers before you make decision thank you.

This is my first uber ride, and i am very upset. I was trying to get 7 miles from my current destination and have now been in this car for 20min at least. I am not going to pay for this ride when i had an estimated fare ride of 3$! I am riding with my family (5total) and we have yet to arrive to our destination. I am asking the driver to just take me back to my hotel. We are very unhappy. Please contact us back ASAP.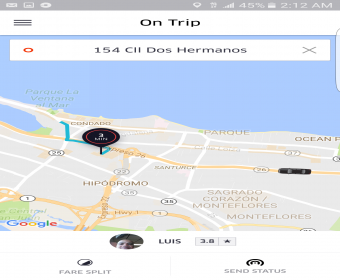 Lenard Sussman
from Concord, NC
I have signed up for Uber bit after finding out they cut there rates in half have decided to withdraw myself from any and all involvement with Uber. I have made countless attempts to reach someone to help me but there system is somehow designed to direct me to areas having nothing to do with getting help.

Karyn Malm
from Naperville, IL
I was over charged my last two trips. The mileage charged doesn't coincide with what the driver calculated! One charge over $16 and the other over $11 for very short trips.

Gabrielle preciado
from Whittier, CA
Someone is using my phone number for their Uber account and I want it removed from there. I am so irritated with random people calling and texting me saying that their ride is there for Francisco! Please handle this as soon as possible.

Juan Chico
from Newark, NJ
My driver got into an accident on June 10 and I end up going to the hospital now the insurance company keeps avoiding my case and doesn't want to cover it. It's now a month later I want to know if uber company can solve this issue case 90053004.

Susan Davidson
from Athens, GA
I got a new phone (BLU) and I downloaded the uber App. The message I received is "your account has been disabled". I emailed support @uber.com this morning 9:59am you lost a lot of business today. Please restore my account with the four half price rides still in tact. Thanks.

Radhika Gilani
from Toronto, ON
I was charged 5 for a cancellation charge, but the driver never showed up. I have sms proof to say he said i had the wrong number when i got his info through uber app on my phone. After he repeatedly said it was wrong number that's when i asked to cancel the order. So how can uber charge me for a services that was not provided in the first place and therefore must return that money to me. The Uber driver in Toronto was Shaheer and his contact number is hidden.

Brian Cole
from Palm Beach Gardens, FL
Somebody hacked my account and is using Uber and my Credit Card has been cancelled. I thought this app was safe but I guess it is not. Uber users beware!

Phillipine Francke
from Durban, ZN
I was charged a cancellation fee. Even though I did not cancel. I called the driver - thru uber at least 4 times to tell him which gate I was standing at. His phone was off. I even left a message stating which gate I was standing at.
Basically - I did not cancel and now I have to pay the cancellation. I then had to request another uber. And it was no problem at all because I could call the driver to say which gate to collect me.

I set up an Uber account in the US anticipating my trip to London. Upon arrival in London, my US phone number of course wouldn't work because I switched SIMS (Verizon charging unethical amounts of money for trivial minutes and data is another complaint). I tried to use Uber as transport to my AirBnB room in London and the process failed because the phone number associated with my Uber account was not the phone number associated with the new SIM I picked up at the airport.
I thought, of course, this makes sense, so I canceled my request for a ride from the airport. The next day I went into my account and switched the phone number associated with the account to the phone number my new SIM was carrying. Satisfied that this would most certainly solve the issue I began my journey on the 'tube'. Later, from downtown London, I tried Uber again. This time they said my card was bad (which had just worked no less than 20 minutes prior), so I added another one I knew to be working in the UK just in case.
I received another failure due to bad credit card. After this error, when I tried to log in to my Uber account I received an error indicating I should contact Uber to enable my account. When trying to do this I receive yet another error. Two emails to Uber support have yielded nothing but an automated reply. The only good thing that learning about Uber has brought me this far is the ability to negotiate a better fair with a London cab company.

Ahisa tanoh
from Abilene, TX
I have received your message and a copy of my receipt as well but what I am trying to tell you is I am a new customer I have never used or taken uber before. So I was not aware of something called uber black Like you said in The last email you sent me. I've reviewed your trip and confirmed that the trip was charged at the correct rate for the vehicle type requested uber black car. I came to ask you please to charge the normal fee for it.

I arranged for a pickup in NYC and was told 5 minutes. Nobody came and the time kept changing. Then they said uber was busy and to try again. So I did. It said another 5 minutes. My husband and I are looking on all 4 corners in the 90 degree heat and no car of the right description slows down or appears to be looking for us. It then says a new driver has been assigned and we start to look for him-now a different car and different face. By now over 20 minutes have passed so we give up and cancel the ride and take a cab. And then uber charges us $5 cancellation fee! They have agreed to apply that to our account but it would have been easier and cheaper to take a cab from the start.

Natalie Bauder
from Houston, TX
My husband signed up almost a month ago and he hasn't received an email or text saying he's good to go. Is there a reason for this?

Jennifer Lane
from South San Francisco, CA
I set up a Uber Driver to pick us up at the airport in SF and then he had called when he was there but he was not at the Arrival he was at the Departing. He wanted us to walk down to the Departing and we said no we were here at the Arrival and we cancelled the Uber. Never got a ride from him but we still got charged. I would like the money put back on my card ASAP. PS I will be calling Uber headquarters also.

Andrea Scappini
from Miami, FL
I had a credit of $30 from a Chase promotion, but I see you charged me for rides without applying the credit. Why is that?

Naomi Martell
from Chicago, IL
On July 19, 2016, I called an Uber from 9 Furnival Road, Jamaica Plain, Boston to Boston Logan Airport. Before 5 minutes from the driver arrive ,he canceled the ride on me. I notice that I was charged $5.00 dollars in my account for the ride that I never took. I therefore would like to file a complaint against to this particular driver. Please keep me inform of any further action you will take on this case.

Steven Fang
from Westfield, NJ
My wife wants to update her cell phone number in Uber while she is traveling in China. We followed the instruction from Uber website but always received error. Then we contacted Uber support in Email (support@uber.com) requesting the phone number update. Eight days have passed, and we still have not heard anything from them. Very frustrated!!! The reason we need to update the phone number is that the US number cannot work in China while requesting a ride.

F. Scott Yeager
from Houston, TX
I left 2 iPhone's in the Uber car in Chicago. You have my phones now for over one month. Over $1,000 of value which right now you are not returning it so it is a felony to steal things. I need action and Uber had no phone or anyone and the person with the phone is doing nothing so it is like stealing them since you refuse to get them back. Do I need to contact the police and file a stolen goods form? Can a person in your company get my phones and sent them back?
I called them using another persons phone in 3 min. I called and beeped them all day. The driver did not respond ever. Then I filed a report which your company will do nothing with for 24 hours. I had to fly out in 8 hours so I lost my ability to deal with it locally and get my phones. Your system does not accommodate an immediate call to you to tell you to call the driver so I could do nothing. Then 2 days later your people said you would deal with it. I did get a text message from a person who said they would get the phones sent back. Here is the email thread for this. Please help and get me my phones and send me an email or call to tell me the shipping info.

Kathy Wells
from Sacramento, CA
Driver on San Francisco named Shirshah driving a white Toyota Camby has my daughter's cell phone. She left it in the on accident. On first contact about returning the phone, he said he would call back in 20 minutes. This was Saturday night, July 23rd. Multiple attempts have been to contact him with no success. The phone is locked and has been reported as stolen to SFPD. Please help us get the phone back. And I question the integrity of your drivers.

Malcolm Clark
from Santa Monica, CA
I'm have several problems with uber. I'm traveling at the moment, I'm from Perth Western Australia and I'm in Los Angeles. Uber won't let me add my usa number to my account so I can't contact or be contacted by drivers. This has caused many problems as the fairs are getting canceled as they cant find me in busy areas and I'm being charged for cancelations. I can't use a credit card I've added but uber has still charged my a help fee to that account. Unacceptable. How can you charge for help yet sent a notification saying that account is un usable for uber. Uber seems to have no problem charging me for inappropriate help fees but then won't allow that account for use in rides. This is ridiculous. I'm very disappointed with my experience abroad using uber.

Farhana Rafii
from Singapore, 01
I chose UberX yesterday as the fare was cheaper than Grabcar. Fare estimation was $20.10. I was traveling with 3 adults including myself & 2 young kids aged 2yrs & 9yrs old. My husband was seated in front next to the driver's seat. Myself, my helper & my 2 kids were seated at the back seat. 1 of my kids was sitting on my helper's lap as he is only 2yrs+ old. The driver was silent all the way throughout the journey. He did not inform me of anything like extra pax, additional charges or anything.
I did not realize till a while later (when i check my trip fare @ uber apps) that i was charged with $37! The normal base fare is $3 but i was charged with $20.42 for base fare! How could this be possible??? When i emailed uber, they investigated & was told that i was traveling with more than 4 pax. Hence, my fare was adjusted accordingly. Do both my kids aged below 12 yrs old considered as 2 adults? The youngest one is only 2yrs+ & was seated on my helper's lap. No one from uber support team called me to investigate further. They just took the driver's words without investigating.
I did not have any fare issues with other drivers when i travelled with the same number of pax. I have attached this driver's fare trip for your perusal.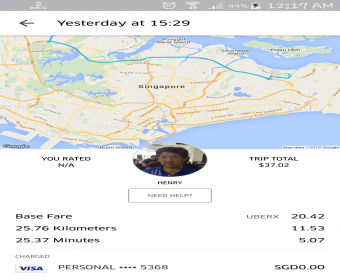 Brian Frere
from Lawrenceville, GA
I am thoroughly upset with your new Surge Charges you've placed in affect for contracting Uber. Your new charges has nothing to do with me contracting more drivers as your excuse implies. I am on a budget and was use to paying an average of $7.60 a trip to and from work 3.5 miles away. With your increase I calculate it has increased to over $100.00 a month more for using your services. If this is the case I will no longer utilize Uber and purchase a vehicle for my transportation needs.
If it is not your surge charge then your GPS app applied to this system is faulty and is charging wrong prices or your drivers drive away and not close out the trip and departure and are adding more minutes for their own profit. I have spent more than $400.00 a month on your services but your added charge puts me in a position to purchase my own car for my needs. After all the increase is the price of a decent car anyway. Sincerely a very disgruntled upset and dissatisfied customer.

Concerned Uber Customer
from Casa Grande, AZ
I received a pick up and ride with a young man, Uber driver in Phoenix, Az. During the ride he was making drug deals with friends. Specifically arranging a time and place to pick up Heroin. I was very uncomfortable. He played the music just loud enough, or so he thought, that I couldn't hear him. I didn't get his license plate. But he drives a small SUV type vehicle. He uses the name Dyno and his phone number is 602-577-3912. Other people I know have met this person, we are all locals and he has used his Uber job on more than one occasion to purchase Heroin. I would like to remain anonymous, but feel this is very serious. He is putting many people in danger by this behavior.

Monique Lounethone
from Dallas, TX
Our driver tufan @ 1:15 am rudely left us because he said we had too many people. He almost ran us over and nearly hit a pedestrian. He did not give us an opportunity to explain ourselves. He was aggressive and a hazard to the road and I would like to report him please.

Arthur Warady
from New York, NY
I went to call for an Uber XL with my family at Battery Park and going home to 322 W 57th Street. A Suburban was on the corner and my daughter said, are you an Uber. He said yes, I said I didn't finish calling for the Uber. He said that's OK I can log it in for you. So we got in. I said how do they know my account. He said don't worry, it will be on your card - I said I don't have the same card. He said it's OK. When we got home, he charged me $70 and wanted a tip. I said what kind of tip? Uber includes the tip. He said you don't need to give a tip. He said originally the fare was $55, but with traffic it's $70+ The card did have an Uber medallion; but I didn't see a car number. I think Uber are thieves. I told my wife we cannot use Uber any more. I will post a warning to others to boycott Uber.

Ronnie Flores
from Houston, TX
I accidentally or tapped the wrong button and am now a Uder driver. I do not want to be a driver, partner, or any part of Uber. All I wanted was a dam cab. You charged my credit card, I want that corrected. I did not authorize you to do anything with my credit card information.

Mina Khurshid
from Chula Vista, CA
I took a 3 mile ride from the Venetian to the airport and the uber driver charged me $50. There weren't any surcharges and it wasn't peak hrs. This makes no sense and I would like someone to contact me ASAP to get this resolved.

Lia fachiol
from Clackamas, OR
I requested a ride on july 22nd from PDX. After 12 min the driver called and told me he is not coming as he is in Vancouver, Washington state, and told me to cancel the trip. i had to request another ride that was as good as i expected from uber. But I was still charged 5 dollars for the drive i had to cancel. That driver should pay for it. I want my money back, please.

My driver called and said he couldn't find me & was not close to the location I requested. He said there was too much traffic an he wasn't driving to where I was, mind you I'm on another country so it was very frustrating. He cancelled and I was charged $5 for him not even bothering to show. I want my money back.

Kerri Garner
from Zachary, LA
I previously worked with someone who is supposed to be the driver for Uber. But instead of her driving the vehicle, she has her boyfriend working under Uber and he does not have a drivers license. Is that how it works with the company?

Katrina
from Providence, RI
I was charged 2 times to my bank account when I purchased the uber pool pass $40 for 20 rides. Uber has been ignoring me and haven't refunded my money. Also I requested a uber and paid $3.52 when I should have paid 0.1 when having the uber pool pass.

Betsy Leibson
from Lake Forest, IL
It was the first time for me to try to use Uber. I was visiting my sister in law who lives at 233 E Wacker in Chicago. I needed to catch a train. The uber app showed the driver 3 min. away, then 5 min away, then more. The driver did not know how to find the address. In past visits I have experienced the same issue with her. She often takes a cab out and users back because of this. Now I get charged $5 for canceling. I will not rush to call you again.

Aayush Rijal
from Oakland, CA
While I was at work, I was showing my friend how to use uber pool and it requested the pool. I cancelled it right away within 2 seconds and it said your uber is on the way and we will charge you $2. I am at work and not going anywhere, however what kind of service is this, charging within 2 seconds and scamming that your driver is on the way. My friends are uber drivers and in 2 seconds you can barely accept the ride. This is total lies and scamming customers. I am not concerned about $2 but if I stop here you will suck those $2 out of each and every individual and make a million on it. So please refund my $2 and please review your policy before I get my lawyer involved in this case.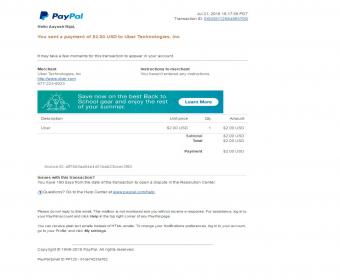 Yvette Hawthorne
from Philadelphia, PA
On Tuesday @ 7:40 pm I called for an Uber ride, it never came the driver called and told me that he was on his way then I got a message that the driver could not pick me up, I called for another Uber and was picked up in the same spot at 7:49pm. I then received a receipt from Uber stating that it charged me 5 dollars for canceling my ride when I never did. I would like for you all to investigate this and give me my money back because I never canceled my ride. I've had Uber for a little while now and I never got charged for canceling a ride, because I never canceled a ride that I requested. I was very pleased with this service up until now. I am very upset that they just took my money without asking me what happened with the ride.

Maxwell Dall
from Tempe, AZ
Me and my family took a ride from our apartment to the airport. It was 18 miles away and they charged me 145 dollars. I should not have got charged that much because on the website i estimated it and it said it should have been between 80- 110 dollars.

Jake Dennison
from Tucson, AZ
I was walking home in the rain when a woman named Mary Pietrowicz in a red Jeep Grand Cherokee pulled up and offered me a ride home. She said that she was a driver for Uber and would take me home for half price. My problem with this situation and my complaint is that she didn't want money at all. She wanted sex in exchange for services. I immediately got out of her vehicle and walked home. I would like to know if all your driver's are this way and I will not be using any services from Uber.

Firstly, i would like to Thank Uber and the team of drivers for their swift service. I would like to enquire about my payment history. The last two or three trips i have been charged a R20 fee which is taken off my card when i request a driver. This only happens when i request a drive then a fee gets charged immediately to my card. Why is this so? I did not experience this before but this has been happening to the last 3 trips.

Elsa O'Reilly
from Brooklyn, NY
On 14th street on The North West Corner ( 5th Ave) waiting for my car. On my phone I can see it's approaching 14th street on fifth ave. I'm standing on the corner of fifth and fourteenth street. I don't physically see the car. Then four minutes after the ride is gone. Tried to contact the driver twice but it went into voicemail. I have packages, still soar from my doctors follow up visit for my prior surgery. I had to carry my groceries and use public transportation while not being in best health. I'm still being charged 19.30. I don't get it!

Tess Sutton
from Salt Lake City, UT
I have been trying to reach uber since this past weekend. I often use uber and never more than just the regular uber cars nothing fancy. I am a student at the University of Utah. I went to the bars one night and at the end of the night I needed an uber, this SUV showed up and I never ever get those so I cancelled thinking this is weird that is really nice car. So I ordered a new one and again this car pulled up and I simply thought to myself that it was just a nice car this uber driver had. Do not get me wrong great guy.
I proceeded with the ride with my friend going about 10 miles home to my house to then find out this cost me 135.00 plus a 10 dollar cancel fee ?!. I do not understand what I did or what I am getting charged for. I never get the nice cars in fact we took a uber to the bars also and it cost me 12 dollars from my house. Please please let me know if you can help me. I will be willing to pay what a normal uber would cost thinking the whole time that is what I was getting. Thank you and I really hope to hear back from you, hope you can help me figure this out.

james lenza
from Florence, AL
i have been on line for over 2 hours trying to find someone to speak to and answer a couple of questions. All Uber's links lead to dead ends. at one point i had 32 windows open using links, for phone contact, customer service etc. all those links on the site are all dead ends. I do not know how you survive.
The only number i found was 415-986-2104 and that rings rings of the hook and then disconnects, or you get an answering machine, it is just mind boggling way how no one handles customer service. I have also look into blogs that people are just pissed off about your customer service. The complaints are also endless that people can not get any customer service and you do not have any where people can go.

Linda Lee Goldman
from Northbrook, IL
My first Uber ride, I pressed the wrong button. I received a ride from a black Uber car. It took an extra 1/2 hour to come as the transmission on my iPad was was slow.The driver was very nice. He thought the mistake I made would not cost much more than a regular ride. I was surprised it was $44.00 as I live in Northbrook Illinois, fairly close to Chicago O'hare. It usually costs my kids around $14.00. If I could receive a credit for my first mistake. It would be greatly appreciated. Also, I have a Uber first ride coupon Z9UZK perhaps that could be applied? I hope I hear from corporate, It has been difficult to make contact with Uber customer service. Thanking you in advance.

I am a new customer to uber and have never used the service before. I have just downloaded the uber app and tried to create an account however it is not allowing me to as my email and number have already been used. I do not understand why this is happening as I said I have never used the service before, ridiculous!

Karina Li
from Bradenton, FL
I had difficulty downloading the Uber app from my iPhone so I had someone else do it on his phone. I was able to have an Uber driver pick me up at the requested location within minutes but was charged an additional and separate $6 fee that I later was is a cancellation fee. My credit union denied the charge as it looked suspicious and informed me later. My problem is if the charge did go through there I would not able to reach a customer service rep to reverse it as the phone line just rings busy. If I want to use Uber again I now know I will have to check my account to know I won't be charged an additional bogus fee! I don't like dealing with businesses I can't trust.

Shreyas Gaonkar
from Chicago, IL
I had used an UberPOOL ride yesterday, costing about $5 to my destination. My trip was charged with the free ride that was already existing in my account (worth $15) I would like to change the payment method of my last ride to be paid by my credit card instead of applying the free ride. If I would have known this earlier, I wouldn't had used UberPOOL in the first place.
Thanks for your feedback!
Sorry. Please try again later!