Uber
Uber Complaints Continued... (Page 2)
203+ reviews added so far. Upset? Call Uber corporate: 415-986-2104

Sheri Ferguson
from Bethany, OK
My complaint is, when riding on Uber the first time recently, by myself, the male uber driver, was listening to Forensic Files the true crime show, over the radio, and it was about male serial killers picking up women in cars and killing them! My husband complained over the phone to Uber, after called him up upset and screaming after my ride. He did not remember my reason for being upset, and did not tell the company my story! I understand I will no longer be paired with this driver. WHAT KIND OF IDIOT, HAS TRUE CRIME SERIAL KILLER CRIME SHOWS BLARING OVER THE RADIO, WHEN HE PICKS UP FARES? I thought I was going to have a panic attack or heart attack. He said, "I just looove this show!"

trancey williams
from Fort Huachuca, AZ
A Uber driver stole my wallet, cell phone, credit cards ID, and cash.
I called the driver to let her know that my wallet and phone was in her vehicle. She indicated that she had secured them and would deliver them to me. She never showed up. I continued to call her with no response. I informed her that I needed my credentials and ID in order to catch my flight.
the next day she notified me and told me my wallet, phone and ID were stolen from her possession because she left them in the car.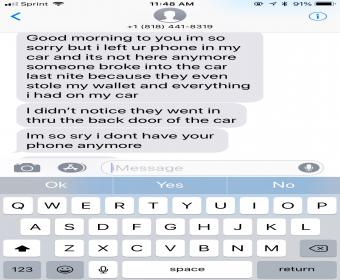 Imran Khan
from Karachi, SD
I Have Book The Ride After That I Reach My Location I Didn't Find The Driver Then I Called Him He was Not Replying I Have Tried So Many Times but He Was Not Answering After 30 Mints I Received The Message That You Have A Negative Balance Alto Number Is D18 06660

Friday while in Chicago.
First guy drops off and then had to cancel to proceed. - then get charged $5.00
2nd guy talks to me and tells me to wait at the corner, never shows - then lies and says he drove me 0.93 miles and charges me $7.34 and never even picked me up
3rd Uber was fine

Melody Lee / Manager
from Chatsworth, CA
I'm the Manager of Chatsworth Mobile Home Park. On July 15, 2018 I encounter an Uber driver that was speeding down where I was parked. I gave chase and stopped him from speeding and he just didn't care and kept driving on the wrong side of the street and was driving 30 to 40 MPH. Our streets are an extension to our driveways and this driver was reckless and driving unsafe with a residents son who was 3 years old in the car and the babysitter.
When he stopped the car and I told him what he did was wrong his response was yeah sure and started yelling and telling me that he worked for the FBI and he can do whatever he wants. I really don't give a flying #*+* if he is working for the FBI and on top of it driving for your company. This is private property and as the manager I can ban anyone that do not follow our posted signs and I will further make sure this driver does not work in our park. I can also ban all Uber drivers from coming into our park if they do not follow our 10 MPH signs which is posted.
I will be putting in our newsletter to all 198 homes if you use Uber drivers you will have to walk to the front to get picked up and be dropped in the front. This whole park is 1 miles all the way around our park. I'm sure they will call a taxi or Lyft.
This driver was in a white, looks like a Chrysler or Chevy his license plate had Colorado where it was from. This guy that was driving looks middle Eastern and he was vicious and looked like he wanted to attack me the way he was acting. The drivers you send in here have no respect and don't care. We do care and if you do not train these people about respect and the respect our property then keep your drivers out of our park.
I had a passenger in my car when your driver was mouthing off and she saw the whole thing go down. You cannot have a driver like this driving people around he is a ticking time bomb.
I'm not happy what happened but I know who call Uber to send a driver and I will inform them not to us Uber again if not there are consequences to their action. I will go further with this if I do not here from your office. I would think you will take care of this matter. You can reach me from 8:00 am until 3:00 p.m Monday - Friday
Melody Lee
Park Manger
Chatsworth Mobile Home Park
21500 Lassen Street
Chatsworth, CA 91311
Office: 818-882-2030

robert vogel
from Salt Lake City, UT
I called for uber in salt lake city on july 14, and was at 55 w south temple on the street for pickup. on my phone the message appeared that the driver was present. I never made contact with her . she cancelled the trip shortly thereafter ----------I then had to reorder uber and successfully got the ride.
I was charged for the above cacellation five dollars. not my fault...………...not my fault...... please refund the money.
telephone -432 5289976
thanks

Brian Allen
from Los Angeles, CA
I ordered an Uber yesterday and then saw a $50.00 charge on my paypal account which I then obviously saw debited from my bank account!!! Why did this happen??? I never authorized this payment and would like to get this refunded ASAP!!! What makes you think that's okay??? This is ridiculous and I'd like a response immediately but more importantly I want a full refund!!! This is UNACCEPTABLE!!!
Brian Allen
251-753-0263

Elena Villani
from Central Islip, NY
I was taken advantage of by an uber last night. I went to NYC last night to meet my daughter at the St James theatre. I took a yellow taxi from Penn Station to 44th and 7th Ave and paid $10.30. On the return back to Penn a man stopped and asked if I needed a cab and I said yes. I am an older woman who walks with a cane and was charged $25 dollars for the same distance. He took advantage of the fact that I cannot walk and charged me 2 and 1\2 times the normal price. I am gonna report to to the BBC and never use Uber again!

Muhammad Umair
from Karachi, SD
My last ride my charges was 374 rupees pkr but driver charges me 463 rupees pkr. He took car parking charges at jinnah international airport karachi , but in my uber trip shows that with car parking charges rupees was 374 they took extra amount from me..
And I just know some information, if I book a ride at airport so car parking charges should I pay?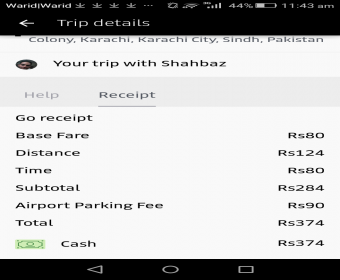 Dominique Pallier
from Brooklyn, NY
My complaint is that I tried to give my great driver 5 stars, my phone froze and could not continue. I tried everything to no avail. This driver is great and he should not have this rating. My other complaint is did Uber ever think that glitches can happen and therefore be a negative for the drivers?
This needs to be changed. I want to be contacted and want for this driver to have his stars.His name is Antonio.

Donna Mitchell
from Elko, NV
I was picked up at the Marriott and givin a ride to the port for cruise. My uber driver Carlos dropped off at the wrong port, he dropped me off at 4 and I needed to go to 26, I had to take a taxi to the right port and it cost me an extra $20! I doubt I will use Uber again.

mary mcdonough
from Boston, MA
uber pilot program in boston have been accepted by mbta for pilot program but not being billed correctly by uber
also the ride with mbta is for people with disabilities and not able to walk to a designated pickup spot have sent many emails to uber but have not received a response first 2 rides billed correctly by uber for $2.00

Jennifer Howard/Dave Decarli
from Sarasota, FL
The credit card that was used for my uber account has been fraudulently charged. There are several trips charged in one day when I used Uber only once. There are also charges made at a place called The Purple Rhino. I NEVER VISITED SUCH PLACE!! I am also notifying the credit card company to report these fraudulent charges and will never use Uber again. Please respond.
January 31 - Purple Rhino $4.95
February 12 - Uber Technologies $7.21
February 14 - Purple Rhino $89.99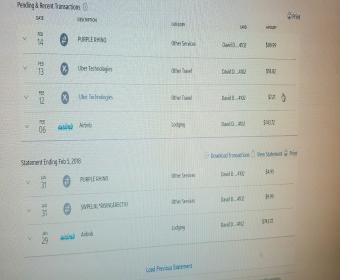 james austin 2324 east tuscarawas st canton ,ohio phone home 3304569353 cell3302801224
from Canton, OH
i have charges on my credit card i did not make date 1-01 -18 for$5.57 trip njw2m 1 -04 -18for $8.06 HTVQC 1 -04 18 $6.50 7642w 1 -05 18 $6.50 7642W THESE CHARGES WERE MADE IN CA I LIVE IN CANTON ,OHIO NEVER BENN TO CA HOPE TO HERE FROM YOU SOON HAVE CONTACTED CARD COMPANY

Jessica Park
from Fullerton, CA
My husband needs to ride by UBER today in the morning around 7am. But he is very upset because of the driver attitude and unrespecful.
The driver couldn't find the location therefore my husband tried to explain how to find the location but the driver kept say my husband fault and then hang up the phone and called to the driver again he doesn't pick up the phone.
Please see the attached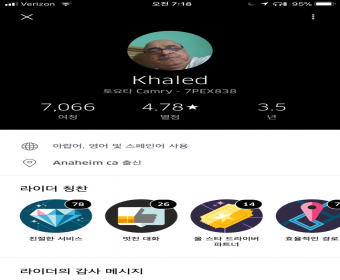 Nidhi Agarwal
from Noida, UP
Hello Sir/Ma'am
I have been a very regular rider of UberGo (almost twice daily).
Recently I got an offer to buy a ride pass worth Rs. 149 according to which my all rides are discounted in Delhi NCR (i.e. Rs. 89) for 1 month. It seemed worth it and I bought it.
But there is some bug in your app due to which even after buying the pass, I am charged a normal fare without any discount for my almost every ride. I am charged around Rs. 130 to 140 for my rides which should be costed Rs. 89 ideally.
This is not the real frustration though !
I reached out for help by going through Help section on Uber app for my rides. But to the surprise, for most of my queries, I got such replies :
"My pickup and drop locations are not same" or "I didn't follow the route suggested by Google maps".
Seriously !!
I have bought a pass which is valid in Delhi-NCR for all rides except involving airport (according to the clause written on Uber app). Does changing a few metres of difference from pickup or drop or taking slight different route mean that my ride disqualifies for the pass being applied ??
If this is the case, then that means this pass is just applicable from a specific point A to point B and only via a specific route. And obviously that should be mentioned properly in your ride pass details, which isn't unfortunately !
I am getting continuously same replies (copied and pasted) without even reading what I am asking or complaining about.
I am highly frustrated and dissatisfied with such responses.
Kindly check this issue.

Just Another Day in the Park
from Westmont, IL
Customer Service is TERRIBLE. I have charges to my credit card which I have asked for detailed information. They will not provide the information with all the complete details I have given them! They stopped emailing me and when they were emailing me they just kept saying they are sorry this has happened to me. I gave them each date and charge and confirmation codes and they will not help me at all. They wouldn't even point me in the right direction on where I can get answers. I have told everybody I know that have used UBER to immediately delete their account and for such a company that is fastly growing you would think they would have a customer service line to call...they seem to be in hide out!

DORIS R. SANZ
from Alameda, CA
I CALLED FOR A PICK UP AND THE MAN WENT TO BUILDING C INSTEAD OF BUILDING D AND LEFT US STANDING AND NVER PICK US UP AND STILL CHARGE US $ 9.32 CENTS. MANS NO. IS 5PHNU ( 561-482-3987 ) ( 561-213-0920 ) thank you

VSRM KASYAPA
from Secunderabad, TG
EVEN WHEN I HAVE A BALANCE OF MORE THAN RS.2,000/- IN PAYTM, UBER IS ASKING ME TO RECHARGE SAYING THAT MY BALANCE IS LESS THAN RS.350/-. ARE YOU BOTH PARTNERS IN CRIME OF GRABBING CUSTOMER MONEY JUST BECAUSE UBER IS UPPER HAND IN HYDERABAD ? IF U HAVE ENTERED INDIA FOR CHEATING INDIANS, THEY WILL TEACH UNFORGETTABLE LESSONS FOR UBER AND PAYTM. I AM PERSONALLY FILING A COMPLAINT CCS( CRIME CONTROL STATION) AT HYDERABAD.

gilbert schnirman
from Delray Beach, FL
In Sept.this year,we called Uber for a trip from New York to New Jersey.The Uber driver could not get the trip map on
the Uber GPS, so we used our GPS.We paid the driver in cash,but Uber still billed our Visa card for $182.07 on 9/23/17.
I request a refund from you.
Respectfully,
Gilbert Schnirman
561-542-3137
gilbertored@aol.com
120 N.Ocean Blvd.
Delray Beach,Fl 33483

Hernando L Ortega
from Miami, FL
I request a Uber at For Lauderdale airport Arrivals, the app shows to advance terminal 1, i stand blue dot on top of black dot terminal one like the app shows and i took a picture to proof it and i still don't get my money back.
Uber drivers don't stand where the app tell them because they have police problems and uber charge the customers for following the app.
So who is the next step? The court? I have to go and sue Uber over $5.00 dollars?
So far this is the 3rd time this happen.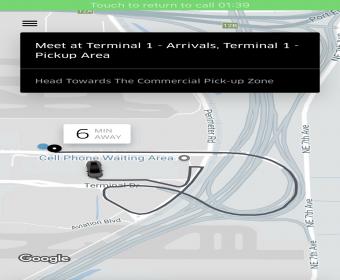 SAVON FIELDS
from Orange, NJ
MY CREDIT CARD IS BEING BILLED WITHOUT MY AUTHERIZATION I DEMAND CHARGES BE REVERSED OR I WILL CHARGE YOU WITH FRAUD AND TO BE VERBALLY CALLED BACK 973 951 2864

I didn't call UBER, I have a car, I just now got home from work and am watering the front yard and in front of my house is a white suv with a older 60? yr oldman, sitting in the car, and yells, did you call for uber? NO hello, no greeting, I look up from watering and say no..and he stays there and starts actually yelling. well, The phone says 630 Valley Rd.I said are you sure? Not 630 1/2? That is a apt behind me, and this happens a lot, but this man wants to argue, again, did anyone call for uber..now this is enough talking for me, I just home from work its 7am. I'm exhausted, he should leave, I already said NO..so what does he do, he raises his voice to me!! I said SIR, I have a car, I point to it. I just got home. I did not call, can move along.? No I'm getting upset..he starts mubbling something, then drives off, I guess he got a call from the person waiting.
Whats wrong your idiots??? I DONT WANT TO BE HARRASSED!!! GET IT!!!!

Rosario Bechelian
from Irvine, CA
I need someone to call me at (714) 272 - 4689
My name is Rosario Bechelian and I have been using Uber transportation for almost two months to take my son (minor) to school almost every day. However customer service is very important and select the quality of drivers as well.
I am a Social Worker and I like to know if you live scan your drivers before hiring them? I am trusting your company with a minor and I expect as a parent good service and most of all confidence on the person who will be driving the minor to school.
Unfortunately this is not the first time to face this type of experience. But this needs to be taking care immediately. This morning my son was waiting to take the ride to school at my place 1434 Carey avenue, Brea. and the driver that show up was completely weird, the car dirty, smelling horrible and his behavior was unacceptable. the moment he arrived he was honking non-stop. and his approach was completely inappropriate.
I refused to be charged for the service this morning. And I demand to have a customer Service department contacting with me as soon as possible. Safety is important not only for children but for everyone. Have you ever thought about infection control? driving in a car that it is filthy and smelling disgusting. How do you know if this person has an issue?
It was very uncomfortable for my son getting to school this morning, not knowing what will happen. I hope to hear from you ASAP.
Rosario Bechelian

Inas Armanious
from Melbourne, VIC
I requested Uber today morning and then as I followed the uber app and assigned to me Vinay the driver as I was going to meet him outside my place 36 walter st bulleen, they sent me a message that the driver has cancelled and re request again after half an hour I filed a request and I was following the driver on the app and it said that 1 minute to arrive and same as I was stepping outside Ali the driver sent a message he has been waiting outside 5 minutes and is waiting ,and a message was sent to me that the driver cancelled the job again and physically I was outside no body came to my place and called the driver ,his phone was switched off ,and I was charged 10 dollars for cancellation twice , what is this nonsense ,this is my first experience with Uber and it will be my last ,if you can kindly refund back my money to my credit card
Inas

Hi Team,
Its a cheat, i had requested for many trasactions that has either canceled by the Uber driver or someone elses have take my ride and Uber says it will be credited to my account but it is a lie.
I checked my account and there is no refund of any kind.
Recently I have requested for 2 refund and in previous occasion maybe many but due to busy schedule I cannot check for everything and you people dont refund, you just do cheat and dont refund.
I am logging a complaint on consumer forum about this.
If you have refunded, then show me the evidence.
Uber should be stopped for cheating customers. Cheapest and liars service.
Regards,
Abhishek Singh

Yvonne Aitken
from Monroeville, PA
I want to report Kimberly Holmes.. uber driver in Pittsburgh,PA.. she is driving a rental car instead of her actual car.. i believe this is illegal and should be looked into..

Pavel Kirochko
from Beachwood, OH
August 7 at 9:00 AM I tried to make the order to go from my home (4911 Hillary Ln, Cleveland OH to Cleveland Airport. I've place the order for X car, got the price (about $31 and some cents) and got the notice on my phone that my car will pick me up in 6 minutes. But I didn't have a car even in 45 minutes. Nobody called me and I had to take taxi to be in airport on time. It cost me more than $70 and a big stress. I didn't complain immediately because I've been oversee for on month. I don't understand how it could happened. Now I started to think stopping to use Uber.
Pavel Kirochko

Crispulo Tanglao
from Walnut Creek, CA
Date 09/10/2017 time 12:45 pm 2014-to 2016 gray or silver Ford Focus hatch back License plate # number 6WZG646
This uber Driver cause almost cost me into a accident coming from Concord Ca on the street of Monument blvd she swerved into my lane and cut me off nearly hit another to the next lane. and then flip me a birdy finger in which i follow her into the car was and took a picture of her and her car.. Please i would like to complain about this Uber driver which feel is very rude, not courteous and dangerous driver for no regard for safety with other driver or pedestrian...Please remove this person as a Uber Driver she just might hurt seriously injure somebody ... Thank You.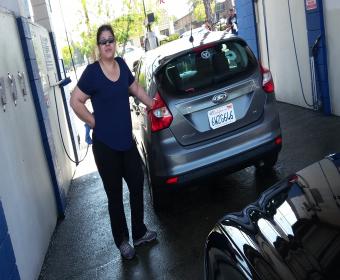 Michael
from Fort Lauderdale, FL
How do you give jobs to people in this country that don't even respect the country to learn the language . If you don't give them jobs for not speaking English they will finally go learn English very very disrespectful something needs to be done or uber will be shut down for good real soon trust me drivers who don't speak English cars smelling like marijuana like about the year of there car or damages on there cars. Uber better tighten up before you get shut down. So so so so disrespectful

I don't have an Uber account yet I have 58 fraudulent charges on my credit card

barbara rush
from Indianapolis, IN
On December 14, 2016 I caught an Uber in downtown Chicago to go 4 miles and they charged me 49.00 and I shared the ride with 2 other passengers. the driver and other passengers said that they were only charged 4.00 each. Now when i go back into my account it wont let me in to review all my past rides nor do I have a way to complain directly to them their # rings busy all the time my account is froze cant retrieve it but they did deduct the 49.00 out of my bank account very concern that they do have access to my bank account now. can you please help me.

Candice Carroll
from Irvine, CA
I heard Uber is cheaper than taxi. Last week I went to trip. 6/16 Early morning tried to get one but it is too earlier to get. Yesterday when I backed from trip, when the airplane landed, I tried to get one Uber, it is the first time to use phone app. I seared then showed three choice, when I choose one new car driver, showed he will come 10:59pm at airport of Orange County, it is too later to choose. I didn't continue. Later I was waiting for luggage then the driver called me seems already in airport. I said have to wait for a couple of minutes. He said can call him. But when I came out, didn't find him then tried to call him no answer. Today I found my account charged 5.00. Although it is small money, it is unreasonable to charge from my account. Please return my money back. I will appreciate your reply soon.

Roger Sachs
from San Jose, CA
On Friday November 11 at 5:40 pm, I had a Uber driver take me home from Winchester Ave in Campbell to my home in Los Gatos. I left a motorcycle glove in her car( had to leave my bike for repair at dealer). I have tried and tried to get the driver, who found my glove, to return. Her name is Sahban with a Acura MDX. When I call she either doesn't answer or hangs up. She even asked me to go to her home in South San Jose, California- 1960 Southwest Expressway. But I am quite afraid and don't think this is proper. I tried to contact Uber, but nothing has been done. All I want is my glove back. Such an easy problem, that she is making into a serious problem.

My 20 year old son took an uber ride home from a friends house approx. 6-9 miles. the driver said it was 60 dollars. My card says 150.00 to a CA address. On the same day, the next charge is a 42.00 charge from a company in CA. I called my bank, got a new card. I then tried to get ahold of Uber customer relations people. I think I will go to the news media next. People, watch your credit cards.

Ursula Schmidt
from New York, NY
On Saturday morning 10/15/2016, I requested a pick, after 10 minute wait I received a message on the Uber app that "unfortunately my driver had to cancel my request". Shortly after that I received an email stating that Uber charged me for $5.00 cancellation fee via PayPal. I attempted to find a phone number to contact Uber to discuss this error however I wasn't able to find any working numbers nor one with have a live person. Moreover I never received a free ride from Uber as promised and/or advertised (not even my first ride)
I used Uber about 4 times and the prices are same as my local cab but it's easier to call my local cab as Uber is either not available or it takes sometime to find a driver if at all (in NYC). I wanted to give Uber another try this Saturday 10/15/2016, but I was charged for a cancellation the driver made. This is unacceptable and I have feeling this email will not be answered. Rest assured I will never use your services again.

Terry Connor
from Thousand Oaks, CA
Is it okay for a supposed Uber driver to send an Uber solicitation letter through the U.S. mail to up to 2,136 residence addresses in a gated senior community in Camarillo, CA claiming to have been an Uber drive in Santa Barbara a couple of years ago and now thinks it would be a sterling idea to be an exclusive Uber driver for this gated community; and provide his home telephone number rather than Uber's telephone number? Yes or No.
Is it okay for this supposed Uber driver to provide a ride to a 94 year old resident of this gated community who called the home telephone number provided in the Uber solicitation letter rather than an Uber telephone number, to drop the supposed "eye in the sky" credit card rate from $210 to $100 cash? Yes or No. In the Uber solicitation letter, this professed Uber driver stated; ""If you already have gone online and joined Uber, we're ready to go. If not I'll help you."
This 94 year old had not gone online to join Uber before this supposed Uber driver picked him up. This supposed Uber driver did not help this 94 year old resident of this gated community go online and join Uber, as he had promised in the Uber solicitation letter. When this supposed Uber driver left, this 94 year old resident still had not joined Uber.
Is it okay that this supposed Uber driver promised in the Uber solicitation letter to help this 94 year old resident to go online and join Uber and not keep that promise? Yes or No. Since the 94 year old resident of this gated community is not, and has never been a registered Uber participant, is Uber aware of the fare dropping from $210 to $100 cash and did Uber get their fair share of the $100 cash? Yes or No.Does Uber know that the source of the $100 cash is the 94 year old resident of this gated community? Yes or No.
If the answer to all 5 questions is Yes, then there may not be anything else to discuss with Uber. If the answer to any of these 5 questions is No and Uber would like, I can provide Uber a copy of the solicitation letter and more information on what occurred with the 94 year old resident of this gated community.I will add a bit more information at this time. In the Uber solicitation letter the supposed Uber driver stated; "You'll find that we are quite a bit cheaper than taxi service, and that tipping is unnecessary."
Nowhere in the Uber solicitation letter was an actual fare stated. The 94 year old resident of this gated community was told at the end of the ride the fare was $1.00 per minute. Most of the time during this outing was spent eating lunch for which the 94 year old resident of this gated community treated the supposed Uber driver.
The supposed Uber driver seemed to enjoy the free lunch and even had a second cup of free coffee. The supposed Uber driver and the 94 year old resident of this gated community had a leisurely lunch. During the lunch, the 94 year old resident of this gated community inquired many things about the supposed Uber driver's life; such as what did you study in college, what profession did you have before being an Uber driver? Lunch with the 94 year old resident of this gated community also takes extra time; the 94 year old resident's dentures cause him to eat very slowly.
Once the 94 year old resident of this gated community and the supposed Uber driver were finished eating, they lingered a bit longer because the supposed Uber driver began a conversation with a fellow diner in a wheel chair dining at the next table. When they returned to the 94 year old resident's home, the 94 year old resident, a WWII veteran, said to the supposed Uber driver, I guess I owe you some money. The supposed Uber driver replied we have been gone for 3-1/2 hours [including the leisurely, extra slow lunch] and the Uber rate is $1 per minute. 3-1/2 hours times $1 per minute is $210.
The 94 year old resident of this gated community said he had no idea it would be $1 per minute. They settled on $100 cash. The supposed Uber driver took the $100 cash, did not provide the 94 year old resident with a receipt, and left. The 94 year old resident of this gated community told me he just wanted to get the supposed Uber driver out of there.

Regina Lee
from Philadelphia, PA
There is an unknown $5 Uber charge on my account. It's from Friday 9/16. I did take Uber twice that day, however there 3 charges for that day. Also I took an Uber on 9/09 and l feel as though l was over charged. The drivers have to use a gps, and his gps got him lost. This caused the ride to take longer and me more expensive.
The driver was great, nothing against him.I know the gps is a tool they have to use, however it was that tool, which is required by you service that caused my ride to be more expensive. I took an Uber earlier that day for about the same distance and my fare was significantly less than when we got loss. I tried to call in about this matter today, but nobody answered the phone. I am requesting to be contacted about this matter.

On September 2, I rode an Uber car, with plate no. MP 1551 wherein the driver charged me Php276. The actual cost is Php 236, 40pesos lower than what I need to settle. I even added a tip of 20 pesos which he accepted. It is a small amount but some other people might be victimized also, hence, my filing of this complaint. I would like to expect a feedback on this matter please.

Meagan Zablosky
from Arlington, TX
I requested a ride on 9/18/2016 and was charged $76.56 to travel two miles and it looks like the uber driver did not close the drop off for me only two miles from my original pickup location and I emailed uber support for them to tell me that I changed my destination from Dallas to Denton but I never went to Denton nor did I requested that. When I clearly got picked up four hour prior to the location I said I wanted to return to. They are not doing anything about fixing the overages. It should have been like $7.00 at most.

Joan Lacascia
from West Palm Beach, FL
I visited NYC last October, 2015 and had problem and no response from Uber as follows. Arrived at La Guardia airport and called Uber. Text said it would arrive in 5 minutes. Then 6 minutes, then 3 minutes, then went back to 8 minutes. This went on for 40 minutes. Finally I took a taxi. In Manhattan would try to contact Uber. They would not answer and I could never use them.I never knew if this was a technical problem. If Uber was directing this at me, or if the taxi cab services were interfering with the transmission. Don't know if it's worth trying again. If uber has no customer service then how can it grow. I'm looking for another service already.

I had hired a cab in Kolkata, India. I wished to pay through PAYtm application. But for some reason the app did not deduct money for some unknown reason. So I paid in cash to the driver. After about 3-4 minutes. My PAYtm app showed that Rs 56 had been deducted against the cab fare. So I have paid them twice once in cash and other through digital wallet. I wish to get a refund in my digital wallet.

Laura Williams
from Nashville, TN
My first ride was not free even though I used promo code. I was charged. Today I requested a ride during surge. Waited until surge was over but got charged surge price.

liza mascardo
from Paranaque City, 40
On Sept 02, 2016, was picked up in the office, destination is very near Shaw Blvd. On the road the driver told me that there was surge rate when my daughter booked for this trip. He continued that he told my daughter to "cancel" the booking so I will only be charged a regular rate. I know that at the time that I booked there was a 1.2 surge rate. When we reached the destination he told me that my fare was 400 pesos but showed me his mobile unit that reflected only about 280 pesos. He added that the fare went down because there was no surge anymore but added that that does not apply to my trip. What happened was really a perfect act of deceit and overcharging. The plate no. is MP 1551, Uber car.

Last night i arrived at Ft Lauderdale FL airport. Soon as i got off the plane i email for an uber pickup. The driver Miguel text me and ask me were i was going. Told him were and he text me back that it would be awhile and to cancel him try someone else if i was in a hurry. So i did. This didn't seem right so i asked around and was told some drivers do this because it wasn't a long trip, and a low fare.The next driver i contacted did not text me and was there in five minutes. That seems very unfair. I hope you will address this please.

Abha Pathak
from Bengaluru, KA
I had a horrible experience with the driver tonight. The driver was not polite, verbally aggressive and manner less when it comes to speaking to ladies. We asked the driver to take left turn that went down the road for 30 seconds to my house but he blatantly refused giving lame excuse. Since it was 10pm at night, we further requested the driver but he was plain rude and inconsiderate. I told the driver that I would be giving a bad rating and my friend and I got off the car immediately, when he accused me of shutting the car door too hard. (Which I didn't).
The driver came out of the car to harass me and screamed at me, making a scene in public. I have my friend to back me up on this who was with me during the ride. I want to speak with a manager based in Bangalore or a customer care number to speak to someone regarding this horrible unacceptable incidence and make sure that my voice is heard loud and clear. This driver is simply not fit to be driving people around when he doesn't understand normal courtesy or behavior. If he doesn't know how to behave with ladies, I doubt if he will do the same with men.
I want a full fledged apology for the embarrassment I have gone through. This is not acceptable. If I don't get a proper response, I will surely not use Uber anymore but I'll also make sure to put this across to the concerned team.

Shiv Yadav
from Hyderabad, TG
I requested a Uber and waited for a long time, driver didn't arrived at my Pickup location and he didn't called me and when i was dialing his no he was not reachable, so i cancelled the trip, and i was charged Rs 228 from my Paytm account. Please help me contact Uber head offices in India or the U.S. and refund my deducted money in my Paytm account as soon as possible. This is seriously a very bad thing you people are charging without any service taken by customer. Just because of these reasons now a days people are choosing OLA cabs.
Thanks for your feedback!
Sorry. Please try again later!