Jack In the Box
Jack In the Box Complaints Continued... (Page 2)
227+ reviews added so far. Upset? Call Jack In the Box corporate: (858) 522-471

I'm filing a complaint against Jack In The Box in Lewiston Idaho, I'm not sure where i can go exactly to file this complaint. I had an interview at Jack In The Box on the 25th of July, 2018. My interview was okay i guess. I had a relative who had started the very first day someone I don't get a long with. I had reassured the manager Dezaire that this wouldn't have been an issue as I can conduct myself professionally in any environment I am in. Another crew member had told me i Had the job but i hadn't i guess. Anyways i didn't find this out from a manager i was told over the phone by the employee that had made it 100% clear she did not like me. It is very unprofessional for your manager Sean I do not know if i have spelled his name correctly to have been discussing my information with a new employee. Let's get to the fun stuff, another on of your employees at this company here in Lewiston Idaho by the name of Richey Risley said if they hired me he would lay me out if I got hired. Also was told by said employee who does not like me. I don't know what kind of managers you have run your business but to have employees pick and choose who gets hired is so ridiculous to me and unprofessional. Maybe you guys need to pop up at your restaurant and see how your crew is running it. I find it also comical that said employee who didn't like me worked there less then a week! I also think you need to contact that store and stop your employees from sending threatening remarks another persons way. I will be writing corporate etc until i get the results i want! Complete clown show down there folks!

Jarred vinyard
from Indianapolis, IN
I pulled up to the drive through and was told they cant serve any food for 15 min. Then they served another car. I think these employees were racist. I hate that we had to go elsewhere. I hope there is a feasible resolution.

Ken Archuleta
from Dallas, TX
Why does your company send out flyers for (free) cheesecake and other things on your menu, then when I order an item on you menu and present a coupon for free slice of xheesecake, A lady tells me I have to order another of the same item to get a free sluce of cheesecake. Or i can use it (NEXT) time i come in.. What's that all about !!

Julia
from Sacramento, CA
TERRIBLE CUSTOMER SERVICE!!! I pulled up to store 532 on Madison Ave in Sacramento drive through, told her what my order would be. She said speak up because I can't hear you. So I raised my voice and repeated the same thing, I tried to raise it a lot because there was a landscaper using a loud blower right next to the store. Then she told me "don't yell at me" and "I will not take your order because you yelled at me." First of all, she ASKED ME TO SPEAK UP. So I did. Then I called the store number and got her. Her name is Janeth. So I asked her why is she not taking my order because all I did is what she asked me to do. Then she told me "ok pull up to the window, I'll take your order." Got my order, there was no receipt. Which I have to ask for almost every time by the way, they never just give you your receipt at this store. She said "oh, my machine is not printing, can you pull up to the front and walk in and get your receipt from the front?" Seeing as all this took 15-20 minutes and made me late for work I said no, please either take a picture of it and send to me or figure something out. So she got me my receipt finally. Then I tried to submit a complaint via phone, but none of the 7 numbers that I called let me do that, most of them either hung up or redirected me to "go to the website". When a person is driving, going to a website is not really an option. If this doesn't get fixed, not only will I never go to Jack in the Box again, but I will pass the message on and make sure that none of the people that I know do. Being a Real Estate professional, you can bet that I will pass my message to LOTS OF PEOPLE.

Spent about 12 mins waiting in line to order. Took about 15 mins to receive my order. Once I received our order and gotten home the burgers were thrown together and wasn't how I asked. Taco's were hard and didn't taste fresh at all. Cashier @ the window took orders after she saw the cooks finish with a order. I understand it being a busy time due to the weekend but seriously that's not right nor fair. I spent $33 for my food to go to complete waste.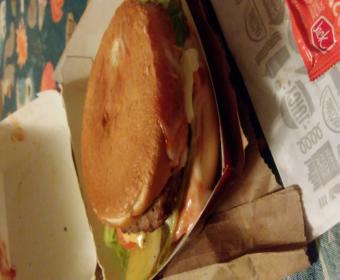 RACHEL Binger
from Seattle, WA
When I arrived the two boys working were in the parking lot smoking. They told me to roll down my window "we are taking a 10-minute break, you can wait or leave". I KINDLY said that I could wait. The kids told me that I needed to park, rather than go in the drive thru. I went in the Drive-Thru to look at menu. After 8 minutes one of the boy's voice came through the microphone and said "we are taking a10 minute break I need you to park in the parking lot you can't be in the drive thru, it causes sounds in my headset. Disrespectful and turned me away. Lost a costumer.

Debra Stefaniak
from Phoenix, AZ
We have always known Jack in the box has the Best milkshakes. We bought 3 milkshakes on July 6, 2018 about 9:10 pm. We were not given a receipt. It was $12.50. It was on Piwer Rd in Mesa, Az they were horrible! The ice cream was gritty and seemed to have small curdles in it. I am still sick today! What can be done??

Monica Bradshaw
from St Louis, MO
I visited the Jack in the Box location at 2095 N HIGHWAY 67 FLORISSANT MO 63033, on June 18th around 06:10am, and was told I could no longer order the same breakfast sandwich that I have been ordering for the past 5 years (egg and cheese croissant). Per management from now on I can only order a supreme croissant with no meat to pay more, once again per management. I should not be penalized for not eating pork or not eating meat, just so that a store can make more money is unheard of. Once I said I would contact corporate I was told ok, just do that. So then I proceeded to call to speak with a manager and was told its not a big deal, and hung up on immediately. This is just ridiculous, and for a store who constantly get orders wrong, employees hang out on the parking lot, and the only time the order is hot is when you order a traditional sandwich without an ingredient to make sure your food is hot. I visited other locations and they state that they have never heard of this being a problem only this location above makes this decision to get more money from paying customers?

chuck bates
from Hesperia, CA
just was at the store in hesperia ca main street about 17000 block,, i walk in order a jumbo platter, no ones in front of me,, but then a bunch of mexicans come in place their orders,, everyone got theirs way before me,, i was there 30 fkn mins waiting , then i get it its fkn cold thnx jack ill never go to a jack in the box againg if you dont like white ppl just put up a sign saying we only serves illeagel mexicans here,,

Donna Kuppens
from San Diego, CA
yes I went to the jack-in-the-box on east main street and I have a services dog and your security told me that I had to put service dog outside or had to show him paper work and that is against law I don't have to nobody her paper work then he told me I didn't get my dog out of there he would kick my animal this is not the first time that he's done this to me he should not be working at your store cuz I've seen him harass the custmers

Will Ritchie
from Salisbury, NC
Hi, I bought a number 30 breakfast combo and I was told I could get one extra side. I ask for a French fry and I was told it was 30 cent extra. I said forget that just give me a tator tot instead. she said it was no extra for that side. I ordered my wife a meal and got the bill. Guess what I was charged 30 cent for the tator Tot. It took a while to get the comb ordered with the Manager helping and it was not worth going back through the hassel to get the 30 cent back because we was in a hurry. I have been told by other people that go to Jack in box that they have been charged a little extra. They said they got their money back. Do any of your Managers and workers get checked behind on. If not who gets the extra money paid out by customers that are over charged. I do not want to get the people in trouble that over charged me for my meal but this is not the first time it has happened. The last time it was a different store. The manager and worker was nice people it is like the cash register is set to take peoples money.I ask about getting a senior discount and the manager said the store would not give Seniors that. Thank you for listening maybe pass this own and see if you can help the trind of over charging customers in all your stores.

Lina Quintana
from Tucson, AZ
I am not sure if there was new staff at this location, Normally in most cases I order a sourdough jack, this time when I ordered it the bread was not toasted, just plain bread and curly fries were over cooked and looked like the bottom of the scraps. The wait in line in drive thru took a long time, Normally it goes fast and food is satisfying it's frustrating when you only have a 30 minute lunch and don't have the time to go back and return your food. thank you.

David Hovik
from Downey, CA
I go to JIB 218 routinely on Friday & Sunday morning before work between 6-7 AM and to date, it's 99.8% excellent service, I only complained one time before (0.1%) when the employee routinely shorted me the pennies from my change over a three month period. As soon as I complained, the manager ensured I received the correct change. This is my second complaint (0.1%). I always use the drive-through and order the same item every time, so I know the amount to pay for my order. On Friday, May 4 and newer employee, Antonio, charged me $7.90 for my Country Link Platter and a large coffee. I thought the price went up, so, I thought nothing of it. On Sunday, May 6 Jessica (my routine server) charged the usual amount of $7.46 so I told her about the previous Friday. Jessica confirmed her price was correct. The following Friday, Antonio said my total was $7.90 so I showed him my receipt from last Sunday. Antonio said he charged me for double-link sausages. I asked him why and told him that I had the same three sausages that always come with my meal. To me, his story did not sound convincing (hence this complaint) due to the fact that there was no legitimate reason to charge me for double-link if I did not ask for double-link. I'm sorry that I did not keep the receipt from that event, but I am including the two receipts from the events above (JPEG). I'm sure Antonio will not try that again.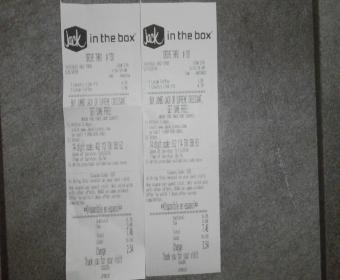 Susan Murphy
from Thermal, CA
I went for breakfast on 5/9 and went thru the drive thru. I purchased $15.47 with my debit card. there was a young girl at the window who took my card and processed it very quickly more so than it takes when I go inside. I left and did not go out again that day because it was too hot. The next morning I pulled u-p my balance on my debit card and it showed I had
$19.99 deducted. I pulled up the statement on line and saw that it was jack in the box thermal the same one I went to that morning. The time was 00.16.06. I went to see the manager the next day named Mike and told him what happened. He said he could not do anything without proof and would not take my word for it. I asked him to review the receipts for the previous day but he said he could not and was too busy. He also told me once he gets the statement he will review it and will look at the drive thru cameras to see if it was me at that time in the drive thru which I already know was not. I asked about employees getting access to my card info and he said they could not but someone did and ate on me that day. I have already cancelled that card just in case someone else wants to eat on me too. I need help with this and want my $19.99 refunded back to my card. My name is Susan Murphy and I live here in Salton City, ca. My number is 760-296-2035.

Susan Murphy
from Thermal, CA
jack in the box #5442 thermal, ca. went thru the drive thru on wed 5/9 to get breakfast. I used my credit card as no cash on hand. I spent $15.47 and this was at 8:23am. I only went there once that day. The next day I checked my balance on my card and it was lower than I expected so I went online to check what it was. I found a charge for $19.99, jack in the box #5442, thermal, ca at the time of 00.16:06. The employee was a young girl but did not get her name. On the receipt it shows Jacob. Yesterday, 5/10 I went in to talk to the manager, Mike there. He told me after I explained to him what was going that he could not take my word for it and needed proof of the statement from my bank. I ordered one yesterday as my printer does not work here at home. He told me once he gets that, he can review it, look at the cameras to see if I was in the drive thru at that time, which I was not and could review the receipts. he was too busy yesterday to do that and kept me waiting. I advised him it looks to me one of his employees took my info from my card and used it for their food. he told me they don't have access to that information. Well someone from there did get my info and therefore I have had to cancel that card because they could do it again. Can you help? My number is 760-296-2035.

Lynette laffea
from Farmington, MI
Tanner is the manager in golden who is rude and unable to make a kids cheeseburger with no pickles mustard or ketchup. I offered to pay for the incorrectly made cheeseburger correction even though they also didn't have apple juice or apple bites. The second cheeseburger wasn't plain either and he refused to speak w me after I was forced to come into the store from the drive thru This isn't the first time this has happened at this location - we constantly have to check our order because it's usually wrong. I just think tanner shouldn't be a manager. He shouldn't have charged us for his mistake or yelled at us.

cheryl guidry
from Bastrop, TX
I usually drive through jack in the box for taco's on hwy 71 in cedar creek, tx. Today I went in and sorry I did. I will never go back . It was filthy, not just dirty but nasty filthy. Even where you order your food was nasty. There was dirt and trash in with the the coke lids. The coke machine was dirty and sticky. The floors were a total mess full of dirt, food, and trash. A young man brought out a very wet mop, not a broom, and started just mixing it all up and pushing it against the wall and under tables. He used a trash can for his mop water. I really hope the health department checks this place out. If what the customers see is this messy I can only imagine what the kitchen looks like. Jack in the box turned my stomach!!!

Ida Lane
from Beaumont, TX
On 3/29/18 at approx. 5:15pm I place a drive thru order(#1 combo-onion rings instead of fries) at your College Street location in Beaumont, Texas, I was on my lunch break. I requested that the onion rings were not to be fried hard. At the time I got my order I check the onion rings and they were very over fried!!! This was the second time at this location this had happen to me, so was the reason for me checking . The young lady at the drive thru stated " I didn't fry them" at that time I asked for a manager, he or she never came to the window someone told the lady at the window new onion rings were being fried, again I asked for the manager who again never came to the window. This was very poor customer service and the manager's neglect of a customer's request being ignored was unacceptable. I plan on NEVER going to that store again. I would like to contacted about this unfavorable visit.
VERY UN-HAPPYCUSTOMER

They pay no attention to the customers who dine in. You wait forever
Store5236 I I Irvine
In addition they were out of ice and both soda machines were empty except for Diet Coke
Staff totally didn't care

Sarah Carr
from Seattle, WA
I went jack n box 2814 sunset blvd renton wa 98056. I did try call other stores b4 write this no one answer after many attempts. I arrived to place order MANY teenagers were there. They told me they could not serve me all food on menu.cook walk out. But they were frying food. I ask did tell manager yes.it make no since fry food but no sandwiches. Thanks

Alvin Lewis
from Dallas, TX
Worst customer service ever. The employee didn't ask me for what I wanted to drink. She just added a drink and charge me extra. Told her what happened and never fixed my order. Also could not hear her over the intercom. At least they got the food right even.

Evodio Martinez
from Fairfield, CT
on 02-18-2018 i stopped by your location on 7260 n stemmons fwy 75247,i ordered 2 sausage breakfast jacks, told them i wanted my eggs well well done even if they burned it. your employee yell at saying we cant do that, so i said ok just make sure the egg is well done. your employee told me so i have 2 breakfast jacks and gave me the total price, i looked at the screen and i did not see the sausage, so i asked i wanted sausage, and your employee started cursing at me saying for me to get the order right. i was so mad i left and will not ever go to your facilities again, i would always stopped by there every morning and order the samething. i got to my job call the store to speak to the manager, when i got her on the phone she had the nerve to tell me, sorry sir but you have the wrong store and hung up on me. how could i dial the wrong store when the phone # is on the receipt. i hope something gets done, cause when the manager permits all this to go on, that is not good for bussines.

Mary Maxwell
from Portland, OR
It's happening! I don't want to believe it but it's happening! The regression of human intelligence. This is the THIRD time just this week that I have ordered from a fast food restaurant and this order is by far the most disturbing. The order was 2 bacon, egg and cheese biscuits. I had NO idea what I received. Is this a muffin, some kind of .... CHICKEN?!!?!? Oh, and they refuse to answer their phone. I called a different Jack in the Box and she said they probably knew they screwed up. Some might think I'm being sarcastic, or humorous. I gave you all fare warning. This has become or will soon the norm. And I want my money back.

Necessia Davis
from Dallas, TX
Jack in the Box has become the worst of the worst I don't know what's going on with these restaurants but they are definitely going to have to get better and I have let it be known that I will continue to put a complaint in until they get it together the employees are rude some of them are very nasty and trifling looking and on top of being nasty and trifling looking they have the audacity to have an attitude the one on Henderson Street and Fort Worth Texas downtown right next to Harris hospital is one of the worst and I just left there and I submitted a complaint online and reference to the rude cashier named Stephanie that thinks that she has a right to tell somebody that they can give you five napkins and that's considered extra and they can't give you any more than back and then close the window on me when I told her that I was going to file a complaint with the corporate office I have a problem with the one on South Freeway as well which is close to John Peter Smith Hospital right by the freeway and there's also a gas station over there I believe it's QuikTrip so the one at 929 Henderson Street Fort Worth Texas and the one at 1001 South Freeway those two locations are problem and I will continue to put in complaints until the problems get resolved. My mother and I go there quite frequently and we spend a lot of money there and those employees need to understand that they are there to serve the customers and if there's nobody coming in there buying any food they will not be there now my receipt says Jessica as the employee name but she had the nerve to tell me her name was Stephanie but that's not what my receipt says now the one on South Freeway my mother went there just a few days ago to get a bowl of rice and some egg rolls and they told her that they could not sell her a bowl of rice she had to buy the whole Teriyaki Bowl but I just bought a bowl of rice at the one on Henderson Street prior to that so somebody lying and a customer should be able to buy a bowl of rice and they are suppose to be charged a dollar and something like I was just the other day but go to the one on South Freeway and the cashier will tell you that they cannot feel you a bowl of rice and that is a straight up lie and something needs to be done about these employees it's ridiculous

cindy zepeda
from San Jose, CA
i asked for the value deal of 2 crossiants for 4 bucks and was tol it was over so i got 1 crossiant for 3.49 then i get home and 2 hours later on TV i see commerical for te value deals two crossiants i go to jack in the box every week but this kind of made me mad is it just some areas that have value deal i really dont think jack is being fair if this is the case and it dont say select locations on commerical

Harry Rushakoff
from Pico Rivera, CA
Jack in the Box has franchised latitude that is so outrageous a Breakfast Jack in one neighborhood can be a dollar twenty and in another neighborhood more affluent it can be as much as 285 some $3 not to mention their other items on the menu that they do the same thing I will never eat there again I will never ever have any of my friends either the ribeye Burger they had was the best thing they had me took it off the menu... Jack in the Box sucks

Willie L Lomax
from Houston, TX
Me and my wife go to jack in the box on highway 105 in Beaumont Texas nobody answered the speaker so we pull up to window thinking it was broke saw someone walk passed the window didn't come to window looked right at me pull out drive-thru and employee smoking cigarettes talking to a someone in a car i think that was really unprofessional not to let us know anything

Christine phillips
from Atascadero, CA
I went through the drive thru of the Atascadero Jack in the box. Address is 9000 W. Front street Atascadero Ca. 93422, on Nov.10th 2017 at approximately 2:00 am to order some food and milkshakes.The gentlemen from inside the store started taking my order. I was in the middle of placing said order when i ordered oreo milkshake and i was told they had none. I commented on the fact that they are always out and continued
placing my order when the guy erased the screen off what was already ordered told me to keep moving and wouldn't take my order. I was never rude or out of line at any time. I then asked thru the drive thru screen for his corporate's phone number. He at this time ignored me and when i pulled around to the window he was hiding in the store and wouldn't respond to me at the window. I am highly Diabetic and mentally and physically disabled. My blood sugar was off and i needed something to eat. It is quite a bit of effort on my part to deal with the amount of pain i had to go thru to drive there just to have the man working at that time(I can't give you his name or any other info about him because he refused to even show his face at the window. After waiting for a few seconds i was left with no choice but to leave with no food.
This store, again 9000 W. Front street Atascadero Ca. 93422, is always turning customers away without being able to get a milk shakes as early as 10 pm some nights. They are a 24 hour store and you can never get a shake during late night hours. a lot of times it can be a busy Friday night.
I don't know what your policy is about refusing customers items you are not out of, but i worked in food service for over 15 years and u don't do that. You never treat a customer like i was treated.I am glad i was able to get a snack else where before i experience any worse side affects from needing to stabilize my blood sugar, I would appreciate if i would receive a response to my complaint in an email as soon as possible, so i can make sure this kind of treatment not be condoned and prevent anyone else disabled or not from having it happening to them in the future.
THANK U FOR TAKING THE TIME TO READ THIS AND HOPE TO HEAR BACK FROM SOMEONE SOON!!!!!
CHRISTINE PHILLIPS
PS. HAVE A NICE DAY

Employee did not want to give refund understood she couldn't so told her to remake my food she did and then didn't give me no salsa and tacos were put in there like she didn't care she got in my face after I didn't tell her nothing and started telling me that she is irritated because she is the only one there I waited the first time and when I came back she said she knew that she gave me cold tacos experience was just horrible at jack in the box ovation 1102

Joanne Zarola Falcomer
from Alpine, CA
Joanne Zarola Falconer October 20, 2017 at 5:22 pm
Your comment is awaiting moderation.
Today I had an appointment in the city of El Cajon, in san diego. Between the hours of 10:00 am and 10:30, I was going to stop by the Jack in the Box on the corner of Madison and Second street. As I approached the side door to enter, there was a slight raise in the concrete and no warning and I tripped on it and landed laying on the ground. I am 68 years old. I badly hurt my drawing hand, and yes I have been a professional artist and use my left hand, and it broke blood vessels, however, I am not writing about that …I also hurt my left knee. But I laid there and not a soul came out to help me. Someone who looked to be getting off work walked by and I called to him to get me some help. so I could get up. I was not able to by myself. about five minutes later a young boy who looked like he could barely pull his pants up let alone me, a worker there said , oh what happened. I told him I fell please get me someone to help me get up. Another few minutes passed and a worker who was unloading inventory came and said oh what happened and 'we'll get some help
Not a manager, not a worker, no one came to see if I was alright. Treating me like a sub human being…very humiliating and cruel. Finally a kind CUSTOMER asked if he could help me get up. I let him and God Bless him I would have laid there all day had he not helped me. I went inside no manager to be found. The customer was concerned I had internal bleeding but I said it would be okay I guess but it is very sore now. … I called your corporate office in San Diego, and was sent to a message machine. No response and I called back to add some additional information to my report over the phone…and no answer called four times. ..Is this how Jack in the Box treats people? I can only pray my hand isn't destroyed for my art…but that isn't even the issue. the issue is I am NOT homeless,i am a CUSTOMER who was TOTALLY IGNORED AND THEY DIDN'T CARE IF I NEEDED AN AMBULANCE, HELP AND PROBABLY ALL LAUGHED ABOUT IT. CHECK OUT YOUR DAMN VIDEO CAMERA AND SEE WHO HELPED ME??? HORRIBLE TREATMENT BY TERRIBLE PEOPLE . so NOW off to find (if you can) a place where you can send photos of my hand. VERY humiliating, and cruel treatment
NOT A SOUL came out to see how I was feeling, could they help me get up, did I need an ambulance they treated me like SCUM..as I said PLEASE REFER TO THE VIDEO 24 hour can you will see, no one cared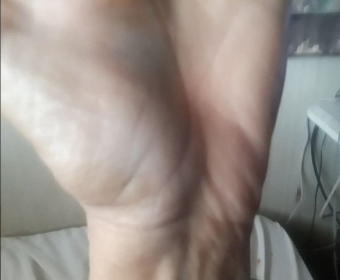 Donald Mudd
from New Orleans, LA
Ordered a buttery Jack without the sauce garlic sauce substitute for mayonnaise when I received it did not have mayonnaise it had the garlic sauce took it back in and the staff was argumentative call me a liar then I asked for my money back and they continue to be argumentative the whole time very rude.
Establishment was very dirty and stunk by far the shittiest Jack-in-the-Box I've ever been.
Also the receipt clearly says substitute mayonnaise.
And I insisted to keep the original receipt in which they argued about.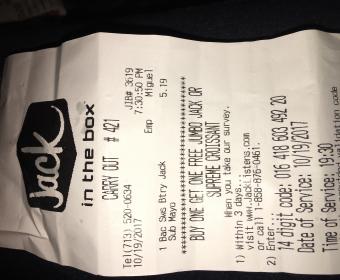 Linda Kellum
from Houston, TX
I pick up 2 tyeri bowls and 2 large unsweet ice teas, two egg rolls. I spent 16 dollars and change, I got two sweet teas no ice, no soy, no sweet and sour, no napkins and rice in bowls was cold. And this not the only time everything was wrong. My husband is home and I picked up our lunch, and I have 30min for lunch. And I didn't even get a ticket

KIILANI GUEVARA
from Los Angeles, CA
4:33 am on 9/17/2017. I went to the drive thru at JIB #8206 in Waipahu Hawaii. Made my order and went up to the window to pay for my order. Upon getting to the window, I noticed a small cup of water, but while ordering, I had asked for a med cup of ice water. This cashier had an atritude, but I compelted the transaction. After completion, I told the cashier," You need to be a little nicer and not have an attitude. Ithe was your mistake, not mine!" While talking to her, she closed the window on me. I then went elsewhere and called the manager. Within 10 minutes, I was there for a refund, but the manager had just left!!!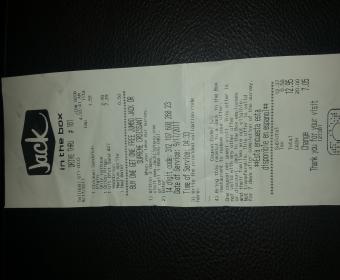 Betty flores
from Houston, TX
Hi my name is betty flores I am making a complaint on a manger on duty at 4319 vancejackson sa ,TX 78213 me and my husband went today on Sept 7,2017 we were at the door at 6:24 am I knocked she looked at me and went to the drive thru window then she decide to give me a hand signal that the dining area was closed I gave her a signal told her it past 6:00 she notted her head and walk away why does the reastraunt have business say dining room opens up at 6:00 am me and my husband love to go here for our Brkfast every morning would like to get a email bck saying what was the reason we couldn't dine in this morning hope this goes to a manger that takes reports like this seriously thank you hope to here bck from a main manger

Cecilia Garcia
from San Antonio, TX
We went to jack in the box. And before we left we checked order it was wrong we thought it was ok before we left when we got home the order was still short. We called no answer we went back the next day and the manager would not help us and said we should have gone that night. Thank you

Marilynn Harrison
from Dallas, TX
My complaint is that this facility don't want BLACK women working there. When this black person was hired she was told she would get 35 to 40 hours.
That she is not getting. The lead worker is suppose to train her for 4 days. That is not happening. She call to the store to find out what her schedule was n she was told numerous time that the supervisor was not there. Yes it is a black man working there but the employees don't want a black female working. That is call racism and prejuice. Please correct this problem.
Thank you for your time. Have a bless day.

Tammy Pieper
from San Antonio, TX
I went to the jack in the box on culebra and Callaghan and they didn't put half my order in the bag..this isn't the first time they did this either..this is about the third time..we keep trying to call so we can go back and get the rest of our order and no answer..I called ten times in a row..I dont want to go back cause they are slow and don't answer the window for about 10 minutes. I am very upset about this poor quality service at this particular store..if someone can give me a call and explain to me how can yall fix this problem..210-638-8726

A angry Customer
from Phoenix, AZ
Check your Arizona store on riggs rd in Chandler never see a manager I always see an hear employees running store by themselves all Hispanics are related under different last names so. Won't be conflict don't speak English

christy farrow
from Seattle, WA
Been there many times. Mess up my order almost every time. The other day I came threw the drive threw and ordered 3 burgers and 2 small fry. Got home and the fries were cold, 2 of the chicken sandwichs were hard as a rock and the 3rd burger was something completely different from what I ordered. The people in the drive threw were very rude. We came back the next day to speak to the manager about it the next day and she was even ruder then the people the night before. It makes me not want to go back!

Cameron Hartwell
from Tacoma, WA
Went in and sat down. Line at counter slowly moving. As I sat customer came in from drive up complaining of wrong food. After it thinned I approached counter. Rowena said " you want iced mocha?" I said no, just two tacos and handed her card for two free tacos. She opened drawer, put coupon in and slammed the drawer with emphasis. It took awfully long time to get. When she had them ready she asked if there's anything else I need. Asked for a fork and sour cream. She said rudely, " just so you know, that's extra".
Shaun heard and looked startled. I have been customer there since 1998 and never been treated so badly. But it's because of a big manager who's prejudices are affecting others and ruining dining in. His name is Parve and he is not customer friendly. And he has been shown papers for my service dog and he still gives me cold shoulder and evil eye. Also not having a person to talk to about complaint is wrong. Papers can get ignored as email. Person on other end can't .please call me. Next time will be discrimination suit.

Bill M.
from Kane'ohe, HI
On July 13, 2016 I drove through the Jack-in-the-Box Drive-Thru at 45-960 Kamehameha Hwy. 96744 and placed an order of 6 Jr. Bacon Cheese Burgers, 6 Jr. Jacks, 2 tacos, 2 large Curly Fries and a large coke. Upon receiving my order, I double checked the items to make sure I received everything. After driving approximately 2 miles away I decided to eat a Jr. Jack. Upon opening the paper wrapper, the burger felt sort of "flimsy" so I lifted the top bun and to my surprise, there was no meat patty in it. It was missing. It only had a slice of tomato and lettuce in it. Not wanting to drive all the way back to the restaurant in the busy traffic, I decided to just "Chalk it Up" as a loss and grabbed another Jr. Jack.
To my disappointment, it too was missing the very same, important component that makes a burger. After checking the third sandwich and finding the same result I had to go back to the restaurant. I returned, and this time, walked into the store and asked a cashier for a manager and she went to the back to get one. When she returned, I heard someone yelling out to her from the back and she answered, "A customer wants to talk to you!". After a few minutes the female manager came to the front and without saying a word, just stood in front of me at which time I politely explained what had happened.
I opened two of the six Jr. Jacks in front of her and again, without saying a word, she quickly grabbed the burgers and went to the back and after a few minutes another employee came and gave me, "New Jr. Jacks, maybe?" or just threw meat patties into the ones I brought back, I don't know what they did because the manager never came back to the front to explain or apologize. She appeared upset from the moment she came to the front of the restaurant, making me feel like this whole incident. Me and my family have been loyal customers of this very Jack-in-the-Box store for over 20 years and I felt like I just got slapped in the face for my patronage. I asked for the manager's name and a cashier said that she only knew that the manager's first name is "Marie".
I think "Marie" displayed an unprofessional attitude in this incident which should be addressed by her superiors. She may have been having a bad day or what have you, but I strongly believe that as a supervisor, you must put your emotions on the "back burner" and be able to focus and function, regardless of personal issues, and provide great customer service which a supervisor of any company usually exemplifies, especially when the customer is being polite and actually has a legitimate complaint.
I have always preferred Jack-in-the-Box's burgers over it's competitors but in this case, Burger King's old commercial comes to light when they asked, "Where's the Beef?". This store has "messed up" my orders throughout the years but I have never returned or called to complain and have always just let it "slide". In this incident, I HAD to return cause I didn't feel like eating tomato and lettuce sandwiches. The food is not my complaint.

Richard Gatlin
from Spring, TX
No ketchup. No tea made. No Dr. Pepper available. Tables and floor dirty. Did not see a manager. One of the young ladies did bring me some ketchup from the kitchen in a container.

Ana Panuco
from South El Monte, CA
I walked into Jack in the box today at 1:50pm and I had 3 separate orders I ordered a #12 and 3 jalapeno poppers. which was order 423 and the order never got processed I am not sure why but the order took 20 minutes to get processed. I also ordered a number ultimate cheese burger meal order# 425 and also cheese fries order number #424 and because they took for ever with the order 423 the other orders were cold and soggy.
I didn't even have time to eat my food because I was on break and it was to cold but I didn't have time to go back. I really hope that this is addressed and that it does not happen again. I go all the time and I am very disappointed with todays services beside them taking for ever with my order i didn't get the ranch or sauce to go with my chicken strips.

Debra Goin
from Phoenix, AZ
100 words, that might be a little hard. My name is Debra Goin , and my husband and I go to Jack in the Box quite often, there are two fairly close to our home and one of them is a little closer to where I work than the other, so any we were coming back into Yuma and stopped at the one store on 4th Ave between 1st Street and 3rd Street, the one store in Yuma that we don't go to very often. I am thinking that they get a lot of highway traffic, that they don't need to worry about return customers... because it was HORRIBLE ! If this was my only experience with Jack in the Box they wouldn't have my return business, period.! We ordered the potato wedges with extra cheese, the portion was tiny, there was OLD onion rings that were really old mixed in with the already small order of wedges.
They made sure I paid extra for the extra cheese and I didn't even get the amount that comes with the usual order. Then we ordered the Sourdough Jack, that wasn't fresh or even warm. I am a General Manager with a fast food chain, I train general mangers ... I find this a shame, that employees think it's alright to serve crap like this to customers like me. Like I said, their sales are probably good because of the area that they are in, being close to a freeway entrance into town... My bill was nearly 20 bucks. I don't know if the stores have the same owner I assume they do. I hope he enjoys that 20 that I was cheated out of... because I will tell 20 and they will tell 20 etc.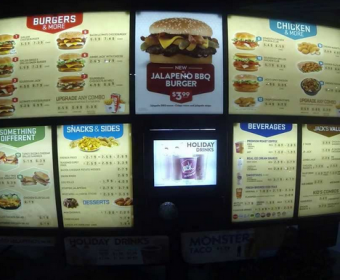 bryce barboza
from West Covina, CA
I went to the drive thru #174 in Covina. I ordered 1 ssg croissant and 1 lg vanilla shake. When I got home, I found 2 tacos in the bag: not what I ordered. I paid $6.95 for food I couldn't eat. The drive back this Jack in the box would have been a waste of time for me because of my schedule. I will not be returning to this or any jack in the box restaurant again. I hope you rectify this matter.

Sharon Patrick
from Beaumont, TX
I went to your store on 365. They said the computers were down and a tech guy would be coming out. Why couldn't these people pick up a pencil, take my order and add up the price? I left and went to the Port Neches store on Magnolia 77651. There, I got my order, they left out the tacos, the onion rings were cold, The burger didn't have the top bun, the ultimate breakfast had no bacon and only 1 egg. This is just too much. Just wanted you to know.

Peggy
from Belleville, IL
We were not greeted for 3 minutes, Food was warm and prepared sloppy, Sauce of some kind all on outside of tacos, Fries were luke warm and hard. Lobby area needed attention and tables were dirty

I am very disappointed that my sons have been denied water at lunch time when going to Jack in the Box. They always purchase food and are taking a medication that requires them to cut out there sugar intake. On more than one occasion the Visalia location on Mooney in Visalia Ca has denied a complimentary water to my two 16 year old sons. I as an adult I have never beed denied. My children are paying customers and deserve the same treatment that all other guests are given. I realize that it does cost money to supply water but I feel that because they are purchasing food they should never be denied. I hope this issue is addressed and they realize that discriminating against our youth should not be tolerated. I have never had a bad experience at any Jack in the box but if this is issue is not reversed I will stop going to all Jack in the boxes.

I went to jack n the crack at 1130 p.m in houston,texas shepard and donovan placed my order on the screen my order was correct I ordered a sd philly cheese steak combo lg root beer and a jumbo jack with cheese no onions again looking at the screen before driving to the window the order was correct wait in line 15 min three cars ahead of me get to the window pay for food not greeted he hands me my soda then a bag with only one burger I noticed and waved for him he already knew what I was waving for gave me the second burger I took my food made it home and then notice that my sd philly cheese sandwich was not in the bag it was a grilled chicken sandwich and the other burger had onions on it upset me and my husband looked for the reciept could not find it we went back to the location let the gentleman know my order was incorrect and I ddidnt receive a reciept he went back and made what I thought was a sd philly he put it on a regular bun gave me.a fresh order of fries but a pound of salt when given the reciept my order was correct now for the third time I had to wait for him to correct my order again

I went thru the drive thru located on Buckner and Bruton, ordered a hot mess combo, jumbo jack combo and a chicken pita combo, drinks had NO ice in them but I excused that but once I made it home and got ready to enjoy my my meal... The chicken in my pita was dried out and burnt, I asked for extra tomatoes and they threw whole tomatoes in my pita, instead of grilled onions they put a lot of RAW onions in it. It stinks and the meat is old!! My onion rings were burnt and the hot mess was just that...they just threw it together. Jumbo jack had no cheese like it was suppose to have and to top it off-when I called and asked to speak to a manager, I was told that they are real busy and that there is no manager that I could speak with. I then asked if she could tell me the managers name and she stated she didn't know it... Seriously...not only that she wouldnt even supply me with her name. I have NEVER received this type of service! To sum it up, my children made the best of their meal and I had to throw my pita in the trash cause I clearly wouldn't feed this to a stray dog! I am very upset!!!!!! I took pictures of this because this doesn't make since to me.

I ordered a jumbo jack no tomatoes they put tomatoes on my burger i drove back gave the burger back and told them it was suppose to be no tomatoes they just took the tomatoes off an gave the burger back and the reason i know it was the same burger the meat had tomatoes seeds on it i am highly allergic to tomatoes i dont like the way they handled the situation it was not that hard to make a new burger they really need to take in cosideration that people have food allergies they need to be more careful will not be eating at that location anymore the loction is 2500 west irving blvd irving texas

Tonight my husband, daughter and I was assisted by Chesley of Jack in the Box. Location of this Jack in the Box is in Long Beach, Ca on PCH/Orange across the street from Long Beach City College and CVS Pharmacy. We ordered via drive thru and after checking our combo received it was incorrect.
This was approximately around 1am in the morning. My husband just ordered a #4 combo and we received 2 burgers with a strawberry shake. Because we were already passed the drive thru window I had to exit the vehicle and walk up to the window to advise Cashier Chelsey of the incorrect order we received. She immediately became irate demanding it was the right order after I advised we just paid almost $10 for a combo and we received someone else's order. She became livid and snatched the bag out of my hands and the shake and literally thru in the trash 1 by 1 and because she was so irate I just asked for my $ back.
She went on processing the credit back. After she completed the transaction advised her the rudeness of her services was not necessary. She said, "bye! Bye!". At this point because she was yelling a male walled in and I asked if he was her manager. He answered nicely yes and apologized on her behalf. I assured him no apologies need from him it was his wrong doing it was hers and she continued to be rude from the background still yelling across serving area,"not gonna happen, not honna happen!" I walked away only to count the credit issued to me by Chelsey only to realize she shorted me only giving me $6 back when I paid $8 and some change.
So again I walked to the window and at this point her manager Jose was handling drive thru window (THANK GOD for the customers that followed). I don't wish termination on anyone. But I work in Client Services and am an advocate of 1st Class Client Services provided to all clients. After all, no revenue no jobs! Chelsey is not worth losing customers over and witness this morning who happen to be there and also waiting to the side because of their incorrect order got to see 1st hand what horrible services Jack in the Box provided tonight. Tonight, Jack in the Box failed numerous customers via drive thru.
Please do us a favor, and process an investigation in this matter, provide managerial training to Jose on how to handle an irate employee and look into terminating a horrible employee with an horrible attitude, Chelsey! I am 35 years old and have experienced many bad services but not to this extent. She truely identified her ugliness through her very very unfriendly customer skills. The better saying is she has NO customer service skills! A very concerned and unhappy customer.

I went to get a valu meal @ jack in box on Avondale Blvd and vanburen, Avondale Az 85323 @ 6:41 Emp marcelina Jb
First of all it took more then five minutes to even notice I was waiting to make my order. I waited for ever which is very odd, and she tookmy order down wrong . She also let me walk out without my drink from my value meal. I was discussed cuz none of the female workers had hair nets on and never seen them clean there hands after touching multiple objects.

I went to jack in the box (251 greens red, Houston, TX 77060) about approximately 2 almost 3 this morning (Oct. 27. 12) and received no service at all through the drive thru. When I first got there 3 cars were ahead of me and apparently they never got served either because when they reached the speaker they honked their horn repeatedly but still no one answered. I then drove around he cars to the window and blew the horn and still nobody came and I didn't see anyone either. This was a real inconvenience to be sitting in line for 20 min and waiting for NOTHING!!!!!!!!!!!You guys can even run the tape back for the hours of the night and see how many cars were in line and left. I hope this never happens again and would like a response back ASAP in regards to this issue because this was totally UNACCEPTABLE!!!!!

I had went to jack in the box store number 0399 in arroyo grande, ca and has gone through the drive threw and has a horrible experience. I loved going there before since it was one block from,my,home, but after this i wont be goin back. The lady who was.working drive threw had forgotten my a few items i ordered, and while i was orderi.g told me, "were really husy right now so i cant take that many orders." I was just truing to order food amd was told i couldnt.i personally would like a refund or something in reenbursment of my unsatisfying visit.
It has become the standard operating procedure for Jack in the Box Management in the Sacramento area to steal from their customers. Yes, it is theft when you intentionally serve products without items that are listed on the menu. Management has instructed the employees to only put a partial piece of cheese on the sandwiches. The Sourdough Jack is advertised to include 2 slices of swiss cheese and 3 pieces of bacon. What has been instructed is to only put 2 half pieces of bacon & only a 1/2 to 3/4 slice of cheese.
When asked about this, I am told that it is now required to do this as a food cost cutting measure. This is done with an attitude the customer doesn't deserve what they pay for. I wonder if this is the same attitude from the franchise owner had when he stole millions of dollars in sales & employee taxes from California.

First, this chick asked me my order 3 different times! i ordered two tacos no sauce, easy lettuce, add onions..everytime she repeated it at the window, she got it wrong..then got an attitude and slammed the window in my face..i paid her in change( after waiting about 5 mins for her to rant about me to her fellow employees) and she accused me of being 10¢ short, so i grabbed a dime and asked her to recount (just bc she had an attitude) she does and then says " ok, this time your a penny short!" so i give her the penny and she slams window in my face (yet again!) and gets my bag ready by shoving napkins and a straw in the baag..she then thrusts the bag in ..my fac e and i nicely ask her for two ranch

When I was hired on, May 22nd 2013 by Desire at the Jack in the Box in Richland Wa, I was asked what hours and days I could work. I told her Mon-Sat, anytime between 10am and 6 pm. I asked for Sundays off because of church. Desire complied with those days and hours for the most part. Desire has since left the company. Sergio (I can't even pronounce his last name) has taken Desire's place as Store Manager. Since he took over as store manager, he has harrassed me and belittled me in front of customers and other employess.
I dont know if it has to do with the fact that I am 60 years old, or what his problem is. Since I have been there, my speed and performance has significantly improved. I have formed a good rapore with the customers who come into the Jack. I have never been late for my shift and have always properly dressed during my shift.
He has phyiscally placed his hands on me to move out of the way from either the fryer, or bagging the food, saying : "JUST MOVE< YOUR NOT FAST ENOUGH< AND I DONT WANT ORDERS MESSED UP". I have worked at many companies before and I have never in my life been treated that way. He told me on the week of the 10th of this month, that he needed me on the night shift, 7-10pm and 7-11pm. I told him no. I was told I would only work days, because I mentioned that I had a prior commitment watching a friends son from the hours of 7pm to 7am.
I have already gave up my Sundays. I'm not able to attend my church. Then he told me "WELL THEN I HAVE NO HOURS FOR YOU AND I'LL HAVE TO ONLY GIVE YOU THIS ONE DAY" which was today, august 17th 11-2pm. Really! He had me off a full 5 days. I strongly feel he is punishing me. I know this is neither legal or ethical. I have rights as an employee. Also I feel this is harrasment which is not legal.
When I work, I run the front counter, help with the fryers, bag up food for both the drive up and counter, do all the dishes, take out trash and recycling and I keep the dining room spotless. When I was first hired on May 22nd 2013, my hours varied between 18 to 22 hours per week. My hours have now been cut to 3 to 5 hours per week. I strongly feel that this is harassment and an unfair practice by Sergio.
What does he want from me? I came in for my shift today and I looked at the upcoming schedule for the week of the 18th-25th Sergio was off today. I find that I am off all this week and I am only scheduled to work next sunday the 25th from 11 am to 2 pm. I know for a fact that he has hired more people. I was very distraught when another employee told me that they overheard Sergio talking to another employee saying eventually the only people that will be working for him will be Mexican's.
I don't think that it is a coincidence that Sergio is Hispanic. Don't get me wrong, I am not predjudiced at all. My son is also of mixed race. I refuse to be treated like this any longer. If I feel there is repercussion in any way shape or form from me filing a complaint, or if there is any retaliation, the Jack-In The box will have
a larger problem on their hands.

On 11-6-12, at approximately 8:23 pm, I ordered a chocolate shake, and a chocolate overload cake. Not that it makes a difference, but they weren't for me, nor am I overweight. When I reached the window, Daniel, the employee on duty yells, " mama, that's a lot of chocolate!!!" I was shocked, and kept my cool, knowing I was going to report his unfiltered, unprofessional mouth. This is not the first time Daniel has made inappropriate comments. On another visit, Daniel preceded to talk about a woman bending over at the shell gas station next door, and made remarks to me about her butt!!! Sexual inappropriateness with a customer? I will take this as far as it can go!!!

I visit there this morning and while placing my order the drive-thru cashier Natasha displayed much attitude w/ me. I placed my order she asked "what size drink would I like" when I advised her whatever size that comes w/ the meal is fine w/ me she advised me to drive to the window and advised me "YOU NEED TO BE MORE SPECIFIC W/ WHAT YOU WANT WHEN YOU'RE ORDERING" when I got to the window. Appalled w/ her unnecessary/rude response I just looked at her...as I went to write the telelphone number to make a complaint she rudely advised me "OH DON'T WRITE THAT NUMBER DOWN HERE IS ANOTHER NUMBER" and walked away. When she returned to the window I asked for her name and she responded just as rude as before "NATASHA!" I not only left this resturant thinking who hired her, but I left feeling totally disrespected and HUNGRY! I called and complained to the manager and he assured me he would address the issue w/ the drive-thru cashier. This is horrible and if a person is spending their money there is no reason for you to be rude.

Ordered about 24.00 worth of food to get home to find out am missing food, than I called back to the store and they don't want to answer the phone. I called about 8 times let it ring until they hung up on me and than I called back for it to happen again. Am a store mag also. It's time for someone to clean house there the night shift is bad, this is not the first time this is happen but it is the last time, customer service is the worst ever. Someone needs to look into it. I know am the only one.

My husband and I went to a new Jack in the Box in Auburn Ca, we ordered 2 big cheese burgers, 2 drinks and a fry. First the order viewing board was not working, but she did describe our order well. We get to the window to pay and they read the order back to us wrong. We correct them and they ask us to pull ahead and park. 15 to 20 minutes later a girl comes out with our our 2 big cheese burgers, frys and no drinks. We ask about the drinks, she doesn't know what we are talking about and goes back in, then finally comes out with them. We look in the bag... our fries are "dark" brown, our burgers do not have the pickles we requested. We will never go back there again.

when we went to park in jack-in-the-box this drive-thru frequently and have never had a problem if they needed to fix my order...very disturbing especially since i wasparking lot to eat,we opened bag and noticed the part of order was missing..immediately went in, the nperson working in drive-thru recognized me, asked for receipt, which i was not given..told me, oh well, ther's nothing i can do..i go to this drive-thru quite often for lunch but this time i was there to buy me and a friend lunch..very humiliating!!!

I ordered 6 tacos to go and after a 10 minute drive to the house, I picked the sack up and there was so much grease in the the sack the tacos fill to the ground and there was so much grease draining from the soaked in GREASE tacos, I don't think I can go back ...

San Diego County Department of Health Food and Housing Division Duty Specialist December 9, 2012 To whom it may concern: Re: No customer restrooms available Jack in the Box 1636 Euclid Ave San Diego CA 92105-5413 On this day December 09, 2012 my boyfriend, his daughter and myself visited Jack in the Box on Euclid Ave at 5:26 p.m. After we ordered our food, we asked if we could use the restroom, while waiting for our order. My boyfriend who had just gotten off work from Cox Cable needed to wash his hands and we needed to use the restroom.
We were told that the restrooms are not for customers. I asked them what do they do to wash their hands and where do they use the restroom, they told me they had to go up stairs and that no customers were allowed to us their restrooms. I find it strange that a high profile company such as Jack in the Box does not have a restroom or wash area for customers to wash their hands before eating. We had to drive down the street to Mc Donalds to use the restroom and wash our hands then come back to Jack in the Box to pick up our food. I would like to make an official report of this incident to you for your inspection and would like to get a report of the outcome.

I'm tired of seeing ugly, trashy, disrespectful & non kid friendly commercials. What does a squirrel shooting the finger or a woman lifting up her shirt, have to do with a burger??? I have stopped eating at your restaurants because I will not support that kind of trash! I don't let my children see nasty movies or tv shows & now I have to keep watch for y'alls nasty distasteful commercials. Get it together jack n the box!!

I purchased a chicken teriyaki bowl. I paid $4.76 which is fine but the portion of food that was given to me was a joke. The bowl was not even 1/2 way full. Called them to let them know and the manager really didn't give a crap! horrible service and food so not worth the price.

On 12/30/12 at 8:30 pm, no one would answer the outside speaker. Three other cars left, same problem. I drove to the front, walked up to the pick-up window and knocked several times on the window before someone came. I complained and she said maybe I didn't hear them answer!
I proceded to go into the lobby to order but couldn't get in as the doors were locked and there was a group of teenagers inside playing around with the doors locked! No one could enter the lobby to order. There were only 2 adults behind the counter, the cook and one counter/drive-through person.
My last trip was ruined by a different person at the drive-through who was very rude to me! I WILL NEVER GO THE THAT JACK IN THE BOX AGAIN!!!!! Sonic drive-in is closer and better food anyway.
Jack in the Box #3813 1724 S. Valley Mills Dr. Waco TX 76711

We visited the Jack In The Box in Mira Loma Ca 91752 on the corner of Limonite and Etiwnada avenues this evening 10/5/2012 @ 7:36 pm ticket number #185 JIB# 3223. Ordered 1 bacon club and 1 sourdgh jack and two med. fries total: $13.96. When we arrived home which is two blocks away, 11518 Geyser Drive Mira Loma we sat to eat and all of the purchased food was COLD!! not even warm!!. I tried to call the number on the ticket for the facility, three different times, each time letting the phone ring in excess of 25 times, (951) 272-3673 and as in the past the number just rings and no one picks up the phone? I wanted to inform the facility that their food was cold and they had an issue and I wanted a refund or an exchange for hot food. Why is it no one answers the phone ? This is not the first time this has happened to us. Is this the kind of service this Jack In The Box supplies to its customers? Does the customer matter or do they figure the volumn or dollars at this facility makes the customer just a dollar sign? Two weeks ago at the same facility we only received a partial order and when I returned I was told I had received the full order when I left? I was quite upset and asked the manager if he thought I would drive back to receive the balance of my order of about $8.00 if is was actually their in the first place.

I went through the drive thru and ordered a 20 piece combo substituted the fries with wedges loaded with cheese n bacon a coke and an order of tacos. The lady at the window was very rude and my order was more than short. I didnt notice til I got home I was in such a rush but come to find only ten nuggets in the bag potato wedges with chili and jalapenos ( not cheese n bacon like I wanted) no tacos no straw and no receipt!!!!! I understand mistakes happen but this was ridiculous and I usually dont call n complain but half my order was missing and I didnt receive a receipt either to back me up. I called the store and not only did I not get an apology but the lady made it seem as if it were my fault the order was wrong!!! I was very shocked with her attitude and so disappointed with the outcome because she failed to even offer to fix the problem I had to ask if they would and still didnt get an apology. I had my bf go back to the store and he was interrogated and was asked the same question of what was missing like 6 times as if we were lying. Then they still forgot to put our order of tacos in after we went back. I will not be going back to that store and would really love it if this situation would get resolved so I can go back to jack in the box again

I went to jack in the box drive thru here in hickey/elcamino
waiting for my turn to order, so finally the person taking the order at drive thru ask me if im ready so i started telling him the order then told me hold on one sec came back to me asking me if i am ready. wtf, he was the one who put me on hold so i was like okay okay so i was giving him my order again and the way he was talking to me it was very unproffesional and rude
like what do you want? what size? what kind of drinks? no manners no customer service at all.

Earlier this morning right around 6:00 a.m. I went to the jack in the box located at; 5016 W. El Segundo Blvd., Hawthorne, CA 90250 and the moment I walked in I was given an extremely unpleasant stare from a gangster looking young lady behind the counter so I asked her if they were open, she ignored me and rolled her eyes then in a angry fashion she asked me how can she help me and I asked her if the croissant sandwiches were still on sale and she became even more angry and yanked off her headset and replied, "What?!!" so I asked her the same question and she replied, "Yeah but we ain't got no bacon or ham, we just ran out!" It is not my fault that she does not like her job nor is there any reason why I or any of jack in the box's customers should have to tolerate her so I walked out and I'll just take my business elsewhere. Good luck to the individual that hired her & her attitude.

i went to order in drive thru.. manager doesnt understand and speak english... we started to order and i wanted to no what the total of what i ordered.. she didnt tell me... we were not finished ordering and she totaled it out.. we came to window... told her we where not done ordering and she didnt give us our drinks or our condiments that we wanted for the food we didnt want,,, i dont understand why cant people hire the ones wo speak multiple langueges and is respectful with a smile,,, she doesnt need to b working under jack in the box,,, her name is alma.. super rude people..

My order was incorrect. I was missing part of my order when I went back in to the restaurant i went to the cashier and she refered me to another associate. The person I spoke to was kind of surprised and asked if I had my receipt I told her I had thrown it away when I got my drinks but when I got to my car and proceeded to give my kids their food there was only one order. She then proceeded to tell me that the would give the missing items. I waited patiently for at least 15-minutes with no gel and no order. After waiting I went back to the counter and thanked the cashier again she was surprised I told her my order I'm still waiting and she said you have to be kidding and I said no but that's ok thank you. I walked out went back to my car and had my two kids share one meal which by this time was already cold and had to stop further along the road to buy more food.
This is the store in Lebec California

I order a breakfast sandwich and hashbrowns in the drive through. When I got home to eat I noticed that my hashbrowns looked half eaten and squished and they gave me a burrito instead of a sandwich. I also order chicken strips and asked for ranch and got tons of ketchup, I dont even think the people there listen when i talked to them. These mistakes seem to continuously happen at this drive through, this is the first compliant that I am fileing about it but if the incompitance contines I will no longer go to Jack in the Box.
Drive thru #105
Sierra Vista AZ
JIB# 1554

My family and I went to Jack in the box , Yesterday on Florida Blvd and Flannery Rd in Baton Rouge, La, yesterday Feb 3, 2012. We spent 45 min in the drive through line, if ther was a way to get out of line we would have but we were trapped all the way around by cars in front and back of us and bushes and a curb on the side. Not only was i in a hurry to get where i was going but my kids were hungry. When we finnialy get to the window we make sure that we have our 4 sandwiches and 2 boxes that egg rolls come in. I did not think that I needed to unwrap each sandwich or open the boxes to make sure that they were right, as we had the employee at the window repeat what we had ordered several times including when he had passed the food from the window to our car. We left the Jack in the box and started heading for an appointment that your store had made me late for by spending 45 mins in line. As my children were passing out the food we had nothing that we had ordered. I had ordered your Hot Mess burger, a sausage croissant , an bacon croissant , a waffle sandwich and 2 large orders of egg rolls. we had spent over $22.oo. There were no egg rolls instead we had boxes of potato wedges . I for one do not eat potatoes. We did get the hot mess, but we had ordered it with NO jalapeneos and of course I think they had put extra on it, as there where at least 20 slices of peppers, My son had to pick each one off and it was about a half a cup of peppers when there were supposed to be none. Then it keep going, My daughter sausage croissant was suppose to have egg and cheese on it but of course it didn't. I was suppose to have a bacon croissant with extra bacon and my husband ordered the waffle chicken sandwich, the only 2 sandwiches that were left in the bag were 2 dry biscuits nothing on them. If your store would not have made me late I would have returned and requested my money back. I thought this was ridiculous. I totally over paid as plain biscuits do not cost as much as what we had ordered. It will be a long time before we go back to Jack in the Box!!

I normally like ya'lls shakes but this time was a fail i went to Jack in the box and ordered a regular chocolate shake, well yall were out of chocolate of course so i take a cookies and cream well when i get my REGULAR shake it comes in a little water cup. I'm never going to chose Jack in the box in the future if given the choice. Thanks a lot Jack in the Box

I went to jack in the box today to get lunch, for One it took about 10 min. to get through the drive through anf they said that it was because they make thier food fresh when my grilled chicken patty tasted like it had been sitting there all morning. When they were taking my order the girl would not let me finish ordering and kept asking me if that was it if she would just listen she would have known I was not done. Then I get to the window pay and ask for a side since she wouldnt listen to me when I was ordering the first place she slammed the window on me while I was talking. My lettice was yellow, tomatoes were soggie, there was no cheese on what I ordered that was a chicken club so I KNOW it comes with swiss. Worst service ever! I havent been there is so long due to having this issue in the past and decided to give it a second chance and I will never go there again and will make sure to let my fellow friends, co workers, and family NEVER to go to cottonwood Jack in the BOX inless they get a new manager who cares.

At drive thru #177. JIB#647. EMP Tiffany messed my order all up. This is the second time she has done. Now if I was to break out from eating Mayo and mustard, I would of filed a complaint with the BBB. all I ask for was no Mayo and mustard but they are rushing the orders trying to get customers out the way quickly. That's improper and something should be don't about this. Visit number 182377. JAH14

Elaine Ficociello
from Port Orchard, WA
This item has been one of my favorite fast food items because I think it's a bit healthier than the usual fried foods, but it has become almost impossible to get it at my local Jack in the Box restaurant. For at least the last 8 out of 10 times I have tried to order it at JIB# 8441, they have been unable to fill my order because of some problem with the rice not being available. The excuses I have received have included 1) the night crew didn't make it; 2) the rice cooker is broken and we don't know when it will be replaced; and 3) the most recent and most ridiculous - the rice is bad (it was too old to sell)! This has been going on for over 2 years now and I've complained to you in surveys, to the managers and to anyone who tells me they can't give me the rice bowl because of a rice problem. I suggest you have this Jack in the Box remove the item from the posted menu as it isn't offered any more. I can't be the only one who is getting this nonsense, so I suspect that the owner or the management does not want to make the item and has instructed the servers to use the "excuse de jour" when anyone orders a teriyaki bowl. Besides being inconvenient, it's an insult to your customers' intelligence. Since we normally order quite a bit of additional food on these visits thru the take out line, our bill for the remainder of the items that they are able to make is usually close to $20. I will not go to this JIB again unless I want to try to get the bowl but if I order it and I get these stupid, unprofessional excuses, I will drive thru without ordering anything and go to some other fast food chain, even if I prefer your egg rolls or shakes to theirs. This has now become the family joke except I'm not laughing.

So disgusted with Jack in the Box first they got my order wrong went back n one of the burgers had a hair between the meat my husband had to pull it out from his mouth went back n the th e only thing they did was give me back the money for one meal n no receipt claiming they had put it back in the bag they gave us the second time we went….now my husband can't eat any fast food anywhere…..DON'T BUY JACK IN THE BOX EVER

I brought a jumbo jack with cheese and didnt get the chesse, the taco was cold, my cruly fries was cold. I stay 5 mins away and when i got home my food was cold i called twice no one answer the phone. I stop going to jack n the box cause everytime i go my order in not right. I dont have money to waste.

I am complaining about two mistakes in three weeks made at the store listed above. Last Wednesday, 3/26/14, I drove in to the Jack and ordered a cheeseburger and a coffee at 6:15 am. The worker said I could not have coffee because she had not made it yet. It was 6:15. Three weeks ago, same store, I ordered a cheeseburger with no mayo. The worker assured me that no mayo was put on my cheeseburger. I got to my office and saw mayo on my burger. Can someone please correct these problems?

I went in the Jack in the Box on Retail Dr in Carson City Nevada on March 19, 2014, at approximately two in the afternoon. There was 3 people total in the restaurant and one vehicle in the drive through. I heard the guy that was working the drive through tell the customer at the drive through window, that he sent some of the workers home, because business was slow and he couldn't afford to pay them when business was slow. After the customer drove off, the worker picked up a trash can and took it to the back and brought it back. I didn't see him wash his hands after that. After waiting at least 5 minutes, I leaned over the counter and asked the worker if I needed to get in my car and go to the drive through. And his response was in a loud and not polite voice, You can just wait a minute. At that point with the three people starring at me I left. I went to Burger King. And got nice service. It will be a long time before I return to this Jack in the Box. Especially if this person is still there. I went on line and found out this is the worst Jack in the Box in Carson City Nv for service.

My order was a fish sandwich, small coke, and a jr. Jack with cheese. I got a chicken sandwich and a jumbo jack with cheese. I got the order corrected and when I ate the sandwich, ( jr jack ) it was cold.This was drive thru order #151.

Just came to the jack in the box off of brooks and 281 it was thr worst ever… We waited 30 mins for 3 orders of cold tacos and 3 ckn burgers!! While the wbole staff *no lie* were jumping around running yelling going in and out of the waiting room… we tried getting there attention many times but nothing… after watching a girl bag our tacos she set it on the conter and kept on with the party! When they finally came to the window they had a guy from the back bring it. When I asked for a mang. He laughed and called a young girl wearing wind pants. After i told her how rude and upset we were there was a lady who said f**ken tell them will give them a comp and thats it… I dont want a comp!!! OMG I WILL NEVER COME TO THIS ZOO AGAIN NEVER!!!!

I'm disabled and I have a friend of mine run errands for me etc. using my Debit Card. On the 21st of march 2014 around 330pm , I sent her over to JIB #486 for dinner for my kids. I was going to have her order 2 separate orders but before she could even get the order out knowing she had a card they automatically asked for I.D. Of course she didn't have that because she was using my card. What kind of policy is this? All other places I shop don't ask for I.D. for using a debit card, credit card yes debit no.
So I told her to go to atm and go back, mind you most ppl don't return after being turned down or for whatever reason most customers don't come back! Well I did! I ordered 20 tacos 3 20 piece nuggets and a jumbo jack. My friend gets home with my order and low and behold NO JUMBO JACK and also an 17 piece nugget instead of 20, I mean come on really! I called Jean manager at the time, and told her everything though I didn't know about the nuggets yet so I wasn't able to say anything about that. All she offered was an apology that's it! I;m so ready not to come back to your restaurants.

I entered the castle rock location today 3/21/2014 1:36pm. The restaurant was in disorder bad I've worked fast food managing for a while I viewed the restaurant as very dirty and unorganized everyone was working hard to catch up but the drive thru was backed up as well as customers standing getting frustrated. I went up to the front counter there was a young man blond did not get his name young guy he was very polite he had very good Manger skills never got frustrated at all offered apologies and smiled he stated that the restaurant district manager has had this restaurant in disorder often that's when I prompted to make this response to what I saw. I have used this restaurant before.
I saw everyone in confusion I looked out side to see the manager on duty just standing smoking that's when all this seemed to make sense. I believe this young man should be offered a management position he is just the guy young and willing to please I was very impressed but on another note something should be done about this situation ASAP. I love stopping there on road trips we always stop there on our way to denver. This incident make me and my husband late for an appointment very disappointing thank you for time amber.

The guy that takes your order in the drive thru sings your order to you and it takes longer to get your food ordered and it is extremely annoying. It is called fast food for a reason. Myself and others that I know are so fed up with it that we won't go to that restaurant any more.

Ordered chicken nuggets with honey mustard sauce with curly fries and a large coke was asked at the window, do you want honey mustard sauce? Answer: Yes. Order received : chicken nuggets, no sauce, regular fries and a large Sprite. And then they had the audacity to say "How was your service today?" I shouldn't have to sit and check every detail about my order holding up the people behind me. Why do they ask what you want if they're going to give you what THEY want to anyway?

I ordered 1 ultimate cheeseburger, 1 shoc shake, and 1 choc. cake. The shake and choc cake were fine, actually the cake was very good. The ultimate hamburger tasted awful. Too much slimy sauce or whatever you put on it and the burger tasted of some kind of spices I could not describe. I ended up throwing it down the garbage disposal. Why would you put out such a discusting burger. Were the spices to cover up the meat it's self??
The lady at the window had such a thick accent that I could hardly understand her, in fact she forgot the shake thinking it was the choc cake. You need CLEAR SPEAKING PEOPLE ON THE MIC.

I eat at Jack in the Box about 3 times a week, and have done so for the past 33 years. Your food is FABULOUS. My only wish is that you would fix the ice tea. It varies wildly in quality from okay to undrinkable. It sometimes tastes as if it has been boiled too long and/or at too hot a temperature. Sometimes it just tastes old, as if it has been sitting out or around too long. I know ice tea, as I make it at home. Other venders, your competitors, have better ice tea, but that is all they trump you on. Your food is the best! There used to be 2 Jacks on El Camino in Palo Alto. The remaining one has consistently bad tea; the other one got it right about 70% of the time.

I am writing this because recently I went in the drive thru at Jack In The Box in Tempe. JIB# 1197 at 4:36:47 PM on 4/4/13. The person who helped me is named Naomi. She wasn't very friendly and when she handed me my soda she didn't make sure the lid was on all the way and guess what I got my whole lap filled with soda. She seen it happen and didn't apologize just asked me if I wanted sauce. I said very disgruntled "Are you serious, you just seen the soda lid come off and I have soda all over my lap."
She says well is there anything else you need and I had my 2 year old and 4 year old in the back so I didn't want to start screaming at her. I told her to give me another soda and I got out of there as quick as I could because I knew that if I stayed we would have had big problems. As I started to drive away I went to grab my phone to call someone and vent and that's when I realized it was in my lap. I picked it up and it was covered in soda. I tried turning it on but it wouldn't come on so I tried leaving it out to dry overnight. It still didn't turn on. I had handset insurance through cricket so I had to make a claim to get a new phone. I had just bought my phone a little over a month ago for $150. Now in order to get a new phone I had to put another $115.
Due to the carelessness of this employee I endured a lot of distress that I shouldn't have had to deal with, a ruined phone, and another $115, I didn't have, out of my pocket. On top of that the lady never apologized and she had got my order wrong. I am a single working mother of two and live on my own. I don't make a lot of money just enough to get by. I have receipts for all my expenses put out and would be willing to provide you with them. I do not plan on going back to Jack In The Box again especially that one.
When I got home I had called this restaurant to speak with the manager about the incident but there was no one at work at that time. This is the worst service I have ever had and lost out on things I shouldn't have. I don't expect you to reimburse me, even though that would be the right thing to do. In nothing being done about this incident you are telling you customers that you don't care about them or any of their belongings you just want their money. Sorry to write with nothing but negative things to say and I'm sure not all of these restaurants are ran like this. I would be forever grateful if you fixed the errors and loss of property.

To Whom it may concern, I had the dissatisfaction of going to your facility. Not only was the service inadequate, due to the long wait of a total of 6 vehicles sitting and waiting in the drive thru, but after I ordered potato wedges and 2 orders of tacos. To my dismay when I arrived home I realized instead of potato wedges they gave me curly fries and instead of my 2 orders of tacos I got what I assume to be 3 chicken like possibly fish things, I couldn't tell cause they where over cooked it looked like something that would come out the back end of an animal. The employee that did not give me proper service was Amanda at the JIB# 944 @ 11:13:40 PM on 4/11/2013.

My mom, step-dad, little sister and I went to our local Jack In The Box and placed our order from the self service kiosk. I paid for the food and waited for our bag so we can go home to eat and as soon as i took the first bite into my Big Cheeseburger it had an awful smell to it and i've been going to Jack In The box for years now and i've never had any burger with a bad smell or taste to it.
I pray that none of my family members get food poisoning. The Jack In The Box location we were at was on 59th ave and Glendale, Az. I honestly don't think I will be going to Jack In The Box ever again and the curly fries were nasty as well.

My wife and I ordered three items from the menu of the Visalia store on Akers; Ssg Croissant, extreme Ssg, meaty Brkfst burrito, plus coffee and water, drive thru # 189 6:02 AM Sunday morning the 31st of March. Jib # 3592.
the attendant was pleasant, the food was hot and the coffee was good.
The problem is, ithe food all tasted the same! If you closed your eyes… and took a bite… there was no difference in the taste between the three items! Just "texture" difference. The tortilla was the dominant taste in the burrito and the bun was the flavor of the "Extreme Ssg" the croissant was also…. blah… NO FLAVOR JACK!
Good grief, how much more would it cost to make the food taste good! At least Mc D Ssg Mc Muf has flavor! I see you have www.Jacklistens.com on the receipt… I'll respond there too.

It seems like every time I go through the drive they at This particular jack in the box there is something wrong with my order every time.this time I ordered a sourdough jack plain with jalapeños. Since when does plain mean no cheese or bacon? Because all I got was a piece of bread with a pice of meat and 3 jalapeños.
If I wanted a plain bun with only a piece of meat I could have literally paid 3 dollars less for it. I don't mean to seem like a rude customer, but when you go to a fast food resturaunt, all you really want is to get what you order. Thanks for your time.

I am highly disappointed at the fact that the workers are not being educated, nor are cautious about the ingredients that are being sold to the customers. I went to Jack in the Box twice a few days ago through the drive thru and specifically notified the employee that I am vegetarian and asked which foods are vegetarian friendly. The employee mentioned that the tacos are soy and does not have meat in it at all. I asked her if she was one hundred percent sure that the tacos did not have mean and she verified that it did not. I trusted her and decided to purchase the "soy" tacos.
On the second day, I went to Jack in the Box with my girlfriend and I ordered the tacos again. My girlfriend told me to ask again because she couldn't believe that the Tacos were soy in Jack in the Box. I asked again and the employee verified once again that the tacos did not have meat. My girlfriend and I did our research about the Jack in the Box tacos ingredients because in reality it taste a lot like real meat and for some reason, I got a little stomach pain. Our research verified and specifically indicated that the tacos do have meat (most soy and a little bit of meat). It disappointed my girlfriend and I that we were fed meat. It's very preposterous that through the employee's no sense of knowledge, my girlfriend and I consumed meat when we are vegetarian.

overheard manager nametag said monica telling employee too shutup and go cry in back and cursing about other employees.
this was in kingsburg ca restoraunt,this i think is unprofesional.thank you

Last Saturday evening we ordered a new turkey bacon sandwich and a burger that was supposed to have bacon. Apparently the Happy Valley store was out of bacon, as when we got home neither one of our sandwiches had bacon. We double checked our receipt and we were charged the full amount. The takeout cashier said nothing to us although they had to be aware. We are so disappointed and will not stop there again.

Kay Chappell-Richardson
from Pearland, TX
I went to the location at Dixie farm road and 518 in Pearland on 1-16-19 at 10:15pm and the man at the drive thru was very rude to me. He told me that I would have to wait 20 minutes for my order due to a shift change. When i asked him to explain, he said that he had made it clear to me.
Needless to say, i left the restaurant and took my business elsewhere. I was giving you a second chance, i had already been the victim of credit card scam at this location.
I can assure you that i will never go to jack in the box again. The person at the window was so rude to me.

Chenita w Byrd
from Pearland, TX
I'am in houston texas i went to the location on west fuqua i ordered tacos i needed to eat i'am a diabetic i had taken my shot i wasn't feeling too good so i was getting ready to pay anyway this lady behind me paid for me. Anyway i was eating i ate half then i asked the young lady behind the counter what type of meat was in the tacos she said oh i don't know i said it's not beef for sure and i hope it isn't pork cause it makes me ill she kept saying no either one she knew what type i said can you please exchange for a very small burger cause i need food she replied you ate it all i said no plus the young lady that taking the garage told her the same thing,she refused to let me have anything in the place of them. By the time i got home my stomach has been hurting and burning, that other worker felt also that she should have helped me.

Sally huizar
from Carson, CA
He said his name was Tony all I ask was easy on the ice for a soda so I get up to the window I asked him easy on the ice right he goes smart remark I said no just making sure he hand me my change drops it in the edge of windows looks at me mad look it's it in my hand then gives me my soda but as he does it he swizzed it cups are flimsy and hand me it but with a tilt so the top was full of soda I looked at him he laughed I asked for a manger he said she was out to lunch it was just him and the cook iam there at least 4 times a week so is my husband I called up there to talk to a manger gave my name number and haven't heard nothing iam really up set with this employee no reason to treat me like this here is my number 310 977-6789

Jerry Lynch
from Greenbrae, CA
Not a complaint, just trying to help you use this situation to improve image and employee training. The world is not perfect and we all make mistakes.
I'm sure this was a rare occurrence. I pulled up to the JNB on Bernal Ave, Pleasanton to get a cup of coffee and noticed an employee unloading JNB products from their car on Monda morning 1/31/18 around 10:15 am. Sure they were making emergency product pickups, maybe from another store. Notice the photos, they place the bread (covered) on top of a trash can in front of the store and carried the other items in the store. as I waited about 10 mins, for my order, then walked out, noticed the bread was still sitting on the trash can.
I sat in my car for about 5 mins and I think they forgot the bread was outside, giving the wrong image for JNB, not to mention the food quality assurance.
I'm sure when the employee realized they left the bread on the trash can for over 20 mins, they probably destroyed the risked storage of food.
My only purpose of taking my time and sending you this message is that you use this in a constructive manner and help resolve the employee lack of standards and continue to improve the image of JNB in Pleasanton, CA., Bernal Ave.
Keep up the great effort and food,
J. Lynch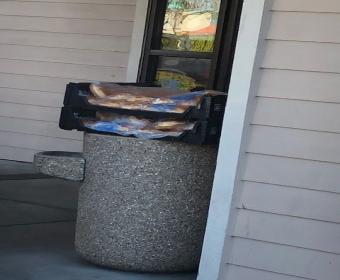 Marion Ramos
from Washington D.C., DC
This is the third time that this has happen , the person taking your order cannot comprehend what your saying .
For Instance I order a breakfast jack meal / with a orange juice , and I got hamburger and a DR Pepper, Wrong
You Really need to get people in there that can understand English.
So please do us all a favor , renew your staff.

Brad Noneyabusiness
from Goodlettsville, TN
I just send you guys a complaint about my experience this morning. But you only offer 600 characters to do this at that website. Then I found this website, which hasn't given a Character amount. 600 in not even close to enough, and I think you people know that. Anyway, I digress. I went into Jack-In-The-Box this morning to find the doors locked at 6:25am. Its happened once before recently, although it was on 6:07am that time and they opened the door right away. This morning however, the cook saw me outside the door and ignored me. So I tapped lightly on the glass with my car key. We used to do that when I worked for a grocery store, everyone was usually way back in the back of the store. You can hear a key on the glass a long way. Anyway, the cooked ignored my tapping, so I tapped harder and louder. Another girl popped into view and motioned with her hands, (she wasn't happy) for me to stop. Well, I don't appreciate being ignored, and I don't appreciate them opening the door 25 minutes late. It was about 35 degree's this morning.There was also a bucket and a mop in the eating area. The girl that opened the door was pretty rude, I said good morning (I did not admonish her for anything. now I think maybe I should have) she ignored me. And then she made me wait at the counter for another five minutes or so to order my coffee. She was working the drive through window, but I know this girl I come there enough for her to know all I needed was a senior cup of coffee. I don't want go through that again. If you open at 6am then you need to have the doors open at 6am, not 601am or 610am but 6am. Another thing, I tried to call you guys to tell this, but apparently you don't want to accept phone calls for complaints. You guys aren't poor, you can very afford to take calls from the very customers your supposed to be serving. And if you've forgotten, I am a customer, and I and others are the reason you have a business period! You and MacDonalds and other seem to have forgotten that. There is another franchise that is second to no one. And that's In-Out-Burger. But lucky for you and others they don't serve coffee or breakfast. You better hope they don't start. Not only do they keep their restaurants and bathrooms clean, they are staffed well enough to help customers when they come in. They are also happy to see you, they greet you with a smile. This is common for In-Out-Burger. I know this because I drive a big truck for a living, and I drive within a 300 miles radius usually, but also to Reno, Nevada. I go to many In-Out-Burger restaurants (because simply, they're the best) and they are all pretty much the same. Now I'm not saying Jack-In-the-Box is horrible its not. I love the Sourdough burger, and the breakfast supreme, even though you guys stopped letting us customers have an egg over medium. I think you guys think, its going make someone sick. Not even close, if the egg is good to begin with it wouldn't matter how you cook it. I was a short-order cook for years, before I got my Class A license. But again, I digress. If I don't complain when something isn't right, then you won't know, something needs to be fixed. Its goes to a pattern of those working there. That's the only way to figure out if something needs your attention. Anyway I appreciate your attention in this matter. I consider it closed and have no ill will toward Jack-In-The-Box or its employees. Tomorrow is another day. Have a great New Year!!!

Jamie Garcia
from Yucaipa, CA
I live in Banning, Ca 92220
I am a regular customer in the Banning store. I visit 5 to 6 times per week. I usually spend 25 to 45 dollars per visit. Last week I went through the drive thru and spent 43 dollars and some change. When I got home most of the order was once again wrong, fries were cold and sodas were not filled all the way. Also my special orders were incorrect. Thankfully I checked Before biting into mine, because I am allergic to onions and again my jumbo Jack had onions..
I called immediately and spoke to someone who said she was the manager. I was told my name would be placed in some book and that I could get 2 of the meals replaced the next time I came in. Last night I went to try to get those meals and was told I could not get them replaced because my hame wasn't in this book, and was basically told I was lying. I spend alot of money In this store Jack, and I dont appreciate being treated that way. I think it will be a very long time before I go there again .

Kelli dussault
from St Louis, MO
Was starving after working 10 hrs and went through drive through. Ordered southwest chicken salad and onion rings. I asked for ketchup, did not receive. No big deal but also did not get packet of dressing so salad was a bust. Didn't eat that. Didn't realize it until I got home. It was late and I was tired. So I didn't check bag. Also asked for no receipt.

Sandra Garcia
from Houston, TX
Service was very unprofessional. Employee was very rude and could not seem to get our order correct. Had to start over because she said it was confusing. We asked for the price difference to upsize,gave us one price then changed it. She asked us if we wanted curly or regular fries,not mentioning that the price is more for curly. Told us very rudely that we didn't tell us what kind of drink we want but she didn't even ask us in the first place. Instead of continuing our order we left that location and drove to another one. Very bad customer service. Will not return to that location.
Culebra and 24st location. 12/21:18@9:56pm

JULIE STOVALL
from Mesa, AZ
Drive thru @ 5:47 am, ordered. Staff member having troubles entering order, asked if he wanted me to start over, said give me a second. Asked multiple times what did I order. Got to the window, received attitude from Staff member at window, gave me my change, then shut window and locked it, after 5 min gave me my drink. After 20 minutes of waiting for my breakfast meal, I knocked on window, I was going to ask for my money back as this was ridiculous to wait this long. 2 other staff members ignored me, He came back at 6:07 and said the hash browns were cooking and handing me my bag of food. I have never waited 20 minutes for hash browns. I felt I had to search my entire meal prior to eating to confirm that nothing additional was added. I asked my daughter for the receipt to verify the staff member name, no receipt in bag or was not handed to me at time change was given. I used to like this jack in box, but after the AM treatment received, I will never return.
This was the jack in box on Chandler Blvd and Dobson in Chandler, Arizona.

joel avans
from Nashville, TN
soda machine has not been cleaned in 3 weeks i know this because i put a mark on machine and it has been there 3 weeks now the floors have been dirty last two visits but yet all associates are standing around joking about in the future their is a burger king just across the street which is always clean
JACKS #275

Juan Espinoza
from Port Saint Lucie, FL
I came in to the restaurant to eat lunch with a co-worker. Order our food and sat down to chat while the food was being made. I found a small hair in my food and I decided to go ahead an ask management to replace it. Management acted really bad when I asked instead ask all ppl from his staff to come out the kitchen and turn around foe me to see that they had hairnets, because that was embarrassing and I didn't want to make a bad scene I say pk and left the restaurant. I told him I was submitting a complaint and he told me I was not to come to his restaurant anymore.

Carlos Snyder
from San Jose, CA

kristi howe
from Everett (Cascade View), WA
i was sitting at the stop light on Everett Ave and Broadway in Everett Washington last night 12/14/2018 at approx.. 6;30 pm we were having some high wind gusts and your sign that is brand new flew out and hit my car a long with some debris from the pieces I asked the employs working at the time who to contact and they said to contact corporate except it was after hours and no one answered please contact me so the damage to my cae can be discussed promptly . thank you
Sincerely \
Kristi Howe (425) 344-3735

Elena Arispe
from McKinney, TX
I order two the deli trio sandwiches from the jitb on 380 and hey 75 in McKinney TX
And it no where look like the menu, it did not have the spear pickles ,hardly any maynesse, and cold bum

Danny R Stuckey
from Ashburn, VA
Called in an order on the mobile app. Got there and waited and waited. They sserved customesrs in the drive through and dining room that arrived after I got there. The manager finally ask what I was waiting on. They had never started my order. I was somewhat indignant. The manager told me that there was onlly 3 people cooking and she was having to help the girl at the counter. I told her that the mobile ordering was not supposed to work that way, she walked off, and I yelled that it was not may fault she was not a very good manager. I felt like she could have offered some type of consideration as a way of apolgy. Didn't happen. POOR CUSTOMER SERVICE. JACK IN THE BOX IN MABANK TEXAS. 75147 , NO RECEIPT FOR A SURVEY. McDonald and Churches across the street

Rose M
from Los Angeles, CA
TWICE I HAVE BROUGHT MY ORDER HOME AND MISSING SOME IF IT. LAST TIME WAS FRIES TODAY I DIDNT GET MY CHEESECAKE..WHATS UP WITH YOUR WORKERS. I HAVE BEEN CHARGERD BOTH TIMES
1ST TIME I DIDNT GO BACK TODAY THE SAME NO CHEESE CAKE. I LIVE LIKE 20MIN.DRIVE.THIS UNCALLED FOR. AS MUCH AS I LOVE JACK IN THE BOX I GUESS I HAVE TO STOP GOING. NOT LIKE HAVE THE MONEY TO PAY FOR SOMETHING AND NOT GET. VERY WRONG AND POOR CUSTOMER SERVICE..

Margaret Robinson
from Jackson, MS
I visited your Jack in the Box at 4375 Genesse Ave. San Diego, CA 92117 on 12/07/2018 at 12:15 P.M. I placed my order at the drive thru and waited in line to get my order. When I got to the window I gave the girl my money and she handed me my order and turned around to do something else. I said excuse me and she turned back around and said " what, you want your receipt? " I said yes, that and my change. She said " what, you want your change " and I said yes! Now it was only a few pennies, but the point is, she wasn't going to give it to me and it makes me wonder how many other customers has she done this to! I couldn't do the survey, because there is not much information on my receipt It does give her name as araceli and the JIB# is 3018. Also my fries were almost cold! Needless to say, I was not at all happy with my visit and I go to Jack in the Box all the time! It is my favorite fast food place to go to!

marge garcia
from Los Angeles, CA
First of all, I called in the survey with our receipt and was told someone would call me back Monday between 12:30 and 4. Then I filed a complaint on the internet and am still waiting for an answer. You can't get a person when you call the phone numbers. I called about a complaint in regard to the JITB in LaHabra, ca. We wanted the rib eye burger with blue cheese and since they didn't have any blue cheese they put blue cheese dressing, which was terrible. I also complained that the picture shown didn't look anything like what we had. We had to pick up the bun to find the bacon. We were very disappointed but more disappointed that no one cared enough to answer my internet complaint or to call me like I was promised. I really don't think you want to hear anything negative.I am trying one more time. But I did see a lot of negative complaints listed on the internet, so I guess I'm not the only one.

Marla niavrs
from Little Rock, AR
Carlos was very rude in handling my complain and wasnt able to replace my order. He gave me the wrong number 3 times. I had to call an other store to het number and store number cause one carlos gave me 3times was incorrect. Was he either scared i was going to report him to the hotline. I dont lnoe unprofessional

marge garcia
from Los Angeles, CA
First of all, I left my number this morning and was told I would get a call between 12:30 and 4pm today (never happened) We went to the La hab ra I store and wanted a rib eye blue cheese burger. After much discussion with the server and manager they said they didn't have any blue cheese and we could get blue cheese dressing. We agreed and we are so sorry we did. It was terrible. I thought it would be nice to get a discount or some free fries but it didn't happen. When we got home I looked at a picture of the blue cheese rib eye burger and what we got looked nothing like it. We had to pick up the bun to even find the bacon. Very disappointed. If an item is advertised they should have it in stock. Sorry we didn't just leave.

castorena2011@yahoo.com
from Santa Ana (South Coast Metro), CA
I was so excited to try BLT Cheeseburger. My husband & I saw your commercial and it look sooooo good. Couldn't wait to try it ;o)
Went on Sat. 12/01, not a happy camper ;o(. Food was terrible & didn't look like commercial or your sign in store.
Locations:
2780 S. Iowa Avenue, Colton, CA
Still LOVE LOVE your Tacos
Thanks,
Sophia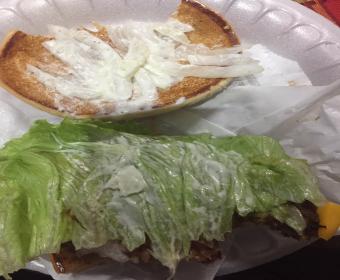 Benjamin Gines
from Ontario, CA
Bought a breakfast platter this morning (Dec 3) at JIB # 3299 located at Foothill Blvd in Rancho Cucamonga CA. On there ads posted it says $2.99 but the cashier refused to honor that price. She says that they no longer honor that ads so she charged me $4.17. If they no longer honor that ads why is it that still posted there. There confusing customers. Not a good one.

Sarah Skobin
from Sunland-Tujunga, CA
I was given my change back from an order, minus $10. I immediately went back and told the manager who admitted their cash register balance was off by $20, but they still couldn't give me my money back! I was told they would call me by 5pm today, but never did! I'm completely appalled and am going to file a police report!

Dayanna Priego / Konnor Cruz
from Bellevue, WA
Drive thru lady charged my card and told me that it didn't go thru but I clearly had the money in my account and she wouldn't take my other form of payment she was rude and disrespectful and she stole my order I went back home and I saw that the money was charged to my account . I want my food or my money back and I want that thief fired

FIRST THING THE SMART MOUTH MANAGER ON DUTY, I TOLD HER SHE GAVE US THE WRONG BURGERS WE ORDERED THE BUTTERY JACK CLASSICS , WE RECEIVED 4 BUTTERY JACK WITH SWISS CHEESE !!! WHEN I GOT HOME AND DISCOVERED THE MISTAKE I CALLED AND RANG AND RANG NO ONE ANSWERED THE PHONE , THEN WAITED 15 MINS LATER THE SO CALL SMART MOUTH MGR WHO ANSWERED THE PHONE I ASK WHY DID WE GET THE SWISS CHEESE BURGERS ON THE BOXES IT WAS PUNCHED FOR CLASSIC - SHE SAID I DON'T KNOW I DIDN'T MAKE YOUR BURGERS INSTEAD OF TRYING TO FIND OUT WHY IT HAPPEN SHE KEPT REPEATING EVERY TIME I ASKED A QUESTION I DIDN'T MAKE YOUR BURGERS. THEN SHE SAID BRING THEM BACK WE WILL REPLACE THEM ,AFTER WE COULDN'T GET IN TOUCH WE ATE THE OLD BURGERS THAT HAD BEEN SITTING (ALREADY COOKED) AND GARBAGED ON US ( we don't like swiss cheese) the lettuce was wilted and white, when she found out we half eaten them she said their was nothing she can do. I ASK WHAT WAS HER NAME SHE WOULDN'T GIVE IT TO ME SAYING IT'S IN THE CONSTITUTION BUT SHE NOT IN COURT SHE REPRESENTING THE COMPANY AND I HAVE A RIGHT TO KNOW WHO IM DEALING WITH. THE BURGERS WERE DEFINETLY OLD AND TUFF AND WHILTED

tammy cory
from Rancho Santa Margarita, CA
Extremely poor customer service from the drive up customer service representing Jack in the BOX. She shrugged her shoulders at me twice when I mentioned she got my order wrong. Never did she compensate me for her mistake She did not care at all that she was rude and not helpful and that she got my order wrong and was short with me in front of my daughter. Never did she ask me if my order was correct, she did two transactions and got them wrong, etc.....I told her that she must not care about her job. The Manager came to the window and all she said was sorry, still with no resolution acknowledging that Araceli the drive up customer service was incorrect to represent jack in the box that way and how could it be made better? Nothing! I will NEVER go back to that Jack in Box with that person representing your company!! I don't even want to give it 1 star but I cant delete it!
I would advise ANYONE in the CUSTOMER SERVICE POSITION MUST be trained correctly to handle customers and represent your company. She does NOT!
JIB# 3387
Employee: Araceli, Ladera Ranch, Oso and Antonio Parkway

Gary singleton
from Dallas, TX
Monday nov 19th @2:30, the team working today is awful, many of us customers are being trreated poorly, disorganized, incorrect orders ETREMELY long wait times (even for just a drink). But most disturbing is the level of no professionalism, no courtesy cursing, laughing about their mistakes. All the customers in the drive-through and inside appear disgusted

I ordered a biscuit breakfast sandwich today at about 12:40 pm at your Ustick and Cole store in Boise, Idaho. My meal was bad enough to track this website down and tell you. The biscuit was dry and cold, the cheese was cold. The egg was fried so long that it was crunchy. Don't offer breakfast if you can't do it well. I never got a receipt. And When I went to jack in the box's website, I was unable to hit send. The system just wouldn't let me.

ina
from San Bernardino, CA
I went to have lunch today, 06148830012802 tried to take survey but was kicked off. I ordered my food at 12:12 on 11/14/2018 I waited for my food for 30 minutes. The funny part was there was no one in the restaurant. I had to go up there and ask for my food, which was to go and on my lunch break. It took all my lunch break and they weren't even apologetic. Please staff your employees on time and customer service.

Donna Gabbert
from Weslaco, TX
We went to get a $2.99 special advertised with pancakes, sausage, eggs any way was told they were out of pancake syrup.So we went somewhere else
located in Weslaco, TX 78596

Vernon Henderson
from Fort Worth, TX
I ordered a #4 with cheese regular fries and a sweet tea at the drive thru 32 minutes ago. I paid 7.12. I get home and start eating and realized that it had Swiss cheese on it. I didn't order Swiss cheese but the receipt says Swiss cheese no American cheese. I was not made aware of this issue if they don't have American. I have been calling the store#761 since I noticed the issue. I called 11 straight times and it rings until I get a tone like a fax machine. I am very dissatisfied with this. I have never had any issues before but because of the weather it really has me in a bad mood. Please respond and take action. My drive thru#117.

Angela Routt
from High Ridge, MO
This is the second time I've been to this Jack-in-the-box lately and have had bad service. Last night we went to place an order through drive through and heard yelling and goofing off through where you order, the girl kept making us repeat our order because she was laughing and didn't here us. We get to the window and employees are running around and goofing off. We take our order home and it was completely wrong food was missing. I was so irritated and it was late I wasn't going to drive back. We ordered 6 tacos, 2 without sauce and an order of 3 piece jal. poppers. We only got 4 tacos all without sauce and the 3 piece poppers only had 2 in it and were so dry the inside was hard. Our order was only $6.29 but maybe if they weren't goofing off so bad our order might have been right. Drive through #101 High Ridge Mo. Employee on receipt: Danielle JIB#4094 11/7/18 9:36pm
My info:
Angela Routt
5357 Harter Farms Manor
High Ridge, Mo. 63049- (636) 692-8143

John Lefurgey
from Phoenix, AZ
Jack's on Bell Rd. And 303 in surprise two days in a row did not give me what I ordered.Paid for the food took 21 minutes as a walk in.I am here working out of my town.Money is tight eating on a budget.Great loyal customer of my Jack's at home in Lake Havasu Az.That Jack's needs some Management.Thank You.

ibrahim farraj
from Tacoma, WA
The service bad I couldn't change my order after I paid .

michael a. Morris
from Spokane, WA
Two weeks ago, my wife and ordered two (2) Ribeye meals from the drive through window. When we got home and sat down to eat them (20 miles away) I found a foam earpiece cover in my sandwich. Needless to say, we didn't eat any of the meals we bought, not knowing what else they did to our food. I took the sandwiches back to J&B the following day and the assistant Manager told me that it was one of their earpiece coverings that they use to communicate with one another. I don't believe that this was an accident. The black covering was bigger than the tomato and between the lettuce and tomato. This was the worse, egregious, act anyone had ever done to us from a fast food restaurant. I have pictures of it on my phone as well as a complaint I filed with the Spokane police department. The complaint # is, 2018-2020 2662. I want someone from J&B to call me at (509) 279-2712 to discuss how this could've possibly happen to us. If I don't receive a call I will post these pictures on both, Facebook and YouTube, and will pursue other options

No Need to Disclose
from Cathedral City, CA
An employee named Yadira was extremely rude and disrespectful. At the drive thru order monitor, I asked her what came on the buttery jack and she said, "whatever's on the picture". When I got to the window I wasn't close enough for her to hand me my order so I had to open the door to get the drinks; it wasn't done on purpose. Yadira had an attitude and took my car for payment, she handed me a clipboard with a sales slip to sign without returning my card to me. I asked her for my card and she wouldn't give it to me until I gave her back the signed slip. She complained that I was too far away and slammed the pay thru window and began to berate to the other workers and point at me. A guy came to the window and I told him to cancel my order and give me my money back. I told him I refused to be disrespected as a paying customer. I returned all 3 drinks and he gave me a refund. Yadira's behavior is the reason fast food workers get a bad reputation. She had an unprovoked attitude which caused your company a lost sale and wasted product.

Jeffrey Ruiz
from Cleveland, OH
You seriously have to get some thing done about Fulton ranch store in Chandler az every day thier are two people trying to get out orders or early in morning 1 person where is the manager why are they not there to help I feel sorry for the employee (s) but my wife don't cook and this is just by my house so I can already expect some one to say please pull to the front

Capra Carter
from Kansas City, KS
I went to The Florissant store on North Lindbergh, and I purchased a meal and when I got to the drive thru window to pay for the order it was 12 dollars and some change. I had insufficient funds on my debit card. I told the cashier to run the card again after I did a bank transfer and she said the system would let her keep swiping the card so I told her that was the only method of payment I had and asked her to refund the portion that was taken off the card which was 6.91 and she said it never came off of my card. I told her that I have an app on my phone for my bank account and it shows 6.91 being charged at Jack in the box and she argued with me telling me rudely that the money never came off. I would like my money refunded and the young lady to be addressed about her rude attitude. I have attached an image of the bank statement with the money taken from the card. She did not give me a receipt or anything proving that the order was voided or refunded. My phone number is 314-218-8658.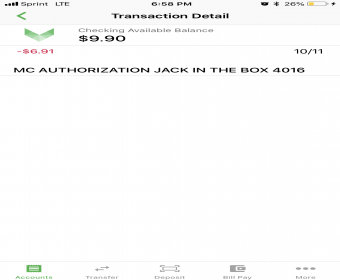 Andy Kapp
from Greenville, SC
The jack in the box at five forks woodruff Rd is never open as advertised...tonight 20 mins ago, all lights are on , open sign is on, workers outside smoking with their friends...I pulled through the drive through and wrecked my Tacoma because the slack ass employee put plastic crates in bricks...went under my truck got stuck ....came over and told me they are closed bc he is underpaid. Open light is on , all lights and drive through lights on..you better pay for these damages...2013 Toyota Tacoma . This iaco in the box has gone down hill and has been closed as early as 11pm...when open late, never have any food is what the same guy tells me...I've been going to jack in the box since opening, but will never go again..lost a customer for life , and as for my followers ,social media will know as well....

Brittany Elliott
from Atlanta, GA
Tonight was my second night at the Pleasantburg location. Service is horrible. I'm from NY my friends and I aren't familiar with the menu. One of us ordered 2 jr burgers Lashawn the worker asked "what else" we asked for a moment. I guess she didn't hear us and asked what else again so again we asked for one moment please. She yelled "Don't yell at me!" I pulled around to the window to talk to her she was extremely rude! My first time here they forgot my cheesecake. Tonight we went to the Waffle House instead because your employee was extremely rude. I've managed a kfc for years and wouldn't allow my employees to treat customers that way. The shift manager came to the window and was polite but I'd rather speak with the store manager. I was told her name is Nicole. My number is 315-447-1478

Hello , I'm very sorry I have to make this complaint however there isn't any other way to reach your store. I Call # are lead to fax#. So my problem is with this store in San Antonio tx Culebra rd and 24th st. They never get an order right. Today I went thru the drive thru.And I was asked to move up to front of the store.And mind you there was no one in line? Or even behind me. My order was 2 orders of reg tacos 1 sm fries and 1 med fries 2cokes and 1 Jr jumbo Jack. Well never received med fries.And the tacos were cold . What kind of service with terrible food are we dealing with! Please do something about this.

Bridget Martin
from Peoria, AZ
JIB#1193 9/21/18 6:03 AM
EMPLOYEE MARCY DRIVE THRU #116
I made a stop at this Jack in the Box early this morning and had a most unpleasant experience because of Marcy. She started off with Attitude from the minute she ask to take my order when I was at the speaker. She was extremely rude she had attitude in her voice when I asked for a burger with no ketchup she couldn't hear me apparently and was getting frustrated and she let that be known then she barked at me saying what size combo meal that I wanted as if she was pissed at me like I was a stupid idiot that didn't know what I was talking about. She didn't give me a total either I didn't ask either afraid she would yell at me since I obviously was bothering her. I heard her taking the order of the car behind me with the same attitude. When I got to the window to pay after the car ahead of me practically had their food thrown at them and she slammed the window she did the same thing to me open the window abruptly saying 10.50 not even looking at me so I wasn't sure if that was my total or she was talking to someone else inside the restaurant. I gave her my money and she open the window give me my change without even saying your food will be ready in a minute. Thank you... just slam the window closed. She then opened the threw the bag at me without even asking if I wanted any ketchup or any sauces she didn't say thank you or anything . she just open the window handing me my bag actually more like dropped it pretty much in my lap so I took my food and I drove off very unhappy with the service so unhappy that I decided to file a complaint because whether she was having a bad morning or what her problem was she was the rudest person with absolutely no customer service skills whatsoever that should not be allowed to work the window and ruin other people's mornings like she ruined mine. I personally lost my appetite. I was shocked by this employee's Behavior I won't be visiting Jack in the Box in the near future that's for sure.
Bridget Martin
602-348-1250

Neal stow
from Turlock, CA
It's your stupid commercials about jacks bowls. Why do you have to be filthy about it. My kids and wife see it and we have to explain away your stupidity

Danyale morgan
from Indianapolis, IN
It took 45min n drive thru ridiculous

Mr. Todd Wooton Sr.
from Corona, CA
Dirty tables, cold fries, no napkins, poor service. When I complained about the fries being cold, the employee wanted to argue with me that they weren't cold. When I asked for a refund, he tried to force me to take another order of fries instead of the refund. Store #3152. Never again!

Arthur king
from Anaheim, CA
Went to Jack in the box for a large ice water. Live in Phoenix AZ and it's very hot. Also ordered a large Coke because I know it's a big deal to just get a water. I normally get a meal on a daily basis after work. After I ordered he said the price was $5.69 or approximately that. Thought he made a mistake. Ask him four times. Finally he said the water cup cost $2.69 or something. Couldn't believe my ears. I know there is normally a small charge for the cup. However, there is no way a cup cost the amount he stated. I can buy a large Coke and large ice water at Mconlds for a $1.09. I have always enjoyed Jack in the box and have a large family. I've spent a ton of money there. If this is how Jack in the does business I'll stop eating there and bad mouth you guys till the day I die. Sincerely, just want a little water, Arthur.
Have feedback for Jack In the Box?
Thanks for your feedback!
Sorry. Please try again later!