Jack In the Box
Jack In the Box Complaints Continued... (Page 4)
263+ reviews added so far. Upset? Call Jack In the Box corporate: (858) 522-471

Donna Kuppens
from San Diego, CA
yes I went to the jack-in-the-box on east main street and I have a services dog and your security told me that I had to put service dog outside or had to show him paper work and that is against law I don't have to nobody her paper work then he told me I didn't get my dog out of there he would kick my animal this is not the first time that he's done this to me he should not be working at your store cuz I've seen him harass the custmers

Will Ritchie
from Salisbury, NC
Hi, I bought a number 30 breakfast combo and I was told I could get one extra side. I ask for a French fry and I was told it was 30 cent extra. I said forget that just give me a tator tot instead. she said it was no extra for that side. I ordered my wife a meal and got the bill. Guess what I was charged 30 cent for the tator Tot. It took a while to get the comb ordered with the Manager helping and it was not worth going back through the hassel to get the 30 cent back because we was in a hurry. I have been told by other people that go to Jack in box that they have been charged a little extra. They said they got their money back. Do any of your Managers and workers get checked behind on. If not who gets the extra money paid out by customers that are over charged. I do not want to get the people in trouble that over charged me for my meal but this is not the first time it has happened. The last time it was a different store. The manager and worker was nice people it is like the cash register is set to take peoples money.I ask about getting a senior discount and the manager said the store would not give Seniors that. Thank you for listening maybe pass this own and see if you can help the trind of over charging customers in all your stores.

Lina Quintana
from Tucson, AZ
I am not sure if there was new staff at this location, Normally in most cases I order a sourdough jack, this time when I ordered it the bread was not toasted, just plain bread and curly fries were over cooked and looked like the bottom of the scraps. The wait in line in drive thru took a long time, Normally it goes fast and food is satisfying it's frustrating when you only have a 30 minute lunch and don't have the time to go back and return your food. thank you.

David Hovik
from Downey, CA
I go to JIB 218 routinely on Friday & Sunday morning before work between 6-7 AM and to date, it's 99.8% excellent service, I only complained one time before (0.1%) when the employee routinely shorted me the pennies from my change over a three month period. As soon as I complained, the manager ensured I received the correct change. This is my second complaint (0.1%). I always use the drive-through and order the same item every time, so I know the amount to pay for my order. On Friday, May 4 and newer employee, Antonio, charged me $7.90 for my Country Link Platter and a large coffee. I thought the price went up, so, I thought nothing of it. On Sunday, May 6 Jessica (my routine server) charged the usual amount of $7.46 so I told her about the previous Friday. Jessica confirmed her price was correct. The following Friday, Antonio said my total was $7.90 so I showed him my receipt from last Sunday. Antonio said he charged me for double-link sausages. I asked him why and told him that I had the same three sausages that always come with my meal. To me, his story did not sound convincing (hence this complaint) due to the fact that there was no legitimate reason to charge me for double-link if I did not ask for double-link. I'm sorry that I did not keep the receipt from that event, but I am including the two receipts from the events above (JPEG). I'm sure Antonio will not try that again.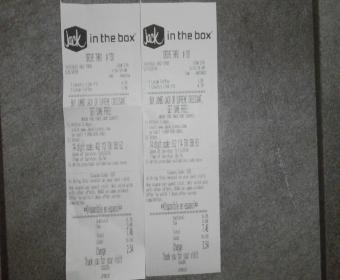 Susan Murphy
from Thermal, CA
I went for breakfast on 5/9 and went thru the drive thru. I purchased $15.47 with my debit card. there was a young girl at the window who took my card and processed it very quickly more so than it takes when I go inside. I left and did not go out again that day because it was too hot. The next morning I pulled u-p my balance on my debit card and it showed I had
$19.99 deducted. I pulled up the statement on line and saw that it was jack in the box thermal the same one I went to that morning. The time was 00.16.06. I went to see the manager the next day named Mike and told him what happened. He said he could not do anything without proof and would not take my word for it. I asked him to review the receipts for the previous day but he said he could not and was too busy. He also told me once he gets the statement he will review it and will look at the drive thru cameras to see if it was me at that time in the drive thru which I already know was not. I asked about employees getting access to my card info and he said they could not but someone did and ate on me that day. I have already cancelled that card just in case someone else wants to eat on me too. I need help with this and want my $19.99 refunded back to my card. My name is Susan Murphy and I live here in Salton City, ca. My number is 760-296-2035.

Susan Murphy
from Thermal, CA
jack in the box #5442 thermal, ca. went thru the drive thru on wed 5/9 to get breakfast. I used my credit card as no cash on hand. I spent $15.47 and this was at 8:23am. I only went there once that day. The next day I checked my balance on my card and it was lower than I expected so I went online to check what it was. I found a charge for $19.99, jack in the box #5442, thermal, ca at the time of 00.16:06. The employee was a young girl but did not get her name. On the receipt it shows Jacob. Yesterday, 5/10 I went in to talk to the manager, Mike there. He told me after I explained to him what was going that he could not take my word for it and needed proof of the statement from my bank. I ordered one yesterday as my printer does not work here at home. He told me once he gets that, he can review it, look at the cameras to see if I was in the drive thru at that time, which I was not and could review the receipts. he was too busy yesterday to do that and kept me waiting. I advised him it looks to me one of his employees took my info from my card and used it for their food. he told me they don't have access to that information. Well someone from there did get my info and therefore I have had to cancel that card because they could do it again. Can you help? My number is 760-296-2035.

Lynette laffea
from Farmington, MI
Tanner is the manager in golden who is rude and unable to make a kids cheeseburger with no pickles mustard or ketchup. I offered to pay for the incorrectly made cheeseburger correction even though they also didn't have apple juice or apple bites. The second cheeseburger wasn't plain either and he refused to speak w me after I was forced to come into the store from the drive thru This isn't the first time this has happened at this location - we constantly have to check our order because it's usually wrong. I just think tanner shouldn't be a manager. He shouldn't have charged us for his mistake or yelled at us.

cheryl guidry
from Bastrop, TX
I usually drive through jack in the box for taco's on hwy 71 in cedar creek, tx. Today I went in and sorry I did. I will never go back . It was filthy, not just dirty but nasty filthy. Even where you order your food was nasty. There was dirt and trash in with the the coke lids. The coke machine was dirty and sticky. The floors were a total mess full of dirt, food, and trash. A young man brought out a very wet mop, not a broom, and started just mixing it all up and pushing it against the wall and under tables. He used a trash can for his mop water. I really hope the health department checks this place out. If what the customers see is this messy I can only imagine what the kitchen looks like. Jack in the box turned my stomach!!!

Ida Lane
from Beaumont, TX
On 3/29/18 at approx. 5:15pm I place a drive thru order(#1 combo-onion rings instead of fries) at your College Street location in Beaumont, Texas, I was on my lunch break. I requested that the onion rings were not to be fried hard. At the time I got my order I check the onion rings and they were very over fried!!! This was the second time at this location this had happen to me, so was the reason for me checking . The young lady at the drive thru stated " I didn't fry them" at that time I asked for a manager, he or she never came to the window someone told the lady at the window new onion rings were being fried, again I asked for the manager who again never came to the window. This was very poor customer service and the manager's neglect of a customer's request being ignored was unacceptable. I plan on NEVER going to that store again. I would like to contacted about this unfavorable visit.
VERY UN-HAPPYCUSTOMER

They pay no attention to the customers who dine in. You wait forever
Store5236 I I Irvine
In addition they were out of ice and both soda machines were empty except for Diet Coke
Staff totally didn't care

Sarah Carr
from Seattle, WA
I went jack n box 2814 sunset blvd renton wa 98056. I did try call other stores b4 write this no one answer after many attempts. I arrived to place order MANY teenagers were there. They told me they could not serve me all food on menu.cook walk out. But they were frying food. I ask did tell manager yes.it make no since fry food but no sandwiches. Thanks

Alvin Lewis
from Dallas, TX
Worst customer service ever. The employee didn't ask me for what I wanted to drink. She just added a drink and charge me extra. Told her what happened and never fixed my order. Also could not hear her over the intercom. At least they got the food right even.

Evodio Martinez
from Fairfield, CT
on 02-18-2018 i stopped by your location on 7260 n stemmons fwy 75247,i ordered 2 sausage breakfast jacks, told them i wanted my eggs well well done even if they burned it. your employee yell at saying we cant do that, so i said ok just make sure the egg is well done. your employee told me so i have 2 breakfast jacks and gave me the total price, i looked at the screen and i did not see the sausage, so i asked i wanted sausage, and your employee started cursing at me saying for me to get the order right. i was so mad i left and will not ever go to your facilities again, i would always stopped by there every morning and order the samething. i got to my job call the store to speak to the manager, when i got her on the phone she had the nerve to tell me, sorry sir but you have the wrong store and hung up on me. how could i dial the wrong store when the phone # is on the receipt. i hope something gets done, cause when the manager permits all this to go on, that is not good for bussines.

Mary Maxwell
from Portland, OR
It's happening! I don't want to believe it but it's happening! The regression of human intelligence. This is the THIRD time just this week that I have ordered from a fast food restaurant and this order is by far the most disturbing. The order was 2 bacon, egg and cheese biscuits. I had NO idea what I received. Is this a muffin, some kind of .... CHICKEN?!!?!? Oh, and they refuse to answer their phone. I called a different Jack in the Box and she said they probably knew they screwed up. Some might think I'm being sarcastic, or humorous. I gave you all fare warning. This has become or will soon the norm. And I want my money back.

Necessia Davis
from Dallas, TX
Jack in the Box has become the worst of the worst I don't know what's going on with these restaurants but they are definitely going to have to get better and I have let it be known that I will continue to put a complaint in until they get it together the employees are rude some of them are very nasty and trifling looking and on top of being nasty and trifling looking they have the audacity to have an attitude the one on Henderson Street and Fort Worth Texas downtown right next to Harris hospital is one of the worst and I just left there and I submitted a complaint online and reference to the rude cashier named Stephanie that thinks that she has a right to tell somebody that they can give you five napkins and that's considered extra and they can't give you any more than back and then close the window on me when I told her that I was going to file a complaint with the corporate office I have a problem with the one on South Freeway as well which is close to John Peter Smith Hospital right by the freeway and there's also a gas station over there I believe it's QuikTrip so the one at 929 Henderson Street Fort Worth Texas and the one at 1001 South Freeway those two locations are problem and I will continue to put in complaints until the problems get resolved. My mother and I go there quite frequently and we spend a lot of money there and those employees need to understand that they are there to serve the customers and if there's nobody coming in there buying any food they will not be there now my receipt says Jessica as the employee name but she had the nerve to tell me her name was Stephanie but that's not what my receipt says now the one on South Freeway my mother went there just a few days ago to get a bowl of rice and some egg rolls and they told her that they could not sell her a bowl of rice she had to buy the whole Teriyaki Bowl but I just bought a bowl of rice at the one on Henderson Street prior to that so somebody lying and a customer should be able to buy a bowl of rice and they are suppose to be charged a dollar and something like I was just the other day but go to the one on South Freeway and the cashier will tell you that they cannot feel you a bowl of rice and that is a straight up lie and something needs to be done about these employees it's ridiculous

cindy zepeda
from San Jose, CA
i asked for the value deal of 2 crossiants for 4 bucks and was tol it was over so i got 1 crossiant for 3.49 then i get home and 2 hours later on TV i see commerical for te value deals two crossiants i go to jack in the box every week but this kind of made me mad is it just some areas that have value deal i really dont think jack is being fair if this is the case and it dont say select locations on commerical

Harry Rushakoff
from Pico Rivera, CA
Jack in the Box has franchised latitude that is so outrageous a Breakfast Jack in one neighborhood can be a dollar twenty and in another neighborhood more affluent it can be as much as 285 some $3 not to mention their other items on the menu that they do the same thing I will never eat there again I will never ever have any of my friends either the ribeye Burger they had was the best thing they had me took it off the menu... Jack in the Box sucks

Willie L Lomax
from Houston, TX
Me and my wife go to jack in the box on highway 105 in Beaumont Texas nobody answered the speaker so we pull up to window thinking it was broke saw someone walk passed the window didn't come to window looked right at me pull out drive-thru and employee smoking cigarettes talking to a someone in a car i think that was really unprofessional not to let us know anything

Christine phillips
from Atascadero, CA
I went through the drive thru of the Atascadero Jack in the box. Address is 9000 W. Front street Atascadero Ca. 93422, on Nov.10th 2017 at approximately 2:00 am to order some food and milkshakes.The gentlemen from inside the store started taking my order. I was in the middle of placing said order when i ordered oreo milkshake and i was told they had none. I commented on the fact that they are always out and continued
placing my order when the guy erased the screen off what was already ordered told me to keep moving and wouldn't take my order. I was never rude or out of line at any time. I then asked thru the drive thru screen for his corporate's phone number. He at this time ignored me and when i pulled around to the window he was hiding in the store and wouldn't respond to me at the window. I am highly Diabetic and mentally and physically disabled. My blood sugar was off and i needed something to eat. It is quite a bit of effort on my part to deal with the amount of pain i had to go thru to drive there just to have the man working at that time(I can't give you his name or any other info about him because he refused to even show his face at the window. After waiting for a few seconds i was left with no choice but to leave with no food.
This store, again 9000 W. Front street Atascadero Ca. 93422, is always turning customers away without being able to get a milk shakes as early as 10 pm some nights. They are a 24 hour store and you can never get a shake during late night hours. a lot of times it can be a busy Friday night.
I don't know what your policy is about refusing customers items you are not out of, but i worked in food service for over 15 years and u don't do that. You never treat a customer like i was treated.I am glad i was able to get a snack else where before i experience any worse side affects from needing to stabilize my blood sugar, I would appreciate if i would receive a response to my complaint in an email as soon as possible, so i can make sure this kind of treatment not be condoned and prevent anyone else disabled or not from having it happening to them in the future.
THANK U FOR TAKING THE TIME TO READ THIS AND HOPE TO HEAR BACK FROM SOMEONE SOON!!!!!
CHRISTINE PHILLIPS
PS. HAVE A NICE DAY

Employee did not want to give refund understood she couldn't so told her to remake my food she did and then didn't give me no salsa and tacos were put in there like she didn't care she got in my face after I didn't tell her nothing and started telling me that she is irritated because she is the only one there I waited the first time and when I came back she said she knew that she gave me cold tacos experience was just horrible at jack in the box ovation 1102

Joanne Zarola Falcomer
from Alpine, CA
Joanne Zarola Falconer October 20, 2017 at 5:22 pm
Your comment is awaiting moderation.
Today I had an appointment in the city of El Cajon, in san diego. Between the hours of 10:00 am and 10:30, I was going to stop by the Jack in the Box on the corner of Madison and Second street. As I approached the side door to enter, there was a slight raise in the concrete and no warning and I tripped on it and landed laying on the ground. I am 68 years old. I badly hurt my drawing hand, and yes I have been a professional artist and use my left hand, and it broke blood vessels, however, I am not writing about that …I also hurt my left knee. But I laid there and not a soul came out to help me. Someone who looked to be getting off work walked by and I called to him to get me some help. so I could get up. I was not able to by myself. about five minutes later a young boy who looked like he could barely pull his pants up let alone me, a worker there said , oh what happened. I told him I fell please get me someone to help me get up. Another few minutes passed and a worker who was unloading inventory came and said oh what happened and 'we'll get some help
Not a manager, not a worker, no one came to see if I was alright. Treating me like a sub human being…very humiliating and cruel. Finally a kind CUSTOMER asked if he could help me get up. I let him and God Bless him I would have laid there all day had he not helped me. I went inside no manager to be found. The customer was concerned I had internal bleeding but I said it would be okay I guess but it is very sore now. … I called your corporate office in San Diego, and was sent to a message machine. No response and I called back to add some additional information to my report over the phone…and no answer called four times. ..Is this how Jack in the Box treats people? I can only pray my hand isn't destroyed for my art…but that isn't even the issue. the issue is I am NOT homeless,i am a CUSTOMER who was TOTALLY IGNORED AND THEY DIDN'T CARE IF I NEEDED AN AMBULANCE, HELP AND PROBABLY ALL LAUGHED ABOUT IT. CHECK OUT YOUR DAMN VIDEO CAMERA AND SEE WHO HELPED ME??? HORRIBLE TREATMENT BY TERRIBLE PEOPLE . so NOW off to find (if you can) a place where you can send photos of my hand. VERY humiliating, and cruel treatment
NOT A SOUL came out to see how I was feeling, could they help me get up, did I need an ambulance they treated me like SCUM..as I said PLEASE REFER TO THE VIDEO 24 hour can you will see, no one cared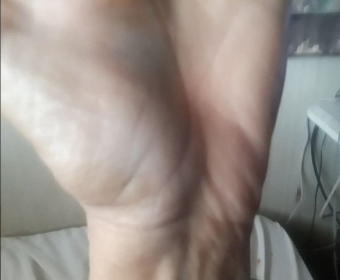 Donald Mudd
from New Orleans, LA
Ordered a buttery Jack without the sauce garlic sauce substitute for mayonnaise when I received it did not have mayonnaise it had the garlic sauce took it back in and the staff was argumentative call me a liar then I asked for my money back and they continue to be argumentative the whole time very rude.
Establishment was very dirty and stunk by far the shittiest Jack-in-the-Box I've ever been.
Also the receipt clearly says substitute mayonnaise.
And I insisted to keep the original receipt in which they argued about.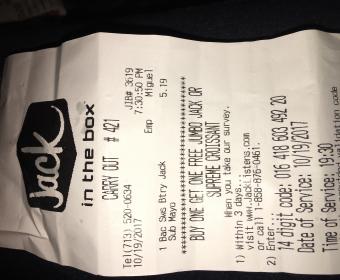 Linda Kellum
from Houston, TX
I pick up 2 tyeri bowls and 2 large unsweet ice teas, two egg rolls. I spent 16 dollars and change, I got two sweet teas no ice, no soy, no sweet and sour, no napkins and rice in bowls was cold. And this not the only time everything was wrong. My husband is home and I picked up our lunch, and I have 30min for lunch. And I didn't even get a ticket

KIILANI GUEVARA
from Los Angeles, CA
4:33 am on 9/17/2017. I went to the drive thru at JIB #8206 in Waipahu Hawaii. Made my order and went up to the window to pay for my order. Upon getting to the window, I noticed a small cup of water, but while ordering, I had asked for a med cup of ice water. This cashier had an atritude, but I compelted the transaction. After completion, I told the cashier," You need to be a little nicer and not have an attitude. Ithe was your mistake, not mine!" While talking to her, she closed the window on me. I then went elsewhere and called the manager. Within 10 minutes, I was there for a refund, but the manager had just left!!!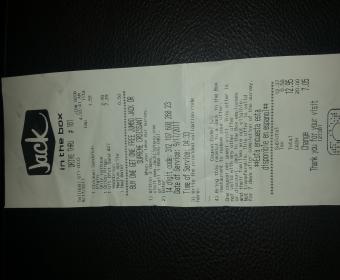 Betty flores
from Houston, TX
Hi my name is betty flores I am making a complaint on a manger on duty at 4319 vancejackson sa ,TX 78213 me and my husband went today on Sept 7,2017 we were at the door at 6:24 am I knocked she looked at me and went to the drive thru window then she decide to give me a hand signal that the dining area was closed I gave her a signal told her it past 6:00 she notted her head and walk away why does the reastraunt have business say dining room opens up at 6:00 am me and my husband love to go here for our Brkfast every morning would like to get a email bck saying what was the reason we couldn't dine in this morning hope this goes to a manger that takes reports like this seriously thank you hope to here bck from a main manger

Cecilia Garcia
from San Antonio, TX
We went to jack in the box. And before we left we checked order it was wrong we thought it was ok before we left when we got home the order was still short. We called no answer we went back the next day and the manager would not help us and said we should have gone that night. Thank you

Marilynn Harrison
from Dallas, TX
My complaint is that this facility don't want BLACK women working there. When this black person was hired she was told she would get 35 to 40 hours.
That she is not getting. The lead worker is suppose to train her for 4 days. That is not happening. She call to the store to find out what her schedule was n she was told numerous time that the supervisor was not there. Yes it is a black man working there but the employees don't want a black female working. That is call racism and prejuice. Please correct this problem.
Thank you for your time. Have a bless day.

Tammy Pieper
from San Antonio, TX
I went to the jack in the box on culebra and Callaghan and they didn't put half my order in the bag..this isn't the first time they did this either..this is about the third time..we keep trying to call so we can go back and get the rest of our order and no answer..I called ten times in a row..I dont want to go back cause they are slow and don't answer the window for about 10 minutes. I am very upset about this poor quality service at this particular store..if someone can give me a call and explain to me how can yall fix this problem..210-638-8726

A angry Customer
from Phoenix, AZ
Check your Arizona store on riggs rd in Chandler never see a manager I always see an hear employees running store by themselves all Hispanics are related under different last names so. Won't be conflict don't speak English

christy farrow
from Seattle, WA
Been there many times. Mess up my order almost every time. The other day I came threw the drive threw and ordered 3 burgers and 2 small fry. Got home and the fries were cold, 2 of the chicken sandwichs were hard as a rock and the 3rd burger was something completely different from what I ordered. The people in the drive threw were very rude. We came back the next day to speak to the manager about it the next day and she was even ruder then the people the night before. It makes me not want to go back!

Cameron Hartwell
from Tacoma, WA
Went in and sat down. Line at counter slowly moving. As I sat customer came in from drive up complaining of wrong food. After it thinned I approached counter. Rowena said " you want iced mocha?" I said no, just two tacos and handed her card for two free tacos. She opened drawer, put coupon in and slammed the drawer with emphasis. It took awfully long time to get. When she had them ready she asked if there's anything else I need. Asked for a fork and sour cream. She said rudely, " just so you know, that's extra".
Shaun heard and looked startled. I have been customer there since 1998 and never been treated so badly. But it's because of a big manager who's prejudices are affecting others and ruining dining in. His name is Parve and he is not customer friendly. And he has been shown papers for my service dog and he still gives me cold shoulder and evil eye. Also not having a person to talk to about complaint is wrong. Papers can get ignored as email. Person on other end can't .please call me. Next time will be discrimination suit.

Richard Gatlin
from Spring, TX
No ketchup. No tea made. No Dr. Pepper available. Tables and floor dirty. Did not see a manager. One of the young ladies did bring me some ketchup from the kitchen in a container.

Ana Panuco
from South El Monte, CA
I walked into Jack in the box today at 1:50pm and I had 3 separate orders I ordered a #12 and 3 jalapeno poppers. which was order 423 and the order never got processed I am not sure why but the order took 20 minutes to get processed. I also ordered a number ultimate cheese burger meal order# 425 and also cheese fries order number #424 and because they took for ever with the order 423 the other orders were cold and soggy.
I didn't even have time to eat my food because I was on break and it was to cold but I didn't have time to go back. I really hope that this is addressed and that it does not happen again. I go all the time and I am very disappointed with todays services beside them taking for ever with my order i didn't get the ranch or sauce to go with my chicken strips.

bryce barboza
from West Covina, CA
I went to the drive thru #174 in Covina. I ordered 1 ssg croissant and 1 lg vanilla shake. When I got home, I found 2 tacos in the bag: not what I ordered. I paid $6.95 for food I couldn't eat. The drive back this Jack in the box would have been a waste of time for me because of my schedule. I will not be returning to this or any jack in the box restaurant again. I hope you rectify this matter.

Sharon Patrick
from Beaumont, TX
I went to your store on 365. They said the computers were down and a tech guy would be coming out. Why couldn't these people pick up a pencil, take my order and add up the price? I left and went to the Port Neches store on Magnolia 77651. There, I got my order, they left out the tacos, the onion rings were cold, The burger didn't have the top bun, the ultimate breakfast had no bacon and only 1 egg. This is just too much. Just wanted you to know.

Peggy
from Belleville, IL
We were not greeted for 3 minutes, Food was warm and prepared sloppy, Sauce of some kind all on outside of tacos, Fries were luke warm and hard. Lobby area needed attention and tables were dirty

Earlier this morning right around 6:00 a.m. I went to the jack in the box located at; 5016 W. El Segundo Blvd., Hawthorne, CA 90250 and the moment I walked in I was given an extremely unpleasant stare from a gangster looking young lady behind the counter so I asked her if they were open, she ignored me and rolled her eyes then in a angry fashion she asked me how can she help me and I asked her if the croissant sandwiches were still on sale and she became even more angry and yanked off her headset and replied, "What?!!" so I asked her the same question and she replied, "Yeah but we ain't got no bacon or ham, we just ran out!" It is not my fault that she does not like her job nor is there any reason why I or any of jack in the box's customers should have to tolerate her so I walked out and I'll just take my business elsewhere. Good luck to the individual that hired her & her attitude.

i went to order in drive thru.. manager doesnt understand and speak english... we started to order and i wanted to no what the total of what i ordered.. she didnt tell me... we were not finished ordering and she totaled it out.. we came to window... told her we where not done ordering and she didnt give us our drinks or our condiments that we wanted for the food we didnt want,,, i dont understand why cant people hire the ones wo speak multiple langueges and is respectful with a smile,,, she doesnt need to b working under jack in the box,,, her name is alma.. super rude people..

My order was incorrect. I was missing part of my order when I went back in to the restaurant i went to the cashier and she refered me to another associate. The person I spoke to was kind of surprised and asked if I had my receipt I told her I had thrown it away when I got my drinks but when I got to my car and proceeded to give my kids their food there was only one order. She then proceeded to tell me that the would give the missing items. I waited patiently for at least 15-minutes with no gel and no order. After waiting I went back to the counter and thanked the cashier again she was surprised I told her my order I'm still waiting and she said you have to be kidding and I said no but that's ok thank you. I walked out went back to my car and had my two kids share one meal which by this time was already cold and had to stop further along the road to buy more food.
This is the store in Lebec California

I order a breakfast sandwich and hashbrowns in the drive through. When I got home to eat I noticed that my hashbrowns looked half eaten and squished and they gave me a burrito instead of a sandwich. I also order chicken strips and asked for ranch and got tons of ketchup, I dont even think the people there listen when i talked to them. These mistakes seem to continuously happen at this drive through, this is the first compliant that I am fileing about it but if the incompitance contines I will no longer go to Jack in the Box.
Drive thru #105
Sierra Vista AZ
JIB# 1554

My family and I went to Jack in the box , Yesterday on Florida Blvd and Flannery Rd in Baton Rouge, La, yesterday Feb 3, 2012. We spent 45 min in the drive through line, if ther was a way to get out of line we would have but we were trapped all the way around by cars in front and back of us and bushes and a curb on the side. Not only was i in a hurry to get where i was going but my kids were hungry. When we finnialy get to the window we make sure that we have our 4 sandwiches and 2 boxes that egg rolls come in. I did not think that I needed to unwrap each sandwich or open the boxes to make sure that they were right, as we had the employee at the window repeat what we had ordered several times including when he had passed the food from the window to our car. We left the Jack in the box and started heading for an appointment that your store had made me late for by spending 45 mins in line. As my children were passing out the food we had nothing that we had ordered. I had ordered your Hot Mess burger, a sausage croissant , an bacon croissant , a waffle sandwich and 2 large orders of egg rolls. we had spent over $22.oo. There were no egg rolls instead we had boxes of potato wedges . I for one do not eat potatoes. We did get the hot mess, but we had ordered it with NO jalapeneos and of course I think they had put extra on it, as there where at least 20 slices of peppers, My son had to pick each one off and it was about a half a cup of peppers when there were supposed to be none. Then it keep going, My daughter sausage croissant was suppose to have egg and cheese on it but of course it didn't. I was suppose to have a bacon croissant with extra bacon and my husband ordered the waffle chicken sandwich, the only 2 sandwiches that were left in the bag were 2 dry biscuits nothing on them. If your store would not have made me late I would have returned and requested my money back. I thought this was ridiculous. I totally over paid as plain biscuits do not cost as much as what we had ordered. It will be a long time before we go back to Jack in the Box!!

I normally like ya'lls shakes but this time was a fail i went to Jack in the box and ordered a regular chocolate shake, well yall were out of chocolate of course so i take a cookies and cream well when i get my REGULAR shake it comes in a little water cup. I'm never going to chose Jack in the box in the future if given the choice. Thanks a lot Jack in the Box

I went to jack in the box today to get lunch, for One it took about 10 min. to get through the drive through anf they said that it was because they make thier food fresh when my grilled chicken patty tasted like it had been sitting there all morning. When they were taking my order the girl would not let me finish ordering and kept asking me if that was it if she would just listen she would have known I was not done. Then I get to the window pay and ask for a side since she wouldnt listen to me when I was ordering the first place she slammed the window on me while I was talking. My lettice was yellow, tomatoes were soggie, there was no cheese on what I ordered that was a chicken club so I KNOW it comes with swiss. Worst service ever! I havent been there is so long due to having this issue in the past and decided to give it a second chance and I will never go there again and will make sure to let my fellow friends, co workers, and family NEVER to go to cottonwood Jack in the BOX inless they get a new manager who cares.

At drive thru #177. JIB#647. EMP Tiffany messed my order all up. This is the second time she has done. Now if I was to break out from eating Mayo and mustard, I would of filed a complaint with the BBB. all I ask for was no Mayo and mustard but they are rushing the orders trying to get customers out the way quickly. That's improper and something should be don't about this. Visit number 182377. JAH14

I am very disappointed that my sons have been denied water at lunch time when going to Jack in the Box. They always purchase food and are taking a medication that requires them to cut out there sugar intake. On more than one occasion the Visalia location on Mooney in Visalia Ca has denied a complimentary water to my two 16 year old sons. I as an adult I have never beed denied. My children are paying customers and deserve the same treatment that all other guests are given. I realize that it does cost money to supply water but I feel that because they are purchasing food they should never be denied. I hope this issue is addressed and they realize that discriminating against our youth should not be tolerated. I have never had a bad experience at any Jack in the box but if this is issue is not reversed I will stop going to all Jack in the boxes.

I went to jack n the crack at 1130 p.m in houston,texas shepard and donovan placed my order on the screen my order was correct I ordered a sd philly cheese steak combo lg root beer and a jumbo jack with cheese no onions again looking at the screen before driving to the window the order was correct wait in line 15 min three cars ahead of me get to the window pay for food not greeted he hands me my soda then a bag with only one burger I noticed and waved for him he already knew what I was waving for gave me the second burger I took my food made it home and then notice that my sd philly cheese sandwich was not in the bag it was a grilled chicken sandwich and the other burger had onions on it upset me and my husband looked for the reciept could not find it we went back to the location let the gentleman know my order was incorrect and I ddidnt receive a reciept he went back and made what I thought was a sd philly he put it on a regular bun gave me.a fresh order of fries but a pound of salt when given the reciept my order was correct now for the third time I had to wait for him to correct my order again

I went thru the drive thru located on Buckner and Bruton, ordered a hot mess combo, jumbo jack combo and a chicken pita combo, drinks had NO ice in them but I excused that but once I made it home and got ready to enjoy my my meal... The chicken in my pita was dried out and burnt, I asked for extra tomatoes and they threw whole tomatoes in my pita, instead of grilled onions they put a lot of RAW onions in it. It stinks and the meat is old!! My onion rings were burnt and the hot mess was just that...they just threw it together. Jumbo jack had no cheese like it was suppose to have and to top it off-when I called and asked to speak to a manager, I was told that they are real busy and that there is no manager that I could speak with. I then asked if she could tell me the managers name and she stated she didn't know it... Seriously...not only that she wouldnt even supply me with her name. I have NEVER received this type of service! To sum it up, my children made the best of their meal and I had to throw my pita in the trash cause I clearly wouldn't feed this to a stray dog! I am very upset!!!!!! I took pictures of this because this doesn't make since to me.

I ordered a jumbo jack no tomatoes they put tomatoes on my burger i drove back gave the burger back and told them it was suppose to be no tomatoes they just took the tomatoes off an gave the burger back and the reason i know it was the same burger the meat had tomatoes seeds on it i am highly allergic to tomatoes i dont like the way they handled the situation it was not that hard to make a new burger they really need to take in cosideration that people have food allergies they need to be more careful will not be eating at that location anymore the loction is 2500 west irving blvd irving texas
Have feedback for Jack In the Box?
Thanks for your feedback!
Sorry. Please try again later!