Best Buy
Best Buy Complaints Continued... (Page 1)
414+ reviews added so far. Upset? Call Best Buy corporate: 1-888-237-8289

Kelly Kirkendoll
from Los Angeles, CA
I bought a refrigerator from Best Buy in January of 2018. Upon delivery my hardwood floors were damaged along with my front porch. I have made a claim with your company as well as your delivery company. I have spoken with them several times, they actually sent someone out to look at the damage. I sent them an estimate like they requested, since then no one will call me back. This has been an ongoing problem for 1 year now. I need help with my damaged floors. There is no reason at all for your paying customer to be put off for 1 calendar year to get something taken care of that your delivery company damaged. Unacceptable!

Dear Best Buy,
On Sunday, November 10, 2018, I purchased a Verizon Samsung Galaxy S9 Coral Blue phone for $792 (#355028092096678), from your Monroe, New York location. In less than 30 days the phone began to malfunction by freezing and re-starting on numerous times.
On December 9th, I went to the Middletown, New York, Best Buy location and informed the sales consultant Shakiya Bates of my issue, and she instructed me to go to a Verizon store because Best Buy's store policy will only exchange the phone if it is within less than ten days. I went to Verizon and they informed me that they could not assist me since I purchased the phone from a different dealer. I immediately called Shakiya Bates and after being on the phone for nearly one hour the Best Buy Mobile manage spoke with me and suggested that I go to their Monroe, New York location and lease a cellphone so that I would not be without a phone, and to ship my phone to their repair center.
This is an outrage! I just received the first payment for the new phone, and it is malfunctioning, and the only solution that the Best Buy's manager had was to ante up additional funds to lease a phone so that I can mail the new phone to their repair shop. Does this make sense to anyone? I do not have that type of money and no one should have to automatically put a warranty on a brand new phone it should work for at least a year without problems. My request at this time is for a new cell phone, and no I do not have the original box; nor do I want a refurbish cell phone which I could have originally purchased for under $300.
Your attention to this issue is most appreciated.
Tonya R. Florestal

nelson walker
from Dover, NJ
Good afternoon, let me first start off by saying I have been a loyal BestBuy customer for over 15 years so I was shocked about my last order. Mind you, I had just spent$1,400 on a computer a few weeks ago.
I decided to purchase my wife a Fossil - Gen 4 Venture HR Smartwatch 40mm Stainless Steel - Rose Gold with Blush Leather Strap for Christmas. Below are images of how my item arrived. No manufacture packaging just the watch with bubble wrap. This is highly unacceptable. So I called BestBuy and the representative told me the BestBuy in Rockaway NJ will have one available on 12/22/2018 you can exchange your product there, she gave me the case # 221828656.
I called BestBuy and spoke with Onika who confirmed there is no knowledge of the Rockaway BestBuy receiving any new watches this weekend. So not only do I not have my item, but the rep I spoke to gave me false information. I decided to write you an email before I got on social media and complained because everyone deserves a fair chance to make things right.
Oneka and Mike who is the manager at BestBuy Rockaway tried everything in their power to help me which I truly appreciate because it's not their fault.
I look forward to hearing from you with a resolution to resolve this. In the meantime, Mike suggested I purchase a new one and I can come to the Rockaway BestBuy to bring the original one back and credit my account.
Now my wife will not get her gift on Christmas and this is unusual for BestBuy to provide really bad customer service. I have been a customer for a very long time. I have a Bestbuy Credit Card and I am part of your rewards program.
I expect to hear a response within the next 5 business days. Thank you for taking time out to read my email. I have also attached print out of my recent purchases.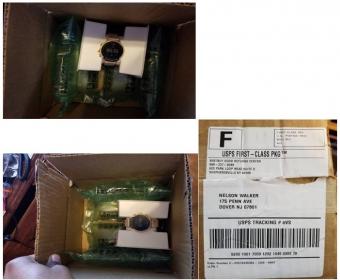 Mary Ratcliff
from Bear Creek, TX
We went to the Best Buy on Lafayette Rd in Indianapolis interested in maybe purchasing a smart tv. We talked to their "specialist" in that department named Moniqa or something similar When she was explaining things about firesticks and what they did, we had trouble understanding what she was saying. When we asked her some more similar questions, she became frustrated that we didn't understand what she was saying and was noticeably rude. After the second or third time of asking her to explain it again, she simply looked at us and WALKED AWAY! She never came back nor did she try to find anyone else who could maybe explain things to us more clearly! We are senior citizens (barely) and have worked in customer service for many years. This type of behavior for a sales rep in completely unacceptable. We left the store and we will not be shopping there again. I don't hold Best Buy responsible for her poor attitude, but I thought you should be made aware of it. I am sure we are not the only ones she has gotten frustrated with.

Marc Propheter
from Chicago, IL
On December 12,2018 I purchased a replacement fob for a viper remote car starter at Best Buy at the store located on south Randall Road in Geneva Illinois and at that time arranged to have a technician program it ( by the way it was for my daughter's car which she lives out of state and the store mentioned above installed the complete unit in December of 2016) So as I said I arranged to have the same store program a new fob in which the original two(2) were misplaced by my daughter anyway my daughter came home for the Christmas holiday and on Saturday December 22 at 11:30 am my appointment was to be and when I arrived the technician looked at what I purchased and with no research said it would not work with the unit I had in the car. So I left went around to the front of the store with the intension to return the product but before I did I made a phone call to another business that sold the same units they told me after I gave them the information on the packaging that it would indeed work. So I went into the store to make a complaint to the manager he told me after I shared all the above information that I was still in my appointment window of time to go back to the installation bay and it would be taken care of and I asked him if he would go speak to the technician so there would not be any problems, and he did (so he said) I went out back the technician did not open the door for me and when he did closed it before I could even speak to him this went on for approximately 10 minutes so I left went elsewhere So I'm writing this to you to express my displeasure with the best buy Geneva Illinois their automobile installation services
Thank you
Marc Propheter
630-370-6750

Marc Propheter
from Chicago, IL
I had a Viper auto remote start that your store in Geneva Illinois installed in December of 2016 the technician at that time did a great job. Now fast forward two years later I needed a new fob for the current remote to be paired because the other two were lost, ok so I purchased the new fob made an appointment for the pairing to be done went to the store the technician just looked at the new fob and said it won't work (wrong one) I would have to contact Viper. This technician didn't bother to even help me so I went to get my money back (but before) I made anther call to another business that sold and installed this type of unit they told me no problem it could be done so I went to the store talked to a store manager told him about my experience he said go back to the service area, I told him to please speak to the technician first which he did then came out told me to drive around I did the technician opened the door saw me and quickly closed the door totally ignored me this went on for approx. 20 minutes I left went to the other store and in 30 seconds they had it paired (go figure)
I will not refer anyone to the Geneva Illinois best buy for any install

susan holway
from Newark, NJ
I went to Best Buy in Hyannis, MA. to buy an Apple phone, today, December 30th. There were 2 people working. One man was busy with a customer and the other employee was just sitting there doing nothing.
I looked at the phones and the carriers, then stood there in front of her, the employee said nothing, I thought she was busy. Then more folks started to come in and needed help. I knew I needed some time for by purchase.
Just left, knew I would not get any service. Told the manager, he needed more help. He asked me if I wanted to make an appointment. I did not realize I had to make an appt to buy a apple phone.
Had a wonderful experience at your store in Holyoke MA. They helped so much and after we purchased the computer, then we made appts for follow up to transfer our data. I know I am 60 yrs old, but please help me get the correct phone. Thank you

Dawn Grosstueck
from Milwaukee, WI
I have been paying for yearly geek squad support and we spent over 2000.00 this Christmas at best buy however I had a laptop that needed the battery replaced. I went in and was told I could not leave the laptop or order a replacement without a geek support appointment in an hour or so. They do not carry batteries in store and apparently customer service is incapable of writing down the type of laptop or keeping it to give to the geek squad later. I left and went to batteries plus and was able to purchase the battery and it is now replaced so why am I paying a couple hundred a year for support??? I do not intend to renew support for geek squad or the 5 anti virus programs.

Robert Schutt
from Auburn, AL
Have since read many complaints about Best Buy from other consumers. Wish I had read them first. This will be the last time we order from them.
Our stove went out Christmas Eve (not their fault); went on Best Buy on-line to see what was available and how soon it would be delivered. Ordered a GE range (Which website assured us was available), scheduled delivery appointment for Dec 26, 2018 between 1:00 and 5:00pm. Received at least 6 emails and 2 phone calls assuring us of our delivery appointment day and time frame. The morning of scheduled delivery, service man calls to say the store does not have the range - call them to reschedule. Called the store, told "sorry for the inconvenience," but the stove is on back order, could schedule an appointment for Jan 1st. How ridiculous! Delivery on a holiday? Jordan, your customer service representative got upset, said not her fault, after all we did not come into the store to order. What kind of service is this? The website is not given correct info? Called customer service, spoke with 4 different representatives, each saying, "Sorry for any inconvenience," given 4 different delivery dates, Jan 8, 9, 11 and 13, ( a Sunday?) 2019. Told it would take 24 to 48 hours to speak to a supervisor who might be able to offer us a different model for the same price with an earlier delivery date. No way to run a business. Many other stores around that we will use in the future. FYI, that same model GE range was installed yesterday by Lowes for the same price. Best Buy needs lots of help, but we aren't waiting around for that to happen.

William J. Levy
from Palm Coast, FL
I'm using this forum because you obviously have more complaints than commendations and that is a terrible thing for any large size business.
I only hope that someone intelligent reads this and passes it along to the proper authorities.
I DON'T HAVE A COMPLAINT.
I WANT TO COMMEND ONE OF YOUR EMPLOYEES FOR HIS EXCELLENCE IN HANDLING A MATTER I HAD TODAY AT YOUR CUSTOMER SERVICE DEPARTMENT AT THE DAYTONA BEACH, FL LOCATION.
I PURCHASED A LG 50" TV THE OTHER DAY WITH THE INSURANCE POLICY. I DECIDED I DID NOT WANT THE POLICY COVERAGE AND WANTED TO TAKE ADVANTAGE OF YOUR 6 MONTH PAYMENT PROGRAM.
THE EMPLOYEE'S NAME IS ERIC WHO HELPED ME THROUGH EVERYTHING AND HE WAS EXCELLENT BECAUSE I HAD TO RENEW MY BB CARD, REFUND THE ENTIRE AMOUNT TO MY VISA CARD AND THEN SET UP THE 6 MONTH PAYMENT PROGRAM ON THE BB CARD. HE DID ALL THIS BY BEING TOTALLY PROFESSIONAL AND PLEASANT.
I WISH HIM WELL AND IN MY EXPERIENCE IF EVERYONE WAS LIKE THIS YOUNG MAN YOU WOULDN'T HAVE SO MANY COMPLAINTS ON YOUR SITE.
I DO HOPE THIS MESSAGE IS ACTED UPON.
WM. J. LEVY
386-671-6846
ZEV57@AOL.COM

Joe Garcia
from Sikeston, MO
I just returned home after three hours on the road after being told by an associate over the phone that my order 1118353735406 would not be delivered until 12/24/18. When I asked him if I would be able to pick the item up at a store (1 hr from me) tonight he said yes. Get to the store and they said I could not do this. Spoke on the phone with customer service and because I did not get his name there was nothing they could do. When asked if everything is recorded I was told that it was but there are two sides and because this associate did not log the call there was no proof that we had the conversation. So, after speaking with the manager Lisette (see I did learn to get names) she said that there was nothing she could do and no one was over her with her crap attitude. My wife wants me to take the TV back to the store when we receive it and never order from Best Buy again. I'm livid that there is "nothing" that can be done because a person didn't do their job and log a call?

Joe Garcia
from Sikeston, MO
I just returned home after three hours on the road after being told by an associate over the phone that my order 1118353735406 would not be delivered until 12/24/18. When I asked him if I would be able to pick the item up at a store (1 hr from me) tonight he said yes. Get to the store and they said I could not do this. Spoke on the phone with customer service and because I did not get his name there was nothing they could do. When asked if everything is recorded I was told that it was but there are two sides and because this associate did not log the call there was no proof that we had the conversation. So, after speaking with the manager Lisette (see I did learn to get names) she said that there was nothing she could do and no one was over her with her crap attitude. My wife wants me to take the TV back to the store when we receive it and never order from Best Buy again. I'm livid that there is "nothing" that can be done because a person didn't do their job and log a call?

Debby Glueckert
from Elmhurst, IL
Store #309 in Merrillville, IN Member ID #2832352197
On 12/19/18, I picked up my Toshiba computer from the Geek Squad. It was to have been cleaned up and updates made to drivers that would not allow me to install a new printer. I had been told by the help screen contact for an HP Printer that not all of the drivers were present. I had other issues with that printer and returned it to WalMart.
I purchased a Canon Pixma TS6220 from Best Buy in Merrillville, IN and told the Geek Squad representative my issues. I was assured that could take care of that as well as clean up any other items needing attention. They also agreed to delete the information for my old HP Printer and set up the computer for the new Canon printer to where I would only need to download the Canon data to complete the installation process.
When I tried to install the Canon printer information to my computer after picking it up at the store, the download was not successful. I was connected with Canon's help team who told me my computer was infected with malware and malicious programs. I told them I had just paid $149.99 to the Geek Squad for that same service. They said they do not comment on services of other computer companies. Ecomputer support gave me as much free assistance for free as they were allowed. Because I needed my printer in service, I agreed to pay their fee to successfully install the computer.
In the course of their repairs, I could see that the old HP printer was still listed as the installed printer and there was nothing in the system relating to the Canon printer purchased from Best Buy. I started assembling my new Canon printer about 2:00 p.m. and did not finish with Ecomputer support until 6:45.
Once I was through with the successful I contacted Best Buy (whose phone number is very inconveniently listed on your receipt). From the beginning of the conversation, I told the employee I needed a store credit for $149.99 for services that were not performed. He listened to all my complaints before telling me he had no authority to make adjustments. He wanted to put me on hold to talk with a manager. I was tired of being in front of computer screen and then the phone so I asked him to have the manager call me and gave him my phone number. As soon as I hung up the phone I realized I had made a mistake. I had. I waited over two hours before calling back, but the phone at the Geek Squad went unanswered for more than 20 rings so I hung up. I called back today only to be told that the manager was on vacation today. How convenient..
I feel I deserve a credit on my charge card for the $149.99 fee I paid for nothing. I went to the Geek Squad originally because I thought most of the 'repairmen' on the internet were scammers. Now I find Geek Squad is a scam, but I have a working printer from an internet service, and it did not cost as much as getting no service at all.
You may contact me at 219/670-8565. I do expect an acknowledgment from you that I have a very legit complaint.

john fisher
from Winston-Salem, NC
your clerk at your Winston Salem, NC store assured me that what she sold me would work sync my iphone with my macbook computer. Wasn't even close. She said I have until Jan 12 to return. I'm going out of town this afternoon and won't return until the middle of January. Can't tell you how annoying this is.

carolyn joslin
from Newark, NJ
I was in best Buy this evening rt 47 delsea dr Millville nj location looking to purchase a computer for my sons school work and a tablet, I had questions I wanted to ask, and this wasn't my first visit to Best Buy to purchase the same 2 items, this was at least my third. Tonight is wed evening, my previous visit was late mon afternoon.
My chief complaint is after being in the store well over an hr, not one person in the computer section came over to ask if I needed help. I needed help and was there to buy. I have been looking for the right computer or chrome book for my sons schoolwork the one he has is about 4 yrs old and I know nothing about chromebooks other than what I researched on line, I looked around and saw no one in that area other than the guy over at the geek squad assisting a couple, there was 2 girls wearing blue shirts over by the printers, but I assumed they were on break bc the one girl had a large cup she was drinking a beverage from, there was plenty of employees in the store, just none working in the computer section, which I would think this time of year there would be an employee in every other isle by computers asking someone if they needed help, its pretty clear they don't work on commission otherwise I would have been asked if I needed help 3 times before I got down one isle, at one point I just stood in main isle outside of computer isle hoping someone would come ask if I needed help.At this point I just wanted to leave and say the heck with it but were days from xmas and after a 3rd visit cant get any assistance, so I pulled my phone out went to your website to see how long it would take if I bought it on line from my telephone from inside the store it said it wouldn't be ready for pick-up for an hr, I didn't want to wait another hr I had other stops to make, at this point I was prob there going on 2 hrs now, however the website said I could have it delivered to my house frr within 2 days it would arrive dec21 on my doorstep, but now my sons prob going to see a box marked best buy, so I orderd the cheaper of the 3 hps I was looking at with no one to answer my questions.On the way out I stopped and interrupted the greeter/security who was talking with a blue shirt, and told him I have been here over an hr and cant get anyone to help me don't bother to look around I just ordered what I needed online from my telephone and its being delivered to my house, he did ask what dept computers? and I said yes, so he either knows there is a problem in tht area or saw me standing around.I would understand if everyone was busy, but that wasn't the case at all, luckily for best buy their the only major electronic store around,and its days from xmas, otherwise I would have ordered from amazon or looked for another electronic store out of my area. I have bought many computers from Best Buy over the years I even bought my very 1st big screen 65 inch TV from Best Buy, however in the past I always did my research before going in and then went in to speak with someone and have my questions answered, however this holiday season I now understand that's not the direction Best Buy is going in, customer service is not important, what I accomplished by going into bet buy this evening I could have accomplished without even leaving my house, at the very least you should consider putting a card in front of the computers like you do with the ear buds so then I could have taken the crd to the register and paid for the computer, instead of ordering it from my telephone from inside your store to be delivered to my house, Im sure the postal service is busy enough this time of year not to mention your shipping online order dept
Thank you for taking the time to listen to my complaint
Carolyn joslin

Rafael L Martinez Ortiz
from Alajuela, A
I bought a one year subscription for office 365 at the Miami Store on November 1st, 2018 but the product key was not validated by Microsoft. I asked for a refund but they told me that beyond one month after the purchase date, a refund is not given. Therefore, I lost my money and I could not have my office 365 either. What a store!

on 12/18 I spent two hours online checking out electric clothes dryer after going to the bestbuy site for the North Attleboro Massachusetts store and check off the box to show only what was in stock I made the purchase received a conformation number and email saying it would be ready for pick up the following day when I checked the status of my order at 10am as my sons were driving there to pick it up it showed out of stock when I called I was told even though it states on the web site for the store that it in stock they don't stock dryers I explained to the rep on the phone what the web site says and that I received an email confirming my pick-up for 12/19 and felt that the person I was talking was calling me a liar and that there was not their fault it was bestbuy onlines . My sons went to the warehouse and picked it up which ending up taking them all morning to get the dryer needless to say this will be the LAST time I purchase a major appliance at bestbuy since lowes and homedepot both sell the same products and when they say there in stock they have them.

Shequinta Clyke
from Montreal, QC
I bought a computer from your store in Sydney 2016 mayflower mall the computer has never worked properly ever I have no receipt for it n some of the keys are now damaged but im so upset because it is all I have to get online with n it does what it wants I don't feel like im controlling it at all it opens and shuts windows the cursor is always moving around the screen I paid like 399.00 n tax I think so it n it doesn't even have a disc drive which when I bought it I asked about that since owning this computer I have never bought anything else from your store n I doubt that I ever will just so heart broken over this it awhile to save n get it n its been a worthless pile of crap I spend more time offline then online for one reason or another with this computer
what I want is for u to take it back n repair the problem with it I don't care about the keys I just want it to work properly

Mundy
from Stone Mountain, GA
If possible, I would give zero stars! I bought a Dell Inspiron 13 7000 Laptop at the Snellville, GA Best Buy on December 9, 2018 and purchased the annual Geek Squad protection plan as well. I left the computer with the geek squad for them to download information from my old computer to the new one. They had it ready the next day, showed me how to find information on the new laptop but, unfortunately, we did not exam the USB port at that time. I bought the computer home where it was either on my desk in my office or encased in a padded computer bag. I left on a trip the night of December 10th and the computer was not used again until I returned Friday December 14, 2018. At that time, I tried to use the USB port but found the strip below the port was bent outward, making the port unusable. Therefore, I took it back to Best Buy Snellville location that evening and showed the geek squad the problem. The geek squad representative took the computer and after a few minutes brought it back with the metal still bent but the port usable. With the computer purchase being less than a week, we chose to replace the computer and the rep from the geek squad agreed. We picked up the new computer and went to customer service to return the defective computer. We were then told we could not do that as the computer damage was our responsibility. The SPECIALTY SALES MANAGER said the computer had been dropped. I disagreed with him and with his arrogant attitude informed me he knew that it had been dropped and therefore, called me a liar. He would not listen further even when I said I could absolutely swear in a court of law, under oath, the computer had not been dropped. We've been Best Buy customers (and credit card members) for over 20 years and would like to believe we haven't spent our hard earned dollars at a business where such behavior is accepted. I would like a resolution to this situation and appreciate assistance from someone who places value on customer support.

Everell Sinclair
from Queens, NY
I called the Geek Squad for an update & request, they had me on hold with that Department for close to 2hrs and still not picked up the phone. While being on hold (I had some free time) I reached out to two chat personnel and received horrible customer service. I took it upon my self to get the transcript of the 2nd conversation and attached it to this message
Your Best Buy® Chat Transcript!!
Mon, Dec 17, 2018 3:22 pm
Best Buy Chat Transcript No-reply (chattranscripts@bestbuy.com)
To:you Details
Logo
Hello,,
Your requested Best Buy chat transcript is below. We appreciate your visit to BestBuy.com today and look forward to seeing you again soon.
General Information
Chat Start Time Chat End Time Chat Duration Operator Interaction ID
Dec 17, 2018 19:42:41 GMT Dec 17, 2018 20:22:04 GMT 00:39:23 Antony Wells INT-sv1appis15-1545075537918-18930
Antony Wells (19:42:45 GMT) : Thank you for choosing Best Buy, my name is Antony Wells. How may I assist you today?
Visitor (19:44:19 GMT) : hi...ive been calling your Precinct for over 40 min on my cell and no response
Visitor (19:45:05 GMT) : Everell Sinclair XXX-XXX-XXX
Antony Wells (19:45:43 GMT) : Thank you for the phone number.
Antony Wells (19:45:48 GMT) : How may I help you?
Visitor (19:47:29 GMT) : I I'm having service done to my PC and I want to save the replaced drive....But it looks like your entire Precinct ar at dunking donuts with the other cops!
Antony Wells (19:49:21 GMT) : May I know have you done service with our Geek Squad?
Visitor (19:49:24 GMT) : I've been on hold/phone ringing for over 40min now....thank god this not the hospital....I'de be dead from the wait....
Visitor (19:50:53 GMT) : why yes my good fello....and I want to tell them I need to have my replaced hard drive saved....for pick up on my reserved time of Wed. at 1:30
Visitor (19:53:04 GMT) : can you send out the geek squad "Bat Signal" so possibly the will answer the phone...
Antony Wells (19:54:20 GMT) : I will help you with the link of the Geek Squad team. Please chat with them, they will help you with this.
Antony Wells (19:54:45 GMT) : Click here to chat with geek squad team
Visitor (19:54:49 GMT) : 49:04sec and counting....
Visitor (19:55:52 GMT) : yeah...that did not work.....but thanks for trying though....
Antony Wells (19:56:36 GMT) : I am sorry, please chat with them, they will definitely help you with this.
Visitor (19:58:23 GMT) : is there a "Geek Commissioner/Public relations officer" I can file a report with? since this just utterly ridiculous for XXX.00 and being on the phone for close to an hour...
Visitor (19:58:56 GMT) : I called Santa and got though to him in less time...
Visitor (20:00:24 GMT) : it's a good thin I have unlimited minutes
Visitor (20:02:29 GMT) : Oh you've got to be kidding me.....still no answer and we are at 56:48sec with no response...
Antony Wells (20:03:21 GMT) : I am really sorry for that, please give me a minute I will look for the available options for you.
Visitor (20:04:25 GMT) : Mr. Wells this really not funny anymore....What would corporate think of this...?
Visitor (20:05:47 GMT) : we are now passing the 1hr mark for no answer from the Valley Stream store....
Antony Wells (20:07:02 GMT) : I totally understand your point, since we are from post purchase team we do not have any options. Could you please visit any of your nearest BestBuy store?
Auto-Generated Message (20:07:28 GMT) : Visitor has requested for email transcript. The email will be automatically sent after the interaction is wrapped up.
Visitor (20:09:33 GMT) : but this is a post purchase....I bought the service from the Geek Squat and paid the preimum price to be a member and this is how a member is being treated...by the way...1:04:16sec
Antony Wells (20:11:49 GMT) : We are really sorry, we do not deal with the Geek Squad services. However you can visit your nearest BestBuy store and talk to our Geek Squad agents regarding this.
Antony Wells (20:12:37 GMT) : Here is the direct Geek Squad support team number 1-XXX XXX XXX you can contact them.
Visitor (20:12:47 GMT) : ok thank you I will do that
Antony Wells (20:13:00 GMT) : You are welcome.
Antony Wells (20:14:19 GMT) : Would there be anything else I can help you with today?
Visitor (20:14:22 GMT) : are you sure about that number you just gave me? XXX-XXX-XXX
Antony Wells (20:15:04 GMT) : Yes, I have checked. you can contact them. Its a Geek Squad support team number.
Visitor (20:15:19 GMT) : okidokie
Antony Wells (20:16:07 GMT) : It was nice chatting with you. would there be anything else I can help you with?
Visitor (20:16:50 GMT) : one last thing...I just called that number and it does not work.....
Antony Wells (20:19:38 GMT) : In this case I would request you to contact our phone team at 1-XXX-XXX-XXX. They will help you with this. Or also please visit your nearest BestBuy store.
Visitor (20:20:21 GMT) : so...now it looks like you are trying to "Blow off the customer" in addition to the current wait time on the phone of 1:14:15 with the store phone still ringing
Visitor (20:20:58 GMT) : This is not looking good.....for Best Buy...
Antony Wells (20:21:38 GMT) : Since, it is season time the call volume is high, please contact them after sometime definitely they will help you with this.
Sincerely,
"This email was sent from a notification-only address that cannot accept incoming emails. Your privacy is important to Best Buy. For more information on how Best Buy protects your privacy, steps you can take to protect your personal information and alerts on privacy risks facing consumers, please visit the Best Buy Privacy Hub. "
Best Buy Privacy Hub
at the time of this meesage I've still not spoken to the Geek Squad department on a post purchase issue.

Dan Gauthier
from Seattle (Downtown), WA
I have tried for months to get my account straightened out so that I can log in to make online purchases. I have spent hours in-person and on the phone. For whatever reason, the problem can't be resolved. I am registered with an account. When I try to sign in I get "We need to verify its you" message. My only option is to have an email code sent, however multiple attempts resulted in no email verification code ever having arrived at my email address...no it is not going into a JUNK folder. This is the second purchase I have been thwarted and forced to now buy from Amazon. Your loss. I am at a loss at your ineptitude. I have never experienced such a problem with any other of the multitude of companies I have online accounts with. 1 Star is over-rated. The two times I have gotten assurances by phone that the problem would be resolved I have never heard a single word back from anyone.

J. Spain
from Fayetteville, NC
WENT BY BEST BUY ON 12/12/2018 AROUND 6:30 PM TO UPGRADE A SPRINT IPAD TO THE IPAD PRO; AFTER SOME TIME, A YOUNG LADY ASSISTED ME BY TAKING THE INFORMATION I PROVIDED HER AND WHO TOLD ME THAT I WAS ELIGIBLE.
DURING THAT TIME, SHE WENT TO THIS TALL CABINET 3-4 TIMES, EACH TIME TAKING SOMETHING OUT AND PUTTING IT IN HER MOUTH, CHEWING IT. IN THE
MEANTIME, SHE PUT IN THE WRONG PHONE # 3 TIMES, AND I HAD TO INFORM HER
OF THE CORRECT #; AFTER ALL WAS SAID AND DONE, SHE CALLED SOMEONE AND THE NEXT THING I HEARD FROM HER IS THAT I WOULD HAVE TO PAY A PAST DUE PAYMENT OF $325 BEFORE I COULD GET THE TABLET. I DO NOT HAVE A PAST DUE BILL WITH SPRINT AND I HAVE BEEN WITH THEM SINCE 2009; I DO BELIEVE THAT REP. PUTTING WRONG INFO CAUSED ME SHAME AND NOT PROFESSIONAL AT ALL, SNACKING IN FRONT OF CUSTOMERS WHILE PROCESSING APPLICATIONS.

Jeffrey Kiser
from South Milwaukee, WI
I made an online order for a play station controller and had it delivered, when it arrived I didn't realize that I had ordered the black one when in fact I needed the red one. I went to store to exchange it and had to pay an additional $20.00 because the sale had just stopped I think this is an outrage! all I wanted was an exchange. You have lost a customer and I will now shop Amazon it is the principle of the matter. I can't believe a company as big as Best Buy doesn't do exchanges properly. I have spoke with co-workers and family and they have never heard of that, so I just wanted to let you know your going to lose business.
Thank You
Jeff Kiser
6947 S Rolling Meadows Ct
Oak Creek, WI 53154
414-856-9702

David Adams
from Nashville, TN
27 months ago I purchased 2 galaxy s7 edge phones and a tablet, I returned the tablet back to the store with in 14 days of purchase, however best buy never reported to att carrier service that the tablet was returned, identifier number 353608070794501, phone line 4705771303, att has been charging me for the last 27 months. I just switched carriers and this is how i found out i had been charged this entire time for a tablet i returned to best buy/att store in buford ga. Mall of Georgia, which is now closed. I want my money back, on my entire purchase of 2 phones and tablet, and a refund from my charges from att. My phone number is 4705771266

Jeremy Verret
from Garner, NC
I am tired of being nickled and dimed by Best Buy Stores. There is no way to say everything about the bad experience I had this morning in 100 words. Is it even possible to really talk to someone in the corporate offices about a bad experience? what are ya'll trying to hide. My family spends thousands of dollars in your store every year, But I can promise you that if someone doesn't fix my issue, there will not be even one more red cent spent in any of your stores by us. Guaranteed!

maureen letchford
from Edmonton, AB
I am frustrated that an opened Nintendo Switch game was not returnable.
It was purchased as a gift for my grandchildren who are aged 6 and 9.
The game was "Captain Toad" and was only tried once as my son said it was difficult for his children to manoeuver. My son is quite technically literate so I know that is not the issue. The children have also used other Nintendo Switch games so are familiar with the process.
We returned to Best Buy with the original receipt and with the intention to purchase another game, probably at a higher cost.
And that point we were told it was not returnable due to copyright issues.
It's too bad that when purchased I was not informed that this was a non-returnable purchase. I also do not see that information on my receipt. I would send the receipt but I do not have a fax in my home.
We have taken our business elsewhere for a replacement purchase. This is annoying time wise and more importantly, a temporary disappointment for my grandchildren.
Maureen Letchford
6420 86 St.
Edmonton, AB. T6E 2X9

Rob cohen
from New York, NY
Worst company to deal with . Been a loyal customer for years and will never buy another product from them . Bought a/c units and were lost in shipping and they basically told me that was my problem. If you continue to treat customers this way you will have the same outcome as Circuit City

Carol Mosley
from Raleigh, NC
I ordered a tv for my mother for her birthday !
I had it delivered to her house, they didn't knock on her door for delivery. They put it outside on the carport an left and she didn't even know it til the next day . How you do think a 88 year old woman was going to get the tv inside ?!?!
I paid over $350.00 for this t.v. !! I think that is as crappy as it comes ! You will NEVER get another penny from me !
If I had read how sorry your customer service was before I had ordered, it would have never been ordered from you !
Leaving my order outside tells me how much you care about your customers!! From a highly pissed off ex- customer!!!

Matthew Hodgdon
from Omaha, NE
Can I give ZERO stars....
tried to order item and it kept getting cancelled...
said it couldn't verify info and cancelled order...
made numerous calls and couldn't find out what couldn't be verified
repeatedly was told I would get a call the next day and never did...
was told to use different card... that also got cancelled.
put order though with customer service rep... that order got cancelled.... still waiting on answer as to why this has happened
finally gave up and ordered item through Amazon.. paid a little more for item, but no hassle and the order went thru seamlessly...

Angel Cordero
from Saratoga Springs, UT
Horrible Service!! We waited until Black Friday to buy our washer. We chose Best Buy in AF. We went in and purchased our washer. Our first experience was that they were going to deliver the washer in 1 week. My husband called on Sunday to see if they could deliver on Monday. They said no so we said ok just deliver it on Tuesday.
We received an email that they would be here on Tuesday to deliver the washer. Both my husband and I work pretty far from home. My husband left work early on Tuesday to be here and wait for the delivery. At 6:30pm we noticed that they had not arrived yet, we decided to call. The manager told us that we were not on the delivery schedule. This made no sense. He said that since we asked to have it delivered early it took it off the schedule. We were never told that they moved our scheduled dryer.
We told them that we needed our washer today! The manager said that he could deliver the washer the following week. He also said he does not control the delivery. This is ridiculous!!! Now you tell me, they are 15 minutes away!! We made a purchase from Best Buy not the delivery company!!!
We told him we need the washer by tomorrow in the evening and he said there was no availability on the delivery schedule. We told him then we want our money back, cancel the order. I then called again and said look we need the washer and he said he could do nothing for us and if we wanted to purchase it it would be at the full price.
We will NEVER purchase from them again. This company does not care about their customers. I have never felt this much anger over a company.
Due to this we have decided to rule out Best Buy forever and never purchase from them again.

ALFRED KELLY
from Saginaw, MI
I had been looking for a backup camera and receiver. Looking through your black Friday ads I found what I was looking for free installation was part of the attraction so made I the purchase of a backup camera and Kentwood receiver. I had trouble with your web site not working It kept blanking out . The next day i went to the store to see if i could get the deal , The manager said he couldn't give me the same price but I could still get free instillation, I referred to the back up camera several time because there were several incidents with people walking behind my Hummer so i was under the understanding that the instillation included the camera. The young man never said that the camera would cost $130.00 more to install. I was really unset to hear this , The tech then call a manager i think his name was Jason he had a lot of tattoo on his arm he said that i was wrong know one had made that kind of deal , i was getting very up set because he would not even talk to the person who made the deal at that point i lost my temper and swore now he tells me to leave that he was not going to install anything and at that point he called the police and i waited and spoke to the officers .
if this is how best buy does business i will not be back i an 65 years old

Barry Ahringer
from Pompano Beach, FL
First of all I have spent a lot of money with Best Buy . Today I had two horrible experience with your company .I purchased a Yoga lap top from you less than two years ago. Two days ago my lap top slowed down out of no where , I knew it was a minor issue.
Today 12/6/2018 I arrived at your Davie Florida store at 11.45 am .The Geek squad employee who basically was just walking around finally called me to the counter. I explained my issue and he told me to turn on my lap top . I turned it on and explained my issue .He did a couple of head shakes and told me I could be seen at 2.30 pm did I want to wait . I informed him I would go to another location ,He said don't go to Pembroke Pines youll never get waited on they are to busy .Was I to sit for 2 and a half hours to be seen , absolutely poor business .
Next i drove to the Ft Lauderdale location After waiting in line i explained my issue . He told me i probably needed a new lap top. He never even looked at it even though i turned it on. He next said i had to give him 150 dollars to have the Geek Squad check it out. I left the store very up set because neither location really tried to help me and really didnt care.
Next i went to one of your competitors in which i was treated better than the company i purchase my lap top from and just a few weeks ago i purchase all new kitchen appliances for my mothers condo (check the record ) The tecnition looked at my lap top and withinn 2 minutes figured out that the anti virus protection i purchased from Best Buy but was not renewed had been downloaded without my knowledge and was causing the problem. Next we removed the down load and my lap top was ok just like it was two days prior.
As a long time loyal customer i feel betrayed by Best Buy. To think that i received better service from a competitor is sad. I never told them i had been to two of your locations today wasting hours of my time.I left your competitor happy with a feeling that they really cared about helping who ever came into their store.
To think i was told by your staff that i needed a new lap top when mine is practically new and then trying to fleece me for 150 dollars without even taking 2 minutes to look at the lap top..
Poor business as i have spent over 5 thousand dollars in the last year or so at B est Buy.
Now i cant wait to see the respose i receive because i have really lost faith with your company .
Barry Ahringer
Plantation,Florida

Art Hanshaw
from Germantown, MD
CASE # 220452713.......READ THE CASE.....

Diana Salas
from Irvine, CA
I purchased a Toshiba Model:43LF621U19 After spending over an hour online to get purchase it I get it home and mount it up on my entertainment center. Then that evening the picture goes out. Volume is fine. There seemed to be a short as it would make a static sound and then no picture. Great, I call the store they will not guarantee that I can get another one and will not tell me if there are enough in stock for me to get it in the morning. They will not hold it either. I am a senior citizen. It was hard enough to get it the first time. Now I have to get my family members to come back and take it down and get it in the car. I get another tv. get family to hook it all up again. It works fine for two days. The same problem. I believe these televisions must have been dropped at the store as that is not a problem with the tv. I checked online Consumer reports etc and best buy feedback. Now with all the Christmas tree there I cannot even get to the outlet to disconnect the tv. I have to get people to come back and take down the tv again after Christmas again. This is getting ridiculous. The store does not care about my inconveniences. Again I will have to hope that there is yet a third television in stock after Christmas for me to get. This is horrible customer service.

Christopher Hinton
from Littleton, CO
Worst customer service ever!!!!!!!!!!!!!!!!!!!!!!!!!!!!!!!!
I need to talk to some one about this, I need my TV fixed and it appears you can't fix it or even tell me if the parts are available.
I do have an extended service warranty on the TV. Please call @ 303-961-3854

Brad Hartness
from Hickory, NC
Ordered tv on line and it delivered. The delivery drivers backed into my house causing damage to my gutters and they left without saying a word. Called local best buy several times and no one has called me back. Order #bby01 805590566180. Fms. 47596465. Crew 2317. 006c

Shannon Selinger
from Philadelphia, PA
My order was promised by Friday, November 30th. I didn't recieve it until Saturday and the box the toy comes in is completely destroyed. The box is part of the toy, it's supposed to be q surprise stuffed animal and when you wash it, you figure out which pet you got. Can't even use it now. I have to return it. Will not EVER order from here again.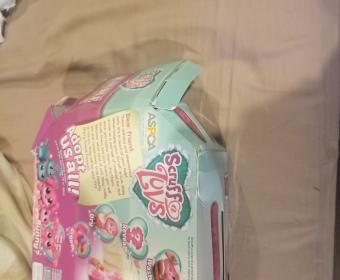 just bought new tv best buy, bought 2 yr war. was told it covers any thing for 2 yrs that might happen to it.
the screen cracked took it back to the store then I was told it did not cover cracked screens first I heard of.
contacted geek sq the said the same thing.
I asked what I could do and one lady told me to buy a new tv,and still have to pay for the other
so I was sold a 2 yr policy that was suppose to cover and did not.

Balqees Rihan
from Phoenix, AZ
Hi,
We bought washer and dryer last week and scheduled the delivery and installation for Wednesday of this week.
The two guys they brought the units could not get them to the laundry room claiming the door is small and will not fit.
They asked to remove the door stop to allow the new units to fit through the door,
They recommended to keep the units in our garage and reschedule a service visit since it is better than taking the units back to the warehouse and reschedule the installation and delivery again.
The two guys that they delivered the units called the costumer service and informed about the situation, and the customer service promised to call us on Thursday to give us the time for delivery on Friday. We did remove the door stop and waited for the call.
No one called or showed up. We called Geek Squad number to verify and after 45 min of waiting a rep. Name Nicole ID# A1384533 said the product in her system shows as completed and she can not help us. She also refused to transfer us to her manager to talk about the issue saying in her system everything showed as completed.
We are very frustrated with your customer service and level of care and we really think that we made a mistake purchasing such items from your store.
We are planing to return your units and we recommend that you ask your Geek delivery people to pick up the unites from our garage within 48 hours.
If the units are not taken from our house by Monday 12 noon, we will have our lawyer take the case and request for our money back plus all the expenses for removing the door stop and installing a new one plus painting the door again and any other emotional hardship your customer service caused us.
Your immediate attention is required and I would appreciate a quick response from someone with authority to take care of this situation before it get worst.
Thanks
Balqees Rihan Shammas
602-418-7000

Irma Bahde
from Bedminster (Pluckemin), NJ
I bought a samsung S8 Cell phone. I was told I could return it within 14 days. but not that there would be a $35.00 restocking fee. I purchased it o n that premise. When I contacted my cell phone provider I was told that I would have to upgrade my service from the plan i have. I am a Senior citizen.(82) on a limited income and I can not afford this upgrade. So I went to return the phone that I had not opened and was charged $35.00 for a restocking fee. I am very upset about this. When i complained about it I was told that it is explained on your purchase receipt. (this is after the purchase). Should the consumer not be aware of this before puchase? I certainly would not have bought it and I can not afford to lose $35.00 for nothing Best Buy, if your read this I appreciate a call from you. I.B (212-751-1835).

David Masaryk
from New York, NY
Called Geek Squad at Saratoga Springs NY store. Told them had two BOSE WAVE radio/multi d changers. Electrical surge at residence and both cd players no longer functioned. Made an appointment for 3:20 pm (two weeks ago). Drove 43 miles to drop off at store for repair.
Arrived at 3:12 pm. Was told repair was not possible. I asked to get that in writing so I could claim on my home insurance policy.
Was told "No". I asked if I had left it for repair would I have gotten a note stating that it could not be fixed..........no response.
Called store when I drove home 43 miles. Got Geek Squad....explained what happened.........got another phone number............to the Geek Squad!
Entered a complaint via HissingKitty..........no response from Best Buy todate.

Ken Jancsar
from Coraopolis, PA
Went to the North Fayette, Pa. store this morning around 11:30 to purchase a Samsung Note 9. There was no one in the phone area. We waited a few minutes and no one showed up. I went up to the front of the store and asked the employee by the door if he could get us some help. He said he would get someone right away. We went back to the phone area and waited. Nobody showed up. Some minutes later an associate came over and asked what we wanted. I said I wanted a Samsung Note 9. He said they were locked up and he did not work in that department but would get somebody. Nobody showed up. We got tired of waiting and left the store.
We were there last month and purchased an Apple I-pad and the service was great. We go in today to buy a phone and no one wants our money. We are very unhappy with Best Buy.
Ken and Donna Jancsar
no one

Harry Johnson
from Chapel Hill, NC
I recently move to the Chapel Hill, NC opened a CC account and made several Purchases on 5/19/18. I also sign up for installation service with the Geek Squad. Every thing was installed properly and very thing seen fine. I was told that I would gain reward points related to my purchases. We received the bill bu mail and paid it. But never saw any rewards. We have been busy setting up the house and was not looking for it. On 10/10/18 We ordered a Refrigerator. I was told to go on line the track the order. I tried to log into my account with success and spent two days trying to straighten it out. I was told by a Tech Support person that my email address on the original purchase was wrong, the my reward were gone and that they had notified me. I was never Notified and did not receive anything in the mail. I was also told that I have two accounts with two Member I.D.s Old: 4576345480 related to the original purchase and and a New: 4500005558 related to the latest purchase. I was told the the accounts would be combined and that it would take two days, I waited four days and could not access my account. I the called in again and spent another 3 hours trying to get some answers. I was told that there was a note on my account saying that they were to be combined but the he was not the person who could do that. He did give be access to the Refrigerator purchase to enable be to track that purchase using the order number. I still cannot access my account, view my purchases, or see rewards points. The latest Best Buy person informed me that my Rewards points for my initial purchases were gone and I was never able to see any accruals. Poor web support support and rewards system.

Bianca Alcantara
from Fayetteville, NC
Yesterday we got to the store on Fayetteville 28314 for the
PS4 Spider-Man was sold out. However, online it says 3 open box available 159.00$ 175.00$ and 189.00 at Fayetteville store, that is why I when back to the store. However, PS4 open box was wrong info. So, I decided to check online and be awake until 3:00am to see if this item become available on the same store at 2:00am item because available it said on this play at Fayetteville store. I wake up early I was in store 9:15am to to get this game for my child. It's raining today the weather is not the best. I spoke to one associate from Greek squad. I was told not available but she will check for me. Then, I request to speak with the manager she was so unprofessional and treated me like I was mentally ill. "We can't control was it sale on line the system it never accurate". The Item was available in store according to Best Buy website that was my hold point and I travel to get this PS4 for my child. I just can't understand why they have a few PS4 behind the counter and I was told it was order online went I couldn't even other the product only when became available at 2:00am. It was only in store first come first serve. I have been a Best Buy customers for many year in New York City nobody ever treated like that I'm very disappointed. I'm hopping that someone in corporate can fix this matter and make my child happy this Christmas. I will really appreciate. Thanks.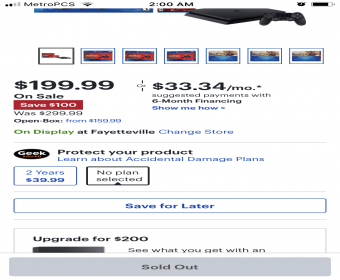 Brenda Camerlengo
from Perkasie, PA
Waited in line OUTSIDE for a door buster, the 55 inch Class Smart 4K TV. My son just got out of the hospital recently with meningitis. Went back to electronics and employees didn't know, said to go up front. Went to customer service and they said to go back to electronics. No one seemed to know what was going on. A customer who was BEHIND us got a ticket. She told us where to go to get a ticket. Got in that line and they didn't have anymore. Talked to the GM and he couldn't do anything. They said oh you had to be in line outside. I said we were. They kept trying to find excuses to make it look like we were doing something wrong. This is not my first disappointing experience. I would now like Best Buy to honor the 2 TVs my son and I were going to purchase. That would be the right thing to do.
Thank you!

Alan Lutomski
from St. Catharines, ON
More of a concern than a complaint. November 20,2018 I visited your store in St. Catharines to view the Bose Wave Soundtouch IV Music System, also visited this location on November 18,2018. On my first visit the staff were extremely busy so I was not able to talk to anyone at that time, not a problem fully understandable. My second visit was not as busy so I was able to see someone promptly. The problem was that nobody could find the remote for this product and I was told that Bose did not set up system properly. This system takes up valuable space in your store and one should be able to listen to it, I would never buy unheard, or to view capabilities.
Again, this is not negative feedback as I do think the store is professional.
Thanks for your time,
Alan Lutomski

ben jones
from Camano, WA
When I went to the store in Mt. Vernon Wa. to ask a question of the geek squad about a product I had recently purchased I had a very bad experience with a fellow in a dark gray shirt who identified himself as the manager. Sorry, I didn't get his name. I asked my question and he proceeded to speak down to me as if I were an idiot, talking very rapidly without giving me an opportunity to speak. He repeated everything he said at least three times, and when I gave up trying to communicate with him and walked away from him saying very calmly three times as he had done to me,"You talk an awful lot.", He very rudely ordered me out of his store. I do not believe this individual has the relationship skills needed to maintain relations with the public or with his employees. As I was leaving and I said I would be filing a complaint, I saw a couple of the employees smile quite happily. I really hope someone takes a good look at this individual!

David A. Masaryk
from Gloversville, NY
Contacted Saratoga Springs NY store via internet. Explained had 2 complete sets of pre-2005 Bose Wave radio/cd with multi-cd changers.
In speaking with two individuals (Abril and Peter ?) told them had power surge and cd players/changers were not functioning properly.
Made appointment for 3:20 pm last Thursday. Arrived 3:12 pm and was told the units could not be fixed. I asked GeekSquad for that comment in writing to make claim with insurance company. We were told "No". This is after explain ing to two folks via internet and one at your store.
We drove 43 miles to get there and then back. When I went to your web sight to make comment I was told to call the GeekSquad 800 number.

Eileen
from Queens Village, NY
Hi. I ordered a product sept Labor Day sales , I canceled it because it wasn't delivered same day. I was told it would be 2 days later false ad with shipping. I been calling and messaging Best Buy for 3 months. They had told me it was canceled I find out now in nov they never canceled it and they keep charging me each month for an item I did not get nor want. I want it off my bill. Every time I ask for supervisors they refuse to put one one. I ask 10 x . I'm getting no where . Best Buy is committing fraud on my credit card

Judith Sarris
from South Lake Tahoe, CA
I ordered a dishwasher. I had to wait a week to get it delivered and installed. They sent 3 emails and 2 phone calls to make sure I was aware of the date and would be there to accept delivery. I lost 1/2 day's pay to be there. No one came. When I called, they said I was not on the schedule (in spite of the 3 emails and 2 phone calls). They refused to reimburse me for the lost wages and refused to make any exceptions or special treatment to get the appliance installed. Instead they told me the next installation date available was another week out. I tried to cancel the order. I was transferred 3 times and disconnected. I tried to cancel on line. But the on-line cancellation told me there was a problem and they could not complete the transaction. I called again to cancel and was transferred 3 more times and disconnected. I am done with these people and will never deal with them again..

Steve Medve
from Columbus, GA
Appliance arrived damaged so I did not accept. Appliance was ordered in one city and delivered to another. I was told to visit the original store the product was ordered and reschedule a delivery. The associate at the Columbus, GA store#843 (Jonathan) was exceptional in being patient with me to resolve the issue. Meanwhile the assistant manager was unprofessional and of no help. After 1-hour in the store they finally determined how to resolve the issue so hopefully all will go well this time as I must drive 2.5 hours to the install city.

Bought a TCL 55inch R615 from Best Buy at 2358 Harlem Avenue North Riverside, Il. After installing the TV it seemed to work fine. The next day as I was watching TV it turned itself off and went to the ROKU screen like it is rebooting itself. I thought that was strange but figured maybe it wasn't a big deal. Now by me working nights I can only watch TV on the weekends so a week later as I'm watching football it goes out again. I called TCL and they told me to do a unplug then plug it up reset to see if it work. It did ok for a while until my son was playing his XBOX video game and after an hour into it It shuts itself off again. Now I'm upset. This is apparently a defective television set I got. I figured Best Buy management at North Riverside would understand my pain and resolve it for me. So I visited the Best Buy and explain to the manager what was going on. She asked me if it was past 2 weeks I told her yes by literally a day but being that the TV was barely watched except weekends (I work two jobs one part time the other 2nd shift on weekdays) if it was possible to exchange it given I obviously have a bad TV set. Her words was " Ok get it to me as soon as you can so we can exchange it for you"
I figured the problem was solved. I couldn't get the TV to her that day because I had to go to work. So the Weekend comes I bring in the TV explained the situation. Jorel who works in the TV department was excellent in understanding my issue and told me to go ahead and pick out a TV of equal value in the price I paid for it. I'm thinking ok problem solved. Ten minutes later. A woman who works Customer Service told me the TV appears to be working. I told her yes it turns on but that's not the issue it shuts itself off and then ROKU screen comes on after so many minutes. I even suggested she keep it for an hour while it's on. She was hell bent on not resolving my issue. The manager who told me to get it to her "as soon as I can" was on vacation and here I am dealing with a Rude Customer Service Rep who completely overrode what a manager had promised me. A simple exchange of a defective product. So I had to take the 55inch tv back home only to turn it on and now its WORSE than it was when I tried to exchange it. I don't understand how if your Customers are FIRST get treated so poorly. Now I can't watch TV while I'm off this weekend. I was a big Best Buy supporter but I have to admit this left a bad taste in my mouth.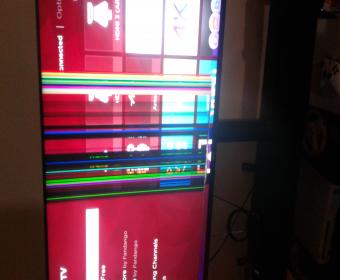 Heidi Martin
from Gastonia, NC
NC, Gastonia 3054 E Franklin Blvd. TERRIBLE customer service at Best Buy, INCLUDING the Geek Squad manager. Our son purchased a dryer on the 13th, and it was explained twice to the salesman, Jeff, that we needed a side vet kit AND and a 8ft power cord being it was a stackable unit. The installation team was awesome, but upon arrival/delivery of the dryer (Maytag), no kit was include for the side vent, wrong power cord, no bracket for the unit to be stacked onto the washer. I was on the phone with Jerrand Rego, who I guess is the supervisor for the installer apologized and did the best he could to get this resolved. I was left on hold for over 30 mins, with Best Buy, and I kept calling back while the installer was here.
FINALLY got a phone call back several hours from the store manager of Best Buy, Jason. He told me that they couldn't find a side vent kit for this brand new Maytag! Needless to say, the dryer was not installed that day. Jeff the salesman charged us, over $169.00 for the kit AND a power cord which was not even with the dryer when it arrived.
Jason said he would do a partial refund, but didn't know where to locate a side vent kit. Well, I DID! And I paid for it and it was delivered the next day.
Tuesday was the initial install date, vent kit was ordered on Wed. by me, arrived at our home on Thurs. I called Best Buy to let them know that I found the kit and it is here and we needed this dryer installed right away.
Geek Squad tells me that they can't come out till the following Tuesday. UH NO! We need this done NOW. So, I went to the store, and stood there for OVER an hour at the Geek Squad station and was told that the manager was "trying" to call the installer, Jerrand.
Funny, because I call the installer while standing at their counter, and got him right away and he said no one called him. So this so called manager LIED! Not only that but she NEVER showed her face to me!
Jerrand was so sweet, VERY understanding, AND accommodating. He worked with me and came out on Saturday the 20th to finally have this dryer installed. a week later after initial purchase.
The manager of the Geek Squad shouldn't even be called a manager! Shame on her for not coming out to me and talking to me face to face. Jeff shouldn't be salesman either. Don't order things, charge the customer if you cannot not even get the part. He was told TWICE on what we needed.
I will NEVER EVER buy from here again, and I will make it known to family and friends what terrible staff that works at this Best Buy! Not the installers.............they were great!

Clay Baten
from Dallas, TX
Geek squad hit my credit card for charges that I did not approve. The card was determined to be compromised by the credit card company, and it was replaced. Before I ever received the card, it was hit by Geek Squad as well. No idea how they got that card number, since it had just been issued and in transit. Had that card shut off and a new one issued. I once again called the Geek squad and told them not to hit my card. I did not want the service they were offering. I was assured that would not happen. Well, they hit the newest card without my approval. But, they got that card number from some place. I called Capital One and asked for their help. We had a conference call with Geek Squad and they indicated they would credit the amount. Well, just received a notice that they were only crediting part of the charge.

Charles DiMarco
from Clearwater, FL
We purchased a Television from the St. Petersburg, Fl Best Buy store on Oct 5, 2018. At the time of purchase we made an appt for installation for Oct. 11, 2018 between 12-4. Almost immediately we realized that no-one would be home at the time so rescheduled for installation to be done between 4-8 pm the same day. Yesterday, Oct 10, they called to verify appt for today but not at the agreed upon time. Both my husband and I attempted to contact the store for over 2 hours to no avail. Our call was dropped numerous times--we were on hold for 45 min at a time--every attempt we made was averted by whomever answered our call and then transferred us to someone who transferred us to another person who transferred us to another person who transferred us AGAIN--all to no avail! It was the most frustrating experience we've ever experienced from a store where we purchased merchandise. I finally spoke to someone hours later via your Chat line on line. The woman, Krisia, was extremely helpful and apologetic and gave me various numbers to call. I finally got an agent by the name of Marlow who seemed to know what to do. She apologized that our appt for this afternoon was no longer available but assured me that Sat. the 13th was available between 12-4pm. Fine. I accepted that appt. Now today I get 4 messages from Best Buy telling me 1.) we missed our 12-4 appt for today. 2.) the installer was at our house and wondered if he could come to install (no one was home) 3.) A call confirming our appt for the 13th AND 4) a call to cancel our appt for the 13th and moving it to the 18th or whatever the date was. By that time I was so frustrated, I just want to return the TV and call it quits with Best Buy. The frightening thing is I have a contract with the Geek Squad for a new computer I bought. I can only imagine how difficult its going to be if ever I need service. What gives with your company? And what do I have to do to get this TV installed on the 13th?

Lisa Koester
from Smithsburg, MD
I called the Cape Giraudau Missouri three times this morning needing help with the purchase of a blue tooth capable printer. The first two times I was transferred; first time to the Geek Squad with no answer, second time I was transferred to a woman who would not help me and stated that her associates were both busy with customers, she was rude and very unhelpful, did not offer me a time to call back nor take my number and have someone call back. When I asked to speak with a store manager, she transferred me to a computer generated help line. The third time I called I again asked for help with the purchase of a printer and wanted the name and number of the store manager, I was transferred to someone who half heartedly helped me and then never got the name and number of the store manager. I guess they do not have a store manager. Very frustrating when I am a potential customer wanting to buy a specific item. I wonder if they treat all customers this way??

Darren Brace
from Kitchener, ON
my daughters birthday is coming in 2 weeks, she would like a laptop..in the last week I have visited 3 different best buys in my area and despite standing around in the computer area for a duration of 8-12 at each location, I have been unable to get anyone to sell me a laptop mostly because the associates are usually standing around in groups talking with one another...
today I actually had an associate walk past me doing everything she could not to make eye contact and I stopped her asking if she could help me, she said the laptops weren't her department and carried on without even contacting someone to help me.
I wish I would have not been as frustrated over the last couple visits of seeing everyone standing around and not helping someone looking to spend money that I should have taken pictures of the groups of workers...
its funny that everyone knows Canadian Tire has very few workers and the ones they do have are not good at customer service what so ever (at every CT) and the joke on face book now is Best Buy is quickly becoming the new champ as the difference is, best buy employs many associates and none of them are helpful.
the 3 locations I have visited are Waterloo, Kitchener and Cambridge Ontario...I went from location to location because I like the options I have to purchase, I just wish I had the key to the cabinet to get the items id like to purchase cause there's no associates that are interested in improving the companies bottom line.

Arnold Coby
from North Babylon, NY
The person that came and installed the system was great! However the Computer SUCK! Had many problems with it! I will meet today with Best buy and if they do not correct the problem; I will cancel this order!
Started to have problems right away! I will meet with Mike today! he wants to check the system, now I have to disconnect the computer and take it to him! That SUCK. I paid the Geek SQuad I This also Suck:: I also gave all the videos problem to
My Lawyer, If I do not received a Solution we will Sue BEST BUY!!

Paulette LeBLANC rosen
from Saint Paul, MN
We had a fridge delivered today it is sitting in the middle of our garage not connected the old one is to be taken away it sits in our kitchen. My husband Sat on phone 40 min. Before anyone spoke. They were no help. Told us to reschedule nothing else could be done. Our car sits outside so a fridge can sit there. We have no cold food. We need someone to fix
This. 6517690420 help

Roy M Smith
from East Stroudsburg, PA
I purchased Insignia Digital Wireless Headphones yesterday at our local Best Buy. When I opened the package at home, some of the components were missing. I returned the item to the store this morning, and explained what had happened. At no time did the sales associate ever apologize for any inconvenience caused me. I showed him a plastic tag that had been stuck on the box that states the headphones were either returned to the store by a previous purchaser, or was "reconditioned." I told him no one had explained any of this to me when I was handed the item. The sales associate mumbled something, and asked if I wanted to return them. He came back several minutes later with another set of headphones and told me I owed $5.30 more because I had opened the original box. I was dumbfounded by this and asked him to tell me again what the additional charge was for. He told me it was because I had opened the box. I asked him about what the store was going to do to reimburse me for my time and inconvenience, and he just looked at me. I told him they had returned an item and had offered it for sale without even checking to make sure all the components were in the box, and now I was being charged more? I decided to pay the $5.30 just so I could complain about this whole mess. It's obvious Best Buy has little concern for customer service, and the associate demonstrated a total disregard for anything that can be considered helpful. What a joke this store is . My "BEST" advice: stay away from Best Buy!

Todd Coughlin
from Milwaukee, WI
I am an elite member of Best Buys rewards program.That purchases all the technology for 3 of my families households, so obviously I am going to have more returns than a single family household. 2 weeks ago I returned a $25.00 bluetooth speaker, so that I could purchase a $125.00 bluetooth speaker. At that time I was was told that in the future they may or may not accept a return from me, so of course I accepted the refund and told the clerk I would make the purchase of the $125.00 speaker from target where I know i would not have an issue returning if I needed to, as I didnt want to chance getting a defective product that I couldnt return. Today I went to best Buy to purchase a micro SD card, but accidently purchased a regular SD card. When I attempted to return the SD card with a receipt in an unopened package, for an exchange I was denied the exchange. After a half hour on the phone with Best Buy corporate office, and another half hour on the phone with the third party company that monitors their returns, I was still unable to exchange an unopened product with a receipt......... Long story short, Best Buy has lost 3 households business for a life time. I have never attempted to return a product without a receipt and most of the time they are in unopened packaging. I wont even step foot in a store to use my $20.00 rewards certificate I still have........ CYA B.B. That was one big mistake you made over a $20.00 product that was never opened and I tried to return after only having it for 2 hours

Donna Millian
from North Tonawanda, NY
I was in your Niagara Falls Blvd,Amherst N.Y store today and it was the worst service I have ever received in a retail store. No one would help me and I finally stop an employee , he treated me like I was wasting his time......I would have understood if the store was busy but there were hardly any customers. Now I use a walker to help me get around and I'm walking past all these employees doing nothing and Not a single one would ask me if I needed any help and they could see that I was obviously looking for something, but no help. If this is the way you are going to treat your customers then I will take my business elsewhere

really in 20 mins i have been hung up on 10 times, and then when i finally got someone they disconnected my. just trying to see if my computer is ready to pu. SO FRUSTRATING!
Been on hold for another 10 mins to have my phone number that i gave them show me not being there. what the hell?!!!
never again

Donna Zapata
from Santa Rosa, CA
3 years ago I bought a Bosch washer and dryer. The delivery was not good then.
Earlier this year I bought a refrigerator all went well with the delivery.
I just purchased another washer and dryer...this time a Whirlpool. It was in fact delivered today on time. However, it was delivered with installation instructions and they removed my old washer and dryer. I am sitting here right now with my new washer and dryer that I cant use for at least another week until the hoses for the hookup are sent to me. On the order it also states deliver without hookup. When and why did that decision happen??? That is not what I requested.
I called the store manager twice today and never received a call back. I ended up calling the appliance department up directly and they state there is really nothing they can do since the parts are ordered and will be delivered on the 10th. Just delivered? I need it hooked up for my use!!
I am so very disappointed with this whole purchase transaction and how it was executed and it is mind boggling how this can happen fr the 2nd time.
Very unhappy with Best Buy!!!
Donna

Isiah Frazier
from Murrells Inlet, SC
Why is it that ever time I pickup a product that I bought online I run into horrible customer service. This is the second time within 3 months that I've been stopped by the greeter and questioned about why I don't have a receipt upon trying to leave the store. Maybe if the cashier would've given me a receipt we wouldn't be have this discussion. It's is embarrassing, rude, and completely the companys fault for failure to properly train its employees. This is why people shop online, and avoid your brick and mortar stores!

Theresa Dunn
from Olympia, WA
I spent over $3400. Cash buying 4 kitchen appliances. I was given delivery and installation date for 3 items on the 31st of July the 4th item on the 1st day of August. 1 item arrived on the 31st without the other 2. A phone call at the end of the delivery window described mechanical issues with the delivery truck. After several calls to scheduling and unkept promises to call back I was told it would be the next day . After waiting for hours I called again and was told no with no explanation that it was now scheduled for the 6th of August. This is only being compounded by the frequently issued response of I don't know or I can't get a hold of them. I am frustrated because of your company's total lack of professionalism and complete ignorance of customer service. You had no problem taking my money immediately though. I would continue but I feel this , like the multiple calls will be apologized for with nothing done to correct any part of it . I don't understand why all three items were not loaded on the same truck since they all were at the same warehouse, but I don't know covers it, right??

Jim Riggle
from Wilmington, OH
Best Buy 7/31/20
I just had my 5th appointment to install a dishwasher I purchased 7/3/2018… CANCELLED.
Three times Best Buy canceled and twice, the third-party company "Install" cancelled. I find it interesting that when I call Best Buy they blame the third party "Install" and when I speak to the third party Install, they blame Best Buy. And that leaves the customer, me, who pays for the product and services at the mercy of ineptitude and incompetence.
You would think a company grossing 40 billion plus a year would work day and night for customer satisfaction. If Best Buy is beginning a slow titanic sinking (6% closings since 2013) I would strongly recommend that you take seriously the little people who purchase products and services allowing corporate executives like president Mr. Joly and others to have yearly compensation packages reaching into the millions
My adjusted gross income for 2017 was $30 K. To purchase a dishwasher from Best Buy necessitated saving almost $800. That took some time to do so.
My business is customer based which requires me to travel. For a month, I've been unable to travel to customers on various days because I needed to be home to receive my dishwasher. Five times I have rearranged my schedule to accommodate Best Buy. Five time appointments have been cancelled. Five times I have told customers to wait…I'm coming.
You ask, why can't your wife receive them? She is unable due to having Stage 4 breast and liver cancer.
At this time, my 6th appointment has been set up for 8/6/2018. What are the odds that it will get installed…poor at best!!!
The Best Buy Compensation Team has determined that the installation fee of $135 should be refunded. At this point, I would ask you to keep your $135. I'm insulted.
At first, Best Buy Compensation Team wanted to send me a check for $75 for any inconvenience. That was an asinine gesture to keep the customer satisfied. I did then suggest that if Best Buy refunded me the installation fee of $135 plus the $15 haul away fee…I would be satisfied and continue to shop Best Buy. The manager said he would have to speak to the GM. Now get this…I was told that all they could do was refund the installation fee of $135 and NOT the $15 haul away fee. I asked why. I was told that the $135 installation fee AND the $15 haul away fee did not warrant the inconvenience or the purchase price. (There's another $40 fee for the installation kit in the cost but in wanting to be fair and not greedy, I just asked for just the $15 Haul away fee and not the kit.)
Way to go Best Buy…way to fight for your $15. You won $15 and lost a customer. (By the way, I just bought a home in Feb and I'm needing a new stove/washer and dryer. I wonder where I'm going to purchase them?). No wonder Best Buy stores are closing.
FAVOR: PLEASE DO NOT REFUND ME ANY MONEY.
By the way…Our little town of Wilmington Oh (12,000 population) has no Best Buy. We have a Lowes, but no Best Buy. I travelled 30 miles (Dayton) to purchase my dishwasher from Best Buy. To say the least, my experience has been a total train wreck with no empathy from management…only blame shifting and pocketing $15.
Well, that's my story. I'm disappointed to say the least. Best Buy has made my life even more difficult.
Be well,
Jim Riggle

Ruth
from Buffalo Grove, IL
your Schaumburg, Ill. store is a DISGRACE--- we have purchased thousands of dollars in past---latest is a $1,300.00 Microsoft Surface Laptop in Nov. '17---1st one malfunctioned in a week; replacement computer malfunctioned in 2 weeks and ongoing since---multiple documented visits to Best Buy since purchase . Yesterday when I came in with all the ongoing paperwork and asked them to review and replace computer after multiple ongoing problems and visits to Best Buy-(was told by Geek Squad they would replace if problems continued) --Microsoft Store and McAfee analyzed on 7/17/18 and said "it is defective hardware"--your Assistant Mgr. Nickalus Zielinski said BB had no responsibility and refused to give me name of store Mgr.; he then stalked me around the store threatening to "throw me out" --I am 78 y/o female and have a master's degree, 30 years selling medical equipment--have owned 6 previous laptops with minimal issues--I see online BB is getting exceptionally poor reviews from most----

patricia murphy
from Quincy, MA
Went to best buy in Braintree to return a product 7-16-2018
Walked in store went to customer service
a young lady ( your employee ) was leaning on wall
I said oh good morning didn't see u there
can I return this product she didn't even say hi or even look at me continued with my return still hasn't even said 1 word 2 me
finished my refund and handed me my copy..
I said have a great day still nothing that is horrible customer service maybe she needs new training

Robert White
from Glen Ellyn, IL
to whom it may concern my name Rev. Robert L White and my wife Sheila White we went into your 7/ 08/18 location at 1432 Butterfield rd Downers Grove il.we went into your store and paid for Ref.bottom mou GNE25JMKES $1399.99 and A Elec Range Con JB750EJES $649.99 we told the salesman that we were giving our stove and Refrigerator away. The Salesman said you had them in stock and that it would be delivered 7/12/18.On7/11/18 At 4:45PM Text That we were going to get our Delivery 7/12/18 7AM-TO 11AM So we when on gave our Stove and Refrigerator away. We got another Text that our Delivery Date was moved too 8/04/18 My wife And I went back to your store.7/12/18 new Salesman said that you had other Stove and Refrigerator in stock.And sense we gave our stove and Refrigerator away that they would get us a special Delivery for 7/14/18 But we got a text 7/15/18 That we will get our delivery 7/17/18 And what makes it so bad we got a statement from Chase.and we don't have a Refrigerator for 5 days and that's not a good filling Worst experience we have ever had its bad using ice coolers for your Refrigerator.Please just tell the truth #1118189487779

Ken And Mignonne Carmichael
from Bishop, GA
Samsung refrig is not cooling. 2 years old with a 5 year warranty. Geek squad contacted first thing Sat AM 7/15/18. Said they would assist and call back that day. No call back! Called Sunsay7/16. Told us to call back Monday!! Food in ice chests. Still no appointment scheduled. Poor service!!!

Elida Wyatt
from San Antonio, TX
I have been a loyal customer for years. I forgot to renew two plans within a month and they would not help me. I have been put on hold, hung up on and sent to website to website. I am on hold now. Mr. Humer as looking for a supervisor for the last 9 minutes. I also have been getting the run around with the 30 day sling tv.

Yolanda Arnold
from Southfield, MI
On June 21, 2018, I went to your Farmington Hills store to purchase a PIXMA922 printer. I attempted to use your Price Match Guarantee from an online store but was told it had to be a brick and mortar store. I went back the next day to price match with a local store, Micro Center in Mt. Clements and was told they couldn't offer the price match because it wasn't the same printer which was $40 less than your list price. I drove to Micro Center and bought the exact printer that was in your store. Model numbers were the same. Your store refused to offer the price match because of the price difference so if that's the case, don't advertise the PRICE MATCH GUARANTEE if you're not going to honor it. Shameful and misleading advertisement. By the way, this is my second attempt to submit this complaint with no feedback. The manager at the store was Shelly.

Troy E. Page
from Reynoldsburg, OH
Purchased Brother Ink 103xL $20 @ month ago. Upon installation 07/04/2018, printer found it to be defective (lacked sufficient ink). Best Buy sales associate Lyndsey refused to replace it because I didn't have receipt with me. Since I purchased many of these from BB I chanced presenting it for replacement without returning home to retrieve the receipt. I provided every form of ID requested without success or any effort to resolve my problem (e.g. seeking supervisory help. Having just purchased a $150 teleph set, I promptly returned it too for such shoddy, inconsiderate treatment. Your assoc traded a $150 purch for a $20 return. `This highlights why there is great customer increase in online vs. area Big Box-
Store purchses. I coul've purchased the $150 ph set online cheaper and more conveniently. But such customer service as herein exhibited is one important reason. I'm now required to travel 20 mi rd tp for my receipt to resolve this disputed $20 transaction, plus complete abandonment of any future business with Best Buy! Teleph RETURN/REFUND Receipt: Orig Tran.: 0292 008 1590 07/01/18: Panasonic Cordless Store 2782 Taylor Rd Reynoldsburg, OH ph 614-863-3442

daniel offan
from Plattsburgh, NY
today 06-2-2018 I went shopping to my local Best buy once I got to he cash register I tried to use my reward certificate # 3634778406
my MEMBER ID -5015994 I was told that my certificate has expired I felt like a children at that moment humiliated that reward any points reward shuldn.t have to have an expiration, this is just a game from best buy to keep the customer more often for nfo call me 518 420 4614 my email
boffan624@charter.net

Michael
from Brentwood, TN
I spent forty-five minutes on the phone trying to reach someone in the camera department . I was tossed around loke a frizby, disconnected three time, listening to phone ring for fifteen minutes and having the customer service department hang up on me.
This by far the worst service I have ever experienced after spending $3500.
Good bye Best Buy, I will never, never purchase anything from you again.

Max J. Smith
from Draper, UT
I purchase a Sony sound bar and sub woofer in July 2017. It recently quit working (9 months old) and I returned it to Best Buy for some assistance. All they could say was did you purchase the protection plan and we stated we did not. They said it would have to be returned to Sony. They acted like we shouldn't expect electronics to last, especially if we didn't buy their expensive protection plan. We went to Walmart and bought a new one for half the price and a $18.00, 3 year protection plan. I will NEVER purchase from Best Buy again.

mahmood azam
from Novato, CA
ho am I concern my name is mahmood azam I bought the freezer on 2/22/2015 and I purchase warranty thru best buy my sales item number is 3513032 they deliver on 2/25/2015 on april /28/2018 I had problem cooling my freezer it was not cooling I have to throw almost around 450 to 500 dollar food seens geek squad was busy they made scachual with third party company call bay appliance I had been rescachul four time no freezer have blind person leaving in home toady is 5/10/2018 they made onther appointment and calling everyone for help like geek squad don't want to take issu because they provide third party also when to store near my home san Rafael spoke with sales lead manager name is david o. he can do nothing don't because I don't have gunk number seen all this problem going thru ask for gunk number to geek squad they saying its repairable so they don't give gunk number I am realy not satiafaied with third party I belive they are not respect me for my problem I hope you and your team can do something to help my ohne number is 4152346179 thx

Eva Jackson Knight
from Salisbury, NC
I am going to send BestBuy a letter this week. I purchased a dell laptop on April 28, 2017 for 1069.99, but it never worked properly. it became slower and slower after the 15 day time frame that I could return it. I was told that I had to bring the laptop back to BestBuy three times before they would take it back. Even-though, it was not working. Now I a stuck with a store credit. I just want my money back. I am being forced to purchase items that I don't need and or want.

Mike Ddd
from Chalfont, PA
Piece of garbage Apple is the biggest LOSER company because apple stoled the name iphone and ios from cisco, ipad from LG. Two companies made things before apple. Apple doesn't make camera, processor, and batter, display. 3d touch wasn't apple, so apple stoled from immersion. Iphone design copy from sony, htc phone. Ipad pro copy from surface pro, keyboard, and features. Tim cock helped two terroists what to do inside the building in san berdino, CA and asshole(tim cock) hacked informations from two terrorists' iphone because he is biggest isis leader. Tim cook and susan bennett, Lisa P. Jackson and TBWA\Media Arts Lab sell marijuanas, opioids, weeds, pot, and cocaines, opium, and heroin to people. They kidnap underage girls to have a hot sex on the bed, they want to lick girls' PUSSY so they got hiv, std and he loves lick anus. He always says nigars or kkk to every black people and he says taco to mexicans. Apple are copying animoji trademark and features from Tokyo-based Emonster kk. This is 100000% true informations. Apple always LIE to u, so do not listen to apple workers, best buy, and target, and walmart, apple people in apple store. I have all apple products hacked and fire came out, exploded in my hand and face, so I lost everything and hack my info from russians. Cambridge Analytica are stealing ur personal email, facebook, and instagram, twitter, snapchat, myspace on all apple devices.THIS IS TOO SHAME TO APPLE AND TIM COCK. Bye bye apple. Rid of all apple products in every stores.

Annette Madrid
from Santa Fe, NM
I went to the Best Buy on Saturday (4/14/2018) in Santa Fe NM, I had a really, really bad experience with the sale person. I was going to buy a IPhone 8 plus when they were on sale. the sale ended on Sunday the 15th. I didn't get the name of the sale person it was in the evening around 8 o' clock. I had to ask for a supervisor, she didn't want to listen to my complaint. I walked out with no cell phone that was on sale. Every time I go to the store all you see is the employee's in a group talking and when you try to ask a question it seems like you're bothering them. that's what happen on Saturday. So frustrating!!!!!!
Sent on 4/17/18

Gerald Robinson
from Worcester, MA
Poor service when you call in you get someone , That dose not know how to fix anything
after you spend a long time with them to help you .. ,,An they delete your Info .An don't know how to fix it .
.
They sent to someone else an that took 45 minutes to et that help

Terry Humes
from Erie, PA
I purchase hundreds of dollars from best buy yearly, which you could see based on my email address, and my last purchase was a gas grill. the web site where I do all my shopping shows clearly the grill comes with no assembly so that is why I choose this item and it came unassembled. after over 45 minutes of my time and 6 transfers to people who had no answer except to transfer me over and over I still was not able to get someone to rectify my problem. I am very disappointed and will look elsewhere for future purchases Thank you Terry Humes

walter buechi
from Cicero, NY
Why is it that you have to wait an hour and a half to get an appointment to have your computer sent in for service? Especially when there are several people standing around with apparently nothing to do. This was my second trip to the Best Buy in Dewitt, NY. Yesterday I was there to have my lap top serviced, they were not able to find my purchase in the computer, I left, went home and called your toll free number, they were able to locate my information and nicely emailed me the information I needed. I am not sure why my local store was not able to do this, I returned today with the information in hand and was told I would have to wait an hour and a half for an appointment to do what they could not do yesterday, I am a small business owner and spent over $3.500,00 last August on just this one purchase. Should I assume my time and money would be better spent elsewhere?

Jeanne L. Griffin
from Marshfield, MA
I purchased and Best Buy installed an over the range microwave on Dec. 5, 2017. It stopped working in about a month. Ordered a return and new purchase. Order #1118012795239. First delivery and installation scheduled for 1/20/18 was not routed correctly. Next scheduled date was 1/29/18.
I was told the item was back ordered. Next scheduled date 2/3/18 product was delivered and left in the middle of my kitchen. I was told installers would be here between 12:00 p.m. and 4:p.m. They never showed up. On 2/4/2018 I was told on the phone I would be scheduled for 2/12/2018. I received a recorded call on 2/10/2018 that my installation was scheduled for 2/12/2018. Didn't happen. I was just told (2/13/2018) by the 2nd person I talked to today after being on the phone for about 45 minutes I was being transferred to online services and to tell them I needed 3rd party installation and then I was disconnected! I'm extremely exasperated with calling the same phone number and talking and mostly holding and waiting to countless people with no results.. It would be nice to have a case manager at this point. I'm very tired and fed up!

I bought a refrigerator from best buy in December 2017 and it already quit
barely past warranty
Now I am just trying to save food until tomorrow when a reputable appliance co will deliver a new one
I will not even buy a paper clip from best buy again

James Warfel
from Palm Harbor, FL
I purchased a Galaxy S3 tablet for my wife for Christmas. It was wonderful for two and a half days until it locked up. Rather than address the issue the store (Clearwater) exchanged the tablet. Tablet two did exactly the same thing after two days. Another exchange for a tablet that never came on convinced my wife to exchange it for an I Pad Pro. It came on but locked up also. The store recommended contacting Apple.
Apple set a contact date for two weeks later, 31 Jan, but fail to call or email the promised correction information. Due to our teaching and preaching duties it was 5 Feb. before she was able to get into the store again. Your store refused to accept return of exchange for the tablet and keyboard and set her to the Apple store in Tampa (10 Feb.). They felt no obligation to service a product sold by you. An agent from Apple called today and said he was unable to help and the stores should resolve the problem.
My wife refuses to return to your store after the rudeness of the female tech working there last Monday. Can you resolve our problem with a on-site.working tablet and useless keyboard?
J. R. Warfel

olga L Kennedy
from Jackson Heights, NY
February10/2018
order # 1117328405153
on 11/24/2017 I bought a refrigerator GTE model 16GSUSS and A dishwasher model #SHEM63W55N. They supposed to be delivery to my apartment on 12/27/2017. I was waiting all afternoon for the delivery , then two men that came to installed the items, said that the measurement were wrong, which I found later that was no true because I went back to the store, and every thing was okay. Then the store gave another appointment for the delivery 02/03/2018 from 12pm to 4pm. They called the day before to confirmed the appointment, later on they called again ,and said that they could not delivery the dishwasher, because they do not have in stock. I told them that I prefer that both of my items be delivery at the same time. we made another appointment for 12/10/2018. I received a message about the delivery. I called back to confirmed, then they told me the "same thing" that is was going to be delivery between 12pm and 4pm. later on I found a message that said, that they could not deliver the refrigerator, because they do not have in stock. I want to know was is going on with my purchase. I really need my appliances. I am having problemas with the refrigerator. It is freezing the food, also it is getting hot on the outside., I am concerned that something drastic could happen. I made the purchase in December and now It is February, and my appliances have not been deliver !! I want a solution to this matter.

Margaret Hallam
from Baltimore, OH
I purchased a Netgear 1900 Router in your Heath, Ohio store on January 18, 2018. After two + weeks of trying to get my internet to work properly, we came to the decision to change Internet Providers to Hues Net, who advised that the Netgear router was not compatible with their equipment and to take the Netgear router back to Best Buy.
On February 7, the router was returned to the Heath store and I was advised that I could not receive a refund or credit on my debit card as I had waited too long to return the merchandise. I was given a "store credit," instead.
While the young man who waited on me when I bought the router was very polite and helpful, eventually, I could not use the router and now I am out $166+. The only time I have shopped at Best Buy was to purchase the router and you can rest assured, I will NEVER shop there again due to your return policies. I will also be sure to let anyone I know who is considering purchasing anything from your store, that they will not get their money returned if for some reason, they wait more than 15 days!

David Shuman
from Des Moines, IA
I purchased a cellphone at Best buy online on 01/01/2018 (BBY01-805525044050) and paid for the item through PAYPal. The item was defective and returned and received by bestbuy on 01/18/2018. In subsequent phone calls to jBB customer service, I was told that the funds had been released that same day to paypal. However, Paypal claims they never received the funds and therefore, I have never been credited for the funds. The amount is dispute is $52.99.
Thank you for your courtesy,
David Shuman

Neeraj Kumar Roy
from Patna, BR
This is my tracking number:1874500857
Tracking website:www.fedexcour.com
But my product is not coming towards to india.it is still in Iceland from 2 February.
Please help me.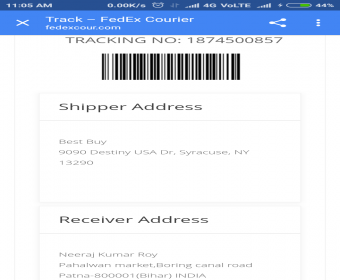 amanda jackson and kirk jamvold
from Saint Joseph, MO
on dec 6th 2017th my boyfriend and I wen tin the the st joseph mo best buy to add me to his phone line. we were helped by chris brown we were there for over an hour trying to get things figured out. we had chose the deal where if you bought the s8 plus you got the s8 for free. when we left that night we assumed everything was great. Until we get a bill from att with just the new line on it and a bill for $190 and hen a second bill with the existing line for over $300. So we call att and they said somehow the gentlemen created a whole new account in my boyfriends name instead of adding to the existing so we were being chared for fees for the phones with out promotion plus to plan fees and said we would have to go through best buy to fix it. so I called mind you its dec 23rd when we got bills I called and spoke to a gentlemen named tanner I tried to help but then explained that to honor the buy one get one promo that expired the 26th of December so informed me that I would have to come in to the store to try to fix it so we had to shuffle holiday plans because we do not live near the best buy we have to drive. so I went in on December 26th sat there for over an hour why tanner and a manager named chris sat there and called att to try to fix everything they got my phone switched over and got the existing bill knocked down and was supposed to get the bill for $190 altered to what we actually owe. on dec 26th the new account was canceled and they issued a collection notice for $190 dollars no we get told we owe 150 on top of that on the new account which should never have been created. when I call att to get the bill voided they told me unfortunately that best buy needs to fix it. so I call I get a gentlemen that is a new supervisor in mobile that says I need to speak to chris the manager he is the one that can help me but he wont be in for 2 days. so I wait I called back and got the run around and had to explain the situation multiple times to 3 different people . I am beyond frusterated and pissed. so I finally speak to chris and he is confused and don't know how to help me and tells me I need to come in so he can understand better. NO NO NO IM SORRY BUT I DONT LIVE IN ST JOE NOT ONCE HAVE I GOT A SINCERE APPOLOGY OR ANYTHING OFFERED TO GAS MONEY FROM DRIVING BACK IN ATT TOLD ME THAT ALL BEST BUY NEEDS TO DO IS CALL AND GET BILL VOIDED CAN SOMEONE PLEASE HELP ME GET THIS FIXED BECUASE ITS FEBUARY AND IF THIS HITS OUR CREDIT THEN IM REALLY NOT GOING TO BE HAPPY. THE ACCOUNT NUMBERS 27603068229 NEW ACCOUNT CRATED PASSSCODE 0312 EXISTING ACCOUNT 454426152 PASCODE 1942 MY BFS NAME KIRK JAMVOLD MINE AMANDA JACKSON MY PHONE NUMBER IS 816 390 4818
EMAIL IS JAMVOLD35@GMAIL.COM

Barbara A. Baxter
from Albany, NY
I tried to reach customer service at the Best Buy #428 1 Crossgate mail from 8:30Pm to 8:57pm with no luck. I call the # 518-452-6881 there was never any message where you could talk to customer service person same message kept repeating! Today I purchased Pinnacle Studio 21 Ultimate from the store I informed the cashier the account was mine not my granddaughter who's name appears. I purchased her a notebook a few years ago I need my name on this account not Kendra.
I will be returning the purchase as soon as the store opens tomorrow for them to get it right!!!

Joy Monar
from Midvale, UT
had an issue with over payment on my old account. was referred to the "DISPUTE DEPARTMENT" which can only be contacted via FAX! what? its 2018 and the only means of communication with this dept is FAX? sent a fax 2 weeks ago. NO response! what a surprise. what kind of company deals with FAX communication these days? horrible service! I will never step into a best buy again.

John Reid
from Waterbury, CT
In August I purchased 2 iPhone 7 pluses.I was told by your sales person that if I upgraded my phones I could buy one and get the second free as long as I purchased or had directv which I do.After waiting 4 billing periods I called AT&T and they told me I also had to purchase another line which I wasn`t informed of. I went back to the West Simsbury CT store in which they said they were sorry which doesn`t help me out.The only thing I ask for is some kind of compensation for this issue maybe a gift card or account credit. Thanks John Reid

John Reid
from Waterbury, CT
Back in August I purchased 2 new iPhone 7 pluses at the time of purchase I was told by one of your employees and manager about a AT&T promotion that if you upgraded your iPhone and either purchased and or already had Directv you could buy one phone and get the other free.You just had to wait 3-4 billing cycles before it would take affect. Well little did I know I was misinformed by your employee. Talking to AT&T they told me you also had to add another line in order to get this deal.I went to the Best Buy store yesterday and they told me the employee no longer worked there.All they could do is say sorry! I`am just looking for some type of compensation gift card,or credit..I have purchase many different items from Best Buy Tv`s,computers,cell phones,etc and have never had any issues. I think its good customer relations. Thanks

KEVIN MARSHALL
from Philadelphia, PA
Went to the Best Buy, Route 202, Concorde Mall, Wilmington, Delaware
1) to purchase a purchase a S8 Samsung and S8+ Samsung phone
2) Arrived 7:30, departed 10pm, an hour after closing
3) neither phone sync, with less than 20 per cent of the data moved from the old phones to the new phones
4) miss lead by blue hair sales lady, quoted $40 dollar for screen protector, with out failed it rung up $50.00. Then apologized and promised to match Walmart pricing for the same product. Walmart cost $30.00 - Then at 9:35 rung it up at $50.
5) flip Otter case for S8+ doesn't work. It is a FLIP case that doesn't close or lock shut.
6) broke my old phone, just killed it the battery and charging system. Old phone is now dead.
A. I am taking the phone to Sprint and hopefully they can revive the phone
B. hopefully Sprint can sync the phone and save my old data
C. OLD phone was in Defender case, which is now completely destroyed. How does a sales person go about destroying a customers old phone and case.
At this point I am willing to pay Sprint to fix the phones. But I am so angry with the service and out come But I am seriously leaning on returning the phones, chargers and otter box cases. Based off the poor service I can really spend $1000 somewhere else.

Steve Le
from Pearland, TX
Dec,22,2017.I purchased Apple Watch @ Best Buy store@ 19425 Gulf Fwy.Webster,TX,77598. They don't have any in stock..so they order 4me.total was $215 included tax.they're gave me the receipt &the date to pick up Dec,30,2017,after 12:00pm...this is the first time I bought something from Best Buy by order.& I was felt sorry for my daughter she couldn't get the present right on the Christmas Day.on Dec,31.after 3:00pm I call to make sure my order is ready for pick up .they're was told me try to call back on the New Year day...& so on. Until Jan,3,2018.I called &ask What going on??1st; they said my order arrived at the other store???I told them;in the order paper said pick up @ the same store where I purchase..then they said: call to that store to check it out!!! I told them ;this is the phone number of the store that I purchase & (U been working on that store & talk to me right now)...then she said ok!! Let me check 1more Time.. I asked her where was my order now???she said: (we don't know where ur order now???)she asked me:( so U want to cancel the order???) I can see that they don't have any (Responsibility ) to the customers..when I stop by the store and talk to the manager.;some like Discrimination..she didn't even talk to me.;even the girl @front desk told her that customer wanted to talk to her..she came and only talked to the front desk girl... and lay her arms and head on the desk act like sleepy...I try to describe all the details of my conversation with Best Buy customers service..finally they told me: They don't carry any Apple Watch if Series 1;2 ...they only have Apple Watch of series 3.and they going to charge regular prices of series 3;they cannot match with price what I paid for..I understand they cannot matches with 1&3 but at least they should give some discount...because I believe in this situation they totally wrong on the order process to the customers.they didn't take any responsibility ..if the order process in the normal times;I don't blame it.but unfortunately this was in big Holiday season;(Christmas and New Year) times.every kids expecting Gifts on times...well ! This is one of my experience to Best Buy..????!!!!!Thx! Alot

Steve Le
from Pearland, TX
Dec,22,2017.I purchased Apple Watch @ Best Buy store@ 19425 Gulf Fwy.Webster,TX,77598. They don't have any in stock..so they order 4me.total was $215 included tax.they're gave me the receipt &the date to pick up Dec,30,2017,after 12:00pm...this is the first time I bought something from Best Buy by order.& I was felt sorry for my daughter she couldn't get the present right on the Christmas Day.on Dec,31.after 3:00pm I call to make sure my order is ready for pick up .they're was told me try to call back on the New Year day...& so on. Until Jan,3,2018.I called &ask What going on??1st; they said my order arrived at the other store???I told them;in the order paper said pick up @ the same store where I purchase..then they said: call to that store to check it out!!! I told them ;this is the phone number of the store that I purchase & (U been working on that store & talk to me right now)...then she said ok!! Let me check 1more Time.. I asked her where was my order now???she said: (we don't know where ur order now???)she asked me:( so U want to cancel the order???) I can see that they don't have any (Responsibility ) to the customers..when I stop by the store and talk to the manager.;some like Discrimination..she didn't even talk to me.;even the girl @front desk told her that customer wanted to talk to her..she came and only talked to the front desk girl... and lay her arms and head on the desk act like sleepy...I try to describe all the details of my conversation with Best Buy customers service..finally they told me: They don't carry any Apple Watch if Series 1;2 ...they only have Apple Watch of series 3.and they going to charge regular prices of series 3;they cannot match with price what I paid for..I understand they cannot matches with 1&3 but at least they should give some discount...because I believe in this situation they totally wrong on the order process to the customers.they didn't take any responsibility ..if the order process in the normal times;I don't blame it.but unfortunately this was in big Holiday season;(Christmas and New Year) times.every kids expecting Gifts on times...well ! This is one of my experience to Best Buy..????!!!!!Thx! Alot

william mielke
from Mount Vernon, OH
Looked online at d dishwashers that have been onside. Wife and i decided on 2 models to look at. (lg LDP6797 and LG LDF5545). 12/16/2017 we went to the Ontario Ohio store about 25 mile from our home but closest store. We got there around 10:30am found one of the dishwashers on display. Looked all around for an appliance sales person with none to be found. Did see a sales person on the phone when he finished i asked him for help and he said he would get me someone. The sales person he got knew nothing about dishwashers. When i asked questions all he did was look at product specs on his phone. I guess Best Buy sales people are really just order takes.
Later same day i went to Lowes they carried same models. Sales person there knew his products.Showed me the differences walked threw everything on both model dishwashers. Came back home and had calmed down and decided to order thru Best buy since installation was free. Went online placed my order (wanted it in white) said delivery not available in my area. Says special order so i called you 800 number and was told nobody in my area carry's white and she could not stay when it may be in. Answer i got was when LG feels like sending this area white they will send.I understand products can be out of stock but to get a reply like i did is pretty bad.
Well needles to say i placed my order wit Lowes and have a delivery date of 1/6/2017
I lost all trust in Best Buy in store, online,and help center.

Harold Atkins
from City of Saint Peters, MO
I purchased a dryer Maytag MEDB835DW (order number 1119021855640) the order called for the dryer door to be reversed. The dryer arrived without that being done. I contacted the store and a team was sent out to correct the issue,but they were not able to do so. The response that I got was that I needed to contact Whirlpool, which I did and they advised that I needed to contact Best Buy. When I contacted the store(#32/Saint Peters,Mo) the department mgr had some one contact me. The young lady who called back stated that She would research the issue. The return call from the same lady told me that I had to contact Whirlpool(perhaps She was just reading the prior note and nothing else was done) My wife is very upset because She thinks that Best Buy reps don't care about Her complaint. I would like someone to get a resolution once and for all. (if for some reason the reversal can't be done please let me know) This should not need to be an executive escalation.

Best Buy's insurance claims company Sedgewick will not return any calls even though I have a claim filed with them for my house having flooded because the Geek Squad agent did not reconnect the drain hose. I can not get any kind of response from this company or from Best Buy corporate whom I also called. I may have to get a lawyer.

alfred howard
from Jonesboro, GA
i bought a lg 75uk6570 lcd 2160 smart 4k on March 18,2019 at best buy Mcdonough, Ga. i had a delivery date of march 22,2019. on 3/22/19 at 12:30p i called best buy regarding delivery. the answer i got was delivery was cancelled. i asked why my response after time was they didn't know and then computer glitch. i went back to best buy, Mcdonough on Friday 3\22\19 to get a real answer. the solution was to redo the transaction and get the merchandise delivered on Saturday 3\23\19 since it was the warehouse that made the mistake. i was promised a call on Saturday on 3/23/19. i called early Sat morning to which no one could fully answer my question. i was told that the delivery Date was 3\29\19. i explain my delivery should be priority since they messed up the delivery/transaction. i got the old i have a mgr or case mgr get back to me. again! I ordered a product on the 18th of March 2019 for a function planned on Friday the 22nd of march 2019. I lost my function plan and then on top of that got lousy customer service regarding the whole situation. Now I'm told my delivery is scheduled for 3/29/19 for a product i bought on 3/18/19. This is definitely not acceptable and i feel is absolutely a terrible way to treat a customer. the excuses are far fetched and horrible. I didn't get any communication from the beginning to even know the merchandise wasn't being delivered. I had to call to find out. Now i don't even get the courtesy of having my merchandise?delivery being a priority only that we got the money you'll get it when you get it attitude.
absolutely horrible and may never get my business or referral again.

I bought an Alien Ware computer form Best Buy Clackamas Oregon in November 2018 for around $1700. After 92 days it stopped turning on. I returned it and asked for a replacement. Return policy wouldn't all that but the shift manager told me if I had purchased the extended warranty then he would have exchanged the PC. It got sent off for repair, shortly after we were told it was fixed and on it's way back. Then we were told something happened and it needed major repair and then would be shipped back. So now I paid $1700 for a refurbished computer. I received no help from the shift manager during all this, as he was listening to me he kept one eye on his watch as it was the end of his shift. Best Buy needs to go out of business, I suggest Costco or Amazon for your electronic needs. I was a long time Best Buy customer. I'm going to spread the word about their lack of customer care. Worst treatment I have ever received from a company that I have done business with for years.

I ORDERED A WD-EASYSTORE 2TB EXTERNAL USB 3.0 PORTABLE HARD ON 3/17/2019 FOR $69.99 AND WITH SALES TAX $4.20 THE TOTAL CAME TO $74.19. THE EMAIL I GOT BACK FROM WWW.BESTBUY.COM/CHECKOUT/R/PAYMENT SHOWS MY NAME, ADDRESS,CREDIT CARD NUMBER AND EXPIRATION DATE. THIS EMAIL THAT I GOT BACK SAID "GET IT BY TUES 3/19/2019. I HAVE BEEN GOING OUT EVERY DAY WHEN THE MAILMAN COMES BUT NOTHING AS OF 3/23/3019. I DON'T HAVE AN ORDER NUMBER ON THE EMAIL I GOT BACK FROM WWW.BESTBUY.COM/CHECKOUT/R/PAYMENT. CAN ANYBODY HELP ME.
MICHAEL FORTUNATO
EKIMF@EMAIL.COM
TELE: 703-620-6432

Best Buy Sucks! Stacy purchased a ring doorbell pro model. Wanted to wait until the house was painted to install. When we called geek squad to come out and install, they opened the box, looked at our intercom system and said they could not install that model and we needed the battery powered one. We went to exchange it at the best buy store and was told because it was opened and over 15 days since we purchased it, they could not take it back, even as an exchange. Told us to call corporate. Spent two hours trying to talk to the right person. Overseas call center kept sending me to the wrong person(s) who continued to tell me I needed to take it back to the store.. Absolute runaround. So i get on their website and click on the customer service link only to get a new window that says the customer service link does not exist, I thought No Shit! Neither does their customer service. Here are the problems with all of this. CAVEAT EMPTOR FOLKS, DO NOT BUY A CHRISTMAS PRESENT AT BEST BUY MORE THAN 15 DAYS BEFORE CHRISTMAS BECAUSE YOU WILL NOT BE ABLE TO RETURN IT! NO WONDER THEIR STORES ARE CLOSING AT RECORD NUMBERS.. AMAZON OUT PERFORMS THEM AT EVERY LEVEL. WELL WE HAVE LEARNED OUR LESSON...BEST BUY - HOPE ALL YOUR DOORS CLOSE AND DO SO SOON. CAN'T WAIT FOR THE GEEK SQUAD TO CALL ME BACK.....

RICHARD PAULSON
from McGregor, TX
BOUGHT ALMOST $800 DOLLARS WORTH OF CAR AUDIO
5/1/2019 INSTALLED 5/13/2019
DID NOT RECIEVE ANY PAPERWORK OR WARRANTY PAPERWORK
THEY THREW THE BOXES AWAY SO NOT I CANT WARRANTY THE STUFF AND
DONT KNOW HOW TO OPERATE ALL FUNCTIONS DUE TO NO PAPERWORK
CONTACTED STORE AND I AM NOT HAPPY WITH NO PHONE CALL BACK
FROM INSTALLER THAT SAID HE WOULD CALL BACK THREE DAYS AGO
THEY WILL NOT MAIL ME OPERATION MANUAL
STATED I HAVE TO COME TO STORE TO PICK UP WCICH IS 82 MILES ROUND TRIP
I WILL NOT DO BUSINESS WITH YOUR COMPANY AND WILL NOT RECOMMEND YOUR COMPANY
TO ANY ONE IF THIS IS NOT FIXED RICHARD PAULSON

had a repairman come to my home
he was at my home previously and mentioned to my husband he needed a part to be ordered
when i asked about the part he denied that he said he had to order the part
words were exchanged and he walked out
i would like to speak to a supervisor about this
the repairman's name is Jeffery, and he covers the Middletown, NY area
Thank you,
Sandra Rubino

Jacqueline Childress
from San Leandro, CA
I purchased a Hamilton Beach-Artisan dough and bread maker as a gift about a week before Christmas ($87.79). The person I purchased it for was in the hospital and was only recently able to try it a few weeks ago. The machine is garbage. It doesn't mix very well and the bread just falls apart. I have a bread machine myself and I think the blade is just to small for this machine. I went to their website and started a return. I was directed to print a return form and label. It was not prepaid. I am disabled and gave it to my husband to take to UPS. He was under the assumption I was being reimbursed for the shipping cost to return it to them ($60.00). When he told me the price I called Best Buy and spoke to a very rude man who informed me that not only would I NOT be reimbursed for shipping but that they would be sending it back to me once they receive because it was past they'd 15 day return policy. I was not even offered a store credit. I had even given a review on the product on their website before I returned it. I filed a complaint with the BBB and is currently in process. A woman called me the following day after filing the complaint. When I returned her call I was not directed to her and someone else helped me. By the end of the conversation she told me I would be getting a full refund for the machine itself. I questioned about the shipping cost and was told she had to look into that further and would get back to me that day. She never did. Now yesterday I get a phone call from the original person who called me and was informed that I would not be getting that refund even though the other woman told me I would and it's still going to be returned to me. So now I will be stuck with a useless bread machine and out of $87.79. Plus out of the $60.00 to return it to them. Plus what it cost me to buy my friend another replacement gift. I will never purchase anything from this store again.

Best buy is false advertising with cell phones. Don't advertise a phone that you can't keep your promise with. My daughter got screwed from you guys on buy one get one free S10 phone. Telling her oh well the new white ones phones haven't came in yet. Called Saratoga Springs New York talked to Tyler on march 12th said she would receive an email on the phones between 13th and 15th never received it. I'm putting in a complaint to the better business bureau also and tell ATT&T about her experience as well.

RandyRandolph
from Las Vegas, NV
Went to the Best Buy this afternoon around 2:45 p.m. located at 6455 N. Decatur in North Las Vegas. made a purchase and when the Best Buy rep name Victor gave me back my change, some of it dropped out of my hand onto the counter. Not a major thing, but most customer service reps would have simply said, "I'm sorry, or My bad" and picked up the loose change again and put it in the customer hand. Victor just stood there and looked like "next person in line." There was a manager by the name of Jonathan standing right over him as he was there to approve my exchange. I told him he was a poor manager if he didn't speak to his worker about his attitude and how to "PROPERLY" deal with customers. Fortunately, Mike Isabelle, the head manager said he would address it and totally understood where I was coming from. It's small stuff like this that causes people do bad mouth an organization on social media and it's small things like this that can send a "unstable or a person already on edge over the cliff and cause a serious problem where every local news station will have to cover."

Hello and Good Day,
I purchased a camera for my son at Christmas time. We just opened the camera due to saving it for a vacation.
There seems to be issues with this camera. It keeps shutting off and the zoom lens gets stuck in the in position and at that time the camera keeps shutting on and off.
We went to the Customer Service Department at the Best Buy near our home , in which they said they could not do anything about the camera, that we needed to return the camera to Sony. The claimed it was not their policy to do an exchange on the camera. We never did ask for a refund. Unfortunately, we have discarded the receipt not even giving it a second thought that we would have theses issues with the camera.
Description of the Camera:
SONY - Cyber Shot
DCS-W800
SKU 4349004
MODEL DSCW800/8
20 Mega Pixels
26 mm Wide-Angle lens
HD Movie 720p
I paid a little bit over $100 for this camera and we are so disappointed Best Buy could not help us.
Please advise
Thank you
Sincerely,
Nancy Lee Straube

yes I did try to up date my service on my 3 year old hp computer before it was out of date they told me late to last day 1/19/2019 or day after that on phne calls sevice on line calls all I got was run around all time after 3 years servies on computer they can keep iti got rerd of best buy card and will not shop there any more all I ask for new price for computer services and just wait to long you wait I did what they said to and know this is how customers get help

michael patena
from Strongsville, OH
I purchase a Samsung 40" flat screen TV two years ago and added and paid for a 2 yr extended warranty. The TV failed a week ago and Out of Warranty by two months. The General Manager (Dan) indicated that they could do nothing, even the Geek Squad indicated they cant repair TV's. I contacted Samsung direct and they indicated that the extended warranty that Best Buy offers should start at the end of the 1 Yr Factory warranty. I believe this Best Buy product is a Bait and Switch. I indicated to Samsung my disappointment in their Reliability and their relationship with BEST BUY. Samsung did offer to cover the Parts but nothing else which would cost in excess of $200 which was over 50% of the cost of a new TV. I will be making a formal Complaint to the State of Ohio Atton. Generals office.

Pissed off customer
from Panama City, FL
more like "Worst Buy". You don't need my name, address, phone number, email or any other bit of personal information for me to make a purchase. This is how purchases work: I place an item on the counter, you tell me how much I owe you, I pay it, I take item and leave. PERIOD. You have zero need for my personal info and zero right to even ask for it to start with. I though the little bitch would get the hint after I said "Do you need my Social Security number and blood type too?" but no, the dumb little bitch just kept asking for info, so I just said "Can I just give you my money and leave?"

Scott Brammer
from Miamisburg, OH
If I could give my experience 0 stars I would. I set a pre-order with this location to come in at 10am this morning, 3-9-19 at the Dayton Ohio location (General Manager Ruben Ortiz) I received a confirmation phone call, an email, and 2 texts regarding my appointment! My order # is 3319062918178. This is for a blue Samsung Galaxy S10+. Sku # 6326993. I drive home from Indiana on the weekends. I work in the field and travel Monday-Friday. After these FOUR confirmations, and an appointment, I bring my son into this location. Providing my paperwork, I was then told my phone had not arrived. The general manager, Mr. Ortiz could only blame the 3rd party provider...in this case Verizon. If Best Buy has my information, which they DID, I should have received an email delaying my appointment with an apology. While Mr. Ortiz was not personally involved in this process, there MUST be some accountability for wasting my time and even more for upsetting my 11yr old son who really wanted to see a smart switch on my phone for the 1st time. How many other customers will this affect?? I am an Extremely Disappointed customer to this location. You set appointments, you better be darn sure there is follow-up communication and/or an action plan if something hinders this process! I expect a call ASAP to address this situation and receive contact information from a district or field manager!

I have been trying for weeks to purchase a TV and sound bar system. First I went into a store and was ignored very unprofessional. Then I called customer service and they said they could send someone out to my home to measure my wall for a TV. That was this past Saturday I stated to him a needed time to think about it. Now I've been reaching out to the person and haven't received a call back. Now the prices I was gone up much higher now. I am a loyal customer and I think I haven't been treated well at all. Something needs to be done about this. If not I will no longer be a customer of best buy Thank you Shaquita Boyd

debbie seibert
from Poway, CA
For the first time I had to use the geek squad repair, I have been a fan of best buy until now, I drive a school bus and the 4 hr window is not very customer friendly, My washing machine was having issues, and I tried to change my home number to my cell so I could maybe talk to the driver, not a robot, I am off from 10 to 1pm every day, kind of in the middle of the 2 repair sessions, I was unable to get off from work and had to ask my 86 yr old mother to drive over because Nathan never changed my home number to my cell, and I didnt want to miss my appt. People have jobs, why dont you have a late session, you claim 24/7 , I would have had to wait 2 wks for a Sat. I tried to talk to a manager, I called several times got disconected several times. I was finally able to talk to Nathan, to maybe get scheduled not the first appt. he said he changed the contact number which didnt happen when I got my robo call the night before on my home phone, Nathan was robotically apologetic, in fact everyone I talked to was nauseatingly robotically apologetic, to the point I no longer believed them. I was very pleased that Vincent was able to repair my machine in one visit, so I didnt have to wait any longer for doing laundry, but I will seriously have to consider buying the extended warrenty on my next purchase unless something changes.

Aaron Whitsell
from Owensboro, KY
I ordered a media storage unit from you guys online and received a box that clearly had been opened before. So in checking the contents of this box I found broken pieces , a opened nuts and bolts package with bolts that had spilled out into the box. Also there was little to no protective packing. Why we were sent an item that was clearly returned for broken pieces or what ever really makes me wonder about your quality control. Or lack of? I ordered another one and im having it shipped to my local store so I can check it there verses breaking my back lugging another bad one back. Very concerned being we are long time customers of Best Buy. But now im kind of reconsidering continuing to buy items from you in fear im getting broken returned or low quality. Im not expecting anything from this complaint but REALLY want to stress the fact that im disabled and having to load up the heavy box into my car and then unload it at the store was complete BS.

Velma Murphy
from Lynn Haven, FL
I purchased a computer in Panama City and was to pick it up in Tallahassee. Before I could pick it up, management gave it to someone who did not present ID or receipt as required by their policy. I have been threaten with ruining my credit if I do not pay for it, so I am now force to pay for an item that I did not get. I filed a complaint with the local police, went to the store and also talk to the store manager, alexis I will never purchase anything else from Best Buy. This item was purchased around 8/8 thru 8/10 and according to the store it was picked up 8/27. I never pick up the item.

On 2-19-19 I was told by Sharron if I combined my GEEK Squad protection I would get a $20.00 discount on WEBROOT. Today Ramses told me I could not get the discount. The notes are in my file. Why is the agreement not being applied. Been waiting 30 minutes to talk to the supervisor, Sophi. Phone is still ringing

I have filed an insurance claim for damages on the delivery and installation of a washing machine.
The Claim number is: 301917145570001
You/he has all the records on the issue. ie. Damage claim, Photo of the damage, repair bill, photo of repair.
I have sent many e-mails to your Armando Reyes (armando.Reyes@bestbuy.com)
I have yet to receive my money and follow up from you/him.

I bought an LG 65" TV on Dec. 22,2018. When I was checking out I was asked if I wanted to purchase the warranty for this product. I mistakenly thought that this would cover all damages like the WALMART SERVICE PLAN! I had a problem with the screen becoming cracked and spider webbed. When I tried to return the TV I was told that because of the Spider Web the service plan would not cover it. I asked where this information was at and after 20-25 minutes of looking (yes I timed it) the person at the service desk came up with the service contract online. I was then told I should have read it. Then I asked him to show me where it said it was not covered in the contract and after minutes of searching we found it on page 35. Let me ask a question here: Am I supposed to read a document of considerable length at least 50 pages of Legalese and I am sure most of your customers do not have a legal degree nor do I. I am now going to replace this TV with a new one. I plan on going to Walmart to make this purchase and also purchase the warranty. I have triple checked that it covers the cracked screen which it does and it was not on page 35! I would be ashamed offering such a pathetic form of insurance to your customers (the lifeblood of your company) and also the way it is handled by telling me I can check with LG and maybe they would fix it for free. I had this TV for a month when this happened. I used to shop at your store for many items in my household, you know little things like Washers and Dryers, IPADS, IPHONES, and computers. I cannot get myself to look again at TV's there when I go shopping this weekend but I can tell you I will be at Meijer's, Walmart and Sam's Club. I need to feel secure when I spend $800 that I am getting what I pay for. I would like for you to spend my money well as it is the last you will be getting from me.
Chris Inde
chris_inde@outlook.com
Cell (260) 341-1075
LG - 65" Class - LED - UK6090PUA Series - 2160p - Smart - 4K UHD TV with HDR
Purchased on December 22, 2018
You've seen all your devices!
LG - 65" Class - LED - UK6090PUA Series - 2160p - Smart - 4K UHD TV with…
________________________________________
Nickname: -
Purchased on: December 22, 2018
Model: 65UK6090PUA

I purchased 2. Door 2 units for my home on Tuesday or Wednesday of last week at your location in Hammond, Louisiana
I paid 269.99 for each.
I decided to bring one back and exchange it for a mounting door bell unit which at the time of purchase was $269.99. When I returned on Sunday, the price for the mounted door bell went up to $199.99. I was told that the sale ( of which I was unaware) was over and the price went back up in Sunday. If I had realized there was a sale of the unit, I would have returned before Sunday.
I was very disappointed that the unit will cost me an additional $30.
I love Best Buy and the Geek Squad.
This is the first time that I have been so disappointed with this company
Dan Keen
Kaykeen@att.net
985-597-0526

Vicku snider
from Birmingham, AL
I have been calling Hoover Al. Store since 3:00. Finally got a answer at 6:30!!!!. Spoke with salesman last night SAHAB OR SABR. ?? Needsd a sd card and he left my plug adapter out of bag. Told me i DIDN'T need internet in order for it to work. Which i told him i did not and would not have purchased the sd card. Called today he said no he did leave it out which obviously he did when i got home not with it. Rude. Transferred me only to hold again. RIDICULOUS HOLDING 3.5 HOURS FOR ANYBODY TO ANSWER AND WHEN SHE DID I TOLD HER AND SHE SAID SHE KNEW CALLS GO THRU ANOTHER PLACE?????? . RETURNING MY PURCHASE. IMMEDIATELY.

I have been a Best Costumer every since a store opened in the Mobile,AL area. The problem I had at the store today was horrible. The supervisor working the service desk could not have any people training at all. When I tried to explain my problem he assumed I was lying and had attitude with me from that point on. For official uses he was working the service desk between the hours of 1 and 2:00 pm central time I kept asking for a store manger he replied every time I am the manger when his name tag stated that he was just a supervisor as if I could not read. And finally after my time wasted.He called for the assitian manger her job skill was just as bad as the other employee and she has racial issue I will never shop at this store any more and maybe never at any best store or even online. The service I got today was not even 1 Star. This is just how i feel thank you Nathaniel Washington Mobile,Al

Refer to Insurance Claim Number: 301917145570001
I have constantly been getting the run-around/No response to my damage claim.
I request am immediate response as I must have have my claim money

I have purchased the Geek Squad program on several major appliances over the past two years. Every time I call when I need service it states over 30-45 minute wait. I have stayed on the phone several times for over 45 minutes and I never get to talk to anyone. If they are small appliances you can make an appointment online but not for large in home appliances. Its so not fair when you pay all that money and then can never even get a person to request the service call. Horrible customer service, Just horrible.

paul drew
from Quincy, MA
I bought a dell inspiron tower key board @mouse got home mouse is every hard to move took just mouse back a the manger said no return u have to bring back whole package I said no I have everything is downloaded to my computer well we can't help you I said are u kiddin it a mouse you can't exchange it he nothing I can't do I said that don't sound like good customer services weather I spend 10 dolloar or in my case 700+ do you want a good custumer happy or disappointed can't do even exchange for another one said no again so I spent another 29 dollar for a mouse that I already paid for this one crazy best buy westgate Brockton mass hopping to do more business with you we'll see no happy at all Paul.D

Greg Cerillo
from Levittown, NY
I entered in to your store on Sunrise Highway in Patchogue this past weekend, ready with my flyers and adds to get my best deal on an upgraded aftermarket radio for my Ford F150 Pickup.
Your sales folks were great an knowledgeable. I would up getting ready to purchase a radio far more expensive than my original plan because of the product description by the Sales Person. I was even going to add a back up license plate camera to my purchase because it was compatible with my upgraded purchase.
Here is where my experience went a bit wrong. The advertisement stated free installation on the radio purchase. However the license plate camera, truly an add on to the purchase, I was going to be charged something like 120-130 dollars to put on. Really? Seems silly that a radio can be installed for free, but a license plate camera would exceed the purchase of the camera itself (I believe around 79 dollars).
Is this right?
I canceled the entire sale because of it.
My cell number is 1-631-365-9285

John Dowd
from The Villages, FL
In December I purchased a MacBook Pro from your Plattsburgh, NY store. I paid over $2,500 for the computer and additional devices. I had to take the device in twice for issues I had with the computer. The Geek Squad in Plattsburgh were helpful but issues kept coming up that did not cure my problems. I was told that Best Buy cannot get into the computer due to some arrangement with Apple. I am in Florida for the winter and I am having more issues with the unit. I made arrangements to have the Best Buy store in Lady Lake, FL. look at the unit. This was a big mistake. I brought the unit to the store. The Geek Squad section of the store is obviously employed by several individuals that are not trained in how to handle customers and the individuals I spoke with did not know anything about Apple products. They wanted to take my unit and send it to an Apple store. I expended the $2,500 plus on a new Apple unit, I purchased the year repair agreement and now I have to take the unit to an Apple store. My mistake was not buying directly from Apple. I will not make this mistake again. In fact, I will not be purchasing any products through Best Buy. If your Geek Squad cannot repair or have knowledge about Apple devices, you should stop selling Apple. John Dowd

We purchased an entire kitchen from your company. On Friday 2\15\19 it was delivered. Our kitchen was left in the boxes in the flyer of our home. We called immediately Friday afternoon and were told someone would be out Saturday 2\16\19 to take appliances out of their boxes and would put on the handles and take empty boxes and Styrofoam(we have no where to put in our trash barrel). No one came Saturday. We called and were told there was nothing on our account about the Saturday appt but he booked an appt for Monday 2\18\19 and said we would get a call Sunday to confirm a window of time for Monday. Sunday we got no confirmation call so we called again, Dave said there was nothing on our account and then we spoke to Rachel who said the best she could do was Friday 2\22\19, and we should call Monday to discuss an earlier date for someone to come out and unwrap boxes and install handles. We called Monday 2\18\19 to be told by a miserable women in your delivery department that our appliances were label Drop Off only and quote "gotta pay extra for that cause that's installation, I asked to have them come back for the boxes and Styrofoam and she said she'll send someone out Wednesday 2\20\19 between 7am-1pm. I am not getting on it but we had to open boxes ourselves and put on the handles, now we have boxes and Styrofoam in the plastic from refridgerator. At no time did anyone tell us prior that it was extra to unwrap our appliances until that woman who made everything worse said it is your policy. I have never had such a bad experience like this,unfortunately I will never do business again with your company.
Regretfully.
Sharon R Blye

I ordered a Toshiba 55 inch television via the best buy website. I advised the best buy, that I was hearing Impaired and looking for a television, that I could attach my hearing impaired devices to, by taking them from the old set and attaching them to the new one. The hearing devices are 1. a mobile head seat and 2. a Samsung soundbar. buying a set without the attached devices would be idiotic for me to do, being I couldn't hear anything on it. I did advise the best buy of this and was provided limited product information. they were not able to provide me with any information in regards to attaching my hearing devices to the television I was purchasing. In fact, sales and service were not able to provide any information on television that this procedure could be done. purchasing this tv, I have already had issues, being the tv after being delivered and set up, without my headset has been found defective. I am now awaiting a replacement television, with still the unknown question, will my headset be attached to the television after installation.

I have spent several thousand dollars over the last 2 years at Best Buy. When I call for information on a product either before or after purchasing, I am on hold for 30 to 60 minutes with nonsense irritating "music". This is a serious customer relation problem that makes Best Buy less than concerned with the customer.
Either take care of your customers or shut the doors.

RAY LUDWICZEWSKI
from Las Vegas, NV
I PURCHASED A LG GAS RANGE FROM BEST BUY ABOUT 2 YEARS AGO. I WENT TO USE MY OVEN AND SUDDENLY SPOKE AND A FLAME WAS COMING OUT OF THE REAR OF THE OVEN.
WE CALLED BEST BUY (GEEK SQUAD) ABOUT THE PROBLEM. GEEK SQUAD SENT A REPAIRMAN, WHO ORDERED A PART AND MADE AN APPOINTMENT I WEEK LATER. THE SECOND REPAIRMAN ARRIVED A WEEK AFTER THE FIRST ONE AND INSTALLED THE PART. iT DID NOT WORK, FLAMES STILL COMING OUT OF THE STOVE. HE ORDERED MORE PARTS. A WEEK LATER ANOTHER REPAIRMAN ARRIVED. HE INSTALLED THE NEW PART. THEY DID NOT WORK. HE ORDERED MORE PARTS.
NOW A FOURTH REPAIRMAN HAD AN APPOINTMENT FOR 2/13/19. I RECEIVED A CALL FROM BEST BUY CONFIRMING THIS APOINTMENT AND A SO CALLED SUPERVISOR ALSO CALLED TO CONFIRM.
IT IS NOW 12:40PM AND NO REPAIRMAN.
I CALLED CUSTOMER SERVICE TO FIND OUT WHERE IS HE. THEY TOLD ME THE APPOINTMENT IS NOW FOR SATURDAY 2/16/19. NO ONE CALLED OR ANYTHING TO SET THIS NEW APPOINTMENT.
IN TALKING TO CUSTOMER SERVICE THEY TOLD ME THEY HAD TO ORDER NEW PARTS. I ASKED WHAT PARTS HAD TO BE ORDERED. THEY Said A FAN ASSEMBLY. IT WAS A LIE. THE FAN WAS HERE A WEEK AGO.
THIS IS THE 4TH TIME TRYING TO FIX MY STOVE. WITH IT IN NOT WORKING ORDER FOR OVER 30 DAYS.
I GUESS IF THIS REPAIRMAN CANNOT FIX IT HE WILL ORDER MORE PARTS.
MY EXPERIENCE RATING IS A QUARTER STAR AT BEST.

jerry rakestraw
from Lawrenceville, GA
2-12-19 Went to your store in Snellville, Ga. to purchase TurboTax Deluxe. I asked Anthony for the downloadable version. He got the item from behind the counter and rang me up. When I got home I discovered that he had given me the disc instead. I returned and he said he didn't have the downloadable version. He started to process my return and called for an override. The manager who responded said since the seal on the package was broken he couldn't refund my purchase. Even with your employee admitting it was his mistake he said no. I told him I would guarantee him that it would be refunded if I had to contact corporate. He then told me I had threatened him but couldn't tell me how. I asked to speak to the store manager and was told no. He then said he would go see if he could do it. I waited 10 minutes for him to return and finally left. He never returned.
I asked 2 different employees if there was a local corporate office and they didn't think so nor did they know of a District Manager. This situation needs to be resolved and it was your employee's mistake

Julie Carstensen
from Medford, OR
On December 15, 2018, I purchased a portable 26 lb ice maker for $99.99 as a Christmas present. The person I gave it to did not need it, and wished to have the money or store credit instead. Twice before individuals have tried to return the ice maker, but because it was not returned during the 30 day store policy time period, it was declined. Today I personally tried to return it, but received the same rejection due to store policy. I expressed my disappointment as I have been a long time loyal customer of Best Buy, as has my family. This is the first time we have ever tried to return something, and though the information is written on the receipt, I did not know about the unusual return policy (as standard practice from my experience is 90 day return policy.) I feel that if the return policy is only 4 weeks, that should be verbalized at time of purchase as not many people read details in their receipts. I asked that an exception be made in this case due to: 1) My family are long time loyal customers of Best Buy 2) The return policy is an unusual policy and we were not educated of this at time of purchase 3) We are not requesting a refund, but for store credit 4) We, as customers, are not habitual returners of product, and therefore, the oversight could be excused this one time.
The manager, Miranda, was professional and apologetic, but refused to make an exception for us. I told her that my family will not return to Best Buy as customers if we do not feel we are valued. Miranda verbalized understanding.
I am asking for approval for store credit, showing that a policy does not take precedence over the satisfaction of a loyal customer with the understanding that we now know the policy, and future late returns will not be accepted. Otherwise, as explained to the manager, my family will not return to Best Buy, choosing to patronize a business that shows they value our business.
Thank you for the consideration to a mutually beneficial resolution;
Julie Carstensen
458 220 8624
BEST BUY #2517
2370 POPLAR DRIVE
MEDFORD, OR 97504

George Wood
from Wytheville, VA
I have always had good service when patronizing your store in Charlottesville, Va. The people are friendly, courteous and professional. No complaints there. I have purchased computers, TV's and other items with no issues. In the past I have also returned TV's, VCR/DVD units and such and was not charged when returned to this location for recycling. Recently I purchased a TV/DVD combo unit to replace an older TV and stand along VCR/DVD player which I returned for recycling. This time I was charged a $25.00 fee to have it recycled. When I was told I would have to pay this I asked the associate why did I have to pay to have it recycled and she said it was store policy which I informed her I had not had to do it in the past. I then told her where is the incentive to recycle these items if you have to pay to do it. No response. My feelings are if you are going to charge me to purchase a new item and then charge me to recycle the older unit, I will just shop at your competitors and take the old units to the dump. At least I can take a whole truck load of junk to the landfill for a whole lot cheaper. I am requesting you reconsider your policy on charging to recycle and it would be most appreciated if you would send me a $25.00 gift card for free to replace what you charged me on my last visit. Thanks.

Michelle Mork
from Traverse City, MI
I have an issue with the printer ink replenishment program. I have an Epson XP 6000. Mine has run very low on black, and is getting low on magenta. It did what it was supposed to do with ordering replacements. The magenta order went through fine and I received that one today. The black ink was "unable to be fulfilled" I still don't understand why. I have called Best Buy support and talked to 8 different people there. Was referred to Epson, where I talked to 2 there (lost the call once there), and was referred back to Best Buy. After 9 more people and still no help so far, lost connection again. I seem unable to see if I am able to get any other color then magenta in auto replenishment. I keep cycling through the pages over and over and find no answers, and those that I have talked to have no answers either. I finally tried cancelling the replenishment and now cannot get back into it no matter what I try. I have spent 3 hours trying to get this resolved and have gotten nowhere. Can anyone help me with this? At this point I am extremely angry unhappy with this replenishment program that should be saving me money and time!

Michael Aldea
from Port Moody, BC
Hi,
I have a Best buy receipt with this content:
81131 GSP 4YR* CP
GSP 4YR* CPU/MON CL
SKU #10298741
EXP DATE 05/04/2019 $299.99
This Geek Squad Protection was for 1 DELL Computer Tower X8700-3131B bought on 05/04/2015 = $899.99
I would like to know if this computer is covered for Antivirus Infection until 05/04/2019 when this GSP 4YR* CPU/MON CL will expire.
Thank you for your prompt response,
Michael Aldea

I writing to inform you of the horrible GEEK Squad service I have received from Best Buy. In December of 2018 I called bestbuy to schedule my machine to be serviced due to my machine not draining the clothes, the person who is scheduling the appointment takes all my information and we schedule an appointment for Friday January 4th 2019.
First attempt to get my machine serviced:
On January 4th 2019 before the person who is scheduled to service my machine arrives at my house, he contacted he and stated that he is 10 minutes away and than proceeded to ask what service is needed. I explained to the person on the phone that my machine is not draining, he replied that he is a delivery guy. My response to him was did he not realize before he made his way to my house that he had nothing to delivery . So bestbuy caused me to miss a day of work for nothing. I called bestbuy to reschedule for another day to have my machine serviced.
Second attempt to get my machine serviced :
On January 11th one of Best Buy's geek squad members James contacted me prior to arriving at my house, and inquired about what service was needed, I explained to James that my machine is not draining and before he arrived at my house he was able to tell me he would possibly need a water pump for my machine. James arrives at my house in 5-7 minutes tells me the machine will need a new water pump and theres nothing to be done today and they would have to order that piece. This is the second day of work Best Buy has wasted of mine to not service my machine so now I missed two days of work to still hav nothing done.
Before James left I asked for his managers number. I spoke with the manager and explained to the manager the horrible service I have been receiving with Best Buy and he told me he would over night the the piece that way my machine can get service as soon as possible which means me missing another day of work. This was Friday January 11th the manager promised to over night the piece. The piece was never overnighted my machine has still not been serviced.
I did not bother to contact Best on Monday January 14th 2019 I was giving them time to contact me regarding the piece.The piece was never overnighted my machine has still not been serviced.
January 15th 2019 - I contacted both James (geek squad member ) and garon forester ( manager ) and not response
January 16th 2019 - I contacted both James (geek squad member ) and garon forester ( manager) finally I was able to get through to the manager who pretended he had no idea what was going on. He never took my name nor number but claimed he was going to follow up.
So I am reaching out to corporate. I spoke with Linda from the corporate office who said she will follow up.
Linda still has not followed up with me. Linda has tried to contact James and his manager no response, so unprofessional.
THIS IS THE WORST CUSTOMER SERVICE I HAVE EVER DEALT WITH. I WOULD NEVER RECOMMEND ANYONE TO PURCHASE FROM BEST BUY THE WAY THEY TREAT CUSTOMERS IS HORRIBLE.
James (geek squad member 347) 909-9365‬.
James (manager) ‭(917) 648-1285‬
Linda ‭(612) 292-0916‬
Miguel from the 86th street store in Manhattan,NY is horrible.
OVERALL BEST BUY SERVICE IS HORRIBLE WHEN IT COMES TO HELPING CUSTOMERS 2 MONTHS AND I STILL DONT HAVE A WORKING WASHING MACHINE EVEN THOUGH I PURCHASED THE PROTECTION PLAN...
YOU CALL CUSTOMER SERVICE THEY DONT EVEN SPEAK ENGLISH. THEN YOU TELL ONE REPRESENTIVE YOUR ISSUE THEY TRANSFER YOU TO SOMEONE ELSE THAT PERSON TRANSFERS YOU TO SOMEONE ELSE TO TELL THE NEXT PERSON AND TO JUST TO KEEP GETTING TRANSFERRED AROUND JUST TO STILL NOT HAVE YOUR QUESTION ANSWRED. Horrible

Edward DeBruyn
from Dundalk, MD
Best Buy FU my refrigator order and deliveried the wrong one and after I confirmed with the sales person the proper meausrements needed. Now I have been out of a refrigator for a week and this is the worse service I ever got from Best Buy. They suck!

Leah Alsanders
from Columbus, OH
On 2 February I went into Best Buy (8210 Agora Pkwy
Selma, TX 78154) to purchase a new TV to replace the one broken in my move. I went in for an $800 TV and walked out with a $3100 bill but Briana the sales person that helped me was super knowledgeable and for once I actually felt like I was talking to someone in Best Buy that knew the area she was working in. I could not have been happier with my purchase until I was walking out the store.
When I went to walk out the store the alarm went off and I didn't think twice about turning around because it's an electronic store and there was probably a sensor on one of the products I had in the bag. In the bag was an HDMI cord and the kit to move the electrical sockets when they mount the TV. When I got to the man at the door he takes the bag and says "it can't be what's in the bag go back through without the bag" it took me a few seconds but I realized this man was indicating I was stealing something. I got so mad I just left because if I had said anything at that time it would not have been nice. I believed he realized what he said and instantly scanned the product which was the problem.
I went to go get the truck to pick up my 65 in TV and sound bar and when I came back I was standing at store pick up watching him because I was still very angry and wanted to go say something but I know myself and it would have been a scene. Two black men was walking out and the sensor went off and he checked them before the bag.
I am not sure what type of training the Best Buy employee get when they are door monitors but the man that was there around 1:30pm that day need additional training. A great buying experience was reined by one obvious untrained or prejudice employee.

George Mason
from Portland, OR
I spent time with a sales associate at my local Best Buy (Clackamas, Oregon) to purchase a new iPad. I reviewed how to use the pencil with him, debated about other models, and went ahead and bought the 11.5 iPad Pro, plus asked the salesman for the Bluetooth keyboard/cover. Turns out you didn't have it. Finally had him find a case that he showed me had a special area for the pencil. Got home and opened the box and there was no pencil. I called, three times to speak with the salesman. No answer. Finally spoke with another sales person who got ahold of him and was told there was some mistake, to come on in a get it fixed. Once more I drove back where I was told the pencil was sold separately. No where did it say that, and I was not told that, despite the fact that the pencil on the two floor models were attached to the iPads, and as you walk in the door you're greeted by a large poster for iPad showing the pencil. I asked for the manager who came and found at the far end of the table a small sign listing all the benefits and wonders of the iPad, at the very bottom of which, in 6-point type was a paragraph in which was buried the statement that the pencil is sold separately. Really? It's attached the model I'm buying, touted in a large floor poster as I walked in, I'm given a demonstration of how to use it, sold a case to hold it, and made a second trip after calling to discover it is sold separately? I returned the iPad, angry, and now must make yet a third and my last trip to Best Buy to return the other assessors I purchased, (HDMI connector and case, that guess what, holds the pencil that doesn't exist).
I have been a loyal customer for years, purchased loads of things from you such as appliances, computers, equipment, etc., and this will be my last purchase. It should clearly state on the table at the iPad models that the pencil is not included, despite being attached. I should have been told that as I was purchasing the product an the case to hold a pencil that was not included, and at the very least, I should have been informed of all of this when I called and spoke with your customer service, rather than having to make a second, and then a third trip to the store.
Yes, I feel really put upon, and I'm not happy.

John Graham
from Nanaimo, BC
I purchased a refridgerator at your Nanimo bc location In mid December and received shipment In late January. The freezer unit Is icing up so I contacted best buy In nanimo and spoke with four different reps and got four different return policies. First they told me they would just come and get the fridge and replace It with a new one, They then phoned back and told us we would have to wait two months for a replacement. I then asked for my money back and told me that would be no problem they would come and get the fridge and I could go instore to get my money back. They then phoned back and told us they cant do that and we would have to wait for the replacement.
NOT ONCE DID ANYONE APOLOGIZE FOR THE INCONVIENECE AND A S MATTER OF FACT YOUR MANAGER LYLE WAS VERY RUDE AND MOUTHY. They told us they would phone with a date on the replacement that was three hours ago and nothing. I realize you no longer want to do business with us but playing these games Is very unproffesional. We expect prompt and curtious service!

George Wood
from Wytheville, VA
I have, in the past, purchased TV's and computer components along with having your tech support repair my pc and all experiences were great. I have also turned in items for recycling in the past and on those occasions did it for free. I recently purchased a TV/DVD unit to replace an old TV and stand alone VCR/DVD player. This time when I took it to your store in Charlottesville, VA they charged me $25 to recycle it. I personally do not think this if good customer service especially since I bought the replacement for these units from you. I asked the employee where is the incentive to recycle if I have to pay to turn items in especially since I had bought a new device from them and she didn't make any comment. If you are going to charge me to recycle old devices after purchasing a replacement item, I will consider buying items from some place else. At least when I take an old device to the landfill it's cheaper to dispose of it.

Chris Cole
from Mettawa, IL
They don't really give a military discount. Went into the store, my son showed his ID and they balked. Excuse, we don't do that here. Do yourself a favor, but from Amazon or somewhere else. Feels like just another scam. $2000 computer

Cassie zambetti
from Scranton, PA
Best Buy ripped me off 600$. My family bought a television from Best Buy in Wilkes Barre Pa. We went to pick up our TV and all was fine, the workers at Best buy loaded my new 65" TV in our truck, ...its snug as a bug, fits perfectly in the back of the truck. We get home and take our old entertainment system down, we proceed to pull the TV out of the truck with absolute care for new item. I myself open the box and remove the foam over it. Before I pull the television out of the box, I see a huge crack in my TV, my brand new TV. It looks as if it was hit with a hammer. I call Best buy instantly where they tell me "Come on up to exchange it." No issue right? Wrong! My husband rushes to best buy because they close in 30 minutes and we need the TV. We live 24 mins away. He gets there and suddenly there is a problem, first Kyle the sales manager says he can not replace the TV because the box is not damaged, there for he is implying I took it out a dropped it, when confronted about the accusations, he denied it and says "That's not what I'm saying." My husband then says, "look bud, the TV never even left the box. I would not make this up. " In the meantime I'm calling the store because I'm livid. He gets on the phone with me, I explain the situation again. He tells me it's a LG issue and I have to contact the factory if it came that way? What? I just got this TV 45 minutes ago!!!! As all this is happening. Kyle wants to go home. He began closing the gates half way and his employees are putting on thier coats rushing Carl to "TAKE HOME THE BROKEN TELEVISION HOME!" is this a joke? He leaves after some heated words and left the TV there, comes home, he then calls corporate where they tell us they can not override a store decision and to talk to the GM, he should give us a TV and if it were up to them we would already have one. We figured we would give it a chance and sleep on it. The next day I call the GM of Best Buy, where he tells be the Kyle lied! He said he saw my husband repeatedly slamming the truck door on our new TV. Would the box not be damaged if this happened? I would love to see this footage. The TV I got at Walmart today fit perfect, same size and all. The manager lied, flat out. I have no reason to make this up. It is not a money issue. I spent 200 extra on another TV where I got good customer service. Best buy can keep the broken TV. Kyle the sales manager has it. Kyle was trying to save his but and covering up for selling me a broken TV. I am so disgusted and will never shop at best buy again. I spent another 800$ at Walmart on a new TV today. They will get my business. You can keep your broken TV best buy. I have disputed the charges and if I win, you will lose put on 1200, the broken TV you tried to sell me and the 600 I would have spent. This was the worst experience I have ever had at a store.

JoAnn Warner
from Valdosta, GA
My daughter loss her sim card tray. I called the store in Valdosta Ga to inquire if they carry them. They told me yes, tray and card for 9 bucks. Husband and daughter went down. They took the sim card they got from verizon to show the size. The lady that helped them said that she cant handle that sim card and conversation ended there. Husband told her he needed the tray. Not impressed with the customer service received. All she needed to do is ask a few questions.

I called Best Buy at 7:35pm a Black Sounding Female answered the Phone and would not assist me in making a order. After the second call see put me on hold for One and half hours refusing to give me a associate, it just played music and then a statement would come up. I notified customer service on another phone where she listen toi the Best Buy recording, I wasted 1 and a half hours on this employee lack of customer care. I would like to have someone call me in reference to this Gerald Soper 903-244-9532 I bought a item for $450.00 without getting advise from any Best Buy Employee.
Have feedback for Best Buy?
Thanks for your feedback!
Sorry. Please try again later!