Amazon
Amazon Complaints Continued... (Page 7)
537+ reviews added so far. Upset? Call Amazon corporate: 206-266-1000

Avis Durgan
from San Diego, CA
I ordered a box spring on Sunday, October 14 2018. On Monday, Oct. 15, 2018, I received an email saying that the package had shipped and I was given a tracking number and told that the package would be delivered on Tuesday, Oct. 16. I received an email as well from UPS stating that it would be delivered on Tuesday, Oct. 16 by 8pm. On Monday evening, Oct. 15, I received an email from UPS saying that it would NOT be delivered on Tuesday, Oct. 16. No further info. On Tuesday, Oct. 16, I called Amazon and was told that the package was enroute to the shipper. No other info available. On Tuesday afternoon at 4:15pm I called Amazon again because the website was still saying that the package would be delivered by 8pm today (Tuesday, Oct. 16.) I spoke to "Elaine" who was barely intelligible, and asked for her supervisor. I spoke with "Ford", whose English was only marginally better. He told me that he would issue a full refund because the package can't be delivered until Oct. 20. I am flabbergasted!! Amazon can't even FIND this package (and it weighs 56 pounds!), and you're offering me a full refund for it and claiming that it will eventually get here!?!?!! Am I actually going to get this package?? WHAT HAS HAPPENED TO YOUR CUSTOMER SERVICE??? You used to be SO good at this!!
WHERE IS MY BOXSPRING?????

Paul simmons
from Cleveland, OH
I turn my kindle off and when I turn it on I receive ads that cause me to have to restart my kindle to get online. I purchased my kindle to read books not to receive ads. If this continues, I will have to find another source for online reading. I definitely will never pay 15 per month to be ripped off by you to hear books online.

habiba mohammed
from Pune, MH
During this great indian festival offers I had ordered vivo y83 in exchange of MI A1 phone on 10th Oct2018 and paid 4103.10 INR,the amazon delivery agent arrived on 11th oct @11:30 am and refused to deliver the product when inquired about the reasons he did not mention any and was rude..he said he will cancel the order and refund will initiated..when contacted the customer care executives they assured that status of order will be updated by 12th oct morning.
when checked on 12th oct the order status is still in dispatched..so can kindly tell me how many days amazon takes to update the order status.when approached customer care via chat firstly 2 to 3 exectives don't reposnded and finally one agent replied and was not sure how to solve my issue.on the same day just in span of time he/she provided me two statements firstly mentioned the order will be re-scheduled and when asked for email suddenly changed the words and said refund will be issued..dont how they are trained to serve the customer queries.finally after 1:30 minutes of chat another floor supervisor arranged the order delivery again by 15th oct..today 14th oct morning the same case happned the amazon delivery agent was rude whenever asked for details and simply said he will cancel the order.
Now when I approach the customer care via facebook comments the customer agents are least bothered to read the full message and sent me a response stating they couldn't find any order in my amazon account for MI Y2 ..KINDLY NOTE I NVER MENTIONED MI Y2 ITS MI A1..can see how efficient they are.
this is the second instance with amazon where the customer care and delivery agents are falsifying the info ..if amazon cant manage these people don't waste customers money and time by falsifying the offers.
I need my refund ASAP its high time #order 171-7977620-8146736.
I will attach the email from your executives & chat conversation u can clearly see their efficiency.
I don't want to use amazon again ever and will delete the account as well post refund.
Regards,
Habiba

David Osborne
from Oklahoma City, OK
Received multiple calls from Amazon delivery driver and then Amazon 877 advising call will be recorded that driver is attempting to contact me to deliver a package. This on a rainy Sunday at 12:07 pm. I have never been called before whether pouring rain or shining sun to get out of bed to receive a packet of cheap metal screws. Leave them or not, I don't care, but don't harass me via phone over an order worth less than $10.
The last package I received was left in the yard wrapped in plastic. Fantastic driver.
Don't call again.

Shubham chunmun tiwari
from Lucknow, UP
Booking my packege will be time late curiur wrong but not available my packge for actual this time.
Wrong curirur patna currect curiur patti pratapgarh uttar pradesh.

Dr. Donald C, Smith
from Wallingford, CT
I know what I would do with an employee who wrote to a customer in this manner. Personally, I and any competent manager, would hand this individual one of Amazon's many boxes, to clear out their desk. Then show them the door.
Since the 90's I've been a customer and I know such rhetoric is not reflective of Amazon's corporate culture. Still, the response was so outrageous there needs to be a clear consequence. Not sure? Run it by Mr. Bezos. I have personally communicated with him before and know him to be a very bright and just man.
I expect to hear an apology from the person who wrote me before day's end on Sunday. Or, I expect to hear news of this person having been replaced.
-- Dr. Smith

JUDITH REDMOND
from Las Vegas, NV
Did you send this to me? It looks like SPAM to me. Thank you, JUDY
From: Amazon.com <amazon-department@cs1232447264-amazons.com>
To: judyaredmond <judyaredmond@aol.com>
Sent: Thu, Oct 11, 2018 11:20 pm
Subject: Revision with your amazon.com account. [case:1232447264]
Dear: judyaredmond@aol.com
Thank you for shopping with amazon.
We are sorry to inform you that regarding your account we are unable to link your credit card in your account.
This is the Last reminder to log in to Amazon as soon as possible.
1-download the secure browser window from:
attachment file
2-login to your account and follow the steps
..
Sincerely,
Amazon.com
accounts Management As outlined in our User Agreement, will periodically send you information about site changes and enhancements.
Copyright 1999-2018 Amazon. Allrights reserved.

Deane Nichols
from Denver, CO
RE: Amazon.com order number: 113-9867636-7149055
When I look at the invoice for this order, the FIRST ITEM ["2 of: Neo Compress Premium Compression Foot Sleeves..."] does not show the SIZE in the description. WHAT SIZE DID YOU SEND ME?
I ordered XL size, but when I ordered this item, the information showed "Only 6 Left", and the size chart ran to XL. Now the size chart does not show XL and the item shows "In Stock".
I'm sure this is not a supplier problem, it is an AMAZON problem. If I do not receive XL size for these sleeves, I can not use them and I will not pay for the return to Amazon or the supplier if they do not fit.
Thank you,
--Deane Nichols
10/12/18

Deborah MIllen
from Gastonia, NC
Delivery by Amazon to my house is horrible. Two cars in the driveway and the delivery person does not attempt delivery, they just leave items on the porch. Barely on the porch, which is not a covered porch. Since Amazon has begun delivering its own products it has become the recipient's job to search for the delivery person any time of the day. USPS delivery has also gotten very slack as well, but I do feel that Amazon should at least TRAIN its delivery personnel. Ring a doorbell? We've ordered a LOT of items from Amazon. Delivery is fast. But the current practice of your delivery personnel is abysmal. Also, the cirucuitous route I had to follow to file this complaint, destined for the round file I am sure, is not acceptable for the size of the company that Amazon is. Really Bezos. Monopolize the service but fail to give quality service. Shame on you.

Albertha Sturrup
from Nassau, NP
I am furious I placed several orders on September 18, 2018 and to date I am receiving items order from the same sellers in separate lots. i was being told that i needed update my payment i did but i continue to receive emails stating that my payment declined, each time i updated but continue to receive emails to up date my card. i call amazon help serval times and i was informed that payment were cleared. after speaking with them i continue to receive emails to update my card, i did. i then spoke with my bank and i was advised that the funds for the items were being held by the merchants. i called amazon help October 3, i was informed that one or serval of the items i ordered were not in stock. this infuriated me because i was not informed of this by the seller.
i mentioned to them that this was a complete inconvenience to me because these items was for my business that was to launch last we. the only item that i had anticipate a late delivery was the shower curtain. i am very angry.
You are now connected to Abrar from Amazon.com
Abrar is typing...

kimberly hoertz
from Alden, NY
I purchased jewelry.....promoted by the seller as "cultured pearls". This indicates the pearls come from the ocean,they are real!!!! I received plastic. I knew that the seller Amazon represents was in China. When these necklace sets arrived there was NO packing/company info sheets included. There was no return info etc. The item information is false advertising, frankly it's an out and out LIE! I have been ripped off !!!! I have no way to get my money back. I did not expect "fine" jewelry. I expected a "B" grade pearl necklace ect......REAL PEARLS as stated......not cheap plastic. I mean Cheap !! .I own faux pearls that are lovely......These are kiddie dress up toy jewels.....promoted on AMAZON...as..cultured real. How do i get my money back?

TREVOR DCUNHA
from Malkajgiri, TG
I Had ordered a REFRIGERATOR on LINE and paid by credit card . The ORDER NO was 404-3447988-0988369 order date 29/09/2018 INVOICE No SHYB-62001 INVOICE DETAILS TG-SHYB_1004-1819 and the HAIER REFRIGERATOR 195L4 STArCOOL SINGLE DOOR has Already been delivered to my residence a few days ago with the Courier Agency intimating that I would receive a Telephone call from the Firm with regard to date and Time for INSTALLATION. However no one has contacted me and the refrigerator still remains in its original package un installed. This is not as per the TERMS WHERE THE INSTALLATION WAS TO BE DONE WITHIN 48HOURS . IT IS CAUSING ME UNDUE GRIEF And I DEMAND THAT THE INSTALLATION BE COMPLETED ON PRIORITY . Please ACKNOWLEDGE . In case it is not feasible in the next 48 hours I may please be given a refund and the Refrigerator taken back Lt Gen T, A. DCUNHA

Angela mccoy
from Atlanta, GA
I called a few minutes ago..about not receiving my order. After 10 mins of waiting..the guy hung up

josh rose
from Covington, VA
number one I changed my password twice and it still tells me my password is wrong when I sign in
number two I tried to order a computer through ibuypower using amazon pay but each time it gave me errors
so I just used a credit card directly to ibuypower but know I've gotten emails telling me the amazon transactions went through and I need them canceled asap

Package did not arrive. Initially Amazon was quick to offer refund. I should have took it. Instead I said I'd try to find it first. Could not be found Ontrac was unwilling to make try driver accountable. A bogus signature was used by whomever got my package. I called back to Amazon and now after many calls and days they are still making unwilling to offer refund. Police report being made. Ontrac in my opinion is real culprit. Albeit, Amazon could have been much more expeditious. Annoyed

Grace Segers
from Clearwater, FL
Where is my warranty??? I purchased a cell phone, MotoG4 with a 12 month warranty, in January 2018. The phone started acting very weird around 6 months later, I contacted Motorolla about it, they would not honor the warranty, claimed that warranty with them expired, I was then directed me to the seller (US TechMall) who also would not honor the warranty, they claimed that the warranty with them expired, after only 6 months of purchasing the phone. That leaves me out in the cold, having to purchase another phone. I am very frustrated and disappointed since Amazon claimed that there is nothing they can do to help me, I understand their position, however a multi billion company such as Amazon should be able to intervene and rectify such problem for their customers. I looked at the Amazon reviews on this phone and I see that my problem is quite common. I want others to know what is happening so they don't get screwed too. I should have done more research before purchasing.

Alma Thomas
from Fairborn, OH
I have been calling and spoke to several different people about my account being compromised through my email and password. It has been over a week now and NO ONE in the fraud department has contacted me. I have been a very loyal customer and should have had this problem rectify immediately!!! Someone has changed my email and password!! IT WOULD BE NICE TO HEAR FROM SOMEONE THIS MORNING!!!

Thierry Massihians
from Veracruz, VER
FOR AMAZON MEXICO
1 registering is a nightmare. I never got ANY message code to verify anything
2 once in (without verification), even with proper zip code, the page kept asking for mandatory details, offering erroneous options.
This is FRUSTRATING CRAPWARE

Reginald Holmes
from Philadelphia, PA
your delivery service is the worst one. I leave the security door unlocked. Your delivery service come and throw my package on the steps and say the package was handed to someone Never check the unlocked door to see if they can secure the package between the security door and the main door All other delivery service try to secure the packages your service lie about their work. Can you correct this problem They say handed to someone because if it is missing they are not responsible. When I have some money I use Amazon three to four times a week

I've been ordering from Amazon Prime for sometime. I finally noticed an Add-On Item. So, I started ordering the Add-On Item with my purchases. My last purchase I had 6 Add-On Items and a purchase amount of + $200. That's $150 for Add-On Items. My shipments came at different times and I received all of the main items I purchased, but all of the Add-On Items were damaged in handling. Not one but all six and none of my main items were damaged. I still waiting on the refund for all the Add-On Items, so far just a parcel return. Now I'm wondering if my next order of Add-On Items will be damaged also. I definitely don't want to make an order over $50.

chandrani neogi
from Faridabad, HR
my book broadways in english for class 8 was supposed to be delivered on 16th aug2018.it is not yet received.no information.no tracking.if you cannot deliver now what will i do with the book when my son will be in class 9.this is the 3rd time i am complaining.your service seems hopeless.you have no clue wheather goods are reached or not.then return my money at least if you are so poor in your service

Enrique Guzman
from Walnut, CA
I placed and order for a 24 pack of Ensure protein drink which was supposed to arrive on Sunday August 19 and i got a text saying that it had been delivered and handed to a resident and i was not home and i noticed the text on the following day and i asked my wife and son if they had seen the package and both said no, i texted customer service and told them the story and gave me $10 for my inconvenience the next day my wife found a package on the front door and texted customer service and told them the delivery service must of left it with one of my neighbors by mistake and brought it to my house 3 day later and they told me that they were going to give me full refund for my inconvenience, the next day i opened the package and it was not what i was expecting it was a monthly package i usually get on the 28th of the month which was a whole week early, so i texted customer service and they told me that they had already given me full refund and i replied that i still did not had my package and what are they doing about it next day delivery would solve the problem and could not get them out of "we already gave you full refund" so every time they ask how did they do handling my situation and i always responded the same way "POORLY" and they would ask to have some one call me to solve the problem.
I finally said i would probably would cancel my Prime subscription if they did not resolve my problem and again and again i told them i would be happy if they offer me the product on a next day delivery and take the money form my gift card that i had with them and never said ok, we will do that. all i got ok if you want to cancel your prime membership we will reimburse your money. the whole customer service are like robots cant think out of the box, if it is not written on their book, they cant solve anything.
Maybe they got to big to care for their customers as they raise the membership price.

Jane Taylor
from Kemp, TX
This is the second over $200 item I have ordered. The first one was trampoline and it was missing springs. I got my second item yesterday. The box had definitely been opened. The fan was missing the assembly instructions and screws and washers. Your return department needs to make sure that everything is there before restocking and shipping.

JAMILA MOORE
from Dallas, TX
From: Jamila Moore, 2723 Point View, Cedar Hill, TX 75104 16 Aug 2018
To: Amazon Corporate Office
SUBJ: REQUEST REFUND OF UNAUTHORIZED SUBSCRIPTION CHARGES TO AMAZON DIGITAL SERVICES
Dear Sirs:
Immediately after realizing that I've been getting charged the same fees every month, I called customer service to find out what the charges were for. I am not savvy enough on the Amazon website to know that there is a separate subscription section and billing area. I have no reason to look for it either because I have no subscriptions and no reason to pay over $30 a month for cable channels when I pay my home cable provider for this service already.
I was charged from April 1st, 2018 to August 15th, 2018 monthly subscriptions fees for HBO, Showtime, Cinemax, Starz and even Boomerang. Some every month and some only once.
I had a credit card on file for purchases only to purchase items from the online shopping area. The system used my card to automatically subscribe these movies channels that are on an app in my smart t.v. This is wrong and is stealing! If I want to watch HBO on my phone or ESPN on my phone, they ask me "who is my cable provider" I put that information in with my login information, then I have access to a channel that I am ALREADY PAYING FOR! Charging $16.23, $10.81, or 9.73 a month for access to a channel that I already have is greedy as well! I have been a loyal customer and always current with my Amazon credit card. Why do you all feel that it is okay to rob people blindly? I will pay for my movie rentals, no problem. But not for subscription fees that I never clicked an "ok" button or "submit" button for… The requirement for the security code on the back of cards would even que a person that they are being charged. I have no bill, no contract, no agreement, no knowledge of this and it is upsetting.
I printed a copy of all the charged dates for the movie subscriptions and I also printed all of the orders that were placed for the last year from my television device. None of the orders fall into the categories for these movie channels. So I ask why I was charged for monthly usage of movie channels that I already have. There is no valid reason for these ongoing subscriptions. The requirement to call and cancel or else it keeps renewing would make sense if I had authorized the subscription to begin.
I am requesting refund to the accounts that were used $173.62 (I believe the lady on the phone, refunded the August, 2018 changes but I haven't seen a credit yet).
This is for the subscriptions. The charges for my movie purchases for the last 12 months total $247.49. None of which are premium channel movies.
I am appalled that this type of payment processing isn't managed or monitored better.
Thank you,
Jamila Moore, MBA, USMC retired
Email: Jamila.a.moore@gmail.com
Phone: 817-716-1994

juliette dirani
from New Kensington, PA
i buy cleaner from i wihamazon where i open its damage i call amazon from 18julyuntil now nobady give my mony back i live low incom about s772

Rich Stefani
from Keller, TX
Purchased many things form Amazon,... and will likely continue to do so. However, recent delivery service was not acceptable. Delivery to Sandi Stefani, 1513 Belaire Court Roanoke TX, 76262, 8/7/18 TK 1189
A picture of the label is included. This was a light box, probably 5 lbs. Instead of driving up the driveway or walking it up to the covered front porch. It was lefty behind the mail box where could be easily stolen or get drenched from our sprinkling system. Pictures included. Hopefully I get a reply that states that this delivery person is being relocated.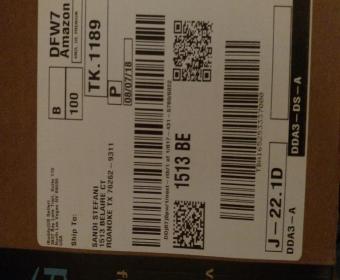 sarabjit Kapani
from Delhi, DL
Relying on amazons reputation that it would be connected with only reliable/reputed product and services,i had ordered for one R.K.Aqua Fresh India Swift 15Ltrs Rouvuf Water Purifier Bo725HX9DK through you .The above water purifier was delivered vide Order No.171-1239251-7337137 dated 24-04-2018,Invoice no.IN-244 and Invoice details DL-153482411-1819 dt.24-04-2018 .this was installed on 02-05-2018.
In the package was a card promising to give us four PP Filters free provided we send screenshot of rating and bill to Their Whatsapp no.9899936622 within 7-10 days. Where as we had sent the screenshot as above, the filters are yet to be delivered inspite of telephonic reminders. More over, whereas their KEMFLO PS 0.5 is supposed to be replaced after use of 1500 liters of purified water, we had to get it replaced within use of less then 200 ltrs.
We request you to take suitably with the seller R.K.Enterprises ,B-526 basement,G D Colony,Mayur Vihar,,Phase 3, New Delhi,110096,India.and arrange for the PP Filters before we loose faith in amazon for any future requirements.

John Lawson
from Plano, TX
I got an email welcoming me to amazon prime that was a complete surprise. It somehow happened when I used Amazon mobile while on travel. Issues with product orders are easy to resolve online; HOWEVER, it was not easy to reverse this mistake (being signed up for Amazon Prime). This happened once before and it took a credit card dispute and months to get it resolved (refund). After returning home and using my computer I was able to find a contact number after trying to reverse the mistake. The agent told me that there was no way to do what I wanted on my end (reverse being signed up for a free trial) and that I had been charged because the time had ended on the free trial! Note that it had been 3 DAYS. She did agree to process the refund but it would take 5 days. Really? It took you 3 nanoseconds to bill me.
So what do I want, or suggest for you to continue to be a great service? Publish a contact number and a way to back out of mistakes easily, similar to what you do on products.

Max Stanton
from Elizabeth, NJ
hello and good day my name is Max Stanton I recently ordered a portable washing machine under the guise that it was a PRIME item and would be delivered in 2 business days when my wife called your CSR "jake" told her it was not a prime item at this point i began to speak to jake he informed me that the item should arrive tonight or tomorrow unsatisfied with that answer i requested that jake put his supervisor on the phone this is when a man who called himself "John" took over on jake's behalf after we went back and forth for 5 minutes about why the item would be advertised as a prime item but wouldn't have the same shipping criteria I asked him to speak to or have the contact information of his supervisor he told me that he had no supervisor and the next person in the chain of command wouldn't be available for a week or more the bottom line is "john" is a bozo you outsource these jobs to people who are incompetent this probably wont even reach the intended recipient what a time to be alive

Thomas Selmon
from Dallas, TX
I purchased a Fire HD 8 tablet from the Best Buy store in Cedar Hill on Aug 24 2017...the tablet worked great until this past Sunday when it abruptly shut off in the middle of being used--I thought that if I gave it awhile that it would come back on but I was wrong because it never did. I took the tablet back to Best Buy to see if they could get it to respond and they couldn't get it to do anything either. I was told by two members of Best Buy that my tablet was still under warranty but I needed to contact Amazon before it expires. I came home and got in touch with Amazon and they proceeded to take me through some troubleshooting steps to get the tablet to reboot--it didn't work. I was on the phone with Amazon for over an hour and we couldn't get the tablet to do anything. The guy that I was talking to finally says to me that they would give me a 15% discount on another tablet if I wanted to get another one--I said that that wasn't enough because I had bought it on sale and I got $20 off when I bought it...he put me on hold for a minute and came back and told me that he had talked to his manager and his manager said that they would give me 30% off on a new tablet. I wasn't trying to get ANY KIND of discount on a new tablet--I just wanted to get my current tablet to work again. I took the tablet back to Best Buy this morning and talked to them and I said that why would I have to deal with Amazon when I bought the tablet from them and it was still under the manufacturers warranty--the guy told me that once you buy something from them and you leave the store, all you walk out with is the purchased item and if anything happens to it then you have to deal with the manufacturer directly unless you purchased and extended warranty with Best Buy. If it had been over a year that I had bought this tablet then I would understand the situation but I didn't get a year out of this item and it disturbs me that nobody can/will do anything to rectify the problem that this tablet will not work after only having it for less than a year and it is still under warranty. I have purchased 3 other tablets for family in the past year and I hope that none of them malfunctions like mine did because that's a lot of money spent on an item that the manufacturer or the retail store will not back up. If I have to purchase another tablet-you can be GUARANTEED that it wont be from Amazon and I'm not gonna purchase anything else from Best Buy either!!!

Lamar Whitfield
from Seattle, WA
The driver left my package outside on the ground at the main entryway to the apartment complex. I spent 40 mins tracking the package down when I got home from Dr. Huge theft factor!!! Lazy drivers are not good for Amazon.

kathleen
from Notting Hill Gate, ENG
I have a serious issue with my account and I am unable to speak to anyone ( UK so insignificant they do not have a phone number to ring in order to speak to someone). None of the drop down menues deal with my issue. I have nowhere else to go. Extremely dissatisfied (ex)customer.

Hadn't been on Amazon in a while and just learned of the 2-step verification process for Sellers.
Really? That wasn't part of the contract I signed up for. Also, I don't want to link phones, computer, laptops
etc. for my "security". Just let me be able to once again access my account. Please.
But, that seems to be hard for Amazon to do.
Seems when I go in to find customer service options, I can't do that either - so, how do I
report my concerns about this new "requirement" to AMazon.
What a mess.

Paul Lewis
from Plano, TX
I'm tired of dealing with the broken policies from Amazon that protect sellers and don't provide proper tools to Amazon Support so that they can act on problems. I've reported some problems for over a decade and nothing has been done. It's caused a cesspool of deceit and questionable business practices that now occur across entire departments within Amazon. I've been part of many scams and bad purchases because of this. You can't buy a cell phone and expect to get what you purchased or to have it without SOME type of malware or viruses installed, some which can be controlled and monitored by the seller. Further, there is no policy for sellers to properly packaged and protect items so you can receive store boxes with a shipping label on them and your items shaken and battered inside. Electronics cannot withstand this extra battering and should be packed in another box with popcorn/peanuts or some protection. But, you are likely to receive such items in a paper or plastic bag with no protection. There is so much shady business going on some departments that the FBI should be investigating it and Amazon should stop 3rd party sellers until it's cleaned up. They do not have sufficient security and Amazon has become more untrustworthy than eBay. The Amazon system is completely lacking in tools, either for users or for Amazon support, so you cannot easily obtain basic information about your purchases. Particularly older ones. Product information is difficult to find and many times is lacking. Sellers should not be able to post an item without filling out ALL categories so that the items are properly identified. It's also confusing and difficult to determine WHO you are buying from and how to reach them if you have a question! The responses can sometimes take more than a week. Shipping is so bad! If I want to purchase more than 1 item, I have to pay the same FULL shipping price as though the 2 items I purchased are both being shipping separately, when that is not the case. I can't understand why sellers would agree to conduct business with you! This destroys the opportunity to buy multiple items from a seller. In Summary, the site is extremely poorly managed and operated, it does not provide proper tools or information to conduct business. It's been limping along like this for decades. While other sites have kept with the times and use of technology, Amazon is more worried about installing viruses or PUPs for the Chrome Tool bar that require special effort or expense to remove. It seems when it gets right down to it, Amazon is no friend of the community the claim to support.

Paul H Rose
from Charlottesville, VA
I received a special offer today for the purchase of 54" cutting blades for $32.00. When I placed the order it came up $41.00. What is the story??? I cancelled the order immediately since i could not correct the advertised amount. Paul H Rose Prime Member

Annarita gentile
from Philadelphia, PA
Your delivery services throw the boxes at my doorstep. I have a clearly placed sign for packages to be left under near bench. I caught a teenage girl throw a package at my door. She was dropping packages while an older man drove. Shabby service. That package was a new expensive cell phone. How can I buy expensive things from you with such service ?
It was Kyocera phone just ordered.

George Banat
from Arlington, WA
Your 2 day shipping has become a joke! If you can't deliver in the time stated, then the buyer should be told prior to hitting the buy button. Also the packaging of music cd is horrible. You can't put a cd in a envelop and expect it to be unbroken!! 3 out of 5 cds that I buy from you come with a broken case. I will not buy any more cds from you! Also if shipping isn't improved I will not renew my membership!

Kyle Palmateer
from Denver, CO
What ever entitled prick just delivered something to 1057 S Wadsworth in lakewood Co decided he got to park his van sideways in front of my store for 15 min while other customers had to figure out how to get around him. As he came out I informed him that the parking spots work well, he thought it necessary to argue and tell me it didn't matter. The next driver that does this will be dealt with differently. I recommend you inform your driver's that it's not a good idea to be a jack ass to people, and maybe let them know how parking lots work.

Carolyn Butcher
from Tampa, FL
just had a live chat with customer service representative. Some real issues with person not being native English speaker. More language training? Very polite though so that part of training is good. Not very knowledgable.

barry kidd
from Seattle, WA
i shop amazon all the time and i just want to know what your going to do about amazon prime day i,m one of millions that couldn't shop that day not because we did anything wrong. i see you are trying to bring a lawsuit blaming others, so what are you going to do for the millions who were denied to shop that day

Charles B Hite
from Hixson, TN
I just spent half a morning trying to claim my $1000 gift card 'prize,' only to learn I have to spend $40 some to get it. What a cynical and inconsiderate way to treat your customers. You may also consider informing your venders to have fields you can actually fill. Guess I'm spending the rest of the morning unsubscribing and disputing the $1 I'm already out. Poor people have feelings too.

Pinky Nihalani
from Battle Creek, MI
I have ordered mobile One Plus 6 Red Edition through Amazon on 16th July 2018 . Total cost of mobile was 85045.8. I paid it using HDFC Credit ending with 6395 and debit card ending with 5208.
I need as soon as possible the total of Rs 85045.80(Eighty five thousand forty five and eighty paise) is debited to my account on urgent basis
Please find details below
S.no Date Transaction Amount
1 16-07-2018 29346.86
2 16-07-2018 27549.94
3 18-07-2018 28149
Total 85045.8
I called your call center, they are of no use and are saying not received the payment but when recheck with my bank they said all 3 amount deducted successfully from account

Lauri Wolski
from Avon Lake, OH
Ordered an item at 9am on Tuesday July 17. Needed it by Thursday the 19th. In the cart it had guaranteed arrival date as Thursday the 19th. I am a prime customer. I then received an email confirming the order with an arrival date of Friday July 20, which is too late. So I canceled the order. I can't find a telephone number to call actually check to see if it might arrive on time. I'm disgusted with this bait and switch. Amazon is ruining Zappos service. I used to order items on zappers the first half of the day and get it the next afternoon, now it takes three days with next business day shipping. I will be canceling prime membership if two day shipping becomes three day. Screw that. Order#112-0703522-2914619

Genevieve Ross
from Sewaren, NJ
After a normal day of activity with my amazon account, I unfortunately had to call the support line for issues with my kindle fire shortly after 10:30pm (7/16/18). An error message requesting that I register my kindle could not be bypassed or remedied through a password reset. The first representative told me I had no account registered to my email address, even after providing two separate email addresses to be verified along with a recent order number. She was unaware that I had logged into my account on the cell phone, but was insistent that I had no account until I informed her. I explained my issues and she proceeded to tell me that I had 5 accounts under one email address. Without explaining why or how she could assist with the issues of my kindle, I was placed on an extended hold forcing me to hang up. When I called back the second representative immediate knew I was having problems with my kindle and told me 4 of the 5 accounts registered to my email were inactive and I didn't need to worry. I asked for the accounts to be deleted and expressed concern for fraudulent activity with these shadow accounts, but he told me it was not possible. I would have been more satisfied with a reasonable explanation about a "glitch" in the system or they were not fully aware of the extent of the problem; however, there was no discussion or a proper explanation of what went wrong with my kindle and how to resolve my two problems. I am sending this complaint because I have been using Amazon and my Kindle fire for quite some time without ANY problems. Although this is the first time I had to call about any issues, I am disappointed of the response especially on the biggest day for Amazon...Prime. Day. I am also still encountering issues and would like to think I would receive help soon. Thanks in advance for your help and assistance.

Michael Hargrove
from The Bronx, NY
The MP3 Player music disk error display when I try the download music.
I am dissatisfied this product.

STROUD C. MALDARE
from Manila, 00
I ordered two packs of Hanes men's briefs on 05/262018 from Amazon seller NY- Lingerie. after not receiving this order, I made a couple of complaints. tracking numbers were no good then and this new you sent is again NO GOOD. I WAS TOLD MY COMLAINT WAS CANCELED, AND THERE WAS A NEW ORDER, which also as a fake number. STOP THIS JUNK, CANCEL THIS ORDER NOW. I already order the same items from another Amazon seller, and have already received it.

Cheryl Amuzu
from Homewood, IL
I purchased, through Amazon, a Dry Erasable Aluminum Board on 6/11/2018. The board was sent to me on time from MY Office Innovations, but it was damaged. There was a large puncture in card board wrapping that also penetrated the board itself. I saw the hole only after we moved to our new office and opened the package to hang the board. Since noticing the whole I have call and emailed to My Office Innovations at least 5 times without any response. Each time they are very courteous over the phone but also unresponsive to my emails. The board is big (8x4), so it would be difficult to send back. I am asking that they discount the board due to the damage. The Amazon PO # is 8051890. Please see the attached picture.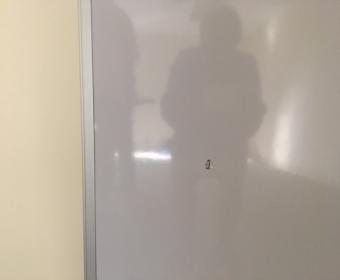 gerald gooding
from Ringgold, GA
I bought through amazon one of many many items over the years a zb1516 deik vacumn about 4 weeks ago or so and all of a sudden it stopped working because the head stop spinning the spindle, yes the roller is clean if used as a vac without the head it works so it is the head of it and I cannot get and response from deik support etc at all. I am not a very happy man at this time unless they (deik) comes through.
mr. gooding

Kabin Henke
from Phillipsburg, KS
0 customer service was terrible, no body took my complaints seriously, took me 2.5 hrs to get a customer service agent that wouldnt hang up on me, NEVER BUYING AMAZON Again, my order was screwed up and sent to the wrong address after the person who ordered it for me their account was hacked according to the customer service rep

Cynthia Gugino
from Buffalo, NY
I've had cookie jam for the past 3 years or so and for the past 2 months I get a message saying I have to go to Amazon to get it plus it doesn't load right away. Sometimes it takes 6 or 7 tries before it works. Very frustrating. HELP!!!!
/
Have feedback for Amazon?
Thanks for your feedback!
Sorry. Please try again later!