Amazon
Amazon Complaints Continued... (Page 5)
450+ reviews added so far. Upset? Call Amazon corporate: 206-266-1000

Lucy dinner
from London, ENG
Amazon has stolen money for me. For some reason my account has closed and so therefore all orders I made I was not allowed to recieve yet Amazon has still taken almost up to 500 pounds out my account. It's absurd how Amazon is trying to bully me into following nonsense instructions before giving me back the money they have stolen from me.

Mark H. Hofstad
from Bartow, FL
All I want to know is if I can rent a video to download onto my K10 to be used in flight to Europe. Your people do not seem to be able to answer a simple question without a blood test first. I think I cannot do what I want to do without buying the movie. I expect I would need internet to rent the movie. However, I cannot even get an answer to this question without giving my address and a bunch of other stupid questions. I gave my Email address. That should be enough. Amazon is now very difficult to use. The Prime scam just ticks me off. I never get a properly packed shipment. The CD containers are always cracked and books bent due to VERY POOR packaging. Now it appears that I have wasted my money on a Kindle 10 because I am not able to use it on a plane. All in all, you folks are doing a poor job.

arnold torchin
from Arverne, NY
I am trying out you new home advisor repair service. I can't contact the contractor thru your email to let him know where and when to come. Your reply service does not allow contact information to be added in a replay. How to I send him my contact information. Do you have another place? Your service is not going to work if I can't contact a service I need.

Geoffrey Phillips
from Port of Spain, POS
I am subscriber to kindle unlimited which my wife uses to access books to read. Recently she is unable to Download free books. Yet my account has been charged $9.99 this month.

Robert Harper
from Jersey City, NJ
Amazon is engaged in fraud. The product that they sent me was not the product that they advertised whatsoever. I also paid an additional $9.00 to send the product back thru U.S. Postal mail with a tracking number in case there was additional fraud going on. The company does not have a phone number whatsoever. They do have an address but no real website that I could find. They did not send me Rose Hip Oil as I ordered. They sent me RoseHip Seed Oil, a room fragrance. Please investigate these fraudsters. I put that room fragrance on my face. I'm pissed as hell and I want them investigated with all of my money back not just simple refund of $35 dollars.
I emailed Amazon support at payments-messages@amazon.com but did not hear back. This refund is for the following item(s): ArtNaturals Rosehip Oil - 100% Certified Organic - Pure Virgin, Cold Pressed & Unrefined 4oz - Best Natural moisturizer to heal Dry Skin, Fine Lines.

Gene Groeneveld
from Marshalltown, IA
I am being billed $10.00 a month from Amazon billing department for a service I did not ask for. Please stop this charge to my credit card!

Gerry
from Brick Township, NJ
I ordered something through their site for $399. The price lowered by $100 before I received it. They won't adjust price. Told me to contact seller. I did and seller said it was a mistake and price is going up. Here it is 24 hrs later and the price is still $100 less. They won't give me a price adjustment. Terrible!

Richard Stielow
from Neenah, WI
It started with a download update on a Kindle Paperwhite. I sent you a e-mail about this earlier and never heard back. Short and brief I could not delete books after the update. I talked to someone at Kindle and we agree to send me a new kindle and when I received I would return my the Kindle I am having issues with. This never happened 4=5 days later I got a e-mail stating they didn't get my Kindle. I called Kindle and got a return label. Mailed up and you received on March 9 I tracked UPS.
I keeping asking when am I going to get my replacement and they keeping saying when they get my old one and I keeping saying I having from UPS you have it. I have chatted and talked to several people and I only get the run around. I wanted copies and chats and I never get, What am I to do. Total I have spend over 6-8 hour between the download update and this issue. Can you please look into and respond to my complaint?

Hi my Amazon.co.jp account name is Coka Yu, I have a serious issue with Amazon Japan Customer Center, I need to complaint and report, require Amazon US Headquarter go out and resolve for me. I ordered two bottles (500ml x 2) face cleansing on Feb 21st, 2016. My order number is #249-9043179-0216606. However the product delivered to me is two bottles (180ml X2) and the order number is different #503-0719790-6128642. Because it's not my order and I can't believe there is cheating in Amazon, I contacted Amazon Japan customer center very soon, however they refused to product return and they refused to refund total amount, one of Amazon Japan customer center leader, 白柳 ( Mr. Shirayanagi) couldn't explain why different order came to my place, but he just insist that the products of #503-0719790-6128642 is my order and push me to receive it.
I couldn't understand all, called the customer center again and again, then they cut off all my phone call regarding any inquiry about this order. To be honest, I feel my moral rights is insulted, I am hurt. Also it's very strange that there is no statement of volume in my original order paper #249-9043179-0216606. I did check very carefully about the volume (500ml X 2), confirmed it before the order and even notified my friend that I did 500ml x2 order.
I require product return and refund total amount. And I require an explanation from Amazon Japan customer center leader, 白柳 ( Mr. Shirayanagi), why I have to receive the wrong #503-0719790-6128642 product? Why he cut off my call to Amazon japan customer center? Why my person information appeared on a wrong order number? Why I do saw the volume is 500ml x 2, but no any statement on the details of order #249-9043179-0216606? Amazon HP to the product I ordered now shows being sold out, 180ml x 2, the HP was updated and corrected in fraud. Attached is a screen shot of my order #249-9043179-0216606

charles buckshorn
from Cincinnati, OH
Ordered a digital tachometer on feb 11/2016 and Amazon customer support guys sent wrong thing. I sent it back with the ups tag that you sent you said it was reordered you said it was delivered but not to me! All i get is the run around online.

I placed an order (002-4693745-9667435) for a $100 gift card to my son to be sent to me so I could include it in a birthday card to mail to him. I evidently misread or misunderstood your instructions because you added $100 to my account instead of sending me an email attachment that I could mail to him as you had done before for a prior birthday. I then tried my best to have your reply redone or even cancelled but could not find out how to do it.
You also have no telephone number I could use to work this out with you. Your 'arms length' relationship and inability to credit my account for the $100 and reissue a birthday greeting to my son for me to mail to him is annoying, making me skeptical about ordering from you in the future. Can you help me with this? I don't want to add $100 to my account which is what you did.

Joffre Lewis
from Reading, PA
An Instant Pot 5 qt. pressure cooker was listed on Amazon for $80. I clicked on it and purchased it. When I viewed my invoice 1 week later I noticed that I was charged $109.95 which did NOT include tax or shipping. I e-mailed and called Amazon expecting to get a refund for the difference. Instead I was told that it was my fault. Before clicking on pay, I should have reviewed the order more closely. I agreed that was true but it did not change the fact that I paid much more than the listed price of the item.
I was also told that &80 was the price for the item at Amazon but my order was re-directed to a seller. that is of no importance to me. The fact is the price on Amazon's web site was $80 and how the order is processed is of no concern of mine. Customer Service, now obviously out-sourced to India, hung up on me. I e-mailed the seller who said that the problem is Amazon's--not their fault that Amazon listed the item for $80 which is not their selling price.
I remember when you could buy with confidence through Amazon. No longer. I can find the same products at the same price through many, many other sources so will now use Amazon to get information about products, read customer reviews, print photos, etc but always order through another seller.

Miller
from Bradenton, FL
I have twice ordered books for My Kindle and only gotten summaries of those books. I paid for the book (I thought) but no book only summaries? I want the books.

Jason Cint
from Saint Paul, MN
I paid full price for a movie to be streamed and I could hardly watch it with such poor streaming quality.

Lou Ann Britton
from New York, NY
I have received two shipments in the last two days which were shipped by Amazon. I live in an apartment complex which has authorized all deliveries be left at the Leasing Office if recipient is not home or does not come to the door. This has been arranged for the safety of the residents and to protect shipments they receive from being left at the wrong resident or confiscated by someone else. This is a recent occurrence as I have not had this issue with UPS in the past. Perhaps there is a new driver on the route. In any event, if I have a package go missing as a result of this driver's laziness/incompetence, you will hear from me again. Shipments tracking numbers are 1ZWX93280322344051 and 1ZW473R20331524222.

Mary Ann Frasher
from Brooklyn, NY
I ordered Amazon Basics DVI (Order #112-1831376-5000209) to be delivered today. I received a notice the item would be delivered by 9 pm. When there was no indication the order was going to be delivered on time, I checked email. Upon opening my email, there was a notice the package was delivered and left at the front door on the front porch of my apartment building. I immediately went downstairs to look for it, and there it was - laying inside the outer door where anyone off the street could open the door and take the package. And someone almost did.
As I was approaching the entrance, someone off the street picked up the package. If I wouldn't have said that's my package you have, that would have been it. Amazon has delivered many packages to my apartment. After you come into the outside door, you have to be buzzed into the building, and then buzz my apartment to gain access. I have had this problem with some UPS delivery people before. I have called them and complained, but they just brushed it off. I told them I would be willing to come downstairs to get the package if they buzzed my apartment. I have done it on occasion because some don't want to climb 12 steps. I can't fault Amazon as they have been very good.
But I would hope they would contact UPS and complain about their delivery and try to rectify the situation.

Alexandra Robinson
from Virginia Beach, VA
I had package today from Amazon mail person refused to deliver it at my home.I spent almost an hour on phone with Amazon Rep and all she eventually was told was "sorry!". I was told on the tracking number I had that USPS would not deliver as address not valid. This was a lie. My address on package clear and as other mail delivered here there was simply no way it could not be left at my house doorway. Told USPS will deliver tomorrow the 4th February from office on Viking Rd in Virginia Beach VA. This package paid for as urgent I expect it delivered on given date. I am very upset with this as no reason for not delivering today.

Charles Mallow
from Snohomish, WA
I was buying a denture adhesive from Bartell's. I was told that the company stopped making it. Went on Amazon and happened to see it for sale' At Bartell's it was $ 5.99 and at Amazon it is $ 129.00 for the same 1 oz. tube. I think this is considered price gouging. The products is called Cushion Grip and it is for sale on there web site.

Karen Crawford
from Alpharetta, GA
Amazon closed my account. They say it is because I returned too many items. Prior to them closing my account the last email that they sent to me said not to worry that my account would remain open and that I could return items. Also when I email them which is the only method they have to respond to me they do not answer the questions I am asking. They also have stated they are not going to refund my Prime Membership that I have already prepaid for due to that I somehow abused my account by returning too many items. What should I have done kept Items I did not want or like? Email them each time to see if it was okay to return a certain item or items? They told me to read there return policy. I did no where in the return policy does it say anything about a limit on returns. Please advise?

Susan Eygabroad
from Rochester, NY
My Amazon.com account was hacked and someone made two purchased on 11/17 for $39.95 and $41.29. Amazon contacted me the next morning. I let Chase know about the transactions and my account was credited. I stopped into a branch to complete the report and get my debit card reissued. ON 1/6/16, my account was debited for $41.29 - one of the two transactions. They said that it was "investigated" and determined to be "correct and authorized", which it was not. I did some research on my Amazon account. Someone had attempted to change the email address just prior to making the purchases.
In addition, for the purchase in question, someone emailed Amazon and requested that they ship the item to an address in Indonesia. I thought this was enough proof, along with my claim that I DID NOT make either purchase was enough to have them reconsider their decision. I emailed the fraud group TWICE now and no one has even bothered to respond. I knot it is only $41.29, but I didn't buy the item. I have emailed Amazon as well. If my account was debited, they received the money. Yet their notifications to me said that all orders related to these charges were cancelled.
So, they received $41.29 for something that was never shipped out (or shouldn't have been shipped). I realize that I am not a "valued" customer, since I only have a prepaid debit card with them. That is probably why they are choosing to ignore my request to escalate the decision. I don't believe that they bothered to even research it. I attempted to attach the emails and documents that I sent to them in support of my claim, but pdf documents cannot be uploaded.

Allen
from Saint Paul, MN
Now every time I try to order something it won't go through. As a company it's been too many times now that I can't get my orders through and it won't work. All I get is having to order through an operator consistently. I'm tired do wasting my time on hold. I will move to a different place to order. Goodbye Amazon after 15 years. Cancel my tax free account.

Robreisha Fields
from Alexandria, LA
I bought a scooter earlier from Amazon.com that was way to high being a single mother of 4! I wanted to get the 2 year protection plan but couldn't afford it with the scooter. Now the scooter plus protection plan are cheaper than what I purchased it for, from the same company! That's just wrong. There should be a price comparison at least. How can I contact the Amazon.com corporate office with my complaint?

Dawn Hauck
from Bettendorf, IA
I placed an order and it was to be shipped on Dec.29 or Jan.12th way too late for Christmas. It was coming from the United Kingdom. I don't understand this third party shipment. I probably will not order from Amazon again as this was my second complaint this season. I really liked the convince of the wish list, but will not use it again!

Dawn Hauck
from Bettendorf, IA
I placed an order and it was to be shipped on Dec.29 or Jan.12th way too late for Christmas. It was coming from the United Kingdom. I don't understand this third party shipment. I probably will not order from Amazon again as this was my second complaint this season. I really liked the convince of the wish list, but will not use it again!

I ordered a watch off Amazon 27 / Nov /15 and received it 30 / Nov / 15 anyways I heard the FedEx truck outside and went to go get my package from the Lady and she personally handed me two packages. One was my bath robe and the other was my $600.00 REACTOR watch, she had put the shipping box w/ the watch in a clear plastic bag and I'm thinking she did that because she was going to leave it outside because it had been raining. Ok so I get inside and my box w/ the watch inside has a judge hole in it and a large portion of the box was torn away and missing.
The lady carrier did not inform me that there was this judge hole in the box PERIOD AT ALL whatsoever nothing :( and you can't tell me that this lady carrier didn't see and know that this box had been damaged because she handled it with her hands and put it in a plastic bag. My package wasn't damaged it was ripped into and that's why I'm so highly upset :P the watch was also missing the band links and the instructions that were supposed to be in the bottom of the watch container itself.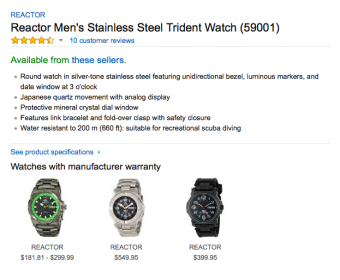 Tracey Maloney
from Pascoe Vale, VIC
I have been an amazon customer for a while now I collect my fav tv shows and movie items what is the difference in me buying seasons 3/4 box set of Stargate Atlantis trading cards but nobody will send seasons 1/2 and 5 nor will they send me the Stargate Keyrings of any kind nor can I receive any more torchwood items I don't buy these to resale I buy them for me as I love collecting what I can but why send me half a card set and nothing else I also tried amazon Australia and now I know why I don't us them all they have are books I have never had a problem never had to send anything back not a happy customer anymore why do they have to be so mean my ratings used to be 5 stars now they are o and I don't like doing this. I have had over nine items that I wanted to buy but can not I brought 7 items and have received 6 so far.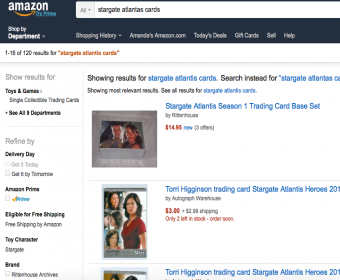 JoAnn Yoder
from Batavia, NY
Wednesday, October 21, 2015 I received my credit card statement and was charges $106.92 for an Amazon Prime Membership. I did not request a membership and I do not want a membership. Please credit my credit card for the amount of $106.92 and explain why this amount was charged to my account. Please someone help me, so far I cannot get Amazon to reply to my complaint.

JoAnn Yoder
from Batavia, NY
I received my credit card statement yesterday and there is a charge for $106.92 for an Amazon Prime Membership. I did not sign up for an Amazon membership and I do not want this membership. Please credit my credit card for this amount and explain why this was charged to my account. I am hoping someone from the corporate office will reply to my complaint.

William C Dugard
from Benton, LA
Recently ordered book thru you to Hippo Books for a book titled Things to Come by J Dwight Pentecost with a cost of $15.99 on order #119919442 on date of 8/23/2015 (Hippo Book sales order #97572770). Did not receive this book but one titled The Gunsmith 394 #6009-1-835-165200 and the USPS tracking #9241 9901 0154 9266 4107 53. It has cost me $15.99 and did not receive the book I ordered. Looked up the company Hippo Books and found unsettled complaints and find it hard that you do business with this type company. I have used amazon.com for many orders and you can verify this. Sad, we are now on a bad foot because of this type business from someone you transact business.

Karen Belan
from Mukwonago, WI
We placed an order for some jewelry for my daughters birthday on July 27 2015. the order was for over 70 dollars. we paid an extra 10 dollars for 2 day shipping. We got a confirmation notice that the order will ship on Aug. 20, 2015. My daughters birthday was on July 30th. What can we do to expedite this order? Her birthday has already passed and we are not happy with how this has played out. There was a mention that an order over 35 dollars would have free shipping, but that had strings attached and we decided to pay the extra money to ship in 2 days. We have not had a problem like this in the past and we felt like we would increase the amount of purchases over time. Our daughter lives in Ca and it is so nice to be able to shop this way. It is unlikely that we will continue if this is what we can expect for delivery. Please let us know what we can do to submit our Amazon.com complaint to the corporate offices.

I have received four messages from Amazon advertising their products. these messages were received 14/6/2015 at 00.07am. 17/6/2015 at 00.08am.and 18/6/2015 at 01.02 am . I made a complaint about this unacceptable anti-social behaviour, or so I thought. I have received a further message today 23/6/2015 at 01.01. This problem needs immediate attention by Amazon. It is not so much the unwanted advertising but the times the messages are being sent, why in the middle of the night to disturb people who are asleep. This definitely not good business practice.

I used to work for Borders and I can tell you it was going down hill before Apple came out with the iPad and before Amazon came out with Kindle. There was a lot of theft from customers. At least three employees I knew of stole from the store while I worked there. One employee liked young girls so much so, some of the female staff changed their work hours to avoid him. When I mean young girls, I mean my former colleague talked about dating high school girls. He was in his early 30's and as creepy as they come. The general manager was indecisive to such an extreme she was replaced by another general manager who fired an employee who for the past 5 years would come up with every excuse in the book to come to work late or leave work early, or not come to work at all. The excuses were inappropriate.
Anytime a rep from Ann Arbor, the headquarters, would come over there was no discussion of how to make the store more efficient or the work environment safer for the workers. I was once told to engage in a conversation with a thief whether that person was carrying a weapon or not. The pervert of the store, I mentioned him earlier, chased after a robber before face planting right outside the store. He was trying to impress a group of teenagers. Another employee over another incident was physically threatened by a customer who yelled out: "I'll cut your pockets!" I left after I realized my life was worth more than a paperback.

Susan Ivison
from Midland, TX
I was given an Amazon Kindle fire for my birthday on 5/15/2015. Worked fine until 5/27 and then I couldn't get it to come on. I asked my daughter for the receipt and took it to the local Best Buy. The girl at customer desk acted like it was an inconvenience to wait on us. Snatched the receipt out of my hand and and started counting on her fingers then told me the 15 days was up. Informed me I would have to call Kindle. When asked if there was anybody that could help me she said Nope call Kindle the 15 days are up! Basically handed me the receipt and walked off. That's not the first time they have been rude! Last time I ever go thru the doors at any Best Buy. Will suggest that my family never buy me anything there either!

Gregory McClain
from Phoenix, AZ
I am a very active Amazon customer. More than 200 orders in 6 months. My first complaint is a general one. Any time there is a problem with an order after the supplier says it has shipped there is no link or way left to contact the seller making it nearly impossible to resolve delivery issues once the seller proclaims shipment is enroute. Can't something be done about that? It is even worse once the seller proclaims it has been delivered whether it has or not.
I do not get mail delivery at my physical address only UPS or Fed Ex. I can deliver to the physical address. When sellers use the postal service as a delivering carrier and then chose the physical address as the delivery point, it always goes wrong.
I have two orders that this is an issue with. The first, placed in February was for Honey Catalina dressing (originally diverted because of weather related issues) has never been delivered, still shows as enroute and has been charged to my card. Second is Ajax sent by post to physical address.

Charles Current
from Albany, OR
I received terrible customer service from JB Tool Sales through Amazon, so I put up a negative seller review. Amazon took the review down at the seller's request. Then the seller emailed me to gloat about getting it taken down.

Charlie D.Baines
from Naperville, IL
Have not refunded the amount of money, owned to me for items ordered by mistake. Two comforters. $ 152.08. This company is a ripoff scam online. Products sucks. Bought a man bracelet. Piece of crap. Can't wear it. Clasp is no good. Don't do business with this company.

I have been happily ordering from Amazon, same items regularly every 1 -2 months, with no problems. Orders were sent by regular US Post to my post box. Last week my items did not arrive on schedule. I then received emails from Amazon saying "Shipping address is undeliverable - items have been returned to sender". I noticed that for the first time the order had been sent by FedEx, not US. I phoned Amazon customer service - what a joke! Spoke to 2 different agents who could not explain why a change had been made in the method of shipping. I asked to speak to a supervisor - there were none available.
Then I am told that.....the shipping department decides how an order will be sent. So I reply that US has worked perfectly for 2 years. Sorry, it is not possible to ask the shipping department to send an order by a specific carrier. But this is the same regular order that always arrived just fine. Oh Sorry, that can't be done. I then tell her that I will be forced to cancel all my regular subscription orders. I am told that she will send an email to somewhere telling someone that I am unhappy.
Then I am told that she will make an exception for me and will send my order by special delivery to my home. I explain that there is no home delivery, just post box. So I give her the address of the post office and she assures me that it will be delivered the next da. An hour later I get an email saying that I have been issued refunds for all the undeliverable items? So I am cancelling all orders with Amazon. There is no customer service from this company.

The listed and publicized date for the rate increase for Amazon Prime is April 17, 2014. Today when I attempted to sign up for Amazon Prime at the rate of $79 I was informed that signing up at this time would cost me $99. At this date it is the one(1) month free trial period that is pushing me beyond the April 17 deadline. When I offered to decline the one(1) month free trial period which would now make my signing up date before the publicized increase date of April 17. I was informed that I would still be billed the new not yet in effect rate of $99.
It is abundantly clear that the one(1) month free trial period in this case is designed to deliberately push anyone new signing up past the date of April 17th. when the increase is supposed to take effect. By this very shady maneuver it is in effect making the date of the increase actually March 17, 2014. I thought that Amazon was a much more reputable company with the integrity to stand behind it word and publicized dates.

I've purchased several downloads from Amazon. Here lately I went to sample a song and it automatically downloads as mpu (whatever that is). I called to report it, a complaint was submitted, that was about 2 wks ago and I still haven't got a response. I went through checking all the songs I've downloaded and they are not complete. I called in 2 days in row concerning this problem. My account was reset, they gave the go ahead to re-download, i received a message saying they were sorry, there's problems with processing my account. This was during and after the call with the rep. I don't know about ordering anything else but I can say the last couple of times I've purchased the mp3 downloads there have been nothing but problems.  I will be looking for another site t purchase my music from.

I bought a control panel from Universal Pneumatic & Electric Group – Amazon Marketplace Out of Atlanta Georgia and when i ordered it said 3-5 day delivery 10 days later i filed a complaint. I recieved a call from Universal telling me to remove my complaiont as its hurting his bussiness. I told him that i never usually complain but the delivery is not what was promised and he was hurting my bussiness and that shipping was Anazons problem not his.We responded to e-mails where he is calling me and he was stopping shipment of my order even thogh its paid for.

I recently sold a set of vhs tapes on amazon.com, the tapes were in great condition, I just made dvd copies of the tapes before I shipped them out and made sure they were rewound and the packaging was in great condition. I sent them out at a good price and within a week, I get an email saying that two of the tapes were not rewound and that they were jamed! The seller claimed that they were recieved that way. The seller is demanding a refund and shipping cost to return the tapes. What can a seller do as I don't want to get a bad report.
I have also had buyers claim they never recieved the cd's that I sent and I have started using tracking and if it is an expensive disc I request that the cd be signed for. I wonder if amazon.com tracks the deadbeat buyers that constantly do this? It seems strange to me that I have so many problems with buyers when I check my sales items and make sure they are good quality when I ship them and what can you do when they switch out their broken vhs tapes or say they didn't receive items?
You can't accuse the buyer of anything as you will get blacklisted and it sure seems funny to me that I have so many problems with buyers. Something is fishy here and I would like to know what can be done about it.

I applied for the Bank of America credit through Amazon because it held a big discount for purchases for a limited period. When it arrived I decided not to use it and cut it up and threw it away I contined to purchase all my christmas shopping thinking that I was paying with my usual debit card. Unknown to myself Amazon had placed it on the account as my default payment. I complained to the Financial Ombudsman and Amazon or Bank of America contacted me to see if things could be resolved. Incidentally, I did not receive the discount either and have been charged interest.
The lady on the phone was very clear about her side of the story and practically accused me of lying when I said I wasn't aware that I was using the card when buying things. I asked her to put things in writing and she because very rude indeed. I wonder if anyone else has had this experience. Is outrageous. I have been a loyal 10 year customer of Amazon and spent a ton load of money in that time and am seriously considering not paying the bill just so as they'll take me to court and I'll be let people know exactly how they treat their customers.

Chefs Depot has been serving customers for over 30 years. Do you think that there are complaints from the general public about them? Sure and also about everything else on the planet. They are a good company and I have been buying from them a long time. I got shafted by Amazon, people search Amazon Complaints! Chef Vlad

1st time customer.purchased pedal tractor with gears today — add says goods over 25£ free delivery to Ireland — confirmed by Melanie at Amazon by phone prior to purchase.based on this info I promised this gift to my grandson. However delivery to Ireland was refused –no choice but to use UK address and pay delivery charge. Now faced with extra cost and hassle of getting the gift to Ireland. I feel cheated by this false promise of free delivery using the Amazon website and false advertisement. 1st and last time customer of this service.

Amazon charged illegally (or rather stole) my money on the first day of my credit card billing cycle for last month. Amazon was smart to do so because the victim I would only get a chance to know that my money has been stolen after one whole month when I receive my credit card bill. I ordered items from Amazon awhile back. However, I didn't buy anything at Amazon.com anytime soon. It is weird for Amazon to start charging/stealing money from me, which is only special in that this day is the first day of my credit card billing cycle of for previous month! Some bad guys in Amazon intended/determined to steal.

after ordering an item from Amazon fri.15th Feb for £14.95 and been quoted £2.49 p&p and promised confirmation of order, which l didnt get, l check the order myself and see l have been charged £18.99 for a £14.95 item which is ludicrous. l've sent emails of complaints and spoken to a rep. from Amazon this morning who promised to email me back within 30mins – nothing!! what do you do now?

I received a book, the 17 day diet-Dr micheal rafael moreno without any amazon order No. or other info. required for returns. It was sold by:twentyfourseven-books,which is the reason I didn't get free shipping. I couldn't get a phone no. to call and discuss my problem with amazon. I am not going to order any thing from amazon.com anymore.

I'm hoping that someone may be able to assist me or at least look into this situation. I'm dealing with a bait and switch situation with Amazon.com and at this point I'm getting absolutely zero assistance from their own customer service. I purchased an expansion pack from Amazon. It was available from Amazon, not their "sellers, " and they advertised it for $9.99 plus shipping. As of October 25th, my order had still not even been shipped. I contacted Amazon customer service, via e-mail, and was told that the product is not available through Amazon and that I would need to cancel my order and purchase it from one of the "Sellers" on the Amazon product page!

I have been hissing about this all day – I love finding this site. Amazon has suspended me from selling on their site. Just because my email was accidentally entered incorrectly because I had added an extra .net. –their form is too short to show the entire email at once –not their fault –and I'm just guessing that's why- they won't tell you why you are suspended or work with you to correct anything. The Gate keepers do an excellent job. Does any one else think the amazon smile is an erect circumsized male organ? Maybe it's because I feel screwed. They are as bad as Walmart ruining local business. Boycott Amazon. How long will it be before they get this scrubbed? If you want to do business you need to bend over and grab your ankles.

Wayne Knudson
from Cary, IL
I have attached a complaint that I tried to submit but the system had an error and said I didn't provide an email so it dumped my comments and said to start over. Your system did not save my comments but luckily, I printed them and I'll attempt to attach them below.
Note that my copy of the email DOES have the correct email address.
Wayne Knudson, Cary, il
OH GREAT. A MERE PDF ISN'T ACCEPTED SO I'M PASTING MY TEXT BELOW.
Submit a Complaint Online
Upset about something? Fill out our free complaint form below!
Your Information
Wayne Knudson
wknudson@attnet
Complaint Information
Rate your experience (on a scale of 1 to 5 stars)
Amazon 1
When UPS delivers, they ALWAYS at least ring the doorbell at least once to warn us that there's potentially something at the door. Your new service (Amazon) NEVER notifies us... Never. The fact is that a package can be stolen or the weather can be poor. For example, there was a huge package from Celestron which I requested that it be wrapped/disguised. Nope, there it was on the step, the size of a microwave box and had the company name and contents on the box ($1300 telescope). Well, it happened again yesterday and this morning. Packages were left and today it was left on the step which had melting snow. Luckily, the dogs saw the person and we went to the door. Last week, something was delivered, left at the edge of the steps all day, while there was a misting rain. We discovered it at dinner time. Luckily, the packages inside were plastic-wrapped!
REALLY NOW, unless your service person throws packages at the door, they can raise their beleaguered, poor paw and push the bell!! Note, more than once here in the Chicago metropolitan suburbs I've seen news reports where home security cameras have captured people pitching packages at the step. Amazon does so well at so many things but this is POOR.
Oh, before I forget, finding a means to contact you in this manner took at least 1/2 hour since nothing seems to take one directly into the "complaint" bin. I finally just googled "make complaints to Amazon.com".. Right up there with delivery I'd say!
Now, we're expecting several more packages this and maybe next week and we will see if delivery improves.
Thank.
Wayne Knudson, Cary, IL
xxxxx

Michael Morgan
from Portsmouth, ENG
I received the wrong item when ordering from Prime. However due to a fault on their system I have been unable to return the item. I spent over an hour troubleshooting theit own problem to no avail. I even suggested very simple ways of averting the problem to allow me to return the item and get on with my day however they refused and continously told me they had to go through the system which was clearly malfunctioning. I eventually asked to speak to a manager, I was put through to a very rude Scottish man who kept asserting to me that I was wrong and his system was fine despite me demonstrating via images that I was not getting the correct address sites. I still have the item and I still havent received any money back. I wont be ordering from Amazon again and have cancelled my Prime membership for when it expires in December. The rudeness above all else was the biggest problem

I booked a redmi y2 4gb ram 64gb internal mobile phones but it automatically returned without giving any information and calling my given no....

jitendra Chaudhary
from New Delhi, DL
Service is very bad customer care services also bad

doug washburn
from Florissant, MO
I received my package today. I had order 2 ounce glass jars from vivaplex company. Amazon shipped this item to my office 525 st francois 63031 on time. When I opened the shipping box from Amazon, two boxes (12) jars each were smashed. None of the jars were broken but cases were crushed. There was no bubble wrap or insert protection of my shipment. Poor shipping ... I order a lot and shipped by amazon and usually everything's great.. but this was terrible...

IVON ERNEST YATES
from Kansas City, KS
I just hung up on Customer Service in Seattle, I was thrented , told to go to y kitchen, pick up a knife and cut
my ass, and a few other things. This all started over a recent order I placed, the charge was declined by my bank. I called mmy bank, told me I had entered my password too many times at a gas station, which was not correct, and my account was locked. No problem, they activated the account again. I went to Amazon to tell them what happened, the order also was not correct. They started pitching me to purchase a $200.00 software protection. I replied I would mail them a check for the corrected amount. I as transferred to another person, he also attempted the protection sale, which I declined. He was not for coming on a mail address for my check for about twenty minutes. He insisted that I write the check at that moment, again I declined, wanted my bank information, which I declined. At my request he put his supervisor on the phone, he sounded the same. Civility was not shown, conversation became vulgar.. I am an old 76 years old car dealer, I know when I am being hustled. I have done business with Amazon for years, no problem until today. Any problems in the past were dealt with fast and just. The conversation I had today changed my view of Amazon, that they would have anyone so sleazy doing Customer Service. Civility was not used I never was given complete information on mailing you a check. . During the conversation, several times he would speak with someone in the back ground in Spanish. My relations with Amazon has been good, I have liked the service and results. Being as large as your business is, a few employees will slip past personnel. He was really trying his best to sell me security protection, no real, problem, he was not intelligent enough to do it. Hope you have him on a recorder. Any business is only as good as it's employees are. Good luck with him.

Richard Daniels
from Albuquerque, NM
I did not get the right order from Frenchie Mini. I ordered a tuxedo bib and they sent a woman's bin that had white pearls on it.
I sent a complaint to them but who knows when the will respond.
Perhaps Amazon can correct this.
R.D. Prime member.

florencr navarro
from Richmond, VA
The package arrived as promise. Thank you. I have one problem. The package arrived opened on both ends, not taped. Just a "little" flap on both ends holding the contents inside. Nothing is missing (thank goodness) but some of the contents might have fallen off during transit. Just wanted to let you know.

Kulkarni sudeep
from Pune, MH
I order one product by cedit paying but i cancelled that delivery then by cancelling this my money was not returned to my credit account . Why?

Gerald Packer
from Fuquay-Varina, NC
It is great when you care enough to provide security for amazon accounts but when is it too much? When the actual customer can't access his account online because he does not have his current amazon card and is being sent a new one by bank and he forgets your password and does not know the expiration date on a card not in his possession. It seems that has become a security question I have never been asked before. So I contact amazon help and lol what help they were. Sent me a link to change password that circled back to, you guessed it, the same expiration date. along with computer challenge questions that I looked at and still failed 4 times. Ohhhh yeh it changed my password but still gave me challenge questions and the same security question about expiration date. Still can not access my account. Representative was great , her answer was well guess you will have to wait 2-3 weeks to access when you get new card. I had to explain to her how does the help me since I CAN NOT ACCESS ACCOUNT to add new card and new expiration date. Her answer was when you get card maybe we can add it then get you access or you can always quit amazon prime and then re-join when you get new card just sign up again. REALLY is this the best you can do for someone who has actually verified their identity and has been a customer for years. Until now I had always though you the greatest company around. *still no access*

My order no. #405-9885957-2077919 and #405-4476375-3567503 not yet delivered. It is showing delivered on the site. I have also lodged complaint few days ago but neither good is delivered nor my money is refunded till date
My order no. #405-9885957-2077919 and #405-4476375-3567503 not yet delivered. It is showing delivered on the site. I have also lodged complaint few days ago but neither good is delivered nor my money is refunded till date. I have already made the payment. Either arrange for delivery of the goods or refund my money

jack wiggins
from Long Beach, CA
Driver arrived to deliver a package about 5pm pdt today 10/21/2018 at 5250 El Cedral Street Long Beach CA 90815. Music from white van with Calif License 2182182 was incredibly loud. My wife and I expected him to drop his package and move on. He did not. he sat in van for 4-5 minutes music blasting. other neighbors came out of their houses, as did my wife and I. I approached the truck as he exited with a package. I asked him to turn down the music. He replied that he was very busy and could not turn it down. He dropped the package at my neighbors doorstep, returned to his truck, turned the music louder, remained there for another minute or more and then drove off while we all watched.
Amazon drivers in our neighborhood habitually drive well over the speed limit.Jack Wiggins

tom brent
from Jensen Beach, FL
i bought 3 cd gordon light ft bob seger abd anita baker all 3 skip and looking at tham they are scratch i would like a refund or replace ment

Krisney Rigney
from Greenville, KY
I have been using Amazon for quite some time. I pay monthly for Prime and have never had a problem until now. I logged into my account on 10/14/18 and placed an order for 3 items, total of $49.67 with delivery date of Wed 10/17. I tried to get on my account on Tuesday 10/16 to see where my package was and it said there was no account linked to my email address. I immediately contact customer service with Amazon at that time. The lady I talked to was putting a freeze on my account and I would be receiving an email in 24-48 hours with further instruction of how to get my account back up and going. I was worried because my bank account is linked to my Amazon account. She assured me nobody would have access to my account or bank account. When my items didn't arrive yesterday like supposed to, I once again reached out to Amazon customer service. The lady this time couldn't find my account when I gave her my name and email. I gave her the order number for my items from 10/14. she put me on hold, came back and said she could see the note where I called on Tuesday but nothing was done with it. She couldn't find my order even with the order number I gave her from my email. My bank has been charged for these 3 items and I don't have them and nobody seems to know what happened to my account or where my items are. I am beyond mad right now along with worried that someone has access to my bank account. I need answers and I need them now.
Krisney Rigney

Avis Durgan
from San Diego, CA
I ordered a box spring on Sunday, October 14 2018. On Monday, Oct. 15, 2018, I received an email saying that the package had shipped and I was given a tracking number and told that the package would be delivered on Tuesday, Oct. 16. I received an email as well from UPS stating that it would be delivered on Tuesday, Oct. 16 by 8pm. On Monday evening, Oct. 15, I received an email from UPS saying that it would NOT be delivered on Tuesday, Oct. 16. No further info. On Tuesday, Oct. 16, I called Amazon and was told that the package was enroute to the shipper. No other info available. On Tuesday afternoon at 4:15pm I called Amazon again because the website was still saying that the package would be delivered by 8pm today (Tuesday, Oct. 16.) I spoke to "Elaine" who was barely intelligible, and asked for her supervisor. I spoke with "Ford", whose English was only marginally better. He told me that he would issue a full refund because the package can't be delivered until Oct. 20. I am flabbergasted!! Amazon can't even FIND this package (and it weighs 56 pounds!), and you're offering me a full refund for it and claiming that it will eventually get here!?!?!! Am I actually going to get this package?? WHAT HAS HAPPENED TO YOUR CUSTOMER SERVICE??? You used to be SO good at this!!
WHERE IS MY BOXSPRING?????

Paul simmons
from Cleveland, OH
I turn my kindle off and when I turn it on I receive ads that cause me to have to restart my kindle to get online. I purchased my kindle to read books not to receive ads. If this continues, I will have to find another source for online reading. I definitely will never pay 15 per month to be ripped off by you to hear books online.

habiba mohammed
from Pune, MH
During this great indian festival offers I had ordered vivo y83 in exchange of MI A1 phone on 10th Oct2018 and paid 4103.10 INR,the amazon delivery agent arrived on 11th oct @11:30 am and refused to deliver the product when inquired about the reasons he did not mention any and was rude..he said he will cancel the order and refund will initiated..when contacted the customer care executives they assured that status of order will be updated by 12th oct morning.
when checked on 12th oct the order status is still in dispatched..so can kindly tell me how many days amazon takes to update the order status.when approached customer care via chat firstly 2 to 3 exectives don't reposnded and finally one agent replied and was not sure how to solve my issue.on the same day just in span of time he/she provided me two statements firstly mentioned the order will be re-scheduled and when asked for email suddenly changed the words and said refund will be issued..dont how they are trained to serve the customer queries.finally after 1:30 minutes of chat another floor supervisor arranged the order delivery again by 15th oct..today 14th oct morning the same case happned the amazon delivery agent was rude whenever asked for details and simply said he will cancel the order.
Now when I approach the customer care via facebook comments the customer agents are least bothered to read the full message and sent me a response stating they couldn't find any order in my amazon account for MI Y2 ..KINDLY NOTE I NVER MENTIONED MI Y2 ITS MI A1..can see how efficient they are.
this is the second instance with amazon where the customer care and delivery agents are falsifying the info ..if amazon cant manage these people don't waste customers money and time by falsifying the offers.
I need my refund ASAP its high time #order 171-7977620-8146736.
I will attach the email from your executives & chat conversation u can clearly see their efficiency.
I don't want to use amazon again ever and will delete the account as well post refund.
Regards,
Habiba

David Osborne
from Oklahoma City, OK
Received multiple calls from Amazon delivery driver and then Amazon 877 advising call will be recorded that driver is attempting to contact me to deliver a package. This on a rainy Sunday at 12:07 pm. I have never been called before whether pouring rain or shining sun to get out of bed to receive a packet of cheap metal screws. Leave them or not, I don't care, but don't harass me via phone over an order worth less than $10.
The last package I received was left in the yard wrapped in plastic. Fantastic driver.
Don't call again.

Shubham chunmun tiwari
from Lucknow, UP
Booking my packege will be time late curiur wrong but not available my packge for actual this time.
Wrong curirur patna currect curiur patti pratapgarh uttar pradesh.

Dr. Donald C, Smith
from Wallingford, CT
I know what I would do with an employee who wrote to a customer in this manner. Personally, I and any competent manager, would hand this individual one of Amazon's many boxes, to clear out their desk. Then show them the door.
Since the 90's I've been a customer and I know such rhetoric is not reflective of Amazon's corporate culture. Still, the response was so outrageous there needs to be a clear consequence. Not sure? Run it by Mr. Bezos. I have personally communicated with him before and know him to be a very bright and just man.
I expect to hear an apology from the person who wrote me before day's end on Sunday. Or, I expect to hear news of this person having been replaced.
-- Dr. Smith

JUDITH REDMOND
from Las Vegas, NV
Did you send this to me? It looks like SPAM to me. Thank you, JUDY
From: Amazon.com <amazon-department@cs1232447264-amazons.com>
To: judyaredmond <judyaredmond@aol.com>
Sent: Thu, Oct 11, 2018 11:20 pm
Subject: Revision with your amazon.com account. [case:1232447264]
Dear: judyaredmond@aol.com
Thank you for shopping with amazon.
We are sorry to inform you that regarding your account we are unable to link your credit card in your account.
This is the Last reminder to log in to Amazon as soon as possible.
1-download the secure browser window from:
attachment file
2-login to your account and follow the steps
..
Sincerely,
Amazon.com
accounts Management As outlined in our User Agreement, will periodically send you information about site changes and enhancements.
Copyright 1999-2018 Amazon. Allrights reserved.

Deane Nichols
from Denver, CO
RE: Amazon.com order number: 113-9867636-7149055
When I look at the invoice for this order, the FIRST ITEM ["2 of: Neo Compress Premium Compression Foot Sleeves..."] does not show the SIZE in the description. WHAT SIZE DID YOU SEND ME?
I ordered XL size, but when I ordered this item, the information showed "Only 6 Left", and the size chart ran to XL. Now the size chart does not show XL and the item shows "In Stock".
I'm sure this is not a supplier problem, it is an AMAZON problem. If I do not receive XL size for these sleeves, I can not use them and I will not pay for the return to Amazon or the supplier if they do not fit.
Thank you,
--Deane Nichols
10/12/18

Deborah MIllen
from Gastonia, NC
Delivery by Amazon to my house is horrible. Two cars in the driveway and the delivery person does not attempt delivery, they just leave items on the porch. Barely on the porch, which is not a covered porch. Since Amazon has begun delivering its own products it has become the recipient's job to search for the delivery person any time of the day. USPS delivery has also gotten very slack as well, but I do feel that Amazon should at least TRAIN its delivery personnel. Ring a doorbell? We've ordered a LOT of items from Amazon. Delivery is fast. But the current practice of your delivery personnel is abysmal. Also, the cirucuitous route I had to follow to file this complaint, destined for the round file I am sure, is not acceptable for the size of the company that Amazon is. Really Bezos. Monopolize the service but fail to give quality service. Shame on you.

Albertha Sturrup
from Nassau, NP
I am furious I placed several orders on September 18, 2018 and to date I am receiving items order from the same sellers in separate lots. i was being told that i needed update my payment i did but i continue to receive emails stating that my payment declined, each time i updated but continue to receive emails to up date my card. i call amazon help serval times and i was informed that payment were cleared. after speaking with them i continue to receive emails to update my card, i did. i then spoke with my bank and i was advised that the funds for the items were being held by the merchants. i called amazon help October 3, i was informed that one or serval of the items i ordered were not in stock. this infuriated me because i was not informed of this by the seller.
i mentioned to them that this was a complete inconvenience to me because these items was for my business that was to launch last we. the only item that i had anticipate a late delivery was the shower curtain. i am very angry.
You are now connected to Abrar from Amazon.com
Abrar is typing...

kimberly hoertz
from Alden, NY
I purchased jewelry.....promoted by the seller as "cultured pearls". This indicates the pearls come from the ocean,they are real!!!! I received plastic. I knew that the seller Amazon represents was in China. When these necklace sets arrived there was NO packing/company info sheets included. There was no return info etc. The item information is false advertising, frankly it's an out and out LIE! I have been ripped off !!!! I have no way to get my money back. I did not expect "fine" jewelry. I expected a "B" grade pearl necklace ect......REAL PEARLS as stated......not cheap plastic. I mean Cheap !! .I own faux pearls that are lovely......These are kiddie dress up toy jewels.....promoted on AMAZON...as..cultured real. How do i get my money back?

TREVOR DCUNHA
from Malkajgiri, TG
I Had ordered a REFRIGERATOR on LINE and paid by credit card . The ORDER NO was 404-3447988-0988369 order date 29/09/2018 INVOICE No SHYB-62001 INVOICE DETAILS TG-SHYB_1004-1819 and the HAIER REFRIGERATOR 195L4 STArCOOL SINGLE DOOR has Already been delivered to my residence a few days ago with the Courier Agency intimating that I would receive a Telephone call from the Firm with regard to date and Time for INSTALLATION. However no one has contacted me and the refrigerator still remains in its original package un installed. This is not as per the TERMS WHERE THE INSTALLATION WAS TO BE DONE WITHIN 48HOURS . IT IS CAUSING ME UNDUE GRIEF And I DEMAND THAT THE INSTALLATION BE COMPLETED ON PRIORITY . Please ACKNOWLEDGE . In case it is not feasible in the next 48 hours I may please be given a refund and the Refrigerator taken back Lt Gen T, A. DCUNHA

Angela mccoy
from Atlanta, GA
I called a few minutes ago..about not receiving my order. After 10 mins of waiting..the guy hung up

josh rose
from Covington, VA
number one I changed my password twice and it still tells me my password is wrong when I sign in
number two I tried to order a computer through ibuypower using amazon pay but each time it gave me errors
so I just used a credit card directly to ibuypower but know I've gotten emails telling me the amazon transactions went through and I need them canceled asap

Package did not arrive. Initially Amazon was quick to offer refund. I should have took it. Instead I said I'd try to find it first. Could not be found Ontrac was unwilling to make try driver accountable. A bogus signature was used by whomever got my package. I called back to Amazon and now after many calls and days they are still making unwilling to offer refund. Police report being made. Ontrac in my opinion is real culprit. Albeit, Amazon could have been much more expeditious. Annoyed

Grace Segers
from Clearwater, FL
Where is my warranty??? I purchased a cell phone, MotoG4 with a 12 month warranty, in January 2018. The phone started acting very weird around 6 months later, I contacted Motorolla about it, they would not honor the warranty, claimed that warranty with them expired, I was then directed me to the seller (US TechMall) who also would not honor the warranty, they claimed that the warranty with them expired, after only 6 months of purchasing the phone. That leaves me out in the cold, having to purchase another phone. I am very frustrated and disappointed since Amazon claimed that there is nothing they can do to help me, I understand their position, however a multi billion company such as Amazon should be able to intervene and rectify such problem for their customers. I looked at the Amazon reviews on this phone and I see that my problem is quite common. I want others to know what is happening so they don't get screwed too. I should have done more research before purchasing.

Alma Thomas
from Fairborn, OH
I have been calling and spoke to several different people about my account being compromised through my email and password. It has been over a week now and NO ONE in the fraud department has contacted me. I have been a very loyal customer and should have had this problem rectify immediately!!! Someone has changed my email and password!! IT WOULD BE NICE TO HEAR FROM SOMEONE THIS MORNING!!!

Thierry Massihians
from Veracruz, VER
FOR AMAZON MEXICO
1 registering is a nightmare. I never got ANY message code to verify anything
2 once in (without verification), even with proper zip code, the page kept asking for mandatory details, offering erroneous options.
This is FRUSTRATING CRAPWARE

Reginald Holmes
from Philadelphia, PA
your delivery service is the worst one. I leave the security door unlocked. Your delivery service come and throw my package on the steps and say the package was handed to someone Never check the unlocked door to see if they can secure the package between the security door and the main door All other delivery service try to secure the packages your service lie about their work. Can you correct this problem They say handed to someone because if it is missing they are not responsible. When I have some money I use Amazon three to four times a week

I've been ordering from Amazon Prime for sometime. I finally noticed an Add-On Item. So, I started ordering the Add-On Item with my purchases. My last purchase I had 6 Add-On Items and a purchase amount of + $200. That's $150 for Add-On Items. My shipments came at different times and I received all of the main items I purchased, but all of the Add-On Items were damaged in handling. Not one but all six and none of my main items were damaged. I still waiting on the refund for all the Add-On Items, so far just a parcel return. Now I'm wondering if my next order of Add-On Items will be damaged also. I definitely don't want to make an order over $50.

chandrani neogi
from Faridabad, HR
my book broadways in english for class 8 was supposed to be delivered on 16th aug2018.it is not yet received.no information.no tracking.if you cannot deliver now what will i do with the book when my son will be in class 9.this is the 3rd time i am complaining.your service seems hopeless.you have no clue wheather goods are reached or not.then return my money at least if you are so poor in your service

Enrique Guzman
from Walnut, CA
I placed and order for a 24 pack of Ensure protein drink which was supposed to arrive on Sunday August 19 and i got a text saying that it had been delivered and handed to a resident and i was not home and i noticed the text on the following day and i asked my wife and son if they had seen the package and both said no, i texted customer service and told them the story and gave me $10 for my inconvenience the next day my wife found a package on the front door and texted customer service and told them the delivery service must of left it with one of my neighbors by mistake and brought it to my house 3 day later and they told me that they were going to give me full refund for my inconvenience, the next day i opened the package and it was not what i was expecting it was a monthly package i usually get on the 28th of the month which was a whole week early, so i texted customer service and they told me that they had already given me full refund and i replied that i still did not had my package and what are they doing about it next day delivery would solve the problem and could not get them out of "we already gave you full refund" so every time they ask how did they do handling my situation and i always responded the same way "POORLY" and they would ask to have some one call me to solve the problem.
I finally said i would probably would cancel my Prime subscription if they did not resolve my problem and again and again i told them i would be happy if they offer me the product on a next day delivery and take the money form my gift card that i had with them and never said ok, we will do that. all i got ok if you want to cancel your prime membership we will reimburse your money. the whole customer service are like robots cant think out of the box, if it is not written on their book, they cant solve anything.
Maybe they got to big to care for their customers as they raise the membership price.

Jane Taylor
from Kemp, TX
This is the second over $200 item I have ordered. The first one was trampoline and it was missing springs. I got my second item yesterday. The box had definitely been opened. The fan was missing the assembly instructions and screws and washers. Your return department needs to make sure that everything is there before restocking and shipping.

JAMILA MOORE
from Dallas, TX
From: Jamila Moore, 2723 Point View, Cedar Hill, TX 75104 16 Aug 2018
To: Amazon Corporate Office
SUBJ: REQUEST REFUND OF UNAUTHORIZED SUBSCRIPTION CHARGES TO AMAZON DIGITAL SERVICES
Dear Sirs:
Immediately after realizing that I've been getting charged the same fees every month, I called customer service to find out what the charges were for. I am not savvy enough on the Amazon website to know that there is a separate subscription section and billing area. I have no reason to look for it either because I have no subscriptions and no reason to pay over $30 a month for cable channels when I pay my home cable provider for this service already.
I was charged from April 1st, 2018 to August 15th, 2018 monthly subscriptions fees for HBO, Showtime, Cinemax, Starz and even Boomerang. Some every month and some only once.
I had a credit card on file for purchases only to purchase items from the online shopping area. The system used my card to automatically subscribe these movies channels that are on an app in my smart t.v. This is wrong and is stealing! If I want to watch HBO on my phone or ESPN on my phone, they ask me "who is my cable provider" I put that information in with my login information, then I have access to a channel that I am ALREADY PAYING FOR! Charging $16.23, $10.81, or 9.73 a month for access to a channel that I already have is greedy as well! I have been a loyal customer and always current with my Amazon credit card. Why do you all feel that it is okay to rob people blindly? I will pay for my movie rentals, no problem. But not for subscription fees that I never clicked an "ok" button or "submit" button for… The requirement for the security code on the back of cards would even que a person that they are being charged. I have no bill, no contract, no agreement, no knowledge of this and it is upsetting.
I printed a copy of all the charged dates for the movie subscriptions and I also printed all of the orders that were placed for the last year from my television device. None of the orders fall into the categories for these movie channels. So I ask why I was charged for monthly usage of movie channels that I already have. There is no valid reason for these ongoing subscriptions. The requirement to call and cancel or else it keeps renewing would make sense if I had authorized the subscription to begin.
I am requesting refund to the accounts that were used $173.62 (I believe the lady on the phone, refunded the August, 2018 changes but I haven't seen a credit yet).
This is for the subscriptions. The charges for my movie purchases for the last 12 months total $247.49. None of which are premium channel movies.
I am appalled that this type of payment processing isn't managed or monitored better.
Thank you,
Jamila Moore, MBA, USMC retired
Email: Jamila.a.moore@gmail.com
Phone: 817-716-1994

juliette dirani
from New Kensington, PA
i buy cleaner from i wihamazon where i open its damage i call amazon from 18julyuntil now nobady give my mony back i live low incom about s772

Rich Stefani
from Keller, TX
Purchased many things form Amazon,... and will likely continue to do so. However, recent delivery service was not acceptable. Delivery to Sandi Stefani, 1513 Belaire Court Roanoke TX, 76262, 8/7/18 TK 1189
A picture of the label is included. This was a light box, probably 5 lbs. Instead of driving up the driveway or walking it up to the covered front porch. It was lefty behind the mail box where could be easily stolen or get drenched from our sprinkling system. Pictures included. Hopefully I get a reply that states that this delivery person is being relocated.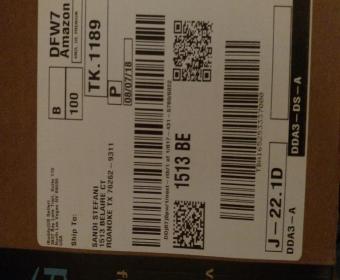 sarabjit Kapani
from Delhi, DL
Relying on amazons reputation that it would be connected with only reliable/reputed product and services,i had ordered for one R.K.Aqua Fresh India Swift 15Ltrs Rouvuf Water Purifier Bo725HX9DK through you .The above water purifier was delivered vide Order No.171-1239251-7337137 dated 24-04-2018,Invoice no.IN-244 and Invoice details DL-153482411-1819 dt.24-04-2018 .this was installed on 02-05-2018.
In the package was a card promising to give us four PP Filters free provided we send screenshot of rating and bill to Their Whatsapp no.9899936622 within 7-10 days. Where as we had sent the screenshot as above, the filters are yet to be delivered inspite of telephonic reminders. More over, whereas their KEMFLO PS 0.5 is supposed to be replaced after use of 1500 liters of purified water, we had to get it replaced within use of less then 200 ltrs.
We request you to take suitably with the seller R.K.Enterprises ,B-526 basement,G D Colony,Mayur Vihar,,Phase 3, New Delhi,110096,India.and arrange for the PP Filters before we loose faith in amazon for any future requirements.

John Lawson
from Plano, TX
I got an email welcoming me to amazon prime that was a complete surprise. It somehow happened when I used Amazon mobile while on travel. Issues with product orders are easy to resolve online; HOWEVER, it was not easy to reverse this mistake (being signed up for Amazon Prime). This happened once before and it took a credit card dispute and months to get it resolved (refund). After returning home and using my computer I was able to find a contact number after trying to reverse the mistake. The agent told me that there was no way to do what I wanted on my end (reverse being signed up for a free trial) and that I had been charged because the time had ended on the free trial! Note that it had been 3 DAYS. She did agree to process the refund but it would take 5 days. Really? It took you 3 nanoseconds to bill me.
So what do I want, or suggest for you to continue to be a great service? Publish a contact number and a way to back out of mistakes easily, similar to what you do on products.

Max Stanton
from Elizabeth, NJ
hello and good day my name is Max Stanton I recently ordered a portable washing machine under the guise that it was a PRIME item and would be delivered in 2 business days when my wife called your CSR "jake" told her it was not a prime item at this point i began to speak to jake he informed me that the item should arrive tonight or tomorrow unsatisfied with that answer i requested that jake put his supervisor on the phone this is when a man who called himself "John" took over on jake's behalf after we went back and forth for 5 minutes about why the item would be advertised as a prime item but wouldn't have the same shipping criteria I asked him to speak to or have the contact information of his supervisor he told me that he had no supervisor and the next person in the chain of command wouldn't be available for a week or more the bottom line is "john" is a bozo you outsource these jobs to people who are incompetent this probably wont even reach the intended recipient what a time to be alive

Thomas Selmon
from Dallas, TX
I purchased a Fire HD 8 tablet from the Best Buy store in Cedar Hill on Aug 24 2017...the tablet worked great until this past Sunday when it abruptly shut off in the middle of being used--I thought that if I gave it awhile that it would come back on but I was wrong because it never did. I took the tablet back to Best Buy to see if they could get it to respond and they couldn't get it to do anything either. I was told by two members of Best Buy that my tablet was still under warranty but I needed to contact Amazon before it expires. I came home and got in touch with Amazon and they proceeded to take me through some troubleshooting steps to get the tablet to reboot--it didn't work. I was on the phone with Amazon for over an hour and we couldn't get the tablet to do anything. The guy that I was talking to finally says to me that they would give me a 15% discount on another tablet if I wanted to get another one--I said that that wasn't enough because I had bought it on sale and I got $20 off when I bought it...he put me on hold for a minute and came back and told me that he had talked to his manager and his manager said that they would give me 30% off on a new tablet. I wasn't trying to get ANY KIND of discount on a new tablet--I just wanted to get my current tablet to work again. I took the tablet back to Best Buy this morning and talked to them and I said that why would I have to deal with Amazon when I bought the tablet from them and it was still under the manufacturers warranty--the guy told me that once you buy something from them and you leave the store, all you walk out with is the purchased item and if anything happens to it then you have to deal with the manufacturer directly unless you purchased and extended warranty with Best Buy. If it had been over a year that I had bought this tablet then I would understand the situation but I didn't get a year out of this item and it disturbs me that nobody can/will do anything to rectify the problem that this tablet will not work after only having it for less than a year and it is still under warranty. I have purchased 3 other tablets for family in the past year and I hope that none of them malfunctions like mine did because that's a lot of money spent on an item that the manufacturer or the retail store will not back up. If I have to purchase another tablet-you can be GUARANTEED that it wont be from Amazon and I'm not gonna purchase anything else from Best Buy either!!!

Lamar Whitfield
from Seattle, WA
The driver left my package outside on the ground at the main entryway to the apartment complex. I spent 40 mins tracking the package down when I got home from Dr. Huge theft factor!!! Lazy drivers are not good for Amazon.

kathleen
from Notting Hill Gate, ENG
I have a serious issue with my account and I am unable to speak to anyone ( UK so insignificant they do not have a phone number to ring in order to speak to someone). None of the drop down menues deal with my issue. I have nowhere else to go. Extremely dissatisfied (ex)customer.

Hadn't been on Amazon in a while and just learned of the 2-step verification process for Sellers.
Really? That wasn't part of the contract I signed up for. Also, I don't want to link phones, computer, laptops
etc. for my "security". Just let me be able to once again access my account. Please.
But, that seems to be hard for Amazon to do.
Seems when I go in to find customer service options, I can't do that either - so, how do I
report my concerns about this new "requirement" to AMazon.
What a mess.

Paul Lewis
from Plano, TX
I'm tired of dealing with the broken policies from Amazon that protect sellers and don't provide proper tools to Amazon Support so that they can act on problems. I've reported some problems for over a decade and nothing has been done. It's caused a cesspool of deceit and questionable business practices that now occur across entire departments within Amazon. I've been part of many scams and bad purchases because of this. You can't buy a cell phone and expect to get what you purchased or to have it without SOME type of malware or viruses installed, some which can be controlled and monitored by the seller. Further, there is no policy for sellers to properly packaged and protect items so you can receive store boxes with a shipping label on them and your items shaken and battered inside. Electronics cannot withstand this extra battering and should be packed in another box with popcorn/peanuts or some protection. But, you are likely to receive such items in a paper or plastic bag with no protection. There is so much shady business going on some departments that the FBI should be investigating it and Amazon should stop 3rd party sellers until it's cleaned up. They do not have sufficient security and Amazon has become more untrustworthy than eBay. The Amazon system is completely lacking in tools, either for users or for Amazon support, so you cannot easily obtain basic information about your purchases. Particularly older ones. Product information is difficult to find and many times is lacking. Sellers should not be able to post an item without filling out ALL categories so that the items are properly identified. It's also confusing and difficult to determine WHO you are buying from and how to reach them if you have a question! The responses can sometimes take more than a week. Shipping is so bad! If I want to purchase more than 1 item, I have to pay the same FULL shipping price as though the 2 items I purchased are both being shipping separately, when that is not the case. I can't understand why sellers would agree to conduct business with you! This destroys the opportunity to buy multiple items from a seller. In Summary, the site is extremely poorly managed and operated, it does not provide proper tools or information to conduct business. It's been limping along like this for decades. While other sites have kept with the times and use of technology, Amazon is more worried about installing viruses or PUPs for the Chrome Tool bar that require special effort or expense to remove. It seems when it gets right down to it, Amazon is no friend of the community the claim to support.

Paul H Rose
from Charlottesville, VA
I received a special offer today for the purchase of 54" cutting blades for $32.00. When I placed the order it came up $41.00. What is the story??? I cancelled the order immediately since i could not correct the advertised amount. Paul H Rose Prime Member
Have feedback for Amazon?
Thanks for your feedback!
Sorry. Please try again later!