Texas Roadhouse
Texas Roadhouse Complaints Continued... (Page 2)
105+ reviews added so far. Upset? Call Texas Roadhouse corporate: 1-800-839-7623
We called two days before letting them know we had a party of 13 coming Sunday 3/22 for a 4:30 seating was told no problem but please call on Sunday at3:00 to make sure we were coming. Called at 3:00 told all set for 4:30 please arrive at 4:15 so we did . They held 2 tables for us when the entire party arrive which all did by 4:30. Told them we were all there and was told that it would be a few minutes. 30 minutes later was told they gave our one of our tables away. Now 45 minutes later still no tables was told by the female manager who had a very bad attitude said there nothing she could do for us. We walk out!!!! Mean well while we were waiting many large parties got seated before us without calling ahead. Your staff really needs to rectify custermer service.
My wife and I go to Roadhouse Pearland often. This time service was very bad ,the cook bought our food out to a waiter, the french fries were cold and hard the fish was hot. The waitress gave us our food and walked off! She went to the back and sat downI I had to ask the hostess to please send our waitress! I had to get some hot sauce my self from a table across the room The fries were cold and hard. Finally she came and we requested more fries.We started eating our fish we almost finish she came back said the fries were coming. i ask for the manager. He came out and we told him of the bad service and his respond was " want you want me to do" (very rudely). He eventually offer us another side or to take off the price of the fries. I was very disappointed of his attitude.
My family and I went out to eat for my birthday which was April 5th and our meal and service was just awful. We ordered a 1 ribeye meal which was suppose to be med well and came out burnt, 1 bone-in ribeye meal that was suppose to be well and came out bloody( i sent it back and it came out burnt) and one ribeye/shrimp meal that was overcooked also. on the first two meals we had ordered mashed potatoes and they were nothing but lumbs of unmashed potatoes and we couldn't even eat them. I ordered 2 mix drinks and neither one was right. our service couldn't have been worse if they tried. she was to busy gossiping to the people next to us that she knew. You would think when our bill was 80.00 for 3 people that atleast we would be able to eat it and enjoy. The manager came over just to give us our food that was brought out for the secone time and coulda cared less. we were so disappointed and probably the worst birthday i have ever had. We have always went to State College PA and have never had a problem, I understand this is a new store in Altoona but is this really good customer service<
My husband and I took my Dad, Brother and Niece to lunch in Tulsa on Sunday January 23rd. We took them to Texas Roadhouse because we had been there before and it was very good. There was nothing right about our order, and three of us ordered the same thing. My Brothers plate came out with two baked potatoes, My Nieces sides came out as we were fixing to leave. The waiter we had was the most stupid person I had ever met. Most of the wait staff was to busy flirting with each other to take care of customers. WE WILL NOT GO BACK!!!!!!!!!! I would not recommend Texas Roadhouse in Tulsa to anyone.
Myself and two of my friends went out for lunch at Texas Roadhouse in Colorado Springs. We proceeded to order an appetizer and some drinks along with our meal.  Shortly after our appetizers were finished our meal was brought out to us, our waiter seeing that we were finished did not take any of our previous plates off the table and just set the meal around them and walked off. We were given no refills through out the course of the meal and did not see the waiter until he brought us our check.
After receiving our check we decided to get out of there as soon as we could, and I forgot my phone on the table. I called from a friend's phone shortly after we left, and they said they found my phone. But when I returned back to Texas Roadhouse to get it, they couldn't find the phone, and started making up excuses. It was a really crappy experience overall, and being from the service industry myself it reflects terrible management at Texas Roadhouse restaurants.
Dennis Merideth
from Oklahoma City, OK
Went to Texas Road House last night. Waited 35 minutes to be seated and 30 more for the food. Ordered a 16 oz. ribeye, medium, with a loaded baked potato and salad and also bought a combo platter for everyone(9.99). When the food finally arrived it was lukewarm and the steak was still bloody from undercooking. Asked to have it fixed and they took another 15 minutes, took my potato, brought it back with a bowl of corn. For 35.00
I'll have to think about it next time. I want you to know that the time before it was great and so were the sides, which, by the way, you don't offer the ones ALL of us enjoyed so thoroughly the year before. Dennis Merideth
Debra Belaid-Akil
from Everett, MA
I arrived at Texas Roadhouse on Sunday 10/22/2017 around 2:45 and was informed of a 10-15 m wait as they were very busy, it actually became a 30 minute wait, (I understand) then we are seated at the exact same table as the week before and no Peanuts or even a salt shaker (ok we deal with that) then the problem is where my daughter ordered the Smothered Chicken with Cheese, she always gets this, upon receiving the order there is no cheese, we send it back and wait a good 15 minutes and ask the waitress what happened, she said let me check, at the same time it arrived at the table by another server, she was going to tell the Manager, we could see her speaking to the manager and saw the Manager glance our way, then walk away with nothing said, needless to say, there was no apology, no credit, no nothing other then a piece of cheese slapped on the chicken, half melted and call it a day, not happy and will not be going back there again for some time, I assure you. I do not have the receipt for three meals it was a $45.00 meal total, paid cash and NO TIP at the Everett MA location
Ruth Belles
from Danville, IN
Did call ahead seating. When arrived told our table was ready be just a few minutes. We sit down. 50 minutes later after talking to a jerk of a manager we were seated. They sat parties if 2,4,8, 10 and 20 in front of us. Both steaks were well done and burnt. Ordered med well. Mushrooms cold, sent back. 2nd steaks, one ok, other done, burnt again. Never got my mushrooms. Brought first time out of state visitors us. Never again for any of us. Server lost a lot of money due to bad kitchen staff and manager. We left her about a 25% tip.None of it was her fault. I think the slow food delivery was done on purpose by the manager. Arrived 7PM, left at 9:50 pm I didn't finish my meal because every one else was ready to leave. Also they kept turning music up so loud u had to scream for a server to hear you.
My daughter,granddaughter, grandpa and I went to Texas Road House to celebrate my granddaughters first birthday,I called ahead to get a table and as we got there everyone was so friendly and they all seen that my granddaughter had her birthday shirt on and we told them that it's her birthday, one of the girls said she's gonna sit on the saddle, then we got to our table our server noticed Paisleys shirt and smiled at her and my daughter told him it's Paisleys first birthday, he said it see that by her shirt. But he never mentioned anything about her Birthday. We waited for our server to come over with the other servers to sing happy birthday and bring the saddle over for Paisley but sadly he never said or did anything for my granddaughter, we where very disappointed in him and Texas Road House and we won't be going back to that restaurant for anymore Birthdays
Tamera Leslie
from Indianapolis, IN
Visited on 08/15. Actually sent a letter to the restaurant and NO response at all. Took server a while to get my beer had to ask. Asked for a1 for my steak. Server forgot. My whole family was done and my meal was cold when I finally received. Lastly paid with cash the server said do u need change. Yes and he brought it back and my change was 13.56 he brought me 13.00 no change and there was a charge on my bill for bacon for my cheese fry when I only asked for it to be on the side I still have my receipt and paid 56.44 and not responded to from management at that location as of now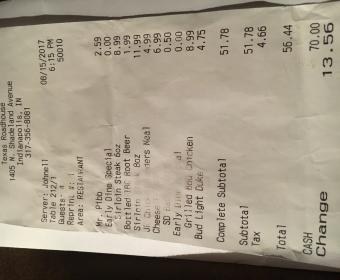 Danette Collins
from Glassboro, NJ
My son got violently ill Saturday September 9. I have been trying to contact someone at the location since 9/10. Manager Kevin Cohen left a voicemail and email once. Returned that call and have not heard back since.
Catherine Pendleton
from Alexandria, VA
My family went to the Texas Roadhouse in Lexington Park MD. The service was was awesome, the food was great, and our table was full of ants! I don't know how management could not know there was a problem, we alerted our server to tell the manager, we paid our bill and left. We were there on Saturday Sept.02, and this is still bothering me, because we hardly ever go out to enjoy a great steak, but the ants ruined it, I felt like we were outside at a picnic table fighting off the ants. Boo
Jerry Coleman
from Lake Worth, FL
Went last night at 6:46 pm They 4 of us put in our order and they served my chili and salad and before we had 2 bites of salad our meal was being served. There was no room in the table and the server Michael said what do you want me to do? He took my uneaten chili and salad and placed my entree in front of me. I gave it back and asked to speak to a manager. A man came up to the table a asked what we wanted. I do not know who he was as he made no introduction. We told him and all he had to say is "can I get anyone anything" no apology nothing at all. He did take my meal off the check as I never ate it. Nice job Texas Roadhouse
Debbie Legall
from Denver, CO
My favorite place to eat. I usually go to the Monument location. Since I move close to the powers/carefree location, we decide to go there. We are a mixed couple, I'm not sure if that was the problem. We were early and was seated in a undesirables location in the restaurant.
We asked for a better table, the host had to go back twice to asked if we could be seated in that area but their were others people setting there. She stated that area was closed but people were sitting in both areas. My favorite meal I almost always ordered from the Monument location, I order there. While walking to my car I started to getting sick. Was up and down most of the night. A $30 meal. Will never go back.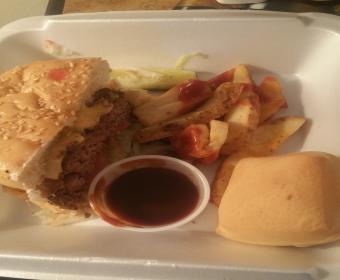 Debra Picklesimer
from Satellite Beach, FL
We went here for lunch today and also last week and my son has hair in his food both times. I didn't say anything last week but this time I showed it to the waitress. i'm not a complainer and would of picked it out and ate it if it was mine but my son is very picky and didn't even want to eat after seeing it. So the manager comes over and didn't apologize or act professional at all. She said she investigated it and nobody working back there had blonde hair but me and my son do and she acted like we put the hair in it ourselves! I wasn't even wanting to talk to the manager.
I told the waitress not to worry about it. I was embarrassed because I hate complainers. But when the manager was acting that way I was amazed! Later my son talked to his friend who was working there at the time and he said the lady fixing the rice had long blonde hair! This just really upsets me. This is one of our favorite places to go and now I don't want to go back. We can walk to this restaurant from our house. The girl looked way to young to be a manager. I really don't think she was. She looked about 16-17.
I am just extremely honest with more morals and integrity than you ever see nowadays and I don't like being accused of putting hair in our own food!! I would never even think of doing that. I'm in my 50's. It's so sad what the world is coming to. I wish I wouldn't even of said anything but I just wanted my son to enjoy his meal.
Bill Fort Gainesville Tx
from Houston, TX
Long time customer because steaks and service are best ever. Live in Gainesville tx and go to Sherman tx and Denton tx restaurants and usually get two or three steaks to go. Go into bar to wait, and order mixed drink. Sit in booth for two. Get small Margarita in mug. I am on Dialysis and cant drink very much. Today around 1 pm went to Roadhouse in Denton, placed to go order and went to booth in bar for drink Girl that took to go order came over and said we could not sit at booth and would have to sit at bar. Wife has disability and can not climb onto bar stool. Informed her I have always sit here at both locations.
She left and came back and said the booth was closed. Told her I was not going to sit at bar. Told her to cancel order. She said she would have to find someone to take drink order. Told her bar tinder was right there. Finally asked to speak to manager, and she said she would send her right over. Never seen manager. Then went to order small Margarita in mug and was told they don't have mugs anymore and would have to get the larger one at higher cost.
Ordered tea to go, picked up food and left, never to go back there again. Very bad dining experience. Will continue to go to Texas Roadhouse in Sherman Tx. Would like to hear from your offices to know some one there read the complaint and not just posted.
Sarah Salefsky
from Philadelphia, PA
This is my 3rd time coming to Texas Roadhouse & I'm highly disappointed in the service. I ask every time for my steak to be medium and they always bring it out raw and barley even cooked and then I wait 15 minutes every time for my new steak to be made. Also they never take it off the check and just blow it off like it's nothing. Will not be returning to this place.
Kevin
from Chesapeake, VA
Got the family together, with the grandkids and went to Texas Roadhouse for a night out. Everything was going great Cactus blossom and drinks. Ordered our food, I got the 16 oz. prime rib (rare) and it come out med. well. So I sent it back. They sent me another one out after waiting 15 minutes or so. When I received the 2nd one it was cooked the same way. Sent it back and they ask if I wanted something else but by then the rest of the family was just about done eating so they took the prime rib off the bill and I had to stop to Burger King for my dinner. What a way to spend $50 @Texas Roadhouse and I get burger king. Please comp me a meal to make up for the one I missed. Thank you for your time and have a great day.
From the moment we walked in as a party, Melissa who's a women in charge was very rude. We couldn't request a waiter or waitress because she said no. I talked to Randall a guy in charge and he had just popped up said no one was rude and that we were lying. He also told me that he and a partner are corporate, so if anyone complains the phone calls go to him so I decided to google that being from a small town like Decatur, Alabama. I refuse to eat at my sisters birthday dinner because they've been so rude with the lies, that I'm scared to eat.
I love Texas Roadhouse food but the people in charge seem to play the racist card, thanks a lot, I won't be returning until the service has changed!! The store is located off the belt line in Decatur, Alabama. Why aren't there any other races as managers anyways? This is so ridiculous because they're laughing in our faces!! I usually leave at least a $20 tip but I won't be leaving anything! Today since its my family I was going to leave a $50 tip. Thanks for nothing Texas Roadhouse.
Edward Blackshear
from Fresno, TX
My wife & I was out for dinner. We are African American. We dined in the bar area. The Houston Astros was playing but the side we were on didn't have the game on. There was something else on. We asked our waiter to ask the manager Sarah Rusinko to please turn one of the tv to the game. In a rude answer she said "I can't change it cause the guest requested it." No one else was watching the tv's at all. I said we r guess too. Poor management! She is a poor manager.
I recently went to Texas Road House in Springfield Ohio for my birthday. This is a super special day as I have lost over 40lbs and Saturday is my day to treat myself once a week. I had been so looking forward to a nice dinner with my friends and family . We placed our order and things seemed to be going good bread arrived, apps and salad as well. I had ordered a steak medium well and it came very well done and black! I asked the server to please send back and cook up another steak done to my liking.
Well quite a while went by before I finally got my steak meanwhile my friends were almost done with their meals and I just sat there watching them. Finally another steak was brought to our table and this time it was rare inside! well I surely declined that steak too, so only having a potato and salad for my special birthday dinner was not what I was expecting. Never once did the manager come over and explain they were sorry at all even the waiter said nothing. I am very disappointed as how things were handled and there was no concern for the short comings. I will surely think twice about coming back to a Texas Roadhouse again.
milisa snider
from Montgomery, AL
Ron Clinkenbeard
from Indianapolis, IN
I did some work for a guy and he paid me in a $25 gift card. I was so excited because I love their food. My brother called in two dinners for carry out. Both steaks was med. both had the white toothpick. My brother cut his steak and it was perfect, mine was all brown, no pink. It was tough to eat. I didn't ibis he it the meat was extremely tough I fed it to the dog but had some left and I took a photo.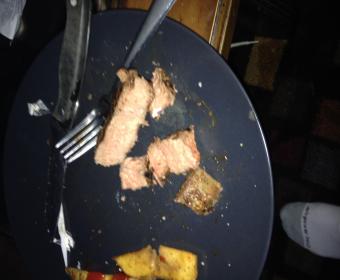 Bill Breen
from Ithaca, NY
I ordered the fish and chips. It came promptly, and I asked for malt vinegar. It seems that the Ithaca, NY Texas Roadhouse does not consider malt vinegar a condiment for fish and chips because, as the manager explained, we don't often get asked for it. I guess that you don't consider a customer's request important unless it falls within your narrow view of what goes on fish and chips? Good grief, I can get all the malt vinegar I want at Long John Silvers, and I thought that Texas Roadhouse was a couple steps above them. Obviously I was wrong. Don't get me wrong, the fish was very good, and the waitress was good, but I had to take my meal home in a doggy bag so I could enjoy it with malt vinegar, and this completely ruined my dining experience tonight with my family.
Vince
from Louisville, KY
Susan
from Crystal Lake, IL
My complaint is in regards to the Texas Roadhouse in Crystal Lake ,IL. Just wanted to make you aware there are small moths flying around the restaurant! Not an enjoyable place to go when your swatting moths while you're trying to eat your meal or have a drink at the bar. My husband and I have been loyal customers since the restaurant opened but wIll not be going back! Bugs and food don't go together at all. I'm surprised the Mchenry County Health Dept. has not been contacted.
James Klekoski
from Waukesha, WI
5 of us meet every Tuesday evening to eat out. We met at the Roadhouse and were surprised that we did not have to wait to sit down, was not busy at all. We requested a table but were told we would have to sit in a booth so the waitress could serve us. She took our orders and we told her we needed silverware and napkins to start on the buns and butter, said she would get them. Mean while we were waiting for our drinks. Finally had to search out the waitress to get our drinks, still no silverware, got those when the food came which we reminded her about again.
The salads came and were mixed up with the table behind us ? Two in our group ordered steaks which were very tough, and a order of chicken was hard to get off of the bones, seemed to be under cooked. Complained to the manager were educated on the cuts of steak. The person she was telling this to was old enough to be her father. This was at the Texas Roadhouse at 2513 Plaza Court, Waukesha, Wi.
Donna Ellis
from Asheville, NC
We took our grandson and his friend to 3071 Kinzel Way for his 13th birthday. When we arrived we had to wait for 15 minutes for a table. That was fine. When we got seated and they put us at a table with only 3 chairs and there was 4 of us. The guy never came back. We finally ask another if we could be seated at a booth, which he did. He took our order, and we waited, and waited. No bread, no drinks, no salads.
Finally asked another waiter and we got our drinks. Waited and waited and finally got our salads. Waited and waited and waited, finally the guy that took our order came by and I asked him if we could get our food,we had tickets to a concert. He said sure I will check on it. He brought the food and the steaks were tough as leather. We go to this location every time we go to Texas roadhouse, but if it takes 45 minutes to get your food then we will take our business else where.
Normally I love their food but this time I have to complain. Texas Roadhouse has so much going right for it. From various options to choose from like starters, Texas size combos, hand cut steaks, country dinners one gets to see and taste varieties. There are separate menu options for kids as well keeping in mind the flavor as well. Why not just add customer service?
Alexis Gillespey
from Effingham, IL
I left several birthday cards on our table and when I got home I called and no one said they had or had seen the cards. They got thrown away, but somehow the waitress got her tip. You couldn't miss these cards. I had them under my to go box and forgot to grab them when I grabbed my food. Went back and talked to two managers who were obviously covering for the bus boy/waitress. They never even checked the trash, or checked their employees belongings to see if they had the money/gift cards in their wallets. This happened 4/9/16 @ approx. Between 5:30-7pm. Any cameras in the building to help find the thief? Please help! Attached is a picture of the cards on the table. Thank you!
Larry McDaniel
from Baltimore, MD
I was at the Merritt Blvd restaurant a few days ago and I had a question, wanted to talk to a manager. Our server was working really hard, she went to a girl named Kayla about five times and the girl didn't speak anything, she finally came to our table about an hr later and asked what the problem was I told her service is poor here, everyone is on their phones and we have been waiting over an hr for our food, she than made our waitress pay for our drinks and appetizers, that wasn't fair at all she was working very hard.
She does not deserve to be a manager her name is Kayla Rae Humphrey. She needs to be a server, her experience with customer service sucks, she plays to much, she's more worried about bossing people around and not taking care of her customers. Her boyfriend hangs there, I guess she is showing off her power to him. She's making that business fall apart, I will not go there anymore until something is done with this girl how can a 23 year old run a business?
There is a manager there by the name Kayla humphrey, the Merritt Blvd Dundalk MD restaurant. She treats her employees terrible, her boss Chris, does nothing, just stays in the back and let's her run everything. They have lost 8servers because of this manager. She needs to be fired, nobody likes the way she treats them, her customer service is terrible. We bring alot of business there, if something is not done with her I will contact someone higher, than corporate! She is very disrespectful. I've had many people complain about her and nothing is done. I'm sick and tired of my daughter coming home stressed and crying because she works very hard and this girl steady picks on her for no reason.
Gerald L Santos
from Chicago, IL
I when to dinner at Texas Roadhouse in Woonsocket RI. And was very disappoint. It started i call ahead and was told it would be 35 minutes. I arrived 25 minutes later and told 15 to 20 minutes, but it took 40 minutes.I am a chef, we sat down had ceaser salards that had a bad taste of fish. Than we had steak one med well and med rare, had to send med well back twice because it was well done and dry. After the second time i just eat it my girlfriend just had mine. That was all the sweet potato was only half cook, the fresh veg were not cooked it tasted like they were just put in hot water, there were not blanch. And the to drink were not made right one taste like only sweet and sour and other one like just fruit punch. The waitress was outstanding, when to manager about the complaint, all she did was just just stated she was sorry. And did nothing to correct the problem. I have been a loyal customer for years. I was so disappoint by this trip.
Jean Shibilia
from Wilmington, MA
Was celebrating my sons new job with the family, went to the roadhouse in Methuen Mass. 6 of us in the party, ordered drinks and apps which took forever, ordered dinner, didn't have my prime rib which i didn't know til after the fact so i ordered beef tips with no onion mush and gravy when i got my tips they had mush onions and gravy on them sent them back and got the correct ones but by this time my family was done eating actually they were done long before that so i didn't even eat.
Plus we asked that they not put a lot of salt on the food and it came out covered in salt, over all i would say it was a bad experience and a costly one, spent almost $200.00 and didn't even eat, my sons orders ribs and steak and they were covered in salt, they ate them but wiped the salt away. I would go back only if i was even a free meal for my family, not because i am cheap just because we had such an awful experience. Sorry to be the bearer of bad news but Texas roadhouse corporate needs to hear my complaint.
joseph ray
from Pasadena, TX
My wife and daughter and I went to your restaurant on Saturday 3/5/2016 around 8:30 pm. We visiting the restaurant that is located by our house in Pasadena Texas. I would first like to say that we have visited this particular location many times and never had this poor service nor have been so rudely talked to before. My wife had ordered the roasted chicken dinner and the first time it had come out pink and under cooked. The waitress apologized and said she would bring out a "new" fresh chicken.
In a matter of 5-10 minutes the manager came back with the same piece of chicken and still pink. My wife was upset and told him that she was not going to eat the pink chicken and would like for him to bring a new cooked chicken. He acted as if he was put out and said it would not be until another 10 to 15 minutes before she would get anther chicken. We said ok because she was not going to eat the raw chicken.
About 10 minutes went by and my daughter and I were done with our meal and my wife said to me to forget about the chicken and she just wanted to go home. I called my waitress over and wanted you to know that she was hiding out in the kitchen because I saw her from afar looking at our table from when the manager first brought us the raw chicken and avoided coming back and checking on us. I had to raise my hands and flash her down to come to the table and bring us our ticket.. She said ok and walked away.
About 4 minutes later they came to the table and said he could wrap the chicken to go and we told him we were done with the raw chicken and just wanted to leave. He then proceeded to argue stated that the chicken was not raw and that company"s policy was not to serve raw chicken.. I told him it was raw and he said I was mistaken. I ask him if he knew what Salmonella was And he said yes and I then told him serving raw chicken contains Salmonella and he just chuckled. I told him he had poor customer service and that he was in the wrong line of work. He ask me how he was rude and my reply was If he had to ask then he should not be a manager.
He then said thatI had a bad attitude and if I felt that way and "I could just leave the restaurant." My wife reply "your not telling to leave instead we were leaving on our own free will. This experience alone makes us never wanting to return to this restaurant.
Tom marucco
from Clermont, FL
Been to my roadhouse in Clermont FL. Love it but 2 out of last 3 visit have resulted in stomach problems. Only common denominator was mashed potatoes. What's going on ?
moshia armstead
from Mooresville, NC
Call ahead at 5:50 to let them know 20 people would be coming for a b-day celebration at 7:00. Got there and had to set there for over a hour to be seat and we continue to wait when we got in side until they finish singing happy b-day to another customer. Then they seated us next we waited 20 more min's until someone came and took our drink order.
Then 25 min's later took our food order and the people that had salad it came out with the food order an but i never receive my salad then next the ribs was burnt and hard steak was red and bloody we ask for well done. They was supposed to take it off my receipt but they didn't. The experience at the College station Texas roadhouse was horrible and we are never going back they treat minorities bad at this location.
Sofia Felicio
from Gouldsboro, PA
I went to Texas roadhouse tonight and right next to the bar when i was walking out there was 4 roaches on the floor by the corner! How can a place where you go to eat have roaches. Very very unhealthy and unsanitary. It is obvious that this restaurant is not being cleaned that way it is supposed to be.
Fred Bolick
from Rising Sun, MD
This past Saturday we went to Texas Road House, I had a gift card that had $8.83 from a previous stop which I gave to our server along with a new gift card to pay our bill. The server came back & told me there was no balance on the $8.83 card even though I showed her the receipt from the other transaction. She kept the card and we left the restaurant $8.83 poorer. Needless to say I will not be going to the road house ever again, and I will be informing family and friends not to spend money on gift cards for me.
Melissa Martin
from South Deerfield, MA
Texas Road house 413782-8100, 300 Cooley Street, Springfield, MA 01108. My family and I went to Texas road house for dinner on Feb. 10, 2016. I was there with my daughter and her husband and their 5 children. We took up two tables in the dining room. Our waitress, which I can't remember her name, but she was pregnant. Brown hair. (Was terrific by the way.) I didn't order dinner because I couldn't eat, I had a coffee with Irish cream and a water. The waitress said you can munch on the rolls if you would like. I said thank you but I'm fine.
My son-in-law paid for the bill. There was one receipt and he gave her the money and receipt back. We walked out the door I went on my passenger side of the car to unlock the door. I proceeded to go around the car to the back to get to the driver's side. I slipped and fell on Black ice. We all noticed the parking lot was not Sanded or Salted. My car was parked just about in front of the door. My pocket book went flying. My keys landed under my car. I lost all my pills in the parking lot and had to pay full price for the one I absolutely need the most. I immediately knew I was hurt and needed to go to the ER. I couldn't drive, my daughter took me to my boyfriend and he drove me to the Cooley Dickenson Hospital.
Which we didn't get home until 3:45AM. They had to give me a Percocet immediately. It wasn't touching the pain, they proceeded to give me an OxyContin. I had XRAYS and they had said my arm and leg are swollen. But my arm they said I would have to see my doctor then proceed to go to the orthopedic surgeons. Then he might have me have a MRI.. The doctor at the Hospital said it could be very badly bruised bones or a fracture which the XRAYS are not picking it up because of the swelling.
I had ice for two days, I was in a sling for four days, this happened on a Wednesday I couldn't go to work until the following Tuesday. I was so sick from the narcotics they gave me I was throwing up for all day Thursday 2/11/2016. I refused to fill the Percocet script they gave me. Because it made me so sick .I took ibuprophen and Tylenol. It was not a good week.
I called the Texas Road house to let them know what happened. The manager that was on that night. Took my name and number. He said the head Manager will have to call me back on this. He was asking who the waitress was, did we pay with cash, and he would have to look at the cameras. Which I said great that sounds perfect. (Head managers name is Roy). I told the manager I just didn't want someone else falling. I EMAILED my doctor back. She is sending me to the orthopedic surgeons. There the doctor will let me know what's happening. I'm still in pain.
Well it's been a week since I called the Texas Road house. No one even gave me a curtesy call back. I tried calling back at 9:10AM no answer. They might not be in as of yet. Called back again at 9:27 am, the manager Brent answered the phone he was shocked that Roy has not called me back. He said he heard of me falling and took my number and name again. He said Roy is in at 2PM. I asked him to please have him call me at 5PM. Brent said not a problem. Well 5PM came and went. No phone call. I will give them another week to call me back.
Michael Gooch
from Garland, TX
On Saturday, February 13, 2016, I took my wife to the Texas Roadhouse location located at 5012 N. President George Bush Freeway in Garland Texas. It was approximately 1:00 pm when the following incident occurred. This was supposed to have been a very special valentine gift to my wife. We were originally planning on doing this the following day, but due to other commitments at church and family we decided to do this on Saturday instead. My wife ordered her entrée and I ordered a Country Fried Steak, making the comment that I normally order steak, but this sounded good since I haven't had one of those in a long time.
When I received the Country Fried Steak, it was tougher than shoe leather. I had great difficulties even cutting it and attempted to chew a few pieces and ended up having to spit them out. The meat was just too tough to chew. Even though I tried a few different places on the steak hoping it all wasn't tough, I finally realized there was no way on earth I could eat this. It was definitely the toughest steak I ever attempted to eat in my life. I told the waitress I didn't want to complain, but was there any way I could get something else instead, since I couldn't eat this.
She began to argue with my wife and I that had already eaten some of this and I should not have eaten as much. I told her that I hadn't eaten any of it, as I couldn't even chew it and had to place the partially chewed pieces back onto the plate. I showed her the pieces on the plate and she continued to argue with my wife and I. She got my wife so upset she couldn't finish her meal. I never got to eat any of the Country Fried Steak. My wife finally had enough and told her to get the manager. We told the manager what happened and that the waitress was extremely rude toward us both.
The manager told us that he would take care of the bill at that point, then several minutes later he comes back with a bill for us in which he took my entrée off only. He told me he was taking care of this for us, especially since my wife never finished her meal, as she was very upset over the whole incident. We ended up having to pay for her meal even though they ruined our dining experience for us. How embarrassing in front to all the other dining patrons there! We were flabbergasted over the entire dining experience. The manager said he went back to the kitchen and talked to the person who prepared the Country Fried Steak commenting that the Country Fried Steak he prepared wasn't tough.
After the experience we had, why would I have expected any different response from them. A truly bad dining experience on what was supposed to have been a pleasant valentine celebration between my wife and I. Maybe we should have gone to the Outback Restaurant next door. Surely, it wouldn't have been any worse of a dining experience. If I would have thought of it I should have taken pictures of this and sent in to you, since these people didn't seem to believe me. All I have to say is that my wife and I are not happy campers over this incident.
kristen enck
from Brooklyn, NY
I came to eat at Texas Roadhouse last week with my family. The food was that good. My food was cold but didnt send it back because I have three kids one being a baby so I didnt want to wait a long time for other food. This is not the first time that I had a bad experience here. I love the food and the atmosphere but I dont think we will return.
Piper Meaks
from Kenova, WV
It has come to my attention that Texas Roadhouse in Ashland KY is hosting a fund raiser on 1/13/2016 to help pay for medical expenses for a person who is known to sell drugs, this same person at his own hands overdosed. I have always enjoyed your restaurant thinking it was a safe family restaurant. Eating there on a weekly basis this will no long happen and it will be made known to family and friends that your company is having and supporting a fundraiser for a known drug abusers and dealers. I will miss your establishment.
Kathleen morgan
from Cantrall, IL
We went this afternoon to the restaurant for lunch/supper. We had to wait but that was ok, not a long wait.We were seated, had a very nice waitress,Shelbi. Took our order, received our drinks, appetizer, salads. Took a while to get our food, when we got it the food was just warm, more like room temp. I did not say anything because they were really busy, ate, got our check, went in for the early bird prices....did not get the early price because "of holiday today" per our waitress I asked to speak to manager she came over wanted to know what she could do I explained we came in for Early dine and she again told me today was considered a holiday to them.
I ask her were the sign was that stated that and she said in a unprofessional tone that there was not one and that they didn't put a sign up for Christmas either. With that I just shook my head and she did a 190* pivot and was gone. This happened at the Quincy,Illinois restaurant 80012 Time at checkout was 5:17pm Thursday 12/31/15 Chasity was the manager that I talked to.
Allison vogt
from Massapequa, NY
Went to dinner on 12-22-15 with a group of four for the holiday season. 2 from our party ordered a steak dish and the other two wanted a little steak and shrimp. While looking at the menu we saw a special for a 8oz sirloin and shrimp combo. They both said that it look delicious and was definitely enough to fill them.
They ordered it and 10 minutes later the waiter came over and said they didn't have that on the menu anymore. We had to settle for a 6 oz piece which was fatty and grizzly. It was not edible. The whole piece of that steak was fatty. The shrimp were extremely spicy and it didn't say it on the menu. We were very dissatisfied with Texas Roadhouse. Sorry for complaining but just thought you should know.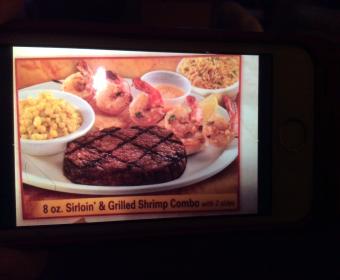 Janet Vladika
from Lockport, IL
Our family of 8 ate dinner at Texas Roadhouse in Tinley Park, Il. on Saturday, 19, 2015, at about 4:00 to celebrate my husband's birthday. We were seated immediately at a booth very close to a waitress station and restrooms (on the opposite end of the entrance). The waitress pulled out a leaf from the table and put two chairs on the ends, so that two people in our family sat in the aisle. My husband and I immediately expressed our dislike for the cramped, claustrophobic seating, and spotting empty tables on the other side, asked if we could sit there instead. The waitress said that we couldn't because the tables didn't move to accommodate a group our size. We piled our coats at the end of the benches, and bread, butter, and beverages were brought shortly.
We continued to be unhappy with the seating, so we again expressed our concerns, and the waitress said that she'd bring a manager, who came in a few minutes. He said that he could seat us somewhere else, but our son and his wife didn't want to switch tables at that point because we had their two small children with. The food (most of us had steaks) and service were very good, but the cramped seating affected the dinner experience quite negatively. The two children were crowded together, which led to problems: pushing, arguing, etc., between our young grandchildren.
Also, It was quite busy and noisy, with the waitress station and restrooms so close by. I didn't even try to get out of the booth to go to the restroom because two family members would have had to move for me, and it didn't seem like there was any place for them to move to. Additionally, our coats were jammed into the booth with us. This could have been a great dinner experience if it wasn't for the seating, and we don't plan to return to a Texas Roadhouse again. Perhaps some changes can be made for others. Thank you.
Barbara
from Stroudsburg, PA
I want to start by saying that this is my first ever complaint on a restaurant. Went to dinner with my family last night at Texas Roadhouse. When I got there we requested a high chair for my 2 year old. We counted 5 families that came in after us and were seated before us, we checked again and were told we had to keep waiting since we requested a high chair. Our family never experienced this before at any other restaurant, just sounds to me that we are low priority because we have a toddler. After waiting a long time for a table we finally got seated. Ordered appetizer and drinks, got the appetizer fairly quick but no forks and plates.
15 minutes later, still no forks and plates and can't find our original waiter. The appetizer was cold by then, still no order placed for our entrees either. By now our kids are hungry and fussy. At that point we just told the Manager we were leaving, it was just not a good experience at all. Just 2 weeks ago we purchased $200.00 worth of gift cards for Christmas gifts. I understand holiday season makes busy nights at restaurants but what we experienced was just very poorly managed. You lost a customer who dinned frequently at your restaurant and who frequently purchased gift cards for friends and family.
Jaime Meeks
from Draper, UT
I was waiting for a table at the Texas Roadhouse in Logan Utah around 10:20 pm on 12/18 and overheard an employee talking to another employee and she was very rude and belittling. I watched as she reduced this poor girl to rubble. I love eating at your establishment but was angry and uncomfortable. The girl that was getting abused didn't deserve to be treated that way, nobody does, especially in front of customers. I don't know if that's how things are ran between employees, but that's not how anyone should be treated. I hope some sort of disciplinary action will be taken against this young woman. Her name tag said Kourtney.
Brandon Neuerburg
from Farmington, MN
100 words isn't enough, but in a nut shell, your manager and 1 wait staff like to lie, are confrontational, and don't belong in the business. We wanted to have a birthday dinner at the Coon Rapids, MN location. Party of 9 with call ahead seating.While waiting, they sat a party of 9 with NO call ahead, and sat them together, then tried to seat us a part. We were missing a couple members of our party, which is no excuse, NOBODY makes a birthday party reservation and doesn't fulfill it. I was very specific as to why we were waiting for the other members, trying not to take to much time with a 1-month old, if we were seated when they arrived, it would be much easier. When I noticed we were not going to be sitting together and the party they rudely sat be fore us were, I said it was asinine! The wait staff told her manager I swore at her. I told the manager the same thing, knowing it would do NO good to talk further about it, I walked outside. The manger FOLLOWED me outside an became confrontational with me, telling me not to swear at his staff and make them cry! The girl was standing at the counter smiling with out a tear shed! My whole family can verify this! We were TOLD to leave. I drove 40 miles to be treated like garbage, and I will let everyone I know of this experience.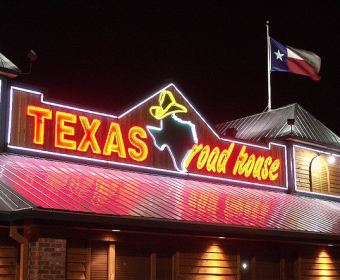 First we want to thank Texas Roadhouse for honoring the Vets. In Decatur Al, which we visit often. My husband wanted to go for the free lunch for Vets as he is a Korean War Vet, I ordered from the early menu Mon-Thurs until 6pm, which those special were $8.99, the waitress was great but she made a mistake and did not put the order in as I ordered the grilled pork chop, I got the salad and potato, and I order water to drink, when the waitress came by I as about my pork chop, as I only got the salad and baked potato, she apologized and said it was her fault, and we had to wait for at least 15 minutes more, and by that time my husband was finished eating, so we just took the one meal home with us, which was ok, but, when we got the bill the vets was free but the bill was $19.59, we ask the waitress about the amount and she took it and then brought it back and said the manager said the early special did not apply because it was Veterans Day, In others words we actually paid for both dinners as we were charged $19.59 for a $8.99 meal. It will be a long time before we go back to Roadhouse for any more deals they advertise. I hope they didn't do this to other customers, or we should have been told about the early menu when we ordered from it.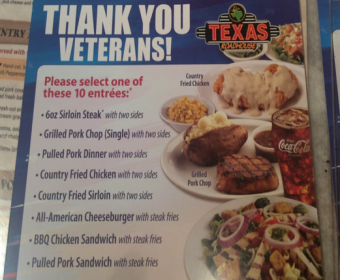 Janet Wilson
from Pineville, LA
On Sunday August 1, 2015, my husband and I dined at Texas Roadhouse, Alexandria, La. We ordered the road kill which we always get and love. It is so juicy and flavorful. This day it was like cardboard. I couldn't even eat it. It was so dry. We told the waitress and she said quote, "sorry" and gave us the ticket. We paid but was very displeased. Now I am afraid to order this again because it was such a bad plate and the waitress didn't even attempt to correct it. The baked sweet potato was really good as was the cheesy fries we ordered.
Samuel Frank
from Dallas, TX
I just wanted to say that due to continued unacceptable service at the tyler tx location we will never be returning to any texasroadhouse location ever. I can't even count how many times I have gotten my takeout order home only to realize that half my order is missing. And when I call in to talk to the manager he says unless I drive back to the restaurant immediately he can't do anything. Which is quite rude considering I drive 45 minutes to the store one way. The manager has gotten quite belligerent over the phone and he says either deal with it or don't come back. If his attitude is really don't come back then i don't think I care to support a company with that opinion. Tonight I tried to call in an order, pressed 4 to make an order as printed, had 3 different people answer and ask what I wanted, said to place an order then they throw me on hold again. After 5 minutes of being passed around like that I hung up and placed my order elsewhere.
Lisa Adiletto
from Birdsboro, PA
Hello, I am (was) a TRH employee. I recently left my serving position at the Wyomissing (Reading), PA location. I have been in hospitality for over 20 yrs and have never experienced such poor management (all around). Servers are the laziest that I've ever seen. The management allows this behavior. Our service manager chooses to befriend his employees rather than be a boss. This does not work in that environment! Volume sidework doesn't exist for some, that is why I am writing today. As usual I was almost the only person to CONSTANTLY fill the ice bins and run food during every shift. Eventually it took a toll and I injured my back carrying ice bins. My GM asked how I injured my back and when told it was thrown by the wayside. That's fine, I have quit in the past week. I have been to the doctor for the injury and I am considering consulting an attorney to speak of poor management and neglect.
mario
from Scottsdale, AZ
I took my daughter to Texas Roadhouse the other night. The hostess totally ignored us until I had to say "Welcome to Texas Roadhouse." She didn't care and we didn't even get a hello. After 3 different couples walked in and was seated immediately, I should have known something was wrong and just left. Instead, I went to the hostess stand, again, and finally we were seated. I ordered a steak and my daughter ordered the ribs. My steak was 100% FAT on a bone and my daughter's ribs were burnt. I asked to replace the plates letting the wait staff know about the disgusting food. They took the plates back graciously, but when the waiter returned our plates, he said "I told the cook to hold the spit." Why would he want to say something like that?!?! I didn't want to eat my meal after that for fear that there would be some chef's spittle mixed in with my steak. By this time, I just wanted to leave which we did. That was $70 down the drain as neither me nor my daughter enjoyed ourselves. The worst part about this whole experience is that I still think that Texas Roadhouse has the best steaks in Phoenix.
Julie Harris
from Charlotte, NC
I was at Texas Roadhouse on Turkey creek in Knoxville and our food was wrong 3 times then it was cold not cook good and the waiter was rude and ugly! I was so unhappy with me & my family trying to have a nice dinner and then for it not to be right or good or even nice ppl ..we eat there a about 4 times a week and now after this I will not be back anytime soon we paid for our food and left ask for a manager but no one came by. In that note I will say I was unhappy person and had to pay about $45.00 for something I never got to eat this is bad and really I am mad. Thanks for reading this!
joanne
from Jeffersonville, IN
Dirty bread plates no steak sauce no refile on bread for dinner sweet potato had butter on it when I asked for no butter chicken under cooked steak over cooked no refill on my drink water did not return until bring the check. Had a really bad experience at Texas Roadhouse.
Have feedback for Texas Roadhouse?
Thanks for your feedback!
Sorry. Please try again later!