Samsung Appliances
Samsung Appliances Complaints Continued... (Page 2)
82+ reviews added so far. Upset? Call Samsung Appliances corporate: 1-800-SAMSUNG

Tabitha White
from Waldorf, MD
I never had any problems with Samsung product until now. I have the phone, the security locks for my house and the tablet. I brought Samsung flex washer and drier March 19, 2018. Home Depot finally delivered it on March 29, 2018. I was so happy to try my new washer and drier. I started to wash the clothes and ILC code light on the machine during the spin cycle. The tech came out to service my wash machine and he told me please don't use a lot of laundry soap. So I followed his instruction and the code pop up again. Now I'm upset because now I can't wash my clothes after spending over $1,000 for this machine that is not working. I have Samsung customer service telling me, they will not refund my money because they want to take it apart and try to fix it. Home Depot telling me they not going to refund my money because Samsung have condemn the machine unrepairable. I just want my money back so I can get a wash machine that works. A new wash machine have to be repair less than two weeks of purchase is not a good machine especially for the amount of money that was spend. Sorry but this crazy, I'm not satisfied with this product and I want my money back. I feel like Samsung is forcing me to use their product even though I'm not happy with it.

Marion Schuller
from Richmond, VA
In June of 2016 I purchased a microwave convection oven, It had problems from the very beginning. I called several times and followed all instructions. In Aug 2017 it stopped working altogether. Finally in OCT 2017 I was given an accommodation and the oven spent THREE MONTHS in the shop. It came back to me after the shop told samsung it was unfixable, twice. They claimed it was now fixed. It is not. IT IS NOT WORKING. After many weeks on the phone and no promised call-backs, yet another accommodation provided I get the thing to the shop. I am 69, cannot carry it out the door and find a car to put it in. This oven is a lemon, you need to replace it. And no buyback, don't bother. I never received the check for the buyback of my bluray and I have been waiting since August 2017. My next step will be the BBB and 12 on your side. I am old, tired and poor. You have treated me very badly and neither the "We stand behind our product" and #dowhatyoucant are true.

charlene derossett
from Lexington, KY
We bought, stove, micro, dishwasher and fridge approx 4 yrs ago from Home Depot, Lexington, KY.
my complaint is minor. May I suggest that when you apply your name to an appliance (like my stove) that you use a better adhesive or another way. While cleaning the top portion and stainless steel, letters came off. It looks like it's much older than it is now! I can not replace letters, some are bent.
Charlene DeRossett

cheryl horning
from Williamsport, PA

Cathy Zorn
from Beverly Hills, FL
We purchased and remodeled our 5th home in Florida. First time using Samsung and purchased front loading washer and steam dryer, slide in range and convection oven, top of the line dishwasher, counter top microwave, and Showcase french door refrigerator.
Less than 3 years and all are garbage.
The dishwasher leaked the first time it was turned on. The seal was bad and after insisting they replaced the dishwasher.
The dryer sounds like it is going to explode when using the refresh- de-wrinkle cycles
The washer now will not unlock when the wash cycle is finished unless we turn it off and back on
The microwave started smoking and quit working just this morning
Now- holding our breath to see when the fridge quits
WILL NEVER EVER BUY ANY SAMSUNG PRODUCT AGAIN AND WILL TELL EVERYONE WE KNOW NOT TO BUY SAMSUNG

Marco Tomassi
from Cranford, NJ
I paid $600 plus dollars for a HD 4k TV. The picture dark and and not HD
I spent more than 40 min. on the phone with a tech. and got nowhere. I need a tech to come to my house.

Paul J. Mattina
from Knoxville, TN
Bought a Samsung microwave (model ME18H704SFS/AA) 11/1/15. In Summer of 2016 the unit failed twice... totally shut down, but came back by itself after about an hour. The third time this happened I contacted Customer Support. It took numerous calls before C. S. agreed to have a technician look at the m/c. It took 2 weeks to get him here, evaluate the problem, order the parts and then make a major repair. Several days later the m/c died a fourth time. After four failures and one repair, we asked that Samsung honor their warranty, and replace the microwave.
They have sent several e-mails expressing sympathy for my plight, but no offers of correcting the problem other than another repair. We relied on the Samsung reputation for a serviceable microwave, but all we have since last October is a $406 paperweight. Also, the Customer Support team simply has ignored my subsequent e-mails. Evidently they must have figured that if they ignored me long enough, I would eventually go away.

Guy Langdon
from Poole, ENG
Our microwave oven, FQ215G001, a very expensive product, created a flame from one of the ceramic tray guides when I turned it on on Monday, 21st August. I contacted Support by Raj in the Philippines, and reported it, and he promised I would be called back within the hour with what they intended to do, and I then Jay in Customer relations said that he would get the problem investigated. Several calls later I spoke to Clarissa, and she sent an email to the support people.
As a result the engineer came on 25th August, and agreed that there is a problem and that the repair needed some parts and informed yourselves, and advised us not to use it. We supplied proof of purchase to you. An appointment was made for the parts to be fitted on 17th September, but I later heard that one of the parts was out of stock, and you cancelled the appointment. On our initial call we were given reference number 21194008801 but we were later told it was 2118750211. Even when we quote this number, in every follow up call.
We have had to make has gone through a ridiculous charade of asking us our full names, full address, post code, telephone number and email address before the issue could be discussed, even when you are calling a number which we gave you! Do you think a burglar is answering our phone? At no point have we been given any instructive information, and our £600+ microwave oven has been useless for two months now as Samsung also refuse to talk to me because your first call was from my wife! A major company like yours should not tolerate this poor service to your customers, and I hope that this email will jerk someone into action. I have supplied a further copy of the proof of purchase since in emails you don't seem to have the information originally supplied.

Kelly M. Busto
from Tampa, FL
I started contacting Samsung a year ago. I finally got a call back about 6 months ago, then from that point on I got the runaround. No answers no help' I purchased a Samsung Washer from Lowes in Tampa Fla. It started rusting about a year ago. The complete top of washer rusted, the body is rusted. I am speaking of the actual white body! When I finally did get a response after numerous calls and emails, and was promised they would take care of me. I sent photos of all the rust on 3 or four different occasions. I spoke with a woman by the name of Omega J. She assured me after she had looked at the photos that Samsung would either give me a new washer or a refund.
She sent an Electronic Company Specialist Inc out to look at unit. When he removed the top of washer he saw that the unit was rusted inside and beginning to rust down the body. He said it could not be fixed. I contacted Omega J back on three occasions, talked to at least 6 or 7 different reps. from Samsung on different times and never got any satisfaction. Then this past week on Oct. the 12th. They sent the same guy back out to replace the top and just cover the rust underneath.
I am so very disappointed that they took the cheapest route to do anything for me, leaving me still with a washer that is rusted underneath the top. I f something is not done about this I am going to tell everyone and probably call my local news stations and tell them about this. It is just not right! I am just sick over the treatment I have gotten from Samsung.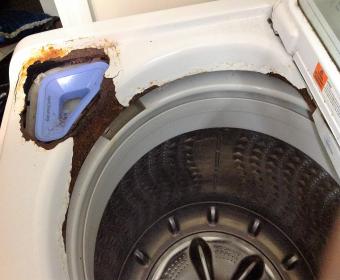 Daniela Tripsa
from Katy, TX
Very dissatisfied with my Samsung clothing washing machine. I had flooding due to the washing machine a week ago. I called and after giving the Model and Serial number, I was told that it is an 'Affected Unit'. Since then, nobody called me with any feedback. Please let me know the procedures you have in place regarding this issue.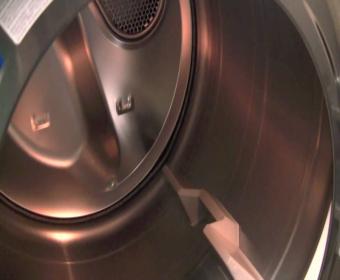 Sharon Swisher
from San Antonio, TX
We bought a new Samsung side by side refrigerator/ freezer. I've maker in door. We have had problems from the beginning. After several calls telling me to do different thing to it that didn't help. The debt repair people and the finale put in a new part. It made ice but never enough to fill the container. At best 25 or so I've cubes.
We put up with it.then I finally called 08-01-2016 they again had me do different things to try and to call back if there was a problem. 08-11-2016 called again then same thing was said to me.
This time the man said it easy under warranty. The could send some one but I would have to pay for it.it never worked right in the first place. We paid a lot of money(for us).we bought it in 08/2015. I am tired of paying a high price for something and it didn't work right. I have read reviews and it seems other people are having many problems with the fridge.

andy black
from Adrian, MI
I bought one of your dishwashers to match the 4 door refrigerator I bought last year. What a mistake. When you open it it smells like a garbage pit. The bottom pull out basket hits the nozzle causing several dishes to break. It does not dry dishes and does not sanitize the dishes. It is the biggest piece of scrap that I have ever bought. I called the Samsung customer service number and they did nothing.

Rachel Dsane
from Oklahoma City, OK
I was without a refrigerator for the month of July the process and customer service was terrible. At first Samsung tried to repair and it did not work. Their was never any urgency from Samsung to get the issue resolved. A month later they agree to provide a new refrigerator. During this process I have acquired 4 different ticket numbers which is basically useless because each time I follow up your company never seems to know what is going on. Every time I am told that I will be contacted with a resolution I am not. I have to be the one to follow up diligently in order to get your company to do what it is supposed to.
I have missed tome off work, loss money due to having to eat out , loss groceries due to the defective refrigerator sold to me and the inadequacy of your customer service department and your company. I spent over$1000 dollars for a refrigerator that quit working after 7 months. This occurred during summertime when school is out. I had to purchase food for my kids to eat daily. This is an expense I incurred due to the fact that your refrigerator did not work.
Your company has refused to reimburse me for eating expenses that would not have been incurred had your product been a working product. To add insult to injury you have agreed to reimburse me for my spoiled groceries which should have occurred within 4 to 5 business days and 10 days later this still has not been done. I am a single mother who does not and cannot afford to lose money behind a company who clearly does not care about the consumer. You pride yourselves in your name but your name has left a bitter taste in my mouth. You have the worst customer service in the world.
I will never buy another Samsung product and will make sure that everyone I encounter will be advised not to buy Samsung either. This experience has left me with nothing but ticket numbers 4136660015, 5114763624, 4137159210, and 5114763624. In a time where companies are very customer service focused your company has failed at the most simple principle which is to provide quality customer service. I can't wait until the last and final ticket of this ordeal is resolved so that I will never have to deal with your company again.

Jackie Rhein
from Newark, DE
Paid $2K for a refrigerator; less than 6 months later it doesn't work. Impossible to get anyone on the line (where you have to call) to get the thing fixed. I waited 26 on hold at 800 Samsung to get an answer from someone. I waited over a week to get my refrigerator repaired (I am still waiting for them to show up before 4 pm). They told me they will not reimburse alcohol that was in the refrigerator. I asked why (I had a bottle of expensive wine) they said "we just don't. I was telling someone in my exercise class that I had to take a vacation day to wait for my new refrigerator to be fixed; they said -- Oh you must have purchased a Samsung! Nice reputation.

Lisa Ethelbah
from Los Angeles, CA
Andrew Lugo from NJ has failed to ensure that the refunds that were sent to me at an old and wrong address were re-issued in a timely manner. The refund checks were for a Samsung washer that we purchased from Conn's that exploded and damaged the dryer and the laundry room. It took over 1 year for Samsung to not only finally respond to our complaint, but then to come and pick up the damaged washer and dryer. And when they did pick it up the driver flooded our laundry room and hallway causing more damage.
Then Andrew informed me that the insurance would cover all the damage and the remaining amount of my claim, but when the insurance guy finally contacted me he told me they wouldn't cover everything else listed in my claim. About a month ago was the last time Andrew spoke to me and he assured me they were re-issuing the refund checks and he would FedEx them to me, but now he won't take my calls, return my calls or communicate with me in any way. I have met with an attorney today because I don't know what else to do and I have sent Andrew and the insurance guy one last email informing them that I will file a lawsuit on 7/11/16 if I do not receive the refund checks Samsung claims to have sent me back in April and I will file complaints with the BBB and the Attorney General's office, as well has multiple other consumer sites. Here is one email Andrew sent it:
I just wanted to update you on the status. Both refunds (washer and dryer) have been submitted – the transaction numbers for the washer refund is 4135011944 and the dryer is 4135014187. The refunds cover the following numbered items on the list you provided: 1, 2, 3, 4 & 5. It also includes reimbursement for items 7, 8, 9, 10, 11 & 12. The remaining items have been reported to our insurance carrier and I have made note that there will be additional damages.
The total amount of the two refunds is $1,959.18. You will be receiving an email with directions in how you would like to receive the refund (direct deposit or check). When you can please fill out the attached form and send back to me (don't worry about the sticker decal as we already picked up the units). If you have any questions please do not hesitate to contact me; our insurance carrier will be in touch with you within the next day. Thank you. Regards, Andrew Lugo, CSD - Risk Management, Samsung Electronics America. 105 Challenger Road, Ridgefield Park, NJ 07660.

Joanne Bailey
from Los Lunas, NM
I purchased a Samsung Range in November of 2015...It is a 5 burner range and when I reported a problem with the self-clean cycle, Samsung informed me that if nothing is wrong with it I would have to pay for the service call. I don't think that is fair to me to pay that. Well guess what, I will never ever buy a Samsung appliance again.

Gregory Coleman
from Catonsville, MD
I purchased a Samsung refrigerator from the Best Buy store in Owings Mills Md. It was the floor model, so it did not have to come out of the warehouse. They said they deliver it on Monday (today) from 2-4, . This morning they called and said it wasn't at the warehouse which is a lie. My wife asked to speak to a manager who got on the phone and said they could not deliver it because they were painting the warehouse! Which is it the warehouse is being painted or the refrigerator is not at the warehouse?
Now their compensation for the "so called" inconvenience is a $100 gift certificate. I'd rather have the refrigerator today instead. My wife had taken the food out of the old refrigerator in preparation for the new one and now the food is going bad because Best Buy lied about when the refrigerator would be delivered. I have already paid 1/3 of the cost of the refrigerator and want it now, instead of on Thursday! The first person my wife talked to, who lied about the refrigerator not being there, was rude and uncaring about the predicament.
The public needs to know about the terrible customer service at the Best Buy in Owings Mills. The salesman Howard in the appliance department did a great job, I have no issue with him

Deborah Kennedy
from Clearwater, FL
I have had a Samsung washing machine modelWA45H7000AW for just over one year. I am so dissatisfied with this washer. Although it is in the garage, it is so loud you can hear it in the house. It sounds like a wood chipper when it is spinning. No matter how I try, I cannot get the detergent drawer out. If I pretreat something with Spray & wash or like products, the item not only comes with the original spot but the sprayed area still quite evident.I am so frustrated that I am probably going to sell it for what I can get and buy another brand. I chose this washer because it was highly rated in Consumers Guide. Again, I am upset every I take something out and it is not clean. I will be reporting my problems to Consumers Guide.

Andy Hailwood
from Gloucester, ENG
I purchased a Samsung Fridge Freezer approx 7 years ago in 2012 it developed a fault, widely documented on the internet as being a known fault to which Samsung admitted on BBC Watchdog that it was not fit for purpose and potenially dangerous. Samsung sent an engineer in 2012 and they repaired it. However exactly the same issue has re-occured, I have contacted Samsung customer support an they do not want to know and suggested I pay an engineer to repair it.
I understand that the fridge/freezer is out of warranty and had the problem been anything other than the known fault I would have probably accepted this as unlucky. I have emailed the MD of Samsung UK and not had a reply. The customer service has been very poor.

Andromeda
from Pompano Beach, FL
We bought a Samsung stove two weeks ago and there is a three ring triple burner on top. There is a fast boil ring that is the inner most ring that is not working. Over one hour has been spent on the phone with customer service being sent from department to department with no one being able to take ownership of the problem and been put on hold and transferred numerous times.

Mary T. Mize
from Carlsbad, CA
I purchased a ceramic cook top stove with a convection oven from Lowes in 2012 . It is under warranty but i now have had to replace the convection fan every year. which makes three fans. Now it is out again and they replaced it in March of last year. It is Thanksgiving and no oven for they have to order the part. I am very unhappy with this product. Told it was top of the line. I will not purchase a stove from you again and I have posted this for everyone to see. My husband and I are in wheelchairs and this is a great hardship to us. This was bought at Lowe's in Glen Carbon , IL. I can't afford to keep replacing this when the warranty runs out. What am I to do?

Sonja Hines
from Decatur, GA
I purchased an expensive Samsung refrigerator 3 years ago from Sears. Over the past few months I have had nothing but problems with this appliance. Sears has been out to my home on 4 different occasions. The first time they misdiagnosed the problem. The second time they told me that I had a part that had gone bad and needed to be replaced.The third time they cam back to replace the part. The forth time I called them back because the problem still existed. This time he says he has corrected the problem.
The problem I have that is most disturbing is that he says that my problem has been caused because I eat a lot of vegetables and this causes the refrigerator fan to freeze up and that the moisture from the vegetables have to go somewhere. That is disturbing because that is why you have the refrigerator to keep perishables in. I am very upset this time as I had just been to the grocery store and had a refrigerator full of food which I had to throw out. I took pictures of the food inside the refrigerator and the technician also saw it. My opinion of Samsung products has changed. While they may look good on the outside they do not live up to the service they are suppose to provide.

Mrs. G Lobo
from Mumbai, MH
Had serviced the A/c sometime in June. However only after them leaving did we notice that the LED blue light was not working. Subsequently called up again and they came to check it out. However I refuse to pay the amount cause it was not our fault. In between the service people said they would get back to us. No response. Been 3 months. Today the service technician visited us again. I stand my ground and refuse to pay d sum of 450/-. You refuse to take responsibility. What do you suggest I do?

Linda Blankenmyer
from Lancaster, PA
I tried to register my new Samsung Washer online for the warranty put could not because the first page of the information would not accept my cell phone number. This is the only phone I have. Please send me by email a registration form to print out, fill out and mail to Samsung.

Mary Cummings
from Charlottesville, VA
Bought a dryer at Lowes last August - have not had it a year as you can see. The dryer quit working on 6/27 and we called the warranty company. They said they would send someone out on Monday. The company that came was A&E out of Harrisonburg, Virginia. The man that showed up went down and plugged it up and said it was running - all of 5 minutes, was made, left and never gave us a ticket. The dryer was still broke. Called back again complained about how this man treated my wife - she came home so I could go to work and took over waiting for these people.
A&E sent the same man with another tech to fix dryer. They ordered parts of $536.00 and labor of $138.00. Apparently they charge $138.00 each time they come. Another tech comes back the following week to install the parts. The dryer (after he left) was found not to be working. It only works on one cycle and that is it. We called back to the warranty company and they said they would have someone out on Friday of the next week to work on it. This company whoever it was did not show.
At this point we were told our dryer would be replaced and they would have answer from Samsung on Tuesday of the following regarding the replacement. We called yesterday and was told no the dryer would not be replaced as Samsung said it was fixable and another company would be coming to work on the dryer. At this point more money has been spent to fix the dryer than we paid for it. A new dryer is less than the repair bills so far. No one at the warranty company is helping, Lowes is going along with the warranty company and we are still without a working dryer.
This will be the 5th trip (5 including the one no one showed up) and has been 4 weeks. I want the dryer replaced. Samsung must be the most inferiorly run company. How stupid is it to spend more on the repairs than it costs to replace it. At this point I don't trust anything that is done to it. It is fairly new technology and probably have too many people trained to fix it.

Roy Heffer
from Grimsby, ENG
I have a Samsung RSA1WTMH American style frostfree fridge freezer, earlier this week I went to the freezer only to find everything was thawed out. I therefore had to throw it all out, about £100 worth. We have insurance for the repair of the fridge freezer but this does not cover the value of food, so we called them and had a 3 day wait for them to be available, in which time the fridge also decided not to work so a further £30-£50 worth of food was disposed of. The engineer arrived and said that in his opinion it needed de-frosting, "but" I said "this is a frost free fridge freezer".
Yes he said but although no one will tell you this it does need to be have a de-frost, and he recommended annually, he added that there is no talk of this as those without repair insurance are likely to discard the machine and replace it "built in obsolescence" I have inspected the owners manual from cover to cover and nowhere does it say anything about de-frosting this machine. I would like to see Samsung reprint their manuals stating that their "frostfree" equipment does require a de-frost, this would help others avoid, what must be a regular, issue. I would also like some remuneration regarding my losses, and an apology for the distress and inconvenience this has caused my ill wife.

Michelle R.
from Wisconsin Rapids, WI
Bought a Samsung dishwasher, within a few months got a draining error it wouldn't work. Service call since under warranty, was not fixed. The dishwasher worked when it wanted to. Few months later same thing, replaced a sensor. Few months later another sensor replaced, plus the main board. Still not working, last one was another sensor replaced. Totaling more than $300 in repairs. The service man told me that these dishwashers had many complaints on them, wish I did more research on them I would not have bought! The dishwasher is only year in a half old! If I could give a 0 star I would.

Makus
from Port Blair, AN
I bought one split Air Conditioner model name AR18HC3USNBNNA on 10.04.2015. From the very beginning it did not work properly the way it should have. I complained to the service center for checking the machine. They came and reported gas leakage. Even after their repairing, it failed to cool the room. Again I complained on 24th June, 2015. Again Gas leakage problem is detected and now they want to take the machine with them, repair and again install. But, I want to replace the machine since a defective Air Conditioner has been given to me. But from Samsung Service Center they are unwilling to replace the machine and denying the fact that a defective machine has been supplied. I don't want to use this machine and want it to be replaced as early as possible. I bought this machine on the basis of Samsung's Goodwill. I request you to look into the matter and solve the above mentioned problem as early as possible. Quick response will be highly appreciated.

Chris Jones
from Tucker, GA
I am writing to tell you how disappointed I am in your product and most importantly, your customer service number. I purchased my Convection Range in Spring of 2012 after weeks of searching for the features and the looks that I thought would make my cooking and my kitchen shine. On Easter morning 2015 at around 7am while I had the oven set at 350 degrees and baking a pie, the oven suddenly exploded and flames erupted from the back of the control panel.
I immediately called 911 and had to evacuate my house while I waited on the fire department to come and check out the incident. Upon their inspection, nothing in my home wiring had been the cause and they determined that it was faulty wiring in the equipment. They said that the wiring harness was not properly insulated and over the couple of years that I had been using the range, it was melting the wiring and caused the explosion and resulting fire.
I was able to finish my cooking at a friends place and enjoyed our holiday with them since our home was filled with the awful smell of melting and burned wiring. When I was home later in the evening, I searched the internet to see if there had been other complaints/ a recall or anything else concerning my range.
What I found was shocking!! I stopped counting at around 30 other reviews on Amazon and other websites about the same problem and was amazed that most of the reviewers had stated that they contacted SAMSUNG customer service and got no satisfactory response. They were told that their appliance was out of warranty and that Samsung was not going to help them out. While I couldn't believe it, I contacted SAMSUNG CS on Monday, April 6 and reported what had happened and was given a reference number, an apology and told that someone from executive customer response would contact me by 7pm that evening to discuss and get a resolution to the problem.
At 6:58 pm I received a call,discussed the problem and was told that they were again sorry for the incident and was told that my product - but they were going to make a 1 time inclusion to get the problem assessed and make it right by repairing or replacing my range.
I was told that a contract service vendor would be calling me within 2 business days to schedule the appointment for service. I received the call from the vendor, Golden-In-Home Service, Inc. in Duluth, GA. When I was speaking to the representative and scheduling the appointment, I made sure to ask if Samsung was paying for the assessment and if they would determine if it was to be repaired or replaced and they confirmed that what I had asked was in fact correct. On Thursday, April 9, the service rep came to my home, opened the back of my range while telling me what the charges would be for the call and that the form stated that my equipment was out of warranty and that it was not going to be covered by Samsung. I asked him to wait while I called your CS department to get clarification and he refused to wait, closed up the back of my range and left.
When I called Customer Service at Samsung and gave them my reference number, the representative said that the special cs person and failed to put on the order that there was to be a 1 time inclusion for this incident and forwarded me to that Executive CS department. When I spoke with the ECS department, I was informed that they were not going to do anything about repairing or replacing my range, that they would just call and set another appointment for a service tech to come and evaluate the situation. UNACCEPTABLE! This range is only 3 years old and cost approx $1200 to purchase. The problem is obviously a defect in workmanship - (see my note above about the 30+ complaints) and your company is putting out a product that is hazardous and very dangerous.
I told the rep to forget about the "evaluation" appointment - I don't need someone to tell me that it is broken. I went and purchased another $1800 range this morning from Best Buy and purchased their 5 year extended warranty to avoid this problem in the future. I am extremely disappointed in your company and your product and will continue to express this to anyone and everyone that will listen to me when I tell them the story of my Easter morning 911 emergency.

Er. Parmeshwar Dharmawat
from Udaipur, RJ
Samsung - Non availability of Bottle Tray for Fridge model no. SR-52NXA & Serial no. 692341AT800334 E. Sir, I have been using your variety of products for last more than 15 years. Recently the Bottle Tray for above Refrigerator has broken by my servant. Now, I want to purchase a new one. I have enquired at your local service centre and also in the local market. But I am sorry to write that its not available any ware. I am in a fix now and worried that how my fridge will be serving my family. I request you to please provide me the bottle tray against payment. You may send it by courier also. The payment can be made through Internet Banking or you decide the way. Further, I would like to mention here the number engraved on the Tray. Please help me and arrange to supply the required item. Thanking you and with Regards.

Chad Desch
from Charlotte, NC
We purchased a Samsung refrigerator from a Sears Outlet store in September of 2013. We were told by the Sears Outlet manager that everything they sold, including what we purchased, was covered by an original manufacturer warranty. So naturally when our fridge broke down in the first month we called Samsung and they arranged for service. The local service company came out and diagnosed a sealed system issue, but the technician that came to repair it afterwards disagreed and said there was something wrong with a fan. We took his word for it and the fridge seemed to work a little better, but not by much. Within a couple of months we were calling Samsung again to set up service. 4 service calls and 3 misdiagnoses later over the course of the next 8 months the sealed system was finally replaced and we were told nothing else could really be done. Fine. 4 months later there was no coolant in the fridge.
We called Samsung and they told us there was nothing they could do because the fridge was now out of warranty. We were still receiving offers by mail at the time to buy an extended warranty at an exorbitant expense. We contacted the service company and they offered to come out, but we would have to cover the diagnostic cost. We were desperate for help at this point so we paid for the diagnostic. They confirmed there was no coolant in the fridge and sent a picture to Samsung proving it. After about a week, we heard from the service company that we would be receiving an exchange unit. Great, we thought. Then I got an email from Samsung saying that instead we would be offered a buyback and that if our fridge was out of warranty, it would be prorated. Not so great, we thought. All they needed was a copy of our receipt.
A representative gave us her name, phone number, and an email address to reply to. We replied right away with the receipt but naturally they did not receive it. I tried the number the representative gave me a few times and waited about a week before giving up and calling Samsung's main line. That's when I found out that the receipt had not been received, they didn't know who I was talking about that sent us the original email, and I should have sent the receipt to a different email address. So I sent the receipt to a different address and waited a couple more days before calling again. When I called, I was given over to executive support and someone had to find the email I sent, pull the receipt, and attach it to our case while I was on the call. After waiting about twenty minutes I was told that Sears Outlet is not a certified dealer of Samsung products and that our buyback would not be honored. I was so angry I simply said "fine" and hung up.
We went to the Sears Outlet store in person to tell our story and after speaking with the manager we found out that the change to the warranty policy was only made in 2014; after we bought our fridge. I'm now waiting until Monday to call Samsung again to try and have our case reopened and reviewed. We have been using our mini fridge (thank goodness we have one) for over a month now. I have spared the small details because our story is so long, but let me tell you, throughout this whole process we have felt lied to, put off, and have overall had a terrible experience working with Samsung and their local service company. At this point, we will most likely never, ever buy a Samsung product again. Do yourself a favor and avoid them. If anyone from Samsung is reading this, cares to confirm what I've written here, and wants to have a go a trying to make me a happy customer my ticket number was/is 4129267283 and the model of our fridge is RS261MDWP. Good luck.
Have feedback for Samsung Appliances?
Thanks for your feedback!
Sorry. Please try again later!