Mingle2
Mingle2 Complaints Continued... (Page 2)
78+ reviews added so far. Upset? Call Mingle2 corporate: (415)-373-4066

I'm trying to contact a woman, and I get a message saying I'm not eligible to contact that woman. I'm very discouraged because we would probably get along well.
What can you do?

Arthor
from Nonthaburi, 12
You sent me a please verify you are real and not spamming email but discontinued from the site. Number one give me your headquarters and I can file the class action law suit for defamation character and other for you actions. You stated give phone number except I do not have a phone and use Skype as I am in a different country. I have answered you silly little questions in your box and you still have continue not to correct this problem. Either correct it or we can go to court and you can explain your actions there.

Carol
from Godalming, ENG
I have not messaged any one on mingle2. I have never been rude to any one, so why have I been blocked out? I have messages that need answering.

I have been scammed on mingle 18 times now. I have never been rude to any member. In fact I have not emailed any one for the last month and yet they have blocked me for absolutely no reason. Please take the block off or help me fix this.

I have forgotten my password and customer service will not respond to my repeated emails.

Charity Molyneaux
from Winnipeg, MB
My account has been locked out for a couple of months for no reason. 'Your account status is being reviewed by our site moderators. If this automatic lockdown is found to be in error, your account will be reinstated shortly.' Shortly...? it's been months. Not a reliable bunch of moderators. Everywhere I search up, this happens alot for this site. No wonder people hate it and think it's all about scams.

Belinda guest
from Farnham, ENG
They have just locked me out of my account. I emailed customer support -- no help at all! What do I have to do to get access again. I might just cancel this altogether and take my business elsewhere.

eric coffee
from Avon, IN
Someone is logging into my friends acct and she cant even access the page to make a complaint. What the hell is going on? She is awaiting customer service to contact her via mail and explain this.

I don't understand why I have been blocked from mingle 2 because I wasn't interested in talking to a man any more. So, he reports me because you couldn't get what he wanted and I've been blocked I don't understand. I have messages on Messenger where he's been abusing me and telling me he was gonna give me blocks and he reported me to mingle. So I don't understand why you get blocked because you decided that the person you were talking to you don't wanna talk to you, because they get angry about that they reported to you. You can block someone from using the account now that doesn't seem fair?

Belinda guest
from Farnborough, ENG
I want to deactivate my account as I have been blocked out of mingle 2 right now. I will be putting this review on Facebook and tell people that mingle2 is a big scam.

adalberto alquati
from Brescia, 25
Good evening, I am writing this complaint because suddenly and without warning in 2 mingle site dates of meetings I have blocked the account, preventing the use of the site. I honestly do not understand the reasons. I always used the site correctly, I never entered false descriptions and photos, or other personal things that do not correspond to reality. I consider this decision unfair and inappropriate, and I hope that my account is enabled as' soon. Otherwise, I never use more of the site again.

I tried to access into the Mingle2.com website on my Blackberry for over 6 hours now but am being Redirected. Please I wish to have access into my Mingle2 account because Mingle2 is the best dating site.

Ssemalemba lawrence
from Reykjavik, 1

I don't know the reason why I can't receive and send messages on Mingle2. I have also tried uploading my photo (attached below) to the website and that will not work either. When you read reviews online they seem to be positive, but so far my experience with their customer support has been terrible. Hopefully someone can help me.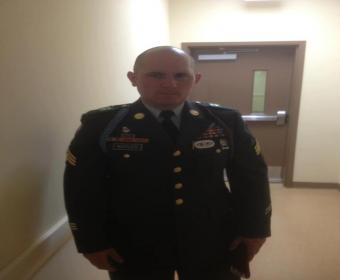 My enter code is not working with Mingle2 login. I tried calling the customer service line but that did not work!

I'm unable to login into my account for the past week. Therefore I'm unable to view my messages and reply. Called the hotline, no answer. Your assistance will be highly appreciated in finding the best way to contact Mingle2 customer service department.

mary connell
from Falkirk, SCT
The new Mingle2 website doesn't allow me to do much with the menu top left wont open. The site is bombarded with ads all over the place! There is no notifications via email to let you know someone messaged you its an awful dating site with very poor customer service.

I have been locked out of my account due to being called abusive. This happened 3 days ago and I an sill not validated on the complaint. Can you tell me when my account will be back on line? and if I have done anything wrong to anyone on here I wish to apologize and to tell them in person so can you tell me who and why I was reported?

Hi, I was using the Mingle2 website with no problems until recently. Upon receiving an email from customer service that someone had sent me a message from this site, I went online to check it out. Having forgotten my password, I put my email address and clicked that i forgot my password. Then got a message stating there was no record of me. So I decided to join again, only to be told that there's already an account with my email address. Called support and they have no record! Wow, crazy helpful they are.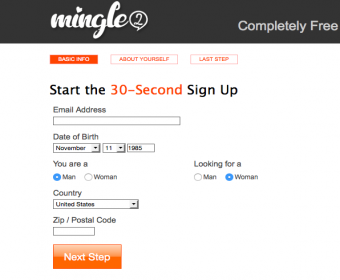 leonald stella
from Pasadena, CA
Loyal Mingle2 customer here. Having problems lately though when I try to sign up again or send any mail through the website. At the moment, I cannot send any mail at all through the website and need customer service to unlock the account or enable mail options again. Please let me know if you can help.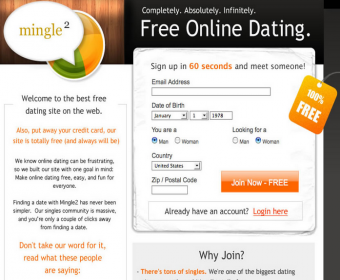 Harold Stella
from New York, NY
I met a gentle man - Chris Howard and he sounded so nice. We started to get to know each other via texts and emails and finally on the phone. He sounded so very nice and sweet. He was leading me on until he desperately needed money and I was supposed to provide it for him without ever having met him. He was very insistent. He actually tried to make me feel guilty. A real con artist. I just to protect the other members about Chris Howard. I am new to this world but my friends told me to be careful and I was. I am not sending any money to anyone I haven't even met in person. A professional scammer. Please tell all other Mingle2 members. I am only trying to protect all my fellow guys who are looking for someone to believe in. Remember. He's a con guy.

ismail dogru
from Oslo, 03
Mingle2 customer service is horrible. I get some reward from bank of america and that says i win the lotto from mingle2 so do u have any rewards like this? They say manager of bank agent try to make contact with me to pay out bonanza lotto something like this:
We have received payment authorization by the Mingle2 lottery to pay you a cash prize of $1,100,000. Therefore, we want to assure you that we are in possession of your winning certificate, which is proof that you are genuine as a winner. In this sense , our business is to ensure that you receive your cash prize. In addition,we have a contract agreement with your claims agent that no amount should be deducted from your prize money, because it is the Bank Bonds security policy that forbids us to deduct the cost of the transfer fee from your cash prize. We are obliged to pay you in full .Therefore , we are willing to pay you in person in our Bank office since your prize money is huge.
So we invite you to our office in UK with your passport identity for quick identification. On arrival here in UK , you will stay within 5 business days so you can sign important documents and cash prize money at the same time you received your cash prize . We will pay a check in the amount of $1,100,000 into your signature to the Fund's disclosure of documents in our office. Please inform us immediately if you are able, so that we arrange your reservation and send our staff to welcome you at the airport when you arrive.
Alternatively, if you will not be able to get to our office in UK , then please inform us so that we can transfer your prize money by bank transfer to your bank account.

Londi Gerson
from Greenford, ENG
I have been locked out "on lockdown" from my account for abuse never have I abused anyone on Mingle2. I'm assuming it's the scammers that I have blocked reporting me as I will not give money over to them could you please sort this out asap. I have tried to contact Mingle2 with my complaint but have not heard back from support. Emailed twice! Maybe I need to write a letter!

I do not want this account on Mingle2. The website is full of scammers yet it won't let me delete my account. Have tried emailing customer support and complaining over the phone, still not answer from the company. Is this a scam?

James Gentile
from Newark, NJ
They give you no way to eliminate or remove your profile from their site. I have been harassed and requesting money to be sent to a third world country to a third party on several occasions by people on this dating site. Be warned! There is nothing but a bunch of scammers out on this site. They are imitating US military officers and soldiers overseas are being impersonated by individuals from third world countries and there is no way you can stop this through this site. Options or telephone number to solve these problems

Are you looking to get engaged? If you are a single and looking for casual dating or online friendship, then join Mingle2 a free internet dating site. Mingle2 also has mobile application, online chat with customer support. You can also be a free member by registering in the website and also can pay through credit cards. If you want to delete your account, you can do it online. Your details are well secured with the admin team. Make your lonely life colorful with online friendship in Mingle2 at anytime.
Have feedback for Mingle2?
Thanks for your feedback!
Sorry. Please try again later!