La-Z-Boy
La-Z-Boy Complaints Continued... (Page 2)
105+ reviews added so far. Upset? Call La-Z-Boy corporate: 1-800-375-6890

The material of the lazy boy chairs and what in it is questionable by my daughter and myself. i have acquired a cough in the last 3 years that no doctor can explain. My husband died from cancer last year of the sinus track, etc. Now that he is gone my daughter sits in his chair and has also acquired a cough as mine. Please e-mail my daughter and assure her that there is no problem with the material in the chair. We will also notify the better business office and put it on record of our concern. These 2 lazy boy chairs were purchased at least 5 years ago.

I recently purchase a $1, 200.00 La-Z-Boy recliner. When it was delivered, I didn't even think to actually recline the chair to check it over thoroughly. Four days later when my husband was sitting in the reclined position, I noticed the leather was rubbed bare on the back of the arms. I took pictures and headed into the La-Z-Boy store. I explained that it was a brand new chair and I needed a new chair delivered. "We don't do it that way" was what I was told. After several attempts to get a "real appointment" with them, I'm set for six (6) weeks down the road!!! You've got to be kidding, La-Z-Boy! I didn't pay top-dollar for a repaired chair! It's not a year old, nor was it a week old! Get serious and read up on CUSTOMER SERVICE!!!

I purchased a Lazy Boy Recliner Sofa approx. 2 years ago. On delivery an arm cap was missing; never rectified after complaint to retailer and Lazy Boy. Now the retractable leg support has jammed in the out position and the particle board backer on the opposite side leg support has broken. The back of the sofa on one side has fallen to the rear. What I thought was a lifetime guarantee has turned into an $80.00 per hour labor charge. I am going to fire the junk in the dumpster; never again Lazy Boy.

We ordered 2 recliners. Traded in our old ones that were very comfortable but the fabric was worn. When we received our chairs and tried them out they were nothing like the one in the store. These are very cheaply made, something hard in the seat and we are not big people but you can feel it when you push on the cushion with your hand. Sitting on it is not normal it's like sitting on wood. The store refuses to do anything about it. However when we bought them they said "satisfaction guaranteed" Yeah, right. So, over $1, 700 for 2 chairs and they aren't worth $25.00

We bought an expensive sectional from La-Z-Boy Furniture Gallery. Since the day it was delivered it has been saggy and uncomfortable. I phoned and wrote a letter to the manager right away to complain, but received no response. Now, less than a year old, the stitching is falling apart. Here's how it seems to work with La-Z-Boy. You go to the Furniture Gallery and choose one of the well-built, comfortable pieces they have on display there. You put a deposit on the one you select, and then wait for months. The one that's finally delivered to you is crap compared to the one you try in the store. My advice to anyone considering a purchase from La-Z-Boy – take a good look at all the complaints on the internet about this company.

Neil LaVoy
from Broomfield, CO
Office chair-brand Lazy Boy broke. I can only get money to replace chair and yet the replacement is more than the money I was given to replace chair. I just want my chair replaced!!

Leora Stramonine
from Ontario, NY
Less than a year ago we purchased a love seat, sofa and recliner. After less than a week the back of the loveseat had deflated so much it looked like it was 10 years old. The technician replaced the back and again within days it looked the same. The seat then began to sag and within weeks when you sat down you sat at about a 45 degree angle from the side to the middle. Yesterday they replaced the seat and after one night it is already starting to sag to the middle.. The sofa is exactly the same. The end that gets sat on is sagging so badly on one end that you can't sit on it without getting a backache from the odd angle. We are extremely disappointed with this furniture. Replacing parts with the same substandard parts does not fix the problem.
Sincerely
Joseph and Leora Stramonine

Van Parkinson
from Plymouth, MI
We purchased a 3 section sofa that reclines back in mid 2014, had one end piece replaced due to separating from the mechanical part of the couch. We called the technician in regards to just coming out to just look at it and were told they would come out for a service charge of $109.00. That one section has been replaced before and is doing the same thing! We don't feel we should have to pay a service charge. You and La-Z-Boy should stand behind your product and not make the customer pay!! No one we called will cover the service charge, so we can get the section we need replaced! We are at a lose as to where to get help!!
Van Parkinson
734-416-9780
Plymouth, Mi

Robert Kraus
from Cumberland, MD
I purchased $4000 worth of lazyboy recliner chairs 3 years ago,my many complaint are addressed to:
Roderick Furniture Outlet, Address: 203 Main St, Westernport, MD 21562
Phone: (301) 359-0451
I have a LUXURY LIFT that broke 9 months after I purchased it.
I have called for repair 4 or 5 times, there is an e-41 seat heater error defected along along with a very bad sagging seat.. The technicians have been to my home while under warranty many times without success of repair of this chair!!!! i am handicap and only have 1 leg. This is my plea to your company to fix my chair, as I said I SPENT THOUSANDS OF DOLLARS WITH THIS COMPANY AND PURCHASED YOUR CHAIRS..... i AM NOW JUST IGNORED! and I need this chair to work properly and be comfortable...it is not!
.
CHAIR TAG DETAILS ARE AS FOLLOWS:
DLR 75377004 ACK 412310251-001-001
STYLE 1ML562
TRADEMARK LUXURY-LIFT
Thank you very much,
Call Me!.
Robert Kraus
202 Avirett Ave
Cumberland, MD, 21502
Home phone 301-722-0013

Marie & Henry Montoya
from El Paso, TX
Two chairs and sofa are defective.
1. Material was not stretched sufficiently on chairs and sofa.
2. Chairs and sofa do not have enough padding. Frame is felt on arm rests.
3. Cushions are of an improper size. They do not fit the chairs or sofa.
6. Wood protrudes on arm rests.
We want the furniture replaced as soon as possible.
Marie and Marie Montoya
1660 Billy Casper Dr.
El Paso, Texas 79936
Invoice No. 0922751UNTL

Shirley LaPine
from Saint Johns, MI
I bought a new La-Z-Boy Couch and two chairs. The couch and one chair have the push button recliner on them. My furniture was delivered in early November 2016. We left for winter in Florida 2 weeks after that (before Thanksgiving). Came home the 2nd week of April 2017. Was home until 3rd week in June then went out of town until 3rd week in July, then was home for about 3 weeks and out of town for another for another 2 weeks. I called and they set up an appointment for 9/11. The guy came and I told him the following: 1) a part underneath the foot rest on the couch broke off (he replaced it); however the foot rest does not come into position when it is in the down position on the bottom; 2) the material on both is all pilley and has little fuzz balls all over them; 3) the back sections of the couch are all different sizes in puffiness (he pointed that out); he took pictures with HIS phone and said he would write a report and they should contact me within 10 days. I called on 9/20 & was told they were ordering parts and when I got them to call and they would come out to replace the parts. The reason for this lengthy explanation is that we have only set on this at the most maybe 4-5 months and they should hold up better than that. I am very dissatisfied with the furniture and the customer service that I have received so far. We are also getting ready to go to Florida for the winter in about a month and want these issues resolved before we leave. Your prompt attention to this matter would be greatly appreciated.

Elizabeth Vogan
from Calgary, AB
On Aug. 9/17 I purchased a LaZboy Jay Wallaway #160706493. During the time with the salesman I discussed my particular needs in a chair. I am 73, full of arthritis, have a knee and hip replacement, and needed another chair. This would be the 4th LaZboy chair that I've purchased in my lifetime. During our conversations I told him of my dogs, and how they had chewed up my last one, a leather one. When I tried out the "Jay" chair I liked it a lot, but, when I tried to use the handle to raise the foot, I struggled badly with it, and couldn't get it to swing all the way up. He tried it and had no problem and kept encouraging me to try again. After much effort I did get it raised. He told me that it would become easier the more I used it, and I believed him. I got it delivered to my home, and spent the next two weeks fighting with it, and failing, most times, to get the foot part raised. I decided that it would never be a good fit for me, and went to talk with him about it, and said that I was willing to spend more money in order to get a chair that would work for me. I just didn't have the strength to use this particular chair. I also remarked that it was not a recliner, but apparently it was. Again, try as I could, I did not have the strength to lean it back.
Imagine my surprise when I learned that I would not be able to switch chairs because I had dogs in the house. At no time was I informed of this during the sale, and in looking at the receipt it is not printed any place where my attention could be drawn to it.In fairness to the customer, it should be printed and high-lighted on the front, and attention should be drawn to it. Knowing that I had dogs, it was important that part of the sales pitch would be to inform me that I would not be able to return it because of the dogs. I simply cannot use this chair. I tried another in the sales room with a longer handle, and still failed to make it work. It's obvious to me, now, that I needed an electric chair to help me get comfortable.
I feel the company was remiss in noting to me that the return policy was ruled by the "no pets" condition. He was in full knowledge that I had dogs, and also knew of my physical limits. So, now what do I do? The chair is useless to me, and I'm out a bundle of money. I am not happy with the fact that the "no pets" rule wasn't mentioned.
I bought it at the store in Calgary, AB,, Canada at 7300-11 st. S.E., FAX (403) 252-2292. If you are not the people to talk to about this, and if I should be contacting someone in Canada, please let me know. As I said before, I've been a loyal customer to your brand, having purchased 3 of your chairs over the years.
Thank you, Elizabeth Vogan

Scott rozicki
from North Tonawanda, NY
Ordered furniture delivered a used floor model table with water marks on it and the wrong recliner Sheridan store manager was very rude and arigant

Debbie Peters
from Monroe, GA
Ordered chaise lounge June, here it is almost september, store keeps telling me it's in route for over a week does not know where it is! One piece of furniture takes 10 weeks! I,m very disappointed with lazy boy, thought they were a more reputable company. I hope if I ever get chaise it lives up to quality I expect.

Irene Frank
from Glen Ellyn, IL
I am very upset with my lazy boy recliner. It makes a very loud clunking noise when I close from a reclining position. It is so loud that it wakes up my husband from sleeping or if he is downstairs he thinks that I fell down. I had a warranty service guy come out to look at it and he said all the lazy boy recliners do that now. This recliner is useless to me now and I will not purchase anymore of lazy boy recliners in the future or recommend to anyone.

linda webb
from Livingston, TN
I bought my last boy recliner this year ,2016. I sat in the wall huggers and rocker recliners. Both were comfortable. The one I wanted as a wall huggers was ordered. Couple months after delivery I noticed the seat slanted towards the back. I contacted the store, sent pictures and was told the chair was fine. Since it was ordered nothing was going to be done. It has gotten worse. Its like climbing uphill. I have had surgery and can not sit in that chair. It's useless. Had I know this would happen I would have found a floor model I liked and bought that. Never will I order a piece of furniture again and especially last boy!! I see from reviews not much is done for unhappy customers. I let everyone know my experience.

Debra Wanamaker
from Oceanside, CA
Purchased 2 side chairs and a couch a couple of years ago. Paid extra for memory foam, both chairs needed the memory foam replaced with inwithin a couple of months and was replced by Lazy boy. Within a couple of years the leather on the back of the coach started to shred. Lazy boy refused to assist because itwas no longer under warranty.

Debra Wanamaker
from Oceanside, CA
Purchased 2 side chairs and a couch a couple of years ago. Paid extra for memory foam, both chairs needed the memory foam replaced with inwithin a couple of months and was replced by Lazy boy. Within a couple of years the leather on the back of the coach started to shred. Lazy boy refused to assist because itwas no longer under warranty.

Jewel R. Lindsey
from Saint Clair, MI
in the fall of 2015, my wife and I was shopping around for a couple of lazy boy rocker/recliners for Christmas. We visited the showroom of our local lazy boy shop in the Lakeside Mall in Shelby Township, Michigan. We were shown several examples of rocker/recliners and decided upon two leather ones on sale. We sat in them, and decided we'd have one with normal rocker/recliner bottom and the other one with a swivel rocker/recliner bottom on it. We were told it would be a few weeks before delivery due to the fact they had to order the swivel.
It turned out both were delivered on/or about 30 Dec 2015. The swivel was installed in our home. Everything was fine . we enjoyed the rockers for the next few months. In May 2016, we decided to take a two month vacation to Scotland and England. We returned on the 15th of July 2016. As you probably know, we do not have the best weather in Michigan. Our summers are not always bright, and most of the time, the weather is dull and overcast. Upon our return, we were enjoy a rather bright sun shinny day for a change.
Suddenly my wife noticed a large white spot exactly where my head rest on the back of the leather part of the chair. The next week we stopped by our local lazy boy showroom to discuss the matter. We also took a photo on my cell phone to show him. He was very nice and looked at the picture. He then stated "this happens quite a lot with our leather products". The cause is due to the natural oils in a person's hair contacting the leather. He then questioned my wife as to my using the rocker/recliner. Does you husband rest his head on the leather part when he naps?". "How about when he sits in the chair, does his head contact the leather portion?".
We said of course, that's what a rocker/recliner is used for. Immediately his eyes lite up. "Well, there's your problem". "His head is contacting the leather and thereby the oils are reacting to the leather.""We see this all the time". My wife stated we've only used the rocker/recliner a few months. "Doesn't matter". We asked about the 12 month warranty. NOT covered. He did say we could contact the service department and someone would come out and look at the damaged area and decide what to do.
Well, we called the number. A nice person answered and said someone would contact us in the next few days concerning our claim. A few days later a nice man did call to discuss the matter with my wife. She explained exactly as we had explained to the sales person on the showroom floor. He replied "nothing can be done." But, we could have the damaged area recovered at a small cost of $500 dollars to us. WE said no, we feel there is a problem with the leather and we should not have to pay for it being repaired. He never came to the house, only talked to us over the phone. It seemed his decision was made before he talked to us.
We have several questions concerning the product we purchased. First and foremost, we were never told about the danger having our head contacting the leather and causing the white problem. There were no warning tags or signs, stating not to nap in this recliner as it may cause damage to the leather, or to prevent contact with your head while sitting in this recliner. This would be our third attempt at having a decent product from Lazy Boy products. The store where we purchased the products appears to make many excuses to get out of repairing the product.
Had we known we could not nap or place our heads in contact with the leather, we would never have bought the products. We feel this is a "cheap out" on the company's part and we should have the product repaired at no cost to us. If you choose not to do so, then I feel you should place warning signs, tags, on every piece of leather products you sell warning expectant buyers "Not to nap or place their heads in contact with the leather portion on your rocker/recliners, as this may cause damage to the leather".
I hope you and your company will reconsider our request to have the rocker/recliner redone at no expense to us. We paid hard earned money for these two rocker/recliners and believe we are being short changed o the the deal. There is nothing wrong with the anything on the rocker/recliners except the white spot on the leather.

Tabitha
from Franklin, IN
Very dissatisfied with lazy boy today. They called set up delivery for today and now telling me it's not here it's in Ohio and they don't have delivery set up til the October 8. This is second set of furniture I have purchased but after this I don't look tondo business with them again. This was a gift and arrangements were made for to be delivered today.

Bobby Finch
from Milton, FL
I have been a La-Z-boy customer since 1992. In fact the first thing we bought from La-Z-boy was a his and her rocker recliner's. The main reason we purchase from them was the fact they had a Warrant that said for all mechanical parts for would be replaced free of charge for as long as I owned them. The charge for repair would be $75.00, which was understandable.
Either last year and the year before I started have problems with the recliner locking up in the opening position. I contacted LA-Z-BOY and all the necessary parts were sent to my home in case I want to put them on myself. Well I decided to have La-Z-boy to do the labor. However I now get sent to an off shut to have the labor done.
These folds say that it will cost me $145.00 for the repair. I thought about it for a few days and then contacted them to do the work. Now they are quoting $145.00 for the first hour. This is a fair compliant as I have the receipt to prove I purchased these chairs and when. It's not my fault that you sell chairs today with a different type of warranty. This compliant will continue in ever place known to man if I do not get results.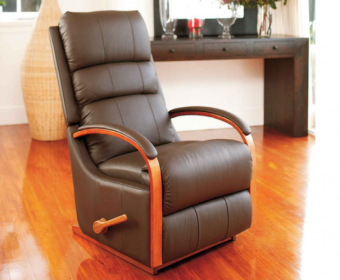 Dale Wuestenhagen
from Plymouth, WI
We purchased a La-Z-boy recliner 2 months ago. When we received it we notice the pattern was not very straight on one side like it was on the other side. The service sent a man to check it out and take pictures. He was very impatient and told me that's why he never buys furniture with a pattern in it. He left and never gave me a phone number to call or tell me what we should do. I did not call the store because I feel it is up to them to contact me. We had a problem with the first chair we purchased and it was taken care of properly.
The man who came for the first chair we bought was very nice and professional. I am very upset with the quality of the furniture. It used to be made well and with care. It seems to me that they are put together by incompetent people today. They don't take the time to make sure the product is perfect before sending it out. I always loved your furniture but now I am greatly disappointed. They never contacted us again because they just want us to keep what we have and be satisfied. I'm sure they will blame us for not calling back. That's poor customer service which seems to be the norm today.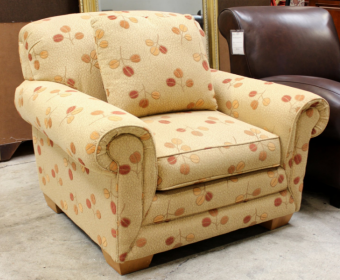 Phyllis Holland
from Augusta, GA
I purchased two lazy boy recliners on November 25, 2015, a Pinnacle rocket and a vail pocket recliner. My sells clerk was Anna Lee and I was very pleased with her service. After delivery, I realized the Vail was not large enough. I called requested what I had to do to return and buy a larger one.I visited the store again and purchased a Asher Recliner and had a base attached.
In early February I noticed a board could be felt through the Cushing on both arm sides and a large indentations on both armchairs. I called the store to report my complaints on 22nd of February, 2016. An inspector checked my chair and agreed that there were several other faults in the chair, the swivel base mad a popping sound and the leg made a loud cracking. He said would a new chair or have this repaired within two weeks.
I called the store on Feb.29th and was told the order had been placed and I would hear back from them in the next few days. On April 11th I had not heard from anyone , I called to speak to the store manager. I was sent to voice mail. I left a request to have the store manager call me back. I received no call. On April 15 I received a call and was informed that the paper work had been sent in and I would receive a new chair within the next two weeks. May 5th I received another phone call and was told the paper work had been missed filed.
I received a letter 10th of May that had the incorrect information, stating that I had paid more for the chair. I called to let them know the info was incorrect. A corrected letter was on its way. May26, my daughter visited the store and were assured that a replacement would be delivered within 2 weeks without fail. The fair was delivered June 29th, no swivel attached. I was informed that technician would and attach. The delivery men were very polite, quick and efficient. The new chair has a tear in the leg rest. I have purchased many chairs over the years from La-Z-boy and have been very pleased, but after this experience,
I will not purchase any more and would like a full refund $1,576.69 and after the refund have store remove my old chair. A letter was sent to corporate office on Augusta 24, 2016 but no reply has been received. I am handicapped and have moved in with my daughter and need a fast response to settle this matter. I am on oxygen so I do sit in the chair and really was excited to purchase a new La-Z-Boy but have been so disappointed.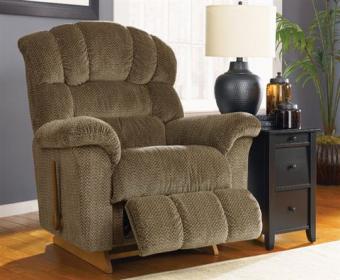 Deb mac
from Manchester, NH
Went into lazy boy in Nashua NH to Buy a recliner, not shop but buy one, we we told by the salesperson 25 percent off entire store. We found the chair we wanted the original price was $2300 marked down to $1399 with a 25 percent tag attached to the price tag. When we told the woman we were ready to purchase the chair she said that chair did not qualify for the discount. I asked her to check with the manager, he also said no 25 percent off. I would call that false advertising. Do all stores do this they lost the sale very bad customer service will not recommend to any of my clients that are purchasing new homes.

Rosalyn Newman
from Mansfield, TX
Dear Lazy Boy CEO, I purchased a Niagara leather reclining sofa and chair set in February 17, 2016. From then until now, your customer service has been called to our home 4 times! There is a design flaw in this set! The wood has cracked underneath but it's just particle board, not real wood. The arms have been replaced, something else underneath the arms, screws, etc. We have no children here, just 2 adults. We don't mistreat furniture. We only got rid of our last leather sofa because it was bright red and would not match our new floors and new wall color; it was 12 years old and still in perfect condition but it was from The Leather Center, not La-Z-Boy.
I have extended warranties on both items. I received a voicemail from Angel from 214-631-1813 today stating that the person that took pictures of the furniture Wednesday August 17, 2016 sent them to your corporate office and corporate only wants to order new parts. I don't want new parts or for this sofa to be fixed on, I want my money back! I don't trust this furniture! That's like buying a brand new car and within 6 months the car has been back to the shop 4 times!
That's called a lemon and the dealership would be replacing that car! Well, I want my money back so I can purchase better furniture! I expected much more from your company. I thought you stood behind your product, I thought you respected your customers. I don't want to constantly to be reminded every time I look or sit on this furniture how horrible this experience is. I don't trust this product! I plan to post reviews all over the Internet and social media about my experience with your company.
Order number 0217606KXOL Total amount paid $3450.94 paid by check. Also, I just found out that your stores are franchises here and your corporate offices don't handle nor represent them...wow, they use your name and sell your product but you don't assist in customer issues?

Dawn Bone
from Simpsonville, SC
Ordered a rocker recliner with them and it has had issues since day one! It has been fixed 3 times in the 2 months I've had it! Now it's broken again and they want to fix it again and again! i shouldn't have to have his chair repaired on 4 times! They refuse to give me my money or replace the chair. I had to order it bc they only had one chair in the store and it was paisley print. They never told me if I ordered the chair they wouldn't replace it if they couldn't get it fix!

Lorraine McCullough
from Melbourne, VIC
Was quoted a good price from a dealer who was given a good deal & then was giving a good price onto customers. Then others talked me onto dealing locally. Local dealers said would match it but did not provide soft chair & took my money ordered a hard chair & dellivered it. Was as hard as can be. Wanted my money back & he won't be in it. It's the last time I'll deal locally. I'm a senior & I like softness & comfort & that's far from what I received.

S Forte
from Cincinnati, OH
On 6/3/16 a repair tech was in my home to repair what I thought was a broken spring in my Pembroke Love seat that was purchased in October 2015. This repair is still under warranty . Well to my surprise the Repairman stated he was unable to repair my love seat because the love seat had been constructed incorrectly causing the whole bottom frame to dismantle. (This was only observed after fabric panel bottom was removed.)
The repairman took pictures and stated he would report problem and no he would not take love seat in for repair,I would be notified by Services. Since it took no time for them to charge me for the purchase I stupidly expected an immediate response. Well it has been three weeks today and no response. ( I called Service Department on 6/10/16 and a curt rep stated someone would call when a decision was made.
What decision could be made except to replace the defectively manufactured love seat you provided. I am on the verge of administering a major cuss down,but fortunately I came in contact with your website and decided to try this instead. I have not received any calls or emails to date regarding plans for replacement or at least try to repair my love seat. Per repairman, I am not able to use the item. I do not have money to lose on so called "good furniture" I should not have to keep waiting for this service to correct their error.
After reviewing your site I see this long wait is a habit for Lazy boy service. Help! I need my seating area replaced soon.

Dani Patterson
from Las Vegas, NV
I was told by Pete the manager in the Las Vegas store that orders were shipping in four weeks, maybe five. When I called to check on my order, I was told seven weeks. This manager is very arrogant and um apologetic in his attitude. This was a cash totaling $1976.00. This is my first and last purchase from La-Z- Boy due this managers attitude. At this point my problem is not with the product but with the customer service.

Shirley Anne
from Lawrenceville, GA
My husband and I recently purchased a La-Z-Boy sofa, three chairs, and a leather recliner at the Atlanta La-Z-Boy Pleasant Hill store. (Plus we have purchased many La-Z-Boy items over the 42 years and always gotten an outstanding product and good service. Plus we like to buy American.) On this purchase in April to avoid a two or three week delivery we picked most of items at the store on Pleasant Hill and one chair at the La-Z-Boy distribution center. We are enjoying all of the items purchased but have developed a loud popping noises when reclining and returning the leather recliner to upright position. I checked with our salesman and he referred us to their repair/distribution center in North Atlanta.
My husband stopped by the Distribution Center and was told that because we picked up the furniture vs letting LB delivered the furniture we would have to return the chair to the distribution center or pay a $70 fee for a service call. I don't understand how the furniture was delivered has anything the do with the warranty. Appears to me to be a La-Z-Boy Management policy making problem. Any assistance will be greatly appreciated. All of the LB folks that we have talked with have been very professional and tried to help (up and beyond their duties) but appears they are following La-Z-Boy policy. For the record: The sales and distribution center rating was a five star experience.... but a one star for La-Z-Boy Management and warranty policies.

Willard Lyde/Janice Lyde
from Atlanta, GA
I write to express how disappointed and frustrated I am about the chairs that I have in my home that bear the name Laz Boy. The chairs were purchased on 11-06 -16 and the problem started with the first delivery. After the chair was placed and I sat to recline the staples popped out of the back of the chair. This chair was returned and I picked out another. This was delivered on 12-16 as this was a special order. To date the cushion in this chair sags like it is years old and the stitching is coming loose in the back.
The second chair was a special order and my husband was assured that it could be fabricated to his specifications. To date we have had two (2) repairmen out, with two different opinions. This chair has yet to be repaired and now we are told we should not have been made that promised because it is impossible to do what my husband paid for. We are told that the best we can expect is to get the chair stabilized and maybe get the cushion replaced. As of today we are still awaiting parts (4 months later).
My husband and I made a decision that we wanted quality chairs in our home and Laz Boy immediately came to mind; little did we know that we could have gone to our local furniture company and gotten better quality and probably paid less. We felt it only fair to let you know how disappointed we are with your products and that based on what we have in our home how unfair it would be to give anyone else a favorable review. We will tell them to come over and sit and see what we have and we are sure they will go elsewhere.

Charles Mowbray
from Canal Winchester, OH
La-Z-Boy is one of the most popular makers of recliners and sofa chairs in the United States. Their stores are often showrooms for various types of home furniture, and they are known as a high quality brand. If you have a question or a problem with your order call toll free 1-800-375-6890.
On April 20 after a little more than two months my broken chair was fixed. The next day as expected I received a follow-up call, the tech was great but I wanted to complain about taking so long. I basically got cutoff and am sure I was ignored and is why I'm writing this.
Two months is way too long to wait, however that or longer seems to be the norm. A no response here will confirm customer service is poor and I'm also doubting the quality of Lazy Boy. I will be looking for something else the next time I buy furniture.

sharon nesbitt
from Vienna, WV
I purchased a Lazy Boy Power Recliner at Belpre Furniture, Belpre, Ohio last summer. I am very dissatisfied with the chair. Very uncomfortable. Within 2 weeks I spoke with an employee in the store, Matt, He offered no understanding. I told him I guess I would have to sell it and buy another chair. In the meantime, the seat has gone bad, they had the chair in April 2016 to replace seat. I question if it was done. Certainly not any better. Spoke with Jennifer at store, offered no help. They had the chair over two weeks. I want to return chair and get another type chair. I can't afford to give chair away and buy another one.

Saurabh Wadhwa
from Siuri, WB
My complaint is more than 3 years pending. Nobody did bother about even I have made complaint around 5-6 times. I bought a Recliner around 4 years ago and after 6-7 months its armrest got broken. I went to the outlet from where I purchased it and made a complaint, they said technician will visit you and fix the problem. But no one ever came to see the problem. In the last 3.5 years 5-6 complaints have been made for the same issue but no one bothered.
But 10 days ago I sent an email to one of your employee, I have mentioned everything on the email, sent him copy of invoice and pic of thr recliner. But yesterday I got a revert from him that it will cost me 14000 bucks to get it repaired. For the first time last yesterday I came to know that warranty was on mechanical part only. Nobody did tell me at the time when I had purchased it. This is kinda misspelling. Tell me what should I do after 3.5 years of my complaint.

Timothy Gockley
from Mount Joy, PA
My parent bought my a large recliner ordered in feb/2010 and delivered April 2010.we upgraded to fabric protector. in 2012 I became bed ridden and the chair was take out of service. I was rehabbed in late 2015 and know I can reuse the chair. When I called the Lancaster store where I bought it they told me to call the fabric protector company.
They told me it to old to cover- six years old. so they told my to call the place where I bought it and talk to the store manager. I don't know who I talked to but they rudely said they don't make the fabric any more. and that was that. NO SERVICE AFTER THE SALE. You mean to tell me as large Lazy Boy is that the don't have someway to check there inventory in the warehouses? If someone can't even to begin to help me. I will never buy one more product form you.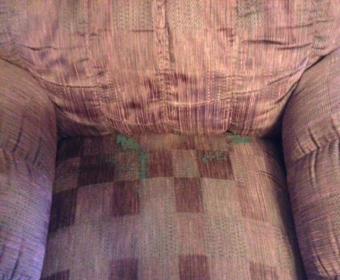 Tillie Mead
from Long Beach, CA
We bought a love seat and couch, which was delivered March 8th. We loved the look and feel of the furniture. It did have a strong chemical smell. But little did we know that the bites we were getting was from the infestation of bed bugs that were living in the furniture. When we called and complained to the customer service department, we were told a customer care rep would come in 2 weeks. We cannot wait that long for someone to tell us our furniture has bugs. We have had to enclose the furniture entirely in plastic. We want the furniture returned for a complete refund. We now have to have our house fumigated for bed bugs, which is very costly.

Gary Robertson
from Indian Trail, NC
I purchased 2 recliners, a side table, and a sectional piece from Lazy Boy Furniture Gallery in Lexington, SC in June 2015. Yesterday one of the recliners broke. This morning I called the store where I purchased them and they told me I had to call a service number. I called that number and they told me they would have to come get my chair, keep it for at least 2 weeks, and I had to pay $99 for them to do so! I asked why I had to pay anything and they said that since I picked my furniture up instead of having them deliver it, I had to pay for them to come get the chair! I said I could deliver it to them and they said that wasn't allowed.
So I called the customer service line at the La-Z-Boy corporate office and the woman was extremely rude and said that it didn't matter that I was never told about this fee, their policy is that since I picked up my furniture, I had to pay the service fee! I am extremely upset and do not feel that I should have to pay this fee and be without the chair for 2 weeks or more. I am a severely, 100% disabled veteran and purchased this chair because of my back conditions. But they don't care.

robert batey
from Bishop Auckland, ENG
Just took delivery of my new lazy boy three and one seater power recliner unfortunately the poor quality and work man ship doesn't let me enjoy this experience as one of the recliners on the three seater is faulty what a big let down. What ever happened to quality control. When using power recliner the whole chair jumps.

Kim Fister
from Ashburn, VA
We went to the store for the January sale however the color we wanted as not in stock. We then put a $2000 deposit down and financed the remaining $1900. After the sectional was delivered the week before last, I called the store manager in Gainesville, VA to advise the reclining love seat was incorrectly ordered for the wrong side. We left early the next morning for vacation and after getting home, we discovered that the sectional was actually not wide enough for my husband to sit or lay on. In addition the drawer under the cup holder is broken and unable to be tightened.
After several returned calls to Don, the store manager, I called Lazy boy and received a ticket # 8038222420. The rep then director lay connected me to Don and he advised he would call his regional manager and call me back. After no response from Don, I just called him again only to be told that there was nothing's no he can do.
I asked if we could purchase a wider model since I have spent $3963.18 on a sofa that we have not been able to use. The tags are still on the sofa as we were going it of town for 8 days after the delivery. We were referred to Lazy boy from my family who recently purchased a set, and additionally I am a real estate agent who often refers clients to purchase furniture. Is there anything that can be done to exchange this set for something we can use?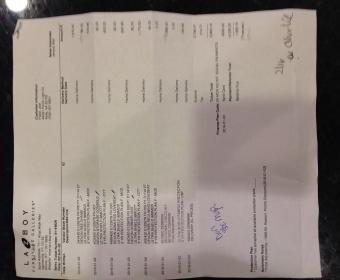 Michael Gardner
from Traverse City, MI
Bought couch two years ago and it's losing its shape and support. I live alone so there is no abuse factor here. Called local Lazy Boy repair given to me by the store where I purchased couch, and they said they would replace one cushion but not the back cushion, and I would have to pay shipping and repair costs. If that's how Lazy Boy treats their regular customers then maybe it's time to change brands.

Harvey Callegan
from Foley, AL
We purchased 2 La-Z-Boy recliners a few weeks ago for delivery. We tried to contact our salesperson ( Nikki ) ( we left 6 messages at the Daphne AL store as we had questions about the recliners "prior to delivery". As "Nikki" would NOT return our phone calls we called the store & canceled our order. Later we found out that "Nikki" had a reputation for quite a while as not returning customers phone calls. We decided we would just go thru with the purchase & had the recliners delivered the following week ( 2-16-16 ) today. We were charged for 2 swivels for the recliners & once delivered we were told buy the delivery people that they would have to come back to install "swivels" ( inconvenience the customer).
Delivery people said they have not seen swivels in some time? Anyway as a CUSTOMER you would think NIKKI our sales person could have told us that prior to delivery...right ?.... no as NIKKI cant even return phone call's much less ask the customer "would you like to wait for delivery after the swivels are installed which we would have done than to inconvenience us with another delivery installation. No wonder LA-Z BOY has so many complaints if this is how they do business...& it seems it's the way NIKKI does her business. We heard that NIKKI was not a nice person to deal with as she never has the customer in mind...guess they were right.
Why does LA-Z BOY put up with this kind of worker? NIKKI actually lied to us about what the recliner would actually do as far as swivel ect saying sure you can swivel / rock but she never informed us that we would have to bring recliner back to store for this to actually work this way..... again we would have known this had she returned our phone calls.... but I guess she was too busy as she had 3 days to do so but would not, could not find time for her customer ? Never again will we buy from Daphne AL LA_Z_BOY.

Scott Glass
from Reading, PA
La-Z-Boy customer service is bad, just bad. Here is my complaint. I purchased furniture on November of 2015. Two leather power recliner love seats and two reclining chairs. A long with two end tables, one round table and an entertainment table. All total $6851.72. They were delivered on Christmas Eve. I noticed some of the pieces were damaged. On one love seat the fabric isn't sewn. Not thinking I should of refused the furniture. I called comfort care the day after Christmas to set up an appointment. A service person came to my home on 1/5/2016. He told me the pieces needed to be order for the two love seats. He didn't know what to do for the tables.
He would submit his pictures and some one would get back to me. It has been almost six weeks since he was in my home. One box of parts arrived two weeks ago. Nothing else since. I still have not heard anything about the tables. I spent a lot of money on I thought good quality furniture. By a company who I thought stands by there merchandise. I'm ready to load all of this onto my truck and return it to the store I made the purchase. I would like this resolved ASAP.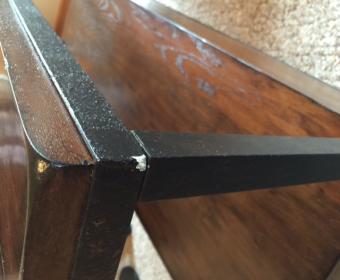 Vickie Neely
from Madison, AL
We built a house and was purchasing some new furniture for it. We purchased 2 leather recliners in June of 2014. We had them treated, wrapped and put back in their original factory box because we placed them with other furniture items in a climate controlled storage until the new house was complete. We moved in in Nov. of 2014 and placed the recliners in our family room. 1) When you recline, then come upright the chairs make the loudest popping sound I have ever heard a chair make. After a couple of months use 2) the seat portion of the chair starts folding up into the chair when you come upright from being in the reclining position (both chairs). Next 3) One of the chairs headrest started to peel and discolor.
This was after only 6 months into the chairs use. The Lazboy store where we purchased the chairs had us return the back and said that about 2% of this particular color has had this issue. We received a new back and 6 months later that back is now peeling and discoloring. I have never been so disappointed in a furniture purchase. I will never purchase a Lazboy product again. We paid twice as much for these 2 Lazboy recliners than our previous recliners and wished now I had purchased that brand again instead of choosing Lazboy.

Maqsood Ahmed
from New Delhi, DL
I bought Grand Canyon leather sofa, but then it started making noise. I have not had many problems, but contacted customer support at once. They were no help...

Susan monahan
from Pittsburgh, PA
Order recliner on line. La-Z-Boy employee said 4-6 weeks. A week and one half after order submitted, got call saying order sent to wrong place. Was suppose to receive swatch. Nothing. Called twice, no response. Contacted them to cancel order twice via website. No response from corporate either. I just want to ensure order cancelled. Poor customer service!

Susan Williams
from Murfreesboro, TN
We have purchased a few pieces of La-Z-Boy furniture over the past 20 years and as the years have past the quality of the furniture has truly deteriorated. This last purchase we made was March 2010 paid more for "upgraded" fabric special order at a furniture store in Winchester VA and the two piece set has not held up to my satisfaction. The two piece set recline and I have had to replace the foot release cable two times each in the couch as well as the large oversized chair. The design of the couch/chair has made it difficult to replace the broken cable therefore my husband had to cut through the fabric/material just to be able to replace the cable let alone have the chair/couch be functional. Fortunately only we know that we've had to cut the fabric but that leads me to believe that the engineering of this product was not well through out.
We purchased this item because we liked the fact that we could have a place to put our feet however what is truly bothersome is the cushion part of the back rest is all "sunk in" as well as the seat cushion. The fabric looks worn compared to the middle seat where it is less often sat in because it does not have a recline option. So visibly the couch now looks dis-portioned. For what we paid for this set - over $1800 (2 pieces). I am very disappointed with how it is wearing considering we don't have animals or small children.
I purchased a La-Z-Boy recliner back in 2002 as a gift to my husband and that has been sat in far more and looks so much newer. The seat doesn't look like it has been sat in like the couch and that recliner is far older. I'm not sure if they did something different with the filling of the chair but i have to say the furniture we bought 5 years ago looks worse than the furniture we bought 15 years ago. In the future i will not be looking for La-Z-Boy furniture. I am very disappointed in the quality and how this furniture has aged.
You will see the attached photos (3)The mauve recliner was purchased in 2002 and the couch/chair were purchased as a set in 2010. My absolute disappointment is with the couch as you will see how "sunk" in and the material looks all loose. The couch is very uncomfortable and you almost feel like you are sitting on the frame. The padding is all gone compared to the middle seat.
Thank you for your time and allowing me to share my disappointment with my La-Z-Boy furniture.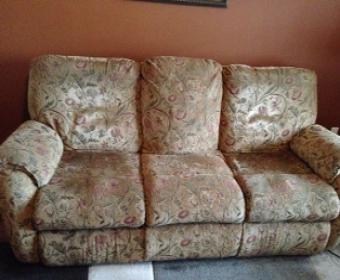 Ellie Sibley
from Calico Rock, AR
I bought 2 rocking recliners with heat and message around 4 years ago. The first year we had to repair one of the recliners around 6 times for the same thing. The foot rest would not hold up on one side and sag. Well, it lasted around 3 years the last time they fixed it. But it was a fight to get it repaired because y'all told me that my warranty expired 1 day before I called the last time. Y'all agreed to repair it, they came took it and kept it for 3 weeks. It worked fine until now. Well, the foot rest will get stuck open - the bracket/bar that hold the foot rest up is bent and screws fell out of it when turned upside down. We would like to know where we can get parts for the chair (since the warranty expired) and who is qualified to repair it. Please respond to this message or letter I will be sending to Lazy Boy corporate offices.

Karen Brunair
from Waterford, MI
I purchased a Crandell Reclina-Rocker on 5-17-14 for my husband in preparation for an upcoming back surgery. I wanted him to have quality, comfortable seating for the six weeks that he would be recovering and undergoing physical therapy. I am unsure of the delivery date, however, I know we did not have it by his birthday on 06-16-14, so it took longer than 4 weeks to receive it. The primary point here is that we have had it for less than 18 months. We have had to have the leather repaired due to a burn, which took two months and two visits from a repair person. The first person sent to us never touched the chair, stating he was not certified to work on LaZboy! I realize that this is an insurance issue, but it was ridiculous nonetheless.
Let me just say that if there were lemon laws for recliners, I would have returned this chair long ago. Very soon after the one year point of ownership, this chair started breaking down. The recline mechanism is loud enough to wake the dead, and the chair often does not return to it's full upright position thru the use of the recline mechanism. Someone has to get behind the chair and push on the back of it to get to return to upright. Also, the leather on the headrest and footrest is changing color, from dark mahogany to pink.
My husband uses absolutely no hair products other than shampoo, therefore, the issue is obviously poor quality leather. Although we did purchase the leather protection plan, it was purchased to cover damage that we might create; not to go thru a month or more of scheduling and rescheduling repair appointments to cover poor initial quality.
My husband did have his back surgery in February of 2015 after three delays, and the chair was already exhibiting recline mechanism problems. He is due another surgery on December 9th, and this 18 month old chair will not accommodate his needs. For the $2,233.00 that we paid for this chair, I would have expected it last five years or more. My research on the Better Business Bureau site indicates that all complaints about LaZboy have been resolved. Reviews posted on Facebook are somewhat positive. It is my hope that we can resolve this one as well, without me having to post yet another poor review of your products on either of those sites. I will expect to hear from you in a timely manner regarding replacement or no cost repair of this chair.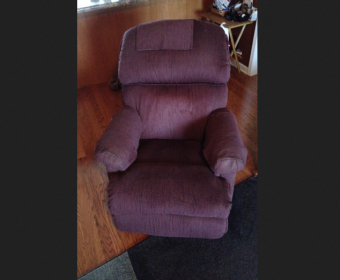 Jason Karam
from Portland, OR
We purchased two leather sofas, two leather sofa chairs and ottoman from lazy boy. We've had the worse experience with our furniture. The first set we bought, not even 6 months, the leather turned colors randomly. We called for service on the sofas, they came out and said this model has been discontinued because of the leather imported from China. And they had to replace the set for us, which we were not happy about because we bought the set because of the looks and style it was. As we went to purchase the new set, we specifically told the salesman we wanted a set 100 percent made in US because we thought that's what lazy boy furniture was about. They had signs and told us it's made in America. My parents, aunts and uncles all bought from lazy boy in the past and their furniture still looks great and that's what we wanted.
A product that will last with age. We ended up getting our new set and not even 6 months into again, the color off the furniture came off. It's dark brown and now it has white all over it. That's not normal for high end furniture. That's just a poor manufacturing if the color is going to straight up come off. We called for service they came out and the guy said the leather from China tends to do that. I told him we specifically told the salesman we wanted furniture that had nothing to do with cheap materials from China and we wanted what lazy boy stood behind. He took all the furniture in and "touched them up". They delivered it back and not even week later my wife called and told them they didn't do anything to the couches. There is white marks all over. Did they just take a pen and color them in? They said now we took care of it. Time went by and it got worse. My wife called again and they were completely rude to her.
First they hung up on her multiple times because she has an accent and they "couldn't understand her". She asked why did you hang up so fast. She said if we don't understand you we're told to just hang up. To me that's very unprofessional. She then told her the problem and she said your outside the one year warranty. My wife said this problem occurred during the warranty and whatever you guys did it came off, that means the work wasn't done properly. She said we won't do anything for you and to call a repair company. Wow that's lazy boy? Dishing off their poor workmanship to a repair company so we can pay out of pocket? We bought the extended 5 year warranty on all the pieces. Thousands of dollars for just a warranty that can't do anything? She told us the five year warrant won't fix it. We told them they salesman said the warranty covered everything, they sold it to us stating even if your child cuts the leather they'll repair it.
But you won't repair the color being scratched off? That's to me sounds a bit fishy. Now we're stuck with furniture we've had for a little over a year with five year extended warranty that covers nothing? This has been the worst customer service experience ever. I'm 100 percent unsatisfied with lazy boys product and service. They back of our invoice says lazy boy stand behind their product 100 percent. But we know now that is completely false. I'm tired of it, I'm sick or looking at furniture we spent over 8,000 on and looking like junk. I have a five year warranty that does squat. I want my money back, I want this furniture out of my house. Please let me know what your going to do for me.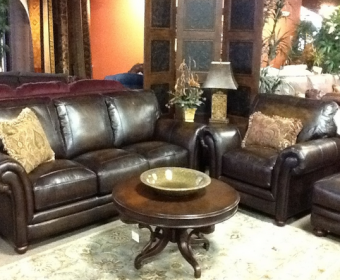 Robin Hosea
from Houston, TX
Approximately a year and a half ago I purchased two electric recliners and one electric recliner couch from La-Z-Boy at 1433 W. Bay Area Blvd, Webster, TX. I also purchased the extended warranty on all three items. On September 24, 2015 I called the store to report that my recliner was no longer working correctly. The associate verified that I had purchased the extended warranty. She then gave me another phone number to call for service. I called the number given and left a complete message as instructed by the automatic response. On September 25, 2015, I was called by Portia from the Service Center. I gave her the details of the problem with my recliner. She told me that the Scheduling Department would call me within 24hrs to schedule service.
On September 29, 2015, not having received a scheduling call, I again called Portia at the Service Center and had to leave a message. My message explained that I had not yet been scheduled for service. On September 30, 2015, Portia returned my call from the previous day. I again explained that I initiated my calls on September 24th and had not yet been scheduled for service. She told me that their records showed that I had been called but had not answered the phone. I verified that she had the correct number, which she should have since she called me but you never know what is actually written in the record. I told her that the number was to my cell phone that I have with me at all times, that I have voice mail and that I had not received one call from anyone connected with La-Z-Boy. She told me that their records showed that I had been called. She gave me another phone number to call. I asked if I would be talking to a live person and not a recording and she said that I would be.
I immediately called the number that Portia gave me and spoke with Gladys who, like Portia, claimed that I had been called but the phone just rang and rang. I told that I had voice mail but, no matter, I wanted to be scheduled for repairs to my couch. The earliest day available was October 13, 2015, THREE weeks after my first call. The only thing I can say is that after purchasing three expensive pieces of furniture and extended warranties from La-Z-Boy, after a week of waiting to get scheduled for repair, and then having to wait an additional two weeks before someone could even check my couch, I will NOT be purchasing another single item from La-Z-Boy. Also, if I have to wait that long for service, there must be A LOT of breaking La-Z-Boy furniture. It remains to be seen if the repair crew shows up on October 13th. I am supposed to get a call a day or two before when the time will be approximated as to when to expect them. I'm not holding my breath for a phone call.
UPDATE 1: On 10/13/2015 the La-Z-Boy repairman came, within the scheduled time, to repair my reclining couch. He discovered that the frame and rails had broken. He had to order the parts to fix it. The parts would not be available for another 3 weeks and would call to schedule the repair when the parts were delivered. Apparently, he is the only authorized service for La-Z-Boy repair for the area which is why I had to wait for 2 weeks before he could schedule me which was after 1 week of trying to get him scheduled. This makes a total of at least 6 weeks from the time of my first call to La-Z-Boy about the problem to the time it MAY get repaired. I started this process on 09/24/2015. UPDATE 2: On 10/31/2015, I received a message from La-Z-Boy scheduling wanting to schedule the repair to my sofa – if I had received the parts. I called back and spoke with Linda who told me to call La-Z-Boy and tell them I had not received the parts. She said that the parts were supposed to have been shipped to me and that she had received an advisement to schedule the repair but, of course, could not do so since I did have the parts. I had been told on 10/13/2015 that the repairman would order the parts and would call to schedule the repair when the parts were received.
I called the number that Linda gave me and, like before, had to leave a message and wait for a call back. This time I will have to wait at least 3 days since Customer Service is not open on the weekends. I left the message for Michelle. UPDATE 3: On 11/02/2015 Michelle returned my call. I was informed that the parts would be sent direct to me, that it would take 2-3 weeks for the parts to be received and that parts were ordered on 10/29/2015. Now, keep in mind that I started this process on 9/24/2015 and repair diagnosed my couch on 10/13/2015. It took over 2 WEEKS to order the parts. When I told Michelle that it was ridiculous that it took 2 weeks just to order the parts, her comment was "That just the way it happens."

Kim Haskins
from Yorktown, VA
I ordered a Lazy Boy Sleeper Sofa online on 9/6/15. After 10 days I contacted them online asking why I had not received a delivery call as stated on the website when I ordered. I was told I would receive the sofa the week of Oct 12 after several days of waiting for a reply. I called the Toll Free number to inquire as to when I would receive my purchase after not receiving a timely reply from the original online inquiry. I was called back and told the delivery would occur during the last week of October. I contacted LazyBoy online Oct 20 again inquiring about the delivery on my sofa but have yet to receive a reply. It is now November 1st and no sofa. My credit card has been charged for the full amount of the sofa and when I log in to my account it says shipping soon. I have searched the website and no where does it say that an order would take up to 2 months to deliver, only that 10 days may be the maximum shipping time. I expected better customer service from this company hence the reason for ordering in the first place.

Jeff Blumberg
from Lomita, CA
Purchased a recliner section unit in dark brown for $6000 account number ends in 1022. Still making payments on it. The problem and is so very aggravating, the dye for is rubbing off, the recliner looks terrible. We purchased the dye color and tried to repair but did not work, the dye cost $50, thank you very much. Called the dealer which we purchased the recliners and they stated that our issue is not covered by warranty of course. Can you help as is the recliner looks terrible. If nothing else, the corporate executives need to know what is going on at their company.

Rocky King
from Carmichaels, PA
I had bought a rocker recliner lasted a year now its been worked on three times. Only thing i ask is that it be repaired. I have a medical condition that puts me in the chair with legs elevated. But now chair is broke again can someone fix it right the first time.

Barbara Hinkle
from Jacksonville, FL
Both my husband and I have had back surgeries with rods, plates and screws in our backs. Therefore, it is imperative we have firm, supportive, e furniture. We spent $2575.48 for Greyson loveseat. When we were selecting a loveseat, we debated between the Greyson and Maverick. The Maverick back was a little to high for me, but good for my husband (6'3") and compromised on the Greyson. We upgraded to the firm seat instead of the standard softer seat cushion. We asked the sales representative.
Mary if the seat cushion change would make any difference in the loveseat. She said "No change, just firmer". Nothing could have been further from the truth. The firmer seat cushion definitely made a big difference in comfort; namely, the Greyson now gives us NO low back and neck/head support. My husband had neck surgery with plate inserted into his neck spine. If your sales representative had been truthful with us and told us we would sit a little higher because of the firmer seat cushion, we would have chosen the Maverick loveseat with the higher back instead of the Greyson with the lower back. I discussed this problem with the Greyson loveseat with Jourdain Medina, store manager, Jacksonville, Florida. He acknowledged that the firmer seat cushion would make it higher as I stated to him. His only solution was to replace the seat cushion with the "standard" softer seat cushion. This is not a solution due to our back surgeries. The standard softer seat cushion would not give us the back support we need.
Please help us by allowing us to exchange the Greyson power loveseat for a more supportive loveseat with the same upgrades currently in our Greyson loveseat. If the new loveseat is less expensive than the $2575.48 we paid for the Greyson, LazyBoy can keep the difference.
Have feedback for La-Z-Boy?
Thanks for your feedback!
Sorry. Please try again later!