IKEA
IKEA Complaints Continued... (Page 2)
87+ reviews added so far. Upset? Call IKEA corporate: 1-888-888-4532

First, they got our address wrong even when we wrote it down for them so the following weekend it went to a completely different address. Then we went back to correct our address, they put in the right address but never gave us a copy either so we were set. Now this weekend, it still went to the wrong address even when we fixed it. Very unorganized. We lost a lot of time and got frustrated. When we tried to call them back, they directed us to a resolution center so its not even clear if they corrected the address or not.

Vincenzo Anghelone
from Fulham, ENG
I placed an order on 21 Feb 2021 with expected delivery 12 March 2021 (i.e. today). An email and text confirming today's delivery was sent to me yesterday. Towards the end of the day, after not getting any delivery nor information whatsoever from the company I have called to find out that my items were not going to be delivered.
I took a day off work to wait at home (wasted); we have given away 2 days ago our previous wardrobe and now have to work from home with staff spread everywhere; no reason has been provided by IKEA for the delivery not executed (only an 'issue in the system' is what I have heard); last but not least we have been put at the end of the queue for the deliveries so that our orders will be delivered in 2 weeks time (i.e. after the orders placed after ours have been delivered ?!?!).
Could you please let me know how is this possible? How is it realistic that Ikea fails to deliver an order and in addition to causing a lot inconveniences to us, Ikea put us at the end of the delivery queue (after people who have placed order after us.

Jean willocks
from Gretna, VA
Ikea discriminates against people with disabilities. I was there with my son d/t a disability he cannot wear a mask An employee yelled at him in front of other shoppers and stated if he could not wear one needed to go and get a wrist band to mark him out like the Nazis did to jews.totally inappropriate behaviour by employee

Audrey Goetsch
from Surrey, BC
I was shopping at IKEA Richmond with my grandma and boyfriend, the experience was pretty much the same but as I was checking out there was a lady who's name tag was covered so I could not identify her came up to us and told us we could not use the yellow cart outside, my grandma and I tried to ask her what cart we could use or ask if we could just take it outside but she very rudely kept talking over us and just saying no. Afterwards we realized that after each customer the self check out station needed to be sanitized however, this lady who's job was to sanitize the stations was off doing something else. My grandma and I have shopped at IKEA since 2010 and never experienced such rude customer service. She didn't offer to help me or my grandma knowing we were going to have a hard time carrying our items to the parking lot.

Sheetal Khichi
from Halifax, NS
I order bunch of products from Ikea I realized the the size of the bed ordered is nor reflecting correct. Same day in an hours time,I reached out to customer service requested them to correct it. CS informed me they cannot edit an order if it has already been made. I requested then to cancel the order. All this happened on 26th Mar . Now its been about two months still waiting for refund to get processed. I keep on requesting CS team on chat , so far no use. they say wait for another 10 days every time
its an aweful experience, I am new to Canada. Ikea has such good brand name. My experience has been very disappointing and my 1300 CADs are stuck with Ikea in times like this.

Cynthia Johnston
from Birmingham, AL
Purchased over $1000 in the last two months. Went to hang the wall cabinets and had no suspension rail. I thought it came with it. So I go to order the part online at $14.99 and delivery comes up 49.99. I will not pay that for delivery after already paying for the 3 orders within 2 months that were delivered. ((2 delivered, 1 at store) Called customer service, transferred me to another dept.,then transferred me to another and 4th time recording says"high volumn, cannot accept your call today!

Shelby Danville
from Pontiac, MI
I would like to express my extreme frustration for a stressful process to try and get my bedroom furniture, that STILL ended in a major fail. It started with me trying to place an order online that wouldn't work, so I called IKEA to place it with a person over the phone. He was very nice and helped me place my order, unfortunately the man had typed my address in wrong which I did not realize until I got an email of a "failed delivery" , which mistakes happen, I get it. I called the number it gave me in the email and the man said it looked like it was about to be cancelled and transferred me to another line, where here I spoke to a man who said he could place the order back. I told him my address was wrong (just two numbers needed to be flipped) he said he fixed it and my order would be delivered tuesday. I asked if he could give me a time frame since I would have to be home, he could not, so I took the whole day off to sit around. Later that tuesday around 6pm, I finally called IKEA assuming something went wrong. A man said that my order had been cancelled and shipped back to IKEA because no one could get ahold of me after the first failed delivery, (due to the wrong address). I explained thats very false , because I had just spoke to a man who said it would be delivered tuesday, long story short, he said it was already cancelled , but he could transfer me to that other line because they can see more about the information. This time I chatted with a nice lady who helped me, and understood my frustration and apologized, she explained there were no notes from the man I had spoken to and would fill up a new order for me, she sent me a confirmation email, I noticed the address was still wrong (so clearly that guy never fixed it) she fixed the address for me and sent another confirmation email. I was so happy everything was FINALLY figured out correctly and she was going to have it delivered to me on this upcoming friday because I had the day off. WELL, I got an email this week again with a reference number explaining to call, but I had just assumed (OOPS) that it was from the prior issue, because I checked the tracking number and it still said it was going to be delivered this friday. Well, yesterday (monday) I got a call when I was at work, they did not leave a message, shocker, and I googled the number and it was IKEA, so I called as soon as I got out of work. The man had told me they CANCELLED THE ORDER AGAIN, because the address had changed from the first order, and they didn't know which address to send it to. The man said he couldn't place another order because the refund was already in process, and if I still wanted the products id have to go online and place another order. So, after two and a half weeks of dealing with this, and constantly thinking the problem was fixed, I still DO NOT have an order coming from IKEA. This has been the worst experience i've had with a company trying to get things fixed and delivered, so out of fear of going through all this again, as much as I want the bedroom furniture I will probably not attempt to purchase again.

Julie E Grantham
from Seattle, WA
I waited over an hour to pick up an item because my order was "pushed to the side". I inquired 3 times while watching dozens of people get their orders ahead of me. Finally on the 3rd inquiry the nice woman found my order.
This is my 2nd poor experience at ikea in the same area. I will NEVER shop this store again as my time is precious and you are extremely disorganized. I wasn't ofdered a hand or a drink or anything. Poor service.

Daisy Rivera
from Ormond Beach, FL
I love IKEA!! Now I live in Cayey Puerto Rico and the K-Mart here is closing Dec. 15, 2019.
Please, please make me happy and open a Ikea in Cayey, PR.
The stores you have here are to far from me. Thank you and have a great day.

Linda Kay
from Merchantville, NJ
Worse experience. Paid in full. Delivery came, not my stuff so I refused. No one calls me back. I get bounced around from person to the other saying they can't help me. Have not been able to resolve this to date. The number of the supervisor and extension I spoke to that was going to get back to me , no one answers it. I call back customer service and they still can't help me!!! I want my money back or my stuff. Store is over an hour away.

Jeffrey Kape
from Columbus, OH
My complaint is not a complaint you usually get but it needs to be addressed. I am a sewer and got a job at Fluvitex( a company from Spain that does most of your sewing of comforters and pillows). I started work on July 16, 2019 in Columbus, Ohio. Well, at first, it was not horrible, but after about an hour, I was ready to quit! Luckily, after about 7 hours, they decided to send our line home because the machine that sews the comforters broke down and we ran out of work. Thank God! To start, the factory has no air conditioning. It must have been all of 90 degrees in there! We did have fans, but they just blew around hot air. Second, the sewers all have to stand and sew all shift. Now, being a sewer, standing and sewing doesn't mix very well. It is very uncomfortable and not at all ergonomic. Third, the disrespect that the workers have to deal with is ridiculous and very sad!!!!!!!!!!!!!!!! There is actually a sign on the wall saying that employees have to ask their lead if they can use the restroom!!!!!Are they serious?!!!!! They are all adults and don't need to ask if the can go pee!!!!! It is a factory, not prison!!!!! Now I heard that ikea wants their employees to be treated with respect. If this is really true, you guys need to go and check out this factory in Groveport, Ohio. But, don't tell them you are coming, because they will just sanitize the whole factory so that you will not see the truth! Now, I am sure that you will probably just delete this email and go on with your lives, but if you are smart and give a damn about your workers, and they are your workers, because you are their only customer, you will go and check it out for yourself. I could only stand one day,but these poor workers have to deal with this place 5 days a week!!! This is their blood, sweat and tears on your comforters and pillows that you will have to live with! This is a company operating in America, not Spain! Workers expect more then a 20 minute break in 8 hours!!!! And one more thing, this week in Ohio it is going to be well into the 90's and in that factory I would bet it is way over that!!!!! Think about that when you are sitting in your cushy air conditioned office, or sleeping on your ikea pillows. Oh, and if I could give you 0 stars, I definitely would!!!

Baley shaft-Caron
from New York, NY
I ordered my furnature from them ans it was cleared 3 days. Ok nice I get my furnature key parts are missing. I travel back to the store which is over 30 miles away and get the "correct" parts. Get back home to realize these are the wrong parts as well. Go back to the store waste more gas time assembling more pieces. For them to tell me they are out of that part until next week. Where did my original parts that should have come with the sofa at? I'm extremely displeased and should have canceled the order.

LEONA VIVIAN REIMER
from Abbotsford, BC
This is the second Ikea kitchen I have purchased in 3 years, not to mention 4 bathrooms, and over 10 wardrobes and closet organisers. Have always been a loyal customer. Last time, a large kitchen and everything went well. This time, a smaller kitchen, and I was overbilled for a 3rd countertop installation employee with Paragon Surfacing, who admitted he was only a trainee and stood there and did nothing. After repeated messages to Ikea Coquitlam, B.C. Canada, and Caesarstone, they refuse to refund my $ 155.00. They are just overpadding my bill, as they need more money, and are having internal employee problems. If this is how a loyal customer is treated, I hate to see how a bad customer is treated. If this is not resolved by June 30, 2019, I will tell everyone who I know to boycott Ikea, go to the media, and tell them how they do not care about the public whatsoever.

Donna Oakley
from Bedminster, NJ
Unfortunately everytime we are in the Tampa Florida store it is nearly impossible to get employees to help with anything. So many of them seem to hate their job. When trying to pick up items that have to be pulled from the ware house, no one says hello, may I help, or any of the common courtesies. The last time we were there I asked to speak to a manager. I asked about orders being pulled in order in addition to unprofessional staff. She said she didn't know anything about the warehouse. They worked on their own system and that they didn't pull purchases in the order they were paid for. She said sorry about the employees. It was obvious she didn't have time to talk to me. I try never to come to the Tampa store. It's just an unpleasant experience. Everytime. At least the Sunrise Florida store is an option.

Worse service I have ever experienced. I was treated like crap, inconvenience to it's limits. I want some one higher up in ikea to contact me. I have my case number and there are series of blunders by ikea team. No one own the issue, they blame it on other department.
I want to beg people not to shop at ikea. It's not just waste of money, you will be treated like crap.
Please someone in the ikea management who want to fix or at-least figure the issue out. Contact me.

Fernando Portillo
from Orlando, FL
Two days ago, I ordered (in store) two bathroom high brown-Black cabinets #302-050.81 at your Orlando store and paid the store to have them delivered. I brought in a handyman this morning to assemble these items and found out only after the cabinets had been partially assembled that they were not the same items we ordered, in that they had wooden doors, vice the glass fronted doors we thought we had ordered. The items we ordered were two cabinets # 302.050.81 and in checking closer,, the items delivered were 702.50.79, Lillangen Hi cabinets. In trying to contact the store, I was shunted off to a central customer service number, which informed me they could not reply due to a high number of calls. Given what I experienced, no wonder. At this time I am in a quandry, the problem could be quickly resolved by having the correct aluminum framed glass doors shipped to me and I will install them and at the same time pick up the unused wooden doors, otherwise I am out the money I paid for a compoolete asembly and cannot evectively use the cabinets. I ldo not want kthe cabints in the bathroom without the glass doors, so I and my wife are extremely unhappy with this situation and want a quidk, simple resolution. The store order number for this purchase is isell no.: 319242932 paid to IKEA on 1/10/2019 The sales person was Amdrew O and delivery was made to 8067 Cadiz Court Oroando, 32836 by your deliveery service.

Qui Nguyen
from Elmhurst, IL
My girlfriend and I went to IKEA in New Haven, Connecticut to shop for our new apartment. All the employees we met along the way were useful and nice, until we go to the cashier to pay.
We had two carts filled with boxes of furnitures and other things. The cashier was rudely rushing us and gave us lots of attitude even though we did not do anything to him. Then I asked him if there was any discounts or percent off if I applied for a credit card, he rudely said he couldn't tell me and continued to rush me. Imagine spending $900 at IKEA to experience such bad customer service from them. I also wanted to get a couch ($900), but I didn't because of the bad customer service.
From my knowledge, IKEA has about 270 stores globally. If each store loses $900 a night, that will be $243,000 total because of their customer service.

Tatiana Viquez
from Pasadena, CA
I placed an order online and when the shipment arrived I had a damaged item and a missing item. I contacted IKEA through their email form and the response I received back was unclear and supplied a link that went to one of their furniture pages. I was told that it was a link to tracking my new package. I tried calling, but every time I did I was disconnected due to a large volume of calls. I paid $39 for this delivery and I think it is ridiculous that I have been given the run around and I would at least like them to compensate me by not charging me the delivery fee. The thing is I can't get in contact with anyone. I just keep getting this automated phone message that disconnects me. I will never order online with them again. This has all just been a mess!

Lola T
from Los Angeles, CA
OFFICIAL COMPLAINT LETTER
Regretfully I have to report the outstandingly poor service IKEA
has been providing to our family in Burbank, California.
The restaurant coordinating people are disrespectful and annoying : we went to the restaurant for our regular breakfast meal and rushed to the second line which appeared to have lesser people at that time. Before we knew better, a woman jumped at us and told us that we would have to join the other line of people. Now even if that was nessesary, we were already in the line getting ready to pick our food! You don't start taking the food out of a person's mouth once it is already there! What a horrible service you provide. Your people have to have some brains first before approaching customers! Even if we made a mistake, it was not her place to treat us out and escort us as if we were some criminals!
It did not happen this week, but some time this year, and I did mean to complain as soon as possible.
When we were there, no one was standing in front of the second line directing the traffic, so the appearance of this person was sudden and certainly should not be assumed as "meant to be" !
We do not care if she was supposed to be there directing the traffic - she was not there, so we assumed we can approach the second line how we please. If you mean to place someone to coordinate people, then have that person there at all times. And if there is nobody, then jumping at us with directions is too late and rude.
Another issue is YOUR SILVERWEAR is poorly washed. I did find some forks with the tiny particles of food stuck on them multiple times. Please, teach your staff to wash dishes or fire them. I don't have to point at the problems on the spot to your people!
Your water is lukewarm like a piss and is not good for making a tea. Your water making machines are often out of service. Your carts are so noisy that the entire restaurant hears them rolling. You used to have some nice variety of coffee free to IKEA family members, but now you invented token feature and my husband stopped drinking cofee there.
Your breakfast sausages are dry and outdated by 11 am. Your potatoes are often overcooked. Most of your soups taste artificially. They are plain not delicious at all. Some are very spicy. Fire your cook please. The only soup you had which was good was Mashroom soup, but I no longer see it on the menue. Too bad!
Your tomatos in the fresh salads often are rotten.Your fish dishes need to include lemon wedges , and not one, but at least two.
Your salmon is overcooked often, too.
You fry foods on some cheap bad tasting oil - I can taste that!
You need to start writing lables indicating if your food has GMO, corn syrop, high fructose corn syrop and soy.
Your Swedish meatballs should not be mixing gravy with lingonberry jam on the plate! Good Lord, who is your cook??? What a bad taste! Jam is sweet and is a desert, but you put it next to meatballs and it all mixes on the plate. Yaki! I ask for a little container all the time, but naturally the JAM MUST BE SERVED in a tiny container in a first place!
Your cinnamon buns downstairs also taste like sh*t ! Artificial glazing, and the dough is bad as well. WHO IS YOUR COOK? Fire him.
You provide free Wi-Fi, but I was not able to find power outlets. What is the point?
Also, remove citric acid from your fruit drinks! They taste acidic and overly sweet at the same time. My stomach hurt! You are making a perfectly healthy fruit drink unhealthy at all. What a strange idea of healthy meals!
I would also LOVE to reorganize your area to separate people with children from regular people. I have seen people annoyed by the screaming children. I come to IKEA to eat, not to hear children. Can you not direct them to some other area? You can surely create Japanese style room dividers and invite people with children there, so that the rest can enjoy the food and the sun in a more quiet atmosphere!

Liz Randall
from Los Angeles, CA
I ordered a sleeper sofa online and had made arrangements for my old couch to be taken prior to delivery and had scheduled taskrabbit for building it upon arrival. I received an email on the day of delivery stating that it had been delivered...yet I had no sofa. I contacted your customer service department multiple times that day as many times the service ended the call due to volume overload of callers. I had a difficult time getting through. When I finally did, I waited on hold for approximately 20-30 minutes and then no one really knew what was happening. Ikea said it was the delivery service's error and promised that they would be in touch with me by the end of the day. They were not. I had to call the delivery service twice to get a hold of someone and they finally came to the conclusion that the sofa was never received on their end and it was Ikea's error.
So the calls started again for me the next day, attempting to get through to customer service to find out just exactly where my sofa was. I was on hold for an hour that morning. Once again, they said I should receive a call and they were working on it. I never received a call.
The third day I called into your service, waiting on hold for a length of time, once again, yet had a lovely woman named Nephertiti who actually helped the process along for the first time. The next available date for delivery of my sofa was almost 2 weeks out which was unacceptable as I had no existing sofa. She encouraged me to buy another one at the store and Ikea would waive the delivery fee. She stated she would refund the online purchase. Which is what I did. I was able to obtain a sofa that same day as well as have it delivered.
It has now been over two weeks since this problem began (initial delivery date was scheduled for October 1). I still have not received a refund. I called into the service after a week and a half and they told me to wait longer. I finally called today and the representative approved it through the manager to have my refund within 72 hours. By the time I receive my refund for the originally purchased sofa, it will have been almost 3 weeks.
I understand and have grace for the fact that mistakes and errors occur. After all, we are only human. But I feel I have been more than patient and this entire system has been less than acceptable, it has been downright disappointing. I will never order from your online store again. And I will encourage others to only buy within the store if they like your products. I am disappointed as I really liked your store but am now feeling hesitant about shopping there at all in the future. This was my first online order/experience with Ikea but I do not intend to repeat it.
The customer service department did issue me a $50 gift certificate, but at this point, there is nothing I want from your store. It has just put a bad taste in my mouth and I have put in so much effort at rectifying this situation that I feel exhausted at the mere mention of the name, "Ikea."
Thank you for listening. I hope this letter helps to improve services for future customers.

r.rutherford
from Hamilton, ON
your commercial promotes dishonesty and sets a bad example for Canadian children>

Yancy
from Jacksonville, FL
Ikea jacksonville return department was so slow. It took me 30 minutes just to return a curtain hanger, worst other employees cut in line amd the manager on that day which name is raquel did not do a lot of help to make the returns easy this happen on 14th of july at 3pm

Kasia Nowakowska
from Nutley, NJ
Went to the Ikea Paramus NJ to purchase kitchen cabinets. Went downstairs to pay for it since kitchen department cashier did not work. It was 9 pm. It took 37 min to order by paid since cashier had no idea how to apply 15% promotion offer. My husband had to explain cashier what needs to be done. 2 other associates came to help without any knowledge.
9 :37 pm finally order paid
10 pm store is closed.
10:45 pm Naomi one of the associate is saying " they are still waiting"
Someone answer " for what?"
11:00 pm associate responsible for handling pick up desk left.
Few people by return area had a small party after work. Nobody cares that we still sitting and waiting.
11:45 pm I had enough and ask to speak with management. Very rude Naomi calls someone. Still no order no sorry no nothing, just rude attitude.
Then William F. manager is coming telling he had no idea what is going on. (!?!?!)
Then we learned that 3 parts are on back order . Ha nobody even told us that for 8 cabinets 3 are not available.
It took another 15 min to proceed back order and find out when missing parts are coming.
12 :20 associate pushed out cabinets to parking lot and all fell apart. Hope they are not damaged.
Extremely poor customer service. People are only giving me attitude. I really don't know if I will keep this cabinets and will purchase anything else from Ikea. Unbelievable.!

Robert Workman
from Easton, PA
Worse company I have ever dealt with. No way what ever to contact you. Cancelled my order and will never buy from you again. Your customer service is nonexistent. Your co. Should b sued for fraud. You have nothing but bad reviews. Tell me you will deliver , I wait no one shows up and u can't even keep up with your lousy inventory. I have told numerous people of my problem in hope they do not get ripped off too.

Charlene Rockwell
from Maple Valley, WA
Hi I live in Seattle and I went to the IKEA store at south center. I was in the store for a couple of hours. I was getting ready to leave when I noticed a poster on my wall they were just two left, it was a vintage airplane. I went and found help to see how I can get that plane. The woman who helped me said they would give me a call when they took the plane poster off-the-wall. Because it takes special people to take things off walls in IKEA. She took my number my name reassured me someone would call me. there were just two posters left, there was another person on the list the other poster. For that vintage airplane. She reassured me that I would be getting a call but for me to call in a few days which I did and no one would help me or call me back I waited another two days and called. Found out that they sold the last two and didn't even call the people that actually wanted them. Very disappointed in IKEA. I don't think I would ever shop at IKEA again. It seems they can't stand behind what they say. I left leaving that store spending a couple hundred dollars I don't think for me I would go back to that store again. Very disappointed on their customer service.

frederick alex
from Westland, MI
I had to return box 2 of a 2 box furniture item to Ikea Store in Canton, Mi because of missing parts. Had to wait 45 minutes because their computers were down. Return was processed and then had to wait for over an hour for them to bring the item to the waiting area even though I knew were the item was and could have gotten it in 5 minutes but was told they had to bring it to me. They were not busy, mine was the only item for them to get for most of the time I waited. My complaints did not speed up the process. I have spent several thousands of dollars in that store, customer service is terrible!

Isabel calatayud
from Union Township, NJ
My daughter bought a 6 drawer dressing for her room, she paid over 300.00 dollars plus 169.00 to assemble plus 67.00 deliver. The day they were supposed to be delivered, but they never call. Then they show up at the door my daughter told them to wait 5 minutes. We called ikea and the customer service 1800 number. They are such horrible people that they made my daughter and me to go to the ikea in Elizabeth NJ. When we got there they told us we don't have to go there to schedule again the appointment. And they are keeping being rude.

Elliott
from Temecula, CA
About 2 years ago we remodeled our kitchen in our house located in southern Ca. We purchased all of our cabinets from Ikea and what a complete waste of time, the people they hire are morons we must have gone back at least 10 times because some times they give you the right item and sometimes they forget to give you everything you purchase other times its broken in side the box and more importantly the cabinet they are selling is not what you get when you get home to install, it takes a skilled carpenter to duplicate the same cabinet they are selling in the store but they don't tell you that. We also purchased a electric wall oven which we have had nothing but trouble from the start. The oven came with a 5 year warranty, that's one of the reasons we purchased it at Ikea.
Well the oven started to work okay until we used the self clean and the oven had a meltdown. We called Ikea and that is a miracle in itself that we got through to a real live human being, They did get a repairman to come and check the oven out, it need a lot of parts the repair guy was here back an forth to our house over the course of a month and all that time the oven was broken. Fast forward to may 3 2016 and the oven has broken again, this time the repairman claims its a fuse and maybe more. I cannot get Ikea on the phone but we would like a new oven or our money back or we will be going to small claims court. I would rather be dumped into a pit of venomous snakes than ever have to shop at Ikea again, what a bad company.

Joyce Gorman
from Glasgow, SCT
Yesterday 21st April we visited Ikea Braehead Glasgow for lunch, we chose fish, chips and peas the chips were cool when we were given the dish however they were really cold by the time we queued to pay, then collect the tea. The fish was solid unable to cut it up to eat. I would say this was the worst food I have had in a long time. Can I also say I feel the system is wrong, once you reach the payment area there is folk in front of you paying for tea /coffee while your tray with the food is becoming cold. I think hot food should have it's own cash desk preventing this chilling down of food. If you wish to contact me, please do so.

jocelyn dsilva
from Isleworth, ENG
I have bought a sofa IKEA ektorp with the long one side, when i received the sofa, i was very taken back of the quality, it was socking to see how cheaply it was made. I called IKEA customer service number. I asked them where it was made, was really more shocked they didn't know, so i read the label and told them where its made Poland. I said i didn't want the sofa, but they said i need to go to IKEA store, what? Why does IKEA have a call centre then??
Also it states complimentary i should get foot stool or control pockets for the sofa, didn't receive nothing. I asked them, they said, they didn't think that these where included, but that is what it says on the website. IKEA is Swedish at least it use to be, im very very unhappy with the service and never mind having to put it together the hole thing, not just part here and there, its like your building your own sofa. I waited how long to receive this sofa and what did i get? I cant get over the quality, how its done stabled all over. I will never buy anything from this company again and will be emailing the corporate office with my complaint.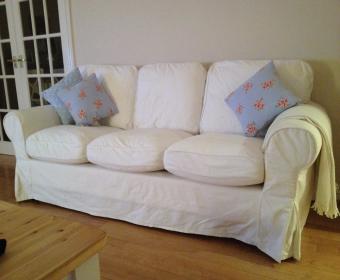 Josie martin
from Denton, TX
Purchased an Alex 9 drawer. Came with incorrectly made piece. Drove an hour back to the nearest store. Waited 40 minutes to receive correct parts. Bring it and the old parts home and realize they removed the hardware and didn't provide new hardware. Called customer service phone line and spoke to the rudest woman and even after expressing that I was upset with the the way I was treated at the store during the exchange of parts, she never so much as apologized and just sent the parts (which will take probably 2 weeks). When I let her know I wanted to speak to an IKEA customer service supervisor, she was extremely rude and unprofessional. My entire apartment is furnished by IKEA from bedroom set to kitchen towels. They got my money for so long but will never see another penny.

All I need to do is cancel an online order as the delivery date is going to be too late for me. So I want to just pick up the items in the store instead. I was unable to call the night I did it due to their hours. So I called IKEA customer service dept. as soon as they opened up while I was at work. I was on hold for at least 15 minutes had to hang up due to work and now have called back again only to be on hold for 20 minutes now. This is a complete waste of time. All I want to do is please just cancel my order. I can't even push and option to have them call me back or send an email.
I'm very frustrated with their phone system. Finally reach someone and she tells me I'm with the wrong department so I ask her for the phone number she gives me the phone number and the options to do that. I do that and am once again put on hold as I'm not with the right department and once again on hold. My gawd there has to be a better system than this.

Michal Stein
from Dorking, ENG
Despite being told a delivery will come today between 7am and 1pm, and paying £35 for the service, delivery did not happen and after MUCH chasing and staying in all day, I was told delivery will take place tomorrow. Upon asking what time tomorrow, I got no reply. Now have no idea when/if items will be delivered. Would never have paid for the service had I known it would not be delivered next day as promised.

Ivan Suchel
from Hercules, CA
We had an unfortunate accident and need to replace our sofa bed LYCKSELE HÅVET mattress. Thought we were able to see it on Ikea website it was not available. We went to the store and found out our 2 year old sofa had been discontinued. We have nowhere to go there is no customer service is this legal? I thought that IKEA was a good company but now I just want to call them to complain about this experience. Anyone have their contact info or a good email address for the CEO?

After a hectic day at work, who wouldn't want to relax. I was looking out for a recliner and wanted it to suit the media room of my home. Ikea was the right choice for me and I found some amazing stuff. To my luck there was sale going on as well and got some great deals too. At Ikea, I also found a perfect bar table to suit a corner of my bar place.

I think Ikea is generally a good furniture store but my complaint is with their prices. Slowly over the past several years Ikea has raised their prices. What used to be a very cheap place to get decent tables and lamps is now just as expensive as everywhere else. We went there the other day and ended up walking out with more than $500 in items when I expected to pay $200 or less. I no longer shop at Ikea but for the price I might as well go somewhere that has higher quality merchandise. The benefit is no longer there for me and I used to love shopping at Ikea!
Thanks for your feedback!
Sorry. Please try again later!