Hertz Car Rental
Hertz Car Rental Complaints Continued... (Page 2)
121+ reviews added so far. Upset? Call Hertz Car Rental corporate: 201-307-2000

Sarah Allison
from San José, SJ
I had made a reservation at the Tamarindo office March 5th until March 6th over a week in advance. My email confirmation said the pick up time was 6:00. I arrived at 6:00pm and the office was closed. I called the office in Liberia, Costa Rica (which is a little over an hour away). When I spoke to them, they said the office closed at 5pm. How was I suppose to know this when my confirmation said to pick up at 6:00 and the office house were from 7:30 am - 6:00pm. The guy in Liberia said he would try and call the manager to see if he would come in. Ha also said the guy waited for 30 minutes for me. And THEN his story changed and said he waited an hour for me to come. Impossible.
The man in Liberia said he was calling the manager in Tamarindo to come in and that he would call me back with an answer. After waiting about 30 minutes, I finally called him back. He said that he "tried" to call back, which is a lie, and then said the manager in Tamarindo was not going to come in to rent me the car. However, he said that if I drove to Liberia, there was a car available for me to rent. So I went to Liberia to the office, over an hour away, and by this time it was about 8 pm. After I filled out the paperwork, they charged my card, gave me the keys, they realized that I had a one day rental. As I am about to drive away, they realized this and said that they would not rent to me. So here is a quick recap....
I showed up ON TIME to pick up a car...The office closed at a different time that was given to me AND I had reservation with the times on it ... Waiting around for over an hour for an answer from the manger in Tamarindo ... I had to call them back in Liberia and wait for an answer ... I drove to Liberia, over an hour away, to get a car they said was available ... They charge me and I fill out the paper work ...They give me the keys ... The car turns out is not available .... I left without a car ....
Not only were the managers super rude about it, they did nothing but give me other numbers of places of other places to rent. Also, by the time it was all said and done, it was about 10:00 pm. I needed this car to drive to my Immigration appointment to have my visa renewed. I had a reservation so this really messed up my plans. I was so upset and angry. Thanks to Thrifty, I got to my appointment on time. I will NEVER use Thrifty and I will not recommend them to anyone. Things you can improve on...
Check your website to have the hours match up. Make sure you know if a car is actually available.

I had a reservation with a confirmation which hertz refuse to honor.i was forced into a little bigger vehicle which was 3 times the price of my reservation.i cannot find a mananger or no one in athority to talk to.i tried to call n speak to someone n was just told that there is nothing they could do for me. I am very very very disappointed.i rent a lot of vehicle from hertz before but again .i will post my complaint on every site i can possible.very much hurt about the situation.these people r unprofessional in every aspect.#1they dont understand customer satisfaction.from a score from 1 to 10 they r -1.its sad to say .

Hi Mark, Good Morning. How are you. Hope this email finds you in good health & happiness. Sorry to disturb you, as I know that you will be busy with lot of important works. I am approaching you as a last resort, as I am fed up with following it up ( since more than 2 months) with the Hertz Customer relations team & the Hertz saginaw location manager regarding my issue. I am a President Circle Gold Plus member bearing no. 58452376.
I have been renting almost continuously from Hertz, every month from May, 2012 (i.e. since one year & four months till date). I have sent email yesterday i.e. 15th Aug, 2013 to Monica Leonard Customer Service Team Performance Leader requesting her to address my issue. The email sent to monica leonard is forwarded for your ready reference. I humbly request you to Kindly look into this issue & do the needful asap. I never expected that this type of treatment/service/hospitality will be offered to the Hertz President circle Gold Plus members, leave aside the service offered to the ordinary customers/members.
I thought Hertz is ahead of other car rental companies, but to my complete and utter surprise, now I may have to believe that, what ever I thought earlier doesn't seem to be correct. Inspite of the above, I am willing to continue with Hertz but it seems it is getting tougher for me day by day. I want to maintain a cordial relationship thereby enabling both the parties to benefit from this relationship. Hope you understand and do the needful with a fair view of judgement.I beg you to treat this as most urgent, as I need to return the car today before 5 PM & pick up a car by entering into a new rental contract with hertz. Your help in this regard will be highly appreciated. Thanks in advance. 

State Farm Insurance paid for a car rental from Hertz on 2/25/2013. I was told to turn the car in across the freeway from the Hertz locacation where I had picked up the car. I turned it in the same day I rented it. About 2 miles from I stopped and filled up the gas tank. The next day I discovered I had left something in the car.
I called the location where I had rented the car and was told it had been picked up and taken to a different Hertz location about 10 miles away. I went there and got my belongings. The next day I was charged $25.58 for gasoline. I called Hertz and was told since they'd driven to another location the Hertz employees at that location had assumed I had turned the car in without a full tank. He told me he would credit my account. I waited a week and called again. The man asked me to email him a copy of the gas receipt to katyfreeway-txhelsor@hertz.com. I did so and waited another week.
I called again and asked to speak to the manager. I was told he wasn't in so I asked for his name and left a message. Another week went by and I called again and was told he was with a client. I told the person on the phone to tell that if he did not return my call that day I would file a complaint with higher-ups. This is my complaint. I've been lied to and ignored and dodged. I demand a credit to my account in the amount of $25.58 immediately.

I was the innocent party in a collision on a roundabout and because the other driver would not accept culpability I have ended up paying Hertz 767 euros /£500 because they have accepted her version of the story after I supplied photos and diagrams of the accident, it was even passed on to Eversheds solicitors for them to fight in court but I suspect they didn't even defend me in court as I was living in Spain at the time. After well over 10 years regular use of Hertz for long term monthly and fortnightly rentals I have now given up on the company altogether & would not recommend them to anyone as their claims department is a joke.

I rented a full size car from Alamo Car rental for two days from April 5 to April 7 2013. I was given a top of the line Chrysler 300 with leather seats, XM radio, power locks doors, and premium amenities .... total cost $71.24. I rented a car from Port Canaveral Hertz after our Bahamas Cruise for 1.5 hours to go to the Hertz rental at Orlando International Airport. I was given a Chevy Mini SUV (basic model). I drove 46 miles and paid $89.53 ( I used approximately 1/8 of a tank of gas and was charged $32.09 Fuel and Service Charge). I can fill up my Cadillac STS, V-6, 305 hp (lot bigger car) with premium fuel for $50.00. I had a prepaid car rental for a full size car that I picked up at the airport from Hertz. I was given a basic model Nissan Altima. I asked for another appropriate full size car but was told that I would have to upgrade to a premium vehicle paying over $20.00 more per day. I just kept the Nissan Altima. Needless to say ... My spouse and I are very displeased with Hertz Car Rental and will not be using your company again in the future when we have experienced excellent customer service from numerous other rental car companies who charge ... surprisingly at a considerably cheaper rate. I will not recommend Hertz to anyone of my companions or family members. I can see why there are longer lines at the other car rental companies at every airport that I have visited (and I travel frequently). Apparently they learned early what have experienced during these two rental agreements today. I will be turning in my car on April 15th 2013 at the Orlando Airport.
Thank you for your time and have a blessed day.
Sincerely Kevin Wise
SFC Retired US Army
Killeen, TX

I prepaid for a rental car in Dec. for a trip to ATL 1/12/2013. When I got there being a #1 Gold member I went to the reserve board for the space location of my car and it was blank. I went to the service desk and they said my debit card declined the $200. deposit that I knew nothing about. I called the bank and found out I was $13.00 shorts from having enough. I offered them the difference in cash and they told me the couldn't receive cash. I then offered a credit card to pay the total and they said the payment had to be paid as the same card on file. "Stalemate" After talking to 3 different service reps for Hertz and hour later I gave up and got a number to ask for a refund. I them went across the isle and rented a car from Avis for $100. less and no deposit was requird. They had me in a car in 15 minutes. When I got to my hotel I called that Hertz number to request a refund and explained why. I made a mistake by not getting that persons name but he ask me if I was still at the airport. I told I left two hours ago after renting a car from Avis. He said normally there is a cancellation charge but he would waive that charge due to the fact the airport Hertz service people did not make an effort to fix the problem by calling him as he could have fixed it. Today is the 23rd of Jan. and I'm back in Wichita, Ks. I called to ask why the refund on my prepaid od 210.37 was not processed. They checked and said it should show up any time now minus the $60. cancellation fee. I'm not sure who in charge but someone better look at this. After 20 years of being a loyal Hertz member I will never use your rental cars again. Enjoy the $60. you stoled from me. My next step is to cut and paste this to all of my social media account about " The Hertz Rip Off ".

Never in my professional life have I experienced such a low level of professionalism and customer service than that shown by your staff at 11:00am on Feb 23. I arrived and rented a midsized car at a ridiculous rate of 160.00 for ONE DAY. The money was not the issue. Once rented the rep asked me to walk over the door and someone would direct me to my car. I did just that but there was no one to be found.
I returned to the counter where an older woman with glasses brushed me off and said "go outside and find someone in a orange vest" I stated that I did look but no one was present. She then stated to "walk around the back of the building" WHAT??? Is this some third world mentality? It was 24 degrees out and I am being ask to go hunt down one of her fellow workers so that I can beg someone to help me get my car I just paid 160.00 for.
Why coudln't she use the radio she had next to her and call for someone? the answer is..SHE COULD HAVE. Pure lazy and disregard for the customer. The attendent I finaly found said to go and pick any car in the line and take it, the "keys are in it" SO...I began to look for keys.. FOR 10 MINUTES in the 24 degree weather. I finally found the attendant and ask for assistants. He looked in the car and surprise..NO KEYS! so he said "just take another" The lack of customer service that your company shows is appalling!
I will be returning to Denver 5 more times over the next 4 months and I will NEVER rent from your company again! I have status at National and Hertz and Thrifty was the only cars available due to demand. This was a chance for you as a company to gain a new LOYAL customer and you failed. Obviously there are no superiors that manage this location that feel customer service is important because it shows all the way down to everyone I dealt with. You should be ashamed at how your company is being run at the Denver office.
Clearly, the focus is on sticking me and my colleges for high rates and completely disregarding any type of customer service. NEVER AGAIN!

My company had arranged for me to pick up a rental car on 03Sep13 at 12:00PM in Orland Park, IL (confirmaiton # F8881718418CNTR); fortunately I called the day before which is when I learned that that location was no longer open and I should go to a location in Mokena, IL. It is unfathomable to me why such critical informaiton was not conveyed to me by Hertz. When I arrived at the site at 12:45 on the 3rd the car was not there and neither was the site manager, Kyla. The man who was there told me that he had no idea when the car would be delivered or any way to find out. He stated that he had no way to contact the manager or anyone else who could assist me. He expected the manager back within 15 minutes from lunch but she did not arrive. I had been dropped off expecting the car to be there so had to call someone to come back for me. I left my telephone number and asked for her to call me upon her arrival. She never had the courtesy to do so. I called back at about 2:00 and was told they did have a car there now and it was being cleaned and would be ready in 20 minutes. When I arrived the manager was there and basically told me that the car was not ready at 12:00 because when I had called the day before I had stated that I was not sure exactly what time I would arrive. At no pont in our conversation on the 2nd had I stated or implied that I was changing the pick up time. Kyla was completely unprofessional and is not a credit to the Hertz organization. I'm a Hertz Gold member and feel quite let down by the level of service I received.



Disclaimer: This complaint was submitted by Jennifer Worrell on 09/09/2013 at IP address 198.178.191.2 using our Hertz complaint form. This opinions contained in this Hertz customer review titled, "Hertz location had moved and I was not notified" do not reflect the opinions of this website.

I rented a car for three days in Myrtle Beach, it was the most expensive car I've ever rented as I usually rent my cars through Zipcar.
Zip car pays for gas, 180 miles per rental and covers you for anything that happens to he car while you are driving for a one time fee of 75.00/year the most I've paid to rent a car for three days is 242.00.
When I got my car at Myrtle Beach airport Hertz, I had to pay almost 50.00 per day for insurance because I don't have a car at home so therefore no car insurance.
What a ripoff also had to pay 12.00/per day for the GPS which was well worth it. By the time I brought the car back I had paid another 40 bucks for more gas so the rental cost me 425.00, ridiculous!

RR 165112194. I was returning my rental car at Denver Intl Airport (DIA) last night about 5 pm. There was a big line and only two check in agents. I got all my stuff out the car and was waiting for an agent. About 5 minutes later a car pulls up two lanes over to my right, cutting in front of about 12 other cars, an agent walks right over and checks them in right away. When I asked her why they got special treatment, she said they were "platnium." I had never heard of that level and said "I am President's Circle and I though that was the highest level". She looked at my contract and said you are "just gold." She then sarcastically asked if I had ever rented here (Denver) before. Then asked if I knew that I could take the shuttle over to the airport from the car rental drop off. I explained that I rent probably 35-40 times a year in Denver alone. She then sarcastically said "well then you know to leave, Bye." Her name is Tammy and she was extremely rude. If that is how you train your employees and you condone their attitude, I can always change car rental companies. Let me know. Hertz Gold #52636120

Rented a car at the Denver Airport online via Priceline. Sales rep at the counter immediately developed a bad attitude when I declined insurance. Tried three times to upsell me to a larger vehicle from the compact I booked. Said "You're getting the smallest compact we rent." She ended up putting me in a Mazda 2. I was behind schedule for an appointment so didn't have time to go back and change it but the Mazda 2 is a SUBCOMPACT, tiny,tiny vehicle. Felt like I was driving a roller skate for the three days that I drove it, never felt safe.
I rent cars four weeks a month. I don't think Hertz will be at the top of my list nor will it be for my fellow employees.
RR # 597388245
Location: Denver Intl. Airport
Dates: 4/29/13 - 5/2/13

If you do not stop sending me these e-mails I will be forced to take some form of legal action , now I have asked nicely in the past , alas no response from you , so once again please take me off your mailing list , I have never applied for a job with you , nor do I ever intend to at any future time , I also would never rent from you , nor after this e-mail campaign will I ever give you any form of an endorsement as to your service...
Hi,
you applied for a job with us earlier but it was filled. We would like to let you know that Hertz is now looking for a Branch manager-in-training for our new office that will be opening soon in your city.
Hertz Equipment Corporation is a fully diversified subsidiary of the Hertz Corporation specializing in rentals, sales, and service of the very best construction equipment available today. Hertz has a staff of approximately 5000 employees and maintains 287 offices in 47 states in the U.S. and Canada.
We offer a unique position requiring flexibility, adaptability, and leadership.
Responsibilities for this position include, but are not limited to:
- serves as the overall business manager;
- sssists in opening a new branch;
- hires, fires, sets expectations for employees;
- monitors the work of all employees;
- manages accounts receivable and accounts payable;
- purchases inventory and equipment from vendors;
- manages all dealer to dealer transfers and equipment sales/rentals;
- adheres to corporate budget.
Hertz offers an onsite 3-month training program, competitive salary, comprehensive benefits package (including 401K), discounts on vehicle purchases, generous vacation program, and excellent advancement opportunities.
Please respond with a personalized cover letter to proceed with the application process.
EOE M/F/D/V
HR Department
HEC Division
Hertz Corporation

I recently rented a vehicle from Hertz at the Salt lake City Airport on October 3, 2012. Our plane arrived at 9pm and we were at the Hertz rental spot by 9:30pm. There were only 5 people ahead of us and we waited 45 min to be helped. There was 1 man manning the desk and I don't know if he was a new employee or not but he obviously didn't know what he was doing. Finally a lady showed up and we gpt waited on. Should be end of story, right? OhNo!!! The lady then proceeded to send us to the wrong level and we spent another 20 min trying to find the vehicle. We had to finally go back to the counter and this time we asked the man where our vehicle was and he gave us different directions entirely. So by the time we finally found the vehicle we had wasted 75 min. I have rented vehicles before and have never had this much of a hassle before. I most definately NEVER rent from Hertz again!!!!!!!!

On Feb 26 I rented a car from the Reagan National Airport, The original booking was through Hotwire.. Originally I was to return it in 7 days. However, do to a tremendous job opportunity the car was driven to a different location. What I have asked no less the 5 people to do is allow me to continue the rental but I wanted to book at a lower and better rate through the company. after peaking with a customer rep that wanted to extort 1300 from for a drop off fee and dropping the car off was not what i wanted, she then offered to let me continue to rent the car at a ridiculous rate of 66 dollars a day. I have every intention of returning this car to the original location however i just wanted to extend the rental a t a reasonable rate. Two of the reps I spoke with one from the Seattle Airport and one from Reagan both claimed to have sent emails to the managers bu no and I mean not even a automated voice has responded to help me. As it stands at this point I could not return the car due to the extreme weather conditions from super storm Saturn if I had too. I am looking for some assistance in solving to me what seems to be simple issue. additionally member of the company I work for have attempted to address this issue with no results at all. I amd my team have been good customers to your company however that is going to stop. 5715771769

To whom may concern,
We have been renting from Hertz for more than 5 years now and for the past 2 we have been Gold members. We live near La Guardia Airport in NYC, we could have rented from the more than 30 rental places at La Guardia and JFK, which its just a bit further away. But we kept on going to Hertz because their enthusiastic, agreeable and amicable staff members.
We rent almost every weekend for business purposes and on the Gold counter theres always friendly and ready to help staff that keep us coming back every time, because of this reason alone, we are loyal to Hertz. A few weeks ago we encountered problems with the manager of La Guardia Airport Hertz, "a computer issue" made our invoice more expensive than what was supposed to be, unexplained "extra charges" were added and because we were in a rush to get to work, we decided to let it go that time.
Sadly today we had another incident, we needed an upgrade from a full size to an SUV. Our representative, at the counter, was again really nice and tried to make the the upgrade, she asked the manager for help with the computer, he came to the counter and without manners he completely discarded our reservation, canceled what the representative had on the screen making her start from scratch again and on the top of that he told her we couldn't upgrade to anything on the entire lot! A full lot and we couldn't upgrade? He didn't looked at us at any moment, he simply walked away and ignored the entire transaction, he didn't apologized for any inconvenient, he didn't even said good afternoon, as any educated human would do, mostly A MANAGER of a prestigious establishment. What a shame, for one sole person to make Hertz a shameful experience! Our amazing representative talked to him to try to make the upgrade, he didn't even had the manners to fix the transaction that he already ruined, finally our representative found the way to go ahead with the upgrade and fixed out issue.
We asked for his last name but he refused to give it, for what I saw on his name plate , his name is "Nana", manager of Hertz La Guardia. On top of not getting his last name, he stared at us while on the counter. I felt intimidated and scared he was going to take retribution against our representative. Because of today's terrible and disgraced experience we are putting in doubt if we should go back to Hertz. As I said at the beginning, there are plenty of other car rentals, mostly in NYC. We DO NOT depend on Hertz for renting cars, they all offer exactly the same and have the same car fleet. We loyally stayed with Hertz because the amazing staff, BUT the fact of having one unique disturbing member that completely puts in shame the entire Hertz business, provoke us to never want to go back or recommend you.
I have written many great reviews for the staff at La Guardia Airpot before, I thought this needed a bit more of attention than a simple review on your website. I really hope the Human Resources office receive this letter so they can be aware of not hiring poor quality people with the ability of putting in disgrace an entire corporation.
Sincerely,
Paloma Campo
Senior Designer / Interactive Media
Ivillage NBCUniversal
75 9th ave.
New York, NY
10011

Your JFK are manager Chris is by the far the most pleasant, personable employee I have ever spoken to, and I have spoken to at least 20 in the past 6 months. He handled the situation with grace and did not just pass me off to some other employee or transfer me to a different number like everyone else normally does. He did not cut me off and made me feel heard. He was so kind and easy to talk to. Chris really made me feel 100% better about choosing Hertz, because honeslty I was starting to question if that was actually a good choice. Chris was awesome and should be acknowledged.

I rented a Ford Focus or equivalent to be picked up in Munich on March 6, 2013. This was through Auto Europe Kemwel. The car was reserved and paid in full prior to arriving. According to Kemwell there would be no GPS with this model, consequently I had to pay $40 for a GPS which Kemwel sent me and I had to take with me on my trip.
When I arrived at Hertz at the Munich Airport I was told that they wanted to upgrade my car to a very large Mercedes. I did not want the Mercedes as it would not be very economical. I was told that they didn't have another car for me even though I reserved one. After complaining about this they suddenly found a Ford Focus that had a GPS built into it. Upon returning back I called Kemwel on March 22 and asked about how I could get a refund on the $40 unnecessarily spent on a GPS. They said they could not refund my money. Consequently as a customer I am out that amount. I am dissatisfied with both Hertz and Kemwel.

I recently hired a car at Arlanda. The airbag was not working. The bonnet was not closed and not noticed until it sprung up. I was charged 10 days congestion charge for a trip that covered 2 weekends where the charge is nil. That is tantamount to fraud and I wonder how much money Hertz is making from this. To top it all Ii am being charged 1000kr for a dent smaller than a ten pence piece. I am told that the money will be taken from my account tomorrow unless I can call Sweden from the uk and speak to the manager. Chances of success? Not likely I imagine. Yours in disgust, C.Law

Whitney Stout
from Franklin, MI
If a negative rating was possible, this place deserves it. When picking up my rental car at 7:30AM (I called the day before to make sure one was available,) they proceeded to tell me to take the car to get an oil change on my way to work. "No worries," Jeremy said; "it'll only take 10 minutes." EXCUSE ME? You want me to take a car that I am renting to go get serviced? Absolutely not. I refused and was put in a pickup truck instead. Wow thanks. So then two days later, I check my bank account. A $362 charge was taken by Hertz for the rental car. I am stunned. Not only is my account now in the negative, my blood pressure is now getting higher. I call the Royal Oak location and they inform me they have lost my insurance claim number; which I verbally gave to them two days prior; hence getting in a pickup truck.
I inform them this is not my fault and I need the funds released immediately. They connect me to billing; a whole new fresh hell. The woman in billing informs me that since I had no claim number; Hertz charged me the normal amount for the vehicle. Whatever-just GIVE ME MY MONEY BACK. After two days of phone tag, they tell me to turn in my lovely pickup and rent another car and open a whole new rental so the old money can be released. Needless to say, I turned in my redneck mobile and went across the street to Enterprise where they were AMAZING. No issues, no hassles and no STEALING MONEY. Oh, and after I turned the car in and called a few days later when my money had not yet been returned, Hertz Royal Oak told me to turn the truck in and start a new rental....even though I already did days ago. Days have now passed and still no sign of my money.
I WILL NEVER USE HERTZ EVER AGAIN. They cannot find their asses with both hands. This has been the worst experience of my life and such a headache. Oh, and my account is still in the negative.

Gabriel Scarnato
from Palm Coast, FL
I rented a 2014 Dodge caravan from the Hertz office in Bunnell Florida. I had the truck for 4 days and wanted to keep it longer its return was set for 12/30/2014 I called the office on 12/29/2014 told them that I would need it for another 3 days they said that it was fine.I drove the truck to my sisters house in woodhaven Florida where the brakes failed I was lucky that I was able to use the curb to help stop me or myself and my Grandchildren could have been killed. I called the Hertz number for road service and told the lady what has transpired she was very nice and sent a tow truck to my sisters home to pick up the Hertz rental SUV. The keys were left with the truck as I was told to do and that was the end of it I thought.
After 2 weeks went by I noticed a large charge on my credit card from Hertz, I contacted the office in Bunnell and spoke with the manager. He informed me that the truck was missing and that I was the last one to have it and that I was being charged everyday until I brought back the truck. I then explained exactly what happened he said that he had no record of the truck being towed. I told him that I called Hertz and that they sent the tow truck and that I had no Idea where it was and that it was not my responsibility anyway he claimed that I was the last one to have the truck and that he was charging me daily until I found the btruck then hung up on me. I spent hours tracking down the truck by calling the Hertz customer service department who informed me that they picked up the truck and that it was in the storage yard at the wrecker company in tamps because they were closed and the tow truck driver did not know what to do with the truck so he took it to their storage yard.
I then called the manager at the Bunnell office gave him all of this information and I again thought that the matter was over but the manager at the Bunnell kept charging my creit card for the truck I called him again and he claimed that he still had no idea where his SUV was I asked him if he called the wrecker yard that I gave him the number for that I had to track down doing Hertz job and the managers job too I called him again and asked him if he spoke with the storage yard he said yes but the idiot did not ask them any questions about how the truck was delivered there and to this day 01/21/2015 is still charging my credit card so with all of this information I am contacting a attorney and filing charges against Hertz We will see what happens when you eople hire dumb people to handle important jobs that are thieves. See you in court.

CATHLEEN BEEBE
from Las Vegas, NV
I AM CURRENTLY RENTING A VEHICLE THAT IS UNSAFE. I WAS PULLED OVER BY THE POLICE TODAY AND TOLD THAT WHOMEVER DID THE MAINTENANCE ON YOUR VEHICLE REPLACED THE RED BRAKE LIGHT BULB WITH A WHITE ONE. THIS IS UNSAFE. THIS COST ME 1 HR OF DELAY INTO WORK TODAY. ALSO THE FRONT PASSENGER TIRE IS LEAKING AIR. I FILLED IT AND THE SENSOR IS ON AGAIN. I CALLED TO HAVE THE VEHICLE EXCHANGED AND YOUR SUPERVISOR LINDSEY AGENT ID #2712005 STATED THEY COULD NOT SERVICE AND EXCHANGE A NEW VEHICLE AT MY WORK. I NEEDED TO TAKE MORE TIME OFF WORK AND GO TO MCCARRAN AIRPORT AND EXCHANGE. I TOLD HER THAT WAS ANOTHER HOUR PLUS OFF WORK TO DO THIS. SHE SAID SINCE ITS WITHIN 10 MILES HERTZ CANNOT DO THE EXCHANGE AT MY WORK. THIS IS UNBELIEVABLE SINCE THIS WOULD BE MY THIRD WEEK RENTING THIS VEHICLE FROM HERTZ!
WHERE IN THE HELL IS CUSTOMER SERVICE????
MY RENTAL RECORD #989363023
EXTREMELY DISSATISFIED WITH YOUR CUSTOMER SERVICE!!!

Theresa
from Las Vegas, NV
Worse!!! Why did State Farm sign with Hertz!!! Worse customer service!!!! Can't get a car! State Farm please get them off your list!

Dora Jacobson-Bauer
from Minneapolis, MN
I picked-up a rental car at the Hertz location on Monday, August 6th, 2018 at the McCaren International Airport in Las Vegas, NV - when I arrived there were no cars available and I had to wait. Today, August 8th, 2018 the right passengers tired showed a low tire pressure signal inside of the vehicle; I proceeded to call Hertz and was told to return the car and pick up a different vehicle. I arrived at the drop off center and proceeded to the Hertz counter and waited in line for more then 30 minutes, I was then told to go get keys from a vehicle and bring them back into to the office/counter. I did this and waited in line again for more then 20 minutes; only to be told that I took the wrong keys. Again, was told to go back out to lot a pick another car and bring the keys inside for processing - well when I did this for the 2nd time, there were no cars.
The customer service at the location is terrible and I am very unsatisfied with the service.

WALTER REYES
from Kissimmee, FL
I rent a car in Santiago Airport Dominican republic on July 13, 2018 RENTAL RECORD L 1807852 4 , at the Airport they have no cars and I have to wait 45 minutes because they said they bring a car from Puerto Plata but to cover that, they put that they gave me the car at 2.55pm when the car was giving to me at 3.30pm. The ladie at the counter insist me to buy an Insurance to protect the car, I carried AE Platinum card but she said that wont cover damages or otherwise they won't give me the car so I have no choice.
I went for a Baptism and a weeding to DR so I need the car. When I got the car and start driving the car was shaking, I assume was the road so I keep driving at next day the light for engine turn on and battery light also, I call Hertz they told me to call 809-544-7111and I explain the situation, the person told me they will send a tow truck to pick the car and I ask if they will bring other car to replace this one, he said no you have to go back to Santiago Airport to get other car I explain that I was at the Capital and is about 80 miles away he response that nothing he can do that I have to look the way to get there. Incredible....
So I kept the car and driving slow and really scare the car won't star again next day, I call again because the same issue they send a tow truck and I told them to take but I won't pay and will call AE to stop the payment, the driver from the tow truck check the car and said the problem was with the battery cable it was loss he tie the cable and he said the car will be good now I took his word for it but remember I was in Church because the Baptism so I said ok I'll keep it. So when I drive the car was ok so I assume finally is good but after 1/2 hour the same problem so I call hertz and they gave me other number 809-221-5333 they said this is the Principal office and they will help me, so I stop driving the car and family start taking me were we have to go; Next day I took a chance again and took the car to the principal office in Santo Domingo because I was there for the Baptism.
In there they verify that the car wasn't good and finally they change it and this time the car was good and went to Punta Cana.
I have to travel early and I want my in law to return the car and they suggest me to add a driver for one day only because he will return the car so I said ok but I have to go to Punta Cana Airport with the new Driver so he can sign, when I got to Punta Cana Airport I explain Hertz employee that I want to add a driver for today that was July 21 and he said not can't do for one day if I add a driver I have to paid for the 8 days I have the car, I said no I already spoke with the supervisor in Santo domingo and she said is only for one day this man was unbelieve he make me lost my time and walk away from the counter because he knows that I call Principal Office and they will call him back, he was outside standing and the phone was ringing at the counter so we went outside and Pointed that the phone was ringing and I have to travel, after arguing and I said I will put a big complaint about his behavior and service he said ok I will do it for one day, like doing a favor.
Hertz should fire this kind of guys who plays with people time and want to steal money from tourist because I call this stealing forcing people to paid for something is no need to pay.
I travel a lot and rent car in different Countries were I go but hertz was the worst one I never saw a Company to have workers whom don't know how to serve people and make them feel comfortable specially if they are in vacation, my vacation was unpleasant because Hertz employees make happened bad moments with the car that is supposed to be comfortable and secure to drive but not it was terrible.
I want Hertz to investigate this situation and credit back to my CC for the days that the car wasn't working propertly from July 13 to July 17 and they lie with the Insurance to cover car damage when my CC will cover that.
Do something because Hertz reputation is going down.
My name is Walter Reyes and my phone number is 917-539-3484

carl tyndall
from Tallahassee, FL
I was contacted by Hertz on June 26 through my ins. State Farm by the agent Ayonna Cruz at Hertz 3204 W. Tennessee st. Tallahasse Fl. 32303. She ask me what I needed and I told her I drive a Cadillac xt5 and since i had recently had back surgery I would need a suv comparable to that. She said no problem.I told her I would need the suv on July 9th at 1030am. Again she responded with "no problem" , Hertz would pick me up at 10:30 and for me to give her a call at 10:00 on that day which I did. I was pick up at 12:00pm, and when I got to the Hertz office she put me in a JEEP! I said that is not an SUV and she assured me that it was. I was born at night but not last night! It did not seem to matter that I had back surgery as I had walked in with a cane and a JEEP is what I got. I could have used a step ladder to get in it. On my return of the JEEP on July 11, I was taken back to the collision center in the JEEP by a girl who worked at Hertz store. She ask me what was wrong with me having trouble getting in the JEEP, which I said back surgery. That didn't seem to matter for she took me on a short cut to the collision center down the bumpiest road I had ever been on which bounce me up and down hurting my back! It appears all Hertz wants to do it get you in a vehicle even it you give it 2 weeks notice and their answer is that it is availability! I can assure you I will never use Hertz again and will tell anyone and everyone about my experience!

Hertz Reservation H20802854C2
from Potomac, MD
Hertz Reservation H20802854C2 AMOUNT TO BE PAID AT TIME OF RENT
261.15 USD in fact we were charged $800.00
Can you adjust to price quote of $261.15
Nan Middlewood 425-778-4771

peterson
from Johannesburg, GP

Virginia Korotenko
from Modesto, CA
Reserved car at Hertz at 12:00 didn't get until 3:30 the lady in yucca valley. Well, the front desk yelled at my daughter and told her to shut up my 2 year old granddaughter cause she was crying. The lady was very rude we should of not been treated this way. I will never again rent a car there again. By the way they need to put on the door no kids allowed this is bull crap. I should of went to the base I would of got a discount and a better deal and excellent custom service.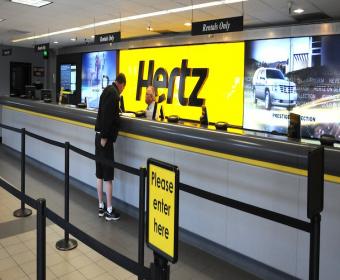 On June 19, 2016 I rented a car at Hertz, the worst mistake I have ever done. The customer service was very nice to me and established a conversation with me of why I was visiting Pensacola. I told him that the reason for my visit was because my daughter was moving over there because her husband was station there. I gave the customer service my information for my reservation and he explain to me all the charges I was going to be charge. I ask him if I was only going to be charge $43 like it said on the website.
He say yes and that there was going to be a $200 hold to make sure that the car was return back in good condition and with the tank with gas the way they gave it to me. He also explain the if I don't return the car with the same gas they will charge me 9.99 per gallon. He never explain or I never agreed to return the car back to Pensacola, I told him that I was going to return the car at the Orlando airport. I ask him if I can return the same date and he told me that I had until 6/20 to return it. The part he gave me to sign was the part he explain to me about gas and condition of the car not about returning the car back to Pensacola.

Christine Stevenson
from Houston, TX
I visited the Hertz car rental location at Katy Mason on 8/19/2016 and spoke with the employee there named Nick. My complaint was that the rental was in my name and should have been in the name of the insurance policy holder, and that I was being charged for an extra 10 days of rental when I was told it was covered by insurance. He could only tell my that he doesn't know or to call corporate. At the end, after my insurance agent called them and got put on hold and then hung up on, Nick proceeded to let me know the other employee was the manager on duty. Her name was Teraneka. She did not have any customers at first, so I was even more upset that she didn't take the time to handle my complaint or questions on her own. So Hertz corporate guess what? You had a manager in training and a manager on duty who both failed miserably in taking car of a first and last time customer.

Heather
from Barberton, OH
On June 25, 2016 I reserved a Kia Rio from Hertz on Brittain Road in Akron, Oh. When I went to pick it up on June 28, 2016, the representative told me that he would upgrade me to the Hyundai Accent because they didn't have the Kia Rio. He continued to tell me that they did not have time to fill up the tank and if I wanted gas that I could wait for a few more moments while he goes down the street to put gas in it. I refused because I had somewhere to be at 10:00 a.m. and took as is.
When I got in the car, I noticed the seats were dirty and when I drove on the street the window had some type of residue on the inside. When I got out of the car I noticed the fender was lifted on both sides. There was a rattling under the driver side and the tires were bald. When I took the car back the next day, I took my mother and she began to ask the same representative who rented it to me, why would he have rented a car in that condition. He said that it was an upgrade from the Kia Rio. He didn't apologize when we went outside and showed him the issues with the car. I rented from Hertz years ago and they gave me a disgusting car. Never again Hertz!

Rhonda Biddle
from San Jose, CA
The Hertz manager Kena is very rude and if you are talking in line complaining about the long line and slow service she will ask you to leave and go somewhere else especially if you have booked your car through Priceline or Hotwire.
We stood in line for over 45 mins with 15 people ahead of us with only two registers open while Kena the manger stood in the front directing people away from the front door kiosk. When I attempted to use the kiosk where there was no one waiting to use it I was told it was for the next customer in line. Funny after waiting for the next 3 customers who were standing in line being helped they never used or were directed to use the kiosk.
Kena told me I was not allowed to use the kiosk even though my intentions was to book another car rental through hertz. Kena later called the police while she was helping another customer. I found it to be very unprofessional to yell at a customer who was standing in line yet while you are helping a customer.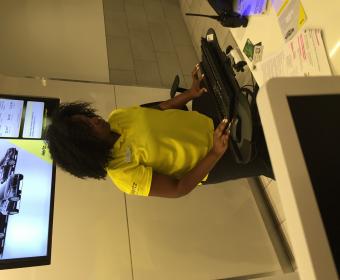 Jill Gulston
from Everett, MA
On May 27, 2016, Hertz Reservation #G9173193046. I spent $15 to take a cab from the Stratosphere Hotel to Hertz on Sahara Blvd and there were no cars available. I showed up one hour before time, which I called and was told that was OK, but then when I get to Hertz, there are several people waiting on cars, so I cancelled by reservation; also due to not having a car, cancelled some fun things we had planned to do while in Vegas. We flew 5.5 hours to no car. This was very disappointing and I will never use that particular Hertz again. I have used Hertz in the past with no problems, but this was definitely a problem.

Jessie Mage
from San Antonio, TX
We had a reservation months ago. After arriving at airport waiting for over an hour watching the rep looking for the reservation, we were told they don't have it. We even produce the reservation number! Nope still nothing. How incompetent that is.

Tom klem
from Auburn Hills, MI
Had a reservation for a car to pick at 8:30 am. WHEN ARRIVED TO PICK CA was told that they were none available. I was also told that they called previous day to inform me , but my phone mail had no message to that affect. Talk to some local reservation manager. He informed that it would be 2 to 3 hours before he would have a car available. ASKED about another location in the area, same answer 2-3 hour wait. I was wondering if I have be given a confirmation number, why no available unit ? One other item was the local attendant showed no compassion, that my plans were effective ruined. ( just sorry was the answer).

Ginger Fite
from Washington, DC
We had a reservation (G8593422499) for a full sized a month in advance only an economy car was available when we arrived. Was greeted by very rude management at the store. Another full size was sitting in sight in the lot but was told we could not have it because it was reserved. I argued mine was reserved but he wouldn't here of it. He said I had to wait for a return. I waited until just before closing and had to run to Enterprise to pay more for the same care. Total nightmare. Bad management. I'm sure they rented my car to another since the Big 12 tournament was in town and they could get more money by giving away my reservation. Such a bad business model. Extremely disappointed. Costs me an additional $280.00 to switch last minute to another company. I cannot express enough my frustration and disappointment.

lowell f green
from Aurora, CO
I reserved a "full sized" car, impala or equivalent (I thought) on January 23 of this year. i arrived at Minneapolis airport and at the hertz area I "talked to" a man thru a video kiosk. I told him I was tall and needed leg room. I told him that a Chevrolet Malibu did not have enough leg room. that was why I asked for an impala. He then said "how about an XLA 350? (or some such nomenclature) and assured me it would have ample leg room. when I asked what that was he said "an suv.". I don't recall him ever saying anything about the cost. I did not know it was a Mercedes until I stepped outside to find it in its numbered stall. I was billed an extra $215.03 for this upgrade. I only drove 19 miles and did not need or want a Mercedes and I did not ask for it. Please review this video and see if I was mistaken or misled.

Oeshia Goss
from Sacramento, CA
Urgent Complaint to Hertz corporate office. On 11/11/2015 I received a bill along with a phone call stating that I owe Hertz rental an outstanding balance around $461.00. The car I rented was due to an accident in August 2015. I have called your company several times and have been hang up on a rudely dealt with. I have tried to explain to several of the customer service staff that this bill should not be on my credit and why did someone viscously apply an outstanding amount on my card. On 10/13/2015 (602.31) it was debited from my account that payment also cleared in its entirety.
I ask for your company to do a thorough investigation as to how this may have happened to me and frustration I have been going through for the last 3 months with hertz. I went to the Hertz rental located at 6455 on franklin Blvd 95823, where I rented the car and they told me that is was nothing they could do about it. I called several times and was told that I had to talk with collections. So now I am notifying everyone. This has caused me to not be able to conduct business with your company due to this made up outstanding balance. Please call me as this is an urgent situation. I need to talk to someone with higher authority because I feel as if someone from your company has done something wrong, which results in me being responsible for a bill in which I did not accumulate.
I have attached a copy of my bank statement which indicated your company did take the remaining balance from my card. An when it cleared is also on the statement. If this issue is not looked into properly, I will only be forced to hire an attorney to do the investigation.

Bruce Raine
from Nassau, NP
I booked a one day rental, for FLL airport pickup, and selected a small car, about 38.00 per day. At check in, the agent offered an "upgrade" to a Mercedes for 50.00. Nice I thought. o.k. I declined saying that it seemed too good to be true and if I was late returning the car, what then ?. No problem he says he will give me that allowance. Still skeptical I accepted. Took the main insurance option and left. I returned the car an hour late next day and was in a hurry so no time to review the bill until I got my CC statement.
My 38.00 selection turned into a 298.00 upgrade.
When I called Hertz to complain, the customer service agent simply read off a list of their charges, like it was a Court Prosecutor reading off a list of stolen property. Yes upgrade 50.00 gas something else, insurance dut dut dut, one hour late dut dut dut and the total is 298.00. What a bunch of organized crooks these people are. WARNING: Never take an upgrade from HERTZ.

Robert
from Jacksonville, FL
I rented a car for four days from Hertz in NC. Winter storm Jonas started making its way through and my flight was cancelled three times. I was going to be stranded for multiple days. I called Hertz to see if I could keep the car one extra day so I could drive home before the weather got bad. They wanted $600 to take the car an extra day and drive it from Raleigh to Jacksonville the same day. I am Gold Member which made zero difference.
I went online to check competitors and found National was only $160 for the same exact situation. When I dropped off the car at Hertz it had already started snowing and sleeting. So I thought I would give them one more chance. I talked to the lady behind the counter who said they had tons of no shows and cancellations. The lot was packed with hundreds of cars. She quoted me $50 more than National still...even though I was a Gold member and standing there as the only customer in the place. I told her about the competitor rate and her comment was, "I'm sorry sir I wish I could help but that's what the computer is telling me."
So they watched me drag my luggage through the sleet and snow, out their parking lot, over the spike strip, and down the street to National who very quickly and politely booked me a car and pointed out to a long line of luxury cars and SUVs and stated, "just pick the one you want sir and please have a safe drive." In the end it was $400 less than Hertz quoted me originally. I took the attached picture to show how many cars Hertz had available as I walked out in the storm.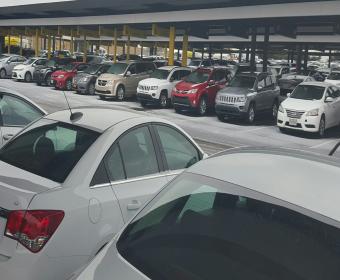 Angela F Hawkins
from Houston, TX
I had a car accident. My insurance has an arrangement with Hertz for a reduced daily rental rate. I picked up the car and had to pay a $50 deposit which I put on my credit card. I thought my insurance was paying 100% for the rental which I had from 12/11/15-1/4/16. On 1/8/2016 Hertz charged my card for $124.40 and then again yesterday 1/19/2016$28.75. For Miscellaneous fees and Tolls. Upon further research from my insurance they were informed customers have to pay the taxes on the rental cars. I have an EZ tag and had the rental car added to my account.
I emailed and called on 1/8 requesting a detailed break down of charges as well as the tolls. I was sent of copy of the invoice which just said "Billed to Customer" underneath the "Miscellaneous Information" section. I spoke with a representative who was very short with me and told me she would email the invoice which never came. It was not until I emailed the Customer Billing section that I received the afore-mentioned incorrect non-detailed invoice.
As a courtesy, my insurance company paid for the $124.40 with their check #3042703 mailed on 1/12/2016. I have not received a refund as yet because Hertz has yet to get the check. I contacted the Plate Pass division and was told it will take 5-10 days to review the copy of my EZ tag account showing I added your car to my account.
I have repeatedly emailed and called asking for more detail and each time I do, your company sends me the same general invoice that lists no detail. I am VERY dissatisfied. Hertz did not wait 5-10 days to receive monies that were not due them yet I sit here with less than $2 in my bank account because you continue to charge my card!! It's a Debit Card which means you are taking money directly from my account. This is ridiculous!
Had someone provided the proper place to forward the EZ Tag information PRIOR to hitting my account, there would have been no need to charge me. I believe this is very unfair and unsatisfactory business practices. Had I not had the accident and been in need for transportation to and from my job, I never would have needed to rent a car in the first place. I pay for $30 rental coverage on my insurance policy which is why my insurance decided to refund me but in the mean time....Hertz is holding my money hostage! I am very dissatisfied. This is not the way to conduct business.

matthew grant
from Fort Lauderdale, FL
I rented a car due to an accident with my vehicle on 12/14 (approx) and the agent gave me a chrysler 300. I discovered after returning the car that i was billed for $263 to cover the difference between what the insurance authorized and the daily rental price. NO ONE at time of rental disclosed the differential. had i known this i would have opted out of the chrysler and taken the standard issue car. I will never rent from hertz again, this is outrageous.
I spoke to edgar at the sunrise blvd (ftlaud) location and it was like dealing with a 5 yr old, he just couldn't grasp why i was calling. Finally he disclosed the issue with the amount i was charged. At that point i hung up and called the Hertz 800 number to complaint.

Michael James Derrane
from Thornaby, ENG
I booked a Hertz car to pick up on Wednesday 30th at 12pm, from your Darlington office. I was quoted a price of £178 for ten days, when I got to the office I was actually charged £301, I was not happy in the price but I had to accept the increase as I had plans over the new year. I would like a refund of the difference. I have all the relevant emails from Hertz customer service confirming original quotes, to confirm this.

Darrell Whitmer
from Seattle, WA
I rented a car online from Hertz, and while I thought it was a pickup at Seattle airport it wasn't but that was my mistake The reservation #158025663 was at a Lake City 'Toyota' dealership. I was never told that the Hertz location was in a Toyota Dealership with no signage indicating such. I arrived at exactly the Hertz rep. indicated that he was going on lunch break and I would have to wait! He never left the building by the way. Some customer service. I called on 12/28/15 to see if I could return the car to Seattle Airport (I had been told that the car came from Seattle airport to the Lake City location) to Seattle Airport.
I placed a call and waited, and waited, and waited. When I finally got to someone, I was trf'd and I waited some more, second person and I was trf'd again and again I waited. I thought my question to them was simple, but I see that I was wrong. Well the answer was sure I could drop the car off at Seattle Airport but it would cost me nearly the same as getting a taxi. Pretty sure this is my last use of Hertz.

Laura ODonnell
from Bishop, GA
I have rented cars from Hertz 3 times last two months. The cars were fine BUT staff at Atlanta hartsfield airport Gold counter was not up to par. The gentleman I spoke to regarding me wanting a key ignition car found one for me even went to find one for me. The woman acted like I had two heads when I said my name is on board but before I take the long hike to spot I want a key ignition. She said oh go down this row and find a car wth a key in it and acted like I bothered her. The time before an AfroAmerican woman behind counter was all happy and laughing with an AfroAmerican couple but when I approached her being Caucasian I got the face and attitude. I don't like to complain but I always liked the service Hertz provides and have second thoughts about my future rentals.

raymond lapointe
from Orange Park, FL
We had never ever rented a car before, this was our first. Rental was pretty quick in Boston, told us to go find the car. We got in it and drove off. Thought it was strange that no one went over car conditions, dents, etc. We got to my brothers house 1 hour away in Swansea mass. He met us outside and was horrified at car condition. Dents and scratches all over, car was filthy outside, leaves and dirt in back floor boards, he told us to call in immediately and report all damages since this was not done before we left garage. Again, we had never rented before. We were told to return the car for an upgrade and apologized for our inconvenience.
Lady on phone was very nice, she even let us take the car to providence which was 30 minutes away, a lot closer than boston. But the man at the providence ri hertz was not friendly at all. Said no upgrade, and gave us a smaller car than what we brought in. My husband told him that we were given a number to get an upgrade from the customer service lady on the phone. We could not get us and our luggage in the new car he gave us. He acted mad, ***** off, and gave us the same car we drove in there in, no upgrade at all, he stated that was all he could do. Not a good 1st renters experience at all. my son got a jeep grand cherrokee, a lot bigger than our car from thrifty rentals and it was cheaper. Hertz had such a good rep, that's why we went with you. I think we learned a great lesson.
The name doesn't always mean the best, and I will be submitted my complaint to Hertz corporate offices next.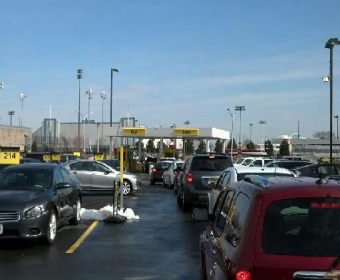 Barbara Deckert
from Modesto, CA
I rented a truck from the Modesto, CA McHenry office on November 4 2015. I returned the truck on November 7th, unfortunately it was after hours. The office didn't have a drop box for the keys so per instruction from an employee from 800 I left the key in a visible place on the front seat and locked the door. I was also told by the person at the 800 that I would not be charged for an extra day because I got it in before 12 midnight on the 7th. Today I found that the Modesto office charged me til the 9th because they were unable to find the keys. I will be disputing the entire charge unless you make the proper adjustment in billing. I don't mind paying for the correct services but I find it outrageous that I'm being charged for additional days because your employees neglected to open the truck with spare keys that I know they have in order to find the keys I had placed there the day before. I followed instructions from your 800 and should not be penalized for doing as I was told. I recommend that u maybe train your employees to use deductive reasoning on problem solving rather then trumping up needless charges to hard working customers like myself. I would appreciate that u tend to this matter asap or as I said I will be disputing the entire charge and have it removed from my card.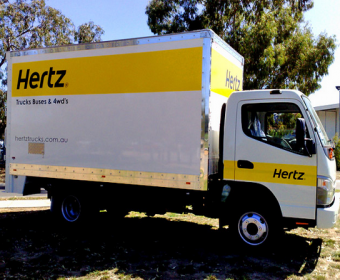 Caridad Cephas Kimbrough
from Tuxtla Gutiérrez, CHP
I rented a vehicle from Hertz in Costzacoalcos Veracruz. I was given a vehicle that was filthy inside and had dents all over it and it stuck of cigarette smoke. After complains about the condition of the vehicle, they gave me a bad attitude but went ahead and switched the car. They up sold me on insurance even after I had told them that my American Express would cover the insurance. Additionally, when I returned the vehicle they claimed that I dented the bottom of the bumper. I didn't do it but I didn't make a note of it before talking the car. Therefore, I was charged an additional 1600.00. This place has poor business practices and shouldn't be allowed to operate in this manner. I'm sure that they will charge the next customer for the same dent of the customer doesn't realize that it is there before taking out. I want my money back.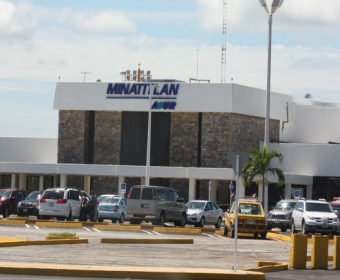 Christine Hooven
from Sicklerville, NJ
Overall, Hertz employees were courteous and polite. I was upset over the whole toll payment procedure/options and lack of an explanation before I began traveling in my rental car. The rental agent explained the refueling and insurance options but never mentioned the toll payment procedures or options while traveling in Florida. When I got settled in my rental car, I immediately took out the money I would need to pay the tolls on Veterans Highway not having a clue that changes had been made. When I came upon the first toll area, I was very surprised that the traditional toll lanes had been removed and replaced with cameras and bright flashing lights. For someone who is diligent about obligations, I became anxious and unsettled about my predicament.
The next morning in the daylight, I spotted the small decal with the information regarding tolls and went inside to read the small print in the rental agreement. Since I was in Florida to visit my 92 year old father, who did not have cable TV or internet service, I could not access Plate Pass. The toll charges that I incurred were $5.00---$2.50 leaving the airport and $2.50 returning to the airport. Needless to say, I found this whole toll payment system EXASPERATING and still am not sure how to go about paying my $5.00 in tolls to the state of Florida.

Imran Rajput
from Curtin, ACT
My complaint is related to your contractor, who recently took the car washing contract for Hertz. At the time of hiring he declared him self as a Hertz representative and took sign on an employment agreement but after 15 days when I asked him about my offer letter and ID card, he was dismissed from the job without paying 16 days of salary. I am requesting you to please forward this to your compliance department. All emails and SMS related to this matter are saved to me. I believe that Hertz is a renown company and will help out me to get my right.

Debbie Bennett
from Owasso, OK
I'm an insurance agent and my customer was hit by your insured.Your adjuster Monica Ramirez is 100% horrible! The most unprofessional, lacking in customer service individual I have ever dealt with. She has hung up on me and my client, refused to answer questions or be of any help whatsoever. Immediately argumentative, is that the way you train them? Really? So your plan is to be so impossible to deal with that you cause them to file on their own insurance? Your customer service STINKS! And we will gladly post that to every media we can!

Michael Fleming
from Plano, TX
I had an automobile accident in a Hertz car that I rented in Belgium. My credit card company will pay for the damages but they need documentation that there was damage. I have contacted various areas in Hertz. They all say I must contact Hertz Belgium. I have sent three emails to Hertz Belgium and they will not reply. Meanwhile, Hertz has charged my credit card for the damage. I understand that. Hertz will not send me the paperwork so I can get reimbursed.

Luisa Sheldon
from Fullerton, CA
State Farm directed me to Hertz stating that they would provide me with a good rate because I was covered by SF. There were two locations I was given, both seemed equally far away. I called the number for La Puente CA. I spoke to someone there and told him that I was headed to the collision company, named the place and gave him the address. He said, call back when your transaction is completed. 15 minutes later I called Hertz, and a different person answered, he told me you need to call the Whittier, CA location, it's closer to the collision place. I told him that I had called 15 minutes before and that someone in their location said to call back. He insisted that the other place was closer, gave me the number, I repeated the # back, he said it was correct.
I called Whittier, phone rang about 20 times. I called La Puente and spoke to a third person, I told her that the number was ringing in the Whittier location and she said, oh their phone isn't working I'm putting someone in the car right now. About an 1 1/2 later, still no one from Hertz; the people at the collision place, said you can continue to wait or rent a car from us. We processed the rental paperwork and still no Hertz. Will be informing my insurance company about what a disservice it is to their members to refer them to Hertz. Btw no PHONE CALL either from Hertz. What a joke. So unprofessional

Helen Mitchell
from Louisville, KY
Hertz employee sent detectives (with guns) to my home to repo a car. I was not behind in payment. I do not want to discuss to much because I intend to file charges. It is a real shame, they made a terrible mistake and have tarnished my name.

Daniel Whelan
from Seattle, WA
Rented a car on 10/19/14. Rental Agreement 001845583. Went to get the car on 10/21/14, but the car was not available. I was given another car after completing paper work.
Retuned car and billed $373.65. Paid for the car.
Credit Card showed that I was also billed for 001845583, $368.55. Obviously, I was billed twice for a total of $742.20 for one car. I have made numerous attempts to get this fixed. I was told on 3/6/15 by your Agent #7839 that I would be credited on my credit card for the obvious double billing 368.55.
I have not received my money and will never use Hertz again!

Dagmara C. LLera-Boggs
from Laguna Niguel, CA
Lazy employees and company....!!!!! I went out of my way from Alabama, to the Pensacola Airport to pick up a truck that your company will NOT supply to this location in Al. Waited 45 minutes in Florida, because the back employee(s?) would not respond to base and another 45 minutes later, because they had to fill truck with gas.
NOW, I can't leave a message for the manager, his center is full and will NOT answer. Tried at least several messages at different centers, none will take messages. FULL>>>, figure that!!!!! LOL...... I'm more than upset. I can't even extend rental, no one will answer and Foley, Al. can't help.
WHATS WRONG WITH UR COMPANY???????????
Truck will be return on Friday Late...and after so many inconveniences, it will be in Alabama NOT at the Pensacola Airport....... No additional charges, I expect to be charged for!!!!!! Someone better call me, I'm TOTALLY dissatisfied!!!!!!!!! Never, EVER, I have seen such a messed up outfit, and I'm 70 years old! The left arm didn't know what the right arm is doing. WOWWWWWWWWWW!!

MIRANDA WRINKLE
from Tavares, FL
Hertz did not use full disclosure when renting me a vehicle. Charging me over $300 for an extra insurance fee of $9/day on a loaner while my car is in shop. Never once told me it was an extra $9/day. And on top of that I already have full coverage auto insurance. Said I signed the same contract last time I got a loaner. None of my records show me paying anything to them last time.

ROBERT WILTZ
from Lafayette, LA
I confirmed a reservation for a mini van on 5/03/2015 with Priceline with a confirmation # G5573628596 from Hertz for a Mini Van. My credit card was charged. When I arrived a the Airport in Lafayette La. there was no Mini Van available. This was a horrible experience.
The Customer service agent was very rude. Her name was Margret Hatch. She explained that she did not have a mini van and did not do anything to assist. She wanted to charge me an additional $150.00 for an upgrade to a Traverse. I asked her to contact her manager and she called but acted liked the manager would not call. Stating she is probably in a meeting or preoccupied with personal issues.. The time was 7PM.
I stood there for 20 minutes and no call back and Margret just kept working as if I was invisible. I left disappointed. My card was charged and I asked her for Priceline #. She stated she did not have it and continued to work as if I was invisible. Please refund my money asap. I will re-consider using Priceline and Hertz in the future, if this is resolved asap. I did not leave with a Mini van and had to make other arrangements to get my family to our destination in another State.

Debbi Olson
from Reno, NV
I wanted to discuss my rental experience with you and the issue of the optional damage waiver that is offered.
I rented my car on 4/10/15 at the Hertz office location on 1995B Vassar St. in Reno, NV, 89502. The car was rented through a AAA claim as my car was totaled several times prior. Upon returning my car, I was shocked to realize I owed $139.93 out of pocket for the damage waiver. I was told I agreed to this, and they would not return that charge.
After much resistance to that charge on my part the agent agreed to hold that charge until discussing with the manager who would not be available until after the weekend. On 4/24/15 the charge then appeared on my bill. The only thing I could find that I actually signed on was the vehicle inspection form.
Here are the circumstances of the transaction that I feel deserve consideration:
When I arrived there was only one agent there who was in the process of training a new employee and helping someone ahead of me. In the meantime, people began pouring through the doors returning and picking up rentals. The place was clearly understaffed. The new trainee began the process on my claim as the trainer began to help another person. She was jumping back and forth between my transaction and other people so she was on hyper speed. She did finish up with me on the rental but was talking so fast, I had no idea what she was talking about much less what she was writing down or offering. She clearly needed to get me out the door so she could get to others.
I was standing there in pain with a neck brace on from a fracture I sustained and in pain from my car accident. I just wanted out of there so perhaps did not take the time to question everything fully. In all fairness, the agent was on overload and trying to handle way too much for one person. She could not possibly take the time to clearly explain the details of the extra insurance. It is possible she made a very quick reference to the waiver but definitely did not fully explain what my responsibility was in that regard. I would have absolutely declined that coverage as my own insurance covers rentals. I rent cars twice a year when on vacation and never ever purchase extra coverage.
When ever I have been offered that coverage in the past it has always been made clear to me and I ALWAYS decline. In this instance it was not clearly communicated as the agent was obviously extremely rushed. I sincerely felt for her because so many customers were beginning to arrive, and she was doing the best she could under the circumstances. I have never rented a car under these circumstances before which was a claim that was being paid by an insurance company. Something was definitely lost in the translation.
As I began to read the very terrible reviews for this particular location, I realized I was going to get nowhere fast with the manager there. This has been an ongoing problem with this particular Hertz and the issue of the waivers. There were so many disgruntled customers involving the very same issue and reviews like..."if I could give them 0 stars I would. I have never read so many terrible reviews for a given business. It is a well known fact that that type of coverage obtained from customers is the bread and butter of the rental car industry and is often obtained by scrupulous means. I think a review of your business practices should be a consideration with updated training involving the damage waivers. Perhaps this location just needs a review. In this day and age in order to stay competitive it is always a good idea to operate with integrity and a progressive business paradigm.
I would really appreciate your consideration in reviewing this erroneous charge and the possibility of a refund in this regard. I would like to give you a fair chance to make this right before pursuing action with the BBB and the attorney general in your district.

Brian's Auto Body
from Royalton, IL
We are a body shop that has used Hertz for the past 15 years. This week I have two customer call saying that Hertz could not bring the cars to my shop??? So I called Hertz in Marion IL and they told me they were no longer going to be working with any shops in DuQuoin IL???
So they expect our customers to go out of town to our competition to pick up a rental car that could be brought to our shop!!!! I guess someone in the Marion location is friends with someone at our competitors location!! They are building a new shop in DuQuoin and I guess that's who you need to work with!! After 15 years our shop will no longer be referring to Hertz we will be using Enterprise. NOT HAPPY !!!!!!!!!

lenny johnson
from Buffalo, NY
I rented through Hotwire and secured a good price for my rental. When I checked in at San Francisco airport location a Hertz supervisor was the person taking care of me. She told me I should upgrade, and I said that is ok. Then she stated about the pre gas and I said no. She told me that if I bring it back half way I would get the difference. So I took it and went to my car.
The car was beat up torn seats with stains and upholstery was torn and it did not work. I asked for a new one for a person in the lot. We did get a new car but what a joke. When I came back with just under half a tank the girl that checked the car in told me that is not correct and told me she gets this all the time. I went to the supervisor and explained and found the one that rented the car. and she denied that she ever told me this. I was heated and told them I would report them as I am doing so now. The manager name I am going to leave out but terrible service..

Kathleen Prindiville
from Franklin, NC
Hertz, Dublin Airport, Ireland. April 9th -18th, 2015. When picking up the car we were told to leave the car empty of gas but that it was full now. When in fact the car only had 3/4ths of a tank of gas. We left 1/2 a tank when we dropped it off. We were not told that there was an additional driver COST of $75.00, we only added my name for just in case my husband needed me to drive. Had we known about the fee we never would added an additional name. The clerk at Hertz never explained about tolls, that some tolls have to be paid at gas stations.Since that is not done in the USA it would have been common courtesy to inform clients of what is expected from the country they are renting the vehicle in.
Initial bill being- additional driver 75.33, Never lost charge of 93.00 fuel 53.66 a 5.00 fee to use a credit card and 35.07 in taxes total 262.06. final bill was Add driver 83.70 Never lost (tom-tom) 107.00 fuel 66.00 with the 5 for CC use and taxes decrease 25.75 for a total of 287.45 BUT the charge on the CC was 292.88. and 2 additional fees for tolls of 3.45 each. I really don't mind paying a bill but it seems to me that this company is money hungry and not up front about charges. I understand your in business to make money but your less then up front employees have caused you to loose me as a customer and I would never recommend your company to anyone else. But if you wanted to do the right thing and refund some of my expenses caused by your employee omitting facts. I would appreciate it.

Frank Ferraro
from Apopka, FL
I was having warranty work done on my car at plaza Lincoln in Leesburg fl. and they were supplying me with a loner. I was transported to Hertz and dealt with Nikki Mesa. She said that it would cost x amount per day, and I said that it was not supposed to cost anything as per the dealer. She said ok I'll fix that. I declined all ins options later after I returned the car did I see a charge on my credit card for $79.92. I called the office and talked to Robert and he said he would get back to me.
This was in March and it's the middle of April now and no one returned my call. I deputed the charge with my bank and they stopped payment until this matter was resolved. I have been told to call Mr. Marcus Lechler the general manager in Orland Fl. by Robert Myus which I have done left A message on his cell phone twice in the last 2 days 4/7 & 4/8. Still no response. I have called corporate office only to be forwarded to the villages office in the villages Fl. where I reside. I have had loners before from enterprise and never had a problem I feel I was exploited because I am elderly. Please expedite this matter as I am on a fixed income and don't need any more added expenses.

G. Silva
from Corpus Christi, TX
I am writing in to ask why you are closing the car rental office in Corpus Christi, Tx?? I went in to make reservations for late May and they told me that they could not. Being a recent one of your Gold Members I did not understand why. So I asked. I found out that your plans are to close the 'only' Hertz Rental 'in' the city. Yes, we have the airport site but it is out of the way. Very inconvenience!!! Now, I know it can not be cause of their sales. Why?? Because there has been times that they did not have any car rentals available. This is not their fault but the co-operations. So, I hope that this is not a reason. I know that Corpus Christi is a medium size city in South Texas and we deserve a Hertz Rental office. The workers from the employees all the way up to the manager is one of the best. Nothing like that at the airport. I would never go out there to rent one of your cars. I guess I will close now and make a big request. Please reconsider your decision to close 'Our' Hertz Car Rental in the beautiful city of Corpus Christi, Texas. Thank you and I really would like to hear back from you all.

Anton
from Rancho Cordova, CA
I went to Hertz car rental in Sacramento Airport to swap the car that I picked up on Folsom branch that morning, I had to swap the car due to a very strong cigarette smell inside especially when I turned on the aircon. When I arrived at the Hertz Sacramento Airport, I nicely approached the Hertz front clerk named Melissa to tell her that I'm there to swap the car due to the strong smell of cigarette inside the car but instead of her being nice and saying sorry or saying something like hopefully we can help you with your problem, Melissa instead replied to me with a rude voice saying "WHY DID YOU TAKE THE CAR?! She was confrontational. I still answered her question with a calm and polite manner that I did not smell the cigarette until I close all the windows and turn on the AC and by that time the branch of Folsom was already close.
Then she offered a car that has a lesser options/features. I declined that and asked for the same car that I had so I can bring it and swap it to another location. After waiting for several minutes and couple of follow ups they can't find the car, So I asked for the manager and the manager wasn't available. I spoke with Melissa again and she wanted me to wait at the lobby if I want to speak with a manager and god knows how long! Her attitude is really bad, unprofessional, doesn't want to help, making gestures, loud voice, fighting with a customer and RUDE!!!!! What a very poor customer service from Melissa. Is this how Hertz treat your customers? I hope management can do something about this.

My wife was granted a Hertz rental in Gresham, OR through State Farm insurance due to an accident. Everything was ok until she returned the car and forgot her garage door opener. When she noticed 20 minutes later I called the manager,Becky, and ask her the retrieve it. She said it wouldn't go anywhere. I ask her to please put it in the office and I would retrieve it the next day. The next day the car was relocated to a big lot of Hertz's and calls were made to locate the opener. Two days later, a Hertz employee, Danny, told me they were trying to locate the opener still. He said the car was still sitting in the lot but they would not go look. He said I could drive out there and look myself.

glenda walters
from Louisville, KY
The second day of having the car I had to move the driver seat back to retrieve my phone. I found trash under both seats and also rolling papers and cigirello wrappers. When I called and told them this and explained that had I been pulled over I could have gotten in some serious trouble in turn could have costed me losts of money and court action, as well as possibly loosing my nursing license. The employee adamently continued to deny that this could not have been true insinuating I was a liar. He also said that I could not have gotten in ay trouble with the law. I know different. My cousin is the commander on narcotics for LMPD. Also there was a fuse blown the the radio. I contacted the office and asked them if they could tell me where the fuse box was so I could replace it. The employee said he would have to check and get back with me. I never recieved a phone call. 3 weeks later my checking account was debit for $1718.....really??? When I contacted them they said they had to send it to a dealer to have it repaired but could not tell me for what. I am now fighting the bank because they allowed a debit to come through on a canceled card. I was never once contacted in any form to talk about or resolve the matter. If I dont get my money back with an explanation and my insurance handle the problem I will make it known to the BBB and every social media what I found under the seats.

John Skory
from Providence, RI
Rented a car at INSKIP Hertz on 12/6/2014, haft way thru rental, I changed cars. Second car was more expensive. When I received the Bill on 1/9/15. They charged me the rate on the second car for the entire rental. They said I would receive a credit in a few weeks, because they could not change the rate because it was after hours. I have gone back 4 times and each time, its the same story.

Cindy Niemi
from Independence, OH
We had to get a rental because my trailblazer was backed into by a semi. We always use hertz as does the company I work for. So I thought I would go through hertz instead of enterprise. I guess that was the first mistake. I went in to receive the car and they insist they asked me about the PDW insurance that was on the final bill, which the insurance company will not cover. I was never explained that there was that charge on the bill and all they kept telling me was it was a legal binding document I signed. The kids working there had to be around 23-25 and I know maybe they went to college, but as they get further in life they will realize that is not the way to treat customers. If we treated our customers as I was treated we would not be in business. All I asked is for that charge to be removed and they insisted they could not remove the charge once again because it was a legal binding contract. I was so angry when I left, I wanted to scream. To top it off I called after the weekend to have the bill sent to me and they still have never sent over a copy. Has that location ever heard of customer service???

John C Todd
from Reno, NV
I reserved a Hertz vehicle and a Delta airline flight vacation package through what I thought was Kayak. Through the wonders of cyber space my confirmation came from "Whats Cheaper". My Automobile was to be picked up at the Phoenix airport on 3/28 and returned to the same place on on 4/2. Reservation numbers were: G52023843A9, (also see RR 157353276). This package was to be all inclusive and prepaid.
When I turned the auto in on Thursday, (1 day early) I was charged $30.71 for additional services which I did not ask for. I would like to have this charge refunded to my American Express Account.
Thank You,
John C. Todd
Principal
Junction Consulting
Have feedback for Hertz Car Rental?
Thanks for your feedback!
Sorry. Please try again later!