HEB
HEB Complaints Continued... (Page 2)
68+ reviews added so far. Upset? Call HEB corporate: 1-800-432-3113

John
from Little Rock, AR
I have been going to H-E-B Woodlands Market, Market Street, 9595 Six Pines Dr, The Woodlands, TX, 77380 for the last 7 weeks at 6AM in the morning to purchase the Orange Special lunch plates displayed in the food area. There was no problem until this week when I went there Monday (8/15/2016) I was told that the food area opens at 8 AM (some kind of new rule), then yesterday (8/17/2016), I was told by Gina that the food area opens at 8 AM and she could not sell me any food, so I asked if I could pick up a salad and got the same reply.
All this despite the fact that the food was in the case on display and I had been already been purchasing some every morning at 6AM for 7 - 8 weeks prior. I don't understand how come I was sold food by the same Gina a few days prior but now suddenly the food area had an opening time at 8AM. A point to note - at least one cashier is open in addition to the self-checkout lanes. Therefore a situation does not arise where there is no one to check me out and let me pay for my purchases.
I have not been rude or demanding to any of the H-E-B staff; on the contrary I have been cordial and even struck up a good rapport with some of them, who consider me a regular at the store. This can be clearly seen on the security cameras that are right by the food area. I do not understand this sudden change that involves an "opening time" for a particular area when the rest of the store is open and there are customers who are purchasing and paying for merchandise.
Yesterday, I did get the feeling that this is probably related to my ethnicity, based on the way I was spoken to, like I was being done a favor. I did get the feeling like I was a "burden" customer to serve first thing in the morning. So thanks a lot H-E-B.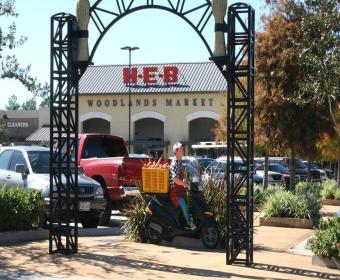 Myra Worsham
from Waco, TX
My experience with the store is not my problem, my problem is my experience with your Texas Heritage beef Hot dogs. I made my grandson one for breakfast this morning. I was in a hurry so I heated one up put it on a slice of bread and catchup, since he is only 8 I took a bite off to see if it was to hot, it was hat so I didn't bit it all the way instead I broke it off the rest of the way, only to see this round black piece of something in the center, I pulled it out and it is this thing that looks like a rat turd. I am sending a picture to you if I can download it on here. WHAT IS THIS? I about freaked I almost fed this to my grandson. he went to school no food this morning.sorry the pictures show up on here sideways. I laid it on top of the bread in first photo.I sliced hot dog up to see if anymore, it has black pieces of stuff but nothing like this one thing. I will never give another hot dog to my babies without cutting it up first now.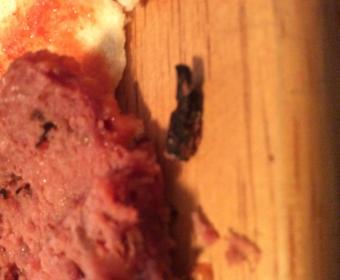 Hilda I. Guerrero
from Laredo, TX
My husband and I have been buying H. E. B. brand original thick cut bacon not only for ourselves but for my son and his girls too for the longest time but lately some packages have not been up to yours and our standards. The taste is the same but the thickness of the bacon is not. Since we are paying for thickness, we are not getting what we are paying. Otherwise we love the H.E.B. items. We have been going since I was a little girl( I am 62 years young). Please correct this problem.

Daiva miklovich
from Houston, TX
We shop at heb all the time. My truck was hit in the parking lot on Friday by an associate riding one of those handicap carts. I spoke to Adam about it and nothing ever happened. He never even returned a call. The next day I went into the Store and spoke with a manager named kel again nobody ever got back to me 2 days later I spoke with a manager named Justin third time nobody ever got back to me. Have waited weeks now and still no response. I have called several times and also ask to speak with the store manager Connie she has never even called me back. I am shocked at the treatment we have received. I have not complained any more until now because I am recuperating from a surgery.

peter penn
from San Antonio, TX
HEB has got to do something about it's Ground In Store Ground Beef. Standards must be set for proper cleaning and use of grinders. The meat often has a gamey or sewage like smell and flavor. This is serious. I'm tired of it. I have spoken to meat dept. personnel and one more than one occasion I have had to return meat for discoloration or strong odor. We're in Texas, for goodness sake, why can't our largest supermarket chain provide quality meats? Why is there meat from Mexico on sale in the heart of Texas? I will stop buying meat from HEB and tell as many people as possible my horror stories about HEBs meats. This is getting ridiculous. It happened just right now. I cooked Ground Chuck that I purchased yesterday and it stinks and tastes funny.

Diana Hinton
from Channelview, TX
This is the second time my husband and I have gone to the HEB on FM1960 and Lake Houston Parkway and were told they did not have the scallops as advertised. They claim they have fresh (not the sale price) as were the frozen. This is total bullshit, why you do not back your sale price is beyond me. Will stop shopping at this HEB and will tell all my friends to do the same after reading the angry reviews against HEB store online.

The new tortilla warmers that are being used in your stores are ruining the tortillas. They are continuing to cook the product causing them to become hard and dry. The tortilla that are being made in the central texas stores are the best around. The warmers are causing them to loose there great quality.

Ronnie Duhon
from Wichita, KS
Had 4 items went to 15 items or less line. The cashier was checking a person out and as I was walking up to place my items down a lady from the next line over with her basket so full, food items about of fall out of her basket started cussing and telling how rude I am ( I was totally embarrassed). I tried nicely to explained to her that this was a 15 item or less line and she had a lot more items than 15. Come find out the cashier (which said nothing) told her to come to his line and he would check her out.
While he was checking me out there was about 10 customers waiting in line with only a few items each behind the lady with a full basket. I have seen this before, but I do not do into stores to be cussed and hollered at I will not go back to the orange store. It is sad because I really liked your products. If there is something I really need, I will travel 40 minutes to the Beaumont store.

Joyce Bacot
from Schertz, TX
Purchased Heb Mozzarella Sticks and in bright bold letters approx. 8 pcs. in the box. When I am trying to determined how many boxes to purchase I usually look at the pieces in the box. When I open the box there are six pcs in the box. Really not enough for 2 kids. I had this same problem with the frozen wings, the bag said 44 pcs so you can figure out how many bags to purchase. It ended being on 22 pcs in the bag. After my complaint they change the bag, no pc. count on the bag.
I am tired of these big stores thinking they can get away with the advertisement on their package. Either be truthful about products or don't advertise piece count, consumers rely on these counts. I don't want to have to stop purchasing HEB products for label misrepresentation. Thank you. just a little pissed off right because this is not the first time this has happened.

David C Peters
from Laredo, TX
Earlier this afternoon, Oct. 22nd, I filed a complaint concerning the Corp.#570 Pharmacy unable to refill a prescription for Latanoprost Ophthalmic Solution, 0.005%. They said that I had originally received 3 bottles and were charged for that amount when I picked them up. I thought I had not been given more than 1 bottle but had been charged for 3. As it turns out I was given 3 bottles but the two in reserve are required to be under refrigeration until opened. In that this is my first time having to refrigerate drugs, and I am required to take quite a few, I failed to realize I, in fact, had the missing bottles under refrigeration. The Pharmacy Staff was nothing but pleasant and helpful in trying to resolve my situation. As it turns out, I was mistaken and have already extended my apologies here. Please disregard my original complaint.

Mike Montalbano
from Houston, TX
I live in old kay and I receive your fliers via the chronological, and each week I look at the sales and think that I can go to my local HEB and purchase those items on sale. Well that never works out I always forget to bring the flier with me so no sale prices. I would really appreciate it if someone could deliver the right flier to my neighborhood. If I need to drive to fry road or Tomball to get the sales I might as well go to Krogers on SH 99. I get their flier. Katy has 4 HEB why can they not all have the same sales and there own fliers?

Frank De Leon
from Houston, TX
Went to the HEB 2121 FM 2920 in Houston to get some butter tortillas they never have any I talk to the store manager but it did no good now I have to drive to the WOODLANDS to get some and they have than in a warmer so they are hot all the time why do I have to drive to the Woodland I hope you can do sometime nobody care to help me.

C Farias
from San Antonio, TX
My son purchased hamburger meat on May 9th. We used it to make meat loaf on the 21st. I don't know who ground this meat but apparently they didn't remove bones before grinding the beef!! Every bite had a piece of bone!! Now I am not squeamish about a small piece of bone in my food, but a piece of bone in every bite is way too much! Perhaps your butchers need to be retrained on removing bones before grinding the meat.
I will no longer be buying my ground beef from HEB! I would rather buy it from Culebra Meat Market or even Walmart after this. I have had the same issue with the ground turkey. For the price I paid for the ground beef I shouldn't find that much bone in the product. Very Bad experience!

Anna Pena
from Brownsville, TX
On May 17, 2015, I went into your store #03/263 located at 1628 Central Blvd. Brownsville, TX 78520, at 3:08 PM and cashier Maggie E. was my cashier. My complaint is that I am very good costumer of yours and shop in your store 4 or 5 times a week and I am a couponer. I use your coupons, manufactured coupons and printed coupons and on this day when I was doing my purchase this young lady was rude and did not want to help me out.
My printable coupon was not going through and she just gave it back which I asked her try to try again or to do it manually. She went and asked another co-worker for help, she came back and said if it doesn't scan I can't take it. I asked her to scan again and again until it went through. By this point, she was frustrated and then when another manufactured coupons wouldn't go through she went and asked a lady from accounting why the coupons wouldn't go through. The lady from accounting said it was the incorrect item. I asked her to read the coupon, and she rolled her eyes.
By this point, I asked her to call a manager, Hector was his name, and he said No to my coupon too. They both refused to read the coupon which says any BIC Product. After I paid, I went and spoke to Hector, the manager, and told him, "You all need to be more coupon friendly because you all still get reimbursed for our coupons." I also told him that the cashier is very Rude and has no manners or courtesy to costumers. While talking to Hector, the cashier was in front of me and she still rolled her eyes and nodded her head...
I know you don't need my money or coupons but with employees like her, you will be losing a lot more valuable costumers like me who spend money weekly at your store. All I ask is to be more coupon friendly and have a good attitude toward costumers....

Celeste Martinka
from Marble Falls, TX
I buy the Hill Country Fare thin sliced wafer sandwich meat... or I use to. I asked at my store in Marble Falls why there wasn't any on the shelf. The guy told me it was being replaced. I buy ALOT of this sandwich meat every week. I am mad that I can't get it anymore, don't say it wasn't selling because I buy it all the time and use it every day. I have been buying this meat for many years. I can't believe its been replaced, the store just lost a lot of money from me. I use to buy around 8 to 12 packages a week, sometimes more. One of these days, I won't have to shop there if stuff I buy gets replaced.

Dale Benke
from Spring, TX
I cannot get the "contact us" to work, so here is what I wanted to say:
I know that HEB is opening a new store on Riley Fuzzell and several of the people from Sawdust have transferred, but the people that are now at the Sawdust store suck. The store appearance has gone down - the friendliness has disappeared - the shelves are not kept stocked and it's a shame. I have visited the Sawdust store since it was opened.
Yesterday, as I entered I noticed the display of Cuties in the bags. As I looked at them, it became apparent that your people DO NOT CARE – I counted 4 bags of these Cuties that had "rotten fruit " and were there to be sold. Of course, there was no one there to talk to, so I set them aside and left. I did talk to Marvin (I think that was his name) in the meat dept. and told him, but if I had been a first time visitor – I would not be back. Guess I will just have to start visiting the Woodlands store and their "being friendly" sucks also.
You need a secret shopper - you know it's nice to have some one just say hello while shopping instead of waiting until they are in the check out line --- by then they are so upset they will probably never return anyhow.

Hector M Saenz
from Southlake, TX
I have always been an advocate of HEB. I am from Corpus Christi but now live in Dallas Texas. I have always looked forward to the day you start opening stores in the Dallas area. I no longer feel the same after an incident at your store at 5425 South Padre Island Drive in Corpus Christi Texas on June 22, 2014. On this day I was shopping for my father who was ill. While in the store, an employee, a stocker in the hand soap isle recklessly bumped into my grocery cart multiple times and even hit me with his cart/stepladder, never acknowledging me or looking at me. As I exited the isle to the main isle in the store he once again bumped my cart.
It was at this time I had enough of this young man and I told him to watch what the f##k he was doing. At this time he got in my face and I told him that he needed to watch what he was doing, that he had bumped into me several times. All he said was that he did not see me (I don't believe that). I told him to go get the Manager as I did not appreciate how he was acting or what he had done. At this time he walked off and I continued shopping. A few minutes later Marcus came to speak to me. I was telling him what had occurred when a young lady named Monica showed up. She asked what had happened but shortly cut me off saying there was a witness to what happened. She never gave me an opportunity to say anything.
As I continued to try to explain I moved towards her, in a nonthreatening way, and all of a sudden Marcus started saying I needed to step away. All I wanted was to explain myself. I never had the opportunity as she called security and had me escorted out of the store, two managers and a security guard. Talk about being humiliated. As we were about to exit the store I told them that they needed to speak to their employee about customer service, and before I could say more than a few words she yells out, "are you threatening my employee?"
I'm like where did that come from, I did no such thing. As I walk out of the store the Police are waiting for me. They spoke to me briefly and the spent about fifteen minutes with the store employees. Next thing I know I was written a Criminal Trespass Warning and that I was not to return to that store. Note the witness they have could only have seen what happened after we got out onto the main isle and was a store employee as well. Once again I cannot stress how humiliated I was during this whole ordeal. I am a 56 year old man who is on disability and on dialysis and I do not need that kind of stress. I retired from a fortune 50 company and I know about customer service. The way your managers handled this was horrible.
All she had to do was listen to what I had to say after she asked me to tell her. Don't ask if you are not going to listen.
Thanks for your feedback!
Sorry. Please try again later!