Ford
Ford Complaints Continued... (Page 2)
123+ reviews added so far. Upset? Call Ford corporate: 1-800-392-3673

I bought a new 2006 Explorer from Future Ford of Sacramento thinking that Ford backup their product and we are in good hands. • In January of 2007, our vehicle had a major computer problem; it lost all powers while we were driving. We had to drive around with a computer attachment and wait for the electrical failure to happen again so the Service Department could figure out what was wrong. Thank goodness it was under warranty. • With only 49,463 miles, in February of 2010 our transmission failed. Thank goodness it was under the extended warranty. • With only 58,832 miles, in October of 2011 (20 months) our transmission failed again.
We towed our Explorer to Future Ford of Roseville. We were told our warranty had expired and we have to pay to fix the transmission again. We wrote to FORD Costumer Relationship Center believing that they will be supportive and they are going to honor and stand behind their products, they wrote: First, I would like to apologize on behalf of Ford Motor Company regarding your recent experience with your vehicle. Ford cares about each and every customer. It appears that a decision was already made and at this time, there is nothing we can do to overturn the previous decision that was done. I apologize if my response is not favorable on your end. We hope that we might have the opportunity in the future to restore your confidence in our products and service.
FORD should apologize to the American People for building such a defective and bad product and for not standing behind their own product knowing that it has many problems and for their trouble service. It is a shame that this product is built in the United State of America. FORD will never restore our confidence in their product. I will share this drama with everyone I know so they can reevaluate their options before buying this product.

in 2007 i leased a 2007 ford fusion new with 125 miles on it the brake sensor went out the themostat went out pocaro ford in racine replaced that and the next day the cars engine and transmission were junk pocaro had the car for over a month and was suppuse to put in a new transmission and engine when i got the car back it ran as if they didnt do anything to the car when i called pocaro and ford credit to complain they told me if the car doesnt run right just give it back all these problems with the car were before 45000 miles on it.
also ford credit sent me a letter voiding the warenty and making me pay double miles when i told them i didnt agree they repossed the car the car was such a lemon the dealer didnt want it so it ended up going to mayheim in chicago to get lemon laundered across state lines it was sold to a dealer in chicago for 8500 when blue book on it is 125000 when i called the dealer he said the lemon ford fusion was still on his lot and that ford never diclosed any problems with the car to the dealer.
ford should go buy its lemon fix or repair daily car back and give me refund for having to deal with this hunk of junk lemon car that was made in mexico and advertise as being american made ford should keep its lemon cars in mexico

As of six months ago I purchased my first Ford F250 truck. To be honest I have to say I have never been more dissatisfied with the performance of this vehicle or quality of your customer service. This is a 2008 model; I bought this truck used with 52k miles on it. Since I've had it in the last six months I've spent well over $2000.00 dollars in repairs that were engineering defects that were not put on the recall list. Again, these problems were not due to age or wear and tear, they were engineering defects that were not resolved before leaving the assembly line.
Just today I spent over $600.00 getting the canister, solenoid, fuel cap and vent hose kit replaced. According to the local Ford dealership, my personal mechanic and the Ford Forum, this has been a reoccurring problem with Ford trucks where the canister becomes easily clogged from dust stopping up the canister and vent hose (because it's too short) and defecting the solenoid causing the check engine light to come on. In turn it takes me like 20 minutes to refuel my truck because the gas pump continually shuts off.
This is all due to a little dust. As I stated earlier I had to spend over $600.00 to get this fixed. When they mechanic fixed the problem he had to access an updated Ford memorandum on how to properly reinstall the parts differently than the way it came from the factory. THIS IS AN ENGINEERING DEFECT ON FORDS PART!!! The dealership told me they could not reimburse me because it was not on the recall list and they were waiting for so many complaints before it became a recall item.
All you have to do is read Ford forum, talk to local dealerships and consumers and you will find out very quickly this is an issue. There seems to be a lack of integrity on Fords part for making me pay for an engineering defect when it should have never been sold that way from the beginning. As I stated previously, I have spent well over $2000.00 on engineering defects for this truck. I should not have had to pay for one!
The name and quality of Ford is rapidly losing its reputation as a quality vehicle for obvious reasons. I for one will never buy another Ford vehicle unless they start owning up for their mistakes and paying for the problems that are reoccurring. I expect full compensation on my many repairs which I'm certain I'll never see due to the lack of integrity, pride and quality of your company. This is definitely demonstrates a lack of professionalism and integrity for the Ford name.

I purchased a 2012 Ford Focus in July 2011. I am unable to get the radio station that I usually listen to which is FM 87.7 mind you I can get the radio station on my $20.00 radio I keep at my desk and I can get the radio statio on my wifes 20 year old Chey Cavalier but I'm being told by McCarthy Ford in Chicago on 115th Street and Pulaski where I purchased the vehicle that Ford "says" this is normal operation that that particular radio station FM 87.7 will not come in. Mind you I am also a former Ford employee. I am very upset and dissatisfied with ford.

When turning the steering of my Ford Fiesta, there is a hammering sound and feeling on the steering wheel, i already took the car in 3 times for the same problem and they just grease it but after a week a the same problem is still there it just got worse. We have other cars also from Ford,a Fiesta ambient and a Figo and none of them does it. I also test drive a Fiesta and there were no problem with it. I also drove a Ford Trend for a month and that car did not do it. When I took the car in for service to check the problem the technician told me that there is a fault on the steering column of the Fiesta's and head office told him to grease it. I explained to him that I never had problems with the other cars I drove. He said they can only grease it but the problem is still there after a week,the greasing is not the solution. please I want an explanation because I cannot drive the car like this. this is unacceptable

I would like to request ford to take off their commercial of the annoying young blonde mother with the nasal tone. She is horrific and would turn me off on buying one of their products. Please pass this message along to ford to pull the add.

I bought a 04 ford explorer and I already replaced 3 out of the 4 wheel hubs I just got it back and it was making a noise in the front and the back the mechanic told me it the rearend and and posibally the transmission my loan was 13000 I figured after putting a new tranny and rearend in ill have close to what I paid for the vehicle you need stand behind your work and should replace the known causes of your failures to me in my mind this is a lemon since there is so many problems out there with your tranny and rearends you should be ashamed of your quote "Ford Tough" not really ohh is that why you guys didn't need the "Bail Out" cuz you guys replace your good parts with junk?

I purchased a 2012 Ford Escape in the Fall of 2011 and in the Spring of 2012 I was told that i had some damage to the sidewall of one of my tires. In the Fall of 2012 i bought 4 snow tires and had them put on. In the Spring of this year i had the other tires put on but wanted to get a new tire to replace the damaged one.
I phoned them only to find out that my Platinum coverage that I bought for tires had expired, which is wrong, they should have put a new tire on in the Spring of 2012 because i had paid for that coverage. To add insult to injury they also told me that the tire Cross Trainer 225/65/17 had been discontinued.
Nels is the one who told me about the damage but didn't say lets put a new one on because i had the coverage and now i have to go with a tire at my expense (I'm on a fixed income) that does not have the same tread but is real close. I am so upset that i have told people not to buy a vehicle and i have even mentioned not to buy any Ford products.
I can really see now how theses Dealerships can take advantage of people by not telling them certain things and let the coverage expire. I am complaining to you because they operates under your banner of Ford. I would like something done about this and would also like to hear from you in regards to this letter.

I purchased a 2006 explorer in 2009 with 24360 miles in Feburary 2011 a toner ring went out on the right rear side—-34263 miles-even tho we were 1 month over the 5 years we were alomost 16000 under the 50000—-My service tech could not explain it tho it was possible a rock hit it and caused the break—we fix it 751.00—this year 2012 March 25th the same thing appeared to be happening again 11000 later —
My service teck was rulling out another toner –maybe a sensor—BUT to our suprise the toner ring and sensor when out on the left side—the ring was broke —came apart between the teeth—no teeth missing just snapped—-my service tech has never seen toner rings go out in such a newer vehicle–less alone 2 in 2 years–He checked to see if problems had been posted and found none. I have the ring and proof of replacing twice—
We have owned 2 ford explores previous about had approx 134000 miles before trading and never had this problem—all my service work has been done at a Ford Dealer ( Luther Ford, fargo ND—-please check to see if their has been any other reports—-you can call me at 701-282-5700 during the day

I recently took my 2011 V6 Mustang in for a problem with the rear wheel making noise during braking. I took it to Clinton Family Ford in Rock Hill SC on Wednesday morning 11/16/11. I was told they were going to replace all the brake pads. They said the car would not be ready until Friday 11/18/11. Are you kidding me? When I asked why it would take so long they said the brake pads come from Memphis and they don't keep them in stock. Same answer from Fort Mill Ford in SC. Seriously? Your dealerships don't keep brake pads in stock? What about air filters, spark plugs, oil filters? What the hell. This is ridiculous. I realize you have a system you use to determine what to keep in stock but this is ridiculous. Your system results in crappy customer service.

There is an intermittent noise inside the car. IT sounds like it is coming from the passenger side. IT is hard to explain the noise but I think it is similar to a fan whurring noise. Ford has not heard the noise so they have not fixed it. Three weeks ago the car stopped running. The car was towed to the nearest Ford dealer. The problem had something to do with the transmission. IT took the dealer a few days to get the part. Yesterday my wife could not stop the car. NO brakes. Almost had an accident. She got the car home and called the dealer. They can not look at it until next week. My wife no longer trusts this car.

I own a 2004 Ford F-250 with about 41,000 miles on it, (I mention the mileage, because, at this mileage I shouldn't have the following problems). Recently I found out through Saret Ford that I have a broken oil dipstick tube, and it will cost me $2000.00, plus, to get it fixed. The exhaust manifold has to be removed as well as the oil pan to get access to the dipstick tube. The mecahnic at Saret Ford explained that since the manifold factory bolts are so rusted beyond normal removal that all the studs have to be broken, the broken studs, one by one, removed out of the engine head, and the manifold removed and replaced with a new one.
I was also told that the other manifold should be changed because the studs rust away and the manifold will either create leaks and/or eventually break away altogether. I ask you, is this "Ford Tough" part of my truck?? Because of the extreme workscope and expense to me to have my "truck back," I'm officially asking for Ford to pay for this repair, including the other manifold. You have to admit, this is a huge slap to my wallet, because, in my view, Ford decided to allow foreign junk metal to be part of these trucks. So, I'm asking, (from a die hard Ford man, can you please help me out??

Brakes are very spongy. I talked to a ford service writer about this he said it was the booster and there was nothing that could be done about it. Now when I turn left or right it feels like the abs system is coming on. The car makes a vibrating sound and the brake pedal will vibrate. Called the service writer and told him about this, he told me he did not have a clue as to the problem. The noise started with 36300 miles on the car. It does not make the noise every time I turn left or right. I really like the car except for the brakes which are awful.

Bought a new pickup on May 29th on June 7th transmission fluid was leaking out of the truck, had it towed to the dealer it only has 190 miles on it, They said it was a transmission pump and blown seal, The problem is that they can't get the part to repair the problem. They have now had the truck longer than we have. Have complained to Ford Corporate at least they aren't lying to us like the dealership is, they said the part won't be shipped for another 2 weeks. We were supposed to leave for vacation on June 28th doesn't look like that is possible now. Doe's anyone know what we can do to resolve this problem?

I recently purschase a 2008 Mercury Milan early this year. I love the car but the 6 CD Disc Changer has went out on me. I did my research and found that serveral other customers had the same problems with the Ford Fusion and Milan around the same year. My car had just over 50,000 miles went I purchase it. When it turn over 62,000 miles, they said my warranty didn't cover any issues with the car stereo. When I call to see how much it cost to replace it, they said it would cost over $400 dollar. That is "highway robbery.' I would rather go to Best Buy and get one half the price. I just got the car. Please somebody from Ford help me out on this.

Hey, My 2007 Explorer Sports Trac needs a new Fuel Pump Driver Module and dealership/ford is telling me that the part is on back order for at least a month. This seems crazy but i have called around and called the ford motor company and the part is on back order. Beside the inconvenience it could cost me over a $1000 for a rental car for the month. I can't believe that they expect me to come out of pocket because they can not provide a part to fix a truck they sold me only 4 years ago. If they do not resolve the problem it will be the last ford i buy, this was my 3rd SUV.

Saw a commercial on TV for a swap your ride at Middelkoff Ford. Swap your ride is no swap! You bring in your car as trade to buy a new car there is no swap. I wanted to swap my 2009 pathfinder for a ford f150, what a joke no swap no trade they wanted 10,000 down to get my payments to stay the same. So guess what no swap buy new don't want your trade, wheres the swap your ride its a joke. This happened at the Middelkoff ford dealership in twinfalls idaho haha no swap!

Sir, I am writing you this letter to express my dis-satisfaction with the service, (or lack there of) provided me. Today I took my vehicle to Gus Machado Ford on US1 and 152 street to fix a problem with my airbag. The light just came on, and I saw on the news Ford was recalling the F150 for the same issue. I received a call from the service department relating my vehicle was not covered? My truck is a 2002, and they told me it was not covered? I have bought 2 NEW expeditions from Gus Machado Ford, and also own a Ford F150. I would expect better service of one of their customers.
I had allways been a GM owner and switched to Ford for the service and quality of the vehicles they produce. The service department also failed to inform me of another safety recall on my vehicle. I hope this does not become an issue also. I am appalled at the thought you would not warranty this SAFETY issue, being it is occuring in your vehicles to date. I am forced to send copies of this e-mail to my attorney, and the media should something happen to myself or my children as a result of your negligence.

My 2007 ford sport trac, that i just drove off the lot March 26th 2011 as a trade in, had leaking coolant problems. I took it immediately back to the Ford, and the dealership told me they would replace it with a new one. Ford even stated on bill statement that i received a new one, which the warranty covers those repairs. They called when it was ready for pick up, so I went in to check it out, and after it came out of garage, I looked at the core of the radiator to see how it looked. Sure enough they did not replace it with a new one. LIARS!!

I will never buy a Ford again! Our 2002 Ford Explorer Sport Trac with 74K miles is an excellent example of shoddy workmanship that Ford doesn't care about. We recorded the following issues at the Ford Customer Service Center. The Running boards have rusted from the inside out. A spring in the ignition switch broke, so we couldn't start it. The roof leaks. The radio is possessed (randomly changes stations and eat cds. Wiring to the tail lights has shorted out. Lockable removable bed cover no longer latches to the bed. Lockable removable bed cover cannot be locked or unlocked.
The customer service center at Ford logged the issues but assured me that no one will look at them. I submitted the bill for the ignition replacement but they refused to pay since it wasn't done at a Ford dealer. How is that supposed to happen when it broke at a service station and could not be started?

I've bought a brand new Ford Mustang 2011. The car started to stall out after just a few months. I took it to the Ford local service center 4 times, and they tell me that they cannot find anything that needs to be fixed. But obviously I have a problem with my car. I can't drive it because it can stall out any time. Also, my engine light came on one or twice, and it's a brand new car! I don't know what to do. I regret my purchase of a Ford vehicle and expected more out of them. I have been waiting to get a mustang for a long time now, and have been saving my money to make this happen for me. Now that I finally have it, I wish I didn't!

We have a 1999 Ford F150. The heater core has been replaced twice and now needs another replaced. It was replaced at a Ford dealership the second time, then replaced again on their 12 month, 12,000 mile parts warranty. Less than 10,000 miles later and only 9 months, Ford refuses to honor their warranty for a 2nd time. Must be a faulty part anyway. Searched the net and found thousands of them being replaced numerous times each. Ford says they won't replace it because the vehicle is too old to honor their warranty. If you plan on keeping a vehicle for several years, choose a different brand. I won't ever buy another Ford vehicle and advise you to do the same.

I wanted to get some parts for my new ford pickup truck, so I called my local parts house. They ship the stuff new, I think it's what I need, but whatever it's actually not and the parts are used! I had no idea but ford sells used parts at new car dealership prices! They sell used parts to us the unsuspecting consumers and then jack up the price on us. Be careful when you are looking for ford parts because they cannot be trusted!

M. Hansen
from Burnsville, MN
I am really writing to say I appreciate Ford management for being so frank in stating they are in favor of the NFL players kneeling for the National Anthem, the Natl Anthem which represents soldiers, cops, living and dead who have given their lives for us so we can live in this country.
You bums have a right to support them. Those millionaire bums have a right to kneel (I know I am spelling kneel wrong) We too have a right not to watch the NFL and that's what some of us are going to do. And we have a right not to buy a Ford ever again.
I have a Ford now. I had a Ford in the 90's. I had a Ford in the 70's. My daughter had a Ford We will never buy another Ford again. I appreciate your candid statement on the companie's position.
M. Hansen

Tom Stefanos
from New York, NY
My daughter brought her 2008 Ford Mustang to a local dealer for Airbag Recall complete the corrective action was done to Ensure the Safe Operation of the Driver and Passenger Airbag.
Service work was said to have been performed HOWEVER the Airbag on Both the Driver Side and The Passenger side is NOT Complete. This is Noted as a Safety Issue which remains Unsafe notwithstanding that the Owner followed Ford Motor Company directive to bring in the car for Recall Work on the Airbag.
There is a Indicator Light on the Airbag Operation which Indicates that the Airbag on at least the Driver Side is Inoperable. That is a violation of Ford's own policies and procedures.
The Service Dealer refuses to do more work under the Dealer Recall Reimbursement Program.
I'm truly amazed that the Dealer and Ford Motor Company would take this matter so lightly given an Inoperable Airbag is a cause of Death.
I can be reached at (352) 209-3851.

Aaron Hartland
from Georgetown, TX
I bought a 2011 Ford Explorer and have had nothing but multiple problems with it from the start. My Touch system went out and Ford is telling me I have to pay $1300.00 to have it repaired. I have contacted the Corporate Office and have not gotten anyone who can help me. I need someone who will listen to me to please call me. Thank You. 512-968-2771

ken moats
from Farmington, MI
Salesman lied about 2017 edge having led headlights. It was a concern I had due to trouble seeing at night and I traded in my 2014 Honda accord touring that had them. Also when u hit the brake pedal on a 2017 edge the ball of ur foot hits the pedal but ur toes hit the bar above it making it dangerous. The sync system can become so involved it is more dangerous than texting on a cell phone. I miss my Honda accord so much I could cry

James D. Green
from Richmond, KY
My 2014 ford f-150 has 26,147 has brake problems the dealer said that it needs new rotors and pads but because it has more than 12,000 its not covered by the warranty . They say that this is aware part . It maybe a ware part but it should last 50,000-60,000 miles I feel that ford used poor quality parts . Now they wont admit it and make it right

Stanley Butchar Jr.
from Sunbury, OH
Stanley Butchar Jr.
1430 South Galena Road
Galena, OH 43021
740.972.4350
August 21, 2017
Memorandum for Ford, Inc.
Subject: Complaint- Service Department
Unsolved servicing and customer service issues of my Ford 150 at:
Coughlin Ford. 670 W. Coshocton St., Johnstown, OH 43031 740.967.2085
1. The customer service at Coughlin Ford has been extremely poor. The service to correct problems on my 2016 F-150 has not been done properly. I have driven over 220 miles and spent at least 23 hours trying to get my truck fixed.
2. I bought a 2016 F-150 from Coughlin Ford in February 2017. A representative named Shawn demonstrated the vehicle and finalized the deal. The purchasing experience itself was pleasant. But there has been a variety of problems with the Service Department who are totally disorganized.
3. The truck had a bad vibration from the beginning. Shawn verified this and we notified the service department. They assured me that after I drove it 100 miles the tires would smooth out. I drove 150 miles and they were as bad as ever.
4. I returned to the Service Department and after 4.5 hours, the service representative informed me that three of the four tires were defective due to the truck being parked at the dealership for several months. They said that they would call me when replacement tires arrived. I never received a call or voicemail, so after several days I called and was told that the tires had been there for a few days.
5. When they put the three new tires on, they took away the good tire. This left me with one bad tire still on the truck. They swapped a tire from another vehicle on the lot but the tire-pressure monitoring system did not work with the swapped tire, but the service representatives assured me that it would be fine. After a week of not working I had to take the truck back in again to get this resolved.
6. After the Service Department worked on it then the truck began pulling toward the left while driving. If I do not keep steady pressure on the steering wheel it will swerve to the left lane. This creates a hazardous situation. During yet another visit to the dealership, the service representatives told me that it was due to a tire and that they rectified it. However, the problem still persists, making the truck less safe. They did not even test-drive the truck after purportedly fixing it.
7. Tire pressures are never set properly by the service department. I have had variances of 7 psi and it is now part of my routine to check tire pressure after visiting the service department and correcting it myself.
8. I also had the oil changed, so they told me, as I was leaving they said they forgot to check the emission recall so the truck had to come back into the shop to correct the recall.
9. They said they could not give me a work order or receipt because the printer was down and they would mail it to me. I waited over a week and when I called they said it was mailed a week ago but after the call to complain I received it in the mail two days later, it was probably never sent the first time. There were other times I never received a work order.
10. Another problem occurred with the title. My name was misspelled on the title. The title person said he would correct it and it would take about two weeks for BMV to send me a corrected copy. After almost six weeks I called and was told it had been taken care of. I said I would contact the BMV to see what happened and was told not to because they would take care of it. Two days later I received a call that it was there to pick up. I doubt it was corrected the first time.
11. We had planned to sell our old Hyundai Sonata and buy a Ford Escape, but now we know that this would be too troublesome and plan to buy another make.
12. Another person whom I had talked with decided to buy a Honda Fit instead of a Ford Fiesta, telling me that his decision was based at least in part on not wanting to risk spending such undue time and effort with any needed repairs. Yesterday I talked to a local business person and she has also heard about the poor Service at Coughlin Ford.
13. No one from Coughlin Ford has ever called me to see it I was satisfied with the service done or performance of the F-150.
14. I am 72 years old and have purchased and driven many vehicles in my lifetime. I can state that without question, my experience with the Coughlin Ford service department has been the worst. As things stand, I am left with a defective vehicle and a service department that always assures me that things are fine, despite not doing the repair work correctly.
15. I am extremely frustrated and disappointed with Coughlin Ford Dealership. Please recommend a competent Service Department or solution. I would be grateful for your assistance in this matter.
Sincerely,
Stanley Butchar Jr.

James Shaw
from Henderson, NV
My 2012 Ford Focus (Vin # 1FAHP3F28CL130934) brought new had a LR door latch fail in 2014. Today the RR door latch failed with a family member, groceries, and Chinese take out in the back seat. My groceries and takeout are all over Interstate 15. I'm a life time Ford and Lincoln customer (12 vehicles). Currently driving a new F150. Difficult to imagine that this dangerous safety situation exist with just my Focus. The door will not latch, the car can not be operated safely. I'm stuck with the loss of over a hundred dollars in groceries and take out. Is Ford willing to address and FIX this dangerous safety situation?

jason morris
from Germantown, MD
This week I took my 2010 F-150 truck to Roundtree Moore Ford in Lake City Fl. for a squeaking noise below my truck. My assessment went as follows: I was told that my truck was missing mounting bushings on my exhaust and wire repair under heat needs to be repaired. The customer representative told me the mechanic shop who repaired my torque converter two weeks ago did not place the wires back properly and some wires as a result were "melted" by the heat shield next to the transmission.
I immediately drove the truck to my fathers home because he has the same year and model truck. We both used his truck as a guide and traced every wire on the entire transmission and found only one wire out of place. The 02 sensor wire running down the drivers side of the transmission was left on the heat shield over the muffler and that wire was undamaged and was put back in the appropriate clamp. We found zero damaged wires in any way and I returned the vehicle to the shop that completed the torque converter repair and they found no damaged wires.
The vehicle was found by that mechanic to have a transmission mount bushing missing which he agreed to replace. I returned to the Ford dealership on 10/28/2016 and spoke to "acting" service manager Mark Marshall as he informed me he is only a stand in until a permanent service manager is appointed. I spoke directly to him about my discernment to his technicians diagnosis of heat damaged wires and why the 02 sensor wire was left lying on the heat shield above the muffler. Mr. Marshal spoke to the service representative who gave me my diagnosis and she suddenly didn't recall the descriptive detail of my "melted" wires but acknowledged she told me I had them. Mr. Marshall then called the "Master Technician" concerning the 02 sensor wire left on the muffler heat shield and was told the heat shield could not create enough heat to melt the wire if it left there forever.
Mr. Marshal could have done one thing to stop a very uncomfortable and tense situation and he failed. He could have said "Allow me to get the technician who diagnosed your vehicle and have him show you the "heat damaged wires" and he never offered only stating, "I don't work on vehicles and the wires could have been discovered somewhere you could not see." That was all I needed to hear concerning the situation and my opinion is this dealership lied about a diagnosis of heat damaged wires to run up a repair bill from a simple transmission mount bushing to 900 dollars with all cost incurred. I have the quote, the diagnosis sheet and I will end this complaint with something I found extremely odd. I was told and I have in writing on my repair quote my vehicle could be fixed "tomorrow."
I found that odd because when I purchased the parts for the repair I was informed they are specialty parts and would take 7 days to arrive. That was 10 minutes after I received the quote. To think I paid this dealership 1045 dollars to fix a fuel pump 40 days ago and purchased a genuine Ford torque converter for 633 dollars just 3 weeks ago from this very dealership and my appreciation was returned with complete dishonesty. This letter may fall on deaf ears and so be it but consider this, I am a third generation Ford vehicle owner and my father, brother and I spoke of the fact we have purchased a combine 9 ford vehicles in the past 12 yrs.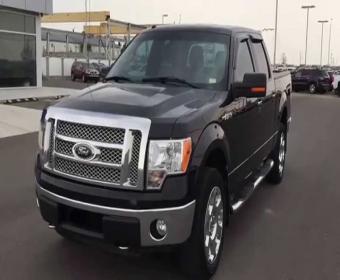 Richard Woodruff
from Millbury, OH
I purchased a new 2015 Ford Triton from Bauman Ford about a month ago. While working on final arrangements with the deal I was offered as part of the deal that if I spent up to 1000 dollars on shelving for in my van I would receive a 1,000 dollar rebate from Ford. I accepted that offer and had my salesman take the van before I even got it to a place they recommended and had about 1600 dollars worth of work done inside for storage. I took the receipts to my salesman after the work was complete. About a week later got a call from Bauman Ford telling me I would not be getting the rebate. I'm very disappointed as that was an incentive for me to purchase the van. What can I do about this?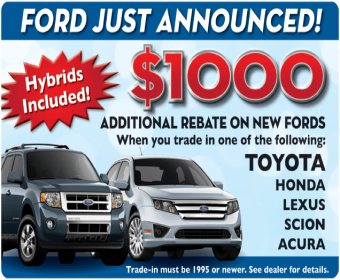 Duncan Staggs
from Houston, TX
I have a 2011 Ford Raptor / F-150. I turned on my defrost on the rear glass this morning & like many others it exploded like a gun shot! Factory tint holds the glass together now. This is a chronic problem, well documented, but no recall from corporate so far, impossible to get any backing or support. If you own a Ford F-150, exploding back windows are just part of the deal.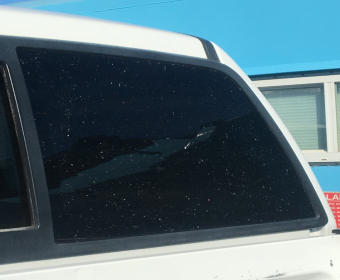 I walked into the the Lincoln Experience Center at Fashion island in newport beach, ca on Tuesday and what a joke. First I was not welcomed by anyone. When I finally tracked someone they showed up and told me to wait. I waited on the couches for 20 min. Then Rose Dancel the manager came up. She didn't even apologize for my wait and instead asked me what I wanted. I asked a few questions about the cars and none of them knew the answers such as how many valves per cylinder the MKZ had or what it's chassis made of. I felt they were very rude and I will definitely NOT be buying a Lincoln car. The Lincoln experience center is a bad experience center.

Michelle Antalec
from Hendersonville, NC
We traded in a used Toyota with a payoff due on a new Ford Edge, Three weeks later, the car is not paid off- the payment auto debited from our account, and the sales manager will not return a call. We were told by finance that the pay off was sent-- BY REGULAR MAIL--12 days after we left the dealers ship. The finance company hasn't received the check and we are still on the hook for the financed amount nearly three weeks later. If this isn't illegal, it is just plain sleazy or sloppy.

Pamela Hardnett
from Murfreesboro, TN
I own a Ford Festiva and have always serviced the car at a certified Ford repair shop. The car I drive started to overheat and I had the vehicle towed to Ford Quick Lane Murfreesboro TN because the vehicle was smoking from the right side.(roughly a month or so ago) The service department informed me that they could not find anything wrong except for the seal needed to be replaced around the over flow container. I excepted that, paid for the repair and I was reassured that was were the problem was and the repair was done.
The vehicle was serviced again (maintenance) mid June at that point in addition to the oil change and also the multi point inspection ( which includes checking hoses as I was told by a Ford technician named Chico) it was determined that the vehicle needed to be flushed and the cables around the battery needed cleaning.
That service was done 6/14/16 The receipt states Engine cooling system flush. I went on vacation permitting my niece to drive the vehicle because the car was serviced and there was nothing wrong. Wednesday my niece calls me saying the car has stopped and she did know what was wrong. I informed her to get the vehicle out of the street and I will call my tow service and have it towed to Ford. The next day I spoke with Chico he informed me that the "hose" broke, fluid ran out, engine died repair will cost me 2500.00. Within a month that car has been serviced twice and the problem with the hose was not detected? I feel that when the coolant was flushed why was the hose missed and not get changed?
At 87,000 plus miles why have I never been told the hose should be to be changed? Every problem Ford has recommended to me for the maintenance of my vehicle I have addressed. All the repairs done at a certified Ford repair shop. Had this problem with the hose been addressed and repaired I would not be regretting the fact that I ever purchased a Ford. All I am asking is that Ford stand behind their work or at least complete their work.

Ralph Thompson
from Inkster, MI
Leased a 2016 Ford c-Max two Months ago. The battery went dead last month, got road service to come and start it. The dealer changed a Module. Monday 27th this month the car set dead in our drive way again. My wife's mother was in the hospital I had to take her to the hospital and come home and get road service again. Took the car to the dealer they run test and can't find the problem. My wife and I are upset and would like to talk to some one higher up at Ford headquarters about our complaint. To get out of the lease we will be out more Money and I just bought a 2016 from the same dealership. I've bought a lot of ford vehicle and hope to continue buying fords.

Thomas weer
from Palm Bay, FL
I recently purchased a 2015 used escape at Palm Bay Ford, in Florida for $ 19,900. I was told that it was a 2016, with low miles. I traded in a 2012 SE Focus, they gave me $ 7,000 dollars, Later I realized it was a 2015 instead of a 2016. I do take the blamed for not paying more attention. I feel that I was mislead, by the sales personnel. The very next week, I received an add for a new 2016 Escape for $ 18,995, plus now they were going to give me $ 8,000 for my car. I feel betrayed by the Ford Motor Company. My family has owed Fords as long as I can remember. I myself have always looked at Fords first. I will be getting rid of this vehicle as soon as I can afford it. Every time I look at the car, I feel like I have been cheated. I will never set foot in Palm Bay Ford and be assured, that my next vehicle will anything but a Ford.

Lenard Koziol
from Walled Lake, MI
Why do my brakes squeak in reverse with only 15,000 miles on them. Never in my life had a heard on this kind of problem before. My neighbors truck same year, his brothers truck and everybody that owns one have the same problem. How do I tell my friends and relatives to buy one when they hear that noise. $40,000 truck and that noise I don"t get it.

David Zipay
from Cleveland, OH
I have taken many Ford Vehicles to Liberty Ford Southwest at 6600 Pearl Road, Parma Heights, Ohio 44130 over many years for service. I always trusted their service department. They used to make me feel like a VIP when I came in. Things have changed over the past year. On April 5 2016 I took my 2013 Ford Escape in for service for a recall item and an oil change with tire rotation. My service advisor must have been on break. A very young lady came to talk to me about repairs needed on my Escape.
I was told that my Escape needed rear break pads and rotors for $372.00 and rear shocks for $360.00, and that I needed new window wipers on the front. This made a red flag go up in my mind because I Just had Safelite Autoglass replace my front window that was cracked on March 5 2016. I had them put a new set of wiper blades on the front. When I told this to the young lady, she said that the wiper blades must have been seconds. I was also told that the left front axel seal was leaking, but was covered by 5/60 Powertrain. I declined to let Liberty Ford Southwest to do the repairs.
On May 5 2016 I took my 2013 Ford Escape to Mike Bass Ford 5050 Detroit Road Sheffield Village, Ohio 44035. They replaced the rear brake pads and rotors for $277.49, and told me that the rear shocks were fine. They fixed the left front axel seal, no charge. I have the bill from Liberty Ford Southwest, and Mike Bass Ford. I would hope that you would agree that Liberty Ford Southwest doesn't represent Ford Motor Company very well. I can't take another Vehicle to a dealership that I can't trust!

James E Greber
from Bulverde, TX
I purchased an ESP when I bought a preowned F350 (vin 1FT8W3B67BEC30094) from Northside Ford in San Antonio , Texas on 7-23-2015 . i traded that vehicle for another Ford product, F-150 at Jennings Anderson Ford in Boerne on April 6, 2016. I took the odometer statement provided by the dealer to Northside Ford to claim the refund on this ESP on April 7th and was told I would hear from someone in "a couple of days". On April 20th I had not heard from Northside as promised so I called your National Ford ESP administrative line and was told they processed the refund on April 13th and the amount was $1155.12.
On April 21st I contacted Scott Gilmore, finance director at Northside and after some difficult discussion and a callback from him two hours later, he advised that he had the check in his hand made out to me and I asked that he drop it in the mail. It is now 8 days later and I live 25 miles from the dealership and I have yet to receive the check. Calls this afternoon to Scott Gilmore and Beverly Smith, the comptroller, have not been returned as promised. Can you help me? I am a very unhappy lifelong owner of Ford products and this is the worst dealership we've ever dealt with.

Gary Graff
from Mount Pleasant, TX
My Ford F150 SC limited has been leaking water for over a year. I have been to the dealership a number of times during this time period and a variety of parts have been installed (2 third brake lights,new sunroof,new back glass and door w/strip). Contacted dealership about mildew smell and they say they have ordered new carpet but after last repair this morning I still have water in truck. Approximately 2 months ago your engineer was at dealership and could not make truck leak.I am being backed into a corner and feel the need for an attorney. I have talked to customer service and she says I am not eligible for a buyout with this type of problem.

Brice Craver Jr.
from Hazlet, NJ
I bought a 2010 Ford Expedition EL new. For the last year I've had a problem with paint bubbling on the tailgate. After doing some research I've come to find this is a common problem. Brought it to my dealer and was told this was not Fords problem. I had an extended warranty and was told that unles it rusts through it would not be covered. Seeing as the lift gate is aluminum both you and I know it will never rust through. I want to know what can be done as my vehicle is well maintained and obviously this is a Ford defect.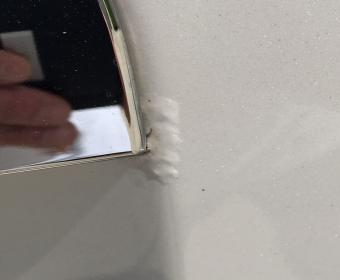 Thomas Ward SR
from Los Lunas, NM
02/13/2016 I purchased a 2016 F 150 4x4. I am a military retired veteran with a 100% VA waiver. I filled out your military discount paper as required and gave it to the sales manager. I'st the paper word was wrong. When we got our plate info from the NM DMV it indicated we paid form additional plate. In NM I pay no plate fee. Then after waiting over a month I call Rich Ford to inquire on the $500 rebate. The Sales manager tells me that they did not process the form as required by corporate.
The he tells me that Rich Ford is taking care or it and they would be calling me in a couple of days to pick up the money. I wait another several days and call back. He look in to it again and get back to me. Well that has not happened. I have bought several new fords and always from Bob Turner who is no longer in business and never had this experience. I am very dissatisfied with the service from Rich Ford.

See recall in 2011 about defective and very unsafe door handles becoming unlatched while driving. Yes the door can open going 70 mph down hwy. Not enough work done to resolve this fatal error. Both of my front door handles are this way as of lately. Would like some help here. This van has been taken care of yet has had multiple problems. I want to complain to the Ford corporate office now.

Greg Rakidjian
from Wading River, NY
On February 16 2016 I dropped off my car to Sayville Ford for maintenance service they worked on my vehicle the next day February 17, 2016. My vehicle was complete by 9 AM that morning I picked up the vehicle approximately 4 PM that late afternoon when I return the loaner car. I got home approximately 4:30 PM when I noticed the skirt underneath my front vehicle by the engine was rubbing on the floor hanging then I looked under the vehicle and seen a metal plate missing and the metal skirt underneath the vehicle was smashed in. Then I called my service advisor Ross and mentioned to him that somebody destroyed my truck he told me to take a picture and send it to his cell phone so he could show his service manager.
I sent him the three pictures and he said to bring it in when I get back from vacation which would be Tuesday, February 23, 2016 and they would take care of it for me. I arrived at the Ford dealer on the 23rd approximately 4 PM and they took my car in to bring it up on a lift to see the damage the people that were present was. The service manager the service advisor and the mechanic that was working on my vehicle. The Ford customer service manager told me that they would not let a vehicle go out of their shop with that kind of damage and they would've called me to tell me that there was damage underneath my vehicle.
Sayville Ford is the only service place that Services my truck I picked up the vehicle approximately 4 o'clock that day February 17 drove it directly home and that's when I took the pictures. I took the pictures at 4:28 PM on that day.
Basically the service manager denied that they court the damage and blamed it on me

Dorothy Harris
from The Bronx, NY
On February 13. About 11:30am I went into city world Bronx dealership with my boyfriend. I liked the Rava 4.-2016. We went out and test drive it and everything was good. Then we sat down to talk money. I told salesperson about the ad in the coop city paper. He knew about it too. 919. Down and monthly payment. I don't remember the correct monthly. His mgr was called over. He gave me another deal. 00.00 Down and 319 a month. I said" that was high. " I don't want to get into a deal I can't afford. Then it went down to 299. I said no thank you and left. I was not sure. I need to think. My boyfriend and out went out to talk about it. I called the salesperson about 20 minutes later. I came back in.
The second mgr came over. The new deal was 305. Still nothing down. And 350 for the DMV fee. I asked about the last deal. He said I can't do it.. It will not allow me. So.. I agree with that deal. I was give the papers Completed them. Salesperson was not much help when I needed him to answer questions for the insurance company. He asked for the money total of 658.00. I gave my my bank card. Now it about 2pm. My boyfriend needed to go for the kids game. Salesperson came back for me to sign the receipt for 658.00. No problem.
I gave him the information I received from the insurance agent. It's now 3pm still waiting.. My bank was down to nothing at this point. I asked what going on.. Waiting for the financial person. I'm tired and hungry. Salesperson came back asked me for my bank statement and pay studs. I don't carry those items in my bag. Nothing else was said. It now 4pm. I went into the financial office. He said I can't put in into the 2016 Rava 4 today. The credit score is too low. The bank will not allow me. I said" why did you take my money.. Why did I wait so long to get any answer like that. He responded with " I was told you was waiting for your husband. I looked at him what husband. I never told any one to wait for what husband.
They felt the man who was with me was my husband. NOT!! They want me to get the paper which will help me withy the deal. I agreed to go home. The salesperson drove me home and back. I give the salesperson my papers to be copied he mess up. He didn't copy all the papers and the second mgr questions me about the papers.i gave them the papers.. All the papers again. Now it 5pm. I need to wait again. I was called into the office about 530pm. My boyfriend came back to check on me. They called me in the office. Now. A new financial person talked to me. Still No.. We can do it. Then why did I do everything you said and still nothing.. Why did I go hon end come back for the same answer. He said.
May be your boyfriend can cosign for me. I said no. That wasn't the deal from 12pm. I could not believe what they did. I felt like a fool. They lied to me. I never told them my score was great. Why didn't they check my score before taking my money. Who does things like that. I called the insurance to cancel the policy and asked for my money back. The second mgr said I will get my 658.00 in 48 hours. Today is Thursday it has been more then 48 hrs. I called the dealership today. I was told someone will call me back...
NOT!! No one called me back. I called before they closed. I was told the finance dept refund money on Fridays. Why do I have to wait when they did me wrong. He also added. If not Saturday. Now I really didn't want to hear that. If you was in my shoes. You too will be upset. I came into the dealership with no car and money. I left the dealership 6hours later with no car and no money. Saturdays was the day before valentine. My Saturday was shot. How can the salesperson and mgr as well as financial person play person like that.

Patricia Chamberlain
from Boise, ID
I have a 2016 Explorer which intermittently will not start. It has been in the shop for 2 months without a resolution. I called and filed a complaint as requested by my dealer. The answer I now get is I don't know how to start the vehicle and that there is nothing wrong with it. The case number is CAS 87295 77= J8P9J6. The last I was told was that I should take the vehicle and Ford will supply me with an extended warranty. That is worthless to me if you can not start the vehicle to run it.
I can not trust this vehicle to start and do not want to get caught at a grocery store with a cart full of groceries and the vehicle not starting. The starting problem has occurred with **3** different drivers. My daughter was one and my husband had to go and pick her up from the vehicle. I am politely asking for a different vehicle or money back. I hope that you will pay attention to this email as so far I have had no success in Ford solving this problem. The customer service rep gives me the impression that I am the problem and not the vehicle. I hope you will help me.
882

amelia
from Johannesburg, GP
My 2015 ford ecosport clutch broke. The car was towed to Ford Fury William Nicol. I have experienced the worst as I had to wait for 4 hours to be served. Sitting without transport Ford took a day to get back to me. Telling me the reason for the breakdown was the behavior of my driving. Charged me R11k; R4k for Labour. Contacted the ford customer care; waited 3 days for feedback and got the same feedback. No one experienced on this level looked at this as they cannot explain as to why the clutch broke. How do they now how I my driving is.
The dealer I bought the car from was willing to assist offered a loan vehicle and promised to fixed the car within 2 days. William nicol now wants to charge a labour fee. What happened to customer service. They rip us off. When I was given a second opinion I was told that the ford ecosport has a clutch problem and was told that warranty should cover clearly because it is a mechanical problem. I would like to suggest if a page can be created so we can show ford that this is a fault on the clutch and not driver habits. I am sure that I'm not the only one in this situation

James Paranzino
from Providence, RI
Walker Ford Service Department in Clearwater Florida will not address my request for service. They will not scheduled appointment, provide a loaner car, return emails or phone calls. I'm not sure why they will not accept my business. Furthermore my vehicle is under a factory warranty from the Ford Motor company.

Ed Barrett
from New York, NY
I recently discovered the paint bubbling on the front edge of my 2013 Ford Explorer hood and thought it was a manufacturer's defect that would be taken care of swiftly. I bought the car new and it had 44,000 miles when I first noticed the defect. I brought the vehicle back to a Ford dealership, but not where I purchased it. The dealer took some pictures of what is clearly a manufacturer's defect and said they would file a Digital Imaging Claim with Ford Motors.
My car is out of warranty, but seeing how this is clearly a defect I figured Ford would do what most responsible manufacturers do – stand behind their products and make it right for me – the consumer. Ford outright refused the fix the defect and continually fell back on the 3 year 36,000 mile warranty. My claim was that it's not about mileage – the car is less than three years old and the paint is bubbling and chipping to pieces. They stuck to the warranty issue. Ford offers a rust warranty for five years on the vehicle, but if you don't have a hole the size of a nickel where the rust burned through then you are again – out of luck. The dealer said that they can repaint the hood for about $600 but Ford wouldn't be paying for any of the work.
For a vehicle that is less than 3 years old and the paint starts to bubble and chip that is just poor craftsmanship. I've owned three Ford vehicles in the past, my daughter and son both own Ford vehicles and for Ford to treat a loyal customer like this for a lousy $600 repair, that is clearly their fault, is just obscene. Ford is a disgrace. I got rid of the Ford – my daughter just traded in her Ford for a Nissan and my son will be looking for new vehicle in the next 18 months – I guarantee it won't be a Ford.
Ford is so cheap; they wouldn't even provide for a $600 repair and did everything in their power to avoid responsibility for the defect. But in the end it'll cost them a customer that has been loyal to them for over 15 years and the three consumers in training I have in my family. My three kids, 20, 25 and 27, will never own a Ford and social media and word of mouth spread faster than the bubbling paint on the hood of my 2013 Explorer. That's real smart business acumen Ford. Goodbye forever Ford.

Edith Nardone
from Hudson, NY
I have a Freestar 2004 it has about 125,000 miles there was a recall on a transmission part I was going to get it fixed but before I could get it fixed the transmission had a complete system failure. It is at RC Lacy in Catskill NY right now and I was told I would need a new transmission. I did some recherché and found that a lot of these transmission go I think this should be replaced. In speaking to another mechanic he said this is a common problem. I think for a car with only 125 thousand miles the transmission shouldn't fail.

Gene Sheynker
from Van Nuys, CA
I would do zero stars if I could due to Sunrise Ford in North Hollywood due to lack of professionalism and lack of warrantied issues I'm having with my navigator which has cost me over $5,000 in repairs. Ebie as well as Lee in customer service at Sunrise Ford are full of lies and have denied any warranty and have told me to take my business elsewhere. After having major issues with Sunrise Ford, they will be having a lot of issues in the near law and I will be taking major legal matters.
I never thought I'd experience such bad service. After trying to contact the general manager there I have NEVER received any call back or recognition. Due to all the unnecessary headache, unprofessional-ism and lack of taking care if customers when I have clearly spent so much time and money trying to fix a vehicle that they clearly have no experience on I will never buy a Ford again.

William E Chandler
from Hammonton, NJ
I purchased a 2014 Connect Transit last year in June, I have been a customer of Holman since 1984. The handle on my Luggage Compartment broke off, while I was just opening the back as I do on a routinely all day long every day.
I drive for Uber, This handle was made with 100% plastic, with small plastic connectors, that connected to the baggage door. I reported to the dealership, they charge me $152.60, n0t including labor for the part, This part was all plastic it was made not to last. Of all places to put a plastic door handle on the trunk. I will be buying this part at lease 3 to 4 times a year. This part was part of the trimming, example rubber molding. I call the service manager to inform him I was filing a complaint with the Ford corporate office.

Zane Matthews
from Johannesburg, GP
Good day, I have a Ford Fiesta and have been told by Consolidated Ford in North Rand Road that they DO NOT stock the parts in need as the Fiesta I have is not in South Africa. How is that possible? I looking for the Grommets that hold the cover over the motor. The Car is a 2007 Ford Fiesta - VIN No: WF0DXXGAJD7D11439. I have spoken to the corporate office at Ford several times about this complaint with no resolution.

Frank Romano
from Wilmington, DE
My check engine light came on. Naturally I had it checked and was told that I needed a new engine. my truck was supposed to be the top of the line fords. Ford f150 king ranch and it should have lasted more than 80,000 miles. After checking on line I found many complaints with the same problem. It is a shame the way your big shot company treats consumers. I am a former marine Vietnam vet. and know a lot of others and you can bet we will not be buying any ford products in the future.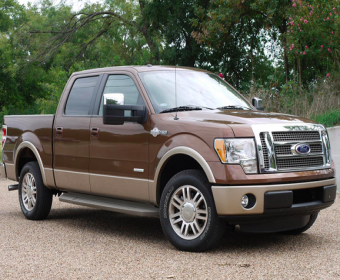 Dave lang
from Windsor, ON
I have bought a 2014 ford focus a few months ago not knowing it has a standard transmission not an automatic transmission I have had it bring it back to the dealership once to reprogram the transmission and a second time to have the clutch replaced and with less then 30 000 km and now it is doing it again. I almost got into an accident when the car would not accelerate going through an intersection this is deftly a safety issues. This is not the first Focus that I have owned my 2007 has 400 000 km on it and is still a great car my son drives it now, what options do I have for this new car? I am not happy at all with the support I have gotten from the company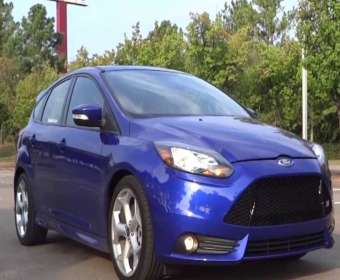 Greg White
from Ottawa, ON
We purchased a problematic 2013 Ford Escape. It was stalling while driving and was brought back to the dealer Lincoln Heights Ford. It had a defective head gasket allowing coolant into all of the cylinders. The work was performed by a licensed Ford factory trained mechanic and was returned to us in a damaged and dangerous condition. Exhaust components were misaligned causing the engine compartment to fill up with exhaust. A secondary leak was caused by a badly damage hose and another area of the exhaust(a $159 clamp) was broken and had a $3. hose clamp wrapped around it to re-secure the part. High levels of carbon monoxide was entering the vehicle cabin, it took approximately 6 weeks to realize it was the car. It was returned to the dealer, inspected twice and we were assured no leak existed and was safe to drive.
The service advisor stated 17 sensors were positioned throughout the exhaust and the car would alert me to a any leak. My family was gassed for another 2 weeks until a carbon monoxide detector arrived and I started testing the vehicle. Tests indicated up to 220ppm of c.o. entering the cab.(see you tube video Greg white 2013 ford escape problem) It took several months for two other Ford dealers to diagnose and repair all of the problems. We are currently suing Ford of Canada and Lincoln Heights ford, Ford denies all responsibility. If you end up with a lemon, you are on a long miserable road. Our children,my wife and I were continually gassed. I worry about the long term affects

robert mesaris
from Hanover, MD
I have a 2011 mustang and I was on the beltway when I lost all power at 70 miles per hour. I was lucky to be able to pull over with out getting hit. I shut the car off and waited 5 min, restarted it and everything was fine. I searched the issue and found out ford has bad ETB which are causing the proble. You need to recall this before people get killed!

Debra Mayes
from Fishers, IN
Friday July 24th, reached my destination & noticed our heat shield was hanging down under our 2014 F-150 pickup. I had a friend take the dust guard/ heat shield completely off & had planned on going to the dealership on Monday July 27th, to have it put back on, or at least get an appointment with the service department to get it back in place. Monday morning came I went to the dealership that we bought the truck from. We bought the truck at Paducah, Ford.
I went to the service department with my heat shield in hand to tell the guys that the heat shield had to be taken off, because the plastic bolts had come out and that I needed to have it replaced. He said that because I had my oil changed at another location & not at the Paducah dealership that they would not be able to fix this. I told him I was under warranty and it was a bumper to bumper 36,000 mile warranty and this should be covered under the warranty. He said the piece would cost me $336.00 to replace this.
I said I would talk to the guy who sold me the extended warranty that my husband purchased for an extra $2,000.00. I went to talk to Tommy Coley, upon purchasing the $50,000.00 vehicle assured us if we had any problems with service to let him take care of them. I told him my problem that I needed the heat shield put back on the truck. He said just a minute, left the room & sent the general manager Dan Stoves and the owners son back to me. He said that they would not replace the heat shield, and the warranty would not cover it because they didn't change my oil.
The place I had my oil changed the date was 5/30/15 I was out of town & couldn't have the oil changed at Paducah Ford & the heat shield was put back on and held until 7/24/15 it was held in with plastic screws, I believe that is the problem and I asked him if they would put the shield back in place for me. He said they didn't cause the problem and he didn't care if the cost was $5 or $350 they would not replace it or put it in place, told me that it was time for me to leave. I asked him if this would void my warranty by not having it in place. He did not answer me & again told me to leave.
I went back out to the service department & asked the service manager if this would void my warranty by not having the shield in place. He told me it would not, This experience with Paducah Ford has been very upsetting I mean this is just a small part that would have taken only minutes to fix. I would not recommend Paducah Ford to anyone, if they wont fix a small repair, I hate to see what is going to occur when I need any additional work done, I am very, very unhappy with my purchase from Paducah Ford, still love my pickup just very, very, very unhappy with the treatment I received from Tommy Coley & the general manager Dan Stovesand.
Buy a ford, just don't buy it at Paducah Ford because they do not stand by their claim that they will take care of you when you need it, I hope that my claim will help someone who is thinking about buying from Paducah Ford, I strongly recommend that you go to any other dealership in the area. ( Debra Mayes - very unhappy customer )

Deb hamilton
from Belgrade, ME
We bought a ford escape in November with an extra package that would allow pulling 3,500 lbs - specifically saying that we where buying this car to pull a small RV. Their official towing guide says that it will. When we went purchase an RV of 2500 lbs, we were told by the dealership that this would be unsafe even with all of the bells and whistle stabilizers etc. The owner said he would not do it. He recommended a company with even smaller RV's who told us that they have had people try to use our vehicle to pull their RV, only to find that they where also unstable and had tremendous difficult on hills which contributed to transmission problems.
Further exploration on the internet verifies that regulations on towing have not effectively prevented 100's deaths from small RV accidents. We do not feel that this is the right vehicle for us and are being told they will not buy it back. The owner of the Wiscasset dealership in Maine actually told me I was bogus when I said that I was very unhappy with the service I was getting. This did not seem very important to the customer service people. I am just so sad that we are stuck with a vehicle that knowledgeable people are advising me not to use for the purpose I bought it for.

Richard
from Brigantine, NJ
My son-in-law just bought a 2014 ford focus with 18,000 miles on it for $13,999 before taxes. He Has had the car for less then 2 weeks and already having issues with transmission its seems. The car jerks when you drive from stop and its seems its getting worst. Will be taken it back to dealer and better resolve the problem. I have read so many bad reports with this and reviews from many others. They need to recall them. If I would have know then I would have told him not to purchase the vehicle. If the problems doesn't get resolved I will have him take the car back to be returned. I will make a big deal out of this. Shame on you ford I always thought ford had great cars but I can't see this.. So many bad things about the car. Very sad about this.

Ronald Duty
from Whitesburg, KY
I have a 2007 f-150 crew cab with 82,000 miles. I'm having trouble with both manifolds on the engine leaking exhaust. This problem started before it was out of factory warranty I had it fixed at Ford service. I also had a 2002 Ford f-150 that done the same thing. Something just isn't right with the bolts used on these trucks. I'm a ford truck man owned Ford trucks since 1978. I've took care of this truck, I feel something needs to done about this problem it cost to much to fix this problem.

Danyelle Earle
from Ventura, CA
Worst experience I have ever had at Vista Ford of Oxnard! Unfortunately the salesman David was so unprofessional that I left the dealership crying! I understand sales and the time it takes to "make a deal" but under no circumstance is it okay to belittle, bully and yell at a potential customer for not being ready to make a deal. He was so rude first trying to show me used cars then showing me a car that supposedly I can't afford by there MSRP invoice and lastly trying to bully me into a lease that I didn't want to do. I am still not convinced that the right salesman can't make those numbers work. It was a 2014 Ford Edge and if the price was right I would have walked away with the perfect car.
Due to these unfortunate circumstances I spoke to Allison who listened took responsibility and confirmed to me that I should not have been treated in this manner. If I did decide to buy a car from Vista Ford I would want Allison to get the commission. As far as how David treated me I absolutely hope I never see him again. I know we all have bad days and me not buying a car can be frustrating. A letter of apology from the dealership is what I would expect and unfortunately I did not even get that. The general manager Darren made contact with me and tried to sell me a car and justified David's actions because he was on commission pay. He did apologize but words mean nothing when you justify the actions by saying he is a commissioned employee. Is there even such a thing?
Basically I just want to let the reviewers know if you are in the market to lease, be bullied and or deal with a company that has no accountability for there actions besides "you have to trust me" than this might be the right dealership for you. My experience was two thumbs down.

RALPH HORNE
from Inverness, FL
My 2006 F150 stx has paint peeling on left side of hood. I have been told that the primer was not done properly from the factory. I can see the bare aluminum hood, also primer is peeling, and the paint is being blown off as I drive on the highway. All the rest of the truck is perfect. I feel this is a defect in manufacturing and should be taken care by Ford motor company.

Frank & Rosemary Suranyi
from Keystone Heights, FL
My husband & I went to Ford of Ocala to buy a F-150 XLT pick-up truck. My brother works for Ford and we would be allowed to use his A-Plan for the discount. We went to this dealership (3) times and finally found a truck we liked. We had all our necessary information and trade-in plus a deposit to put down when we were informed that they lost the keys to the truck. We asked them, aren't there usually (2) sets of keys and low and behold, they lost both sets. "What on earth were they doing?"
Then to make matters worse, they wanted to give us only half the value of our trade-in, since we already checked with the Kelly book and knew the true value. Well, it didn't end there, they also did not like the fact that my brother, who works for Ford has the A-Plan, so they tried to down play it and refused to give us any other discounts for may I add was a new 2014 F-150. They told us you have the A-Pan and that's it, plus they added their own dealer options worth over $2,000 and expected for us to just accept it and pay for it.
Our experience with them was totally unprofessional, unethical, disrespectful, so we walked away from there and decided that we'll take our business to a dealer who can treat their customers with the consideration and respect they deserve. Our complaint is not with Ford but with that dealership in Ocala, Fl.
Also, just to let you know that the manager who worked on the papers didn't even have the decency to introduce himself or meet with us. Very unprofessional to say the least. We still plan on buying an F-150 but will have to go out of our way to find another dealership. Please look into the Ford of Ocala, because this was not the first time this happened, but it certainly will be the last.

David a Snyder
from Oakland Mills, PA
I have purchased four Ford vehicles from Lake ford ,in Lewistown Pa 17044, I can't believe that one ford dealership can do so much bad workmanship on there customers vehicles. We purchased a new 2001 zx2 from them. We took it back for a heater problem. They broke the windshield trying to remove the access panel to the heater, drilled holes in the bottom of the heater and when you ran the ac water ran out on the passenger floor. They did repair work on my f350 lariat, left grease on the seats and carpets, stood on the chrome front bumper scuffing up the chrome.
They replaced a exhaust manifold on my brothers 5.4 engine and when they removed the manifold they dropped in on the brake line rupturing it, I took four wheels and tires off of my Porsche Cayman S to them last week to be mounted. They ruined the paint on the first wheel they tried to change. I stopped them before they trashed anymore. They told me that the machine they should have used was broken. I think they should pay me for the damaged wheel.

david a snyder
from Oakland Mills, PA
I took four tires to Lake Ford, Lincoln Mercury, in Lewistown Pa 17044. They destroyed the paint on the first tire, trying to change it. I stopped them from destroying the paint on the remaining three,. They told me that the tire machine that they should have used was broken. I ask them why they destroyed my rim. When they new they had the wrong tools. They were supposed to contact me to have my rim repaired. They never did. I have purchased four vehicles from this dealership since 2003, a zx2, escape, f350 lariat, and a focus. If they don't make this right I will not purchase another car from Ford!!!

Brandy Pollock
from Indianapolis, IN
I have a 2011 Ford Fiesta. It has been through 2 new transmissions, a new computer/transmission part (in shop right now), and has been in at least 1-2 other times for transmission work. I am checking into lemon laws to see if it falls under this. I have missed work due to car issues and will not recommend this car to anyone ever.

donald r. nagel
from Federalsburg, MD
the timing chain broke at 70,000 miles. this vehicle was serviced every 3,000 miles. this is a local police vehicle and since I have been chief of police I bought only Fords. The crown vics I bought all had the paint peel off and ford would not help second this is the second ford explorer that the motor is gone because of the timing chain. Every mechanic I have consulted said yes the explorers have a problem with the timing chains- I find this out after buying 1-2013 & 2-2014 ford explorers. This should be taken care of instead of me having to spend $5,000.00 for a motor at 70,000 miles. great job ford.

Kim Daubert
from Rockville, MD
My car is a 2012 Ford Mustang. Less than 1 year of owning my car, the paint on the hood started bubbling, directly in the middle of the front of the hood and has now chipped off. I just starting notice more bubbling now popping up towards the left front side of the hood. This car is only 2 years old and I can't believe that this is happening. Will you stand by your name and fix this paint issue as this is looking very bad on the car?

Purchased a pre-owned certified 2013 Taurus with 23000 miles. The car has been in the shop more times than i made payments. From radio, front end and door handle with little help from dealer.

Eileen Macko
from Cleveland, OH
2005 Ford Escape - The right rear inner wheel well has rusted so badly that the shock tower is resting on the hatch wall. Every time I go over a rough part of the road, there is a loud banging noise. Please do not say that Ford is not aware of this problem. The are hundreds of Escapes that have this problem. Most of us cannot afford the repair, and cannot afford a new car. Most of us still are paying on the car. How am I to pay for a repair that may or may not work that costs around 2K to repair? I have owned several Fords, and I am very disappointed in the lack of attention from Ford. My family and friends own other make cars that are older than mine, and have less rust on their car. Please step up to the plate and do something. More and more are talking about a lawsuit. I will jump on the lawyer train, but would prefer not to. Please be responsible. I am also preparing a flyer to put on every Ford Escape that I see. I am sure the news stations would be interested.
Thanks for your feedback!
Sorry. Please try again later!