Fingerhut
Fingerhut Complaints Continued... (Page 2)
57+ reviews added so far. Upset? Call Fingerhut corporate: 1-800-208-2500

michael wagner
from Phoenixville, PA
Fingerhut sent orders to non deliver address. I just spent 2500 hundred on treadmill and got treadmill with no hardware to put it together. Called customer service 6xs emailed support 6xs still have not got parts. I am not going to pay them, they treat you horrible, call you a liar.

Tiffany Johnsonn
from Williamson, NY
My Fingerhut package was lost in another city. It was asked to give a week to see if they could locate my package. It could not ups sent and email stating they were not able to find it. Fingerhut will not send me a new item. They keep telling me that I am to fill out an affidavit I never receive it in the mail. They said they sent again and did not receive one. I get the run around all the time. Always no supervisor always give me a voice mail and they never call back. My bill keeps coming in and if I don't make payment it shows as poor payment and it will disrupt my credit. I have even asked Fingerhut customer service department if I could get my money back and re order or something but I get no where. Where else do I go. Something needs to be done. It was a gift for Christmas and I have nothing. Please resend this is the only place I have had an issue and it is not getting fixed. Resolve this for me or I will have no choice to take it even further to file claims against Fingerhut corporate offices. I am writing this and am still on hold for another chance to talk to a supervisor and nothing. it has been 10 min on hold. again.

deaundrey green
from Kansas City, MO
I received several emails from Fingerhut and text stating that my available credit was 500 dollars. So on sat the 25th of November 2015 i called in to place an order that $476 the order would not go thru. The next day I tried again the lady who stated she was having trouble putting in my order and would call me back ounce she had COMPLETED the order. Well, I never received a call back so i called the next day and the rep told me my order was to be shipped out December 2, 2015. Then i got and email from customer service saying my available credit was $100 so i call back to find out that both orders was canceled and my credit limit was dropped to 100 dollars after i had already made a purchase. I only use fingerhut around Christmas and now my kids may not get there gifts because of all of this my phone number. I would like to be contacted about this matter by the corporate offices of Fingerhut. I called in to cancel my account only to find that is has not been done yet.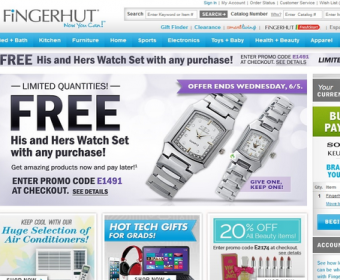 Nichole Hurt
from Brooklyn, NY
Received a chefs Mark 6.5 quart crockpot and a queen size airbed the airbed and the crockpot quit working in the first week. I was told by fingerhut I had to make my first payment and pay to ship the products back before they would refund or replace their faulty merchandise. I don't believe I should of had to make a payment until I received a product that wasn't broken. This is by far the worst experience I have had yet and I will be telling everyone on social media about my Fingerhut complaint.

Tamara Krebbs
from Walnut Creek, CA
I ordered candy gift that cost me $78.00. I could have gone kmart for $20.00 what got! I want my money back. I send candy back if they send a return box.

I have been using Fingerhut for less than 6 months, my experience so far has not been good. I did get initially accepted and that amount was for $340 with a small down payment amount. I am a frugal person and always pay off weeks in advance. In fact my first week I paid almost the entire balance off. In February I had a family emergency that caused me to be late on my payement. When I found out that it would restart my account I was shocked! Only a few days late and it didn't matter, might as well been an entire year. Tired of dealing with their customer service reps when I called the main phone number, beware!
Have feedback for Fingerhut?
Thanks for your feedback!
Sorry. Please try again later!