Dollar General
Dollar General Complaints Continued... (Page 2)
116+ reviews added so far. Upset? Call Dollar General corporate: 1-877-463-1553

Eugenia Adams
from Orlando, FL
While loading my prepaid Visa card at the dollar general in Mayo FL the cashier took advantage of me being distracted by the woman behind me. I loaded 400. On my card and was given back my receipt which I just stuck in my wallet and left. Bout 35 mins later I began getting text messages from my debit card letting me know my balance. The cashier had kept my card and stole every penny that I had deposited and then some. Come to find out she has done this to others. However I have pressed every charge that she can be charged with. They r still investigating and dollar general has her still working. SMH she should've been fired right then when the law viewed the tapes. I have an attorney retained now and hopefully will get some Justice.

Linda Vett
from Dallas, TX
I have complained 2-3 times bout dollar general store in Vernon tx#01726, that store is a mess nobody wants to stock anything they have not stocked cat food in a month I have ask them even left a note no good.The manager hires so many people and they do nothing I drive to other dollar store which are bout 35 miles.They need to all be fired even manager,and the employees &manager park their cars right in front of the store where customers suppose to park.Linda

Lori
from Philipsburg, PA
My complaint is with your store #435. The store is always messy with stuff in the aisles. Also, customer service is lousy. None of the employees in this store is happy or courteous to the customers. The manager seems to be miserable and unhappy. I love Dollar General and have been in many stores that are very customer oriented and happy and everything is in its place. This Dollar Generals Customer Service and organization is the worst one that I have been too.
Thank you for your time,
Lori

Brad phillips
from Mountain Pine, AR
I went to the Cherry Valley AR store #11806 on 12-12-16 around 9:50pm. When I parked, "Lisa" an employee was standing IN the front door ( not to the side or in a designated smoking area but IN the front door) smoking and rolled her eyes at me and told me in a hateful tone "hurry up because we're locking the doors in one minute." I knew what I wanted and told her so on my way in. I got my items and went to the check out.
When I arrived at the checkout, "Lisa" who was still IN the front door smoking told me "we have to tell everyone that because if we don't they'll be in here till 11:00!" My receipt shows that I checked out at 21:55:53. As soon as I walked out of the store "Lisa" locked them behind me. My receipt # is 890715636104339521121921919413432612221137. I tried to report this on your survey but it wouldn't take the # on my receipt. I believe "Lisa" is a terrible representative for your company.
From the moment I parked at your store she gave a manner of unprofessionalism and rudeness.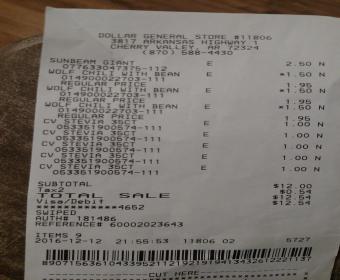 Angela Bunde
from Houston, TX
I went to dollar General tonight I had a 100 bill and the lady said we can't break that all we have is out holiday money. I am sorry but you still have two more bank days to get your holiday money I am sick of going in there and they never have change to break a 100 or even a 50 dollar bill. They need to have change all the time.

I went into Poteau, OK store Saturday November 19th and there was only one person working and the lines were very long and I had to wait a long time. The cashier informed us that she was alone and she was sorry for our wait. Even though she was polite I do not find it very professional not having enough employees there especially on a busy weekend. I do like shopping this store bit I rather go to the store on Broadway now because at least there I don't have to wait so long for service.

Deloris Hollingsworth
from Snellville, GA
Yes I was on Facebook and tried several times to get my $60 Dollar General gift card. I did everything right and all 25 people got the post when I sent it to them. I waited over 30 minutes for it to get my results and I still get nothing. I want my card please. Is this a scam. I hope not because dollar general is the only retail shop that I go to mostly everyday or every other day. Thanks please let me know why I didn't or can't get my $60 card.

Tammy Collins
from Salisbury, MD
I had bought 3 Pepsi 2-liters and 3 Mountain Dew 2-liters and they were all flat in taste. I was very disappointed because i bought them for my son's Birthday Party. All Dollar General Could say is im sorry. I was wondering if there was anyway that pepsi company may be able to make this right with me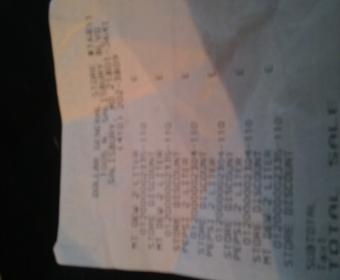 Lora Lowe
from Charlottesville, VA
I shop at the Dollar store in Fancy Gap Va three to four times a week. This store is nasty, you cannot shop for carts in the middle of the aisles. I stump my toe and almost broke it trying to get to a box of coffee. Employees are so rude you dread going in the store. They would not sell me a carton of cigarettes wanted me to buy them by the pack. Employees outside smoking and talking to men. I have managed stores before. If my store had looked like this I would have been fired.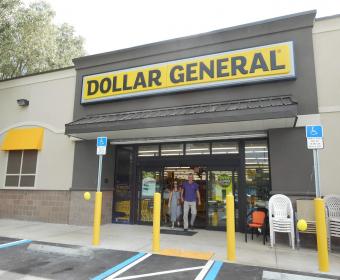 Kathy Rodriguez
from Fort Morgan, CO
Recently visited dollar general in Milliken, CO. Worst store I have ever been in! It was filthy, trashed, disorganized. The screaming music was so loud you couldn't even carry on a conversation. There was so much stuff on the floor you couldn't even get a shopping cart through the store. The clothing section was the worst most of the clothes were on the floor being stepped on and drove on by carts. It was so bad I turned around and walked out. Very disappointed.

Dollar General, your customer service related to acting as rental agent for Rug Doctor comes far short of other agents! Shame on you! I rented a shampooer that was out of order. Taylor your manager refused repeatedly to refund my rental fee. I wrote to Rug Doctor and was advised most agents refunded rental when unit did not function. You took hour of my time seeking resolution on phone with Rug Doctor, Hour transporting and working with Technical support to try to get unit working. Rug Doctor was great to work with. You, dropped the ball big time Dollar General.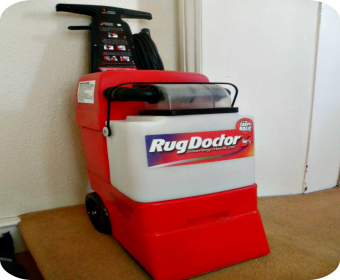 Tom Holly
from Duncanville, TX
There is a recently opened store on Camp Wisdom in Duncanville, Texas and it always has trash around the front door.This town has a demographic make up that condones this too much. We, the old timers are proud of our town. Store employees stat they are not allowed to have a trash can outside the door. I have run business and always had trash cans outside and inside of shop, (freight lines) and it helps keep area clean and the attitude of customers sure do change when the entrance is clean. I think upper management need to change their position on this. You store in Grand Prairie, Texas on Belt Line is fantastic as I used to shop there when I worked near it.

John Dotson
from Charles City, IA
I went in Mar 28th 2016 approx 3:15 pm to purchase tracfone time. I took my purchase to the checkout counter to an unkempt young man named Greg. He appeared slow moving, sleepy eyed and a bit out of it. He scanned my check and announced for all to hear. Nope, it refused it. I told him you must have screwed up. The check is good run it again. He did so and once again announced to all ,"Refused" He was polite the whole time just out of it. He claimed to be,"Sick" I told him I was going to the bank I'd be back. I left. I got outside and decided I should retrieve the check in question. Greg held the check up high enough to show everyone he had torn it in small pieces.
I went to the bank and interviewed them about my funds. I had funds available to pay the check by over twenty times! I went back and spoke to the acting/ pretending store manager (Brandon). He said he had already spoken to ,"Greg" about his behavior. I feel this is a lie. There simply had not been enough time for this to occur. Meanwhile, I asked to go to his office or outside. he said,"let's go outside my office is too dirty." Brandon states,"I'm here to clean this place up and straighten out these people!" I think Brandon is being grandiose.
Stating, "Yup, the district manager put me here to fix this place. I work harder than any of these people! It's why I make so much more money than anyone else!" Brandon's clothing is dirty and worn. He truly looks like he is a bum waiting for a handout. A very happy, polite and personable bum! Brandon's phone rings he states," That's the district manager now." I said,"Good, I'd like to speak with him." Brandon replied,"No" I have business with him. I'm too busy, as he wipes some ash from one eye. Brandon is far from superman. He is incapable of cleaning up such a huge mess.
The store is bad. Checkout registers are very old and out of date. Often non functional. Customers are forced to stand in very long single file like a cattle chute! One difference is at the end they don't shoot you in the head, instead you are paraded in front of the other customers as if you are a deadbeat! The store is monthly sprayed for bugs. Store has rat traps sitting in the back room. I'm told this is store policy to pay monthly to eradicate an infestation that does not exist! Really? How about you hire competent staff? Broken glass in doorway at child level. Floors worn out with tiles missing.
Rubber mats have chunks missing,(tripping hazard) Store is too small for merchandize. Staff mostly ALL new hires. No experienced manager on site. The local business Association says it has been in talks with the district manager. But, NOTHING has been done to address these issues. This store is a blight on our community. I am going tomorrow to the Mayor and DHS . I will do my very best to have your filthy store scoured off of our city streets.

Jan Godwin
from Fort Rucker, AL
This is not a complaint. I did not know how else to ask. I am unable to walk any distance at all. No matter I was just wondering if it may be possible to maybe add at least. Two wheel chairs with baskets for customers like me who love to shop in store but cant for physical reasons please consider it.

Joanna Vauhan
from Ahoskie, NC
I purchase several items from Dollar General today while I was out of town visiting my mother grave. I stay in Murfreesboro, N.C. And this store is in Bunn, N.C. I stopped to purchase artifical flowers to put on my mother grave and some more items. I brought 2 packs of foam plates for home use. I thought the clerk had given me all my bags but when I got home I realize he did not. I was so disappointed with his services. He wasn't that nice. I called the store after I saw I did not have my item. He said he was sorry he thought I had everything. Then he said he came out side to give me my bag. I was outside looking at the flower to put on my mother grave. Very displeased with this store services. (Christian) cashier. He needs more training in customer services.

One needs to be very careful with the products used for babies and I am glad to find quality products at Dollar General. Went to purchase diapers and skin care baby wash and some other house hold its. Dollar General is the best place to shop for such things which doesn't compromise on quality. Reliable and trust worthy products being sold here. The staff at Dollar General were also pleasing and helped me in my purchase. A section that covers products under beauty,kids,food,pet food,toys,household items and many more only at Dollar General. Shopping has never been more enjoyable before until I came across DG. I would definitely go there in future for my needs and recommend DG to others as well. Great going and keep up the good work.

Terry J Pierce
from Ilion, NY
On Dec.18 of last year I was notified I had won the $100.00 prize. On Feb 19, 2019 I sent an email inquiring about the prize as I hadn't received anything as of that date. I was in informed my card was ready to be sent and would be shipped out in the next 2 weeks. It has now been over 4 weeks and nothing. I would appreciate your looking into this matter and letting me know what the problem is.
Thank you
Terry Pierce 10511 Main St
Brookfield, NY 13314

When checking out at a Dollar General store in Bella Vista AR two days ago, I was told I cannot use two $5.00 off coupons if purchasing a $25 amount, and an additional $25.00 amount which were carefully divided. This made it easier for the clerk to figure out my totals. I was told that 3 months ago, Dollar General would not allow this transaction if using the same credit card. That this would load the credit card. There is nothing on the $5.00 off credit slip stating this. Is the clerk correct that you have changed your policy since previously I have used only one credit card to purchase $50.00 with two coupons? I have only one credit card. After carefully adding up what I was purchasing when selecting goods, and stocking up more than I normally would have to use both coupons, it was disappointing to find this would not work, especially since I shop there 2-3 times a week. I felt like returning everything to the shelves. Please respond if this is your new policy or not. Thank you, Bonnie Standbridge - 479-268-5013, 7 May lane, Bella Vista, AR - 72715

Jessica Smith
from Indianapolis, IN
The so-called assistant manager Lisa at the store 15319 in Tyler Texas is horrible I really don't know how she got an assistant manager title. Every time I have come into the store which I visit daily several times some days if she is working there is a line of customers waiting that sometimes be backed up as many as 20 customers if there isn't another employee on the register as well. I have witnessed this lady sitting in her car smoking cigarettes for periods of thirty minutes or more while the other cashier inside has a line a people because the store says so constantly busy. There's another cashier Heather who mostly works the same shift she does is incredibly friendly has super great customer service skills and can get customers checked out and out the door 5 to her 2. I don't know how this lady is an assistant manager when she can't even handle the simplest task of checking customers in a timely manner. I understand that these times that I've seen her sitting in her car smoking while the other cashier has customers backed up that she is on break but as a former assistant manager myself of a retail store I feel that break or no break if there are customers waiting longer than they should because there is only one cashier she should come in and offer relief and get the customers out faster and happier. Something needs to be done about this assistant manager though before a lot of business is lost because of her I for one will no longer come to this Dollar General shopping if if it continues to be this way. Thank you sincerely, a concerned and upset customer

Janie Miller
from Bedminster, NJ
I live around the corner of the store. I am in there few times a day on most days. I know all the employees by shopping there. You have a young lady who works at the Brookfield Georgia store. Named Taylor tiny frame short dark hair I think drives a red SUV. I have witnessed on several occasions how rude and ugly she is not only to customers but employees too. You also have another Taylor who works there. She's almost 6 feet tall broad shoulders. Reddish brown hair wears glasses. So Taylor 1 and Taylor 2. Taylor 2 was running register. I was in line probably 12 customers deep. I watched Taylor 2 page Taylor 1 twice to come help. Some of the customers had quite a few items in their buggy and Taylor 2 was doing everything in her power to get the customers wrung up and out the door. The pager was behind the counter so she never came to help. When she finally did come up to the front there were 12 people standing in line with a buggy. She comes back behind the counter snatched the phone up walks off dialing a number paid no attention whatsoever to the fact that there were 12 people standing in line. Then smirked towards the other Taylor 2 like it was funny. The customers got excited because the second line was about to be open. She walked right past everybody towards the back of the store and didn't even bat an eye. I forgot laundry soap so I ran back to grab it because I knew I had time. She's standing in the back of the store on the phone arguing with someone on the phone. Even when she saw me she continued fussing and cussing. She showed no regard for a customer standing there. She is a very foul mouth smartass young lady. She has no concern about what's going on in the store. She's not a team player. I know she recently got a promotion and along with her promotion an attitude that went along with it. I could not believe she didn't stop to help her co-worker. She's just very rude and disrespectful all the time. She stands outside the front door with the doors open smoking watching towards the register. If a customer comes to the register she sets the cigarette down rings up the customer and heads directly back outside. The doors won't close. The smoke goes inside the store. Not to mention the power bill what a waste of money. Last Saturday she was standing with the doors open smoking right where people come in the door. I heard a customer tell her you shouldn't be smoking by the door. She smirked andmade a face behind her back. This was about 400 415pm. She does this every day. I think this behavior is horrible. I think upper management needs to be aware of the way this young lady acts when her manager is not around. I felt sorry for Taylor2 who apologized to every customer as they reached the register. This little girl was hustling trying to take care of people. I just want to bring her attitude to someone's attention. She is not management material nor should she be working retail. She talks about co-workers when customers are in front of her. She is very unprofessional. I have even smelled pot on her as she exited a vehicle to start her shift. Please get this young lady out of the store. She is not made for retail.

I live in jacksonville and I was visiting the curry store.
In Feb, The store was closed and didn't open til 2:00 . After it opened up I got my stuff and was standing line at checkout and the Manger not sure if I am spelling the way it was on her shirt. Vicky smelled like alcohol . I am sure you don't allow your employees to come in drunk or hangover .
As i was waiting on my friend to get her stuff done she and Vicky was talking and i over head her say she was so messed up that she needed a blunt whatever that is but it didn't sound right yet talking like that to anyone.
About a 1 1/2 weeks ago we went into the store and it smelled like someone had been smoking marijuana though the whole store.
I think someone needs to take care of it before you lost all your customers.

unknown
from Hurricane, WV
your new manager at the b street store in saint albans wv 25177 is the most troubleing one yet, she hits on my husband every time we have been in there,this is not a good customer public relations,how she got manager i never know, so maybe thats why she left the store in huntington, so maybe she needs to go back there, shes not welcome here to cause trouble, and we will never shop there again

Jim clifford
from Burlington, KY
You have a store in Burlington ky ,you have to wade in when it rains or snows. has been like that for years.3 inches of water this morning stands in front of door,if I had my phone I would have taken pic

Barbara Cromer
from Conover, NC
Employee made crude remark about my purchase of denture cleanser.

Annette Camp
from Des Moines, IA
There was only 1 cashier on duty. There was no one else in the store at all working. I observed at least 15 people in line at that time. Finally another employee came in. She walked in the office and sat there. A lady in line went to ask if she could help, she said she couldn't clock in until 4pm. It was 3:45. My questions are, why was the cashier all by herself? And why couldn't the other cashier call a supervisor and ask if she could clock in early because of the line? I'm surprised people didn't walk out!

Shelly Heller
from Tulsa, OK
I was at the Jenks Oklahoma Dollar General and I bought over $40.00 worth of products on 1-8-2019. The Christmas items were 70% off. I told the cashier. For the most part she changed the correct price except on one item which was a Christmas Book that was $5.00 and it should have been on sale for $1.50. I did not catch it until Monday night when I went over the receipt that evening. I am not mad at her for not catching it, but I live in Sapulpa OK and the next day I went to two different Sapulpa Dollar General locations with the book and my receipt and asked them if they could give me the discount price showing them I was mischarged. Both locations told me I had to go back to Jenks location since I bought it there. I was wondering if that is your policy or if they just did not want to bother with me. I did not go into the store mad, and I asked them if they could help me and the second store I went to, she asked her boss and was very polite, but the first store, the clerk seemed a little arrogant to me. So the next time I go through Jenks, I will get the difference.

Debbie Lane
from Chicago, IL
The Rockford, Michigan Dollar General Store is an absolute pit. It's filthy and the most unorganized store I have ever been in. It looks like boxes are opened and just dumped on the shelves. There is no organization or order and there are always carts just sitting in the aisles so you can't walk through. Yesterday (1/8/19 at approximately 1:30 PM) a co-worker and I ran in to pick up a calendar. When we got to the checkout, there were two people in line and no cashier or employees in site. We rang the bell several times and no one came. We waited more than five minutes and finally just laid the calendar down and walked out. We won't be shopping here again.

gwen fisher
from Little Rock, AR
We have a Dollar General Store in our local town, Marianna. AR 72360. I have no complaints about the products stocked there. The biggest problem I see is, no public rest room. For months they have been telling customers the rest room is out of order, I don't really believe that. Several times I have had to leave and go find a public rest room to use. Fred's, Food
Giant and other stores have rest rooms for their customers, why can't Dollar General??? It's like the company is willing to sell customers products and except their money but not at least furnish a bath room for their use.. Also, there are a couple of checkers that can be almost rude to their customers. As a rule, I don not like to complain but this is totally unacceptable.

Carolyn Wilson
from Andrews, SC
There are two of your stores that's very dirty and the shelves are pretty much empty. I love shopping at the stores but, it's hard when you go into the stores and the floors look like they're never swept nor mopped. The two stores that I'm concerned about is one on South Fraser Street and the other on Highmarket Street. I would appreciate it very much if you would look into this. Thank you.

John Eakes
from Washington D.C. (Downtown), DC
On Dec. 8th I was in the Dollar General Store on Medical Center Pkwy. in Murfreesboro, TN, a store I frequent 4 or 5 times a week. The check out line was extremely long. After the cashier finally got someone to open a second register, she ask for the next customer. A young man stepped to that counter. When he left she ask for the next person in line. No one made a move to that register so I pushed my cart to that register a started unloading it. She wanted to know if I was next and I said no on moved to this counter. Their was still no one behind. She goes off again about the next customer. Still no one behind me. It was apparent she was not going to wait on me so I left the items on the counter and walked out. It is my last visit to a dollar general store.

Richard Rickett
from Barbourville, KY
Accused of stealing barbourville ky store.never never was any merchandise found on me by store mgmt or police.NOTHING was never concealed...this is my second request for a copy of the security tape.you humiliated me.held me without cause I ask to leave three times.I never went out of the store unroll police took me out.gave me a citation.call 606 5453543.

deb mccoy
from Indianapolis, IN
Potosi Missouri store is always trashy with carts of supplies in aisles, empty boxes broke down on floor. Prices aren't marked where product is suppose to be. There is always stuff on floor and not on shelves where it should be. This is terrible for anyone who wants to shop in your stores. Possibly get rid of lazy employees and management that can't do the job they're paid to do.

Steve Pope
from Chattanooga, TN
The stores on Highway 58 in Chattanooga are the worst.Isles are cluttered with inventory that hasn't been put on shelves. Shelves are empty of a lot of products. Easy to trip and fall. Some unfriendly customer service reps. Probably will not return. I have complained before but nothing has changed.

kelsi sanders
from McMinnville, TN
I have been sexaly harased my the guy working at your store in tracy city tn i told people who work their they said he does it to everyone. Is how you do buiseness this is not rite please do something i told him to stop but he wont he is the only guy working their so do something tracy city tn 37387 my phone # 931-592-8790

RONALD E RILEY
from Buffalo, NY
the Middleport New York store will have pop on sale when you go to the register they charge you full price then get pissy when you catch it and make them change it...this has happened at least a dozen times to me..who changes the the prices on the register???? once or twice I can see happening... not 12 or 13 times

Trevor Olson
from Palatine, IL
Hi I am a regular customer of your store since its opening in our small town. I really enjoy having your store in our town as it convenient and close. I have noticed some horrible things going on in your stores and as a former manager at Kwik Trip I feel they should be brought to your attention as it effects good employees within your company. Your manager Tanya has sets out to get people who she sees as a threat or do not follow her around and kiss her feet fired. I have seen this with a young man named Brandon who was your assistant manager. She talked bad about him to vendors and customers. She told them all about his sexual orientation something that he did not want spread around. Eventually this young man transferred so he would not be fired. He was a very nice and helpful and in my thoughts you should have been sued and Tanya should have been fired. Now she has a very nice and helpful young lady working for her Lacey. I really enjoy seeing Lacey in your store she is always smiling happy to help and always assisting her co workers. Anyways Lacey is on the verge of being fired. I suspected something was going on when Tanya and another coworker were up by the counter and they were talking about how they wanted lacey gone and with her gone they could promote this other girl. I was horrified that this was taking place in my earshot. But yet again I was in the store buying my lunch when I heard Tanya and another coworker talking and Tanya said I don't know what to do I keep writing her up and she then she gets that perfect so I cant get her fired. Now I was pissed peoples lifes aren't a game and if this is who your company is I don't want anything to do with it. My wife ran into lacey today who was pretty upset she got her sixth and final write up today. Now im writing you to fix an evil done here and possibly save the sext employee who would have to suffer this. Your manager is a bully and has no right to treat people this way if she talks about her coworkers that way I don't even want to think about what she says about customers. So now Dollar General I am giving you one chance to fix this as this is my Town and as a people we are all close friends and family almost everyone knows everyone. You see I am the son of a fallen soldier and my father died standing up for those who can not stand up for themselves. So I am standing up for your employees something you should be doing. So here is what I have to say fix this problem or I contact everyone in my town spread it over Facebook and on every military site letting my millions and millions of military family know that this is how you do business. People deserve to be treated decently and be taken care of. I am not joking. I am not lying. Lacey Brandon and the rest of your employees deserve better. Fix this.

David J Hill
from Blountville, TN
I WENT TO THE STORE IN BLOUNTVILLE TN TO GET CAT FOOD SHELF WAS EMPTY BUT THEY HAD TO GO GET IT FROM STOCK ROOM,I STOP AT THE STORE IN GREY TN TODAY AND ONE WORKING REGISTER AND NO CAT FOOD ON SHELF ASKED FOR IT SHE SAID THEY PROBLEY DONT HAVE ANY CAUSE SHE COULDNT LEAVE REGISTER TO CHECK,WHY CANT YALL KEEP CAT FOOD ON SHELF AND WHY CANT YALL KEEP EMPLOYES??

patricia alby
from Franklin, TN
I have been shopping with dollar general for year at the Franklin location at Murfreesboro rd . You have an employee by the name of Rodney, that is racist as all out doors. when arriving to the store on 11/23/2018 i went in to purchase some couple of toiletries , when i encountered the young man using excessive language and making racist about a mentally ill guy, he kept asking him him he could spell watermelon and kept asking when was black history month. I could not take it any longer, me husband asked for manager and he stated she would be in the morning, by the time he went back someone had stopped him from bothering the young man( caregiver) we were in tears, please do something about this, my husband in ex attorney and asked if legal services were needed the caregiver gave information to mental guys phone information and she is very and upset and has a right to know what excactly happened, I explained on the situation and she very upset and would like to press charges, you need to fire the rep or he needs some serious training, management and staff.. more than one person was in store at time you may be receiving more complaints.
ake it any longer, me husband asked for manager and he stated she would be in the morning, by the time he went back someone had stopped him from bothering the young man( caregiver) we were in tears, please do something about this, my husband in ex attorney and asked if legal services were needed the caregiver gave information to mental guys phone information and she is very and upset and has a right to know what excactly happened, I explained on the situation and she very upset and would like to press charges, you need to fire the rep or he needs some serious training, management and staff.. more than one person was in store at time you may be receiving more complaints. my phone# 6155737336 we would like to speak to branch manager on rodneys poor customer care and representation of your advocacy.

Elliott Schwartz
from New Port Richey, FL
Don't buy their clover valley sodas as they leak and cause a mess.
Customer service is the worst after spending 1 hour talking to them, they did nothing about it.
Buy your stuff elsewhere

On 11/14/18. I walked in Dollar General store address 1802 W 5th Street Washington N.C. 27889. I went in the store to find the cheapest Roaster Baker pans and sum foil pans with lids on them. For my Thanksgiving holiday dinner. And I found that on the label price was a $1 each. So I gets up to the counter and Julia rings up my order. And the price said $13 and sum change. I said it can't be the right price. The price label said a dollar. So she had Jamila African American woman kind of big bone lady come and see what Julia needed. Remind you this lady always has a unpleasant attitude and she very snappy. And jamila did come to the checkout with a attitude. So she goes back on the sales floor to check for the right prices. Jamila comes back to Julia the lady that was checking me out. With a snappy attitude and Jamila changes the prices on the pans to $1 And said customers change prices on stuff all the time and I'm not going to get into it with no customer today and threw her hand up and threw the store keys on the counter. Jamila went to the 2nd register and waited on customers after all that attitude she had. I felt like she was saying I change the price. I'm the customer that was up there waiting patiently and was getting upset with Jamila at the same time. I kept my self together. I dnt really like going to this dollar general because of her attitude. I go to grimesland n.c. dollar general or john small avenue dollar general in Washington n.c to avoid Jamila unpleasant attitude. But by my car being worked on I was rideing with sumbody else. So I had to go to that dollar general. I've also witnessed her geting smart a elderly lady as well. Jamila needs to be terminated. I will never go back to that dollar general. Just to much attitude. And she falsely accused me of changing the price. I dnt appreciated. I will call Corporate of Dollar General as well. Thank you and I hope Jamila never works at dollar general stores again. You suppose to feel welcomed not falsely accused of sumthin. I work in retail store for 7yrs I know what I takes to be customer service focused. Meet and greet with a smile.

October A Heiser
from Ephrata, PA
This store has gone completely down hill I'm not sure if it's lack of help or what but shelves are basically empty all the time. Boxes everywhere with/without items in. Sales are going on and the store has nothing to purchase for the sale price. Really upsetting was great having a store come in the area but it really isn't at much use. I hope someone can help put this store back together because I'd hate to see it close, if you'd like pictures at any point I would take them so you don't think I'm just complaining on something small. Thank you.

Giovanni Natale
from Rosamond, CA
I still have the receipt of today, I went into the store, I got a gallon of milk. And I'm waiting for my turn on line, to where everyone has to wait.
The Cashier is helping a customer and this girl ask the cashier about a product. She got her respond, left got her item and return to her to cash out.
I'm next in line. she looks at me and proceeds to the Cashier. Knowing well that I was next in line. This Cashier was not to let this happen.
After serving her. She calls for the next in line. This is not right. So with that being said, I can come later and do what this girl did, even if
the line is full. I would like for you to handle this matter. This is disrespectful. in many levels. I have the receipt with me. The next step is yours
Mr. Giovanni Natale

Donna Ryley
from Abilene, TX
I am a 70+ disabled senior citizen and am in a motorized wheelchair since the loss of my leg over 2 years ago. That being said, I no longer can drive - but I can get to DG on my own - as it is only a block from my home. Being a "smoker" I shop here at least once a week - some weeks more often. I have NEVER had a problem here with employees or management. They have ALWAYS been pleasant, courteous and VERY helpful - that is UNTIL TODAY! I have never been so mortified and embarrassed in my life - when the new employee (today was her 1st day - and should be her last as far as I am concerned) told me she WOULD NOT sell me my cigarettes because my photo license had expired! Correct me if I'm wrong, but the purpose for providing a photo id is to prove you are OF AGE to purchase alcohol and cigarettes - which I most obviously am! But to REFUSE to sell me cigarettes in front of a line of people - is not only poor business but TOTALLY DISRESEPECTFUL! I understand that certain "RULES" are necessary to follow - but this one really needs to be looked into and changed - THERE IS NO WAY ANYONE SHOULD QUESTION IF I AM OLD ENOUGH TO PURCHASE CIGARETTES!

Susan
from Natchitoches, LA
Milk coolers were disgusting. I opened the door and it had an odor like something was rotten. The shelves were nasty. This should be reported to health department.
Also ,I have been in the store in Robeline Louisiana twice and could not print a receipt . But when they can print a receipt ,they will ask every time,do I want my receipt? Yes I want it and do not want to be asked if I want it. Also a DM or manager should be concerned about employees that ask that question due to opening a door to falsified refunds.

your store in Canadian ok is trashy inside and out. shelves are always empty . cant get down aisles cause products on floor. workers outside smoking manager out smoking to. should be inside working . I go to Walmart know .

Kym Peterson
from St Louis, MO
I was in the Dollar General on 9/30/18 and experienced the worst customer service ever. I had to return a couple of items(while checking out) because I forgot my debit card and had limited cash on me. Both the male cashier and the female manager on duty were both so rude. Rolling their eyes and sighing. This one particular cashier is RUDE every time I see him in the store. There was one person in line and realize this may be frustrating for the cashier but their response was uncalled for. I shop at this location several times per week because it is convenient to my home but they have zero customer service. Store Location: 11801 Hwy 71 South, Fort Smith, AR 72916 479-259-1976 Receipt Number14391 02 5729

Harry Wischmann
from Kittanning, PA
The store in McDonald Pa is dirty and items still in boxes and not put on shelfs. Please do an inspection of this dirty store. TY

Kelly D. Osburn
from Fort Worth, TX
Your manager Marcia at the Renfro St. Burleson Texas location(store#04921) refused to sell me cigarrettes, despite the fact that I had a legal i.d. current driver's license. I had a friend who was with me, also 49 years old, try to buy cigarettes, but the manager insisted on seeing her i.d. which she did not have because her purse had just been stolen. However, I was ALSO there to buy cigarettes, and Marcia, who claimed to be the manager, said it was against the law for her to sell cigarettes to me. I know for a fact that is a lie, there was nothing stopping her from selling me my cigarettes, since I am 51 years old and had the proper i.d. in my hand. I am furious at the rude way I was treated. I have NEVER had an employee at ANY store speak to me the way your employee did. I calmly told her fine, I would go next door to City Market and make my purchase there. I also informed her she was mistaken, the law did NOT prohibit her from selling me MY cigarettes. My friend and I are both quite OBVIOUSLY over the age of 27. And I had the proper I.D. in my hand! Explain to me WHICH law exactly prohibited your employee from selling me MY cigarettes??? You and I both know there isnt one. I calmly informed her that I would be contacting corporate in regards to the way I was treated. She replied "Fine, you f**king bitch! You f**king call corporate!" I was so shocked that I grabbed my friend's arm and walked out the door to my car. I can NOT believe YOUR employee DARED speak to me this way and use profanity when addressing me! I want an apology. I want you to explain to your employee why this behavior is unacceptable. I can understand someone having a bad day, but I was respectful when addressing her, and did NOT use profanity!!! What kind of company allows their employees to address their customers in this manner???!!! I have lived in Burleson for 15 years. I shop at your store here 2-3 times a week. NEVER, have I been treated the way I was this evening in your store. I was actually afraid this unhinged woman would try to assault me! Please do the right thing and take care of this matter. I have been shopping at your store YEARS before you hired this psychotic woman, and will be shopping there for years after she is gone. Please let me know how you intend to resolve this matter.I am willing to accept an apology to resolve this matter.
Sincerely,
Kelly D. Osburn

Josephine Andrews
from Ocala, FL
Approximately 9:30pm 9/8/18 after many trips a day several days a week to Dollar General. I decided to go to the store number 15963 located Marion Oaks Manor. I purchased approximately $37 worth of merchandise. It seems around that area out of all the different locations all around Ocalla that seems to be the store that it makes it hard to pull up your digital coupons. Most cashiers because they know me so well have patience with me and let me pull it up or I don't give me that five dollar coupon because it is Saturday. This particular cashier embarrassed me, humiliated me and degraded me among customers ...She had a very condescending nasty rude attitude. She wouldn't give my phone a chance to load up. She was rolling her eyes and made me pay the full price so I never got my five dollar discount because she didn't have the patience for me to load it up on my phone which I tried to do before I even went in there but it's a bad area for some reason everybody has problems with their phone at that particular Dollar General

Debra Knight
from Livingston, TN
The Dollar General in Cookeville, Tn. On Dodson Branch Hwy. The manager Shelly Good is posting trash about customers who come in the store or who she has run out of the store on Facebook. This is disgraceful and disrespectful to the people who live in this community, everyone knows everyone here and it's embarrassing to those that she posts these comments about. I don't understand how or why she still works there. She even disrespects her employees. What's up with that?

Mary Davis
from Ft. Washington, MD
I shopped on 8-01-8-03, 2018 at the Dollar General , 12788 Old Fort Rd, Fort Washington Maryland. I have purchased lots of school supplies
supporting Glass Manor Elementary in Oxon Hill, Maryland. I would like to thank all the staff, especially the cashiers who were very professional,
and patient ringing my order. I just wanted to let the Corporate Office know this, the staff needs to be commended for such great customer service.
This no complaint but a compliment.
Thanks,
Mary A. Davis

Patricia Brown
from California, MD
The new Dollar General in Hollywood, Md. is a disgrace to our community already. The shelves are not kept stocked, items are on the floor, shelves in disarray, can not ask for help, no one at check out, or are busy talking, no management to refer questions to. Other nearby DG stores appear to be under better management with more available help and constant replenishing of items. Hopefully this store will improve soon or it will lose customers.

Teresa
from Union Hall, VA
I have been a customer of yours from the first day you open up in Union Hall Va. At first, the management had problems with telling her employees their business of yelling and cursing at them on the floor in front of customers. I thought maybe it would get better but no you see I go in there so often the workers know me by name and I theirs. Have you ever wonder why so many workers come and go from there? Think about it ..it doesn't take much. Then there has always been something about the selves not being stocked but not as bad as here just this last month oh my God. Do you realize why some people fill out the application then don't go for the interview? It's because they find out how the management does people and they decided oh no not me. Things are not done right I am sorry but after what happened with my friend's vehicle I still have a sour taste in my mouth with the management and the company. You see I had parked my friend's truck at the front door one and of their carts blew over and hit the truck. She didn't say oh sorry about it, is it ok? No. One of the works did and that was not her job it was management. Then when I called the company to turn it in it was wrote down but nothing was done about it I was supposed to get called about it never did. But I let it go mad and disappointed let me tell you a lot of the things that go on at that store is not the workers. Its management and the one you have over her is her best friend so of course, she will just spack her on the hand and hide the rest. You have lost a lot of good employees due to the manager. I don't care what some of the customers say they are not going every day and watching what these poor people are going through. My neighbor even went to work for you and it only lasted a couple of days and I asked her why? She said I am not going to get talk to like she does and think everything is ok. She quit because of management. Maybe she needs classes or something. My question for you what does she have on the company? Because any other company would not have put up with some of the things she has done. I know you will probably also tell her I sent this in because you don't keep quiet about it either. I will find out you did. I am hoping someone at Dollar General gives a damn about there company and will listen to the workers they are crying out to you to let you know what is going on and you are not caring. They are people and have feeling as well they would not mind working at the store if they didn't have to hate the way they get treated. Maybe if you changed things maybe you would have workers that would stay. Christen when she worked there the store never looked the way it does now. I wish she was back she cared for the store. The management has its ok times but then the other times is overrunning the good ones. I am a very disappointed customer who cares. Here are just a few pictures I have more but it wouldn't let me send you anymore. But it was pretty bad it's still not up to par yet just a little better. But who to say it want be like that again.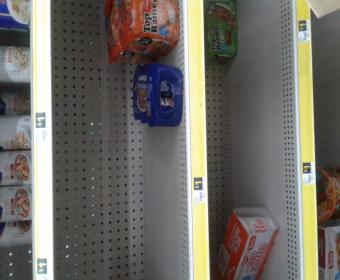 Karyl ann Larson
from New Smyrna Beach, FL
I shopped today at 2798 S. Ridgewood Av. Edgewater, FL. 210 ct. Kleenex was buy one, get one free. Only one box on shelf, so I asked at checkout if that was half price. CVS always prices the one remaining BOGO item at half price. Manager was called over, frowned and said I had to buy wet wipes, too. The sign on shelf said Kleenex OR wet wipes, not AND wet wipes. Manager frowned throughout, and I did not buy the Kleenex. With your frowning manager what became of courtesy to the customer! Very unhappy with my shopping experience.

Melissa
from Lewistown, OH
Dollar General of Ada, Ohio is one of the worst stores I've shopped in my entire life. I don't have a complaint about the employess... I see them on a regular basis and they are all friendly. I do, however, have an issue with the entire store itself. I run to this location every 2 or 3 days for anything from paper towels to a bottle of tea. Every time I shop, there are stacks of product still wrapped and on carts in the middle of aisles or at the ends of the isles. Every time. The aisles are too narrow for 2 carts to pass each other. They are always out of a product I want...always. Several times, 3 coolers were empty and every time, grocery shelves will be bare. The building is too small to accomodate the business and the parking lot is a pot hole ridden disgrace. Each time I drive to town, I vow it is my last trip to that horrendous store. Is this a case of poor management? I am guessing so, but it's rather frightening to think there is no one in the area with the minor qualifications necessary to keep a store properly stocked and organized. Pathetic.

Mary Boykin
from Monticello, GA
I recently visited a Dollar General in Athens, Ga to purchase some ethnic hair care products and to my surprise they didn't carry any. I ask for assistance to help find the product that I was looking for and the cashier ignored me and I had to shout at her to get her attention. When she finally answered after acting as if I had interrupted her conversation with her co-worker she really didn't know how to explain that they didn't carry ethnic products and seemed shocked when I asked why. I've been in many different dollar generals but this the first one that I've been in that didn't carry these products. I made a complaint about it and a week layer a woman called me with an attitude and said that the store does not carry black hair care products because of the location of the store. She said that stores are stocked according to the type of people that live in the area. She went on to say that some stores carry Mexican products, some carry Asian products etc. It just depends on the location. I've worked for dollar general before and I've never heard of this. I would like to know how you can determine what people are going to come into the store just because they don't live in the area. It just seem like discrimination to me. I didn't even know this was allowed.

Heather Gilmore
from Dallas, TX
Ever since i sent an email complaining about very poor attitudes, I.have been harassed. It really is unfortunate because i feel uncomfortable going to shop. 41 years old and have never felt so intimidated. Today I was followed around the entire store by one of the managers. I have been told via email responses that these issues will be handled and yet 3 emails later attitudes are worse. Thia all began when Sarah Gregos started working there

Tiffany tanner
from Grenada, MS
I live in duck hill near grenada, ms every time I go into the store I have a problem with this young lady that works there her name tags has nikki on it she is pregnant. Her attuide stinks n she has poor customer service she is always on the phone or texting on her phone when I am in there talking loud. She also gave away some items from dollar general.

Lisa Griffin
from Columbus, GA
Moultrie Ga 31768
Dollar general in the Sunset Plaza! I'm very upset I was mistreated by an employee a cashier she was ugly to me and I am beyond upset about this whole situation . I'm a good regular shopper up there at this store and I would like to see this cashier gone. She got an attitude because I was buying that last of the 90% off brown dot blankets and she refused to sell them to me . She flat out wouldn't explain why ——the blankets rand up 90% off but she tried to change it in the register but it wouldn't change so she flat out told me that there is a problem and I will not be able to sell you these blakets im sorry!!!! No ma'am I just left the dg store across town buying me 2 and 4 at the Norman park 31771 store and yesterday 2 at the tyty store! I know the blankets are on sale and I'd like to buy them ! I need the district managers number so that he can straighten this all out . I have plenty of money and I love a good deal at dollar general but I purely hate uneducated employees who refuse to do their job. I deserve better than this dollar general deserves better than that!

WILLIAM CHRISTOPHER WARD
from Salisbury, NC
I live really near a dollar general so I'm there 3/4 times a week. I pay my phone bill and my mother's there and have for at least 2 years,i purchased 2 dg boost cards and twice a month I simply take the cards and tell them my amount and they ounce it in, see its a card that I reuse so I don't have to keep buying new cards,been doing this 2 years or more, well today I went to pay my mother's card and the girl didn't know how to do it, then she told me the other lady working has been there even less time than her so she was no help either.so I was forced to buy a card above the cost of the payment cause that's all they had a 50$card but only needed 35$so I stood there and she tried and tried and after awhile I succumbed to buy the 50$card and I said that they should know how to do that or at least a way to solve the problem. So the one girl did say yes it's our card and you can get a payment inbetween 10$ up to 99$ but she didn't know how after I made that comment the other worker who I wasn't even speaking to got extremely loud with me and said no we can't do that and I responded I've did it 2 times a month every month for at least 2 years then she sasses back I don't care what you did we don't do that amount. Then she got really snotty and was trying to invoke another customer to prove she was right, I'm just telling you it's wrong we ain't doing it,at this point I was shaking so bad it took everything inside of me to simply walk out so I wouldn't walk down to her and let's just say it would've been extremely ugly and possibly bloody!So for a employee who hadn't been working there long about a month cause she was new hell I was actually there the night she first started working.She surely is positive about company rules. I did not appreciate how she raised her voice and made it a point to invade our conversation and being extremely cocky. I know this isn't going to do much but at least I know I tried, sorry for typing errors I'm on my phone instead of laptop.. The store I'm talking about is in Salisbury NC located at 5150 US-601 (highway 601)..

Eva from Pearce AZ
from Pearce, AZ
I have been a regular customer at the Sunsites AZ store. The assistant manager is usually there and is never helpful and is always quite rude. She seems to be this way with any staff member that is working also. When she is at the register ringing up customers, she is always on her cell phone talking and ignoring the customers. Also, when she is not at the register, I have seen her at times sitting on the floor and her attire is totally inappropriate. To explain this, she sits on the floor and over half of her butt is hanging out with a big tattoo in the middle of it. This is very unbecoming and disgusting to see. I would think that this company would not want this sort of bad service and inappropriate appearance. She is totally unprofessional. I will not shop at this establishment while she is still there. I will take my business to the Family Dollar store. Thank you.

Terry Welch
from Georgetown, SC
I went to the Georgetown,SC store and your advertised item of the 15 pack Pepsi the mini ones were never delivered to the store! Bad public image to advertise something and not have it .

Barbara
from Prairieville, LA
The cashier that works there is very rude. She eats behind the counter and when you are standing at the register she acts like its a bother to get up and help you. Today 1-10-18, went in there and she is talking on phone about sex.
Nobody needed to hear this. Very unprofessional. The store number is 12552. Don't know the girls name but she was the only one working this morning. Thank you.

Patricia Pack
from Calhoun, GA
First we had to put up our own fence to keep the Dollar store trash out of our yard because they wouldn't enclose their dumpster and everyone dumped their trash there until it overflowed and naturally it was blown into our yard ( which i had to send in a complaint about that to get something done about the trash) then just when things began to settle down about their trashy store and things went a little smoother, they start soliciting for toys for tots which is a good thing if done right and i give my share to children's charities but its my choice as to when and how much i want to spend and i do not want to be insulted, at the check out counter, into buying an item from the store to give to toys for tots. If it's a store policy then it's a win win situation for the store as the customer is solicited to buy a toy from the store which earns them more money and they get the praise for the charity too. I decide to visit other stores to see how they handled the toys for tots and they didn't try to pressure me into buying a toy so i feel like i was targeted at this one. Now the store is no longer a convenience for me as i don't go back there anymore.

I just visited Dollar General Store #1752 in Fort Worth, TX and I have never been as insulted and offended in all my life! Upon entering with my children in tow, I wasn't not greeted as per the norm in any retail setting, instead I was TOLD, not asked to leave my bag with my personal belongings at the front! Not only did your employee insult me in front of my children, but in front of a full store as well! I have never known there to be such a "policy" and do not appreciate being stereotyped! I will NOT spend my hard earned money where I am insulted and not given the same courtesy as several other patrons who had bags as well! I will be contacting the Corporate Office and sharing my experience on every review board I come across! This company has forever lost a customer in me and I will definitely NOT recommend ANY of my friends/family patronize this business!

Akeem N Pasha
from Monroe, NC
Today I needed to reload my prepaid card at Dollor General store #00736 1326 Red Bank rd Goose Creek sc, 29445 on 2017-11-18 at 17:13:20 for $223.00 the cashier scanned the greed dot card and swiped my card to load the funds to my card and handed me the receipt. I waited for (3) hours and no funds were made to my card. So I called the store to ask why hasn't the process of the funds be loaded to my card, the cashier told me that it was nothing she could do and to get in contact with my card provider which I did, I then preceded to ask her if she loaded the funds correctly and again she made a rude statement that I should call back tomorrow to speak with someone about the transaction the completed and hung the telephone up in my face, not giving me any answers of why the funds are not showing on my account. I was completely not satisfy by her representation, or customer services. And now I've been online with my bank and here it is 2:05am and no activity or pending loads or noticeable of her transaction.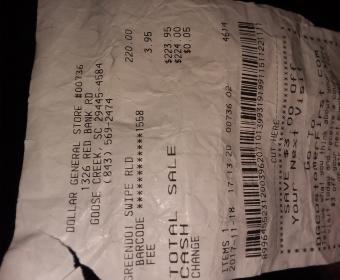 Have feedback for Dollar General?
Thanks for your feedback!
Sorry. Please try again later!