Dodge
Dodge Complaints Continued... (Page 2)
62+ reviews added so far. Upset? Call Dodge corporate:
tina gatlin jenkins
from Decatur, GA
I took my 2008 jeep patriot to the local jeep dealership (COURTESY DODGE IN CONYERS GA.) I requested service under the lifetime powertrain warranty that is still valid on this vehicle because we have complied with every provision of the warranty provided by Dodge. The dealership refuses to repair the vehicle under the lifetime powertrain warranty. I say this is an obvious BREACH OF CONTRACT.
Lisa Mathusek
from Smithtown, NY
I am leasing a 2017 Dodge Durango. It has about 6,000 on it. Recently driving to work my tire pressure warning light came on. We went to get repaired and found out that it could not be repaired since the tire was split open along the rim line. I now have to purchase a new tire with a brand new car that has hardly no wear and tear on it. I feel it was a defective tire. We are a customer with two Dodge Jeeps 2017 and now a Dodge Durango. Thank you for your attention to this matter.
Lisa Mathusek
53 Verdi Street
Smithtown, New York 11787
Carl Halcro
from Great Falls, MT
I bought a tipm for a customers 2011 Dodge Grand caravan from our local lithia doge dealer 2-07-2018. The vehicle came back in on 3-06-2018 with other issues, we diagnosed it as a defective tipm. We called Lithia dodge they would not warranty unless they diagnose it. They want us to pay them 2 hous to diagnose it and a 1 hour to replace it. It only took us a half hour to diagnose it. I feel we should not have to pay this for a defective part. The dealers name is Lithia of Great Falls #152 The Ro # is 205331
Dana DeBarros
from Cherry Valley, MA
Three short years ago I bought a used 2007 Dodge Caliber. I had no idea of the rust issues with this make and model year, but apparently Dodge/Chrysler did. A notice went out to original owners, but not to the poor unfortunate souls like me who happened to buy it used. February 2017 was the cutoff to get this repaired by Dodge/Chrysler. I found out about it in Sept. of 2017...too late apparently. THIS IS A SAFETY HAZARD AND SHOULD BE RECALLED BY THE COMPANY. IT IS NOT OUR FAULT THAT YOU MADE A RUST BUCKET!!! IT SHOULD BE ABLE TO WITHSTAND NORMAL CONDITIONS AND NOT RUST OUT IN A FEW YEARS. Now, I'm upside down in this vehicle.( I owe more than it is worth) and will have to pay thousands of dollars out of pocket to repair it and keep my family safe. DO SOMETHING DODGE/CHRYSLER!!!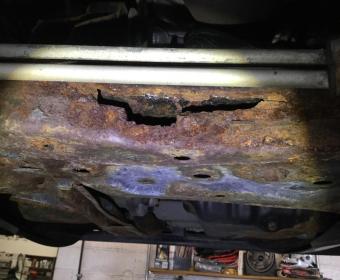 Scott Palmer
from Salt Lake City, UT
2016 Dodge Ram EcoDiesel (Doug Smith Dodge, American Fork, UT)
Dear Dodge,
First of all, thank you for years of reliability, good service, and a company that I would always recommend. For this reason, I have decided to come online and relay my experience. A company never gets better if it is not willing to hear constructive and pointed feedback.
As a matter of context, my wife and I have either both owned a Dodge or both owned a Dodge since the mid 90s. We have loved your vehicles.
In mid 2016, we decided that it was time to upgrade our Dodge Truck. We wanted a truck with better gas mileage and towing ability. Several people recommended the EcoDiesel. Never owning a Diesel we were apprehensive about the proposition. However, your organization made us feel comfortable that the investment was worth it.
Up until the last couple of months, we have ABSOLUTELY loved our purchase. I have never been more happy with a truck. As a long-standing member of my community having lived in the area for 30+ years, I told EVERYONE how much I loved this truck.
And then over the last couple of months, this exhaust alert started going off. Previous to November, I believe it went off twice when it should have. Painfully, from November to the latter part of December it was going off weekly. As you know, you need to drive the vehicle on open freeways or whatever until the exhaust alert clears.
We brought the vehicle in. You manually cleared the filter. We brought it in again in the latter part of December after it kept occurring. Your response was so disappointing. You said that you did not know what was wrong with the vehicle. Although the service tech was kind and cordial, his "next steps" to try and bring in the vehicle when the light comes on was incredibly frustrating. We ended up driving a half hour every time this light comes on. We do not live that close to the dealership. To be told to try and bring it in when the alert goes on is like telling someone having a seizure that be sure to come to the hospital next time when it's happening or we cannot give you any advice as to what is wrong with you.
I called my salesperson. I told the service tech that we were so "sideways" over this and no one has any explanations that I feared keeping this vehicle. As result, the service tech has the sales manager call me.
When the sales manager called me I told him that I would like to explore lemon laws and see what is possible with Dodge because we love Dodge and we love this truck. However, we cannot continue with this problem, not excluding the time to clear the exhaust, the gas costs, and the fear of having a lemon.
The sales manager told me that Utah does not have lemon laws and it was not applicable to the state of Utah. The sales manager told me what he would offer for my truck ($34,500), which was the ultimate insult, knowing that was a figure that represented what anyone (Dodge client or not, vehicle problem or not) to trade in that vehicle.
Being the end of the year and year-end discounts being applicable, we drove by one GMC dealership and decided to look in. We only went to one.
That dealership, no relationship and no prior experience with them, offered us $35,750 for our vehicle that we spent $44,000 18 months ago purchasing.
You might conclude that I cut off my nose to spite my face. You might say that I should have "attempted" to bring it in when the alert light was on. There are many what ifs, but I simply wish someone had taken an interest in taking care of us at some point along this journey.
Last week I received a text asking about our customer experience. I tried to bite my tongue because we are not vindictive people. I do not want anyone to get in trouble. Although, I do not like my GMC 1500 Sierra anywhere close to the Dodge we had and despite now having to come up with an additional $12,000 to make up the difference, I decided to let it all slide and move on.
Not until I called my insurance agent to switch over the insurances did I decide that you needed to hear this communication.
He told me that he bought a lemon with Dodge a couple of years ago. Of course the Larry Miller dealership in Salt Lake was not happy about the situation. However, they "made it right." My insurance agent said that he shared information on Utah lemon laws. Supposedly the rule is that a vehicle is considered a lemon if brought in five times and no solution/resolution is possible. My insurance agent told me that he upgraded slightly, paid the difference, but full vehicle value was given. The dealership "made it right." That's what a consumer hopes for.
Your sales manager told me that lemon rules are state specific and Utah does not apply. Should I have researched to get my own facts? Yes, I probably should have. At the same time, I have been trusting your dealership for over 20 years. Why would I feel any need to not trust the counsel of your sales leader?
As I said earlier, I am not a vindictive person and I understand how damaging stories like this can be to dealerships. I am not the type to openly spread this story. Interestingly, my insurance agent said to me "what a story!" "As an agent, if anyone asks me about that dealership, then I will be very reluctant to recommend."
What is also telling is that everyone knew how much I loved this Dodge EcoDiesel. Over the last couple of weeks, I cannot tell you how many people have said, "Scott, what are you doing driving a GMC?" You're a Dodge guy! You loved that 1500 EcoDiesel! What happened?"
What would you have me tell them? I have tried to keep it simple and simply said that I bought a lemon and decided to get rid of it before I was out of warranty and at least someone else can try to solve this before they are out of warranty.
I have no idea what you will do. I do not even remotely like the GMC that I am in as much as your vehicle. At this point I am living with the situation.
If I were Dodge Corporate...what I would do is buy my GMC back at full price that I paid and put me in another EcoDiesel that does not have these issues...what should have been done in the first place. Disclosing that lemon laws do not exist in our state is at least unethical and scrupulous if not borderline maliciously false and deceitful.
Again, I have loved Dodge. I understand any restitution now that I do not have the vehicle is far and fleeting. However, you still needed to hear this story. My plea to you is to take care of customers, especially your loyal customers, and do not let any other dealership treat them better. I may not have a better deal, a better truck, or the driving experience that I want, but I do have someone that spoke to the truth and did not simply worry about their bottom line--the core of what lasting and reputable business should look like.
Thank you for listening,
Scott Palmer
801-856-0197
Erica Lewis
from Tallahassee, FL
I experienced a vehicle malfunction with my 2017 Dodge Durango where my truck came out of gear while parked. Called the vehicle department where a claim was made and filed. Mind you this was a month ago. Since then my husband has had to do all of the calling and on two occasions the complaint was closed without anybody on Dodge's end knowing why it was closed. Every week we are given the run around and quite frankly I am beyond livid that Dodge does not value my business nor my or my family's life! The technician that drove my vehicle mentioned that he did find an issue but that he had to send the information to Dodge. Since then this has been a freak circus. I am paying for a faulty vehicle and you mean to tell me every time we call it's always been the someone will get back with you in one to two business days. I will never ever purchase another dodge vehicle and I will take to social media and local newspaper and media outlets to tell others NOT to purchase Dodge vehicles. If something happens to me or my family I can guarantee you I will own Chrysler!
Signed a Pissed Once Loyal Customer
I had an appointment yesterday for diagnostic testing. No one informed me that it would be an all day thing. I sat in the waiting room for 6 hours and noticed my car was still parked as I was leaving. I called 2 hours later and they said they would call me this morning. It's now noon and no call back. What's the point of making an appointment if no service was to be done at that time? I would never recommend anyone to go to AutoNation Dodge in Phoenix. I have wasted 2 days that I have off, stressed about my car. Terrible service.
Delores L Staton
from Stockbridge, GA
I do not blame Chevrolet and Dodge for what has happened to me. I will try to summarize succinctly what I have endured. In 2013, I purchased a Malibu LTZ 2008 with 38,000 miles. I am suspicious that the odometer was tampered with and I am suspicious that I may have purchased a flood car. I complained to Landmark Chrysler Dodge Jeep form which I bought the Malibu. They essentially brushed me off, with the lame excuse that I had waited too long to contact them. Between 2013 and 2015 I spent 1400.00. There were also major repairs such as a catalytic converter (paid by Chevrolet) and a drive axle (covered by my extended warranty). These repairs included replacement of three sensors. I still have two sensors that need to be replaced ( relative to tire pressure).
Last week, I was at the shop again, and this time it appears that I need to replace a part in the right front wheel housing that should cost approximately 200.00. I have also noticed rust on the driver's seat supports. On top of all the misery I have endured with the car. I recently received a settlement check from the federal consumer protection board relative to the settlement against Ally. Ally was found to have targeted afroamericans, asians and other minorities relative to auto financing. I paid a total of $16,000 for an 2008 Malibu, which I now know to be excessive, even though it includes an extended warranty for the car.
When I replaced two of the tires in 2015, the Sears dealership said that the car had been in an horrible accident, due to the sever misalignment of the front wheels. I told him that I had not had an accident, which is true. My complaint is that I believe that the Malibu is a good car, but because of human failure to abide by the rules or regulations, I have a car which has cost me soon to be $2,000 in repairs and Chevrolet the cost of a catalytic converter. I write because I am concerned about future mechanical problems that may surface. I want someone to take up my complaint, and I want some redress of my financial losses.
Allen Hullett
from Las Vegas, NV
Two weeks ago from today I purchased a 2016 Ram 1500 from Towbin Dodge in Henderson, NV. This was my worst experience ever at buying a vehicle. While going over the paper work, the sales man said that there was a minor error and a change had to be made. When he brought back the corrected paper work, I found that approximately $1000 was added to the price. I know that this was done intentionally, because the sales men tried to blame someone else for the mistake. If I didn't catch the "error", guess what, I would have been screwed over.
The other problem was when I tried to get zero % financing and a $1500 rebate and others as stated on the web site. I easily qualified for for this. The sales man said I couldn't get both. Again I got f--ked. This dealership is run by con men and thieves, NEVER will I purchase a vehicle from you or recommend to anyone else to do so. This company sucks.
Charles Willetts
from Wilmington, NC
I purchased tires from Wal-Mart in Leland NC April 2015. I went to the Leland Wal-Mart and had my truck serviced and the tires rotated and balanced. After having the tires rotated and balanced I felt a vibration in the steering wheel. I then took the truck to the Shallotte Wal-Mart to have them balance the tires again because I was not sure that Leland NC Wal-Mart did in fact balance my tires. I was told by the service department that I had a bent rim and tires were out of balance.
The rim was not bent prior to taking it to the Leland Wal-Mart. These tire must be bad. I am requesting the tires be replaced at a prorated rate 265/65/17 and the rim replaced or fixed. 2016 Dodge Dakota V6 4X4. Wal-Mart Super Center Tires purchased here and serviced at the address and phone number: 1112 New Pointe Blvd, Leland NC, 910-383-1769. Wal-Mart ****Tires rebalanced and told about bent rim at 4540 Main St, Shallotte NC with phone number 910-754-2880.
Roger Williams
from Houston, TX
I brought my Dodge Grand Caravan in for a oil change. I understood it would be longer than Normal because of the thanksgiving holiday. I was told it would be maybe 3hrs. That was fine I was # 3 in line and thought I have other things to do. Now four (4) hours later cars that weren't there when I dropped mine were being serviced before me. My # 62237 and 62252 was on the table outside. There's a lot of numbers between those two that went before me. Why?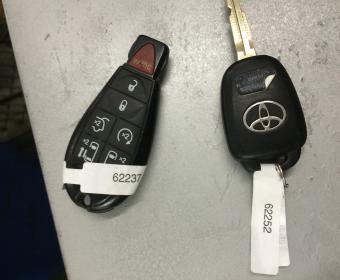 Thanks for your feedback!
Sorry. Please try again later!