Baskin-Robbins
Baskin-Robbins Complaints Continued... (Page 2)
77+ reviews added so far. Upset? Call Baskin-Robbins corporate: 800-859-5339

Great ice cream, disappointed in the service. It was like my last meal before an operation and going into Hospital. We walked down to the store, ordered our ice-cream take home pack from an assistant, who couldn't care less about us. When we got back to the motel, and I scooped the first bit of the ice-cream off the top, there was literally like half a scoop of the other two flavors underneath. It was half empty. I wish I had of taken a photograph. I showed my husband.
I was very disappointed to say the least, and if I could have walked without any problems, I would have just taken it straight back. In the end I ate what we had, I really wanted this treat, I love ice-cream, and I particularly love your's and I don't come from Brisbane, so this is my one and only treat before going into hospital at Green slopes. And we do it every time. I have never had cause for complaint, and I don't like complaining now, but when you pay for a take home pack, which is a treat, I don't expect to find it half empty, not with the cost.
And I'm sorry to say it really fitted with the assistant's behavior. It is wrong! Over the years I have spent a lot of time in Hospital, and this is the one place that we always go, and my visitors who all bring me ice cream. I have spent a lot of money in this store. I know I can't prove it, I didn't take it back. If I hadn't of been preparing for an operation, and on crutches, I would have gone back.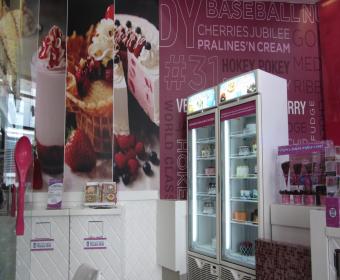 Erika
from Greenville, WI
I went to the Basket Robbins in Appleton, Wi on college Ave at about 9:30pm tonight. There was 4 workers there which 2 were sitting on the tables. There was loud Mexican music playing, as we couldn't even hear the girl talking to us. Then after asking for my ice cream in a cone she put it in a dish, which wasn't a big deal until she just plopped the half of scoop of ice cream onto the cone and she gave me. I ordered a double scoop which clearly was more like a kids scoop, if even that. Then a friend got about the same. I've been to other baskin robbins in Appleton and they actually know how to give scoops. AND my cone broke in half, and was stale.

Worst experience ever. John is the rudest employee I have ever met, extremely unprofessional in every way! I have never been treated is such a disrespectful manner from a business in my whole life. To refuse to give a refund because our order wasn't correct, to throw straws in someone's car, slam the drive through window and curse at a customer is far from professional. This guy should not be working with customers at all! I would never go back to this place or bring any of my family to deal with his rude individual.

Georgia
from College Point, NY
What's the point of having ice cream flavors if you guys advertise the ice cream but don't have any in stock over the many locations near by me. Where's the love potion 31? Searched high and low and no where! Baskin Robbins needs new management. You can't keep track of how many ice creams you have in stock and what needs to be ordered. I don't want to hear employees apologize. If that's the case where would this world be of all we did was kept apologizing and not doing a damn thing about it?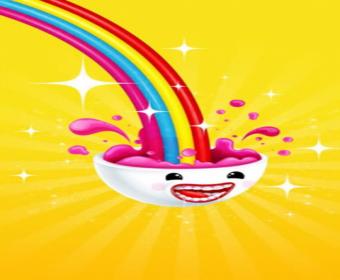 Venetta Littlepage
from Baltimore, MD
The first week Basking Robbin open on Minnesota Are in Washington DC they didn't have bananas for the banana split so I went to purchase a banana and gave them the extra one I purchased. They didn't have all the toppings pineapple nuts, cherry. Second coat there they didn't have vanilla ice-cream and no strawberries today I went there again no vanilla ice-cream or strawberry had together the strawberry ice-cream from one of the prepackaged ice-cream.
The only thing I was able to get on my banana split today was a banana strawberries ice-cream and wet nuts. Each time I've been there I have been disappointed and paid good money $7.14 each time. Not happy with the services and the store not stocking up on what is needed for the customers. I was told that they run out of vanilla every week to me it was very poor customer services.

I have bought a 2 Colgate sensitive pack with offer of 2 ice cream or 2 coffee.To redeem the code of 2 ice cream I went to Baskin robbins at 168-C near Sukhadia Circle, Opp. Big Bazar, New Fatehpura, Udaipur, Rajasthan. The manager (Mr. Jitendra) told me that he have to ask to jaipur department for redeeming the code and the office of jaipur Department closes at 7:00 p.m. so I have provided the two code to him to redeem the same and I will be collecting the ice cream on the next day.
On the next day i.e. 13 Feb 2016 I reach there and Mr. Jitendra told me today also the code redeeming is not possible because the person of jaipur department of Baskin robbins dealing in redeeming of code is on holiday and he told me that he will call me back when code is successfully redeemed.Thereafter he has neither called me nor he was answering my call. he did not gave me any satisfactory answer and he was just delaying the matter. I am very dissatisfy with the services of one of the top brand Baskin Robbins.please provide me solution at the earliest.

keerthi
from Bengaluru, KA
I visited one of your outlet on 100feet road, Indiranager, Bangalore, on 11th Feb '15 around 02.00 pm to redeem one of my voucher, when trying to redeem it, the team member at the outlet (hindi speaking guy) was more then rude & didnt not help me redeem the same. forget the redemption, the way he was talking & making faces was disgusting. Is this the way you treat people coming to your outlet?

Brenda
from Jacksonville, AL
I arrive at Baskin-Robbins at approximately 7 PM to 8 PM I owed it to waffle cones one with pearlings and clean the other one with Oreo and cream. I got home when I got home I was eating my ice cream and I noticed that the cone was stale so I took called the manager and took the cone back think he was going to redo my whole order. He only wants to give me to waffle cones with nothing in it.

chelsi
from Kennewick, WA
I went to my local BR because I love the ice cream. I've never had a problem until now. We get home and the two double scoop sundaes were about one scoop. They were out together sloppy and I just couldn't believe it. My waffle cone was also a rip off. Scoops were tiny and not worth it. I called the store and the lady could only apologize. She didn't have anything to say. She was a shift manager and didn't offer anything.
Told me I could call back the next day. Now you guys only want to replace one? How is that equivalent to three? For what I paid I should receive a refund or all three replaced. If not, I will be going above heads. You guys are rip offs. I could have gone to McD's and gotten better quality.

Macbeth
from North Charleston, SC
I enjoy choc almond, last year I entered a complaint that the store I use said it could not order it, I email the Atlanta office and got an email statement, that flavor and be ordered all year. The manager at this store 1798 Ashley River Rd, Charleston, SC 29407 said she would have it in stock from now on. Got a phone call that it was in and went and bought half of the tub. ( that was in November 2015) Today in went in to purchase choc almond and was told it was a seasonal flavor and could not be ordered.
This person said she was the owner with 20 year as an owner and If I wanted it I had to special order it. I asked her if she saw the November email about it being able to order for stocking, she said yes. But it was not available this year. ( even asked me to go to another store because she did not want to continue this with me).

Anthony Millet
from Albuquerque, NM
Hello today. I am not trying to be a rude customer, but for a while now I've been asking this particular Baskin Robbins for butter pecan ice cream for 3 weeks now and they have not gotten any in. I was told several times that a shipment was coming in but it didn't, the butter pecan ice cream is always the first to leave but they never order extra and I don't understand that it sells very well there this particular location is in silver spring Maryland on 16, the street. Sorry I don't know the number address.

Annette Degregorio
from Jersey City, NJ
I purchased 2 ice cream cakes @ dunkin donuts / Baskin Robbins in Kenilworth NJ on 12/19 for our party the cakes were decorated very nicely , but when we ate the ice cream cake tasted horrible. I paid 29.99 for one and 27.99 for the other. I wanted to let Baskin Robbins corporate office know because I work in the customer care center for the usps.com . Your company needs to be aware of this so future cake purchases won't be disappointed like we were.

Chris morin
from Granbury, TX
My wife is pregnant and was so excited about eating the pink bubblegum flavored ice cream that she always had as a child with her dad. When the branch in Granbury Tx first opened they had it but only for a short time we went there everyday to get it. Now it's gone and they no longer have it. But yet they say they get new flavors in every single day. I think if you advertise 31 flavors then you need to carry all 31 flavors. This past Sunday we went to see if they had bubblegum and they did not so my wife chose a rocky road instead. And guess what they didn't have that either. I am not pleased at all and thus the nature of my Baskin-Robbins complaint today. We are a family of 5 about to be 6 so every time we go through the line and don't order you are slowly losing a good customer.

Ja Rollins
from The Bronx, NY
Why is the Baskin Robbins on Westchester Ave and Southern Boulevard in the Bronx NY charging an additional fee to write a message on the cake. If I purchase a birthday cake, why should I pay for a message and why is the fee not printed on my customer receipt when I pay for it? I wish the CEO was here so I could tell him to his face.

To whom it may concern,
I am a committed customer to the Dunkin Donut/Baskin Robbins in Valparaiso. The location I visit on a weekly basis is 1651 Morthland Drive, Valparaiso Indiana. I ordered two items from Baskin Robbins on April 1, 2014. The lady who took my order was very rude and unfriendly. I ordered a medium Oreo shake and a vanilla frozen yogurt two scoop in a bowl.
When I got my frozen yogurt I asked for whipped topping and m&ms on top. She rang me up and she did not put m&ms on it. I had to ask again for her to put them on there and she made it as if I was causing a big hassle.
When I got to my house I gave my boyfriend his Oreo shake. It was more like watered down ice cream. He could not even finish it because the taste was so awful.
I am not a customer who complains, I just would like to bring this to your attention. The shake is not the first time it has been like this, but it's the most convenient location for us so we keep trying in hopes it gets better.
Thank you for your time,
Carly Posiadlik

We went to Baskin Robbins in Waco, TX and they would not honor the coupon we presented. Coupon states "free small soft serve ice cream cone with any purchase" (and expires 9/30/2014). Upon paying for 3 cones and expecting one to be free the sweet cashier wasn't sure how to handle the coupon and approached the mgr for guidance. He said. "She can't use this coupon because we don't sell soft serve anymore ". Me: "the coupon hasn't expired so you won't honor it?" Mgr: "you can have a kids cone now but nothing you ordered is free or discounted". Me: "so you printed coupons that aren't legit?" Mgr: no response. Horrible customer service. Anyone in customer service would've explained the situation and discounted the bill. Why would I need a 4th cone? Will not be returning. Looks like we are on the hunt for a new cite cream store and will no longer be frequent customers.

Dear Sir/Madam:
Today, I bought a single scoop ice cream sundae from your Benicia, CA store and was
surprised by the outcome. The ice cream clerk scooped a rather small scoop of ice cream that barely filled the cup.
I am a familiar with Baskin's portions as I usually buy from the Walnut Creek, CA store. Their scoop(s) are bigger!
Thank you for your time and consideration.
Respectfully,
Evangeline Ong

My daughter and I enjoy Baskin Robbin 31% Discount very much and always look forward to 31st of the month. But unfortunately we were met with dissapointment nt once but twice. We always order the same flavour Jamaica…twice the staffs at the Bangsar Baru branch got it wrong. The 1st time I did went back to change the flavour and the best part was your dear staff asked me u ate it…YEAH..
She seems very angry. I dont get it, yes my daughter taste it and came to tell me its not the flavour she wants. I flip the pint ice cream container over and saw Butterscoth. How do u recommend I tell the flavour by snipping it. I don't mean to be rude or feel I should be treated like a cheap sake just because I came and purchased it on the 31st. The second visit where we waited till 31/3/2013.
I bought Quart size and your dear staff from the same outlet got it wrong again. I specifically asked your staff NO NUTS, JUST COFFEE, PLEASE..repeat 3-4 times. When I came home surprise, surprise my daughter cried when she saw the inside. Please management of Baskin Robbin, I am not being a difficult custome but I see you make if difficult for me instead.
My queation to you…WHY? Should a customer gets less service because we pay 31% lesser.

I went to Baskin Robbins waited for the employee that smiled at me to help when finished with the first customer. Instead of helping me went straight to a customer that came in after me and helped her. Didnt bother to ask if I needed help. For some reason I dont learn my lesson and went back to this same Baskin Robbins after another employee that works their did the same thing to me last time. Last time their were people that already knew I was their first and told that employee. Didnt bother to aplogize. Very rude. I will not be going back their. Who should I complain to I think the manager is the one that ignored me last time.

May 2, 2011 @ 5:30pm, situation occurred. I work at a school and as one of the fundraisers we sold PACE cards. These cards listed Baskin Robbins, address 25170 Greenfield in Oak Park, Michigan 48237. It stated buy one sundae, get one free. When I took three students to the shop, I had a card and one of the students had a card. We wanted to place two separate orders (both of us buying one and getting one free) so that each of us would have a sundae. The young lady on duty was very rude, said that we both could not use the card, minimized our scoops after I complained, and talked poorly about the flavor that I wanted (cinnamon-flavor of the month).
When I asked her and the young man on duty for a District Mgr's number or website, they said we don't have one. My concern is that this card was sold to many parents & students at our school for only this location it expires April 2012 and we don't want to have complaints come back to us if this is not honored properly. The other concern is the unprofessional attitude and poor customer service that was displayed in front of my students. Thank you very much.

I use to go to the Baskin Robbins in West Hartford Ct. Located on New Britain Ave. I would go at least 7-8 times a month. Every time I went into the store for ice cream they would constantly be out of different items which included ice cream, toppings, containers etc. This was continually happening on a regular basis. I would go into the store and I would hear customers yelling at the employee who were not responsible for this problem.(POOR MANAGEMENT). I called the store owner and explained to him what was going on. The owner promised to resolve the problem.
He never cleared up the problem at which time I stopped going to Baskin Robbins. It's been a year so I figured that I would give the store another chance. I walked into the store and I could hear customers yelling at the help concerning the same problems which were going on year ago. It was my turn to be helped and I told the female that I would like a hot fudge sundae with two scoops of vanilla and one scoop of chocolate with almonds. I was informed that they had no hot fudge or almonds and only one scoop of vanilla left. This is when I left the store very upset. A year later and still nothing changed.
I have called and complained about this owner a year ago and nothing was done. It's sad that a great company like Baskin Robbins puts up with these problems and does nothing about it when it is brought to your attentions. Remember it's your name on the store and people blame you for all of the problems, not the owner who should be taking all the blame. If the owner was working for me and he conducted himself in this manner. I would be like Donald Trump and tell him "YOUR FIRED !" I really feel sorry for the people who are employed at this store because they deserve better.

As I went by the Baskin Robbins store #7640 in Knoxville, I saw the sign: "Today Only $1.50 Single Scoop". Then in small letters it said, "Tax Crunch", I thought since it is tax time, it was a clever title for the sales event. So I went into the store and asked for the special. "Make it butter pecan". The clerk dipped the ice cream and told me to pay $3.27! I asked it what she gave me is a single dip and she said it is. "Why so much, then, the sign says $1.50 and I asked for the special". She said, the tax crunch is on sale but you asked for butter pecan so it is the regular price.
I realize Server Julia is merely implementing instructions so I am making my complaint directly as I know how. The advertising is misleading and therefore I am not a happy customer. Servers should have the latitude to make the customer happy instead of making them feel like idiots that fell into the Corporate trap. I want Baskin Robins to reply so I am sending an address they can respond to: Ray Lahti 7708 Dave Road Knoxville, TN 37938

Today I went to the Smyrna, Tn. Baskin Robbins store to buy $50.00 in gift certificates for my mom,daughter, son-in law, and 2 grandchildren for Easter. This store had no certificates & said they didn't know when they would have any. I then drove 25 miles to the closest Murfreesboro, Tn. Baskin Robbins store, and they also told me they had no certificates. This store called another Murfreesboro store approx 15 miles away only to find out they had no gift certificates either!! What is the problem Baskin Robbins?? With the gas prices today, I did not even attempt to drive 30 more miles to the next closest Baskin Robbins.
Very upset!!! Maggie-moos got my business today & will in the future. Also today, got free ice cream from Maggie-moos!!! Will never go back to Baskin Robbins.

i went to baskin robbins in peoria illinois on knoxville. the lady i ordered my soft served ice cream and a breakfast sandwich. as i paid for it, she gave me my ice cream. i licked it and seen sumthing black on the side. i looked, it was a bug laying on the side dead. i told the lady that i wanted my money back and she told me no. she said that i can get more ice cream. we went back and fourth telling me no. i finally got my money back and i left. i will never go there again, and i will further tell my story to whoever will listen. i could have ate that bug and anything could have happened. please contact me baskin robbins because i dont think i was fairly treated!!!

This after noon visited a Baskin Robbins on 75th St i belieev its in Woodridge suburb. Asked if it was possible to make smoothie less sweet from a fat free forzen yogurt. The guy said that there was nothing fat free there but he could make less sweet smoothie. The vanilla frozen yogurt there had a label of fatfree on it so i aksed that to be used in my smoothie. To my surprise the smoothie that he made was extra sweet, so i brought to his attention that instead of it being less sweet it was more sweet. The response i got from the person was he did not care and that i should go a salty place next time if do not want sweet smoothie!!! There will not be a next time in that Baskin Robbins place!!!

I stopped at a Baskin Robbins with a friend, and there were a few people in line there. When it was my turn to pay, I gave my $20 to the cashier. He gave me a nasty look, then looked at the money…he held it up to the light…he got some kind of machine out from under the counter and put it in the machine, then he told me he couldn't take it. I asked him why he couldn't take my money. He said the money was fake. I wrote Baskin Robbins headquarters about this. I took that money to the police and THEY said it was REAL! I NEVER heard from Baskin Robbins headquarters! Not ONE word of apology, NOTHING! DON'T GO TO BASKIN ROBBINS! EVER!
Have feedback for Baskin-Robbins?
Thanks for your feedback!
Sorry. Please try again later!