Academy Sports
Academy Sports Complaints Continued... (Page 2)
88+ reviews added so far. Upset? Call Academy Sports corporate: 1-888-922-2336

lentrell westley
from Houma, LA
im in Houma Louisiana , they never answer the phone In the sporting good section , and the employees are so rude !!!! I even asked to speak with a manager and they just put me back on hold laughing in the background for over 30 min to get back on the line and say hold please , the same girl , im just really aggravated about the situation because i spend alot of ,money there and i would hate to shop somewhere else.. but unfortunatly id rather shop at the local sporting good store then to spend another dime in your store. im definitly going to spread the word on the local htv news about the worst service experience ever in acaedmy sports in houma louisiana

Joel Foster
from Allen, TX
I just got off the phone with the man working the firearms desk at your Spring Valley store in Plano, TX. I was calling to see if a specific metal detector was in stock before I drove there. It said it was online, but I wanted to confirm. I had the SKU number available to make it as easy a question as possible. The man was rude, short, and disrespectful with his tone and his answers to my questions. It was quite obvious. Even my wife could hear his answers, and tone, from across the room from my phone.
I am going to buy it anyway, because I need it tomorrow, and you have it in stock. I have been going to this academy for over fifteen years. Otherwise, I would go find it somewhere else. Someone needs to let this man know if he doesn't like his job, he needs to go something he does like.
Sincerely,
Joel Foster
Allen, TX

Karen chavez
from Prairieville, LA
I just went to the academy sport store in Siegen lane Baton Rouge LA, I found a Nike tennis shoes in clearance for my husband without a box with a big sign that said take another 25% off at the register, so when the cashier scanned it was the same price so I ask for the 25% she called the manager and she told me with a very rude attitud: " ma'am the price is in the tag" so I said " well I found it in the clearance racks with the sign take 25% off the tag price at the register, my husband take a picture and we showed it to her, so if you put a sign with that you have to give me the discount " she interrupted me with a terrible attitude saying: you don't understand the price is on the tag..... so finally my husband said he didn't want the shoes, I wrote this review because her attitude was rude, is a shame that they treated the customers like that just because I'm hispanic she things I don't understand, if the manager is like that I can't imagine the others workers attitude.... also is a shame to academy stores that they have a people like her as a manager. I'm so aggravated I never buy at academy again in my life just because of her attitude.

Sharon Blankenship
from Elizabethtown, KY
To whom it may concern,
My name is Sharon Blankenship, and I live in Elizabethtown, Ky. We have a very nice Academy Store in our town. My husband and two boys have become huge fans of the store.
We as a family have bought many items there since the store opened just a few years ago. We have purchased fishing rods, reels, boating supplies, a range finder, fishing baits, trail cams, tree stands, clay pigeons, ammo, a camping percolator, a yeti tumbler, countless gift cards, targets and my son Jesse bought a 40 cal Smith and Wesson semi-automatic pistol.
My son Jesse is 24 and an avid outdoorsman. He works as an EMT and volunteer fire fighter, he mows lawns and a golf course too for extra money. He saved, and saved and saved for a crossbow. He finally had enough to purchase one and on 9-15-2018 he went to our local Academy store and bought the one he wanted. A PSE 350 Fang for $320.98, it came with three arrows and he was thrilled. He went home and assembled it but he had to work the next 2 days and mow so he finally got to shoot it on 9-18-2018. My husband who has hunted with a crossbow for 8 years had a target and Jesse came to our house to try his bow for the first time. His first shot was from 10 yards away and it was about 4 inches high on the target. So he backed up to 20 yards away and tried from there. This time it was about 1 foot too high missed the target altogether and he lost one of his arrows in our woods. They adjusted the scope down and tried again from 10 yards away and the shot was still high. My husband determined there must be something wrong with the bow itself, and recommended Jesse take it back and exchange it for another crossbow.
When Jess arrived at the store he was told for the first time that all sales on bows and crossbows are final, that he couldn't return it at all. She then showed him a sign that said all bow and crossbow sales are final. When he returned he was heartbroken and upset that he purchased a bow that had a factory defect. My husband felt bad for him and said he would look at it, he was able to tell that the rail that the arrow rests on went up at the opposite end of the trigger causing the arrow to go up instead of flat. Where the bow attaches to the rail the notches had not been cut out at the factory. He had to take it apart and use a dremel tool to cut out the notches, and reassemble. It was too dark to try to test it that night and Jess has had to work every day since and has been unable to shoot it to see if that worked.
I understand completely about your no return policy, but I do think that it should be told to everyone who is buying a bow instead of expecting the customer to look for the signs. But more importantly I think if you are not going to allow exchanges you need to make sure you aren't selling damaged, inferior products or products with factory defects. 380.00 is a lot of money to throw away for something that is useless, especially to my son. This product had a factory problem, but you should be able to stand behind what you sell in your stores. We as a family are very disappointed. Thank you for your time.
Sharon Blankenship
523 Kings Way
Elizabethtown, KY 42701

Gary Meredith
from Odessa, TX
I just came from the Odessa Academy store where my wife and I spent over an hour and a half trying to buy a gun at the gun counter but left empty handed. I stood within arms length of three employees who stood with their heads in their computer screens totally ignoring us until I finally asked if someone would wait on us---one of the men just glanced up and said "no!" He then said they were doing inventory and told me to wait an hour! I couldn't believe this, and he was none too friendly about it! I worked at several jobs during my 45 years of employment and helped with inventory dozens of times but if I had ever been rude to a customer or denied him a sale I would have been fired on the spot! Since we had driven 20 miles to get to the store, we decided to wait. My wife and I are elderly and I walk with a cane. I can't stand for long at a time, so we went to the shoe dept. to sit down but all the seating areas were piled high with shoe boxes. After going back to the gun counter after the hour wait time had passed, then another 30 minutes passed there were 5 employees behind the gun counter just looking at each other and all this time they just ignored me.I've never been ignored and treated so rudely in my life. My disability wouldn't allow me to stand any longer so I returned the ammo in my basket to the shelf and left the store. I know it would cost some overtime pay to inventory after store hours, but what value do you place on a loyal customer? I have spent thousands of dollars at your store, and also at the Midland store before the Odessa store was built. Is that worth anything at all to you? I was taught in customer service 101 that a satisfied customer will usually tell no-one about his shopping experience, but a dissatisfied customer will tell everyone he knows! The Odessa store desperately needs to re-train it's employees on courtesy and friendly customer relations, and from what I witnessed they should start with the manager!!!! One last thing, can you give me one good reason why I should ever walk into any Academy store again???

Eljoan Jack
from Houston, TX
Good day , I recently went to academy on the July 17 and purchased and item for 39.00 . I went back in for a reprint of my receipt and it stated I paid 9.00 dollars for the item . Today July 30 the item I bought I brought it back because it was messing up . The manager gave me the most trouble because I was a woman of color. I stated to her the receipt was incorrect and the item I purchased was 39.00 not 9.00 . I have never been so embarrassed. Because the security came as if I was causing a problem about my receipt. When I purchased the item it was 39.00 plus tax which was 42.00 . The security guard at this location should not there. She was basically in personating an officer. I have shopped academy many years and this has never happened. I will definitely let others know about the conflicts they may experience here.

David smith
from Benton, AR
Bought a new zebco 33 micro. Only $20. First fishing trip my grandson was reeling a fish in and it fell apart and the back and button fell in the lake. I had purchased it in Benton AR store and upon returning from our trip I tried to return it with no luck. Their policy no receipt and now used sucks. Do not honor their merchandise for even a few weeks
I advised them they will lose all of my business which is well over $1000 a year over a $20 reel and only response was ok
I could have taken it to bass pro and they would have taken it back with no question but I did not buy it from them and I am honest and could not look my grandsons in the eye if I did that
So for $20 and attitude I will buy my items for outdoors from bass pro and Walmart from now on. I also found out that at least 4 others in the last few days had said the same thing
I also teach gun classes and have recommended Academy many times for students to buy from your business. That also stops today
&20 will cost you a lot more than my $1000+ per year

J. Wilson
from New Orleans, LA

william otto
from Winston-Salem, NC
There is a new Academy Sports store in my community in Winston Salem NC, easily within walking distance.
Unless you reinstate Dean Crouch whom you fired for stopping a man from stealing a pistol and ammo from your Tallahassee store, who said he will shoot someone, I will never set foot in an Academy Sport Store, and will strongly encourage my friends not to either. I have a lot of friends. Crouch is a hero! What is wrong with you? Your whole company could go down the drain from this appropriate negative publicity.
Won't make me sad.
You're just "politically correct."
Be American instead.
Grow up... or fold up!

Your treatment of the fired store manager in the Tallahassee store is
an illogical and insane decision.
What is the thief had used those guns in a mass shooting or school shooting?
What if your employees have a reasonable fear of danger or physical harm?
The fear of civil litigation( from the assailants or the injured employees) is bred by your greed and albeit
our litigious society
Yet the results seem to be derived from PC politics
I will never shop at Academy Sports again and will suggest to others to note the mistreatment of this gentleman
Mr C and his wife and two small children
Terrible disgrace and the lack of logic and courage and forthrightness grows and
to think that this geography of ours in Florida one at one time could have counted on the distinction
between right and wrong
I hope that your business and brand suffer much worse than any insurance premiums
or litigation losses might be borne
Two wrongs to make a right

LOUIS HAUBURGER
from Middletown, NY
Your handling of Dean Crouch is a poor choice, I understand policy but sometimes exceptions have to be made and common sense needs to prevail!
The man helped keep a stolen firearm off the streets, a hero in my mind.
I will not shop at Academy any longer until the wrong is righted.

Jim Hovater
from Marshfield, WI
I am complaining about the termination of a Tallehasse, FL employee that prevented a criminal from leaving YOUR store with a stolen firearm and ammunition. I imagine your attorneys are worried about a criminal suing. Instead, they should be worried about VICTIMS possibly injured or killed by a stolen firearm from YOUR store, and THEM suing. I was a long-time Dick's customer BEFORE they shot themselves in the foot last February. After they lost me as a customer I took my business to YOU. Now YOU have shot yourself in the foot with the way you treated a dedicated employee in Tallahassee. So: What are you going to do to KEEP MY BUSINESS? Gander Sports just opened in my city.
Jim Hovater
Alabama

Jonathan Carey
from North Richland Hills, TX
I am thoroughly disgusted on how Academy Sports has treated your once employee, Dean Crouch. The fact that this man helped take at least 2, if not more, illegal guns off the street, deserves accommodation NOT termination. I therefore will no longer be ordering online or purchasing in person at Academy Sports. I cannot in good conscience support a business that treats their employee's so badly. I have shared this story on my FACEBOOK page and my TWITTER account and the outrage is palpable. Academy Sports represents everything that is WRONG with corporate America in these times.

David chambers
from Tallahassee, FL
Rest assured that, as a result of your firing of an employee of your Tallahassee, Florida store for risking his life in the protection of others by disarming and restraining a thief who had stolen a firearm, neither myself or any member of my family will ever set foot in your store or do any business with you unless and until that young man's job is reinstated. Your lack of good community ethics and citizenry does not merit our business; it does, however, deserve the work we intend to engage in to remove your presence in our community.

Bill Powell
from Tallahassee, FL
So the store manager in Tallahassee, FL tackled a shopper (no, wait, that would be tackled a THIEF) who ran from the gun counter with a 40 caliber handgun who was running to the exit (and almost made it), threatening to shoot customers and employees. The manager chose to stop this person and detained him until police could arrive. He did a very heroic thing as who knows what this person was planning to do.
So what does corporate do? Fire him for "touching" a customer. And AS is based in Katy, Texas? Really? This was NOT a customer. He entered the store with the intent to steal. The definition of that is a THIEF.
I just purchased my LAST item of anything from them.

David Moore
from High Point, NC
Went to buy a gun safe. Found the one in store, associate said 2 were in stock there.(GREENSBORO NC). Told me to go to customer service and pay. Went to CS, had no idea why i was there. I looked up on my phone the safe and they entered and also the other items i was buying. After paying and getting information for delivery, i made sure that i was getting 1 in the box, not the floor model, which had a broken combo and missing handle piece. Was told then by CS lady that yes it was, they were getting it from the back ????? How she guessed that since she hadnt spoken to anyone but me at that point. I asked her to insure that it was one in a box. At that point it went downhill, young kid came up and said the one in the box was on hold???? That i was getting the broken floor demo, asked to see manager, he said refund, out of luck...sounded and felt like a bait and switch and wanted me out of store. Store director came out and said sorry, did you get your refund? No help to maybe get a different one, they just wanted me gone at that point. If i hadnt insisted on an answer i would have received a 650lb non returnable broken safe....

Larry Andrews
from Anderson, SC
I have already sent an email once and got a call then get a 2nd call that disputed the first call. So i need someone other than Donald or Curtis to call as they gave me different answer's. Also Curtis tried to make me out as the bad guy because i said a cuss word. And i did call back and tell them i was sorry. I have spent a lot of money in Academy and this can be proved. My question was will Academy send back guns back to the manufacture for the customer? Which the managers at Academy in Anderson S.C.say no in a very nasty and rude way. Steven tried to cram a disclaimer down my throat and say they don't give refunds or send out guns for repair. Wyatt was no nicer. This is what the Firearm Return Policy/Disclaimer says. Academy will assist customers with shipping firearms to the manufacturer warranty facility and this is what i signed. Nothing else can be added to this legal document that says it has to be a Academy brand name gun. But what makes me so mad is all the money i have spent and they are trying to make me look like a bad person and liar. A letter has been sent to the CEO of Academy and i will email him everyday of the year if need be. I will post all the problems i have had at Academy. A Sportman's Warehouse just opened about halve a mile from Academy and will price match Academy and send guns back for repair free of charge. Unless they lie too.
Thanks, Larry Andrews. 864-634-1557

Larry Andrews
from Anderson, SC
I have already sent an email once and got a call then get a 2nd call that disputed the first call. So i need someone other than Donald or Curtis to call as they gave me different answer's. Also Curtis tried to make me out as the bad guy because i said a cuss word. And i did call back and tell them i was sorry. I have spent a lot of money in Academy and this can be proved. My question was will Academy send back guns back to the manufacture for the customer? Which the managers at Academy in Anderson S.C.say no in a very nasty and rude way. Steven tried to cram a disclaimer down my throat and say they don't give refunds or send out guns for repair. Wyatt was no nicer. This is what the Firearm Return Policy/Disclaimer says. Academy will assist customers with shipping firearms to the manufacturer warranty facility and this is what i signed. Nothing else can be added to this legal document that says it has to be a Academy brand name gun. But what makes me so mad is all the money i have spent and they are trying to make me look like a bad person and liar. A letter has been sent to the CEO of Academy and i will email him everyday of the year if need be. I will post all the problems i have had at Academy. A Sportman's Warehouse just opened about halve a mile from Academy and will price match Academy and send guns back for repair free of charge. Unless they lie too.
Thanks, Larry Andrews. 864-634-1557

Shelly Bowers
from Hawesville, KY
I went to the academy to shop for my daughter I found a duck they said oh we can't give you $5 off with that duck that's the wrong one I explained to the salesman this is the second time I found a duck and I have been told that's the wrong. And the salesman said well I don't know about that I just can't give you the $5 off so my step-mom went in to talk to them and they said well we can go ahead and give you the $5 coupon but you have to give it to her do you promise you won't use it for yourself well my step mom was offended which I don't blame her so she refused to $5 coupon I have to say I used to love going to the academy but I will never show up Academy again this is at the store in Paducah Kentucky sadly enough I'm not the only one that won't show up there ever again I'm sure you won't read this which is sad again because the customers is what pays your salary send me never ever will I shop Academy again

Wayne SHEALY
from Columbia, SC
Highly disturbed about advertisement at Academy they had a Taurus 380 on sale went to get one sales clerk told me they didn't get any in they don't give out rain checks I talked to the store manager he tells me that they did get some in but wouldn't tell me how many I took my wife and we turned in our $380 worth of merchandise we were going to get and left the store bait and switch

Toni King
from Oklahoma City, OK
My son went to academy and purchased 3 SD cards (1)for his phone(1) for his girls phone and (1) for his dashcam, the (2) he bought for his and girls phones were too big and the one for dashcam was not big enough , he couldn't find his receipt but took them to return , once he did he was given a gift card that he gave to me for some monies he owed, but I can't use the card because of fraud well there's no fraud and I think it's terrible , i have always shopped at academy , never had any problems til now, if there was a problem with the return it should had been addressed right then not issue a gift card, I'm a very unhappy customer

I went to the "Customer service" counter and asked for help (Costa glasses) she turns around and pages someone. I had a simple question, the price.... she went bullsh*t with 3 other workers. I left and went shop and went returned only one line out of ALL the registers were open??? Wtf? Missed out on a costa sale (assume ~$350.00 or so since I couldn't get help) plus clothes.... not a good experience. Ambassador store!!!!

marvin brugh
from Cartersville, GA
I am tired of being led around on a string.
I ordered my product on Nov 19th, only to be told 12 days later, someone messed up on the order and shipping. Now that it was all figured out, shipping cost refunded, i have a ship date, almost 30 days from date of purchase???? go figure.
So, I was given a 13 hour window of delivery for Dec 14th and was told that I would be getting a call, telling me when it would be delivered within a 4 hour time frame.
I have check the CEVA website, my order, still there, not in transit to my house, I have not received a phone call. I have spent my whole day at home waiting, losing a days pay. BAD, BAD, customer service.
I will have to check the BBB website, see what kind of rating Academy has, go from there. I am tired of waiting on the phone, I am tired of waiting at for my order to arrive, much less a phone. BAD, BAD, customer service.
Thanks

Wes Renfro
from Montgomery, AL
I went to Academy to purchase a gun. I went through the background check and sales said a manager would have to approve. I waited 15 minutes for a manager and no show. I advised sales to radio manager and let him know I would leave if he wasn't there soon. Sales just rolled his eyes and did nothing. I got my license and left. Academy lost a big ticket sale.

Michael
from Hephzibah, GA
To Whom It May Concern:
This afternoon (9/3/17 at approximately 5:10 PM) I was waiting in line to check out at your store located in Evans, GA. Myself and others in the line were speechless that we had to wait for the cashier to finish flirting with a male customer before any of us could be served. While some behind me left to look for another line, I stayed as I was up next and hoped the interaction wouldn't take long. When the customer finally left, the cashier watched him leave and, while looking at his lower extremities, made a sound conveying her apparent approval of his rear appearance.
While I didn't expect (or hope) to be treated in the same manner, I did expect at least a greeting as I purchased a box of ammunition. Instead of a greeting or even eye contact, she said, "Age." It wasn't even phrased as a question. As a 68-year-old man who has owned and operated my own successful business for 43 years, I was becoming frustrated with the lack of formality and professionalism. I asked her why she needed to know my age, to which she responded, "We just do." I told her to just forget about it, left the shells, and sought a manager, eventually relaying the story to her. She had nothing to say about my overall experience other than to comment that it was store policy to ask for age on purchases of the type I was making. I believe her exact wording was, "That's just the way it is."
I have no issue with producing identification when it is required for purchases (whether it's law or store policy), but no one asked for my i.d., they were just going to take my word for it. I even mentioned that to the manager, stating I didn't believe that to be a valid way to obtain the age of customers purchasing ammunition or other related products. She seemed indifferent and made some sort of comment about having to ask everyone's age (again never mentioning a form of identification to verify age).
While I have no intention of shopping at this store again, I would encourage someone to more effectively train the employees and management there. I don't imagine anyone would appreciate being treated the way I was today.
Sincerely,
Michael D.

Robert Jones
from Mission, TX
Went to look at a Gun for sale at the store located at 1523 W State Highway 114, Grapevine, TX 76051. A man name Billy McCanless came to help and was so rude I may never shop at that store again. Total arrogance and nothing but.

Tom Smugala
from Waterloo, IL
Decided to purchase a $600 kayak for my son's birthday. (Not a small purchase.) Sent someone to pick it up since it would not fit in my car. After the purchase and the item was delivered by my friend, I was informed that the item was out of stock and the display item was actually sold to me for the original price. The display item had a 10" deep scratch on top of the kayak and a 7" scratch on the bottom of it. Not really a "new" product or worth the $600 since it was damaged before we even got possession of it. I contacted the store and was told by the manager, Latoya, that I had to bring the kayak back to the store for an assessment of the damage in order to receive a discount. I understand her reasoning but certainly not practical since I had to have a friend buy it and transport it to begin with. After calling Latoya a second time since I could not arrange a means to transport it back to the store, she said I could come back with the receipt and could receive a 10% discount. That would have been great had it happened at the time of purchase, but now I have to drive 54 miles round trip to get my credit. NOT REALLY WORTH IT. It will cost me half of the credit in gas just to get it. My point is that this should never have been sold at the original cost. The salesman new from the start that it was a display item. Every salesman should know that a display item is not worth the original purchase price. I have been down this road many times with other stores and have been offered a discount without me asking. I SHOULD NOT HAVE TO AKS FOR THE DISCOUNT. I SHOULD NOT HAVE TO DRIVE 54 MILE TO RECEIVE MY DISCOUNT. Needless to say I don't want to drive that far to return the kayak but NOR WILL I EVER DRIVE THAT FAR TO SHOP IN YOUR STOR AGAIN.

Patty l
from Springfield, MO
I went with my granddaughter on 11/30/16 around 6 pm to Academy Sports and we went to the shoe department looking for a six year old a pair of shoes that I had no idea of the size. We seen three employees talking but not helping anyone. I had to ask for help three times then they would just walk away. I only bought a pair because my granddaughter really like a pair or I would have just walked away.

Academy in bossier city louisiana has the most incompetent managers in existence. I called the store to ask about a product 6 times and no one ever answered my call. Finally was able to talk to a manager and was told they had a few in store and went to pick it up and was told ny an associaye the last one sold over 3 hours before I arrived. I called and was there within 45 minutes of calling. That store is the worst one around.

Mark Jackley
from Canyon Lake, TX
I purchased .223 ammunition on line for a price equivalent to other merchants. Free shipping attracted me to the offer so I ordered $202. worth of ammo. Received TEX message on Monday stating my merchandise would be here on Tuesday but required adult 21 or older present to sign. My wife and I stayed home all day, opened the front gate and left it open for the delivery truck all day, and locked our dog in the house all day while we awaited the delivery. By 5 pm, no one came contrary to our text message. Checked the package drop off box located at the road some several hundred feet from the house, I found a Fed Ex note / Door tag # DT7075 4307 0165 informing us we missed the delivery. They never came to the house.
I called customer service and they stated they had no way to contact the driver, but would have him try again Wednesday. I agreed to be present a second time. The driver made our location around 12 noon and I received the package. A whole day wasted due to his laziness. The order did not state an adult had to be present to sign for the delivery or I would have reconsidered ever placing the order. Although it did get delivered, I will never rely on an on line order with academy not know if signature would be required. Could of driven to a store, or any number of other stores on Monday and missed all the irritation. You may want to consider another delivery service!

Tony shelton
from Jonesborough, TN
I am a hunter and I look forward to hunting from one season to the next. I recently went into academy sports to purchase two very popular scent items for deer hunting. When I couldn't find the items a sales person asked if they could help. I told him what the items were and he looked them up on the computer and said we don't have them. I then told him I was in here before looking for another item and they didn't have that one either and that I guess I would go to Mahoneys. They always have what I need. So he said good, so we left and won't be back in Academy's store ever again.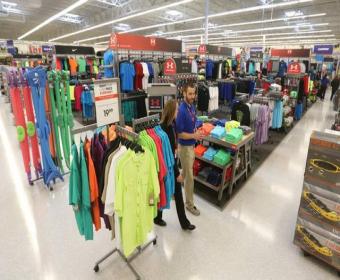 Clayton Carney
from Albuquerque, NM
The absolute worst online merchant I have ever dealt with! I make over 90% of my non-food purchases online and have never seen such bad practices. Here's the trick Academy.com employs regarding item stock status: *** In Stock Online: Usually leaves warehouse in 1-2 business days. These items Academy.com actually DOES have in stock and will ship quickly. *** In Stock Online: This item may ship from a different location and therefore is only eligible for ground shipping. These items Academy.com DOES NOT have in stock. These items are probably drop shipped from the manufacturer.
To my chagrin, I ordered an item with the later stock status. The manufacturer is out of stock with no estimated delivery date. Yet, Academy.com STILL lists this item as IN STOCK. Reputable online merchants would never falsely represent their inventory. And if there were for some reason a shortage, they would immediately provide an option to cancel. My order confirmation promised delivery within 3-5 business days. Now I am in limbo. No delivery in sight. And Academy.com renews the pending authorization on my credit card every time it expires, reducing available credit.

Carolyn Million
from Minneapolis, MN
Received weekly ad which advertised 22 LR shells in holiday box for $7.99. Went to store Monday at 8 a m. First one in store at 8:30. Told sorry all sold out yesterday. Come back Wednesday when truck comes in. Went back Wednesday. Was told all sold out Monday. I said you didn't have any Monday and explained. Clerk kept telling me all sold out on Monday. Finally I told her I was getting angry and she best change her story to All sold out Sunday. Don't think there was ever any at store or the employees grabbed them all up before they hit the shelves. Know this happens all the time. This was at the store in Joplin, Mo. And, this has happened before when I've tried to purchase a sale ad item. Think I'll take my business elsewhere sale or not.

walter brawner
from Elizabethtown, KY
I have a complaint about the new Academy Sports store in Elizabethtown, KY. Bought two pair muck boots, 1 for me & 1 for my dad dad. Looked at the website and they were actually much cheaper 2 weeks later. No refund difference. Took time and gas to go buy gun in sale circular. Did not have and will never get in store. Will not shop at store ever again. Poor business practice.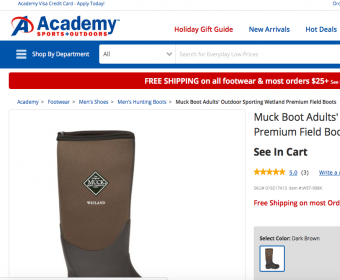 robert clarkson
from Columbia, SC
One recent Saturday morning I called Academy Sports to check on an order's shipment status; it was a birthday present timed to arrive on a ...well...birthday. When they couldn't answer my inquiry with any detail, I cancelled the order, or I thought I did. The training of their phone people is dismal, and I never received the promised email confirmation of shipment with tracking data. The transaction was "Escalated" to a higher level; even so I was never contacted. Just another example of poor service--I have a choice where to shop. No need to raise the BP.
But the breaking point came when they asked for feedback via email yesterday. I stated, essentially, what I said above. No insults, no profanity. Today I got an email inviting me to resubmit because my response didn't meet their criteria. Again, I was direct, but polite. Academy Sports did a poor job with my transaction. Not a huge deal. Now, Academy Sports is a name I mention to friends and family whenever I think about it because they have elevated one poor sale into a big deal. If word of mouth advertising is considered the most effective, I will politely test it out and tell others of my experience.

Are you a person who loves sports and looking for the right stuff to fulfill your dreams? Well Academy.com supplies quality products that help you to achieve your sport needs. I am a golf lover and was looking out to buy a complete set. Not all cities have shops that sell such stuff. I am glad to find this on Academy sports. Not just this, since I love adventure and travelling, I was looking for some foldable chairs which are not that heavy. I found it on Academy.com and with affordable prices. Anyone looking for sports equipment or fitness related stuff then I would recommend this website to get good quality products.
Have feedback for Academy Sports?
Thanks for your feedback!
Sorry. Please try again later!