Motel 6
Motel 6 Complaints Continued... (Page 2)
253+ reviews added so far. Upset? Call Motel 6 corporate: 1-800-557-3435

I will never stay at this motel ever again!!! We checked in at 7pm on May 18th, 2019 with a reservation. They told me the room was ready since 3pm and I'd have no problems. After arriving we had to wait an extra 15 min for the cleaning guy to finish cleaning the carpets with a carpet cleaner. Why on earth would u clean carpets as soon as we get there and get them all wet?!? The carpets were wet throughout the rest of my stay there and it smelled so bad (like wet dog and smoke). Non smoking room btw!! I don't know what happened before we checked in but the room was obviously occupied beside we checked in despite what they told us. I had to leave the air on all night to have circulation (even tho it was cold outside!) but I still couldn't sleep from the smell it kept giving me a headache. Not to mention I had to leave my shoes on all night because the carpet was wet!! Also for 230$ a night which is what I paid ( however when I looked online average prices showed 65-85 which is honestly what this place is worth) I expected something nicer. We had cold stuff to eat and drink but the room had no refrigerator!! How can a motel that's 230$ a night not have a mini fridge or a microwave!! I called the front desk because my stuff would go bad if left out and she told me they some of them share a fridge in the front. I will not leave my food and drinks in a community fridge. I ended up throwing out all my stuff I couldn't keep it over night anyways. What kind of motel is this? Also the furniture is all marked up and do not look behind any of it - they clearly don't clean their rooms!!! The TV had static on every channel so couldnt get a clear picture. There was no dvd player to watch a movie. I ended up going to bed at 9pm and checked out early at 830 am. This was the worst night away from home I have ever had in my life not to mention the most expensive for such a horrible stay. Do not stay here! The place is nothing as described and definitely not worth more than a 60$ a night stay.

I booked and reserved a room for Motel 6 Anaheim Maingate located at 100 w. Disney way in Anaheim Ca. Staff was friendly at first but Upon my check I was given room 126. Upon entering the room at first site I was impressed room was big and loved bathroom space. Soon after entering my daughter sat down her McDonald's Happy Meal down on the fridge so we can get settled in before we eat. Almost immediately after setting the food down a cockroach came out the refrigerator and started walking onto my daughters burger. Then a second one came out. I immediately called the front desk and she came down to give us a new room key for room 156. She was very quiet I showed her the two cockroaches I killed and she then moved the fridge back in forth and seen herself baby roaches coming out. I then explained that my daughter couldn't eat her happy meal now because of this and all she did was hand the new room keys to me and say we're moving you rooms. After getting into the room she sis call and ask how was it. I told her it was ok so far... We'll throughout the 3 days I was there we found probably around 4-5 pincher bugs and the last day found another roach. I do have pics of proof of you all need to seem them for proof. I paid 335$ to rent a room for 3 days from 5/13 to 5/16 and this is what I spent my money on. Ruined food and cockroaches and pincher bugs is. It what I expected to receive after paying that amount to be on vacation. I am highly disappointed and would like someone to take action immediately and help me out in this situation. I feel I was ripped off and would like a supervisor to contact me.
Thank you
Amy Rebelo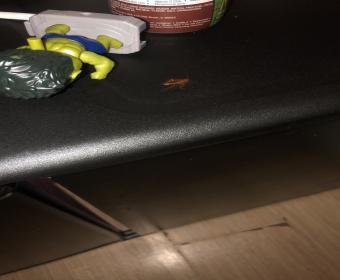 Room is disgusting bugs, crawling, nothing was cleaned, toilet dirty, was afraid to even sleep here. Looks like nothing has been done to it in years. Unfortunately we were limited to where we could stay because of traveling with pets.
Pretty sad such a huge chain can't make the managers keep the places better kept this is one of the worst Motel 6's I've ever stayed in.
Don't stay at the one in Charlotte, NC off of interstate 77.
GROSS!!!!!

Tracy motel 6 did not even have heat working they said they would give me extra blankets. U be leave that What a fregen joke this place is

Been here for a month and has complained about not receiving service. This week was charged twenty dollars more than my normal weekly rate. No towels, no change of beds, I did my own beds. Clean my own room. Haven't been able to take a shower in two days, no one has been by. Asked and was told no clean ones. Uses dirty towels to clean floor.Today on May 20, I found two roaches crawling on floor under sink. Sink only runs hot water, electric plugs isn't able to use..
I would like for a discount and moved to another room asap.

Dirty rooms broken furniture great workers who need the products to be able to run a a vacation motel. Honestly I feel like this corporation does not honor any agreement they promise to have great motels. My cloths got ruined in the dryers then spending a week trying get refund to end getting a one night stay were is the hospitality now my first trip to Destin Florida Beach was the worst beach vacation possible. Now I'm out all my clothing which the manager try to tell me my stuff was only worth a one night stay at the same place we're all my problems occurred on your grounds now I'm stuck with out any kind of experience of happiness I have pictures of the floors and my cleaning supply's of how dirty rooms are and to add again you can't put a price tag on a person personal property I feel like a one night stay is not enough so I would like to share some images to you to show the clothing destin Florida

Christina Thomas
from Charlottesville, VA
I had to leave my home for 1 night on Sun May,5 I arrived with my 3 children approx at 11pm. The receptionist was very nice. Put me in room 131. The following morning I went and got my kids breakfast when I returned my daughter was in panic. There were bugs in the beds. You could push them and kill them! Bed bugs! You could see them going down into the sheets.I took pics o of the blood smears where my son was getting bit and rolling so he was covered. I gently took 1 and put it in clear bag that was there. We immediately pit clothes, food in truck. I parked went inside I showed the receptionist the bug and explained something needs to be done. She took the bag push it to where the bug was turned to blood. Said its a flea probably from another customer with a pet. I said that's a bed bug. I had to do research for a head start I worked at for safety reasons. She said I'll let the manager know and contact you. At that point a gentle was behind me to tent s room, I said that's fine I want s refund, my kids missed school because they could not shower. The room smelled horrible the white towels where yellow from smoke on the outside. This place needs a serious inspection. It is located in lexington va! Maybe you could contact the manager in regards to my refund. Thank you

I get no sleep because all I hear is banging from 7am to 7pm
They have been doing the room above me for a week now it's ridiculous
There is absolutely no WiFi at all so I'm paying for data
Maid service comes at 3-5pm leaves door wide open when they know we have a cat
Guy at front is extremely rude!
Extremely disappointed

I witness. A lot of times how guest
Talk too staff and i sick of guests
Getting away with it today 5/06/19
Alone two different guest blew up
At the Clerk like thier own Motel 6
You need to see and hear what they go
Though on a daily bases rhe clerk is
Called. V and she does a great job we
Should pay attention to our staff and
Not always take the Guest side because
They are the one's out of. Line not staff.
Motel 6 boulder hwy las Vegas. NV
89121 the staff should get a. Rise for
Just being abused in a regular bases.
My name is. Henrietta. Ladiao my
Number is. 702)980-2666 if you need more information call me.

I booked a room in your Decatur, Ga. hotel, at 2572 Candler Rd., for the night of 4-29-19. The room was good. Comfortable, with clean linen and clean smell. Clerk was efficient and polite during check in and out. I was well satisfied with experience. My problem is, I was mistakenly booked on 4-26-19 at your same hotel, I was not aware of this, so I couldn't cancel. I found out about this when I checked my bank account on line and saw the charge. I have contacted everyone I can on this matter, from the property manager to the supervisor of guest relations. I have been lied to, given wrong information and given the run-around. The Property manager was rude, unwilling to listen to my problem. She kept laying the phone down while I was trying to explain to her what had happened. She was of no help whatsoever. Guest Relations has told me everything from I would get no refund, to I might get 80 percent, to they would have the Director of Operations call me. This hasn't happened, either.
I didn't stay in your hotel on the 26th, so the room didn't have to be cleaned, and your hotel wasn't booked solid that night, so no one was turned away, so you didn't lose money. I did stay and pay on the 29th, at your price, so I feel that I should at least be partially reimbursed for the 26th. I would appreciate any help on this matter. My phone # is 478-357-0154.

I booked a room in your Decatur, Ga. hotel for the night of 4-29-19. I stayed in the room that night, room was good and clean, service during check in and check out was good, also. The problem is, that when I checked my bank account a couple of days later, I found where I had been charged for a room at same hotel on 4-26-29, which I didn't book and didn't stay in because I wasn't aware of it, and I was booked on the 29th. I have spent hours on the phone with everyone from the hotel desk clerk to the supervisor of
customer relations. I have been given all kinds of wrong information, from the property manager, who was a real jerk, telling me she couldn't refund my money, and that she didn't have a supervisor that I could speak to, to customer relations telling me that they would speak with the director of operations and have him/her call me. On my latest call to customer relations I was told the director wouldn't call me. I was also told that I wouldn't get a full refund, maybe 80 percent, which is fine with me. The motel wasn't booked full on the 26th, you didn't have to clean the room I didn't stay in, and I did stay and pay on the 29th, so the way I see it, your hotel didn't lose any money. By the way, the property manager didn't have the courtesy to stay on the phone with me, she kept laying the phone down when I was trying to explain my situation to her,and and talking to other people. She was rude and absolutely no help. Is there any chance someone could help me with this?

Chuck Bailey
from Marshfield, WI
Your motel 6 in Lumberton North Carolina had filthy walls and no towels are wash cloths bathroom ceiling leaked and water every where. Asked two times for towels told they were dirty. Pot smell from rooms next door. Just nasty. We were there for a powwow and won't be back. All we stay in is motel 6 when traveling.

Elizabeth Reshel
from San Jose, CA
Afternoon, my partner and I stayed at the Motel 6 in LaCrosse, WI. The first problem we encountered was a group of 7 guys, grilling on a charcoal grill less than 2 feet from the building. When I used a side entrance that was near our room. There was the group of guys next to the door. They had loud music playing. That evening hotels doors was being slammed until after midnight. When we got up the hallway spelled of marijuana heavily. Which was interesting considering the hotel was to be non smoking. The best part oof this experience. My partner discovered he left a shirt behind. I have been calling since noon to this hotel and no one is answering. I drove an hour back to check they say they dont have it. I checked the bags and the vehicle. This is the worst experience I ever had at a hotel. I stay hotels every month due to travel for work.
Elizabeth Reshel
Room 141

room was clean houskeepers friendly
front desk staff all were good excwpt for the morning lady Krystal very curt and borderline rude was not impressed by her customer service skills at all

Rosa Salinas
from Bellevue, WA
Check in a room & ask for a non smoking area and after like 2hrs around 12:30am there was a strong order of someone smoking weed , associate & security walking & knocking door to door and I opened they were trying to see were the smoke odor came from then trying to sleep but couldn't because horrible odor of weed coming from the vents and couldn't just leave hotel at 1:30 am no were to go then mission pd also knocking on doors just horrible., never again will stay here in Mission tx. Motel 6 & going to put in media how horrible night

If I could give you a minus star I would. On 04/27/19 I made a reservation for 2 nights. 05/03 and 05/04 at your Boulder hwy, Las Vegas NV motel 6. I called the motel directly to make the reservation. 702-457-8051. I made the reservation for my husband, Jose Obando and his friend, Peter Hively. I received a confirmation email with a confirmation number of EK6RANYEDG. Today my husband arrived at the Boulder hwy Motel 6 and was told they had no record of the reservation and also that confirmation number was not one of theirs. I called your main reservation phone number and was told the same thing. Luckily the motel had rooms available and he got a room. The price was also higher then I was quoted by an additional 30 dollars. Now how can this be, Here is a copy of the confirmation e mail.
Confirmation Number:
EK6RANYEDG
Guest name: PETER HIVELY
Check in: Friday, May 03, 2019
Check out: Sunday, May 05, 2019
Guarantee type: Credit Card
Number of adults: 2
Number of rooms: 1
Room description:
2 QUEEN BEDS | MODERN
Guest comments:
FF
Average rate: $95.94 USD
Total w/tax*: $276.94 USD
very weird and disappointing, Cheryl Obando cherbando1@yahoo.com

I have been complaining about the phones for a number of months now, in Rock Springs,wy. You cant get thru to anyone, I hit promp #3 for the front desk and it reverts back to the initial prompts. This is very annoying.

Brandon Claiborn
from Chicago, IL
My family and I checked into this motel (room 309) on April 25th, 2019. Our employee (we own a property mgmt company) checked into room 211 at the same time. We were charged a deposit of $100 upon check-in, and then entered our room that was supposed to be a non-smoking room yet it smelled of smoke and there were literal burn holes in the bed blankets. The beds did not seem clean. There was a bum outside that was asking us for $10 so he could pay for his room... he stayed there our entire stay (through May 2nd). On Monday the 29th, one of the housekeepers accidentally walked into our room... then a little while after that, a bigger black lady tried walking right into our room right in front of me while I was standing outside in front of the room, even though I asked her where she was going and if she needs something, and she just ignored me and tried walking into my room. That's when I started telling her that this was the 2nd time an employee has walked into my room, even though we haven't reported any issues and we're all paid up! Then my wife walks out of the room to see what's going on and she's holding a candle and a lighter (we couldn't stand the smoke smell in the room so we went and bought a candle at the Walmart across the street) and the black lady starts yelling at us saying that if she smells smoke in that room we are getting charged a $250 fee and continues going off on us, although we did NOTHING wrong and my wife is telling her that we're not smokers. Then she asks if we need anything and my wife says toilet paper, towels and garbage bags. The lady comes back with two towels and toilet paper and my wife brings her two towels in a Walmart bag and the lady proceeds to HARASS her about that!! She says "WHAT's THIS?! Dump it out so I can inspect the towels." And they get dumped onto the ground and she sees that one towel has been used to wipe a strawberry lemonade spill and YELLS AT MY WIFE saying we are being charged for this damage and this towel is $5 and continues yelling as she's walking away and my wife is saying "You can't wash this?? Bleach should do it just fine..." Mind you, all this is happening while our employee (who had to be moved from room 211 to room 201 because her sink was clogged for DAYS and her A/C didn't work and no one was doing anything about it) was NOT being harassed for handing in HER towels that looked WAY worse than ours (she wiped up RED KOOLAID)!!!! We just checked out today and found that we have been charged $10 for that towel that we were HARASSED over and considering that we were treated like SHIT by this lady that I assume is a manager, (she has an accent that sounds like she could be from the Bahama Islands), as I saw her giving orders to employees time to time... I expect a full refund from my stay at this motel. The things that happened were unacceptable. When our employee checked out on Tuesday morning, that lady had to go inspect her room before she'd even give her deposit back because she said she assumed she'd leave the room a mess! I mean, this lady is unbelievable. I want a full refund. I paid $661.14 to stay somewhere that I felt completely UNwelcome and that was WITHOUT reason. I am attaching a copy of my bill.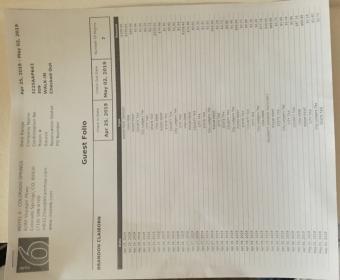 Nancy CAPLETTE
from Phoenix, AZ
Rude staff when I had problems with TV remote. He implied it was me and not remote. ANOTHER GUEST diagnosed it as dead batteries because front desk was too apathetic to care.
Even worse, room had stench of stale food. No hand towels or washcloths. Filthy grit in bottom of shower. LAST GUESTS OLD COFFEE IN COFFEE POT.
If I weren't so overtired making it unsafe for me to drive I would have left immediately. I had an 8 day reservation, checked out next morning. Unless I receive a full refund I'm calling health department as I believe property is unsanitary.
I have stayed at this chain before. this experience changed that. Never again at this chain. I shared my experience on Yelp.

steve kenisky
from Bellevue, WA
I checked into the motel 6 number 433 3 at or about 730 damn Wednesday May first 2019 the lady at the desk ask me for my ID and I asked her how much it was my friend and I just got off working for a man the lady was very rude and my friend came in and thinking to put it under my name since I paid for it she put it under my friend's name she later on came to my room about 2 in the afternoon I told me I was on drugs cuz she knew what person on drugs look like a little walk down to get a soda water and she acted nice to me about 4 a.m. lady came to my door while I'm crying to get a ride home and then she said I had a naked woman right out of my room if I was smoking in my room I told her I wasn't she said can I come in no problem I told her she came in and said that I was smoking and that she's going to call the person who rented the room I said I rented the room she said well I don't know who did but you're the man who you work for I should go ahead and do what you're going to have to do it I don't care my phone number is 2102029352. I had to pay 120 dollars to get a ride with Lyft I was going to wait for.my friend to get off. I

AMANDA Chatman
from Atlanta, GA
I have been here for a month and housekeeping is terrible they go thru your personal belonging when you are gone money and personal items have been taken front desk is awesome you all need to do background checks on these people and they half clean your room they do not need to come unless I am here but they still come they keep up loud noises some needs to check in behind them Ido not plan on staying here long I am at the one by the airport I keep the room clean myself they are not doing a good job I do not like them going in my personal belongings something needs to be done about this as this wont continue to happen I feel they are doing it because I am in here by myself my number is 404-484-0815 IN Atlanta Ga

Frances Petschauer
from Mentor, OH
Motel 6 @ 1095 Wayne Avenue Chambersburg, PA --- My husband and I had reservations at this Motel 6 fro April 26 - May 1st, 2019. When we checked in and obtained our room key, the attendant told us that we could park on the side and our room was about midway down the hallway. I should have known that there was going to be problems when the push bar on the exit door fell off on one end when we went into the building. When I opened the door and entered the room I was in for an even bigger surprise as you can see from the pictures attached below. The wall mount holding the spire on the left side of the bed and was leaning (if my husband had sat down on the edge of the bed, the spire would have hit him in the head), the bed skirt had a rip in it and was hanging on the side of the bed near the floor, the desk chair had no padding on either of the armrest and the ottoman looked like someone had put their dirty feet on it and the entire facility reeked of cigarette smoke. When I called and asked for the attendant to come down to the room it took her forever and she came loaded with an attitude. When I pointed out the issue with the headboard, her solution was to walk over and remove the spire and then go to the other side of the bed and unscrew the one on the opposite side and then looked at me and said, "There, it's fixed." I immediately told her that I wanted a full refund and that I would be filing a complaint. I understand that this is an economy hotel but had my husband been injured, I would have retained an attorney. I asked to see the manager and was advised that they were not on site.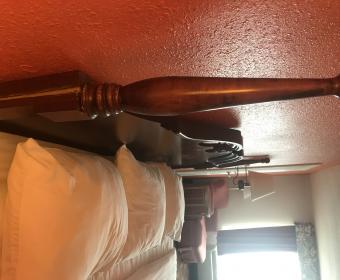 Frances Petschauer
from Mentor, OH
I booked this reservation on line and specified that I would need a downstairs room with a king size bed. When we arrived on the afternoon of April 1st, we were told that we would have an upstairs room (I have a bad knee and hip and am restricted from climbing long flights of stairs). The desk clerk reluctantly gave us a down stairs room but when we went to open the door the key card would not open the door. My husband walked back to the office and the manager came and tried to use the key as well as a master key and the door would still not open. She moved us to another room which she referred to as her "favorite" room. When we got to the room there were issues with getting the key card to work and the manager had to again come down with a master key and let us in the room. When we got into the room the television did not work and there was an open gap between the wall and the air-conditioner. The manager also said that they were having issues with the batteries in the door lock key pads and that was why the key cards weren't working but that she couldn't get anyone out until the next day. The manager slipped and said that the last individual in the room was a "chronic" complainer and complained to the point that she had final given her a discount. At that point we made the decision to not stay and she gave us a full refund. (Note: my husband and I are on an 8000 mile+ road trip so you will see other complaints about other Motel 6s across the US with the same e-mail address on it).

Checked into Motle 6 on 66th St Lubbock, Texas April 30, 2019 room 148. When we used the key card to unlock door we found door not locked. We opened door to see one bed appeared to have been slept in with a liquor bottle in a paper bag on night stand. Room was marked as non-smoking however it wreaked of cigarette smoke! Overall appearance of hotel was run down, nasty, some rooms had several people coming and going out of them. We got the impression this hotel being used for prostitution and drug activities! After discovering horrible room condition we went back to office for a refund. This hostel should be condemned!!!!

This Motel 6 chose commerce over honoring the Motel 6's late arrival rule. Because my flight out of El Paso was delayed enough that I missed my DFW connection to Columbia. When I was rebooked to arrive in Columbia on the morning of March 22 instead of the evening of the 21nd as on my reservation, I contacted this Motel 6 on Burning Tree Road and was told that the morning was too early for check in. So, upon my arrival in Columbia, I headed directly to the Colonial Life Arena for the 4 games which were played over a 12 hour period (Noon to Midnight). It was about 1A when I arrived the Motel 6. Late arrival is secured by a credit card. However I was given the excuse that they ran my card and it was refused. I had used that credit card to rent a car the morning of the 22nd. So much for that reasoning. Suffices it to say, this matter has been communicated to Motel 6, so you do have recourse if this franchisee tries to place commerce over honoring late arrival, NO MATTER HOW LATE it may be. Can you imagine trying to find lodging at 1A in the morning!
Contacted Motel 6 customer relations and, in retrospect they opened a file reluctantly. Upon following up on this matter, Motel 6 customer relations closed the file because this Motel 6 is an independent franchisee. I was told pursue my complaint with the Motel 6 franchisee. Interesting!!!! Story unfinished, but I will contact the motel.

First of all it wasn't very clean. There were cracks in the ceiling and in the bathroom the bathroom sink countertop had about an inch gap in it. Also it was so noisy and people were partying very loudly until the wee hours of the morning plus their dogs were barking. I mentioned it to the office and they said they were not responsible for the noise or the dogs barking. And as far as the bathroom they said it was on the repair list. We paid 89.03 a night and stayed one night. They said because I didn't call them at the time they couldn't give us a refund. I was really disappointed.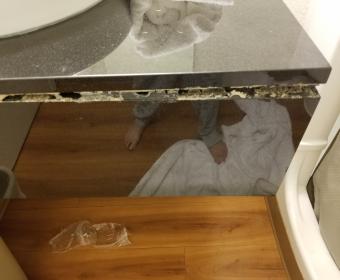 Well on 4/12/19 me and my wife stayed at the motel 6 on jaboom street sacramento ca and my wife was bitten by bugs i believed they were bed bugs i took pictures of the bites and the bug we found i went straight to the front desk showed the worker. We were there maybe an hour to two and we left. The lady working there told me they had a procedure and that the manager would be giving me a call. I havent heard from any one and i have call a few times left my name and number explained why i was calling. I would like some of my money back. The tonight i tried to stay at another motel 6 in rancho Cordova ca and after i check in the guy working there told me if i have a guest then i need to register them at the front desk i was not even there five minutes and the gaurd told me i had to leave i told the worker that i just had to get her ID and would be right back but this rude gaurd told me he was going to call the cops on me if i didnt leave i didn't even get to step in the room yet just took my money. Please give me a call at 916 513 3176 thank you for your time

Nichole Pruett
from Bellevue, WA
Went to Burlington Washington location to visit a friend from out of town. As soon as my husband and I walked in the door to our friends room the phone started ringing. The front desk person told our friend that guests we're not allowed and that we needed to leave! Our friend had paid for a two-bedroom and he was the only one occupying the room. There should have been no problem with us being there with him no matter what the hour or day. We went ahead and left because we didn't want to cause problems. We weren't able to visit until 11:30 p.m. but that shouldn't matter you should be able to have guests over at any time and it is that way anywhere you stay. This is the first motel I've ever heard of saying that you cannot have guests after 8 p.m. or 10 p.m. whichever it is. It's complete discrimination! Some people work days some people work nights some people are night owls some people aren't! I feel very discriminated against and I feel robbed of the time I had made available to catch up with a friend. I'm not sure when we will see him next!!!

I had a free nights stay and paid for one night at Studio 6 in Colorado Springs 26-28 April 2019. Management knocked on my door at 8:30pm on Saturday night and opened my door when I was peering out of keyhole to see who was there. They were in plain clothes. They said the room should have been vacant. When I called the front desk I was laughed at when I told them I was upset and frightened by the experience. I will never stay there again.

I just came back from jetsking alday and come here and there is no hot water. I can't bath. Me and my girl. But there is no other rooms available at this time. I called front office but no pick up yet. Will call back down there.but it's nothing they can do about water not at 10:30pm

I stayed At Motel 6 in Leesville La on April 26,2019 in room 140.. my grandson and I arrived around 12:30 am after traveling for 2 1/2 hrs.. we was exhausted when we arrived to our room the bathroom was nasty and the bathroom door wouldn't shut all the way,I took pictures and showed to the front desk to just be talk to like a dog, wouldn't say anything put I'll talk to house keeping , Didn't offer to give me any of my money or move me this is very unprofessional .. the Manager was a ass.. I would highly recommend No one to stay at motel 6!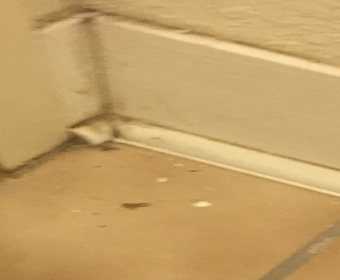 Plumbing backed up into the room from walk in shower. I got yelled at by the reception lady for asking for a cash refund so I had my money for the other motel I was forced to move to. Zero accountability from receptionist she blamed the city of Reno for bad plumbing. she also refused to allow me to speak to the manager. With in 5 mins of the plumbing back up the water turned brown and smelled of sewer. I was in the shower when the back up happened. The receptionist knew the plumbing was backing up and did not warn me either.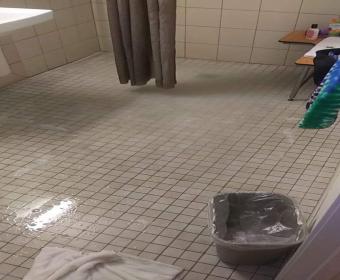 Scott Richard Stets
from Newport, RI
Dear Motel 6 Customer Service,
My two cats and I have been staying here at the Motel 6 in Newport since 4 February 2019 c.e. and we have been clean, quiet, and all around good guests here. This place degenerates into a zoo at night often with druggies and hoodlums stalking the halls on certain nights making it unsafe to leave your room sometimes. But we have ignored this.
There has been a major turnover with housekeepers here and now they have hired a "head housekeeper" named Eduardo who lives two doors down from me living in the motel where he is working. When I first met him, he asked me to come into his room to fix his computer printer. I go in there and he has pornography playing on his computer screen – to try and make the moves on me?! What the hell!? This is weird!
On several occasions, he has attempted to access my room after I have had an agreement with management that no one is to enter this room without me there since my two cats would be frightened and naturally I worry about their safety. I also have a 4,000 USD guitar stored in my room along with my laptop (I am a professional musician playing gigs in the area) and I have found my room moved around when I return to my room sometimes (my cats are NOT doing this!). The other guests and even a housekeeper said they saw him enter my room when I was out!
Last week I had him enter my room in my presence to clean my bathroom and after he left, I found a hypodermic needle on the floor behind my toilet exactly where he had been cleaning. My cats play with their toys on the floor and will bite at plastic baggies and have fun with them. I walk around the room in my bare feet. I brought this to the attention of the manager and she simply said "Sorry."
Sorry?! The health, welfare, and safety of my pets and me have been put in jeopardy by this scumbag and all you can do is say "Sorry"?! Really?! This is a severe breach of trust on the part of Motel 6 and I will not stand for it. I have stayed in your motels across the country and as bad as Dickson, Tennessee's was, this is by far the worst! This is insane, callous treatment of your customers and I am about to call the local TV news stations to bring them into my room and show them the evidence I collected.
I called a doctor friend of mine who looked up the ingredients in the needle and told me that this is not insulin (which would have been bad enough because your staff should be training its housekeeping staff on proper disposal of hazardous wastes anyway!). No, what I found in my room was an ERECTILE DYSFUNCTIONAL DRUG MIXED WITH HEART MEDICATION! WTF!? WHAT KIND OF MOTEL CHAIN ARE YOU RUNNING HERE TO LET YOUR FRANCHISEES DO THIS INSANITY?!? WHAT WOULD HAVE HAPPENED IF WE HAD BEEN STABBED BY THIS DANGEROUS DRUG?! Would the manager say sorry then?!
Let me be crystal clear with you now: I do not want to get an email or phone call saying sorry and blah blah blah without putting your money where your mouth is. I have spent FOUR THOUSAND DOLLARS staying here in the nearly three months we've been here. ONE of three things will occur:
ONE – I will be refunded 1300 USD which is about a month's worth of my payments to compensate me for the month of Hell I have been dealing with here with this psychopath housekeeper harassing me and my Catmily.
TWO: You will give me a voucher for Motel 6 locations across the country worth a month's stay anywhere at the Motel 6 of my choice (I work with War Veterans across the country and stay with you sometimes frequently).
THREE: You do nothing and I contact the local and national TV news stations and post all the photographs I have online for this to go viral – creating a publicity nightmare for Motel 6 which you deserve if you screw your good customer (ME!!) a second time – and I will still take Motel 6 to small claims' court and win.
The choice is up to you now. But be warned that if I do not hear from you soon, I may call up the local TV news and send them emails to get them over here before I check out next week. Time is ticking away even as you read this now. Your window of opportunity to satisfy your good customer who has been treated horribly by your franchise is closing rapidly. I would have someone capable of resolving this fast reach out and call me before close of business today.
Thank you for your time and concern in resolving this matter to my satisfaction ASAP.
All the best,
Scott Richard Stets, M.Ed.
1 (774) 319-6481
scottstets@gmail.com

Angela Hiner
from Topeka, KS
In the last 8 months, i have stayed at the motel 6 located on 6th and Fairlawn in Topeka Ks, TOO MANY TIMES TO COUNT. All in all, ive never had a real big problem with the management or the staff. Until now. I am livid and hope that this will be reconciled in a timely and professional fashion. On wednesday, April 24th, i went and rented Room 254 for the night. I was an early check in, and my room came up to $59. Ok. That night i had to leave on a family emergency shortly after midnight. I traveled yo kansas city, where i still am as i write this. I know that check-out time is at 11am, however due to the nature of events i could not make it back by then. I called the office and spoke with the lady who i believe is married to the manager. I explained to her what had happened, i apologized for the late check out, and told her i would take care of it as soon as i got back into town. She said that was fine, and to just come into the office to pay for the late check out. End of call. NOW ONE HOUR LATER, i stop to get gas at Quik Trip. My card was declined. I tried again. Declined. So i called my bank and find out that my debit card has a negative balance on it of $32.88 due to Motel 6 charging me another $54 for the room. IM PISSED. i call the motel back, and speak with the same lady. I asked her why they charged my card for another night without my consent. She said this. "YOU HAVE ALREADY BREN HERE TODAY AND YOUR THINGS ARE IN THE ROOM SO THE MANAGER CHARGRDED YOU FOR ANOYHER NIGHT". I DISAGREED with her and told her i absolutely had not been back in the room nor had i even made iy back into town yet. She then stated that one of her housekeepers. Saw me AND my husband in the parking lot earlier and so i needed to pay another night. Wtf kind of shit is that. I wasnt there. I dont have a husband, and i do not appreciate the remaining money i had on my card be used for a fucking room that i did not stay in.

I HAVE RENTED AT THE MOTEL 6 HERE IN FRESNO THE ONE ON BELMONT AND PARKWAT DR. AND THE ONE ON PARKWAY DRIVE AS WELL I HAVE RECENTLY TRIED TO RENTAT THESE TWO LOCATIONS SINCE THEY HAVE BEEN UNDER THE MOTEL 6 UMBRELLA AND FOR SOME REASON THE OWNER OF THESE TWO PLACES REFUSES TO RENT ME AND MY FAMILY A ROOM DO TO SOME HATEFUL THINGS OF HIS OWN I HAVE BEEN STAYING IN HOTELS FOR THE LAST PAST COUPLE OF YEARS AND I AM NON PROBLEMS ME NOR MY FAMILY BUT BECAUSE I REPORTED HIS MOTEL TO THE BETTER BUSINESS BUERU CALLED THE PALACE THAT IS TO LOCATED ON PARKWAY DUE TO ROACHES AND AN UNCLEAN ENVIRIONMENY HE HAS BEEN MAD AND ANGRY ABOUT THIS I FEEL THAT IF I AM PAYING TO STAY SOMEWHERE IT SHOULD BE CLEAN AND COMFORTABLE BUT I DONT THINK THAT IT IS FARE FOR HIM TO GO UP AND DOWN THE STREETS TELLING OTHERS NOT TO RENT TO ME AND IVE DONE NOTHING TO NOT BE ABLE FOR ME AND MY FAMILY NOT TO STAY AT THE MOTEL6 AND I AM VERY UPSET ABOUT THIS AND I WOULD LIKE SOMETHING TO BE DONE ABOUT THIS AS SOON AS POSSIABLE OR I AM GOING TO FILE A LAWSUIT AGAINST THIS .CORPARRATION. BECAUSE I HAVE DONE NOTHING TO DESERVE THIS YREATMENT PERIOD AND THEY WONT GIVE A VALID REASON AS TO WHY I CANT RENT THERE THEY HAVE BED BUGS AND NOT USING THE RIGHT CLEANING SUPPLIES TO GET NRID OF GERMS OR ANYTHING

Hi, I am contacting you about my current recent stay at your hotel, Motel 6 at 1111 West. Sugar Rd, Charlotte NC, 28213 on 4/24/2019. This was my first time staying at your Motel 6. I was looking for a last minute place to stay, due to my previous arrangements getting cancelled at the last minute. I did a web search and found this hotel it was a little more than I had planned on spending for one night but after looking through your website at the pictures of the room and property, it seemed to be very nice and the rooms looked great. After reserving online and checking in less than 30 mins later I go to my room and was not at all impressed with anything I had seen so far. The room looked nothing like what was pictured online, there was no trash can in my room anywhere, the comforter looked dirty with stains on it the sheets were very dingy. The floors were nasty didn't look like they had been sweep or everything was swept into corners. The walls were disgusting, the tub in the bathroom didn't look very clean at all could see dirt in bottom and sides of the bath tub. There was a big hole in the ceiling above the shower, and the rooms had this smell that was not pleasant at all. My first impression upon arriving and then having to stay at this hotel were not great by no means. Nothing looked the same at all to what I had seen on your website. If the website would have shown accurate information and pictures I would have never chosen to stay here ever. I normally never write and complain but I was so unhappy, that I thought I should make you aware so maybe things can be fixed so that other guests can have a much better stay than me.
In continuance to my previous email, while I was here on my one night stay I had a very rude in counter with the gentleman that was working the night shift. I was outside the back door of the building smoking as I was told where to go outside and smoke and take my dog out to potty that I had with me, the lady that checked me and my girlfriend in our us in a room on the first floor towards the back at the door just for this purpose. She told us the key lock was broke and you could not get back in if the door closed, so she said just to put something in the door to prop it open so we could get back in without having to walk all the way around to the front of the building. So that is what we did when we had to go outvfor a second with our dog to go potty. While out there the gentleman working then came out of the door very angry and very rudely told us we better not do that again propping the door open like that. When we told him that the lady when we checked in told us to do that, he very loudly told us he didn't care what she told us and we had better not ever do that again. We felt very belittled being talked to like we were basically dumb slow kids, I'm a grown adult 42 and 50 years old and did not at all appreciate being talked to like that. If it would have not been so late we would have packed our stuff up and left IMMEDIATELY. That gentleman has no business working around people his customer service is the WORST I've ever seen. The people that are employed at this hotel should seriously be evaluated.
Thanks
Robert Ennis and Heather Moore
Show quoted text

I went two days ago to motel 6 Airport in Bakersfield, CA I had a reservation I was going get there late to which I called and let the front desk clerk when I arrive to the location about 10:30pm the clerk did not wanted to honor my original reservation and wanted to charge more than it was stipulate on the reservation, then a male came in the girl clerk told him something and the male clerk approached me in a very threatening manner and asked if he could help me when I try to ,explain to him about the reservation he turned around and told me that he was not going to rent me anything and if I did not leave he was going to beat me up, by the way this person that arrive at his location looked like he just have gotten out jail and at one point I did not felt save and left the site this person was very rude and menacing I just wanted to mention this for you to look into this matter because if you have that type of employees and I report this to the media and the authorities nothing good is coming out of this I am a regular Motel6 customer but this time I felt insulted and very offended by this type of behavior

So there is a motel 6 located on Mannheim Rd in Franklin park Illinois. The place is a shit hole! This place is an absolute disgrace to the Motel 6 brand! The very appearance of the place is horrible! Then when u enter the lobby, it's like being in a haunted house literally!! The place is full of safety hazards! Including areas where construction is going on in a clear guest pathway!! Omg, the rooms? Horrible is to kind a description! No refrigerator, no microwave, a huge big bag TV!!! Where did they find it?! A huge number of ghostly looking characters who appear to be family members of the owners or something...man listen, this place is quite well below motel 6 standards and certainly light years below my expectations as a frequent motel 6 user, seeing that I'm a truck driver and all! Something has to be done about this at once, its not palatable for public usage for real!!

Dear Motel 6 Management,
Address: 3 National Dr, Windsor Locks, CT 06096
Phone: (860) 292-6200.
I stayed at your Motel 6 last night on night of 4/22 2019. It was horrible for the following reasons.
No smoke detector (very Bad) which was ripped out of the ceiling. The bed mattress was hard as a rock and should be replaced. Also a broken TV remote with batteries falling out of it. Furthermore the Desk Clerk who checked me in he may have been the Manager I don't know used no common sense as the Room he assigned me # 142 which was in the middle of 2 noisey Hotel Guests. Also no close parking near that room and it was pouring rain. If he had any common sense or decentcy he would have assigned me a room on the other side where it was wide open and plenty of parking spaces very close to the assigned rooms. But No he had to squeeze me into a sub par room right in the middle of the Hotel and I got soaking wet walking from the closest parking spot to # 142. I will report the missing smoke alarm in Room # 142 to the Windsor Locks Fire Department.
The Manager at this Motel 6 should be alerted of all these complaints I have listed because I could see them losing much business treating Guests this way. And for about 20 dollars more I could stay at LaQuinta or Days Inn right nearby and have none of this riduculousness.
In my opinion this is a dangerous thing to not have a live working Smoke Detector in all their Hotel Rooms. I would bet if my Room had 1 missing there are probably other Rooms with none which should warrant an inspection / Fine at very least from the local Fire Department.
CC: Windsor Locks Fire Department
Thank You,
Robert McCarthy My Cell Phone 401-871-9481
37 Ware Road
Belchertown, MA 01007

The Motel 6 in Atascadero CA was a huge disappointment! The rooms are small and smelly. The walls are paper thin that the room adjoining mine had his tv on it was as if were the tv in my room was on. I couldn't get a decent nights sleep. The people in the room above mine stomped around all night. The shower was so small the water leaked all over the bathroom floor, and I was afraid to touch anything. The blankets were dirty. I planned on staying for the entire time while being in town but was so grossed out at the buildings condition....paint was peeled off the door (room 110) I left and went to a much nicer motel. I went to talk to the rude innkeeper (a woman) whom was annoyed and didn't want to be bothered.
I wasn't the only disatified customer because there was someone on the phone complaining about something being broke in their room and this woman just rolled her eyes and hung up the phone, then started saying rude remarks about this person on the phone in front of me and others. I can only imagine what was said about myself after I left. This was a huge waste of my hard earned money!! It just goes to prove...you get what you pay for! I wont hesitate to let travelers know to drive on by this place

I had filed a complaint with corporate on or around april 9 2019 regarding the motel 6 on central ave in albuquerque nm and today i still havent heard anything back it feels like nothings being done about this

James Massey
from New Iberia, LA
My wife and I stayed at the motel 6 in Cleburne, Texas. We checked in at approximately 8pm and after checking in we went to the elevators and my wife over heard the blonde white lady at the front desk talking to the Mexican girl about there being several people working under different identities!!! One was under age and the other is ILLEGAL!!! Needless to say my wife and I DID NOT stay the rest of the night and didn't even bother going to the front desk for a refund we just left.

Jaiden
from Chattanooga, TN

A room next to the laundry room which operates all night makes for a very poor sleep. So noisy.

Motel 6 reno nv Virginia plumb
The manage John was very rude to me when I paid the second night when my mom went into the office to ask for room service he got mad and pounded on our door saying false accusations about the house keeping saying maxican he didnt like us because we are half maxican. He walk away saying Last time we can rent there. He very tyrannical and to the tenets everytime I go the office he's arguing with tanets because they want there refund. The rooms are filthy and if we say anything to the office about it. He will get all trynnical about it. Everytime he have to pay its at night to dodge him do to his abnormal behavior. He does not Need be working there. If even accused us breaking into the room I confront him and the other manager look him like told him to stop talking. I have alway rented from motel 6 but never like his. When we check us out he said we can never rent there again.

Patricia
from Fort Worth, TX
I am currently staying at the motel 6 in hobbs new mexico. This has to be the most WORST motel 6 i have ever stayed in. We are in a non smoking room. Smells like smoke. The door to the closet where clothes can be hanged is missing. The AC is unbelievably loud and has mold looking spots on it. The towels are disgusting looking. Im glad i brought my own. There are holes in the walls and there is a towel hanging up as a curtain with grey masking tape in the bathroom. Food was not cleaned out of the frezzer part of the mini fridge and the whole room smelled of sour mop and smoke. I paid $164 for 2 nights and i am wanting to be compensated in some way of a partial refund or a whole refund. Looking at the pictures from the website for this place the only thing that was correct was the colors if the room and sheets. I have pictures of everything as it was when we booked in. I stayed because i have no other resources or funds to find a different motel. Please help me with this issue.

Steve Primak
from Bellevue, WA
Filthy at Findlay Ohio location and Bed Bugs at Gainseville Georgia location, horrrrrible experience(s) !!! Hugely disappointed in the locations I stayed. I have multiple photos demonstrating just how filthy the room was in Ohio and the numerous bites on my hands, head and stomach just to mention a few !!!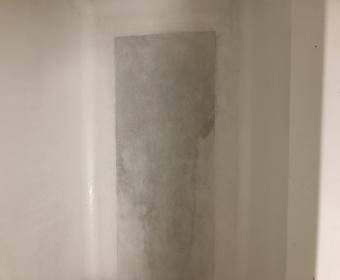 Griseliz Fernandez
from Nashua, NH
I have a few complaints about motel 6 in Bordentown N.J. I have stayed here on 2 different occasions. The first time was less than a year ago Ivowed that I was going to file a complaint but then never did. My main complaint from that stay was being refused towels. I reserved the room for 2 days on the second day I went to the office and asked for more towels. The lady asked me how many guests were staying I said 2. She proceeded to tell me we already had gotten 2 towels and was refusing to give me more towels. I then got furious and had to get out of character for her to finally give me more towels. This is a problem I have never been refused towels at any motel or hotel. Not to mention the room didn't come stocked with the regular amount of towels. I know establishment is privately owned but nonetheless it represents the Motel 6 name and therefor should operate as such. My most recent stay when making reservation noted special request of at least 4 towels which were't in the room. I did ask for them and was given the extra towels without incident. The cleanliness needs some serious improvement to say the least. Besides that my complaint is with the upkeep of this motel 6. I've stayed in many different motel 6's but never one so horribly maintained. They really need to invest in a new housekeeping staff, repairs, and renovations I didn't complain to management who live there in the office because I had been driving 8 hours and was due to get married at 9 a.m. after arriving at 3 a.m.. I will attach pictures and you will see for yourself. !!!HAVE MORE PICS BUT COULD ONLY ATTACH 5!!!!

I reserved a room, i was treated with a bad attidude immediately . I went to room to find no microwave or fridge, which were part of amenities published online. I had traveled 1800 miles wanted shower and bed, although its just afternoon i needed the rest. I get all my gear in and get ready to.....knock knock bang bang " can you move you truck, we are getting ready to paint ." Not only do i have to move my truck but a paint crew listening to rap oitside my door. No offer to make it right except i xan repack and go to another room....NOT HAPPY
Have feedback for Motel 6?
Thanks for your feedback!
Sorry. Please try again later!