Top 10 Best Workout Gloves
Top 10 Best Workout Gloves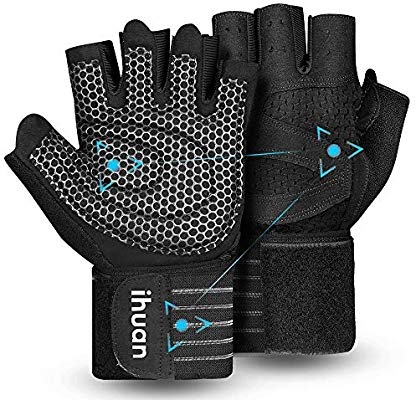 Every member of the global fitfam knows that engaging in cardio and strength training exercises regularly is beneficial to the body and mind. They go to the gym 4 to 6 times a week and they always go fully prepared with gloves, belts, mats and other important workout gear. Unfortunately, the more frequently you work out, the more frequently you will have to replace your workout gear, specifically your hand gloves.
Hand gloves wear out faster than any other gear because of all the lifting you will be doing with them in the gym. The good news is that if you buy one of the top 10 best hand gloves in the market, you'll not need to change it every month. The best workout gloves can be found in the list below!
After comparing several top teir products, we came up with this list of the best 10 workout hand gloves based on protective features, design, durability, stability, and price. By the time you finish reading this review, you will be able to make your decision and purchase a workout glove that will meet your needs.
Top 10 Best Workout Hand gloves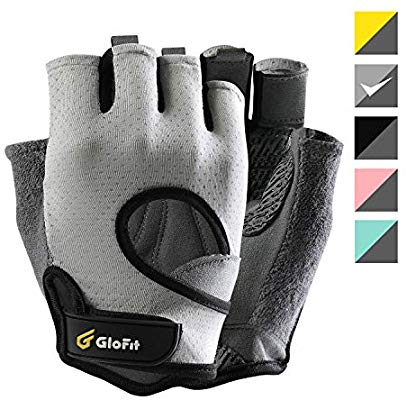 $17.99 – $19.99
Highlights
It Enables A Stable Grip: This product has an anti-slip feature that allows you to maintain your grip irrespective of the size or weight of what you're lifting. This is because it is made with a cushioned pad that has silica points for more friction.

It Offers Enhanced Breathability: Each glove comes with a hollow-out back design and it is made of perforated microfiber that allows your palms to breathe while you workout. The microfiber allows you to exercise freely without any constraints. Also, you don't need to worry about sweaty palms.
It Has a Thumb Towel: There is a small towel attached to the back of the thumb that you can use to wipe the sweat of your face easily without interrupting your program. It is soft and good for the skin.

It is Durable: This product is durable thanks to the double layer foam and microfibers that don't just enhance comfort, but also make it last longer. You don't need to worry about buying a new one every month.
Kansoon's GoFit unisex workout gloves allow you to reach your full weight lifting potential without the risk of injury. They are part of a long list of sports gear and equipment manufactured by GoFit, a subsidiary of Kansoon.
The gloves are designed for men and women and they come in different sizes from extra small to extra-large. If you're a woman, the extra small, small or medium size would do depending on the size of your palms. Men usually go for large or extra-large, but there is a sizing guid to help you find the perfect fit.
Each product costs between $17.99 and $19.99 depending on the size of the product you want to buy. It has a 4.5 star from 815 reviewers on Amazon.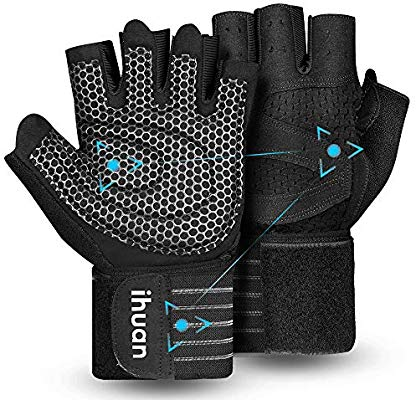 $17.99 - $19.99
Highlights
It Has Wrist Wraps: Most people use wrist wraps to protect their wrists while they lift. If you are someone who loves to wear wrist wraps, these gloves might be perfect for you. They come with built-in wrist wraps that give you the support you need while you lift.

It is Unisex: This glove can be used by men and women of different sizes and it would fit perfectly as long as they pick the right size between extra small and extra-large.

Complete Palm Protection: Apart from protecting your arms from slipping during a workout, the best gloves also keep you safe from thorns, sprains, and calluses. It has a foam pad that buffers the impact of the weight machine or free weight you're using.

Neoprene Material: It is made of a high-quality Neoprene printed with silicon. This material is resistant to heat, oil, water and protects your skin from dangerous chemicals.
The ihuan Professional workout gloves are ideal for people who train regularly and want to keep their palms soft and free of scars. It is properly ventilated and you can tighten or release the grip to suit your needs using the velcro attached. The ventilation available makes it hard for it to retain stench from over sweating.
The brand provides buyers with after-purchase customer service. If you're not satisfied with the product or you have something to ask, you can contact them for assistance. You will find their contact details inside the package or on Amazon.
There are different sizes available on Amazon and each one is priced based on the size. Large gloves tend to be more expensive than smaller ones. It has reviews from over 1185 customers who gave it a 4.6 star.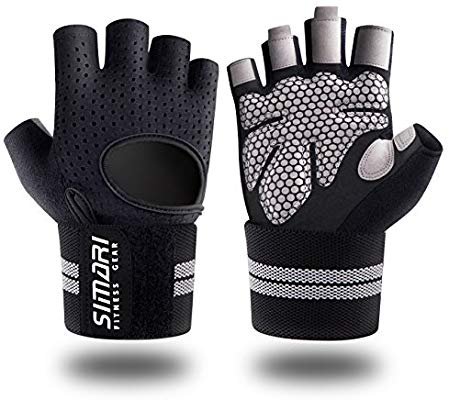 $9.98 - $17.98
Highlights
It Is Made Of Lycra: Since the glove is made of breathable lycra, it can stretch out to 4 to 7 times its regular size. You don't need to worry about it losing its elasticity, because it will go back to its original size instantly. Lycra is breathable and comfortable making it perfect for your skin.

It Has A Humanized Design: It is designed with the wearer in mind. It has soft sponge pads, a towel at the back of the thumb, and reusable velcro to increase comfort and functionality. This ensures a great user experience during a workout.

Its Microfiber Increases Durability: While the most popular gloves are made of mesh, our studies revealed that the most durable workout gloves are made of microfiber. This is because the microfiber reduces friction during weight lifting.

It is Washing Machine Friendly: You can add these gloves to your other clothes when you want to use the washing machine as long as you put it in a laundry bag right before you throw it inside the machine.
The Simari glove is an affordable product that offers users more value for their money. With as little as $9.98, you can buy a pair of extra small gloves. Just like many other gloves on Amazon, it comes in five sizes from extra small to extra large.
It offers full protection from sprains and is ideal for anyone who is old enough to visit the gym from teenagers to senior citizens. The materials are hypoallergenic so you don't need to worry about having a skin reaction and you can wash them after each workout, once a week or anytime you feel it is dirty.
This glove is one of the top 10 best workout gloves because it has a 4.4-star rating from over 2,223 verified buyers. The price ranges along with the size.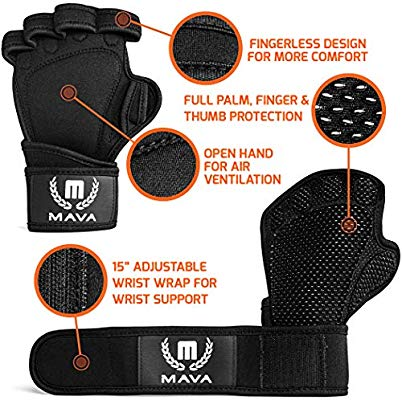 $11.97 – $12.97
Highlights
Minimum Coverage For Ventilation: If you don't like to cover your whole hand when you're lifting and you still want the protection that comes with wearing gloves, this is the glove for you. It only covers your palm, leaving your fingers and the back of your hand free from restraint.

The Wrist Wraps Are Adjustable: This glove comes with adjustable wrist straps that provide support and holds the glove in place while you work. When properly strapped, the product will distribute the weight you are lifting evenly through your forearms. The wrist wraps are 15" long allowing you to select the most suitable option.

It Has A Silicon Padding: The gloves come with soft silicone padding that allows you to get the perfect grip while lifting. It isn't going to slip or tear during a workout. With a good grip, you can lift whatever you want efficiently.

It's Not Bulky: During a workout, you need to be as comfortable as possible to maximize productivity and boost the result. If your gloves are too thick, they might bring you discomfort. This product is lightweight and flexible.
Mava Sports ventilated workout gloves are great for when you want to squat, bench press, pull up, or deadlift, etc. Its versatile and anti-slip nature makes it perfect for people who sweat significantly when they engage in intense exercises.
The gloves have received a 4.3 star from 880 verified reviewers and are still a little more affordable than many others on this list of the top 10 best workout gloves. For the extra small size, you'll need $11.97. The price increases cent by cent until it gets to the extra-large glove.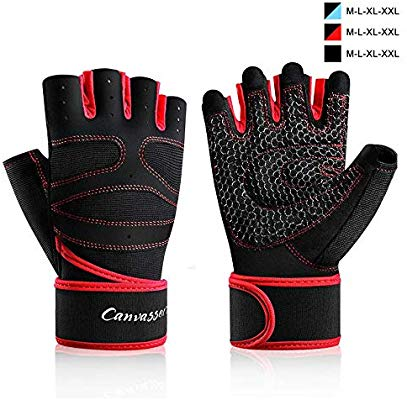 Highlights
$13.99
Easy to Wear And Remove: This product is made in such a way that it is easy for people to wear it and take it off thanks to the three rabbit ear design. It makes it perfect after a long workout when you don't have the strength to do anything else.

It is Easy to Adjust: Some parts of the glove-like the wrists and parts that cover the finger are made of elastic fabric. This makes it easy for you to adjust during a workout. It also makes it perfect for men and women alike.

It is Breathable: It is made of microfiber and mesh making it extremely breathable. You don't need to worry about poor ventilation for your palms. It also has a small towel behind the thumb for wiping off sweat whenever you need to. It also has a silicon non-slip pad for extra protection.

It Has Double Stitching: Unlike many others work out gloves, these gloves were made specifically for people with big hands. This is why it needs extra stitching for a firm hold. Every part of the glove has this double stitching from the foam pad, to the elastic band.
The Thiroom Workout glove is best for big people who are interested in long lasting products. It provides full protection for your palm and wrists leaving only a small part of your fingers out. It is padded properly and has anti-slip properties for extra protection.
The has a 4.6 star from 306 reviewers who were satisfied with the gloves. About 76% of these reviewers gave it a 5 star, 12% gave it a 4%, 4% gave it a 3 star and 2% gave it 3 and 4 stars. The size of the gloves ranges from medium to extra large.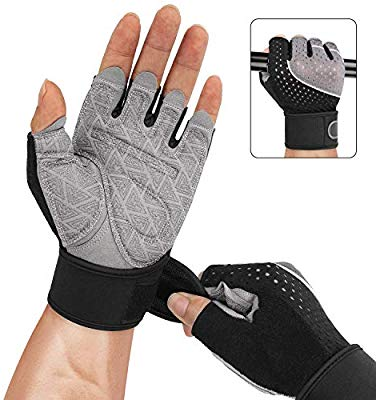 $9.59
Highlights
It Has Shock Absorption Pad: This brand of hand gloves comes with a silicone pad that absorbs shock by alleviating vibration. When combined with the anti-slip function, it offers extra protection during intense workouts.

It Helps Prevent Injury During Workout: Using a solid hand glove during a workout doesn't just protect your palms and wrists. If you drop weight by accident during training, you risk injuring other parts of your body and even those around you.

Designed to Offer Your Fingers Flexibility: It has a fingerless design that allows your fingers to breathe and allows you to move them comfortably to any position you choose without stress. It also comes with adjustable velcro for extra support.

It is Made of Breathable Mesh: The product is made of a breathable fabric called mesh. Breathability is extremely important when it comes to workout gear, especially when it comes to workout gloves. Your palms will receive enough air and sweat will be absorbed instantly by the glove.
The Joyoldelf weight lifting gloves are a good option for anyone who wants a workout glove that is used by professional athletes as well as regular gym-goers. When you wear it, the soft mesh body blends with your skin perfectly so you will feel optimal comfort.
Each pair costs about $9.59 irrespective of the size although at the time of writing this article only the small and medium sizes are currently available. It has 4.5 stars from 21 reviewers.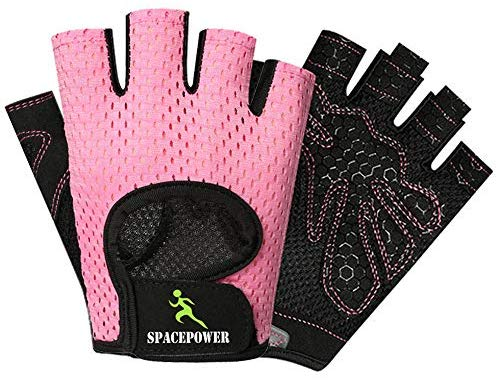 $12.97
Highlights
It is Coated With Silicone Antiskid: This glove is coated with silicone antiskid that helps prevent slipping, increases friction and makes it wear-resistant. So, it is a durable glove-like other on the list of top 10 best workout gloves.

It is Made Of Quality Mesh: The gloves are made of mesh and this gives them a humanized design. When you wear it, you can move your fingers in any direction because it allows flexibility. The fabric is stretchy and breathable so you can wear the gloves for as long as you want without worry.

It Absorbs Sweat: During intense training, you're going to sweat profusely in every part of your body including your palms. Not every hand glove absorbs the sweat adequately. This hand glove does just that. By absorbing all the sweat from your palms, it reduces the chances of slipping significantly.

It Has An Ergonomic Design: The glove is designed to give you the perfect grip during workouts. The ergonomic design allows you to stretch your fingers while you work and the thickened gel design enhances the shock absorption.
The Spacepower workout glove will help you workout comfortably at any time of the day. It doesn't matter if you're working out intensely or you're enjoying light training. The gloves were created with your comfort in mind and this is why they are lightweight.
There are 161 reviewers who gave this product a 4.6 star overall comparing its weight, durability, comfort, and value for your money. With just $12.97, you will be able to purchase a pair.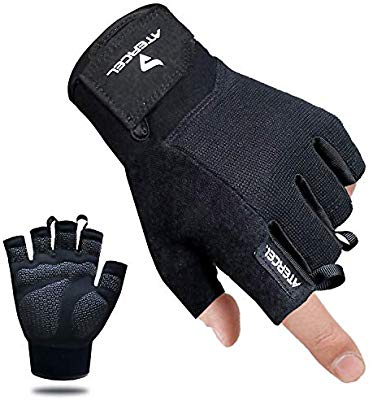 $14.95
Highlights
Available in 5 Sizes: This glove comes in five sizes including extra small, small, medium, large and extra-large. All you need to do is select the most suitable size for your hands and it would be sent to you. If you choose the wrong size, you are entitled to an exchange or refund with a 100% guarantee.

The Palm Design Ensures a Firm Grip: One of the reasons why it is among the top 10 best workout glove is that it has an ergonomic design that optimizes grip and overall functionality. This also protects your palms from friction and calluses.

It Has a Towelling Panel: To make this glove as comfortable as possible, the producers made it with a toweling panel at the back of the thumb that allows you to wipe the sweat off your face quickly.

It Is Easy to Wear And Remove: When you wear this glove, it slips perfectly into your hand and fits. When you want to take it off, it slips off your hand the same way without any stress.
Buying the Atercel hand gloves for $14.95 is a good investment, because it is durable and comfortable for a good price. It doesn't just absorb sweat, it also absorbs shock effectively while you're working out.
This workout hand glove has a 4.6 star from over 900 reviewers on Amazon. It is a lightweight glove so you don't need to worry about extra bulkiness when you're using it.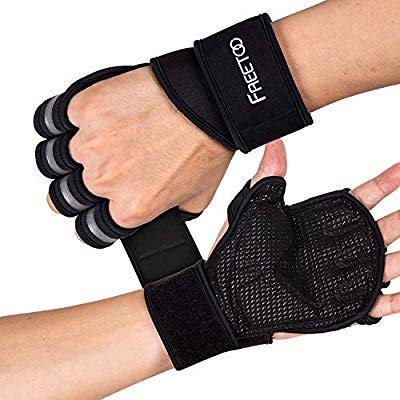 $13.99 – $16.49
Highlights
It is 4-mm Thick: The glove is 4-mm thick which is the optimum thickness for a good hand glove. It is made of high-density Eva cushions for your comfort. If a glove isn't thick enough, it will be ruined when you're trying to lift heavyweights.

It Has An Open Back: Even if the glove covers your full palm, the back is open for ventilation. This way, the gloves will not smell and you will be able to move your arms anyhow you like when you're lifting.

It Offers Wrist Support: The glove has a good wrist wrap that provides you with the support you need during deadlifts, squats, or during any other weight training program.
The Freetoo workout gloves are among the top 10 best workout gloves for good reasons. They are durable and their back opening makes them perfect for people who are usually inconvenienced with hand gloves.
This glove currently has 4.6 stars from 133 reviewers. They all gave it a 4.7 star for durability and value for money and a 4.6 star for comfort. The company offers a 100% money-back guarantee to anyone who is not satisfied with the order.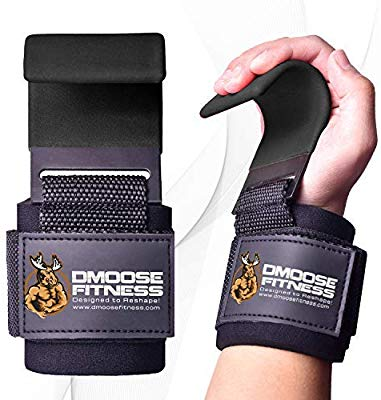 $19.99
Highlights
It Provides a Firmer Grip: This weight lifting glove isn't like the others on this list. It's a hook that improves your stability and reduces tension when you lift heavyweights. It was made particularly for barbell lifting and pull-ups but it can also be used for other appropriate exercises.

It is Durable: The glove has industrial level straps for fastening. It also has double stitching and thick neoprene that makes it wear-resistant. The straps can be adjusted to meet your needs and it can be used by men and women alike.

It Has Just One Size: Since it is a hook glove with wrist straps, it doesn't have the small, medium and large sizes like other gloves. It is one size and it can be used by anyone irrespective of gender or size.

It Has A Thick Padding: This product comes with the right balance of compression. The thick padding gives you the support you need to maintain your form and flexibility at the same time.
The DMoose Fitness weight lifting hooks are great for anyone who doesn't like to cover their arms completely and for those who are looking for a way to improve their grip.
This hook glove currently has a 4.6 star from 470 satisfied reviewers and most of these reviewers gave the product a 4.8 star for durability. They gave it a 4.9 star for the ease to use it for good reason.
The Verdict
These are the top 10 best workout gloves for fitness enthusiasts and professional trainers. If you're looking for an affordable product you should go for the Joyoldelf Weight lifting gloves or the Simari workout gloves for men and women. If you don't like to trap your entire palm during a workout, you can go for the DMoose or the Freetoo gloves. On the other hand, if you want to cover your entire palm and get wrist protection, you should go for the Mava, Atercel, ihuan or Thiroom workout gloves. Those who want palm protection but don't want anything on their wrist should go for either the Kansoon, or the Spacepower gloves. It all depends on what meets your needs.