Top 10 Best Vegetable Choppers

We made this list of the top 10 Best vegetable choppers because they are a must have kitchen appliance for every home. It helps you chop, slice, and dice your vegetables into smaller portions quickly and effortlessly. Unfortunately, like with all kitchen appliances, not every vegetable chopper was created the same.
With this list you will be able to find the right vegetable chopper for your kitchen, and get to cooking!
10 Best Vegetable Choppers
$22.99 on Amazon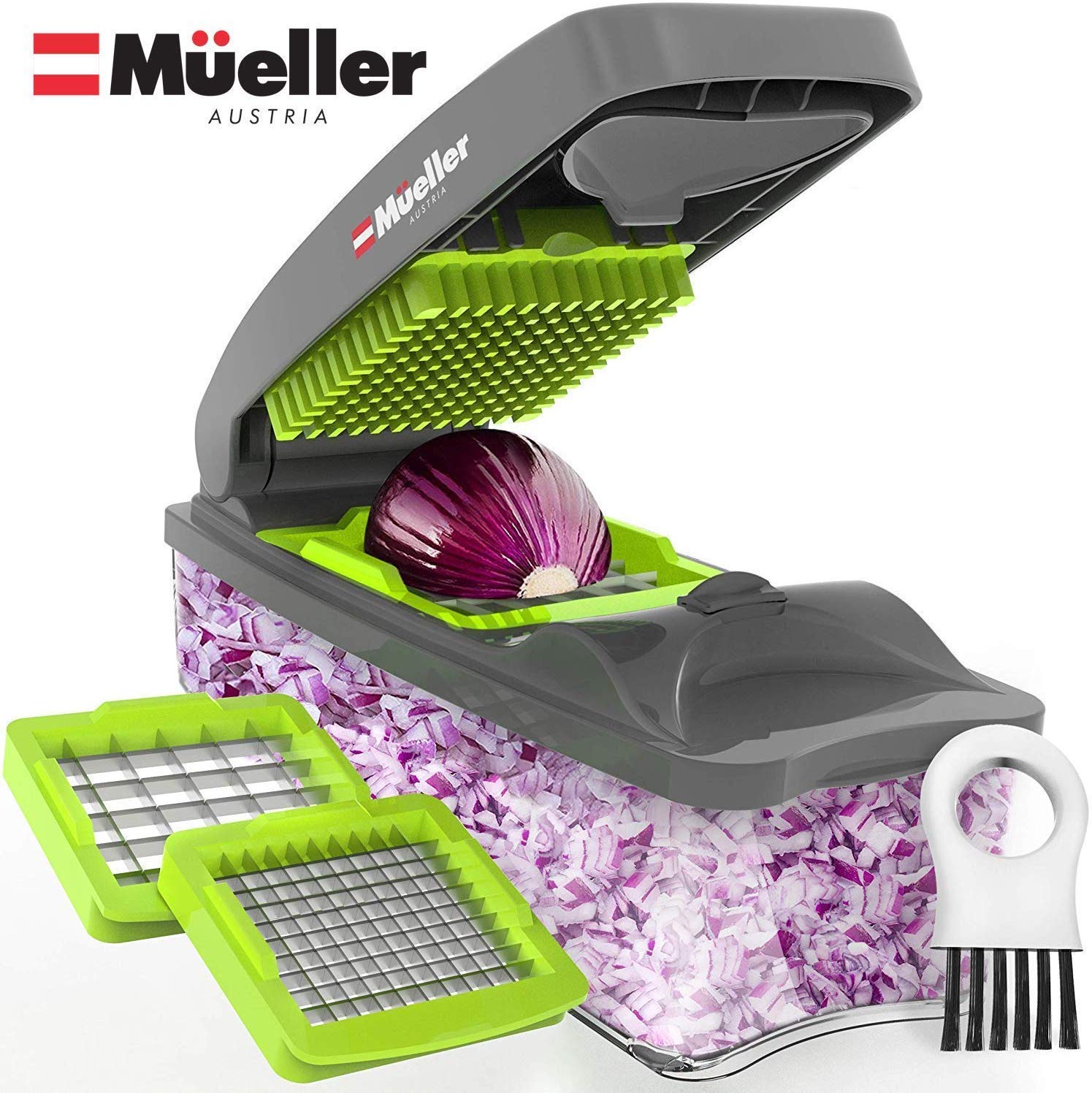 Highlights
Lifetime Warranty: The company behind this product promises its customers a lifetime warranty allowing them to contact customer service or make returns if the product ever becomes defective.

Storage Container: This product helps you avoid tears while chopping onions or any other hot vegetables thanks to its airtight storage container.

Multi-purpose: While it is marketed as an onion chopper, it can be used on a variety of different fruits and vegetables.

Dishwasher Safe: This product is dishwasher friendly and certified by the FDA. If you prefer to do dishes by hand, it also includes its own cleaning brush.
The Muller Onion Chopper Pro is one of the top vegetable choppers on Amazon because it is affordable and functional. The big storage container can hold about 4 cups of vegetables at the same time making it ideal for those who want to save time during bulk cooking. The product is made from the highest grade of BPA-free plastic which makes it safe for food processing.
Each product costs $22.99 on Amazon and it has landed a 4.6 star from over 13,469 reviewers. It weighs 1.6 lbs and has a dimension of 10.5 x 4.6 x 3.2 inches making it on par for a standard vegetable chopper.

$29.99 on Amazon
Highlights
5 Interchangeable Blades: This vegetable slicer comes with 5 different blades that each give a unique shape and chopping style.

Finger Guard: It comes with a finger guard to protect you from cutting yourself with the blades while you're chopping your vegetables.

Full Refund: The company offers clients a 100% refund if the product is defective or doesn't live up to expectations after delivery.

3 in One Adjustable Spiralizer: As a bonus for buying this vegetable chopper, there is an adjustable 3 in 1 spiralizer.
The Fullstar Mandoline Slicer Spiralizer Vegetable Slicer is a great product for people who like to experiment with different shapes while preparing their vegetables. The interchangeable blades allow you to determine the thickness of your vegetables and you can also use it for chopping fruits when you want to make a fruit salad.
Its compatible form makes it easy to place in your kitchen even when you don't have a large space and all you need is $29.99. It weighs about 3.87 lbs and 7.2 x 5.5 x 14.6 inches in size so all parts fit perfectly inside. There are about 617 reviews that make up for the product's 4.6 stars on Amazon.

$18.99 on Amazon
Highlights
Durability: One of the key factors that separate this product from others is its durability. It is created with the best quality of plastic and is meant to last for a long time.

Large Capacity: Most choppers can process 3 to 4 cups of vegetables at a time, but this one can make 6 to 8 cups per use making it an ideal option for large capacity cooking.

Saves Time: One of the best benefits of a vegetable chopper is that it saves time. Some have a lot of parts and instructions, but with this chopper all you need to do is wash your vegetables, put them in, close it and push.
The Brieftons Express Food Chopper is a worthy addition to your kitchen. With a 100% money-back guarantee, there is zero risk to try out this chopper! It may have been designed as a vegetable chopper, but it can also be used to mix flour, eggs, soup, and cream no problem.
This vegetable chopper only requires as much space as a regular kitchen bowl as it is just 1.45 pounds in weight and 8.1 x 8.1 x 4.3 inches in size. On Amazon, the product has a 4.7 star from 399 reviewers and counting. The product offers value for your money when you consider the fact that it costs just $18.99.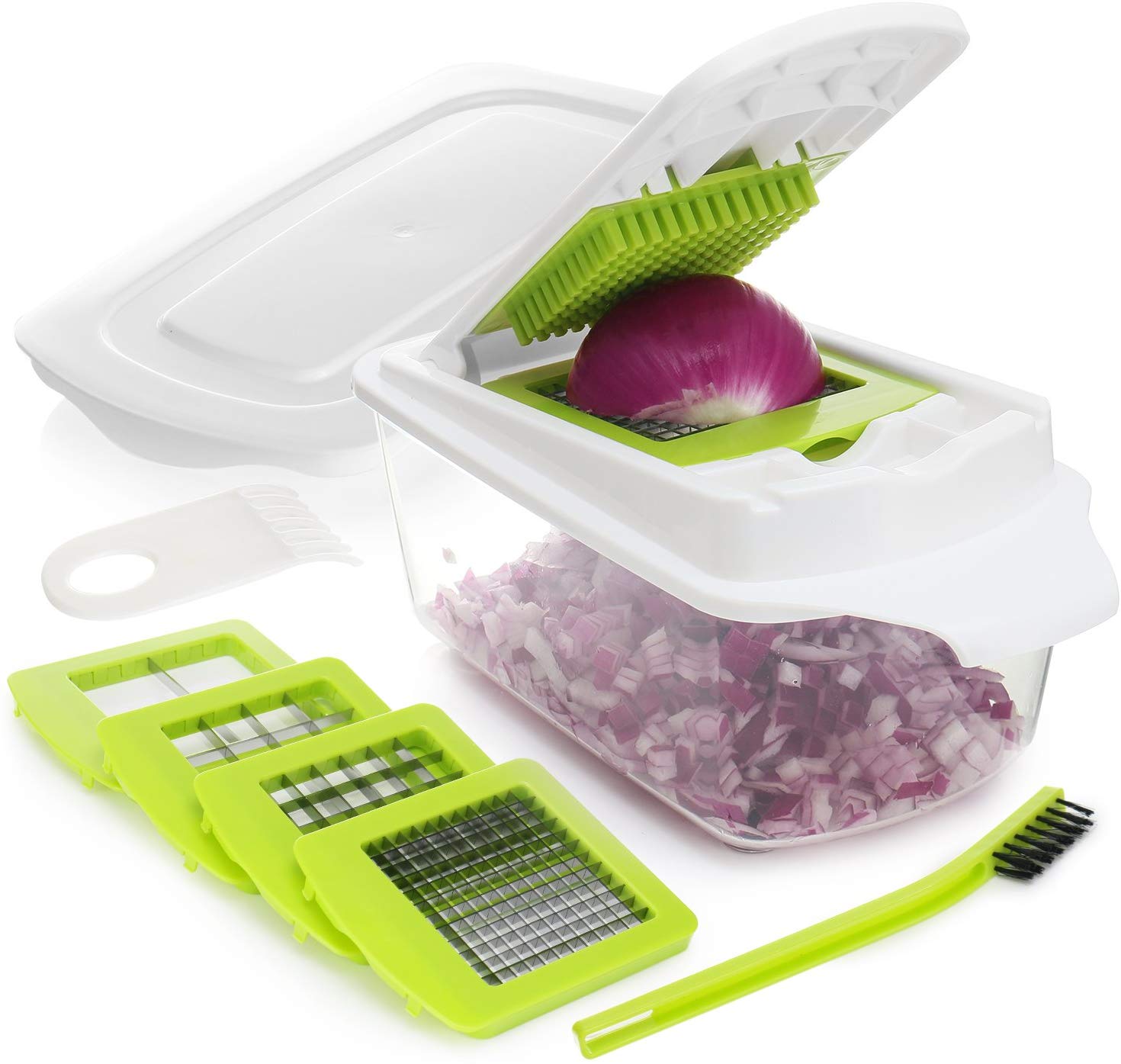 $19.99 on Amazon
Highlights
Lifetime Replacement: Zalik offers its customers an option to replace their vegetable chopper for the life span of each product. If the product is defective, it can be replaced. If it's not defective, but you just don't like it, you can still get your money back in full on request.

Sharp Blades: This product comes with the best blades you can find in the industry. You don't need to apply too much pressure when you're trying to chop, the sharp blades make it almost effortless.

4 in 1 Blades: The vegetable chopper is referred to as 4 in 1 because it can be used as a mixer, slicer, and grater as much as it can be used as a chopper.
The Zalik Onion Chopper is a great multi-purpose vegetable processor. This is why it is among the top 10 best vegetable choppers on Amazon. The strong suction cup makes it stable when you're chopping, slicing, grating or mincing.
This product has about 308 reviews from verified buyers on Amazon. About 69% of the reviewers gave the product a 5 star. The size of each product is about
11.4 x 5.6 x 4.9 inches and the weight is 1.9 lbs making it a good deal for the $19.99 price tag.

$20.96 on Amazon
Highlights
Bonus Measuring Cup: With this vegetable chopper, you don't need a measuring cup because the container can serve you perfectly.

Simple Design: This vegetable chopper might not be complex in any way but it is functional. The simple design even makes it more efficient than many others.

Dishwasher-friendly: Not every vegetable chopper is dishwasher-friendly but this one is. You don't need to worry about hurting yourself while trying to get the dirt out of the blades.
The Vidalia Chop Wizard Vegetable Chopper is a great time-saving tool for anyone who cooks regularly and does a lot of slicing or chopping. The blades are made of fine stainless steel and the original product, if you're fortunate to find it, will last for a long time.
Each vegetable chopper comes in an 11.2 x 10.5 x 11.9 package and weighs 1.45 lbs which are the size for a standard small vegetable chopper. The product is currently ranked 4.5 on Amazon from 5362 customers.

$27.99 on Amazon
Highlights
Saves Space: This product comes with a big container that can take up to 6.26 cups of vegetables at a time. All the components can be stored safely in this container to save space.

7 Interchangeable Blades: This vegetable chopper has seven different blades. This is great since similar choppers have about 4 to 5 blades.
Chugod Vegetable Dicer and Chopper cut your food prep time down significantly because it saves you a lot of time and energy in the kitchen. With a single motion, you can get your vegetables diced, chopped, sliced or juiced.
For just $27.99 you can get this vegetable chopper on Amazon and place it in your kitchen for easy, safe and efficient use. The plastic used for these products is BPA-free which is why it isn't a surprise that it has a 4.4 star on Amazon from 345 reviewers. Each one is 11.2 x 10.5 x 11.9 wide and 1.45 lbs heavy.

$20.96 on Amazon
Highlights
12 Interchangeable Blades: If you thought the 7 interchangeable blades were amazing, you'd be blown away by this product with 12 blades. You can use it for any product you want to achieve and in any shape.

Non-slip Bottom: For safety reasons, the bottom of this product has a non-slip suction cup under it. This allows it to stick firmly on the surface.

Free Gloves: You get a free pair of finger guard gloves to protect yourself from injury while you're using this product. This is especially important considering the super-sharp blades.
The Sedhoom vegetable chopper is one of the most multifunctional products in the kitchen appliance space. Whether you want your vegetables thick, shredded, thin, or diced, this vegetable chopper is meant for you. It is made of food-grade ABS and can also be used to slice above-ground vegetables like potatoes.
On Amazon, this product costs $20.96 and it has been purchased by 810 people who gave it a 4.4 star. It is 11.3 x 6.8 x 5.8 in size and 2.85 lbs in weight. This isn't a surprise considering all the items inside.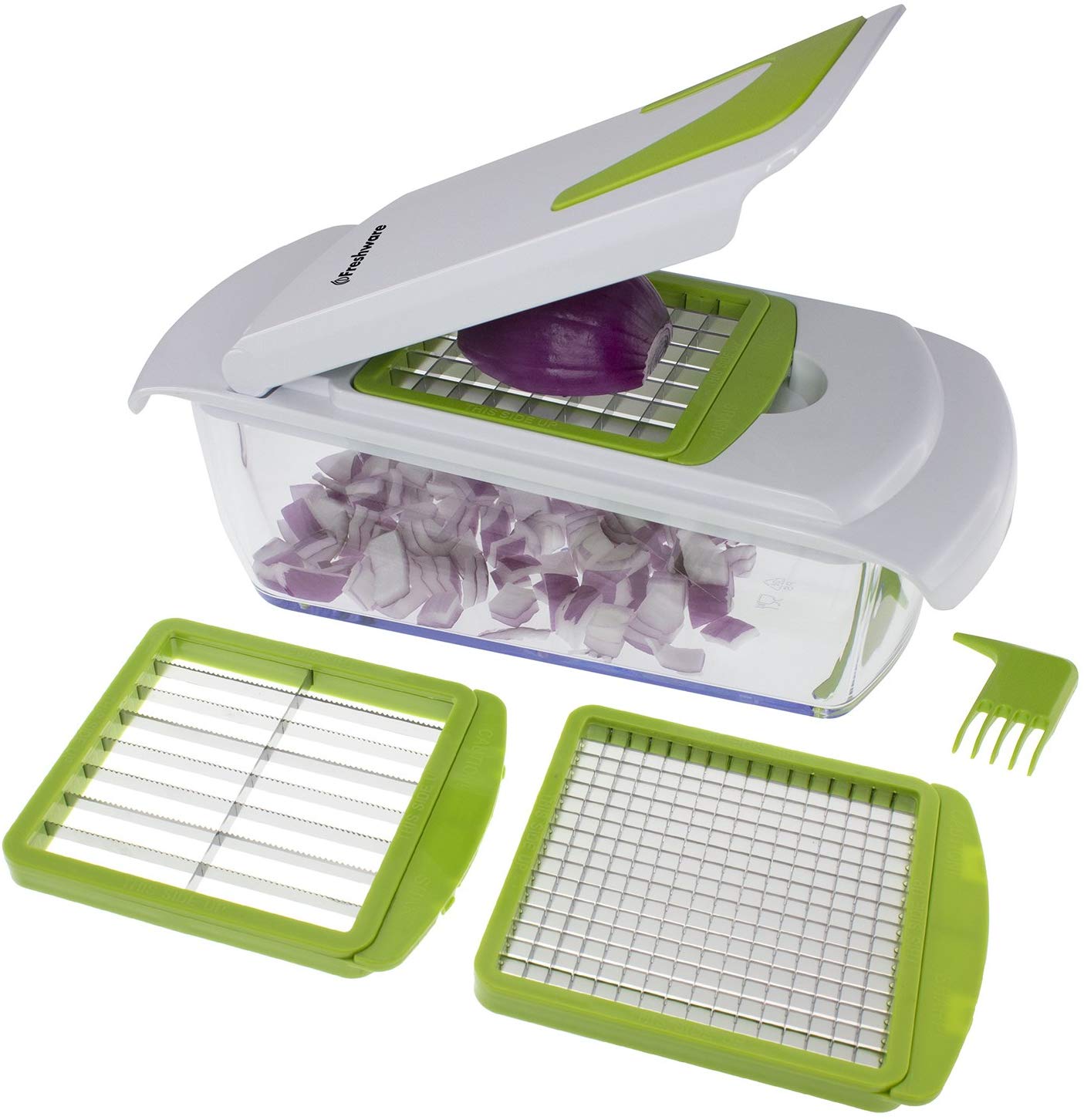 $24.99 on Amazon
Highlights
8 Interchangeable Blades: This chopper comes with 8 different blades which are 4 Blades more than the conventional vegetable chopper.

Bonus Lemon Juicer: The product comes with a free juicier that can be used for lemons, oranges, or any other fruit in that family.

24 Months Money Back Guarantee: You can return this item within the first 2 years of purchase if it gets damaged or you don't want to use it anymore and you'll get your money back in full.
The Moico Vegetable Chopper is number 9 on the list of the top 10 best vegetable choppers on Amazon. It comes with 304-grade stainless steel which is easy to clean after disassembling. It also has a big collecting container that can hold up to 3.8 liters of content.
This product is currently available on Amazon for about $24.99 per piece. It has been purchased by 216 people and 67% of them gave or a 5 star. It weighs about 2.25 lbs and has a diameter of 4.7 x 4.5 x 11 inches.

$24.99 on Amazon
Highlights
Multi-functional: This is more than a vegetable chopper. It has various uses that make it offer you more value for your money. It comes with a whipping blade, mandoline inserts, egg whip, eggwhite separator, storage lid and it even comes with a recipe.

More Value For Your Money: For a product with all these functions, $24.99 offers you more value for your money. It serves as a perfect substitute for many other kitchen appliances.
The Ultra Chef Express Food Chopper is an amazing product for anyone who wants to save space in the kitchen because you'll be alternating many other products for it. It comes with a 100% money-back guarantee in case you're not satisfied with the products you receive.
Weighing 1 lb with a 10.7 x 9.2 x 7 diameter, this product has a 4.5 star on Amazon from 698 buyers. It offers good value for your money.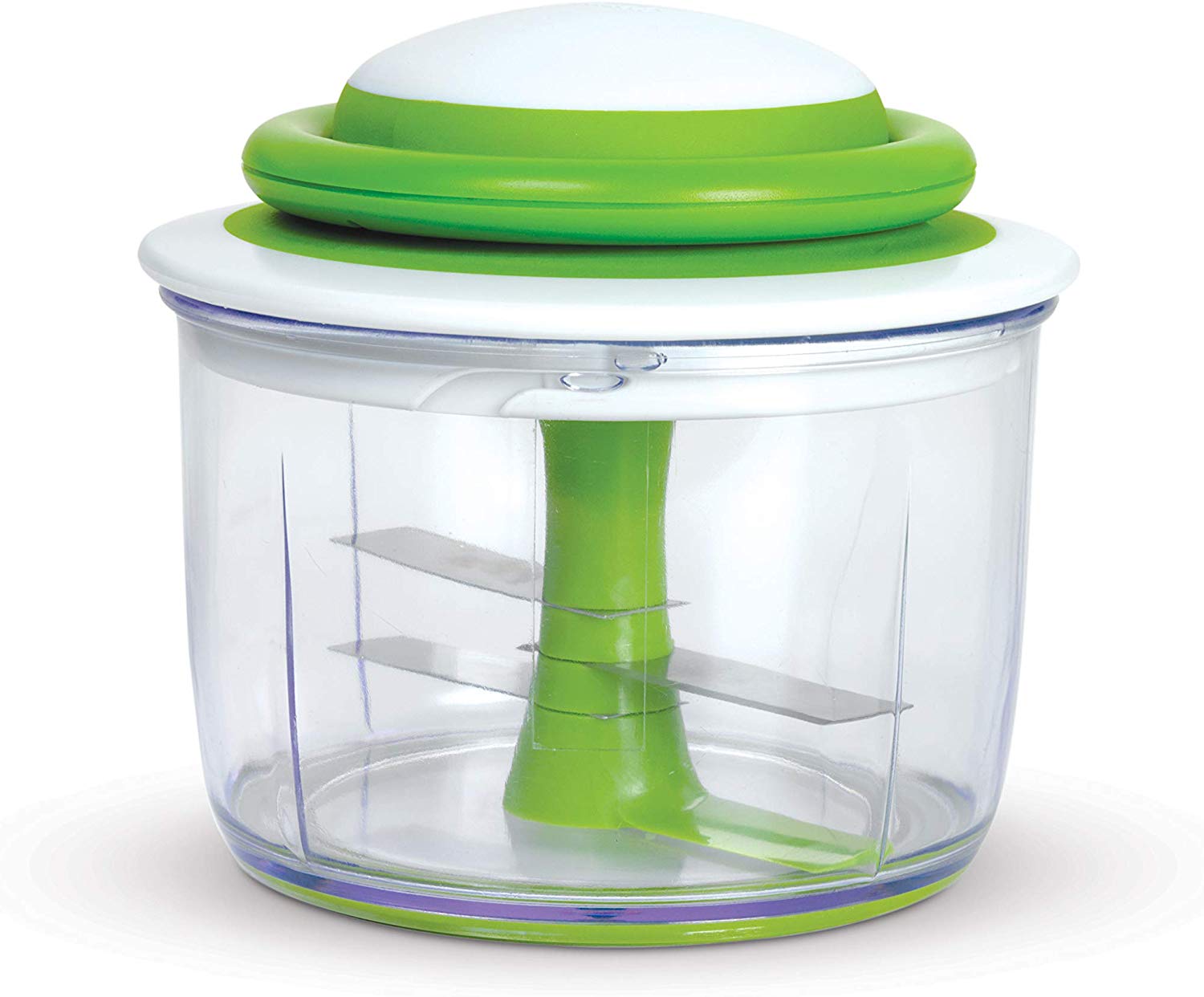 $17
Highlights
No Need For Electricity: Since it is a hand-powered vegetable chopper, you don't need electricity to get your food processing done. This also means you don't need to worry about noise.

Portable Enough For Camping: If you want to take vegies when you go camping, this product will be perfect for a quick fruit or vegetable salad. It can fit into your camping bag perfectly.

Affordable: With just $17 you can buy one for yourself. For one of the 10 best vegetable choppers available, this is a good price.
The Chef'n VeggiChop Hand-Powered Food Choppers is an excellent choice for anyone who is looking for a budget-friendly vegetable chopper. It can be used to chop nuts, veggies, fruits, and even mice boneless meat.
For a 5.5 x 5.5 x 5.2 inch product that weighs 1.76 lbs, this item will be a good addition to your kitchen for just $17. It has 3175 reviews from buyers and 76% of these buyers gave it a 5 star.
The Verdict
Anyone of the top 10 best vegetable choppers on Amazon can be added to your home depending on what you want. If you want a multifunctional product and you have enough space in your kitchen, you should buy the Sedhoom Vegetable Chopper which costs $29.77. If you're interested in a more budget-friendly product you should go for the Chef'n VeggiChop Hand-Powered Food Chopper for just $17. If you're interested in the product with the highest rating on Amazon you should go for the Brieftons Express Food Chopper or the Fullstar Mandoline Slicer Spiralizer Vegetable Slicer. We advise our readers to go for products that give them the highest value for their money.