Staples
Staples Complaints Continued... (Page 2)
102+ reviews added so far. Upset? Call Staples corporate: 508-253-5000

I purchased a HP 4500 Printer, copier, fax machine in mid Dec. It jams constantly and doesn't perform. Took it back to the Staples Store in Spokane and they told me I missed the 2 week return procedure by a week. Now I have to send it back to your Corp office. But they wouldn't supply an address for shipping to this office – only an 800 # to call. I called twice last week and after 20 minutes I got caught in the phone tree maze. Finally made contact the next Tuesday and was told I'd receive an e-mail message immediately which would include this super secret address.
It hasn't arrived all day. I'll never go there again, there's an Office Depot up the street and I'll get my paper and office products from them. As far as office equipment, I should have bought this machine at Costco, no hassle, good service, and no phony Corporate runaround.

The Flatbush staples store in Brooklyn, incompetence in both customer service and product knowledge was excruciating to bear. What took 45 minutes here took 10 minutes in another Staples branch. In trying to boot a computer I was recycling, the guy didn't even know what a dual boot was. I needed to bring a power cord to redeem computer (I didn't have to at the other branch and had to waste money to buy one), they emphatically said it cost $100 multiple times when it's only $13.
Staples made several calls to check whether my coupons work as if she didn't want me to save money even though I told her I had already asked Staples customer service. After almost an hour, I finally got the laptop for a reduced price. But the customer service was shockingly horrible!

Mark
from Port Jefferson Station, NY
Went to Medford staples to ship item between 7:00 - 7:30 handed the gentleman a package he quote me a price of $12 for UPS, he told me USPS would not ship my item and didn't know why. I left this store and went to Patchogue Staples to ship same product. Item shipped USPS. Medford employee should be retrained to service USPS Products and treat customers better. Will never go their again, Kudos to Patchogue Staples.

michael januszka
from Liverpool, NY
I had trouble with my Staples rebate card. I went to a store to use it and it would not allow me. It said signature was not valid. The line behind me at the store grew to about 5 people who were getting mad and being rude because i was holding the line up because the rebate card did not work. I was embarrassed and got out of line. I called the rebate # on the card and was treated like an idiot. I got hung up on. I went home and called 2 more times again I was treated rudely and the gentleman told me to call back in 3 hrs. Then I called again and once again another rep. who was rude and i asked to speak to a manager.
The manager seemed nice but just gave me lip service and said he would call me back in a couple of hours. Well hours went by now were on days. No call. I would never buy from staples again. I have 7 schools in my district who we do all the purchasing through staples. I am disappointed and am going to make a strong case to the board to go to another office supply store.

Adrian
from Washington, DC
On 4/20/2015 at Staples Sore located at Georgia Ave in Silver Spring, MD 20910, TEL 301-588-3977, I purchased an Office Home program good for 5 devices. The software was installed by an employee who opened an account. I went back to the store on December 26, 2015, to have the program installed on my laptop. It was discovered that the Outlook had shut down site for abuse. I had never used the email account. I tried to change the password but Outlook told me that the account was not established under my identity and my identifying information. So they opened this account, which I cannot access and to which I not know the password, so that my Office 365 is useless, and an account bearing my name was abused. I need to be compensated. My identity was forged. My software is useless.

I bought Office 365 Home, Kaspersky Internet Security, and paid for installation on 04/20/15 order no. 2113601541 at Silver Spring, MD store 301-588-3977. The associate who did the installation on one computer was Emmias, B. In order to install the Office 365 Home. I bought another computer from Staples, a laptop, and went on Saturday December 26 to have the Office installed on the laptop. It turned out that the account which was created on 04/20/15 with password Microsoft was blocked by Outlook because it was created using another person's identity and was used for illegal purposes. So I could not get my Office 365 installed on my laptop. I could not get the account changed because the identity was not my identity.
So here it is a staples employee used my user name to create an account with his identity and misused the account so that it was shut down by Outlook. The Office key Code is attached to the blocked account. So it cannot be installed on my laptop. It turned out that the Kaspersky was not installed and was only installed on Saturday by the good technician. I have lost a whole 6 months of protection which I thought I had. Over the past year I have bought 3 computers and countless supplies from Staples.

yolanda schirer
from Whittier, CA
I had requested Christmas Calendar to be printed as promoted for $9.99. The tech was insistent that she had to charge me $15.99 cuz no promo for my camera disc. We discussed this issue for about 45min. while she was pulling customers to assist them she had a very poor attitude then I found it was her last day working at Staples. I asked to speak to the supervisor then she told me that their new program will not process the photos from my camera disc/cartridges and will try the old program.. I told her I had spoken to a photo tech 2days ago and they told me I could make my calendar for 9.99 & again I asked to speak to Mgr. I had to go back to Staple to correct what this tech did about 4 times.
She 1st typed my entire name wrong so they couldn't find my order, then she typed my t/p # wrong so couldn't find my order under phone. She made ONE Calendar copy instead of SIX, she also printed my photos like a 5X6 and not like a 8X10 on the calendar. Mgr. Maricela said they will correct. I returned and the pix were so enlarged that the head's of people were cut off the pix's, or only half of the people were shown etc. Each time I spent 2hrs waiting cuz people in line were being taken to be assisted and I had to wait.
Now I found each of my 4 camera cartridges that I left at Staples to retrieve my requested photos do not display any images to my computer. Yet the other camera disc/cartridges NOT LEFT at staple are successful displayed when I insert them into my computer. I showed Maricella my PAST YEAR CALENDARS that I have made at Staples without any problem. I was so upset and frustrated that I cried at the photo dept. My stomach was in knots wondering if I would have my calendar ready for Xmas. Now I'm NOT ABLE TO RETRIEVE ANY OF MY PHOTOS from just the 4 CARTRIDGES THAT WERE left at your facility All my other cartridges not left there I'm able to retrieve my photos.
It's apparent to me that she was getting back at me because she was displeased that I talked to the store Mgr. and that Mgr.. requested her to provide me with my 6 calendars at the $9.99 cost. This was a hateful thing to do to a loyal customer. My photos are very precious to me and it's upsetting that now I must find out a solution to undo her vindictiveness. I called Maricella today and she said the Computer Specialist will be working Monday to bring in the cartridges and will see what can be done. That will make another trip, frustration, and time taken from my care giving duties for my disable husband. Believe me I'll think twice before I go back to your store and trust your employees with my photo cartridges or to make my Christmas Calendars next yea.

Wayne Arsenault
from Ballston Spa, NY
I visited the Staples store located at : Queensbury Plaza 752 Upper Glen St Queensbury, NY 12804 P. 518.792.6900 F. 518.792.7497 Store #0254 about 3 weeks ago and asked a store manager for some help only to be told to look for it in the Kiosk myself. The man was Rude and could not be bothered to help me in the least. I have never been spoken to like this in my life. There was a new employee working there that saw what happened and so came over to me to help . I forget the mans name now as its been so long but it is in the initial report phone call if they even bothered to write anything down.
I do know the employee said that it was his 2nd or 3rd day on the job. He also commented that the store manager was in a really bad mood and he was avoiding him. There happened to be another manager in the store that day as well and I went straight over to speak with HER to let her know what just happened. She was very apologetic but I was so shuck up , I just left the store without ever buying a laptop . I settled for a computer chair and cashed out . I can understand anyone having a bad day but you just don't speak to other people in such condescension
I called staples headquarters to complain and was told that someone would get on this issue ASAP and that I would be hearing back from someone soon as to the results. I have heard NOTHING which makes me believe you condone this sort of thing. I have been a loyal customer of Staples for most my life and I am 62 years old. But I have to seriously consider ever visiting any of your stores ever again being you treat your customers in this fashion. Not only did you loose a Sale that day but quite possibly a good customer and some Unwanted publicity ! I don't know how you train your managers , but you had better try a different strategy. I am telling everyone I see and on Social networks just how you treat your customers.

saul mendelson
from Newton Center, MA
Bought Toshiba Laptop Tech indicated all info from old computer could be transferred and Norton 360 was free for one year. Picked up computer tech indicted this computer would not accept Norton 360 Cost me $100 for security. Next issue transfer of documents. Could not transfer e-mails. They were in outlook. Cost for outlook package $232 Transferred e-mails in old computer but could not send new e-mails. Did receive new e-mails in Microsoft mail but could not send.. Spoke to RCN my service provider. They sent me directly to webmail on the rcn server for incoming and outgoing e-mails. Bottom line is the Staples tech people either took advantage of my computer iliteracy or are just not competent. I went to Staples because of tech support and it cost me an additional $332 for nothing. I did not need outlook or excel or whatever was in the software package. This is the second and last computer I purchase at staples. 4 visits to Staples and they could not handle my problem.

Jon davies
from Slough, ENG
I have just had a very unpleasant experience purchasing goods at Staples in Finnieston, Glasgow. Loud pop music is bad enough and I usually get in and out as quickly as possible but today was more torturous than usual. It may have been the Christmas songs, it may have been the fact that I have a lot to think about and trying to figure out what supplies I need is not helped by the loud music. Why can we not have a serene shopping experience with time to browse etc? Why does the Staples corporate office think music is an essential part of my shopping experience?

rita pirkey
from Youngstown, OH
On Nov 6, 2015 I brought my computer in to Staples store #693, New Castle, Pa. to have my computer updated to windows 10. Brought it home the next day and didn't like it. Took my computer back on Nov 8, 2015 to have my computer put back to my original windows 7. Even brought my boot disc don't know if they used it. Picked it up the next day and tried to get into my internet explorer. Couldn't get in. Called Michelle at the New Castle, Pa store. She said to bring it back to Staples service department and they would see what they could do. Michelle called and said there was virus on one of the drives. Brought my computer home the next day. Has AT&T come out on the 9th and they couldn't get my computer to work. Called a man that works on computers. He said, when they went to bring my windows back, they didn't set up all the drives correctly. He said there's windows 7, 8, 10 on my computer and that's why I can't get into the internet. I had to purchase a new computer, because your employees messed my computer up so bad, I purchased a new one for $499.00.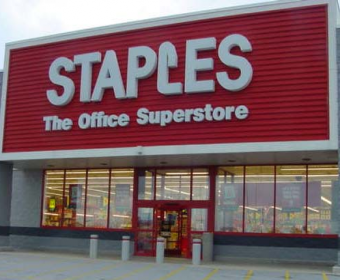 Jane Troyer
from Plant City, FL
I made a calendar and took it in to be bound with a spiral binder. They put the one binder in wrong and when they took it out they tore my calendar and had to re-copy it, their copy was not near as nice as mine. it took the girl an hour to make the copies, she kept putting them in the copier wrong. The other calendar they got bound but the holes punched were off center, I did not make them redo it because I had already been there for an hour. It was bad, she then threw away one of my original calendar pages so am missing that. I was not happy and was still charged for the service.

Daniel Dupree
from The Bronx, NY
On Sept 29, I brought my laptop into the Jersey City store on Rt 440 to the tech assoc. Khalil J. The problem was the computer was shutting off unexpectedly. He looked at it and immediately concluded that I had viruses. So he pulls out a card that broke down the cost for the service plan. I realize now that it was not the official brochure for the service program. He explained the service and quoted a price in the $150's for one year coverage, then he said a two year plan would cost $300 something. But note, that he never showed me the official brochure. He assured me that I would be covered for 2 years for anything that would happened to the computer. So I purchased the two year plan.
I picked up the computer a few days later and discovered that the problem had not been solved, in fact now I had a new problem. An error message at start up: "The system has detected that a cooling fan is not operating correctly". I brought it back to Mr Khalil who said they would call me when they corrected the problem. They emailed me and said it was ready, but it was not. So I brought it back again. This time I didn't bring my paper work so he told me to call the number on the contract brochure. But when I got home I discovered I didn't have the brochure because he never gave it to me. So I had to go to the store again and it was then that I discovered that the two year plan was $149 not 300 something and that is when I got the brochure, which was not attached to my paperwork, to make the call. I am waiting now for the box to ship my computer for service. But I don't believe this service man gave me the proper facts.

Sandi
from Quakertown, PA
Have a broken tablet and wanted repairs ASAP! Staples was the first name to pop up when doing a search. GREAT! They're not far and I can get it done today! They guy who finally answers the phone is talking so fast I can't even understand what he's saying! If I hadn't known who I called I would have hung up! I explain, "I understand you repair tablets" he's all flustered and transfers me to another guy. This guy is just as bad, what are they all on speed or something for God's sake! Take a breath! He tells me that in FACT they do not repair tablets! What is this world coming to! In the first place it should NOT be listed on the web. Not after ONE class. What a bunch of BS. This is why business's go under. Word of mouth is a very powerful thing STAPLES.

Mel Wasserman
from Toronto, ON
I ordered a refurbished laptop computer online (order # 5409534535). It was delivered October 8, 2015. I proceeded to set it up and then plugged it in to charge overnight. When I booted it up the next day I got the following error message "The system has found the storage capacity of the battery to be less than optimum. The battery may have to be replaced". Surely one of the first things to be evaluated by the refurbisher is the state of the battery. This did not appear to be done in this instance and that is unacceptable. As Staples is the seller of this product it is your responsibility. I am returning the computer to the store at the first opportunity. I have ordered another computer and hope I have no problems but I should not have been inconvenienced in this way.

Alfred Jeter
from Apex, NC
On 9/15/2015 I received a Staples advertisement and on the bottom half of the paper it stated Get a $15.00 iTunes Gift Card with your purchase of $75.00 or more HP ink. Shop Now, Available online and in store!. Those are the exact words on the left side of the page in this green block. In that same green block on the right side it said ink & toner deals. All ink & toner ships free. Deals just for you. Nothing else is on the bottom of this page. I go to the Staples store in Chapel Hill on Franklin Street to purchase 4 HP Toners.
I was going to make 4 separate purchases to get 4 $15.00 iTunes Gift Cards. I talked to the Staples clerk and she agreed, I could make the purchase and get the iTunes Gift Cards. However she was having a problem putting them in the system. The manager came over and after a few minutes said the cards only applied to HP ink and not toners, My reply was that's not what the advertisement says. It says ink and toner. We argued about it for a few minutes and I left. I showed the advertisement to four people and they all agreed the sale was for ink and toner. Had I thought it only applied to Ink I would not have made the trip to the store.

Sally Nalley
from Fairfield, CA
We were in the Vacaville, Ca store on Sunday morning, July 12, 2015. The store was filthy!!!! The floors were sticky, the door had hand prints all over them, the counters are taped together, the restroom we unusable, the employee were talking about needing breaks and not paying attention to the customers (one lady had waited over three minutes to be acknowledged with a question. I could continue, but think this should be enough that the manager should be notified of the poor upkeep. You can tell this is not an overnight problem, but one that is on going. The dirty has been accumulating. We usually go to the Fairfield, Ca store, it is clean and the employees are attentive. I hope you can visit this location and see through our eye the lack of care the manager and his/her staff give to you Vacaville location.

Donald Himelstein
from Staten Island, NY
Since my wife is a teacher, we purchase a great many supplies at Staples. I'm asking that the rebate system should allow the rebates to be given at the time of the store purchase instead of asking the customers to submit the rebates via an email to Staples which may or may not be working since the easy rebate system does not always work properly. It would be better for both the store and the customer, and I believe would allow for more store turnover and would certainly add to the value of Staples sales volume.

Donald Himelstein
from Staten Island, NY
My wife is a teacher and we buy quite a lot of products at staples often using the rebate as an incentive or additional sales for school and home. The rebate is helpful but wouldn't it be easier and better for the company and the customers if the rebates were issued directly at the time of purchase in the store. It could be dated for four weeks later, and would certainly make more friends for staples which could mean additional sales for each store. The easy rebates as they are called are not always so easy to use, computers don't always world and the company system might be out. At any rate I like stapes and enjoy shopping at your stores, but the rebate issue is sometimes a problem where many people don't even bother to use it, and that should be addressed.

4-30-15, Heather very RUDE as I explained how I needed programs for my husbands funeral. Told me I was being difficult and that it would take her hrs to edit, my fault for putting info on a Word Doc. Eager to give our money back. Took jump drive to friend who edited and Staples was gracious enough to print. Very unprofessional, will not ever use Staples for ANYTHING.

Judy V Howard
from Harpers Ferry, WV
Went first time out of 4 on Tuesday April 15th, 2015 every day last visit on Saturday April 18th at around 2:00 PM each day. The very worst customer service of any Staples and any where. First visit asked to copy 40 and 50 items with Dan he finally took my order and came back next day and wanted to purchase box tape pens to mail a box home. looked for items and asked help with boxes and just pointed to where they were which I knew. Got items needed and no help in how to cut my copies after asking many in store almost was in tears then ready was ready to mail UPS to send packages had to ask many many times finally Teri was suppose to check me out put tape pens and had a hard time for Dan to give me my order from previous day.
Told terri she needed to put pens tape and order so I could purchase it. So after 20 minutes or so of looking for it I went back and brought her what she needed to charge me and said did not care anymore if I had them with me. When I looked at the receipt that night she had already charged me for the pens twice. Also she said I would need to check out in front so brought 1/2 of my purchases toward front and then Dan said no I could check out in the copying center. So confusing. Called next day and finally got someone to refund the pens. Still do not know what happen to the tape or pens that I did not get?? Came back 17th to mail a box got tape and pens and box.
Still had no help and on the 18th Saturday mailed a another box same thing could not get help in mailing and when the manager after asking him for help helped me for awhile and handed me to another person who did not know what he was doing did not ask if I needed extra insurance and not his fault but could not find tape measure which the box had the measurements on it. I have never seen such bad service for all. Noticed Saturday Dan in coping center was training someone. When I came in Saturday 3 or 4 staples people where discussing something for a very long time finally I broke in after one was walking around the store on the phone. Asked who I can make a complaint and need to send packages they said the manager Angelo starts with an A anyway he did attempt to help but did not follow thru.

ann brammer
from Maysville, KY
yesterday 4/20/15 went to your Staples store in Cold Spring Ky to purchase a mini ipad 3. Your company had issued a coupon for $100.00 off a air ipad or mini 3. It took me at least 20 mintues to get waited on! Then told them I wanted to purchase 2 ipad minit 3 and that had coupon! He looked on his computer and stated they had none in their store!. He checked the surrounding stores and they didnt either. The closes store to have only one was mile and miles away! This coupon was for in store use only! Now how can you put out a coupon like that when no stores even have them!! Secondly this is truly false advertising if you don't carry them in stores. Then the salesperson agreed to order them online and to issue my coupon and would be sent to me. First this was for a childs birthday present, secondly I guess that would work.
He typed my information in the computer and when went to view my order it erased all the information and took him back to the stores sign in page. WE DID THIS AT LEAST 10 TIMES!. None of their computers would take my information! Needles to say this looks bad on Staples! I will probably never go back to this store!. I was in this store for over 1 1/2 hours just to make a simple purchase. And probably more importantly no one will ever read this complaint and nothing will never be done! I feel like calling the local news station to have them do a report on our store!. They have a news section on their nightly news that checks out people complaints regarding store issues and customer satisfaction!

Maria Coffey
from New York, NY
I am a 71 year old grandmother with problematic hips. So, I carefully plan any walking trips. In this case, I called the Staples at 6th Avenue and 20th Street and asked if the shredder was available for me to have papers shredded. I was assured it was. I arrived with my bag of confidential papers to be shredded and was told to leave it with the store. I explained that I wanted to watch it shredded. After all, if it wasn't confidential material, I could have thrown it in the garbage! I explained this and was told something about "an outside company" that did the shredding.
So, even if I knew and trusted the Staples staff, there was a third party involved! By now, I was very frustrated and, in all honesty, astonished at the stupidity of having a shredding service, but no process for the customer to watch their confidential papers shredded. The clerk gave me a very gratuitous "Have a nice day!" as I left, although it was obvious that in no way I was having a nice day.
Doesn't it seem reasonable that if the shredding process can be observed only at specific times (or maybe never observed??), this should be mentioned in all related information? I guarantee there is not one person who chooses to access a shredding service who is willing to just leave their confidential papers. Perhaps an immediate change in the shredding protocol is warranted.

Denise
from Philadelphia, PA
I am writing to tell you about Store #0314 located at 9906 E. Roosevelt Blvd. They have an extra long dumpster outside of the store in the back by the loading dock for the past week. The past few days I have noticed that the employees/workers are not putting the trash in the dumpster. The bags are landing outside and it is an eye sore to have to look out my window and see this. Also, this will only attract rodents. I would appreciate it if someone could look into this and correct the situation. If improvements are not made, I will be contacting city officials to look into it.

I have been going to your Huntersville NC store since it opened. Ever since the previous manager transferred to your Mooresville NC store the service has continued to decline. You can be looking for a product and the staff will just pass by and not offer you any help. On March 15, I was looking for styluses for my Android. For the first time in a long while a black young guy offered to help me look for it. He was new and had to ask a bearded guy how to do it. The guy seemed too busy to help him. He finally found the ones I wanted were not in stock. He helped me order it almost asking the bearded guy a question every other step of the way. I asked for it to be delivered to the store. We received a call on March 18 that one order was deliver so we picked it up. On March 21 we passed by to check on the other styluses and they said they haven't received it yet. Because the store is so close to the establishments we frequently we passed by again on March 23 and they claimed that it was not in yet.
On March 25, we did the same and I asked why it is taking so long. The lady told me to call your 800 number. I called and was told that their records show the package was received by the store on March 20 and she gave me the tracking number to verify. When I called the store the following day and told them what I found they searched for it but could not get the mailbox open. They called back later to tell me that they did in fact received it on March 20 and did not even bother to apologize for the delay. My wife went to pick it up the following day but they said they have not received it. That is when my wife told them about the calls. Again they have to look for it. I don't understand why this particular store is not focusing on customer service when an Office Depot is less than a mile away. Also, a long time customer I am really disappointed with how the service has grown this bad.

Arnold Feinberg
from West Bridgewater, MA
I brought my computer in to be repaired due to a crash. Jay in the tech department did a restore and couldn't save any of my files or software and I can understand why. When I got it back this Friday it was filled with malware, pop ups, and garbage and it took me 4 hours to get it under control. Bogus software was installed and the computer was slow as molasses going up hill on a winter day. The only bright side was Matt. He took the time on Sat morning to walk me through the fix and I spent the next 3 hours getting my computer fixed. I spent $129.99 and all I got was garbage back. This should never happen. Unless Matt is there and doing any of the repairs I will not bring my computer in to Staples again.

Ordered a refurbished computer from Staples online. It was to be delivered in 10 working days. I checked my order on their website and it said it would be shipped in 10 working days, so I contacted customer support. It seems the ability to understand English is not a requirement for employment. I asked about it being shipped and told them I would be away two days after the listed shipping date and did that mean it would arrive on that date or be shipped that date. I never did find out, so I phoned and cancelled the order (this was on the second day after the order). The order did not show as cancelled on their website, so I contacted service again by email, they assured me it was cancelled. So, I purchased a replacement elsewhere. Then 12 days after I had ordered the computer was dropped off by UPS. I will NEVER DEAL WITH STAPLES again. Of course I was billed for the computer that had been cancelled.

L Smiley
from Inglewood, CA
One star rating because it is required, otherwise there would be no stars. Does staples now employ just anyone in a managerial position? Mr. Riley let me know that I was a "neighborhood" customer. I guess that is why he thought that "neighborhood" language and treatment would be tolerated by me...NOT. The worst example of a manager I have ever encountered. I will not give him or that store a penny of my money and will discourage anyone who asks from doing business with Mr. RIley and his store. THE ABSOLUTE WORST EVER!!!!!

Rev Keith Wright
from Easley, SC
On Feb 03, 2015 I took my Toshiba laptop to the Staples store on 6101 Calhoun Mem Hwy in Easley, SC. Their techical department had the laptop for three days over the weekend. I was called on Monday Feb 2nd and told it was fixed and ready for pickup. I paid $149.99. When I got home Windows 7 would not boot up. After much effort I was able to get it up. Prior to bringing the laptop to Staples I was running MS Security Essentials which failed miserably. I downloaded ZoneAlarm anti-virus and their firewall. (rated #1 by pc magazine) After a full scan the software found a Trojan and several virus's and got rid of them. I then downloaded Malwarebytes and ran it. It found 317 malware objects and took care of them.
It said my Windows boot program was corrupted and numerous MS and Windows files were turned off and many corrupted. I was told by the folks at Malwarebytes that if these problems were not addressed the system would crash and it would be non recoverable. There solution was too expensive so I contacted Reimage Repair recommended by Firefox. They are a MS certified partner. So for $34.95 one time fee they cleaned the faulty files, installed fresh healthy files from their parts repository, repaired the damage and ran a stability check making sure the apps were stable and the issues resolved. I dropped off a letter directed to the manager at the Staples store requesting he do the right thing and reimburse the $149.99. They have not responded. Staples computer repair service was terrible, they did not fix my computer.

Clinton Bankert
from Olyphant, PA
On January 29,2015 I purchased a Wireless Computer Mouse that was on sale for $9.99... along with another Item for just a few dollars more. When I got home I looked over the sales slip and noticed that I was charged $12,99 for the mouse.... I called the store and mentioned this and was told that I should come back to the store within the next day or so and they would refund the #3.00 to me.... Well it's like this.... round-trip back to the store is 11 miles, and time invested to make this trip = about one hour.... I'd spend over half of my refund to pay for gas alone, not to speak of the embarrassment of crying for my three dollars... So if they can't wait for me to complain when I am again in the area, I guess I get it stuck to me one more time.....
Wouldn't it just be nice if they would get their sale items to ring up the right prices when you buy.... Or they might set up a price check area where people could check their items for the proper pricing before the cash register.... This is not the first time this happened, but the last time (about a month ago) I told the guy at the register that my charge can't be right,,, when he rechecked I was right, and he corrected it immediately. I don't know how other people feel, but I hate to get ripped off anywhere these days, especially a Tech. Store where you'd think they got their act together.....

Dear Staples, I sent a UPS package from your store and also got insurance for peace of mind. When going through the process at the Uniontown, Pa. Staples store I received the very best of customer service and rate that experience A+. The package was sent and in a few days a received notice that the package when received was damaged. Ups states that the box that it was shipped in was not up to UPS standards and will not honor the insurance that was purchased for that item. I then called the CEO of the manufacturer of the item, he stated and that the box that the item was initially shipped in and was designed for that item. The Manufacturer stated that they had no problems or issues with that shipping box.
However that is the same box with a Styrofoam mold to hold the item in place while shipping it to the receiver and UPS stated that it was not up to their standards will not honor the insurance that was purchased for that item at the Staples Store in Uniontown, PA. I am calling the president of Staples this morning and I feel most certain that he will look into this matter and resolve it very quickly due to this has been going on for 60 days after I have sent this item and purchased insurance on this item. Staples in Uniontown Pennsylvania have always given my Company excellent customer service for the past 21 year. And I feel confident that I will be writing about my great customer service experience later today.
On 1/20/2015 at 9:05 am till 9:52 am I spoke with Staples Employee Lueas Brown the Exsecutive Customer Service Assistant to the President of Staples. Mr. Brown was very kind and listened to my issue. He then said that he was not able to contact UPS however he would reach out to the staples UPS team of specialists and said that I would receive an email within 48 hours concerning the conversation between UPS and the Staples UPS team. Also Mr. Brown gave me his word that he would call me to read what UPS wrote on the Claim web site in no more than two days. I also asked Mr. Brown if I may speak with the President of Staples, he told me that the Staples President does not speak to anyone with a problem at staples. I am reaching out to the president to call me about this matter.
It would make me feel a whole lot better that Mr. Brown conveying to me that he would not be able to speak to anyone at UPS. And when I call UPS they tell me that I must call Staples because that is where I purchased the insurance to send my package. I will keep you posted on Mr. Brown's phone call, Staples UPS Team's Email and if the Staples President calls to ask about this matter.

Staples
from Burlington, IA
Buyer/Shoppers beware that if you spend cash for your product from staples and its over 500.00 dollars you will not get cash back you will receive a corporate check that you will have to wait 14 days for. I purchase some computer equipment of 1-15-2015 at 104 West Agency Rd. in W. Burlington Iowa I spent $1690.58 cash for the merchandise. Because of the back and forward about whom was going to purchase my daughter computer before she return to college I asked store manager and clerk Joy about Staples return policy and they both stated as long as you bring the product back before 14 days with original receipt that I would receive my money how it was given.( no one mention anything about the return policy because if they had I would of not purchase the product because I know I do not have a checking account) Now this makes me wonder is the only concern is to get the money.
When I get to the store on 1/17/2015 two days later I get slap in the face with you can only receive a corporate check back (and a return policy sign posted so small on the checkout counter up front and not on the computer desk counter where I purchase my product) and the kicker is it will take up to 14 business days to receive it. Now is that getting my money back how I gave it? So I explain to the Corporate Manager Richard Clark that I do not have a checking account and no way to cash a check he states go find a check cashing place because there is nothing Corporate can do for you at this point.
Now granted I paid cash $1690.58 for my merchandise and now I'm told I have to pay to cash a check to get my money back plus wait 14 day to get it. (Now is that getting my money back how I gave it to them?) I have never experience an issue with getting cash back for a purchase that I paid cash for in my 45 years of living. Now I have to leave another manager at the corporate store Michael a voice mail and wait to see if he will call me back. It not like I spent 100.00 with Staples I spent $ 1690.58 and once they issue a check if I can't cash it I'm out of 1690.58 when all I was trying to do is get computer equipment for my daughter.
So to anyone that's thinking about going to Staples to purchase a product please be aware of spending you money especially if you have to work hard and two jobs like I do. Will you please spread this to all your social media sites because I think consumers should know before they spend their money at Staples.

I am writing today to compaint of the poor service I received from your cmpany on February 25, 2014. I work for a health care company that manages about 80% of Monterey and Santa Cruz County, we purchase all of our office supplies from your company. I went into your Watsonvill Store to return two office chairs. The women (Noemi) at the sales counter was not willing to go above and beyond to provide the utmost customer service. Noemi basically told me, "I am doing you a favor," and abruptly handed me my receipt. Noemi was very rude, the manager (James Conklin) was over hearing our conversation but did not intervene.
I trust this is not the way Staples wishes to conduct business with valued customers-I have been purchasing items from your company for a very long time and have never encounted such treament before. I would welcome the opportunity to discuss matters further and to learn of how you propose to prevent a similar situation from recurring. I look forward to hearing from you.

Hi there, I am writing as my son (Eric Gagnebin) whom is 22, has a 78 IQ and Central Auditory processing issue. Very little services for kids like him. I normally don't do this as he needs to do his own thing, advocate for himself but I need to vent. The Social Worker coming out. He has been employed at Stop and Shop since he was 16. No issues. When he was hired two years ago to work in the copy center at the route 9/27 store through Mass Rehab. commission in Framingham Ma. he was so proud to be doing a job that he was trained for. He even showed me letters that people had sent in about him. In the past 6 months, he has been written up several times. He changed departments and trained his replacement at the copy center.
From what I understand from my son he was never retrained etc. I also under stand he was accused of swearing in front of a customer which he knows right and wrong and would never do. I wonder if the women heard him wrong or if really happended, etc. Regardless, that was the final straw so to speak for Eric. He and I chatted that night when he found out this accusation. He decided to quit. He felt he was being unfairly blamed and just was not feeling it was a good match for him anymore. On his last day he never received a card, Kind words such as it has been nice working with you, etc. The manager of this store nor assistant manager said a thing !!! Is this any way to treat employees? Just this treatment tells me two things.
They did not know how to handle situation or they were glad he was going. As a social worker I am very disappointeted by this behavior and reaction. I will not shop at staples again. I already have friends that use the copy center have decided to move their business else where. Again, I am always amazed by the reactions of people to others and this is one that I will never forget. I always and my son knows this trat others the way you want to be treated. Thanks for letting me vent.

Recently bought a brother printer from staples. Sales Rep. was very helpful.. 20 days later it quit working. Went back to staples and they said there is nothing they could do. They said that company policy was 14 days on returns. They told me I could go on line or look in my user guide for how to get the Brother company to make it right.. I told them that I needed a printer today. Their answer was I could buy a new one.. At that point I told them I will buy one from Walmart who has better a return policy. So Staples if you are listening you have lost a customer.. Forever..

On 03/02/2014 I purchased the above referenced device from the above mentioned store location as advertised in the store with the rebate offer of $150.00. However I did not receive the required rebate request form from the sales IT specialist making the sale ( ID # 1676480) which is named Mr. Brian Coffey / Easy Tech Expert. After three (3) attempts to correct the miscommunication of sales rebate offered on the particular device, I was informed that the offer was only good for $50.00. The Toshiba Brand C55-A5281 was advertised for 399.99 with $150.00 rebate and that along with my perception of the outstanding customer service that Staples is well known for was part of my decision to make the purchase.
I have now been informed by the store that the appropriate form to be used is not the same one provided by your website. I am a little confused as to what to do regarding my rebate offer so I am contacting you in order to be specifically clear as to the original offer that the store advertised on 03/02/2014. My name is Christopher D. Graham ( ph : 407-274-3305 ) and I used my credit card to make the purchase. I also still have the receipt of the purchase sale. Please feel free to contact me via e-mail with any information you feel may help me in the process of obtaining the accurate refund. Thanks and have a great day.

It has taken me four phone calls and four trips to town to get four documents copied, scanned into PDF form, and emailed to me by the incompetent staff at the Staples in Sonora, CA. And, they have a really sarcastic and bad attitude with no willingness to make the customer happy or follow through on a simple job. I can't wait until I can afford to buy a printer/fax/scanner/copy machine device so I I NEVER have to go in there again. It seems like it happens every time I need something done at the Sonora, CA Staples. There are a lot of people looking for jobs who will be nice, not argue with a customer, and do their job! Maybe the Sonora Staples should clean house!

When trying to enter store 5 Staples employees out front smoking. Did not want to walk through smoke is it possible for them to smoke in bAck of store away from customers?
Disclaimer: This complaint was submitted by Laura Wyatt on 03/18/2014 at IP address 166.147.72.28 using our Staples complaint form. This opinions contained in this Staples customer review titled, "Memo liters smoking" do not reflect the opinions of this website.

I purchased a Staple's 6-port power plug from Staples, Indiranagar worth Rs 500 on 03-March-2013. 5 out of 6 ports stopped working within a week.Becuase of the busy schedule I could go to staples yesterday night.
When I purchased the plug I was told that the warranty was 1 year but yesterday it was told that the warranty is just 6 months. This was the first point where I feel being cheated because they have not given us in written that the product had 1 yr warranty at that time.
The product was replaced and we were told that now it has only Testing Warranty that is they are giving us the new piece after testing and now it will not be covered under 6-months warranty also. This was the second point where I was cheated.
First of all the product was not good. Secondly, I was being lied for the warranty and third I was told the replaced one will not be under warranty.
When I asked them I want to speak to the manager of the store I was told there is no manager in the store.
I could not beleive how come such a big store has no manager????
Then some executive over there who told he was the senior there promised that for us the warranty will be considered for 6 months for the replaced product as well but when I asked him to write the same on the bill, he refused. Why so?
When staples is giving the warranty then why cant it be given in written and what if next time I go there and they refuse to provide the service?
And when a product is under warranty then how can this be said that now after replacement it will not be under warranty??

Staples complaint center. I live near your staples location at 1833 S La Cienega Blvd Ste B Los Angeles, CA 90035. I do most of my shopping in that plaza – it has everything I need: toys r us for my kids, smart and final for groceries, coffee beans, Ross, and even my gym is there.
The Staples store over there is my first choice when I need to buy office supplies. All of my office furniture as well as my husband's furniture are from that location. I can surly say that I visit Staples at least once a week.
On March 26th 2012, I was with my baby and my 3.5-year old daughter waiting outside the store waiting for my husband to park the car. We came to buy a new computer table and chair. While waiting for my husband, my 3.5 years old daughter cried that she needs to pee and can't hold it. I run into the store with the baby on my arms and my other daughter next to me. I asked the cashier where is the restrooms – and then the unbelievable happened :
The cashier told me that I have to buy here first!!!!!!!!!!!!!!!!!!!!!!!!!!!!!!!!! I was shocked , I told her that I will gladly shop here after taking my daughter to the restrooms (this is why I came – the whole plaza is full of friendly stores – all of them them have toilets – and no one is investigating your shopping attention….if i needed only to pee..i had better options to chose from).
I also told her that i am a loyal staples customer and that my purse is full with staples receipts and I can show her (off course – after my daughter will pee…) that only yesterday "i was a customer here,and today some how im not considered as acustomer because i dont have a 100 bill sticked to my forehead. We were still arguing , I told her that my daughter is going to pee on the floor in a second…for god's sake…she's only 3.5 year old…she can't hold it .
ALL OF THE CUSTOMERS THAT STOOD NEXT TO ME WERE SHOCKED!!!!! AFTER ARGUING AND AFTER OTHER CUSTOMERS TOLD HER, SHE CALLED TO SOME ONE "TO BRING THE RESTROOMS KEY". That's what she said. I kept waiting over there for 10-15 minutes .waiting for someone to "bring the key".
After 15 minutes I asked her again and she ignored me. Few minutes after someone came and I asked him if he has the restrooms key – he didn't know what I'm talking about and then she told him that this is fine she's "taking care of me"…….after few more minutes I approached another employee asking the restrooms key – this when he told me there is now key!!!!!!! And told me the code to get in. just few minutes before I finally got to the restrooms – my daughter peed in her pants!!!!!!!!!!!! I cleaned her , called my husband not to even think of buying here the desk and chair.
From now on – for me Staples is a no entry zone. Shame on you and your workers. It never happened to me, never ever in other stores. You probably need to give starbucks , toys r us, office max and so many other people to train your employees – becz obviously you don't know how to do that!!!!!!!!!!!!!!!!!!!!!!!!!!!
Staples branch – Los Angeles 2012 : "show me your money or else have your 3.5 year old daughter peeing on the floor". What an example…..i didn't know what to explain my daughter……………

Went in to the staples in Manassas, Va on Liberia. We had the hard drive replace there less then a year ago and the hard drive went out again. We took it in and they tried a few things and called a couple days later and said it was the hard drive. It only took two days to replace the hard drive before….
We were told they didn't carry the hard drive I needed in stock and would have to order it, that it would be another week. They had already had it for a week. They also told us the had been able to get our info off of the hard drive. So, waited another week and called because we had not heard anything and called. Was told the drive would be in the following Monday and it should be ready by Tuesday. We call Tuesday and still not done.
Go in on Wednsday afternoon about 3pm and was told not quite done yet come back in a couple hours. So finally two weeks later and 5 more hours gone by we go down to pick it up. And now magically the couldn't get our data after we were already told they were able to retrieve it, so gave $20 more off what they had already gave because of there mess ups and said they gave us a couple hundred dollars in free programs downloaded…
Like we need that crap this is my personal computer we dont use for any work stuff or whatnot, but now I got alot of stupid office crap downloaded on here that I will never use, and a office postal I will never use, and a couple more crappy office programs I did not want and now have to clear out. We were not even asked if we wanted those programs on our computer, they just took it upon themselves to put it on there and we have none of our data and I have to reload everything.
This all started cause I asked husband to clean all the dust off and he was an idiot and used the can spray and blew the dirt into the computer which got into the hard drive. I looked in the computer when he brought it home and they didn't even clean it. They told my husband they cleaned it with the can spray as best they could.
I know they have little brushes or use a cotton swab and at least clean off the fans that what I do, but no, if the can of air don't remove it you are just up the river without a paddle. Will NEVER let Staples on Liberia touch my computers ever again and I will never purchase one from them again!! Very Poor Service in the Repair Department!!!

On Sunday 3/25/12 I went into Staples in Spokane WA on Division St. I have shopped there many times and regularily get money off vouchers mailed to me. I am the broker for Brown Bear Real Estate in Republic, WA. My order totalled nearly $400.00. Upon check-out the young lady informed me my business check had been declined twice and that a manager would not be able to override the situation.
She suggested I pay with an "alternate" source. I suggested she reconsider my check and if she couldnt find a way to accept it I would go to Office Depot a short distance from the Staples store and make my purchase there. Within 30 minutes I had made my purchase with Office Depot without complication. I did purchase more there as I see the receipt and cancelled check I wrote is $403.31.
I believe they do an automatic deduction for funds from the bank account. The reason for this message to you is not to solicit an apology as you have lost my business. It is to tell you why and how you have lost it. Please remove my name from catalog and special mailers you will find it under customer.
I will never have an experience like the one I had on Sunday 3/25/12 in Spokane again and intend to continue doing business with Office Depot. Best of luck to you in future.

On February 8th, 2012 at a Staples store at 19714 Northwest Freeway Houston, TX 77065, I bought a surge protector, a package of paper and a note book. When I got home, I discovered that the bag contained a $15 dollar gift card from Coldstone Creameries. I have no idea how the cashier laid hands on this card. I would have no idea where to find this card in the store. I do not eat sugar as a general rule because I am insulin resistant. On February 9th, I went into the same store presented my receipt and asked for my $15 dollars back. I was informed that the store would not give me a refund on this gift card.
They called the manager who took my phone number and said that he would call Coldstone creameries. He tried to make me take the card with me, but I left it on the check out counter because as far as I am concerned I did not buy this card. The cashier simply made a mistake by ringing it up. There is no sign in the store that says that there will be no refunds on gift cards. There is nothing on the refund policy portion of the receipt that says anything about no refund on gift cards. There is also no indication that a refund will not be made on anything rung up by accident by a cashier.
At this point, I have lost 15 dollars and Staples has lost a customer. I a self employed person who is not bound to a nine to five job and I just may sue in small claims court because I do not believe that the law allows Staples to make up their refund policy as they go along or that they can collect for an item that a customer never gave to a cashier and never wanted.

I purchased a Lexmark printer cartridge which was defective. Luckily I still had the receipt and went over to exchange it. Sign said any register could process exchange or refund so I did some shopping and stood in line. I was told that I would have to deal directly with Lexmark. I thought for a few seconds and decided that I spend a lot of money annually with you folks. Have for years. Left my items on the check out. Went down the block to Office Depot. They exchange defective cartridges. Bought same things I had at checkout at Staples. Gave them my $253.42 for purchases and am now a happy Office Depot customer. Times have changed Staples.
Many places are closing and going out of business. Consumers have more power than ever before. Customer service is a key ingredient to success and continued operation of your business.

The sales circular came out in the Sunday paper, Aug. 7, 2011. I went to Staples, Glendale Towncenter, Indpls., In 46220, to buy an advertised special Flash Drive for $6.99 I could not find it. I asked a clerk, that the cashier called up to the front, after the second call, she told me they never had any for this sale. I asked for a rain check and she said there are none on this item. Why would you advertise an item and know that you don't have it and not give a rain check? I think I am through with Staples. It also seems that their prices are sometimes not the same when you checkout as the prices marked.

I took my laptop to staples when it started to act up, and they initially told me it was my hard drive and they would fix it. So, 2 weeks later, they call me and tell me it is not the hard drive, but a problem with the motherboard. They said they would send it to their depot repair and they would fix everything that is wrong with it. After 2 more weeks, I called them to see if it was ready, and they told me it was back. Just last week, the same thing was happening, so I went back. They said it is a problem with the motherboard again, but they wouldn't cover it under the warranty because my warranty expired on July 6th, and I was there the morning of July 7th.
With their 90 day warranty, they start the warranty the day they ship it out, before it is even repaired, so by the time I got my computer back, I had already lost over 2 weeks of my warranty. They called the place to do that did the depot repair and they said they would not cover it, but the people at Staples told me they would help me purchase a new computer if I wanted to….yeah right, even if I was going to purchase a new computer, it wouldn't be from them after seeing what kind of service they give you!

I am shopped at different staples and I realized that I have been charge twice for thier so called protection plan and basically you have only 30 days to notice and get a refund. I also had brought back a item that had a protection plan on it and they never refunds my PP, I was very disappoint and will never shop at staples again,. I would also warn customers about paying for a protection plan on computers and ohter items, the computer dept will offer free PC tune ups but what they really want is to get your money to fix simple issues that you can do yourself and the turn around with getting your laptop is longer than three days.
The computers aren't always secured and you really dont know who is working on your computer or who has access to your computer. I am very disappoint in the staples customer service there number one job is to get you to buy protection plans on computers and all other products when most of the time you are just plain being ripped off.

My daughter bought an HP laptop in September, 2010 from Staples. Recently when she turned it on she would get a black screen or it would freeze. Took it to Staples in Queensbury NY, where she bought it. She also bought an extended 2-yr warranty w/it, but Staples repair "Les" said it was the motherboard and not covered. Returned unit to her and said they couldn't do ANYTHING for her. Contacted HP – no help. Contacted the insurance company that she paid and extra $150 and they said Staples had registered her without accidental coverage although that's exactly what we thought we bought. Again – no help.
Took it to a private repair place and they said it wasn't the motherboard, that it was a hardware problem and fully covered under the original 1-yr HP warranty. Again Staples said no. I will never buy at Staples again.

I took my laptop to Staples for repair because the video was stuck in CGA mode. They charged me $185.00 for the repair. I did not use the computer for 3 months and then when I turned on the power the problem was still there. I returned to the Staples store where i took the computer to be repaired and the Assistant Manager (Scott) said since it had been over 90 days there was nothing he could do. I received no paperwork with the computer when it was returned to me showing what repairs had been completed.
For the price I paid for this (alleged) repair i could have put this money toward the purchase of a new computer at Staples. I will NEVER shop at Staples again and am telling anyone and everyone I know about what happened to me. Terrible customer service at the Staples located at 1480 Tapteal Dr. Richland, WA 99352

I bought a computer at staples office supply store that was supposed to have windows 7. I did not get windows 7 with my new computer, and was very disappointed. I was supposed to get a $50 mail in rebate with the purchase of my new computer. I did not get a rebate like I was promised. The computer just had to be sent for repair after only 13 months of use. I don't think i will ever step foot in a Staples again because of this. As a paying customer, they definitely over promised and under delivered big time on this one.

I contacted the Staples Store located at 3019 Festival Way Waldorf, MD 20601, and asked a Staples representative for the fax number (301/638-3568) for my job to forward important documents. I gave my employer the fax number. Later, my employer contacted me and said the number was Staple's Store recorded message. I called the number and the recorder directed me to Staple's representative. Staple's representatives gave me that same number on three different occasions before I asked for a supervisor (Gwen). The supervisor (Gwen) spoke to me in an aggressive, annoyed tone and slowly repeated the same fax number to me twice.
Manager Gwen had me to call this number on two different occasions. After, calling the number twice, I contacted Manager Gwen again. Manager Gwen replied that she called the fax number and it was in working order. I asked Manage Gwen if she had heard a beep on the line when she called. She replied yes. I told her thank you, hung up, and called the fax number again. I was greeted by Staple's recorder once again. After bypassing the series of option, holding on the line, Gwen answered the phone in a more aggressive tone then before. She said "Maybe the lines were crossed in Staple's Store so call back later." I said thank you once again and hung up.
Manager Gwen's performance was unprofessional, distasteful and, and non-customer friendly. Her unethical stance lacked management skills and proper English tools, which made it difficult for her to interact in a civilize conduct. I only asked for simple information nothing more. In return, Manager Gwen gave me a side-dish of her attitude. In addition, she spoke to me as if I had interrupted her activity circle and not as a valuable customer. In the near future, I hope that Manager Gwen is education on management and customer services skills, and English 101 before she's forced to interact with other Staple customers.

I purchased a HP 4500 Printer, copier, fax machine in mid Dec. It jams constantly and doesn't perform. Took it back to the Staples Store in Spokane and they told me I missed the 2 week return procedure by a week. Now I have to send it back to your Corp office. But they wouldn't supply an address for shipping to this office – only an 800 # to call. I called twice last week and after 20 minutes I got caught in the phone tree maze. Finally made contact the next Tuesday and was told I'd receive an e-mail message immediately which would include this super secret address.
It hasn't arrived all day. I'll never go there again, there's an Office Depot up the street and I'll get my paper and office products from them. As far as office equipment, I should have bought this machine at Costco, no hassle, good service, and no phony Corporate runaround.
Have feedback for Staples?
Thanks for your feedback!
Sorry. Please try again later!