Snapdeal
Snapdeal Complaints Continued... (Page 2)
58+ reviews added so far. Upset? Call Snapdeal corporate: +91 9212692126

prasad gawade
from Pune, MH
I ordered a HP laptop bag and i start using it 5 days after delivery and after 20 days it is torn and it is of no use now. Snapdeal customer support is the worst!

Rajesh Kumar
from Bengaluru, KA
Actually I have ordered one t-shirt from snapdeal with d quality issue I have returned that product on 13nov and on 14 nov I got a mail from snapdeal team regarding the initiation of refund and on the mail they clearly mentioned within 4 business days refund will affect to my bank account, its not happened so I called snapdeal team they asked me to wait few more days. After a few days I again contacted them they asked me again to wait few more days.
Likewise I have contacted them more than 40 times its been nearly 3 months till now I didn't get any refund and I also requested them to transfer that amount to free charge wallet. Again they simply made to wait so thats why I asked them for compensation for the problem I have faced and those people are saying they didn't have any compensation policy and all. So I wanna complaint against these reckless snapdeal people. My order no: is 9087537100.

Recently I bought a Mobile from snapdeal but when I charge it fully it gets switched off after an hour or less. It is only a month old phone. I want a refund!

Hemanth Kumar
from Bengaluru, KA
I had purchased Nexus5x 16GB black at Snapdeal on 20th Dec, Order ID: 10698879777 and got delivery on 21st dec 2016. The condition is that (anybody can do google search with key "nexus 5x free charge 2500 cashback" to get proof) the cashback is given through voucher code to our registered mail ID within 15 days of date of delivery.

Order accepted by Snapdeal but was not delivered on time. I will think twice before shopping here again. The customer service was also poor at best!

Japesh Kumar
from Mountain View, CA
I received the call from Snapdeal and they refused again. I ordered 2 quantities of Canon EOS 700D with 18-55mm + 55-250mm Lens in order number 9878067047. But i received the partial order of both the products i received the lens in one and camera in second. Snapdeal said they send everything. Their customer service department refused to refund/replacement. They are going back from their policy of 7 days guarantee refund or replacement and 100% customer's satisfaction. They didn't satisfy me. They didn't ask anything from me they just said we refused your request now we can't help you for this order. They are cheater they are fraud. My money is stuck in it which is 72900
Please help me with my complaint, I have had bad luck. Snapdeal is refusing it again and again and again for the same that they will not provide anything each time I call the corporate line. Please don't trust Snapdeal for big deals above 10000. They cheat and they will send you half items then they will refuse your return/refund request and close the case without any satisfaction of the customer. They are fake with their 7 days trust policy and 100% customer's satisfaction!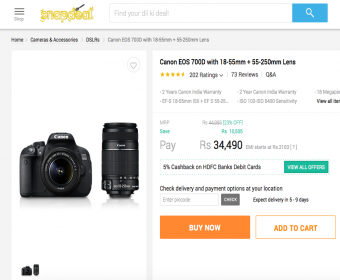 Rakis Darwar
from Southlake, TX
I have had problems with several Snapdeal orders on their website. Ultimately, I have tried to search for an email to contact customer service, but have failed. It is amazing that a website and company this large still does not have a great way to contact them. That is probably because they are too busy making money. I visited the help center but ironically, it is of no help!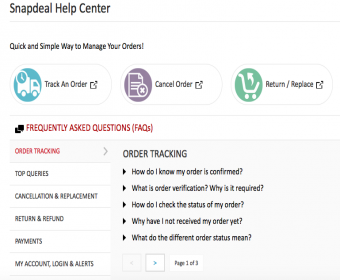 Have feedback for Snapdeal?
Thanks for your feedback!
Sorry. Please try again later!