Red Lobster
Red Lobster Complaints Continued... (Page 2)
81+ reviews added so far. Upset? Call Red Lobster corporate: 1-800-562-7837

Tonight me my husband and daughter went to eat at your restaurant and had the most disrespectful waitress Michelle at your Whitehall branch. It was endless shrimp and when we try to order she was basically limiting us to what we can order my daughter didn't eat because she was tired from cheerleading practice and wanted to go home so I ask Michelle if we can have any extra biscuits and guess what she told us you can have what you left back or you can purchase to take home and even worse she reach over our food and open the napkin to see how much we had left .last week the three of us was there for my birthday and we got biscuits that was the only reason I ask because my daughter love it and she didn't eat anything

jeannine glen
from Greater Sudbury, ON
we went to a all you can eat shrimp to be told that we cannot have every shrimp on their menu. you are restricted to only four shrimps so i order the first two to be told that they did not have any more of these. so really you only had two choice of shrimps. also we ordered stuffed mushrooms and they were disgusting. we normally go to red lobster once a month but after the service we received and the quality of the meal we will not go to that restaurant again.

Irene Gibbs
from Philadelphia, PA
We went in and the guy said he would be with us we said okay. We waited for about 10 minutes and no one said anything to us the manager came by and didn't say a word. We waited a heard her talking about they didn't have enough people there. After a few minutes later we just walked out

Charles DuBois
from Duncan, OK
We went to the Red Lobster on I240 and Western in Oklahoma City last Friday. Everything went great until we were ready to leave. we had several take home boxes and my wife did not notice that she left her IPhone on the booth table. It was not until we got home that she realized she did not have her IPhone.. We promptly called the Red Lobster of the situation and went back to the restaurant. Could not find it. Went to the AT&T store on Saturday and they were able to determine that the IPhone was still at Red Robin. We went back to the store again, and the manager was not able to find it.
I am very disappointed that an $800 IPhone left on a booth table would not have been noticed by a bus boy. One of your employees is a thief.
Needless to say, we will not be going back to Red Lobster.

mark
from Staten Island, NY
shrimp endless took forever
they where also the worst shrimps ever
the kids menu 9who wrote that) mac and cheese would not give to my dog

Nancy Benoit 3742 w 85th st chicago ill 60652
from Chicago, IL
I had a gift birthday certificate went in today waited go salad and no biscuits he said it was not ready it would have to be cooked wasn't ready when he started his shift~~~WHAT a waste eat salad and no biscuits ~~He never brought me any shrimp sauce ~! all this money for admirals feast and to have this service ~~My gif card was ruined by this bad service I had 10 little tomatoes in my salad but hardly any lettuce ~~this was from the Oak Lawn one ~~Close to my house and I had to go thru with this ~~Never again will I ever ask for this for my birthday ~~this is so wrong . This never was like this before ~~Eat salad and then they come later with dinner which was also late .

david tyler
from Seymour, IN
We have no complaint about the service, but last night we went to the ft. wayne, in restaurant and both of us had very bad meals. we have always went to red lobster for special occasions, but no more. My lobster was literally tough, the crab legs were not good at all. the fire grilled shrimp was so tough you could hardly chew them, it was our anniversary and we can honestly say our meals were terrible, I have never made a complaint like this before, but with the cost of those meals and and then have them be bad, just had to say something. Thank You Peggy Tyler

Marc smith
from Ogden, UT
Empty restaurant and still had to wait 25 minutes. Billings mt restaurant

Marcia Blackstock
from Baltimore, MD
Great service but the food leads a lot to be desired, butter should be served with lobster, these lobsters are nothing more than large shrimp size.The money spent on what was supposed to be a fullfilling meal , we could have went to a McDonalds and had a better meal.At least you know what your getting with no surprises.The "butter" tasted like watered down margerine.They were out of the lobster we ordered thet were trying to accomodate with something different with no success.This was very disapointing.This was our 3rd visit hoping it would be a better experience and for every visit it kept declining.Never to return again.Word if mouth travels like a disease.It takes a million ataboys to make a business and one bad experiance to ruin a business.
Corporate needs to step in.
White Marsh Baltimore Md.

Shirley Washington
from Atlanta, GA
Very concerned that on Friday, July 27, 2019 when Red Lobsters restaurant is empty and took 30 minutes to get seated. The waitress did an excellent job, but took too long to get served. Whie baked potato old, and fried tilapia soaking in grease.
I have always counted on this restaurant, but we could have been given some reason while we had to wait so long at 2:15 in the afternoon.

carol binda
from Tecumseh, ON
we were 5 adults. We were celebrating our 42nd anniversary and my husbands retirement. We all ordered different food but it all tasted the same, which is to say, like batter. My food was so non-descript that I had to open everything to identify it. I had lobster bisque which tasted more like potato chowder with ketchup for colour, escargot, which were so tiny as to be not worth while, the mushroom caps were squishy and watery and the melted butter was more like margarine. There was no butter offered at the table and the biscuits were mostly salt. The server asked us AFTER if we wanted more..My husband's lobster was rubbery and the tail was cold. The entire meal was something I was ashamed of. Especially since we had family with us. And, since when is the debit machine pre-set to 3 tipping options? I have much more to say about the lousy food but I'll wait till you contact me. We won't be returning so free food won't impress us. A refund would. Not the servers fault. She was running off her feet all night.

W Robinson
from Barberton, OH
I wanted to file a complaint against a server and a manager decided that she wanted to call the police on me . Complaining about a server is not a crime . There was another manager there first who was nothing but professional and understanding of the situation the second manager walked up and everything went out of control address is 3901 medina rd akron ohio . I have been to this restaurant several times in the past without a problem i strongly believe that the second manager escalated the situation i want corporate to pull the tapes and see what went wrong i truly believe this is a teaching moment for the manager clearly she does not understand conflict resolution her job is to defuse the situation not be combative . I will end with this it is not a crime to complain about a server . I am watching the response to this serious inquire because the shame and humilation that i endured because of 1 female wanted to prove her point was uncalled for. please pull the video and see what happened and how everything changed with the arrival of the second manager

Valecia Carter
from Milwaukee, WI
My husband and I went to your location at 2801 N. Mayfair Rd., Milwaukee, WI 53222, phone number 414-771-6320, around June 15th, 2018 and we were waiting for about 30 minutes to be seated, which was fine; however, after we were seated, no one came to see about us. We were never introduced to our waitress or waiter. We weren't offered water or anything and we were seated for close to 40 minutes, which is well over an hour. I went to the call in station and asked to speak with a manager, and after waiting 15 minutes no manager ever surfaced, so my husband and I left frustrated. He said he never wanted to go back, but I talked him in to going back on Monday, July 2nd, 2018 because my sister, her husband and my niece were in town from Florida, so there were a total of 13 of us celebrating my husbands birthday, so I called a few hours ahead to ask if we can have reservations for a party of 13 for Carter at 7pm. They said they needed to speak with the manager for approval, then I was told the manager said they can accommodate us. When we arrived they stated that they were getting the table set, so after waiting 20 minutes for them to set the table after inquiring again, we were told it would be about 15 to 20 minutes longer and when I asked why they said they could accommodate us at 7pm, they said they can't guarantee a reservation unless it is called a day or more ahead of time and they did not want to seat us because they did not have anyone to serve us. I told them they should have said that on the phone, so everyone was confused and I was very disappointed because I convinced my husband to give Red Lobster another chance and this time was even more horrible than our previous experience. The staff seemed very unconcerned about the situation both times and did not offer us anything for our wait. We were not informed of anything they said until after the occurrence. Is there anything you can do to accommodate me and my family? We have been loyal customers for many years and I will like to continue to patronize your establishment, but we need to know that you care about your customers because your staff did not show it. Thank you in advance and I hope to hear from you soon.

Florence Kentucky nasty smelled bad walked in sat down got up and left nasty place

lorenzo varner
from Atlanta, GA
I just want to express my feelings about my treatment of my case and bad experience i had at your restaurant around the corner from My house,that i frequent .Its bad enough i had bad food and wasted my money,But its another thing to be disrespected and BULLIED.red lobster is just gone take my money huh? Thats fine.At first,it wasnt even about the money but after the treatment and dialogue I had with guest relations ,that changed.I have plenty of well known bloggs to warn my 1000s of friends NOT to patronize your restaurant and I will be reporting the case and the facts to the Better Business bureau.This is NOT how you treat hard working patrons.The fact that YOU are really comfortable dismissing a customer complaint and hard earned money and time just shows my that your restaurant is just TAKING from my neighborhood and can care less about the people.Just like my food was bad,HUMANS CAN MAKE MISTAKES.HUMANS MAKE ERRORS.It may be YOUR fault you can't find a receipt.You guys aren't perfect...Still is a LAME,DISRESPECTFUL way to deal with people,ESPECIALLY WHEN U CATER TO THOUSANDS OF PEOPLE A WEEK,HUNDREDS OF PEOPLE A DAY,TAKING OUR MONEY,BUT don't take responsibility for your mistakes .And the fact that you guys can't find a receipt is NOT my fault and I shouldn't have to lose money on negligence of your behalf..

ann poland
from Youngsville, NC
we go to rocky mount red lobster about every 2 weeks. im not a big eater so i order from the lunch menu,because they have smaller portions,now all of sudden the manager does not allow it,,so we end of spending more money,its not costing the co. anymore money for me and other people to do that. ann

BERTHA MCCAIN
from Lansing, MI
WAITRESS: Jennifer W
Date: 01/25/2018
Time: 14:59:00 (Bill settled $0 due)
Check #30173
Complaint: Racial Profiling, Defamation of Character, Harassment, False Police Complaint
I and a co-worker was on business trip in Houston, Texas and drove over to Arlington to enjoy lunch with my son. The three of us dined at the above mentioned Red Lobster location. After settling the bill for myself and my son he left to go back to work. Shortly after a man came to our table and identified himself as the manager. He went to state he wanted to let us know he attempted to stop the person that was with our table from leaving because "…he looked shady and it appeared he was trying to skip out on paying his bill." He continued with "There was a small altercation and I called the police and sent them over to Sprint." Flabbergasted at his remark, I responded to him "His bill was paid before he left. You need to call the police and let them know you made a mistake so they won't go on his job." He responded sharply "I am not going to do that". Conversation between manager and myself became elevated as he did not appear to want to correct the situation. At this point I was truly upset and we began gathering our belongings to leave. As we were walking towards exit the manager walked behind increasingly instigating. With us already on our way out he told us to "Leave my establishment or I will call the police". As we walked out he yelled out "Have a nice day and watch yourself".
As we walked across the parking lot to check on the third party four (3) police cars were turning in the parking lot. Two headed towards Reb Lobster and I flagged down one (1) and the other went to the Sprint Store. In all 4 police had been dispatched on his fraudulent 911 call.
Afterwards I was made aware the altercation was your manager approaching my son as he was leaving and telling him he could not leave until his bill was paid. My son informed him his bill had been settled and he should check with his waitress. Manager continued to harass my son and told him if he left he would call the police. My son responded to him that he had to get back to work at the Sprint Store and showed him his name badge as he walked out. Instead of checking with the waitress he chose to without consideration call the police on an innocent man.
Here was a well-groomed young black man dressed in a Sprint employee uniform (casual shirt w/ sprint name/logo, Docker slacks and casual shoes). What was the "shady look" the manager had mentioned. The shade of his skin color? This entire situation could have been diffused had the manager made the proper communication with his waitress. The timing of his 911 call and settlement of the bill confirms that the bill was paid well before anyone from our party left. Your manager's actions were irresponsible and he should be held accountable. I could not understand why he would be so negligent in making the false 911 call and intentionally let the police continue on a call that he knew was inaccurate. This could have jeopardized my son's job, as well as grave mishap between police and "black male". Your manager showed a total lack of respect for paying customers.

Patricia Brown
from Miami, FL
We went to red lobster on January 1,2018 and service was so bad that we got our food and hour after being sat down only one set of bread waiter only checked on us one time than one of side dishes came out way before our dinner than when we was ready to go waiter just dropped off check never came back after signing it so never got a chance to get a copy of my check not to mention everyone stomachs were messed up for a day after eating there that night

Ms Takica Lee
from Grand Rapids, MI
The last time my co-workers and I ordered carry-out from Red Lobster in Livonia MI they forgot to pack my $8 dessert, yet didn't forget to charge me for it. I called to report the discrepancy and was told I would receive a coupon to replace my dessert. When I got the coupon in the mail it was for a free dessert WITH THE PURCHASE OF 2 ENTREES! I wasn't interested in returning there again but today we are trying to place another order and the service sucks as usual. I bypass the "call center" because they always enter my orders wrong. So I called the restaurant directly to place our orders. My first call I was left on hold for 13 minutes. I called back, again stated that I wanted to place an order and had been left on hold for 13 minutes, was asked to please hold, and was left on hold for 5 more minutes. I called back, asked to speak to a manager. The person on the line rudely asked what my name was I replied I'm a customer and I'd like to speak to the manager. I was AGAIN placed on hold, until someone came on the line and told me the manager was busy and could I give them a number to CALL ME BACK!!!. At this point I basically pleaded with the lady that all we wanted to do is place an order and that I understand, as a former Red Lobster employee some 18 years ago, how busy they are but that we too are customers and deserve service also. Finally I was able to place our order. I'm at work just like they are. I wouldn't make my patient wait damn near a half hour to get their medication, so why do I have to wait that long to place an order??? And no, I order my food with modifications, so I could not order online. It's bad enough the prices are higher and the portions are smaller, the least you guys could do is provide good customer service.

CAROL KARIUS
from Saint Jacob, IL
hello ,,, I never thought I would ever be writing red lobster to complain, I was never so disappointed,,, My husband and I took 3 more people out to dinner ,, first took rolls quite a while to get to the table ,, one of our party is on a strict diet due to health reasons , she was getting soup and salad and shrimp cocktail , she always gets the shrimp ,,, so everyone had there food ,,salads ,, and waitress comes out and says," oh we ran out of shrimp , we have to get some so it will be another 15 minutes for the shrimp ,, ok waited and waited,, another 30 minutes they bring out a double order of shrimp ,, she took one bite and had to spit it out ,, they put some kind of seasoning on it which has never been on it for years now ,, and it was spicy and burned her mouth , she cannot have seasonings in her stomach right now , good thing she spit it out . so the manager said to call ahead of time for shrimp cocktail and it can be ready ,,, ????? NEVER heard of such a thing ,, shrimp cocktail is what it is ! manager said it is a new spice they cook it in now ,, so now it is not shrimp cocktail anymore , they need to change the menu so people aren't deceived,, a lot of people cannot eat spices ,, was really did appointed,, I love redlobster , but that one person said they just lost us as a customer . the waitress was very nice ,, my food was good , but was so sad my company did not get to enjoy there dinner . would appreciate some feedback ,, thanks .

Tishminda Johnson
from Cartersville, GA
I visited the location in Cartersville, GA this weekend and I am VERY dissatisfied with the service I received. I had to send my food back due to it being cold after waiting over 45 min to receive it. The waitress rarely visited the table and when she did waa not friendly at all. I have always loved and gone to your establishment on many occasions and spent lots of money there. My husband on this night had a tab of $63 and it was not worth it. They even brought me someone else's drink! I am very upset about the service I received at a place i really love going to.

Norman Zellers
from Lebanon, OH
Went to Red Lobster on the 23rd of October in Sandusky, Ohio and ordered steamed oysters. I had a bad one and so did my friend We had to spit it out of our mouth. We also had pieces of shell in them also because they weren't prepared right. I like to eat at Red Lobster, but the one in Sandusky never seems to have it right. I like the one in Perrysburg, Ohio. Never had any thing wrong there.

Cathy Greene
from Irvington, NJ
I visited store #0442 to place an take out order. I've tried calling to be placed on hold and once I advised that I had 5 orders I was placed on hold again. Not only that I had to wait almost 1 hour for my take out, I was missing items, the establishment wasn't crowded. It never fails whenever I call this store to order take out my order is always wrong. This is unacceptable when your spending this amount of money.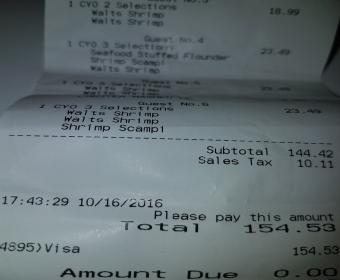 I went for lunch at the Red Lobster restaurant at 12:50 pm on Mercury Blvd. in Hampton, VA. I waited at the front desk for ten minutes for someone to come and seat me and my lunch companion. No one came, no one offered assistance. I asked two waiters for assistance and they said someone was coming. No one came. I have been a customer of Red Lobster for over 40 years. To say I was disappointed would be an understatement. I have never experienced that kind of service in any restaurant I have been to. All it would have taken is for someone to acknowledge we were there and give us an idea of when someone would be available to assist us. You lost our business that day for lunch and I will have to seriously consider if I will return to your restaurant. Customer service is a big deal to me.
Thank you for listening. I hope you resolve this so no other customers will experience my frustration. I ended up at a fast food restaurant so I could grab lunch and get back to work.

James McPherson
from Biloxi, MS
I would like to tell about the bad experience we had last night, 05/11/2016, in your D'Iberville restaurant. We went to the bar area, and were planning on an enjoyable evening no rushing. When we first got there it was rather warm in the bar area, we told the bartender we where warm and he said they were working on the air yesterday, and shut the blinds in the front of the restaurant, to keep the sun out. The longer we sat there the hotter it got, we noticed even the bartender didn't stay in that area very long he just keep coming back to check on us then go into the back, and he was sweating pretty bad.
When we got our appetizer we told him we where going to have to eat and run, because we were both sitting there sweating. When he came back I said maybe I need to speak to the manager, and he said I told her you said it was too hot to stay. She didn't even bother to come out and apologize. We were the only ones in the bar area, and now I know why.

Allen Wilkins
from Salisbury, NC
Hostess and Waitress were nice. I have been eating here for over 20 years inside and take out several time a year, but this was my worst experience. I order take out two (2) center cut new York strip dinner to cook well done and one white garlic mussels. The steaks were raw and the mussels were cold. I wait 30 - 40 minutes for the meals and left a large tip total $60.00. We live 15- 20 minutes await and attempt to call the manager but it was Friday night 4/29/16 around 8pm that we was place on hold for over 30 minutes. We put the meal in the trash and this is why I am writing because of being disappoint.

Edward Juul
from Fort Myers, FL
I was last time at Red Lobster about 3 Years ago when i ordered shrimp scampi, My shrimp were the size of tiny canned shrimp, I could not believe it. Shame on me for never telling the company about this, I told the server, She was ashamed. that's the truth. Not that anything will ever be done for me. But don't forget, bad reports.

Jai Narain
from Perry Hall, MD
My wife and I took our niece to Honeygo Blvd, Red Lobster for her birthday dinner. After having our table I came back to the front desk and requested the young girl over there for a surprise birthday song for my niece after the dinner. I went to men's room and on my way back I reminded her again and said a big thanks to her for accepting my request for birthday song. Unfortunately it DID NOT happen in our case. I was so disappointed and embarrassed that I cannot express. Even my wife told the server also that today is her niece birthday, she just said happy birthday. Our niece does not live here and she is on a trip to US. We wanted to surprise her with typical Lobster Birthday singing. We are very disappointed and sad. Very embarrassing moment for us.

Renesha Giles Jackson
from Monroe, GA
Arrived at Red Lobster in Conyers Ga on Wednesday night at 6:00 and did not get our food until after 7:30 we did not get to enjoy our food we had a party of 5 and we did not get our drinks until after we got our food we spent well over $100 and Im just pissed to the max the customer service was whack and they took entirely too long with our food and we only received one basket of biscuits.

susan calhoun
from Paducah, KY
My sister and I ate at Red Lobster in Paducah, KY recently. We both ordered shrimp and pasta, which was dry and terrible. I got the impression they had just heated up something left over from lunch. (We were there around 3-4:00pm.) My sister's salad consisted of about 3 leaves of lettuce. The cheddar bay biscuits had no cheese in them whatsoever. The best part of the meal was actually our waitress, who was very nice and attentive. I actually felt bad for her, knowing some people probably based their tips on the lousy food.
Have feedback for Red Lobster?
Thanks for your feedback!
Sorry. Please try again later!