Priceline
Priceline Complaints Continued... (Page 2)
98+ reviews added so far. Upset? Call Priceline corporate: 877-477-5807

Lewe Okereke, MD
from Tampa, FL
Misuse and overcharges of my credit card:
1) I Made hotel reservation at 10:30 AM on wednesday 06/06/2018 priceline trip #192-961-652-74. Date of arrival 06/07/2018 for two days rate published $77/room. When I got my receipt later in the day my credit card was charged as follows: room rate changed to $77.96, Taxes & fees $29.00, Room Subtotal amount $155.92> Total amount charged on credit card >$184.92. As I was running around getting ready for the journey on 06/07/2018. I was outraged and immediately drafted email using the info with which my receipt was sent asking for reasons for the amount charged over what the price was. I wrote 3 emails but no reply.Before I left my house on 06/07/2018 for early morning flight. I called hotel number: 513-771-9309, counseled the booking at 6: 40 AM on 06/07/2018 and was able to get another hotel ironically in same area as priceline booking. I found out that taxes I paid there was 16.5%. Priceline was 18.83%. I have requested itemization of all charge to show what I really owed, None has been provided I am accusing the company of fraud and had asked that amount of $184.92 charged on my credit be returned.
2) priceline booked my car rental at $21/day for 2 days but charged taxes & fees $30.58. it was $30 even before I got receipt. I USED THE BOOKING BUT HAD TO ANOTHER TAX OF $5.55 TO RENTAL COMPANY. TAXES ALL TOLD $36.13. I SEEK REFUND OF EXCESS TAX FROM PRICELINE. I WILL BE SENDING ALL SUPPORTING DOCUMENTS THROUGH USPS MAIL CERTIFIED WITH RETURN RECEIPT.
SINCERELY.
LEWE OKEREKE, MD

Regena Lowry
from Wimberley, TX
On 7/11 we booked 3 hotel rooms that were rated 3.5 stars. We arrived close to midnight to find an old, musty, run down hotel. We were traveling with a 3 month old and 2 1/2 year old. We requested a port a crib upon arrival and were told they would check to see if one was available. 30 minutes later someone came up with towels, but no port a crib. My son booked another room through Priceline and left Custom Hotel and went to the Sheraton where he was told they were full and his reservation was for the next night. He spent $200 and was told there was nothing that could be done. He then returned to Custom Hotel and was told once again they would look for a port a crib, because they had forgotten to do so earlier. Terrible customer service! Then there is the room! The a/c didn't work in two of the rooms, the showers were filthy, the room was awful with no amenities other than a tv hanging on the wall. I don't know how Priceline gets away with selling rooms that come nowhere near meeting the standards they advertise to be! Please look at the pictures and tell me how that is 3.5 stars!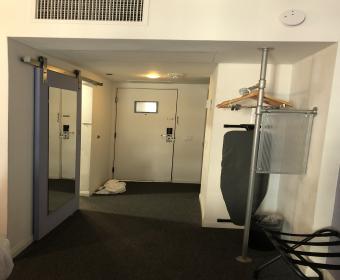 Anthony Kendrick
from Rochester, NY
I paid money to book two rooms for a hotel on 07/13/2018. Money was taken off my card theough price line cause i called my cards history. I would like my money or i will be looking into legal action because i was planning a family vacation and my money is tied up with priceline no hotel reservations were made priceline took the money but never made the reservation.

perry m lieberman od
from Canton, OH
I WENT THRU PRICELINE TO BOOK A HOTEL SAID MY CREDIT CARD DIDN'T GO THRU AND IT WAS CHARGED TO MY CREDIT CARD . HOTEL,HAS NO RECORD OF MY RESERVATION I'M PISSED MY CREDIT CARD WAS CHARGED

Valerie Rios
from Stockton, CA
The hotel we booked was a 2 star the.room is a mess holes in the wall and doors, room smells complained to the front desk they came with air fresh and one roll of toilet paper and told us to let your room air out for 5 mins by keeping the door open ...called the front desk for the 5 th time and told them we need a new room , the lady replied i don't have time for this and told me to her later and hung up me
I have several pictures i have taken ithere should be 8 pictures attached if not contact me at 2096498084.......help please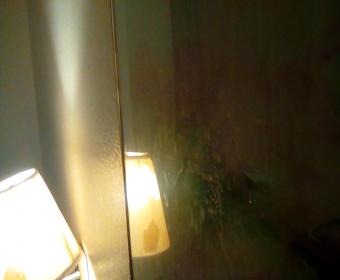 GEORGE M BLANKENSHIP
from Cullman, AL
I reserved a room for my Daughter at the Holiday Inn Resort in Panama City Beach Fl. and paid with my credit card. Upon arrival she was told that she had to pay a resort fee of $30 plus tax. That was almost 50% more than I paid for the room to begin with. Nowhere on the website for this hotel does it mention this additional charge.I feel like this is a true "BAIT AND SWITCH". I should have been told about this fee while I was booking not after my daughter and two babies drove from N.C. I have found that being up front and honest about all things in life is the best policy. I will never use Priceline or Holiday Inn ever again and will tell all my friends about these shady business dealings. I would like to see if Priceline contacts me about this matter.

Ellen Nolan
from Englewood Cliffs, NJ
I booked a reservation with Holiday Inn for February 1, After going through the screens somehow, the date changed to Feb 8. I DID NOT CHANGE THE DATE!! My Computer froze and kicked me out, and then I immediately logged back in and I had a confirmation of the booking with the incorrect date. I have tried unsuccessfully to make a change to this reservation and been told that it cannot be cancelled or moved. I have called Holiday Inn and they tell me it is not their policy that it cannot be changed that it is Priceline policy. Priceline representative told me it was hotel policy. Who to believe? My trip number is 17844274271. I understand my chat conversation has a full transcript, and while I contacted Holiday Inn, they said I have to also speak with Priceline who is unwilling to do anything. I just want to change the date since I am unable to cancel it altogether.

Cindy Hill
from Austin, TX
I reserved a room at Comfort Inn, Denton Texas, November 18, 2017; Trip number 170-834-792-72, confirmation # 206821742. The hotel was undergoing extensive renovations that was quite a mess. I've included photos of the entire hallway, the hideous ice machine/vending area, and our room number with tape over the plaque. The hotel was such a mess I was uncomfortable with the entire stay. Additionally, I made a formal complaint to the hotel that the placement of the outside light are so low that I seriously injured my head. My husband is handicapped and I was helping him out of the hotel and when I looked up I hit my head very hard on the wrought iron light fixture attached to the building outside the doors of the hotel that should have been placed at least two feet higher. I am a short woman and this light fixture is likely to cause damage to many other people. I've also attached a photo of myself standing behind the light fixture so that you are able to see the inappropriate placement of the light fixture. I was not told by Priceline of any renovations. My expectation of the hotel was the description that I read on the Priceline Webpage. I was also expecting a hotel that would comply with City permit regulations to ensure the outside of the building was safe, free of danger areas, and that I would not need to be concerned about injuring myself walking to my car. I am asking for a full refund, credit refunded to my credit card.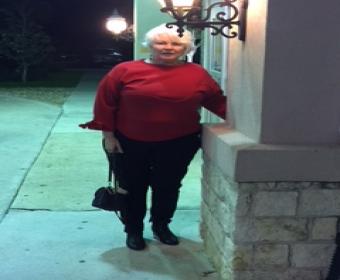 Warren Terry
from Mount Pleasant, TN
Hello, I had a reservation for today # 14310791 for Jackson, Tennessee. When I arrive at the hotel I thought my reservation was at the Days Inn in Jackson, Tennessee. It was for Jackson, Mississippi. I pulled up all Jackson, Tenseness"s express deals and somehow it booked a hotel over 200 miles away from my destination? I called and talk to Ian with Priceline not helpful at all. He called the Mississippi hotel and they would not refund my money? Plus being on a budget I did not have the extra money to book a hotel so I drove to the destination in one day! I have three other reservations pending right now and I feel very frustrated and have lost trust in your company. I should get a refund plus some other type of compensation! Truly Disappointing, Warren Terry 828-242-4227

ramona ross
from Adelaide, SA
on 2/11/17 I attended priceline at golden grove village and bought two 100ml bottles of Davidoff limited edition female perfumes (one blue and the other pink) for $15.00 each bottle.
On 3/11/17 I attended the priceline store at Salisbury (parabanks) whereby I asked if they pricematched. the lady said they only price matched the perfumes. I then asked for the same item to be price matched to $15.00 as they were selling it for $39.00 (or similar). After the lady had made some ph calls and had private discussion with another female employee I was told that they would not price match.
I had intended to buy other items while at the store however became very disappointed that they told me one thing but then would not honour it.
Disappointed and annoyed.

Brent Strong
from Medford, OR
I have been desperately trying to get some resolution to my problem. I booked a hotel using priceline (or booking .com) and was not told that I was to be charged an additional fee of $50 on top of the $111 just for the room. I didn't find this out until I was to check in to the hotel. If I had known I never would have booked at this,so called ,pet friendly, hotel. I told the hotel I was going to just cancel my reservation. I found out later that the hotel was going to keep my money anyway and its priceline's fault. The bottom line is that the Hotel and Priceline are calling each other liars, while I the consumer gets ripped off for the $111. do not do business with these morons. Getting every dollar out of you is more important than good customer service or any negative publicity that might be caused by such an event.

Nach Rosenblum
from Yaqum, M
3 months ago I booked a flight from Priceline. And I show up to the airport and they tell me that they don't see the flight in their system. I spent a few hours there and no one was able to help me. I called Priceline customer care and spent hours and hours on the phone as it is, it took me hours till I got through and Priceline didn't know what was wrong. the people at the airport weren't letting me through because the flight was not in the system.
I missed the flight and I was never so angry my life. I have missed my sister's wedding in New York. And Priceline finally called me back a few hours later than I should book a flight right away and they will try to pay for it. I booked a flight assuming that Priceline will pay for it and now when I call Priceline after they charged me for the flight, and now I am paying for two flights and Priceline makes as if I have missed my flight from Israel and it is my fault when i have the biggest proof it was theirs.
When it wasn't even in the system and Priceline themselves admitted to me that they made a big mistake in the system.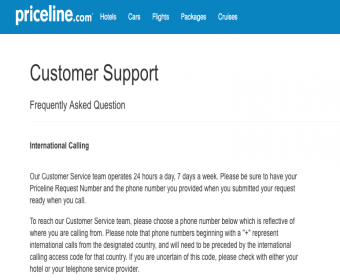 Dianne
from San Bernardino, CA
Used the name your price to pick up a hotel at $75 based on the information on the page that said the average price of hotel in my area was $164. Then I was taken to a page that showed I could have booked the room for $65. When I called Priceline customer service, I was informed I could not get the "guaranteed low price" because I had not booked the room 24 hours in advance. It is incomprehensible to me that they would not lower the cost by $10 simply because I was not taken to the lower price page first. I have used priceline.com for over ten years to book almost all my needs. Apparently customer loyalty does not count for anything with this company.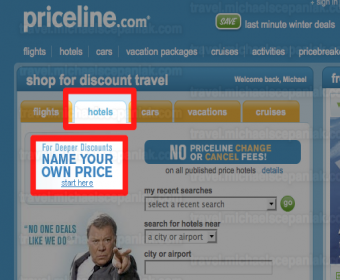 Kevin Brown
from Cleveland, OH
I have recently booked a hotel with priceline and received horrible service with and dissatisfied purchase. The roomed reserved for through this company was a one bed handicap suite for my family of 5. The hotel explained this what priceline purchased that and complaints would handle through them. I called and began the worst customer service experience imaginable. After being told numerous times from the first representative that she was unable to do anything for us she connected me to a so called senior manager (Kelly - 5260217). Repeatedly this employee explained how wrong I was and should know what I am purchasing before I agree to anything and theres no way she could help or refund my money.
After she was done telling me how wrong I was again and again I asked to talk to someone higher and was told she was the top. That was lie because amazingly after asking time and again someone magically appeared who was (Alex 5260157) . What great one you got here. This person was the rudest in this whole terrible experience and hung saying theres nothing the will do, no cancel, no refund, just deal with it. I feel as I was robbed by your company and given a product that was not to standard. The hotel tried to accommodate and has told me that this happens all the time with your service. I would like something to be done about this incident for the two hours I spent outside a hotel in the rain speaking with your rude staff when all I would have satisfied with was a refund so I could have went and stayed somewhere else but that was not an option. Trip #121-728-272-66

Kim ruberg
from Park Hills, MO
I got to hertz and did have a car available. I am having to wait for a car. This is unacceptable as I have flown into St. Louis to visit my daughter who is in the hospital and I am having to wait on a car that is charged to my credit card and is no refundable. I very upset set at this point. I would like the situation resolved by Priceline headquarters so I can be on my way. I can't see you can sell something that is not available. Rating will be a one as well as telling people how poor this is.

Kathy
from Jacksonville, FL
Did bid on rental car yesterday and didn't get car. They sent me a reminder today to bid again and I did not get car so website suggested I pick a different type of car which I did and it accepted my bid and went ahead and charged my car without me even getting to review it. So I called Budget Rent a Car to cancel but since reservation was with Priceline they said I had to contact Priceline. Spoke to a supervisor and Priceline within a hour of reservation and they refuse to refund money and they also refuse to match the price. I am filing a complaint with everyone I can!

Andrew Alamutu
from Covington, GA
Had a bad experience with Priceline before with hotel chosen for me and wanted to change to another hotel in the neighborhood but nothing was done. I believe this is bad customer service not to be able to change to another hotel even for a little more money.

Rose Marie Irot
from Las Vegas, NV
Priceline has the worst customer service ever! I called first on 2/24 to cancel my airline tickets #106-197-372-89. I was given the cancellation information and was told I would receive confirmation via my email per JC. This did not happen. I called again the following day and was told the cancellation had not been made and that the previous information I was given regarding the cancellation policy was incorrect, the recording of that call would be checked and that I would receive a call back. This never happened. I then called today, 2-28 and have again been told that the tickets have not been cancelled, I waited for .5 hours for a supervisor and was accosted by loud and obnoxious music. I then hung up with a headache.

Mona Gualtieri
from Saint Clair Shores, MI
I ordered and paid for a vehicle through Priceline. I got to the airport in AZ to pick it up and was told by your people that I had paid for a standard and Hertz Standard is as 2 door. I have several pages of the complaints to Priceline and their answers which I'm sure you won't be happy with either. I would like to send them to you but this form only allows one at a time. Can you give me an email I can forward these to?

Uriah kahan
from Oakland, CA
Been told I have a room at the Hyatt regency on 2/21 that I never made and I randomly found this out because I was staying there and they told that's my next reservation. I never ordered this and I demand Priceline figure it out. Does anyone know their customer service number to call?

Tonya Martin
from Sherburne, NY
I booked a rental car to be picked up in Phoenix airport and came down with the flu and was not bale to make the trip (Bed Ridden). I tried to contact Priceline to cancel and they where very rood to me stating "look at the cancellation policy"! The was the first time I ever used your company to book any trips, I spend about a 100K a year in business travel and thought I would give you guys a chance to earn my business. The Priceline number is 238-423-923-47 for $278.35. I am very upset with your customer service staff and how they would treat a new customer. Now I am out this money without you caring about me. Not my fault I have the flu, but you still hold this against the customer, this is not right. I would think this will cause people to not do business with your company when you have them locked in when unforeseen things happen.

Patrick Preston
from Stafford, VA
I was trying to book a flight with Priceline. When I submitted all my information, an error popped up on the screen. Therefor I wasn't sure if the payment went through, so I called the customer service desk. While on the phone. The agent looked up my information and said it hadn't went through. After that I wanted to take the safe route and just booked with the airline. The next day Priceline had billed me for the transaction and would not refund my money due to an error on there part.
It's highway robbery if you ask me. Priceline claims the best customer service but when someone with a real issue comes to them, they can't handle it. I will never use this website again unless there is some kind reciprocation for how I was treated today. Not to mention I was on the phone for almost an hour with customer service trying to straighten it out which they didn't. Thanks!

Angie McDonald
from Beaumont, TX
The hotel my family stayed in was a poor excuse for a hotel. When we booked it online we knew we were from out of town & didn't know the area. The managers were rude & the service was horrible. There were cobwebs hanging from the pictures in room. It was very cold about 34 deg. We turned the heat on about 70 degrees in hotel room. We left for the day & returned to find the unit had been turned off. Our room was so cold. Many other things occurred there. Poor place to stay. We learned our lesson. It must be 4 stars class or more to consider staying there. Why did Priceline remove our review on their site? I will just submit my complaint at as many other websites as possible now.

Phil Kirk
from Glen Cove, NY
I booked a hotel via Priceline for three days in Austin. They charged my credit card $374 and the hotel gave me a receipt for $301. I asked Priceline to credit the difference and they ignored me and I emailed, phone called and snail mailed the Priceline customer service department. See the paperwork.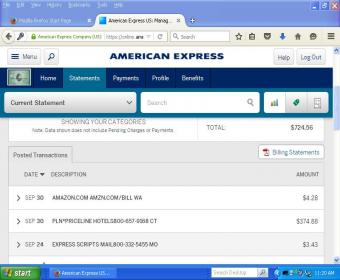 scott bulger
from Orlando, FL
My daughter needed to rent a car from Orlando to Atlanta. We were at dinner and saw the prices which were quite high but could not get to the name your price option on your website from our phones. When we got home and could use my desktop I put in a name your price and got the rental car. I know that I was looking for Orlando to Atlanta, do not know where it changed to Orlando round trip and how I did not see it. We get to the airport and that is when we found out it was round trip Orlando, not Orlando to Atlanta. Ironically the price I put in in the name your price was more than the normal price for a roundtrip Orlando. Anyway....they still rented her the car at the regular price of $130 and apparently made a new contract and told her to contact Priceline for a refund of the one I did by mistake. I have not had any luck with this.
I just keep getting the standard....sorry but nothing we can do. I have explained that the car was still rented and provided all of the information but get the same response. I contacted Alamo to see if they would refund this payment but they said they were not paid by Priceline since they did the booking under their regular Rental Agreement number and the one for Priceline was considered a no show. If my daughter had ended up not renting a car from Alamo, I could understand and would not even be asking for a refund...but she still rented the car. In the past I had a trip booked, paid for a hotel and car, then the flight kept getting delayed and by the time they were ready to go it was going to get me there too late for the function I was going for so I just went home. I of course got refunded from the airline but never asked for anything for the car and hotel as I understand. They were not used and not your fault I couldn't get there. However this car was still rented so I do not understand the hard time getting refunded for the one not used. I appreciate any consideration.

Clint Davis
from Gulf Shores, AL
Priceline booked me with Bangor Maine Budget Rental Car and my flight was cancelled in NYC and showed up next day to pick up car and budget said they cancelled my reservation of 218.00 for a week and said my new rate was 762.81. I said no and said enterprise would rent me one then following day for 199.67. I said I would like to have one day rental only and Budget told me they were out of one day rentals and turned the counter lights out on me at 1:30 A.M in the morning. Cold hearted Mainers who hate tourist. I could tell he really enjoyed denying me a car. Called priceline and they said they have a lot of trouble with Budget in Bangor and said sorry, could not issue a refund. Do not deal with Priceline or Budget Rental Car in Maine! A True Nightmare. I think these people at budget are Stephen King creatures.

Theodore T Pantaleo
from Norristown, PA
My wife and I booked a hotel room in Atlantic City for August 29 till August 30. The hotel was the Bayview Inn and Suites Atlantic City. We arrived at the hotel and it was located in a dangerous neighborhood. We felt unsafe! Not only was in in bad neighborhood the hotel was filthy and had a terrible smell. We want a refund. Your advertisement for a quality hotel is miss leading and inaccurate.

Dana Pionto
from Belvidere, IL
I recently had to go to Boston for Pituitary surgery for Cushing's Disease. I knew I would have a lot on my mind getting closer to the date so I wanted to get everything lined up with hotel and car rentals. Three weeks before I was scheduled to fly out, I booked a mid-size car from Avis through Priceline (confirmation number 49382786US5 ) I bought the insurance for 10 dollars a day as well.
When I got to Logan airport, I was offered an upgrade to a Mustang for 30 dollars a day from Maurice, who was dealing with me at the counter. I explained to him that that would be nice, but I can't really afford it and I was having surgery in a couple days so money was tight. He took a phone call and after he hung up, he said that I could have it for ten dollars a day. I figured I could manage an extra 90 dollars for the trip so I agreed.
After he did the paperwork and I signed, I just assumed I was re-swiping my card for the upgrade and confirmation of the original rental. When I got home, I saw two charges for different amounts, one from Priceline for 464 and change, plus the 90 dollars for the insurance, and one from Priceline for 434 and change.
I called Priceline about this and they said they would look into it. They called back and refunded me the insurance I took out. It turns out, when I did the upgrade, the insurance I already took out didn't matter and Avis charged me for full collision at 30 dollars extra a day. Had I have known that was the case, I would have declined the car.
Priceline should have something in place to keep scams like this from happening. I was scheduled for surgery in three days, the last thing I was thinking about was having to make sure I wasn't getting ripped off and taken advantage of. I will never use Priceline again if this is how they conduct themselves.

Chris Dewey
from Shelby, NC
Motel is not comparable to a comfort Inn. Not a two star. We just started using Priceline and have been very pleased until tonight. Room smells of dampness and we found a large area on the floor that is smoking wet. The sheets are stained and we will not get in the bed. Loud neighborhood. Very scary for my wife and I. Sink is broken. Frig is loud. People next door outside smoking and talking and it is after midnight. Door lock is not secure and has no slip lock. We have a chair against the door for security. We are not complainers but this is not right.

Gary McCoy
from Louisville, KY
We Pricelined rooms for Nashville Tennessee for a short getaway. We selected downtown Nashville or Vanderbilt. The hotel we were awarded is very clearly not downtown (it is actually 3 miles out) which is extremely inconvenient for our purposes. I think it is very clearly not in the parameter we selected. When we called Priceline to complain, they refused to cancel this reservation because they have a contract with their vendors and would not break it. The supervisor we talked to said she cannot do anything about this. We are extremely disappointed and feel like we ripped off!! I intend to never use Priceline again and will find another online service to use for future reservations.

when booking with priceline i haw a free shuttle offered with my reservation. upon arriving in germany and calling the hotel i was told they didn/t have free shuttle service( sheraton frankfurt congress hotel 4 star) and had to pay for 4 taxi rides totalling over $80 euros ($100) to get to and from the airport. the desk clerk at the hotel confirmed this had been a porblem before with priceline, and that their website had taken the free shuttle offer away. i know i saw this on their site. no help at all when contacting customer service or customer relations. BUYER BEWARE!

I reserved a rental car on September 26th 2012 for the following day September 37th through October 1st on Priceline. They told me i am getting a "deal" of $19.00 a day. (Which is false because of the extra charges from Herts of an additional $105.29 it turns out to not be a deal at all) but my complaint is about the drop-off date. I returned the car to Herts around 2:43pm on October 1st because Herts told us if we return the car before 4:00pm we wouldn't get charged for the 5th day. So we did and they didn't charge us. But for my priceline reservation i put the drop-off time at 5:30pm because this was before i knew anything about the 4:00pm cut off time. Either way i turned it in before 4:00pm and priceline is still going to charge me for the extra whole day because on my reservation i picked a later time. I called and they said there was nothing they could do because i picked that later time so i will get charged another day. I think this is completly unfair, they should look at the time i actualy turned it in not the time i picked on my reservation. I will not be using priceline again. Not only do i have to pay for a day i did not use, their customer service lady was rude.

Booked two seats on American Airlines, #1459 for May 28, 2013, approximately one month prior to travel I was informed by American Airlines that Priceline is solely responsible for seat assignments resulting in one passenger on seat 23B, and the other passenger " unassigned". If two seats weren't available, wouldn't it be logical to have both"unassigned"? After six hours of inquires to Priceline and American Airlines both were unable to provide an explanation or reason for the "seating arrangement", for flight #1459, nor could they resolve the issue. Other portions of the trip were booked by the passenger, needless to say, the portions booked by the passengers were for two seats, side-by-side for each leg of the trip. Can you provide an explanation?

Sutherland priceline have discriminated harrassed an innocent customer defamed my character they have treated me with contempt
I have not done anything wrong they follow your every move which is not needed as I have done nothing wrong they tell you to get out of the
shop because you did not make a purchase you were deciding what to buy. I will never shop at any of you stores again they have now ruined
your reputation the managers should be sacked.They are horrible they had me in tears. They check your bag every time you leave the store and
I have always willing showed them as I have never done anything wrong . They are the wrong doers by this customer. You need all new staff at
Sutherland store people that actually care about this innocent customer. They tell you can't come back if you wanted to and give you no reason
when you asked they aren't allowed to say is their excuse. I have been a loyal customer with them for years never again & I will never ever recommend
them to anyone again. I was dressed apprioately they have no excuse. No reason. Well you can be happy knowing you have lost a loyal customer for
business. It makes you wonder how many more you will lose because of the staff at Sutherland Priceline.

Priceline computers switched my name on my itinerary and when I recognized this the "customer service" people I was on the phone with were extremely rude. After admitting it was the Priceline computer's fault, they still wouldn't do anything about it and only wanted me to pay the $100 fee. I am a student where money is low, and was not only blown away, but embarrassed that Priceline would treat customers like this.
First, and definitely last time using Priceline. Will never recommend it to friends or family either. Cannot believe a national travel company has this low of customer service.
Please feel free to contact me.
Neil

I am so disappointed with Priceline. I have used your service many times before so I am well aware of rules and regulations. For that reason, I am very careful when submitting a bid. This time after submitting my offer, priceline says that I won and that they have a room for me in BUENA PARK. I KNOW for a fact that I never listed BUENA PARK as one of the place I want to book a room.
NO WAY. It's an ugly city, far away from me, and to be honest I have an ex boyfriend who lives there and I made it very clear that I hated that city. There is no possible way I would EVER choose to rent a room in that aweful city. I tried customer service but got absolutely nowhere.
The reservation is for today but I am 100% against going along with this crap. I do not wish to spend a dime in that nasty place. I do wish to book a room but not there. Please contact me asap to fix this. I have always used your site but am really beginning to lose faith in the way you handle situations such as mine.
And I want to know how and why BUENA PARK even came up at all. I need a live person to call me within the next couple hours. This is causing more issues than you can imagine.

ALWAYS BOOK DIRECTLY WITH THE AIRLINE! I will from now on. Priceline customer service is deplorable. What a waste of time and money. I purchased at FULL PRICE airline tickets for my 10 year anniversary. I chose the full price format because I wanted to be sure of the selected seats and flight times. The booking process lets you choose the seats for the outgoing flight, then gives you the impression that you are selecting seats together for the return flight. My confirmation page said that I would be booked in the seat next to my husband. I only booked with them instead of the thru the airline, cause I wanted to book a car at the same time. Then I get my confirmation email that states that there was not a car available after all and my husband and I are seating 3 rows apart!!!!
I would not have clicked confirm "signing the contract" if it had stated the truth. So the contract was a lie, I didnt agree to the package they really sold me. I contact "customer service" 3 months in advance to have the error fixed. Their so called "customer service" is run by a bunch of foreigners who barely speak English and are beyond rude!! They refused to acknowledge any of this, even though several flights were available they refused any help. I have copies of the original "contract" that I clicked to purchase. They refuse to transfer you to a supervisor, saying they don't have one. Their only response is "we will mail you a copy of our contract policies". My response was "I can mail them a copy of the original contract that I clicked to purchase". Their response was just silence. William Shatner should be ashamed of himself for representing this fraudulent company!!!!

OMG, I never complain, ever, I have been in the service business half my life, this past july 2011, booked a room for two days on price line. On the priceline.com site, it stated this particular hotel was 5 stars, nice room, etc,etc, arrived there, room was on the first floor, it was horrible, smelled, (bathroom was nice) the bay window was cracked and would not lock. Went to front desk and asked them hopefully if they had another room, "no" unfortunately, however, the nice lady was aware of the broken window and it was on "the maintenance list".
I had used a coat hanger to prop under the sliding pane to reduce the length the window could slide open. Had no choice and stayed the first of three nights, my 72 year old mother was just not comfortable in this room. "the window still could slide open wide enough for some one to fit through". We left the next morning. To date, price line has charged me for the three night and has not responded to my messages, (if you can reach a real person and not stay on hold for 20 minutes) "no response from them what-so-ever.
BUT they have certainly made sure to fight the complaint I submitted to my credit card company. I am damned if I am going to be charged for three nights when this company advertised this certain hotel to be 5 star and fancy. For gosh sake, "IT IS NOT THE MONEY, IT IS THE PRINCIPAL. "your a joke price line and should be held accountable for your false advertisements, to consumers. Have a nice day.

We used price line on Oct 21, 2012 for a hotel. Price line gave us Hilton Hotel bwi, in Maryland. This hotel was very dirty. We were supposed to be in a non smoking room and it smelled strongly of smoke and a strong perfume to mask the smell. The toilet seat in our room was dirty with dried waste and ect, on it. The shower curtain was not even properly attached to the bar. There was ants all over the floor in the pool room, the halls/elevators were dirty. I was very unhappy with this hotel. It was supposed to a 3 1/2 star hotel and I felt like it was a 2 star, if that.

I purchased a vacation package for family of 4 (2 adults and 2 children) through Priceline.com After the purchase I realized I could have save $173 dollars by purchasing them separetely from them. I called the customer service to refund the difference and they just e-mail me their policy and a coupon. This is what they advertise in their vacation package section. "By booking a flight and a hotel room together, with or Without a rental car, Traveler may save up to $500 when compared to reserving them seprately. Priceline vacation packages have the best prices.Guaranteed"
I strongly feel this is misleading consumers by false advertisement. Priceline should not be able to advertise these kinds of vacation packages without following through with their deal for customers. I was looking forward to something, and feel like I was victim to a scam bait and switch. I know there are strong words but that's what the world is coming to. They should have given me a refund no matter what when I called their customer service line. If you have a website that people use your customer service should be a top priority! Quit figuring out ways to make more money and find ways to help people solve their problems more...
Priceline booked and charged me for an additional night that I did not request. I discussed the issue with the hotel front desk upon arrival and was advised to call Priceline. Priceline refused to reimburse the additional stay, a cost of $124.25. My job entails extensive travel, not only for me but for my employees (14 at times when I have used this service to book flights and block hotel rooms). Given this lack of consideration, I will now use competing companies unless I am granted a concession on this one-time circumstance. Thank you for your attention.

Priceline is BIG on the "bait and switch" scenarios. Here is my letter to management at Priceline. com which reflects what happened to me: Dear Priceline Management: I am EXTREMELY disappointed in Priceline and can promise you that I have no desire to use your services again unless some proper action is taken to correct a Priceline error. I purchased tickets (which CLEARLY say First Class Flights) from New Orleans to Bali, Indonesia via LA and Taiwan, yet when I went to choose seats, it would only give me Economy seat selection.
I emailed your customer service dept before confirming and received a response which told me to pick a seat and then call the airlines to make a first class selection. This I did and Delta told me that I had not purchased first class tickets (even though my paperwork says I did and your customer service verified....Angela). Delta told me I needed to call you guys and have it corrected as the ticket purchase was thru your site.
I spent 56 minutes and 3 transfers on the phone with your "customer service and supervisors" and was finally told that for YOUR mistake the only thing they could do was cancel me with a full refund. Why would I want to do that and take a chance on NOT being able to travel on my selected dates. I have since found on line that several people feel that you "count on them not wanting to cancel for fear of not being able to get a flight on their travel dates".
I even offered to email or fax my paperwork and email response from Priceline, to your customer service so that they could see what I was seeing. I was told "no, you are absolutely correct, we see that it was offered as first class flight, however you were given economy". I chose your site because I was offered a specific fare and seating at a specific price. You sold me something different. In this country that is called bait and switch and it is illegal. I chose to keep my reservation rather than take a chance on losing my travel dates. I am very disappointed and sad that Priceline has sunk to this level. All you had to do was honor what you sold. Tsk, tsk.
Unfortunately, as a frequent international and domestic traveller, it is my responsibility, to my friends and family that travel, to make sure that they are aware of this incident. I was even more alarmed when I began checking the internet to find that this is most definitely NOT an isolated case. What is even more important....I kept my cool, never used foul language, agreed to repeated transfers and holds, and did it all with ease and grace hoping that you all would do the right thing; you should have upgraded the seats at the cost that you sold them to me. You still didn't......:(
As a manager and business owner, myself, when I or someone on my team makes an error or makes a grave customer service mistake, I want to know about it and then take proper measures to correct and thereby deflect a marketing nightmare. I am hoping that, as managers, you all feel the same way. Here's your chance.

Eric Venegas
from Visalia, CA
Priceline gave me a hidden fee (courtesy) disclosed after the fact. I thought that I received a good deal on a hotel last week, but was informed afterwards, that there was an additional "hotel fee". I was upset and was unaware of where to call and/or complain to get that amount refunded, or what I could do. I will NEVER EVER book through Priceline again. I will also tell all of my friends and family about this, so they could make better choices when booking a hotel.

I made a bid on a rental car and won an Avis car for 5 days for a total charge of $251.10 . After returning the car Avis charged me an additional $27.38 for concession recovery fee and energy recovery fee. I complained to Priceline and they said that it is written in Priceline contract, thought it doesn't.
The contract says that "The rental partner will charge your credit card at the rental counter for any optional items you add to your reservation now or at the counter" and I haven't requested or received any optional items.

Due to a change in my schedule, I am unable to fly on my December 30, 2012 flight, Trip Number:131-494-910-41. I called the customer service line at 11:00 this morning and waited on hold until 11:47 when someone hung up on me. I then called back about an hour later and waited on hold for an hour, and no one answered. I contacted Priceline through internet chat, and the lady "Jen" said that I need to contact customer service for a refund. The internet chat took about 25 minutes to get a response. I am now on the phone with Priceline. I called at 3:55, and I am still on hold.
This is completely unacceptable. Because of the time your company has made me waste, I feel I deserve a refund for the ticket in the full amount I paid, which was $99.80.
Please contact me soon by email or by phone. I have tried to be patient as I understand you may be busy, but this is the worst customer support I have ever experienced.

We recently booked a deluxe room that was supposed to be water front at the Flamingo hotel in St Maarten using Priceline. Not only was it not waterfront but the room smelled like a sewer and was infested with bugs. When we called Priceline for help it took them 4 hours to do anything about it our arms and legs were covered with bites after we finally had to stand outside and literally yell at them. They canceled the room and said they refunded our money but offered no help to find another hotel leaving us stranded in St Maarten. This was our only vacation in two years and when sent an email about it we were ignored.
Do not use priceline the service is terrible and they list substandard hotels.

I purchased a flight, hotel,  and rental car package all through the priceline website. Here is my complaint and problem, they booked my return flight that was in conflict with the return of the rental car. Airport Avis opens at 5am. Flight leaves at 6am. No way I can make it through TSA for a 6am flight, it's just not possible and their system should know that. There's no one to talk to at priceline, and I cannot get ahold of customer service complaints at all. My only options are the following. Get to the airport when the rentals close at 12:30 am, and spend the night at the airport or book another fight. These people with priceline suck!!!

I too got the blown off by Priceline, I was a strong supporter of Priceline for the last 8 years until now. So I have to turn to my 7 year old son and tell him we flew over 3000 miles to Disneyland and cant go in the gate because our "Priceline Voucher " is not valid . Shame on you Priceline!!! So they get back to me 5 days later and blow me off saying I purchased tickets through them (Priceline) that are non-refundable and its my problem not theirs. Is it me or am I in the wrong, you got to be kidding me Priceline. Believe me the fight is not over, you have picked the wrong family to blow off and STEAL my 7 year old sons money, are you kidding me!!!
Have feedback for Priceline?
Thanks for your feedback!
Sorry. Please try again later!