PNC
PNC Complaints Continued... (Page 2)
61+ reviews added so far. Upset? Call PNC corporate: 1-888-PNC-BANK

Vivian
from Avon Lake, OH
I had a poor experience with:
Loan Officer Jason J Schrantz, Mortgage Loan Officer NMLS ID 257888
15398 Pearl Road B7-YM85-01-1
Strongsville Ohio 44136
At the Bay Village Ohio PNC Branch on Dover Center Road
Initially offered to come to my home to provide a pre-approval. When I asked him to follow through on the offer because my husband worked nights and would like to maximize his sleep time, he said it was no longer possible because he needed a printer. I asked if I needed to bring any documents he told me no. He said he had a 9am appointment so we made a 10am appointment for the following day. I showed up for the appointment on time. He printed out 1 sheet of paper and said it was a list of documents we needed to get to him. We brought copies of our banking information, pay stubs, etc. and he said he would get the information from the bank manager at a later time. He also told us that the meeting was over because his 9am arrived late, and he had a 10am conference call. When I asked why we had to come in for the printer, he responded that he would email the information and that it would take 48 hrs to get the pre-approval. He essentially double-booked himself, lied about a pre-approval taking 48 hrs. We recently had one done in minutes, and penalized us because a previous client arrived late.

Dolores M Pewitt
from Cumming, GA
Cant close an account ====personnel giving me hard time!!!!!!!!
I'm still waiting for my money---1 week.....(in money mkt account f/2 years.)
large amount......(Ive been sick f/8 months).....
Jennilee (Manager),,,,,,Ruben ===Fin. Advisor
Hope you can help!!!!

Connie Smith
from Indianapolis, IN
I arrived at drive up to make payment on account. was addressed by young black man, who said, " its ok I will get to you just bear with me"....I hadn't said a word to him. I placed my payment only to have it returned to me with him saying, "sorry you HAVE to fill in the payment amount, don't get mad and I "GAVE YOU A PEN"!! Remind you I have not said one word only looked at him through the window. I filled in the payment amount and returned the invoice with my check. Ok now I was the only car at the drive up windows....it took him 20 minutes to stop talking to the other teller and when I pushed the "talk" button he only looked at me like I was bothering him. He finally returns me my receipt then just shrugs at me and gives me a look as though he wanted to say something else but didn't. I actually felt threatened by his actions. This transaction took place at the location Indianapolis 950 N Shadeland Ave (076) I have been in the customer service business all my like and trust me I know when an individual is being disrespectful, this young man was being disrespectful. Transaction date 8/19/2017, transaction number 00218, payment 14:15 cashbox07. I would suggest this location find a teller who can be respectful to their customers. I will not be returning to that location.

Theresa Winchell/Donahoe Farm Llc
from Dover, DE
To whom it may concern, I represent Theresa/Donahoe Farm Llc, as manager and P.o.a. for farming contracts. In Jan 2017, a person was added to this acct. as a signer, Theresa was never informed. In May 2017, This same person removed $92,000 with a bank check and her signature. This same person has no authority to do any business for the company.
A complaint was filed with the Dover DE main branch, the manager was quite upset about the failure of the branch an hour away to verify all correct rules were being followed.
A second complaint was filed because of no response from anyone. Finally gets to escalation dept..now in sept, a third complaint, I need to hear something! After Labor Day I get msg, we have been trying to contact you.. Two email addresses 3 phone #'s, nothing until Aug 31.. I am then informed paperwork is correct, case closed. Really, this lady returned my call read a q card note and couldn't help me any further. No person,phone number, legal, nothing. I never spoke to the investigator. Ref# 217242003638
Theresa Winchell is 88 years old and fully competent, lives in assisted living and handles all of her business. She only assigned me as manager because she cannot run around physically. My number 302-697-2096 her number 302-744-2040 ..Note: I tracked the funds to TD bank within 1week, last month I got information, new EIN : and acct does not have Theresa Winchell listed on acct. TD has locked the acct. I have their investigator number and he has a file full of supporting documents. My email is jameswinchell@yahoo.com, be more than happy to share. Seems like you might want to get these two fraudsters/ at least elderly abusers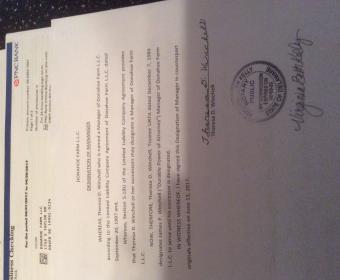 chery
from Perryville, MD
Dear PNC Management. I have been a PNC customer since I arrived in Maryland in 1987. That is 3 decades. As of today, I have an interest building checking account of which I maintain a monthly balance of over $5000, a savings account of over $4000, 2 car loans thru PNC and a trust fund for my granddaughter of over $18,000.
Recently I found out about a cash builder credit card that PNC offers with a promotion of $100 cashback if a thousand dollars is put on the card in the first 3 months. I searched for the promotion and found it on the website:
https://www.pnc.com/en (Please go to this site and focus on the promotion offered in the middle section. The cashbuilder credit card.)
There were 3 offers and I chose to apply for the Cashbuilder Visa Credit card with the $100 cash back. The offer was good until 10.31.2016. PNC accepted my application under this promotion and sent me my new PNC cashbuilder Credit card of which I began using. I put a $1000 on the card in the first month and every month since.
As time went by, I made many phone calls to PNC to check on the promotion and ask questions about the cash awards I was earning. Every phone call was met with reassurance that the promotion would be credited to my account but to give it time to post. After 4 billing cycles, I became a little more insistent and to my satisfaction a specialist named Caitlyn began investigating.
A few weeks went by and I didn't hear anything back and after leaving quite a few messages I received a phone call today from Caitlyn telling me that the promotion would not be honored because the application was coded incorrectly. You can imagine my shock. My thoughts of fraud, deception, false advertising and utter and complete disloyalty ,all went thru went thru my mind during that conversation.
I have been loyal to PNC most of my adult life. I have trusted this establishment with my money and my life's savings. For PNC to turn their back on me over a $100 makes me sick. It's just a $100, but it's my $100 that I have been waiting on for 5 months and been reassured with each phone call to customer service, until recently, that I would receive it in due time.
I do not care at all that my application was coded incorrectly. I went to the PNC site and applied for this card under a particular promotion that i expect to honored. Common courtesies that existed years ago such as morality, being ethical, being loyal and honest, do not exist in this world today and PNC proved that today. Thank you PNC for showing a loyal customer who has stood behind you for many years, that you do not return that favor in kind.
Do you know that I have searched for other ways to apply for the Visa Cashbuilder card just to see if it exists without the promotion, on the off chance that after reading thru the promotion offered, I inadvertently left the website, googled another website without the promotion and applied there. It doesn't exist. And I am not stupid.
I don't know if the person reading this letter is a customer advocate or a PNC money maker but someone over there needs to step out of their comfort zone and honor the promotion I applied for no matter what stupid code is attached to my application. Because you see, I am one of the loyal people left in this world, but I will not stay with a disloyal partner.
A mistake has been made and I have been mislead for 5 months. I need a phone call, an email, a text, or a letter with a response that this situation is being rectified.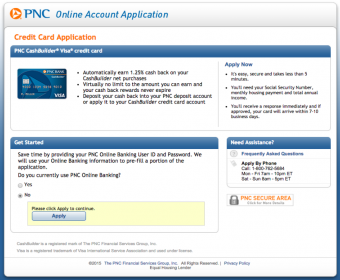 Russell Jones
from Davidson, NC
I have a business referring clients to banks to get a HELOC for the purpose of paying off mortgage and then using properties to accelerate the payoff of the new HELOC which is now in 1st lien position....this will generate millions in portfolio for participating banks. Went to Cornelius, NC branch and spoke with manager to answer very specific questions I have....she subsequently told me PNC doesn't do 1st lien position HELOC's nor does it allow participation in the "accelerated program".
I subsequently asked what LTV was offered and she said 80% which is false as 89.9% is the correct answer. This manager really did all she could to discourage my business...very short sighted as I have greater purpose beyond HELOC such as wealth management for my portfolio. Subsequently I was given number to call a "Jonelle" in NC who spoke briefly with me but due to time limitations I couldn't continue the conversation and called HER back and she hasn't returned my call..nearly 2 weeks ago.

Money stolen as a cybercrime in October 2015 and will not reimburse my money. I have tried since March 8 to close my account and customer support hotline won't let me - always an excuse. I had 4 bank accounts there and have closed mine, my savings; now my wife is moving hers and our daughters saving. Come on PNC! Do you really want more angry customers and negative reviews online?

Anthoy Tuccillo
from Boca Raton, FL
After having one of our cards compromised we were sent a new card. I keep all of my PNC accounts linked along with my credit cards. Every time I have to replace my card I have to go to the local bank and they take about a month to figure out how to link the new card to my acct. Why don't these people know how to do this? It has happened over and over and I am disabled and it is very difficult to make these trips to the bank just to find out that the young surly vice pres doesn't know how to do any of thus and he has to consult with an assistant. I pay my visa by transferring funds at my desk now I cannot pay please find someone who knows how do do this.

From the start back in June we was pre-approved at $300,000. We made an offer on a house and started the Loan Process 8 weeks ago , We have yet to be told much of anything but that its still in the underwriters hands. The home owner is frustrated and wants to cancel the deal if we cant tell them something ASAP like today. I called my mortgage person and he says he is frustrated too. But this has become a nightmare. There is a lot more that I want to complain about. But I am sure nothing will happen anyway. I am going to blast everything on Social Media sites if I don't hear something from PNC customer service department today. We should of been told something a month ago and here it is 2 months now. Simply not good business.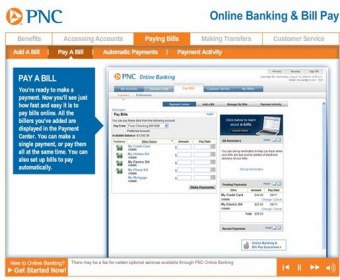 Looking for a mortgage loan.. Well PNC is the place I got a good deal on mortgage. They have simple procedures and policies. After I contacted them for a loan, their executives have helped me through the process and made the entire procedure hassle free. Great customer service at PNC. Their home affordability calculator would give us exactly the price we are eligible for based on our income and other aspects. Not just this, we get to compare it with other competitors and see why PNC has the best interest rates in the market. They have shown me an estimate on how much my monthly payment would be so that I can plan my expenses. PNC is the right choice and I would suggest this to anyone looking for not just mortgage loans, but also credit cards, prepaid cards or any investment retirement plans.
Thanks for your feedback!
Sorry. Please try again later!