PayPal
PayPal Complaints Continued... (Page 2)
98+ reviews added so far. Upset? Call PayPal corporate: 1-888-221-1161

Willie Bryant
from Killeen, TX
I placed an order with CARiD I received that item and noticed that it was not the item that I wanted. I returned the item and because that said that there is an investigation ongoing with UPS they can not refund or address my concern for six months. Please follow up on this for me.

Barbara Roth
from Edgemoor, SC
I purchased 3 bras from an ad I saw on Facebook. The bras were actually supposed to come from Choicest1.com but the charge on my credit card shows Storm Media Ltd. as the recipient of the money through PayPal. I placed the order on July 20. I was charged, but never received a confirmation number nor did I get a tracking number or an order number. I have no way of proving my purchase except by the charge on my credit card for $25.96. From all the things I have read about Storm Media Ltd. since I placed this order, they do this kind of scam on a regular basis and seem to get away with it.

Roger Allan Manlove
from Indianapolis, IN
Hope complaint works. Why they try to resolve issues in a roundabout way and never get them resolved, I don't know.
Thank you. Didn't change phone number and card number plus didn't send me a link to do so.
I receveid your Complaint Conformation and tried to contact you another page, but it disappeared in my laptop.
Oh well. So - letting you know I got that.
SIncerely,
Roger Allan Manlove

Dee Alty
from Moonah, TAS
My complaint is that I cannot get any assistance to sort out a problem - i have been left on hold for over an hour now and I just get lots of words telling me what I should be doing - but not addressing my problem. I just think that a public service like Paypal should be able to be contacted by phone - I AM FEELING VERY ANNOYED AND UPSET!
ANSWER YOUR FRIGGING PHONE

Roger Allan manlo
from Indianapolis, IN
1. Did not resolve changing telephone number.
2. Did not resolve deleting old card number and upgrading with new one.
3. Have items in cart to purchase plus another to do.
4. Failure to cooperate.
5. Did not send me notice on how to change phone number and card number.

Roger Allan Manlove
from Indianapolis, IN
Still no answer from you.
Zero stars lit:
I. Was supposed to have been sent a contact to change telephone number.
II. Could not delete old debit card and insert new debit card number.
III. Impossible to change password. Mine didn't work somehow. No assistance in so doing.
IV. No response from you from last complaint note. Why lack of cooporation?
I have things in my cart I need to pay for.
Angrily,
Roger Allan Manlove
.

Roger Allan Manlove
from Indianapolis, IN
I. Called and talked to an agent. She was supposed to add my new telephone number to my account.
Did not do so. New Number:
1-317-778-6338,
II. Supposed tom have sent me a link with a contact number to change my Password. Failed to do so.
III. Need to cancel previous debit card number and replace it with new one.
Could not do. Impossible. All need to do is to cancel old one and add new one without running around in a circle. Like I did last night.
IV. An agent was supposed to have called me back within a half hour. Did not do so.
RATING: No stars lit. Zero successful co-operation.
Roger Allan Manlove

Julie De Bauche
from Baraboo, WI
Here are details of email received from Ebay verifying my return. I never received the money, provided tracking, $362.48, original purchase 12-5-17
GS=CU1193 | Escalating claim to CS, I received an item that is not as described [#HK $US A22 ?01 ] SR# 1-142743195839
Hello Harold,
A pleasant day to you! I'm contacting you about the Women Real Large Raccoon Fur Collar Cuff Lined Hooded Coat Parkas Outwear Jacket (122798258961) and I appreciate your willingness to work with us regarding this matter. My name is Dereck your resolution partner. Rest assured that I'll get into this and resolve this fairly.
I appreciate you for bringing this matter to our attention and I understand you need assistance since you have already returned the item but they haven't issued your refund yet.
I reviewed the transaction and I can see that the package was confirmed delivered to the seller on December 04, 2017 and in line with this, I have closed the case in your favor and you don't have to do anything else from your end.
Please note that once we issue a refund, it will be credited to the funding source you used (credit card, debit card, or PayPal balance). You will be notified through your Resolution Center and eBay Messages once the funds have been credited. If you used a card or a bank account and did not pay with PayPal, you can contact your card/bank provider. It normally takes 3-5 business days for a refund to reflect on your account.
I hope this helps and thanks for choosing eBay as your online marketplace. If you need any assistance on your eBay transactions, please don't hesitate to contact us. We'll be more than happy to provide all the help you need.
Kind regards,
Dereck
eBay Customer Service
[THREAD ID: 1-142743195839]
eBay Document ID: 52216570007
eBay is committed to your privacy. Read our user agreement and privacy notice. Learn how to recognize fake (spoof) emails.
Copyright © 2017 eBay Inc. All Rights Reserved. Designated trademarks and brands are the property of their respective owners. eBay and the eBay logo are trademarks of eBay Inc., 2145 Hamilton Avenue, San Jose, CA 95125.

Danielle
from San Francisco, CA
Oh my god PayPal blocked me buying anything I didn't do anything wrong I have over 100$ on my account and I call then I'm on hold for an hour and they say to buy it another way excuse me all my money is on there account

Patrick Ruane
from Kensington, ENG
Ok twice in two weeks,
Had crap happen with pay pal, totally ruined my paris trip. Had to spend hours on the phone to my bank.
and again today it has happened again this time while spending time with my daughter who I have not seen in three years. instead of spending time with her I ended up waisting hours on the phone and no one answered, you are a rubbish bank!! Your customer service is poor, to be honest if I ever come face to face with any one of your upper UK US management team or VP or CEO at a business conference one of us will be spending a few months in hospital. Not only did you ruin my paris trip but you ruined my time with my daughter to, and that is unforgiveable.
you took £97 out of my bank account to pay a dating site that I don't even use. and one to 5 rating is Minus 1000. you are total shit...

karin kearns
from New York, NY
Holding people's money for 72 hours is unethical business practice. PayPal does provide a service but it also is a business that scams maximum money out of its clients. Totally unacceptable. If you want fair business practice for fairer financial transactions, look for other options that conduct better business - such as Transfer Wise or even your standard bank. I am waiting for a more forward-thinking financial service to put PayPal out of business.

laurie spero
from Jupiter, FL
I was checking the total price of an item on eBay. next thing I knew a purchase was made got PayPal receipt. PayPal could not match the receipt
number. was hold over 10 about my account. called it would be 2 hrs for a callback unacceptable.!
I feel I scammed by PayPal on eBay.
Purchased From:/NoteTammy Richard
Receipt ID:/Note5447-7577-7747-4953
Item Quantity Price Subtotal
112091243263
5 Ivory white crystal CANDELABRA Candle holder Wedding party table centerpiece 1 $128.00 USD $128.00 USD
Shipping & Handling:
(includes any seller handling fees) $0.00 USD
Shipping Insurance (not offered): --
Total: $128.00 USD
This charge will appear on your credit card statement as "PAYPAL *TAMMYRICHAR".
Payment sent to giftemart@yahoo.com
Business information
Business:
Tammy Richard
Contact E-Mail:
giftemart@yahoo.com
Shipping Information
Shipping Info: dIane spero
elf spero
130 golf village blvd.
jupiter, FL 33458
United States
Address status: Confirmed
Receipt Number: 5447-7577-7747-4953.
PayPal has no idea about this transaction. kept putting me on hold!

I am so tired of having to change my Paypal password. I have so many online accounts that I have a hard time now keeping up with passwords, I do not sit in my office where I can easily look up passwords in my "little black book" I am on the road in multiple vehicles every day and have online business to do, I do not like being forced to change my password I create and protect them do not force me to change my way of doing things to suit your idea of security, You presume your company is the only one people use in a days business,. Well let me tell you your not and your mandated change cause problems for your customers or past customers as it soon will be.

Christine Carter
from Basildon, ENG
Paypal refunded a client who booked my holiday apartment then cancelled. This left me out of pocket by £400 as I had turned away another client because of the booking. I told TripAdvisor who I made the booking through I was not prepared to cancel the booking but the client applied for a refund and Paypal made the decision to fund despite my complaint and explanation. Paypal also told me they did not receive the money from the client and that it was TripAdvisor who made the refund but this is not the case. Paypal made the refund taking my money.
I want my money back from Paypal who had no right to make the decision in the clients favor. The client was telling lies by saying they booked in error but they did not, they tried to beat the system. I have an email from TripAdvisor who confirms this was PayPal's decision to make the refund. Please see file below from TripAdvisor.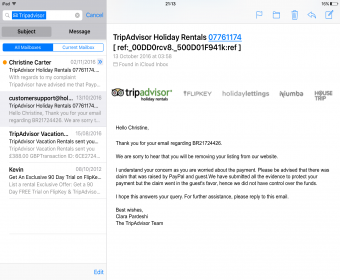 chuck cradlebaugh
from Inverness, FL
I made a bank payment to paypal on my account of 70.60. The seller did not provide the product to me so I opened a dispute. I won the dispute and asked for my 70.60 to be returned to me. I asked for a check to be mailed to me because I took the money out of my bank account. I called pay pal today 10/29/16 and they told me they could not return my money. My money was added to my pay pal credit account. I feel this is very unfair because I asked for my money to be returned in the form of a check so I could return it to my bank account.

Shelly Fenn
from Salt Lake City, UT
I applied for Paypal credit in August 2016 and was approved for $3,250.00 I placed an order for $117.17 and payed in full in September by due date. I placed a second order for my daughters birthday through shop Paypal I found 2 items from Under Armor I chose the paypal credit button and completed my Paypal credit purchase. The purchase for $ 82.64 was approved and shipped to my daughter. I went on vacation for a week and returned to find that Paypal credit had then declined the credit payment and over drafted my account charging for each individual item this time.
$51.35 on 09/26 -$ 25.00 Overdraft fee. $31.29 on 09/26 - $25.00 Overdraft fee. $51.35 on 09/30 - $25.00 Overdraft fee. $31.29 on 09/30 - $25.00 Overdraft fee. The $82.64 purchase is now costing $182.64. Needless to say I am astonished by this practice used by Paypal.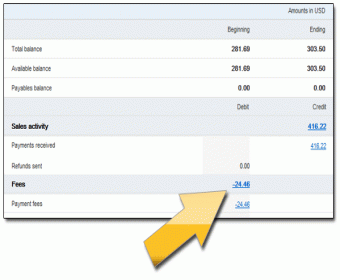 Hanane Lakhdim
from Calgary, AB
I had customer who purchased pants from me and was not happy with the purchase she that made claim through paypal that item was not as described. She got her money back but I did not received my item and she kept it. And PayPal policy is they have to get the tracked number for the item when item received then they can go ahead and refund the buyer. Now she got the money from paypal and kept the item on tops of that. Do you think that's fair?

Barbara
from Lincoln, ENG
Cannot get access to my Paypal account even though I have changed my password three times and emailed Paypal customer service two more times. The mobile app doesn't recognize my login and states there is a problem with my login details. Anyone else having this issue?

toni anderson
from London, ENG
I have tried many times to contact the billing department and change my password to login to my Paypal account. But each time I do so the email asks me to answer a "secret question" that makes no sense.

Nancy Stack
from Montgomery, AL
My account has been permanently limited without any prior warnings from PayPal. They have not told me that I violated a policy they just froze my money. PayPal offers a feature called send or receive money via friends or family. They froze my money because I used an option they provide. Makes no sense. How many times does paypal have to get sued over this practice? From what I have read paypal has lost in the court room over this very same practice. It's not a lot of money but I want my money. It is illegal to freeze my money just because you think you can. And for utilizing a feature that you provide? What kind of company is this?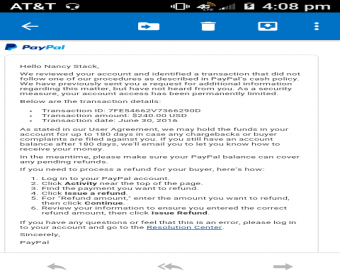 Valerie price
from Monticello, GA
Paypal refused to make China accountable for their irresponsible, misleading, and thief by deception actions for sole purpose of financial gain. So I will never use them again.

arthurine wade
from Lancaster, TX
Paypal put my account on limitation. I submitted the information they request, but they would not take off the limitation. When i trIed to cancel my account i am still getting the same problem. I will never get another account with paypal one this problem is fixed. They suck!

I transferred money over from my bank to papal to pay bills shopping etc as I do most weeks, only for my money to have gone missing....so speaking with them on many times to try resolve it and getting bit upset that a lot of money has gone missing sat with no gas and having to borrow nappys from a neighbor still theirs nothing they can do for 72+ hrs ives given them ref numbers/ faster payment codes from my bank in which they could find this money easier and I keep getting the same response from them 72+ hrs its been 52hrs so far! after getting rather upset with them they hung up the phone! just what i want when ure £170 down and have no other money.

Don Reddekopp
from Saskatoon, SK
I was charged 3 times for a subscription I should not have been charged once for. I (my ignorance) was unaware that paypal could not only draw funds from you paypal wallet but could take debits directly from your bank account without further authorization (other than your initial sign up). NEVER NEVER deal with Paypal customer support. Would be nice if we could shut them down.

jacqueline bailey
from Coventry, ENG
I bought items of clothing from a reputable company and used PayPal to pay them, no problem until the company send me a refund for said items, this showed on PayPal account that money was returned to them on 5th march. Despite three phone calls and several emails by myself PayPal customer support have openly lied telling me my bank has the money. It doesn't and now they say they do not have my refund even though my account shows they do. They have refused to honor my refund, ignored my email and calls argued with me and cause me to lose £44 I cannot afford to lose, their customer service is appalling and they are getting away with daylight robbery.

Wagner-Kubo!
from Frankfurt am Main, HE
I was asked to go to Resolution Center to submit some required documents for account restoration, to prove my ID, provide Bank statement and prove of address. All these did I responded to them individually by providing all necessary documents.
Now Paypal limits my account because of that. If I have gone against any of their policy let them state it.
I understand PayPal's need for holding funds for credit charge back purposes, however a review of my account history for the last months will reveal a very low chargeback rate as well as a very high customer-satisfaction rate. I feel that any reasonable person would conclude that holding my entire balance for 180 days is excessive and my be viewed by some as disciplinary or as already stated, an unnecessary abuse of power and perhaps even contrary to the laws of some states.
I have previously requested a review/appeal of my case which was denied with these words:
*** PAYPAL RESPONSE BELOW ***
We regret to inform you that we're initiating the closure of your PayPal account because of certain activity that took place relating to your account. This measure is necessary to protect us from potential financial losses.
Your right to appeal: We always perform a thorough investigation before deciding to initiate the closure of an account. However, we appreciate that from time to time misunderstandings can happen. If you wish, you can appeal our decision. Just get in touch with us and let us know. You can do so by logging in to your PayPal account at www.paypal.co.uk and clicking 'Contact Us' at the bottom of any PayPal page.
Your account balance during the account closure period:
This decision means we must oversee the appropriate movement of any money currently in your account. A gradual approach to account closure allows us to part ways, while considering any liabilities that may arise. Our aim is to review any valid buyer claims lodged against you. We must allow enough time for claims to be filed as these can take several months to be reported and resolved.
How will the process work? We'll hold any money currently in your account in accordance with section 2 below. We do this because it provides sufficient time for most claims, such as chargebacks, to be filed by other parties. These claims can result in financial loss. If your account balance is below zero, you'll have to settle the amount owing on your account to avoid further action.
Our first review at 30 days from the date of this email will calculate our exposure and we'll release any excess funds to you at that time for withdrawal. We'll communicate this to you at the time. This review can result in 3 different outcomes as detailed in sub-sections 2(1)-(3) below. We'll always communicate the outcome of our reviews to you.
We'll release your entire remaining balance to you for withdrawal. Please note that if you choose not to withdraw the money at that point we reserve the right to re-coup any money at the next review. We'll release a part of your remaining balance to you. If this is the case we'll inform you about how much money can be withdrawn. We'll then conduct another review 30 days later that will repeat the process detailed under section 2. We won't release any funds to you if we deem our exposure to be greater than or equal to your available balance.
Your account may be reviewed up to 5 times; at 30 day intervals until day 180 from the date of this email. If any money remains in your account at day 180 it will be made available for withdrawal at that point.
Accounts with a balance owing to PayPal:
If your account shows an amount owing to us, you must add funds to ensure that the balance returns to zero. Please note that we reserve the right to recover the amount by legal means. A copy of our User Agreement can be found by clicking 'Legal Agreements' at the bottom of any PayPal page. Our right to close your PayPal account, and the retention of funds, are covered in our User Agreement under sections 10.2 and 10.3. At PayPal, our primary concern is making sure that your money is secure. We do this by routinely reviewing some transactions. We've placed your withdrawal under review and this will last for up to 1 business day. If it passes our review, we'll release it and the regular withdrawal timeframe will then take effect. If we can't release it for any reason, we'll contact you.

Hilda Bruyere
from Torrance, CA
Why was I charged $5.00 to play Slotmania? I paid $5.00 for the coins and not also another $5.00 to facebook. I want it credited to my Paypal account and also do not want to be charged anything further from Facebook.

Paula Jablonski
from Seneca, IL
I simply cannot access my paypal account. It used to be so easy, now it's about impossible. I copy all the codes correctly and hit continue and all I get is a new set of codes. To hell with 100 words here, I'm just completely fed up and want to access my money, NOW. It's mine. Only crooks make my own money hard to verify. I tried plenty, now is your time or legal action.

Michelle Ratliff
from Columbia, MO
I tried to cancel my paypal account. Customer service sent an email telling me it was closed. Then they charged me with a bogus charge on my credit card of almost $4,000 from some bogus company called Raph Enterprises! I tried to get them to take it off but they just sent my emails back telling me that I needed an account number. They never assigned me an account number. it's not fair that I have to endure this kind of treatment. I plan on warning others of this problem.

Louise Titterton
from Grays, ENG
I purchased a smart self balance scooter from eBay recently as a present for my 12 yr old son. The publicity about safety concerns made me get it checked. The trading standards have confirmed the following: The product listing and Plug power supply were examined and technical documentation I sent them and their findings are as follows: The product was supplied with a 2-pin plug which was not fitted with a fuse. It is a requirement of the Plugs and Sockets etc (Safety) Regulations 1994 that all plugs are a standard UK 3-pin plug which complies with BS1363 and must be fitted with a fuse which complies with BS1362. As a result, the plug supplied with your product is non-compliant and poses a risk of electric shock.
The power supply is not marked with the manufacturer's name which is a requirement of the Electrical Equipment (Safety) Regulations 1994. As a result, the power supply is non-compliant. 20,000 hover boards which have been stopped at UK ports since October 2015, 88% have been found to be unsafe. The main issues are exploding batteries, fires and electric shock. Based on my experience of these products, and the other non-compliances identified, it is likely that the hover board itself will be non-compliant and may pose a safety risk. The 'EC Declaration of Conformity' supplied by the eBay trader is not a valid EC Declaration of Conformity because it is issued by a test house rather than the manufacturer. Only a manufacturer can issue an EC Declaration of Conformity. This document is a legal requirement before placing a product on the market within the EU.
The eBay trader has supplied technical documentation in relation to the EMC Directive and RoHS. While these do apply to the product, there are several other pieces of legislation which should apply, perhaps most importantly the Low Voltage Directive. No documents relating to the Low Voltage Directive have been supplied by the eBay trader. As such the technical documentation is currently inadequate.
Based on these observations, I can confirm that the product is non-compliant with relevant UK and EU product safety legislation. (Trading standards Thurrock Council)
On this basis I am requesting a full refund. Please respond upon receipt of this email. I have purchase confirmation and PayPal receipt as well as an email from sfrworld confirming the product is safe, has a Samsung battery and testing document. The battery is Chinese! The docs are not valid and the product is not safe! Please send me your email address I will send you all information and photographs.

Mike Peerman
from Washington, DC
Never received part that was ordered using Paypal online. E-mail was sent the seller, but they never reply back to me. Now I am trying to complain to Paypal corporate but could not find their contact information online.

Julie Schaar
from Dallas, TX
On 12/27/2015 on opening my email, I discovered an invoice from e-Bay (# 76454784 FOR $345 + $12 postage and $8 taxes for an iPhone 5) charged by Paypal. The date on the invoice is 12/25/15 at 1:01 PM. Please investigate and tell me where this charge came from and how it can be cancelled. I have no active credit card with Paypal (Citibank....3440 has expired.)

Chiden Olen
from Romford, ENG
I bought 83 trafficmonsoon adpacks through PayPal on 10/11/15 and my account have not been credited with them. I bought the adpacks because I saw PayPal at the bottom with their logo and new it was legit. After I got robbed, I called the PayPal customer complaint line to tell them they are support a scam business, but they said they have no control over how people use their service. It seems to me like a company like this should care more about how their services are used and look into refunds!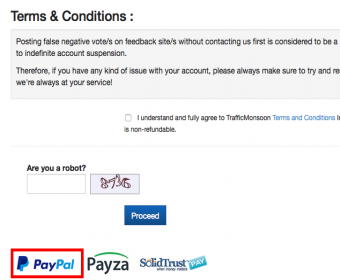 I bought a rug from India the end of July. When it came two months later it was the wrong rug. I contacted the PayPal seller and they told me to send a photo of the rug and a code number which was on the rug, which I did. E-bay told me that the seller is responsible for the shipping if I return it. The cost of me paying for the shipping would come to almost the price I paid for the rug. I contacted the seller a couple of times for a solution without a response. Then they tell me that they shipped the rug and it arrived at my address which they know that the rug that I got was the wrong one. They never shipped the one I ordered. I would be a fool to pay the shipping to send the wrong rug back (I would be paying 2x for the rug) and I would not trust that they would then send the rug I ordered. Now I see that they are no longer in business or are the 2 other companies that sold the same rugs. I think they are all the same. Because I ordered from one place and it was shipped by the other one.

alva easterling
from Isle of Palms, SC
I was trying to help my wife get a refund on a PayPal cash card and it has turned out to be a nightmare that has lasted for weeks. It should not be impossible to get refunded the money. Each time when I call customer service or my wife calls the rep gives a different way to process the transaction which never works out. Is it possible that no one in your company knows the right way to do a refund. It is very alarming to me because I have a PayPal account with you and if you are as unorganized as you appear to me, I wonder if I should be doing business with you. There are so many different ways we were mislead that I can't list all my PayPal complaints here because of the space in this form. I would be nice if anyone if your company knew what the h*** you were talking about. A person should not have to talk to a supervisor to get something done. You need to do a little soul searching to improve your results when people try to do business with you. I hope you take this complaint serious and maybe you could have a dept that handles these problems and solve the problem when things don't go as they should and these issues wouldn't wind up being listed as a complaint. It would be a shame for you to loose business about things you are not aware of to correct before it messes up your bottom line.

lorde jordan
from Stoke-on-Trent, ENG
I paid paypal for an item and complained when it wasn't delivered as promised 3 days later i emailed the seller 4 times rang him number disconnected but paypal still made me wait 11 days saying that had to wait for seller reply. 20 people paid for goods from this seller from 1st august and complained there goods had not del. ebay should have removed this seller earlier knowing he wasn't delivering its now 27th august and I'm still waiting for refund he has today been removed from ebay. The item was a birthday present, spoiled birthday as i was not willing to give paypal anymore money. paypal money back policy is a joke giving the seller 10 days to respond .. should i have received the goods would pay pal wait 11 days for there money i don't think so paypal need to change there policy i will not be using pay pal again you are a joke.

sue rucker
from St Louis, MO
I am sure I am wasting my time, but I have been very taken advantage of by you and one of your merchants. I was lied to by at least 5 of your customer service operators, and also was charged a fee of 30.00 by my bank due to one of your operators as well. So on top of me being out my 160.00 for the item in dispute, I also am out another 30.00 from my bank.....I bought a product from the merchant and when I got the product it had serious issues...the hair is so dry, and it is all tangled..Then when you try and brush it the hair starts coming out in huge chunks and the glue has got into the top of hair and it is coming apart ..This item is 100% not usable...I have not even cut the plastic line that you use to size it that lets you wear it..I have had other extensions and have the special detangler products/spray and that would not work....
At this point I tried to contact the merchant for weeks and had no response, then guess what? I pull up their site and there was a huge warning on it from a attorney or a attorneys general saying that the site was taken down for fraud and for selling counterfeit and fake items...My product was supposed to be real human hair, and was obviously not, it also was the wrong length from what I ordered. The longer ones cost more, I ordered a 21 inch one, and got one just a bit over 16inches. It was also said it was a real HALO, and it was fake...So now I call PayPal and file a complaint that was declined...so I call back and your operator tells me not to worry, I will get my money back, I just need to call my bank and they put the dispute in and when they call PayPal I will get the credit...So the bank charged a 30.00 stop payment fee and I guess they called you, but my claim was denied by the bank and they said, no I need to go through PayPal...so again I call and PayPal does another claim that was denied saying it was a authorized charge...
Hello, I never said it was unauthorized, I said it was damaged...so again I was denied and your wonderful operator tells me how sorry they are it will be refilled and was assured I would get my money back..nope denied again saying I altered the item from the original condition....All I did was spray a little detangaler mist on it to try and get the tangles out...So again I call and was told it should not have been denied and to appeal it...so did it again, and now denied for a 4th time...I have been lied to and was sold a fake item from your merchant who was closed down for fraud and still have not got my money back...I have used PayPal for years and done hundreds of dollars worth of transactions this is not right...you need to help me out and get something done...I have done nothing wrong and been dealing with this for over 2 months now...What are you going to do to help me?

I tried using my PayPal account on their website to transfer money via charge card to family friend in Germany from Hawaii. I understood there would be a fee. Strike One. The website defaulted and charged my checking account. After I personally typed in Credit card number. Strike 2. They couldn't cancel transaction mistake. I had to call bank and pay a $30 bank fee to put a stop payment. Then. Got the card charged. Minus the fee to send money. Had to wait 5-7 business days. Strike 3. Strike 4. They double dipped and charged my friend in Germany to withdraw the money. So I got charged to send and charged and to withdraw.
Double dipped? Would've have been cheaper. More affordable and quicker if I just went to my local bank in Hawaii to wire the money. Strike 5. The restrict my friend in Germany a withdraw limit. $500 limit per month to withdraw. She need $2345 immediately to purchase plane ticket. Now money is locked in with PayPal in Germany. And she can't buy ticket without full amount. So now she can't purchase ticket at it original quote. Due to time restrictions to purchase ticket. Had I known it was going to be this much hassle. I wouldn't use PayPal for this crappy service.

I did not get my last 3 money orders using PayPal. I did not get the money but it's confirmed that PayPal did. I am a big time shopper on eBay and would like this resolved!

Krzysztof Baran
from Basildon, ENG
My PayPal account has been accessed by third parties and my credit card used for fraudulent payment. I am seriously concerned about security of this website and have already removed all my account details. After losing a whole day to try to resolve the problem with my bank as after hanging an hour on the phone and trying to get through to their customer services I have decided to give another go and contact them as per advice from my bank. After conversation with one of the advisers, who made unnecessary comments and made me feel uncomfortable with regards to the case and the fact that the issue coming from their side and have nothing do with me, except that I am the owner of the account, I am seriously disappointed with their service.
Considering the fact that I've long been a user of their services and up until now have always regarded them as a good organization. The whole frustration coming from the fact that my card details have bee accessed by a third parties which should never happen. Also, the customer service of the company should at least empathize with me instead of pointing the fact that this situation was not their fault and indirectly suggesting that this situation in fact was caused by myself. I have sent the complaint through already to the company ad received "template" answer which was ridicules as was nothing to do with the content of my email. Then I went on Twitter with a hope that someone will have a closer look and pay more attention to my case.
I was asked to follow PayPal and direct message a bit more details - no response whatsoever - I just have been ignored. I personally think that is ridicules, not just a service but also the way how I've been treated. The amount of time and stress I've gone through is indescribable and the service I've received, left big scars on my trust and loyalty with this company.

Bill Me Later helped me in making my payment while I was shopping online in eBay. I am grateful to Bill Me Later (current name PayPal) for giving me attractive discount coupons along with pay later option in eBay, when there was no credit left in my personal banking card. Bill Me Later offers consumers a line of revolving credit through Community Capital Bank, allows purchases to be made online without using a credit card and merchants includes Wale-Mart, eBay, Best Buy, Overstock.com, JetBlue Airways, Hotels.com and many other. If you are a online shopper, then Bill Me Later is the best party to help you out.

I hit the WITHDRAW BUTTON. To put money into my bank account. They stole 50$ from me and my fiancé. And now were over drafted probably gonna lose our place and my fiancé, has stress ulcers that are about to make her stomach tear open. They are killing my fiancé by putting this stress on her. We're going so much farther in debt. Paypal STOLE from me!

I Hermelinda Castro informed Match.com two months ago to unsubscribe me. Match. com has ingorned my request, and continue to charge me. I have not authorized them to do so. Final warning and request, next will be Legal Action! I want Match.com to reimburse me for 2 months that were not authorize.

Elite Business is the website I built for a client, and as part of the holistic service I provide I set up all the associated accounts, including one on PayPal. the client did not pay me for my work so I changed the passwords on the website, the hosting account and with the domain registrar. I forgot to change the password on the PayPal account until it was too late, due to the client's repeated assurances that he would actually pay me. He is using the PayPal account, and the email address, which belongs to me. Fast Domain can confirm this if necessary.
This means that the client can receive money using an email address that belongs to me when he has no right to it at all. If he commits a crime using it I could end up in prison. For this reason it is imperative that it is removed from his PayPal account at once. When I contacted them to ask them to remove the email address or compel the client to remove it, they advised me to go to the police, who say it is a civil matter and will not help.
Please make PayPal remove the email address from his PayPal account or tell me how I can go about getting this done without recourse to a solicitor. Since the client has about five addresses, all of which have turned out to be fake, getting hold of him to serve papers on him for legal proceedings may well prove impossible and there's no point in asking him to do it because he is a criminal.

I purchased a wedding dress from a website in China inweddingdress.com. I know it was my mistake but everything looked so professional and they have hundreds of positive reviews which I think are fake. Anyway, I paid with Paypal and after 3 months of waiting I filed a complaint with Paypal. After two weeks they sent my an email telling me that they've decided in favor of the seller So I lost my money. Please don't buy anything from China online.

I made some online purchases via eBay using Paypal as a payment method this year as gifts for the holiday season. However, two weeks later, I received a statement from my bank saying that I was $90 in the hole with overdraft charges. Upon further investigation, I found that Paypal had made the charges to my savings account, which had no money in it, instead of my checking account, where I had intended the funds to come from. So I called paypal, and after a few minutes of this petty arguing, the customer service rep flat out told me that I was lying and that none of his supervisors would believe me. Paypal has not been kind to me…

I have bought and sold stuff on eBay for many years, but lately I keep running into a problem with PayPal online that is causing me hundreds if not thousands of dollars a month in profit. It is the fact that anybody, anywhere can file a dispute about not getting an item, and PayPal automatically sides with them! If you are selling on eBay beware, unless you get confirmed shipping then anybody anywhere anytime can just say they never got something and then they get their money back just like that. PayPal has got to fix this soon! How can they just take my money like that?
Last week I sold some designer jeans on eBay and shipped them out. The money got into my PayPal account, then a few days later they notified me that it was being reversed! Why? All because somebody claimed they never got my jeans, easy money and wham free jeans! This is a serious loophole that more and more people are using. I can't stand it, but PayPal has so much popularity online I am forced to put up with this crap!
Have feedback for PayPal?
Thanks for your feedback!
Sorry. Please try again later!