Kenmore
Kenmore Complaints Continued... (Page 2)
71+ reviews added so far. Upset? Call Kenmore corporate: 847-286-2500

Al Bernstein
from Hendersonville, NC

Alan Burdick
from Springdale, AR
The design of the lint filter on this machine is a joke, My wife bought the unit a year ago and it's a testament to her patience that we still have it. Even after cleaning the wire filter, she has to use chopsticks to remove all the junk inside the filter compartment. It just doesn't work. We complained to the distribution center here in Arkansas soon after purchasing and just got the run around. For over 40 years, I've purchased nothing but Kenmore products: the refrigerator, washer and dryer, microwave, etc. But no more! I'll begin looking around for another brand to replace this fire hazard of a dryer and watch as Sears loses loyal customers such as myself. What a disappointment!

Sharon Little
from Arlington, TX
I have bought Kenmore appliances in the past and have been very satisfied. This time I am very upset about my Kenmore washing machine. I bought it in January of 2011 and by October of 2015 it broke and the repair man said it would cost over $400.00 to fix it. It is a bad circuit board. I paid $399.99 for it and got just over 4 years use from it. I will not buy any other Kenmore products and will let my friends and family know about my experience. I never would have expected this from a Kenmore.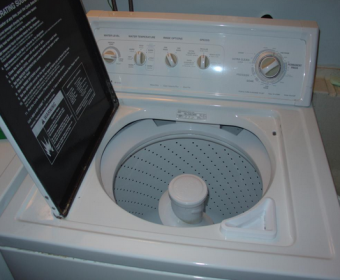 Kevin Coit
from Walnut Creek, CA
I bought a washer & dryer combo for my 90 year old mother about three and a half years ago it was defected from start. Two months after it was purchase the motor burnt out then the controls went out then the pump went out etc. Problem after problem plus trying to get sears repair service to even come. We finally got them to come this time and now sears tell us the unit can not be repaired the whole unit is rotten out and sear repair man said have never seen nothing like this happen before. My mother and I have been a valued costumer for forty years and have spend a lot of hard earn money buying Kenmore products. I spent $ 1,300 on this unit and now its trash is this how you treat your valuable customers.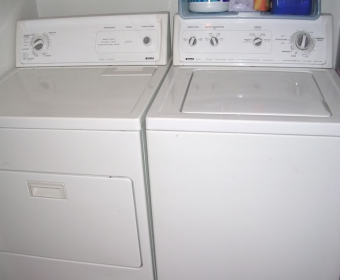 Bill
from Council Bluffs, IA
I have a ultra wash dishwasher that right away the fill valve did not work was replaced less than a year went by it went out again less than six months out again now also will not dry completely or clean dishes completely. I have always used Kenmore the last one I had worked great wish I still had it. It was still working great when I replaced it only reason I replaced it I bought all new appliances wanted it to match. This is by far the worst machine I have ever had it is out of warranty and they want to charge $59.00 just to look at it and tell me why it is a lousy dishwasher very poor service from a company that I thought had integrity and took good care of the customer. Will not buy another will buy from the competitor before I put money in the Kenmore corporate cash cow.

Lynae Schleyer
from Alsip, IL
On July 30, 2015 our four year old Kenmore Elite fridge stopped working. Since it was still under warranty we started the process to have Sears fix it. Today is September 8 and we are still waiting for the repair. Three times they have been to our home, with ridiculous reasons why they couldn't fix it that day. Today it is because the technician is ill so we have to wait another two weeks and no one cares. The parts are at our home (because they couldn't carry them on the truck).
Imagine being without a fridge for over 40 days and now we still have to wait another two weeks. I have used Sears appliances my whole life but our experience with our new products over the past four years (fridge, washer/dryer, dishwasher) have turned me into a negative voice. Customer service only has standard answers, there are no solutions, assistance. Only long wait times and pat replies. The quality of these appliances along with the service has declined to a level I will no longer accept or recommend.

ralph martinez
from Fort Worth, TX
Kenmore model # 59672003016 frig bought 2013 leaks water & ice buildup due to drain tube design flaw which manager corrected with replacement p/n W10619951. But Kenmore will not provide for free or at minimum discounted price. "We got your $2K and two years later we got another $40 sucker" is my perception of their customer disservice attitude.

Gary pannell
from Shingletown, CA
On April 2012, I bought a bottom freezer model 795.7109. The compressor went out about a month after a year old, and they came out replaced the compressor. It went out again was replaced January 2015. Now, May 2015, it went out again.
They sent out a tech he only tested the lines. There is a leak internally which has been making the compressors go out. He said the refrigerator has to be replaced. He and I called Sears and also emailed Sears corporation but they refuse because it's out of warranty. I and the tech told them if the lines were tested the first time it would be caught before warranty was up. They stated not their problem not warranted.
I am certified to fix and use freon in autos, the same thing applies. You test first to find a possible leak which wasn't done until May. How is a manufactures default and a lack of tech expertise the owner's fault?

marlene antonsen
from Orlando, FL
We bought a high end Kenmore dishwasher that has 6 wash options & 3 other settings. Several repair men came out, checked it out & said "Use only the normal wash cycle, as the other cycles don't get dishes clean & they use more water". Sometimes, I want the 1 hr cycle, or whatever, and that is why we paid extra to get the extra features. If I can only use the normal cycle then exchange my dishwasher for a less expensive model.
I run the water hot before starting, use only cubes like they want me to. One time the cube only 1/2 disolved. It is like it doesn't rinse clean, as food particals are on inside glasses or on top of cups that weren't there earlier. I've had 5-6 dishwashers in my lifetime, all have been better than this one. It only does it sometimes, but you never know when it will happen. Very unhappy with the service I am getting from Sears. I called, and they forward me to someone else, I get cut off. They don't have record with my complaints, We bought our appliances from George Powell, then got Robert Diehl, then a Johan, all said they would work with us, & get us a different machine, but nothing.

i purchased a stove and refrigerator, july 2010.the refrigerator is a samsung, so far it is working good. the stove is a kenmore.the bottom drawer is fast coming out, and the bottom edges and up the sides has sharp edges. i have cut the top of my foot several times.i have put electrical tape all around the sides and bottom, which looks stupied. last wed i opened the drawer to get my pizza pan out, and the inside top edge cut the top of my hand. it wouldnt stop bleeding, so i had to go to the emergency room at the hospital, it took 5 stitches, cause the top vein was cut and wouldnt stop bleeding.
i spent 4 hours in the hospital.the next day i called sears to complain about their stove being dangerous, she said, they apparently didnt install a liner in the drawer at the factory. she offered me a free home inspection on remodeling.(which i dont need) she ordered the liner and it came in the mail, ups. then she scheduled someone to come out and install it, but it wouldnt be till the 26th. i have been afraid of the stove since my hand was cut severly.
i have been a customer for years, and always purchased item from sears. but when this happened, i dont think i'll be buying anything again. the girl i talked to on the phone, didnt seem interested, and just tossed the blame. i'am still paying on this stove with my card, and cant even use it. something has to be done to compensate me for not being able to get in the stove, and for my hand being cut, and it has been given me a lot of pain and discomfort.this year i cant even bake for the holidays. this really sucks.

In July of this year we bought a 28cu.ft. french door refrig. Today in cleaning a shelf - it broke. I called the Sears Repair line and talked to a very nice young man. BUT - all he could offer me was a replacement part shipped to me IN 7 TO 10 WORKING DAYS. This, in my opinion, is not acceptable. They should send out a repair man tomorrow with the part, even if they had to take one out of a floor model. After much dicussion, he is TRYING to get the part to me in less time. The glass that broke covers the vegatable and air tight crisper. All the vegetables and fruits I purchased today will not last 7 to 10 days.
Also, by purchasing a warranty I was led to believe that a workman would respond - not "I'll ship the part to you and you can install it". I would appreciate a quick response to this complaint, or at least an acknowledgement that you received this complaint. The refrig. was purchased in the FT. Smith, AR store. Also, when I looked at the receipt for the refrig. I noticed that I was charged a delivery charge and an old refrig. pick up charge. At the time of purchase LOWES was not charging for delivery and pick up of old appliance. I was under the impression that SEARS matched other offers. I guess I was under the wrong impression.
Sincerely, a very disillusioned customer, Joyce Carpenter

We bought and had the new refritgerator delivered on July 28, 2011, and when the warning lights for a new water filter and air filter went on this past week, February 2012, we found that there was no filter for the water installed! We have been without filtered water for 7 months, and in that time the water was used in baby formula and drinking, thinking it was filtered! Apparently the Sears installers or the manufactor (maybe the same) of the refrigerator didn't install the filter when is came.
There was a "plug" in it's place to keep the water running, otherwise we would have questioned the non-flow of the water way back then. We bought it from the nearly defunct Sears in Carmel Mountain, San Diego. California. All this came about when I looked into the water-filter receptable and saw the "plug", when I was about to install a new filter, which by the way, was the wrong one to use, because the people at Sears sold me the wrong one. The "Use & Care Guide doesn't specify the type of filter needed, only the Sears stores have the information in their files, and the clerk sold me the wrong one.
I don't know what recourse I have for this goof by Sears, other then to recommend to all my friends and church folks to be highly aware of what they buy from Sears. We probably will use Sears as the last recourse for any thing we buy in the future.

I'm writing this letter to let you know that I bought a Kenmore chestnut freezer last year and on April 23 of 2013. The freezer did not even last me over a year I called in refrigerator repair man to cost me $75 just to find out that I need a whole new compressor Which it cost more to fix.

Model number 401.85044010. Serial Number 5N117MM94104. Early morning my wife put a cup of water in the microwave to make tea. The microwave would not shut off. When opening the door the glass dish shattered into thousands of pieces. Upon shutting the door It started and wouldn't stop. I unplugged it. It is a year and a half old. This is a new house with all Kenmore appliances. There is no way this should have happens. This is a real safety issue . I am going shopping for a new microwave tomorrow and will not be a Kenmore. You can bet I will be at Sears in the morning but to make a purchase.

I have a Kenmore refrigerator and the it was not freezing proper and water was leaking into the refrigerator, A service man came out on Tuesday and I showed him where it leaked since I had a bowl in the refrigerator to catch the leaking. He put in a new thermostat and for 5 minutes charged me 215.00 for labpr!!!!! What a rip off.
On that day I also signed up for a 1 year service contract. The freezer is still leaking into the refrigetor so I called today and after being told the first available date to come out is Tuesday and this is Thurseday and i would not agree to that, I was transferred,1st with OOC than service specialist and then a supervisor, I was told there is nothing that can be done the available date was Tuesday.
if you did not fix you should come out the next day.I have CANCELLED my check and a service contract does me no good if i can't get service. Also the rep told me that the refrig is a 2005 and I bought it 1/11/07. I bought Sears because of your reputation but that is no longer valid..I will not buy Kenmore again.

We bought a Kenmore Elite Dishwasher 5 years ago and bought the Service Warranty for 5 years. 30 days before it expired we started having problems with the dishwasher. The first repair man said it was the mother board. They ordered a new one. The same repair man came out and replaced the board. The dishwasher still didn't work. Then he said it was the float. So he ordered a new one. When that one came in, they sent out a different repair man. He refused to put in the float and said it was the door latch. When he was putting the door back together he was pounding it with his hand and a part broke off and the dishwasher was all crooked.
My husband was yelling at the guy to stop pounding on the dishwasher. After the repair man left my husband called the repair service for Sears and asked not to have this idoit sent out again because he damaged the machine. The door lock part came in the mail. My husband called to set up an appointment. They were supposed to send a repair man out on Oct 3rd and they called to tell us they cancelled our warranty service 18 days before it expired because the repair man was afraid for his life of my husband. This is bull. The first repair man had warned us that if it costs to much to repair the dishwasher Sears would cancel the warranty and leave us in the lurch.

Purchased a kenmore elite refrigerator freezer side by side model number 795.5137. Took delivery on a wednesday. The doors were taken off for entrance into the house. Plugeed it in about 3pm after putting the water line on and taking off the tons of tape used in shipping. Four hours later still as warm in the fridge as outside. Called tech service after being transferred three times to an expert on this fridge i was told i must wait 24-36 hours. I explained i had food sitting in ice chests and on my counter, he said do not put food in. I waited 24 hours and did not open the doors at all/ When i checked the fridge was still warm, the fan was blowing warm air.
I called the tech service transferred three times to the EXPERT this guy had me press a few buttons and asked that i hold my phone up to a small speaker on the door. The speaker let out what sounded like a fax machine. The expert said from that sound he could tell the fridge was in fact cooling down and that the inside temperture was 74. I explained that in my house and outside the temperture was 70 so i would be better off leaving my food outside. I than was told wait a few more hours which i did. At somewhere after 11:30 pm i had had it i called again and was told to call delivery service and have the fridge exchanged.
I had to wait until the morning. I called delivery service and was told i could not get a new fridge delivered for three days. I raised hell and got a next day delivery. Next day new fridge arrived at 3pm delivery guys took off doors brought it in and took the old one. I asked delivery guy if taking the doors off may have had something to do with the problem he said no way. So i hooked up the water line peeled off the tape and plugged it in. Four hours later nothing fan blowing warm air. Called tech same transfer three times finally got tech said i must wait 24 hours do not open doors. I tied a string on the handles so nobody would open this thing up.
24 hours later untied the doors expected to find a fridge waiting to cool my food and guess what yep warmer than outside, called tech service again told i should check outlet voltage which i did and it was perfect, i even ran a heavy duty extension cord to an air condition outlet in the living room and no difference. Tech said i need to schedule a repair man, was told 10/24 first available i explained to tech on phone that that is over a week away she said nothing she could do. She than said if you have medication in the fridge it will be considered an emergency. I said i do have medication in the fridge and she made the appointment for three days out.
As i right this my wife is on the phone getting no where with sears. I will not be waiting for a tech i will be getting this back to sears and purchasing a reliable fridge from somewhere else. Im done with sears if i coulsd i would drive this fridge to the CEO doorstep and leave it there. I have been a liflong sears customer no more

Friday August 16, 2011. My friend call the parts department and ask for these parts and he was told they are in stock and the Estimated arrival date on these Item's now. We also looked on sear direct and this is the information same what the man told him on the phone. I have been waiting Aug 10th 2011 and nothing. Why is this happening. What is going on with good customer service, this is so crazy. Sears repair came out to fix my refrigerator Kenmore appliances, from Sears Blue Crew on August Wed 2nd repair order a compressor and then the 2rd repair man order a Heat Exchange and Evaporator to be placed in the refrigerator on Wed August 17th.
Why is it that I have to call the part department to correct these issue. Someone can not tell the differents between a rubber washer and a heat exchange and they work at sear"Oh Lord help you". Please tell me when will I get my refrigerator fix, I have 4 children and no refrigerator WOW!!!! I have called the resolution hotline and complaint line. I should not have to go above someone's head. Parts department never called on on Aug 12, 2011, I called back to 1-847-286-2500. One excuse after another.

I have always bought Kenmore appliances, except my last diswasher was a Maytag, (wish I had it back). My new Kenmore is the most poorly designed dishwasher made, all of my friends think so too, I do not know what dishes they had for their demostration, but my glasses just fit in one place where they don't wobble, I haven't any places for a good size serving dish, and even the smaller dishes are filled with water. If I put coffee mugs in the washer I lose the space for glasses or small bowls, and all of my other dish washers completely turned themselves off, you have to push a button after it finishes washing to turn it off.
My husband noticed that I have to move everything around to fit, even when you fold down some tines, then the dishes wobble around. The only thing good about the machine,is that it is quiet and I like the stainless steel interior.

The Kenmore Elite is a fire hazard in the waiting. We recently noticed a burning smell coming from our Kenmore Elite refrigerator (model #795.77542600) and noticed it became stronger when we opened the doors of the fridge. Upon opening the doors and investigating the matter, we noticed a strong burning smell and found that the food on the top shelf was warm, the butter on the door shelf had melted, and the plastic light cover was warped. Upon removing the light cover, we discovered that the dual light socket fixture was melted and had turned crispy and black looking. I called Sears customer service with my fire hazard concerns and was told to contact the fire department if I had concerns for a fire!
Have feedback for Kenmore?
Thanks for your feedback!
Sorry. Please try again later!