John Deere
John Deere Complaints Continued... (Page 2)
66+ reviews added so far. Upset? Call John Deere corporate: 309-765-8000

Bret Freeman
from Roseburg, OR
JD tractor 2520
Part # LVU803113
Dealer: Ramsey Waite, Eugene OR
Start date: 13 October 2017
Delivered tractor to dealer 13 October. Estimated 3-4 days shipping on parts for repair of transmission/forward drive on this 4WD tractor. Call to dealer 31 October: needed part on back order with no estimated date. Call to 800-537-8233 customer service: not able to assist with distribution problem. Instructed to work with dealer. 9 November: dealer has part on back order, no info from distributors on estimated arrival. Call to JD customer service: facts repeated. Unable to offer suggestions. NOT HAPPY.

Kirby Varney
from Lincoln, AL
Customer care, the delivery of my tractor in poor condition scratched up chipped paint service never returns calls, lack of quality care of customer no turning back know I'm just wishing I would've bought another Kubota this is my very first John Deere tractor and the service and customer care is terrible

STEVE MAGNER
from Lyons, IN
BOUGHT NEW JD RIDING MOWER THIS YEAR - HAD FLAT TIRE BEFORE I EVEN DROVE IT - P O O R QUALITY TIRE RUINED
I CALLED , EMAILED BOTH DEALER AND JOH DEERE WEBSITE NO ONE RETURNED MY CALL OR RESPONDED TO EMAIL
SO FAR IVE TOLD ABOUT 100 PEOPLE ABOUT THIS = MOST ARE YOUR POTENTIAL CUSTOMERS , BY NEXT SEASON I WILL
HAVE TOLD THAT MANY MORE JOHN DEERE USED TO HAVE SUCH A GOOD REPUTATION AND GOOD QUALITY

Tommy Hinson
from Temple Hills, MD
I bought a John Deere D-130 Series riding lawn mower on June, 2017 from Lowes. Four months later the mower would not restart after using it more than 30 minutes. Lowes would not take the mower back due to their 90 day return policy. Contacted John Deere what a joke, terrible customer service, no help at all. I was told that I would have to pay $150-$200 to have my mower pick-up and sent to a repair shop. I am extremely upset with their repair process (money hungry). Why should I pay $200 for a new mower repair after I just paid $2100 to purchase it. What I thought was a quality John Deere Mower is nothing but garbage, they are clearly not the John Deere from the past..So much for honesty and selling a quality made American Product. SHAME ON YOU JOHN DEERE and Lowes!!!!!!!!!!!!!!!!!

nick sliger
from South Bend, IN
i own a 345 1996 with a kawasaki 18 horsepower engine,liquid cooled..the complaint i have is why in the world would kawasaki,put a plastic cam gear on a cam,are they running into finnancial problems, or want bigger profits......but anyways was their a recall and why was.nt i notified about this.,,,,,,,the tractor would"ve been great, excellant if it wasnt for this, should i buy another john deere or something else,now i"am a little hesitant,,,,,,and kawasaki has a great reputation i"ve always thought,,,,,,,products are very expensive,, so they should out last the reall older ones ,,you would think ,,, but that is not case here or with,, anything else,,,,,,,,,,,i"am buying.....so i"am hoping you can help me out in a good direction,like i said before great little tractor if it was"nt for the cam gear....THANK YOU, NICK SLIGER

Tim Hunt
from Gravenhurst, ON
i had to replace the front window (upper) in a75G excavator, and was shocked when the dealership in Sudbury Ontario told me it was going to cost 930.00 to replace it . I was told by the salesman that it was that expensive because the window included the frame as well. so i ordered the window , and when it arrive it was just the glass and no frame. This is ridiculous, I now have to pay a glass installer to put the glass in the frame for 150.00. This is no joke that the front window costs 1080. This is a complete abuse of your customers. The price for a piece of glass for John Deere is not affordable. never again will I deal with any deere product with curved glass, that really does nothing for the operator.

James
from Summerfield, FL
I bought a 5085e John Deere I only have one major complaint. There should not be a one key fits all tractors for the past 10 years on agricultural tractors. I was gone from home and a guy delivered hay to my house without me knowing. He had a key from his 5075m. The door was locked on my cab, but that didn't stop him.
He used it and messed up my tractor. I am extremely disappointed in this company, and the man that used my tractor without my permission. You need to fix this issue! I am sure I'm not the only person to complain about this major issue. This would have never happened if john deere were to make a certain key per tractor, or intelligent enough to know that this would eventually occur.

Bill Fuqua
from Martin, TN
I recently had a coupler for the hydrostatic drive repaired on my 9500 John Deere combine. When I got my bill the labor charge was $3365. I normally do most all the work on my equipment. But I am a High School FFA Advisor and with the timing of the breakdown and having to take my students to the FFA National convention, I decided to let my local John Deere Dealership, Tennessee tractor in Martin, Tennessee do the repair work. When I got my bill and the labor charge was $3365, I was astonished to say the least. Is this the normal charge in labor cost for repairing a coupler for a hydrostaic drive on a 1996 John Deere 9500 combine? Just still in shock.

Terry Peters
from Belt, MT
I have a John Deere Dealer that has a personal grudge against me, that cost me money this harvest when he took a combine away from me that I had made a deal to rent from another dealer. Ken Wheeler is the overall manager of Front Line Ag Solutions, and used his power from that position to take a combine away from me. I called a Deere customer service complaint number and told my story to them, and they had a guy from Billings Montana by the name of John, that called and listened to my complaint. He then talked to Ken Wheeler and called me back and said I needed to talk to Ken and resolve this myself as Ken is very approachable and a wonderful guy to do business with. Needless to say I am not happy with how he handled my complaint.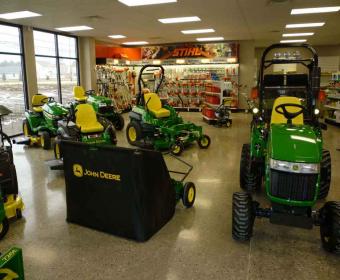 David Ronnie Thompson
from Bluefield, VA
Purchased a John Deere D105 in 2014, the first time mower was used had to return to dealer ship to have blades replaced and deck adjusted. Then in spring of 2015 had to have transmission replaced then 2 weeks later mower returned to dealership to have a spring placed on the transmission that was not correctly installed. Now 2016 back to dealership at first they said it was the transmission belt, which wanted $ 202.00 to replace transmission belt then the dealership turns around and says it is the transmission again and want us to split difference with them which is $425.00. In 3 years the mower has had to be repaired every year from the beginning of ownership. John Deere customer service apparently does not stand behind its equipment. This is really terrible and I want to contact them and find out how to request a formal refund!

alan wright
from Eatonville, WA
I have a 300x I have replaced the belt 6 times in 200 hrs. Took it to dealer they replaced all the towers and new belt. $500.00 later and less than a year belt broke again at $70.00 per belt I can,t afford your machine. I have one john deere tractor, two mowers and this one I wouldn't wish on anyone.

charles l. gintz
from Pineville, LA
The front idler pulley and the pulley on the electric clutch disintegrated and had to be replaced at considerable cost (10% of the cost of my z910 ). John Deere mechanics at es Volker (Alexandria, LA said they had never seen anything comparable. l wonder if you have experienced a similar circumstance? Please contact me to resolve this complaint, thank you.

Kyle Clough
from Curtis, NE
My brother and I are beginning farmers and purchased a John Deere 8360R tractor with 300 hours. We've had nothing but problems with it and have spent more money on repairs than what are payments are. One things gets fixed and two more issues arise. The exhaust won't burn off automatically so once a day the tractor goes into limp mode and that ends your day early! We've had many technicians look it over and no solution yet. The steering is also not right. They say it's correct to John Deere standards but it don't steer right. There are times driving down the highway you can't turn into a driveway which then becomes a safety issue. This has been a very poor experience for us buying our first tractor and we wanted to warn other folks too.

Lonnie Stueve
from Milo, MO
I am contacting you in hopes for some help & closure on a issue I am having with a specific home depot store. My mother purchased a new John Deere mower last fall from the Home Depot in Council Bluffs Ia. the mower was suppose to come with a 2 year warranty. Well in October we had some issues with the mower & took it to our local John Deere dealer. After looking into it the dealer told us according to the vin number on the mower that the mower is a 2012 model & the warranty expired on May 15. At that point we had only owned the mower for 8 months. Also according to John Deere it has her listed as the second owner which is why the warranty has expired. We purchased this mower thinking we were getting a new model mower with warranty & in turn did not receive that. I am including pictures of our receipts & a copy of the ownership & warranty information from John Deere. We would like to rectify this situation as quickly as possible. We would like to return this mower in exchange for a new one.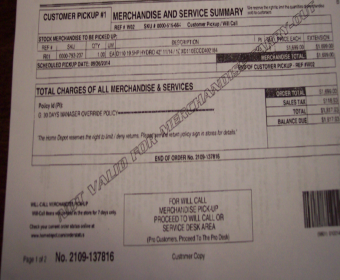 thomas yucha
from Marion Center, PA
I have john deere garden tractor x540 with a 48" mower deck. I have replaced the double pulley arm part number am137197 three times due to the bearings being burned out in 6 years. These are sealed bearings. What a bad design with no grease fittings. John deere had better make a change to correct this problem.
Have feedback for John Deere?
Thanks for your feedback!
Sorry. Please try again later!