Jackson Hewitt
Jackson Hewitt Complaints Continued... (Page 2)
90+ reviews added so far. Upset? Call Jackson Hewitt corporate: 1-800-234-1040

I will start off with i feel scammed, I took out the early advanced loan before christmas, when meeting with the representative, when quoting the price to prepare my taxes it was upwards of $500 she states I won't charge you that price we want you business i will give you a discount, I have also wasn't advised my entire state tax would be retrieved to pay back the loan, i was informed it would be taken out of my federal, The last two days I have left messages for Linda the supervisor, which she has not returned, When calling back the customer services tried to get her on the line she stated she was with a customer and would call back. She did not return my call, in all I was charged $700 fee to submit my taxes, which i see to be outrageous! I could file turbo tax for $40, I will not be a returning customer! Lesson learned!!!!!

I went to the Jackson Hewitt office in Rocky Mount Virginia, the tax preparation lady told me incorrect information & obviously is not aware of how to correctly file taxes for a caregiver working through a company called Public Partnerships LLC because I told her that I was informed not to put Public Partnerships LLC as my employer & she acted like they are my employer & told me that I needed to call & get a corrected w-2 form that I couldn't file my taxes with box 1 being empty on my w-2's & dealing with my mother dying I really didn't need any more problems especially when it's a problem based on incorrect information & I'm aware my taxes may be more difficult than others but this lady is supposed to be a professional & I'm very disappointed because I read your sign & it states that you care & will dig deep in to your tax & financial situation to get you the most & to do it right & from what the lady said at your Rocky Mount office in Virginia she has not been filing taxes correctly for any person that worked through Public Partnerships as a caregiver seeing as she is putting Public Partnerships as their employer, the employer of record is the name that should be entered as the employer.

Michael A Enanuel
from Perry, FL
Ok so I filed at jackson hewitt for the last four years last year was in corpus Christi tx on Ayers st i had recieved a first time home buyers in 2009 i just finished paying it off last year.my refund was 6100 and i received over 3000 as my refund in due process I received a Treasury offset notice stating that theybwere taking half for the first time credit given which put me paid in full...now the its had micked my return out because of not putting the first time hb. Credit ....i called the irs and they stated that they had. Notr received BUT 941....DOLLARS TOTAL...TO TOP IT OFF I ZPECIFICALLY TOLD HER NOT TO REFILE UNTIL I TALKED WITH THE IRS AND HAD GOTTEN MY TAX SHEETZ FROM THEM...ABOUT 30 MINUTES LATER I CALLED BACK ND WITHOUT MY PERMISSION SHE REFILED AND ADDED THE FIRST TIME HB CREDIT ANYWAY...I AM HIGY UPSET THATZ nother 500 dollars coming off of my taxes and i am super angry Bout the 6000 that has just vanished into thin air....my name is Michael emanuel 361834404 i wNt my service fees returned as a penalty of her just processing my return without my permission the second time...and i thNk you for your time

So far I've booked 2 appointments and no one showed up to either one. I had no calls to cancel and no answer when I called back. I've also tried the walk ins welcome method and no one was working those 3 times also. I believe that's false advertising. I'll be going somewhere else!

I live in Al and had my taxes prepaid at the Sumiton Al kiosk. When it came time to file my state I was told State of Al office wasn't open. I called Al Dept of Revenue and they assured me they were open and appcepting Al state returns. I called the kiosk and she said they were closed and not accepting, I called main office in Jasper Al same song and dance. I called customer service hotline same thing. I waited one week and went back to kiosk couldn't print so I could mail no toner in printer. Still not accepting online I called main office same song and dance I called customer service and was hung up on. I want some one in charge not a customer service rep a manager or someone who knows what is going on to call me. 205 532 9290. I don't want song and dance I want my return filed as promised if not a refund and I will be reporting this to Al BBB and telling everyone I know don't use Jackson Hewitt.

The Branch @ 1510A Eisehower parkway, Macon , GA 31206 , very unprofessional and Rude. Went in on 1/17/19 started taxes with last stub (did not file) was told i needed W2 to complete, contacted this branch on 2/4/19 and emailed W2 to complete process spike with tax preparer on phone to confirm receipt of W2 and if my taxes would be filled on 2/4/19 and the rep stated yes , on 2/6/19 i contacted the branch to enquire why my taxes were not filed yet and was yelled at saying " i forgot , because we got busy" asked why they were yelling and this person hung up in my face.

Tony arnott
from Redding, CA
Your company made a mistake on my taxes and now you will not correct the mistake or at least the person named Kenya will not correct the mistake. I've been lied to and getting the runaround 4 / 6 months

Alyssa Stokes
from Philadelphia, PA
Was very dissatisfied was lied to and rep there and in new York were very rude and dishonest

Rayann Baptiste
from Seattle, WA
Well I work at Walmart..I sat down to get my taxes done by a man who gave me his word he new what he was doing and clearly did not... And then it took them 3 times to do a simple single straight EZ from and it becomes a whole blow up.. It took them 3 different people to get it right even if it's right in not all sure... And then I got the run around from there manger about my gift card.. Man There is something wrong with these people really.. It was a simple tax return. I hate to see if someone owns a home or has a real issue.. These people need to go back to school on many leaves... They don't need to tell me there personal problems and get distracted on what they are sapose be doing .. Stop making excuses for there mistakes... And do there jobs they really made a mess and charge me any way not good business practice I had about 5 people or more to refer and I won't be doing that norwell I be back...ever

amy mason
from Tucson, AZ
First it took four days and six trips to get my taxes done. then suppposedly fil4ed on sunday, tuesday they still werent. they called and said supervisor sent them thru that was four more days ago and they still havent been filed and I only wasted my money and time so I coulkd get the eartly advance refund. WHAT A JOKE. THE LOCAL OFFICE WONT EVEN ANSWER MY PHONE NUMBER. THEY HAVE CALLER ID. I WANT TO TAKE THIS TO OUR LOCAL NEWS STATION. THEIR CUSTOMER SERVICE IS HORRIBLE!!!!! SOMEONE PLEASE HELP ME!

Tanisha McGaughy
from Tupelo, MS
First of all I would like to say I would never use these services again. I went in and applied for a loan and they told me I would be approved in an hour I would get an email. Also they didn't tell me that I was denied for the loan. I called and told them I didn't want to use them any more so please cancel my tax returns and I would use someone else and they still put them in. Also I carried a child that they don't even know if the child belongs to me because I didn't have to show proof. You all are tricking people into filing taxes with them just to get the fees which is crazy.

Peter Lami
from Wautoma, WI
Have tried for 2 weeks , cannot reach home office or 2 local outlets near me!
It is imparitive,that I get in contact with them, as they have my records!

Christina Smith
from Arbutus, MD
I have been a customer for over 20 years and this year was turned away from 2 locations in same area and had to gobwoth h and r block bc they decided to make their own policy up there was no one in their offices which leads to tell me i aint the only one they are turning away jackson hewiit is usually so busy u have to wait nobody was in the offices at all i ambhighly upset and disqusted by this h and r block will be my new ta service from here on out

Ali Birbiri
from Houston, TX
Worst company you could possibly get your taxes prepared with. I am just finishing up on a 8 month ordeal with them. It started with me going to a local office in Seabrook, TX to see if I could amend my taxes and add my wife who had just gotten her social security card. The rep there "Debbie Freeman" said I could add her even though she had just got her SSN card and prepared all 3 years for me and said I would get 10k back. After countless calls to the IRS, and surmounted stress, it took a conference call with the so called tax professional from Jackson Hewitt to find out that she could not be added.. Now Jackson Hewitt has the audacity to say that there is no fault of their own and they wont even refund my money for services they did not even provide. They are the worst company you could ever get your taxes done with by far. I have called the national call center at least 15 times, hung up on, transferred back to the automated system.. A company like this at this day and age should not be in business. I will go to full extents to expose these thieves that have no clue what they are doing.

Henry Diaz
from Bay City, TX
I went to ask some simple questions to a Jackson Hewitt tax preparer at Wal mart City of El Campo Texas, the lady that talked to me did not have any answers to my tax questions she said she did not know, also I asked if she could prepare my taxes with my last pay check stubb and after she prepared my papers I could come back to see how much I owed or was going to get back and how much the fees for the tax preparations were going to be she told me Jackson and Hewitt does not work that way .she refused to prepare my taxes gave me the run around if she is doing that to me and other customers you are losing money having that lady there,she is an anglo American race x large build I came back to give Jackson Hewitt another chance we went past years location was in el campo of of s .mechanic st a lady tax preparer greeted us she tokld us to sit down she said she would be back she went out the door she left us there unattended never came back she walked out and quit ,these are two bad experiences and it all has to do with the people Jackson Hewitt hires the lady at walmart could have said I do not know but I will call a supervisor and find out the other one that walked out could have said she was closing the office she was quitting not leaving us there not knowing what happened I called your 1-800 number to complain I was told by customer service I woul receive a phone call in 24 To 48 I have not received a call from you . the girl at walmart should be reprimanded and retrained she showed no satisfactory customer service .

I can't attach a receipt or anyting to my complaint because I was not given anything at the end . She kept my check stub I did not even get a copy of that. Also at no point did she ask me if I went to college in 2018. Does it look like I can't attend college because of my age. I'm pretty sure I would have got a deduction for my student loans. On several occasions I ask this tax prepared to please stop talking about her personal life that I needed to focus on my tax return but yet each and every question we got to I had to listen to her long drawn-out Stories being child support not paid to her her daughter can't go to college because she didn't get it was absolutely ridiculous. And at the end of this therapy session I had to pay her 500-plus dollars. When I walked in I told her from the beginning I was interested in the go big loan and the tax refund Advance at the end I had to ask her again what about those things not one time did she mention them I was told the go big loan had to be done online which was a complete 100% lye she knew nothing about it. If you're going to pay $500 for a service they should at least know what they talking about

Abran evans
from Nogales, AZ
I was in prison in 2016 and my now x wife did my taxes I want to no why she was a loud to file my taxes and I want to no how she did them whit out me being whit her to sing or a power of attorney somebody is going to get sude for this if someone doesn't give me an explanation and to tell u the truth I don't even think it's my x wife falt it's Jackson Hewitts falt because they Allowed her to that's the question how did she do it she did it with you guys! Jackson hewitt

Jennifer Morneau
from Sioux Falls, SD
Went to have my early advance done, didn't want to drive an hour there on icy roads but didn't want to miss app. I get there and the computer was never updated and there was technical issues. She told me to shop as it was at walmart, I walked around for 2 hours to be told the computer wouldn't work. Very upset.

Timothy J Phillips
from Lyons, GA
Went online and was pre approved for advance so made appt and went in and filed.Then hour later was denied so definitely going back to hr block next year.

Aeisha Grayson
from Tacoma, WA
I went to Jackson Hewitt in Tacoma WA on 12/15, I was seen by a lady names Corrine. This appointment was for an early loan. While doing my loan she advised me I was approved between 400-2500 which I thought was strange since I thought it was up to only 400. Well she is the expert in taxes so I was excited that I got approved according to her for $400. As I signed all the paperwork to do my taxes later and she even provided me with an American Express card stating I will have my money before I walk out the door. As we were done I asked her so was it for sure $400 she says oh wait never mind it states processing and now shows you're getting $150. Which made even more concerned since it says the loan comes between $200,$300 and $400. But again she is the expert. Corrine even stated that usually people get there money before they walk out the door. I got home and got an email saying I was denied , but only approved for the advance loan which is the one you use with you w-2 for your taxes , My point of this complaint is that Corrine does not know what she is talk about and should not tell people false things. I knew she was unsure of her job because when I called after I got an email she was confused as if she knew her job. I was looking forward to that money as I had no food for my family and when she said I got approved for the loan I was excited. Moral no one should be told they are approved for anything until they know for sure!! Corrine @ Address: 4505 South 19th Street, Ste B, Tacoma, WA Phone: (253) 666-6488 she needs more training.

Jacqueline Hutchinson
from Fredericksburg, VA
I signed up for the Tax Preparation Class that was offered and every time the class is suppose to start; there is no class. I paid $99 for this class back in September. At this point; I want my money refunded back or will be reporting to the Better Business Bureau. Thank you.

Sally sprague
from Clarksville, MD
JH did my taxes for 2017. I paid the taxes based on your preparation. Today I get a bill from state of Md saying my taxes were wrong. I owe more tax plus interest and late fee.. a total of 1278.46
I'm not site what JH did but I want you to check it and I want an answer.
Sally Sprague

Tabitha Gibbons
from Hampton, FL
I filed with y'all she filed Hoh and I told her I was married. I filed my two nieces she didn't tell me I had to prove anything. Now I owe the IRS. I don't think I should pay when she the one messed up my taxes. Now I can't get any credits next year. Help me I will be calling soon thanks...

Kenneth Hoover
from Ephrata, PA
I have been with your company for 5 years, 3 as a preparer and 2 as an office manager. This coming tax season would have been my 6th year. I was far from perfect but was very well respected by bpth customers and co-workers. I was the office manager of the Columbia, Pa office for tge past 2 years. Well, I was texted 3 days ago being asked to meet with the gm and her assistant. Now i had like 2 issues in which i was addressed last year and once addressed, was handled accordingly. The gm went into retirement 2 years ago and asked to return for the previous tax season. She was slightly less than fond of me in previous years and was even less thrilled to find out i became management. So when I met with them they had informed me that I was not being brought back for the upcoming tax season because there was "to many issues". I was only coached, if you will, for 1 issue in which was rectified immediately upon being brought to my attn. So i proceeded to ask if there were issues why they were not brought to my attn being a mgr and recieved no reply. I feel that this is not a legitimate decision as much as a personal vendetta. I walked away peacefully, however I can assure you that your business and maybe even your preparer flow will suffer. I had many loyal customers and some will not allow anyone else to handle their returns. I feel this should be noticed. If you want any further communication feel free to contact me by phone at (717)644-8754 or khoover2477@comcast.net.
Ken Hoover

MY STATE RETURN WAS NOT SUBMITTED WHEN I FILED DUE TO LACK OF THE CORRECT DOCUMENTS. I WAS NOT NOTIFIED WHEN THE FILING WAS COMPLETED. I CALLED AND WAS TOLD EARLY MARCH 2018. IT WAS A PAPER FILE AND WOULD TAKE SEVERAL WEEKS. I CALLED BACK IN MAY AND WAS TOLD IT WAS FILED. THE LADY SAID I WOULD NEED TO PROVIDE A NUMBER TO THE STATE TO GET AN UPDATE. SHE DID NOT PROVIDE THE NUMBER I NEEDED. I HAVE TRIED TO CALL SEVERAL TIMES SINCE AND GET NO HUMAN. THE WEBSITE SAYS THE OFFICE IS CLOSED. I HAVE VISITED DURING MY LUNCH HOUR AND NO ONE IS THERE. I NEED TO KNOW WHEN MY LOUISIANA STATE REFUND WILL BE RECEIVED. IT'S BEEN OVER 3 MONTHS SINCE I FILED. SEVERAL OF MY CO WORKERS FILED AFTER I DID AND HAVE HAD THEIR REFUNDS. PLEASE NOTE THAT MANY OF US ARE NON-RESIDENTS AND HAD TO FOLLOW THE SAME PROCESS WHEN FILING STATE TAX RETURN, SO I AM A LITTLE SURPRISED I AM STILL WAITING. PLEASE ADVISE WHAT I NEED TO DO TO GET THE REFUND.

Deborah Pierce
from Waxahachie, TX
That Samsung promotion is absolutely useless. (Wal Mart - $100.00 toward purchase). Whoever thought that was a perk was wrong.
I spent over $694.00 with you this year... really?
How about a useful promo?
I probably will reconsider next year or do it myself.

Timothy Wells
from Monroe, LA
Was lied to about tax fees and was told that I would receive a refund. And now I will receive a discount on next year return. Will not contact you back always states they will and don't. Takes at least 90 day to eventually get a true statement from jackson hewitt.

samantha tumbleson
from Tampa, FL
Me and husband went to flied our taxes there and you guys charged us almost 600 dollars to do our taxes. And then they messed them up. We had to wait three months to get our taxes back and we flied in January. So I want to know why I had to pay 600 dollars for you guys to mess up our taxes. We almost lost our home. Because we had to wait so long. So I think it's just fair that I get my money back have any questions please contact me at 8134472368

I had my taxes done Feb 6th with you guys. well my first encounter was great. my taxes were done fast, very nice man that did them. at the end I asked how much I owed to have them done. he told me it comes out of the refund now. okay no biggie. he showed me the amount I would receive after the fee was taken out, I was perfectly fine with the amount. well I received my refund and it was almost $300 short of what he said it would be after fees. I call them to see what was going on and the woman I talked to was the worst person I have ever talked to. she first tells me it was $195 to have my taxes done. I've never paid over $100 with yall. then she tells me it was a $49.57 charge for bank fees because I didn't pay the day of. when I told her I tried to pay but he told me its taken out of the refund she laughed at me. she laughed and said I doubt he told you that, I just cant see him saying that, and continues to laugh. I really don't care what she thinks, but calling your customers liars, which is what she basically did, is NOT okay. first off I should have ben told what the fee was, according to the amount I was supposed to receive the fee was around $75. so when I called back to find out it was $195 I was beyond mad. then to tell me I don't pay up front, that it comes out of my refund and then charge me almost $50 for it? I'm beyond furious. I will never do business with yall if this is how you treat your customers. I will also make sure family and friends know of this so they will no longer use your services either.

HI, I had taxes done 02/09/2018 . I was at this office 1 or 2 times before, when I was told the amount $246.00 to pay JACKSON HEWITTT I almost fell off my chair !!! I am a senior and no senior discounts ? can you help with this matter ?

Dawn williams
from Norristown, PA
I was at the office last Saturday in daleville pa they offer no coupons I just recived text alert to stop in and I will get 100 off tax prepartion why didn't I get this sooner never again will I go their again been going their for the last 5 years

Joshua Schumacher
from Rice Lake, WI
This year I decided to file with Jackson Hewitt after a friends reference and the way low price they paid this year. Usually I have a family member e file online to save the money for a tax preparer. I set up an appointment that ended up taking over 2 hours of slow preperation for my taxes that were simple and shouldve taken half the time. In fact, my taxes took same as it took the other tax preparer to prepare 2 peoples taxes and onto a 3rd. The sign said starting at $48 and the referal i received from a friend convinced me with no fees, ect paid i believe for theres. After 2 hours went by, my preparer couldnt figure how to go ahead with my homestead, had mentioned problems earlier with jackson hewitt homestead or the software and after wasting more than enough time trying to figure homestead, he told me Id have to send my Homestead in through the mail, he thought??!! At this point Im just cooperating to get my taxes done and get out of there and figured he would give me instructions or finish my tax preparation and mail out my homestead after it was all entered and figured out. consent after consent anfter disclosure, ect. led to the totalling of costs to file and the price is more outrages than Id ever seen or heard of and 3 to 4 times more than I have ever paid. Had I not been completely exhausted and lost all patience and energy to even care, I wouldve decided not to have you file and called it a day. I felt i had wasted my time choosing jaclson hewitt and felt fooled and scammed out of way more money than I would ever pay had i not been put in that situation. I felt obligated to pay for tax preparation that was slow paced, left unfinished and for me to have to finish on my own, which is the only real reason I chose you, so Ididnt have to. Now Im left still needing to print a copy out with page numbers so i can fill out homestead and file it. the instructions guide me with page numbers i dont have and numbers i should have in front of me or had entered by my tax payer...my taxes cost so much ishoulnt have had to make any efforts at all or finished the job for you, ecpecially at those prices. i entered my info to your online tax website and wanted no issues this year so I came into your office...had i filed what I had I wouldnt still be filing and finishingthem and would have saved 400 or more doin it online...I didnt feel much efforts were made to get homestead and finish it up n filed and I dont feel I was given enough information about your office and your outrages fees before I started and had already wasted over 2 hours on it left me feeling obligated to file with jackson. By the time I did, I had wasted enoughtyime was frustrated and irritated and didnt trust the services and how your business ran.. It was like i felt scammed by people I shouldve been able to trust and not felt taken advantage of. Really wish refunds for tax refunds were possible cuz I wouldnt have bothered because the services I received and the lack of efforts follow through with the job i was paying you to do werent worth my time or money to the point where Im emailing this pursuiing some sort of refund for the terrrible service and feeling so mislead. Im sure your complaints get handled about as good as your tax preperation and wont even be addressed...Im left one unsatisfied customer who will take my business elsewhere after giving jackson hewitt my negative reviews and ratings out there

Shari Williams
from Odenville, AL
Jh filed my taxes withouht my w2 also with my 8862 form attached..

Carla Powell
from Lubbock, TX
i have been with this company for over 15 years and this year i have had enough of the bullshit and the lie that the staff give u just to get thru the day and pay a pay check. Today is Feb 2, 2018. I called Jackson Hewitt in Lubbock Texas on 34th street on Monday January 29, 2018 due to someone in Louisiana was using my social on her business acct. I still haven't received a call from the manager or the company. I have been on the phone with Social Security Adm, Louisiana Dept of Revenue and the IRS trying to get this situation settled. On top of that when i went to file my taxes the customer service rep said she would call me in an hour to let me know if everything was ok with my taxes or if i would need to speak with someone else. that was almost two weeks ago still haven;t received that call either. As long as the staff here is getting a pay check they don't care about their costumers it's all about the green now-a-days. So i will be doing my taxes myself from now on. I dont recommend this company to anyone anymore and i never will again i my daughters, sons, and grandchildren will not use this company anymore either so they didn't lose one customer they lost 22. So say Thank u Jackson Hewitt to Petra for helping you loses 22 customer in Lubbock Texas.

Scott McCall
from Indianapolis, IN
I call on January 21 was I get my other money of 215 January 23 or before that and on January 29 I was told get 215 before the 1 of Feb call was told different

Marcia Butler
from Columbus, OH
I filed my taxes with Jackson Hewitt for year 2012. I was told if any problems come up they would fix it. I received a notice from Ohio Tax Dept that I owed $2566 and had to send the money by 12/15/2016. Jackson Hewitt stated that the person who filed my taxes did them incorrectly and they would only pay $226. They were sorry but that is all they would pay. I feel that I payed them to file my taxes correctly and not my fault they filed incorrect!y. I received the state notice on 12/3/2016.

Patrick Perea
from Albuquerque, NM
I went into a Jackson Hewitt in a Walmart in Mililani in Hawaii when I was in the Army. I informed the tax preparer that I am filing married but separate because we were just married and it would be for the best. The tax preparer stated that I still needed to file head of household, so I did not object to it. I went to file my financial aid and then I was told that I did not qualify for head of household and should of never filed it as such. I had to correct it by going to the IRS and filing the correct paperwork.
I now got a letter from the IRS that I owe $2576.12 because I had to correct it. I called Jackson Hewitt but was told that even through I have 0 knowledge of tax preparation and the people that Jackson Hewitt hired is supposed to know the tax code, I did not say no to filing head of household so it was my fault and they are not liable for anything. The paperwork that I have says guaranteed accuracy of my tax return they still said that does not mean anything.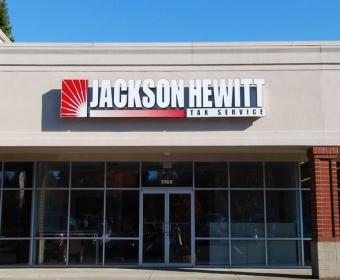 Rosalee Bramwell
from Paramus, NJ
I am a annual customer of Jackson Hewitt, my daughter FASFA were denied due to a error on my mailing address whereby one number was left off, this is understandable as we are all human and are likely to make mistake, however we out reached the office and explained what happen and was only to be told by the individual who answered, that was my problem and I need to fix it and the call was disconnected. The manner in which this came across was very insulting and rude in my opinion. I will continue with this company but I think workers should be mindful when conveying messages.

Candace
from Grapevine, TX
This is a total scam. They hook you by offering a $750 American express serve card, but the BS that you have to go through to obtain said card makes the whole thing not worth it. Also, it is taking forever for me to see my return on my taxes. All that they have advertised is covered in red tape and paperwork. Not worth it. Wish I stuck with TurboTax since I would've had my money by now. 
Have feedback for Jackson Hewitt?
Thanks for your feedback!
Sorry. Please try again later!