H&R Block
H&R Block Complaints Continued... (Page 3)
133+ reviews added so far. Upset? Call H&R Block corporate: 1-800-472-5625

Made a appointment on Tuesday had taxes done for 2017 and 2018. Told they would have to double check 2017 taxes amd would do that Tuesday night. Now Friday. I called and was told my taxes were just put aside because they were busy with clients. What am I.

Jeanette Luschen
from Oquawka, IL
I believe that H&R Block is unfair to retires. Tax preparation for a simple return that has W2 forms is $59.00. Tax preparation for a retiree, no matter how simple the return is, starts at $139. And then more fees are added if there is interest to report. I paid just a couple of dollars less for the reporting of my interest than I received in interest. And the interest reporting fee increases with each increase in interest. Also they charge $59 for the preparation of the State return even if there is no state taxable income. My tax return ended up costing me $209 even with a $25 coupon. I am accustomed to paying less for things as a retiree, not more. Retirees are a segment of our community who usually have less of an income than the taxpayers with W2 forms, and they should not have to pay more for tax preparation when the return is a simple one.

David & Jacquelyn Kwiatkowski
from Irwin, PA
We are writing in regard to the H&R Block office at 248 Country Side Plaza, Mount Pleasant, PA 15666. We had an appointment for today, Feb 4, 2019 at 2:00 PM. When we got there the office was quite busy but we didn't worry because we had an appointment. Well after 30 minutes of waiting we were told that they were running behind which was fine but that we would have to wait longer because there was someone else that had walked in with no appointment before us and wanted to see the women we were scheduled with (Beverly Queer). Now we understand that she was behind but we had the appointment and to have to wait until someone who just walked in would go before us was not right. The receptionist was so unprofessional when we went up to cancel the appointment, all she could say when I said but we had an appointment was "I know, I know". So why make an appointment if they are not going to honor it. We will never go there or recommend them to anyone ever again. That appointment should have bumped the walk in person immediately and when Beverly was done with the client she was with we should have gone in and not wait for someone who was a walk in bump us down. We would not give this office a good review at all and if we could no stars at all. It was a terrible experience.

Dawn Higgins
from Phoenix, AZ
Timeline Tax Return Filing 1/20/2019
Date Action Taken
1/20/2019 Filed 2018 taxes with H&R Block
Located 16852 N Cave Creek Rd, Phoenix, AZ 85032
Doreen Ugalde is the Senior Tax Analyst. Also, I applied for the Refund Advance on that day.
1/23/2019 Doreen called from H&R Block office stating the Pin is wrong on the return. She also said the return was rejected by the IRS on 1/23/2019. She also stated that she will re-apply for the Refund Advance for me because my return was rejected by IRS on the 20th.
1/23/2019 My federal return was accepted by the IRS.
1/24/2019 State return was accepted by Arizona.
1/29/2019 Received Arizona refund on the Emerald card and H&R Block took their fee of $350.00 approx.
At the time of the filing of my 2018 taxes I applied for the Refund Advance loan and as of today I have not received any word from H&R Block about the status of the loan. Each time I have called either the local office or the customer service department I get the loan request is pending. It has been pending since 1/23/2019.
Each time I have called the local office or customer service they have blame each other for
the issue neither one has offered to help me resolve the issue. The only thing I have been told,
if I called the local office they tell me to call customer service. I called customer service and
they tell me to call the local office I did my taxes and to speak to Doreen Ugalde.
I just want the issue resolve and not get the runaround about my taxes. For the last ten years I have filed my taxes with H&R block and never encountered such chaos and confusion. This
year between the local offices and customer service in H&R Block no one seem to know what
is going on with taxes and how to resolve issues concerning taxes. I have been waiting over 5 days to get an answer about the loan status. For the confusion and chaos, I would like to be
reimbursed my filing fee of $350.00 and $3500.00 for the stress and anxiety of this. I am
thinking about leaving H&R Block for all the crap I had to put up with this year. And I will inform the BBB. Also I will inform my Friends and Family to leave H&R Block. I have called the local media TV stations and they want to do a story about H&R Block horrible tax experiences for 2019.
Sincerely,
Dawn Higgins

Dennis Doherty
from Akron, OH
I even told the woman lisa uphsus in the batesville office that our vehicle reg were deductible an she said no it wasnt well i lost that deduction. She totally screwed us on our indiana state taxes.

Stacy
from Simi Valley, CA
THEY ARE A BUNCH OF LIARS AS I JUST SAW THE COMMERCIAL SEVERAL TIMES AND IT STATES YOU CAN GET UP TO $3,000 CASH ADVANCE WHEN YOU FILE IN PERSON OR ONLINE. I WAS TOLD YOU CAN ONLY DO IT IN PERSON BUT THE COMMERCIAL STATES OTHERWISE. I COULD HAVE HAD MONEY A FEW WEEKS AGO WHAT A JOKE.

Had an appointment for 6pm and the walk ins were taken before us after waiting an hour. So I'll take my business elsewhere. 2nd loop road Florence SC 29501

Keith Webb
from Plymouth, MI
I have been a loyal client of H&R Block for 15+ years and the last 2 of 3 years have been the absolute worst I have ever experienced. Overcharged and poor service and attitude, period. Especially, Sandra at the office on Joy Road, in Canton, Michigan. "Yes, it's $198 to prepare your taxes, what do you expect???!!!" Not only can I prepare my own taxes for free online, but I am a United States Marine Veteran who has access to free tax preparation. I believe in supporting other's work and the local economy, however, next year forward, you will not have me as a client. I will strongly recommend to any and all that ask me, not to use H&R Block. If you had fewer stars to give, I would do so, but voting with my wallet and no longer using your services speaks volumes. Good luck. Regards, Keith Webb, Plymouth, Michigan

GEORGE WAHLERS
from Naples, FL
H&R block called me and schedule an appointment for me I went in 15 minutes early and then they told me all were sorry we don't have time to take you today

Anthony Richardson
from Coffs Harbour, NSW
I rang H&R Block Lismore to get my last 2 years tax returns for the purpose of a home loan top up. I spoke to the receptionist Lyndall. She was rude from the word go. At the end of the conversation she hung up on me. I couldn't believe she did that. I've been going there for something like the last 10 to 15 years. Not going back there anymore. I do not need to be spoken rude to. I am a polite man and I don't need no young check girl being rude to me and hanging up in my ear!! I am an Employment Consultant at the moment and I will be sure to tell everybody of the rudeness of H&R Block.

Angela Rodgers
from Perryville, MO
I contacted the H&R Block office that prepared my return the last few years needing information from prior years return because this year I am doing my own. My best friend has prepared my taxes the last several years as her and her husband ran 4 offices in Sparta , Red Bud , Chester and Waterloo Illinois. Since last tax season they have divorced and earlier this year I needed info for my daughters fasfa and contacted my best friend to see if she knew how to get ahold of someone in the office and she sent her ex Husband Matt Eisenhauer and the office manager a message asking if they could please email me a copy of my 2017 return. They did not contact me nor email the info I was asking for. I just received a nasty email from Matt Eisenhauer trying to degrade my best friend. Nothing got taken care of then and I dropped it. Now I need the information for my own tax return and called the office and the woman named Donna who answered in the Sparta office was nice until I told her who I was and what I was needing. She even made a snide remark telling me good luck at getting ahold of matt myself. I then tried calling Matts personal phone and no answer and then sent him a text message and he again would not help me. Said he could not because of privacy. I understand that but I live 4-5 hours away and I've always conveyed my tax info thru email and approved everything in the past. I can verify who I am also. That being done I called the Bloomington office and they were amazing helped me right away with no hassle. Its sad that someones personal life can dictate how their clients are treated whether family, friends or neither. I should have been helped by someone and not had to go through the mess I did to get the information I was needing.

vincent r liberato
from Scarsdale, NY
been going to HR BLOCK for 30 yrs file her tax and mine we just changed to Jackson hawet last 2 years there always high rates that's why I switched didn't want to we both file short forms takes 15 min to do. thank you
Vincent r liberato 9146088569

Robert Kiser
from Lyons, GA
Yes my name is Robert Kiser I have always done business with H & R Block filing my Taxes every year!
Anyway I went a week before Christmas got $500.00 advance on the Emerald Card
Amy Elmore the Mgr took care of me and stated that I could come back on January 2, 2019 get $3000.00 advance on my tax refund that I was approved already and not have to file my taxes at that time.I went January 2nd the office stated they were not doing any refund advances due to government shut down.
I then found out that had changed so I went back January 10th 2019.
Amy Elmore started to do everything and said my money would be on my card probably the next day due to being after 5pm.
I then got a text a hour later stating I had been denied and would get a letting within 30 days in the mail.
This is my problem and H & R Block Officer Stated that I was approved and then hour later I get a text stating I was denied! This Is Totally Unprofessional.
I reached out to Amy Elmore sent her the message I received she said she would look at when she got back into the office she what she could do.
I Text her and she stated it was denied still .
Now this has cost me $389.00 tax preparation fee that I would have avoided if I would have known in this in the first place.
I ask for H & R Block Cooperate # she stated that her District Mgr said this was preapproval only!
Now And H & R Block Told Me That I Was Preapproved And Was Mislead!
This Is Not How You Do Business At All ! Now I'm In Financial Hardship Do To Being Misled By And H & R Block Officer And Mgr Of The Office!
I Did Not Want To File My Taxes At The Time And Was Told I Did Not Have To Get The Refund Anticipation Loan!Then In The Process She Stated That I Have To Get The Loan!
Also The Tax Credit I Think Was Wrong!
It Said I Was Only Getting $568.00 Per Child I Have 3 Dependents I Never Received That Low I Was Told That Had Increased To $2000.00 Per Child!
This Has Been Totaly Handled Incorrectly At Best!
Last I Dont Want My Full Refund In This Emerald Car I Wanted To Go In My Bank Account!
My Question Is Can This Be Reversed And Not Have To Pay All This Money Since I Was Mislead By And H & R Block Officer!
I Want This Addressed Immediately!
Office I went To Was
H & R Block
3500 Ross Clark Circle Ste 350
Dothan AL 36303
Amy Elmore Was The Office Mgr That Took Care And Completed Everything!
I Want A Resolution On This Immediately!
Robert Kiser
Rkiser74@gmail.com
334-797-0909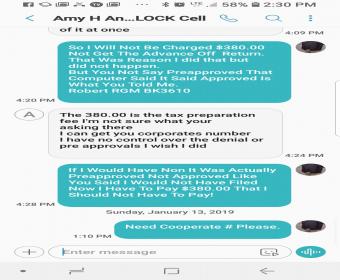 Dominic Capanna
from Phoenix, AZ
If i could rate lower than 1 star i would. Here is my experience . I have detailed emails . I went into H&R Block @ 676 N Bisbee Ave, Willcox, AZ 85643 to try to file my taxes . After i gave them all my documents and made an appointment .NO ONE returned my calls ever. I called several times to try to finish my tax return. After several attempts and many voice mail and email messages. NO ONE at this location answered my contact attempts. I had an appointment on july 4th . No one was at this location for my appointment. This location is not close to me and it is difficult to commute . I was told the fee they charged me would go towards my fee to file . I know how to do a FREE extension online. However i needed special help prep due to starting a new business. It was getting close to deadline so i attempted to once again go to this location. They had no information for me and had passed my "file" to another person. I then asked for my documents . After a very confessed receptionist scrambled to find my file. My documents were not all returned. I did not have all my records to file my return correctly. I politely asked for a refund and my documents to be returned . I still do not have the documents that I had left with that office. I am extremely dissatisfied with my experience. I am absolutely entitled to a refund and should be reimbursed in full.
Dominic Capanna
168. e papago
85606
emailddc2@gmail.com
520-833-0104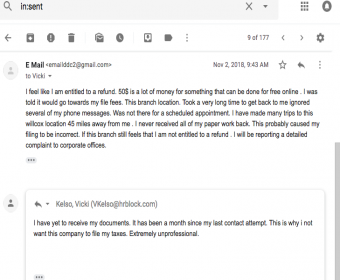 Jeff E Hicks
from Ventura, CA
Me and my wife contacted H&R block in Oxnard California regarding current and past tax returns which needed to be completed
for our business due to Pay Pal doubling our revenues and making us have to go back three years and input all sales etc by hand
so when we took our returns to H&R Block in Oxnard Calif we spoke to a Sabrina Prendergast and explained our problem and that we needed to get this started ASAP due to letters from the IRS she said that she had never done business taxes but her associate would help her with them SHOULD HAVE WALKED OUT RIGHT THEN but due to our past tax preparation company costs are way more then we could afford we thought that since it was H&R Block whom was supposed to be a reputable company that they would be able to help us that was on Sept 20 2018 it is now December 9th 2018 and we have not heard a word from them we have tried contacting them with no luck now the IRS is sending letters stating the amounts owed and saying they are going to start garnishments how can we get help with this issue ? Please Help
Jeff & Traci Hicks 805-861-4448

Erik Hatfield
from Bedminster, NJ
Went out of state for work. Went to use emerald card wouldn't work it was locked. Called customer service to get straightened out. She told me everything was good to go. Went to use my card locked again. Called customer service again where this last tells me previous one deactivated my card and that I need to get a new one. Either wait 13 days for one or drive half hour to get one. Asked for number to file complaint...would not give me one. I asked multiple times. Worst customer service I ever experienced. I will say that after I get my money off my account I will never use one of those cards ever again.

catherine mcallister
from Quispamsis, NB
I FILED MY TAXES FOR THE TAX YEARS 2015,2016,2017 back in July (23).I was waiting on word of any refund when I called them the middle of Sept.They instructed me that they were never received.I called H&R block and the lady checked.Apparently weekly I am not sure if my name came up on a list ,or she overlooked it .She is a very capable woman but if I had not spoken to an agent with CRA.I still would be waiting.I filed with efile .I did not pay the extra insurance you might say because she recommended I did not.I could have and probably will go elsewhere in the future.I paid 273.00 at the time.I really do not expect you to do anything.I have lost faith in the customer satisfaction guarantees you may make.If you wish to contact me please use email cathymcallister03@gmail.com

michael midelton
from Bremerton, WA
I just received a bill from the CA FTB saying I owe them $1931 dollars because my "qualifying" dependent really doesn't qualify, even though your software said she did. Turned 18 in Nov 2017, but a full time high school/college student. I pay all her expenses. Check, check, check, But she made more than $4050 dollars in income, which according to them disqualifies her. YOUR SOFTWARE NEVER ASKED THAT QUESTION or I would have changed my filing status from HOH to SINGLE. Now I have to pay them $1931. You product is crap. Was told Turbo Tax would have COMPARED all returns for a family to one another and pointed this out, Yours doesn't. I have been a faithful customer for many years, not any more.

Andrea Gardner
from Sumner, WA
I own a small business just starting out. They have had my information for months now and still nothing. They say they are senior tax people and have been doing this for years. The spanaway office is where my taxes were transferred to because the office on Mt. HWY lied said they could do it but then said they had no idea how too. It takes weeks for them to call me back then gives me the run around and the lady Ann Marie is always out of the office and blaming her coworker Courtney for it not getting done .I could go on and on but I would never ever refer anyone to go to H&R Block . I personally think they all should be fired.

john snyder
from Hialeah, FL
your holding my refund check hostage since April 20 th, and refuse to send it to me
until your done making interest off of my money. and you could care less..Their isn't a single word in the
English language to describe how I feel about h&r block...I know your not going to respond to this
anymore than you return your phone calls.. your a mickey mouse poor excuse for a company..
how you continue to stay in business is one for Ripley's believe it or not. you belong behind bars.
your thieves..

After working with H&R Block for 10 years this will be my last year with them they did not file my correct taxes cost me an unnecessary fee and refuse to correct it

JULIE DELLACAMERA
from East Haven, CT
I filed my taxes in the East Haven, Ct office on January 17th. For the 2nd year in a row, they have messed up my state income tax, they can not tell me when my federal return was accepted and people are rude. I have asked 4 times for a manager to call me, and no one does. When I last spoke to the person who did my taxes earlier this week, she told me she gets paid to file and I will get my taxes eventually. She stated I should have gone elsewhere. I feel I shouldn't have to pay for the services I did not recieve.

Richard L Conrad
from Washington, IA
We filed our taxes as we usually do with H&R Block in Sigourney Iowa. When all was said and done we were told we were getting a rtefund of $4000 + from the Federal govt. and $1200 + from our State, a little over $5200. We asked at least 3 different times if the lady doing the taxes was sure and she said yes. We bought the piece of mind just to be sure. We paid $294 dollars and left the office thinking our taxes had been e-filed and everything was fine. 36 hours later, (a day and a half) we received a phone call from our tax preparer. She said the computer had updated and we now owe $2820 dollars to the federal govt. and would only get $183 dollars back from the state. This is an $8000 dollar mistake. We have tried to resolve this and we keep getting the run around. Twice we have been told someone from the claims department would contact us, no call yet, it has been several weeks. Each time we try to meet with someone from the office something always comes up they always have an excuse. We would just like our money refunded, our taxes filed correctly so we can be done with this.This has been going on for several weeks now. We will never use H&R Block again unless this is resolved to our satisfaction.

Jaimie young
from Tampa, FL
Had an appointment at 4 and bc there was 5 minutes before our appointment the tax preparer (Jackie) for our appointment looked at me and said "it's not 4 yet" then proceeded to take a walk in while we had to wait past out appointment time instead of take us 5 mins early!! Very upset and aggravated, as we do not file for free, we do in fact file for hundreds of dollars fee. We came in to the Zephyrhills, Fl location at 7856 Gall Blvd.

Linda Mccabe
from Milford, PA
I was scammed by customer service to pay 24.99 for some plus benifits after paying i looked up online and found i was getting nothing at all different then the free version offers. I phoned customer service and was told its only 24.99 why are you so upset. I explained the situation and was told nothing they can do. The operator refused to give her name or operator number then hung up. I work for the newspaper in pa and i am sure im going to get this scam of hr block out to the public before others throw away there money. I called turbotax to get there referral info to place in my report.

Christine Effler
from Chicago, IL
H&R Block prepared my taxes for 2018, everything was fine until I was asked if I had medical insurance. I said I had it til September of 2017, she asked why, I simply said because I'm looking for a job. Then she proceeds to tell me that she is going to be the one to tell me that i need medical insurance. Frankly, its none of her business as to why i dont have it. I told her to stop talking about it and she continued to lecture me. Im an adult and im aware of what i need. I don't need to be treated as if i were a child. Her name is Patty costanza, n main location in rockford il

Irene Hurt
from Bakersfield, CA
I went to h and r block to file my tax return and I was under the impression that I would receive funds that same day. I even asked the "tax professional" when the funds would be available on this card she gave me(The Emerald Card) and she told me within 24 hours. I was not happy that they charged me a total of $281.00 on a return of only $1,212.00 but took into consideration that this is the price I pay for a quick return. I even said so to the"tax professional" and she agreed. Turns out she was wrong. The correct answer would have been 21 days. If I had known this I would have done my taxes myself like I usually do and saved almost $300.
Hey H and r block.....tax season is not an ideal time to train.......the other "tax professional" that was doing the training was back and forth between her(the trainee) and other customers during my appointment. The last time I spoke with the tax professional that was doing the training was 3:00, she said she was going to call the higher ups and see what could be done. Thats what I get for counting on h and r block,> my husband is in the hospital and not doing well and I have 10 days to move due to the property being sold where we reside. I scheduled time off with my work so I could find a new home in time for when my husband is released from the hospital. I never should have put so much faith into h and r block....Now Im screwed. I may be stuck here, get evicted, and then how am I supposed to find someone that will rent to me? And the woman who was being trained.....dont blame her, she was not being properly trained, obviously. Thanks for taking advantage of me h and r block...NEVER AGAIN.

Lori A Bassaro
from Altoona, PA
I've contact hr block 33 times yes 33. They said they did a investagation on my fraud statement. N they closed it. So I called again to ask them how they did this bc there were transactions being made at the same time 50miles apart. So then they assigned me Natale n she doesn't return calls. N when she does she try's blaming you. When I'm disable can't speak well n around on me. I explained I only have one card n she kept asking me if I gave it lost it etc.. n the transactions are being made at the same time in different areas n this has been going on since July n this is now October?? Hr block investagation was a bunch of crap... and since they sat on their thumbs all video evidence is gone. So yes I believe I have a right to be upset. N I want my money back

Richard Keyser
from Orlando, FL
This is a note I had to sent to the recruiter for you classes in Orlando. I feel, in my worse day at work, I could do better at informing potential clients of class   cancellations or changes. If this is the caliber of individual you have working, it is disappointing. I am positive I could do better.
Quezada, Marielle Michelle (marielle.quezada@tax.hrblock.com) 
Good Morning
   At the moment I am highly disappointed in H&R Block.
     1. I never received the code you stated I needed to enroll in the course which started today, so
     2. I went to the address where the course was to be held and waited until after 10 AM, the start time, and no one showed.
Is the evening class from 6:30 to 9:30 still going to be held.
Thank You 

Samantha
from San Diego, CA
Please, do NOT hire H&R Block for financial services. They do document and rip off peoples personal and business information.

Went to H&R Block to get my taxes filed the last three years. Each year the service seems to get a little worse, but the price stays the same. This past year they barely took 30 minutes with me and seemed very rushed. I hope they slow way down and get back to focusing on positive customer service experiences. That is my only complaint, and the change would need to come from the H&R Block corporate office.

No compaints here about the company. H&R Block helped me in filing my IT - returns for this financial year and it's a great relief. It is a full-service tax consultancy firm with qualified CAs, CPAs and other experienced Tax Experts for individual and Corporate accounts.
Well it is pretty necessary that we maintain and manage our financial transactions regular and H&R Block is the best place as it has 365 days frequency, error free and our documents are 100% secured. It not only helps in IT filing, but also in IT calculation, Tax scrutiny assistance, registration and advance tax quarterly services too. I suggest to ring up or text in H&R Block for the above services to get the best work done for you. I have done my taxes several years in a row and from the corporate office on down everyone in this organization seems to be world-class.
Have feedback for H&R Block?
Thanks for your feedback!
Sorry. Please try again later!