Harris Teeter
Harris Teeter Complaints Continued... (Page 2)
55+ reviews added so far. Upset? Call Harris Teeter corporate: 704-844-3100

Ulana Stuart
from Chapel Hill, NC
A little over a week ago on Sunday a friend and I (we are both senior citizens) were volunteering to help folks to register to vote at the Chapel Hill NC University Mall Harris Teeter store. The back of our clipboards which we prominently displayed to the public, clearly stated "Register To Vote" in big letters. We were not in front of the doors but to the left and about ten feet away (mostly for the shade). After a few minutes, the store manager came out and told us (politely) that we weren't allowed to do that due to company policy.
I was taken aback since these were nonpartisan forms and we were not doing anything specific for either party. There are a lot of university students who have come back for the fall semester and are too far from home to vote easily which is why we were there. Many of them shop at Harris Teeter, especially on the weekend. When we moved away into one of the parking lot islands, the mall security in their car told us it wasn't safe and to please move.
Two days later (the following Tuesday) I called Harris Teeter corporate and had to leave a message for customer service representative. It took until Friday before I got a call back. They politely told me that I needed to speak with the communications representative.
I have done a lot of customer telephone outreach in my life but have never had anyone talk down to me. It was certainly unnecessary to keep repeating over and over how much Harris Teeter gives to the troops as if that was what I was calling about. I mentioned that I have shopped there for over 25 years and knew that they allowed fundraisers there (Girl Scouts etc).
She repeated that we were not a 501C (nonprofit) and all in all was unhelpful and snooty to boot. I feel that the manner in which she spoke to me rather than what she said was what was offensive (ironic, since she is in communications for HT). I noticed that there are no places to post a review for Harris Teeter on Google or Yelp so I heartily thank you for giving me this opportunity.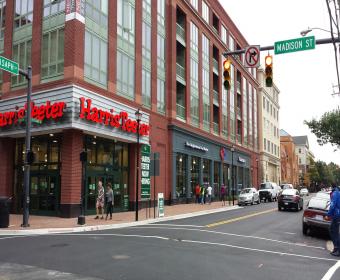 John J,. McKenna
from Philadelphia, PA
My wife and I started to use your Millsboro, De store about 5 months ago. We have been mostly satisfied, but today (Sunday June 26 at about 3:30pm) we were very taken back by 3 of your employees : the woman cashier, her manager, and another younger blond hair cashier. Although we have purchased fresh corn several times in the past few weeks at $2. 00 for five ears, it was reduced to $1.00 for 5 ears if you had a VIC card. When I mentioned this to the cashier, she told me they never sold corn for that price. I told her Giant had corn also 5 ears for $1.00 but we we somewhat loyal to HT and rarely use Giant. The cashier asked her manager who also told me you never sold at that price and the second cashier also kept shaking her head that I was Wrong.
I'm sure you recognize that the customer is rarely wrong and never tell the customer he is senile, stupid, or dishonest.. Simply say that any prior prices are not in effect and that is the price today. That I could easily accept. The "you are wrong" approach by your 3 employees was poorly handled - stop telling me Iam wrong!. I told the manager I did not want to do business after being treated as stupid. The dollar difference was not the point, but customer being mistreated was enough for me. The manager offered the lower price after the embarrassment,, but again - the price was not the point. Don't ever tell a customer they are wrong, especially when all 3 tried to put me in my place..

I am a very faithful customer of your Harris teeter in Alexandria on duke street , I like to have my meat cut in the meet department but it's coming to the point where I think I'll start going to another store, you have a gentleman that works in the meat department by the name of Calvin and he always reek of alcohol and appear to be intoxicated almost every visit, he also at times is very rude it would be greatly appreciated if this matter is resolved in a timely manner. I am humbly offended by his actions and wish to report this to the Harris Teeter corporate offices.

Harris Teeter a neighborhood food store and dedicated pharmacy super-market is an absolute solution for my family's health and nutrition. It's an awesome experience when I enter the store. The most wonderful support and the good quality items are the brand services of Harris Teeter. Harris Teeter has Butcher's market for ready-to-cook food, farmer's market for fresh fruits and vegetables, fisherman's market for seafood, pharmacy for the best medicines and flower gallery for bouquets and event based floral arrangements.
Have feedback for Harris Teeter?
Thanks for your feedback!
Sorry. Please try again later!