Enterprise Rent-A-Car
Enterprise Rent-A-Car Complaints Continued... (Page 2)
86+ reviews added so far. Upset? Call Enterprise Rent-A-Car corporate:

Sherida Felders
from Hemet, CA
I give Enterprise rent-a-car service in East Florida "no stars".
Made a reservation for a small compact car. Had to wait about 20 min before I was waited on, another 20 min waiting for the vehicle. They brought me a Nissan truck which was double the price of the vehicle. I told them this isn't what I ask for and was told wait another 20 mins and they would clean a car up for me. I told them to cancel my reservation but they told me they would let me have the truck for the same price. I took the offer but was not pleased because I was expecting to save gas since I was going to San Diego from Hemet. I will never use this service again...never!!!

Daniel Jason Doering
from Fresno, CA
Very upset the rental car locked me out while the car is running. Why the heck was I not told this car does this upon driving away from the Rental Lot. Inexcusable. I am a U.S. Veteran and pay close attention to customer service and business communication. I am now having to wait an hour for car to be unlocked all while having another bill added. I do not think I will use Enterprise ever again.

Marisa McIntosh
from New Orleans, LA
My husband and I went to the Selma Alabama location and we were in desperate need of a car as ours had broke down. The representative spoke to us like we were trash. She asked for our utility bill and said it would be 200.00 deposit . I have never paid that for any vehicle. Needless to say we left immediately. I will never use Enterprise again.

CHALLA MADAN
from Pune, MH
Dear Sir/Madam,
I have rented a car from you on 15th May 2018 from Philadelphia and returned it on 16th May 2018 at Buffalo, Newyork. I have settled the payment on the same day. To my surprise, I receive two letters from you today ie. 23rd June 2018 at India, stating that I defaulted on two toll payments, one of $4 and one of $15.80. To the best of my knowledge, I have not defaulted on any toll payments. However, If you claim to the contrary, I will consider paying the toll charges if you can tell me the consolidated amount and provide me your bank account details, to enable a wire transfer ( As I am in India). I appreciate if you can send me some form of evidence of my default. I am attaching copies of your correspondence for your perusal.
Thanks and Rgds,
Challa Madan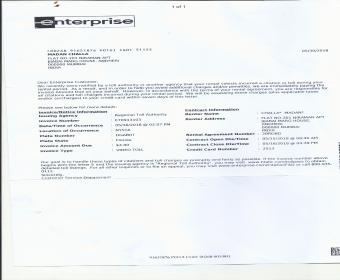 Fedosa Robinson
from Chicago, IL
Reserved my car 4 weeks early get there no car ready so they claim they were giving me a free upgrade. Made me wait 40 mins car still dirty Huge inconvenience Huge . Need discount more then dome 10 to 20 %

Dawn Soper
from Lake Havasu City, AZ
I returned a rental car on 6/13/18 at 4:43pm to McCarron Airport in Las Vegas NV and forgot my wallet in the vehicle. As soon as I realized I didn't have it, I called and they told me that yes they had a black wallet turned in. I told them I was on my way and arrived about an hour later to retrieve it. As I proceeded to leave I realized all my cash was missing, (250.00) I told the manager & he said they are reviewing the cameras. After a lengthy process, the manager told me he couldn't help me, there was no proof to identify anyone steeling it form my wallet. As I read thru the pamphlet I saw that there is a form I could fill out but he never mentioned anything to me regarding that, he was so unprofessional as far as I'm concerned. All he told me was there was nothing he could do! How do you employ thieves & dishonest employees to work for you is beyond me!!! 250.00 is a lot of money to me (I work hard for my money) but this totally boils down to principle!!! Your company should do better back ground checks on your employees, not good for your business!!! I will never rent from your company ever and I will exploit my experience with everyone I know... personally & on social media!!! I rate your service a 0 on a 1-10 scale!!!! Hopefully you check into some of your employees & management.... Just food for thought to redeem your reputation!!!

Melissa Trent
from Valley City, OH
My pregnant daughter Kayla Willoughby made a reservation for herself and my 5 year old grandson a month in advance for an economy rental car to be picked up on 6/8/18. She decided to call in advance the day of pickup to let them know she was on her way to pick up and the rep told her not only did he not have her car but there were 11 people on the waiting list. He gave absolutely no explanation for not having it. She then called corporate who promised a solution as she was to leave for a pre paid pre planned vacation the very next morning. They would call back. An hour later they called back and offered a rental 3 days later at almost double the price originally quoted. They did not offer to make it right nor give a solution. Shame on you Enterprise in Morehead KY as well as Enterprise corporate!! I do not recommend them whatsoever for reliability or customer care.

Charles Williams
from Columbus, GA
I reserved a SUV Standard 4WD for 16 June 2018 - 12 July 2018 from Enterprise Car, 1807 South Lumpkin Drive, Columbus, GA. A few days later I went back to that Enterprise, explaining to them that I would need a ride from my residence, 5400 Broadfield Drive, Columbus, GA to Enterprise on 16 June 2018 to get the vehicle. I then and only then I found out that they told me to contact the Enterprise Car Rental, located on North Veterans Drive, Columbus and they would pick me up and bring/take me the Enterprise on South Lumpkin Drive, Columbus, GA simply because it was closer to my residence. Upon contacting the Enterprise on North Veterans Drive, I found out that they wouldn't because it was out of their assigned area of pickup. Plus, they didn't have anymore of this type of SUV available for these dates. Everything that the Enterprise on South Lumpkin Drive had told me was not even close to what the Enterprise on North Veterans Drive to me, once I talked to them.
I have used Enterprise Car Rental several times but I have never seen this type of service, lack of policy knowledge about pickups. I have no other way to get to Enterprise other than taking a taxi-cab to your company, simply because of lack of giving complete and correct information. Because of this, I will more than likely never use or recommend Enterprise to anyone. You only find out important information only when you ask; never volunteered from Enterprise!

Tiffany Ward
from Glenwood, GA
I was mislead and then deceived about payment information and the return of my deposit due to the negligence.The customer service at the waycross office was definitely not up to par. We were contacted several times during our vacation to come back to waycross so shortened our vacation.

Mitchell Flaster
from East Brunswick, NJ
On March 14,,2017 I lost my house keys and car keys . At I PM i am called Enterprise and told them I needed a car to get to a friends house where I had a duplicate set of keys. I am 81 Years old and it was very cold.out. The operator said that a vehicle was available at the North Brunswick,NJ office I called them and was advised that I would have a vehicle by 3.00 PM. By four i failed to hear from them. I called them and they said they would have a vehicle available shortly.I was advised that there office closed at five. I called Enterprise again and was advsed that there was a vehicle available in there Somerset office if I could get there by 6 but I would have to pick it up my self. After walking half way there I was advised
4.45 that they didn t have a car available. Due to the extreme weather conditions I was forced to take a cab and occurred expenses of over one hundred dollars. The North Brunswick office later advised me that they had a vehicle available fifteen minutes after there office was.supposed to be closed.although they now told me told me that they closed at six. In any case i was a Thirty minute drive from there office I they were going to pick me up and the transaction would take way past there closing time. I told them that the failure of the Somerset Office and there office to provide me a vehicle. endangered my health and they advised me that my situation was not there fault.

Lillie Harrison & Sedrick Durant
from Tallahassee, FL
Dear Enterprise:
My name is Lillie Harrison and I rented a car February 8-12, 2018 in Costa Rica and we had the worst experience in our life renting a vehicle.
The reservation number was 2019918715; other numbers listed on contact RA SJOT61-1197b; ep 393971992.
We brought extra insurance due to this area requiring 3rd party coverage, the rental car give you a scare tactic spill when renting so we brought extra liability insurance. The representative went on to tell us if something happen do not ask or flag people down for help due to people in the area may rob you because they are able to identify rental cars.. My son in law Sedrick Durant proceeded to question them about this due to the fact they mark the rental cars so they can identify them. Enterprise in Costa Rica takes a piece out of the front and back bumper so they can identify them. Sedrick pointed this out to them if you are doing this you are setting the rental cars up to be a target.
Complaint: The vehicle did not have working air, the entire time. We went to the Antonio National Park and beach and on our return the rental vehicle had a flat tire, on the narrow edge of the road we were able to get off the road as best as we could. The jack nor did the hand wrench worked that was in the vehicle. We called several time on all 4 phones trying to contact Enterprise, finally when we got a lady on the phone we begged her not to hang up do to everyone else speaking Spanish and it was hard to communicate with others.
Enterprise sent out a young man on a motor bike- he had a hand wrench but no jack the jack was broken it would not work the vehicle kept falling off the jack, at this point I feared for my son and the young man life. We called 911, but they told us we had to contact Enterprise. Finally a policeman passed by, he stopped to assist us, he took his jack out and it would not work, after about two hours the policeman flagged down another man and they used his jack. Once they got the spare tire on the tire was flat, we stood for a minute discussing the fear of driving to a location to get air due to this would damage the tire, so the policeman flagged down a semi-truck who had an air pump to put in the tire.
Due to the fear spill Enterprise car rental rep gave us, we took pictures of everything and everybody for safety reasons. By this time a multitude of Policeman came they went up to my son in law and asked for passport, now fear has really kicked in. We stayed clam showed his passport and finally we were on our way.
The rental was returned on the 12th, we spoke to Martin Rodriquez, and he said he could discount one day, and not charge us for the tire damage. To my amazement he told us they charge the customers for tires if something happen. This should be against the law based on the representative telling you that people targets the car to due thing such as this and to say the tire was not new nor should the customer be held responsible for the bad roads.
I explained to him I was completely unsatisfied with my experience and I should not be charge for this rental. I feel like there should be some other compensation for my son and I do to the fact we had to stand in the road to be flagmen frying to prevent cars and semi-trucks from running over them due to being in the road trying to change the tire.
I want to find out about additional reparations for such a horrific experience, we are emotional and mentally scarred from this experience. I can be reached at 850-510-6829; my son in law Sedrick Durant can be reached at 813-478-3003.
I have the pictures trying to print from my device.
Lillie Harrison.

Ferrer,Barbara
from Riverdale, GA
Yesterday 2/12/18 around 7:35 p.m. I went to the airport enterprise in Atlanta Georgia to make a payment of $145 I requested to speak to the manager Lamar because payment will not be taken while speaking to Lamar I did not appreciate him adjusting his private parts infront of me.

Cheryl Kirk
from Houston, TX
I took my truck into Helfman Ford for a recall. Ford was kind enough to pay for a rental car for the day since I had to take my mother in law to PT. I got a Ford Focus 2017 with almost 29,000 miles on it. The car was filthy. I rubbed my hand across the dash board and it came up black. There were finger prints and I believe nose prints on the passenger side windshield. The car smelled like cigarettes. While I was driving I noticed when going from first to second the car made a grinding sound that you could feel through the floor boards. The brakes were grinding the whole time whenever I stopped. I've had small issues before, but this was beyond ridiculous. When I turned the car in the guy didn't even seem to care. I'm grateful to Ford for paying for the car, but I can't say much for the car itself.
Thank you,
Cheryl Kirk

Jemica Colson-Willis
from Clawson, MI
Hello, I been calling cooperate since December with no response yet . I'm in disbelief I had a horrible experience with my rental . I have called cooperate over 4 times no one has reached out to me. I'm getting billed for a rental that did not damage . I only want to someone to listen to me and here my side story. Cooperate haven't responded to me and it February .Maybe someone will see this and reach out to me.
Thank You

Cynthia Steinberg
from North Hollywood, CA
I rented a car for 3 days (January 16 - 19, 2018) from the Burbank Airport Enterprise venue - Rental Agreement # 339862457. I had called in to the Burbank Airport Enterprise Rental Counter and in response to my inquiry on whether I could receive airline frequent flyer points/miles on one of my airlines accounts for the rental, I was told that Enterprise does not participate in such programs. But upon return of the car on the 19th, the agent in response to the same inquiry told me that Enterprise does participate in such programs and that I needed to have submitted a frequent flyer account number before the car was returned. I would appreciate if you would please indicate to me which airline is a co-share participant with Enterprise so that I can please supply my frequent flyer number to receive the miles which accrued over the 3 day rental. I am glad to submit the receipt for the rental.
Thank you.
Mrs. Cynthia Steinberg
818 985 7913 (home)
818 620 7880 (cell)
5119 Bluebell Avenue
Valley Village, CA 91607
email: cynthiasteinbe@gmail.com

Called Safeco insurance and they made a reservation for me at above location. Someone from Enterprise called me from above location and asked when I would pick up vehicle. I said probably the next day, or possibly the day after. I was told to call before hand on the day of pick up. The insurance adjuster stated I could pickup immediately if so desired. I called the next day as instructed and was told no vehicles available until after 8 PM. My schedule would not allow me to pickup after 8 PM, nor the next day. I am told I could pickup immediately on the same day as the reservation was made, now I am told to wait. I phoned corporate and filed a complaint there as well. No one seems to care about the customer. The above location staff and manager stated I could phone any location for vehicle availability. Then should find me the vehicle as I was told it was ready for immediate pickup. I'm sure Safeco insurance accounts for a big part of Enterprise's business, but yet I'm treated like it is an inconvenience to them. They sure don't seem to get it, I'm the customer, the reason they are in business. But alas it is lost to a bunch of young punks who don't get it.

elsa castillo / catarino castillo 346-216-0377
from Chicago, IL
On Friday, September 29, 2017 I had a flat tire driving on HWY 6 westbound from Navasota, Texas towards Houston, Texas. I called the 1-800 number to customer service very nice lady I explained my situation to her and she said she submitted the report and that someone would call me from the wrecker svc. So I waited and about an 30min to hour Triple AAA calls me telling me that the tow truck cannot get to me till about 545pm. So I told triple AAA I could not be out in the middle of no where with my mother which is 75 years old. She is elderly needs to go the restroom, drink water, and eat. So Triple AAA called the Navasota Police Department to come and get us so they can take us to the nearest gasoline station and bring us back to the car. So I had to ride in the back seat of a police car which I had never in my life done especially with my mother. Then after the kind police man brought us back I called the enterprise Rent-a-car location near me which was only about 17minutes away from me, and asked what if I paid Uber service to drive me or could they send someone to pick us up to the location 4095 Texas 6 Frontage Rd a, College Station, Texas 77845 so they could give me another car? . They said no because I had to turn in the car with the flat tire before they gave me one and if I wanted them to pick me up I had to set the service up 5 hours in advance. So I had to stay in the middle of no where for about 3hrs and a half with my elderly mother until the wrecker showed up. On top of everything my mom got bitten my fire aunts. And at 5:35pm I finally called Enterprise @ the address I mentioned above and some girl answered that if I get there after 6pm. For me not to bother to just drive to the airport and see if they can help me there after 6pm. The whole situation was unacceptable. Just imagine if this would of happened to my mother and I late evening. Why couldn't someone from the enterprise place bring a car to me I was only 17min away from the office they could of verified the car was there ... they schedule for Triple AAA to pick it up.

October 2, 2017
To Whom It May Concern:
I'm a Manager at a hotel, a couple of months ago I had some people check in because their car had broken down they decided they wanted to go home and asked if I could recommend a car rental service. I told the guest that we had Enterprise down the street and that they will pick you up. I have dealt with Enterprise several times, my car insurance uses them and of course Enterprise is well known for their services. As the guest were sitting in the lobby waiting for someone to pick them up they were told someone would pick them up in 30 mins well an hour had passed so they called to check and was told that they would be their in 30 mins well, 30 mins came an gone with no Enterprise so they called again they were told the same thing. The guest sat in the Lobby for two hrs waiting on a company that I recommended with high regards....What a mistake!!
Now my interaction with Enterprise. My son was going to homecoming so I decided I would rent a suv big enough for him and his friends. I made a reservation online. A couple days before picking up the vehicle I just wanted to make sure everything would run smoothly one because of the incident with the guest I had recommended to Enterprise and two I did read the reviews and they were terrible but I had used Enterprise several times so I didn't let that discourage me. On Sept. 29th I had went in to the location on Riverside Dr, in Fairmont WV to ask some questions. I didn't know if I would be back at noon the day I was to return the vehicle so I wanted to inquire about late fees. I walk in unfortunately, I don't know who I was speaking to but it was a female and she was pregnant , she asked if she could help me I gave her my name told her I wanted to check on my reservation and I had questions, she pulls up my reservation and states everything looked good so I asked the representative about the policy on being late because I wasn't sure if I would be back in time, the first thing out her mouth was that they had camera's, right off the bat I'm offended I didn't ask her about camera's I asked about the late fee policy, I smiled/laughed at the representative in order from getting angry told her to have a nice day and left. I had to run a few errands for my son's homecoming I figured by the time I was done I would calm down but I didn't so I called and ask to speak to the Manager. I proceeded to tell the Manager what happened he tells me I have a 30 minute grace period anything after that is $43.00 an hour I said that's all I needed to know, not we have camera's and why couldn't the representative say that from the beginning, he apologized and told me he would handle it and hung up. How can the Manager handle the situation because he never asked me what was her name, unless he was one of the guys sitting down on the right hand side on their cell phones when I walked in and knew which one I had spoken too.
Sept. 30th Homecoming day I go and pick up the vehicle very friendly representive tells me the price and then tells me I had to have a $150.00 deposit now I thought when you had a major credit card you didn't have to have a deposit no big deal though I said put the charge for the vehicle on my major credit card which was the Mastercard and put the deposit on my Visa card which he told me would be refunded on Monday. The representative ask me did I want a Yukon or Suburban, I went with the Yukon when he brought me the vechile the car wasn't washed and I didn't notice until I got home there was something sticky on the seats. The representative asked did I want insurance I told him yes transerfer my insurance over he proceeded to tell me that he didn't think it would go through like I stated before I have dealt with Enterprise several times and I have transerferred my insurance over many times. The representative asked me to sign my initials I informed him we haven't gone over the car he stated it was ok he checked it over and everything was fine I informed him anytime I have came here we go over the vehicle he sated you have insurance he went over the car and everything was fine, reading more on reviews 10/2/17 I'm not so sure that was a good idea. October 2nd 2017 I checked my bank to make sure my deposit was put back on and I see a charge of $150.00. The $150.00 was a deposit so why am I being charged so I called Enterprise they informed me they charged the wrong card and they would reverse charges so I give them about an half go back and check instead of reversing the $150.00 they charged me for $13.68. I'm a manager at a hotel I deal with complaints on a daily basis so the last thing I like to do is complain but this is unexceptable and I'm highly irriated and aggitated. The workers seem unprofessional and I understand mistakens are made but it seems they are having a hard time correcting the mistake they made with my accout. I'm not pleased and I will never use Enterprise nor will I ever recommend anyone to use Enterprise. I'm filing a complaint and if things are reversed soon I will be filling a complaint with the better business bureau. This is unacceptable and I won't be overlooked! I called my bank the charges are pending they haven't been reversed and after calling the Manager back he justified his employee lying to me about the insurance he stated it's his job to sell me the insurance, I told him it's his job to offer the insurance not lie and say that mines wouldn't go through basically I got nowhere with the Manager.

Kevin Handle
from Orlando, FL
I was told false information that my collision damage waiver benefits from my credit card company was not good enough. Also the lied to me over the phone and told me the manager would get back to me. Never responded okay please respond to this complaint and follow up with me.thank you sincerely Kevin Handle

Christine Jackson
from Lawrenceville, GA
On Sunday, September 17, 2017, at 1:42 pm, I returned a vehicle to the Enterprise car rental on 176 SCENIC HIGHWAY LAWRENCEVILLE, GA 30045-5739,7709626180. When the customer service rep accepted my return keys, I told her that I would need a ride home. She asked me where I was going and I gave her my address and told her that it was only ten minutes away. She said ok, but it was be a little wait because they were busy. I told her know problem. After twenty minutes she came back and said I'm still trying to find someone to get you home. Twenty or thirty more mintue had passed and we are still sitting there waiting to be taken home. She came back again and said I haven't forgotten you guys. At this point I was very annoyed. I understand that they were busy, but at what point do you say these people have waited long....let's get them home. It was at least 4 or 5 people working and no one cared that we had now been waiting for almost and hour . It was at this point that I got on my phone and called around until I finally found someone who was home and was willing to come and pick us up. It is now 2:30 and we are still waiting. When we were finally pick up, No one came out and said that they were sorry for the incovenience or anythings. It was like we were never there. I have never been treated so poorly at any car rental place. Enteprise was my go to rental car place...NEVER AGAIN will I rent from them.

Supervisor Gabriela Cuenca and
Luis Martes When there clenean then self at the garage office on the miami airport the were to buzy to assit me and when i said why they don't asist me thay said they are waiting for employees to show up to work. And they were doing nothing for at leas 30 minutes.

St. Louis Enterprise office on Kings highway gave me crappy replacement car after i've been renting for 2.5 years, saying that is all thats available. Jeannie in customer service told me i can drive over there every day to see if they have a better car! Also they charged me $672. for a one week rental in New Orleans. I think thats outrageous, considering all of the money they make from my company rental car. Again, Jeannie in customer service had nothing to offer in ameliorating this.

Nalaka Liyanage
from University, MS
I'm really disappointing about the enterprise rent a car service. This is because the incident happened to me recently. I have reserved a rental vehicle that can accommodate more than 6 people from Senatobia MS location (reservation confirmation number is 1130824836). The day before the pick up I got a call from them and saying they are completely out of Minivans and SUVs. This is a bull and what's the point of having online reservation method.
And they are saying we have to call them and confirm our reservation. I'm again saying what's the point of having online reservation system. I don't know why these people are treating others very disrespectful way. So due that I'm going to completely ruin my trip and I'm going to loose lot of $$ due that. Since I have booked hotels and tickets most of them are non-refundable. I never recommended this Rent-A-Car company to any of them and please be aware before your plan your trip.
This is not the first time that happened to me. I'm saying again, I'm really disappointing about how they treating to their customers.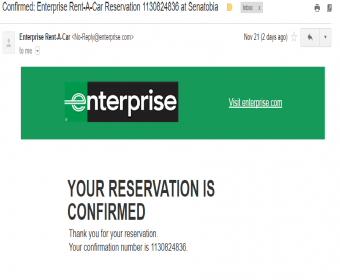 Rosa Williams
from Fredericksburg, VA
Made a reservation on the phone for a pickup in Fredericksburg, VA. And was told since i was a member the 75$ drop off fee will be waived. When I arrived I was told there were no cars and waited for almost 3 hours, then was told i charged 75$ and this would not be waived. I am requesting a refund of 75$ since i was told i would not be charged a drop fee. Thank you.

Patricia Lewis
from Mount Wolf, PA
Enterprise Rent-A-Car
12431 Jefferson Davis Highway
Chester, VA 23831
Confirmation # 1816348090
I, (Patricia Lewis), made an online reservation on Thursday, November 3, 2016, for a friend, (Phyllis Rogers), to get a car for the period of Friday, November 4, 2016 through Monday, November 7, 2016. We picked up on Friday; and I used my credit card for payment. The requested car was not available, so she was upgraded to an SUV at no extra charge. I have two complaints.
The cost of the weekend special was to have been $66.79 total. However, we were told by the Representative, (Danielle), that because my friend, (Phyllis Rogers), did not have her own credit card (in her own name), I had to provide my driver's license to pay. Mrs. Rogers was subsequently charged an additional $44.55 as a result of not having her own credit card. I was like what the? Unfortunately, time would not allow us to venture to a different company, so we did not challenge this offbeat action.
My question is why was it necessary to see my driver's license? The reservation is in Mrs. Rogers, with all of her contact information. I was not going with her on the trip and certainly was not driving. All I was doing is paying for her. Additionally, why was she penalized for not having a credit card and then charged nearly as much as the total rental cost was supposed to be? These issues have never been a problem in the past. What is different now and when did this change occur? Nothing she was saying made sense. This extra charge (of $44.55) needs to be refunded since no logical explanation was provided.
Walking out to inspect the vehicle and having just been thrown and curve with more money being required, I asked the Representative what is the total cost of this rental. She circled the figure of $111.34, as if she could not speak it, and seemingly I had gotten on her nerves. (The Enterprise representative was not the most cordial individual. Her customer service skills seriously need to be addressed and re-vamped! But again, we were pushed for time and went with what we had.)
Regardless of her rudeness, I expected to see a charge of $111.34 on my credit card statement. After checking my credit card transactions on November 7, 2016, it was discovered that Enterprise has charged my account $150.94. This is an over charge of $39.60. This was no oversight or slip of a finger. This is a scam!!! Improper charges are made in hope that it either will not be noticed or will not be reported. I am not pleased with anything that went on in this place. My credit needs to be refunded immediately...$39.60!
I have been a loyal customer of Enterprise for many years. It is not likely that I will return.

Bryan Smith
from Colorado Springs, CO
The farm bureau is paying for rental car. The rental was set up by the farm bureau. The agent is at location siege in Baton Rouge. They told me that she wanted my credit card to charge a security, or bring her a money order. This is totally against the law in my opinion.

Naomi Dong
from Irvine, CA
I was on a rental under my insurance claim# in Oct 2016 for about 2 weeks, and I've rented a car from Enterprise Tustin Auto Mall, California. When the rental was returned, I found $803.89 charge appears on my credit card with below 2 reasons. Enterprise charged me extra rental coverage which I didn't ask for or sign for. (estimate $600).
Enterprise charged me $200 for the rental tax which my insurance company later told me extra taxes could have been covered if the rental day rate doesn't exceed max amount per day, which is the option Enterprise didn't even check or offer to renter when the rental car first been checked out. I even went back couple days later asking to switch to lower day rate rental just so all expenses would be covered, but Enterprise Tustin location kept telling me no matter what day rate I go, extra rental taxes will not be covered by insurance company which doesn't match the information we got from insurance company after checked with them.
I've been calling brunch office manager Jacob 2 days in a row and was told either he is gone for the day or he is out to lunch and would call me back. But never heard back from him and the guys seems never in the office to solve problems.

Blake Thrasher
from Austin, TX
The Enterprise Rent-A-Ca location at 319 S Lamar Blvd, Austin, TX had an employee closing this day, Saturday, October 22, 2016. I called this location the day prior (10/21/2016) to confirm and make sure I had all materials necessary to pick-up the rental. He gave me the address for the Range Rover dealership, 1515 W 5th Street, Austin, TX, and said that's where I would pick-up. I went and they had no idea what I was talking about. They gave me the real address and called them to which they said they would try to send a car and to hold on.
I had plenty of time to get from the dealership to the real location but they instead kept me on hold for 10 minutes even though I had told them I could arrange a ride there faster. By then it was too late but he said he would wait 5 minutes after close (2:05 pm) if I could make it. I got there at 2:04pm and knocked, waited, called.... Nothing. Needless to say, if this is how Enterprise Rent-A-Car company is represented, you know, employees giving false information to customers and then lying on the phone to them about it, then I can gladly say neither myself nor my company will be using Enterprise services after today.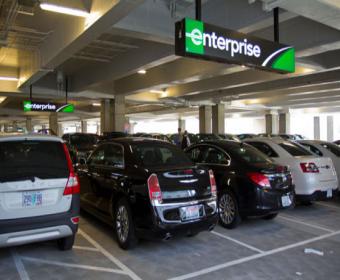 Megan Perry
from Sioux Falls, SD
I frequently use Enterprise in the town I live and work, Bismarck, ND, due to traveling often for work. Recently, I had dropped off a vehicle after hours on a Friday evening. I removed my belongings, locked the vehicle, dropped the keys in the drop off box and on my way back to my own vehicle I realized I had left my sunglasses sitting on the passenger seat of the rental car. These were fairly expensive sunglasses so wanted to make sure I got them back. I called right away on Saturday morning and explained the situation, the staff who I spoke with stated the vehicle I was driving was out being cleaned so they would have to check for them and call me back. I called again Monday morning and was told the exact same thing.
I had not received a return call at all so on Thursday of that week when I went in to pick up a rental car, I asked the staff at the front desk and was told immediately that they didn't find any sunglasses. I said that I found that hard to believe because I saw them sitting on the passenger seat in the case when I had locked the vehicle up on Friday evening. He again said that they didn't find them - mind you I had never received any followup call from them after calling twice, I had to bring it up when getting another vehicle. I left with my rental car and as I sat thinking about the situation got more and more upset. I called back to the office and asked for a manager, was placed on hold for several minutes and explained to him the situation.
I was obviously frustrated at this point and he stated he had not heard anything of it at all from his staff so put me on hold to check their lost and found box. When he got back on the phone he stated that he found the sunglasses not in the lost and found area but in their "wash room" where they should not have been and they would be available for me to get when I dropped off the car, which I thanked him for but still find it odd that not one person after calling 2 times and asking in person took the time to go look for these. When I dropped off my vehicle that evening I was waiting to be helped and the "Manager" walked up to me, handed me my sunglasses and walked away without saying a word.
I said thank you and also said I was returning a vehicle - he said "someone will be with you in a minute" and walked away. I waited for several minutes, while getting glares from the staff working and then was finally helped. The entire situation was completely unprofessional from the beginning to the end and honestly the manager reacting like I did something wrong by calling in, which yes I was frustrated by that point, and asking for my sunglasses is completely uncalled for. I would take this to someone higher up in the Bismarck region Enterprise company but honestly am not sure how to go about that. I just don't think anyone should have to deal with that type of poor customer service.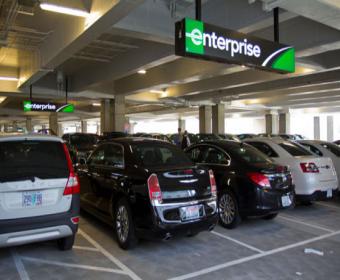 Scot Duncan
from Plymouth, MI
I have been a customer of Enterprise since 2007 renting cars from your Mt Pleasant MI store. Without a problem. I was always treated like a costumer would like to be treated. The manager then was Julie. Very good a customer service. Around 2014 some time I started getting pore service. Especially most resent with an employee by the name of Felicia not sure her last name. But every time I talk to her she talks over me, does not listen to my issue and always is doing something else when she answer the phone. I'm waiting on her not the other way around.
She does not help with issues she makes them. I'm telling you this employee acts like the costumer is putting her out. I can't tell you how many times I have had issues with her and her attitude. I will not deal with her anymore the last time I spoke to her was on 4-18-16 when I tried to give her my mileage so my contract could be rewritten and she did not have time to write down the number but had time to tell me she was with a costumer and did not have time for me. If she was with a costumer she should not pick up the phone! I have been working for over 35 years and will not put up with this rude behavior from an employee from enterprise with an attitude. If you want a full blow by blow account from all issues feel free to contact me by email.

On February18, 2016 I rented a car online through enterprise for $66. I needed the car for a trip to Kansas City the next morning The location is I rented from is 310 south 10th street in Lincoln Nebraska. When I arrived there my $66 rental was a dirty car with no cruise control. Are you kidding me?. So my only other option was 2 cars, both not washed, with 1/2 tank of gas and the rate was jacked up to $87.52
I asked for the same rate on the car and the CS person said that they could not do that. I could have paid more for a rental at other rental companies.
I smelled something funny in the car the next day ( when the temp climbed to near 80 degrees and it seemed as thought someone had thrown up beside the drivers door and was never cleaned up. I did my best to clean it up, 300 miles from my home. I am requesting a full refund in the Amount of $87.52. My rental agreement number is 3MY2SD. You have my email address above. I will be anticipating your response very soon please.

Michael Hagin
from Norcross, GA
I dropped my car off to have a clutch cable replaced. I rented a Fiat 500 from the local Enterprise. When I returned it they discovered a scratch that they are blaming me for. The have been charged $250 while they do a search of their records to see if someone previously reported the damage. I of course have learned my lesson and will never rent from them again.

Overall I give Enterprise a 50/50 complaint rating. They have decent customer service and OK cars, but they have some fairly terrible and rigid corporate policy. For example if you do not have a credit card you cannot rent a car, not matter how much money you put down. If you have a check it does not matter, nor can you put cash on the hold. They have to have a card on file they charge $500 to at least. What's the big deal? You'd think a simple credit card would show you are not a criminal.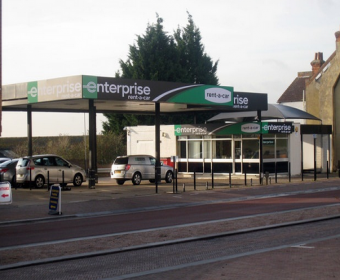 If we cannot own a car for a long drive, we should always select the best car rental company to save our time and money. I got a good deal from Enterprise Rent A Car for my holiday trip which is scheduled next month with my friends. Immediate customer support, online bookings, fair rates made us feel comfortable to select Enterprise Rent A Car for our trip. They also provide commercial fleet managements, used car sales and commercial truck rental services for domestic purpose. Enjoy the fast and easy car rental booking from Enterprise Rent A Car in your nearest locations.
Have feedback for Enterprise Rent-A-Car?
Thanks for your feedback!
Sorry. Please try again later!