Dunkin' Donuts
Dunkin' Donuts Complaints Continued... (Page 2)
151+ reviews added so far. Upset? Call Dunkin' Donuts corporate: 1-800-859-5339

Kenny Guy
from Waldorf, MD
Your K-cup decafinated pops spill coffee grounds every time I use them in my single cup coffee maker while others never have a problem. Thought my previous pods may be dated, since I like the product I purchased a case of them this evening, same problem, I threw the coffee down the drain and cleaned up the mess,
Discusted to say the least......

janice jamshed
from Bolingbrook, IL
I went to the Dunkin Donuts on Weber raod in Bolingbrook and bought donuts a dozen and a hafe I asked them 32 times if they were fresh and they said yes of course. When I hot them home they were hard as a rock I called the store and they were not willing to do anything about it. They did not give me a reicpt but I told them I would bring all the donuts in and they said no? This just is not right please HELP thank you.

h mizrahi
from Washington, DC
The dunkin donuts at Belleview Blvd in Alexandria, Virginia 22307 frequently over charges for products. It happens too frequently to be "accidental". I have gone in there and have been charged @4.00 for a small coffee. When I questioned it, the hispanic clerk argued with me that it was the cost. The Black manager had to interrupt to correct his clerk. Today, I walked in on a whimp to purchase a blueberry donut. I do not normally eat donuts but my car dealership/repair had free ones and I liked them. The hispanic clerk tried to charge me $1,79. When I questioned it, she argued, that is the price. Then when I told her to "forget it" she said it was $1.07. I am tired of having to face an ordeal each time I go in there. How elementary is it to go into a fast food establishment and order straightforwardly a donut? I own property next to your shop and it irks me that you employ theives there.
I am fed up with the poor service and the attempted theft of these hispanic clerks who, no doubt hate non-hispanics. I guess they think gringos are idiots. The manager there who appears to be from East Africa is professional and helpful, all the time.
Thank you.
/s/

r. WEVER
from Laurelton, NJ
Why is it that no one can get what they want at this store.
I ordered the two for $4 Med Iced Coffee with carmel Swirl
I was handed one that was loaded with milk/ cream I did not ask for
The other one I gave back no milk I was not going to pay for something I did not want I did keep one and mixed them together I am not the only one who really does not want to go to this store a longer ride to Lakehurst for coffee the right way is preferred.

domenic fiorio
from North Providence, RI
Me and my wife buy dunkin donuts coffee about 4 0r 5 times a week at the emerald mall location in attelborow mass. WE both love the coffee for years the people at that location were great I never complained once well my coffee black was not hot so I went and said exsacley that and the gentleman said I can feel that this coffee is hot enough I said are you foreell and walked away icame back and he said that he took the temperature of the coffe do you believe that and it was 127 degress well I did not even know that it should be 160 I called his manager Jena his name is Anthony rodriques I am 70 years old a 100% combat wounded veteran and I lost my temper and said he needed a slap I apoligise for that he was arogang and treated me with total disrespect I can never go back to that store again because I will not let him treat me like that all he had to do was give me another coffee he caused this confrontation

Karen Montgomery
from Warwick, RI
Daily customer at Cheshire CT Highland Avenue location, maybe it's just today's youth but the young girl that handled my order at the window at 8:05am was just rude. Handed me my sandwich and then told a coworker my ice coffee order which she recited incorrectly so I corrected her. (3 splenda not sugar). Then she handed me the drink, I had to ask for a straw which she handed me by sticking her arm out the window while looking away. Got to work, no sweetner in the ice coffee at all..............I'm not one to complain, I know this is a minimum wage job but rudeness should never be acceptable.
On a separate note, hats off to Ellen, I love when she takes my order, always, pleasant!!!!!!

Rhonda Harmon
from Ellsworth, ME
I went to the Dublin Donuts at the Wal-Mart Supercenter in Ellsworth,Maine today for an ice coffee and muffin.. My order came to $8.02. I asked the guy who was waiting on me if I could please take 2 cents from the penny cup on the counter in front of the register. He gruffly told me NO! And that was all he said to me. He was extremely rude and I am very unhappy with the whole experience. I won't go there again Thanks for your time, Rhonda Harmon

Pam OLeary
from Portsmouth, NH
For the last month I had to return to Dunkin because they didn't make the Vanilla Chai tea correctly. Most of the times it is too weak because they didn't put enough powder mix in the cup. I drink at least one if not two a day and all I want is what I pay for. I tried taking to the person that makes it in the morning and was told they could make it again. I talked to the manger and he was put out that I would even complain over such a thing or should I say that he had to listen to it. I am on Duncan's automatic refill of my Dunkin card which I will stop immediately. I have over $50 left on my card and hopefully I can get one decent cup of Chai without having to complain before the money runs out. I moved to Eliot and the Duncan that is on my way to work is located on 155 Harold Dow Highway in Eliot, Maine.
Hate complaining but if Duncan can't make sure their staff is making the product correctly they should discontinue the product all together. Run on Duncan is a good slogan considering you have to run back to get the product you pay for.

Kaye Greer
from Myrtle Beach, SC
I live in Myrtle Beach, SC. I have had 5 Dunkin Donuts stores tell me that they can't make an iced decaf latte because their machine to make the decaf is broken. The one at 30th avenue told me that they would not have it fixed until they remodeled which they said would be the end of year (I was told at that store on Sunday, July 8, 2018, that the machine was broken and then she said they didn't have decaf beans.)
These are the locations. I can see one of these stores having a problem, but all of them at the same time seems a little strange and not believable.
#1 Dick Pond Rd, Myrtle Beach, SC 29577 (5429 Dick Pond Rd)
#2 3rd Ave South S Kings Hwy Myrtle Beach, SC 29577 (301 S Kings Hwy)
#3 30th Ave N Kings Hwy Myrtle Beach, SC 29577 (3001 N Kings Hwy)
#4 76th Ave N Myrtle Beach, SC 29577 (410 76th Ave N)
#5 9700 N Kings Hwy Myrtle Beach, SC 29572

samantha
from Johnston, RI
I am a former employee at Dunkin Donuts... 970 Douglas pike Smithfield, RI. I have voluntarily quit as of my belief of what was being done, health wise in this store. On 7/4/18 I was told the water was brown and dirty from another employee and was shown the cup with the water in it. The manager was notified immediately and was aware of the situation. We also let him know that we had just made coffee with that exact dirty brown water . We were then told to act as if we had no clue about the water being brown. We were told to keep the ice coffee we just made (with the dirty water) and continue to serve customers. I was then told from the manager to let him know if a customer did complain to get his attention so he could lie to the customers to assure him the water wad "ok" I disagree 100% with what was happening. I did not continue my job there. This Dunkin has already been shut down by the health department a month ago due to water damage, leaks, contamination. The owner and the manager that this dunkin have no care, concern or the health and well being of others.

My son ordered his birthday cake a week in advance (even spoke to the cake decorator in person) and it was never made. We even thought maybe the dates were confused so we came back the next day and still was not made. Manager told him that it was because it was not paid for in advance. I called and was told that cake orders do not have to be paid for in advance. Manager was extremely mean! There is a lot more to this story but to sum it up a customer placed a order, order was not completed and now there is a unhappy customer and your company lost a sale. Also my son is a employee as well. Completely disappointed!!
Store: 339925
7003 Taft St
Hollywood, FL 33024
954-961-1999

Veronica Gibson
from Fort Lauderdale, FL
Was invite by my coworker to help, celebrate her son's 22nd birthday. I traveled from Fort Pierce, FL. to Hollywood, FL. and was very disappointed that the cake that was order a week in advance was not available for the event. I didn't think that your company did bad business in that type of matter, The store manager was very unprofessional how she handle the whole thing. This is the store information list below.
Dunkin/Baskin
Store: 339925
7003 Taft St.
Hollywood, FL 33024

ROBERT HOWARD GROSS
from Lake Worth, FL
recently tried to use your promotion items for Medium Coffee (.99 cents) and Egg and cheese wrap ($2) also include free was home fries. Told that they could not enter in computer and that promotion ended. Coupons did not end till 7.28/18 The store was located on Hypoluxo and military Rd in Lake Worth Florida.

sarah koepp
from Portage, WI
Hi, let me start out by saying I work near the portage, wi dunkin donuts. I usually visit the store for coffee an average of 2 times per day. the last couple of months, the service has been frustrating to say the least. There is a particular young red haired girl there who appears to always be stoned out of her mind and cannot perform more than one simple task at a time. Every time I go in there is no coffee so I have to wait to have it brewed and her attitude is terrible. When coffee needs to be brewed I have told her many times not to give me the first little bit of what is being brewed as it is often very bitter, the last time I was there she put my mug under the cofffe that had just started brewing, of course it was bitter and I politely asked her to wait until the pot was done. she started slamming things around including my cup, I guess this was an outrageous request. the last few weeks they are always short handed and the average wait time for coffee has been 5-10 min with 1 time it being 15 min. for a cup of coffee. It has gotten to the point I dread going in for coffee. If there were another alternative in our small town I would be exploring that. Increasing the amount of staff has definitely got to become a priority. 1 person cannot cook all the food, make all drinks, brew coffee and take orders. no one wants to wait 10-15 min for coffee.....then get treated poorly.

I purchased a medium hot coffee, and I became little busy So coffee became cold and I went inside the store and request please warm my coffee they microwave , But she was So rude and refused to warm my coffee . And forced to buy new cup of coffee . I said just bought this coffe from you it was already Not enough hot and it become cold fast.
But she totally refused . And said we don't have Mucrowave .
And only offer to add little coffee in my cup , ( like I am a bagger ) but my coffee cup already filled & more than 3/4 with my coffee . So that was not work . I am a regular customer of Dunkin Donuts . And I visit most of the Dunkin' store all over the Maryland. But that store has very Bad customer service.
Question. Coffee was already not warm when I purchesded and they badly refused with ill manner. And not admitting her fault .
What is your policy in this situation.
Only Insult the regular customer .
Very Bad store

Gracie Ferreira
from Maplewood, NJ
Good Morning,
I was just as the drive thru of Dunkin Donuts on Liberty Avenue, Hillside, NJ. I ordered a large ice caramel latte with an extra shot of expresso, I got to the window and the lady handed me a medium and tried to argue with me that it was a large. I explained to her that I order it daily and I know exactly what a large looks like but she insisted. To my disappointment I paid $5.31 for my drink just to arrive at work and realize that it was not an ice caramel latte it was simply an iced coffee with no sugar. I would have gone back but unfortunately was short handed at work and could not leave back out. I stop at different Dunkin Donuts every morning and have to say that I was very disappointed with the customer service received at this location.

Bobby c
from Waterbury, CT
The managment at theD&D on bridge street Naugatuck ct. sucks.I was there today 6-15 -18 and seen two young female employees crying.The male managers especially the heaver one with the beard treates these employees like shit.this is not the first time.If that was my daughter that assclown would be cracked several times .Lots of people see it noone has the balls to say anything .Lets see how long it takes for the assclown to get fired before he gets his ass kicked!!!!.Thanks

Diannah Fitzgerald
from East Bridgewater, MA
I was treated horribly at the 66 Montello Street Brockton, MA location. I would like a call back from someone in a managerial position as this is completely inappropriate and unacceptable.

Sandra griffi
from Utica, NY
Ordered4 medium coffees that totaled 9.30 cents after 45 cent senior discount. Got home and all the coffees were very dark for 5 creams in them. Tasted one and it taste bitter or burnt, like it had been sitting in the pot. Brought them back to remake them or give a refund. They wouldn't do either. Called main headquarters of DD, waiting to hear back from someone within corporate I guess. I read the customer reviews of other Dublin donut patrons. It's basically all the same, RUDE staff etc. this is a store I frequent weekly.. No problems until they create one for you, then they won't rectify it. the store manager Vincent (349515) was the worst.

I went into Dunkin Donuts in Market Street Paterson this morning Purchase a Croissant and a Old fashion Donut and a Orange Juice. When I got to my job I realized I didn't get my Croissant so I went back and the Girl who served me did not remember and I was there 5mins ago. I asked for the Manager and he tells me he would like to look at the Camera's. I said how stupid is that you should be giving out receipts after people Purchase. I just have to say you have people that do not know what they are doing and I WILL NEVER GO BACK EVER!!!!

ryan
from San Francisco, CA
i stopped going here at this location because of managers (big tall dude and the lady) and employees are rude and very un-professional. need to have new management and more friendlier staff.
5010 foothills blvd, roseville
ca, 95747

Faith Donmoye
from York, PA
Rude employee and manager. Both falsified there names. Spit in my drink

Michael McIntosh
from Mansfield, OH
Why the HELL do I have to pay $2.49 for a extra large cup of COLD coffee? I ask them time after time to make sure it is FRESH and 3 out of 5 times its warm at best. It is also Decaf which I must drink due to a A-Fib problem. I have to drive 7 miles to get it and end up dumping it. I I stopped going there due to this reason and go to McDonalds instead which,is never JUST WARM! I am so pissed over this!!

Joseph Cooper
from The Bronx, NY
My complaint is a valid one. A homeless men frequents this location. I complained to the staff, and told that the person is human and has every right to visit. Look at my point, this person could be carrying bed bugs, lice, parasites, etc. This is a great concern to me and may affect not going to this location anymore.

Dolores Rosener
from Dunedin, FL
I ordered a bagel with cream cheese and small coffee. When I got home and opened the bagel I was very upset. The bagel looked like all the cheese had been scraped off or just raked across the cheese. This my second disappointment with Dunkin Donut. Boo-Hoo!

helen brigandi
from West Babylon, NY
your store in westislip on longisland I am sickand tired of getting steal munchins and bad services I bought munchinins on January 19 got home no one wanted them because they where steal tired of this crap you need to do something about this shop

Joseph Cooper
from The Bronx, NY
Your location at 2035 Bartow Ave Bronx New York#2) This location has very slow service, but the most appalling is the conditions of the restroom. It is not clean, always toilet paper on floor, toilet bowl smeared with feces and on floor. At times no toilet paper available. Have to use napkins instead. No soap to clean hands. Smells of urine.

C WILLIAMS
from Walterboro, SC
I visited the Dunkin Donuts on 2427 Boundary street Beaufort sc on yesterday (Saturday) 1/7/2018 at 630pm. The young black female in the store
did not answer the drive thru. She never responded never advised to drive up to the window or come into the store nothing. I pulled up to the window and sat there.She rudely swung her arm frowning saying rudely come inside. She was slightly busy not very busy.Nonetheless,she should have come to the window and advise that she was slightly busy and would I like to come in.Instead she rudely swung her arm frowing twice rudely saying come inside.If she cannot be cordial and professional whenever dealing with the public,she need to get another job behind the scenes.I pulled off and will never return and I will advise every family member and everyone else in my life to not frequent that Dunkin Donut store in Beaufort SC.

M I khan
from Tuscaloosa, AL
Employees are very rude and nasty attitudes with the customer will it Dunkin Donut I'm daily customer that her name recently she is very rude and nasty with the customer destroying and Dunkin Donut name quality and business her name is Ronnie's I apologize Dunkin Donut down Tuscaloosa is real poor customer service specially with Renee's shift

Melissa Jones
from New York, NY
Cashier did not give me correct change. Once it was noticed I went back to the store to let her know and said that I would have to wait till later. I advised them that I was going out of town and would not be here later but I would wait for the register to be counted. She then went and got a man (he said his name was AMIN) who then proceeded to question me in front of everyone on why I just realized the issue. SO, I told him that I thought she put the funds on my Dunkin Card and once I realized that didn't happen I came right back less than 10 minutes. I also said that I come here every morning and have no need to steal $10.00 and I didn't appreciate his attitude or tone with me. The store was PC 351785 New York, NY and my cashier was Shorove A. I really didn't like the treatment or tone of the staff that see me everyday multiple times.

Tina Wenzel Seals
from Hainesport, NJ
Dunkin Donuts located in the Trenton Train station, in Trenton, NJ : Customer Service is the worst I have ever experienced. Staff barely speaks English. The one young man that does speak English has no clue what he is doing, his customer service skills are pathetic, no eye contact, has no idea what any menu items are when you order, rude, acts like he is doing you a favor serving you. My bills was almost 10.00 for a frozen coffee, a bagel and a coffee roll. Waiting for my bagel, my frozen coffee was sitting on a ledge in front of me and it got knocked over. More then half spilled out onto the counter, the girl trying to clean it up ask him twice for help he totally ignored her then pushed my stuff in front of me and asked you ok, I said no I am not I would like a new frozen coffee I just paid 5.00 for that, he rolled his eyes and walked away. Finally a cashier came to assist and got me another coffee. The service is terrible, the food is old stale and hard. I will never go back there again, and I work across the street.

The general manager was really rude, I asked about Apple fritters and he got really rude with me. I over heard him telling a member of the crew, that he was going to fire a young lady that has serve me before because he didn't like her. I will not be business at this establishment anymore, until he has been removed. I used to frequent this location on Old Forest Rd. daily, but not anymore, I will take my business elsewhere and will pass this to friends and family not to do business there. Thank you for your prompt attention to this matter.

Sharon Akinleye
from Snellville, GA
I was sent an offer for 99 cents any size coffee on 03/25/2017 which it said expires on 04/30/2017, me and my daughter got a 99 cent coffee on 03/26/2017, when we went back on 03/27/2016 the offer had disappeared. I asked the person in the store why was she charging me the regular price, she couldn't answer. I was very upset that they only kept the offer for one day. Usually when they have these offers every time you buy coffee during the dates it cost 99 cents. I called corporate they didn't do anything about it.

Helena campbell
from Colorado Springs, CO
My complaint is I went to the same dunkin donuts at least 5 times now and never have what I want in my coffee. I always order a cold caramel swirl with whip cream and they either have one or the other or are out of both. When I told the employee his response was poor management ordering. How can a company like this run out of anything with a drive thru? I ended up with a cold coffee with cream. It's absolutely nasty.

Jay Richey
from Baton Rouge, LA
I purchase 2 dozen donuts for our office every payday (every other Friday) from the Dunkin' Donuts store on Florida Blvd at Wood dale Blvd in Baton Rouge, Louisiana. For the past 5 paydays, I have had trouble buying donuts, usually because they don't have enough of the types I want, or like today, where they told me they did not have 2 dozen donuts to sell me. This is the third time they have told me they didn't have 2 dozen for me, and on the other times I have had to get less desirable (to me) flavors to fill out the box. I don't know what the problem is at the Dunkin' Donuts but I will give it one more try next payday. If they give me the same problem I will go elsewhere for the payday morning breakfast from then on.

Roxanne Cagliostro
from Bolton, CT
On Oct. 14, 2,016, I purchased a cardboard hanging car freshener. It was supposed to be a "Pumpkin" scent I hung it on the rear view mirror of my car. To my disappointment, however, there was absolutely no smell to it at all. I threw it away. The girl who worked in Duncan Donut told me to send a complaint. So, that is what this memo is about. I have no printer on my computer, so I cannot print anything from you. Has anyone gotten a refund via mail from Dunkin' corporate?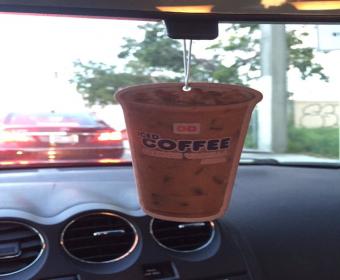 Kesha
from Colorado Springs, CO
At the dunkin donuts in colorado springs, colorado, the one at 3230 Austin Bluffs Pkwy. I am writing this because i would like to be better informed on the Dunkin Donuts standard, on walking out on a shift. Especially for a shift leader. I was informed that if you walked out during your shift you were to be terminated and to hand in your uniform. An employee was the shift leader in charge the afternoon of October 5th.
An argument ensued between him and another coworker. He got quite upset, threw his things and walked out of the door. At that time there was one person left on the clock. Even though my shift was over i stayed and extra hour because i was informed its another dunkin policy to have at least two people on shift.
I informed my manager, and asked what was going to be done. (All through text and will provide if needed.) There was no follow up. Theres been tension in the store and i fear being fired. I would just like follow up on these topics. Thanks for taking the time.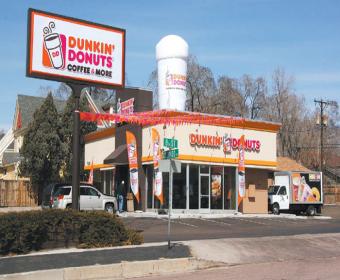 Bruce Glaspey
from Orlando, FL
My wife and I went to the Baskin-Robins and Dunkin Donuts located at 3768 Orlando Drive Sanford Florida 32773 at about 6:45 pm Monday September 26th. They had no Ice Cream, none what so ever. the person working the counter said that they just got a shipment in and it was chilling and could not serve us any. My wife and use to go B-R when we dated back in the late 70's and we thought it would be nice if we would change up from DQ, and revisit B-R, so we traveled out of our normal travel pattern to return to our old habit of enjoying the B-R flavors. Boy were we disappointed. It will be awhile before we go back there.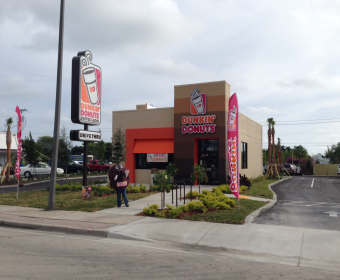 Ed Victoria
from Groton, CT
I love Duncan Donuts. And the food and beverage quality is excellent, however i'am unhappy how the egg was removed from the sandwich's and replaced with a fried Egg. I e-mailed Duncan Donuts and expressed my unhappiness concerning this matter. Only to get a response back stating, which Duncan Donuts in Connecticut did this happen at. I said, at every Duncan Donuts I went to in Connecticut.
That's the last response Duncan Donuts sent me. I even called Corporate Headquarters in Massachusetts, telling them how upset I was and how consumers should have been given the option of a fried Egg or Scrambled Eggs on their Bagels or sandwich's. Not just doing away with the Scrambled Egg leaving consumers in the dark. I never got a good response back in either case. I was just told the information would be passed along. In my opinion that's just a polite way of being told we're not going to change back.
Believe me if things can be dropped for whatever reason. They can be change back just as fast if they really wanted to. How tough is it to tell a consumer, "We will look into your question and get back to you with an answer within a few days." Am i asking too much?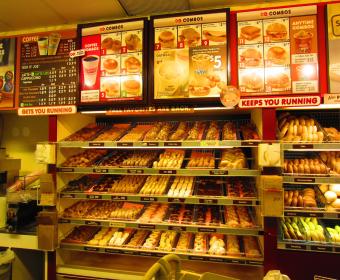 Today one of the cashiers at the Dunkin' Donut located at 570 Sumner Ave Springfield, MA 01108 had made me feel less valuable as a customer! I got to the drive thru, placed my order with a person that was very friendly. When I approached the window this nice lady reloads my card and proceeds to charge me; she handles me my coffee and out of nowhere this other cashier shows up to the when the first cashier was trying to give me my bagel twist and she drops it by mistake because the other cashier couldn't keep her hands to her self and wanted to be nosy.
This second cashier had the audacity to tell me "If you want it you can pick it from the floor and take it, it still inside the bag"! She has no sense of respect or value for customers. I been a faithful DD perks customer since July 2015, and I had never been treated like I was less than shit! The first cashier apologize more than twenty times, but that second cashier just kept her smile and did not bother to apologize to me at all. This is unacceptable and she does not deserve to serve the public. I wish I could provide her name but I didn't get my receipt.
After she kept her smile all I wanted was to return my coffee and get a full refund for the items that I paid for. I hope this does not happened again at any DD because it will be a shame if I have to take my business elsewhere. Thank you for taking the time to read my complaint and I hope you and everyone else has a wonderful day and a amazing weekend. P.S. My DD perk account ends in 0892.

Debbie Griffin
from Clermont, FL
I just want to report what is happening in one of your stores, US 441 Leesburg Florida 34788. My granddaughter had worked there for about 6 months, giving up her days off due to scheduling issues. Saturday 7-23-16 a new manager came in and made it known that she would be hiring her own staff. My granddaughter worked Sunday and was scheduled off on Monday but found out from a fellow co-worker that she was supposed to have worked on Monday and off on Tuesday so she was listed as a no call no show and removed from the schedule. Is this your standard policy not to even contact the person and if so what kind of example are you setting for these young people for their future employment? I am appalled at the way this was all handled. It seems to be that whoever is over this store has some poor judgment in the hiring of managers.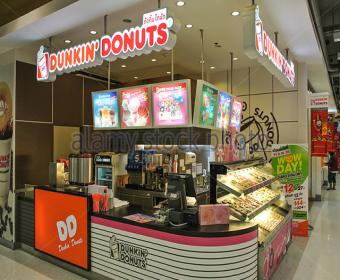 michelle
from New York, NY
The store located at 2092 Rockaway Pkwy in Canarsie is just a horror. They used to have a manager named Hmasa but they moved her to another store in Coney Island and put Amber in her place. The Coffee is horrible. You have to return it over and over and still it is terrible. The line is out the door, and customers don't even come in when they see the line is so long. We would like Hmasa to come back and bring order back to the store. Customers are going else where for there coffee. They run out of supplies all the time. Too many complaints to even list about this locatin.

Frances Abshire
from Augusta, GA
First of all, my husband and I are seniors, And AARP members. We went to Dunkin Donuts #350278. We ordered two senior coffees, a coffee roll, and plain bagel. I noticed the prices and the items were added to the total, and asked the cashier if she needed my AARP card. She said no, we would have to order a donut to get a "FREE" coffee. We went in and started ordering expecting to pay less than $5. The cashier was not pleasant, she was not well trained, and was definitely not informative at all. The total for our order was $8.39. My transaction # is 892530. It is my understanding that you have free coffee for seniors. We also ordered food to go with the coffees. We were not trying to order "free coffee".
According to the cashier, we are required to order a 1.19 donut to get a senior coffee. The coffee roll was $1.79, the bagel was $2.39.We were not told any of this until the order was totaled. According to the cashier, we should have ordered two donuts @ $1.19, and we could have gotten "Free" coffees. Please explain your "senior discount" program , to your customers, and train your cashiers to provide better service. The cashier could have cancelled our and started over, she did not apologize, she was very arrogant. I am very disappointed in Dunkin Donuts. I tried to call, but the wait time was more than 30 minutes. The survey code on my receipt is 53001-5078-1202-1469.

Every morning, I walk in, NO Good Morning. They barely look up. They never make the coffee how I like it, except for one lady there who actually listens. The language barrier doesn't help. They don't even try to be nice. I have 3 Dunkin Donuts near me, but this one is the most convenient.

I ordered a large black coffee at Dunkin' Donuts, but the buyer was rude when he mistakenly give me an extra large black half milk. I called customer service to complain and ask for a refund. They did not agree with me, which will make it hard to go back again. Thought the corporate office should know.

kenneth nixon
from Quincy, MA
This complaint is about the Dunkin' Donuts at 125 hancock st. North Quincy Ma. The server stuck his fingers in the cups when moving them to fill an order. This happened before and I asked the register person to speak to him, obviously that didn't happen or that didn't work. It is very difficult to determine who the manager is because there seems to be a different crew every several weeks. The customer service is horrible.

Janet Collins
from Hollywood, FL
I was at Duncan Donuts (9901 Pines Blvd. Pembroke Pines, FL) yesterday to have a breakfast sandwich and coffee with a friend after taking her to her doctor appointment. I tipped the cashier a one dollar bill, despite her less than happy mood. After we sat down to eat, my friend needed a pat of butter for her bagel due to its dryness. I went to the counter asking for a pat of butter only to be told it would cost 30 cents! I questioned that, but she wasn't kidding...so I took my dollar tip out of the cup on the counter to give her the 30 cents, and then placed whatever coins I had left in my coin-purse (31 cents) into the tip cup. At this point the manager came over and asked why I took money out of the tip cup (as she immediately poured the remaining coins from it into another cup). I explained the problem. She took my 30 cents for the pat of butter, but didn't give me any butter. I asked the cashier for the butter and she said I needed to give her the 30 cents, then she would give me the butter. Crazy! I asked another employee and she then gave me the butter. Won't go there again! The food was good, but the service was very questionable.

Denise Whitstine
from Zachary, LA
Stopped at the Baton Rouge. La. Dunkin' Donut Store on Florida Blvd. at 11:30 am on 7/25/15. Ordered a dozen donuts and a medium sweet tea. Drove home and took the first sip of my sweet tea only to find out they gave me an unsweetened iced coffee. Before I left I told the girl thank you after spending twelve dollars she did not respond just turned away and I left. probably wont be going back. Find them very rude. Maybe after you start having to pay them 12.00 dollars an hour they might do a little better but I wouldn't count on it. Pretty pathetic service.

Lois Kirk
from Naples, FL
I was at the airport in Windsor Locks Ct. The Dunkin Donuts is thru security point and had a line of 20 people. After waiting for at least 15 min, I got my medium black coffee and a muffin. Since I know the coffee runs hot, I carefully took a sip. It was so hot it burned my mouth. Both upper lip and lower. I even kept it so I could drink on the plane but my mouth hurt so much, I had to give it to the flight attend to dump. So I spent the whole day not eating due to swollen lip and sore mouth. Like your coffee, but don't think it needs to be that hot. Thanks for listening.

Bobby Green
from Roslindale, MA
Went to Dunkin Donuts store #416 at 160 Providence hwy Rt 1 , Dedham Ma 02026.. On 5/08/2015 at 1:30am to meet my daughter who helps me do to a little shopping because I'm disable in a wheelchair Paraplegic we stopped at Dunkin to get breakfast an at that time in the morning they had nothing and all the Manager an her helper/clerk with the blond hair was interested in doing was talking in there language sound like Russian so we ordered coffee an left. Me and my daughter made a full day off shopping we left around 2pm an we decided to order lunch on the way out again they were talking to another pair of older women off to the side an they ignored us for so long that my daughter went to put the grocery's in her car an come back there still talking an I'm screaming for help finally we order an # 4 an apple juice.
Ordered a black coffee foe me an an apple fritter, we left by time we got to the car we checked the bags no hash browns so we went back the manager said we didn't order hash browns i told her we ordered an #4 that comes with hash browns unless we say other wise we argue for a few because I said you charged use $5.19 what did we order she refused to give use the receipt so we wanted to charge use again for a separate order of hash browns we refused and I told the manager that I will file a complaint.

Being a foodie, I would never compromise on quality. At Dunkin Donuts, you get some amazing sandwiches, hot and cold beverages, bakery items etc. While I went to visit last week, I was greeted well by their staff. They took my order pretty quickly without me having to wait for long. Although they may be tired serving customers the entire day, they greet everyone with a smile which is very pleasing. Dunkin Donuts is the place to get some fast food which is healthy and fresh.

Katherine Campbell
from Pawtucket, RI
Today was the 3rd time I drove thu 588 Washington st DD, and received the wrong coffe it is a crew of three between 3-4. If I received the wrong coffe means another customer also received the wrong order. I use that DD at least 3 times a day and never had a problem with earlier shift, but at 3 on my way to work order is wrong. The price of a med coffee is pricey but dont mind paying if I can get what I ordered. I was told I got wrong order because somthing was wrong with computers.

NORMA GIRALDO
from Fort Lauderdale, FL
Love Dunkin Donuts !
WE VISIT different places around Broward county TWO OR THREE TIMES PER WEEK, mainly store at 1) Oakland Park Bvld in back of the gas station- I will give 4 stars because the one emplayee that you have in the afternoon very rarely wants to make (decaf latte) but 2 out of 4 they make it.- 2) another one On Oakland Park and Inverrary, same thing always a problem to make the (decaf latte) give a 2 stars, cleanliness 0 stars - 3) UNIVERSITY DRIVE closed to NW 25TH Court , same thing, but being this one the worse ever, attention terrible, place keep dirty, employees sloopy looking , no manners to serve the public and no DECAF LATTE ever ! O stars for this one, should be closed down or change employees! is a good spot!
I have some pictures in my cell which number I can send them to?

We have 3 Dunkin Donuts here in Lancaster PA (store 346480) and the one I try to avoid at all costs because the service is slow and they never have what you want. I feel bad for the employees because the manager is never there to give them the assistance they need. Well, today I went with my girls before school and there was a huge sign that said NO DONUTS TODAY - I understand stuff happens so I ordered a buttered croissant and an egg and cheese wrap and coffee - my ticket number is order 352 and my survey code is 35204-46480-1003-1895. When I pulled up they had all 3 wrong! They had a bagel ready, the guy slammed it in the garbage all pissed off and then my coffee was wrong and the egg and cheese wrap was burned!! Very frustrating since there were no donuts and limited items to sell and they still got it wrong!! I have done the surveys on this location before and I have never heard from them even when I said I would like someone to contact me. I hate complaining but I feel that the times I have had problems, no one addresses them. For me, it starts at the top. You can't always blame the employees - they usually have a smile on their faces are apologetic and try hard. I hope that this feedback helps and that they can make it better. Thank you for listening.
Jennifer Brownell
215-896-3214
386 Darlington Court
Lancaster PA 17601

Good Morning, was at a location this morning located at 103rdst N.W 7th Ave, in Miami, Fla. So I come to the drive thru and no one is behind me so I asked for one moment, as I begin to place my order I felt like I was being rushed so I said cancel my order and as I started to go through the employee who was taking my order comes out the door and say something slick out his mouth so I drive to the window to ask for the manager to see why this employee came out the back door. He wasn't carrying no garbage to the dumpster. So I go to the window and he comes to the window I ask for the manager and he proceeds to tell me he's not there so others employee's come to the window but yet this Manager name Dominque stands in the back ground and doesn't come to the window. I sit at the window and this guy comes to the window and says he's the manager still no name. I asked for corporate number he says it on my receipt and told him I didn't order anything. Long story short I left and went to another location of this same franchise owner and that's where I learned the names of those 2 managers which are Jorge and Dominque and the employee name is Gary. I would like a phone call or email from the franchise owner. I also called corporate office. I can be reached by email at lew866@gmail.com or by phone at 786-731-1769

Jerry J Juszak
from Okatie, SC
Your store in Hardeeville, SC is terrible. There are never enough people to handle counter business. I've complained before but nothing is changing. The franchisor needs to be reprimanded. This morning I waited ten minutes at the counter and I was the second person in line! Just shut down the damn store if it can't be properly staffed.

The past 3 days I have went to Dunkin in Ooltewah, TN and this morning was the worst experience I have had out of those 3 days. Every day I have purchased a mobile order and I usually get there about 10 minutes after submitting my order and selecting "ready for pick up" The 3 days that I have been there, my coffee has not been ready and I have had to wait an additional 10-15 minutes. Today was different. The employee that was working, I believe her name was Donna. Short haired, black female. She was screaming at the top of her lungs "Jesus, Jesus, Jesus" She then proceeds to get on the phone and call someone screaming that she needed someone to come help her at the store right now. She was EXTREMELY hateful to the customers that had been waiting on there coffee for 20+ Minutes, and she was slinging things to the customers. I called the manager 2 days ago because I never got my coffee that I paid for and I still have not received a phone call back.

connie tarro
from Palm Beach Gardens, FL
I was at your store in Palm Beach Gardens today at store number 302456 and I had a problem in that I was overcharged They charged my phone before I noticed the mistake I asked them to refund my card because it should be corrected I was told I had to call customer service to have it corrected It was told to me by the manager I think this wrong and I am sure against the law when you make a mistake an d will not return the money at that time I or anyone should have to call you for it to be corrected

Terry Elliott
from Fort Wayne, IN
I work right by the new dunkin donuts on lima road in fort wayne Indiana,every time I have been there 7 times now and the last time,when you order a donut the way you want it ,if they don't have it they throw in what they want. odered filled long johns 6 and they gave me 6 unfilled suger donuts, and when I went inside to complain the young girl behind the counter said they had sold the last ones to someone inside and I said why did you tell me you had some if you did not ,she told me the people on the inside get priority.so I will take my business down the street where they get the order right. Very fustraited customer, and done with Dunkin Donuts...………...

FRANK FRASSETTO
from Rochester, NY
the dd is open 24 hours I go every week on Saturday morning before work for the past 1 year on a few occasions there has been nobody there but on this occasion I wait in line for 10 min only to get told "they are not making anymore sales" I tell the cashier( who is not the normal person on late night ) what does that mean? And get no response if they cant take anymore sales they shouldn't be open 24 hours and waste my time I could stop at another coffee place that I can actually buy coffee at , this happened on 3/9/19 at 2:35 am. this happened at the dd on east ridge road on the corner of Portland avenue in Rochester ny 14609

Tim Hartman
from Gardiner, ME
I was using your app fairly regularly and keeping between $40 and $45 on my account as I am always driving all over the state. Aside from customer service issues, the app was working ok until I reloaded it in February back to $45 and had earned a free large frozen coffee. Then the app would not work at all. I got a message saying I needed to update the app, which I did, but still got the same message. When I filed a complaint, the lady told me that I needed to update my phone to OS 6.0, but my phone updates automatically and I was running OS 8.0 and still nothing. I demanded all my monies back and my free drink which I lost and suddenly your customer service ignored me. I do not appreciate you stealing my money and my free drink, and stalling so you can continue having an interest free loan at my expense. Your customer service, products, and your tactics all suck. I filed a complaint with the Better Business Bureau requesting a refund total of $50 covering my stolen monies and stolen free drink. You don't deserve even one star, because you are worse than Starbucks. And I didn't think that was even possible. You need to return my monies, like yesterday. None of it belongs to you, period. Tim

The customer service is atrocious as they are very nasty at the Market Square branch located in Pittsburgh, PA. They speak to you very nasty and treat you like you owe them money and won't pay. They never get your order correct and when you ask to have it corrected they get an attitude.

Kassandra Vasquez
from Philadelphia, PA
Manager gives away my hours to his significant other and then yells at me in front of all the customers because I said that was unfair and conflicted of interest mind u I was working there before she started so now I got transferred again because he took away all my hours to give to his girlfriend that very unfair n very unprofessional in my opinion u dnt come to work to be with ur partner it's to work and make money also he's very rude and definitely doesn't know how to speak to his employees

On Saturday morning (February 16, 2019) my son and I went to the local Duncan Donuts in New Braunfels, Texas, where I ordered a Sausage, Egg, and Cheese bagel. While we were waiting, I watched in utter disbelief, as an employee picked up each item with her bare fingers and assembled the sandwich. This happened once before, about two months ago and I said nothing. Twice is just too much! I am enclosing two pictures that will prove my concerns. If that were not bad enough, you will notice her long hair is unkept and could easily get into any food product. To say this is totally unacceptable, is an understatement!. In addition, I watched as she loading each of the heating and cooking trays of food, with bare fingers.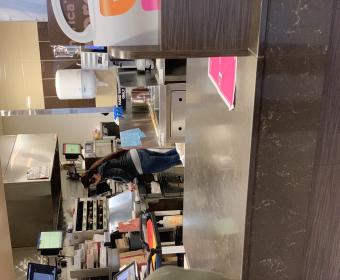 Rozlyn Crim
from Akron, OH
I have worked for this company and I did not receive a check for the work that I've done I need someone to contact me immediately however they had the nerves to send me a w2 form as if i been paid and I have yet to receive a check from them. And at this point I'm thinking about talking to some lawyers if I'm not contacted.

Carol King
from Lehigh Acres, FL
I find it disgusting and horrifying that you have a new commercial that shows a woman who appears to look a lot like Karen Carpenter. You do know she died from Anexoria don't you? How socially irresponsible can you be? You can be sure, I won't be purchasing anything at your stores anymore. If I was her family I would sue you.

i spend 10 to 18 dollars every other day since the pearl ridge mall location oped on Oahu hawaii -i bought a small coffee - i asked for light on the ice only a little - i buy the 2 for 5 breakfast sandwich deal and a donut - i noticed the coffee looked a little low and couldve been filled a little more so i eat my sandwich and i start to drink my coffee and no BS - im a 50 yro man i like to laugh and im not a swindler my coffee was done in 4 sips a half a cup of ice - i was annoyed about it like WTH ? i bring it back and stood there trying to get someones attention , finally i get someones attention - i know theyre getting busy there -the lines are getting longer and longer in the morning - i tell her " i asked for light on the ice and i got a half cup of ice - the girl tells me ill be right with you in a minute so im standing there and i left the cup went back to table by my GF - my girlfriend is a massage therapaist at the body and mind spa at the mall so we stop here almost every other day -she puts coffee in the cup i went over to grab it the girl just put a little bit of coffee in the cup in the half a cup of ice - and says "heres a little bit more coffee" i was in disbeleif because i know coffee is a money maker like printing money - and so is baking my grandfather was a baker and he made huge money . he also sold coffee. it was insulting and here in hawaii people love to treat people like shit - i just told keep it . the worst customer service ever for a complaint i felt like i was snubbed by a child ; im not a homeless person wandering in - i spend a decent amount of money there. apparently the manager is "service to self " this happened at around 9 maybe close to 9:30am - is this behavior what dunking donuts wants where customer service is concerned ? now i feel like when i go back and i see these people; i dont like them as human beings . it was a cheaper as hell experience. i included the half cup of ice with the bit of coffee she put in it - i felt compelled to snap a picture for you - i wonder wht would have happened if i tried to get the manager and video tape her reaction? but then again im sure theres cameras - and maybe that was the manager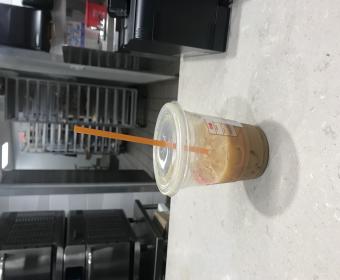 Michael Brock
from Washington D.C., DC
I am loyal and daily customer at the Dunkin shop on Spencer st Manchester Ct. I frequent the store twice a day for coffee & sandwiches. I have been a customer here for several years now so I know some of the employees names. Today I drove thru the drive thru to place my order. When the woman spoke to me I thought I recognized her voice as someone who I knew that worked there. I asked if it was Ashley speaking. She said no it isn't and gave me her name but don't remember. After placing my order I pulled up to the window to pay. An older woman took my money and with her hands waving in the air began to loudly yell at me saying ( Never ask for any girl here, Ashley has a man and doesn't want you, your a nothing and u will do things my way.) Behind her all the girls were laughing and the customers were staring at this woman yelling. Now I only know every one there enough to say hi . I don't have an interest in any woman there and have never made a pass at anyone or attempted to. I was extremely embarrassed and humiliated in front of everyone and cannot begin to understand what on Earth happened today! Needless to say I will no longer visit your stores any longer. Sincerely, Michael Brock

went to the drive thru on 2-6-2019 at 8.58 am order 159 Register #4 cashier order taker 0. ordered a Cinnamon Raisin Bagel toasted with cream cheese. and the hubby ordered a coffee (Hot). came to the window to pay and they was going to give us a cold coffee but they did fix it and give us the hot one. Then when i went to eat the bagel it was burnt i don't mean a little it was black and not edible. So I would like to get my money back for the bagel that i could not eat. I have provided all the information that was on the slip on the bag. You may return the money on a gift card or with check to Linda Miranda 9 Granite Street Augusta,ME 04330 thank you for taken the time to read and i look forward to hearing from you. Linda Miranda

you sent me a sheet with deals on Dunkin donut coffee I tried to use two of them each time I went to the Dunkin donut they said either their machine isn't working or the frozen coffee isn't ready so I couldn't use my coupons I think you owe me some free coupon is the Dunkin donut on 70 and 53rd in Bradenton Florida

paulette pannozzo
from Fulton, NY
purchased coffee and egg, sausage, cheese croissant #367 from w side store Fulton ny $7. PLUS mid afternoon feb 2 never been treated so rudely. no thank you the cashier practically threw my order at me (drive thru) I want a full refund I get better service from e side north in fulton if no refund I will never patronize your place and I will spread this news mail payable paulette pannozzo 87 peat bed rd Hannibal ny 13074

a st martin
from South Salt Lake, UT
the apple fritters are very small with no hint of flavor sometimes burnt ,the coffee tastes watered down and cinnamon rolls are flavorless too,,,, are the employees ripping off the store as this is unbelievable

William Wilson
from Chicago, IL
Came into food and fuel truck stop dunkin donuts. Employee (val) was extremely rude and sat at the counter talkingbto her i believe boyfriend and was very rude when inasked if i could order. This employee needs to be fired. She is not a customer friendly person. Im disgusted how inwas treated.

Krista Kowalczyk
from Springfield, MA
I was at Dunkin Donuts on December 11, 2018 at the Boston Rd, Springfield, MA location. The employee handing out my coffee through the drive through window dropped my large coffee directly into my car causing the cover to come off and cover me, my white down jacket, and all over my interior of my car. I have been trying to call corporate via the 1-800-859-5339 phone number for the last month and have not got anywhere with them. They have told me the owner of that store would contact me and still have not received a call. My car still smells like coffee that seeped into my rugs. My car needs to be detailed and shampooed. My jacket also had to be dry cleaned. Also when I went back the next day to speak with the supervisor, the girl working laughed in my face about what had happened. I expect to be contacted regarding this issue.

Richard Simeone
from North Aurora, IL
I have not been in a Donuts since I eft New Jersey years ago, feeling bad when you guys stopped baking on the premises. Tonight I tried again here in Downers Grove, Ill. I stopped in at 819 Ogden Ave or Rt. 34. I was immediately disappointed as he only had 6 trays of donuts out, with about 5 different tyes, about 20 to 25 donuts in all. Oh well, perhaps he ran short. I ordered two of the ones I saw and a coffee. What a disappointment. The donuts were day old or better and I had to dunk them in the coffee which seemed white like too much cream until I tasted that. It was like water. I ate a bit and left the rest an let the guy behind the counter know that there were many Dunkin Donuts along the road, but he would not see me again there. I explained the problem and he could care less, shrugging his shoulders and returning to work cleaning the ice cream case.
I made up my mind again about Dunkin donuts I guess. I jest wanted to get my word in so that jerk in the one I stopped in is corrected if even possible.
You guys once had great donuts, but like so many business, the franchises are killing you and now that you don't bake in eack place you have, I guess "stale" is the word.
R.Simeone

Cathy Conley
from Racine, WI
I have had several poor experiences with a local Dunkin Donuts establishment. The wait time is always extremely long for the few cars that are in the drive through. Often times when I place my order I have to repeat it several times before it is repeated back to me correctly, and often times when I get to the window, I still need to have them adjust my order so it is correct. I never expect perfect service and I have a very easy going attitude when it comes to customer service. I realize we are all people and everyone makes mistakes. Today I visited this Dunkin Donuts again. I place my order and it was repeated back to me correctly. I ordered a large Americano, 2 wake up wraps and a breakfast sandwich. I waited 15 minutes in the drive through, despite the fact there were only 3 cars ahead of me. When I finally approached the window, I paid using my credit card, and was then handed two bags and my coffee. The boy working the drive through was very unfriendly. I explained that I was missing my egg sandwich. He seemed annoyed and flatly said it wasn't part of my order and demanded I pay for it. I explained that when my order was read back to me the sandwich was included with the order. I was reluctant to pay for the sandwich because I was confident I already paid for it. This young teenage boy was very dismissive and insinuated I was trying to get something for free. Needless to say, I did not pay for another sandwich, and did not receive one. When I got home the egg wrap tortillas were so hard they were inedible. My coffee was only 3/4 full and I am sure it was a regular brewed coffee instead of the Americano I ordered (and paid more for). I definitely will not be visiting this Dunkin Donuts again. This establishment is located at: 1215 N. Green Bay Road, #B, Mount Pleasant Wi 53406

Joe Schafer
from Medina, NY
Dunkin Donuts
153 S.Main st
Albion N.Y
14411
I travel the country and dunkin is always my go to. I live in Albion and this is the absolute worst facility. The most popular drinks and donut in the world and they never have. I could understand if it was late in the day and extremely busy but when you pull in at 6 am which is opening and there is no ice tea or donuts are old there is an issue. Middle of summer it is always the same thing. No we are out. Very poor set up. The excuse given is always well its poor management. As a business owner if this was my establishment there would be new changes. Right next door is a tim hortons which is always packed. Don't matter when or what day. This is a fairly new place too. Its just a shame to see another poorly run place in my small town
Regards,
Joe Schafer

mila vulfov
from Ivyland, PA
Location 30 Richboro Newtown road Costumers service has to be much much better. at first . Second - They selling to costumers not fresh bagels Its not first time. Especially when ask them toasted. In Newtown we have lot of competitions You already have bad reviews Please pay attention for complains.!!!!!
With regards.

Jessica Zaleski
from Leland, NC
Super slow service especially when I was the only car in the drive thru line. Approx 3:30 pm Thursday on a rainy day in Leland, NC.
Only 5 donuts left and when I tried to order 1/2 dozen the cashier said guest can no longer pick the donuts in the drive thru you have to come inside if you want to pick your donuts :(
I chose 2 instead of half dozen. Donuts are not fresh very stale. Staff should not sell donuts like that. Ordered a medium macchiato took approx 8 minutes to receive also a large cappuccino that wasn't filled. Filled halfway and the rest was foam and not the usual way cappuccino taste. At other dunkin locations the coffee is made fresh every so often, I don't think this coffee is fresh. Not a good start for a fairly new location 3-4 weeks open. Cashier was pleasant but I don't think staff is all on the same page.

Eleanor Wolner
from Atwater, OH
No stars.
I was in the Dunkin Donuts at 1370 E. Main St.
Ravenna Ohio 44266 Today.
Today was the worst service I have had there.
There were 5 people working 3 in uniform and 2 in regular clothes. I had to ask the manger to stop them talking to each other and wait on me.
Then for spite I asked for a small coffee and a Vanilla Cream Donut.
The server had her back to be and sat the bag back on the counter.
when I got home I had the wrong donut.
I Know that the girl did it for spite.
Usually every time that I go in there you have to ask for people to help you.
They are the rudest and laziest people. for a food place.
With that kind of service you won't have any business and I will relate this to everyone that I know about the quality of service.
Elanor Wolner

Gina Dure
from Chicago, IL
On 08/03/18, right after my daughter Meinlise Dure was seen by her Nutritionist, I took her at lunchtime to Dunkin Donuts located at 1900 Dempster St Evanston Il, 60202 to buy a wake up wrap for her. A White female cashier took my order. We sat down to wait, then a group of people consisting of 2 White boys and girls walked in, gave their order, sat down and got their food, but not us. It's like we were invisible to her. She would not make eye contact with us.
She just focused on satisfying her White customers. Unbelievable! When I asked about my order, a male cashier said she didn't put up the order, but the 4 white people only. He asked me for what I ordered and to wait (I don't know how long!) to prepare my food. I was upset the fact that the female cashier who took my order cut me with her eyes and kept on preparing coffee for the group. I felt humiliated and discriminated against. I walked out without the food or my money back. Then once we got home, my daughter felt down and asked me do I have to bleach my skin to be treated equally like Whites? Then hours later she wrote those above. Then days later, she started referring her classmates as my white or Black friend...instead of using their names. The incident affected her and I believe she needs counseling. Justice must be served because as a African American, I am as equal as the White customers and should have been treated fairly for my money. I will hand my complaint report to my Attorney because my daughter was normal before the incident.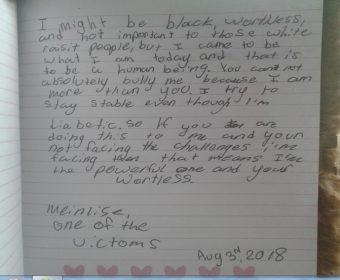 Rosanna Paco
from Red Bank, NJ
Went to a store today and purchased a cinnamon crumb muffin. This being my first time buying one, I did not complain when the top was hard and not crumbly at all. After eating some of the muffin I bit into something hard. It was the backing to an earring! Disgusting. I know it was not mine because I had no earrings on. Needless to say, this is the most nauseating thing I could have experienced. I have been to other stores before and this has never happened. Please let me know what your corporation will do to rectify this situation because I never expected something like this to happen at one of your stores.
Very dissatisfied customer!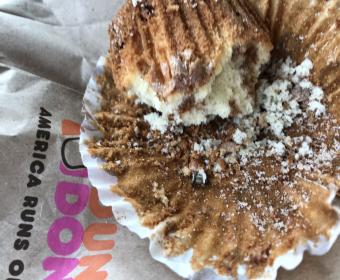 Michelle Howard
from Evesham Township (Marlton), NJ
I went to Dunkin Donuts drive thru this morning at 311 Springfield Avenue in Newark, NJ I ordered a coffee and a toasted bagel with cream cheese. Something told me to check my bag and the bagel was completely black. I turned around and went back to the store and told the cashier that I was returning the bagel and she responded to the girl making them, "You burnt her bagel"! To which she replied, "I didn't burn anything they came out from the back that way!" I asked her why would they sell burnt food and she said, "I'm over this." It took the girl that was working on drivethru window to stop what she was doing and making me a new bagel. She apologized for her coworker. I looked in the bagel bin and they all were burnt. Why would they sell burnt food to customers? I was insulted and truly put off. Something needs to be done. I spend too much money at DD to be treated in this manner. I cannot say that I will not go back to a DD but I will never go to this one.

Joyce M Wilson
from Springfield, MA
To Whom It May Concern,
On Wednesday, December 12, 2018 I was made aware that a customer service rep located at 694 Page Boulevard in Springfield, MA posted a complaint about me on social media regarding an interaction I had with her on Tuesday, December 11, 2018.
I ordered at the drive thru between 9:00 to 9:30 pm. I gave my order for 2 blueberry muffins and a medium pumpkin spice iced coffee with extra cream and sugar. Once I arrived at the window the customer service rep had her hands inside the apron covering her clothes and it looked like she was scratching her stomach. As she was handing me the 2 muffins I said "Excuse me, were you just scratching under your clothes before handing me my muffins? and she said " What??" so I repeated my question. She said " No, she was cold standing at the window and just had her hands behind her apron trying to stay warm" She then showed me she was rubbing her arms.
I said ok, but as a customer pulling up at the drive thru that wasn't a good look especially because she is handling food. She reiterated again that she wasn't scratching. I repeated again I only mentioned it because it didn't look good to someone getting ready to accept an order from her. I handed her the money and then waited for her to bring my pumpkin spiced iced coffee. I told her Thank you and drove off but didn't feel comfortable about the drink because of her reaction. I felt she could have spit in it or something so I went to another Dunkin Donuts and ordered the same drink.
When I got home, I told my daughter and granddaughter about the young lady at the customer service window at our favorite Dunkin Donuts. I then poured the drink out because I told them I didn't feel comfortable having my granddaughter drink it. I thought no more about the situation until yesterday, when my granddaughter sent me a screen shot showing the customer service rep, Ashleigh Christine, who served me had posted that "EVERY SINGLE TIME she is disrespected or given attitude at work it is from a black person" and then she went on from there. I wasn't rude in any way but she interpreted it that way.
I am making your company aware because as I stated previously this Dunkin Donuts location was frequented by my family quite often and we generally purchase more than one item. As long as that person is a part of your company, we don't plan to consume your products. I know our purchases won't make a dent in your profits but word of mouth can make a difference.
I had no intentions of taking that incident any further but Ashleigh felt the need to put her misinterpretation out into cyber space. I guess she felt I would never see her posting but I did and I now would like to have something done about this situation. As I said, our purchases won't affect your bottom line but her continued presence as part of your company will. I have attached her postings.
I would like someone to contact me at 413-219-8863 after reading this to discuss the situation.
Thank you,
Joyce M. Wilson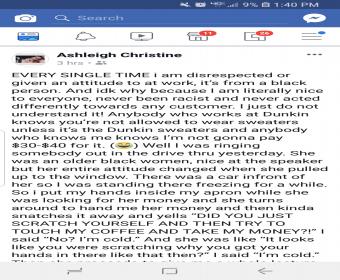 I was at the Dunkin Donuts store at 145th street in Harlem at 680 St. Nicholas. I ordered my sandwich and made a change to it then I reached to pay in cash and the cashier was saying things under his breath and making side comments to the other staff members. I asked "is there something going on here?" and he said ":we have a line" in a nasty tone. I had just handed him a $20 nill to pay for my order and I said, "Give me that back" and he gave me my money back and said "You don't want it?" I said no and walked away, thinking this was the end. As I'm walking off he yells at me "Don't come back!".
I am an African American woman and I noticed at this location in a predominately African American neighborhood that staff members there tend to get short or frustrated when customers of colors are making orders. I felt that the cashier was bullying me and being very intimidating and condescending when my only goal was to order a sandwich and leave. When the transaction got to rude for me I opted to leave and likely would never have complained if the cashier had not escalated the situation by yelling across the store in front of a crowd of customers "Don't come back." He's right I am likely to never return to the restaurant and I am spreading the word for others to boycott Dunkin Donuts at 145th Street in Harlem NYC and other locations across the country since women, people of color and all customers are not respected at the restaurant.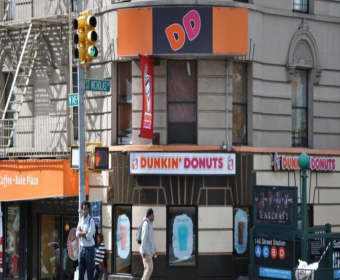 Sunny Hirschberg
from Clearwater, FL
I went to the drive thru to get coffee for myself and coworker. I waited a few minutes until I was greeted. I asked specifically for an iced coffee with sugarfree hazelnut flavor shot and another iced coffee with caramel swirl. I then drove up to the window and waiting there for approximately 5 minutes. Then the cashier told me that they were very busy inside but I was the only car in the drive thru. Two minutes later the cashier told me to pull to the front and that they would bring me my drinks. I pull up and wait for almost 10 minutes. Then the cashier runs out and asks me what my drink order was. I repeat myself and finally get my drinks. Then I arrive back to work to realize that they put sweetened hazelnut in my coffee after I clarified multiple times that I need sugar-free hazelnut flavor shot. This is the second time in a row that this has happened to me at this Dunkin Donuts and I am very frustrated!!!

Kathy Bloom
from Wausau, WI
We have a problem with the Dunkin Donuts in Weston, WI. It seems that the people who are processing the orders do not really read the order. Many times I have asked for a Sausage and Egg on an English muffin only to get a Sausage and Egg on a croissant. I always ask for my orders without cheese and most of the time, it comes with cheese. Today I ordered a Sausage and Egg without cheese and got a Sausage and Egg with cheese. Do we have to check our orders every time we go there?

Vivian Long
from Morrisville, NC
On November 15, 2018 my daughter purchased me what was suppose to be a large hazelnut ice coffee but instead I received an ice mocha. Upon her bringing it to me as a surprise for my birthday I realized she was not given what she paid for. It was very disappointing because it was my birthday and pouring down raining and I was not going back to get it corrected. I would like for my next coffee to me on the house.
Thank you,

Marianne Saccente
from Spring, TX
Just returned. Asked for sandwich. Weren't making any today...
Big sign $2 medium lattes. Told me I had to pay 3.19 because the manager left and didn't tell them how to ring it up. Or I could pay $2.59 for a small and they'd give me a medium.
Felt terrible for these two kids. Just didn't know what to do. Whoever manages that store should be fired. Have tried going there many times, Always a problem and many times they run out of donuts??? It's a donut shop. Selection today was sparse and it was 11:30 in the morning. Unless this store is used as a tax loss write off either get a decent manager or close it. Horrible place to go. I finally just left, no coffee, no donut, no sandwich. Giving up on it.
It's located on 242 in the Woodlands, Texas.

Anna Moores
from Fort Lauderdale, FL
employee was on line off the duty have with her a Dog in the store suddenly she feel need help others co-workers, with washed her hands she stared take orders behind cash register and serving donuts to clients.
with her hair down not tied, no apron,without washed hands just like that from dropped dog leeched with boyfriend got behind the cashier register and star serving us donuts totally unprofessional, not prepared for a co, like that ? i will never go back . that store has been in my neighborhood forever, very disappointment i never image that. i

kassandra Smith
from Vancouver, WA
I need to speak to someone about a fraudulent charge on my debit bank card for a transaction at the dunkin donuts #346333. I have a charge on my card for $74.76!!! It should have been $3-4 dollars!! I need the money refunded ASAP This is absolutely ridiculous!! I have been a patron almost every day for the last 7 years. I called the location directly and could not get the matter rectified or speak to a manager. I will never go back to dunkin donuts, they are thiefs

jlbf12@gmail.con
from Alliance, OH
Again I called Dunkin Donuts in Alliance, Ohio ( only one in Alliance on State Street) 1041 West State St. and ordered a dozen donuts and told the lady I would pick them up at 11:00am. She said she would have them ready. I get up there at 11:00 and girl working the window said we don" have the sour cream, We sold out at 7:30 this morning. My favorite. Why wouldn't they check when you call ahead . Sometimes they say "let me make sure we have them and sometimes not. Maybe because when you drive 10 miles they can assume you will substitute Which the next question. I ask her why they are out of them so early and she said they are not a good seller. Dumb answer. The business phone number is 330-823-7621. PCH 336519

Jeffrey George
from Malden, MA
Hi, I have a complaint regarding the 125 Main St Essex, Ma location. Few employees have attitude problems and I've gone that location on several occasions. When I've visited there recently to get a latte I was told that the machine was cleaned for the night. This isn't the first time. Each time I've it been between 6:15 and 6:40 pm. That location closes at 8:00pm most nights. I live in Essex. I don't think it's fair that I have to go to another location out town Hamilton that closes at the same time Essex to get latte. I'm not the only this has happened to at the Essex location. If the store is open then customers should get what they want. If the store is open until 8:00 don't clean the equipment like the latte maker at 6:15pm. One more thing it's not cleanest place like others Dunkin Donuts store. I've seen the board of health in the Essex store more than once because of health complaints and concerns because of not being clean properly and food issues.

stephen perez
from Boston, MA
My friend works at dd on eastern ave in Chelsea mass, he was told yesterday that his draw came up over 100 short from 6 days ago, they said they are keeping his pay, First having worked in a fast pace environment (store 24) for many years this is not how things are done, i would think that this guy is breaking the law by not counting the draw when the shift ends and allowing more than one person to use the same draw, 2nd this person came back 6 days later to say he was missing money never mentioning this on the shifts he worked prior. who is to say that this guy is not the one stealing then trying to make it look like someone else did. the way he has handle this is totally inappropriate. This guy is taking advantage of my friend who needed the job and worked for minimum wage to begin with, now this guy want to keep his pay. if i do not get a response from dd headquarters i will stand in front with a sign on saying how this guy is treating his employees. This guy should be taking a reading and informing the employee of any wrong doing at the time. no reading are being done so he has no idea when and who took the money

I am in your store in Lehigh Acres Florida, And someone came in with their dog to visit one of the employees and she was petting it. I said no dogs where to be in a business like this except an emotional support dog. She told me to talk to her Manager that the dog. 5:15 est. 10/20/18

michael P holden
from Toms River, NJ
Both my wife and I ordered breakfast sandwiches this morning she a bacon egg and cheese on an everything bagel, me a sausage egg and cheese on a plain bagel. I must say we both tasted an unpleasant flavor as if it had a sort of chemical plastic taste. Now mind you we ordered different sandwiches and yet had the same complaint, in addition, there was a very bland non-distinct flavor also. Aside from that, neither bagel was barely toasted. I feel as if these sandwiches were perhaps frozen or in the fridge past their date. I honestly would not order anything like that at any Dunkin Donuts in the future. The store is located in Robbinsville NJ on RT 130 (across the street from 1aaa drive, Robbinsville NJ. The receipt shows the following information 10/18/2018 9:19:25 Am, Drive-Thru Order:706 Register 4 Tran Seq No: 1015706, 1 Bcn Amr Bagel Everything Bagel Toasted 1 Ssg Egg Bagel Plain Bagel Toasted. Thank you for your concern in this matter.

10/14/2018 drive thru order 094
dunkin donuts 354920 a new place I live in the area . They employee at the place asked me to drive up to wait for my order yelling at me. another employee came out to give me the order I try to open the window , and she stated what that fuck are you doing , I reply what happened and she replied shot up fuck up and walked away. my order was wrong I was scare I left

Tom Folker
from Wells, ME
I'm off till the 3rd around 4:30 in the morning Maine Street South Portland Maine I went in the store ordered my coffee and bagel through the shift manager paid she made my coffee after waiting period of time I noticed that my bagel had dropped in the toaster I waited another minute or so the person doing the food prep was busy telling a story for the second time I talked to her attention that my food had dropped in that I was waiting and she told me I would have to wait I said when you punch it in the morning you should be prepared to work she told me to kiss her ass I go to Dunkin Donuts seven days a week I spend over $70 a week this is not the first time I have received this kind of service and the verbal abuse from her is unacceptable I will be waiting to hear from someone

Tom Folker
from Wells, ME
On October 3rd at 4:30 in the morning at the Main Street location in South Portland Maine I placed my order with the shift manager she took my payment made my coffee I waited a minute and proceeded down to the pickup I saw my bagel drop in the toaster then 3 more English muffins dropped I said excuse me could I have my food and she said you'll have to wait I said well maybe when you punch in you should be prepared to work not talk she told me to kiss her ass and threw my food at me and this is not the first time I've had to withstand her mouth I shop at Dunkin Donuts seven days a week I spend roughly 70 plus dollars a week at Dunkin Donuts and would help like that I don't know if I'll ever return I'll be waiting to hear from someone

This person named Vicky who enters the dunkin donuts at 2035 Bartow Ave the Bronx located in co-op city. She is a trouble maker. She tries to start fights with customers entering this location. Her favorite target is a customer named joe. What ever reason I have no ideal. She wants him arrested because she always stating if you hit me I will have you arrested. Whenever she sees joe in this location , she makes her business to insult him in hopes of provoking him to hit her. Something must be done before something happens. Joe states that he will find another location to go to, in order to defuse this situation. No one would like to see this happen , because no one wants to see him leave.

Laura Jimenez
from El Paso, TX
Ordered a sesame bagel with cream cheese, toasted and I got a plain bagel, with cream cheese not toasted and I was looking forward to this bagel this morning. The girl on the intercom seemed rushed and really did not pay attention to my order, than I pull up and the young gentleman did even say good morning, only asked if I wanted my receipt, no interaction at all. Need better customer service so that you have people wanting to come back. Thank you for hearing me out.
Have feedback for Dunkin' Donuts?
Thanks for your feedback!
Sorry. Please try again later!