Chevron
Chevron Complaints Continued... (Page 2)
96+ reviews added so far. Upset? Call Chevron corporate: 925-842-1000

Michelle Luna
from Caldwell, ID
I have gone in the store on several occasions to purchase items with my food stamp card. Every single time I have gone in, a male cashier always proceed to tell me out loud sorry the food stamp machine is down and has me wait several minutes and embarrass me then laugh. This happens every time. I was told to contact a lawyer for discrimination against your store. I'm very disappointed.

Alan Neal
from Atlanta, GA
I bought gas at the station located at 1st Ave S and 34th st in St Pete, fla. on Friday June 3rd, 2016. I asked the manager if he old help us out with jump start. He looked at me angrily and said "absolutely not! I'm not going to do something so stupid, because you'll sue me." I said "really?" He said "that's right. And if that car isn't off my property in 10 minutes, I'm gonna have it towed!" I find this approach to generating customer good will to be antithetical to good customer service!

Ahmad mohamad waaer
from Johannesburg, GP
Please find my complaint with reference to your attention, I am suffering from the unprofessional performance of the employees in Chevron Egypt lubricants division. Mainly, customer service team leader Mamdouh Arafa who disrespect customers by ignoring and rejecting their calls meanwhile its main task is to help the customers. The car service centre manager Islam Haroun.you can ask him if he ever visit my service in Al Mansouria and if he ever follow our performance or support us by any mean.
Haitham yossef who misguided me when he was service centres manager and you can get a ll the data upon request. What make it worse, they refused to give me confirmation letter of our businss relationship. So, I decided to break my business relationship with the company and stop purchasing products from the company. And to take all boards and signs of the company of,that will lead to negative. Impacts on both my performance and the company. Please give me a feedback about my relationship with the company by opening an investigation about my case to see the poor as and the corrupted performance of the employees.

kirk washington
from New Orleans, LA
On April 4, 2016 I brought gas at the chevron gas station Harvey, La . I had to take my car to a repair shop to have my car repair because bad gas I brought from your company I had too pay $2000.00 to replace my gas tank. plus had to rent a car and had to miss take off for 3 days Please email me.

herman karelin
from San Pablo, CA
On 4/24/16 I purchased $15.00 of regular at one of your service stations. When I used my debit card at first it did not register so I tried again and after three tries it cleared and let me pump gas. However I went inside the store and tried to check if the charge registered, so the attendant swiped my card again. Well that caused a duplicate charge for the one time charge of $15.00 and there was a double deduction from my checking account for one $15.00 purchase. Even though your records show that one of the $15.00 was voided. How can I get a $15.00 refund?

Hans J. Varfjell
from Seattle, WA
After having my wallet stolen I was left using my MasterCard credit card and Visa Debit/credit card that I luckily had kept in my pocket. Here's the catch. The Chevron stations along I5 would not accept any of them and the staff seemed totally unaware of any other way of using the credit card than through the reader. No manual or semi manual back up procedures. No will or competence to help. Don't Chevron want to do business with tourists? Luckily we found a Mobile station right by the last Chevron. By then we were running on fumes. No problem accepting the MasterCard. Filled her up and are on our way again. Next time I will not even bother dealing with Chevron.
I stopped to purchase fuel and get a snack at a Chevron station. The station is located at interstate 15 exit 10. After fueling I went inside and bought my snack. When I returned to My car I found A mechanic from the shop outside looking over my 1995 Toyota 4-runner. He immediately began pointing out numerous items which he said needed to be replaced. He started with saying my front tires were "cupping" due to worn out shocks. He also said the left front axle boots were shinny and needed to be replaced immediately. He also said my sway bar bushings were metal on metal and that due to the worn shocks, the rubber bumpers were hitting the lower A-arm.
He told me he could get me in the shop right away and did not want me to become stranded on the road due to the problems. I was in a hurry and did not argue with him at the time, however I was stunned that this kind of unethical practice still existed these days. The tires were new and even after my return home to CA there is still no evidence of cupping. the reason the axle boots were shinny is due to the fact the entire axle was also new. He was absolutely wrong that the shocks were bad which was causing the rubber bumpers to rub the A-arm, and there was nothing wrong with the sway bar bushings. I am certain he targeted me due to vehicle age and would have made unnecessary repairs had i fallen for it.

Karen Whitmore
from Carlsbad, CA
I drove away without removing the gas pump which broke away. This was totally my fault. The station attendant told me I had to pay $150.00 to cover the reattachment. First I was told they had to replace the part then told someone from Walnut Creek would have to reattach the part and then said their attendants were trained to do it themselves. My complaint is nothing was posted "if you break it you pay for it" or something to that effect. This is something that happens frequently and is handled subjectively. There should be standard guidelines for this kind of thing.

Maria Espino
from Dallas, TX
My husband and I attended the Chevron located off 1051 N. Central expressway and were rudely turned away by Joe a company employee whom was very arrogant at telling us " chevron doesn't take ebt and that is why we should visit a grocery store instead". Since we have visited many stores before with the same payment method, I figured chevron would to. I have never had an isident with any chevron location.The employee didn't have to give us an attitude or add to our embarrassment as he did. I will not be visiting this store as long as he is attending it.

Marlon Babers
from Houston, TX
While at the chevron on Antoine and tidwell locale. I was told by the clerk he was not going to play my lottery numbers. At 3:30 am on March 11 2016. I had waited an hour till 4:30 and he still refused. Now I'm going to complain to Chevron corporate!

Terrie Delagarza
from Grand Prairie, TX
I went to a chevron gas station at 3:44pm, located at 4602 nw loop 410 san antonio tx 78229,the doors were locked with a sign that said went on restroom break. As I was standing by the door there was a trash can in front of one of the doors and it had bees all around it and a bee stung me. When the store opened, I told the cashier, that I was stung and maybe he should move the trash can further from the door. He just smirked and said "well there's bees everywhere".
I was shocked by his response, he showed no concern for the incident and did absolutely nothing not even apologize. I would just this company to know kind of employees they have working for them, I feel they need more training in regards to customer service, especially this employee. I simply just wanted him to move trash away from the door where people especially children walk by. I told him its good thing im not allergic to bees but it does hurt, he said "well I've never been stung before".
I feel he was basically telling me so what! Im really upset about this he was rude and cocky. I hope that chevron will take this seriously, I understand that its hard to control a bug problem, but im sure there is a wa y to minimize,the problem. This could have had a bad outcome in regards to my health.

Every time I go into the gas station. (1495 George Wallace hwy/Oak Street Russellville, Al 35654) There is an employee by the name Heather Horton. (Tattoos, multi-colored hair) Who has an attitude problem with me. (Hostile at times) I have reported her to her manager (His name is KG) And nothing seems to be done with the unruly employee and I have stopped going to your store for gas and or other misc. I have been a long-time loyal customer with your business, but after today. 2/4/2016. I am no longer doing any more business with Chevron until that employee is terminated.

grant marcus
from Ventura, CA
On Saturday, 7:15am in the morning 1/23/16, my tire was low and I drove to a gas station I usually go to for gas and service. The gas station had been recently converted/bought by Chevron. The gas station is at the 2600 block of Main Street in Ventura. I went in, and like I have done a few times in the past 10 years, asked the manager to push the button for the air, and explained to him that I lived close to the gas station and had received gas and air at the station in the past. He told me he didn't have any buttons and "no tokens," and demanded I pay $1.50.
In getting change, I turned away, and yes, muttered something under my breath against your new ownership policies. I then left the store, and went to insert the quarters into the air machine. After I had inserted my money, and began filling my tire with air, your employee came outside the store, with his fists closed, taunting me, and coming toward me, demanding of me, "what you call me! What you call me!" And, "You respect me, you respect me now!" I told your employee that I do not respect anyone who goes out of their way to approach me with closed fists and threaten me. As I continued to put air in my tire, he tried to look into my car, or get into my car, but my dog started barking. He then made a motion to kick my car and thought better of it, then came toward me again.
Being a senior citizen, and bent over, with a sore back, I was receiving treatment for, I was having trouble finding the stem, etc., but no longer felt safe with your employee closing his fist and coming toward me again. I dropped the hose, and was about to go around the car to avoid your hostile employee, when he said to me, "We find your car, we find you, we find your family." I then hurried around to the other side of the car to avoid him, got in and drove to another gas station to fill my tire with air. Then I proceeded on to the Toyota Dealership to have the tire replaced. I have talked with Ventura police about your employee threats, and living so close to your gas station, and doing all my shopping in the area at several local businesses, I have complained to the police that I no longer feel safe, and fear being followed home by your employee, or some kind of retaliation, from him for showing him "no respect," as he demanded with closed fists, as well as implying bodily harm to me and my family by saying, "We find you..."
And, I do not feel it is fair for me, in an area I have lived in all my life, to have to travel around your gas station to avoid your employee. Further risk to me is the fact that your employee spoke only broken English, and acted in a way that clearly showed me he does not know rules and laws in America, nor understand the language and norms of Americans, nor know how to interact in a business manner with others. A paralegal, and medical professional, my next step will be to get a restraining order against your employee. And then I will be pursuing legal assistance on this matter. I will not desist with this, until I know I am again safe in my own community, where I have lived my entire life. Under the circumstances, I would like my name kept confidention from your employee, and judging by the date and time I have given you, retrieve the name of your employee, so I can begin the process of restraint.

Mike Johnson
from Santa Monica, CA
On Nov. 29, 2015 at approx. 3:00 PM we pulled into Chevron Sta. # 0099623 (11852 San Vicente Blvd. West Los Angeles) and were unable to purchase any fuel from the first pump, which was completely unresponsive. The next pump (#4) gave us a message to see attendant, which we did. The young man told us that we had to sign for a specific dollar amount of fuel to be charged to our credit card and the card would be credited for the unused amount. What the hect? We then signed for $45.00 thinking that this would approximated the cost. The car only took $31.01 and we were assured that the extra amount would be credited to the card instantly. We were not given any receipt or document to verify this. Was this some kind of scam (?) or just a poor way to run a business. A reply from Chevron corporate office would be great.

Mark
from Los Angeles, CA
Tried to pump gas, pump said problem with card, reentered then pump froze at vons club member, I hit cancel stop, and even tried hanging up nozel, then pick back up, still froze, went inside to tell employee who rudely snaps...you took too long, pump authorized, I told him pump froze, I didn't take, I go out and pick up nozel, press grade button, something didn't feel right, so I hung up nozel and hit cancel, nothing, then some other guy appears and tells me to start pumping, I said no, I cancelled, but pump wouldn't cancel, I hung up nozel again, then said pump won't cancel, I picked up nozel went to press button, he said it was cancelled.
I then pressed grade button and pump showed start pumping, I kept hanging up nozel pressing cancel, picked nozel back up till it finally did cancel transaction. I then went inside to get receipt, which I have done before, even tho I didn't pump, i.e., hit wrong grade. back inside guy says why do I want a receipt I didn't pump, I said I wanted receipt, he then appears to fiddle with buttons, then says no receipt, "NOT IN SESSION" I contact Chevron Corp via email and their response is as follows:
"...Thank you for taking the time to contact us regarding your visit to your local Chevron retailer located at 1575 E VALLEY PKWY in ESCONDIDO, CA. The company is always actively working to improve service levels and your feedback is invaluable. Chevron is committed to providing safe practices and excellent service to all our customers and when this is not afforded we are very disappointed. We would like to explain that an independent Chevron retailer doing business owns this station. As the property owner, the independent Retailer is responsible for resolving any issue occurring on the station's premises. We have forwarded your comments to the station retailer. We know that as a business owner who values you as a customer, they will counsel their station management to ensure that your concern will be addressed accordingly. Thank you again for bringing this to our attention so that we can inform the proper station personnel. We sincerely value your patronage, and hope this incident will not keep you from visiting stations in our retail network in the future..."
this is a perfect example of PASSING THE BUCK and no regards for customer safety and only their concern for making a buck!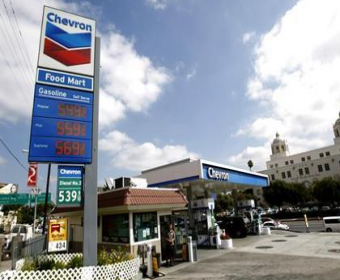 Carlos Garcia
from Sacramento, CA
The Chevron Station Bathroom at 8099 Folsom Blvd, Sacramento, CA 95826, never seems to be working. It says out of order. Last time, I was there was about two months ago. It seems that they don't want to open it because they do not want to clean it. All Chevrons need to have a bathroom available for emergencies at all times. Please repair it.

Annette Ross
from Lafayette, LA
I went to a 24 hour chevron the door was locked so I rung the buzzer, the clerk came out to the window. I ask him if had coffee he said not hot I said ok do you have a microwave he said yes but I guess I have to make some. He went and put the coffee on and then stayed I have work to do, I don't open till 4:30am it was 4:01am. I ask if this was a 24hr.store but he kept saying I have work to do. He was rude about it. As a consumer I felt the service was very poor and it was no need for him to keep telling me about what work he had to do.customer service is part of his job. Cashier: Ben.

Kelley Hunter
from Los Angeles, CA
I don't know is happening but pump #7 took over 45 mins. To pump 25 gallons. I wanted to fill up but I couldn't because of the rewards points. I entered my number and to avoid losing rewards points I was stuck here. They to find out the most I can get in fuel was only 25 gallons I was pretty pissed off. I would of went somewhere else, and maybe I will in the future if Chevron does not fix their pumps!

scott atkinson
from Lynnwood, WA
The chevron in question is [Three rivers chevron Monroe Washington] This is my go to fuel stop. Not so any more. I now drive 1/4 mile out of my way to get fuel at a union 76, because this chevrons pumps are always slower than malaises at 20 below 0 degrees. They do not clean or replace there filters, or the pumps are not up to the task at hand, Second the card readers are always malfunctioning and most of the time the printers do not work. Third I do not like to be asked if i want a car wash every time and press no, and then have wait for this machine to ask the next question about Safeway rewards points. Chevron needs to get it together or loose me as a customer. Please respond or i will be sending your cards back. Union 76 push card in 20 seconds latter pumping gas. there pumps out pump this chevron by 4 to 1.

Insoo Chun
from Squamish, BC
I dropped by "Sea-Sky Chevron", Squamish, BC, Canada to fill up gas at 19:02 on July 23rd. I tried mastercard (xxxxxxxxxxxx8767) first, but the machine showed "invalid" and its transaction has not been completed. So I used other card (visa, xxxxxxxxxxxx5843) and it was approved. (Invoice# : 2157530, Auth# : 386035). The charged amount was CAD $ 60.44 for 45.135L. The amount charged to the bank is shown as $150- rather than $60.44-. I guess $150- was the amount of authorization for the first trial master card, but it is charged as normal approved transaction. I asked Chevron staff in the gas station at 1902 Garibaldi Way, Squamish, BC, Canada, but no result. Please correct the charge to the bank as the actual one and let me know the result by return.

Florin Ionescu
from Portland, OR
Today May 18th I went at your gas station at 15710 SE McLaughlin Blvd, Milwaukie OR 97267, around 4pm. I was served by an employee who said his name was Jake, even so the name on his shirt was different. I asked to fuel up. He asked very arrogantly what kind of gas. I answered unleaded and that I also want a De Lux wash.
He took my card and after swapping it came back saying that somehow the wash charge didn't go through. And if I want I can either go inside and pay, or pay at the machine by the wash station. I was typing an email on my phone at that time and I told him just gas no wash. He turned and told the other attendant "what a dick" making sure I hear it.
I went inside the station and complained to a female attendant what happened and she answered "I'll talk to him" as it was no big deal. There was no manager on duty she told me. I don't think this is the image you want for your company. I know I won't if it for mine.
As long as this employee will be there, I'll avoid that station and any other Chevron stations for that matter. Never had this kind of experience before at any other gas station anywhere in the US. And I travel a lot.

Anthony Chaney
from San Francisco, CA
Went to Chevron and Napa Valley Ion Ola was in line with 5 other people they were all white two ladies one lady was serving us taking her time I was the last one and Latino man got behind me and then she jumped up make sure he was helped in the morning 6 o'clock it just seems they are prejudiced. They are too they are rude in the morning and those ladies management is terrible in the morning there in the afternoon!

Bertrand Ruhle
from Campbell River, BC
I call the fuel oil chevron and ask to get 500 dollars of fuel.The person said very well, but latter another person recall me that he had seem something in my file 20 years ago He was still mad because I complain that the driver had put 20 dollars of fuel instead of 200 dollars.

Two days I ask for some fuel 500 dollars and call chevron. I ask them for fuel and the order had to be made to the person in charge, everything was well the person at the phone took my address and it well be delivered in one or two days. The same afternoon there was another cal lit was the person in charge of the office. When I took the phone the person in charge told me that he would not make the order because I had a record of a complaint 20 years ago that the person that bought the fuel to the house gave me 20 dollars of fuel and charged two hundred dollars. At the time I payed the 2 hundred dollars .and never had a reply about it. I think that his mane is Garry not sure but he is a bully for sure. Thanks for reading my letter.

Time of Event 4/1/2015 00:01:14 Employee Mark. There was an incident at the time above where I was refused service while being Polite and not under the influence. Furthermore felt threatened and mistreated when Mark chose to take away my alcohol only to put it back for me to buy as if it were it was a joke. He them proceeded to not card me for my alcohol. After purchasing the Alcoholic product, I noticed I forgot a tobacco product. Upon returning to the store I saw Mark on the phone so I calmy waited while he finished, I then noticed he was giving them my license plates, height and clothing colors. I was shocked that I was having the police called on me for what he alleged was harassment. The videos on the timestamps will prove this notion incorrect as no provocation was emanated. Mark stated to the 9/11 operator that I was threatening his daughter and harassing him. I had said nothing of the sort and did now know he had a daughter.
There are now false allegations on a police report. He did not get off the phone so I left the store. I feel as though I was the person harassed, I do not feel safe driving to the store I have been going to for the last 15 year(nearly everyday). This began on 3/27/15 while inside the store. Mark flung a sentimental family trinket of mine past another customers head across the entire store for that customer to "fetch". This is not before denying having it in his possession after being asked numerous times to return it. If this is the kind of performance and behavior the Chevron Corp. employs and harbors then I am prepared to picket from the street on this stores busiest days. I am furious about this level of disrespect. I have been a regular customer before this employee and I wish continue being one after him.

I work for a company that is individually owned, 1901 W Bell Rd Phoenix, AZ. The manager and Supervisor are refusing to give me the information to file a complaint against them. The manager is unprofessional towards myself.

Stan Davis
from Houston, TX
I have been a satisfied customer of Chevron for years. I continue to believe in the product and the quality of service in all of my dealings with your company. This just made me angry. At 2:32 March 27, 2015, I tried to purchase some regular gas from a Chevron Gas station using a Chevron credit card.. The location of the gas station was 10920 West Little York The sign very clearly stated that the gas price was $2.19 for cash or Chevron Cards. Upon putting in my credit car into the pump, it did not register that the correct amount of $2.19, but instead registered $2.49. Thinking that the pump must not have registered that I was using a Chevron Credit Card, I cancelled the transaction and started again. The same price reappeared. I then went inside the store and asked for the clerks handling the register if they could correct the number. "Ali" very rudely stated that that was only the cash price. Thinking that I read the sign wrong I went back outside to confirm that it did indeed state Chevron Cards was to be given the lower price.
I again went back into the store to confront the clerk and asked for him to correct it. He again angrily said that it was only for a cash customer. I asked to speak with the manager and he said the only way to complain was to phone the number outside that was supposedly located "somewhere" for any complaints. I could find no number outside, so I tried to use the number posted on my credit card. It connects me with the billing department and can only give me balances, place to make a payment, but nothing about fraudulent advertising or employees that continue to support this fraudulent act.
Upon finally reaching a customer service representative they connected me with the the fraud department and I waited on line for 30 minutes before finally leaving a message and hoping that someone might return my phone call. I am still waiting for that phone call. What you guys are doing is total fraud, and I want to see it corrected! I have taken pictures and names of the clerks that I want addressed. These employees indicate to me that they are only carrying out the instructions that the manager sets for them. However Ali is most outspoken and should never be behind a counter dealing with customers. He knows that he has been confronted with this before and he has developed a very poor customer attitude in a response to legitimate complaints.
KHOU TV station is doing specials on this kind of fraud that local area gas stations are committing. I never felt that something like this would happen to me. I hope that you look at this situation because as angry as your station made me feel yesterday it makes me want to make sure that this fraud stops. If I do not hear from you within the week I will give my pictures and recordings over to the station and that would bring some very unwanted publicity. Being the proud owner of my own business, I do not like to pull the threat card, but when I feel as personally mistreated as I was, something has to be done to make corrective changes.

On December 18, 2012 at 10:50am Tuesday morning. I walked into your Chevron Gas Station at location 23991 El Toro Rd. Laguna Hills CA. 92653 Store to make a purchase. When l appraoched the counter and gave the employee $10.00. She quickly began to examine it. The employee said it was counterfeit. I told her it came from a legitimate business. Also advised her to contact the Orange County Sheriff department. She refused and I departed the store. I filed this complaint because my money needs to be returned. Further more I resent being treated like a criminal,robbed and disrespected. To whom it my concern. I'm looking for a response to my complaint [ASAP].

I would like to file a complain about an employee. He is rude, and seems racist. I have had two negative encounters with him, and I feel something should be done, As I was leaving another customer said that guy is crazy he always gives people an attitude, so there for i know I am not the only one who has been mistreated buy this man. Last night at 10:30 I went to buy a lighter he said NO! I was like excuse me? Why? he replies I said NO!! and he walked away mind you the store carries lighters, and he sold one to me in the past but with an attitude. So I don't know if its because I am a girl and he has an issue because of that or if its because I am Mexican. I would appreciate this matter taken into the appropriate matter. location of the Chevron 8504 E Artesia Blvd Bell flower CA 90706

I prepaid $50 for gas at the Zelda Road Gas station and only pumped $47. The young lady in the store said I would have the $3 credited to my account. This was 4 days ago. I go in this morning and the manager looks at me and laughs after I tell her the situation and says "Ha you lost your three dollars". This is rude and I lost my money. I'm very upset by this.

I frequent the KALAMA CHEVRON (Station 208580) very often. And on numerous occasions I cant help but hear how rudely the management talks to their employees. I've wanted to say something directly to the management about how disrespectful they are being, but figured they would just take it out on their employees. It makes the store a very uncomfortable place to go purchase anything from when this is going on. It also must make it very uncomfortable place to work at. I understand having to direct people and reprimand them when needed, but that should be done behind closed doors, not out for all the customers hear. In my own opinion, I think some Anger Management or HR Classes would help out with the situation at this store.

I purchased gas on 1-17-13 at 6954 W Main St, Houma, LA Filled up my car and 2 hours later making noise and not running properly, brought car straight to dealership, called me this morning with a sample in hand of BAD GAS!
This is going to cost be $1300.00 to fix I want this addressed. I contacted the store and of course manager could hardly speak english and was no help. This is a disgrace when you cannot trust a company like Chevron. I sure hope you make this right.

I use the chevron at 8405 w. 2700 s. magna utah store#00203179 (maybe not anymore) One pump I can't use because the fittings on the hose leaks,none of the pumps i've used will give receipt, I went to fill up sat the pump I was using was pumping very slow so I sat in my car I thought it would take about 20 gal. When i checked on it about 22 gal. I found it running over and onto the ground. The auto shut did not work. I reported to the clerk and asked to talk to mang. She said he would be in @ 5.Itold clerk gas needed cleaned up she said she couldn't leave counter.
I went home and called fire dept. they went over and cleaned it up. no one else called anybody or cleaned up the 2-3-4 gals of gas that was spilled. Do your stations have any standards. I would think there are laws.(that i think are being broken) the station is unsafe and now I have taken a loss. I have tried to contact the owner but he is not there when the clerk says he will be.

Tuesday april 2nd. Walked in with my coffee cup, told attendent I was getting refill, which is advertised for 59¢. He rudely stated, "no coffee!" So I got a cappuccino, thinking its only 59¢ asdvertised. Attended demand I pay full price and started raising s voice when I refused to pay. He said there is no coffee because thats company policy!!!! Will never go there again. I think we will all change our gas station prefference now to shell or ampm, where employee's are much more polite!

There is a Bar BQ establishment operating out of part of this store. It's logo is on the front of your building and has a cartoon Pig dressed in sexual apparel with a tag line over it that says "Moanin' for the Bone". I spoke to the owner of the BBQ place and told him ai thought it was unnecessary that there were too many other options to market that sexuality. He told me people like it and that he didn't care what I thought. I won't patronize this or any Chevron station until it is altered or removed. If your company agrees with him, I'll be glad to pass that along social media.

I would like someone to call me about the issues I have had with your Chevron credit card. Our family does alot of trailer camping and we use plenty of fuel so I thought we should apply for a Chevron card due to so many Chevron stations offer same as cash price using that card. After only a month and a half I cancled the card due to being called by collection agencies even though I set up a auto pay account. I was charged a late payment and when I spoke with someone not in the USA about this and to have the carge droped I was told in broken english "request denied". I know you do not operate the cerdit card company but I would tell you they are giving the Chevron company a bad name with very poor service.

The employee working on Wed the 23rd between the hours of 11 am and 12 pm behind the counter. At the chevron on the cross streets of la cienega and cadallac. in los angeles A middle aged man of Indian decent let me purchase items. He gave me my change them let me proceed out the door. He the started yelling at me that I had falsely tricked him into taking a fake 5 dollar bill. I said . Sir I don't know what your talking about, we exchanged tender. You gave me change and put it in your drawer. He yells I didn't figure out it was fake til after. I said, sir the transaction is done. I don't know anything about what your talking about. As I take a step he threatens to call the cops and have me arrested. I ask him how he knows its fake and he say he doesn't know any better then I do if its fake.
I say then how do you know if I don't know? He then again repeats that I've given him fake money and starts yelling about the police. This man truly started to scare me. He leaned over the counter and was yelling. I finally pulled out another five and gave it to him to subdue him from his anger towards me. I told him it was harassment since he asked me if I sucked cocks. ( He was vulgar) He said he would call the police for me. I soon realized this man was unsafe and I didn't need to be near him. I told him I would be following up on this harassment and verbal abuse and his illegal back-transaction.
This man is truly scary and an employee I would never hire. I will never be returning back to chevron and its unfortunate because I fill my gas there everyday. But this situation has turned me off from your company, your employees and the way you handle business. This is not the first time I've received unwanted harassment from an employee but it will be the last. If I ever get asked if I suck cock from your employees I will be calling the police and pursuing a harassment lawsuit.

On Saturday, June 4th I made an attempt using my Chevron Techron card (which I have had since 1976) tp purchase gas. I was surprised to find my card was being denied and I could not get gas. My wife did remember shad had forgotten to send in payment (her brother had just died)and here we are at a Chevron station, a chard holder since 1976 (35 years)and could not purchase gas because we missed one payment. I was dumb-founded that we were treated in this manner after being a long time card holder. When we got home we got on line and made the payment that night, so the money is not the issue.
The issue is that after a 35 year history with Chevron, we could not even get customer service to remove the HOLD on this card so we could get gas. Fortunately, we were close to home because had we been out of town and on the road, Chevron was not even willing to help even though we have a long history with them.

Dear Sir/Madam, I am a former Chevron expert employee based in Africa – Rwanda. I was assigned to Kigali for three years as a Country Accountant from 4th Sep 2006 to 31st May 2009. Before agreeing to go there, I was promised that my salary grade would move from PSG 17 which I acquired in the year 2000 to grade 19-20 due to new responsibilities given in a foreign country. This did not happen even though I continued serving diligently as a country accountant with a clerical grade and a very low salary and allowances since all these are dependent on the salary scale. I appealed to the management pay me the right salary but this did not happen until when the company was sold to Total Kenya and Chevron Rwanda Office was closed.
This meant that I went home with terminal benefits of a clerk and I was a country accountant for three years according to other records. When I tried to talk to Chevron management, they sent the same HR who had underpaid me to negotiate with me. He was offered a job in the US after the sale and enjoys all benefits which he ensured I did not get. He offered $3,000 as general gratuity out of $111,000 claim. He also claimed that I was recording him when he called me. We did not record him at all. why would he fear to be recorded if what he is communicating was in good faith? This was a clear way of avoiding responsibility and destructing justice by introducing funny side shows. Chevron management then cut communication lines with me and that is why I am trying to get any chance to have my case given attention because I shall never give up on this.
I worked for Chevron for sixteen good years and in that period I have won many awards and recognitions for my superior and diligent work. I really least expected to be treated this way. I therefore again appeal to the management review my case and pay me my rightful benefits to alleviate suffering and to ensure that justice is served.

To whom it may concern :im a regular customer of chevron on 1148 s ellsworth in mesa, its been a great store but lately I have seeing unprofessional matters. 1:the restrooms has graffiti all over its desgustin, 2:the holes in the ground opens when a car goes over it is really dangerous, 3:employees exchanging numbers with customers taking forever to help another customers, I wanna know if I go a convenience store or to a hook up store? Really unprofessional my God. 4:management screaming and humiliating employees in front of customers really really unprofessional, 5:when I pass by in the night I wonder?
Its the store close or open? because it looks really dark there's no lights in the car wash alot of them missing in the parking lot . I really hope you can correct this problems for future customers and like I said its a really good company I love the gas it just this little issues that they need to be fix because I don't want switch gas station … thank you.

I have used and been happy with the Chevron FleetCor card with our business for several years. It was easy to keep track of mileage with vehicles and never had any issues. Then, at the beginning of this year, came the Universal Master Card. Our options with this card were extremely unclear. The options for recording mileage were not programmed into the new card and after multiple calls to customer service and many reissued cards the issue was never resolved.
In finally speaking to a supervisor to see if the issue could be resolved in mid March, she proceeded to tell me that they work with much larger companies than ours, but were unable to meet our needs. She then abruptly told me that I need to go back to using the old FleetCor Card. On March 17, I called back, paid the small balance owed and requested to close the account. Since then, I have received two statements stating a balanced owed on an amount owed that was paid back on March 3.
I spoke with someone in there finance office, earlier this month, who claimed to have corrected the issue and permanently closed the account. I cannot do business with a financial institution with such limited service and pure customer service. It has been four months of headaches and frustrations.

Dealing with Chevron for years, they are the most incredibly STUPID gas card company. They send you a new Universal Card and tell you to shred your current card, unaware that this is a whole different company, I continue to make payments keeping a credit balance since if you are a day late they will turn off your card. Staying a head of the game with them, to find out I am now late I have a $80.00 late fee for being late, but wait a minute I have a credit of $1,652.12 with Chevron, but Universal Card doesn't communicate with there own company. Wow, what a scam, I could go on and on and on with Chevron do not waste your time and effort to ever support this gas company. Go to Shell!

On Friday February 11 @ approximately 4:00 p.m., I stopped at the Terrible Chevron station on 2718 E. Tropicana to purchase gas. Since the pumps had no place to use a credit card I entered the store and told the clerk that I would like to fill up on pump number 10 and left my credit card with her. I returned to the pump and after aprox. 30 to 45 seconds the pump was turned on and I started to pump the gas and proceeded to wash my windshield. When I returned to the nozzle, the pump has stopped at $20.00. When I went inside the Chevron, the clerk processed my credit card and handed me a slip to sign for $30.00.
When I informed her that I only received $20.00 worth of gas and not $30.00, she informed me that I used the wrong pump and that I should have used pump number 9 and that ""Someone else must have pumped my gas"" !!.
I informed her that I had specifically asked for pump number 10, Pump number 9 was already occupied when I got there, I would not sign the slip for something that I did not receive, She contacted her Manager at Chevron by phone who told her to go ahead and charge me the $30.00 anyway. She also phoned the police so that I could "file a police report that someone had stolen my gas". (When the police showed up, they thought that was pretty funny!!) But they did proceed to talk to the clerk who admitted that I had only received the $20.00 worth. They also asked to speak to the Chevron manager who told them that regardless of whose mistake it was "it was their POLICY to charge as they did".
The Chevron clerk was told by her manager to fill in an "incidence report" This report should clearly indicate that "I only received $20.00 worth of gas and not $ 30.00 as they have billed my Visa credit card". I am sure that they have security cameras, and that should clearly indicated that I was parked in such a way as to gas up at pump number 10 and not number 9. This could also be verified by the police officers (unfortunately, I did not get their information).

I took a chance and applied for this 'crappy' credit card. It also turns out, Hamilton, Comanche, and surrounding areas in the West Central Texas area have closed most of or all of their gas stations that bear Chevron and Texaco! To my dismay and severe disappointment, I got charged $25.00 "promotional fee" for their premium card run by GE Money. I'll have to pay the fee's and close this account, I just signed up and activated Sunday, now its a bad mistake. Let's just pray, that the wealthy fat cat executives of these companies will endure the crap they dump on others. Amen? Can I get an AMEN!

My question is this: Yesterday (10-19-10)I put $10.00 of Regular at my regular Chevron Station (was on low, but no light was on at this point). Once finished, I started my car and it jumped (never happened before), but seemed fine so I jumped on the freeway and noticed that the $10.00 did not register on my gas gauge..I thought this was odd as $10.00 normally jumps to at least a little less than mid-way..then the next morning my light registered that my gas was low – so I put another $10.00 just to see if it would register on my gauge and IT DID !!

I purchased gas at this chevron location, 5 miles later my car began misfiring. Before putting the gas in my car (regular unleaded ) my car was running perfectly, then I put a fuel conditioner in the car to correct the problem and remove any contaminants from the gas. The car continued to get worse and my engine was ruined, and now the entire engine has to either be replaced or rebuilt and the cost is going to be around 2 to 4 thousand dollars to fix. It is very sad and unfortunate that we can't even trust the gas that we put in our cars. I don't know about you but i don't have four thousand dollars to pay to correct a bad tank of gas.
I haven't tried to contact Chevron right now, I am just so frustrated at the whole situation. I trusted Chevron for gas and always fill u at their gas stations, but now my engine is messed up and I have no car to drive anywhere just because of filling up with one tank of bad gas on one horrible morning!
Have feedback for Chevron?
Thanks for your feedback!
Sorry. Please try again later!