Barnes & Noble
Barnes & Noble Complaints Continued... (Page 2)
94+ reviews added so far. Upset? Call Barnes & Noble corporate: 1-800-962-6177

Caroline Lineback
from Knoxville, TN
I tried to place a telephone order for three books. I've been a member of Barnes and Noble for nearly two decades and have placed many telephone orders without problems. Today was the worst. I reached someone in Customer Service who didn't know what he was doing, didn't know what he was talking about, could barely speak English, could not understand what I was saying, couldn't find the books I wanted, stumbled and bumbled his words, slow and inept. I finally told him I'd go to the store and order the books. Terrible service that was frustrating and annoying. Hire competent people. One (1) star rating for support.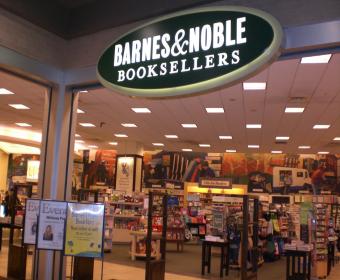 Jennifer
from Charleston, IL
It has been a few years since I have been in a Barnes and Noble book store. I was very disappointed that they no longer have the oversized chairs to sit it. It was always a comfort to take my time looking through different selections while getting to sit comfortably. I will no longer be shopping locally in store. Very put off by it and will no longer go into any of the stores.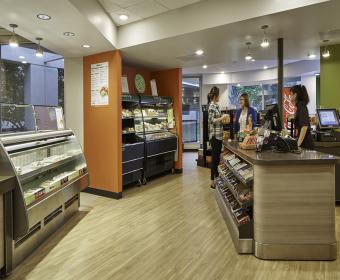 James Burg Sr
from Waukesha, WI
Ordered a book from the B&N website. Got a confirmation the same day and a shipping confirmation the next day but no method of shipping or tracking number. Found out it was from a 3rd party seller but that info was not anyplace on the B&N book description. Credit card to B&N. Email requested from the 5rd party seller for the method of delivery: UPS, FedEx, USPS or courier to USPS. No reply. 2 days after my inquiry 3rd party seller replied, did not answer my question, and gave me a tutorial about how long it could take to deliver to remote places in the U.S. I live 2 hours by car from the advertised and "supposed" 3rd party seller's location. Called B &N Customer service and got a run around.
No one there has a phone number to contact this 3rd party "marketplace" seller they do business with and take orders for on the B & N site. Said they had procedures and it had to be escalated up to the marketing department who could only email the 3rd party seller. Asked to speak to a supervisor who couldn't care less and told me I had to email the 3rd party seller again, ask them to answer the question they ignored about how the book was shipped , and wait another 48 hours for them to reply. B&N couldn't care less about my problem and made it seem that it was my fault for ordering the only book on their entire B &N site I wanted because it was not sold directly by B&N. No idea if the book has really shipped or when it will really be delivered. Made a big mistake ordering from Barnes & Noble which I shall not make again.

Priscilla Hayes
from New York Mills, NY
First, I have alway loved Barnes and Noble, I get my personal books and my law firm's books from there. I have a HP Nook that was purchased at Barnes in Noble, I spent $350 for it and for some reason, it just stopped turning on so after I tried new cords and different outlet sources I decided to call my local Barnes and Noble in New Hartford, NY where it was purchased. Once on the phone, I asked to talk to whoever was in charge of the Nook area in the store, the women said that was her so I attempted to explain my situation but the women began cutting me off at every word. I kept trying to explain simple things such as what kind of Nook it was and what as happening, but I never got a chance.
After getting very irritated I just told the women I would bring it in. Now at the store, I thought someone could actually help me but no that didn't happen. I simply asked an employee to speak with someone about a broken Nook and she cut me right off......same women as on the phone. I thought okay great now what is she going to do. Before I could even say another word she says "I'll just plug it in so go walk around" I thought wow how disrespectful can one person be,but then again she knows more about Nooks so I'll leave her to her job.
I come back 10 minutes later and she throws it on the counter and says" It didn't turn on sorry" that was it. Shocked I replied with yes that is the problem, so what are my options now she answers with "I didn't turn on so there's NOTHING I can do with it". As I'm getting more and more agitated I asked where can I bring it to get fixed then and with a disrespectful attitude she says "Nook is by Barnes and Noble so you can't bring it anywhere, there is nothing you can do with it now". I was furious but wanted to stay calm, I said okay and asked what should I do? She replies with " There's nothing you can do the Nook it JUNK" and began stacking books...... I was so shocked and felt so disrespected I left immediately.
The fact that this employee did not care about what was wrong with the Nook, never asked why I wanted it to be looked at and then blatantly told me the Nook was JUNK and there is NOTHING Barnes and Noble can do about it not once but twice,is the most disrespectful thing I have witnessed from Barnes and Noble. Now I have to search for other alternatives to get my Nook fixed and unless I got some type of apology I intend on buying my personal and law firm's books from another establishment.

Elizabeth Petrides
from Towson, MD
My friends and I went down to Baltimore City for the "Light City Baltimore 2016" event on Saturday, April 2, 2016. At 8:39 pm we were thirsty and found ourselves in Barnes & Noble at 601 E. Pratt Street, Baltimore, MD 21202. We found Starbucks on the 2nd floor of B&N and stood in a long line and ordered 3 orange mango banana smoothies (9780641930515). There were only 2 people working behind the counter and line was getting longer.
When we received our drinks we were very disappointed. Tasted nothing like orange, mango or banana, it was terrible. We would have complained right then and there but the line was very long and the young ladies behind the counter were working hard to keep up. We paid $4.25 x 3 for those drinks and could not drink it. Not sure if it was the product or the way in which it was made.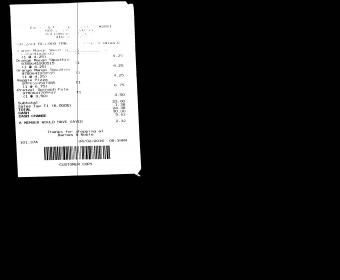 J. Kanter
from New Brunswick, NJ
While using the men's room at the Menlo Park Mall in New Jersey, I discovered that it is used as a changing room, and that women are permitted to be there. I found this highly offensive and against my privacy. I did not appreciate urinating while a women and a small female child were in the same room. I have nothing against a changing room, it should not violate my privacy. Barnes and Noble had better fix this ASAP.

Daniel Wilson
from Bloomington, IL
I am a regular at the Barnes and Noble store in Bloomington, Illinois. I have had a positive experience with the staff and find the store itself in good order with a varied and wide selection of reading materials. My problem is in the cafe. There are two sometimes three individuals who are running a business out of your cafe. They appear to be teaching chess to young children and other older children. They are taking up two and three tables, more often than not, all day long. In addition the children's parents are also taking other tables while they wait.
Literally there is no place to sit. Today there were 3 tables for four that were taken up by these individuals and I observed at least 4 other parties enter the cafe and then leave because no tables are available. I have complained to management but nothing seems to be getting done. Perhaps management is unaware that there is a business being run out of your business on a consistent basis. These individuals are in the cafe two to three times a week.

Tawanna Savage
from Atlanta, GA
I placed an online order for an instant ebook. When I attempted to download it, it would not work. Upon speaking to the technical department for B&N I was told to download Nook app for Windows 8. Seems Windows does not support it anymore and forces the download of the Windows 10. with its operation errors. The wait time for reimbursement was 2 months so I suggested that I be able to pick up a book at one of their stores - they could change the purchase to a gift card for me to do so. After they danced around, I suggested that perhaps they should warn ebook customers (without smart phones and tablets) that they can no longer access ebook purchases without Windows 10. This process took 1 hour of being transferred from one department to another.

Donna McCloy
from Lockport, NY
We are regular Barnes and Noble customers went to the store with my daughter who is a teacher and has the card for 20% discount. Older woman cashed us she said the card expired and couldn't give the discount & my daughter didn't have her teacher ID on her to show proof. I am a member so we got 10%. The lady was very rude and talking to another worker about something there that happen at the store which we didn't need to hear. I can't believe she didn't give the % since it was 10% more than what I had.
We go to this store regular and spent a lot & she seems to be working every time. I know that is not what Barnes & Noble wants handing their customers, very unfriendly and she deals with the public. I was very unhappy how this was handled.

Armando
from Lemon Grove, CA
In Encinitas, CA. Barnes & Noble store at the plaza off El Camino Real rd. This afternoon. March 17, 2016. I was scolded by one of your employees in a condescending way, about reading for too long and basically sitting in a lounge chair for over an hour. "Oh, you're still here?" This was how he came up to me, and made me feel very uncomfortable. I have been going to your Encinitas, CA location for many years. I am a San Diego native. Your store there does not have a minimum time limit for such activity. I was there all year, in 2014, and never had such a reprimand directed at me.
Its the tone of his voice and I believe he singled me out because of my 'scruffy' appearance. I enjoy B&N with my coffee, but I wont be going back anytime soon. I'll make sure to let many people know not to frequent this location as I am a prominent member of this city. Thank you very much for your time and response. I appreciate any advice you may have about this matter.

olav pierson
from Fairfield, CA
I was banned from the store for no reason and I spend ALOT of money there. Barnes and Noble just lost a customer.

I had and order to be picked up at the movie depart in one of your retail stores and the sales associate was very rude. Then I called the customer service number and they said my feedback was noted but did not apologize at all.

James Hunter
from Reading, PA
This afternoon, I was seated in the cafe area of the Barnes and Noble #2050, trying to send an email and enjoy a cappuccino. It was very difficult concentrating and a bit annoying because the girls behind the counter were quite loud, almost boisterous. They seemed more interested in their private time and laughing than taking care of the customers there. I am not one to normally send letters of complaint, but this was extremely annoying not only for me but for the other people trying to concentrate, or just relax. Maybe someone needs to remind these girls that this is more or less a quiet zone where people,and members like myself, come to relax or study, or maybe just read a book in peace.

Jeff maxur
from Clarkston, MI
We went to the Barnes and noble store in West Bloomfield, Mi. I was sorry to see it was closed. We go to that store about every 2 months and knew it was closing but was not sure why as the next closest one is all the way in Rochester. So we made the 30 track over to Rochester. We were looking for the RAP and pine tree reading program books, which the store didn't even know about. The west bloomfield store used to know what was going on with the local schools and had a special section for these programs. I finally found the book lists on line and began searching for the books with one of your associates. You only had 2 out of the 5 for the middle school program and both were ones my son already had read. For the elementary program you only had 2 out of 8 that we looked for. In addition, when we purchased the two, my coupons, as always were expired.

Lisa Fritze
from Lakeville, MN
My daughter purchased a $75 gift card from Barnes and Noble for me for Christmas. I added the card to my BN.com account so that I could order Nook books with it. When I logged on today to make a purchase, I noticed that the default form of payment was my visa rather than my gift card. I checked my orders, but I only had two orders since Christmas which totaled about $16. I opened up the chat window and talked to someone briefly who said they could not help and I would have to call the 800 number.
I called the 800 number provided and was immediately transferred. After I explained what I was calling about to the new person who kept interrupting me, she transferred me again. Once again, I explained why I was calling and provided my email and my mailing address to confirm my identify and I was placed on hold. When she came back on the line she indicated they couldn't help me without the full gift card number which I don't have. I finally was able to tell her that my daughter ordered the gift card online through BN.com so they could look it up that way.
I was transferred again, and again I had to repeat my story. Again I was asked for the gift card number. I told her that I did not have it, but I could provide the order number to purchase the gift card. She said that would work. I gave her the order number. There was a long pause, and then she asked me what kind of gift card it was. I found this confusing since there was only one gift card on the order. I was placed on hold again. After several minutes, she finally came back on the line and said the gift card still had a remaining balance on it (part of it was used with my last order).
I asked why it was deleted from my account and she said she couldn't tell me. She told me she could give me the gift card number and I could add it back to my account. I went back to my computer and entered the gift card number and pin she gave me, and it said invalid card number/pin. I repeated the number back to her and had her confirm the pin and entered again and it was still coming back as invalid. At this point, I had been on the phone with someone for almost 40 minutes. She told me she would have to escalate to the gift card department, and they would mail me a new gift card.
This customer service was terrible. I was cold transferred multiple times and had to start over explaining why I was calling. I was placed on hold multiple times. I was interrupted multiple times. The call ended without resolving the issue. Apparently I should just pay for my order with my own money since they can't figure out what happened to my gift card or how to put it back on my account. What happened to my gift card. I used $3.22 of the $75 on my last order. So clearly it was added to my account. Now it is mysteriously gone, but the gift card still has the correct remaining balance? The solution to the problem is to MAIL me a new gift card.
If this is how Barnes and Noble treats their customers, maybe I need to start buying my books from another online retailer. I definitely do not feel like a valued customer. Maybe I will see if Amazon offers the books I wanted to order.

Rosa Freire
from Columbus, OH
I am writing this complaint letter regarding a concern I have with a policy in one of your stores. (apple valley mall in Rhode Island). I am a member and have been for quite some time as well as my entire family. When there is not a book in the store, the store tells me that they can order it for us and have it delivered free of charge to our home in 3-4 business days as a member. Well the issue is that it never comes in 3-4 days. In fact it takes over week most of the times if not more . I have expressed to the manager at the store that this should not be told to the loyal customers for this is not what in fact ever happens and he says that is the policy and what they are told to say.
I do not find this right. We should be told it will take "x" amount of days and then get it within "x" amount of days. They should pick up a phone and see what store has the book in stock , keeping in mind the closest locations, and then tell us this store has it and to have it sent to us will take "x" amount of days. Not it is ordered and you will get in 3-4 business days for that is never ever the case.
My most recent book I ordered for my son tool 11 days to get to me. My son needed it right away and ended up getting it somewhere else. Granted it was not my most expensive book I ever got , and did not even go through the exchanging of the book once it arrived but the frustration alone of how I was treated at the store when I expressed my concern has me doubting whether I want to go back into that store ever. I spend hundreds of dollars in your store and find this utterly wrong and poor customer service.

Jodi Cheshire
from Maynardville, TN
Basically I bought items for Christmas and did not receive them by Christmas. Even though it stated in big bold red letters that it would be delivered December 24th 2015. I would have never purchased from Barnes and Noble if I would have known that they would do this to loyal customers. This is very unprofessional and completely unacceptable. Barnes and Noble ruined my little boys Christmas because they were incapable of being truthful about the shipping. And this corporation mislead the general public thinking they would receive their items on time. I will never order from Barnes and Noble again, I will only shop Amazon

Phil Reedy
from Davis, CA
I received a book for Christmas which was purchased from a Barnes and Noble in Omaha, NE. I decided to exchange it for another book I found on B&N.com. I used the "pick up in store" option on the website and imagine my surprise to see that the price for store pickup was $39.99 while the online price was $24.84. I called the manager at the local store and was told that stores will not honor prices on their own website!
And if I return the book I can only get store credit even though I have a gift receipt. On top of that, the credit cannot be used at B&N.com. How ludicrous is this! On top of that, if I want to email or chat with a customer service rep I have to create an account first. I can't imagine how this company is still in business. I will certainly NEVER buy a book from them again. The same book is available on Amazon for $20 and free shipping.

Goerge Siler
from Georgetown, TX
While I was checking out, I asked for change of a $20 bill so I could donate to have my purchases gift wrapped by the non profit in the store providing the service. I was told it was their policy not to give change. I expressed my dissatisfaction in strong terms as I wanted to have my purchases gift wrapped. The B&N employee repeated it was store policy not to make change. I left the store very upset.
After brief consideration, I went back into the store and asked for my money back and returned the items. The clerk very politely returned my $40 and I gave her the books. I then asked for the manager to express my dissatisfaction. The manager was called. He arrived apparently unhappy by his attitude that he was called. I explained how unhappy I was that I had been refused the courtesy of change for $20 bill to complete the gift wrapping transaction in the store. He said that it was store policy not to make change except by the manager because customers took advantage of the service.. I said I had driven about 20 miles out of my way to reach the store and would not be returning if he had such little regard for customer service. He said it was my choice. I said yes it was my choice and understand why people used the internet for purchases when given such inconsiderate service in person. He repeated it was my choice. I left very upset with Barnes and Noble.
I fully expected to leave the Barnes and Noble store in Round Rock pleased with my purchases and without the task of wrapping before me. I would also have aided a nonprofit organization. Instead, I left angry and upset without the items I had selected as gifts. I bought the items from Amazon. They were delivered to my home in two days.
I prefer to do business in the old fashioned way with smiling people and good service. I was given no choice or alternatives to it but it is against our policy to make change. It is the warmth and friendliness that makes me want to do business in brick and mortar stores. It is only fair for me to tell you of my unhappy experience at your store. My friends are as mystified as I as why the store has such a customer unfriendly attitude summed up by the statement, " Customers takes advantage of us.

Ezzat Danyal
from Pensacola, FL
I used to have a Barnes and Noble membership for many years and still have a membership . I usually get the membership for me is not to save money but for me I like to encourage this business as I love reading and education for me and all people but what make me very upset is that they start to discriminate in the airport sore in Pensacola Florida. In 11/30/2015 at 01:05pm I went to get a small coffee and I was the first one in the line and the employee who was working at that time and her name is Deana T. She asked me what do you need and got the money from me and left me and start to serve the next one in the line although the coffee was ready behind her and will not take from her a minute to give it to me but she ignored me and served the other costume without saying anything to me. Then I started to be very upset and told he I was first and the coffee is ready behind you and she told me yes but we serve costumers who need foot first then I told her I never hear about this before but she did not give me any attention. I am ready to file a complaint against Barnes and Noble corporate offices now!

Aimee Lewis
from Schenectady, NY
I have bee a Barnes and Noble member for two years I purchased a book cover I Think it was 11.99 that was in Early August. I never opened the package and I had it in he car I finally went there to return it. It was about 6 weeks later as I just don't go to that mall often. I did not want money back I just thought a store credit. The Manager was very un friendly she was like I cant find your member number , this thing is NOT in our system? I was like what do you mean? she said when did you buy it? I told her and she said we have a 14 day return policy. I was like well Its not a book I took home and you have similar on the shelf? She was like this is how it is. I am shocked that she was so rude I said how about 1/2 of the cost? Nope. This was the Pittsfield ma store and it was 26th or 27th

Adam Truesdell
from Winter Springs, FL
There was no one to check me out, so I went to customer service desk and the guy there told me to go to the music department. Guess what? Went there and no one was there and then went back and the guy told me to wait for someone. After 15 min I just left. This is what Amazon is going to eat Barnes and Noble alive.

melody
from Newport News, VA
The Barnes and Noble bookstore in Virginia beach located in lynnhaven mall only has two sections of spainsh books. There is more languages in the United States. Tell me why can't this bookstore have many books for other languages too besides only two sections of spainsh books. It's a popular bookstore but to me this bookstore seems racist. It's not fair to limit different languages on choices on books just because they speak different languages . I think this bookstore should have more Spanish books and more different languages in the store.

This is my 4th nightmare. This time I ordered audio books express delivery last Sunday no delivery yet. I called customer service and among the order was a pre-order so nothing shipped the remainder of the $200 order did not ship. Your customer service rep told me it's because I picked send in as few packages as possible. This is just crazy how do you run a business like this

Barbara Howard
from Ambridge, PA
Here is my story. What actions I take from here depends on the response I receive from this correspondence. I received a NOOK for a Christmas present. It was purchased in December/2012. It has no warranty. Taking my NOOK into the Monroeville location of Barnes and Noble, I was told the hard-drive was bad. I was informed that I could receive a rebate if I turned my old NOOK in and ordered a new one. I had to order it and would receive a new, much improved NOOK, by mail and would then mail back my old NOOK. I gave my credit card information and mailing address to the Barnes and Noble employee, Merchandise Manager, named Tim Indyk, I authorized a withdrawal from my account of $109.99. I was to receive my new NOOK in a few days and I would return my old one, if I did not I would be charged $149.00 or full amount.
The next day Barnes and Noble withdrew $1,060.00 from my account. It indicated that I ordered 9 NOOKS. I went back to the Monroeville Barnes and Noble with my problem. Every time the same employee, Tim Indyk, tried to telephone Corporate for help and their lines were busy. He left messages. No one could help me. I then telephoned my bank at the store, told my story, and had the bank talk to Mr. Indyk. He explained that I was not to have been charged the $1,060.00. My bank, as a courtesy, put $872.00 back into my account, pending investigation.
Barnes and Noble said I ordered 9 NOOKS. I ordered one. I called Corporate myself the next day and found out that the Monroeville store never called Corporate when I left to solve the problem and stop the order. I talked to "Joan" at Corporate. Barnes and Noble, the next day, to confirm that everything was handled. I was on the telephone approximately 1 hour at this time. She did not stop the order. No one did a thing to complete the cycle and help a customer with a problem. It was just dropped the minute I left the store. Why did I waste my time? She stated that she could not reverse the order. NOOKS were shipped! This could have all been avoided if Barnes and Noble really cared.
I received 8 NOOKS at my home yesterday, July 2, 2014 If I had received 9, which I was charged for, I would have keep one, brought the 8 back to the store to return or returned all 9 and purchased a KINDLE. Now I have 8 NOOKS to return. I do not have a replacement for myself. My bank account is short $188.03.
I grew up with attorneys in my family. They taught me to tell my story and spare the emotions. The facts are the facts. However, I am so angry and frustration with Barnes and Noble. I did not go to some discount store or off the wall website. I went to Barnes and Noble! I have been put on hold, transferred, disconnected, placed on hold again, numerous times. If I could put into words the amount of frustration I have endured and still have not resolved the problem, I could properly write a book myself. I need this resolved and I need it resolved now.
I will return the 8 NOOKS. Where is the additional one (9) that I paid for? I want my full refund or an additional NOOK mailed to me. I was informed by "Joan" that my conversation was recorded and would be passed on. "Jonan" offered me a $25.00 gift card. This was a complete insult, which I declined. I want this resolved in "a timely manner". I want this solved ASAP. To tell you I will call the media, Better Business, Consumer Protection, and have no problem picketing, is an immature approach, however, it would make me feel better. My next step is to contact Marty Griffin on CBS Pittsburgh, Investigator Reporter, if I do not have this issue resolved. Please find the attached letter signed by Barnes and Noble. This would be embarrassing for all concerned. Please contact me. Please resolve this matter. The money was taken from my account without my approval. I am not going away.
I feel at this point I should be credited the balance due me of $188.03 and given a NOOK at no cost. I would return my old Nook.

Emerson Flurkey
from Mechanicsburg, PA
I purchased a special book for my son as a Christmas present from B&N's online store only to find out my son never received his book. I contacted them to find what the hell happened. The boy who answered the phone wasn't even competent to look in the online service to help me. I didn't have a purchase # but I found all the pertinent information he couldn't find like i.e.; email address, credit card # updated preferences like the date and time of transaction. The village idiot could do the job better. The boy didn't bother to assist me any further except that he said to call back when I had all the info when he should have done it for me and call me back. Yeah I know.....do as little as you can for your customer you sorry company.

Both my wife and I are in wheelchairs. To get into front door you are at the edge of steps and doors are not handicap friendly. This is a safety issue. Store is very unfriendly to people in wheel chairs shelf are too high especially the magazine shelfs. There is very few friendly places in the store and no one seems to care. How do you get around the ADA laws with you front doors. The entrance is really unsafe and someone will get hurt one day real bad.

saundra meadow
from Winter Park, FL
I am visually impaired as I stated to a nice woman who answered the call her name was Becky. Becky was kind and personable. waited patiently for her to get me a person to help me the wait was long but I did not mind. A person came to the phone a white male who said he was a manager I asked for information about the E-reader , the first lady informed me that you have an E-reader that might help me since I am visually impaired and said she would transfer me to a person. I asked the price from the male who said he was a Manager I explained that I was impaired he gave me a wrong price of 399.00 for a ten inch he proceeded to tell me the store was very chaotic and that he did not have time or help to assist me as I tried to respond he hung the phone up in my face . I called back and got his name and it is Zenen. Does he know about the ADA this complaint will be referred. What kind of business would have a leader a Manager treat customers like this.

Christella Gonzalez
from El Paso, TX
Spoke with a rep. of Barnes and Noble on April 22, about a problem with receiving my order. After much deliberation, the time frame of delivery of 5 months became 7 days. However, I checked my email, and it appears only one of the items I ordered is being shipped. I ordered the Scrabble board game and a book called "Spiritual Aging." The book was not on the shipment list. I paid over $45.00 for my order and expect my complete order. What is the problem with your shipping department? Either send me the book, in a timely manner, or send me a refund. I prefer the refund because I am tired of having to go through so much trouble just to get my two items, ordered over 3 weeks ago, delivered.

The overview is a mess, I guess when it got copied the process scrambled the format so some of the sentences are cut off leaving words separated and it looks like extra spaces between sentences. Needs to be reformatted.

Earlier today I recently attempted to have help support concerning my NookColor. I received this thing as a Christmas present last year and picked it over the Kindle because it allowed magazines to be read as well. Long story short. I've been unable to make digital purchase due to my military address (FPO/APO) however, on their website for all digital purchases it says "Items ship to U.S, APO/FPO and U.S. Protectorate addresses."
but this is not the case. I was told worthless copy & pasted knowledge on the Chat Help which contradicts everything they advertise. They told me that I must have a stateside mailing address and I must have a stateside IP address to download items. Once I began questioning these things I was met with shortness and handed a phone number where I can be told the same thing for a costly amount of money as 1-800 numbers aren't free here.
What good is a mobile device if you can't make purchases abroad? I don't understand. I'm infuriated that I, having no choice in where I'm moved, am being penalized because of a US MILITARY MAILING ADDRESS.
This goes to show that B&N has no idea what they're doing and neither do their customer service support. I just want to be heard and recognized for this ridiculousness. If they don't allow APO/FPO address purchases they shouldn't sell the NOOK outside of the US and only allow for it to be purchased in the US where it can be useful.
I've wasted money on this cheap tablet. If you're military please consider purchasing from Amazon because a NookColor will be worthless to you if you're living abroad without a stateside address and IP address.

My 10 year old daughter has a nook, and uses only gift cards received as gifts to purchase new books (no gift card, no new books). Every time she makes a purchase (usually .99-$1.00), our credit card gets charged one cent. We have been around and around with Barnes and Noble about this. Yes, it is only one cent, but what is the point? First we were told it was a "holding fee" and would be reimbursed (didn't happen), then we were told they credited the gift card one cent on every transaction and charged the credit card to make sure the card is active.
The customer service people were rude, basically the attitude was, it's only a cent and this is how we operate. I have friends who also purchase from B and N with gift cards and have no such problem,and an employee at my local B and N told me SHE uses gift cards and is never charged the insane cent. My wife and I own Kindles and find them easier to work with, no crazy charges. We will never purchase a Nook again, nor will I be shopping at Barnes and Noble retail anymore.

There is a computer glitch affecting Barnes & Noble ebook authors, giving them a "1 star review" even if no actual reviews are posted on B & N's website. I googled my name and was shocked at what I saw, so I wrote the company, and here is their reply: "This is an issue that is affecting many titles on our site. It has been elevated to Internet marketing department who is working with Google to resolve. The issue begins with Google and we are working with them closely to resolve. Thank you, Barnes and Noble". So far, no one has fixed this glitch, which is affecting my sales.

I went into a barnes and nobles in co op city in the bronx, ny and was in search of a means to do some work and much neede reseearch. I finally found an oulet to power up my lap top and then was in search of seating. I asked an employee and he informed me that that wasnt his responsibilty, B&n only provides free wifi and electricity was not their responsibilty and noted that thet to had to pay for elecrticity.. TERRRIBLE. I have never been met with such poor service and a disregard for customers. I left abrubtly and refuse to spend my money at that location ever again and I will tell all my friends and associates…

I've been shopping at the same B&N for years in Salem, NH, and have always been able to apply the %-off discount coupons to magazines. Last week I received a 15% off one item coupon, and when I went to use it to purchase a magazine, the cashier refused to honor the coupon, saying that she was getting a message on her screen that it wasn't eligible for the coupon. I told her it says nowhere on the coupon that you can't use it on a magazine, but she wouldn't budge, just kept saying that her screen said it wasn't eligible. I've tried contacting B&N customer service to get a precise answer as to whether or not magazines are eligible for purchase with their coupons.
After providing information to them back and forth, they replied today that "according to the terms and conditions for this promotion" magazines aren't eligible. What does that mean, exactly? There is NOTHING printed on any of their coupons that says you can't use it to purchase a magazine. Only digital content, such as NOOK books and NOOK magazines aren't eligible. So, what "terms" are they referring to? If they can't give specific wording why you can't use their coupons on printed magazines, then it's misleading the consumer by using general and vague wording, or some "CYA" terminology so they can make up the rules as they see fit.
They should print clearly on their coupons that you cannot use them for magazines and periodicals, otherwise it's implied that they ARE eligible for the coupon discount. Their store cashier wasn't helpful at all, even though she knows me since I go there every weekend. She could have called someone to question it, or simply overrode the message and given me a discount anyway, just in the interest of good customer service. All she would comment is that they use "smart coupons". Apparently that means that no matter what it says on the coupon, the computer screen has the final say. Is that even legal?
I'll never get a membership card with them, either, since you have to buy $250 worth of books and merchandise to make back your $25 fee before you actually realize any discount savings. They don't tell people that when they push the cards, only that you can get discounts on everything when you buy it. It would take me 6 months to make that $25 back, meaning the membership would only be good for 6 months. NOT a real savings, since you're paying THEM for the privilege of getting a discount and only getting it for half the time. Hopefully I can find another bookstore to buy my magazines, since it's clear to me that B&N just isn't what it used to be anymore.

i placed my Barnes and Noble order on 6/19/2011. i had an emergency – so after midnight i cancelled my order. i got no response from til the next day in the evening. they said i couldn't cancel my order because it was already shipped. there is no delivery on sunday. i still had the option to cancel. Barnes and Noble kept lting to me, and swithcing things around in my account. i called my bank – and i disputed it. i also contacted the better business bureau, internet crime center ( ic3 ), and federal trade center. i would've done alot more, but there isn't anymore. i have pro0f of our correspondance – when Barnes and Noble decided to answer me. i would've loved to havd taken them to court!
thank you. it was my first shopping there at Barnes and Noble – and it's definitely my last. they're not the respectable company as people say they are.

In November I ordered a Nook as a gift. The person I bought it for wasn't comfortable using it so I called Barnes and Noble to return it. I got an authorization number and returned it within their time period. Six months later I am still fighting to get my refund. I can't call Barnes and Noble customer service any long because they can't access my files since my case was "escalated to upper management." Upper management is still "reviewing my case". There is no way to contact them except by email, and they are not responding to my questions. They admit I did everything correctly on my end, but offer no reason why the refund is still being held up.
I have kept all my original invoices, return authorization emails from Barnes and Noble, tracking and delivery info from UPS, and documented the countless conversations I have had with Barnes and Noble customer service. It is at a standstill while I keep sending emails asking for some kind of answer. No response, no response.

It amazes me how neasty Barnes and Noble customer service can be. I ordered a book and two days later I receive an email telling me the book is out of stock and shipment delayed. I called customer service and was told no, the book is in stock and is shipping today; expect it Monday. Two hours later I receive an email telling me the order was cancelled. I call Barnes and Noble telephone customer service and the nice lady tells me 'there is a problem with your credit card.' 'How is that, I used it earlier today to purchase gasoline.' 'Well maybe should pay your bill.' 'Excuse me, a thirty dollar charge is all there is against that card–what do you mean?'
'Well I don't know why the card was rejected.' 'Then why tell me to pay my bill?' 'We sent you an email three days ago requesting more information on your card and you didn't respond.' 'I never received an email.' 'Oh, we sent it today.' 'Again I didn't recieve an email; can I speak with a supervisor?' 'It won't do no good; your card is no good.' She hangs up. American Express tells me Barnes and Noble NEVER attempted to charge against it and my account was clean and current.
And I pay a membership fee for this Barnes and Noble?

I purchased a coupon worth $20.00 for $10.00 from Barnes and Nobles. Very excited. The coupon was charged to my credit/debit card $10. around Feb 7th 2011. The Barnes and Noble coupon would expire April 2011. Well after several attempts to retrieve my coupon. I gave up. and of course now the coupon I PAID FOR IS OF NO VALUE. The program kept telling me the coupon expired the day I purchased it. Every time I went to retrieve. I would like a full refund Perhaps, Barnes and Noble should provide customers full value for the aggravation, as it is very hare to find a place for a complaint. I used a debit card/credit card and was charged, quite promptly I must say!
I hope someone can help me. I am retired, 62 , and will start social security soon. $10.00 means alot, with medical bills mounting. pattijo77 [at] verizon.net

I have been trying for 2 months to get Barnes and Noble to credit me for my returned item that I bought from their ebay store. It only allows paypal, and they seem totally inept at doing so. I have spent hours on hold and then they promise my refund, but it never appears. You stay on hold forever with Barnes and Noble, and when they forward you the next person has no idea and you start all over again. Their computer system starts mixing your orders up. It's just a total CF from the start.

I have purchased many books from Barnes Noble at their local store. I had never ordered online, but I received a gift card during the holiday season and figured it would be easier to purchase items on-line and have them delivered to me. Boy was I wrong. The items I purchased were all marked as "in-stock" and "ships withing 24 hours". After three days I called their customer service phone number and after waiting about 20 minutes, was able to speak to someone. She then explained that one of the other three items was NOT IN STOCK and I would not get the others until they could ship them all. I will make it my business to go on as many websites as I can in order to expose this company to the consumer, so that people do not waste their time purchasing items from BARNES NOBLE!

Beware of ordering through Barnes and Noble website. I just ordered a book for my daughter for college. After finding out that the book would not ship or arrive any where near the promised time on the website I asked for a refund. I was told that they couldn't refund my money because the book was coming from a second party vendor and there was no supervisor working at that company who I could talk to. So after 4 phone calls with a hold time of one to one and half hours and three email later I am filing a report with the BBB and encourage those who have these bad experiences to do the same. Its time for companies to back up what they promise the consumer and be help accountable.

I ordered a book from the Barnes and Noble website back in February. When it didn't show up in 10 days i sent an e-mail and was told it was on back order and would arrive mid-august. It's Halloween and still no book! I have sent numerous messages only to be ignored by Barnes and Noble. I don't even want the stupid book anymore i just want my money back, is that too much to ask? It doesn't take a year to ship one lousy book.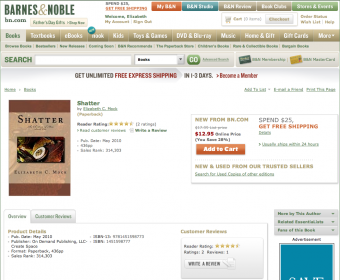 Have feedback for Barnes & Noble?
Thanks for your feedback!
Sorry. Please try again later!