24 Hour Fitness
24 Hour Fitness Complaints Continued... (Page 2)
59+ reviews added so far. Upset? Call 24 Hour Fitness corporate: 1-800-432-6348

Valerie Ponterotto
from Nanuet, NY
I called to cancel my membership in July 2015, I was told to freeze my account so if I decide to reactivate my fee would be the same. I explained I really just want to cancel as I was out of work & couldn't afford membership . They convinced no charges will be mad & I said if I don't reactive in 3 months what happens, I was told it would cancel automatically. So I decided to have my membership frozen thinking I had nothing to loose. To my surprise I saw a debit on my bank statement for $44.95 from 24 Hour fitness.
I called the 24 hour corporate office immediately was told I was sent an email in July explaining if I don't cancel in 6 months I get charged again as a member. I said I never read this email not saying it wasn't sent but I know I never read it probably thought it was an advertisement. After I explained this I was told sorry they can not take this charge off but will cancel now for future. I asked for manager, was on hold for 25minutes, manager gets on says the same as the other agent said I asked for his supervisor and was told there is no one else I can speak to, I asked for another phone number they said there is none.
I am so upset that this charge hasn't been removes especially that my initial call was to cancel back in July and I was manipulated to Freeze my account only to get charged 6 months later.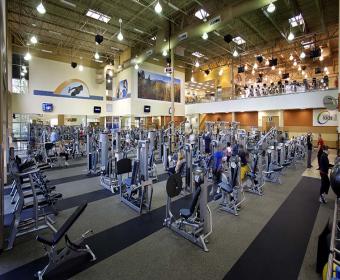 Jane
from San Antonio, TX
I have been a member of 24 Hour Fitness for about 10 years. I have never had any kind of trouble with any of the staff at the numerous locations I have gone to during this time. But I did want to make a complaint about a staff member at the 720 S Colorado Blvd, Glendale, CO (Galleria) location. I have been in that store several times and every time I check in to work out, if he is standing at the front desk, he says something inappropriate to me. I believe his presence at the front desk is menacing and makes other people uncomfortable as well. At this point I have to reconsider my membership due to that location being convenient for me.
I don't know what his name is but he always is wearing a "beret hat". He is blonde, about 6'1", has facial hair, and looks to be in his thirties or early 40s. I don't know what his role is there at the store – I have only ever seen him at the front desk talking to other staff and being a nuisance to club members coming through the front door.

I joined 24 hour last September on a free pass that really wasn't. I felt pressured to sign up for a membership and I did for year and they promised no annual fee and just pay first and last. Today I see an annual fee charge that I remembered not signing up for and was told that it was in the contract, I was told no annual fee and didn't see it on my contract. I call customer service and was not helpful I got frustrated and tried to cancel my membership and was told that would be $200 for early termination.
They ended up freezing my acct till may. I am dissatisfied that even when i told them no annual fee I still got charged and then was told repeatedly that annuals fees are due January of every year, and I told them I didn't see that in the contract

Suzanne
from Santa Barbara, CA
Oh my God! I have never had such a difficult time making a payment. 24 Hours automated system is useless! After about 10 calls I finally got it to work. If the automated person can not understand your member number, it automatically transfers you. I have been on hold for at least 20 to 30 minutes numerous times without any one ever picking up. I literally called about 10 times. The member number has letters in front of the numbers. The computer can't ever understand what you are saying or punching in. I am ready to tear my hair out of my head in frustration. You call the nearest club and they can't do anything about it. They say just come in and do it. You go on line and it is a challenge too. Especially because you are required to push in passwords etc. I wanted to pay someone else's membership for them. Why would I know all their private info?! Totally useless!

Fred Schmidt
from San Bruno, CA
My wife and I are members at the Alemany club and for the last month or so the machines have been breaking down and not being fixed? I've had to bring my Leatherman to make machine adjustments. When I ask what's going on they tell me that they had to fire the mechanic and that they are having trouble finding a new one? for the last week or so the air conditioner is leaking into a 55 gallon trash can which is half full, and isn't that where legionaries disease comes from?

Joann Hansen
from Riverside, CA
I have asked for the 24 hour gym in Fontana, CA if they could put larger signs up indicating that members should shower before entering the pools. They say that the sign that has 10 sentences of rules is sufficient. I do not think it is. I see many people enter the pool after being in the sauna and steam rooms.

Annapolis MD. Typically 40% of the treadmills don't work properly. Usually no sound and/or screen. Management unresponsive to member complaints. I was told the machines are serviced ONLY ONCE A WEEK!! Very poor service. Place is dirty. A haven for germs . They should have a posted member complaint/ suggestion board where management responds.

the stuff members are so rude specially two works name is jhonson and other was white lady name is tracy they two don't know how to make customers happy I just went to the gym and they don't let me in they were keep saying that you didn't make the fee your fee is due even I was showing them proof my email address and other things like membership els. very very rude two people out there please review and take action thanks.. other ways I will quite this gym I went to the gym after 7 blocks they don't care they said really don't know how to handle the situation bad customer service also.
Have feedback for 24 Hour Fitness?
Thanks for your feedback!
Sorry. Please try again later!