Red Roof Inn
Red Roof Inn Complaints Continued... (Page 1)
58+ reviews added so far. Upset? Call Red Roof Inn corporate: 1-800-733-7663
James Price
from Riverview, FL
Is the Red Roof Inn corporate office so use to complaints that you just continue to except them and don't do anything about it? I just check out of the St. Pete Clearwater airport property. Trying to sleep with kids running in the corridors and dogs barking until late was totally inexcusable. Your front desk people should take classes in guest relations. Your front desk person Scott personality truly sucks he shouldn't be at your desk, and you have the nerve to have an envelope in the room asking to tip your housekeepers, what are you doing to correct all of these issues. We are your customers and we have choices to stay with your competitors, that's what I will do in the further.
I was in Trevose PA doing training the first of May till 12th went back to Alabama and on the 19th charged me for a week I wasn't there they fixed it the following week on May 25 pulled another week out of my bank account, today is the 28th still not fixed no manager there. Plus if I haven't been there how are they charging my card this is fraud from Red Roof. Shouldn't corporate know about these problems?
felicia boone
from Phoenix, AZ
I would like to express my frustration with your current promotion "Spring stay 2 get one free". This promotion is false and contradiction. Its say if I stay 2 nights I get one free well, I stayed 2 nights and now I'm being told I have to stay another night separate to receive my points/free stay so that means I have to stay 3 nights to get one free. This is clearly false advertisement on your website. As a redicard member I find this very disturbing that your promotions are under false pretenses. As a redicard member that has stayed at the Red Roof Inn on several occasions, I will be sure to look elsewhere before booking with Red Roof for my next stay.
Carolyn Gamble
from Indianapolis, IN
My husband and I had reservations for April 8 to April 10 for our anniversary. We were given room 232 at the Red Roof Inn. I have asthma and the room was very dusty. My husband had to dust and the bathroom was just like being outdoors, the bathtub facet was stripped you could hardly take a shower.
We got up Saturday morning April 9 went out to breakfast got back at 10am and the room wasn't clean. We left again came back at 1100am and we called the desk and ask when would they come to clean the room. They said at 1200pm, so we left again got back at 100 pm the room still wasn't cleaned. My husband went to the office and talked to the manager, she said go back to the room and wait until they come to clean the room and my husband told him we had left 3 times.
We need another room, we are not waiting any longer to clean up this room. We did not get into another room until 215 pm, but that room was 225 and it was also very dusty. My husband had to dust, this is very unacceptable conditions it cost us 154.54. I would like to compensated and given a full refund by Red Room Headquarters. If not I will be contacted my attorney and the BBB.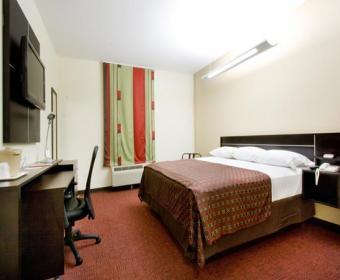 Shawn Massey
from Martins Ferry, OH
I booked a room at the Red Roof Inn, San Antonio near SeaWorld Northwest. The reservation was for 4 nights, 2 rooms. The total price on my credit card was $485.59 and I was charged on Debit Card before I had to cancel. Now it seems they won't refund the safe charge that we never used. If I do not get a refund soon I will be submitting my complaint to the Red Roof Inn corporate offices.
James Yager
from Yuma, AZ
On July 5, 2015 I took my children to the Red Roof Inn at 5215 W Willetta St, Phoenix, AZ 85043. We were getting ready for bed when my young daughter turned down the bed and found yellow stains on the sheets besides the ones that were on the comforter. I complained to the office and they asked if I wanted a new room. I agreed to move to a different room. The next room was a wreck. This one had light fixtures missing the protective covers in the bathroom.
The lights were over the sink. This is totally unsafe. The walls had black marks on them and the bed again had black stains and marks on the comforter and on the sheets. I went back to the office again. We were fed up with the rooms and the service. I decided to try a different motel. The office at the Red Roof would not refund my money. I ended up moving my family late at night to another motel and now I had to pay for 2 rooms! I want a refund for all the the trouble, wasted time, and danger to my children.
I had to travel to Texas city last month on a business deal and was looking for a hotel accommodation for around a week. Since the rates would be very high, I decided to check out good deals on Red Roof Inn. To my surprise, I found lots of hotels with their rates and was able to pick the right choice for my stay. That's not all, on the website they mention if there are any packages associated with it along with what's nearby the hotel that makes it convenient for people like me. Amenities and Details are mentioned which is an additional factor. Red Roof Inn has done a good job in giving complete information to users and easy to check the hotel before actually booking it. Highly recommended site.
Have feedback for Red Roof Inn?
Thanks for your feedback!
Sorry. Please try again later!