PeopleReady
PeopleReady Complaints Continued... (Page 2)
133+ reviews added so far. Upset? Call PeopleReady corporate: 877-733-0430

Carol Strucks
from Rocky Hill, CT
My complaint is from the Weston Street office in Hartford CT.
Last JULY. 21.2018 I was employed by the Hartford Branch and was assigned a position at the Amazon's Building 2 in Windsor CT.
MY IMMEDIATE SUPERVISOR FROM PEOPLE READY WAS A WOMAN BY THE NAME OF MEGAN(unclear of we last name )
During that time of EMPLOYMENT at Amazon's I had had an accident occur to my Right Groin muscle.
The National Property Solutions Manager has written up the incident and proceed to advice me the necessary paperwork would be forward to People Ready and that Megan would make sure that it would go through the necessary channels and be filed appropriately in my files.
I have since then have asked Megan and The Hartford office to release a copy of the reports to me and. The Enfield public Defenders Office.
Megan had originally mentioned to me that the PAPERWORK WAS IN THE BACKROOM AND SHE REFUSED TO LOOK FOR IT.
SHE HAS NOT SHOWN ANY EFFORTS WHATSOEVER TO HELP ME IN THUS MATTER.
TO DATE ...I AM STILL IN NEED OF THIS PAPERWORK.
SHE WILL NOT COMPLY WITH THE ENFIELD. COURT SYSTEM. HAS SHOWN NO PROFESSIONAL ISM AT ALL.SHE HAS SHOWN SHE IS TOO LAZY TO LOOK FOR THE PAPERWORK THAT I NEED.
I AM JUST ASKING FOR A COPY OF THIS AND THE ENFIELD COURT WILL BE SATISFIED.
MY CONTACT INFORMATION: Carol L.Strucks
77 Wilson Ave 2nd floor
Windsor Connecticut. 06095
Phone number s(860)994-2290
I would very much appreciate Someone from your company to address this Issue as it is. Extremely important that I receive this Report
Thank you
Carol L. Strucks

Taquina Long
from Murfreesboro, TN
I was put in as inactive for miscommunication on my part and on this branch part for approving to leave early from shifts with walmart with this branch. They told me how to become active again is to submit to a job coming into the office and I did that. July 23- AUG 3.
I submitted to July 23rd-Aug 3, 2018. Mon-Thursday 3-11pm or finish time and Friday at 4pm.
-------------------------------------------------------------------------------------------------
I called the office on Monday to make sure i could get into job stack and i was somewhat but not able to see jobs still. So they wanted me to sign up for the job 3rd shift- i had to check out availability and called back and the 3rd shift was taken. So Karen said that the 2nd shift was available. I Check availability for children for entire week. Found someone to help for the entire week and submitted the request by phone to ms Karen that i could accept second shift for the entire week.
I went in every day. The manager and the ones on the shift said that I did a great job. I turned in each slip as told. Karen called me today. I missed the call and called her back and she said that she took my shift 3-11 and gave to some other guy because they were waiting on the background. She said ... that I can take the 3rd shift. I stated that was not fair and i cannot because I had taken care of a sitter for the entire week. she said so u cannot do third. I said I can let her know by tomorrow. I asked her how can she just take my shift... she said you were a replacement. I said you did not tell me that. That's not my fault. I was prepared.
But the fact is that if I committed to a shift and the other person's background is not back in time is not my fault its the company's problem. I told her okay and hung up. But something was not right so I called back to speak to someone else- drew answered and took my home number 615-203-3541 or cell 615-580-4961 said he would get GM Robert to call me back.
I went back to job stack and now it's stating that I basically called off a shift and i did not not. This IS NOT FAIR. i did not do this they did. I called back to try to speak to Mr. Robert - GM- he is not in still. I would much rather keep my shift since o had already paid and worked out my sitter arrangements. So now once again my character is at state and it's not my fault.
Is this legal?
Can I finish out my week that i submitted to and the time I submitted to. She never told me I was
I do have the slips I turned in to the office.

Nicki Dornemann
from Fulton, MO
I was aaked to pick up some people at a job o sat arpund for over 45 mins and no one showed up i called and called and they never ended up paying me for going and i dont think thay was right i would like the payment for that job. Also i had a job for Freeport and had a repeat ticket and the people at people ready wouldnt send me back to that job and i am very upset about that

James dickens
from El Paso, TX
Peoply ready location easter ave. Baltimore md. Has not been paying me my money. Dident pay me overtime when i worked it also. I have proof of hours worked and office staff and reginal manager has been made aware of this issue. They all said they would look into it even tho i showed them copies of hours sheet and the employer has made them aware. People ready is stealing my money and i will not rest until i get the results im looking for. My name is james dickens. Cell number is 410 698 3318

Daryl Roberts
from Fayetteville, NC
Well i worked overnight shift for labrees bakery in oldtown maine...my fiance and i both walked off our shift cuz of the way we were being treated...my complaints not even with the bakery its the people ready staff in Bangor Maine(8031)do to the fact that i left they r withholding my pay and telling me that it has to b handled monday...this is not the only time they have withheld my pay...this is what they do when they are mad at their enployees...this harrassment needs to stop or otherwise i will have to contact a lawyer...this is my notification to u before i have to take legal actions...like i said everyone else on that ticket has been paid ...thank u so kindly for addressing this situation

Daniel Ramirez
from Bradenton, FL
I was an employee and they will not pay me for the time that I worked. I am a minority and they paid the people who car pooled with me who were white. This is very disturbing and I worked very hard for them and showed up every day. I am calling wage an hour on them as well as getting an a minority attorney I have tried to be paitent

Brian Taylor
from El Paso, TX
I work for the Madison Tennessee peopleready office. me and a few other guys were sent on a job a few days ago by the branch manager we were not dispatched on jobstack not were we giving a work ticket. They did not habe a work order for the job & upon completing the job we were told they have to get approval from the customers corporate office to pay us. Which I think is quite ridiculous being that we worked.

Christian
from Pennsauken, NJ
Since I've become an "associate", I have found that if I do not call for at least a week consistently the hours I work will not be verified or followed up on. Please keep in mind this is with utilization of the "JobStack" app and using the arrived button once on site. It then takes another week of calling to get paid for what's considered "same day" jobs, shameful. There must be someone (besides the people working at the branches) to contact to expedite this process.

I was contacted by Erika a People Ready Coordinator on Friday Evening prior to a job ticket. She said that she was reaching out to me to let me know that there was an update on a job ticket that was suppose to start at CAD in Columbia City, Indiana. She said that I could not go there because I couldn't work both jobs. A first shift job that I am currently on assignment at Blackhawk Apartments. I was unable to make it there Friday Morning due to a family emergency. I did explain this to her and she told me that I could not work both jobs at the same time due to conflict on interest. I was trying to explain to her that I could do both job and that I had already been doing both and that I could handle it. She (Erika) said to me " I need you to be quiet and it's my turn to talk and for you to listen to me". I was totally caught off guard with the way that she talked to me. This is not the first time that she has been rude to me when calling to ask a question or to inquire about a job or a job ticket. In my honest opinion this is very unprofessional has well as disrespectful. I felt has if though I was being talked to like a child and not an adult or employer to employee. I feel like if I was to try to address this with the office that it would put my chances of continued employment at risk. I feel that if I'm not or anyone else allowed to work multiple work tickets that should be explained before allowing an employee to take a second assignment with their current one. Thank you for your time and I sincerely hope that this is investigated and looked into.

John homer
from Washington, DC
I was told on Fri to show up Mon for a job that ended up getting cancelled but was not notified I showed up Mon and was told by the office because they called people we would not get paid for that even though 3 of us were never notified, I've been yelled at lied to and cheated out of money by them I've also been added to tickets for work and never was notified we're told they have nothing to do with our pay yet three different times they close the office early and all three time we had to wait til the following day to be paid kinda seems as though they have something to do with it also I've been told they didn't get messages that I now know isn't true I called and left a message with them upon getting a new phone and let them know my new number then was told they never received that message yet it's the only way they could've called since they didn't have that new number it's only a small example of a long list of issues the people ready I work for are horrible and treat their people with very little regard to respect now I will say they've recently hired a new lady who seems very nice we'll see and one of the staff Amanda though we've bumped heads once is normally extremely helpful however the other office lady is not only rude to us but also to the clients as I've been told on 2 different job sites of this happening

Kevin Nichols
from Niles, MI
Look I have worked for the elkhart in branch for years and they sent me to Niles MI on Sunday night and told me if they didn't need me they would give me show up pay and now refuse to pay me. Even though I have the text I was wondering if you can help me with this or should I go somewhere else for the complaint

I just moved back down here from Georgia after my wife passed away and figured I need to get some money coming in while I am looking for steady work. I stopped into People Ready in Largo, FL and this jerk of an employer approached me like I am some piece of garbage. I am a hard working man with no criminal record and just dealt with the passing of my wife and he has the nerve to tell me to "shut up and sit down" when I asked if he had any work! I told him not to talk to me that way! He proceeded to talk down to me and be little me and everyone else who was in the lobby trying to get work. I have never in my life been talked to the way he spoke to me when I am trying to find work! Why is this allowed in that company? Then when I told him my experience he told me he will only pay $8.35 an hour for me to do a roofing job 12-14 hours a day. I told him I can't do it for $8.35 and hour working on a roof and I have my own tools and transportation. He told me if you don't like then "get the hell out of here" or once again "shut up and sit down"! I tried to be nice and kill him with kindness like my mother taught me as a kid. I value my morals and show respect to everyone regardless of the situation but today he completely brought the ugly out of me! I am a grown man and will not be disrespected and be little'd like this young man in the front office of People Ready! If this boys momma taught him any manners he could have asked me to have a seat please and he would be with me in a minute. Instead, he tells me to "shut up and sit down"! You don't tell anyone to "shut up" when you are begging to hire people to do these jobs for you! You most certainly don't disrespect and be little them either! All I have to say is he is gonna ruin a business for the rich man who owns it with his nasty attitude! He needs to be fired and sit in our shoes looking for a job and have someone tell him to "shut up and sit down"! I turned around and walked out as I will not be talked to the way he spoke'd to me when I am trying to get work to live.

Paul Mitchell
from Palm Desert, CA
Palm Desert location discriminating against me because of injury while at work and their higher than thou attitudes are not conducive to labor relations. Bet they talk in a different tone to employers

Monique Rollins
from Chicago, IL
I have been with People Ready for almost a year. Some of the branch managers are very domineering, boisterous, and degrading. Some are lacking in their managerial and interpersonal skills. I had a very emotional day yesterday, because I thought I had lost my wallet, the way I was treated was horrible. The Desplaines office blocked me from using the entire Jobstack App instead of not dispatching me through their office. The particular infraction doesn't justify the punishment. I live in boarding house, I pay daily if I can't work, I am on the street. I left Jersey trying to escape an abusive relationship. I have no family and People Ready is so helpful to me. People have stolen merchandise, threatened employees etc on some sites and where not treated with such rudeness. I can be reached at 773 396 6232

Brittney Dixon
from Knoxville, TN
I am a subcontractor for people ready I work for the company today recently on the 12th of July of 2018 I was sent out to a job this batch with the ticket I was not paid due to the fact that either through miscommunication that Jeremy the supervisor over there had a mix-up of some kind I asked for a copy of the policy and procedures he told me that y'all do not give it out and that he did not have to pay me because he offered me another job no he did not offer me a job for the day but he offered me the same job for the next day they have already been messed up this is not the first time I have had an issue with this company when I request a job on my mobile app I am cancelled in people other people are put on it even though I had requested job as soon as it became available I feel I need to call the labor board or the Better Business Bureau to report this

Anthony jones
from Orlando, FL
People ready Warrington Florida Pensacola Florida Tammy like to file a complaint on her abusive verbal mouth I have experienced her telling people me also to shut up wait before you get paid I experience emailing that ticket at 3:15 not getting paid until 3 hours later which is ridiculous I would like something to be done about this poor peopleready employer Tammy, she works in the office every evening on payout and it takes 3 to 4 hours to get paid thank you

Marcus Roberts
from Port Richey, FL
Where I start first job stack they dispatch who they want remove you from tickets TED in the largo florida branch had no type of respect he talks to you like garbage says fuck you get out the office I'm your employer I do what I want Who hires people like this and when does a employer treat anyone that works for them and makes them money like shit I'm confused this isn't how you get people to work for you You guys need to train your staff better.

Markell Johnson
from Dallas, TX
Complaint against Br-1193 for unprofessional conduct, language that was offensive beligerant and rude.
Failure To:
Give the name address and employer information on the initial phone call of confirmations either verbally or through the Text message systems as other branches do after receiving text or verbal confirmation just in case.
Failure to respond to recorded message request for call back or email receipt of the Work ticket, after I was informed by the Dallas Branch of non Receipt of a Work Ticket showing a job assignment for me from Br 1193.
Refused to acknowledge the verication of non receipt of Transferred Work Ticket information. As expressed by BR-Dallas representative Molly who stated to Br-1193 by phone and by email that they had never received a work ticket for the assignment in question..
If you look at my work performance from the Plano, Mesquite as well as the Branch that I signed up with initially
You will see that my acceptance and attendance was 100%, and that I had a high request for return due to my punctuality and work ethic.
If I have no Work Ticket or information for the Assignment in question how is Suspension for NCNS justifiable.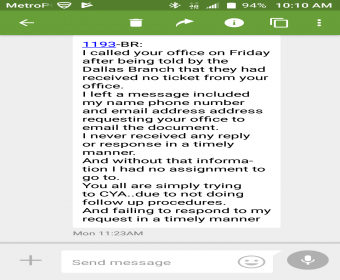 Karl Mueller
from Oshawa, ON
i have a problem with one of the ladies that works for pplready in oshawa. my understanding is work today< pay today. 2 of us have been told we are not alowd to cash out daily?but the other ppl on our job site are ok do do so. i have worked for pplready for many yrs .... this person takes it upon herself to set her own rules for certon ppl. i work out of the oshawa ontario branch. i have been loyal,faithful, trustworthy, honest, i want my money every day, not when she decides!!!!!!!!what is your 1 800 compliant#???????? this is bull....... and shes not the manager and if thats the case you should change it to work today get paid when the bitch wants to pay you!!!!!

Dominique
from Phoenix, AZ
Sylvia at the Tempe Arizona branch wrongfully suspended me for calling off and doing everything for the call off properly. But since she couldn't find a replacement it's my fault and out of spite she tries suspending me. Really don't know who hires who but her attitude and how she think she runs the business is out of line and she needs to be spoken to by a bigger boss to let her know her lane. Because taking money out of people pockets because she feels like it is not how the business is set up.

James M Quigley 3
from Youngstown, OH
My name is James M Quigley 3 and am writing this email because I worked on Tuesday 8 2018 for eight hours and I worked on Wednesday 9 2018 for five hours and I still have not received my money for working and I was told it was because of paperwork that I have filled out three times now at the people ready office in Youngstown Ohio and it was supposed to be sent to the green branch office and I don't know what is going on but between the green branch office and payroll office they keep messing up and I would like to have this check out please cause I have bills to pay thank you

Douglas Brown
from Raleigh, NC
I was dispatched do do a job and upon arriving I was told I'll be doing something else in which I have no knowledge of. I was supposed to unload a truck but when I got there I was told I'll be mixing concrete pouring it on holes. I have no knowledge in concrete. When I asked Steve how this can be rectified he said it won't because I walked off the job. But before leaving the job I called the office 5 times even leaving a voicemail informing them of what was taking place. I d5I've 48 miles roundtrip to be ignored when I got back to the office. I ask Steve to let me speak with his boss he told me there's no one there over him. Steve is one rude inconsiderate #$@÷%R!!

Erika Armstrong
from San Antonio, TX
I had chose a job on the job stack app and the manager Joe said he had called me the day before to confirm but he didn't so I went to a drug rehab and I want the termination fixed. I have a disability and I wss off my meds when I chose the job but didn't know what the job was about.

Sean Cochran
from Seattle, WA
There are to many drug addicts and felons at the Labor Ready Seatle location. People with warrants are sent out to work as well as intoxicated on alcohol or drugs. I don't feel safe working with these people and am going to report to l&I and the state of Washington on all the stuff I've witnessed. It's nothing but a place for addicts and criminals to work. You need to do more background checks more often. Some people have active warrants wardens and should not be working or on the streets. You are responsible for the employee you send out.

Cathy Christy
from Louisville, CO
I worked for a company today that has been paying 9.50 a hour and today they decided to pay me only 8.05 a hour. If that office don't fix in the morning I will be going to better business bureau. End of story. I am tired of getting cheated just like 1207 can pay their employees 9.00 a hour to drive Wednesday at ADESA but the other branches can't. That's not fair at all to the rest of us.

Bernard Winfrey
from Indianapolis, IN
I have not been paid for Sunday at the convention center in Indianapolis I worked as a cook for 7 hours. The manager at the South office refuses to do anything to make sure that we get paid she claims the ticket was never sent and when I got her in the shelf on the phone who's responsible for sending out the work tickets. He told her he sent it now whether they resent it or not they have not and we still have not been paid when I went down there to talk to the shelf. I called them on the phone and look at Labor Ready and let them talk they lied and told him that I want to login about my pay. All I want is my pay 7 hours times $9.50 and to cook.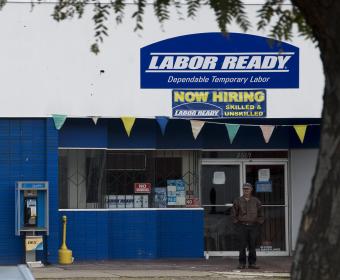 Norlan Nalagon
from Bellevue, WA
My complaint is about the corporate payroll services. I don't understand? Why, some times the workers say it can take up to midnight for me to get paid but when I went back several times trying to figure out why I haven't been paid yet. Then they go on their computer do some things and instantly I get my pay stub emailed to me. Also, their was another gentleman that have not been paid for 2 days and basically was to nice to argue with Labor Ready about it and there are a lot more others with similar situation's. To my observation there is some fraudulent activities going on with the whole payroll services.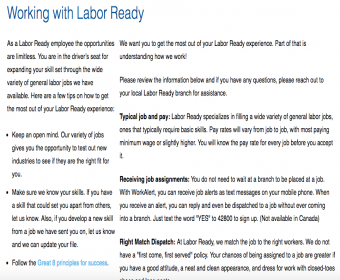 Donald E Brantman
from Philadelphia, PA
I went out on a job today and brought back a signed ticket. Well Labor Ready billing department, hey sent it into pay roll department this morning at 7:45a.m. I'm still waiting too get paid. I did ask if the ticket was sent and was told yes. I'm very upset that they now use a payroll department instead of paying out through the branch. Now I'm going to be charge a late fee for my rent and that's not fair. Where is the customer service?

wilmon saunders
from Albuquerque, NM
Terrible and horrible treatment by a customer service rep at Labor Ready and an assistant manager. Bad treatment towards employees. The hollywood fl office is operated by henry the manager and virginia the assistant manager. Nick the customer service rep has a great personality but rochelle an assistant manager is a horrible person.
On 08-23-2016 virginia calls me up to the counter for payout. I looked at my receipt an saw I was paid incorrectly. As I explain to her the problem she screams at me you always have a problem. But my ticket clearly says folklift operator which entitle me to a higher rate of pay. So she realized her mistake then says I did not pay you. All this time she was screaming like an insane person.

Robert Asendorf
from Cathedral City, CA
I am owed from August 2013 for approx. 9-12 days of 11 hours a day plus at least one weekend prevailing wages through Labor Ready. I was paid minimum wage. I recently learned it was a P. W. Wage job as another temp agency is already receiving back pay for. How can I elevate this complaint further?

harry childs
from Lafayette, LA
Would just like to tell the folks at the labor ready at the Lafayette Louisiana office that people like to sue people - if possible tell them to call me for more information.

Torrall Jones
from Hollywood, FL
Good morning I Terrell jones is writing to you guys about the Hialeah branch down here in Miami Florida. I Terrell jones feels that the Hialeah branch should be under employer investigation, the employers here in this office does not care if you even get the application done I've started my application on Monday in did not finish yet due to the fact when they send the link to do the survey the link tells me that my test is already on file there is no need to do it again. So when I call the office like the email tell you to do they just brush me away all week by saying we don't have nothing to do with that try in wait a while to see if it goes through I waited in tried Monday in Tuesday in been calling all week the link still haven't work now I've work for the Hialeah office on in off for years now I never been through this with these staffs they always have been helpful to people at this branch now I go back its a whole new staff in they are ruled in 0 concerned about if you work or not.
Now I'm getting emails saying seems like I don't want to work for labor ready because they aren't hear from me in three days but I've been calling all week no help no word to come in and do it at the office just brush me off that is unfair in poor employers statics I've graduated in classes for human resource so I no that is poor in they just don't care, by me being a labor for ten years now I no I should have got me a work ticket by now they doesn't care in then you can not go in to the office no more without in appointment so I cant win over the phone this is what they saying when I called I cant help you with that just do the whole application over in I've done it 3 times this week like when they going to help like what are they getting paid for I mean we can called in you guys listen on 3 way to hear them for your self so ruled in brush you off in hang up that's not cool at all.
I haven't got anybody to say hey let me try to see what's going on just brush me off in hang up I'm pretty sure you guys don't want to be paying these people for nothing please look into this matter because I need work thank you for your concerns. We can call together in you guys can hear these people reactions for yourself they don't think people knows how to file complaints so please surprise them because true blue is a god company its just the employers you guys have in there they don't care in this is not fair to whom this may concern have a blissful day I hope to hear from you guy soon.

I started my work from Labor Ready. Initially the pay was low but later on as I went and go few more offers the pay was higher. I called them couple of times to look in for placements that can pay me better after my education was done. As soon as I finished my last semester, they sent me offers and I was paid quite well. One can get connected to them even online and they have some kind of jobs available for students, summer jobs, military and weekend too. I have referred my friends to them and some of them have taken up the job offers too. Thanks Labor Ready for empowering people like me.

Mary Ganapathithevar
from Atlanta, GA
Yes in January 21st I took a job for Nova for five days when I call to pick up my slips the girl in the office said the job was not for me she was supposed to have took the ticket off my jobstack but she didn't so it showed up that I was a no-show and didn't call in for 5 days was throwed off of jobstack I am still off of jobstack 3 months later making complaints with people ready and jobstack that cannot get it together for some reason this is the way I make my living that for some reason everybody keeps going around the bush and saying you need to do this you need to do that you need to do this well I didn't get photos off of jobstack y'alls people was supposed to done that and on top of it I find out that people ready fires everybody that sat for the Fuller industry that works for people ready I don't understand why somebody can't just push the damn button and get it done so if someone would please call me and get this settled it would be appreciated and not wait till next year please at this time my number is 404 587 7704.

I was just wanting to put a complaint on the people ready in san Angelo and let u all know that the workers here are very rude and unfair to workers.well I was wanting to know if u can't make it to a job u get fired and I was needing to know the rules and when are suppose to get paid because that is another thing that i work hours and its not what I worked and just alot of things

My Complaint is not on my wrongfully termination, but more on your Corporations "Code of Business Conduct & Ethics",among employees. The staff at that location are very disrespectful to threir temps, specailly to the Elderly. Any compliant about our pay is inresponded with an attitude. "Same Day PaY" or now it's "within 24 hours". Regardless how it's worded. A man works a day, is paid for a days work. This Office is notorious for not transferring funds onto a workers account. You would actually have to beg to get paid for your days work there. Sometimes it my take a few days to receive your money, which is not "Same Day or 24 Hours". I had went three weeks calling and driving down to that office about my money not being received in time, because if you don't inquire soon enough you will not be paid that day for sure. I personally was so frustrated the day I was terminated I KICKED THE DOOR. I called prior to come up there and was told I have my funds in 10 minutes. 30 minutes went by, no funds. I called back, Sent to voice mail. Went I arrived to the Office she was still in there but the doors were lock. She scream out at me ":Were Closed!" I spoke through the door and asked could she please transfer my funds I waiting 30 minutes and you said 10 minutes. Became loud and said I will not be getting paid today. These action from the staff there at that Office and of Their Manager, Jeremy are unethical. Copies of phone logs are available of my numerous calls. My mentioning of no funds being transferred constantly to Jeremy went unnoticed. They treat temp workers with no respect. I will be posting my experience why no one should temp out of the People Ready Craig office Las Vegas, NV

The Columbus in office refuses to answer their phone. Won't offer a job to a employee after the employee completed a job. Office manager doesn't talk to anyone and the staff yells at people. The staff makes promises they don't keep

Darrell Sample
from Woodbridge, VA
People ready in manassas va is run by people who literally try to force you to work a set schedule as a day laborer and if you dont accept jobs you will be blacklisted.

Michael Sean Featherstone
from Bedminster, NJ
I'm complaining about when I work and afterwards it taking 24 to 48 hours to pay me! Why does it take so long to get paid? This is not a full time job and I work paycheck to paycheck and I'm broke!

Robert batton
from Houston, TX
My wife worked a job for the jackson keller office in san antonio she was day labor they promised to pay her the same day then changed it to next day the lady name there is Jessica here it is at 815 pm and still no pay we are at the bus terminal out of gas stuck in a uhaul van that was supposed to be back this morning now we have no way to return it and can't move it cos we are out of gas if you don't want to do your job you should quit this is not the first time Jessica has done this what you only get paid if she likes you what's up with that maybe she can bail me out when I go to jail for a stolen uhaul just saying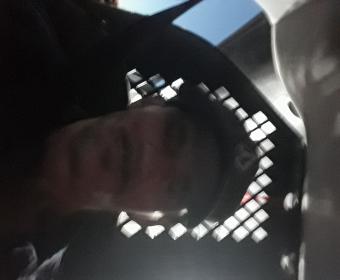 Your method of pay out is ridiculous. I have to sit and wait over 2 hours before I can get paid on a Friday when rent is do then when I call to ask what's going on no one knows anything. I like working for this company but this pay out has to be fixed. I mean people have bills just like the rest of the world I'm highly upset right now because it's like this everytime.

I'm an employee of PeopleReady in Winston Salem, NC. I have been sent on jobs, only to arrive and be told that I am not needed on the particular job site. This has happened other times and it's not good when someone is ready and able to work. Today several of us showed up at Family Dollar for a remodel and the manager knew NOTHING about us coming. If the people in the office don't know what they are doing, then there needs to be changes made! It's terrible how the office staff, in Winston Salem, is very disorganized and not capable of doing their job correctly.

Shawntray N Sykes
from Jacksonville, FL
WHY IS IT THAT WE CAN'T GET PAID NO MATTER WHAT...OTHERS HAVE NO GAS, CAN'T EAT ALL DAY BECAUSE NO PAY THIS IS BEYOND RIDICULOUS..WE SHOULD GET PAID REGARDLESS A TIME FRAME I'M VERY DISAPPOINTED THIS CONTINUES TO HAPPEN AN IT'S CAUSING JOB ISSUES AS WELL. WHEN WILL IT STOP? EVERY ONE SITTING IN THE SEATS ARE GETTING THEIR MONEY NO PROBLEM EXCEPT THOSE WHO'S ARE WILLING TO WORK AN THEN NOT GET PAID I'M VERY ANGRY AT THIS POINT AN UNSATISFIED WITH THE BUSINESSES

Deshannon Dotson
from Charlotte, NC
I was calling about my pay at the Pearl location and mynphine droped service next thing I know after years of working here I was taken off the tex and app. Not fair at all I worked Friday and today is Monday all I wanted was my money

Haven't been paid for my last 2 days of work or given the gas money I was promised at the end of my shift every day being told I will get paid on that day its always a problem after I worked my shift when it's time to b paid

Joshuah Coughran
from Washington D.C., DC
I have worked for people ready in and if for about a year now in various places. I have been in Reno, NV for about a month now. I was pulled from a 2 week deal cleaning and replaced with someone else. He said it's because I didn't have a drug test. It wasn't on the post and he didn't give me a chance to take one which I'll pass 100 percent of the time. Yesterday I grabbed a job from job stackers. When I arrived the place had no idea we I was or why I was there. I called the office and she told me she had called me twice and my voicemail was full. I always answer my voicemail and I didn't receive a call. She bold faced lied to me. I drove 15 miles to that job.

Willie cook
from Wausau, WI
People ready in oak park the only man in there turned me down because i was giving paper work to insure my right of the conversation of lie Liberty and pursuit of happiness. This just happen today at 115 pm. He said i would be a problem. Discrimination and other compaints are in order did not read one word.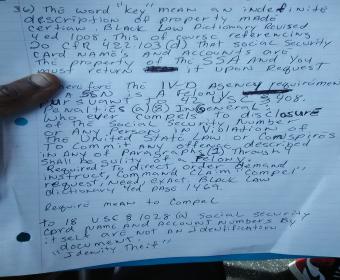 My name is Hugh Howard yesterday I worked 12 hours at rate of 10.10 an hr for Federal Marine Terminal in Port of Bradenton. I was in overtime this weekend, I have not been paid because the manager had a problem paying the overtime saying he's going to pay me the minimum 8.45. I drove from Tampa to St. Pete to Bradenton port and i havent gotten paid for my labor. He saying his subordinate told me not to go which isn't true or i would have been taken off the ticket but i was asked was i going to work via jobstack. Jobstack enables one to get a job, call off work, submit hrs etc. I submitted my hours but havent been paid. I've been wating over 3 hrs now.

Tyrone Lee
from Philadelphia, PA
My name is Tyrone Lee and have a complaint against the Conshocken office in PA. I am always replying to work texts but I never get picked for anything or notified if I got the position or not. Just to start the story an associate of mine told me about PeopleReady and on how you pay at the end of the work day. So I called and emailed and no one responded to me. After six weeks I just went up to the office and applied in person. The receptionist was rude and acted like I was bothering her. I even listened to her on the phone and she was nasty to the clients calling for temps. I have replied to job texts numerous times and this receptionist/dispatcher never gives me any work. I think she only gives it to certain people and doesn't give me a fair chance to work. I applied to an electronics warehouse in SW Philly and Valley Casino Resort for a cleaning assignment which I would have been perfect for. But she NEVER answers questions that I have texted. Also my Jobstack app doesn't work and have been hoping to get help with that but no one wants to help me. I think this dispatcher at this branch only picks who she wants to pick and not being fair to others. My email is casualt116@msn.com to discuss this further. Thank you

I'll call you when I go to hello my name is Cindy I'm writing this complaint about a job that I had to do in Sheboygan Wisconsin it's called Lakeshore display the supervisor there his name was Chad he's very voicetress very rude and use a lot of profanity towards the workers he will sit there and call you f---ing dumb person when you want to ask a question he gets really defensive he shakes his head doesn't want to speak to the person in France in me I ask you a question he will stop and he will shake his head and he'll be like come on I'll send really know how many f****** how many times do we have to deal with this f****** question it just goes over and over again they put me on the table where I cannot speak to nobody I was as cold as the naughty table there was a guy named their tag and I said I felt out of place and he's like why you can't handle the sausage fest But there again people at lecherously at the supervisors and whoever always get away with things so I pulled myself away from people ready I told them the people Shelly and Marla about it and I feel that nothing has been done so now I am at telling Corp about this

I have been with laborready since 2002. I know the insurance and outs. Being paid 5.35 then. I accepted a job thru jobstack over the weekend. File clerk 16 an hour. Woke up at 4 30 to start my trek from Lafayette to federal Blvd. 2 hours on bus. I'm standing in 20 degree weather next to a freeway and your rep from Westminster Co calls and says I have another employee that goes there if u show up they will send you back. What a horrible thing to do. Why post it???? And this is twice now from same office. Also no show up compensation. It wasn't a show up. Ha. Clicking job and being ready to start at 4 30 and spending 10 dollars on a day pass. This is how they treat us. What an ugly agency to work for because you want to make a few bucks. Dispatchers in Westminster and the lowest Aurora that belittle and yell at us. I didn't just step off the boat. I am an educated 63 year old that knows how to treat others with 20 years in customer service. Hope this let's you know what these offices are up to. Gladie Rivera

Jacqueline Nettles
from Minneapolis, MN
My husband Alvin did not receive his pay. He worked on a weekly ticket for Sealy Management. However he was sick and could not return to work until Wed. When he reported to job site, they had replaced him on the ticket. I called Branch 2111 and was told that Alvin would get paid by 5pm on the 15th of February. Gower still no pay. Harvey and Debbie told me this. When I tried to call back to the office no answer. Not fair

Joshua kellerman
from Washington D.C., DC
Been a long time employee. On and off for 17 years. Been hired on through out the years. Suddenly ran into issues at the Bangor Maine branch. Extremely disrespectful staff. Degrading people for their downfalls. Playing favorites. Playing with people's hours. Overall poor leadership. Been terminated do to confrontation with staffs verbal abusiveness. I choose not to except it. In return I am not allowed to view further jobs. My problem did not come to view till lea took reins. I am a hard worker and never had a problem till leia took office here in Bangor. My contact info.. Is 2078535047.. I really would like to discuss this matter further. Thank u for hearing my complaint. I sure would like to work to resolve this matter civily and continue to work hard for your company. I have an alias email so please pardon the name difference

Warren Foster
from Columbus, OH
I am sick of being deleted and or schedule for jobs i didn't applied for, against my approval.

Serge Binetsky
from Glen Allen, VA
I was on a job and they only paid me for 6.5 hours when I told people ready they said there was nothing they can do about it so I went to the job site and talk to the supervisor and he called people ready and explained i worked 9 hours and not 6.5 and then people ready got mad that i went to talk to the supervisor and took me off a ticket i was supposed to be on for a week and still has not paid me. They are being in fair to their workers and not doing anything they said they are going to do

Hugh Lee Banks
from Saint Paul, MN
I'm not getting assignments because I called off on a couple because I got ill and couldn't function.. So the office in Richfield blocked me from JobStack where 85 - 95 % of the work come from and said I can't be back on JobStack until I do 5 assignments via their text system.. So it's been a month in a half and I still haven't had 1 assignment offered to me amd the 1's tgey have been posting via text have been for regulars who have been at these sites and 1's way out not on bus line and truthfully it's only been like 1 maybe 2 assignments a day. I'm putting in for Unemployment if they don't give me something soon.. I'm a regular with them and 1 of their best workers and now I'm being singled out and treated like a nobody.. I can be reached at 612-275-8921.. I'm seriously considering on filing a lawsuit if this matter isn't resolved before the day is over.. Thank You sincerely Hugh L Banks..

Arthur Hubbard
from Detroit, MI
Novi branch will not pay workers in a timely fashion. Will not return your call when you have a problem with your pay. Horrible customer services.

Thomas Ciner
from Pittsburgh, PA
Someone stole my identity and worked for people ready back in 2016. I am on SSDI benefits and this is causing me a tremendous issue with my wages. Please contact me in regards to this. Contacting people ready is has proven to be very difficult.

Porche summers
from Chattanooga, TN
When I called to ask about a job for information the reply I got was " No. the message clearly says to respond to the text so no I'm not gonna give you any information over the phone " I'm a very rude tone . I've worked in customer service for 5 years and I have never been or heard anyone get that kind of treatment , not even on a bad day I can't force myself to talk to someone like that and although, and so I've heard , that they don't like getting "calls about jobs " it's not right to talk to people like that especially when I didn't know that it "bothers the employees " to call them. This is only my first time responding to a job so it's not like I have done the process before . I think her name is cherrt . And she is African America lady .

Donald J Smith
from Charlottesville, VA
Iwas dispatched to a shoveling snow job at a school 31 miles away from me. The ticket I picked was a start time of 7pm. There had been a previous ticket that was a start time of 4:30 pm. I got to the jobsite before 7pm and hit the I have arrived button. I waited for 15 to 20 minutes and no one showed up. I had no contact name. And I called to find out what was going on. No anwser as usual. I waited until after 8pm. Another guy had showed up from a different office. We exchanged names and numbers he even gave me the last 4digits of his ssi number. I called the richmond south office in va to find out how I could get my show up pay. I was told by Holly that I would have to email what had happened to her. She said the customer was denying that I had showed up. As I stated I clicked on the I have arrived button when I got to jobsite. I called again today to get the email address from Holly to send her the info she wanted. When I called I was told that theywill not pay mr for this job. I was told basically that I am a liar. The richmond south office is not the office I usually use. But I am a 58 year old man I am very offended that I am being called a liar. My proof is the i have arrived button that I hit when I got to the jobsite. I would like to think that the office is confused by the fact that the job was posted for two different start time. I would appreciate it if someone could contact me in reference to this matter. I would like to continue working with people ready there seems to be some employee issues at the richmond south office in virginia. All I am asking for is the compensation I am owed for arriving at job site and even getting out and shoveling for 20 minutes or so waitingvfor someone to get there. Also I had to bring my own shovel tothis job and I did. My number is 804-291-8784 donald smith

Bryan Irvin
from McAllen, TX
Waited 2 Hours While other People Who Were not There Before Me But Were Known By The Workers The I Was Denied Work & Forced Too Leave After Asking For Help In A Polite Manner. Manage Also Brushed Me Off Too Help Other Customers That She Knew & Also Mumbled "Oh Now That i Think About It All the Positions All Filled , You Can Leave Now" After Being Told Brushing Me Off Was Disrespect.

Gerald Dawson
from Akron, OH
An employee at the Flint Branch named Ashley had me coming up there cleaning the branch after my assigned
shift ends at gm with a verbal agreement to pay me after several trips up there for cleaning and to get paid (she did not create a work ticket for this work)she kept giving me different days that she was gonna pay me (supposedly out of her pocket) and the last time i called her about my pay she continued to give me problems about my pay so i told her to keep it and that karma would come back to bite her in the ass and hung up the phone she called me back several times (i did not answer) she then sent me threatening text messages to which i did not respond i called the next day asking to speak to another employee and she became irrate and telling me not to hang up in her face and that she don't care about nothing to which i hung up again and she called my phone several times immediately after and when i did not answer she then sent me a text saying i was suspeneded for two weeks which was unjust and without any provocation or wrong doing i went to the supervisor at gm where i work through peopleready and asked what could he do about the situation and he called another supervisor who deals directly with people ready and he was suppose to call Sabrina who is the Flint Branch manager/supervisor i then called the pontiac branch asking to speak to the main manager/supervisor who was out at the time but was sent a text by another employee there explaining my issue with Ashley i got a call from the manager a hour or so later and i explained exactly what happened and why i choose to hang up on Ashley and after speaking to me and priorly speaking to Ashley the manager lifted the suspension and informed me that Ashley shouldn't have been having me or anyone else coming to the branch cleaning top to bottom without clearing it with her and generating a work ticket then on 11/30/18 (today) i went to the Flint Branch around (4 p.m.) to submit my hours for the week and placed it in the tray that is on the counter that is marked with the instructions of placing the tickets in there and Ashley was the only employee that was there at the time and i waited until another client was done to put the work sheet in the basket so that i could ensure that Ashley visually saw me place it in the basket and i turned and left our hours are supposed to be submitted on Friday by the close of the branch if received which mine was while it may take up to 24 hours for workers to be paid out by 9 p.m. on 11/30/18 because i am usually paid no later than two hours after submitting my work ticket i contacted customer service and another division of peopleready and was informec that know hours had bern submitted there is know reason why Ashley couldn't or shouldn't have submitted my hours other than being vindictive unprofessional unlawful and purposely withholding my hours and not submitting them to payroll for me to be paid out this is not acceptable on any level and especially where rules regulations and the law is concerned and i want this issue addressed and for Ashley to held accountable for her actions in her personal capacity and as an employee acting under peopleready and using peopleready devices for the intent of threatening harassing and delaying the pay out process for your business - cc:Gerald Dawson 11/30/2018

Larry Sanford
from Des Moines, IA
My name is Larry Sanford I worked for peopleready cudahy at the forum this monday night and friday night and I still haven't been paid now its way past the twenty-four hour pay out for both days as it states in their contract I have contacted everyone from Leslie Egerton at payroll to Trevor at the cudhay branch i have contacted the corporate office and yet nothing has been done can someone please look into this situation for me i can be reached at (414)553-8229

Marcus Williams
from Columbus, OH
Hello my name is Marcus Williams I work for people ready in Columbus Ohio the north office this is the second time that they refused to pay me at the North office I would like somebody to please call me at 614 845-0628

Anonymous
from Fayetteville, NC
Megan is the not being watched so she is stealing money from Black people at peopleready in Dothan Al. Megan have been stealing for over 3 months and since the storm she have stolen from Black people. She tell them excuses to throw them off for not getting paid. When she do pay them she short change them and they just take whatever she put on their card. I pray she get caught.

Willie Beaver
from Portland, OR
For two and a half months I had 30 minutes deducted from each work day for lunch that I never was able to take never got a break and I did report this to Parkrose staff that dispense me to the job on November 8th I reported to Casey that I have proof I was not able to take lunches or breaks at that time she threatened to fire me and I was told to not return needing help with this matter
Willie Beaver 469-508-2379

Wendell Ball
from Jersey City, NJ
I would like to know why I can't access the Jobstack App and why PeopleReady is blocking it on my phone. They claim it's because the phone doesn't work. All you need for Jobstack is WIFI so that excuse is a lie. WIFI allows you to accept a job and confirm your arrival and your completion.

tisha scott
from Pomona, CA
I have been calling for weeks and no one picks up the phones it is a waste of hours to try and get a hold of someone. What can you do to fix this phone problem it is out of the Riverside office, San Bernardo office. Please get back to me my boss is very unhappy we use you guys ALOT.
Thanks Tisha

jebreel clark
from Stone Mountain, GA
I'm never paid on time. we get paid on mondays an it talks until Tuesday evening...sometimes we gave ti keep calling people ready just to make sure we dont have to wait until Wednesday to get paid....this is very unprofessional an shows a lack of respect for the workers that make people ready so great. mrs. Dana is the manager at Atlanta office. 110 centennial park Dr. suite 106 Atlanta ga.30313. we work hard an then dont know when or if we will get paid ..that's not at all right

Pastor Jonathan Mann
from Philadelphia, PA
I was calling to get my pay put on my card and THE woman answering the phone at Lewiston ME office was very rude. I hung up on her. Very rude people there.

TERRY FORD
from Louisville, KY
Terry of Louisville, KY
Clarksville Indiana -Absolutely horrible
with taking care of their employees and
their pay!!! This is the 3rd time in the last
week that the branch has delayed my pay
on time. Corporate has to step in and do
their part. If someone is overwhelmed
and accepting work orders too large to
accommodate their employee's pay on
time? That is a issue! I now have to go
pawn some of my personal items to make
ends meet! Ridiculous! ! 3rd time this has
happened in the past week!

Amber Nicole Miller
from Orlando, FL
I came in the office today and apply for a job and register for a position. I presented the lady Mrs kandis my Id ,my medical marijuana card ,SS card,and my ticket to work. She then turned around and told me that they only took state issued id. All that I gave here were in date except my driver's license. So I passed here my medical marijuana card along to.

John Blankenship
from Orlando, FL
Why do we have wait to get paid after working hard in the hot sun and when we come in at 4 clock to turn ticket in we get attidues

Reginald Matthews
from Milledgeville, GA
I'm being sued by somebody and payroll refused to give me any information about who suing me the state law to federal law said if I be sued and you got to send my paycheck you supposed to send me information of who suing me

John Robinson
from Washington, DC
Dispatch Issue
J R <JRobinsonFilter@outlook.com>
Thu 10/4/2018, 7:33 AM
October 4, 2018 0731
TO: Louise, Regional Manager
THRU: Chris, Manager BR 1787
FROM: John Robinson
RE: Dispatch Issue (9/20/2018)
Chris:
On various occasions I have attempted to resolve an issue concerning a botched dispatch assignment to Slurry Pavers Inc in Jessup on September 20, 2018. Despite my attempt to contact the branch twice (leaving message each time) no return call was given. Accordingly, I responsibly drove short of 30 miles one way to service the client.
I am seeking payment at 4 hours at the rate of 14.57 per hour for this unfortunate breakdown in branch responsibility to the associate.
Pleas call me today - 202-907-1658 (10-5-2018), otherwise I have no choice but to seek support from other authorities.
This is not professional nor tolerable action from a company I have enriched through my work ethic.
I look forward to equitable resolution of this unfortunate waste of time, energy, trust and confidence.
Very sincerely,
John Robinson Copy: J Levi
202-907-158
jrobinsonfilter@outlook.com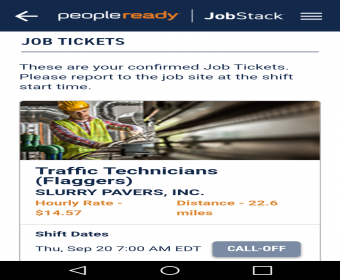 craig anthony weaver
from Kansas City, MO
sending on assisgnments and no work....never late naver called in no show

Irving Whatley
from Los Angeles, CA
I was dispatched to a job from 3048 only to be called a liar. They gave me no contact no. I arrived on time . Called office when contact didn't show.
3048 denied me gas for my troubles . After 2 hours of waiting contact told me he didn't need me I told corporate office and they told me I have nothing coming

Jose. R. Ortega
from Banning, CA
I applied with people ready on the of 13/8/18, and was called in to fish up paper work. I was asked to take a test that i was not
expecting but resided to take it anyway, failed. I do not know how is it that any one can fail a truth or lie test. People Ready is
asking questions the any person can be arrested and incarcerated. I answered the questions truthfully with out regrets. People
Ready personnel are discriminating people or luring them in for what ever trap they fall in. Can you please tell me what the is
does People Ready stand for, because i did not understand it. I would also like to be rem-burst for the amount $22.00 for the fuel
that i used getting to the human traps that you are establishing.
Jose. R. Ortega

Aaron Jones
from Saint Paul, MN
WAS PAID FOR A JOB YESTERDAY AND WHEN I WENT TO GET MY MONEY THE PAYMENT HAS BEEN REVERSED. NO CALL TO ME OR EMAIL OR TEXT SAYING THAT THEY DID THIS. THIS IS NOT THE FIRST TIME THIS HAS HAPPENED. ALSO THERE HAS BEEN over 15 times in a 7 month period where I was not paid the same day I worked. Numerous excuses such as I forgot, I looked at the wrong date, " oh I'm sorry I sent it to the wrong email at payroll, Someone even emailed me back and said they had to pick their kid up and they'll pay me when they get to it. I'm so done with the BROOKLYN CENTER OFFICE TIL THEY GET COMPETENT PEOPLE TO TAKE CARE OF WORKER.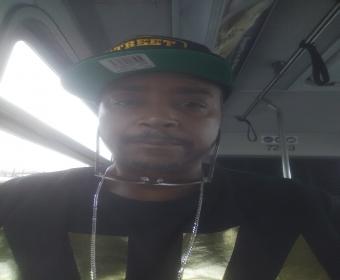 Aaron Williams
from Saint Paul, MN
I have a big time complaint from a worker by the name of Tracy on the branch in the north side of La Crosse, WI on Liberty. I believe that there is a personal vendetta against me by her from me obtaining. She assumed that there was something on my background when there wasn't after finally checking after the 3rd time when I finally asked her that. Then she caught an attitude with me on my voicemail last night, yelling at me, saying that I woke her up. Then this morning I found out she was sleeping in the office when I can by to show initiative for this railroad job catch another job being very rude and vauge about how I should go about trying to get this gig. I just feel that she just dosent want to give me work because she has something personal with me (that I dont know about). She is acting like a child and shes proven to be unprofessional at her job and I would like her terminated. This is not tolerable and I believe i missed some gig she lied to me about, due to her discrimination.

Archie Griffin
from Richardson, TX
Today early in the shift right before lunch an employee named Ashanti and I had a disagreement on doing some work she watched me do something then criticized me along with calling me stupid so I told Paul the supvisor I couldn't work with her while I was in the act she proceeded to antagonize me in front of him. Right before the next break around 5am she hit my foot with a pallet jack and started to laugh. I do not appreciate constantly getting sent to put up with nonsense from employees. Something needs to be done about this. I also didn't understand why I was doing carpenters work and wasn't paid accordingly. I felt under paid and had to double work because the job was underman. When I went to pick up my ticket at office I had to wait 30 minutes at 6:30 am to get my paid because no one was in the office and when some one finally show up. He (Hannibal) almost started discussing this private matter in front of other people I think that was unprofessional.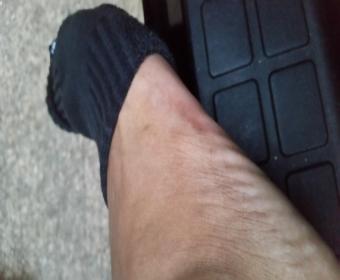 Patrick Flannery
from Seattle, WA
I worked for u guys back in Tampa Florida and never had a problem getting paid now ur office in Boise Idaho wants to drag there feet on paying me I worked today got off at 1.30pm still haven't been paid and they are giving excuses can someone please call me ASAP 7869706784

Paula Williams
from Warren, MI
They keep giving us the run-around about our pay consistently the phone number is 574-293-1927 there are several of us including Frances cross that they want they pay when they want to is getting irritating I'm a good worker you guys have a new customer because of me they are requesting me and still taking too long to set up the process they requested me yesterday afternoon and they only want to get to it when they want to they need to realize that they are getting paid because we are going to work
Have feedback for PeopleReady?
Thanks for your feedback!
Sorry. Please try again later!