Nabisco
Contact Nabisco Corporate
Toll free phone number: 1-855-535-5648
---
Nabisco Company is publicly traded on NASDAQ:MDLZ and is a subsidiary of Modelez International. This food processing giant had revenues in 2015 reported as 26.96billionUSD. Modelez Intl employees over 100,000 worldwide.
To reach Nabisco Customer Service call 1-800-622-4726.  You may also call Modelez International (parent Company) at 1-855-535-5648.  The Nabisco Manufacturing plant is at 7300 S. Kedzie Avenue, Chicago, IL. To write a letter to Modelez International CEO, Irene Rosenfeld, address an envelop with Modelez Headquarters, 100 Deforest Avenue, East Hanover, NJ 07936.  You may also find online Support/Contact information here.
The National Biscuit Company began in 1898 as a large bakery in Chicago, IL. The current plant there measures 170,000 square miles or 1.8million square feet. Popular processed snacks have their own Facebook social presence found at: Oreos, Wheat Thins, Ritz Crackers . Mondelez International social presence is found on Facebook, Twitter and LinkedIn. 
Nabisco Contact Information
Report complaints to corporate and get satisfaction
Nabisco headquarters address

100 Deforest Ave East Hanover NJ 07936

Company website

1-800 phone number

1-855-535-5648

Support email address

feedback@snackworks.com

Better Business Bureau rating

A

Customer service hours

Monday-Friday, 9am to 6pm ET
Browse reviews of other Fast Food
Top Nabisco Complaints
Browse more than 107 reviews submitted so far

I am glad to hear that after numerous customer complaints that Nabisco will start selling the original Pinwheel Cookies at the end of Sept. 2016. They saw that their fudge version of the cookie didn't sell and they see they lost sales as a result of changing the original recipe. I congratulate Nabisco for coming to their senses and producing the original Pinwheel Cookie. They can bury their Fudge Cookies or add it to the museum of bad ideas with the New Coke.

Suzanne White
from Fairmont, WV
I have eaten the Pinwheels forever until recently the change is horrifying. They use to melt in your mouth made your taste for more. Now this is my 3rd package in 2 months and it will be my last. They are dried out and no creamy marshmallow taste. My apologies but I am very dissatisfied.

Cathy Stanz
from Oakland, TN
I got a box of Nabisco graham crackers today at the store, with the idea of making Lemon Ice Box Pie for Easter. What I found when I decided to have a snack today, was that the crackers were smaller, the ounces were less and now there aren't enough crackers in one packet to make the crust. Yet they cost more than ever.
Last time. I feel cheated. They look different as well.
You lost a 60 year customer.

Lisa
from Downingtown, PA
Got a package of family size oreos double stuffed. Opened it for the first time and every row was missing at least 3 oreos. Disappointed

Regina Biggins
from Grafton, WV
I love Honey Maid graham crackers. I just opened a package of your crackers and they honestly tasted terrible. They were not stale but they smell and taste rancid. I was unable to eat them. Just wanted to report my disappointment.The date was still good and I had them stored in a cabinet where I always keep them.

Cheryl McCarter
from Essex, MD
bought a box of Handi-Snacks Mister Salty pretzels 'n cheesy dip. 6 snack packs in box. One pack had cheese but no pretzels. one pack had cheese and only 3 pretzels. i checked the other box I bought and it was fine. I usually buy the cheese and sticks, they are delicious.

I purchased a box of Nabisco, Reduced Fat, Nilla Wafers, for snacking on a trip that my husband and I were taking. They were hard, over-cooked and burned. We ate some of them but to do so we had to dunk them in our coffee. This is the first time I have ever had a BAD box of these wafers. I am sending this complaint to you because the store where I purchased them from (Stater Brothers) has no control over what is in the box. I have attached a picture of the box, cookies and the code. Although it would be nice to have the box of cookies replaced, I am asking for nothing except that you might check quality control "before" these cookies are boxed, and you might be able to recall any that might still be on the shelf before you get other complaints. Thanks for listening.... Suzanne Dyer

I purchase today a pack of a Nabisco thin vanilla cookies. I brought them to share with my grand children and as they were enjoying your delicious cookies I was left with like four. So as I was eating the last two I crunched on some yellow glass. Yes you read it right yellow glass and I still have the piece of glass and the package of cookies. So I'm very disappointed because I love Oreo cookies to death but what if one of my grandchildren would have eaten a cookie or maybe they have ingested glass I don't know. But I know what I crunched on and it is a piece of yellow glass. Very disappointed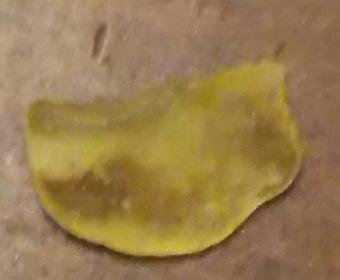 Recently purchased a package of DoubleStuf Oreo cookies. The package was only half full, seriously, and the cookies were not filled with doublestuf. They were filled like the original cookies. I've purchased these previously, from the same store, and never had a problem. The bar code is: 44000 02854 1 if that means anything. I'd like a refund or a coupon for a replacement package.
Thank you.

I'm very un happy with these crackers when inwas younger you would get a stick to spread on the cheese on the cracker now you domt they say dip n go but ur cracker is to big for the little pocket of cheese

Melissa Morse-Luke
from Hatfield, MA
For years I have bought Nabisco products. In particular, premium saltines. It is nothing for me to buy 2-3 boxes a week. For the past six months or so, I have experienced each box I get, the crackers are burnt or should I say very dark. So I tried a different grocery store. Still the same. I then decided to give it some time thinking it may be just a bad order, etc. I'm seeing more often then not, at least half of the premium saltines I purchase are brown and taste burnt. I hope this isn't the norm. I thought someone should know.
Thank you,
Missy

Jacqueline Riker
from Levittown, PA
I bought a box of your original topped with sea salt premium saltine crackers and all four packages were burnt and no salt on them so I had to throw them all away brand seal number is 44000 00057

Nancy Jones
from North Little Rock, AR
I have purchased many boxes of Premium Crackers in my lifetime and always found them to be very good until recently. About a month ago I purchased a box and they are dark, tasteless, and hard. I am thoroughly disgusted because the price keeps going up, up, up.
I am so disappointed to know another fine company is making a very inferior product. Where is the quality and pride we all took for granted a few years ago. So sorry that Nabisco has now gone to the dark side.

My name is Bree Lowery and I LOVE Wheat Thins crackers. The only problem is that they only come in 7 flavors!!! :0 :0 I wish that I could get them in more of a variety. Please create a new flavor if possible.

Bought 2 boxes of Teddy Graham's outdoors variety and when we opened the boxes there was a horrible chemical like smell so bad we couldn't even try them

This is a compliment, not a complaint. I was shopping at Hannaford's grocery store on 2/18/19 at 1 pm. I wasn't able to reach a product and was looking for help. A vendor was packing the shelf with Nabisco products and noticed that I needed assistance. We made eye contact and with a warm, friendly smile asked me if I needed assistance. When I told him that I couldn't reach a product, he immediately said "I'm sure that I can help you. He had to climb up two racks to retrieve my request and even brought the remaining product forward for the next person. He was gracious and kind. Too many times, customers complain but forget to give credit to employees who go out of their way to lend a helping hand. I don't know his name but I can tell you he was a young man, probably in his early thirties, maybe 5'3" with a short haircut. I hope that you can identify him to acknowledge his good deed. He is truly an asset to your company. Sincerely, Carol Mendonca, Taunton, MA

Charlene Franklyn
from Warren, MI
I buy Oreo cookies all the time and love them but, that last three times they were not stuck together and they were cracked. I am always careful to not throw the bag around . The Golden ones double stuffed ones I'm talking about never have problem with any other ones.
Not happy about this. Hope you could do something to see what the issue is,
Thank you!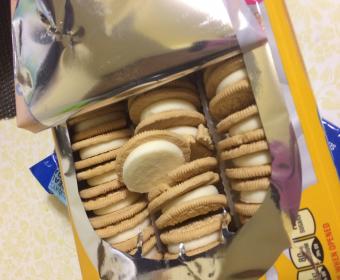 Bought 3 boxes of Lorna rooms cookies code 16jun19ap328 4 space 3 space 1and opened 1 put in each box and were all crumbs afraid to open the rest. Judith Weisenritter 8800 s Harlem ave #2049 Bridgeview,Illinois 60455. (773)206-1834. Thank you.

I BOUGHT A PACKAGE OF CHIPS AHOY TO SNACK ON, ON MY WAY TO WORK. UPON OPENING THEM AT WORK, THEY WERE OLD AND EXPIRED!!! VERY DISAPPOINTING!!!! I HAVE ALWAYS LOVED CHIPS AHOY AN THE LAST 2 TIMES I HAVE PURCHASED THEM THEY WERE STALE. LOOKED AT THE PACKAGE AN THEY HAVE BEEN EXPIRED FOR ALMOST A WEEK

The Nabisco Soda crackers have either been burnt or taste like a perfume. I have been so disappointed in the last 5 packages I have bought. All of the Snack packs have been burnt and the original size pack has a perfume taste to it.. Not happy..

I just wanted to let you know that the cookies I got were not the same as i use to get.,the teast was not the same.I think it was over bake
the cookies was was the even the same texter I have not got any of tham because for years because the price as goting ot much.last week
i bought some . I am the saying the price is to much .but i would like to get what i pay for.I am on a fixet in come so this was a treat for me
Hope this will come to someone attition.
Thanks for your time LEO GAIL

Charles Neuenschwander
from Austin, TX
Every morning, we have Nabisco Honey Maid Graham Crackers with our coffee. We give a small tidbit to the dogs. For the past several months, every single box has roughly 50% broken crackers as we take them out of the box. We thought at first it was due to rough handling by our local HEB Store, Lakeway, Tx, but the nature of the breaks is so consistent it has to be a problem at the factory. It's not a problem for us, but we keep thinking about kids trying to make smores. The crackers (the ones that are not already broken) are very difficult to break on the perforated lines. What has happened to this mainstay of American snacks?

Donna Wilkerson
from Boston, MA
I have bought several boxes of original crackers and all of the crackers in each of the boxes were burned. Not only are the crackers burned but they taste burned as well. I don't know what has changed in the making of the crackers but it has certainly changed the quality. I am also not sure if it is just a lot of the crackers but the number on my current box is 02JUN2019KE1306.
I will more than likely start to purchase another brand.
Thank you for taking the time to read this note.

Mike Berrick
from Deer Park, NY
It Seems That It Is Impossible To Buy Containers Of Oreo Doublestuffs Without Both Cookies Being Broken. You Know How Most People Eat These Cookies. So Scraping The Cream Off The Cookie Is Impossible And Messy. I Have An Idea That Will Fix This Problem Without Retooling And Appearing To Be Conssious Of The Problem And Have Found A Fun Way To Deal With It. I'm An Ex-Design Engineer Who Is A Fixer. I Was In The Food Industry Years Ago If You'd Like A Videoof The Problem No Problem. I Can Draw Out A Solution. If You Are Interested, Reply To My Email Or Call And Leave Message On My Cell 631-807-0982, And I Will Get Back To You.
Cheers!
Mike

HAROLD Lee Wright
from Arlington, TX
I just opened a box of saltines the freash stacks .I found the entire box product burned bad taste . I have never before experianced this I hope it does not happened again .The date marker said 25APR 2019KE2306.

Belinda isler
from Atlanta, GA
I just wanted to let you know how disappointing that I am in your Graham crackers and bills wafers. When I was a child, they were the best in the market. They taste as if you don't care about your products anymore. What happened to the original recipe? Name brand products was a big deal when I grew up.

Belinda isler
from Atlanta, GA
I just wanted to let you know how disappointing that I am in your Graham crackers and bills wafers. When I was a child, they were the best in the market. They taste as if you don't care about your products anymore. What happened to the original recipe? Name brand products was a big deal when I grew up.

Constance Mead
from Conway, NH
I am so upset with your corporation, Mondelez.
You have totally destroyed every product, of every company, you have purchased.
Ritz Crackers are not recognizable, top flies off when you try the to spread to cheese' etc.
on, there is no salt (important feature), no color, substandard ingredients from god knows where.
Saltines is now a ridiculous name, cause there is no salt. Stop with the sea salt, it is horrible, with no flavor.
We need iodized salt! Put the salt back on on all crackers. You have totally ruined Wheat Thins. I pay a lot more
for other crackers now, but I can and do enjoy them.
Also, we need gluten, only a very, very small portion of the population are allergic to gluten. The rest of us actually need
it.
So many things have been altered by inferior ingredients, uninvested labor in under privileged countries, unsanitary conditions. Live worms in chocolates, some chocolates contain beetle bugs, etc., no extra charge.
Vegetarian soups have "try me with free mystery animals"added, again no extra cost.
All of the above so you make money without spending any. You think you are fooling us, or worse that we are too stupid to know or care what we consume. As of late, if I eat or drink an item I am familiar with and a find that is "off", I immediately check to see if the original manufacturer sold out. Every time a sale has happened!
We have a right to know where our purchases are produced and processed. You don't want us to know it comes from Thailand, for example, where they feed the shrimp to be exported, pig poop. What happened to pride in your products, ethics, and self esteem?
How do you sleep at night?

Patricia Brooks
from Newark, NJ
Ritz crackers have been my favorite for as long as I can remember, however for the past several months they have not only changed in packaging but it is impossible to spread anything on a ritz without the cracker crumbling in your hand. I am sick of crumbs and will not buy another box of nabisco ritz! Half of the sleeve is useless!!!!!

Ann Golden
from Maryville, TN
Where is the salt? I think your "Sea Salt" just falls off before it gets to my mouth. So dry, not like it used to be. Boo Hoo. Ann

Tahany Botros
from Newark, NJ
I bought two boxes chips ahoy original .when I opened I found one of the completely scrumbeled . it's not chocolate chips its like bread crumbs

I am not sure what the company has done to Chip Ahoy cookies but they are awful. They tasted doughy and lack some salt for a little taste. They taste old and stale. I usually but the Ahoy cookies but it will be awhile before I buy them again. I don't like spending money on something that I will probably throw out.
thank you
beth

Glenda Flynn
from Gainesboro, TN
My husband has Ritz Round Crackers and peanut butter for supper. He has eaten this same thing for years as usually he eats late at night and this digest better. For a long time, we have been very dissatisfied with the crackers. They are so crumbly that it is impossible to spread peanut butter on them for they fall to pieces. They seem to be not cooked well or the ingredients are not right. The boxes of crackers I purchase at Sams Club are absolutely terrible, and the boxes I purchase at Wal Mart, so far, have been good.
I sure hope this problem can be corrected because my husband sure does love Ritz Crackers.
Sincerely,
Glenda Flynn

Jean Matako
from Canton, OH
What in hell have you done to the Keebler products?!!!!! They are terrible! Way to go Nabisco! Ya just committed retail suiscide!!!!!

Linda Bell
from Osprey, FL
I love the Premium Saltine Mini' s. However, I recently purchased 3 boxes (44000 01777, 04050044682200), and all were burnt to the point of being inedible. Most were black, not even nice to look at, I was very embarrassed when I opened them in front of guests, not to mention these were the only crackers I had. Unfortunately, this makes me very weary of purchasing additional Mini' s. Just so you are aware, I purchase a minimum of 3 boxes every week. Thank you for your attention to this unpleasant situation.

David Byford
from Parafield Gardens, SA
I like your Nabisco Premium snack biscuits BUT I was. Very upset at the latest packaging.
Plastic and more plastic. Twelve packets of plastic in a bag of plastic.
Is anyone at the corporal level paying attention to the pollution of our lands and seas.
I will not buy your product again until you take a more responsible attitude to pollution.
Annoyed at you insensity.
David Byford

David Joseph Vinson
from Crossville, TN
I bought a box of Chicken in a biskit and they have zero flavoring. I have the box and the crackers. I will keep both for future reference. I would like another box of 12 oz chicken in a biskit provide by the Nabisco company.

Grant Fisher
from Manteo, NC
I purchased a box of 12 Oreo Handi-Snacks for my family vacation to the beach. I opened the box to take onto the beach and the first one I pulled out had no cream. The next three I pulled out the next day had almost no cream. That makes four in total from that box with little to no cream. My children were all very disappointed seeing as Oreo dippers are among their favorite snacks. The pack with no cream and the three packs with almost no cream are pictured below.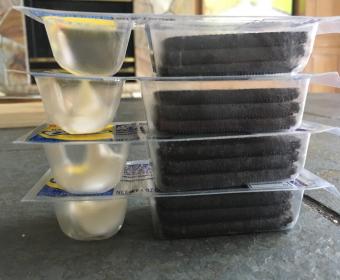 Mary Huntone
from Rochester, NY
Ritz crackers. I purchased at Tops market (receipt gone) and tried to use for a party tonight. EVERY sleeve dis.integrated to crumbs! I have never been more disappointed in a product, had nothing to make party favors on. The amount of crackers already changed to much fewer and the price increased 30%. Now the products is useless.

Allison Moore
from Dallas, TX
We have purchased and loved wheat thins for many, many years, however it seems lately we keep buying boxes with burnt crackers. Is there a particular reason for seeing these more often?
It is a disappointment because the original crackers are so delicious.

Charese Pelham
from Charles City, VA
You put LEMON in "Nilla" vanilla wafers!!! You not only ruined a previously perfectly good wafer, you did not even bother to make the counterfeit wafer obvious! No big pictures of lemons, only a little "artifical lemon flavor" note on the box. I have been (note: "past tense!") a fan of Nilla vanilla wafers for years, using Nilla vanilla wafers as the only brand of vanilla wafer for my stovetop cooked, home-made banana pudding. Not even my 15 year old boy, who eats anything and everything, would eat it. We THREW AWAY a huge double recipe banana pudding, complete with meringue! Such perfidy! For shame! Who would have thought for one moment, that I cannnot trust Nilla "lemon" wafers!
If you want lemon, then change the name! Lemon wafers! Whatever, but do not ruin a classic! Sadly, you have already done so.
Have feedback for Nabisco?
Thanks for your feedback!
Sorry. Please try again later!