Chrysler
Chrysler Complaints Continued... (Page 1)
102+ reviews added so far. Upset? Call Chrysler corporate: 1-800-247-9753

D. Bauman
from Oxford, MI
8 visits to the Milosch Palace Chrysler Plymouth - Jeep Ram dealership to repair a window problem without success. Service manager could have cared less and in fact became argumentative when confronted with the facts. He and the dealership he works for has single-handedly convinced me to never buy a U.S. made auto again. Took the vehicle to a another dealership and they fixed the window problem while I waited.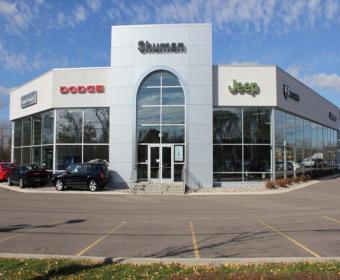 cathy schaar
from Midland, MI
The service people don't listen 100% to your problems, they only write down 1/2 of the issues and sugar coat the rest! For instance my 2014 Jeep Cherokee Latitude (over 16,000 miles on it) has a annoying squeak in the front right area, they have greased the strut portion twice, and it's still there! I worry about somewhere down the road, having to pay lots of money for something they need to replace now! Instead of looking for the problem, they found a squeak or unusual noise in the steering column and tore that apart!
They did that on their own! Another issue I have is the paint job on this vehicle is horrible. I notice the drivers side more, because I drive it. I have massive scratches along the door panel, that extend back to the passenger side, is it possible the clear coating wasn't applied! I asked that question and they just looked at me, with disbelief ( I am not a dumb person) Things like that happen! They told me (Deanne) that I scratched my car, no I didn't, don't tell the customer they did something when they didn't! I also noticed a dent on the passenger side that wasn't there before I went into the dealership for the first oil change, of course no one did it! and the next thing that happened was I washed my car at the touchless car wash, you guessed it, the door froze shut and when it finally opened the plastic piece broke off.
Now they tell me, Chrysler has to make the determination to fix this! Bull Crap! You fix it! And the last thing I want to mention is, when coming to a stop, when starting up, the Jeep surges, it's not a smooth start. Is there anything anyone can do for me! I am sending a copy of this report to Chrysler. I had a Kia before this purchase, for 1/2 the price and 1/2 the problems! I will never purchase another Chrysler product.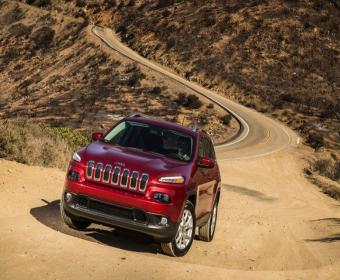 David Stavely
from White Marsh, MD
My RAM 2500 heavy duty pickup with Cummins 6.7 Turbo-diesel has been in your shop at the Safford Dealership, in Salisbury, MD for three weeks now. Without looking over their shoulder, I would say I have been getting a run-a-round. In all this time I don't believe they are any closer to a diagnosis than when the truck was taken to them. Yesterday, 12/19/2018, I was informed it needed a high pressure pump (I believe fuel pump) costing $3,080.00. My truck is a 2013 model with 70,000+ miles, so of course it is out of warranty. This is not the only part I have had to buy during the diagnostic, which has been going on for three weeks, just the most expensive. In the space above, I gave you 1 star, only because I am unable to give you 0 stars. I am quite fed up with the service I have received to date. The only good thing I can say for this experience is that the Service Manager does seem to be concerned and seems to be pushing things along faster than they were going before I requested her assistance. It was a good truck, but has become tainted thru this experience. This was my first diesel, and at this point, I would have to say my last. At present, I would like to have my truck fixed and returned, but I feel that will not occur until sometime in 2019!! Could you offer any suggestions?

Alvaro Escalona
from Ormond Beach, FL
On 12-1-18, I took my 2014 Ram 1500 for an oil change and a recall notice I received. I left the dealership 2 hrs. later with my truck, under the assumption that everything was done correctly. WRONG! Besides having grease hand prints all over the front of my truck, when I got my truck back, I later noticed that my truck was leaking oil. Something that me less than 7000 miles truck had never done. I got under my truck only to realize that the oil plug bolt had been forced in at an angle, causing the oil leak. Which meant that the oil pan and plug bolt had to be replaced. So I contacted Vicky the initial service advisor so that I can take my truck back. Due to my hectic work schedule, I had to take it in the following Saturday 12-08-18, Vicky wasn't going to be there she made an appointment with Maria, the assistant service manager. I went to see Maria on Saturday at 11 am, she passed me off to another service advisor Ozzie. I showed both Maria and Ozzie pictures of what was done to my truck, they agreed that the bolt was forced in and the oil pan had to be replaced. They said that they had to order the part on Monday and replaced it. I left my truck and was given a rental. I explained to Ozzie that the last time I was here my truck was left with grease hand prints all over. He told me he will make sure this time they would wash my truck before I pick it up. So on Monday 12-10-18 @ 430pm, I get a call from Ozzie saying my truck was ready. I never received a follow up call to let me know that the oil pan was in stock, so I was a little skeptical that the repair was actually done. I asked Ozzie, if I can see the new oil pan to verify the repairs were done when I pick up my truck. He said yes, I asked if he had washed my truck as he had stated. He said yes. On Tuesday on 12-11-18 in the morning I went to pick up my truck. I went to the cashier to obtain my paperwork. The paperwork stated, "customer complained of oil leak, inspection revealed oil pan was warped." My oil was not warped, it was damaged by the negligence of one of your mechanics. I have the pictures to prove it. So they lied on the initial diagnosis of the truck on the paperwork. As I was waiting, in the service department, an older gentleman approached me and asked, "are you the one that wants to see the oil pan?" Never introducing himself and acted as if I was bothering him and he was doing me a favor.
So let see if I get this right, I brought my truck in for service, your mechanic was negligent and damaged my oil pan, I loss the use of my truck for a week, until I can bring it back, not to mention waisting another Saturday dealing with this, away from my family, and I get attitude from your service manager.
Yes, the older man who approached me was your service manager. Then my truck was brought around and I noticed that my truck had not been washed as Ozzie had said. I was lied to by both Ozzie and the porter, they both claimed that it had been washed. Ozzie said, we don't normally wash vehicles, then why tell a customer something then lie about it. Ozzie finally had the porter wash my truck and bring it back. Then Ozzie had one of the mechanics put my truck on a lift so that I could verify that the oil pan was in fact replaced. I am not at all happy about how this matter was handled or I was treated. Please feel free to contact me in reference to this matter.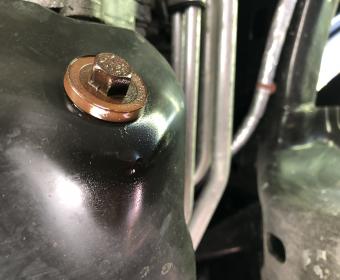 Kevin Kee
from Carthage, MO
I have been a customer of Mancari's Chrysler for years! As a fireman in the city of Chicago, I was recommended to purchase my 2012 Dodge Caravan by my Fire Captain. Over the years I have come in to have my vehicle service. A couple a years ago, I had problems with the transmission and the dealership gave me a hard time and I had to contact the Corporate Office, mind you - I have a warranty on the vehicle. Most recently I experienced a problem and the van kept stopping on me. I had it towed to the dealer (Mancaris) and after several days was told the vehicle was fixed and had to pay for services. I just got the van back a few days ago and it stopped again, I left a message and stated I am still experiencing the same problem. I took the van back and I am being told this is a new problem and expected to pay more money and I am out of a vehicle once again. I am WALKING back to my home with no offer from the place of service. My vehicle should have been fixed correctly the first time. I have a family with kids and my vehicle is a necessity. The service at Mancari's is all about money. They have a lack of concern for customers after many firemen frequent this location. I am truly disappointed!!!!!!

mary reed
from Lake Worth, FL
I bought a new 2016 dodge grand caravan in oct 2016,at naplelton north lake blvd in in west palm beach florida,a week ago I had a flat and discovered I had no spare and no lock wrench to remove the tire, I called them they should be one in the van but there wasn't so I had to pay a tire store that was near where i was $60 to cut off the lug. I went to the dealership and they said I had to order one and I said no, so they removed the other locked lugs and put on regular ones,then I asked why I didn't have a spare,they said most new cars don't come with spares, which made me mad because they could have told me that when I bought it. I am a widow on my own and if I had a flat on a dark street or in the middle of nowhere, I would have been danger,because of this I will never do business with you again

richard b grable
from Akron, OH
Klaben Chrysler dodge sold my daughter a 2012 Ford Excape(used car lot) also purchased vehicle protection plan..took vehicle in for oil pan leak..they bent sway bar when putting vehicle up on rack..want $239 to fix. So I call Chrysler to file a complaint. I was told can only get there help if a mopar product?? Idiot told me to call Ford?? So they sold a Ford escape with a mopar protection plan($1100.00) and they wont help her..the protection plan has Ford escape 43780 miles and what it covers! NEVER DO BUSINESS WITH KLABEN DODGE unless you are ready for mess like I am in..cant file complaint because not a Chrysler product..they also sold her a loyality link plus card $300.00 for discounts on service/parts/loaner cars..what a joke..beware!!

Bernard McDougall
from Jacksonville, FL
My complaint is about a life time powertrain and seals and casket warranty. I took my car in at 100000 to have it inspected and was told that I was good for life 4 years later I was having an issue with my oil pan after looking it up to see if it was covered under the warranty and I noticed that I also needed to get it inspected within 5 years at the time of the repair I asked if they could do the warranty inspection they told me they could. After the repair I thought I was go till 2020 before my next inspection. In October I went in to look at a new Dodge Ram truck I loved the truck and the price on my way out I stoped in at the service department to see if my warranty would cover an emissions issue the kid informed that my warranty was no longer available because I didn't have my car inspected two months before or two months after 5 years.the inspection they did was just a 21 point inspection letting me think it was taking care of. First thing I did was call the warranty department the first girl I talked to agreed that it was a misunderstanding and we needed to get it reinstated the second guy I talked to said there was noting they could do for me and pretty much have a great. Not only did I not buy that truck yet I'm having second thoughts after the way this was handled. I'm sure I will never here back but I still need to send

Settimo Martorana
from Oak Park, IL
I just purchased a 2019 ram and my radio & backup camera doesn't work at times. I was told by my dealer " Zeigler Ram in Schaumburg" Chrysler doesn't have a fix for my complaint. My concern is how would OE release a vehicle without supporting their product? If Chrysler can't resolve my issue then I would like reimbursement for my monthly payments. My understanding was, when buying a new vehicle the manufacture should be able to support any warranty claims when applied, and resolve any defect or failure new car per agreement.
VIN: 1C6SRFMTXKN591389
This vehicle only has 1400 miles, and this issue started at 1000 miles.
Please advise.
Settimo

Jeff Ross
from Manchester, MI
I leased a new dodge ram in 2016 (which I will be purchasing when lease is over) I had Lafontaine dodge in Clinton Michigan (formally O'hara dodge)install ram mud flaps I purchased at dealership who installed. Since then I noticed rust and damage to my truck due to poor workmanship and design. I took my truck into them a couple months ago and they said they would not do anything to fix the problem. I asked them to remove flaps and inspect which they did not. attached and photos I took. there should be 12 photos sent.
thank you,
Jeff Ross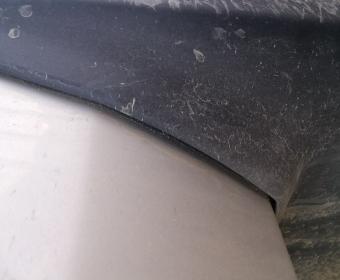 Bill McDonald
from Newark, NJ
I purchased my 2014 Chrysler 200S direct from the dealer. The AM/FM and the Sirius and the VAV have worked great since the purchase. Two weeks ago the NAV and Sirius stopped working. I took the vehicle to the dealer where I bought it from and they did a diagnostic and said the antenna shorted out. So they replaced the antenna. When they gave me back my car I now have NAV but the AM/FM and the Sirius do not work.
This dealer is in over its head. I need to know where I can take this vehicle and get the vehicle fixed.
Bill McDonald
330-416-5896

George Grubr
from Rutherfordton, NC
2011 Dodge 3500 got "ABS" light and "service 4WD system" light when traveling on I79 in WV. Pulled over, minimum brake performance and clicking sound. Had it towed to the dealership where the truck I purchased this truck new. Country Club Chrysler Dodge Jeep Ram, 1251 Milford St, Clarksburg, WV 26301. This happened on November 05, 2018 noon time. The service department in the dealership told me "we will try to squeeze it in this week, at the moment we can SCHEDULE for beginning of December. And they did not offer to schedule the truck... So now they've had the truck for 15 days and were not able to look at it and they do not know when and even if they will be able to repair it - and to add insult to an injury they can now schedule for mid-January although they would do that... Service manager, Shawn, was irritated because we had the balls to inquire about the vehicle status more than once.
We found another Dodge dealership in Whitehall, WV, having the truck towed in today, scheduled service for December 01, and also found out there is a recall for this truck. Not mentioned in Clarksburg place at all.
What a level of service and honesty from certified Dodge outfit - it almost looks like the certification is useless..... Oh, there is no management in the dealership to speak to either, never available, and no contact given.

Lois A Turner
from Haysville, KS
just wanted you to know that I am not happy one bit. the last two months I had spent over $3100 in repairs on a 2014 Chrysler 200. I can understand tires and brakes replacement but struts and to have the throttle body assembly go out on a car that is only 4 years old. I only had the car three years. Just his week is when the throttle body assembly went out. So it had to be replaced along with throttle body gasket, PVC valve, serpentine belt and B-G fuel system cleaning kit $1300 this week for the repairs. Ridiculous to have to put out this amount for a car that is only 4 years old. . I can tell you right not that should have not happened on that new of a car. I will not be buying another Chrysler ever. When I bought the car my son-in-law told me they were great cars, but that is not true.

Warren Mak
from Coquitlam, BC
Took the dealer three weeks to replace a transmission on my 2013 Grand Caravan,which I was told it will take approx one week. Chrysler only provide courtesy car for the last week because it was taking too long and due to my complaint, and I had to get a rental car which the extended warranty company only provide one week rental, so I ended up had to pay for one week of car rental out of my own pocket. My previous 2002 Caravan was purchased brand new and had terribly gone through three transmission replacement by Chrysler back then. In 2013, I thought I would give Chrysler another chance as I expect that this kind of transmission problem should be taken care on this newer version of caravan, but nightmare happened again right after the warranty expires that the transmission broke down on me again. On top of being very upset about the same problem on my second Caravan, I also realized that Chrysler is not willing to cover your lost on car rental payment even though the delay on the transmission job was their problem, which regards to me as ultra poor customer service. All these sum up a conclusion for me that I, or anyone I know off should stay away from Chrysler.

John D Weber
from Homestead, FL
Bought a 2018 Dodge 3500 which I gave $58,000 for, in Miami,Florida 2 weeks ago, and have it back at the dealership with no ac blower, no remote start, no interior dome lights, no parking lights, back up cam, no fog lights, no VR. The service department in Homestead,Florida where we took it first are complete assholes and told me it would be mid December before they could even look at it. The Miami service department have now had the truck since Tuesday evening and still don't have a truck to drive back to Missouri where we are from. If these service departments are this busy, do I even want this Dodge??!! What's up with Dodge? My wife has a 04 Durango and would swear to the Dodge brand til now! I am very upset and not feeling good at all about my decision to go with Dodge instead of my first choice of the Chevy! Get your heads out of your ass and hire competent people to build these vehicles! Now, I'm stuck in Florida when I should be heading to my home! And don't have a lot of faith in getting there in the Dodge SHOULD we get it back anytime soon! Your Dodge is causing me a whole set of headaches! I'm sure you don't give one shit though. I have read negative review by the dozens, so I'm sure my complaint will be filed where all the others are! In the "I don't give a fuck" file! Y'all let me down. Way down. Haven't been home for months and now I guess my hope for getting there is just my tough shit. Thanks! For nothing! $58,000! OMG, I am sick!
John D Weber

Bonnie Baber
from Los Angeles, CA
Have had our 2015 dodge ram 2500 deisel to the dealer, Lawley Dodge in Silver City, NM three times for the engine light on and exhaust system regeneration at 100% full message. Thire time they replaced engine coolant reservoir which had a hole in it, the engine light is still on and also the regeneration message, and charged us $999.49. Told us a sensor is out and on order. Why didn't they find this problem the last time we were there when they found nothing and told us to drive it harder to get it to regenerate! Sent us home. I feel there costs are outrageous for a 2 hour job and we still have the engine light and regeneration message!

Jim Kozma
from Hoffman Estates, IL
I have been one of your most loyal customers of Jeep Grand Cherokees since 1994. Over the years I have purchased at least 7-and I currently own a 2017 Overland. As you should be able to see I purchase a new Jeep every two years and have planned on purchasing a new model when your latest redesign is available.
During the 10 years prior to me turning 65 I have had a number of contacts and participated in design reviews with Morpace-never being turned down. When I turned 65 that stopped. During the past 2 years Morpace would call me and go through a brief discsussion and in the end when they would finally ask me my age they say "we are now full up". I was looking forward to participating in this exercise in that it sounded as if it was the new Grand Cherokee.
What bothers me is the complete lack of respect for me because of my age. I have a number of friends and family members who own Jeeps-when I shared this story they all shook their head. Sounds like age discrimination.
At this point I now question whether I should buy another Jeep Grand Cherokee or a Chrsyler product if they do not value me as a customer. When I complete my JD power survey this is an important part of the customer experience-How do I respond. I beleive JEEP can easily fix this issue in a
number of ways including calling Morpace on the carpet. As someone who has been a loyal customer I really want to hear from you..

William Maddux
from St Louis, MO
bought a 2019 jeep Cherokee Latitude Plus in July. in Sept paid 78 dollars for normal oil change, then last week I get a letter in the mail for two recalls, one being that the manufacturer had the wrong oil in the engine and that it could cause knocking in the engine. So now I have to take it in for a complete oil change again so I am out that money, and I have been hearing knocking in the engine and I am sure the I will be told that there is nothing wrong. so late when my engine fails (which I am sure it will after having to have my 200 left head changed after you sold the car with a known issue eith the machining of the head) and I will be up shit creek. I will have to evaluate future purchases from Chryslers again.

SHIRLEY MILLER
from St. Albert, AB
In June of 2016 I purchased a 2016 Dodge Journey from St. Albert Dodge. A condition of the purchase required that we receive a remote starter which was provided and installed.
In February 2018 the vehicle would not start and we took it in to the dealership where it was determined the battery needed charging.
The day before I took the vehicle in for this the remote starter worked, the day after it did not. I went back to the dealership reporting this. They checked it over and said the "brain" was fried and took no responsibility for this at all. They said there was only a one year warranty on the starter. I have found out from Viper that there is a life time warranty on the "brain" but St. Albert Dodge say they only honor one year???? And it will cost us $342.09 to fix.
Great business practise and customer service to only honour one year on a life time warranty.
I did go back to St. Albert Dodge with this information but was told they would not do anything as it was not their responsibility.
Not being satisfied with St. Albert Dodge's "GREAT" (lack thereof) customer service regarding the starter, which has a life time warranty and wanting to charge us $342.09 to fix It, I decided to take it to JB Power Centre (who I understand provide St. Albert Dodge with the starters).
They said they would charge us $55.00 to look at it and see what they could do. The results were, it simply needed re-programming which was done and the starter is now working for a cost of $57.75. Certainly a lot better than $342.09 for something that was not necessary. This should have been able to be done at St. Albert Dodge for no cost.
The impression I get is because this should have been looked after at no charge it was not worthwhile for St. Albert Dodge to fix it. The fact that I purchased a new vehicle from them means nothing in terms of being provided with a level of service that would encourage future business or recommendation.

timorthy klock
from Syracuse, NY
I took my vehicle to romano Chrysler jeep in Fayetteville new York to check why I have a seat belt service light on. I have a 2014 jeep grand Cherokee with a lifetime warranty contract, they said they would have to do a diagnostic to locate problem and no charge if covered. They said it was not covered because they said I had a bad harness under driver seat and it was not covered because the small tab that holds the socket together was broken, that's total BS, if it was broken than they broke it, they are the only ones to work inside of my vehicle. I have purchased two vehicles from this dealer, never again. These dealers should not be allowed to pull a scam like this

Scott smith
from Manteca, CA
2017 Ram 2500 lariat . Stop vehicle doors remain closed. Turn engine off and radio will remain on for 45 seconds. Dealer has looked at it several times tells me this is normal. I think it should remain on considerably longer. The first problem I had was that the radio could not be turned off. I took it to the same dealer and that problem was resolved. This truck has approximately 14000 miles on it. The MSRP on this truck was over $65000.this is a nice truck but this radio situation is irritating

danny r geier
from Milford, OH
I have had to replace the heater hose assembly three times on my 2008 chrysler town and country 3.8, in 2013 at wells motor company,on 06/07/13. invoice no.chcs157024 , and at jeff wyler eastgate auto mall batavia, ohio 45103 in , 08/20/15 , invoice no. chcs834740 , and again at kings chrysler jeep dodge cincinnati, ohio 45249 , on 10/16/18 , invoice no. 553947 , I would have thougtht chrysler would have made this part good after it was replaced the first time , but it wasn't, this is the third time,it is very evident this part has bad enginering for it to fail this many times.the least chrysler could do is make this right by reimbursing the cost.. thank you Dan Geier.

Your affiliation to atlantic service mechanic here in west islip long island is OVER charging customer to fix electrical problem on my pacifica for $150 an hour work × 4 ( they claim) then mess up my light for another $150 work . Is this right?

Michel Pintye
from Port Saint Lucie, FL
Back in February I was experiencing some issues with my 2001 Chrysler Sebring coup convertible lXI I brought it to the only dealership I am aware of here in Florida and put my utmost faith in getting the job done. The symptoms was that there was ticking coming from the upper part of the motor and the car would not start. I replaced the main computer as directed by one of the mechanics and still did not start so I had to have it towed there. I had phoned in prior to getting the car towed there and was told the car would be looked at and I would receive an estimate on the repairs. At the same time I was told that it can cost about $2000 to fix (which seems to be a regular routine the managers tell clients)... Well when it got there they had no recollection of the car being there nor did know where my car keys had gone after a few days... I drove out to locate the keys and start the process... Well in this time I was told there are only a few people in the shop that fix these older cars because the newer guys do not know much about how to fix the older cars and the one guy they rely on is going on vacation. Well I received a call my car is ready to be picked up. I arranged a ride so I can go get the car and paid for the work done to it (which I had used 2 separate credit cards and cash before it was all said and done). Well after paying for it I went to the lot to go get it and I started the car and it died, started the car and it died again, this went on for a few minutes and there was extreme smoke coming out of the tail end. I went back inside and spoke to the service manager who was replacing the original service manager who had just gone on vacation as well. I was really ticked off because I spent not only my time but other peoples time as well not including the cost to go pick up the car. The woman (who no longer works there) apologized up and down and promised it would be fixed. Well again I was not being called back to let me know what was going on and was given an estimate which included having keys made which was originally understood. This ordeal went on for about 2-3 weeks total. On top of this my name was incorrect on all the invoices and was supposed to be fixed. Finally I get a call saying that the car was fixed come pick it up and here is a bill for the keys and such for another $300 which included other worked performed which was not a part of the job. I was ticked and told the rep that I should have received a call to let me know of any additional charges and such and at the same time reminded him that the keys was a part of the original estimate for the car when they had to reprogram it and such it was included in the cost then. But he would not turn over my keys unless I paid him so reluctantly I had only $200 left in my pocket because I thought all was supposedly paid for. he agreed to accept that and I told him I would have the manager who agreed to the cost look into it when she returned from her vacation. well several weeks to a month went by and I received a partial reimbursement for about $150 of which I was overcharged. A few months later I was having starting issues with the car brought it to an autoparts store to show the clerk what was happening and it started to smoke and catch fire. the ground was not properly attached at that time so had to make repairs to that and snip a good foot off the wire because of the damage... I could not get the car to start several days later so again I called into the dealership to be chastised by Matt on the phone telling me that I only paid $200 to get the car fixed last time and then there was $150 reimbursed after telling me oh here is your record we only show the one transaction... None of which had anything to do with the current situation nor should have been even brought up because he was not the one handling the issues back then. I had towed the car back there telling Mark what the codes were that I got from another service garage and also mentioned that the keys were getting extremely hot to the touch when starting the vehicle (which later I was told by my other service mechanic that it could have been caused by the ground not being secure properly). well that famous saying this could cost you up to $2000 comes out of his mouth just like the other service manager previously... Both times had to pay for an analysis as well on top of the additional cost. Matt had also told me that they get $138 per hour to fix cars charged me $262.50 for a starter labor charge was $237.92 and an additional charge of $10 for reasons unknown and tax $33.18 total repair of a starter $543.60 and at that when I got the car returned they hooked up a wire on the air filter but did not properly put the airfilter in place nor secure the hose to the top of the motor either so when I took the car down the street I had to pay another mechanic to fix that after paying over $500 from Arrigo Dodge Chrysler Jeep Ram 5851 South US Highway 1 Fort Pierce, Fl 34982

John e and Caroline Murphy
from Norwich, CT
Brought vehicle in to service because engine light came on. Said it needed a pump leak pump . Light went off a day later before part came in. We had to pay for part and testing up front . $473.36. Would not return part and would not refund, I am out 473.36 for a wrong diagnosis. Not fair

henry halstead
from Milton, ON
i have been a faithful customer at Milton Chrysler Dodge jeep for many years no , i am sad to say that the new service department group is anything but efficient , i have been asking the service manager about door hinges for approx. 1 year plus now and still no info not even an update i am done dealing with him , the people behind the service counter are very disorganized and seem to have no interest in the job they are supposed to be doing , failed to schedule appointments , and cannot even get contact information right , this dealership used to have great customer service but i am not going to continue going where i dont feel as if they care about the business or customers , i will now be looking for another place to take my vehicles , i know nothing will change i am probly only 1 person brave enough to voice my disapproval but i had to say something because this is not the dealership i am used to

John e Murphy
from Norwich, CT
Brought vehicle into Falvey,s,Norwich ,ct because engine light came on. Said I needed part number 4891419ac pump leak. Had to pay on advance.314 00 . Light went off by itself before part came in. Would not return ,so I am stuck with a 314.0part which I do not need. It is a 2000 Chrysler cirrus with 52,000 miles. Do not think this is right. Was making sure vehicle In good condition as I was going to get a new one. At this point it will not be a Chrysler.

Mary VanderLoop
from Itasca, IL
First and foremost, your Customer Service is terrible. I have called your 800-992-1997 number and have been told my case has been denied by the case manager, yet the case manager never contacted me. I had to call back to find out what was happening to my case. I have asked repeatedly to have the case manager call us back but they have yet to do so and when I call back to find out why they just say the case manager denied the case. I am waiting on hold with your Customer Service as I'm tying this complaint out and they will not connect me to the case manager or any manager. This call ended up with the person hanging up on me because I would not disconnect until I spoke to a manager. The case:
On 15 Mar 18 I took my Jeep into Jacksonville Chrysler Dealership to have my oil changed. I was told by the dealership I needed an alignment although I felt no problem with the alignment, but since I was going on a trip back to Wisconsin I decided to do the alignment because your "so called" professional told me I needed one. I got an oil change, inspection, tire rotation and an alignment. I was never given any paperwork for the alignment yet they charged me for it. There were additional problems with the dealership too. During their work they blow a fuse that controlled our suspension system. We were approx. 40 miles out of Jacksonville (headed to Wisconsin) when we noticed our suspension system was not working, we had to turn around and go back to Jacksonville Chrysler to have that fixed. Once the suspension system was fixed we drove to Wisconsin and the Jeep didn't feel right so we took the Jeep into Chrysler World in Abrams (a dealership we trust) and asked them to recheck the alignment. They informed us the alignment was out and that the inside of our front tires were wore out because of the alignment. Jacksonville did an unnecessary alignment that they never provided us paperwork for, they did an inspection and tire rotation but never informed us there was a problem with the tires because there was no problem. The tires wore out because Jacksonville Chrysler screwed up the alignment. I have contact Jacksonville Chrysler and spoke to the Service Manager and all he said was that the alignment was done by specification. The tires are 60,000 mile tires and where fine at 22,935 miles when Jacksonville Chrysler did the alignment. We have less than 30,000 miles (half the life expectancy of the tires) and we have to replace them. All the evidence shows that the only reason the tires are bad is because Jacksonville Chrysler screwed up our alignment.
I ask that someone PLEASE call me back and discuss this will me because so far I have not received a decent answer. Cell phone 725-502-0603

Cindy Rollinson
from Columbia, LA
OMG where do I begin. Buying a Chrysler product has turned out to be a NIGHTMARE. within two weeks of buying my new car it needed a new motor, headliner, wheel bearings and other small things, now ALL I'm trying to do is make an appointment because the other wheel bearing has apparently went out as well. this is a JOKE and I think I have been punked with this car. There is no words to explain the feeling I have against a dodge product, as soon as I can afford to trade this so called thing called a car off I will be doing so and NEVER in my life time will I purchase another Dodge product. I have called the service department for a week now and left message after message on their voice mail as has my husband but no one there at Landers Dodge has the courtesy to return a call so I cant set up an appointment so I can get my car repaired.

Mark Gebbie
from East Greenbush, NY
I have been trying to buy a truck for over a week now. I located the truck I am interested in and it has been 4 days trying to secure this truck from a dealer in NJ (Nielsens In Andover) . I am dealing with Goldsteins In Albany Ny. I find it incredible that no one form The NJ dealership is returning calls to the Albany dealership. I am ready to buy a $ 50,000 truck and no one is giving me good answers other than calls are not being returned. I told the salesman in Ny that if I don't get a good answer by tomorrow 7/21/2018 that I would go to another manufacturer. probably Ford. Just a shame that this is how Chrysler conducts business. I have owned Fords for years and was ready to give Rama try. Not feeling very good about this now.
Mark

Russell Paul
from Little River, SC
I'm a retired FCA employee. I took my 2017 Journey to VIctory Chrysler Jeep in Shallotte, NC yesterday. Had the Cruise recall performed and oil change and tire rotation. When I dropped the car off the Service greeter thought that the 2.4L engine required synthetic oil. Is stated that the 2.4 L in the Journey is a Chrysler engine and does not require synthetic. When I came back to pick the vehicle up I was informed that all 2.4L engines required synthetic oil or it would violate the warranty. When I got home I checked the Owners Manual and it does not require synthetic. I believe the dealer used synthetic just to make additional money. I usually take my vehicles to the dealer for routine maintenance. SInce this is my closest dealer I will no longer be doing this. Please look to see if there are more complaints concerning this dealer and take the appropriate action. This does not reflect well on FCA.

Paul Brown Jr
from Lady Lake, FL
My Daughter in law and son's 2008 chrysler 300 was towed to
lustine Chrysler at 14211 Jefferson Davis Hwy, Woodbridge Virginia because I needed a thermostat bolt removed which was broken and I had put sealant on the holes around the area. I told Mr. Thomas Ramey (service writer) that I was replacing the thermostat because fluid was leaking from around the area and I did not want the engine to run hot. A few days later a Mr. Bryant Jones( Service Manager) called me telling me that we had water leaking from a expansion plug between the transmission and the engine. when I went to look it appeared to be coming from the passenger side . However I told him to repair it. a few more days Mr. Jones called stating that the water pump was leaking, I ask was there anything else wrong and he stated nothing else. Finally , Mr. Jones called saying the car was ready, the mechanic had pressure tested and test driven the car and everything was okay. We came to get the car and they gave us new keys . THEYSAID THEY DID SOME RECALLS WHICH WAS ALREADY DONE. My son left with the car to return home about five miles away and the car overheated. He called Mr. Jones and returned the car back to the dealer. We were told that we needed to contact chrysler corporation about the recalls which we had paid for in New York and concerning the problem that they said we now need a new engine.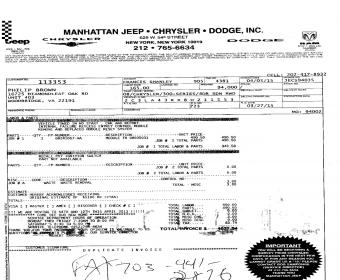 Jackie Parham
from Linden, NJ
Horrible experience and worst investment of my life! I purchased a gently used 2015 Chrysler 200 (limited) and have had nothing but issues. When I first purchased the car, the check engine light was an issue. I was advised that a sensor needed to be replaced and that the part was on back order. This was almost two years ago and the sensor has still not been replaced. I had an issue with the engine cutting off on me WHILE DRIVING on busy highways! I was advised that this is standard it there is an issue with the engine - ok I guess that makes sense. Now, I have been advised that my passenger airbag and oc module needs to be replaced in order for my car that only has 60K miles on it to actually have airbags. To top it off, the repair is over $1,000.00. So, I need to pay over $1000.00 to have airbags in my car when I haven't even hit 70K miles? Wow, I am disgusted. You really cared when I bought the vehicle, but now you don't seem to care about the safely of my family. It may not be important to you, but it is surely important to me! Please explain how the airbag is not a defect? The vehicle has never been in a wreck nor has there been any negligence to the car that would explain why the airbag is defected! How is this not a recall? How are you selling cars that have airbag defects and charging customers a large sum of money to correct, when this is your negligence? Answers/Comments/Resolution is much appreciated.
VIN: 1C3CCCAB9FN738613
Last serviced: Chrysler Service Dept. (Ringgold, GA)

Donald Martin
from Bloomsburg, PA
I recently purchased a 2018 Jeep Compass and was told there is an air pump in place of the spare tire? I don't know who the genius was who came up with this idea was, but I would feel more comfortable with a spare tire, jack, and lug wrench. What happens if you're out in the middle of nowhere and your tire is shredded and you can't put air in the tire with the air pump??????????? This is not one of Jeeps better ideas. I am not a happy Jeep owner and would like this problem corrected. Other than this problem I am happy with my Jeep.
Sincerely,
Donald Martin

Paul Brown Jr
from Lady Lake, FL
I had my daughter in law's 2008 chrysler 300 towed to lustine chrysler on June 11, 2018 after I attempted to fix the car which was leaking anti freeze from around the thermostat area. I replaced the thermostat and gasket several times and the bypass hose o-ring but it continued to leak. After I used sealant the last the I broke the thermostat bolt and decided to have the car towed to the dealer. I called and talked to Mr. Thomas Ramey. I stated that I have broken the thermostat bolt and needed it repaired,also I had told my son not to drive the vehicle so it would not over heat. When I arrived at the dealer, talked to Mr. Thomas Ramey signed the repair order and he wrote his telephone number down on apiece of paper so I could call him. A few days later, I received a call from a Mr. Bryant Jones, stating that he was handling my car and that I had a exspanion plug leaking ; so I went to the dealer where I mechanic had the car on the lift, where I saw fluid dripping from the passenger side of the engine; but Mr Jones stated the fluid was coming from between the engine and transmission. Anyway, I said repair the leak and left. Two days later Mr. Jones called stating the water pump was leaking and needed to be replaced, I ask if there was any thing else and he stated no. but the bill would be $3750.00. On Monday June 18, 2018 Mr. Jones called stating the car was ready, it had been test driven and everthing was good plus we only owed $3550.00. We arrived, paid the bill and received two new keys, and were told that recalls were also done. My son have a receipt showing where he had paid for this same repair in New York. Any way, My son left with the car and less than 5 miles away, the was leaking and running hot. He called Mr. Jones and was told to bring the car back. When he returned, they gave him a rental. I called the next day and was told by Mr. Jones that the engine needed to be replaced. We was told that it was not their fault and we would have to pay for a new engine. My son and I decided to pickup there car and take it home until I file this complaint and get some help.

Michael Wolochuk
from Brooklyn, NY
VIN # 2C3-CD7C99JH-331189 - 2018 Dodge Challenger Hellcat Widebody . This was a priority build to replace the one ordered in November of '17 after it was stolen from the Detroit lot . Still can't get a delivery date on the car above . Car was built over a month ago and can't get an answer where it is and when is it getting to the dealership - RT18 Chrysler Jeep Dodge .
Terrible way to do business trying to get an answer of where the car is . Very frustrated and disappointed and will cancel the order if the car is not at the dealership by Monday July 2nd .

Alvin Wells
from Richmond, VA
I purchased a 2017 Chrysler 300 C with a little over 21k miles on it last month 5/25/2018. After purchase I discovered it would not pair with my phone, no blue tooth. That was the only problem with the system!! , After the dealership's attempts to resolve the problem they merely made it worse. This was on 6/5/2018. Now nothing works absolutely nothing, and I have been told I need a new radio. It has been over a week and the new Radio(part) has not arrived. Today I attempted to start the car an it would not start. I had to jump it. Whatever is wrong with the radio/uconnect/computer system is causing the battery to be drained and now the check engine light stays on. I brought the car back to the dealer today to have them check the dying battery and check engine light. Again the replacement radio/uconnect/computer system part has not arrived and I'm being told they have no way trace where it is or when it will arrive. I left the car with them because I don't trust it's reliability.
I have contacted customer service and was merely told the same thing no way to tell when the new part will arrive. Now over a week in and with all the technology and telephone service. No way to determine what is going on. This is unaccceptable and really makes Chrysler look bad. I thought Chrysler was ready to compete with Lexus and Mercedes boy was I mistaken. Can someone help them be more professional and step up their customer services. Help!!!!

John & Susan Weertz
from Marlette, MI
We ordered a new 2018 Doge Ram 3500 Big Horn truck in February. According to the dealership it has arrived in Detroit, MI but for some reason it is not being shipped to the Tubbs Brother Dealership in Sandusky, MI. We would like to know what the hold up is on getting it to us. If you can answer this question or resolve the issue it would be much appreciated.
Sincerely,
John & Susan Weertz
Port Austin, MI
sueweertz@yahoo.com

Anthony Piccirilli
from Poplar Grove, IL
I had my oil Changed either in November or December 2017 at the Jeep Chrysler Dealer at Jack Wolfe in Belvidere, Illinois. At the time my rear windshield wiper was not getting any fluid on my 2016 Jeep Cherokee.. Thinking that I was out of fluid so I asked Jack Wolfe to check it out. I was go ing to travel to Florida in January and I wanted to make sure i had enough windshield wiper fluid not thinking the it might have been broken. The just service person told me the car was ready to go, and all was well. I paid for the service, thinking that the fluid was put into the vehicle.. In January 2018, I drove the Jeep to Florida, but my rear window wiper fluid was not coming out again and that was the very first time I had used it, As I traveled, I had to wipe my rear window with a dry towel, because all the way down the fluids were frozen at each gas station, as the weather was extreme cold past Atlanta Ga. When I got to Florida, I immediately washed my car, as it was dusted totally with salt. Thinking that it might have been clogged with salt before i left, but I tried and tried again nothing came out of the rear windshield wiper.
Before coming back to Illinois, i had my oil changed again. I brought my Jeep to Flagler Beach Jeep Chrysler in Flagler Beach, Florida. Once again I complained that I was not getting any fluid out of my rear window assembly and to have it checked, . I just assumed that Jack Wolfe in Belvidere, Illinois fixed the problem.. It was a small inconvenience, but I felt that I needed to have it fixed on my way back because of the snow and Ice and this was in February 2018. The Service person in Flagler Beach Florida told me that I needed a new rear nozzle on my rear windshield wiper, because it was bad and that it was covered by my warranty. He also told me that he would order the part, and when it came in he would call me, and to make an appointment to put it on. I waited ten days, and I did not here back from the dealer in Florida, so I called them. I was getting ready to come back to Illinois, when I called Flagler Beach Jeep and Chrysler to find out about the appointment and the getting the part.. When I inquired, they told me that there was no record of any part ordered for my Jeep. I talked directly to the parts manager and he told me that the part was never ordered and that he was sorry for the inconvenience. I headed back to Illinois without it being repaired.
I know this is a small matter, but I get tired of dealing with people who just do not know what the hell they are doing. I pay a lot of money for your vehicle, and I expect good service. I know this is a small matter, but I am angry at all of the times I have to come to your service center and pay a lot of money to get service and it ends up like this. I know if you can not do the small things, you certainly can not do the big things. So I am still without a windshield wiper nozzle and I am not sure what I am going to do. I know people make mistakes, and I have certainly have done my share, I am sorry this happen, but someone needs to know about this.
Regards,
Anthony Piccirilli

Robert Georger
from Charlotte, NC
I purchased a new 2018 Charger RT Hemi October 31st at Hendrick Dodge in Concord NC. Many issues have come up.
1) Car was delivered with 51 lbs of air in every tire. WHen I came back to the dealer they just joked that a tech must have a bad guage.
2) after the first week, the trunk release would not work, mechanism had to be replaced.
3) since the first day, the up shifting function ( while in the manual mode) has been a problem. While up shifting , I could be shifting from 3rd to 4th and the car would down shift to 1st or second. This was brought to the dealer, they test drove it, said it did not happen to them so they can do nothing. They also said they contacted Chrysler and Chrysler said there are no known issues like this.o The car is at the dealer again Feb 12th for this same issue.
4) after the second week, the car would not start. I had to call Chrysler Roadside Assistance to get it jumped. I went to the dealer and they said the car was delivered to me with 1 dead battery cell. A new battery was installed.
5) The car has been in twice for a Uconnect Message " Electronic Stability Control Malfunction". After all this you would think the dealership might offer me something like free oil changes for all the issues, down time, and my time to address these issues.
I have been updating the Service Manager about all these issues. I have researched the North Carolina Lemon Laws since the car has been back to the dealer 2 times now for the same issues.

2015 Chrysler 200
Rattling in steering column
Leduc Chrysler says it is fixed November 7, 2017 but will have a slight noise always
This is so noisy and a car that is only 2 1/2 years old should not sound like this.
This was under warranty but my km are at 59,095 at the present moment and I'm not impressed that the sound is not gone
I would like to be contacted and have another Chrysler service individual look at this issue and it to be rectified correctly under warranty.
This is a highway driven car and this issue should not exist with a new vehicle.
Please contact me as soon as possible. I started notifying Leduc Chrysler about this issue since the end of August 2017.
They kept saying that they don't see any visual issues or hear what I hear. Finally on my 3rd time in to service, someone heard the issue but it is not rectified.
Jennifer Gavin, Suite 412, 6201 Grant MacEwan Blvd., Leduc, AB T9E 0K8
(780) 782-7791
gavers@outlook.com

Jeffrey Bolt
from Carrollton, VA
I was charged $426 labor for installing a trailer wiring harness on my 2014 Jeep Cherokee. Originally the labor was going to be $225 but because I did not have a factory-installed tow bar I was charged more than $200 more. This, because an oval hole had to be cut in to the plastic on the back of the car, next to the license plate, in order to install the plug that would have gone into a slot in the factory tow bar. I spoke with the mechanic myself and gave him permission to do this. I estimated 1/2 hour extra labor. I was told this would take 3 hours additional labor to complete (???) . I was given a (supposed) $107.58 discount for some reason. I believe the reason was they couldn't possibly justify the 3 hours extra labor for having to cut a small hole in to plastic. $100 more for the job would have been plenty. Thank you.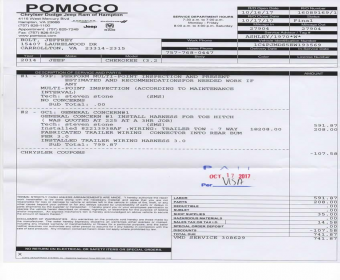 John Niedringhaus
from San Diego, CA
My 2005 Chrysler Crossfire with 130k on it has run perfectly until now. I was on the freeway in San Diego rush hour traffic and the car just stopped running! All dash lights and emer flashers worked but, when I turned the ignition off and on - nothing, not even a click, click. I was right in the middle of 6 lanes of traffic with a completely dead car! Yikes!!!! After about 10 minutes of sweating, I tried the ignition again and it started. I immediately worked over to the right lanes so I could get off the freeway before it quit again. I made it to my house and turned it off. It wouldn't start again after that so, I called the dealer (Midway Jeep/Chrysler) and they said that they weren't very familiar with that particular vehicle and had never heard of this problem. I had AAA tow it to a local mechanic - he kept it for a week trying everything he knew to get it to start - no luck. He rechecked everything - tightening and resetting the computers - the car finally started. I brought the car home and it starts and runs. I checked on the Crossfire Forum on line and found endless complaints about this problem - some people gave up and sold the car or traded it because they were afraid to drive it and got no help from the dealers. Is this a "class action" problem or will Chrysler stand behind the product? I am not interested in ending up in a flaming crash on the freeway after this car quits on me on the freeway at 65 miles an hour!

KENNETH B. LANE
from Howell, MI
http://www.deurspeetmotors.net/ This dealership tried unsuccessfully to charge me $1400.00 to change the fuel filter on my 2007 Dodge Ram 2500. I made an appointment for two days following a personal visit to their service department while on vacation in Michigan. We dropped off the truck and waited in the dealership. After a bit over an hour, the service writer came in the waiting area and told me he had bad news. My trucks filter assembly was not available any longer and required a new manifold and filter assembly. He showed me an invoice work order partially filled out showing $258.00for the filter and $752.00 for the housing assembly. The labor section was left blank but he stated he'd guess labor to be about $300.00 plus tax and disposal fees.
I told him to bring my truck out of service and I'd leave thanks. Der Speet Chrysler Dodge is a criminal operation that you are sadly represented by------I will never buy another Chrysler product and cannot wait to sell both of mine!!! My 2007 Cummins diesel trucks exhaust tail pipe rusted out within the first ten thousand miles and I was told Dodge did not make parts. I complained to you cheats and had to replace the entire exhaust at my expense----you and your dealers are crooks of the lowest order and I plan to spread the word to the entire world!!!! Damn you all!

Linda Roeber
from Tulsa, OK
I have a PT cruiser and my all light kept coming on and off so I called Chrysler to take it in to have them look at it because I wasn't sure what was going on. I spoke with Steven and he took down my information I also ask him to change that one and he was also going to do a tuneup on my car since it hasn't been done I said that was fine and to check if any other maintenance needed to be done. He said he would he called me later that evening and told me my car was ready to be picked up he said the light came on because of that will pressure thing I'm not sure why are you called it and that there was a little bit of oil
leakage so he replaced that part I said OK. My deal came to $659 and some change but I had a 10% coupon which brought it down to $602 and some change I take my car home I go in the house then I had to run some errands I get back in the car they're oil light comes on. I thought maybe it was just the flu so I turn the car off turn it back on and then the light goes off that evening I had to stop several places each time I got back in the car oil light come on as before when I took it in to have it fixed the next morning I have to go to work I get in the car turn it on oil light comes on. When I get to work I call Chrysler when they open up and talk with Steven about it he said bring it back in and will check it will put a coder on it maybe we have the code wrong. I told Stephen I couldn't because I didn't get off work till 7 PM and they close at 5 PM I ask him if I could drop the car off and put the keys in the dropbox when I got off of work he said that would be fine in the meantime I have to find a way to work. I didn't hear anything back from them so I called them around 9:00 AM I just spoke with Steven I had to refresh his memory why I had drop the car off and he remembered then. I ask him to call me back when he found out something still never heard anything so I call back at 10 AM I then was directed to talk with Daniel he was the one that was working on the car or the tech is they calling I had to explain to him why the car was there because he didn't know he said he would call me when he found out something. About 11:00 AM send lady as the day goes by I get busy at work not thinking to call him before they closed at 5 PM it was 6 AM to like to call him I never received a call to tell me about my car so again I had to find another ride to work the next day so I called the next morning to speak to Daniel and he said they didn't have time to get to the car and he would call me when they found out what was wrong so Daniel called me around 10:00 AM and tell me that it's a bad wire which goes to somewhere around the oriole pressure I don't know exactly what you're talking about when you say cost me another $220 to have it fixed and I don't know why I have to pay for something that I've already paid for it to be fixed when it's the same light flashing as before when I paid $602 now they want another $220 I am so flustered rated I have never in my life had trouble with Chrysler I've always had a crash my car i've always had my car fixed at Chrysler never have I ever had trouble with this company but I don't feel like I should have to pay another $220 to fix something that they were supposed to fix with the $602 that I've already paid them.. How do I know it was in a bad wire all along and they just replace something that shouldn't of been replaced in the first place I don't mind paying for stuff I need to pay for that to pay on top of something I've already paid for is ridiculous . Like I'm a woman and they can do anything that they want to or tell me anything that they want to are used to give Chrtsler for a good rating are used to tell my friends about Chrysler for doing the right thing but I'm not so sure anymore after this incident. I told Daniel I would have to get back with him on this incident he Norred what I said and when ahead and ordered the part anyway even though I said I was bringing it back he text me today and tell me that the part would be in sometime this week I don't know I thought you stood behind your policy when if you didn't get fixed bring it back and will get it fixed for you specially after you've paid to have it fixed and it's still not fixed is still doing the same thing it did when you first took it in and now they want more money for another thing and by the way Steven told me that the rest of the maintenance checked out fine very unhappy customer I'll think twice about telling my friends how good Chrysler is in the future ......

Thomas Silverman
from New York, NY
Brought 2005 Town & Country in to fix the rear wiper that was not working and for a general checkup at Manhattan Chrysler. Got charged $2000 for a $50,000 mile service (at 42,000 miles) service is billed at $178 an hour at this location! This was without even replacing the rear wiper which would have cost another $600. The next day, the brakes were making noise, there was a rattle under the car when hitting bumps and the tire pressure service lights came on. Brought the car back the next day. They kept it all day ($20 cab ride each drop off). They said they needed new brackets for the exhaust system. I came back the end of the next day and they had still not gotten parts but I needed the car so I took it.
They would have charged me another $500 to fix what was not broken when I brought the car in.
I just brought it it a general auto repair shop to look at the noise under the car and the sound from the rear brakes as well as the rear wiper. They found rear brakes nearly down to the metal. They found loose electronics that had not been properly reinstalled when Chrysler worked on the transmission a few weeks before. That was the noise. They found a bolt and will fix it for $50. They will get the part for the rear wiper in 2 hours. They found the front all joint/control arm is worn and loose. I will get all of this done same day for around $800 vs the $2000 that Chrysler charged without fixing the rear wiper which is why I came in and creating new problems that were not there before.
I have had 3 Town & Country's over the years. Maybe it is time to leave Chrysler.

Joyce Perkins
from Montgomery, TX
This car has a problem cupping tires The dealer and a Chrysler rep said there is nothing wrong with the car but now at 60000 miles it has cupped 8 tires (2 sets) one st touring and one set sport. Front end has been alligned more than maintenance schedule required and maintained by the same dealer 100 percent. AutoNation,
Tire manufacturers tell me tires cannot cup unless the car causes it . I was also told by a retail tire store that they get a lot of chargers, challengers and 300's with tire cupping issues.
What can Chrysler do to help.
Extremely frustrated,
Joyce

Derrick Clemons
from O'Fallon, MO
There is a recall on a alternator for 2013 300c, talk to many different people (Beth,Yolanda,Cara, and two others I didn't get there names and a live chat with Michael no one cares or want to help,I was promise to get call back and with information, my call seems to get drop after holding on for over 30 minutesI had a live chat with Michael he was rude and won't help... make me feel like I would never buy another Chrysler product every again. The recall have no parts available until nov, 2017, but the recall information I have said they would replace the part. I have a case # 32290698 and Ms Cara has NOT return my call and I left message. If this interest you you can call me or text me at 314-229-0918 my vin # is on one of the image sent. For me to repair the car it will cost about $1000.00 dollars, my car has been down over a week now. Not happy as a Chrysler Car Owner Derrick Clemons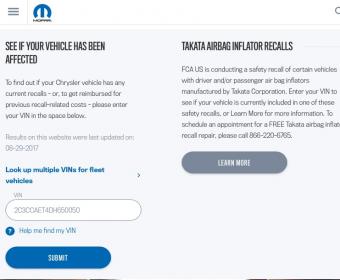 Scheduled appointment. Time waiting- approximately 1.0 hour. Time of work register - 0.2 hour. Why did I have to wait 0.8 hour on top of the work time? I had an appointment. It was a R62 recall - Reprogram HVAC Control Module. Time. I should have been there- 0.3 hours.

My brand new Fiat Ducato was converted into a motor home by Vista in the Cape is giving endless problems. Purchased middle 2014 for my retirement. Vin number ZFA2500000250660 engine number FIAE04811889253. Developed problems in March 2015. Fuel injection failure & into limp mode. Cut a long story short almost a year on & still not resolved. The customer service is non existant & no urgency.

Robert Sinclair
from Greater Sudbury, ON
I had a 2008 jeep Cherokee towed to mike doyle Chrysler because it would not start at minus 1 degree. They had the jeep for 3 months changed several parts and reassured me that the problem was because it needed to be plugged in. Well day one of cold weather it was plugged in and still will not start. This jeep has cost a large amount of monies and is still not starting. I have called them back they say well it should start I have heaters underneath and a battery charger on it and still nothing. Could you please help me out as what to do next feeling frustrated after spending 5 thousand dollars and no results.

D. Bauman
from Oxford, MI
8 visits to the Milosch Palace Chrysler Plymouth - Jeep Ram dealership to repair a window problem without success. Service manager could have cared less and in fact became argumentative when confronted with the facts. He and the dealership he works for has single-handedly convinced me to never buy a U.S. made auto again. Took the vehicle to a another dealership and they fixed the window problem while I waited.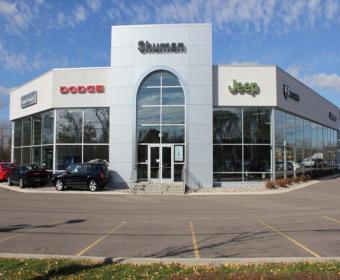 Have feedback for Chrysler?
Thanks for your feedback!
Sorry. Please try again later!