Woolworths
Woolworths Complaints Continued... (Page 8)
604+ reviews added so far. Upset? Call Woolworths corporate: 1-800-638-434

Suzanne cole
from Sydney, NSW
I did my shopping today at the Woolworths Leichhardt. Store, I thought I would try your select tomatoes diced (Australian) I bought your brand once before but I seem to remember they were Italian tomatoes, so I was happy to see they were Australian this time and whats more they were on special, 80c, I just checked and that is the price advertised on your online shopping site I was not imagining it. Anyway when I got home I noticed on my receipt the tomatoes x 2 when I only bought and have 1, while I could live with that loss of 80 cents I was charged $1.79 per can total $3.58.
I will attach photos. As my buying record would show I am a frequent buyer with a rewards card, I stick with Woolworths because your stores happen to be conveniently situated to me, not in truth because I like the l stores or products, perhaps that adds to my annoyance at this error. I wonder now how often this happens, that something is not only scanned twice but more importantly I was not charged the correct advertised, on line and in store price.

John Ormsby
from Brisbane, QLD

Sandra and Robert
from Sydney, NSW
My husband and I went into the Gunnedah Store today the 13/02/16 at about 3.30ish, as I thought I would try Woolworth for a change, we normally shop at Coles Or Aldi's..We are new to town so this was the first time in the Woolworth store. We needed some help so we spoke to a young woman... Her name tag said Nikkita. She may have been in charge or something as she was being approached by other staff members. Maybe I should have asked her what her role was, but she didn't really come across like she wanting to help us.
The reason I am writing this is that she was talking to me while chewing gum or a lolly of some sort and chewing like an old jersey cow. Trust me when I say it was not a nice sight! It was not very nice and a little bit off putting to say the least. Maybe Woolworth need to tell their staff how rude it is to chew gum when serving their customers. When I was younger, my Managers would have never allowed this to happen. You may think this is trivial but, Manners go a long way and this young woman obviously has none.

Susan Andrew
from Johannesburg, GP
I bought a packet of Chuckles peanuts yesterday (11/02/2015 )and when eating found that a lot of it was just plain chocolate and not with nuts. Disappointed as I obviously expected chocolate covered nuts and not just plain chocolate. The sell by date on the package is 1 Jun 2016 and best before date is 15 Jun 2016 21:45 10089.

Ross
from Camberwell, VIC
Visited Woolies on Canterbury Rd. on 3/2/16. Driscolls Strawberries 250g looked like not enough strawbs in 3 of the packs on display. Weighed them on the store scales and they were all 210g total. If we subtract say 30g for the pack and the bubble wrap, that's 180g of strawberries, when there should be 250g.
In the other Driscolls punnets on display, 3 contained one strawberry totally rotten and covered in mould. The cardboard tray had a sticker showing they were packed on the 22/1/16 - 12 days earlier. Went back to the same store 7/2/16. 250g punnet looked underfilled. I weighed it on the store scales. 200g. That means it contained about 170g net of strawberries. Someone is ripping us off. Someone should be inspecting the incoming produce, and "The fresh food people"? Bah!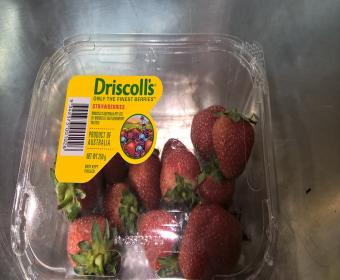 Lynne Heath
from Sydney, NSW
Shopped at the above store on 23rd December 2015, specifically to purchase half leg of ham, piece of boned and rolled pork and fresh vegetables/fruit for Christmas. No half leg hams at all (told by staff member "thats all we have") only about six full legs on display (too big for us), only very large pieces of pork (again too big) and no fresh beans. I was very disappointed so had to shop outside Woolworths to purchase these items. I have been a very loyal customer of Woolworths for over two decades, but I found this experience very disappointing.
I sent an email on 23rd December which asked for verification of my email address. Did that. On 11th January this year sent another email - this time came back "delivery to recipient failed permanently". I then posted a letter to Woolworths on 13th January to Bella Vista address. I have received no correspondence from Woolworths to this date. Could you please respond to my complaint otherwise I might have to shop at your opposition, Coles. Seems these days, nobody responds to anything - just ignore you.

Julie Johnston
from Melbourne, VIC
I recently bought a leg of lamb from Sale Woolworths in Victoria. It was cryovac sealed. After I restled the wrap off I found more hard plastic covering over the end of the lamb and removed it. When I had baked the leg of lamb I had discovered another hunk of plastic baked on the side of meat. I had to throw the leg of lamb for fear of toxins from the plastic. No dinner. Far from happy. All the legs of lamb need is cryovac bag Not all the extra pieces of hard plastic stuck hear and tbere on the leg. Very angry that I missed that last piece and angry that there are so many hidden extra pieces of plastic on the leg of lamb!

Monique Btuce
from Heathridge, WA
I attended the Woolworths St Georges Terrace store on the 27th January at 1:50pm and was served by a Staff member in training. The staff member did not speak or advised what I owed. When I handed 50 dollars over I was short changed seven dollars. I went to the service desk and they reimbursed me the funds. I asked why the new employee was not trained properly and was advised we don't have the staff to train.
This is appalling how can you expect staff to give good customer service if they are not trained correctly. Shouldn't staff greet the customer, and advise what you owe and count the change back to the customer to ensure their till balances. Woolworths need to address your training standards so your staff know what's required of them.

brenda bensley
from Wantirna, VIC
It is bad enough to get those annoying phone calls every night about free lights, but to have it shoved in your face going into and out of your seaford store. They are not a charity but people making money from a government run scheme. She could not be avoided as she was standing next to the trolleys. I complained but they told me the directive had come from head office. You could tell people were very annoyed.

Gail Huth
from Kallangur, QLD
This is a complaint about one of your products. I have been purchasing your Woolworths market value pack of 10 burgers for several years and have found them to be excellent however as of late not only your packaging has changed but the shape also. I am not to concerned about the shape of the burger but the packaging of the burgers need to go back to how they were with the freezer paper between each burger as to make it easier to separate. As they are now with no freezer paper they are so hard to separate it ends up that I am re-making the burgers each time I go to cook them. Please if it's a matter of cost I would pay the extra to have them back to the old packaging.

Joseph Chan
from Broadbeach, QLD
Today I purchased some grape in the supermarket at Pacific Fair store, the grape advertised 4.50/kg but I was charged at 15.98/kg. I found out the customer service gave me refund of overcharged portion only. I asked the staff when something like this happened before the item which was overcharged will be given for free. The staff said this was human error have to charge and pay the original price. But after I continue to argue and eventually I got the item for free. Please tell me what is the company policy when this kind of things happen? Just imagine if customers not checking their bills will be ripped off a lot of money.

Shirese Spannenberg
from Bellville, WC
I made my December account payment on 15 December. Only to receive a call to say my account is in arrears. I explained i made payment on the 15 December 2015 and was told because i paid before the 16 of December the payment is seem as a payment for November even though i made payment on 23 November 2015 for November. I paid other accounts on the same day and only experienced problems with Woolworths. I checked my November statement and it says payment is due on the 10th December so how can the payment i made on the 15th December be for November if i already paid my monthly installment for November? Also where does it state in the Woolworths term and conditions that payment made before the 16 of a month will be for the previous month even if you already made that months payment?

Taryn Burland
from Sydney, NSW
I bought chicken cold meat (Woolworths brand) from your Bondi Westfield branch yesterday (Sunday 17th Jan 2016). When i came home i opened the packet and fed it to my little boy and ate some myself. Half way through i said the taste wasn't right as it tasted really sweet and went to check the sell by date on the packed. The expiry date on the package was 25th Dec 2015.
I find it utterly appalling that you keep expired food items on your shelves way past the sell by date and both myself and my little boy could have gotten very very ill. I find it unacceptable that i will now need to look at the expiry dates on all items at Woolworths before i put them in my trolley and will therefore have to go elsewhere.
As you will be able to see by looking at my account (card number 9344668 029579) we are regular shoppers at Woolworths and spend well over $1200 on a monthly basis.

Maritess Dee
from Ashfield, NSW
Purchased 2 packages of salad from Woolworth Strathfield on Tuesday night 12 Jan. Brought the tabouleh salad for lunch at work the following day, Wednesday, 13 Jan. Towards the mid part of lunch, I bit into 2 brown pieces of hard small stones nicely camouflaged with the colour of the salad. In the chewing process, it hurt my front upper plate which I thought partly broke off. The stone further split into small tiny pieces . This is very dangerous! I am only able to capture the bigger pieces of the stone with the image attached below (highlighted and encircled).
I am now very paranoid and scared with the other salad pack that I bought ; and likewise with future purchases. How do you ensure safety with this type of food? What QA measures are in place? How do you compensate me for this scare? I have kept the stone and the picture for reference. Does this need further reporting?

D. Obrien
from Thornleigh, NSW
I regularly shop at Metro West Pennant Hills, and up until recently have always had a good shopping experience, but lately the music on the PA system, while not loud, it is a fm station and it is very annoying, the music is dreadful, it may be good for the teeny boppers but it is not very pleasant as back ground music as you shop. It used to be pleasant. Why the change to a FM station? I cannot wait to get out of the shop it is so annoying.

Helen
from Centennial Park, NSW
On Christmas Eve I shopped at Erina Fair store, and among other fruit items I purchased 2 mixed fresh fruit slices ( mostly melon and pineapple slices)in trays, priced at $6.00 each. I put them on our table along with cheeses etc, for our guests. only to find that the fruit had fermented quite badly. FRESH? How stupid was I to believe your "fresh" advertising. Perhaps you should look at Hanging (typo) changing your advertising agency. Shame on you. Your company is getting quite a negative reputation. Well deserved, I say.

Annette Kerr
from Perth, WA
I bought over $60 worth of porterhouse steàk at livingston in Perth on the 29 dec, we BBQ most of it and found it very tough, the next day we cut some up in very fine pieces to do a stir fry and found the same. I have found since you started putting meat in the stores pre packed the standard had gone down and had not bought meat in store for a while because of this reason.

Jasmyn Budworth
from Adelaide, SA
I took my elderly client food shopping, she uses a wheelchair and enjoys shopping with the wheelchair trolley. Woolworths at Elizabeth SA only have one wheelchair trolley and this couldn't be found. We struggled to complete her shopping without it. Another customer was in a wheelchair too so there is obviously a need for more. My client was upset by this.

Poppy Peris
from Castle Hill, NSW
My husband and I went to your store at Burwood Plaza (Sydney) this morning, as we do every Saturday and left very angry, frustrated and disgusted. First of all, there were only a few trolleys at the entrance. A couple were broken and when we put our $2 in the second-last one available the chain would not release and we could not retrieve our money. We brought this to the attention of your staff only to be told that the matter had been reported. We were not very impressed with the indifference of your staff and do not feel that they tried to or even wanted to help.
Finally, we picked up a basket each and proceeded with our shopping. I had quite a long shopping list this week and as you can appreciate 2 baskets were totally inadequate. Furthermore, I have a back problem at present and should not be lifting/carrying heavy things. We were so frustrated by this experience that we cut our shopping trip short at Woolies, bought our fruit from FreshWorld and left. We went to Coles at Birkenhead in the afternoon and did the majority of our grocery shopping. I am seriously thinking of not shopping at your store again.

Beth Woodhouse
from Brisbane, QLD
I agreed to do a Woolworths survey online some months ago and although I declined every offer that I possibly could, I then began receiving large volumes of junk email from so many sources. It has taken me months of unsubscribing from various mailing lists as YOU obviously passed my email address along to all these people. I have been so angry about this behavior by Woolworths that is certainly has reduced the frequency of my visits to your stores. It was disgusting behavior from what we would like to believe is a respectable retailer.

Lynette Smith
from Adelaide, SA
At the checkout I noticed large signs advertising 20% off I-runes cards.i purchased a $20 card.On arriving home I noticed I had not received my discount.on returning to the store I was advised the $20 cards were exempt,they pointed out there is a small notice you can read on entering the store.All the advertising in store is very large but nowhere does it advertise the exclusion.i find this very misleading & unethical. I am seriously considering my loyal support of Woolworths for the future.

I was doing my weekly shop at Woolworths Belmont, they shop was so out of stock, no 1.25 Coke Zero, no boxes or pkts of 15-18kg boys huggies nappies, no grain waves, & there was some frozen crumbed chicken in the freezer that was on special that wasn't there! Now as a mother of 3 children it's a real pain in the backside when so many things that I go to get aren't there!, I understand if it was 1 thing but it wasn't & it's not the first time this has happened!, so I had no choice to go to Coles to do the other half of my shop as I really needed some of these, this made things quite hard for me as my days are already very busy!

Tracey Febbraio
from Melbourne, VIC
Went to store at Taylor's lakes vic on Tuesday 3rd nov. Very bad One register open and long queues. Manager standing looking at everyone and ignoring the unhappy customers. I shop at Woolworths nearly everyday and the customer service at this store is really bad. Not sure if Woolworths even take complaints seriously but I wanted to let you know.

Maureen Paterson
from Hinchinbrook, NSW
I would like to give my dissatisfaction at not being able to buy the Áncient Animals' book that accompanies the collector cards. I have tried to buy it at my local store (Woolworths Erina Fair) - service desk over the past few weeks since stocks sold out. I have been to the desk on numerous occasions and staff could offer no idea if and when the books may come in. I now have a very upset/disgruntled 5 year old grandson who was looking so forward to putting the cards in the book. If Woolworths wishes to continue with these promotions, which I think are a great learning tool, Please ensure you have ordered/printed enough of the books to cover expected numbers. I will not participate in any future promotions for fear of being let down again.

Seifert
from Armidale, NSW
For the last few week's the stock in Woolworth store Armidale NSW 2350, has been very bad, but today was the last draw for me after going through, the check out, I was forced to go to Coles, I went into the WW store on Sunday about 10.30 only 2 check outs open, bad enough, but half the items, were not there, a sign said in the Deli and cold section truck had broken down, fair enough, but today, still missing items, no name milk 2ltr, today, not even the light bulb I had to get. It is bad enough the magazines, take 5 and that's life has not been on the shelves on a Thursday by 10.0clock I have complained about this before, as we do not have a news agency near buy. I am most fed up, as I live out of town, and have to drive in for my shopping. Not good enough any more.

Leonard Walker
from Pascoe Vale, VIC
Last night we went to the new Woolworths at Point Cook and went to bye a roast pork. The young girl just finished serving chicken to another person and and asked me what would I like and I said the roast boneless shoulder please then she just grabbed the roast pork without changing her gloves this is cross contamination and staff should be taught properly and made to do a refresher course.

Lynette Bignall
from Booker Bay, NSW
I am wanting to complain about Select apricots I purchased yesterday at Cardiff NSW. 03 May 2016 - 52153. They are dried apricots - very dry. I use these to make items for charity and normally purchase at Aldi or Coles but for convenience I purchased at Woolworths. The packet has 'Ideal for snacking' - they are so hard I was not even tempted (normally I am when cutting them up). 200g for $5. I certainly won't make this mistake again.

Cahill Ross
from Blackburn, VIC
This evening (25/05/2015) I made a familiar trip to my local Woolworths at Blackburn North Shopping Centre and was extremely dissapointed with the customer service of the cashier whose name badge showed "Brooke." When purchasing my items, the cashier did not even acknowledge my presence, let alone smile, or seem remotely interested in serving me.
I hadn't realised Blackburn North Woolworths installed machine operated cashiers already. She rudely demanded my money and seemed to be pleased when I walked away, just as a machine would do.
I am a regular customer at Blackburn North and am usually very pleased with the service there. I have not yet come across an employee at Blackburn North Woolworths that has disappointed me and made me feel as un-welcomed as I felt today. I am writing today in the hope that this issue will be addressed.

Helen Thelander
from Lidcombe, NSW
I purchased a block of Danish fetta on 23 May 2015, at Jordan Springs NSW 2747 Woolworths. Upon eating half of it, I noticed that the back of it was completely moldy. I returned the product back within a half an hour. I suggested that they throw the rest out and I demanded to speak with the Manager.
Even though they apologised and refunded my money and gave me a wish gift card, this does not help me having to spend the remainder of the weekend in my bathroom. I did file a customer complaint form in case I would end up in the emergency room. My complaint is I have been shopping at Jordan Springs since it has been opened and there has been a few occasions that I have had to return your products for example your fruit is tasteless, your yogurt has been our of date, your bbq chicken under cooked, lettuce covered by worms. Woolworth do take pride in their motto "the fresh food people" and this is unfortunately not the case. Trying to settle this matter with a "wish gift card" does not help this situation.

Heather Reardon
from Sydney, NSW
My problem is a lot of Australian products such as Birdseye broccoli , Birdseye carrots , BX hand care wash just to name a few things I used to be able to purchase at Woolies Menai are no longer available they are replaced with there own SELECT brands , I purchase these lines elsewhere , what ever happened to CHOICE.

Amanda Jones
from Noble Park, VIC
Woolworths Ballarat has a customer service operator by the name of Tim. He is a very rude, obnoxious person to be served by. Doesn't smile and doesn't greet customers the way that they should be. He also spoke very rudely to the young girl that served me and my partner last night.
Instead of saying "excuse me Abby can you serve" he said oi to her and pointed to her register. This sort of behaviour is unacceptable. I know this as I used to be a retail supervisor and am mortified that your staff talk to each other in such a way and have rude staff at front end. My partner and I where that disgusted in his behaviour we shall not be entering that store again

James Woolford
from Brisbane, QLD
I purchased four Connoisseur Ice Creams for my children which I always do when I visit your Service Station at Mango Hill Queensland. On this occasion when the children opened the packets the ice creams fell off the sticks into their laps and they were very disappointed. I buy around $200.00 of fuel there every week and I always buy something for the children from your shop. The following week I reported this to the staff and they told me that they test the freezer temperature three times a day. The week after I purchased the fuel and I bought two packets of lollies which were two for $6.00.
These lollies had the price on them and the bins were beside each other. The lollies were made by the same company. On checking the docket I found that I had been charged over $8.00 for the two packets and on going back to see the console operator I was told that they had to be out of same box not one out of each box even thought they were next to each other and both boxes that "2 for $6.00" on the box. I feel that if you were not supposed to take a packet out of each box the sign should have informed customers that the lollies must come out of the same box and the boxes should not have been placed side by side. I feel that this is unorthodox way of displaying and selling goods at a set price.

In their weekly catalogue that ran until the 5th of May, Woolworths Wellard advertised Nescafé 500 gram tin of coffee for $16.00, but at rear of store they had a stand of them ticketed at $19.99. Regardless of if they would scan at 16.00 at the checkout, how many people, more so the elderly, would not buy them, nor question staff. I went to another Woolworths in the area and purchased one at $16.00 and they were well ticketed. Also like to complain about the lack of open checkouts at Wellard, one to be honest. Not everyone wishes to use the self service checkouts

I would like to inform you about disgusting behaviour from one of your store managers . On Friday, the first of this month late afternoon at the Clare south Australia store, assistant manager, Helen Jurgens, verbally abused a staff member in front of other staff and customers! At the same time, insinuating the customers were potential thieves. The staff member was embarrassed and belittled and the customers highly offended. This sort of behaviour should not be tolerated by anyone ...

Nonhlanhla Ngubelanga
from Durban, ZN
I bought clothes at Woolworths on sale only to find out that 3 of these items had factory fault. 1 dress was loosing colour, and 2 tops were torn and still new, never worn. I still had proof of purchase. Then Thursday 30th, I went to Hillcrest to return these items and ask for credit. I spoke to the manager, Sharon D, who told me the items were no longer on the system and they can't credit me. Instead she will send the clothes to be checked if they do have problem but that will take the whole month and still she does not promise I will get credit because they never do.
I am fedup with all these excuses. It's your duty to make sure that your garments are of good quality and they are very expensive to begin with. I want my credit as in yesterday! I'm not waiting for a month to get another excuse from Woolworths. I left the clothes with Sharon D at Woolworths Hillcrest and would like to credit according to what i paid for.

Karen Hamilton
from Sydney, NSW
Woolworths had Felix cat food on special from Wednesday, April 29 and it is now May 3 - Since then, April 29, I have constantly checked the Dickson store and the shelf is always empty. I live nearby so I have constantly checked. On April 29 at 09.30 am there were only 2 packets of this product on the shelf and only 1 type (there are three different types of this brand).
Ever since then I have made a point of checking - first thing in the morning - late morning - late afternoon and evening. EVERY time the shelf is empty. This is clearly a con on Woolworths part as every other shelf is constantly refilled - but how can that one shelf be constantly empty ?? According to the ACCC this is illegal.
I have seen this happen with other products, and I know that it is no coincidence - I am really angry, and am now looking forward to Aldi and Coles opening up in this area, as this is just blatant and arrogant because Woolworths currently have no competition. I used to be a staunch Woolies customer, but not anymore.

Mel Kilner
from Bentleigh, VIC
Been shopping at Woolworths in Kyneton for years and for the last year the stock levels have been really bad. Today I went shopping and went to get some milk and there was no milk that's is one thing that a supermarket should have I think it's really really pathetic. Hope we get a Coles soon!

Kevin Evans
from City of Parramatta, NSW
The woolworths at Marrickville metro is poorly managed. The fresh food is far from it. Tonight 27 April the silver beet was clearly old with slimey leaves and many stalks snapped off and tatty. The displays are sloppy and generally untidy. Nobody seems to have oversite of store front of house. The meat section is plain idiotic. How about signs that say beef, pork, lamb! Frozen peas regularly are left at the bottom of the freezer for days. Labels about Palm oil on many products don't explain if it's from a sustainable source. Consumers want that information to make an informed choice. Many shelves were bare this evening. Standards have been slipping for months it's time to lift your game. You need a larger store to meet increased demand.

paul thompson
from Strathfield, NSW
Went to my local woolworths at jesmond on Sunday like i do every Sunday and spend around 300 a week with you get to milk section and no milk on shelves as usual and the freezer room behind full of milk . I do think no milk on shelves cant be sold when sitting out back .l had to drive to your competitors to get milk what a joke Coles had all there shelves stocked up need to pick your game up and think about your customers .

peter lees
from Bundamba, QLD
I went into woolworths redbank plains on Wednesday. I was going to buy a packet of pascal hard jubes which was advertised on hanger as on special for $3 normal price $3.99. I buy these often and $3 is normal price manager told me they had gone up in price this is fraud she has lied to me. went to foodland store next afternoon brought them for $2.59 normal price $2.99. it is obvious w/worths thinks their customers are mugs will be doing my shopping at foodland store from now on.

Francois Stassen
from Cape Town, WC
My second pair of shoes within a year's time. Smart shoes. I cannot keep up. The first pair took back and replaced. Second pair busy to tear loose again. Visit one of your stores in Cape Town and the prices suddenly increased to price I no longer can afford. Extremely disappointing. Even my casual shoes soles underneath has for some strange reason cracked in half which I try only to wear at times. Very big disappointment.

Neville White
from Glen Waverley, VIC
Hello to the team at Woolworths. I have no gripe or bent ego because I shop at Woolworths Wheelers Hill and Waverly Gardens in Victoria and both these stores are managed well and the staff are true blue collar hard working employees. After a busy day there will always be the opportunutiy to whine and complain and carry on like a pork chop because someone looked at you sideways so keep your hat on and smile because when customers want cheaper prices then they cannot have all the bells and whistles also . So this is a message to all the customers who whine as a hobby: Please smile and if you think that you can do better then apply for a job.

Sandie mccaroll
from Brisbane, QLD
Went into store to buy groceries did shopping picked up 1 litre streets blue ribbon vanilla ice cream the price under it said 5 dollars the one underneath said 6.99 then Cadbury was 5 dollars next to it we proceeded to the checkout they charged us 6.99 for the ice cream I said it's only $5 they sent a lady to check she came back and said no it's Cadbury I then informed her she had it wrong she said no it's 6.99 Cadbury is $5 I again explained but nothing was done I am disgusted in the service I received regarding this matter maybe you people need to have a good look at the pricing tags and where you put your products , I will no longer shop in your stores and I will inform my friends on the poor customer service I received .

Adnaan Solomon
from Cape Town, WC
I always asociated woolworths with quality but i am very dissapionted in the shoe i bought in December last year the sole of the left shoe has cracked and its only a couple of months old , i dont have the slip anymore and i bought it cash i mean come now man if you pay so much for a shoe you would exspect it to last , i am very dissapionted because i realy liked the shoe.

Susan Boyd
from Sydney, NSW
Sunday the 19th of April, I purchase some custard tarts, 4 small in a packet with a use by date of 22/04/2015. When I open them, they weren't even cooked on the bottom and they were soft and doughy. They wouldn't come out off the foil cup. Same day, I purchase buttermilk fruit scones pack of 6, use by 21/4/2015, and they were as hard as rocks. These items were not reduced down, so I believed they were baked fresh that day. Very disappointed with the Fresh Food people for spoiling my afternoon tea with my grandchildren. I did not take them back as I only shop once a week as I live 30 mins away to my nearest woolies, but I did ring the Raymond Terrace store to let them know. But they said ok and didn't even ask my name or any questions. I have taken photos of the items, and I know you might think this is a silly complaint, but I'm sure every one else that brought these items threw them out also

I like the woolworths fresh magazines that comes out.The problem is that you cannot buy any of the ingredients from any of the stores. I live in Melbourne and in one day I went to 5 stores and could not buy any items for the meal I wanted to make . So I went to Coles and got everything in one shop. The other issue I have is ,it does not matter what time of the day I go into one of your store all the shelves are empty except for your home brand (select) which you have shelves of. I do not want to buy select every time I want to buy the original brand. I will continue to get your fresh magazine but I will never buy any of the items from a woolworths store again as you never have any of them and it is a waste of my time and petrol going to your stores. I spent in excess of $100.00 a week on groceries and I now spend that at Coles where I can get everything I need.

Laurinda
from Melbourne, VIC
I visited a Woolworths store straight after work and always carry my back pack with me! It's easier to put all my stuff in it and normally goes to the shop after I get of the train from work ! My bag always make the beepers go off ! Firstly it is very embarrassing when everything beeps when you enter the store !!!! Anyways because I always shop at woollies I sometimes have products in my bag from woollies in this case it was panadols and a packet of cuppa soup What I expected make the beepers go off ! Anyways firstly why would I buy and pay $100 worth of groceries but steel Panadols and soup that's $3 aprox??? And the Panadols in my bag has been opened already with about 6 already out !! Did not drink 6 Panadols while I was in the shop ???!!!! And the soup packet had one sachet left !!! I surely did not drink six Panadol and ate a packet of instant soup while I was in the shop for opprox 15 min!!!! Just to save a buck!!
Anyways so while I was paying for my groceries the beeper kept going off and the employee asked to search my bag !! I did not mind that as I have nothing to hide !!!!!! He could have called his manager over and took me somewhere private to do that !!! Not infront of the whole store !!!! For everyone to witness !!! Which by the way he did not find anything in my bag that was stolen!!!!!! I left the store upset ! Embarrassed and will not be shopping there again ! Even though I love woollies !!!!! I really do expect some sort of apology! As I am not a thieve !!! Even though I was made feeling like a criminal!!!!!! And the whole situation was handled unprofessionally And why was the lady infront of me not searched as she made the beepers go off also !!!! Is it because I'm not Australian????? Would love to hear from someone!! Am also happy to view any sort of cctv camera footage showing that I have done anything wrong to give the employee a reason to embarrass me!!!

Lynette Doyle
from Brisbane, QLD
I purchased a Vodafone smart 4 mini phone on 15th April 2015 for $29.00 at Woolworths store, Capalaba Park, Qld. Took phone home and opened the box , charged phone which started at 50 percent charge and then over the next 24 hours went down to 10 percent, instead of going up to 100 percent. I took phone back in its box to said store today only to be told I could not have a refund as I had opened the box. How else was I to set the phone up if I couldn't open the box?
The attitude of the staff was the most upsetting aspect of my complaint, very rude, not interested in listening to my complaint at all. I was told Woolworths do not always give refunds or replacements! Different to what Wooworths advertise! I trust sanity will prevail here and either a replacement phone or full refund wil be granted. I have always been a loyal Woolworths customer, but after this debacle I shopped at Coles today.
Have feedback for Woolworths?
Thanks for your feedback!
Sorry. Please try again later!