Woolworths
Woolworths Complaints Continued... (Page 5)
459+ reviews added so far. Upset? Call Woolworths corporate: 1-800-638-434

Arlene Warren
from Blacktown, NSW
I'm upset because every time i go to Woolworths I see that the items I buy are the same price but they are smaller. The bakery, the choc cake is half the size now and is the same price, it is disguisting to see I hate going to Woolworths and see the items smaller, but seem to be the same price. In the bakery, the choc cake is half the size, and yet the same price is on them, I think this is terrible and disgusting. Went to Coles and the choc cake was not half like in woolworths, so I would prefer to shop at Coles instead of Woolworths.

Someone from woolworths credit card division contacted me on the 26th June 2013 to advise that I pre-qualify for a Gold Woolworths credit card because I was such a good payer on my store card. I advised that I accepted, he did a credit check on me and approved me for R29500 on the credit card. I received an sms on the 3 July 2013 to say my credit card is ready for collection. I went in with my required documents (my ID is on my maiden surname and proof of address on maiden surname but my credit card was approved on married surname of which I took marriage certificate with as well) which was approved in store and my credit card was open and made available to me. I used approximately R9000 on the credit card and went into a Pick n Pay 2 weeks later and the card wouldn't work, I phoned into the credit card division and was told that my card was blocked because my fica documentation wasn't correct.
My question is, how can Woolworths/Absa approve me with a credit card without validating my Fica documentation first? And how can they block my card after providing me with the credit? According to the consumer protection act I am In all right to not pay that credit card and service fees for a service I do not have? I have an Absa credit card which is also on my married surname and have no issues with that so I don't understand and I have a woolworths store card which is also on my married surname?

I have been a customer in your Mirrabooka store for over 20 years and in the past 12 months the standard has gone down hill. The meat department is absolutely disgusting there is never any stock on the shelf even if its in the brochure. When I have asked for the meat I would like I am told that the truck has not arrived. Some of the cuts of meat I wouldn't even feed to a dog. I shop the same time and day every week by 9.30 in the morning and you would expect the shelves to be stocked. Do you only supply people that shop after lunch? Not good enough....... For your fresh bread department I shouldn't have to ask for stock but again I have too because its never on the shelf and most shelves are empty. I like shopping in your stores because I can find everything I need and sometimes the unusual items. But I am finding I have to start shopping elsewhere which I find quite sad.

I went to the woolworths branch in kerk street to exchange my son's boxers.. I understand that your policy states yhst underwear can not be exchanged but exceptions csn be made especial when you can see thst there is no ways thst that those could have been worn. I was referred to a supervisor/Manager (Pacience Ledumo)and I explained to her that my x took our son for shopping and the bought 2 of those 3sets boxer shorts of the same colour and socks which are not his size and that all I wanted was to get a different colour of the boxer shorts and the correct size of socks.
The lady advised that she can see that those were not opened but they need to be consistent in a sence that they cant exchange for one person and not do for the next which I do not agree with as situations and circumstances are different. I could not speak to the store manager ss I was advised he is on leave. All I want isto exchange which to me seems reasonable since I have explained my reasons. I hope someone will be able to make a decision.

When there is nil completion Woolworth's treat customers second rate. I only shop at George Town Woolworths when I'm desperate because they rate GT customers second class. Last night I wanted one lemon but there was only a pack of 6 for $7.00 available. This is only one example, they don't have much variety because there is no completion in G T. I travel to Launceston to get my weekly groceries at COLES because they are friendlier and very helpful, Woolworths should take a leaf out off their book.

Wendy Martin
from Brisbane, QLD
Woolworths have now redone the isles in the Fruit and Veg Isles. Where as before the fruit used to be in the front isles and the vegetables at the back, Woolworths have now mixed up the Isles so that they are intermingled. Whoever came up with this stupid idea obviously does not do the shopping. It has now become very time consuming to find items. I will now be shopping at Coles as I haven't the time to go up and down isles looking for what I want.

Being 1 of 2 main food stores in the main town area of Alice springs , I used to regularly shop at the woolworths store, as their deli and fruit and veg was 1st class and the store made an market day event every Saturday , 2 years ago. I rarely go there now , only if there is something I really need. On 2 seep rate occasions in one rare week that I go that store, the first being on the 24th January, Unfortunately I was in a que that stretched from the self service registers all the way down to the cosmetic section.i went to complain to the desk and query why do you have only 3 registers open and the self service registers open at 11am on a Saturday morning , with a que like this.
Wowever 2 customers were already venting their disappointment to the front end supervisor,(Indian lady). Who I thought walked off to do something about the issue, but walked away and did not return for the 20 mims we were all waiting! The second incident was on Sunday the 1st February, when I went to the deli at about 4.30p.m., when I was served ,I asked if there was any more roast beef . The deli assistant said that it was to busy to slice some. I said to her there was only 3 including myself at the counter , how was that busy?I asked , please could you slice some. She said again, that it was to busy to slice today.
I have been in Alice springs for a few years. And can appreciate the difficulty in getting good staff and staff that can provide a level of acceptable customer service. You want to monitor the level of service and how and what the staff do and don't do in this store, as the level of service and standards , particularly in the deli and fruit and veg are the worst ,I have seen , in the 5 years I have been shopping (less and less ) there.

Roma Barker
from Perth, WA
I have been a customer at Dianella, W.A store since it was first opened, and at the moment will be very glad when Coles will soon take over the IGA store . Firstly, why can't more than one checkout be opened when there is a queue - this seems to be the norm Australia wide. My main complaint is the quality of the meat - I buy Lamb Steaks - tasteless and not tender as lamb should be, but the Scotch fillet steak which we had for dinner tonight was absolutely tasteless and tough. The wording on the back of the package goes.. We Aussies are passionate about our food which is grown by Aussie farmers and supposed to be top quality meat etc. a laugh!! The mince hasn't even got the taste as it has in years gone by . It's no wonder there is now a queue at the Butcher Shop,which I will be joining, until Coles opens and then I'll see what their meat is like, otherwise back to the Butchers.

Patricia Faye
from Johannesburg, GP
I bought shoes at Sandton city branch on Thursday 22 January 2015, Friday morning I realised at work the shoes are too big that's when I decided to exchange them at Wood mead branch. I explained my issues to Tshepo (cashier) he called manager Dumisane who was so rude to me telling me I must go where I bought the shoes I was so disappointed by the service provided by the manager I even left those shoes with Tshepo (cashier) worth R799. 00 I am not willing to pay those shoes up until I get the right size.

Smita Kale
from Mooroolbark, VIC
On 22/01/15 I 'bought midnight beauty seedless grapes' from Woolworths store in Croydon (store Id 3216). There was no price tag at the shelf where we picked up the grapes... At the self-scan counter I was surprised to find that the grapes were priced $8.98/kg. I walked back to the shelf to check the price again, when I found that the price was not displayed at the shelf, I asked the attendant if the price was correct.. She assured me that the grapes were indeed $8.98/kg. by this time my husband had finished scanning all the items and we didn't bother about returning the extravagantly expensive grapes (we paid $9.74 for 1.085 kg grapes).
Next day my husband happened to go to the same store again to buy something else. He was shocked to find that the same 'midnight beauty seedless grapes' has a display stating 'was $2.89 now selling @ $1.89/kg '. He called me immediately to find out if I still had the receipt from previous night's purchase. Fortunately I still had the receipt in my wallet. When we questioned the staff at the customer service about the price difference, she said it was the fault of the scanning machine and refunded the extra money charged for the purchase (it was a refund of about $8.00).
My question is how does such a thing happen and customer is overcharged 8 times? Does the Woolworths store know how many customers bought those overpriced grapes that day and never realised they paid 8 times the correct price? How often does this happen at Woolworths? It is impossible to check the correct price of every item from the grocery trolley . Woolworths should track all the sales for those overpriced grapes and refund the money to the customers. Very annoyed about this lapse from such a reputed retail giant..!!!

Dawn Bannon
from Perth, WA
Unable to get Cougar and Cola from Woolworth liquor department Derby WA, I have been given 3 different excuses. Cougar and Cola was popular and always sold out. It's my favorite liquor and I wish they had it in stock. Please bring this back!

ruth hannagan
from Quakers Hill, NSW
I will never buy fruit and vegetables from Woolworths again. I am sick of throwing out rotten avocados. No more! Does anyone else shop their and find the quality of their food to be going down lately? I would be curious if you had the same response!

Fezeka
from Johannesburg, GP
In December 2014 I made a payment towards my credit card and I usually pay R1 000 every month. I have now received a statement for January and the installment is R2 000. when I called them to inquire about this , I was told that in December I made an early payment therefore what I paid was not taken into account for December. they have now charged me an overdue fee because of that. I refuse to pay the r2 000 as I did pay my account and I am not in arrears. Apparently they do not cater for advance payment when it comes to credit card. I was never informed about this and I need this to be rectified ASAP.

To the Hierarchy of Woolworths management, I'm a loyal customer who shops at the end of the day after work and I find it excessively inconvenient when I purchase items and the express lane at Woolworths Chester Hill is unopened due to in sufficient staffing. What is the point of having an express lane when it is un staffed? How come Woolworths doesn't hire staff when they are needed. Every time I go there it is an on going scenario, same situation where the staff there simply say use the self service lane or wait behind the heavy trolleyed shoppers. How inconvenient is that when every second counts? I don't want to use automated or self service, I want a person to serve me. I am un satisfied with the customer service to a degree that a lot of my friends and colleagues agree with me. I hope this matter resolves quickly

Marise
from Cape Town, WC
Good day. I would like to bring it under your attention that I have bought a Woolworths food product without any expiry (or best before date) on the item. On Thursday, 15th of January 2015, I bought the Slimmer's Choice - Chicken & Brocolli Bake, from the Woolworths Food store at the Engen garage in Gardens, Cape Town. There was no best before or sell before date on the product. I have put the meal in the microwave today as per the sleeve and was hesitant to taste it since there is no date on it. The cheesy sauce in the meal tasted sour and was definitely off . There is a number on the sleeve: 11120115. I have taken photos in case you need proof that there is no date on the item. Can you please help me understand why there is no date on this food item and what you will be doing in future to prevent it from happening again.

To whom it may concern, Woolworths are advertising Australian prawns at a discounted price for Easter unfortunately, I have had two unpalatable experiences with Australian prawns which I purchased from two different Woolworths stores…the prawns were bought about four years ago…too afraid to buy since then.
My complaint is; the prawns are too salty…my Aunty also bought prawns from East of Perth, Belmont area (I live North of Perth) and had to throw them away, too salty.
I am annoyed because I am a weekly shopper at Woolworths and am unable to take advantage of Woolworths Australian prawns when on special.
Prawns are the only seafood that is inedible at Woolworths…salmon, lobster, and other sea food is fine.
Kindest regards,
Lesley.

We are a two car family and share the reward saver card for fuel discounts. i used to be able to get an original receipt that would indicate the expiry date of an existing "voucher". This has happened for many months. The other day I requested a receipt before any input by service centre attendant, and still got a duplicate receipt with the original suppressed.
I would like to know the purpose of this. If it is to keep the customer "in the dark" about remaining "vouchers" , then I will go back to the original method of getting the voucher on my shopping docket.

Normally if a pruduct I buy is unsatisfactory I either throw it away or never buy that product again. However this seems to be happening more frequently especially with Woolworths Home Brand. Many named brands that you used to stock seem now to be unavailable. It wouldn't be a problem if your Home Brand was of equal quality
Woolworths Home Brand Fishfingers – absolutely tasteless, appeared to be some form of mash inside the crumbs that was a grey colour. No sign of any fish flakes whatsoever. Will definately not buy again.
Woolworths Home Brand Pizza – a cheaper product than McCann or similar but you seem to have forgotten the topping. We had to add cheese, ham etc to try and make it edible. Very poor quality and will definately not buy again.
Woolworths Broad Beans – please bring back Birds Eye. Your product is inferior and a strange muddy green colour. I bought two bags and had to throw both away.
Today I cooked a piece of Shoulder Pork (1.9kg) that was purchased at Woolworths Dural. There waws so much fat which had obviously been added to make up the weight. After having the pork for dinner (for two people) there is about 250g left. I intend to return the product to Woolworths tomorrow
This is really just a small sample of my gripe against Woolworths. You're making massive profits so why are you trying to rip off customers. Maybe you have such a huge market share that you are becoming blase and as a result quality is suffering. I'm thinking of shopping at Aldi's instead.

when if ever will it be possible to buy a packet of unbroken biscuits every time I buy a packet from woollies they are always broken this means that no matter the product they are damaged goods and that's not good enough do woollies care seemingly not as nothing changes I would like a reply to this complaint however knowing the disregard woollies has for its customers and its products if I do get a reply the shock I would get will probably require a crash team to be in attendance

We bought some mince from Woolworths Beenleigh on 25th march 2014, this mince had a used by date of the 27th march 2014. We cooked the mince on the date of purchase and noticed a rather foul smell emanating from the mince. After trying the mince once cooked the smell and taste was still not right. We believe this product may have been already out of date.
This has cost us an entire meals worth of products as we had bolognaise that night so we used sauce pasta and cheese for this meal. Feeding 2 adults and 5 children is expensive enough without having to throw out an entire meals worth of food because the product is not edible.
We anticipate that woolworths will respond to this matter.

For the last month there has been no Home Delivery at Bankstown Woolworths.. Many elderly people from Bankstown Community are affected by this change and cannot do their weekly and fortnightly shopping because it is too heavy for them to carry the groceries. This has been the main topic of discussion among the seniors. Why did the Bankstown Woolworth manager let go of the previous delivery person before rehiring a replacement. It seems to me that it would be an indication of his management skills to preform a basic management task. The manager "Tony" assured us we would only need to wait maximum a week for a replacement driver but it's now going on the third week since it was bought to his attention.
We cannot do our shopping because the manager is not competent enough to resolve this basic issue.. We have been loyal customers and all we ask is that Woolworth provides a delivery services for the most vulnerable who can't carry heavy groceries.

I bought a pair of size 13 school shoes at Festival mall in July 2013. I could not understand why the one shoe after six months are torn in the front. Just to discover that one shoe is a size 12 and the other one a size 13. How did something like this happen as the cashiers at Woolworths check everyting thoroughly? The size 13 is still in a good condition.

I would like to inform you that I have had some very unpleasant shopping experiences in Woolworths Supermarket at Wynnum Plaza, Wynnum West. Usually I prefer to check out with the self service machines as I can use up some coins. Recently the machines have failed to count my money correctly when I put it in on three separate occasions. On the first occasion when I asked for help, the store manager (Deb) told me that as she can't tell how much money in coins I put in, she was unable to help me.
The second time I put in a $20 note which did not register and had to argue with your manager to get my money back. The third time it did not register my coins, and again when I asked for help, the store manger (Deb) told me that she was unable to check the machine as it only gets reconciled once a month and if I have trouble with them then I shouldn't use them. I find this both extraordinary and unacceptable! Normally businesses count their money each day and if this was done and there was a discrepancy, then that would account for my money. If the machines are only reconciled at the end of every month then it would be very difficult to attribute any excess money to me as it may happen to others.
I have also experienced poor customer service on other occasions when I have asked about products on special but the shelf is empty. In this instance when I asked your staff for assistance, they ignored me. I am Asian and feel victimised, prejudiced and very unwelcome in their store.

For the past two to three years, I have been buying uniform for staff at Woolworth Alberton branch and I never had any problem. However, this year things seems to have changed. This afterI requested the branch management to sign a declaration of interest form (which is a pre-requisite for for all suppliers rendering a service to the company I am working for). The declaration letter only serve the purpose of confirming that Woolworth is independant and has no business interests in the company that I am working for. The branch management indicated that they could not help me because they are not allowed to sign such documents, which I find strange considering that the letter does not bind Woolworth to anything, but just need a declataion to be made. Please help me in sorting this problem, out because I have R8,414.00 to spend, which I will forfeit if I do not get any resolution to this matter soon.

On the 7th and 8th of April I noticed packets of chips advertised for $2.00. These were on the end of a stand facing the rear of the store. On both sides of that stand they also had chips, so one would think that all the chips there (front and 2 sides), would all be the same price. But when I got home I realised I was charged $2.50. On inquiring I was told they were not on special. As many people don't check their dockets (I do, as I often found errors in their favor), they would not be aware of Woolworths misleading tactics.
This would be a good case for "The Checkout" program on ABC

One teller was available and I waited in the queue for a few minutes when i was approached by a staff member who asked if i am paying by card or cash because they only accept cards. When i answered that i am paying by cash he asked if i don't have a card. I then couldn't pay for my goods and left the store.

I've been having this problem for the last 3 months. My family and I only drink woolworths milk for as long as I can remember and I have never had this problem until lately.the customer service consultant at woolworths gateway(umhlanga) think that the solution is an apology and a refund! But the problem has NOT even been addressed because I just opened 2 bottles of milk and guess what? Its spoilt again!! I thought that just maybe the problem was sorted but I was wrong, I dread to think if I had given it to my 6 year old in his cereal this morning. Now have 19 bottles of milk expiry date 13/07/2013 and I won't even bother opening the rest! Having to carry all those bottles back to the store will surely make me look stupid!I can't imagine having to have my coffee with any other brtand of milk, if this problem is not seriously addressed URGENTLY!

I bought my 6 year old boy some brown boots for winter at woolies and he wore them twice only but already they are peeling off on the the top. Those boots cost R270.00 and they are the new arrivals for this winter at woolies. I am disappointed because i don't go anywhere else to buy my kids some clothes. My account is forever up todate but today i have to understand that my R270 is gone in just 2 days.
I want to return the boots since i have the slip still. How am i going to get help!!!

Hello, I have been a loyal customer of your Woolworths store at The Pines – Doncaster East. Great lay out and lovely staff. HOWEVER .. 8 of the last 10 times I have been in to shop over this summer period .. and the last being 2pm Friday Feb 22nd – the wait time to be served has been well over 10 minutes.
Last Thursday nearly 20 minutes! Just one register was open for normal service, one register for 15 items or less one poor staff member at the self serve section and one lady at the cigerette counter!
The staff were apologetic – and it is not their fault is it the fault of the manager in charge of resourcing/rostering!
The stores reputation is taking a hammering amongst the community – I can tell you that for a fact .. and next will be social media unless you improve it.
Surely your revenue is down on last year due to this – its no good reducing your costs .. Coles will beat you with their service and inflict further pain. All we wantis good service – partiularly in this side of town where we dont put up with things for long.
I look forward to a speedy response.
Anthony

I made an order on the 8th of February ( order no: 5487706) for a woolworths online delivery. The time I was allocated was between 5-8. 8 was the latest time I could have anything delivered as I started work at 8.30. The driver was over an hour later than 8 and arrived at quarter past 9 in the evening with melted prawns and fish. I rang up at 7 to ask when the food would be delivered and I was told 7.45! I called up again at 9 and spoke to the manager to express my frustration. This is unnacceptable. I was an hour late for work and had to pay a fine as well as not being able to eat dinner before going and having to buy dinner elsewhere. We had to throw the fish away as we couldn't put it back in the freezer and had no time to eat it. I was told by the manager we would get a refund for the frozen goods but we haven't and it has now been 2 weeks. This is extremely poor service from woolworths, it is clear that they don't care about customer satisfaction and ensuring that their customers return. A refund on the frozen food (which we still haven't received) is simply not good enough to resolve this matter. I spent over $300 on the order and expect to receive the service I pay for and I have received not even a fraction of it.
Honey

Hi, i placed an order for a washing machine and fridge freezer on friday 8th feb 2013 online. i selected the delivery option of "within 6 working days" and as our new house is not available until 22nd feb 2013, i asked for it to be delivered to my mums address. i paid with my card and left it at that.
quite satisfied that the items would be delivered within the week to my mums address. the following morning, to which i placed the order, i woke up to an email from woolworths to say that they were "confirming your order for delivery on thursday 23rd march 2013″ this is NOT within six working days its not even within the same month…if i had been told this before i had paid for the items i would not have purchased them as this date is far to far away and no good to me! i called the contact number on the website (0844..)
which cost me on my mobile… i told the lady on the phone that this was no good. i asked her why the option was within six days and thrn the items werent going to be delivered for over a month…she didnt particularly seem phased by the time.scale hut said she would try and get an earlier delivery date. she said the order had already been processed and she couldnt change it.
i asked her why it was being processed already as it apparantly wasnt due to be delivered for over a month..she didnt answer the question and informed me that she could cancel it and put the other through again over the phone to ensure i got the correct delivery date as there was one available earlier. i asked her how long the refund would take to get into my bank account.
she told me two days. i would have to wait until then as the costs ment i am out of pocket by over 500 pounds!! After speaking to my partner about this he suggested we buy the items on our credit fard and just pay the money off

I bought a bunch of what looked like good bananas on mon.7-1-13 at the Ermington branch of Woolworths and they were absolutely awful. They were black on the inside (not outside )and tasted chalky without any flavour.I was unable to eat them ,so just wasted money.iInow remember why I NEVER buy fruit and vegetables at a super market.It is time our super markets shaped up and stop serving us crappy food.

Woolworths shopping trolleys are some of the worst I have encountered. I have a very sore foot and a bad back and these trolleys are almost impossible to push around. Yesterday I tried out three trolleys before thinking I had a decent one, only to find part way round, that it kept veering towards the shelves. I was absolutely frustrated and exhausted by the time I reached the registers, I am sorry to say I let fly at the poor girl there, I do know it's not her fault, and am sorry for that. I think Woolworths need to lift their game regarding the repairs and servicing of trolleys, they certainly charge enough for our groceries, particularly when they don't look after their customers. I for one will be spending more time at Aldi's and Coles where I have had better trolleys. Shame on you Woolworths.

I have been a Woolworths shopper for many many years. Slowly over the last couple of years I have been disenchanted with initially the meat and then the fruit and vegetables, so much so, that I have found myself buying those products from independents in the same area. I shop at Victoria Point in Queensland. Over this Christmas period while doing my normal weekly shop and rather than making another trip elsewhere, I bought some lady finger bananas. Typically, as I had found previously, they soon became over ripe in a matter of days. Roughly a week later doing the same thing, I though I would give Woolworth's bananas another chance. These lady fingers, even after 4 days at home, were still as hard as a rock and you could have thrown then against the wall and damaged the wall. I am afraid that the fruit. veges and meat will remain with the independents from now on.

Today at around 3:30 i went to woolworths caltex in eaton and the lady on the counter was rude and lacked all the manners that are integral part of customer service. She was ok with other customers but she didnt greet when i entered the shop for payment and never said thanks while i was leaving. She discriminated me being from asia and i feel extremely offended for this act. I have never come across such a racist during my stay at Australia but today I am very sorry to mention but I personally experienced racism and discrimination at woolworths caltex eaton. I request a strong action over the matter and example should be set so that such ridiculous minded people mend their ways and refraining from earning bad repute for such a big brand like woolworths.

I am absolutely appalled at your service 3 times I have phoned and been on hold an hour which has no doubt cost me a fortune when my bill comes in just to be cut off my poor daughter has not been able to play with her Xmas percent which is broke and all I am trying to do is return it I want someone to call me over this matter as I want to log an official complaint,as soon as my account is paid I will be cancelling this account, 07946739441

I had a $15 off everyday rewards voucher to be used between 17-24 Dec for a bill over $150. I spent $203.09 on the 24 Dec. I forgot to give it to the checkout assistant at the time of the transaction, then remembered as I was putting the final bags in the trolley. The assistant told me to take it to the service desk & they will fix it up. When I got there I was told it couldn't be corrected!!
I find it poor that a company as large as Woolworths couldn't correct something so simple. I would spend over $20 000 a year at Woolworths and after this experience I am seriously thinking about whether I will continue shopping there.

I write to report a couple of incidents that occurred last year at Dapto Woolworths. The first occurred when I was in the isle looking at underwear with my daughter A female night packer (the packer) wearing glasses was standing nearby also. Later on, while I was waiting at the checkout, the packer was waiting on the exit side of the checkout with a group of co-workers. I am informed by my daughter and her boyfriend, who were also on the exit side of the checkout, that the packer said to them that I had changed my underwear in the isle with new ones from the shelf, and shuved the old ones under the isle shelf. I believe the packer also asserted that this had occurred on multiple occassions without me having paid for the underwear. Statements from witnesses have been made
The second occurred after I received assistance in finding gravy beef from deli worker. After paying for the gravy beef at the counter a female superviser approched me and said words to the effect of " I just received a phone call from the deli informing me you stole meat" After I explained that that was false, she went somewere and and came back telling me every thing was fine. These matters were reported to the Woolworths Support Office and it was suggested that I contact the Woolworths manager for an appointment. I did as suggested and faxed him a letter together with my complaint, but there was no response.

I write to complain of a forced bagcheck that occured between late Nov & early Dec 2011 at Dapto Woolworths.
The facts and circumstances are that a female superviser asked to check a bag I was holding. The bag was a backpack packed with the kids pre-school cloths. I refused to open it while explaining my rights under the Bagcheck Guidlines. The superviser became agitated and begun arguing – demanding that I open the bag while co-workers blocked the exits. Eventually a male male night manager or something came and told me to open the bag. With the exits blocked by staff members and security guards, I had no choice but to open the bag. No stolen items were found.
Fair Trading has made an attempt to resolve the matter, but the Woolworths manger denies any breach took place based on signs of entry to do with bagchecks. However, that has nothing to do with Forced Bagchecks .
In view of the above, I seek to have the matter resolved with the scandalous Prohibiting Entry Notices issued against my wife and I revoked, otherwise Ill seek legal action to sue.

I recently was trying to take up a online offer from 14/12/12 for 66% off canvas prints which was valid till 18/12/12 but your server was having issues and I was unable to create canvas on your site from 14/12/12 till 18/12/12. On approximately 15th or 16th December I called both woolworths online and woolworths photo department at George street to report the problem and no one was able to assist and all I got was hang ups by woolworths online operators and promises of phone calls back to help resolve within 24 to 48 hours.
I continued to try and log onto woolworths site and create canvas about 8 times a day every day until finally on the 18/12/12 I was able to log on and created 6 canvas prints when I finally got a call back from a male rep from woolworths online to try and help me resolve the issue. I advised him that after 5 days I've finally been able to get on and have created 6 of them but advised him due to offer expirying today at midnight I'm not going to be able to complete all canvas prints that I was after. He asked me to relax and advised that it would be fine and I would be able to get same offer at later date and to ensure this he would need to create a log to guarantee me that I would get this offer at later date. I went through all issues with him and he created log and provided me with log number.
He advised me that at a later date once created other canvas I would need to call up and provide log number and they would have to provide me with a manual code to get the 66% off as per the original offer. The second part was he said let's stay on the line and make sure that your able to complete your checkout with 6 canvas that are there now with the code that was valid with offer untill midnight that day. 4 of them worked fine with the code provided and other 2 canvas needed staff to give me manual code for as your system started to play up again which they did.
Once this was completed and I was happy with result of completing part of order and being promised extra time to complete rest due to system being down for 5 days I asked to speak to supervisor in regards to having previous staff hanging up on me and receiving poor service. Supervisor provided me with a further discount code of 20% off valid for 1 year as compensation.
On 24/12/12 I called woolworths online to get manual code for 66% off for rest of canvas that I was ready to complete and spoke with Beth whom advised had no employee number and she advised me that this was fine once looking up my account but advised me that canvas items would need to be in my checkout online before code could be provided so as I do not have Internet at home I drove 40 minutes to a Internet cafe on 31/12/12 and created new 4 canvas's and put them in my checkout which took 2 hours to complete and called back up and spoke to Beth on 2/1/13 again whom advised will not do now and placed me on hold and went to speak to manager with same result even after seeing log created. I asked to stay on hold to speak to supervisor and was advised that I couldn't and I couldn't hold as had other calls. I even asked to speak with Nother representative which was declined and Beth then hung up on me.
I ask that you guys stick to your word and provide me with manual code for 66% off canvas as per promise and original offer and also that you train all staff involved with customer service skills and also reprimand staff that hung up on me. My items are in my checkout now and it took a lot of effort from me to travel to Internet cafe and create canvas as per request from your staff.

Woolworths – Macquarie Fields, Sydney. I am a loyal Everyday Rewards customer who On the 17/12/12 at 6:25pm I purchased a $29.00 Vodaphone Recharge voucher from 1 of the self serve registers, I got one of the staff girls to help me as I was having trouble. The girl helped me and left me to collect the receipt printing out, as I grabbed the piece of paper that came out (thinking it was my Recharge voucher), without looking at it I popped it straight in my wallet and left as I am 6 months pregnant and I was with my 18 month old daughter who was crying in the trolley. It was 10:30pm when I thought I better recharge my credit as I had a hospital appointment the next day, I pulled out my voucher I had a at look for the 12 digit recharge pin and it was nowhere.
I had a closer look at the paper and it was just a receipt showing that I purchased a Virgin recharge not Vodaphone. There was no voucher attached anywhere under the receipt. It was too late to call Macquarie fields Woolworths as it was closed by then. I then went to see them at 7am the next day, and I spoke to the morning Manager there Michelle, she was no help at all, she asked me if I can wait or come back later as she will need to call the night manager that was on the night before to see if someone had left my voucher behind the counter etc, etc, and also she will need to print off some report off the register to prove I had purchased my voucher from where I said I did. As I had an hospital appointment at 7:30am I couldnt wait around so I told her I will be back after my appointment.
I returned to see her at 12:30pm Michelle was on her lunch break, lucky for me she was just on her way back from her break, I waited for about 20mins and Michelle came to me a bunch of paperwork showing that I had purchased a voucher from there, yes but I didnt get a voucher I only got a receipt! she then said if I can bring the Virgin voucher back she can cancel it and reissue me with a Vodaphone Voucher otherwise there is nothing else they can do. I told her numerous times that I never left with a voucher I only had a receipt! she then said she will need to go and see another store manager, I dont know who coz he/she never came and showed there face, they just hid behind the walls and just told Michelle to tell me there is nothing else they could do, so basically I paid for nothing!
Michelle made no effort to help me, she just gave me the run around, made me wait, come back, and still nothing! Thanks alot Woolworths, Thanks for nothing! I deserve some sort of compensation for all my travel and time leaving my daughter with my Mother so I can try and go and get my credit and public transport reimbursment for travelling to and from Woolworths 2 different times a day, but most of all a refund for $26.10 that I paid for my Vodaphone recharge I never left the store with.

I was shopping at umina woolies on sat 29-12-12 at abt 6:15 there were 2 big registers open plus 3 items regusters & 3 self checkouts opened & at least 30people lined up at items & self checkouts & 4 at normal registers as i am a local & its holiday time i feel that to stand in a lineup for more than 5mins i find very annoying & the young at self checkouts never appologised for the wait but was too busy swinging her keys around while customers where getting annoyed with the wait because 2 self checkouts were closed apparently due to crashing all we asked as customers is to be informed of what wait was all about but the young wasnt even intetested in her job i will never shop at that store again to incompotent staff members ….

Since the 28 Nov 12 until 1 Jan 13 Woolworths in SA has been offering 2 for 1 at BWS for Matua Marlborough Sav Blanc. On 2 occasions I presented the dockets to two separate BWS outlets, to be told that they don't have any of the wine in stock. On both occasions I left without purchase. This is a blatant case of misadvertising to get customers to visit BWS in the expectation that they will buy other product. It also shows the lack of Woolworths commitment to honouring company commitments (The dockets do not suggest the offer is while stocks last). I have better success with these type of offers with Wollworths' competition and will be using them in future. I shall look on these offers with much suspicion and distrust in the future. In a time when trust is a rarefied comodity in retailing, Wollworths management should taks a careful look at their fraudulent promotions.

I recently shopped at Woolworth Nightcliff in Darwin nt, I was extremely disappointed and angry in the customer service I received, I was there to ask for a refund on two item I ha brought which I was charged wrong for I receive emails from you and I know that if a customer is charger wrong they then get the whole amount of the item refunded to them which I was not.
The ladies at the service desk continued to argue with me and tell me I was wrong.! They. Then only refunded one amount of part of the item. I am upset as I have received shocking customer service and was not even helped correctly in the end. I will NOT be shopping at woolworths Nightcliff again because of those two ladies!.

This is a genuine complaint, I do not go out of my way to winge about trivial things.but I am so frustrated and appalled in the quality of produce and lac of staff care and more so knowledge or experience in the dayly preparation in your fruit and vegetable section not to mention disgusting state of shelving in the meat department I worked at this store glenhuntly for six years. So I have seen the care for your customers and the quality dissappear it has no baring on the fact that this store is being refurbished that will not change the quality of produce provided I have shopped at this store for twenty years each time I walk through the produce department I feel sick in the guts with the crap overripe Rotherham and withered mess that you provide your customers with. Yesterday I filmed with my iPhone the wrinkled up yellow potatoes rostering tomates, lettuce with slime apples with spots and the mess on the meat department shelf inc dried blood on rusty shelving with paint lifting.i am posting it on YouTube under the heading woolworths glenhuntly and sending a copy to Coles new world elsternwick who put your staff to shame and a copy to the health department and consumer affairs because you make me sick your staff are lazy dirty and have no commitment providing your shoppers with quality I would be speaking for eighty percent of the shoppers at your store. My name is David baker my contact number is 0419755046.

I purchased a pack of Chistmas Mince Pies this morning as a treat for my colleagues. When opened, they were pale and tasted dreadful. We had to hunt for the filling and the pastry was really disgusting. What a disappointment! Although – why was I disappointed? The hot cross buns I purchased at Easter were as insipid and doughy as these pies. I am 61 years old and have supported Woolworths always but I will not be purchasing anything again. I'm wasting my hard-earned cash. This is not my only complaint as I have had bas service and clothing incorrectly sized during the last two years. What has happened to good old Wollies where you got value for money?

Well I have never seen this happen before in my life, about noon yesterday Woolworths Mowbray store (Nth Tasmania)ran out of shopping bags. I got to the checkout and its taking ages to get through and the girl is very apologetic and when its my turn im told they have run out of bags and are using garbage bags off the shelf to pack peoples groceries, what a shammozzle I feel so sorry for your staff as they were great under such duress and improvising best they could.
It was just an awful experience I should have just dumped my trolley and gone home, packing the shopping into garbage bags was just a disaster, not only me but others in the car park had groceries going everywhere as we were trying to transfer the bags to our cars and the flimsy bags broke and dumped the contents on the ground. Why couldnt they have used all teh available green bags ?
I know they may have an excuse but the other launceston store was out as well so to me the management and procurment leaders employed at woollies may need to think about a career change – It was a bit like the pub with no beer story gee if I turned up at the bottle shop and they said sorry we don't have any cartons to put your beer in we can put 24 cans in garbage bags for you what do you think would happen !
you know there's a new Coles being built across the road and after today I cant wait for it to open even though I have never been a coles fan. And you know this doesn't even start to describe the problems I had when I got home trying to unload the stuff.
.

On Monday the 5th of march i went into woolworths at bateau bay bay village I was In the dairy department when I slipped on some water in the middle of the isle I was lucky I didn't fall to the floor but was quite concerned that this may happen to someone else so I approached a gentlemen in the isle who was a senior and told him that he required a wet floor sign in that part.
he just looked at me and said there is paper towel there when I looked backed there was paper towel over the whole isle that clearly wasn't doing anything I am disgusted at this response I am 3 months pregnant and classed as a high risk pregnancy due to previous miscarries if I had in fact fallen to the floor I would have no doubt that is possibly could have caused another miscarry I understand that there was water.
but I am not happy at the fact that the whole store including the meat department had paper towel shoved over leaking water but not one wet floor sign I am so angry that I will never shop at a woolworths store again I will now be going to Coles. I am not upset about the water I am upset at the response of the team member and at the fact it was obvious that there was a freezer and no signs to warn customers of the slip

I believe one buys 'supposedly' good quality at a higher value than competitors for a reason. I bought milk, 2×6 pack of low fat long life milk and a 6 pack of full cream early Feb 2012 so that the milk can last me longer. A first, I received promotional mail saying 1.5l milk on sale, instead, only to find it was 1l bottles in a six pack on sale at the Potchefstroom mooiriver branch. Nonetheless i bought the 3 six packs though disappointed but later discovered it was at selected stores only.
When i opened my second bottle of milk out of the 12 low fat milk pack,in the last week of Feb, i found out it was spoilt. I called in the customer services no. and tried to report the matter. The lady assisting me told me what kind of info was needed so i asked her to give me a call back at 13h30 but she never did. The following Day i called in again and Cindy was very helpful and apologised on behalf of the previous call centre agent and Woolworths Stores. I gave her the information she needed and she promised the matter will be resolved within 7 days, which i did not have a problem with.
Then on monday, the 5th of March, i received an sms saying i should go collect my gift card worth of R150. I feel it is so impersonal and rude of Woolworths to do that without apologising. I immediately called Woolworths customer services to try and understand how do they do that and guess who i got on the call…the very same Akhona who did not return my call. I tried to explain my concern and frustration and she plainly told me she will not entertain my arguement. A cherry on top, when i reminded her that she never returned my call, she did not even bother to apologise!
I wonder why do we keep unconsiderate and unsympathetic people on customer services! Place people like her in other divisions, they are not doing you any good and will chase customer away, like i feel i want nothing to do with your store at the moment. You sell good quality stuff to be honest but such behavior from staff is not acceptable. I was willing to let this go as we all make mistakes both as individuals and companies but this service sucked. The 1 thing i know for sure now is that Woolworths can also be sure of one loyal customer lost!

Hello, For the first time ever I took Woolworths advertising to heart and planned our Xmas fare around the exciting special menu and products – punted in the magazine. Imagine my huge disappoitment and frustration when I got to the Sandton store only to find ….firstly staff didnt really know what I was talking about and secondly after being pretty persistent and finding someone who did have a clue….. to be told "Sorry No Stock" Out wonderful Xmas meal deteriorated into one or two items that I finally located at the Hyde Park store – where staff were again clueless.
I have spent a fair bit with Wollies – not all of which is visible because I dont always have my card on me and felt pretty aggrieved. Lets say loyalty has slipped quite a bit. Im finding Spar a lot more helpful and friendly …….. and its a shame really cause the one or 2 products I did manage to get gave me a taste of what we had missed. You should have visited the store earlier I hear you say ………… and/or we didnt realize the items would be so popular and under ordered……excuses really….not reasons.
When going into redeem the Herald Sun voucher Woolwoths Eastwood Street outlet. What a disappointment it was to have only 4 legs available to purchase all priced between$45-$66 range.On enquiring if there was other legs available the answer was a big NO. Registered disappointment with Manager and told No Rain Checks, but there was a new supply coming tomorrow 24th Jan still no good to take advantage of $10 saving. My feeling was on this promotional gimmick that there was only going to have large legs available.
Cant say it was a rip off because I made no purchase at that extremely inflated price.

I went to the Deli department at Ballina Fair Woolworths and was served by the rudest person I have ever had to deal with first the fact I wanted a quarter of of BBQ chicken (why do you advertise to sell as a quarter if the staff resent having to cut) then god forbid I wanted some seafood and that did not go down well . Got to the checkout and discovered that instead of marking my two items chicken and seafood both chicken . I was not going back to Deli as staff sooooo rude so the nice lady at the service desk checked and said it was cheaper anyway.
I will never ever set foot in Ballina Fair Woolies again and will tell all my friends what a shocking place to shop it is .

I am a pensioner residing in the Lower South Coast KZN and where we do not have many shopping options. I have always been an avid Woolworths supporter but am getting very disillusioned by the poor standard of food items available to us at the Shelley Beach branch.
Yesterday was a good example – Your full cream milk has as little cream as your low fat and fat free versions. Are you trying to save by dispensing inferior products into Full Cream bottles? I think YES. The fat free Sweet Thai Chilli cream cheese container was only 2/3 full – again, are Woolworths stealing from the public? YES
Worst case was your chocolate cream cake!! This delicious looking item has supposedly a layer of cream in the middle throughout. We happened to open the cake up and there is only about 15 mm of actual tasteless cream on the outer circumference of the cake – nothing on the inside at all. Come on you Woolworths guys, is there no Quality Control or is Shelley Beach just a poor relation being supplied with second rate products. I hope someone at WW has the courage to address these complaints of mine.

I'm very disappointed about the service from Woolworths financial service, I've send an email on the 2nd of November 2011 No respond from them, I have lost my instore card, and went to one of the branches to request a temporary card I was told Woolies don't do temp card anymore I must wait for 6weeks for a new card, I was very angry and disgusted, then I ask when did this new rule or policy began, did you inform customer's if yes what method was used as I receive my statement very month why I did not receive such communication, its inconvenient for me, and need to use my card, preferred Store is Menlyn.
Please send my request and approval of my Temp Card, every case there must be exception. Maybe because I used to work for Woolworths that's why my complain is not consider.

I went to woolworths Maponya mall yesterday with my sister inlaw who is over 8 months pregnant we purchased a few items left and we got home she realised she left her phone in the woolworths trolley we were using. We called the phone it was still ringing so we hurried back to the parking area trying to locate the trolley. We were told that the trolleys had been taken in we got there and found that they were letting the last few customers out and but the security gaurd Mxolisi was there he was not helpful at all was not intrested in trying to hear what we were telling him.
Some other gentle man called Vusi who also works for woolworths was going out to either lock the doors we explained our issue and he listened let us in, Mxolisi was shouting at him for letting us in and continued to make an ass out of himself in our presence. We got to the trolley and when we called it we could hear that the cellphone was in one of the trolleys and we managed to find it. This really tarnished my image of woolworths don't the security gaurds who work for woolworths get proper training inregards to customer service.
Had he handled the issue differently if he thought we were going in to try shop he could have found someone to escourt us to go look for the phone. We would like to also thank Vusi for assisting us to find phone.

AFter phoning Woolworths financial services durring the last 4 weeks spending almost 20 hours on the phone with vsrious peopla and departments not 1 person is able to give me the balance of my woolworths credit card. I have not received a statement in over 3 years. I have not received a call sms email or postal letter regarding my account. I have been told i have been handed over and this information reflects ob my credit record now but no collections agency used by Woolworths has any record of my account. I have laid 3 complaints to woolowrths customer service department via there constants emails as you are not able to call them directly apparently.
No on is able to help or even knkows how to help me or who I can call. Everytime some ones says they will phone me back they never do. I am so frustrated by this disgusting service I have received. I am handed over but no one can tell my why or even how much i owe to set this account in order for it to be removed? Logically thinking how on earth can Wooloworth – who is a financia services company not be able to give my something as simply as an outstanding balance?? It is insane and I trully have no words to discribe the incompetence of this company.
They shoul dbe bane from provding financial services to anyone as they have no service abilites.

On the 25th 07/2011 I walked to Maponya Mall to find one of my brothers a birthday present. As usual I walked to Woolworths Store. I then got fascinated by this jacket for R599 witch I thought he would like I then paid for it with my bank debit Card. The next day I took the present to my brother but the guy never liked the jacket then on the 27th I took back the disliked jacket to the same store in Maponya Mall. I then explained to the lady behind the counter as per my reason for being in the store she then pulled the pack from my hand in a very rude manner without saying a word back to me she left with the item.
Within 3to 5min she came back with another lady whom approached me to say No we cannot except the item I then immediately said to HER but I got the cash payment receipt .she the turned around to say the item is no more in a resalable condition I then demanded some clarity to that she then said no the is cigarettes in the pockets I then said please give them to me No she could . she then turned around to say no she had to go get her manager as she couldn't give me anything the manager guy by the name of Tebogo very arrogant said to me the jacket has some Odor smell under the arms I then disputed that as I know for the fact that the jacket was never been abused in any way since I was under the same roof with my brother.
I was driven to frustration as I felt being treated like a shop lifter by store stuff and they Manager I was left with no choice but to dump them with the jacket with my receipt. I then called the customer service on the same day to lay my complain up till today I never had from Woolworths.

Have you noticed how majority of staff at woolworths petrol are unhappy due to moral problems and lack of training. Workers are expected to work by themselves with minimum training and when they ask for help are told they should know. Quite simply the whole woolworths petrol systems relies on bare minimum staff to keep prices down, this is okay but there should be some way that there is a better support for staff. Staff are overworked, put up with numerous customer complaints as they are the frontline of the business, they work for minimum wage and the amount of people suffering from work related issues is numerous.
So much for a family orientated business woolworths markets itself on. They cannot even look after own staff.

I went into Woolworths in Jean avenue Centurion. Bought a few things like I always do. Went to the cashier, she scanned the items. I gave her my standard bank card. She swiped it 3 times and said it was declined. I said I would draw the money but for some odd reason none of the ATM's worked, I guessed standard bank must be off line. So I drove to the next place, to see if I could draw money. Due to me not be able to buy it there I went to another store to buy the things I needed. To my surprise it went off from my account. So now what?
I was humiliated in front of a whole store, I didn't took my items home as my card was declined 3 times according to the cashier, so I paid for what exactly?

Woolworths call centres are a waste of time and money!! For 2 days I have been calling, faxing and emailing. Emails don't get responded to and calls don't get returned. Every time you call you get through to a different person who you then have to explain the whole sob story again to or leave a message for the 5 other people who you originally spoke who never return calls. In-between this you get cut off after holding 20 min!! I find it ridiculous that the very same documents that FNB will accept to change details they will not!!! Woolworths spend less money on your adverts and more on your call centres and training up your staff!!! Your service is PATHETIC!!!

Cara McFarlane
from Birtinya, QLD
Went into Woolworth with my granddaughter age 6 yrs old , Had a shopping trolley with other items from other shops, Took a small green shopping trolley to get a few items from Woolworth. Wet to the fast lane check out and paid for my items, as I was about to leave a woman who worked for Woolworth approached and ask if I had a docket for one box of Ferrero Rocher that was on the bottom of the other shopping trolly.I reply that I had got them in Big W she said have you got a docket I said yes and proceeded to look found one docket from Big W but it was the docket that my grand daughter had got for her toys. She then said there is no Ferrero Rocher on this docket I explained that there would not be on that docket as my grand daughter had paid separately with pocket money. At this stage I could not find docket and she let me go I felt that she thought I was guilty of shop lifting. When I got to my car I had a good look and found docket and took it back to her. This ordeal was poorly managed I was so stress and flustered and my poor grand daughter was up set as well she kept asking me if that lady thought I had stolen I felt like a criminal , My grand daughter thought I was going to go to goal. This event took place at 13.56 on 27-6-16 have reported this incident to Neville. This was poorly managed in front of a small child who thought her grand mother was going to be taken away. I felt embarrassed as this took place in front of member of public, this women did nothing to take the child's attention away from what was going on. In fact I do not believe she had any training at all in people management. I fully under stand that shops have the right to search bags, and I have been ask many times to open my bags , but in all the years that I have been shopping any where in the world I have never been made to feel degrades and humiliated, and to make matter worse a small child was also witnessed this horrible even . I would like some one to respond or this matter will be taken further

John Grandelis
from Brisbane, QLD
I am a regular shopper at Woolworths at Orion in Springfield Lakes Qld. Last Saturday May 7 as I was carrying my groceries to the car park I witnessed the trolley man while maneuvering a line of used trolleys collide his line of trolleys into the front of my vehicle - a 2011Mitsubishi Lancer scratching the paint work across most of the front of the vehicle. (see pic below which shows the middle section of the damage).
While I was initially very upset and have since sourced a tin of spray paint for $32.99 and will repair the paint work, I would on reflection like to offer this suggestion as one day more serious damage may be done to a customers vehicle. Suggestion 1. Perhaps when that a line of trolleys need to be collected that some training be provided that only a small number of trolleys be moved at any one time. Suggestion 2. That two staff be engaged in the process to provide extra support in the process.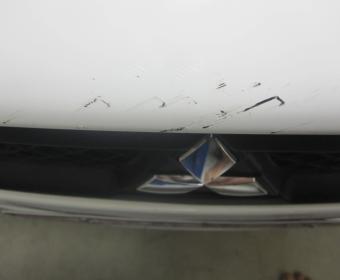 Robyn Domanski
from Kempsey, NSW
On Saturday the 30th of April 2016 I purchased 6 x Satay Style Kebab RSPCA Aprroved Chicken At $1.00 each. My receipt no. is "STORE 1178 POS 081 TRANS 5767 0801 11:37 30/04/16". I have provided a photograph of 2 of the items which are unsatisfactory. These should not have been offered for sale as they are only 60% in volume. I am a loyal customer however this has brought your quality of products into question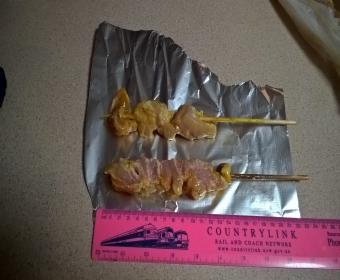 Natalie Nardella
from Melbourne, VIC
I purchased a $100 gift card from Safeway dingley as a gift and when the recipient went to use it they were told the card was not activated. I contacted Woolworths and completed the questions they asked me to prove I purchased it. Then they told me the funds had already been spent and that this card was not purchased at dingley Woolworths but at a big w. So first I was told it was never activated and now Iv been told the money has already been spent on the card.
This is false information as I know for a fact that my mother tried to use it at clarinda safeway and was told it was not activated so it could not possibly have been used else where. I have given the gift card team copes of my statement and all of the information I have. Also, this card was apparently used the very next day after I purchased it 240116 to the exact amount of $100. My mother the card recipient did not shop that day anywhere and has never shopped in the store they claim it was used.
The whole time I have been liaising with the gift card department I have not been given a name of who I have been speaking with via email. Their tone has been accusing and disinterested. Now they have finally claimed to put $100 on the gift card we have, and they did not even sign off in any way. I literally got no apology at all through out this process, no acknowledgment of their error! So rude! I can't believe how unprofessional this has been and how much they have lacked in basic customer service! So much for the customer is always right, I have been spoken to as if I am a lying thief.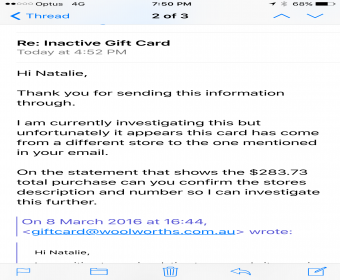 Angela Sims
from Bridgewater, SA
I work full time Mon - Fri so of course I take up you offering of BBQ chickens weekly however since last Tuesday the 16th Feb I have been unable to purchase one. I work in North Adelaide so the drive home is 1 hour so of course I shop nightly at my local Woolworths Virginia making my mind up what's for dinner on the drive home it is becoming quite annoying that every night since the 16/2 I have not been able to buy a BBQ chicken it is not like I'm turning up at 8.45pm at night I arrive every night at 5.45pm so I am having a hard time understanding that at the peak of trade that you have no chickens.
I am not usually one to complain as I also work in retail however the final straw was tonight when I went into the store at 5.05pm thinking I would be lucky to finally get that BBQ chicken & guess what none to be seen not in the warmer or the hexagon I realize you are in competition with Coles etc re the price of the chook & you may think you are covering it with the signs that say while stock last but seriously you can't cook other size chooks to offer the customers. As I previously stated I work in retail & can understand the mishaps but this is getting ridiculous. I realize that there is new management within the store & it has improved by far however this I would think would be a basic sale.

Suzanne cole
from Sydney, NSW
I did my shopping today at the Woolworths Leichhardt. Store, I thought I would try your select tomatoes diced (Australian) I bought your brand once before but I seem to remember they were Italian tomatoes, so I was happy to see they were Australian this time and whats more they were on special, 80c, I just checked and that is the price advertised on your online shopping site I was not imagining it. Anyway when I got home I noticed on my receipt the tomatoes x 2 when I only bought and have 1, while I could live with that loss of 80 cents I was charged $1.79 per can total $3.58.
I will attach photos. As my buying record would show I am a frequent buyer with a rewards card, I stick with Woolworths because your stores happen to be conveniently situated to me, not in truth because I like the l stores or products, perhaps that adds to my annoyance at this error. I wonder now how often this happens, that something is not only scanned twice but more importantly I was not charged the correct advertised, on line and in store price.

John Ormsby
from Brisbane, QLD

Sandra and Robert
from Sydney, NSW
My husband and I went into the Gunnedah Store today the 13/02/16 at about 3.30ish, as I thought I would try Woolworth for a change, we normally shop at Coles Or Aldi's..We are new to town so this was the first time in the Woolworth store. We needed some help so we spoke to a young woman... Her name tag said Nikkita. She may have been in charge or something as she was being approached by other staff members. Maybe I should have asked her what her role was, but she didn't really come across like she wanting to help us.
The reason I am writing this is that she was talking to me while chewing gum or a lolly of some sort and chewing like an old jersey cow. Trust me when I say it was not a nice sight! It was not very nice and a little bit off putting to say the least. Maybe Woolworth need to tell their staff how rude it is to chew gum when serving their customers. When I was younger, my Managers would have never allowed this to happen. You may think this is trivial but, Manners go a long way and this young woman obviously has none.

Susan Andrew
from Johannesburg, GP
I bought a packet of Chuckles peanuts yesterday (11/02/2015 )and when eating found that a lot of it was just plain chocolate and not with nuts. Disappointed as I obviously expected chocolate covered nuts and not just plain chocolate. The sell by date on the package is 1 Jun 2016 and best before date is 15 Jun 2016 21:45 10089.

Ross
from Camberwell, VIC
Visited Woolies on Canterbury Rd. on 3/2/16. Driscolls Strawberries 250g looked like not enough strawbs in 3 of the packs on display. Weighed them on the store scales and they were all 210g total. If we subtract say 30g for the pack and the bubble wrap, that's 180g of strawberries, when there should be 250g.
In the other Driscolls punnets on display, 3 contained one strawberry totally rotten and covered in mould. The cardboard tray had a sticker showing they were packed on the 22/1/16 - 12 days earlier. Went back to the same store 7/2/16. 250g punnet looked underfilled. I weighed it on the store scales. 200g. That means it contained about 170g net of strawberries. Someone is ripping us off. Someone should be inspecting the incoming produce, and "The fresh food people"? Bah!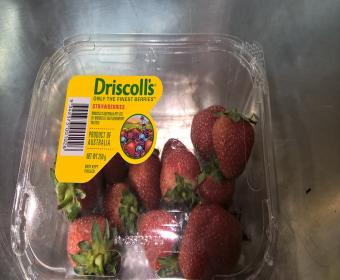 Lynne Heath
from Sydney, NSW
Shopped at the above store on 23rd December 2015, specifically to purchase half leg of ham, piece of boned and rolled pork and fresh vegetables/fruit for Christmas. No half leg hams at all (told by staff member "thats all we have") only about six full legs on display (too big for us), only very large pieces of pork (again too big) and no fresh beans. I was very disappointed so had to shop outside Woolworths to purchase these items. I have been a very loyal customer of Woolworths for over two decades, but I found this experience very disappointing.
I sent an email on 23rd December which asked for verification of my email address. Did that. On 11th January this year sent another email - this time came back "delivery to recipient failed permanently". I then posted a letter to Woolworths on 13th January to Bella Vista address. I have received no correspondence from Woolworths to this date. Could you please respond to my complaint otherwise I might have to shop at your opposition, Coles. Seems these days, nobody responds to anything - just ignore you.

Julie Johnston
from Melbourne, VIC
I recently bought a leg of lamb from Sale Woolworths in Victoria. It was cryovac sealed. After I restled the wrap off I found more hard plastic covering over the end of the lamb and removed it. When I had baked the leg of lamb I had discovered another hunk of plastic baked on the side of meat. I had to throw the leg of lamb for fear of toxins from the plastic. No dinner. Far from happy. All the legs of lamb need is cryovac bag Not all the extra pieces of hard plastic stuck hear and tbere on the leg. Very angry that I missed that last piece and angry that there are so many hidden extra pieces of plastic on the leg of lamb!

Monique Btuce
from Heathridge, WA
I attended the Woolworths St Georges Terrace store on the 27th January at 1:50pm and was served by a Staff member in training. The staff member did not speak or advised what I owed. When I handed 50 dollars over I was short changed seven dollars. I went to the service desk and they reimbursed me the funds. I asked why the new employee was not trained properly and was advised we don't have the staff to train.
This is appalling how can you expect staff to give good customer service if they are not trained correctly. Shouldn't staff greet the customer, and advise what you owe and count the change back to the customer to ensure their till balances. Woolworths need to address your training standards so your staff know what's required of them.

brenda bensley
from Wantirna, VIC
It is bad enough to get those annoying phone calls every night about free lights, but to have it shoved in your face going into and out of your seaford store. They are not a charity but people making money from a government run scheme. She could not be avoided as she was standing next to the trolleys. I complained but they told me the directive had come from head office. You could tell people were very annoyed.

Gail Huth
from Kallangur, QLD
This is a complaint about one of your products. I have been purchasing your Woolworths market value pack of 10 burgers for several years and have found them to be excellent however as of late not only your packaging has changed but the shape also. I am not to concerned about the shape of the burger but the packaging of the burgers need to go back to how they were with the freezer paper between each burger as to make it easier to separate. As they are now with no freezer paper they are so hard to separate it ends up that I am re-making the burgers each time I go to cook them. Please if it's a matter of cost I would pay the extra to have them back to the old packaging.

Joseph Chan
from Broadbeach, QLD
Today I purchased some grape in the supermarket at Pacific Fair store, the grape advertised 4.50/kg but I was charged at 15.98/kg. I found out the customer service gave me refund of overcharged portion only. I asked the staff when something like this happened before the item which was overcharged will be given for free. The staff said this was human error have to charge and pay the original price. But after I continue to argue and eventually I got the item for free. Please tell me what is the company policy when this kind of things happen? Just imagine if customers not checking their bills will be ripped off a lot of money.

Shirese Spannenberg
from Bellville, WC
I made my December account payment on 15 December. Only to receive a call to say my account is in arrears. I explained i made payment on the 15 December 2015 and was told because i paid before the 16 of December the payment is seem as a payment for November even though i made payment on 23 November 2015 for November. I paid other accounts on the same day and only experienced problems with Woolworths. I checked my November statement and it says payment is due on the 10th December so how can the payment i made on the 15th December be for November if i already paid my monthly installment for November? Also where does it state in the Woolworths term and conditions that payment made before the 16 of a month will be for the previous month even if you already made that months payment?

Taryn Burland
from Sydney, NSW
I bought chicken cold meat (Woolworths brand) from your Bondi Westfield branch yesterday (Sunday 17th Jan 2016). When i came home i opened the packet and fed it to my little boy and ate some myself. Half way through i said the taste wasn't right as it tasted really sweet and went to check the sell by date on the packed. The expiry date on the package was 25th Dec 2015.
I find it utterly appalling that you keep expired food items on your shelves way past the sell by date and both myself and my little boy could have gotten very very ill. I find it unacceptable that i will now need to look at the expiry dates on all items at Woolworths before i put them in my trolley and will therefore have to go elsewhere.
As you will be able to see by looking at my account (card number 9344668 029579) we are regular shoppers at Woolworths and spend well over $1200 on a monthly basis.

Maritess Dee
from Ashfield, NSW
Purchased 2 packages of salad from Woolworth Strathfield on Tuesday night 12 Jan. Brought the tabouleh salad for lunch at work the following day, Wednesday, 13 Jan. Towards the mid part of lunch, I bit into 2 brown pieces of hard small stones nicely camouflaged with the colour of the salad. In the chewing process, it hurt my front upper plate which I thought partly broke off. The stone further split into small tiny pieces . This is very dangerous! I am only able to capture the bigger pieces of the stone with the image attached below (highlighted and encircled).
I am now very paranoid and scared with the other salad pack that I bought ; and likewise with future purchases. How do you ensure safety with this type of food? What QA measures are in place? How do you compensate me for this scare? I have kept the stone and the picture for reference. Does this need further reporting?

D. Obrien
from Thornleigh, NSW
I regularly shop at Metro West Pennant Hills, and up until recently have always had a good shopping experience, but lately the music on the PA system, while not loud, it is a fm station and it is very annoying, the music is dreadful, it may be good for the teeny boppers but it is not very pleasant as back ground music as you shop. It used to be pleasant. Why the change to a FM station? I cannot wait to get out of the shop it is so annoying.

Helen
from Centennial Park, NSW
On Christmas Eve I shopped at Erina Fair store, and among other fruit items I purchased 2 mixed fresh fruit slices ( mostly melon and pineapple slices)in trays, priced at $6.00 each. I put them on our table along with cheeses etc, for our guests. only to find that the fruit had fermented quite badly. FRESH? How stupid was I to believe your "fresh" advertising. Perhaps you should look at Hanging (typo) changing your advertising agency. Shame on you. Your company is getting quite a negative reputation. Well deserved, I say.

Annette Kerr
from Perth, WA
I bought over $60 worth of porterhouse steàk at livingston in Perth on the 29 dec, we BBQ most of it and found it very tough, the next day we cut some up in very fine pieces to do a stir fry and found the same. I have found since you started putting meat in the stores pre packed the standard had gone down and had not bought meat in store for a while because of this reason.

Jasmyn Budworth
from Adelaide, SA
I took my elderly client food shopping, she uses a wheelchair and enjoys shopping with the wheelchair trolley. Woolworths at Elizabeth SA only have one wheelchair trolley and this couldn't be found. We struggled to complete her shopping without it. Another customer was in a wheelchair too so there is obviously a need for more. My client was upset by this.

Poppy Peris
from Castle Hill, NSW
My husband and I went to your store at Burwood Plaza (Sydney) this morning, as we do every Saturday and left very angry, frustrated and disgusted. First of all, there were only a few trolleys at the entrance. A couple were broken and when we put our $2 in the second-last one available the chain would not release and we could not retrieve our money. We brought this to the attention of your staff only to be told that the matter had been reported. We were not very impressed with the indifference of your staff and do not feel that they tried to or even wanted to help.
Finally, we picked up a basket each and proceeded with our shopping. I had quite a long shopping list this week and as you can appreciate 2 baskets were totally inadequate. Furthermore, I have a back problem at present and should not be lifting/carrying heavy things. We were so frustrated by this experience that we cut our shopping trip short at Woolies, bought our fruit from FreshWorld and left. We went to Coles at Birkenhead in the afternoon and did the majority of our grocery shopping. I am seriously thinking of not shopping at your store again.

Beth Woodhouse
from Brisbane, QLD
I agreed to do a Woolworths survey online some months ago and although I declined every offer that I possibly could, I then began receiving large volumes of junk email from so many sources. It has taken me months of unsubscribing from various mailing lists as YOU obviously passed my email address along to all these people. I have been so angry about this behavior by Woolworths that is certainly has reduced the frequency of my visits to your stores. It was disgusting behavior from what we would like to believe is a respectable retailer.

Lynette Smith
from Adelaide, SA
At the checkout I noticed large signs advertising 20% off I-runes cards.i purchased a $20 card.On arriving home I noticed I had not received my discount.on returning to the store I was advised the $20 cards were exempt,they pointed out there is a small notice you can read on entering the store.All the advertising in store is very large but nowhere does it advertise the exclusion.i find this very misleading & unethical. I am seriously considering my loyal support of Woolworths for the future.

I was doing my weekly shop at Woolworths Belmont, they shop was so out of stock, no 1.25 Coke Zero, no boxes or pkts of 15-18kg boys huggies nappies, no grain waves, & there was some frozen crumbed chicken in the freezer that was on special that wasn't there! Now as a mother of 3 children it's a real pain in the backside when so many things that I go to get aren't there!, I understand if it was 1 thing but it wasn't & it's not the first time this has happened!, so I had no choice to go to Coles to do the other half of my shop as I really needed some of these, this made things quite hard for me as my days are already very busy!

Tracey Febbraio
from Melbourne, VIC
Went to store at Taylor's lakes vic on Tuesday 3rd nov. Very bad One register open and long queues. Manager standing looking at everyone and ignoring the unhappy customers. I shop at Woolworths nearly everyday and the customer service at this store is really bad. Not sure if Woolworths even take complaints seriously but I wanted to let you know.

Maureen Paterson
from Hinchinbrook, NSW
I would like to give my dissatisfaction at not being able to buy the Áncient Animals' book that accompanies the collector cards. I have tried to buy it at my local store (Woolworths Erina Fair) - service desk over the past few weeks since stocks sold out. I have been to the desk on numerous occasions and staff could offer no idea if and when the books may come in. I now have a very upset/disgruntled 5 year old grandson who was looking so forward to putting the cards in the book. If Woolworths wishes to continue with these promotions, which I think are a great learning tool, Please ensure you have ordered/printed enough of the books to cover expected numbers. I will not participate in any future promotions for fear of being let down again.

Seifert
from Armidale, NSW
For the last few week's the stock in Woolworth store Armidale NSW 2350, has been very bad, but today was the last draw for me after going through, the check out, I was forced to go to Coles, I went into the WW store on Sunday about 10.30 only 2 check outs open, bad enough, but half the items, were not there, a sign said in the Deli and cold section truck had broken down, fair enough, but today, still missing items, no name milk 2ltr, today, not even the light bulb I had to get. It is bad enough the magazines, take 5 and that's life has not been on the shelves on a Thursday by 10.0clock I have complained about this before, as we do not have a news agency near buy. I am most fed up, as I live out of town, and have to drive in for my shopping. Not good enough any more.

Leonard Walker
from Pascoe Vale, VIC
Last night we went to the new Woolworths at Point Cook and went to bye a roast pork. The young girl just finished serving chicken to another person and and asked me what would I like and I said the roast boneless shoulder please then she just grabbed the roast pork without changing her gloves this is cross contamination and staff should be taught properly and made to do a refresher course.

Lynette Bignall
from Booker Bay, NSW
I am wanting to complain about Select apricots I purchased yesterday at Cardiff NSW. 03 May 2016 - 52153. They are dried apricots - very dry. I use these to make items for charity and normally purchase at Aldi or Coles but for convenience I purchased at Woolworths. The packet has 'Ideal for snacking' - they are so hard I was not even tempted (normally I am when cutting them up). 200g for $5. I certainly won't make this mistake again.

Cahill Ross
from Blackburn, VIC
This evening (25/05/2015) I made a familiar trip to my local Woolworths at Blackburn North Shopping Centre and was extremely dissapointed with the customer service of the cashier whose name badge showed "Brooke." When purchasing my items, the cashier did not even acknowledge my presence, let alone smile, or seem remotely interested in serving me.
I hadn't realised Blackburn North Woolworths installed machine operated cashiers already. She rudely demanded my money and seemed to be pleased when I walked away, just as a machine would do.
I am a regular customer at Blackburn North and am usually very pleased with the service there. I have not yet come across an employee at Blackburn North Woolworths that has disappointed me and made me feel as un-welcomed as I felt today. I am writing today in the hope that this issue will be addressed.

Helen Thelander
from Lidcombe, NSW
I purchased a block of Danish fetta on 23 May 2015, at Jordan Springs NSW 2747 Woolworths. Upon eating half of it, I noticed that the back of it was completely moldy. I returned the product back within a half an hour. I suggested that they throw the rest out and I demanded to speak with the Manager.
Even though they apologised and refunded my money and gave me a wish gift card, this does not help me having to spend the remainder of the weekend in my bathroom. I did file a customer complaint form in case I would end up in the emergency room. My complaint is I have been shopping at Jordan Springs since it has been opened and there has been a few occasions that I have had to return your products for example your fruit is tasteless, your yogurt has been our of date, your bbq chicken under cooked, lettuce covered by worms. Woolworth do take pride in their motto "the fresh food people" and this is unfortunately not the case. Trying to settle this matter with a "wish gift card" does not help this situation.

Heather Reardon
from Sydney, NSW
My problem is a lot of Australian products such as Birdseye broccoli , Birdseye carrots , BX hand care wash just to name a few things I used to be able to purchase at Woolies Menai are no longer available they are replaced with there own SELECT brands , I purchase these lines elsewhere , what ever happened to CHOICE.

Amanda Jones
from Noble Park, VIC
Woolworths Ballarat has a customer service operator by the name of Tim. He is a very rude, obnoxious person to be served by. Doesn't smile and doesn't greet customers the way that they should be. He also spoke very rudely to the young girl that served me and my partner last night.
Instead of saying "excuse me Abby can you serve" he said oi to her and pointed to her register. This sort of behaviour is unacceptable. I know this as I used to be a retail supervisor and am mortified that your staff talk to each other in such a way and have rude staff at front end. My partner and I where that disgusted in his behaviour we shall not be entering that store again

James Woolford
from Brisbane, QLD
I purchased four Connoisseur Ice Creams for my children which I always do when I visit your Service Station at Mango Hill Queensland. On this occasion when the children opened the packets the ice creams fell off the sticks into their laps and they were very disappointed. I buy around $200.00 of fuel there every week and I always buy something for the children from your shop. The following week I reported this to the staff and they told me that they test the freezer temperature three times a day. The week after I purchased the fuel and I bought two packets of lollies which were two for $6.00.
These lollies had the price on them and the bins were beside each other. The lollies were made by the same company. On checking the docket I found that I had been charged over $8.00 for the two packets and on going back to see the console operator I was told that they had to be out of same box not one out of each box even thought they were next to each other and both boxes that "2 for $6.00" on the box. I feel that if you were not supposed to take a packet out of each box the sign should have informed customers that the lollies must come out of the same box and the boxes should not have been placed side by side. I feel that this is unorthodox way of displaying and selling goods at a set price.

In their weekly catalogue that ran until the 5th of May, Woolworths Wellard advertised Nescafé 500 gram tin of coffee for $16.00, but at rear of store they had a stand of them ticketed at $19.99. Regardless of if they would scan at 16.00 at the checkout, how many people, more so the elderly, would not buy them, nor question staff. I went to another Woolworths in the area and purchased one at $16.00 and they were well ticketed. Also like to complain about the lack of open checkouts at Wellard, one to be honest. Not everyone wishes to use the self service checkouts

I would like to inform you about disgusting behaviour from one of your store managers . On Friday, the first of this month late afternoon at the Clare south Australia store, assistant manager, Helen Jurgens, verbally abused a staff member in front of other staff and customers! At the same time, insinuating the customers were potential thieves. The staff member was embarrassed and belittled and the customers highly offended. This sort of behaviour should not be tolerated by anyone ...

Nonhlanhla Ngubelanga
from Durban, ZN
I bought clothes at Woolworths on sale only to find out that 3 of these items had factory fault. 1 dress was loosing colour, and 2 tops were torn and still new, never worn. I still had proof of purchase. Then Thursday 30th, I went to Hillcrest to return these items and ask for credit. I spoke to the manager, Sharon D, who told me the items were no longer on the system and they can't credit me. Instead she will send the clothes to be checked if they do have problem but that will take the whole month and still she does not promise I will get credit because they never do.
I am fedup with all these excuses. It's your duty to make sure that your garments are of good quality and they are very expensive to begin with. I want my credit as in yesterday! I'm not waiting for a month to get another excuse from Woolworths. I left the clothes with Sharon D at Woolworths Hillcrest and would like to credit according to what i paid for.

Karen Hamilton
from Sydney, NSW
Woolworths had Felix cat food on special from Wednesday, April 29 and it is now May 3 - Since then, April 29, I have constantly checked the Dickson store and the shelf is always empty. I live nearby so I have constantly checked. On April 29 at 09.30 am there were only 2 packets of this product on the shelf and only 1 type (there are three different types of this brand).
Ever since then I have made a point of checking - first thing in the morning - late morning - late afternoon and evening. EVERY time the shelf is empty. This is clearly a con on Woolworths part as every other shelf is constantly refilled - but how can that one shelf be constantly empty ?? According to the ACCC this is illegal.
I have seen this happen with other products, and I know that it is no coincidence - I am really angry, and am now looking forward to Aldi and Coles opening up in this area, as this is just blatant and arrogant because Woolworths currently have no competition. I used to be a staunch Woolies customer, but not anymore.

Mel Kilner
from Bentleigh, VIC
Been shopping at Woolworths in Kyneton for years and for the last year the stock levels have been really bad. Today I went shopping and went to get some milk and there was no milk that's is one thing that a supermarket should have I think it's really really pathetic. Hope we get a Coles soon!

Kevin Evans
from City of Parramatta, NSW
The woolworths at Marrickville metro is poorly managed. The fresh food is far from it. Tonight 27 April the silver beet was clearly old with slimey leaves and many stalks snapped off and tatty. The displays are sloppy and generally untidy. Nobody seems to have oversite of store front of house. The meat section is plain idiotic. How about signs that say beef, pork, lamb! Frozen peas regularly are left at the bottom of the freezer for days. Labels about Palm oil on many products don't explain if it's from a sustainable source. Consumers want that information to make an informed choice. Many shelves were bare this evening. Standards have been slipping for months it's time to lift your game. You need a larger store to meet increased demand.

paul thompson
from Strathfield, NSW
Went to my local woolworths at jesmond on Sunday like i do every Sunday and spend around 300 a week with you get to milk section and no milk on shelves as usual and the freezer room behind full of milk . I do think no milk on shelves cant be sold when sitting out back .l had to drive to your competitors to get milk what a joke Coles had all there shelves stocked up need to pick your game up and think about your customers .

peter lees
from Bundamba, QLD
I went into woolworths redbank plains on Wednesday. I was going to buy a packet of pascal hard jubes which was advertised on hanger as on special for $3 normal price $3.99. I buy these often and $3 is normal price manager told me they had gone up in price this is fraud she has lied to me. went to foodland store next afternoon brought them for $2.59 normal price $2.99. it is obvious w/worths thinks their customers are mugs will be doing my shopping at foodland store from now on.

Francois Stassen
from Cape Town, WC
My second pair of shoes within a year's time. Smart shoes. I cannot keep up. The first pair took back and replaced. Second pair busy to tear loose again. Visit one of your stores in Cape Town and the prices suddenly increased to price I no longer can afford. Extremely disappointing. Even my casual shoes soles underneath has for some strange reason cracked in half which I try only to wear at times. Very big disappointment.

Neville White
from Glen Waverley, VIC
Hello to the team at Woolworths. I have no gripe or bent ego because I shop at Woolworths Wheelers Hill and Waverly Gardens in Victoria and both these stores are managed well and the staff are true blue collar hard working employees. After a busy day there will always be the opportunutiy to whine and complain and carry on like a pork chop because someone looked at you sideways so keep your hat on and smile because when customers want cheaper prices then they cannot have all the bells and whistles also . So this is a message to all the customers who whine as a hobby: Please smile and if you think that you can do better then apply for a job.

Sandie mccaroll
from Brisbane, QLD
Went into store to buy groceries did shopping picked up 1 litre streets blue ribbon vanilla ice cream the price under it said 5 dollars the one underneath said 6.99 then Cadbury was 5 dollars next to it we proceeded to the checkout they charged us 6.99 for the ice cream I said it's only $5 they sent a lady to check she came back and said no it's Cadbury I then informed her she had it wrong she said no it's 6.99 Cadbury is $5 I again explained but nothing was done I am disgusted in the service I received regarding this matter maybe you people need to have a good look at the pricing tags and where you put your products , I will no longer shop in your stores and I will inform my friends on the poor customer service I received .
Have feedback for Woolworths?
Thanks for your feedback!
Sorry. Please try again later!