Wendy's
Wendy's Complaints Continued... (Page 1)
1637+ reviews added so far. Upset? Call Wendy's corporate: 614-764-3100

Neil Shaffer
from Cincinnati, OH
Ordered take out from Montgomery/Symmes Twp. (?) restaurant on Montgomery Rd., Cincinnati. Wife ordered double w/cheese onion & pickle side salad and small chilli. Double was about half again larger that a white castle and patties were slightly thicker. Has your restaurant changed their portions?

Jennifer DeLaney
from Waleska, GA
Side salad was old! The lettuce was brown, the tomatoes had spoiled & the cheese was all stuck together in clumps. The plain baked potato was rotten on one end, smashed like it'd been dropped & cold! We eat at Wendy's after church every week, never again!

Pam Powell
from Cincinnati, OH
We was at the Wendy's on Colerain down my 275 on 7/8/19 at 7:45. My friend and I ordered our food then as we was getting our condiments we realized the fries were old and ice cold. I walked back to the counter and the boy asked me if there was a problem, I said yes, the fries are cold and taste very old. He snatched them out of my hand and yelled they want new fries. He did get us new fries. Then manager came out of the drive thru and picked up a fry out of the bucket and said this is how you tell if they are hot, you pick one up and if its hot you serve them. Then she looked right at me and said did you try them are they up to your satisfaction!! OH my at this point my blood was boiling, and she kept saying what did you say. Then she walked back to the drive thru, at this point I was so fed up I wanted my money back. Her tone was so rude I think I was in shocked that a manager would talk that way to customers. Then the boy said they want their money back, well she was all confused not sure why we didn't want to stay and eat, and she did apoligize and I think she really meant it. I was just done at this point, then i hear the cook in the back say Really how may times do you need to apoligize to someone, they need to go on. SO there went my blood pressure again, I told the manager, that going on is so un called for, then I seen him on the side, and I said to him. That was very uncalled for you talking like that when I can hear you out here, he said don't you even talk to me, you get your food and go on. REALLLY!! WOW!!!...
I have always gone to that Wendy's but I was so shocked of the unprofessional act of the Manager. I did feel bad for her I do feel she is a nice lady, but it was uncalled for. When the boy took our newer fries back he dumped them back in the fryer. They need to get better workers at that place.
I don"t think I will ever eat there again. Which is sad cause it is one of my favorite fast foods, but wont be there again.
Thank you!!
Pam

For the past several months now every time we stopped into the Bouttee Louisiana location the chocolate frosty machine has been down. I complained about the cleanliness of the restaurant about six weeks ago and it looks a lot better. I waited in line for 17 minutes to be told old the ice cream machine is acting up. I left without purchasing anything. McDonald's is right down the street.

A Casillas
from Del Rio, TX
The Del Rio Texas store is consistently going downhill on service and quality of food. We usually go thru drive thru for a simple salad order. Last week, it took me 17 minutes to get the two salads after I was asked to pull ahead. Other times, the service is slow, but this was the slowest.
The Wendy's salads are typically the best of the fast food franchises, so my wife and I like to eat perhaps one or sometimes two per week. As the service has gotten worse, we are reconsidering.
So today, I decided to walk inside and place the order inside the store to observe what could be happening. After standing at the counter for about 6 minutes (only one other customer standing next to me waiting to get order corrected), a cashier, walking around the back and joking with other employees, finally acknowledged me. Why it took her, or any of the others walking around and laughing so long to greet the customer, is most likely lack of or poor training, or the manager/asst are not present. If they are, that is not a good sign of leadership. I paid with my debit, and never received a receipt. I thought it might have been placed inside the bag, but it wasn't when I checked at home. Also, one of the salads was missing the top lid, so they covered it with plastic cellophane (??? seriously?)
Also, there was a young lady waiting at the counter for someone to acknowledge her. Her order was not correct, and the young man that attended to her was not rude, but rather abrupt. She walked away, and most likely will not return.
Suggestion, try walking into Chick Fil A, and you will see the difference in customer greetings. Heck, even Jack in the Box, traditionally the worst in Del Rio, is a tad better. Placing your restaurant at the bottom of the customer satisfaction is not good business.
Respectfully,
Abelardo Casillas

Devin Durham
from Washington, DC
I was attempting to order and asked for a moment to decide what I wanted to order. At that point the manager was very rude she said I needed to hurry up I asked her to please be patient she then began to curse and use foul language so I got out my car and went in to get her name. She began getting very combative and neede to be restrained by workers. The most horrible and degrading experience ever at the Dobbin Rd wendys

Brandesha
from Marshfield, WI
My name is Brandesha Carpenter and I went to Wendy's on Headland Dr right beside Dollar General Plaza and ask for a large water and a bacon cheeseburger deluxe they would not put bacon on it because they said they didn't understand. My question was what don't you understand about a bacon cheeseburger deluxe? So I requested my money back and the manager was nasty and rude and I waited 39 minutes for two dollars. That was ridiculous I will never eat there again! I give 0 stars if I could for that Wendy's

Cheryl L Cain
from Sacramento, CA
I have been to the Oroville Wendy's two nights in a row trying to get a baked potato the first night I said Oh shute that's the only thing he can eat the guy told me to watch my mouth that this was a family-run business and they don't appreciate that kind of language here and I said excuse me I'm an adult and for somebody to reprimand me specially a teenager is uncalled for I'm here again tonight no baked potatoes I think I'm going to take my business someplace else that don't treat me like I'm a convict because I said the word Shute

Shannon may
from Boston, MA
I am rather disappointed in your advertising. I went to Wendy after hearing a commercial for a 0.50 frosty only to be told well it may be advertised but we Arnt doing it. My children were rather upset when we left.

Malinda Pate
from Cleveland, OH
The is for the Tell City Indiana Wendy's. We eat always 2 times a week, using drive through. The last month every time we r missing items, always make my order is right on the screen. Half the time we don't get a receipt. On one visit the order was right on screen, I paid no receipt and I was missing two baconatter FF so we pull around, I go in and the girls that took my order said I just her one order , I said it showed all three on the screen and she walked off I had to pay for the two missing ones again. Next week. G

Rob Sellmansberger
from Collierville, TN
Someone who works at 714 W Poplar in Collierville, TN threw this trash in my yard or it was a customer who knows where I live because an employee who they are friends with told them. These morons are vengeful. They punch people in there and act like a bunch of negligent monsters. It looks like a dump. I left the job.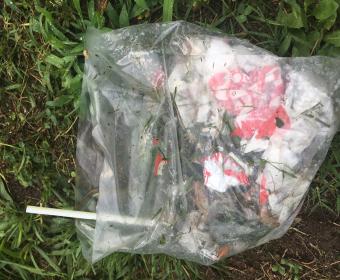 Patricia F Olson
from Palm Harbor, FL
My husband ordered two small southwest chicken avacado salads about 5:30 this evening (6/29/19). We just finished eating them and there we NO avacado (gucaomole) on them at all. I have been getting them at the Boot Ranch location on East Lake Rd with no problem. This store of Wendy;s had been notoriously inferior. Even after a total rebuilding of the structure, the service and quality of the food is deplorable!!!!!!!!!!!!! Someone from the corporate office needs to intervene!!!!!! I have always trusted the quality and uniformity of Wendy;'s foods and service. This will cause me to look to other fast food services for my needs. Shame on YOU!!!!!!!!!!!!!!!!!!!! Patricia F. Olson Palm Harbor, FL

Diane Rice
from Portsmouth, VA
Last two times I have been to the Wendy's on College Dr in Suffolk, VA they have not had baked potatoes
One time at lunch one time at dinner. This has been my go to Wendy's since service at the store on Western Branch Portsmouth, Va is terrible, long wait in lines both inside and drive thru. I've complained about this site before

Rex Barton
from Elkhart, IN
For the past two years, we make a trip to Holland, Mi. to pick up honey bees which we supply to our friends here in Elkhart, IN. We have stopped at the same Wendys Rest. both years and have been terribly disappointed by the food from this location. My partner and I got luke warm sandwiches and cold french fries. What a shame that Dave took so much pride in his food and quality to have current management not give a care what they serve or how it is prepared.

Aaliyah
from Bethel Park, PA
I ordered a home style chicken avocado blt. On multiple occasions you people have managed to screw it up. Every time I go to Wendy's something is wrong with my meal whether it is an entirely different sandwich, the proportion size, or cold fries. The one time in particular tho I asked for no ranch and no cheese on my sandwich add mayo. They gave me ranch and when I went up to the front desk they claimed it was mayo when I clearly no the different of taste between the two. This is absolutely unacceptable. The #1 rule in fast food or in any restaurant is to never question the customer.

Dixie evans
from Georgetown, KY
Waited in drive-thru 30 minutes from 1000 to 10:35 when I reach the speaker to order. Waited on food from 10:35 till 11:11 order two children's meals they forgot ff had to ask for them they forgot the drinks had to ask for them and frosty. Had sent out earlier for children food and family and they also forgot childrens meal. Manager said she just got back from training and did nothing to correct problem. Sad sad sad for my favorite place to eat. It's a disgrace

First of all I just want to say it was a pleasure going to the Marshalls Creek Wendy's. I experienced problems today that I was not happy about first off I got a chicken sandwich that was made to crave the chicken was good the sandwich was good but the lettuce was not good the lettuce was rotten and when I went to take a back they said because I had already eaten the sandwich I could not get a refund also I got a side salad of the berry burst salad the salad was good but the lettuce was rotten and damaged as a result the lettuce needs to be freshly washed cut and dried and not soggy also upon leaving the restaurant there were two bags of straws where the utensils are and I just wanted to bring that to someone's attentionalso the cashier did not know how to use the coupon codes the codes are on the app and when you click on them there's a number and I told her and she and she shrugged her shoulders as if she didn't know nothing I am very dissatisfied and I will not be returning to Wendy's for a month due to this matter because that's not a good thing thank you very much

I went to the gilroy 10th st Windy's today to get a salad I bought 2 and a backed spud get all the way home and open my salad and it was full of long black hair not cool I won't be going back to a Windy's not that u care

Ron Cole
from Theodore, SK
threw out fries and chicken because of salt, salt, salt. frostys were good. Tables were all very dirty as were the floors.Glad yorkton sk. has a dairy queen and a&w Wendys, NEVER AGAIN, THE PLACE SUCKS.

Dan Millspaugh
from Bedminster, NJ
The only complaint I have is your single coke machine, when you have a line of customers ahead of you they have to go through picking the type of soda they want, it takes forever. The new single machine that handles all your coke products isn't worth standing in line. I will no longer go to Wendys, Spangles now has my business.

Mrs Baker
from Commerce City, CO
We spend about 50.00 3 times a week in the commerce city store! Everytime the food is cold tastes old ! We keep giving them a try hoping it will get better . At this point we will not return to Wendy's i live 5 min from this location and believe my food should be hot when i het home the burgers were ice cold and the nuggets were luke warm. We stopped ordering frys a month ago do to quality and switched to nuggets! This store needs a lot of help. Even when we come in the food is just okay ! I think we will have to try a diffrent chain at this point .

Elizabeth
from Memphis, TN
I went to Wendy's o on 6156 Macon Road, Memphis Tennessee 38134 at approximately 11:30am. I ordered a Double Cheese Burger Combo. My food was terrible. The meat was cold and tasted like it was left over from the night before. My bun was hard as a brick in some areas. This was the most nastiest burger I have ever eaten in my entire life. This place should be closed for business.

Amy Whittaker
from Hannibal, MO
My family and I visit our local Wendy's in Hannibal often. My kids really like the 4 for $4 option on the menu, it's a great value too. I don't believe in leaving negative feedback for single incidents as every restaurant has off days. That's definitely not the case here.
The whole purpose of visiting a fast food restaurant and using the drive through is usually because you are on your way somewhere and don't have time to sit down and eat. What do you consider a reasonable wait time in a drive through is?? At our local restaurant it is 30 min plus. This is not an isolated incident, this is every single time you visit this location. Every. Single. Time. Unacceptable! And when the wait time is mentioned to the staff it's painfully obvious not two shits are given.
As a whole, you're prices are higher than other local fast food restaurants. I pay the higher prices on regular menu items because the quality and flavor are better when the food is fresh. WHEN the food is fresh. I don't enjoy paying over $30 for cold food that I waited in line over 30 minutes for. Cold, under cooked fries, sad ugly burgers that are supposed to be "premium" sandwiches, not value menu items. And on more than one occasion I have had to turn back and return because my order has not been correct.
Please get a manager in this location who knows how to run a business with customer service. I fear if this crappy service and food continues we will no longer have a local Wendy's. Although we prefer your food to other local choices, we will probably not be back for awhile as this is very frustrating and needs to be seriously addressed.

Razz maningas
from Bahay Pare, 03
Wendy's branch at eastwood has a very poor customer service. I waited for 10mins for my single patty bacontor ala carte. Just this nad it took them 10mins to serve. They did not provide a waiting time so i exoected that it wouldn't take that lone. And the store in charge is rude. I approached him to follow up on my orderand he just moved his eyebrowsas a sign that he acknowledge my request, just that and then he went to cleaning the table first before he attend on my concern. Then he just hand my order without even apologizing.

Kimberly
from Kalamazoo, MI
This is for the Wendy's in Kalamazoo Michigan on sprinkle road I'm just trying to figure out if an employee quites or get fired why are they being hired back I'm guessing this is a family run business or they're just playing favoritism in hiring back people that they are friends with or some kin to I'm trying to figure out why is Denise still working there as a manager because when I was trying to get my order right she was being really rude and talking stuff about me saying that I was a liar and I didn't no what i was talking about I thought that once you quit or get fired you are not allowed to be hired in any Wendy's corporation that's in Michigan after being fired or quitting I know this girl named Yolanda she quit probably about five times and they keep hiring her back as a manager but give all the other employees a hard time they drive them all out and bring back family they only hire family and friends

First of all I bought a small fry and this is getting ridiculous, I get maybe 10 fries and I pay almost 2$ it's such bullshit, you need to give more fries out. There soo cheap to make and yet every Wendy's does this. Please start giving more fries or at least make it fair. We work hard for our money just like you do. Also I buy salads all the time and you never get enough salad dressing. Please start packaging your dressing so you get enough for your salad. I usually have maybe enough for half of my salad. It really sucks I would buy more salads cause I like them here but unfortunately I can't cause I don't get EVEN CLOSE to enough dressing. Thanks I guess

margery Tannenbaum
from Virginia Beach, VA
We went to Wendy's in Williamsburg Va while on vacation. We ordered a kids meal for my daughter. She ate the meal in the car and brought the frosty to eat in our room. I notice something black in it while she was eating it. It had a bug in it. We frequent Wendy's but now she is nervous to eat one again.

Regina
from Ponchatoula, LA
The fries was cold they forgot to give me my debit card back and had nasty attitude

Tonia Saunders
from Ashburn, VA
There are a lot of young people working in your restaurant with no adult supervision your restaurants are becoming very dirty garbage is overflowing out the garbage cans the floors are sticky and nasty but the tables are not clean there's no supervision not just one but two windy stores have been like that that I've been through and Garner and in Knightdale these restaurants are in North Carolina Raleigh North Carolina

Don Swilling
from Washington, DC
Drive thru is moving very slow

You went yesterday to grab a quick supper after practice,and had to wait over 20 minutes. When we finally got our food it was sloppily made and the fries were cold. The ice in our drinks was melted also. We thought the food would at least be fresh since we had to wait so long. Not happy after spending almost 40 dollars.

Barry benningfield
from Eaton, OH
The last two times I went to Wendy's I ordered a single with no cheese and a large fry. Got home and found out that I received a hamburger half cooked and fries half full and cheese on the hamburger.

Jim Baker
from Arbutus, MD
Visited Wendy's on route 30 in Hamstead Md after drinking my soda I found 2 ants in my cup I am a frequent customer but no longer

Ralph Wilson
from Portsmouth, OH
I was at the drive thru at your Lucasville store in Ohio. I believe Aaliyah was the cashier in the drive thru. She was very rude. I usually have no problem at this Wendy's. There was more but I'll just say maybe she shouldn't work drive thru if she can't take orders and hand out money with a smile on her face and be a little more polite to the customers. I won't be going to this Wendy's anymore.

Dan Carpenter
from McConnelsville, OH
Went in to wash my hands before ordering and the bathroom was absolutely disgusting!! Urine on the floor and what looked like blood all around the sink and faucet. Ask to see a manager and no one took the time to come talk to me. I will never return to this Wendy's ever!!!
The Wendy's spoken of here is on Emerson Ave. Parkersburg West Virginia.

Hi there
When placing my order through drive thru the girl taking order working Wednesday June 26 2019 was very rood because I couldn't hear her while taking my order so she raised her voice very loudly yelling at me than cuts me short with my order I feel she doesn't need a job working at that Wendy's than she got my order wrong I asked for Dave's double with cheese and ketchup only and I got everything on it so I had go back to have corrected I hate that Wendy's they never do things correctly

The Cy Ave store in Casper Wyoming has the worst customer service I've ever seen, their service is slow from greeting the customer to handing the food out. It Should not take a half hour to take three customers orders. This is by far the worst Restaurant I've ever been too, it's been like this the past couple times I've been here. I was hoping it was just the staff but it's obviously the management of this store.

It should be No stars! How the hell dont you have any Frostys?...Terrible, I blame the management. Wendy's on Torrence, in Lansing,Il

Denise Shepanski
from Bloomington, IL
I have tried to contact the local restaurant and then was on hold for 20 minutes on your customer care line. I expect that I will receive an immediate response to my phone @ 585-794-2074. I purchased a full size Parmesan Caesar Salad today. On my 3rd bite I was stabbed on my gum as I chewed. I found a hard green piece of plastic in my salad! This is ridiculous and unacceptable. I have a cut in my mouth and almost swallowed it.

Glenn Frankenfield
from Pottstown, PA
I recently went to Wendy's in Dorneyville Pa and it was the worst service ever,Everyone stands around ,it takes 20 minutes before anyone even takes your order and then another 25 to 20 minutes to get your food ,I ordered a baked potatoes sat waiting only to be told 15 min later they were out,The manager wasn't even concerned ,Someone needs to really look into this Wendy's ,It's awful when other paying customers said the exact same thing,Send one of your personal there and you'll see for yourself,Thank You

I am not. Happy. You. Got. Rid of the green tea. For. These other drinks. I. Do not like please bring back green. Tea
Thanks
Debbie

Kathy Puff
from Lapeer, MI
Was there at lunch around 11:10 am. Got your 4for4 got coffee the lid wasnt on spilled hot coffee all over my hand asked the girl for sugar 3 times the double stacker was so dry could barrly swallow it and the chicken nuggets werent even cooked. Maybe if the girls were paying attention not laughing and joking around you could get better service.i was in the drive through.why do i never get a receipt there is that so you csnt be sued for negligence when you get hurt im totally discussed. This is an on goin issue.never fresh food.

Joe Polak
from Florham Park, NJ
I am a regular Wendy's customer as I like the food, service and consistency. On Sunday June 23rd between noon and 1pm I stopped at the Wendy's at 2450 Possum Run Rd in Mansfield, OH to purchase two chicken sandwiches, one without tomato and one without mayo. After placing this order which took 10 minutes (real time number), I went to the mens room which was filthy including the mens entrance door which only closed half way because the spring / piston at the top of the door was broken of the door and hanging lose (safety issue too). This also means that the door was jammed half open as well. Once that experience was over I grabbed the take out as we were heading to Columbus. Once we were back on I-71, we opened the sandwiches and both had tomato and mayo. Both orders were wrong. Overall a zero on a 1 to 10 rating chart. You should close that place before the health department does.

JUSTIN WOOD
from Troutdale, OR
cashiers name is Khaleelah has a really nasty attitude i had order single with cheese combo plus a spicy chicken on the side
of that she put so much salt on my Fries i could not even eat them then when i tried to take them back up there
she got really Defensive and did not want to get me a different order of them the store number is #00001507
address is 490 NE Burnside RD Gresham Oregon 97030 i would like this fixed i had to throw them away they were so Heavly salted
it was like she did it on Purpose please let me know if this can be Fixed i have been eating at this location for over
a full yr this is the Gresham wendys 503-667-3781 i also saved the Recipt as well
thank you
Justin

Susan Hogg
from Norwich, CT
I can not believe what I got a your store today I ordered a chicken sandwich and what I got you should be a shamed of your company and for the price really I will never!!!!!!!! Go to Wendy's again so upset I used to love your chicken sandwich not anymore!!!!

First of all, it was hard to try and write this complaint because the lady did not give me a receipt so I had to try and google everything. I ordered it from the drive through window. I got a full southwest chicken salad and a kids meal. The salad was missing guacamole which was very unfortunate because I love guacamole and was looking forward to eating it. That's pretty much the reason why I ordered that specific salad and I didn't even get any. But I couldn't tell there was none until I opened the salad at work. While I was eating the salad my coworker had told me that she enjoys that salad as well, but she usually gets the half order. Apparently I paid for the full but got the half portion. I've never gotten a salad from Wendy's so I wasn't aware. I got the 4piece nugget kids meal to split with my other coworker and got the wrong drink and didn't notice til after I drove off. It was suppose to be strawberry lemonade and I got regular lemonade. My fries were cold. And I asked for ketchup twice and still didn't get any. The service wasnt that great either. The employees always look miserable and are sometimes rude and always smell of marijuana. I go to this specifc Wendy's because I love Wendy's and it's the closest one to my job but there's always a problem when I come here. I'm very upset and possibly never returning to this location ever again. I feel ripped off and unsatisfied. I'm tired of the inconveniences

Wendy's 630 Puuloa Road 9:30-9:40a.m..Ordered #12 medium....Paid $10.69 received no receipt ....Chicken was dry and hard,fries was so cold ....Not worth your $$$$...They need Help!!!!

John Leming
from Newport, KY
There is a store at the richwood Ky exit off of I-75 in Kentucky. We are very frequent customers and something has gone wrong at this location which I would term as bad management. My son and I eat there every Saturday Morning at 10:30. Newer staff has appeared and has remained consistent for about 2-3 months. We have witnessed on the Saturday morning shift that employees seem to think they are extremely busy, and cant manage the job. For the past month or so we stand in line for 15-20 minutes and witness many errors in order and very poor service. Our most recent visit was Saturday June 15th. There were 3 people in the store eating. One approached the register to complain that he ordered a plain hamburger and received one fully dressed. The next came up and complained about his drink order. The next complained because she ordered coffee only but the coffee was old. The register employee stated that it was in fact old and began to make new coffee. When we ordered and received our order it was short the correct sandwich and short a large chile. I would normally not complain, but this has been going on now for many weeks as we stop by, same crew and same manager. Please look into this asap, these people obviously need some very intense training. and you may need a new manager there. I told him about the situation and all he could say was "Wow!"

Frank Komisar
from Springfield, OR
Everytime my wife and I go thru wendys no matter what time of say or night it is they never have baked potatoes. We are vegetarians and salad and potatoes are our go to meal at wendys. We wait in the drive thru for 15 mins and get to order only to be told there are no baked potatoes and were told we had an hr. Wait if we wanted to come back. Not worth it. We love wendys buy waiting in line only to wind up with no food is such a disappointment. Don't advertise them if you don't have the potatoes ready. Sorry Wendy's we love you but wasted many of times waiting for food only to be told there is none. I tried calling from the drive thru to see if there was potatoes and no answer. Burger King veggie burger and Carl's Jr. Beyond burger here we come. Thanks for listening! Frank K

Charles Henry
from Palm Bay, FL
Two months ago in palm bay fl wendys i order food online when picked they asked for card to pay i said i all ready paid no we have your order but is not paid so i paid when i got home checked bank and i paide twice 27.00 order i have ticket numbers to prove it manger saide he will check he said i did pay twice i said ok refund or equivalent in gift cards never received anything

Ordered large taco salad with an order of chili cheese fries. I did not know the salad size changed to a small container salad and that you do not give the bag of chips, taco sauce and a small chilli to go with it anymore. The wait in line was long which I don't mind and I was asked if I wanted the receipt and I said no. I think I payed $9.68 and am very disappointed. I did not want to call the store because I had to get back to work. I only received 3 sour cream packages for the salad too. Went to the store around between 9:00 p.m to after 9:30 p.m.
Not a Wendy's fan today

Kevin Gonyea
from Detroit, MI
I was at the Hoover and 10 mile location person came on speaker as she was takeing my order I could hear the manager screaming at other employee I finally got to the window and the manager was still screaming at the employee sat there for 15 min all I ordered was a baconator meal very disappointed in the service and managers way of dealing with her employees

mike pittman
from Newton, KS
Newton KS Wendy's is so dirty my shoes were sticking to the carpet. The brown carpet is mostly black with sticky grease. The entire restraunt is just covered in a film of grease . When are they going to be forced to update. This franchise is hurting your brand.

GARY SMITH
from Keansburg, NJ
MY WIFE WAS AT YOUR WENDY'S IN MIDDLETOWN NJ 07748, AND SHE WAS GOING TO ORDER FOOD THERE BUT CHANGE HER MIND DUE TO THE FACT THERE WAS A GIRL IN BACK PREPARING THE ORDER FOR PEOPLE IN FRONT OF HER AND SHE NOTICE HER RUBBING HER NOSE WITH HER WRIST,AND BACK OF HAND NOT CLEANING HER SELF OFF ALSO THE PERSON TAKING ORDER WAS PUTTING HIS FINGERS IN THE CUP,EATING FRENCH FRIES WHERE THEY WERE BEING STACK. ALSO RUBBING HIS BEARD WITH HIS HANDS WHILE TAKING ORDERS. VERY UNHEALTHY. PLACE VERY DIRTY. NEVER GO THERE AGAIN UNTIL THINGS IMPROVE TIME WAS 7:12, ON 06/15/2019. RESTAURANT #00007405

Robert Cacioppo
from Newark, NJ
I just had the misfortune of eating a meal at a Wendy's restaurant in Rockville Maryland on Rockville Pike and lost about $19 in the process for two meals
The food was absolutely horrible and the chicken sandwiches that we bought taste like cardboard. I will never eat at a Wendy's restaurant again the manager of the restaurant seemed like he couldn't care less. He basically just said sorry and too bad without saying too bad. He basically didn't really care.
I feel like Wendy's restaurant has stolen my money.
Robert Cacioppo

John ingram
from Tucson, AZ
We stopped at the Wendy's on Oracle in Tucson. I ordered the new mushroom burger and my wife ordered the Asiago chicken burger. My burger was cold, maybe room temperature at best. My wife's burger had the worst looking slice of tomato that was white. I went back through the drive up, had to wait in line again, and they cooked and gave me a new burger. Showed the drive up girl the tomato from my wife's burger and she said "would you like a new tomato?" Really? And we paid $11.00 for this service and experience (no drinks or frys or anything extra!) Plus they are the worst tasting burgers I have ever had! Never again, Wendy's is permanently off my list!!!!

Marc Tolson
from Hyattsville, MD
Literally just sat in line for 40 minutes in the drive through. Sat behind a car at the window for over 15 minutes. Last time I will ever visit a Wendy's.

JoRita Moore
from San Jose, CA
Let's just start with...I am typically one of those people that likes to write good reviews regarding service, however, I unfortunately have NOTHING good to say about the Wendy's in Hannibal, MO. I would give this Wendy's ZERO stars if I could. I can't even give you a store number because they didn't bother to give me a receipt. I looked up the store phone online and tried to call it to talk with a manager and get the store # but no one answered. Unfortunately first impressions did not help to set us off on the right foot. Headed to the restroom to wash hands, trash overflowing and all over the floor, no paper towels, TP available but laying on edge of sink not in dispenser. Husband said same thing about men's room. Next up, placed order. No receipt. Waited on food for roughly 20 minutes. While waiting we filled our drinks. Service area was filthy, Don't think it had been wiped down or serviced all day. Floor sticky. I could understand if it was busy dinner time but it was 8:00 at night and only 2 other families were in the store. Finally got our food and took it to go as we were traveling cross country. We are now back on highway when we discover our order is not only incorrect but VERY poorly made. We actually had extra food in our order which probably means the next customer's order was incorrect also. Hamburger was burnt and our 3 frostys were literally chocolate air bubbles with the consistency thinner than a melted down milkshake.
We travel cross country frequently and Wendy's is typically one of our top choices, however this experience has left a VERY bad taste in our mouths. (no pun intended)
Please feel free to contact me at the email provided.
Thank you for your time.
JoRita Moore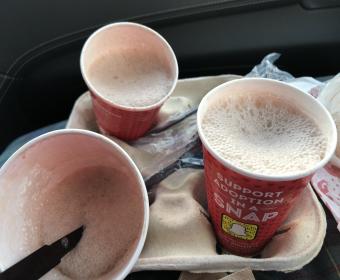 Devin Williams
from Spartanburg, SC
At the location on Hwy 108 I'm Columbus NC the employees will not answer the intercom at the drive thru nor will they turn on the outside lights when it gets dark out. We have gone by in five separate occasions, waited for over 10 minutes at the intercom and was completely ignored each time. We have seen several other cars leave also.

Anonymous
from Chicago, IL
Hello I am a regular at one of the stores located in Bangor Maine on Union street. And I noticed a manager there that I had stopped go to the Bangor Mall Blvd Wendy's location because of and his name is Bryon and he is very poor at customer service as I have had issues with him in the past and I noticed that he was talking down to one of the managers and made her cry. Everyone I know in the union street store looks miserable since he had started working the union street location and I see other customers giving not so pleasant feedback about him as well. I think the bryon character aught to be looked into seeming how he has so many complaints against him. And the regional manager Jeff Marshall isn't the best at treating his employees right either I have noticed all the times I have been to the union street location.

Debbie Duzan
from Woodbridge, VA
Second time this has happened when we order a cheeseburger kids meal, it came with pickles, onions and mustard which was not wanted or asked for and no fries came with it. Can't ever get ahold of anyone at the restaurant to try and rectify the situation. It's getting ridiculous and you will lose customers.

Fay
from Missouri City, TX
1. We went through the drive through at 4:50pm. We did not get our food until 5:20.
2. Once we got our food, there were multiple things wrong...no ice in two of the sprites, the frosty was liquid and foamy and the food was completely cold.
3. The staff was very disorganized and when I looked in through the pickup window, several purses were just sitting on the counter by the ice tea dispenser.
We will never return to Wendy's again near our house. It needs major work.

Rachel
from Buena Park, CA
Me and my brother went and ordered through the drive-thru today and got home and almost our entire order was wrong .i asked for a double bacon cheeseburger plain and got everything on it minus the bacon, and the bread was soggy with mustard . We are frequent customers of Wendy's and had didn't have a great experience at all this time .

Samuel pryor
from Charlotte, NC
I,m in charlotte, nc and very upset and disappointed with your store on sunset road. This makes the third time straight, i,ve went there to sit down to eat my meal and found the doors locked. If you go to the drive-thur which has a long line, it may take you 20.mins. before you get up to the speaker. I,ve seen people comming to the door and then the same thing at the drive-thru. It,s rediculous and ther,e loosing lots of customers.Please look into this.

Christian
from Douglasville, GA
I really enjoy your salads; however, I hate the "hit or miss" quality of your salads. Your salads are not too expensive, but expensive enough for customers to receive top quality each time a salad is purchased.
Thank you for listening.

K Calderon
from Grayson, GA
It took roughly 5 minutes to be noticed in the drive thru.
Ordered a Dr. Pepper but got I think diet coke or Pepsi. When I told the girl she said ok she would change it. Then came back to the window and said we are out of Dr. Pepper. So basically, I received what she wanted me to have, not what I paid for.
Then still had to wait on food.
Then had to ask for my receipt. And sure enough diet coke was on the receipt not what I asked for.
Bottom line I paid $8.35 for 10 chicken nuggets and fries. The drink went in the trash.
#00009894

Jack Dawes
from Norman, OK
The wife and I went in to the Wendy's on NW Exp. in Okla. City and asked for two salads and a black lady told the cashier they didn't have what we wanted so, I asked the cashier what they had and he had no idea what to tell me. Then a cook said they have them all and then the cashier was told again they don't. Apparently they had no idea how to take an order.
Why should I walk into your business to spend money and be messed around by employees who apparently don't know their job or enjoys jerking around old people.

Lionel Poissonier
from East Hartford, CT
I went into your location in East Hartford CT I went through the drive throw for lunch on 6/13/2019 and i order 2 big box the food was cold and not good at all I ask very upset with the food

Ann hardy
from Providence, RI
Waited 25 min in drive thru.15 from ordering screen to receiving my food. I watched many cars leave the line. I was patient looking forward to my food. I was disappointed. The fries were cold, chicken nuggets were cold, the bacon was burnt and I was not given a receipt. Not even a sorry for your wait.
This was the Wendis on Cottage st in Pawtucket, RI

Brian Max
from Bedminster, NJ
I love the food at Wendys. However the service has gone downhill the last couple years. I have to check every single thing in my order. I have not gotten my change and on three different occasions in the last month I was missing a Daves double sandwich. Literally got shorted $25 in the last month. I get no receipts to prove it either. Wendys at Harlem and Higgins in Chicago. I finally had enough and called the manager 1443 Brandon. He said it was an honest mistake. Im starting to think otherwise. Your company will close and you job will be gone if Wendys continues to go down this path. I cannot be the only one with complaints Please train your employees accordingly. It was not that busy at 11:30 on a Thursday night.

mary
from Philadelphia, PA
This lady had given me a nasty rude attitude and the name on the receipt name denise is whom I am talking about because she refused to give me fresh fries. will not be attending there again.

Maureen Meindl
from Islip Terrace, NY
I ordered a chili with cheese ... got no cheese. Also ordered 2 fries which were half raw

Wendys has good food but almost every time they get our order wrong. About 2 months I called to let them know they said I could get my right order if I came back. Not only did I hey the wrong food but I also had to go back. I thought maybe they'd offer us a pie or something but know they just looked at my daughter and me and not in a nice way. Today we're went there and my husband ordered a double swiss burger he got a single and were paid for a double. The reason we went there is becouse the house was sprayed for fleas. I ordered a chili (I like those) the girl who gave it to me my was very nice, but I didn't get spoon and I can't go in the house right now. I'm not sure if I wanna call McDonald's usually puts you on a list if they mess up but wendys does not and I'm not going back tonight. Im upset that I paid more money then the burger we received cost and its not the first time and sometimes I just can't run back. This is the wendys in silver spring shores ocala Florida 34472.

Val Jean
from Washington D.C., DC
I went and made an order during rush hour at 6721 S Potomac St
Englewood, CO 80112
United States
And they completely had my order incorrect. Due to the fact that I had to go back to work I didn't have the time to address the issue at the time. I went back an hour and a half later on my last break to address the issue and the "manager" in the drive thru was rude as fuck. She wasunwilling to help me and didn't resolve my fucking issue. I overpaid for my fucking meal and didn't even get my order correct. I expressed that I was so upset for the first time I didn't want a second fucking order but she did not help. You all need to check your fucking employees and start fucking caring for people. I'll never go to this fucking location ever again. They're all failures.

Went through the drive through at your Downey location on Lakewood Blvd and Lety was giving me attitude because I told her that I did not want to wait in the parking lot for my order. She proceeded to get upset and raise her voice because I didn't want my money back, and I didn't want to replace it with another item. I wanted what I ordered and because the staff and herself were falling behind on time she was getting frustrated with me and asked me "what do
you want me to do then" all I wanted was what I ordered. I finally got my order and she comes up to me and says there you go, there's your order not even 2 minutes. When I asked her for sauce she walked away and ignored me and I sat in my car wondering if she was going to bring it or if she chose to ignore me. When she came back she told me that next time she's going to have to charge me extra for ranch. I'm very unhappy with the way this location handled something that wasn't my fault. You need new workers who understand how to treat a customer with respect.

Kathryn Staddon
from Guelph, ON
I just went through the drive-thru at the Wendy's located on Wellington in Guelph Ontario. I had to treat my order multiple times to two different people at the speaker...got to the window and was asked what my order was...got the bag with my meal then asked if I had a vanilla frosty and lemonade (only ordered chocolate frosty). I got home to a double baconator when I ordered a single no cheese no onion extra mustard extra mayo (multiple times). Also handed a fork with my frosty (asked for a spoon to an eye roll and huff). I'm not impressed whatsoever.

Donna moore
from Bedminster, NJ
My food is always cold for the last 2 years coming to this Wendy's I've NEVER shad a hot meal EVER airs always cold I'm referring to Wendy's in Ottawa, Kansas it's the only Wendy's in town, I love the food just wish it was warm when I got it.

Howard Holland
from Perry, FL
Wendy's Newberry Road Gainesville Florida, spilled liquid in numerious places resulting in slippery floors. Trash on floors. When reported, cleanup Lady gave a dirty look. Dangerous slippery! Bathrooms also not tended to. Water on floor excessively & trash also. Tables dirty & wet. No noticable cleaning.

Jack Carson
from Twinsburg, OH
Last week we stopped in at Wendy's Restaurant #00008769 at 9:30 pm; it was not busy at all and they are open till 10:00 pm so we ordered a large chili and a large choc frosty. The man in charge said they were out of chili and out of frosty's. He and girls were just standing around talking. So we walked out. Today, we went to same Wendy's for lunch and ordered a meal; Lg chili, LG Choc Frosty, Jr Chburger Deluxe, Double Cheese and small fries. The Frosty looked strange in color....very dark....and when I tasted it I knew something was wrong. Consistency was very grainy and liquidy...not thick and creamy and smooth which is the traditional Frosty. So manager offered a vanilla frosty instead which was just as bad if not worse. Very disappointed in our experience at this facility which is where we go at least 6-8 times/month. The manager said they just did not put air in the machine.????

The Wendys on E Central Expwy in Killeen Texas. The manager was very disrespectful to me on 6/12/19 at around after 10p.m. He told me " fuck you" and he was not professional.

Purchased Berry Burst salad, take out and didn't get almond nuts or any nuts that supposed to go with the salad. I started to buy this salad last and enjoys it. I buy it everyday since. But yesterday evening, when about to eat it at work, I didn't get the nuts. which spoiled my appetite. It's perfect salad with complete ingredients. Please look into ii, if you value your customers. Thank you.

I arrived at Wendy's in South Euclid on zmayfield Rd about 11:35 PM. It was approximately six cars in the drive-through.ahead of me The store was lit up and so was the drive thru menu . The Internet said they close at midnight. The line was moving really slow I thought it was because they were so busy people were at order menu a long time. By the time I got to the window it was 11:57. I was sitting there with window cracked waiting and saying hello getting poured on by rain. . I kept saying hello honked horn and no answer. Now is like 1205 snd like three cars behind me. I finally pull to window honk horn the guy comes to window and I ask is the speaker broke? The guy says no we closed. I said I have been in line for about 30 min. Several cars have. . He says oh we closed all our stuff shut down. I ask what time you close? He says 11:45. I say you suppose to close at 12 but you all just made up your own hours I suppose. He chuckled and said yeah I'm sorry the speaker should have said we closed. So You guys wait until car comes to your window and you say you closed but you don't bother to turn out lights or even say we closed at speaker? This is just rude and unacceptable. This how store looked at 11:30 and still at 12:05?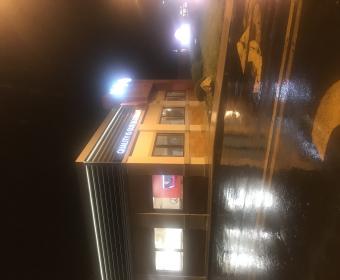 Amanda hassan
from The Bronx, NY
I went to the Wendy's location at Atlantic ave in Brooklyn. I was in the drive tru waiting for 30 mins. Then when I got to the window the lady that works at night was very rude and has an attitude. Why would you treat your customers so bad after having them wait for so long ? Then I asked for a bbq sauce and she closed the window on me. And she seen me still waiting there and she said "what else" I said my bbq sauce. I am never going back to that place. Worst customer service ever !

Martice A Hall
from Fort Worth, TX
Wendys Restaurants #00008264 404 East FM 1382 Date: 06/12/2019 Time: 6:29 pm Host: Dhaakirah Cashier: Rommie.
During the point of sale the African American woman cashier and the Hispanic drive thru window employee both spoke terroristic threats to the customer. "We are going to keep killing you" was the terroristic threat or threat to life. In the community a large number of these women have been suggesting and encouraging anti social groups and social paths to prowling a police officer and family members (Our family Mr. Hall) whereabouts and to attack for no cause of action. We will be contacting all Federal State and Locol Law Enforcement Agencies

Tiffany Dawn May
from Hudson, OH
The lady charged my card twice and yelled at me and told me to get out of the store after there screen said my payment was approved 2 times they hurt my feeling and I will not be eating at Wendy's because I refuse to be yelled and and for the lady to be rude to me

Store was nasty casher was a rude service sucked want never stop here again. Should send a white person into store and order something see how you get treated if your white poor management

Debra
from Marshfield, WI
Fries were greasy and cold. Double bacon cheeseburger burnt. I loved my strawberry salad but now my husband won't return!

Debbie Wilson
from Richmond, QLD
On 6/17/19 2 aprox 7:30 I went Wendy's Store on Corner of El Camino Real & Redhill in Tustin, California. I ordered thru drive thru, which was the CRAVE Chicken Sandwich I ordered GRILL-Bbq. Combo First of all he was rushing me and I made him aware he was rushing me I know what I want paid for my order it $9.96. Went home opened my order it was not what I ordered something else. I went back to Wendy's went inside to show the incorrect order-received apology and asked what did I order I stated the Bbq Grilled Chicken Sandwich. The manager came asked if I wanted spicy I said no I order grilled no spicy she said ok. I was given a supposedly correct order Got home my order was incorrect again. Instead I received Spicy fried Chicken Sandwich took a bite could not eat too spicy. I went online and chatted with someone who took my contact information. I have never been contacted about this poor service. I threw that combo in trash could not eat! your non-contact reflects the poor service I received. This appears to be part of your Wendy's Culture. Reminds of Wells Fargo Bank who I no longer bank with because of their non-sense-poor customer service and fraud.

John Clark
from Bedminster, NJ
I have never experienced such horrible service before. Counter person spoke very little English to start with. I asked for non sweet tea 3 times and she got it wrong every time. I then asked for a refund and was told she was not allowed to do that because she didn't know how. Horrible

ARVIS HALL
from Suffolk, VA
I work for the city of Suffolk Va and I went to the Wendys at 728 N Main St where I was very disappointed in the service from the young lady at the drive through. I have never been so humiliated in all of my life with the fast food service that I received from her today around 2:00 pm. She was rude when I was placing my order, she never repeated back to me what I ordered and it did not show on the screen so I asked her if she had one plain bacon cheese burger and she said with an attitude YES! so I asked her if she had the bacon cheese burger with everything except tomatoes and she repeated with an attitude, YES! so I told her that I was asking because it did not show on the screen, so I drove around and she made me wait while she was getting other orders from people in the drive through and my food was sitting there. Then she told me the total and I gave her my money which was six dollars and eighty some cents, and she gave me my change back without saying thank you dog kiss my foot or anything, so I said Thank you and she ignored me! then she handed me the bag and I asked her what her name was and she said with an attitude CIERA, so I told her at that point that I was going to report her for her nasty attitude and I drove off. This is not good customer service and she should not be serving on the front line of your franchise. This is really making your rating go down a lot and after this I spoke with another customer who frequents Wendy's the same one at lunch time and she readily knew who I was speaking about, she said she always experience that attitude with her and this lady is also a City Employee in Suffolk Va. I am a Christian and I hate to see our young people given a chance in this world and they don't even know how to treat other people who are helping to pay their salary. I am bring this complaint to the central office in hopes that someone will speak with this young lady or take her off of the front line and put her on cooking and wrapping the burgers, because she is a very, very nasty, non professional young lady with a bunch of tattoos on her arms which is unprofessional as well, and she has gray/blond and black braids or twist in her hair. very pretty girl but NASTY And UNPROFESSIONAL! I pray that I will hear from you in an email letting me know that you received this complaint or I will take further if I still see her working days or evenings on the window. If she does not want to work she should be home and working in the public.

Edith M Stiltner
from Bryan, OH
Bryan Ohio 8-7-19 7:00 pm only 3 customers already seated and eating,yet no clean tables for my husband (post kidney transplant)and I to sit at and we wiped them ourselves. 1 person taking orders and others on phones. Then a job interview or review took place at a nearby dirty table. Then today 6-12-19 at drive through, only day I don't check the order before pulling away. Had to wait for girl who forgot my drink.Get home to find husbands taco salad is missing sauce,sour cream,chips and extra onions I paid for. We live 2 blocks away and go there frequently. Not impressed. Edith Stiltner

Stacey Stevens
from Syracuse, NY
I came into the Wendy's on Thompson rd in Syracuse ny on Monday around 2pm and waited for almost 20 minutes for my food and it was not even fresh. People can get sick from that. I was not impressed with that. Besides the food not being fresh the employees were very friendly and the facility was clean.

went to a Wendy's in Metairie La at the corner of Veterans Blvd and Carrolton Ave at about midnight and they said they were out of hamburgers only had chicken products................not the first time this has happened...........i'll stay away from Wendy's from now on

debra hickam
from Gurnee, IL
I feel need to report, I checked from my phone of the RetailMeNot today Tuesday, June 11th at 7:13 pm for Frost $.50 and I went to Wendy at 7:30 pm across the street from Gurnee Mill, I requested four vanilla and four chocolate Frost for $.50 and they told me there are not $.50. I asked for the manager and explained to the manager that I have RetailMeNot and showed him on my phone stated Wendy $.50 Frost, The manager will not give me $.50 for the Frost. I feel he does not care or responsibility for the mistook and very disappointed that I make a trip to get Frost for my family birthday today.
Thank you!

Brandon Blakey Jr.
from Banks, OR
I gave my two weeks notice at the Coos Bay , Oregon location . I had another job lined up with more hours and more money . I had to end up calling in at Wendy's to be at training at my other job a few days later. Our manager fired me right that minute . She also a short time before my incident had two other employees walk off the job while the drive thru was jammed because of the same awful manager . She treats people so poorly . I didn't deserve this . I will move forward at the work force employment here in town . Thank you , Brandon Blakey You all need to get rid of your manager before the whole place falls apart totally.

Demie Gaskins
from Bedminster, NJ
If there were negative stars I would give it that. I have not been pleased with my local Wendy's in Chesterfield, South Carolina for as long as it's been established. The employees are illiterate and do not comprehend the most simple orders. Then when confronted and asked to make the order right they give attitude instead. The only way possible to better this establishment is to gut it completely and start over or shut it down to make something else.

Teri Peterson
from West Jordan, UT
Spicy chicken sandwich used to be a healthy, meaty chicken breast. Today I received a chicken sandwich that was pounded down to barely a 1/4 inch, thin as a McDonald plain hamburger for $6.00. Tasty but definitely not a. $6 sandwich. Profits versus quality product will end these companies. Not ordering again.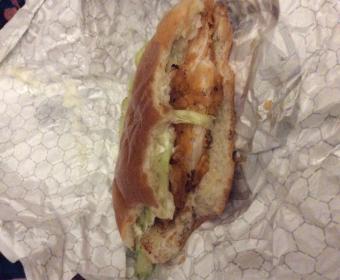 Patricia Powell
from Coal City, IL
I just left a Wendy drive Thur here in Griffith Indiana that had me wait during a shift change which I didn't mind that much only to find out the item I wanted to order is out there were no sign put up the item I wanted is something that came back and is being advertised a lot this upset me cause I sat and waited even during there shift change for nothing it was for a salad me and my husband really wanted

Ben mulhall
from Louisville, KY
I go to Wendy's two sometimes three times a week. I'm single I live by myself and sometimes I just don't feel like cooking and I really do like Wendy's cheeseburgers so I honestly go there a couple times a week. Most of the time, let's say 90% of the time I have no complaints but it seems like here lately that my order is wrong. I always get the same thing. A double meal (used to be the #2 combo) without onions without tomatoes without lettuce and add extra pickles. Every time! Now when I go there it is a crapshoot if I'm going to get it the way that I ordered. I get home to eat My dinner and there's usually onions on there or there's usually tomatoes. I know it sounds petty but it ruins my dinner and I pay anywhere from $20 to $30 at Wendy's a week and I expect to get what I want. I don't think that it is too much to ask. I'm just tired of paying for something that I don't like when I bring it home. I'd like to consider myself a valuable customer to Wendy's and you guys are on the verge of losing me because someone isn't paying attention. Please make it right

Bojan Mahic
from Oak Ridge, NC
At 8:34pm today i visited the Hickory Ridge Rd location in greensboro nc. I was a passenger in my mothers vehicle but was the individual whom ordered the food. At the drive thru, i used to visit everyday for lunch until recently i was involved in a heavy accident that has left me unable to drive. So i finally get around to getting my fix (wendys) and had a $2 off coupon so i decide to order a Baconator combo large (coke no ice) instead of the usual biggie bag i used to get. The total was 11 and change then with the coupon it was 8 and change. After a longer than normal wait i get the food. To my surprise it is my standard lunch bigge bag :/ i let the wendys lady know about the mistake and she insisted that the baconator is the same thing -_- i know it isnt. She tried to argue saying i got free nuggets out of the deal and i should be happy... But i know better and let her know if i got a biggie bag and used my $2 off coupon why on earth was my total almost $9?!?! She was not wearing a name tag unfortunately, nor did i receive a receipt. I decided to let her "win" the argument as she did not have the slightest intentions on correcting the problem or charging me the correct amount. (My elderly mother being the driver i couldn't allow myself to match her attitude, i would have loved to though.) so we drove off. At the first intersection i gave the entire order away to a homeless panhandler and we drove to the west market street wendys to purchase the correct items. Because a Baconator craving has no substitute (ever)! Obviously i am highly upset about the whole ordeal mainly because i have not been able to drive myself anywhere since my accident. This is my first EVER complaint written/verbal to any establishment and i hope i never get this kind of service and pay PREMIUM price for the service i received tonight. (i do not want a pitty party because i am unable to for myself any longer but i would like this fixed and to have the employee at least take a hospitality Class.

I am 70 who travel frequently between Atlanta and Chattanooga. I ordered chicken nuggets at Exit 290 on I-75. They were dry and old. I walked back to the counter, placed them there, said nothing, and turned to leave. A young man asked why. I said because they are not any good. A young woman yelled loudly across the restaurant "Well you didn't have to throw them." At that point I went back to the counter and announced to the manager that they have lost a frequent customer. My phone number is 678-704-3146 if anyone cares about this incident. I am appalled.

I've never had a bad Wendy's until... the Salem Ohio location. And it hasn't been just one time. Not sure what's happening there. Smells awful when you walk through the doors, service is absolutely terrible. Frie set out on counter long before order ready which by then food is cold. No one wearing gloves that's touching my food. Just bit a good situation.ine I said , it's every single time we go. Everyone makes mistakes, I get that , but continuously the same thing? We definitely have gave them the benefit of the doubt but will no longer go to that Wendy's. Boardman location is a little further but never had bad service there. Even ate at one last weekend in PA, all good there.

Alex Archuleta
from Denver, CO
I am here in Denver Colorado and I had one of the worst experiences ever in my history of eating fast food. The location I went to is 2070 south federal Denver colorado 80219. I ordered the number 5 which is currently the bacon, jalapeno cheeseburger. The quality of the burger on a scale of 1-10 10 being good. I'd rate the quality a 1. I also ordered without onions which was repeated back to me and yet completely ignored. My bun was very soggy from the grease on the patties. Also had some very disturbing very disgusting chicken nuggets. The customer service was also very disappointing as I was treated with a lot of disrespect and ignored by employees helping themselves to some icecream while I waited a good half hour on a to go order inside! I spent 22 dollars and am very disappointed that veteran such as myself cant get a decent meal when in the mood to eat out. I will never return to this location again. I did speak to a representative on the complaint hotline however I really want and need to get it across to your corporate office that this type of behavior represented as customer service is not ok and it's not fair for someone to be trapped into paying for food that could possibly get somebody very sick! I will be leaving my phone number on this email because I'd like to speak over the phone rather than back and forth email. (970)426-8925.

j train
from Abbotsford, BC
i had the absolute worst customer experience at your Wendys located in abbotsford off of mccallum road.i order from here at least 3 to 4 times during the week as its close to my.So work.tday being a day off I thought i would run over and pick up some food thru the drive thru approx 1130 am..After returning home i was missing 2 items ,a bacon poutine and 5 chicken strips (there where 4..yes only 4 mcnuggets in there)so after returning to let them know what happened i was treated very rudely and told my order was correct and i was given everything .after trying to explain i was not they said i was...needless to say i will not be returning ,you have lost all my weekly business including that of my staff ..THIS IS THE ABSOLUTE WORST CUSTOMER EXPERIENCE EVER AND I WILL BE POSTING IT ALL OVER NY SOCIAL MEDIA AS WELL...you have lost my business from this location forever ..

Brooke Harris
from San Jose, CA
You guys really do suck. The customer service is awful. I'm so sick of going to the Springboro, Ohio Wendy's and the employees being nothing but rude. Acting as if you're order is an inconvenience to them. Maybe you guys should not hire people who have no business talking/being around people. I'm extremely disappointed, again at this company. I'll make it my job to make sure no one visits the Springboro one again.

Hello, I would like to report a concern about a manager at the Harrisburg Pike Wendy's in Lancaster Pa. My husband arrived at the store around 10:10am and when he went to open the door it was still locked. The manager who gave her name as "Dee" opened the door at 10:15am. The associate running the register apologized to my husband and said he needed to finish setting up the register, my husband said it was not a problem. Then Dee began to curse and say "he can f***ing wait" when my husband didn't say anything at all. Once my husband ordered his food, he asked the associate if that is the manager, and he said yes. My husband then asked if he could get her. The associate got Dee, and my husband asked for her name. She said "Dee" and walked away, my husband said excuse me I am not finished speaking to you, which then my husband pulled his phone out and started recording, he asked what the name of the manager above her is, and she said "Presilla." My husband asked how to spell that, and she said "Presilla, your guess is as good as mine." The whole thing was unacceptable. Your hours says you open at 10am, why was the manager now prepared with the doors open or the associates prepared with the cash register open and prepared for orders. Very unprofessional manager, and when I called and asked to speak to Presilla, Dee got on the phone and said she is not in today.

Doug Perdue
from Boston, MA
My family and I go to Wendys twice a month, however I had a meeting at the Holiday inn in Eastgate Batavia, Ohio and must say it was the worst experience ever at Wendys! I ordered 2 jr. cheeseburger deluxe, small fry and a small drink and it cost me $8.72! DID NOT RECIEVE A RECIEPT! As I was waiting was asked if wanted something other than coke as they were out! At 12:30 pm on a Saturday! I got a sprite! Continued to wait and was looking, if your CSR was good they would have offered me a 4 for 4 and ordered and extra jr cheese deluxe and would have been 6.19 instead of $8.72 and would have gooten 4 chicken nuggets also! So i sat down to eat and the fries were old and cold, and the fries are the main reason to go to wendys! Not happy at all!

Yaisha lawrence
from Upper Marlboro, MD
The person at the drive through window was very rude. I ordered fries they had no ketchup. I ordered a ceaser salad and they gave me taco salad. When I told the person it was wrong she got an attitude and told me she can't take the salad back.

Lolita R Whitfield
from Charlotte, NC

So I called and asked if they have environment safe straws because my little brother wants to save the turtles and that's the only straws he'll use and when I asked, they hung up on me

I attempted to use a coupon today at your restaurant #1106. The coupon clearly states, ¨Buy one, get one free.Any large chicken sandwich. (Of equal or lesser value). EXCLUDES ASIAGO RANCH CHICKEN CLUB¨. I ordered 2 spicy avocado bot sandwiches. The manager stated that she was unable to honor the coupon as it only applies to regular chicken sandwiches. This is not how the coupon reads.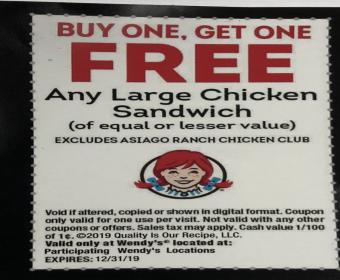 Amelia Hale
from St Louis, MO
I didn't receive one of the sandwichs with my order while going through the drive through. Didn't see it until I got home. Also didn't receive a receipt and they were about to close. Nothing I could do about it. Money wasted.

Robert DiMichele
from Homosassa, FL
We go in late nights in order from the drive-thru. 50% of the time they asked us to pull up out of the drive-thru window to wait for a food as there is no one behind us or ordering. Seems to me they're trying to cheat some service time for your company would be something that should be checked into

Chris M Miller
from Richmond, VA
If i could take away that one star I would. Had the worst experience. I was the third car in line in one of your drive ups. 36 mins later i gave my card to window one. The payment window. 15 mins later my payment was still not processed. I asked for my card back and went to Mc Donalds. At least they could have done was talk to me and explained to me what was going on. I had a $19.00 order. I have been eating at your establishment for many years and have never been this dissatisfied.
Chris M. Miller

Melissa Logan
from Louisville, KY
I was on lunch break and there was only two cars in line so I thought I would be able to get back before thirty minutes well it took almost 5 minutes for the girl to take my order then I set in line for 20 more minutes.. I was late to get back to work and I didn't get my food because I was in such a hurry to get back to work so I didn't get in trouble.. I will never go there again.. and I still got in trouble..

The Wendy's in swansboro, nc is very slow. It is slow when the lunch crowd is there or at night when there are five customers. There seems to be no organization. When the cashier takes your order, he or she leaves the cash register to get drinks, frosty's and leaves the other customers waiting to order. It's not unusual to wait 15 to 30 minutes to get your order. At lunch, many do come in because they don't have time to wait. The other night there were 6 people waiting for their orders and there was no one making hamburgers. It's taken me 10 minutes to get two frosty's because the girl working the cash register just left to look for something. It's so bad. There is no organization in the way they work. The people are nice but they need to get organized. Send someone there to sit and watch, someone not known to them.you will see what I mean. Thank you

Bradley Hulse
from Hutchinson, KS
The Air Conditioning system hasn't been working in the Hutchinson KS restaurant. The Staff service is excellent under the conditions They're working in and They all should be given a special thank from Wendy's corporation. It was 101 degrees outside and easley that hot inside. My Daughter and Myself had eat outside cause of how hot and miserable it was inside. Please make sure to give a Special thanks to your Crew for their dedication and a bonus wouldn't kill Them either...though the heat might.

Lorraine Cox
from Toronto, ON
I had a meal at Wendy's on the weekend and I tried to recycle my containers and there wasn't 1 bin of recycling, I can't believe in this day and age, that they don't have the recycling bins. I will never eat at Wendy's again.

Ken Capo
from Chicago, IL
I waited about 15 mins in the drive thru & then left the drive thru, went insife & waited another 14 mins. 1 guy working the front end & NOBODY had any sense of urgency. Terrible..

They closed the doors early last night around 9:30 and it was dark in side and one of the new guys were jerks last night

Hi, I went to Wendy's yesterday and got one of there southwest (large) salads. The lady at the window had a big smile and was very friendly.
When I got home I had to small salads. I called the manager and was told that they had run out of salads and that's why I got two small instead of one large? I said I just wanted to call because I thought I might have gotten someone else's order.
I ate one of the salads yesterday and it was just okay some of the lettuce was brown and I threw that away and something burnt my tongue like a spice not hot temperature . Today 7/18 had the other one for lunch and it was horrible, the lettuce especially on the bottom was completely brown and the cheese was lumped together. avocado had a strange taste, the dog wouldn't even eat it, it also had that spicy burn the tongue taste. I ended up throwing the whole salad away. I know they said they ran out of lettuce and I was the last person to get a southwest salad, so I feel I got all the left overs, and on the second salad there was only one piece of bacon. Thank you

Very dirty..peru ind..sticky floors..dirt..papers everywhere..wont go back

Denise Steward
from Washington, DC
On 07/16/2019 I was in the Wendy's on 3620 Washington Blvd around 8:45pm. It took 15 minutes to get my order. I ordered a spicy chicken sandwich and a bowl of chili. The chicken was soggy and greasy I had to take the breading off just to eat the sandwich the chili was fine. While wait for my order the cashier and the young lady at the drive thru window started arguing about how she was cleaning the frosty machine. The cashier told the young lady that she was cleaning it wrong and that some could get sick and the young lady said that she didn't care they went back and forth for about 5 minutes the manager didn't do much to stop them. What disturbed me the most is how the young lady working in the drive thru didn't care if someone got sick if the frosty machine wasn't cleaned properly. Neaveah was the cashier that was telling the other young lady that she was wrong.
Thank you
Denise Steward

Ross Gilbert
from Colorado Springs, CO
My wife and I decided to try the berry burst salad from the store in Canon City, Co. Great salad, no blueberries!
We decided to try another salad at a different store, Fountain/Security, Co. We ordered the apple pecan. No pecan, but they gave us 2 bags of almonds. Maybe we're expecting too much or not ordering right. Probably won't try it again. Thanks for your time.

Ed Powell
from Lee's Summit, MO
First, my wife and I enjoy eating at Wendy's very much which is the reason I am reaching out. Who owns the Wendy's in Lees Summit MO? It is and has been for a long time a terrible experience. Some would say a joke. The service is bad, often out of things, very slow, very unprofessional, food cold too often, just a very poorly managed restaurant. This is a shame since it is the only one in our area. Can you not inspect or audit or train the owner/manager to run a better store? This has been an ongoing problem with this store for a long time...poor management, unskilled workers, unprofessional service and always dirty.

Barnett Williams
from Indianapolis, IN
My daughter slipped and fell on some water at this location and hit her head on the drink machine. She got a concussion from this injury and they altered the video footage to make me look like a lier!!!! Y'all will not get away with this! At the minden location!

Mai Orama
from Buffalo, NY

Tracy Mcduffie
from Santa Ana, CA
Very poor service I will not never go back there sun city.ca

Mark Brown
from Boston, MA
I do not appreciate being asked to donate money to a charity that I don"t know anything about. Also, I went there to purchase food, not to be panhandled. This puts a customer on the spot. They lost a customer.

Clayton Ga. store and Franklin N C store. I eat at Wendy s a min of 4 times per wk. these 2 stores are a disaster compared to the many I visit. Staff are are the same. Sandwiches ore made. Tough meat. Tasteless. Fries yesterday trashed by all. Cold fries. Gee. A a min small drink. 2.29. Really??? Mgr to the district level. No response Sad

Jenna Kocher
from Pittsburgh, PA
I went to the wendys on butler st. in pittsburgh on 7/16/2019. I ordered the chicken parmesan crisp salad @ a large unsweet tea. The salad was to have grilled chicken in it. When I got home. The whole order was wrong. I received spicy chicken on my salad. And a large sweet tea. I'm a diabetic so the tea was dumped out. And I don't eat spicy foods. So that went in the trash. It was a waste of close to 10 dollars. Very dissapointed.

RANDALL L HILL
from Baltimore, MD
My wife and I were coming home late from a Hospice where her brother was being kept and we stopped here because they were open late. (Not Busy).
We had a simple order. I ordered the triple Baconator , my wife ordered the Homestyle Chicken Sandwich. We were told that they were out of the Homestyle so they gave us two pieces of I really don't know what, instead of what was supposed to come on the sandwich.. We didn't check our bags until we arrived home, so we had no recourse at this point. My wife tossed hers in the trash. I ate mine even though it was cold and tasteless. "I was hungry" You know what I mean?
This visit was a very sad excuse, even for fast food. (fyi: We had a long wait in line).
I usually enjoy Wendy s food, but I'm not sure any more.

Margaret Haskell
from Satellite Beach, FL
I had checked menu before stopping g at store. I went in and asked for the Mushroom burger only to be told it was no longer offered! I was so so disappointed. As stated , is shown on WEB menu. Please please consider bringing back. Mushrooms with grilled onions would be delicious! Why was decision made? Have been going there in 5 states I 've lived.

Jeff Aldrich
from Olympia, WA
Went through the drive thru at 7530 Martin Way E, Olympia, WA 98516 and ordered a Baconator combo w/ coke and NO ketchup about 25 minutes ago. When they asked if I wanted a receipt, I said no thank you. Now I'm home and this burger is covered in ketchup (including the wrapper) and there are 2 - 1 1/2 in. by 2 in pieces of bacon (that is ALL - on something called a baconator???). I'm all the way home and pissed. The staff was very nice and the service was quick. I'm just upset that after craving this burger, that's what I got. Not okay Wendy's!!! I don't have a receipt, but my card was swiped: Jul 16 WENDYS 11196 - OLYMPIA WA $10.48. Approximately 3:05pm PST.

Grace
from Woods Cross, UT
I was recently on a road trip with my family and stopped at the Wendy's located in Nephi, Utah (7/11/19). I stood in line for at least 30 minutes so should have known I was wasting my time and just left but thought I've waited this long and I have a long drive ahead of me and a lot of hungry mouths to feed so I'll just stick it out since I'm only the 4th person in line.There was a gentleman that was inline between me and my son who left shortly after I arrived making me the 3rd person in line. My son decided to put his order through the online app so we had to wait for his food anyways (making me the 2nd person in line). When I finally got to the front of the line (after a 30 minute wait) the kid at the register wouldn't even take my order. He just kept looking back to see if the 5 people working in the kitchen was ready for him to put in another order. Being at the front of the line gave me a good view of what was going on. While waiting (at the front of the line) I noticed the lady in the kitchen pushing the meat down on the grill without gloves on and then touching other items in the kitchen without having washed her hands, so essentially cross contaminating. I've worked in fast food before so I'm assuming the reason they wouldn't take my order as soon as I reached the front of the line was because it would make their prep times look bad having it take so long for my order to be cleared off of the order board. The lady touching the food without gloves and the fact that I knew it would be at least another 10 to 15 minutes AFTER they took my order (which they wouldn't even take) helped me decide that I wasn't that hungry after all and I didn't have any more time to waste. I left without having placed an order and drove to the next town and found a Carl's Jr who quickly and efficiently took my money ($60) in exchange for food for my family of 8

Deb Kral
from Plainville, MA
My granddaughter and I were just at Wendys in Mansfield,Massachusetts. We were in the drive thru line for 10-15 minutes and during that time we saw two different people have to get out of their car and go inside due to wrong orders. When we ordered our food we were very specific as to what we wanted which included a PLAIN Doublestack with NOTHING on it including no condiments just the 2 burgers and a bun. The person repeated our order back to us correctly and it showed up correctly on the screen as well. However, when we got our order the Double Stack came with EVERYTHING on it! My granddaughter also had a hair in her milkshake! Needless to say, she did not enjoy her lunch. Three wrong orders within 10-15 minutes does not seem like a very good record. Hopefully this will be looked into and improvements made.

I had to place my order 3 times and it still came out wrong and the crispy chicken sandwich was simply awefull. It was dried out piece of chicken with a piece of lettuce I wouldn't give to a rabbit. The slice of tomato was almost invisible. Some thing has gone wrong with your company! Maby you should go back to Daves principles. Crispy s chicken is going to hurt your business in this area of you don't get your act together.

N Greiner
from Chesapeake, VA
There are girls that work here with very long and unruly hair that are not wearing hair nets. They are serving food without following proper hygienic practices.

I have been a customer for 30 years.Iam also a truck driver. My wife and came to store and placed order as always got it and left. Was at truck stop in kenly nc I-95. Dont have a reciept do I would have went to any other store and complained.we ordered awesome bacon double cheeseburger comb. A Daves double combo, and a baconator combo. We left with order we was gave, got down the road about 60 miles and found out this was not correct order, or it was made wrong. Either way it was wrong. We ask you to please fix this. We are very loyal customers. Thanh you Terry Jones, phone# 252-469-6881

Ruthie Paul
from Evansville, IN
I ordered 2 S'Awesome cheeseburgers last at the First Ave. location Evansville, In. 2 sandwiches and fries cost $13. It was worth 0! Sandwiches didn't look anything like the picture and clearly was not fresh. It should have had 3 pieces of bacon and had maybe 1 all broken up and 1 pickle, no lettuce and it was not a third of a lb. of meat. It must have been microwaved because the bun was flat and stuck to the food. A $1 McDonald's cheeseburger would have been better! Absolutely the worst fast food ever!!!!!!!!!!!!!

Patricia Hillman
from Mount Prospect, IL
Really Wendy's 60 cents for cheese on a small chilli I can see extra charge up to 25 cents but that is really unreasonable charge for a small amount of cheese

Kristine
from Arbutus, MD
Tables and floors were disgusting. Had to wipe our own table off before we sat down. Then I went to the bathroom and there was NO toilet paper in either stall!

We recently had lunch at the Wendy's located at 1507 E Fowler Ave, Tampa, Fl. I've patronized Wendy's restaurants for many years but never had I seen such a disgusting location before.
Dirty inside and out. Tables and chairs in disarray and unkempt tables. The staff were very rude especially the woman behind the cash register. The cook next to her was equally as rude as she continued to engage in conversation while preparing our food.
The cheeseburger that I was given was most likely cooked several hours prior to our visit as it was hard and barely hot. The French fries were equally as bad as hey were cold and old.
I will never return to a Wendy's restaurant again as I was appalled at the conditions and determined the money spent was a complete waste.
Thank you.

Pamela G Prince
from Fennville, MI
The Wendy's in question is in South Haven, Mi. I was there with my family 7-12-19. First the drink machine had no ice, the soda was flat and warm And they were out of straws. Instead of letting people know when they ordered, or even running across the street to Walmart, they let every single customer discover it themselves. To which they replied " the truck is on it's way". Very disgusted we sat down opened our burgers to discover they were cold. Who is running the ship??!!! Very disgusted!!!

After work I had gone to Wal-Mart in Harriman commons to shop it was 11:30pm. I ordered a number 1 single large with a coke. I only have one word DISGUSTING! The burger was set and sloppy and the fries were soggy and cold. The kid working the window didn't seem to care at all and from the drive through window I could see another employee handling food with no gloves on. I will never go back to that Wendy's again at the Harriman commons and will let people I know as well. PLEASE GET ROBOTS that will actually serve a hot decent meal.......

Karen Harper
from Birmingham, AL
Very poor customer service at restaurant #00001253
Did not receive chili with taco salad order. Called store and no answer after 3 attempts with several rings. Drove back ro drive thru. Given chili with no apology, no recognition of my Wasted time

Damon Hinton
from Lawrenceville, GA
pulled up to drive thru,. manager working window asked for my order loud and aggressive.. I replied give me a second please.. he replied "O SURE,. TAKE ALL NITE IF U WANT, I GET PAID BY THE HOUR!"... i never placed my order but drove to window to see face to face... still being rude trying to justify his actions I asked for the store #... he never returned.. I will never return to Wendys.. this was the store on Lawrenceville-Suwanee rd. just off 85 n.. in Suwanee

Jerri Wetherington
from Simi Valley, CA
This location is a fairly new store to our city. I have been a regular customer since they opened, visiting at least 2 to 3 times a week. I usually get the taco salad (half size) and the apple pecan salad (half size). They are the BEST salads ever! However, on July 10th approximately 3pm I went to the drive through and ordered my salads. It was hot, so I also ordered two large chocolate frosties. I gave the gal at the window my debit card, she was friendly and efficient. After receiving my debit card and receipt, my salads and frosties followed quickly. She just handed me the bags and never said thank you. My friend and I decided to go to the local park to eat our salads. When we open the bag(s) neither one had napkins or utensils. My bag with the apple pecan salad had NO DRESSING and NO PECAN package in it. So...there we were unable to eat our salads. Even if we had utensils, I would have had to eat dry lettuce with white cheese chicken and apples. The packets were not in the bag. So, we did get spoons for our frosties and thats what we had for lunch. I thought it was procedure that my order is repeated at the window as it is handed to me. I have never had to make sure there were napkins, utensils and related food packets in my bag on previous visits to the drive through. This left a bad experience for me and I am not sure I will visit this location again anytime soon. There is another location at the west end of town on Los Angeles Avenue. I may try that one because like I said, the salads Wendy's now offer are very good. I was pleasantly surprised!
Have feedback for Wendy's?
Thanks for your feedback!
Sorry. Please try again later!