Walmart
Walmart Complaints Continued... (Page 1)
909+ reviews added so far. Upset? Call Walmart corporate: 1-800-WALMART

David Selneck
from Matamoras, PA
I don't get my oil changed at Walmart anymore because your employees would rather "play" than do their job. I don't buy my tires from Walmart anymore because I had General Tire Grabbers on my vehicle, I went in for a rotation and was told tires not worth rotating. Which I knew. The Automotive manager, Buck, told me in front of an employee that once tires have been adjusted they cannot be adjusted again. That was a bold faced lie, I have an email from Continental stating that.
To day is my last dealing with your pharmacy. I am diabetic and take Metformin to control it. I called in a prescription to be refilled on May 1. I went to my Drs. office they there was no request submitted. I went to Walmart Pharmacy and was told they submitted it May 1 at 8:30 p.m. someone is lying again. My script was done at 5 p.m. When I went to pick it up, I waited in line paid for my script, then it was placed by consultation. I tell them every time, I don't need a consult. Now I don't have a choice!!! Bulls--t. I have been taking my medication for 15 years, I think I know how to take it. If I have questions I'll ask. Don't have someone call me to make nice. When my refills are done or I find out I can pull them from your Pharmacy I'll be doing business with Price Chopper Pharmacy. A few dollars more but well worth not having to deal with the petty, aggravating, crap of dealing with your pharmacy.

I went to the store 12555 w sunrise and have a terrible custumer service from the manager plce contac me 9544877565 thankyou very

CSS wanda is one of the rudest people
I have ever met.. she wouldn't do a price check or check on something in the store
And just walked right by me when I tried to ask her a question..

SHARON L METZ
from Kansas City, KS
We went to return a product bought in Kansas. It was a PHILIPS NORELCO Cordless Rechargeable Men's Electric Shaver. We paid 69.99 for it. I was able to show that to them from the website. I was also able to prove to them that it had never, not once been used. Because it wouldn't take a charge at all, none what so ever! We sure didnt expect it not to work at all! We bought it opened it and put it on to charge, and threw away bag, box, ect. We are full time summer RV campers, traveling everywhere. We had to make a stop in Joplin Mo. (Exit 8) while here we went to the Walmart, and tried to exchange the razor. They didn't carry the exact one, they had two that cost a little less than the one we had, but I didn't care, we just wanted one that worked.we were there over a hour and a half, while they were trying to get a UPC code. I was getting sick and dizzy, and almost vomitted. Waiting, and being pretty paitent. But then they told us they couldn't do anything to help us. I was feeling really weak by now, i lost it and tears rolled. I told my husband lets get out of here, and i pushed the razer toward them, after all it didnt work, and they werent going to do anything for us! There was a brunett manager that was really rude. There was a guy manager that was pretty nice, but he had to leave. When the brunette came, she didn't do a damn thing to try and help. All I wanted was to get one that worked, I didn't care if it was more or less... I would have paid the difference if it was more, but they only had two and they were less than the one we had. Right now I am spitting mad! Not only didn't they help us, but I left the broken one that never worked there! I bet that "bi@!$h" exchanges it now! Cuz she has the new one that had never been used! My cell number is 316-755-6661, my husband's cell number is 316-516-8903. We are both on disability, and can't afford to just throw money away, I feel like we just got screwed, by Walmart, since they wouldn't stand by their product. I don't know if writing this will don any good or not, since we no longer have it, instead Walmart in Joplin No has it
Thank you if you can do anything to make it right,
Otherwise, I think we are thru with Walmart
Mr and Mrs John J Metz
10606 West Atlanta Circle
Wichita Is. 67215
Ladyhawk1957@gmail.com

Lois Johnson
from Clinton, IN
Have been trying to call in perscriptions to Walmart in Martinsville, IN. The phone rings numerious times and then hangs up on me. This is not the first time that this has happened. Your customer service sucks. Maybe I should find a different pharmacy!!!!!!!

I love the deli foods at your store1437, but the racial comments are awful. lilly they called this assoicate speaking about another co worker of a different race. that assoicate of a different race just made a weird look at them as she helped me. i have heard other racial slurs from lilly towards this same assoicate. I just feel that this could be bad for walmart.

Danny carter
from Pensacola, FL
Magnolia ark store very rude and smart mouth employees black lady in the garden dept.. Lazy and very racis. Here name is Kama I think very disatfied with this store.

Juanita Davis
from Birmingham, AL
I purchased my second baby gate from your store. The second one was also too short for the stairs. I purchased the last gate in November 2017. My daughter-n-law told me that one was also to short, but better than the first. I had intentions of giving her the receipt to return it, but that did not happen. I finally remembered to put the gate in my car. I tried to return the gate on yesterday @ the same store of purchased. I was told that I had exceeded the return policy of 90 days. I was speechless, but I did not argue the point. I did mentioned that I was unaware of this policy. (I am only assuming this is a policy). I thanked the attendant & left. I had numerous Wal-Mart receipts in my car. I could not find written information on ANY RECEIPTS NOR ANY POSTINGS in the Customer Service area which displayed a return time limit. I knew about the "no receipt, no cash refund", there is a credit given. But to have the receipt & unable to get my total refund is OUTRAGEOUS!!!!!
The front of the receipts ink is almost gone, but the back of the receipt with nonsense about survey is very legible. What is the most important entity of your receipt? The purchases, not a survey on the BACK of a receipt. This seems to be a ploy to prevent the public from receiving there money back. If I had found this "policy" on any other receipts, I would have to accept this. But this seems to be an undisclosed policy which is deceitful, & dishonest.

marvin davenport
from Humble, TX
eggs were purchased at your Walmart store #2688 on HIGHWAY 64 this morning the IPC numbers are listed in the nationwide recall for salimeno. I called you store manager and asked him why the eggs are still on the shelf. He stated they were not . The IPC numbers on the package shows clearly the number in the recall , no excuses are good enough , and I will not accept any manager telling me that they are not on the recall list
. Its BAD BUSINESS PRACTICE, and I am sure the FOOD and Drug Administration will not appprove of any one keeping them on the shelves.
IPC number78742 12714

Diana Smith
from Denver, CO
I waited 20 minutes and 3 requests to have someone open a locked case. In the case I wanted makeup removal pads. The cost of the pads $3.48. The clerk told me I could ask my product from customer service. When checking out customer service as busy and could not being my items to check out. When I complained to the manager Keaton (Castle Rock Co)he told me to blame NY. He could do nothing. If I didn't like it I could leave, so I did! Also changing deli hours to open at 10:00 Is just stupid. According to your customer service rating 2 out 5 this complaint will not mean a thing to Walmart! I won't go back. There are many other stores that can serve the customer needs!!!!!

Store Address
1801 W Lincoln St
Harlingen, TX 78552
(956) 428-0734
I have been going to this store for the past year. I always shop from 8-9 am Mondays through Fridays at least twice a week. I won't be going there anymore for things I need, but just to record my shopping experiences in hopes that social media or management can rectify an extremely rude environment made by its employees. This is a case of, "The monkeys running the zoo."
On more occasions than I can count, always on the grocery side of the store, when rolling my cart down the aisle, I have to stop my shopping cart and give employees "the right of way". They were not stocking shelves, they were either walking by or talking together side by side. The isles are only so wide, I would have to stop shopping and halt my 200 lbs cart so they can pass.
At first, I believed that they simply were not paying attention and it was an accident. Now, I am certain it is intentional. I began talking to the employees asking them if me and my 200 lbs cart were in their way of walking past me. Most would not respond, some would half heartily say, "Sorry."
This behavior is akin to the jock in high school bullying the kids to get of their way in the hallway. It only happens at this store, other stores in near by towns such as Weslaco and Donna have helpful and courteous employees.
So, from now on, I will be videoing my shopping experiences at the Walmart store on 1801 W Lincoln St in Harlingen Texas. My intentions are to bring awareness to my community, through social media, about this behavior and prevent people who are probably having a bad day, from being belittled while shopping .

Dennis Williams
from Salt Lake City, UT
We purchased a NEXTBOOK notebook at wall mart. It worked OK for a while and now will not charge or indicate that it is plugged in.
we looked it up on line under repair or service for NEXTBOOK and it states that it is under warranty for one year. If service is required return it to the place of purchase, not to them. We returned it to our local wall mart ware we purchased it. we were told by the electronics department manager that they will not help us. We must return it to the manufacturer. We purchased it from Walmart, not on line as they would warranty it for one year.
Purchase date Dec 14 2017
store Washington Utah, #01439
Price $211.64
SN YFGV0316079960
Transaction ID 587348780907222

I have been shopping at Walmart on Highway 72 since it opened. At first it was great. Now it is the worst Walmart in Huntsville, and Madison. The shelves are never stocked. For two weeks the vitamin shelves have been empty. Every time you go in there shelves are empty. Today I went in there around 4 pm and there was only one cashier. The line was backed up. I asked if no one was working and they said they called off. There were at least 5 CSM's in there and none of them were doing anything but standing around talking. There are always at least 5 of them in there little yellow vest doing nothing and no employees working. At 4 in the afternoon the manager should be staffed and if not his little CSM's need to work. I do not go to the self check out because I don't get paid to check myself out. I spent $230.00 in there last week and 270 this week I expect better service. We spend a lot of money in there. I had rather spend more and be treated better. Your employees do not care. This store needs better management at the top.

bill middlesworth
from Santa Monica, CA
I have been going to the town center Walmart in long beach ca. for several weeks and before there have not been hand wipes for the baskets, I have contacted the managers about the wipes and all have told me we don't have on hand but will get them in a couple of days it didn't happen. so I started bring my own wipes. there are other problems, dirty wash rooms, and the demeanor of some the with workers , one heavy set black male with a beard in the sporting dept. ( I was trying out of a chair, he started ordering out of the way your blocking the me from going by, I was off to the side of isle). I don't think I am not going to shop at that store. I feel a investigation from the cooperation should be made. thank you.

j. bailey
from Mandan, ND
Terrible customer service in the store in Mandan, nd and terrible customer service on you 1-800 customer service line. I would give 0 stars!

Tonya Brennan
from Midlothian, VA
This store would not except my personal check as payment at check out on 4/14/2018, so I had to leave my bagged grocery's at the counter and return home empty handed as I do not have a debit card. I pay by check all the other time, this is the second time this issue has happened.

Melinda Riley
from Chatsworth, GA
I want to file another complaint about the Walmart in Summerville/Trion Ga. They have the Primo Water Refill System. About two months ago it went out of order. It was out of order for two weeks. They finally got a new machine installed about a month ago. It went out of order after two weeks. They got it fixed. I was in the store today and it was out of order again. It has been out of order twice in the last three weeks.
I would dearly like to know why they cannot keep this machine working. Do I have to go in the store to check if the machine in working and then go back to my car to retrieve my refill water jugs? Can you tell me what is going on and why they cannot seem to keep this machine in working order?

Rhonda goode
from Oklahoma City, OK
I was in the store at 23 and Penn in okc ok to day at about 4.50 ,I picked up 4 items ...there were 2 cashier's and all the other employees were helping the new self - check area the line was ridiculous .....at 5:40 I left the store without the items I went in for.....I don't work there but I know they are busy at this time of day,you would think the manager would know it! I know my purchases will not affect your business but I think you have lost it.......I refuse to try to self-esteem check a basket full of items.YOU ARE NOT THE ONLY PLACE TO SHOP IN OKLAHOMA CITY! Close yes but not worth my time
Rhonda Goode

Kathy Cone
from Madison, OH
Walmart in Madison, Ohio
I received a Samsung phone as a gift from Walmart.
I had to activate the phone. When I couldn't do it from the internet because I was changing from
Family Mobil to smart talk, I had the choice of calling or going to Walmart to have them activate my phone.
Went to Walmart. They refused to help me in any way. This is not the first time I have had problems with the
Walmart Phone employees at this store. They put a sim card in my last phone and damaged the sim holder in the phone.
They had to be threatened to help me after that with a problem with my phone not receiving service.
They did it reluctantly so they were able to do it even though they told me they couldn't.
This time I just went home and used the call # for Smart Talk. Waited 1 hour for help... he told me he would
call back on my home phone... he didn't. Finally I got a hold of a woman that really could do her job and got my phone activated!
The process took 3 1/2 hours. This seems unacceptable to most reasonable people.

Bruce Showalter
from Phoenix, AZ
Wife took in vehicle for tire repair, had a leak in two tires, within road hazard coverage. Repair was covered, but leaked back down overnight. I took it back, and granted, they were busy, but didn't even get a "can I help you" around their personal chatting, so I gave up, took it back home, and put in some Fix-a-flat. Around 6 months ago, same experience, same vehicle, so I took it back a few days later, and finally the repair worked. Same occurred on my truck nearly a year ago, but I have no road hazard coverage. Second trip worked on my truck, but they weren't swamped. This time, not so much. Would not recommend Walmart for tires, or at least THIS Walmart.

Sandy Jones
from Fayetteville, NC
My online order was sent to an address in Maine, not Kentucky. I was charged for the order. I chatted online with a representative on Monday, 2 April, and all she could say was that it was a third-party supplier. She said she would escalate the problem and I would receive a response in one business day - NOTHING as of yet. I just want my money refunded and forget the order. Order # 3541887-699055. It was delivered on 30 March to Newtonville, MA. The total of my order was $39.59, $26.05 from my debit account and $13.53 from a gift card. This is the second incident with this same third-party supplier. At Christmas I ordered a battery powered ride-on toy and it arrived with no battery. I contacted Breezes and no response. I had to purchase a battery myself.
Please respond with an answer. All I want is my money refunded, forget the order, and I will never order from WalMart again.

Clayton Heflin
from Rohnert Park, CA
I've been shopping at the Windsor Walmart 6650 Hembree Ln. Windsor, Ca. since it opened. I, was always able to get all items that I wanted there. But since I see a new store manager name on my receipt, I, have a hard time getting items I've always been able to get. Now the shelves are bare, I haven't been able to get the razor blade I use, because they never have any razor blades. When I go to Lake County to see family and come back through Ukiah and stop at that Walmart they have everything I can't get at Windsor. I, asked a worker today why they never have razor blades any more and the answer (I, don't know) and he went back to doing what he was doing. What seems to be the problem at that store, except someone Is not doing there job of ordering and stocking shelves. There was lots and lots of empty shelves. I, seriously thinking about not going to Walmart's any more since I can only get some items there and have to go elsewhere to finish my shopping. SOMEONE IS NOT DOING THERE JOB AND IT SEEM TO START AT THE STORE MANAGER.

ellen hess
from Allentown, PA
I was at the pharmacy at 10:00am to get my pills, the one came is as a new script which I had at home paroxetine called it in as a refill, lady told me I have to talk to the pharmacist its a new script. I told him I have it at home. We can stand here all day and ague he said, told him about the refill not a new script. I'm here to give u your script if its new and wish u a happy Easter, I said fuck Easter and laughed (I hate holidays) He threw the pills across the floor I had to pick them up and he said I'm done with u. I came back because they only gave me 15 which it a week suppose to be for a month, He said now u wanna talk to me after to told me to fuck off, I said I didn't not say that. Go to another pharmacy GOODBYE!!!!!!!!!!! I'm filing harassment charges against that Pharmacist, he has a attitude and I will go to another pharmacy who treats u like a human being.

Perry Davidson
from Gainesville, FL
I went shopping in the Chiefland WalMart on Saturday morning, 30 March 2018, at 9:00 AM. This was the day before Easter and the store was very crowded. In spite of the crowd, there were only two registers open. Although the cashiers were working as quickly as they could, it was very evident that the store was severely understaffed for a "holiday" weekend. I suggest the management sincerely relook their staffing policies to become more responsive to community needs. To preclude the standard response, there is a significant number of people who do not care for and/or do not participate in the self check-out program.

Don R Quinn
from Bullard, TX
Why have you not activated grocery pick up at my closest store #4164 Kaufman, TX? This is not a even a reasonable situation. This is causing me to have to drive 28 miles to the Ennis, Tx WalMart to take advantage of this very helpful service particulary when my wife and I both are handicapped. Please at the least give me an answer as to when my closest store will have this very heloful srevive.
Thank You,
Don R Quinn

Daniel Billings
from Sparks, NV
On 3/10/18. I bought some products on line .from Walmart. To be exact a 750 amp.Jumpstart tool with commpressor, for $38.87 and a Handheld microscope on line .And I paid for it wth my SSI debit card! They were supposed to send me an email with a receipt witch they never did .the amount of my purchase was $57.35 when I ordered the product for my Son for a Birthday Present.then I contacted Walmart and told them .I never received a confirmation for my order but they did take $57.35 from my bank account I did get confirmation of that .I need to know how to get my money back I'm a disabled man and only have a limited amount of money to spend .and don't understand how a big cooperation such as Walmart doesn't keep track of there transactions .said I never ordered anything from them .!!! My email is grandpadan123@gmail.com .and they told me they would respond to this problem I have with in 4 hours yesterday and never did!!I been trying to get my money back since 3 days after they took my money.now they tell me that they never even heard of me and I didn't order anything from them.then why is there a record of the transaction on my debit card? Thank you Daniel Billings grandpadan123@gmail.com

Sandra s campbell
from Columbia, SC
I live in a nursing home, my favorite activity IS crocheting and I have friends who get me RED HAERT YARN at Walmarts..
Three friend went to three different stores and prices were all wrong..14 ounce was $5.94
10 ounce was also $5.94. But is usually 3.88
The 7 ounce is 2.94. But was ringing up at $5.94
So I spent way more than I should have...at one store sales person counted up rolls and scanned the biggest...now I worked at Walmart many years ago. So I know this throws off inventory and money...
I only RECIEVE $30.00 a month and can not afford to be wasting money on others mistakes...But to be fair RED HEART ALSO MADE A MISTAKE AS I AM USENG A TEN OUNCE ROLL AND IT IS MARKD AS 7 OU ce...
This is a big mistake on someone's part and needs to fixed immediately...
I spent $35.00 when in fact I should have only been charged $20.00
Thanks
Sandra Campbell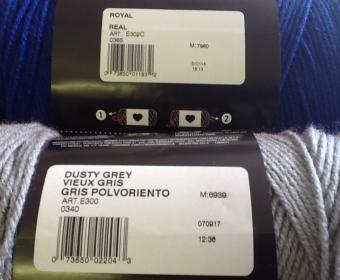 Samia Asaad
from Bowmanville, ON
On Thursday March 15/18 at 2:20 PM Terminal ID: WMTCJ021666 I had an incident or argument with one of the cashiers and CSM at the Bowmanville, ON. Walmart. The incident was over a price matching an item which was a tea box and the sore I was price matching with was Sunny Super Mart the Scarborough, ON. location The cashier was helping me asked me the name of the store, when I told her the store's name(Sunny) she said "We don't price match with this store." Then she turned to her co worker who was standing beside her to take over and asked her whether they accept a store from Scarborough, the coworker insisted that they don't take the Scarborough area. The I explained that every week, may be 2 times a week I shop at this store and I saw customers, including myself, price matching and most of the cashiers don't give us hard time only a few with no updating of the new store policies they asked one of the managers the manger said that they( Walmart) accepting all the ads.
At this point I asked the cashier that was helping me to ask one of the CSMs, but the other cashier turned around to ask a manager who was standing near by, that manager said that the do take any ad for price matching. Then that cashier( co worker) went to customer service and came back with another CSM Both of them with very aggressive attitude said" we don't do it". At this point I paid for my groceries and about to leave, I saw the CSM came from the customer service area after she talked with the customer service representative and told me, in the same aggressive tone" If you have the ad I will do it for you." A cashier from customer service apologized to me and cashed the last item which was the tea box.
In my experience in this particular store the cashiers don't agree on one thing every one has a mind and information on their own. Some of them like Wendy the co worker cashier , and her supportive CSM make my experience and I am sure other customers experiences shopping at Walmart is difficult. Of course, all of that happened in front of other customers.
Customer Service Manger, was aggressive and rude, her name : Lexi
Co worker cashier, was aggressive, laud voice, challenging and rude : Wendy
Thank you for your attention,
Samia Asaad

B etty Sharkey
from Galesburg, IL
I entered Walmart store 775d in Galesburg, Il, yesterday to return some unneeded sympathy cards. I was unceremoniously stopped at the front door by a person informing me of a new return policy. I told him that I had the necessary receipt. He grabs my small bag and pulls out the cards. He attempts to scan them and in the process drops them in the cart and on the floor. I told him that I did not take kindly to being treated like a felon and that this new policy was insulting to all the honest people. He seemed to loose his grip. He shoved 2 labels at me and drops 2 more on the floor. I continue waiting for the rest of these yellow tags. When I asked him, if he was processing the rest of the tags, he flipped. He told me just to go to Customer Service, while waving his arms in the air. As I walked away , he yelled "Fuck Off" at me!
I told the Customer Service ladies what had occurred. They dealt with my returns and I did a bit more shopping. While shopping, I ran across the store manager. I introduced myself and related the story to him. He was too shocked to even apologize and tore off to the front of the store to deal with the situation. When I finally checked out, this man was still sitting in his folding chair at the entrance!
I have lived all over the country and traveled all over the world. Being told to "Fuck Off" was a first for me! The manager did not seek me out to apologize or to inform me of any action that may have been taken.
As for your new return policy, honest people are getting tired of being treated like thieves. It's insulting. I can understand if a customer has no receipt. But don't punish the good guys. I intend to take my money and my business to Target. No one has ever told me to "Fuck Off" in their stores.....

Viola Henry
from Atlanta, GA
I had a layaway for Christmas but I didn't get it out. It was two laptops I put 50.00 down they told me they sent out cards to those who didn'tget their layaways out I never received my.They said they couldn't find it. I just want my 40.00 I did buy two in the store because they were on sale the same ones. Not good at writing

Ann Marie Wintle
from Sarasota, FL
Once again Ive had a problem with an associate, this time overt he phone as I am currently out of state. I was trying to explain to her that a script was last ordered on 2/12/18 with 2 refills that would require being filled by the 3/08 but she would NOT let me get a word in. She went on and on until finally I had to just hang up. within minutes she called back to tell me never to order medications again there because I was not welcomed! I understand that the medication is a controlled substance, Im a retired psychiatric Social Worker. It seems that they already had a vendetta before I could even speak This is a violation of rights not to mention the worst in customer service, I will be contacting the Better Business Bureau
AnnMarie Wintle

Vickie Buckley
from Mount Pleasant, MI
I would like to express my feelings about your Walmart.com. Every time and I do mean every time I order something from here seconds later I get a email saying that they had to cancel my order... I call and they fix the problem and I am having to reorder what I already ordered. I am getting sick and tired of doing this, if you do not want my business I will take it else where. There is a problem with this site and it needs to be fixed! I am sure I am not the only one that is complaining about this. I would appreciate it if you could take the time to investigate my problem and get back to me. If I do not hear from you in a timely manner I will be forced to shop somewhere else. Thank you for taking the time to read this.

linda baker
from Louisville, KY
got all my items except my sunday newspaper which cost 3.00. called the outerloop store, operator transfer to cust service. I was on hold until it transferred back to operator. the operator again tried cust. service, back again to operator. I waited a total of 20-25 minutes, so I hung up. I prefer to get my refund. I was in the area and stopped in to shop, live in shively area.

Anita Walden
from Galveston, TX
Was using monthly for home delivery. Now, every time I place an order and save to cart to complete the next day with additional items or needs, my order has been obliterated in my cart overnight so I can't complete. Saved to site for additional items to add. This is BS especially when quality is lowered priced to reach us who have so litle. Millionaires and Billionaires don't give a damn!

Poor service, lack of knowledge, pooly trained employees and don't care attitude of employees in paint dept at Dry Ridge, Ky Walmart store!

Luis lopez
from Los Angeles, CA
Bad services i whent to get tires spend 4 ahours and still dont get my tires

Barbara Darrow
from Redding, CA
February 23, 2018
To: WalMart Corporate Customer Service
I was at the Redding, CA Walmart last week to get a gadget for my new computer. As I passed the office department on my way to electronics I noticed that all the pens, pencils and markers are now behind glass and under lock and key. The last time I saw something under lock and key there for the first time (other than spray paint) was a week or so before that when I went to buy shaving cream for my husband. I had to have someone unlock the shaving cream, then the employee walked the shaving cream down to Register 15, where (when I finished shopping) I went to be reunited with the shaving cream. Then because I was going to go through the self-check, someone perp walked the Barbasol to the self-check line where, while I stood there, the employee scanned the Barbasol so they knew I had purchased it. I think the Barbasol cost $1.36.
Anyway, the guy in the Electronics department listened to my dismay about the pens and pencils and markers now imprisoned under glass, explained it was due to theft. And guess what else has been locked up? MEN'S UNDERWEAR. Now under lock and key.
So, my imagination wonders what the bad guys are doing with shaving cream, razors, markers and men's underwear.
The sad thing is that last year I went to buy some spray paint from Walmart, and after waiting around for a little more than ½ hour for an employee to show up and free the paint from lockup with no success, I went to Ace Hardware to get it.
Walmart, you might want to re-think your loss-prevention policies before you lose your (paying) customers. I am a regular customer who was treated like a criminal while trying to by shaving cream for my husband, value $1.36. How much do you lose if I take my business elsewhere?
I am also a local small business owner, and I find it offensive to be treated like a criminal. A Walmart employee has to walk me to the self-checkout so they can scan my purchase so I don't steal it? If I treated my clients like that, I'd be out of business.
Anyway, just a heads up. I'm planning my future purchases. If I decide to stop thinking of WalMart as my go-to place for everything (for good prices, good service, good return policy, and convenience) I may find options like Amazon, Target, Kmart, and other businesses that won't be me like the dregs that are stealing your stuff.
I would like to hear back from you on this matter.
Regards,
Barbara Darrow
Owner, Hooked On Dogs
www.hookedondogsboarding.com
2532 Goodwater Avenue
Redding, CA 96002
(530) 241-5031

sean forsman
from Sarasota, FL
This is one of many times that I have complained about this same problems at Walmart store no. 01171 university parkway. The liquor store is not open on time 7am on many occasions this morning it was open at 712 am 2 employees standing out front waiting for a manager to unlock the door so they can go to work it happens so many times that you complain and nothing gets done about it . Always we will take care of it but its same old same old story like a broken record. The second complaint is the trash left in shopping carts many of the cart guys do not bother to take trash out. I have complained many many times to no fixing the problem it is not up to the customer to remove trash from a cart. I get the impression that Walmart the big corporate giant is making so much money that this does not seem to matter what says about management and employees not good.

latanya washington
from Oswego, IL
i go to the walmart on 159th st in orland hills. i will say this i love the store because its big and have a lot to choose from but time and time again even when i have my child. i have seen your employees smoking in their cars of the parking lot. these same young men have helped me to my car and i smell it on their clothes. i've seen them on their phones in the bathroom, and what caused this email most was a transaction between Tommie Milliner and another young man i only see Marvin on his ID. I'm familiar with Mr. Milliner because i've had conversations with him in the past and invited him to my church. this is terrible your employees are smoking in their cars MARIJUANA NOT CIGARETTES AND BUYING PRODUCT FROM ONE ANOTHER. this is bad for business my mother have seen them in their cars we always smell it on their clothes. something needs to be done about this or you guys will definitely have a bad representation.

Vanessa Stoudt
from Keswick, VA
Hello. I wanted to purchase 2 bags of cat litter. There was only one on the skid and 4 bags on the top shelf. Now if you need anything off the top shelf you are to ask for assistance. My son walked over to electronics and a team member ask for assistance in the pet area and they said that someone would be right there. I waited over 15 minutes and no one came to help us, so I walked away to finish my shopping.
After I purchased my items I found a lady in a yellow vest for customer service and told her to cancel the help for the cat litter because I got tired of waiting and that I waited over 15 minutes and that is way to long for help and that I was mad. She agreed but all she could say was I'm sorry. Really that is all you can say???? My time is just as valuable as any one else. When you go to a store do you like to wait over 15 minutes for help and no one comes to help? This isn't the first time I have had bad customer service at this Walmart, but it is the first time I am sending in a complaint. Unfortunately there is only a few stores in Rocky Mount that I can purchase cat litter and I don't want to drive over to Roanoke county to another Walmart for cat litter or anything else, but I might soon since the customer service is horrible at this store.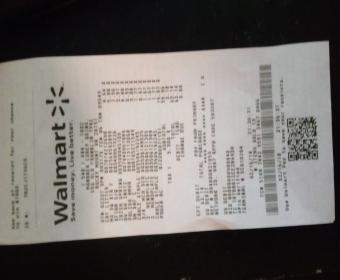 john whistler
from Del Rio, TX
i have recently started selling chickens. most easy way for me to receive funds is thruu wallmart to wallmart money gram. the last 2 transactions have been rejected by wallmart. when i go to receive my funds wallmart has put a stop payment on all my transactions. finally got a superviser to call for me and they would not tell him why this has been done to me. i have missed out on 2 sales for a total of about 650 dollars. if wallmart wants to stop me from useing this service should let me know that i have been barred from receiving money thru money gram. . customer service all but told me i was a fraud. at least i finally found this out so will never use money gram again. and i will tell everybody i know about this obsurd action. i 71 years old and i ant no hooblum and never have been. please reply john whistler po box 422004 del rio texas 78842 cell 830 719 3045

Janet Link
from Indianapolis, IN
I have been going to the Walmart at 7245 S US 31, Indianapolis, IN 46227 and several times on my way back out to the car I have come across very angry employees who are collecting the carts, but tonight this employee actually made me nervous. He was cussing and slamming the carts around and quite frankly violent. I was almost afraid to put my cart up for fear it would upset him. This happened between 5:15 and 5:30 today 02/16/18.

Jimmy Holman
from Keystone Heights, FL
This happened at the Starke, Florida store between February 14-15, 2018. Purchased what I thought was a television after speaking with 2 associates in the television/electronics department. and when I got it home, found out it was not a television. Neither employee made mention of it being only a monitor or that additional equipment would be required to receive over the air broadcast television signals. I returned to the store the next morning and explained to two assistant managers individually (the actual store manager is somehow never available) that what they were doing was false advertising and false marketing by having monitors/tunerless displays mixed in with televisions and that they needed to be segregated after which the first assistant manager started to point to the price labels which were arguably misleading in their content and product placement. The first assistant manager argued with me even after me explaining the legal definition of a television requiring a tuner vs that of a monitor or display which do not. After requesting the assistance of another manager she claimed to be the only manager available. As I was walking out the store I found 4 that's right 4 more assistant managers not 6 aisles away. I requested the one who was the most senior to come with me. I again explain the same thing I had with the first assistant manager. I even purposely and blatently led the second assistant manager past the first one to show her the same problem. The second assistant manager said she would send it up through corporate thought I doubt this will happen as she did nothing else but shrug her shoulders at it. No notepad, no phone, nothing. She said I could get a tuner (additional money out of pocket) or to bring back the other one and that they would exchange it. I went back home, disassembled the tv and because of the aggravation up to this point, lost my focus and nearly got a speeding ticket on my way to return the tv to the store. There is no good reason that a company of that size and technological prowess, with all of the strategic and purposefully designed facets of its operations, should have an array of problems like this, especially on the customer interaction level. 1/2 a tank of gas and 3 hours of life wasted going back and forth not to mention the sheer irritation, anxiety, and stress of the whole experience. I absolutely hate being lied to and I'm not going back for anything else either, I'll be a lifetime customer elsewhere. I am an Honorably Discharged Disabled Navy Veteran. I also hold a Bachelor's of Science Degree in Business Administration with Dean's marks and majors in Marketing and International Business and am eligible to continue Master's and Doctoral studies.

P. Blay
from Kansas City, MO
I was making a clothing and stuffed toy purchase so I put my items on the higher stand as the place where you put your groceries was dirty. Brenda was working the registered and she was upset and very rude because I did so, and she instructed me that I needed to inform her before I put my purchase up there. After she cashed me out she wouldn't hand me my receipt, She put it on the top of the bag turn style, protesting my putting my items on the higher point on the counter. I went to report the incident, and she had thrown my receipt in the trash. The manager had to take it out of the trash, as she refused to do so. The manager said she would talk to her but I wanted to make sure something was done. It happened at the Raytown Walmart on 350Hwy in Raytown, Missouri.

George Pope aka Sam Pope
from Pontotoc, MS
I see there is NO need to had a complaint because I had one Sunday and I have not heard a single word from anyone from Wal Mart. This shows me that you DO NOT CARE about the people who spend their hard earned money with Wal Mart

Rae Jones
from Jamestown, NY
Was at ST #1973 / TC# 7322 2138 4021 8176 8216 / Received poor customer service. The lines were long, the cashiers slow. When I finally checked out, there was no receipt. She said she would call someone over, I went to the Customer Service desk, as I didn't want to hold up the long line behind me. Big mistake, as I had to stand in another line just to get copy of my receipt. Then for a CSR to come over and get it out of the office. We went back to the register, and they finally opened another line, but the lines were still long. Usually my experience with WalMart is ok - not the best but never this BAD. And I have had time to cool down

Constance Sanders
from Plano, TX
I would like to inquire as to why money center policies are not the same at all locations? I live in St. Louis and pay my bills at Walmart, my Ameren account is online so I do not receive paper bills, if I take an old bill with the account number on it to the location nearest me, West Florissant in Dellwood, they will not process the payment stating company policy, however if I go to the Walmart on Lindbergh in Florissant, I have no problem, so I believe the location in Dellwood just doesn't want to do it, I am a disabled senior who does not drive so the extra distance is a disconvenience.

Kevena davis
from Beaver Falls, PA
Store asst call cops on me said i was stealing i never stole anything and it was proven that i didnt and they only did that because i was black i made a complaint on the phone but i never got a response back and i am ready for my lawyer to take over if i dont get a call back for this and i will go to the new for this walmart in chippewa pa 15010

Mary Rivera
from Hondo, TX
I have tried to have an online error caused by Walmart resolved since 1/29/2018 and as of today 02/13 it has not been resolved. I am at my wits end. I have been to the Walmart store in Castroville Tx 78009 customer service twice (1/29 & 2/9) to see if they could help and they have done their part at being helpful but its the customer service billing dept that apparently doesn't know what they are doing. I am owed a credit of $156.20 and the customer service billing dept has said that I would be receiving a credit on my credit card and like I said before it has not happened. What do y'all propose to do?

Ellen Lewis
from Salt Lake City, UT
Order# 870753872--Belmont 9-Piece Modular Wall Storage Unit: Ordered from Sam's Club.com on 25 Jan 18, Received 2 Feb 18.
Item received was incorrect. Can't get the error corrected.
Order sent in 9 separate boxes. Should have consisted of 3 Belmont Bookcase Drawer Bases (all received), 3 Belmont 4X4 Bookcases (received 2), 3 Belmont Bookcase Cabinet Tops (received 4, one of which was damaged). I called Customer Service @ 3:00 pm to get missing 4X4 in exchange for the damaged cabinet top. Asked for and received assurance that only the missing 4X4 would be sent. On 8 Feb FedEx showed up with 9 more boxes -- 5 drawer bases and 4 cabinet tops. I refused delivery as "Not Ordered." I called Customer Service @ 12:20pm that day (8 Feb) and asked for a manager. The rep I was speaking to insisted on details, which I provided. She then told me no managers were available and placed me on hold. She came back on line 2 or 3 more times with the same statement. At 1:20pm, it was suggested that I leave my phone number and I would be called back when a manager was available. At 3:00pm I called back and finally spoke with a manager. I again had to provide details of the problem, as the reference number I was given at 1:20 was incomplete. I was also told that FedEx would come out to pick up the damaged cabinet. She suggested I pack the 8 pieces and ship them back, get a refund, and reorder the wall unit. This is not a good option for me. Each piece weighs a58 lbs. Plus there is no guarantee any subsequent order would be correct. I was then given a new reference number -- 180208-010323. I was told I would be called back in 24-48 hours with info on how to proceed.
It is now 2:45 on 11 Feb and I still have neither received a phone call nor has FedEx come to pick up the cabinet.
Meanwhile, my house is in disarray. Items removed from the places this unit replaced cannot be put away because I cannot complete assembly of the unit without the missing piece.
What must I do to get this resolved? I have ordered furniture items on line from Amazon, Joss & Main, and Wayfair. I have encountered only one problem, which was resolved within 2-3 days with only one phone call. I have been a Sam's Club customer for many years. After this experience I am considering dropping membership and going to Costco.
Ellen Lewis
shotigor@msn.com

Lori kirby
from Barry, TX
I tried to return some deco mesh that was purchased the end of December. I was told it was a Christmas item and couldn't be returned in February even though I had my receipt and it was well within the 90 day return policy. Nowhere have I seen this policy posted regarding deco mesh. I have been fighting both flu and strep and I don't think it was safe to expose store employees sooner. I spend an average of 600$ per month wal mart, however, I will not be doing business there again.

Carrie Donaldson
from Laurel, MD
I went to your Severn Maryland store this morning and they had no 2 liter diet Pepsi not even caffeine free, the Lipton tea I normally buy, Equate liquid gel ibuprofen (any size) the brand of Mac and cheese I buy or three other items on my list. I should be saying thank you for saving me money but I really wanted the items. And while I am at it the electric motor carts there are in terrible shape and rarely charged.

Terry Kenney
from Topeka, KS
Having to stand in line half an hour waiting for a cashier with only 2 lanes open. Then you get stopped at the door for your receipt like you have
stolen your merchandise. I will be doing my grocery shopping at a different store. I might pay more but get treated with respect.

bill whitehouse
from Casselberry, FL
I just left Walmart in summerfield fl 34491without a purchase. I went to the bakery dept. to purchase some individual pies (which are very good) and no one was behind the counter. I needed to ask if they had any in the freezer because there was no lemon ones on the table. After waiting awhile and no one to help I asked the women in the ham dept. and she looked for someone to help me and said the person was on break, I don't understand why she could not have checked because she was not waiting in anyone so I left. As I was walking out without a purchase I stopped at customer service and asked for a manager, when he came over I explained my situation expecting him to say let me check for you, instead he said he would look into it and said he was sorry. At that point I just turned around and walked out. We spend about $130.00 a week every week in that store and I am going to do everything I can to cut that down to $110.00 over a .50 cent pie.
Thank You
Bill Whitehouse

Vince Stoyanoski
from Locust Grove, OK
I stopped by the deli department at the Pryor OK Walmart as usual to get my sandwich meats I like. There was a new girl working, short, young, dark hair and glasses. I didn't catch her name, couldn't stand to be around her any longer. She was extremely rude, sarcastic tone, raising her voice at me because she couldn't hear me very well because of the noise in the background, and just so crappy to me, I told her to cancel my order, I'll just have to get my order at another store, even though I like the deli meats at the Pryor Walmart better than the other stores in the area were they're available. I've never been treated like this little punk brat treated me in ANY Walmart! She acted like she was PMSing, and I was her two year old brat kid! I have teenagers in my home that don't treat me or their mother like this! This little brat employee has obviously been raised without any discipline and has no idea how to treat people! I ended up not spending 40 to 50 bucks on my regular deli items, and now have none for my work week because I just don't like the meats I get from the other places I can get them. I live 15 miles away and go out of my way to go to the Pryor, OK store to get my deli items, but don't believe I'll ever get them there again as long as I see this little punk working there!

Keith Seegars
from Lithonia, GA
i bought a 55 inch tv and was told the delivery would arrive by 2/1/18. but when I checked tracking it said it would be here 2/5. I would no have bought this item. Now I have no tv for superbowl sunday for my guests. the delivery company "Pilot" stated Walmart should not have promised that date. I should at least be compensated. Since I cannot even go out and buy a different one since Walmart has my money for a tv I don't have. I have documentation that could not be uploaded because of the type

Frances Masters
from Dickson, TN
We live in a small town, Waverly, TN. We use Walmart at least 2 times a week for Walmart's' products. My husband went to return Walmart's brand,
' Mainstays Vacuum Sealer Rolls.' A 2 pack 8"x20" and a 2 pack 11"x16". I have used them before and buy extras. The ones my husband TRIED to return were both of these boxes. ALL FOUR rolls had CRINKLES in them across, about every 6" to where I could not vacuum seal them because the wrinkles in them would not seal right no matter how I tried. So he goes to Walmart and speaks to the manager but she says she cannot take them back because they were OPEN! and cannot be re-shelved! My husband asked her that if we could not use them, why are you going to put them back on the shelf for re sale?! She gave no answer. So, he brought them back (to take up space on our shelf) and he bought the Ziplock brands. We have a small grocery store near by and we tend to start using their services more frequently instead of Walmart and let our neighbors be informed how disappointed we are with Walmart.
FL Masters

Don Jinrighjt
from Montgomery, AL
Out of stock items,items stocked in wrong locations,out of date items on shelf, workers standing in isles complaining about work and break time.
Employees gathered in groups talking loud and laughing,very disruptive. Employees talking about Jeremy More being the worst since Dooley left.
I was here when first store was built and this is the worst I have witnessed. This is Store # 00483

Connie Harless
from Branchland, WV
Went to deli and waited while girl finished a cake ,waited while a discuss a job of being cake decor then while they waited on other people like I wasn't there and then a third girl cames back there after about twenty min. And ask if she could help me .I told her what I needed .she said I'll have to wait and let someone else.told manager they talked to them and I still had to leave without what I wanted

bought a brand new battery at Walmart in Morgan Hill calif, and battery went bad within
3 months, battery has Walmart refused and exchange because I didn't have my receipt,
even though I paid for it by credit card and they should be able to track it with the battery SKU number
total bullshit !!!

susan nugent
from Port Saint Lucie, FL
The associates at the store were great. I purchased a 65 inch LG TV on January 15,2018. While in BJs I say the exact TV for $250. less. I had already taken it out of the box and set it up and used it for 2 days. The associate too it out and never gave me the receipt. The girls at the store told us they do not match other stores and we would have to bring it back. I was very up set because of the fact we had to take it off the wall disconnect the cable package it up bring it back and of course we had no receipt. The girls looked it up and credited my Walmart card. This whole ordeal was a large inconvenience for me and my husband. We will think twice to make a large purchase again. I just needed to get this off my chest.

Rose Cronk Ashley Falls, MA 01222
from Great Barrington, MA
Friday, January 18, I was shopping at the Walmart in Torrington, CT. I purchased a toolbox that was quite large considering it was in a box. A very nice young man loaded it on a dolly, and went to the checkout with me. After paying, I followed him out to the entrance where he left me and my purchase. When my friend came with the car keys, I went to find someone to help load it. I asked three employees for help. Two couldn't find anyone to help, and one said he had no walkie-talkie to get any help. I am a 63 year old woman who obviously needed help loading this in the car. There was such a ruckus and not one employee made a move to help. Thank goodness a male customer said he would be happy to help. Which he did. I was tempted at one point to have it returned and get it elsewhere.
I would hesitate getting any large item from this Walmart again. They made a sale and that was all that was important.

Joe Michael
from Skiatook, OK
My name is Joe Michael in Joplin,Mo. I recently emailed an inquiry to doug.mcmillion@wal-mart.com but no response. My inquiry/complaint is I recently purchased a product online thru Walmart.com approximately 11/28/2018 and it has a defective part. It was delivered Dec. 18th and reported about part then, I am getting run around and stalled and without answers to when the issue of replacement part and repair is to be done. We talked to the manager at West 7th Walmart here in Joplin and she advised to notify you to see if we could receive any support on getting the issue resolve!We are needing support for a warranty issue concerning Leggett & Platte. We think almost two months should be ample time to replace and repair the part as is not usable as it now stands. We think we have been very patience in this matter and want the problem resolved asap. We have contacted Leggett & Platte number provided in owners manual several times with no success. Please advise where to report problem in more detail. thank you in advance

Judy L Moore
from Dexter, MO
I am a user of Blu E Cig and my store from Sikeston MO 63801 store number 09
has not refilled the stock with my brand for well over a month now
I have had to go Cape Girardeau and Jackson stores to even get some
I thought inventory was loaded as the product sells and especially when empty on a daily basis that has sold
I don't live in Sikeston - I live 16 miles away and when I'm in town I always check to see if the product is in

Chandra
from Millfield, OH
I went to have my hair trimmed and OMG my hair is butchered.. I will never ever again go to that hair place again in Walmart. This is horrible

Sheila Beach
from Panama City, FL
I'm with Callaway Rebels a football and cheer organization for Bay county ,Florida. We tried to schedule a fundraiser with your Panama City Beach location at 10270 Front Beach Rd and we were RUDELY told we would not be allowed to fund raise at that location we needed to stay at the Callaway and Lynn haven Walmart's we have never had this issue before in the past we were welcomed at this location. we our a county organization and feel we are being discriminated against by this Walmart. We play more than 50% of our games on Panama City Beach and we know other teams associated with this league are being able to participate at this location So if you could please check in to this issue it would be greatly appreciated. Thank You Callaway Rebels! Contact number is 850-866-9867 Jeff Beach- President OF Callaway Rebels

donald
from Nacogdoches, TX
First: your customer service is pathetic. I was put on hold for ten minutes and then disconnected.
I called back and was hung up on by your automated answering system.
I called back and got the idiots in the Phillipines; they cant do anything because they cannot understand English.
Second: trying to get status of my order which has not delivered; Delivery date has changed three times.
I cannot get a firm date from anyone.
I have been told to contact some third party agent.
I made purchase from Walmart. I paid Walmart.
I want a refund and I will go somewhere else to buy. Someone that is willing to help and give assistance.

Brenda Beaufort
from Charlotte, NC
On 1/18/2018 @ appx. 07:00 I went to walmart garden center to purchase a snow shovel the sale associate stated to me that they did not have any other than the ones with the pointed ends. so I asked him can I go out side in the garden area where tools are and he stated he could open the door to the area because he did not have a key and then he point out the only shovel he had was this # 004920613192 sitting by the inside door I told him I needed two and could he get the manger to open the door he the called the manger over who came right away and said I can't open the door to let you go out their due to safety issues now it was some snow out their that looked frozen over but I could also see plenty of concrete ground so I ask him maybe he could grab me a shovel "the manger said again I can't open the so I ask him his name and he stated Gary, I said you don't have a last name and he said he don't' give out his last name. I thank him and went directly to customer service. where I found another Manger Gogar v. walmart csm and I ask to speak with the manger of the store. She ask me what I needed so I said to myself I'll give her a try and I told her my problem. She then radio back to the garden center and ask for ( I don't remember the ladies name but she pretty much stated what the associate and Gary had told me,so Manger Gohar and I went to the Garden center where she talk with the unknown lady who went on to tell me the type of shovel I needed a round or square one not the pointed one that she only had left in the garden center. So Gohar said well can't we go out and look and Gohar unlock the door and the two ladies went out where the tools are kept. now i;m looking out watching them the other lady pick up a larger pointed shovel and started to come back in when Gohar picked up the same shovel 004920613192 that the associate and manger gary tried to sale me one of when I needed two all because this customer wasn't going to make them unlock the door and go into the cold. I want to thank Manger Gohar for going above and beyond her duties to do some one else job. My husband will be able to get in the house safely with the drive and walk way shoveled, from his dialysis treatment five stars to Manger Gohar.

Theron jenner
from Marion, IL
Your prices are not the same at the check out as priced on the shelf . for example 2 liter bottles of diet cola priced at $1 dollar - checked ticket when I got home was charged $1.60 at Princeton Indiana store.

Donnie Bailey
from Malden, MO
Every time I go in for my 90 day refill request one or more of my refills is out of stock. I am told I have to go to this pharmacy. WHY CAN THEY NOT KEEP MEDICINE IN STOCK. THEY SHOULD BE ABLE TO SEE THAT THEY ARE GETING LOW AND KEEP THESE STOCKED

Jennifer Flood
from Jenks, OK
I took my 2002 Kia Sedona van into the Bristow Okla. Walmart on the first part of December 2017, well on December 23rd I had just left my home and my van started to make a knocking noise, after the holidays I had a mechanic look at it and it has a rod knocking, the mechanic said that they put in the wrong type of oil and that is what cause the rod to blow, so now I am without a vehicle. I am a woman that has several doctors that I have to see like my cardiologist doctor, a orthopedic and a neurologist doctor, I have a daughter that has needs as well and I husband that has to see special doctors as well, so all this puts me in a bind. I am now going to have to scrap my van or find me a motor to put in it.. all this cost money that I do not have and all this could've been solved if the Walmart tech would have just did his job the correct way.

Went shopping on 1/6/18. Spent about an hour in toy section looking at radio control drones. I'm 61 and my granddaughter and I love these. Nothing had a price on it and no one to ask. Had to go and find scanner to see price. Left my buggy and walked to scanned at least a dozen times. 3 times I returned to find an employee walking away with my buggy. I had 6 items and my winter gloves and hat in there. When I left store noticed my gloves were gone. Can't get anyone to answer customer service phone.

Frank Emrath
from Hartland, WI
i bought a lifetime tire rotation from you when I bought my tires an had them installed ,I tried to stop in an make an appointment in sept but was told they were busy an booked, so I put it off until about a week before thanksgiving an was denied again then last week, now today I was advised only booking for today an tomarrow an there are no apointments avaible in fact the person answering the phone said she was told, not to encourage people to make apointments .well you got my money I would like to have my tires rotated now or a refund for services not provided ! I also was encouraged to complain because this issue is not getting addressed at the store management level................Frank Emrath

Angie Partin
from Miami, FL
I had placed something on layaway and was unable to go pick up Dec 11th and went to Dec 15 but the $10 I paid on it they took. NON REFUNDABLE ! And then the CSM called to the counter seems not to be concerned or anything and says no cant be refunded. To me that's not right and then the Hazlehurst Walmart wonders why many don't shop local .They all seem to be unfriendly and no concern. People is having a hard time trying to buy a child's Christmas and then they don't want to refund what you applied, I could understand if it was over a week or you didn't purpose the items. But this was 3 days and I did buy the items. They actually were still in layaway the CS went and brought to counter but it had took the $10 applied to hold.

Joannie P. Elerick
from Anaheim, CA
On November 26, 2017 at approx. 4:15 hrs. My daughter (Ashley} asked Door Monitor (Isaiah) to assist her with a bike I wanted to purchase for my grandsons Christmas present. Isaiah refused to help Ashley, telling her with sarcasm to ask the Self Check Employee. When Ashley asked Isaiah to please utilize his radio to eliminate me from further inconvenience (I underwent surgery to have my neck replaced) he still refused displaying an unprofessional demeanor.
At this time, Ashley asked another Employee to please call for the Store Manager. As we waited Isaiah approached Ashley yelling at her as he raised his arm holding his work radio near her head in a threatening manner. This is when I stepped up towards Ashley and Isaiah, telling him to put his hand down and stop raising his radio at and near her head. Ashley moved away from Isaiah to ask for additional help. I informed Isaiah his actions are threatening and he needed to stop. Isaiah immediately approached and leaned into my shopping cart continuing to make sarcastic remarks. I asked Isaiah 3 times to move away from me. He refused to do so, also raising his handheld radio in very close proximity to me. I told him the radio is used to communicate, not use it as a potential weapon in a threatening manner.
Isaiah refused to step away from me putting his hands in the air making a verbal gesture to me (Attempting to provoke me) as he remained leaning into my shopping cart. There's no doubt I felt I was in danger as I tried to remain calm. I am physically unable to defend myself and extremely vulnerable. Not a moment sooner Assistant Store Manager Ymauda came to my rescue and intervened. She immediately ordered Isaiah to step away and return to his work assignment. Ymauda was very friendly and concerned with the above mentioned when I informed her. I observed Isaiah moving closer to us as I told Ymauda of his actions. Ymauda told Isaiah to have a seat in the office. To my dismay, Isaiah made yet another inappropriate comment to Ymauda refusing to obey her direct order. It was evident this embarrassed and surprised Ymauda. She gave another order to Isaiah to go to the office as I heard him tell her, "No". Ymauda immediately approached Isaiah and had a short conversation with him. He finally left and entered her office. Ymauda was so apologetic and professional in handling this situation that I don't want her actions to go unnoticed. I was pleased with the control and demeanor Ymauda possessed in dealing with the above and the respect and courtesy she delivered.
I can only hope this Employee Isaiah is no longer employed with Walmart. I have never had a bad experience shopping at Walmart, until November 26, 2017. No one has communicated with me as to this traumatic event I endured. I was victimized by Isaiah (Assaulted) to say the least. I only wish someone from Corporate reached out to me to check on my mental frame of mind. I have not returned to this Walmart since the above mentioned. I do not feel safe shopping here and will miss everything Walmart has to offer.
In closing I would like to recognize Ymauda. She was superb in her Leadership, Professionalism, Sympathy, and taking control of a potentially volatile incident that if not for her quick assessment could have had a much worse ending. For that I thank her and wish her SUCCESS with her Employment at Walmart.
Sincerely,
Joannie P. Elerick
760-992-1581

Ray Workman
from Forest City, NC
This complaint is on the forest city nc store i get all my meds from there but every time and i mean every time i go to pick it up it is not ready or they say it was not called in from the doctor. the last time my wife called it in they said it had not been called in she called it in 5 days before it is time you do somthing about this. please let me here back about this i am 71 years old live 5 miles from the store can not keep makeing trips back to get my meds.
thanks Ray Workman

Kelly
from Louisville, KY
4 lanes open on Saturday night n December. Just plain ridiculous

Jake carrera
from Avon, CO
The manager in walmart are very rude especally clarissa and sam. Disgusting!!!

Andrea Kollars
from South Bend, IN
I was to receive a pkg through Fedex today ordered from Walmart! I left specific instructions for Fedex to knock & then slide it inside for me since I am elderly & it weighed 63#...no one here to help me. I got an email this morning saying it would be delivered Tues., 12/5 instead. I was in my living-room ALL day & no one knocked, but I wasn't expecting the pkg 'til Tues. Tonight, something told me to look outside. THERE IT WAS! It was delivered around 2:30pm according to an email I got....no one knocked! It is, now, 8:38 pm. It could have been stolen left out for all to see for hours! In the future, I will NOT order from Walmart if Fedex will be the method of delivery! There's no excuse for this. I sent instructions to Fedex plus I called them & gave them instructions telling them I am elderly & probably couldn't get the pkg inside! It had straps on it & after much effort, I was able to pull it inside! The tracking # is: 788652578220! Please....no more Fedex deliveries. There are many, many complaints on their service online. Add mine! I have NEVER had a problem with UPS! Thank you, Andrea Kollars

david ferron
from Arlington, MA
To whom it may concern
Once again your store merchandise buyers have deemed it ok to sell extremely questionable merchandise; in this case the tee shirt reading "rope, tree, journalist". And once again, Walmart is passing the buck because it has blamed an outside vendor. Imagine how the corporate office would reacte to a tee shirt that said something that directly targeted and denigrated its stores and brand? Freedom of speech? Sure. Why not. Walmart would have its laywers going crazy. No one with a mind and a heart can stomach this uncaring attitude. No more shopping at a store that can't get its act together.

Walmart sells Antifa shirts!!! There are already You Tube Videos and upon searching your site myself I cant believe you support this trash, this group is known for violence against women, children and the elderly or anyone else who exercize their 1st amendment rights. This group are undercover communists and wish to cause the collapse of our country. SHAME ON WALMART!!!! I wont be back till this garbage is gone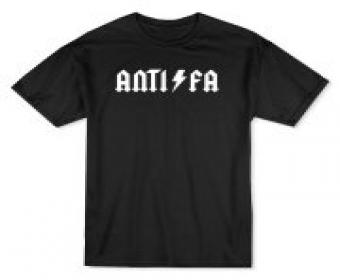 I have any ongoing issue with Walmart in general. Years have passed, and the same issue continues. That issue being the long lines at check out. This past year has been the worst. This particular Walmart Supercenter I thought would have cured the issue when they moved a few years ago, but it has only gotten worse. Even before this years busy holiday season, this problem occurs, Recently I purchased a few small items. The total time shopping was about 10 minutes. When I reached the (4) checkout garden department, there was only (1) cashier, and I counted (27) customers waiting to get checked out. I waited 40 minutes to get my items payed for, and left the store fuming. Needless to say, the talk among these waiting customers was unfriendly. This issue has gone on for years at this location. Obviously this is a management issue. Untill this problem is solved I will do my business elsewere.

Anonymous
from Pawtucket, RI
I worked at the North Smithfield,RI STORE and was worked and treated like a dog. I was injured and still 6 months later still have problems but was bullied into not seeing a doctor and along w another coworker who was hurt the sa e way and treated horribly. The CSM ARE ignorant, bullies, and they yell and humiliate employees I front of customers, they make you work days you can't or lose yourjob even though it was days you told you couldn't work when applied. They have you close the store then go back in 5 hours later.The Supervisors and Dept Heads are the guilty ones. If you happen to work a shift w all Spanish workers you get talked about, get denied your breaks, which happened to me numerous times, and make you do all the crap jobs while they just stand around.

Denise Howard
from Princeton, WV
This is the 3rd time this has happened to me and I am livid. Never in my entire life of being in extensive training on the proper procedures of responsible alcohol sales and the state laws have I ever been treated so bad. I am in my local Walmart (Lewisburg, WV) with my 15 and 14 teenage daughters finishing my Thanksgiving shopping for our annual family feast and I pick up a 750ml bottle of Chardonnay to go with our meal. As I get to the to self check out, I scan the bottle of wine and bag it, knowing that under law the underage girls can not touch the bottle. The cashier rudely approached me and asked my daughters for their id's. I politely tell her they are my daughters and they are underage and do not posses an id. She takes the bottle from me and tells me that she can not sell the bottle of wine to me. Ok, am I buying multiple 30 packs of Bud Light???? This to me would be a red flag not a mother food shopping with her underage children. Then the cashier goes to management and comes back to ring the bottle up for me. I feel like I was targeted for no reason. As I stood and looked around me, there were other families there with their minor children that were purchasing alcohol. I had just spoke to my friend whom I bumped into while shopping that had her children with her and purchased a 12 pack of Miller Lite along with other items. I later called her to tell her about my experience and she stated she had no problem at all purchasing alcohol in self check out with her minor children only moments before I came thru the check out. I am a very good person and I would like to think most others are too. But, I have to say that this question popped into my thoughts, Is it because my children are a different race? I hate that my mind in this day in time would even go there. At this point and time it isn't sounding to far fetched. I will be waiting to hear from you. I will make sure that I tell everyone who poorly me and my family were treated during the holidays.

Betty Saizan
from Opelousas, LA
Went to the 20 items or less isle with no one behind me, and this so called cashier named KEENAN proceeds to throw my items as he was ringing up. And also said this looks like more than 20 damn items to me. I told him a few choice words and left my basket behind. Told manager and a few more cashiers then left. You don't treat customers this way especially around the holidays. By the way I am from New Roads, Louisiana if that helps

Terrence KS Hee
from Honolulu, HI
I have put in an order in early Oct. 2017 for two photo tote bags, I was called in by wal-mart for pick-up the week of 10-25-17 and only have received just one 18X18 tote bag, the 16X16 tote bag the staff could not find and informed me that they will call when ready, just FYI, I have not receive any phone calls and it has been over a month, I have been comming in to this wal-mart store every week for house hold items & holiday shopping and checking in to the photo dept. and the sale staff keeps telling me that it is not in yet, and they will call when ready, I would like to know how long would I have to wait for this item to come in, this 16X16 photo tote bag was for a Birthday gift for a special person in Nov. which I was told by your staff I would have it by then, but they were wrong.
Wal-mart #3478 700 Keeaumoko St. Honolulu, Hawaii 96814
Please see attachment : Order # 2678095506439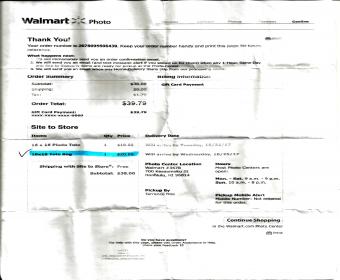 Carolyn B. Telfare
from Jacksonville, FL
My complaint is regarding the survey site. I would never have gone on the site except that I received extraordinary service from a cashier. Instead of having a forum to say nice things about her, I was led through a maze of questions not related. I will never take that survey again.

Cheryl and Benny Janek
from Weatherford, TX
Bought a Honeysuckle whole turkey for $.99 a llb on Friday, November 17...On Saturday the 18th, I found out they had been reduced to $.68 a lb.
I called the store about the policy regarding price changes and was told if it changed within 7 days I could get a reimbursement on the price. I asked if I needed to bring the turkey back and was told to just bring the receipt...after at least 15 minutes of frustration of the customer service clerk and myself, I got my $4.70 refunded and was told I should have brought the tag off the turkey ?!/..I then thawed the turkey out and noticed an old grease type smell from the turkey, but I tried to scrub it with salt and clean it well- I preceded to cut it up as I do not bake turkeys whole- I noticed a brown glob on the inside of the breast cavity and when I cleaned it out good there was a small hole all the way trough the bone...I just did not feel comfortable with all this to serve my guests...I took back the breast to show them the issue and was told I needed to return the entire turkey for an exchange or reimbursement...here I am a day from Thanksgiving without a decent turkey....we live out of town 30 miles but my husband insisted on taking it back - I just went and purchased another fresh turkey from another store- When my husband took the entire cut up turkey back later that day, the clerk said we told yall to bring back the entire turkey... he preceded to tell her that it was the entire turkey- just cut up...had I not cut it up, I would not have found the deformation in the breast...another clerk came along and refunded the amount of $10.57 after just asking a few simple questions....
I am a 68 year old that has cooked many a turkey and this turkey was not right....I should not have to go thru all this...I was not trying to get away with something, just wanted to get a decent turkey to serve my family- if they were frustrated with me, I definitely was frustrated with them...I should have been told to bring the tag when I called about the price thing and didn't call the second time because its hard to get an answer during peak time...I hated to walk in with a cut up turkey in a cooler ....

Bobbie
from Daytona Beach, FL
Bought cream cheese at the large Walmart and it was bad. Tried to return it at the neighborhood store where I shop several times a week and was told I would have to take it back where I got it. My time is more valued than the three dollars they could have refunded me. I had to rebuy it and throw the other one away. Great customer service guys. They were also very rude. Port orange neighborhood market. Thanks for letting me vent.

Rheta Gardner
from Colquitt, GA
I ordered an item on line and it stated it would be available for pickup on Tuesday, Nov. 21 which was great because that is why I ordered because I needed it for Thursday. Later I received an email stating it would available for pickup on Wednesday, Nov. 22, so I made a phone call to verify I that date of arrival. Today I received an email stating the arrival date would not be until November 29. I called to cancel my order and even though it states on my account the order is being prepared and may not be able to cancel but they have my money on hold at my bank. This is ridiculous. I will never order anything else from Walmart.com. and I am going to tell about my experience on Facebook so other people will not get taken advantage of like I have been. Holding my money for 8 days is ridiculous. Got me one time, will not get me again. This is a selfish world we live in!!!!!! I would not even give Walmart 1 Star but I do not have that option!!!!!!!!! Order # 5951753-875935

Loretha Young
from Peoria, AZ
I ordered a Fisher-Price Lakeland 5-Drawer Chest order #5611770-542016 on 10/16/2017 for my daughter-in-law and after assembling it she discovered that none of the drawers had bottoms so she could not complete it. I checked with Bivona & Company the distributer and they stated that this product had been discontinued over two years ago and that no replacement parts are available. I have been trying to get this product picked up for over a month to no avail. I asked on 11/16/2017 to have my situation escalated but I couldn't get any CSR to do that. I do not know what to do to resolve this and have consulted with an outside agency for legal assistance as I am being threatened by Walmart that if I do not return this item by November 29, 2017 that Walmart is going to charge me for it -- and at this point I feel that this is exactly what Walmart is trying to do. Any assistance regarding this matter would be greatly appreciated as I cannot get the help I need via CSR's. I am scheduled to fly to Ohio on November 18, 2017 from Arizona. Email will be the best method to reach me.

Ashley Bennett
from Jacksonville, FL
Bought babys 1st bithday cake. Besides being decorated sloppy they left parchment paper on cake under icing. Took back to store, refunded money and offered $20 gift card. Asst. Mtg Phil was rude when I said that was nothing for what disappointed children with no cake. Also when I said thank God no child ate it and choked he said that would then be law suit against Wal-Mart like it was nothing. I stated now I have to figure out way to get parents to drive back to have a little party over for the children to have cake. Phil said what do you expect me to do pay for a party. He acted like oh well they didnt get cake.....These were friends n relatives from different locations in Florida. I shop at walmart, as well as my relatives and have never been so disappointed. How would you like to give your child their 1st birthday and this happen. So so sad.....Ashley Bennett 3525536468....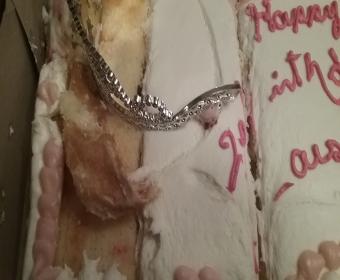 Alex Earls
from Toney, AL
I ordered # 5871793865201 online. I requested a return label and was emailed that I should keep it and they would discount me on something else are I should sell it. Very upset with this email. misinformed information put on walmart website. walmart should tell you this is 3rd party. I bought it on walmart online, I charged with walmart credit card, and the run around begins, very ashamed of walmart putting a customer through this. thank you

Called these fucks twice both times was transferred to the department I wanted. Phone rang and rang until someone picked up hit some buttons and hung up on me. Guess I won't be buying shit there no more

Annice Gomez
from Lucedale, MS
Reference #171106-009109 on 10/28/2017 I went to purchase my Bi-weekly order of groceries, supplies etc. There was an issue with the Coupons # 1The response from John Turner was that the coupons was copies and would not work(He taked to me with rudeness instead of a smile in his voice and the sound of I can help)# 2 He stated his cash registers does not make mistakes(There is no person, Machinery etc that is infallible). This was referencing a price after the coupon was presented) when your registers and or computors go down how are the rebooted? Rudness is not accetpable. This was an excuse I went to another Wal-Mart and other stores and use some coupons from this same sheet. H was rude, short and abruptness from start to end no professionalism shown. No Management skills shown. More training is needed. MY phone number is 251-581-1314 What is your turn around time for a customer complaint?

Pat
from Bowling Green, KY
Employees are stocking constantly and often hard to get to items we need. Also very hard to find the Great Value and Star Kist
water packed tuna. Lots of oil packed out there but I feel most use water packed any more , so need to keep it stocked. The cat
foods too are constantly mixed up. Flaked with pate etc...Also the cashiers need to be clued in on when a person has canvas
bags available by the customer...yes put my groceries back in the canvas bags. The purpose of them is so we don't have so
many plastic bags. Have complained about the plastic bags many times and no response. It's also the Holiday season and
yet out of a large store there will only be 3 (possibly 4) lanes open to check out in. Am sure I am not the only one that has
complained about that issue. I think Wal Marts prices are fair but could stand improvements in many areas.

marvin corbin
from Olympia, WA
I was visiting Walmart at 03705 in Yelm, WA. on November 7, 2017 to return a product and they gave me store credit gift card. I purchased other items and when it was time to check out the gift card wouldn't work. So the employee work said she didn't know what to tell me. So just take the items and leave I can't believe she told me that . So I told a manager what she said she wanted me to commit stilling that's a crime and he said nothing to the employee. I wish had got her name but I was frustrated so they got the gift card to work and I paid for the items and left. I was just wondering why an employee would tell a costumer that I'm very upset that this situation goes on this is a serious problem and need to be addressed. I never stole anything in my life that was insulting to me I had my kids with me at the time and I explained to them no matter what an employee tell you to just take something out the store and leave don't do it that's considered stilling pay for it. I'm a veteran and I can't believe I was treated like that. Thank you, Marvin Corbin

Akash Deo
from Milford, OH
I ordered a spring matress, instead of that, I got a hammock, which I returned, walmart reordered the matress, then after 5 days they say that there is some problem with the system and they will need to cancel the order and will give back the refund, it has been 2 weeks
No refund yet, and the customer representative say now that there is some problem with the refund system as well, well I want to ask, does anything work correctly in your system!!! Ridiculous to be honest, what level of stupidity these guys can go upto.

Ralph Anderson
from Leesville, SC
Asked Donavan for assistance with fire ant killer which seems to have disappeared - very rudely said, it's on the garden shop. I told him I had searched inside/outside of patio, he said, then we don't have it and turned to his cart in hardware and said "what the fuck" , someone evidently set an item on his cart so he proceeded toward the service desk with the item but didn't have time to assist the customer (I went down the street to Lowe's) - on a good note, store was clean and stocked and the self checkout was staffed with a friendly lady. We spent $37 there today. Guess it's hard to teach good manners.

Ron Gillespie
from Mount Airy, NC
I've been shopping at the Mount Airy, NC Wal-Mart since it's inception and have been a regular customer. Over the last year or so, the store grocery section is consistently out of products (empty selves). Products such as crackers and chips are often badly crushed on the bottom and boxes that contain product are damaged. Areas such as clothing is always out of popular sizes. Your prices are the best but it comes a time when the aggravation isn't worth the hassle. Many of my friends have the same complaint and are no longer shopping at Wal-Mart.
I hope these problems will be addressed so I can enjoy your low prices and selection.

Michael Cox
from Fort Worth, TX
Yesterday was my 3rd trip to this Walmart in 7 days looking for 24pk Mountain Dew sodas. And this was the 3rd time they were out of this product. They had 12pks but no 24pks.. The first time I just skipped it and left the store. the second time I asked an employee to look in the stock room, there were none in the back store room. I asked a cashier to call a manager to find out if I could get 2- 12pks for the 24pk price. A manager came to the front and when asked he said no the company did not allow that to be done. So again I left after spending $60. Then this past Sunday 10/21/2018 , we needed a few more Items from the store so I went to Walmart so I could get my 24pk of Mtn Dew.and…….. you guessed it they were still out and I asked for a manager again and the same guy (sorry I did not get his name and I asked if he could do this once due to the fact that this was my third trip there and still no 24's.... he said no and I told him that I wanted My MTN. DEW , he was polite but firmly refused to help me out. I told him that I was sorry but if he could not do this for me then he and Walmart did NOT Care about my business and I would discontinue using Walmart as my primary grocery store.. There is an HEB store less than 1 mile from there and they would be happy to have my grocery monies from a family of Five..He said Im sorry you feel that way but I cant substitute the item.. So I am just looking to find out how the "Management" really feels about a situation like this . Oh and the mgr.started to explain to me that the Pepsi Vendor was at fault and I stopped him and enlightened him to the fact that Management of Walmart Stores are ultimately responsible for the inventory and condition of the store, not a third party vendor.. Vendors will do as much or as little as you let them do and if its allowed, it is the customer who suffers.. Thank You for your time,
Michael Cox
229 NE Amy Street
Burleson, Texas 76028
817-343-1115

marlene crites
from Cape Girardeau, MO
I been going to walmart for a while now.ever since i went to a local grocery store and a snake was in my face at meat department.but every time i go into jackson mo walmart a employee with long reddish hair always gives me dirty looks and watches everything i do.i feel like im being harrassed.ive always use self checkout and she looks over at me and makes me very uncomfortable.well this time she came over and said my chicken didnt ring up.i had several items.she didnt even look at screen.it embarressed me so i scanned it again.2 bags.by then everyone was looking at me.i felt red in the face..well i went on and got home to find out i paid for 4 bags because i did have it scanned .she was very rude and i spend alot of money in there.but i think id rather go back to the other grocery store and take my chances with a snake then go and feel embarressed and she made me feel like everyone thought i was trying not to pay for my purchases.] got alot of christmas shopping to do.cause i have 4 children and 5 grandbabies.i might just have to go to kols.i cant stand being treated this way.when i walked out she headed back to service desk where she was when i came in and was talking to 4 or 5 people.im tired of feeling harrassed by this girl every time i go in there.i work hard for my money and i dont need to pay for things twice. I am a very well known .person around town and noone has ever treated me this way. Thanks..Marlene Crites. Jackson mo.

chelsea riggins
from Oklahoma City, OK
I visit Walmart at 1801 belle isle in Oklahoma city every single day first of all, but on this particular day (10/20/2018 around 330 pm) I visited here and purchased a pack of cigarettes, I waited on the inside bench for my uber but realized I didnt have them so I went back to the cashier to make sure she gave them to me, she said she did so I asked her to get a manager to look at the camera because I did not have them, one particular black manager told me that the camera showed me getting my cigarettes but I don't even believe they looked at no video first of all he said something about me leaving the store when I never left the store. But that's not the part that angered me it is when the assistant manager shood me off and told me that I could now leave the store, that is what sent me over the edge, first of all I spent my money and did not receive my product so now I feel as if Walmart has robbed me and did not care by his attitude, I was never to walk out of that store as angry as I was and I am still angry because I should not have been treated that way. Poor customer service from management!

James Reinsbach
from Fond du Lac, WI
Store 01727 in Berlin Wisconsin. I attempted to return three battery in which the store wouldn't return my core fee of 10.00 because they said I didn't return them in a certain time and they have no way of knowing if they paid the fee back. I know the receipts were from 2017 but there is nothing stating how long I have to return a battery to get my core fee back I looked on my receipt and in the store and seen nothing. A simple hole punch on the receipt like they used to do would know if it was paid it back or not. I know $30.00 doesn't seem like a lot but somewhere it should say or be told to the customer that they need to return it in a certain amount of time. The store took my money for the core fee they should honor it.

Edward Catanzaro
from Tampa, FL
The Walmart on Hallandale Beach Boulevard in Hallandale Florida never has paper towels or soap to wash hands. Never !

Blair Bradley
from Boise, ID
Poor customer service, property damage to my custom rims, loss of income from Idaho Falls Auto Center negligence, managers are not being truthful, claims adjuster Luther Williams isn't investigating the matter timely, corporate and everyone associated is putting responsibility on others when this could have been resolved immediately. I am going to complain everyday until this matter is resolved correctly. They damaged my vehicle and the store has video. I don't understand why it is that hard to replace the rim that negligence caused by auto center isn't immediately replaced. Every effort attempted has been met with resistance and conflict. I was demeaned by the manager and believe it was because of making and incident report and being African-American. The male manager was rude and I have several witnesses to attest to that. My old tire is still missing and I wanted them. It is on the receipt and order.

P Houser
from Bakersfield, CA
I purchased a bath and shower seat with back and lost my receipt. It is a Carex brand, and paid $46.50 for it. In the meantime your stores relayed that department and only carry equate products. I was told that no Walmart would accept it back due to that fact that you no longer carried Carex brand. I told the girl at the counter that I charged it on one of my debit cards and she first told me that the card reader was down, then she scanned my cards and told me that I had not used my cards in 90 days. I then showed her a Walmart receipt that was dated 10/16/18 to show that I had used it within the 90 days. She then told me that the card reader did not keep all transactions. I have shopped your stores for several years and am very disappointed in your customer service. I would like my money back.

David yang
from New York, NY
I don't like being followed by one of you associates Anastasia around the store like I'm stealing some. I've never been treated like this in my life. If this doesn't get fixed I will not shop here again.

Bob k
from Shippenville, PA
Often not stocked of many items. Carts allover lot floors still blocked off for cleaning at 6 am many walkways piled with stock all hours I have been to a lot of Wal-Mart's this one at my home town is the worst in clarion pa

Russ Latimer
from Tampa, FL
Customer Service. In general, my several experiences with On-Line Customer Service have all been poor and resulted in either NO RESPONSES or NO RESOLUTIONS of my issues. The most recent involved three separate inquiries to Customer Service on why a produce (Gatorade G Series "RAIN BERRY" in 32 Oz (UPC 052000324310) in ALL SIZES from has been eliminated from all local stores and customer are unable to order the 32 oz size From Walmart on-line (although other 32 Oz flavors ARE available through on-line ordering), I then posed complaints about NOT receiving any responses - although for each and every query I posted, I received from Walmart an automated response acknowledging their receipt. WHAT DOES IT TAKE TO GET SOME RESPONSE FROM A WALMART REPRESENTATIVE WHOM IS NOT SEVERAL EGGS SHORT OF A DOZEN?

GLENN FINCH
from Birmingham, AL
EVERY TIME I GO IN WALL MART IN ALABAMA THEY USALLY IS NOT BUT TWO REGISTERS OPEN AND BOTH WITH A LOMG LINE I REFUSE TO USE SELF CHECK OUT BECAUSE THAT IS TAKING SOMEONES JOB IF SOMETHING DONT CHANGE THEY ARE GONNA START LOSEING A LOT OF BUISNESS SAM WALTON WOULD ROLL OVER IN HIS GRAVE IF HE KNEW HOW THINGS WERE BEING RUN I HOPE YOU WILL TAKE THIS MATTER INTO CONSIDERATION FOR I PROMICE YOU I AM NOT THE ONLY ONE COMPLAINING LAST WEEKEND PEOPLE STARTED HOLLERING AND SCREAMING FOR A MANAGER IT WAS SO BACKED UP BECAUSE THERE WAS ONLY A COUPLE OF LINES OPEN THANK YOU IN ADVANCE GLENN W FINCH

Beverly Mizell
from La Marque, TX
Why has Walmart cut hours for their employees?? It is ridiculous that this is happening to their employees. Walmart cooperation and stock holders are worth millions. Sam Walden was a good Christian and would have not wanted his family to be so greedy.
Many of Walmart employees are having difficulty paying daily expenses.
I do shop at Walmart regularly but have decided to shop at Kroger or HEB. I also have discussed this with family and friends.
Hopefully, Walmart Cooperation will rethink this bad decision and restore the lost hours to there faithful employees,
Beverly Mizell, RN
bevmizell@msn.com
409-739-4904

Bob DeHamer
from DeKalb, IL
I ordered 66 pieces of chicken on Monday at the Silvis Il. Walmart for Sunday pick up at 12.00. The Silvis Walmart call me on Saturday the 13th and said there fryer was down for me to call the Moline Il. Walmart witch I did. The moline store was very rude and wouldn't help me. They said I needed 48 hours notice ordering I told them I gave Silvis Walmart a weeks notice but there fryer is down they said get ahold of you at Moline Walmart. The Moline representative on the phone said I cant help you we need 48hours notice. I hung up the phone and drove to the Silvis Walmart and talked with 2 assistant managers excuse my language but neither new what time of day it was at least they could have done is call the Moline store and try to help me out but offered me a 25 dollar gift card you no where I told them to put there card. I have 30 people coming for dinner at my house I said the Hell with Walmart went across the street and ordered chicken from jewel with a 12 hour notice. As you can see I will no longer go into Walmart for anything. This is where the Wife and I always shop but no more. Thanks for listing to my complaint but If Managed the Moline store someone would be looking for another job.
Thanks Bob Dehamer

Joseph Shidiskis SWr.
from Alexandria, LA
Four months ago I brought 2 8super MM reels to the photo dept. at store #4295, they said it would take about a month too convert them to DVD's. I have been checking up for three months, they said it has not been returned yet. I went back again and got the same story, an dept. clerk Mrs. Sandra Williams helped me out and found out they were sent to the wrong processing center and sent back to the store. She along with dept. manager Robert Courvelle found them in a cabinet, how long they were there I don't know. Mrs Williams called and was to get the correct shipping label and get back with me. As of yet , still no word!!!!! PLEASE get with them and find out what the HELL is going on. I guess this is what you call customer service and satisfaction!!!!
THANKS'
Mr Joseph Shidiskis
Store is located at colusium blvd Alexandria la.

Ty Baker
from Chapel Hill, NC

Cornelia Warren
from Conway, SC
This store looks like a tornado went through it. Many shelves have not been stocked much less having the merchandise fronted since Hurricane Florence hit SC devastating the town of Conway SC almost a month ago. I will focus on the pet section where I spend a good amount of money taking care of my cats buying large bags of cat food as well as canned, litter, and grooming products. Since the store has reopened the pet section remains in a state of disarray. I had to straightened out the section with flea collars, worm medicines, etc in order to find the product I was looking for which after all the work I did Walmart was out of stock and has remained out of stock since that time three weeks ago. By the way, the was an employee, white male, about 5 feet with glasses that watched me straighten out the section while he shoved merchandise on the shelf near me.
I also purchase the Special Kitty Variety 12 oz case of 12 which has been out of stock for three weeks. I asked the same employee today 10/11/2018, if he knew when they would be receiving flea collars in as I've been checking for three weeks to buy them. He just stated the product is ordered and put out when received and had no idea when they would receive any. I thanked him and walked to the other side of the gondola where I was looking for the canned food and I could hear he and another male employee discussing the inquiry I had just made so maybe they need retraining on customer service. This store overall is out of stock on a lot of items and I do not for one minute believe that Walmart cannot receive an orders of flea collars in three weeks and I'm referring to any kind of flea collar as they have none of the brands on the shelf. The employees are not friendly, lack customer service skills in assisting customers with shopping needs and check out. I try to shop out the other Walmart in the Conway area when I am in that part of town as that store is clean, well stocked, with associates that smile and don't mind helping someone. I am not looking for anything from Walmart but being a previous manager for the Circle K convenience stores for 15 years, the art of customer service and having product in stock is the back bone for operating a successful business and increasing the sale and profit margins. And empty shelves are not a good thing to have. I did not take pictures as I didn't realize they were to be submitted. I hope someone can help this store manager get a handle of the stocking and filling the shelves with merchandise.

leslie gates
from Medina, NY
I went to Walmart and used my own bags (Walmart in Brockport, NY).
When I got home, I was missing 5 items. The cashier must have placed the items in a plastic bag and did not place them in my cart.
I called the store 3 times today. Each time someone answered the phone and I asked for the Customer Service Department. All three times, the phone kept ringing. No one from the service department picked up.
I would go back to the store, but I live 15 miles away.
The total amount of the items I am missing is $8.85.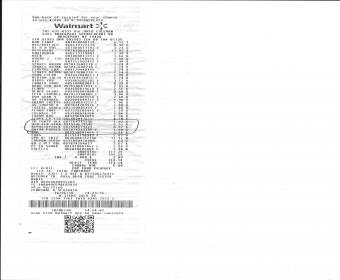 Russell Tillery
from Kilgore, TX
Never even made it inside the store, the "GREETER" told me I had to move to the "outer" parking lot to park my motorcycle or was going to have me TICKETED & TOWED. In the same breath he said that I wasn't allowed to park in the striped areas as well or he would have me towed. When I asked when these parking rules changed, (I always park out of harms way in these areas) he asked me how long I planned to be in the store,....Oh no, too late for that, doesn't matter, I'm NOT risking getting a tow fee OR a ticket for something like this. So I suited back up, left the area & did my shopping @ Brookshires & the Dollar General Store. My plan is to NEVER darken the doors of Gilmer, Tx. Walmart again on account of an ignorant greeter that wants to "BE someone". Even the Longview, Tx. Walmarts (all of them) encourage motorcycle parking in the "out of harms way" spots. The whole situation was ridiculous & uncalled for.

Lila M. Newman
from Ingram, TX
I had a serious experience with your Pharmacy here in Kerrville, TX. It is a long story and I need to discuss it with someone that is head of the Pharmacy Division. I am going to report the incident to the State Licensing Board here in Texas. I feel you need to know of this incident so others can be protected from this type of serious mistake by one of your pharmacist.
You can reach me by phone:
830-367-2025

Lila M. Newman
from Ingram, TX
I had a serious experience with your Pharmacy here in Kerrville, TX. It is a long story and I need to discuss it with someone that is head of the Pharmacy Division. I am going to report the incident to the State Licensing Board here in Texas. I feel you need to know of this incident so others can be protected from this type of serious mistake by one of your pharmacist.
You can reach me by phone:
830-367-2025

John Flud
from Buffalo, NY
I went to get gas in Darlington sc Walmart. The employee had a friend talking in the store she was not buying. O gave her 40 dollars for gas and went out no other customers were at pumps but me. She was talking and never cut pump on . I finally went back in and asked for my cash back. As I was leaving she called me stupid both of them said it . She should be fired immediately.

Pamela Baker
from Boise, ID
I shopped at store #01088 at 2681 CT Switzer SR Dr. in Gulfport, MS. at 22:30:58 this evening and I have to tell you I am so damn tired of giving you my money and the cashier (Kira) could not even speak a word to me. I AM THE REASON SHE HAS A DAMN JOB! I said thank you to her when she gave me my receipt and she still didn't say a freakin thing to me. She just looked past me like I wasn't even there. What the hell people???!!!! Do you not train these people to appreciate the customers? I know, you are a big company and one person not shopping there isn't going to hurt your business. Well, I may not be able to get everything I need a Froogle's but by God I will shop there because at least they ask how you are and they thank you for shopping with them. And besides, most of the time I go into the neighborhood walmart on Anniston, they are out of half of the items I normally buy. I just stopped going there because they no longer sell my coffee, my vitamins, ect. Just tired of wasting my time with bad service and constant inventory changes.

Ralph Anderson
from Charlotte, NC
I'm back in Batesburg-Leesville Walmart. Self check unattended and off line. No upfront supervision. Amazing

allen struck
from Saint Anthony, ID
on sept. 21 I went to purchase gas at the Rexburg Idaho Walmart. was not finished filling up and the pump shut off.
price $75.00 gals. 23.518. went to talk attendant. what happened she said was that my bank card would allow me to
purchase only that amount. I called my bank they told me that Walmart was wrong. I feel that Walmart has no right to
tell me how much I can or can not spend if I have the funds. If they don't want my business I can go to places that do
Rexburg, Idaho Walmart for a new store is the worst one I ever been in.

Rita Adams
from Pasadena, MD
Received Walmart Visa Gift Card (thru Green Dot Bank). Did not register it right away. Now cannot register it on old Walmart GiftCard site nor on the Vanilla website. Card was for $50. Cannot talk to anyone on any of these sites either. Tried going to Walmart store and customer service tried also. They could not resolve issue either. How do we solve this issue? HELP.

Kenneth Davis
from Panama City, FL
I bought a jar of mayo from the grocery section this morning. Got home , wife making dinner waiting on the mayo to finish . Went to eat and the food tasted spoiled. While i was throwing up in the bathroom my wife realized i had gotten a jar of mayo that was out of date since May of this year!!! Its currently Sept so how in the world would this happen. Besides the aggravation of having to run all the way back to Walmart, the service mgr seemed like she was to busy with other customers to take me serious and then ask for my receipt !! I have lived in PCB for over 25 years and use this Walmart for everything, if this is how you people react to bad products and bad customer service then I need to take my business to the large number of your competitors because through the years the customer service at this store seems to lack the passion to make customers happy!! Thanks for your help. Ken Davis 850/866-3350

Tony Lux
from Houston, TX
To whom it may concern,
My name is Anthony Lux and I am a retired Combat Veteran of the United States Marine Corps. I have something to say about a certain WalMart store.
My wife called me about being labeled as a theft at Walmart store #3213. She called me on my cell phone a few times explaining to me that a WalMart manager and a loss prevention officer has her in custody and keeping her in a small room for theft.
I did not know what was going on, I was at work at the time. I called four times to the Wal mart Woodlands store to speak with someone that have any knowledge on what was going with my wife. I was put on hold for a long while or was disconnected a total of four times. Either way I thought this unkind act was very inappropriate and unprofessional on the person part on the telephone (PBX).
I called my wife on her cell phone now very concern on what was going on at that store and why the third degree. My wife is from the Philippines and when she gets upset it is hard to understand her. When she talked to me she was saying that she was being watched by and associate and reported her to the door greeter and accusing her of theft. I said, "What?!" She then explained the whole story, I told her to show that manager that we have over $5000.00 in our checking account, and that you just bought over $200.00 worth of groceries. My wife tried to explain but the manager said to her that she didn't want to hear her side of the story and kept reminding my wife why she is being held.
By this time I was getting very annoyed because no one from the store would answer their phone let alone speak with me. So I called the Montgomery County non-emergency number and had them send a unit out to that Walmart store and if they did have, have that officer call me on my cell phone. A deputy sheriff did call me and explained that they did have my wife in holding and that she is being accused of theft of "Frozen chicken wings of $10.04". I said, "What?! Are you kidding me!?! Then I explained to the deputy that we have much money and my wife has no reason to steal. This is an honest mistake that was made. In fact, I've seen and heard of customers doing the exact same thing and the Customer Service Manager would tell the customer to go back to the register and pay the difference. He concurred but has a job to perform. I understand so that deputy gave my wife a Citation for theft of $10.04!!!
Again, my wife was profiled and looked down on continuously. From time to time she would tell me that some managers told her to speak proper english. Haydee would come home upset and tell me what was said to her. I told her to report this but she would tell me if she did then the retaliation would start.
No one talked with me, No one answered there phones or messages that I have left on their recorders, No one responded to any of my emails.
Where I come from that is consider rude and unexceptable.
Sincerely,
Anthony Lux

Laura Delao
from Nampa, ID
i visited store # 2781 on 08/28/2018 as i was making my way to check out i noticed that they had the candy bar "TWIN BING", i was excited to see that because that is my favorite candy bar and living in Montana i was able to purchase them there. When i moved to Idaho i could not find them at any retail store. i purchased 3 of them and on my way home i decided to eat one. i took a bite of it and bit into the chocolate, on my second bite i bit into the cherry filling and it was so hard i chipped my tooth, when i got home my boyfriend tried it and commented on it being hard. i checked the date on the package and was shocked to see a date of 07/11/2004!!!?????? Being a past employee/assistant manager i was very upset. To me that is very unacceptable, poor merchandising and carless stocking, now i have a tooth that is broken, i do not have insurance. i would like to take care of this without any lawyers involved, but if we have to we can. i would like a response to this asap. you can contact me via E-mail or phone 406-694-5044. Thank you and i will be waiting for your response.

Canera Miles
from Highland, CA
I am a 65 year old Grandfather just trying to buy Beer at your Rialto Branch On Baseline, Upon checking out I was asked for ID. which I did not mind at all. But This is the Drama they put my wife and I Through They would not sell me any beer because my wife left her ID in The car. this little old lady Returning to the car that was maybe 100 yards away she barley made it by a car that almost ran her down. yes she is also in her 60's.
I please this complaint on the day this happened early in August and still received no Conformation If no comply I will be Calling Corporate Office.
Thank you Miles

Robert f.hesse
from Franklin Lakes, NJ
My complaint is as follows . I use only one credit card for my purchases. In the past month i have spent over one thousand dollars between products and prescription medications. I have a walmart credit card which I very rarely ever carry.. I feel if walmar t does not respect me as a customer i will need to go else where to make my purchases. Who's ever came up with the bright idea it was to randomly decline customers credit or debit cards is responsible for losing my business. When I called both the bank and credit card companies and they asked was it at Wal-Mart where my card was declined, I feel that Wal-Mart no longer want me as acustomer. I have bought my medications at Wal-Mart for over ten years and been a purchases of merchandise since 1979. I am disgusted with this treatment and will make daily purchases at Wal-Mart. I have over ten prescriptions which I fill at your pharmacists monthly. It will take a great deal for me to come back. Disgusting policy you will regret i will not be back. Thanks but no thanks

Sonia cordova
from Sacramento, CA
It was on July 6 2018 it was about 630 I had to use the restroom so my husband and i walk in and he goes into the men's and I'm yeti g to go into the woman's i couldn't go in cause the worker at florin in Sacramento her name jovani and siad no I would have to wait 15 min but as I was talking to her there was a customer already coming out of the stall i had asked please I can't hold it she siad I'm sorry it's policy. I even told her I would be quick all that talking and the other customer was just barely getting out and she did say uthere a restroom in the back while I'm dancing up and down I told I can't just go I had3to let my husband know he was in the men's as he got he did get up set and was getting the wrong idea so weas I was walking out I couldn't hold it so I go back in the store as embarrassing
And having a blader problem made it just as worse for me i wasn't trying to make it that obvious it just made it worse by the time I got to the restroom I it was late half on me and in the toilet I was trying to figu6out what to do I was crying and embarrassed I did clean my self but still felt embarrassed so as I was walking twords the front I asked a worker were can I talk to a manger she at the then I go talk to another girl and she gave me the corporate info I called twice I sent a letter and I still haven't here nothing and were going in to September and the incident happened a few months but now I'm at point were I'm just going to get a lawyer and see what are my options in this situation or resolve something I've been waiting for a response and just letting me know that it get looked into I'm mean you guys have cameras there but I also remember the people that I spoke to that day. Than you for taking the time to read this I hope to here from you

Charles Breitzke
from Rogers, AR
Store 64856, Pineville MO, about 1:30 afternoon of 8/29/18 - have always been upset about the out-of-stock condition at this store. Today, they were completely out of cane sugar. I asked a couple of associates working the area, figuring it was a recall or some such. Nope, just out. Blamed it on The System. Told them the store is always out of I want, then discovered that the one type of snack crackers I wanted, the Great Value family pack of cheese squares, was out. On the way to checkout with what I COULD find, a nice young associate was telling another couple that, no, there was none of what they wanted in the back.
Don't feel like going through this process again, so I'll mention that the shopping cart return area in the parking lot was overflowing, and some prime parking spots were blocked by the excess carts.
Finally, this store was too small on the day it opened. They roughly doubled it in size a while later, and it's still too small. I hope the corporate moron that makes those kind of decisions is no longer employed with Walmart.
Rant over, have a nice day.

Timothy Haselden
from Okeechobee, FL
I went to get my prescription on 8/8/18. They did not fill it right. I talked to the clerks tonight at Okeechobee, Florida pharmacy. They were supposed to call me back. I waited one hour, no phone calls. I called back and no one knew what I was talking about. The manager left already. They need to give me my medication, since I already paid for the amount that they were supposed to fill to begin with. This is stealing if it was intentional I don't know. But I need my medication to be filled the rest of the way. Thank you. Timothy Haselden. 863-458-7436. They also messed up on my wife's medication refill last month. Bacflelon. The dosage is 10mg, but the gave her 20mg instead. Customer service is very unprofessional at this store. Thank you. Timothy Haselden, Notice 1.

Judy kirkland
from Roanoke, TX
Took my vehicle in for an oil change, nothing outside with instruction as to how or what to do for service. I parked unloaded 3 grand children an walked inside to a counter where 4 employees are chatting and 2 actually looked at me then continued chatting, on other finally acknowledged us and I asked for an oil change. I was then informed that I would have to take my vehicle around to the last bay at which point I would receive a ticket. I did this then walked back inside where we waited for an hour and a half. Finally was told they couldn't service my vehicle because the oil pan plug was bent and over torqued and I should take it back to the last place it was changed. I did this and they place I took it back to had no trouble with the plug, they brought it out to me and there was no evidence of it being bent. I am 60 years old and the walking is hard, I can understand the wait it happens but I cannot abide wasting my time because they didn't know how or want to do the job is unacceptable. I don't want anything just hope this will improve customer service. Especially at the store in Midlothian, tx.

anthony geonnotti
from Newtown, PA
I want to find out the young lady that assisted me today with my complaint about Nowornever co.. She said I would receive an Email
to write my opinion of how I was treated. I didn't get it yet. She was very helpful which I appreciate VM & I want
her supervisors to know how pleased I was with what she/Walmart did for me.
Thank You, A.R.Geonnotti

Esther Blount
from Brooklyn, NY
Order number 4761855-873004
I ordered of three bikes on 7/24. Two of the bikes arrived immediately the third bike came to the store on Tuesday 7/31. Since that time I have been calling the store everyday, as I requested that the bike be put together. Everyday I am told that bike will be put together before the end of the day. Today 8/2 when I called I was told by Fred Becchetti that the person who puts bikes together is not there and will be there tomorrow. He also informed me that it is Walmart policy, that they have seven days to put bike together. I was never told this in all the time I was calling. I am very upset and I my grandson didn't not have his bike for his birthday. Also I have been left on hold up to 45 minutes waiting to resolve this matter. Today I have cancelled my credit card with Walmart.

SHERRY A. WILEY
from Honolulu, HI
8/1/2018 I went to the Walmart Store on Ke'Eamokuo, Honolulu, HI. Evrerytime I go into this racist store, your employees follow me around the store. Today at the self check out your employees had the nerve to get with other stalkerish customers and debate if I was going to steal the items I bought. Every time I go, your racist employees slander me by making comments about me not being able to pay. Every time. Slandering me and causing other customers to look my way as if I am anticipating stealing. I'm looking for an attorney to sue this store! Sherry A. Wiley

Paul Croteau, 4725 E, Brown Rd #73, Mesa, Az 85205 MY ORDER #471185331284
from Mesa, AZ
I am a Disabled Senior and have shopped at Walmart for many years and I cannot believe how poorly I have been treated after ordering a Samsung phone and combined with Walmart Family minutes plan.The total order came to $118.95 and I only got the phone which was not the phone I ordered as it did not arrive with the blue tooth or hearing earphones on the website. I contact customer service multiple time without any help I went to the local store twice and no assistance. They are telling me the minutes came by electronic mail sparate from the phone. The only refunded the cost of the phone $86.43 and claim they send me the minutes and the can not send me any copy of the electronic e-mail these so called minutes proving they sent them but the also say even if I have received them it would have be too late to get a refund for them 4 days after thew order was placed. I feel I have been treated very poorly and I am asking for the additional sum of $32.52 not returned to me. This transaction was placed on my BBVA Compass credit Card #4638 2900 0073 1934 exp 02/21 I would appriciate if you would look into this......tHANK YOU pAUL cROTEAU 480-696-4138

Jeanette LeVesque
from Minneapolis, MN
I am very angry and frustrated. You have the very worst customer service I've ever come across. The same guy in India made me keep telling him things I'd already told him, then he hung up. He had already hung up on me once. His name was given as Allen Jordan ( not exactly an Indian name.) I also spoke to a woman at the roseville store and told her my problem and she put me thorough to a number that did not answer, just rang and rang. Yesterday I got on with a foreign woman that didn't give me her name. She talked so fast I couldn't understand her and asked her many times to slow down so I could understand her and she did not comply. I asked to talk to another agent and she transferred me to some vendor of Walmart. I was just going to place an order of about $200. I didn't shop at Walmart for years because of their horrible treatment of employees but decided to try. I think you have just lost me again.
Jeanette LeVesque

JOYCE MCNEIL 13707 GILBERT ROAD WOODBRIDGE VA 22193 703-593-9902
from Lanham, MD
On July 28,2018 at 1044p, I visited this walmart and had the worst experience ever. while shopping I came across some bathing suits that were on a rack not 1 or 2 about 20 priced at 5.00 with a sign posted. To be sure of what I was seeing I took to the self service counter and asked one of the employees to check for me it rang up 13.00. I informed her of what the sign read and showed her. there was another employee named Edwin who informed her to give to me for 5.00 because of the sign..I had more shopping to do so they told me to inform the cashier. when checking out the cashier rang up 13.00 I let him know what was said he call the Manager ElSA who would not give her last name. I told her the whole story again and went to get the original cashier who was told to price at 5.00..Elsa stated Edwin was not a manager and had no authorization to tell me or the cashier the price and she would not change and proceeded argue with me in front or other customers and employees not a good example..(unprofessional). I have work in customer service for 40 years and shop at walmart 2 to 3 times a week.....NOT A GOOD LOOK!!!!! FOR $5.00

Milton Allen
from Northport, AL
On July 28,2018 I discovered that there was a leak in tire for which I had a warrant. I took care to the Jasper, Alabama Wal Mart Auto Center. I spent one hour there and was told that there was no leak found in tire. I continued to a funeral in Heuytown, Al. Coming out of Church I discovered that my tire was completely flat. One of the members had a pump and blew the tire up. I proceed to your store in Heuytown,Al. I explained the problem to one of your employees in the automotive department. There was also a lady that had warrant . I watch people come and go. After sitting there for five hours I demanded to know about the tire. I was told that there was no leak. They called their self showing me. I had to pay full price for a brand new tire. I asked that my old tire be put back in my trunk. The tire that I received does not look like mine. I am very upset by this ordeal. I did not get good customer service. The email address above belong to my sister. You may contact me on it.

Kelly Miranda
from Prince Frederick, MD
The Walmart Pharmacy in Dunkirk Maryland is the worse. The only reason my family have kept going there as long as we have is because of the tech PJ. After Fridays on July 27th and today my family will no longer get prescriptions at any Walmart. I tried to pick up my prescription Friday July 27th that was supposed to be ready several days earlier. The lady named Diana was extremely rude. She did not even attempt to force a smile on her face when she told me it was out of stock. Mind you this is after I was waiting for my husbands prescriptions for several hours that were suppose to be ready by 1:30. This was after 4pm. (They tried to tell me I would have to wait until after six pm for my husbands prescription due to be short of staff). I told them I could no longer wait for my husbands and needed them now. When I got my husbands prescriptions that is when when Diana told me mine was out of stock and will be in Monday. I just called the Pharmacy at Walmart in Dunkirk Maryland to make sure my prescription was ready. When the lady answered the phone she did not give her name so I asked. She said her name was Kathy. When I told her I wanted to make sure my prescription was ready she rudely told me no its not because are very short of staff. I told her that was no excuse because it was suppose to be ready last Wednesday and then I was told it would be ready today. She said " well I don't know what to tell you because we are short". So I told her so you are telling me I was lied to Friday and it was in stock. Kathy said again I don't know what to tell.
There is no excuse for this behavior what so ever. I have never been talked to like that from any company. This was horrible service and I will make sure I spread the word in this small community. Shame on Walmart for letting their employees treat paying customers like this.

Teresa Harris
from Miami, FL
On July 29, 2010 I was to meet my son in the furniture area to get a futon, when I arrive he was standing with an VERY RUDE employee name Duane. I have NEVER been so poorly treated and spoken to in that manner at Walmart by any employee. I am in that store on a daily basis sometimes twice per day, I have come to know some of the employees. This guy seems to be new as I have never seen him at this location before which is 5555 W. Atlantic Blvd, Margate , Fl. I am applaud. We were purchasing a futon which was in a very large package, he got the dolly for transport but he refused to assist in taking it to the car. It was raining slightly and the thunder was loud. However it wasn't raining hard. He said to me "I'm not going outside and getting wet" I said, that's no way to talk to a customer, you are suppose to provide 1005 customer service. He said again" with an expression on his face and his mouth twisted "I'm not going outside Period!" My son took the cart and roll the merchandise out thru the garden area where I was parked and I went to report him to the Manager which I did speak to Vade and she seemed not to care either, so that's why I'm turning to you for your assistance. If these young kids don't want to be bothered by customers then they have the wrong job. Thank you for attention to this matter.
Teresa Harris 954-294-9902

Lloyd Pritchett
from Ellijay, GA
I took a prescription to the Ellijay, GA. (store # 1070) for a 30 day supply of Tramadol. The pharmacist called me to the consultation window and the conversation was this way: Pharmacist- Why did the dr. write this script for you? Me- I hurt my knee. Pharmacist- did you hurt it yesterday? Me- no I hurt it 2 weeks ago but I waited until today to come to the dr. Pharmacist- I can only fill this script for 7 days worth of Tramadol or any other pain medication. She had no right to ask all these questions. It's none of her business! All she had to say was I can only fill this for 7 days worth of medication. I will never use a Walmart Pharmacy again!

Carolyn H Landreneau
from Jena, LA
We purchased a pound of Jimmy Dean breakfast sausage at 10 am this morning from the Ville Platte Wal Mart. When I opened it, it was rancid. There was no visible "sell By" date on the package. We live 15 miles from the Wal Mart, so I called to speak to a manager about the problem, hoping we wouldn't have to drive to town again today. The first time I called, I was put on hold for 6 minutes, at which time I hung up and called again. The second time I called, I was on hold for 15 minutes. I gave up again. In my experience,the Ville Platte store has a few good employees, but many are indifferent and appear to be "put out" if you ask them for service. Whoever answers the phones there had to be aware that my call was not answered. I called a third time and was transferred directly to a manager's office this time. No one answered after 35 rings. Wal Mart can be convenient, but next time I'll use one of our small local groceries. There's no excuse for selling rotten meat.

Bill Erickson
from Minneapolis, MN
I shop Walmart a lot BUT that will be changing very soon! You have changed the deli department for the WORSE!!!!!! you had great products Like Hoffmans Super sharp cheddar cheese and many other very popular items and now you discontinued them! STUPID!!! guess we will have to go elsewhere to get the products we want!!! By the way, your staff is VERY unhappy with you also!!!! It is showing in many departments!!
Have feedback for Walmart?
Thanks for your feedback!
Sorry. Please try again later!