Postal Service
Postal Service Complaints Continued... (Page 3)
169+ reviews added so far. Upset? Call Postal Service corporate: 1–800-ASK-USPS

Brenda Bredahl
from Minneapolis, MN
On Wednesday, April 6, 2016 at 12:10 pm, I was waiting to turn left from westbound 51st St. onto southbound Geneva Ave (Hwy 120) in Oakdale, Minn. Apparently the driver of USPS vehicle 0230505, who was behind me, was in too much of a hurry to wait to turn right from 51st and he jumped a curb and sprayed rocks, dirt and mud on the passenger side of my vehicle while pulling onto northbound Geneva.
Attached are pictures. I do not know if there is damage yet besides the cleaning costs, since it just happened and I'm at work, but you can be assured I will be inspecting each and every mud/rock splash for chips. Please advise on how to proceed with this complaint.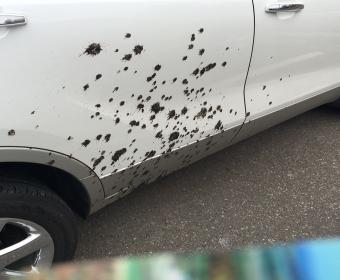 Carl F. Berg
from Sarasota, FL
I had my held for 30 days (3/1-3/30 2016). Confirmation number CAH236308762. Today it was delivered to my neighbors home and she is holding it for us. She also rec'd. her held mali and two other addresses. These she returned to the post office. Perhaps we need an "undercover" boss to inspect what you and I expect? Last year my held mail for 30 days + was never delivered as requested.

Deirdre Williams
from Brooklyn, NY
A package was dropped of with the postal clerk at 12:01pm on Monday Feb 22,2016. The mail was to be sent priority mail 3-Day. I understand this is just an estimate, however today Friday Feb 26, 2016 the package is still in the Kearny NJ facility. This I find extremely disheartening. I send packages all the time and the tracking is always updated. To make matters worse I called the NJ Palisades office and spoke with a female supervisor at 4:34 who asked for the tracking number but did not bother to input the information in the system and passed me off to a clerk.
The clerk tried to help but I feel the supervisor should have provided some type of action plan, Not nothing can be done. I'm I suppose to wait indefinitely for this package before someone attempts to look into this. I just need to know when the package will start. I'm not looking for a refund I just want the package delivered. I track send packages all over the world and when things sit it's usually a problem.

Gary Kalipolites
from Cañon City, CO
Your Rural Office located in Coal Creek, Co. has antiquated equipment and is run inadequately! I don't blame the staff as much as the lack of resources they have to work with! I live right near this office and mail out many items due to my online business. The desk clerk is not able to print out a receipt with the tracking info on it, so they crudely hand me a sticker with a (tracking) number on it. This has been going on for years! I can get by as long as nothing goes wrong but occasionally these small stickers with tracking on them get lost, and then the fun begins! They say they have no way to retrieve it? Any other location could handle this as long as I have proof of payment but at this location I am usually SOL. I know it's a small hub but c'mon! It's one step away from pony express! Not happy.

Sylvester Wetle
from Schaumburg, IL
For the past MANY months, perhaps even more than a year, I have had terribly first class mail delivery service for my business. I am located right next door to the post office in Lombard, Illinois, yet at least once a week I get nooutgoing mail. My complaints to the post office fall on deaf ears. In attempts to talk directly to the post master, I am always told she's not available. Then issue my complaint to the person on the phone.....yet the problem continues. I cannot understand why as a business, I should not be getting service EVERY DAY, considering I am right next door to the post office.

Nancy Hall
from Fowler, CO
I moved from Imperial Tx to Colorado on Dec. 6, 2015. I call in January to complain about the PO in Imperial, Tx 79743.The man that took the information only got my new address. I asked him if he wanted my old address and he assured me that someone would call within 72 hrs and they would get it then. Needless to say, they called the PO where I live now and told them I was not getting my mail. Imperial, Tx, 79743 clerks fault. I handed the clerk in Imperial a change of address on the 5th of Dec. 2015. She sent my mail back to the senders. I had to call everyone and give them my address so I would not have late fees.
She finally started sending me mail in priority envelopes. Two weeks ago, I got 4 other Imperial Tx residents mail along with mine. This was a common thing of getting someone else's mail in my box before I moved. Everyone in Imperial has had the same problem. I would like something done about her. She does not need to be in a PO anywhere. I have moved more than once and this is the worst it has ever been. I did not even get the notices for my PU's registration.

Monica Hammons
from Harvey, IL
I had not received mail for 3 weeks, so on Thursday I called US Postal customer service. On this day, Monday, February 8, 2016, I returned J. Ellison's phone call. I told her exactly why I called. She explained that the mail carrier had put a notice in my box that my box was full and that further mail was being held, I believe she said at the Glenwood Post Office. I told her that I didn't receive a notice and that the carrier can say they put a notice in the box. I then asked her if the notices could be sent electronically that way there would be proof a carrier did or did not do something, her response was "No" with an explanation that was very lengthy.
At the end of her statement she said and I quote, I tend to take the mail carriers word on putting notices in the boxes". I then got very defensive because she was calling me a liar, and I said just that. She then said I was putting words in her mouth, which I was not. I was just doing the math. The carrier told his side, I told my side, and she believed the carrier which = I am the liar. Even if this is the post offices' way of thinking, it should not be vocalized to the customer.
At the beginning of the conversation I told Ms. Ellison or Allison, I had not had any problems with mail delivery in the 19 months I lived at this address. She told me that this was a new carrier. I pick my mail up about twice a week as I am out of town often. I pick it up on Friday and/or Saturday, and another day of the week. It has not been a concern until the past 3 weeks. I hope these are not the responses people in authority are trained to say to customers, as it was in NO way a person in a supervisory position should speak to a customer.

Beth Simpson
from Ringgold, GA
I paid $12.44 to buy a music book from Ebay. On the front of the package is a label "BOOK: PLEASE DO NOT BEND". The package was doubled up in my mailbox. The package size was 11x13 (picture below) The packer of the music did good with cardboard and all but the book was still bent from the delivery. I am not happy! Delivered on 2/6/16.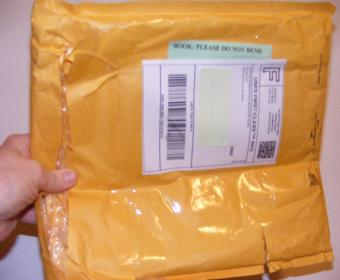 Billy A. Adames
from Fayetteville, NC
I have lived at my current residence since August 2013. To date in total my wife and I have gone to the post office at least 10 times to pick up items that were supposed to be delivered to my residence. On all these occasions I have had to use the internet to track our mail/packages. Today, 6 February 2016, as I was walking out of my house to go to work I saw the delivery man driving his mail truck across the street and he had already past my residence. When he saw me he came back around and gave me a package I was expecting. On the package, he had written down that he attempted to deliver the package.
My wife is always at home 100% of the time, especially when we are expecting a package. The mailman did not leave a note in the mailbox or at the door that he attempted to deliver anything. 3. No vehicles were blocking the mailbox. 810 Deblea Court, Jacksonville, NC 28546 is our address. I am really disappointed to think that all time since we move here this is the reason why we have had to go the post office to pick our mail. I anxiously await your response/action on this issue.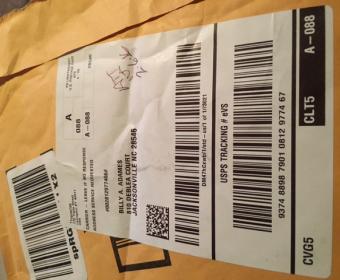 anastasia alekseeva
from San Francisco, CA
February 2nd 2016 at 4.40pm I went to a post office located at 101 Hyde Street, San Francisco, CA, 94102 to receive my package. This post office has no security guards and to get any sort of service you have to go to a window, ring a bell and wait for some time for someone to come out and assist you. When I came in there were 2 people in line who said that they rang a bell a while ago but no one came out.
I went to the opposite side of the hall to see if I can find anyone but the window was closed.As I was going back an African-American man came in and went directly to me trying to hug me. I stepped back and rushed to the people in line.He followed me.I started ringing the bell again trying just to get some help and all that time this man continued sexually harassing me and when an old gentleman in line stood up for me the man became enraged and started screaming until I told him I will call 911 if he will not let me alone.He went to another side of the hall continuing to threaten me.
I was so afraid that I rang the bell again.Finally a woman came out and started helping the people who were in line ahead of me. She got really annoyed with one gentleman so she just turned around and left. I came up to the window,rang the bell once and said "Can you please come back". People behind me reached for the bell and started ringing frantically. She ran to the window and started screaming at me saying that I am being rude that she knows that it is me ringing the bell all the time and that she is going to call police on me.
I tried to explain to her that I am being harassed by a man who is still in the building that I am not feeling safe and that I just want to take my package and leave but she continued screaming at me about the bell. Finally she got my package,passed it to me and didn't even ask if I was ok or if I felt safe. This was the most frightening experience I've ever had. The woman was extremely rude and insensitive and if she would have been there to do her job I wouldn't have been subjected to sexual harassment in a government establishment. I was very shook by the whole experience and I would never want to deal with this post office ever again.

Laurie Kane
from Bensenville, IL
I have a package that was supposed to be delivered yesterday, 2/1/16. Never received it. I tracked it again today, it still shows 2/1/16. I have been trying to contact someone for at least 2 hours and can't get through to anyone. I ask for a Representative and the voice mail message keeps repeating "No one is available at this time". They open at 9:30, it is almost 11 AM. The Franklin Park phone number is not working and I just get a get a fast busy signal. How do you get to talk to a real live human at the US Postal Department?

Kimberly Jolly
from Indianapolis, IN
I ordered an item online on Tuesday January 19th that was being delivered via USPS. I tracked my package online, which stated that my package was 'out for delivery' on Monday January 25th. The package never arrived and after tracking every day after the 25th, it now says, 'no update on tracking information'. It also never displayed that the package was 'delivered'. I phoned the 1-800 number for USPS on friday January 29th and they told me that they don't know what happened to the package and that the local post office will call me within 24 to 72 hours.
The local post office phoned me the next day and they also stated that they don't know what became of my package, and that they could see that it was never delivered. They then told me that they would check with the postal carrier and phone me back. They never did and I have yet to receive my package. I either want my package or compensation from the USPS.

Karla E. Weichert
from Valley Green, PA
Our mail carrier has delivered at least 8 packages to me late (including 2 that were supposed to be delivered 2 days ago), claiming "Undeliverable" and also "Address Issue" in the past couple months. Surprisingly the address on every package when I do get is correct. No mail was delivered yesterday or today...granted mailboxes were snowed in yesterday but not today. I believe we have a new Mail Carrier because we never had this issue with last female Mail Carrier. I pay for my packages to be here and I expect to find in mailbox when i get messages saying "Out For Delivery":. I hope something gets done about our Mail Carrier so I don't have to pursue this any further.

Thomas Carter
from Ashland, VA
The US Postal Service mail delivery to our house before and after Jonas has been unsatisfactory. We have not had mail delivered since Thursday 21 January and it is now 4 pm on Tuesday the 26th still no mail. I can see no mail on 23rd during the storm but the roads have been cleared since yesterday and the snow has been cleared away from the mail box since yesterday morning so the carrier could access the box without getting out of the vehicle. When we called the Ashland Post Office this morning Lisa (PM?) said they were doing the best they can and would get to the customers missed Friday and Monday first as we are near the end of the route for our carrier. That did not happen. It is also strange that friends in neighboring Mechanicsville got their mail on Friday and the snow accumulation was the same.

Craig White
from Houston, TX
No mail delivery, late mail delivery, wrong mail delivery, mail returned (including utility bills) with note no such person at the address, mail returned due to house being abandoned, mail not delivered due to blocked mailbox (Not true!) This has been going on for eight months. I have complained repeatedly (formally three times). The situation improves for a couple of weeks, then back to the same problems. This type of complaint is all too common for 77082 Whittington location. In person complaints are pointless. The people are rude to customers and don't seem to care. Someone somewhere needs to address this matter.

lois wildman
from Lewiston, ID
I am sick the United Postal Service, wasting so much money, way too many Priority boxes. They came out with 16-17 boxes 8 years ago, to now be discontinuing most all of them. They are in debt, I wonder why? Now, you cannot buy postage for boxes A & B on line, you have to go to the Post office, which has let go of most employee's, you stand in line for 20 min. to be helped. Seems the online is a heck is a no brainer, a lot cheaper, then hiring employee's. Yesterday, I called USPS, three times, was on wait for over a hr. each time, had to hang up, finally got a hold of them, after 1½ hr. hold.

Ken Conklin
from Fort Plain, NY
On several occasions I have gone to the Post Office and found them to be closed for Lunch between the hours of 12 pm and 2 pm depending on the day. While I understand that people need to take a Hour break and are entitled to it but I don't understand why 1 person cant keep the window open for business while others take their break. This has happened a lot in the Saint Johnsville, NY office. We are constantly being asked to pay higher prices for your services but we never get anything back in return.

Enoc Rivera
from Riverside, CA
I sent a Christmas package 5.5" W x 7.5" L x 3.5" H with a cell phone charging bank Mpdel #MJ06 to my daughter Rebeca, with her full name written on it in Permanent Marker. My daughter and I both tracked the package by it's tracking number 9500-1111-8564-60075836-37. The tracking information states the was delivered too. Not having insurance on a package is no excuse for USPS to not properly deliver or loose their USPS Customer Packages.
We suspect the Postman or Postmen delivering to the apartment complex where my daughter lives are stealing or calibrating with a group of thieves who are stealing my daughter's and other tenants packages by delivering those packages to the wrong apartment number on purpose! Because my daughter has lost many packages!

Rebeca Matyja
from Houston, TX
I have had a lot of packages delivered by USPS that have came up missing. I have tried filing complaints in the past and never have heard back. However, my dad recently sent me a gift through USPS that had been delivered Monday January 11, 2016. The problem is I never received the package and we have already confirmed that the address and apartment number were written correctly on the package. Unfortunately the package did not have insurance, but since I continually have this problem with USPS I wanted to file a complaint here to see what can be done about figuring out what happened to my package and holding the person her delivered it accountable.
I also would like to see that the postal delivery man or woman gets my packages to the right door the next time I have something shipped through USPS. The tracking number for the package that was supposedly delivered Monday January 11, 2016 is 9500111185646007583637. It is very upsetting that I feel I cannot have packages sent to me here because they almost always never make it to my door. As I mentioned before, this is not the first time USPS delivered my package yet I never received it.

dien johnston
from Virginia Beach, VA
I sent an international package on 1/11/16. It was returned to me on 1/13/16. My po on Viking dr. where I mailed it didn't know why it was sent back as everything was correct. They stamped it and said they were going to try again and gave me a receipt with the same tracking number that does not work. #LZ 529858213US. I've been trying to call for hours to no avail. The first time I didn't even get a person, just dead air, and then the survey. Needless to say, I was not pleased. My customer is up in arms because there is no tracking number.

vincent
from Brooklyn, NY
I had a package coming from Italy. After 30 days past I contacted the person in Italy and was told that the package was in my post office for a while. He gave me the tracking # (ra592627733it) and I went to pick it up. The post office told me they had no record of it and they could not help me. I called the international office and they said that the rider street station in Brooklyn n.y. had tried to deliver the package one time and fail do so -- no one home so they say. I pick up the mail all the time! the mailman did not leave any kind of notice to let me know of the attempt to deliver so I could not know that the package was even in the USA let alone at my house.

Latasha hayes
from San Jose, CA
I ordered stuff that was due to come from fed ex but it got dropped off at post office to be sent out. Mail carrier brought package to my address she gave my package to a person that was coming down the stairs because he asked was that for apt #6. She also gave him my mail with my bank statement in it. He leaves my mail on top of my mailbox n takes my packages that she gave him. I'm mad because she didn't do her job right which was to go knock on the door. She also lied n said 3 packages was dropped off but it was only 2.
The 3rd package was in my mailbox on Sunday but it states n my email that it was delivered on Saturday at the same time as the other 2 packages that was given away. I was told I should've had insurance on it but I didn't no the post office was helping to deliver for UPS and FedEx. Also they suppose to at least go to the door and knock on it m not just give it away. So its Christmas n I'm without my gifts n post office won't help me because I don't have insurance on packages I didn't no was being shipped through the post office.

Katherine Okularczyk
from Fort Lauderdale, FL
I am writing as I am very disappointed the way my local Post office handled the following issue. I had received a registered letter from Poland on November 10, 2015. I wasn't home; thus, the mail carrier left a note (PS Form 3349) informing us of the failed delivery attempt. Subsequently, after getting home I checked a box on the back asking her to re-deliver the letter. After a couple of days and no letter, I sent my fiance to go to the post office. HIs name is Doug Bacon and the letter was addressed to him (I believe us both, but since his name is easier to spell, it was written on the note.) He spoke with a Manager that claimed that they do not have the letter, nor know anything about it.
Luckily, I took a picture of the note; thus, had the USPS Tracking #: RR794393081PL. After numerous trips to the post office and communication with the manager (Jose,) my letter continues to be lost and all communication with me have ceased. Jose claimed that he and Felicia, our mail carrier, have spent hours after work combing through the post office in an attempt to find the letter, but it thus has been unsuccessful. I don't doubt their effort, yet it hasn't produced my letter.
I then decided to contact the Miami Consumer Affairs office (Case #: HQ125709207). My first call took place on November 25, at which time I was told that someone will take a look at my case and get back to me no later than Friday, November 27. I never heard back, but just assumed that the delay is due to the Thanksgiving holiday. With no call still, I called back on December 3; I was informed that my case has been closed as the issue was delegated to my local post office and they were responsible for following up with me. As I previously stated, I never received a call. The person I spoke with informed me that he will re-open the case and have someone from their office call me back within 48 hours. That was 5 days ago.
The registered letter contained two very important and time-sensitive documents: my Father's death certificate and my and my birth certificate. I had to fly to Poland this past summer and spent copious amount of time and money dealing with local government red tape in order to obtain the documents. They can only be obtained in person. Thus the reason why I have been so tenacious in pursuing this. My elderly uncle picked the documents up in person (I had to apply and order them in person, and it took a while before they were ready.
I can authorize someone to retrieve them) and sent them via a registered letter. This issue has already caused me extreme problems. I also wanted to note that probably the most insulting and unprofessional thing was when, after numerous visits to the post office already, Jose stated that our mail carrier informed him that I told her that the package contained make-up. I was left speechless as not only is that untrue, but remarkably unprofessional, insulting, and disparaging.
I decided to contact all of you in hopes that someone can help me.

I paid for a package to be shipped to me via Priority 2-day Insured. Online tracking said it was Out for Delivery on Saturday, 12/5/15. I waited at home all day for it. I started checking the online updated tracking every few minutes. Between one minute and the next, Out for Delivery changed to a notification that the mailman had attempted delivery, but there wasn't anyone qualified to receive it. NOT TRUE!! Livid, because this has happened numerous times before and nothing has been done to address this lying employee despite repeated complaints, I went out to the curb and my mailbox. I saw the mail truck speeding away, and, sure enough, found the Failed Delivery notice in my box. I live on a dead end street, so I knew the postal service mailman had to come back my way again. I waited.
When I saw the mail truck, I waved him down. He slowed. I approached in the street with the Failed Delivery notice in hand, clearly displayed. He gunned the motor and tried to run me down. I screamed as he sped by and disappeared. I filed all the appropriate complaints and have heard nothing. I had to ask for re-delivery of my package. It was confirmed for today, 12/7/15. Again, I waited at home all day. Again, I saw the truck go past without delivering the package. This time I called the local post office to file a complaint, and then contacted the USPS corporate offices. I told the whole story. The 'manager' who sounded lackadaisical and maybe a little mentally challenged, found the package on site. He said 'Duh...I dunno why he didn' take it. Uh...I dunno...'
So still no package, what amounts to thievery by USPS for taking money and refusing to provide the service paid for, and now a psycho who's not above vehicular assault is in the picture, and it sounds as though his 'manager' excuses aggressive behavior and dishonesty. USPS is an embarrassment to the entire nation.

Geraldine Williams
from Exeter, CA
Not so much a complaint as a request for an explanation of delay. I'm tracking an international package 9114901496450245545992. It appears the package was delayed for several days; It left Las Vegas & went to Springfield MA. It went from Springfield MA to Jersey, then back to Springfield then back to Jersey & left Jersey last night.
I realize this is a busy time of year, but this is a birthday present, not Christmas, & I sent it in time to arrive in France by Friday 5th or Sat 6th Dec. PLEASE explain why it lost out on 3 days of travel; thanks. The USPS has usually been very efficient, but this little package was special & I was surprised & upset to see it given the 'run-around'. I truly hope my $23 has not been wasted as the package arriving after my brother's party would be pointless, & just plain sad.

willie parker
from Stafford, TX
I'm writing this US Postal Service complaint because I have been waiting for some important papers from Austin Texas to Huntsville Tx my papers was mailed out on November 16 2015 and as of November 20. 2015. I still has not receive my papers. I had mail seen from Arizona and receive it before I got a letter from Austin Texas. I feel that you should be providing a better service. I would like if USPS could check into this problem thank you

Ed McIntyre
from Mackinac Island, MI
I mailed a certified letter on No. 12. It should have gone to 40505 in Lexington, KY, but ent to 40511 in Lexington, KY. IT HAS BEEN THEREFOR 7 days, I have called phone support for 40511. I have even emailed them at the complaint address, and talked to several people there, but nothing happens. All they have to do is forward it across town. How long am I expected to wait? Tracking number is 70150640000068614914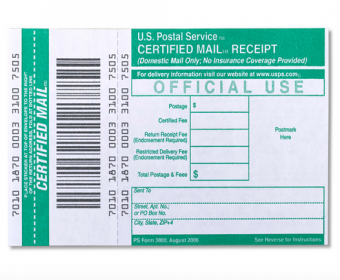 Ron Galinsky and Janet Roney
from Media, PA
During the course of the last four to five weeks there have been several things that have annoyed and/or scared me. First, there have been at least three occasions when there was no mail delivered on one day and then an excess of mail delivered the next day. My partner is disabled so we receive a large number of catalogs. It is unbelievable that we would have no mail on any given day. Second, we had two packages left on the ground under our mail box which is located at the street.
With all the reported thefts of delivered packages it angers and scares me that this is done and that we could have our packages stolen. On two other occasions packages have been stuffed in the mail box with other mail and the door on the box could not be closed. Again, this is an invitation to have the packages stolen. Finally, we had a mail man just throw a package on our cement patio rather than walking two more steps and leaving it on the table next to our front door.
These events are both disturbing and frustrating. It indicates a lack of concern, professionalism and dedication to doing a responsible, thorough job.

charles f. hood
from Albany, NY
Have just found out that 2 pieces of mail picked up at my residence on 10/24/15 have not yet been received by the addresses. They are both bills, and I am incurring late fees,and my credit rating is being affected as a result, and my calls to you go unconsidered. I need you to answer me via telephone, as my base USPO has a national phone number of 800-275-8777, and is not responsive! As of right now, my experience rating is a ZERO, but you don't allow me to rate you as such! I can speak with a person regarding this issue. I will contact the PSC should I not here from you expeditiously. Thank you for your kind cooperation in this matter.

Scott Russo
from South Deerfield, MA
I am writing to submit a complaint pertaining to timely delivery for mail. I normally do not have any issue, although due to the significance of this specific issue it has raised my awareness to a possible problem. I have been expected a delivery of a Title for my car from the Mass DMV. I understand that they state it could take 7-10 business days, unfortunately I have since spoken with my bank and the Mass RMV.
My loan was paid off, the DMV had received that information and mailed out my Title on Friday the 6th of November. It has been brought to my attention that USPS does routes even on the weekend. Today is November 12 and I have yet to receive my mail. I have never experienced this delay in mail delivery, especially for such important mail.
I have sent mail to Boston areas before and they had been delivered within 2 days. Currently it has taken, counting the weekend, 6+ days with no delivery. From Boston to South Deerfield, no excuse is acceptable for the delay. I am selling my car and the buyer has been waiting patiently now since November 1st, but his patience is running thin and as is my own.
Timely delivered mail should be of importance to you, considering that I have ordered numerous items through Amazon and they can get a package from California to my door step in 2 days. You can't do it in 6 within its own state. Very disappointed person here.

kendall james
from Hialeah, FL
I was tracking my USPS package and it said that it was delivered in my mailbox and it was not there. I called the local post office a number of time and they just put me on hold at least 30 minutes at a time before I hang up. On last week Thursday I spoke to someone and she said that it was a sub driver that day. She ask for my info and said she'll call me back Friday, but she never called. I just called at 1:55pm and they had me on hold until 3:35 before I hung up. I'm not getting no result from them. My tracking number on the package was clear. Hopefully I hear back from you all because I'm so discussed with the effort they are making to help me locate my package.

Bartleson
from Stone Mountain, GA
Priority Mail? Awesome. I have over 80 USPS Priority packages I need to get out and my lazy USPS carrier will not pick them up. It has been 3 days now. Also, when I called my USPS hub that services my address in Atlanta, GA 404-875-3452, I was treated to a very unpleasant USPS employee and our conversation was ended abruptly by her slamming the phone and thus not solving the issue of the over 80 people that paid for me to ship their goods in a timely fashion.
If I pay anywhere from $1000 - $3000 a week for a service, I am expecting a lot more from customer service than getting hung up on. October 29, 2015 at 6:30pm. Find out who the pleasant service provider rep is and fire her. Thanks USPS. It looks like I have 80 emails to send out tonight.

R. Bruce Hill
from Canton, MS
I purchased a Lionel train engine on Ebay, it was insured for the total amount by the seller, it was damaged in shipping, looked like it had been dropped on its end, the cowcatcher or front of the engine was broken off, making it worthless. I have tried to file an online claim with no success, the session times out and deletes everything I've entered before I can even get half way through, I thinks it does this deliberately just to keep you from filing a claim, It seems USPS insurance is a joke, just a front, no good. Since this happened I have gone online and seen more US Postal Service complaints than I can count from upset customers.

Joe Mays
from Haskell, OK
Our mail system in this small town (1200 people) uses a mail box delivery system no home delivery is available unless you live in the rural areas. We live in "town" and have a P. O. box. The problem arises when packages or letters are shipped to our physical address instead of the P. O. box. We have spoken to the postmaster lady about this and even filled out her "form" so the employees (2) will be able to identify where the package belongs. It's not like she doesn't know who I am, she calls me by name and ask how the wife is when I walk in the door.
The straw that broke the camels back was when they returned the title information to a new vehicle I had just purchased and no one had any idea where it went. This is getting to the point of being ridiculous since everyone in town has had the same issues with mail being returned for "lack of proper address". She told me I need to put up a rural box at my home "in town" so they could get the mail to me that was sent to the physical address. I mean really? Why put more of a load on the rural carrier when you could walk 10 steps and stick it in my "town" box.
We regularly get other peoples mail on our box and lord knows how much mail we have missed because it was placed in the wrong "hole". I realize there are rules but by the book and common sense need to try to get along here.

I have sent a multi million dollar contract to a client via certified mail. Mailed on 10/6/15, went to Corpus Christi facility, then sent to North Houston facility where is sat until 10/13/15. After that there is no tracking info and no one will answer phone calls or emails. Why don't we bring back the pony express? Timing would be better, delivery made and we don't have to worry about Indians anymore? In case anyone at this facility is interested in helping locate and deliver, the certified letter number is in my possession. I would appreciate any help, it would be a start. So far no help from corporate office.

Carl Potter
from Opal, WY
When I checked the tracking for my package I was informed that it was not deliverable as addressed. I called the local branch and was told that I could not pick up the package there and would have to contact the sender. When I go to the USPS customer complaint I am not allowed talk to a person. How can I contact the company with my problems if they do not list their information anywhere online?

Sandra Vandegrift
from Sheridan, OR
Mailed an priority mail 3 day in McMinnville, Oregon on the 29th of September, was to be delivered to Natural Bridge New York on Friday the 2nd of October 2015. It is now October the7th 2015 and it still is not there. Just checked tracking it is now at Rockchester NY. still not delivered. Also there does not seem to be a phone number that will let a person talk to a real person for help (what is up with that?). No wonder so many choose not to use the postal system anymore. What does the money we pay for, go for? Very unhappy about my granddaughters birthday card not getting there on time, her birthday was last Sunday. The rate experience does not even deserve a 1.

Allison Gaval
from Lake Orion, MI
My son and I recently moved from our home/apartment after a six year residency. I physically submitted our official change of address cards, with my local city post office. The clerk assured me the forms would be submitted to office where our mail and mail carrier are now located, (I am a resident of Auburn Hills, Michigan, and mail carriers and mail are now out of the Pontiac, Michigan post office). Several weeks later, my son nor I received any confirmation or any letter confirming our move. I then took it upon myself to go to now Pontiac, Michigan post office and submit our change of address cards there. Still had heard no confirmation or anything pertaining to this move. I have since then filled out approximately five (5) official change of address cards, after contacting local Supervisor in Pontiac, (Tonya) was her name, and she assured me she filled out cards herself and all should be resolved. This was early August, 2015 and still have not received any of my forward-able mail.
I did receive confirmation envelope and this was it. Supervisor had told me that TE mail carrier had our mail on a 10 day hold waiting for COA cards, which at this point of the 10 day hold, I had already submitted two official COA cards. My son who is now residing in his own home, stated he received a letter from postal service in regards to our address change, postal letter stated, that since our previous address was listed as a "BUSINESS", our mail could not be individually forwarded? Our apartment was upstairs of a German Sportsman Club, which generated very little mail, my son and I received the majority of mail at our particular address, and I assure you our apartment WAS above this hall and our everyday mail is extremely valuable to us.
I am not sure where any of our mail is going ie'; RETURNED TO SENDER, NO FORWARDING ADDRESS, what have you, but this was our home for six years and deserve to be receiving our forward mail just as any other postal service customer submitting an official COA receives. I deserve a far better explanation and our extremely important mail, then this sub-standard lame excuse. I look forward to your reply.

It started last December when I was still using my street address in a small Nortota town, population approximately 30 people. Our mail goes first to another small town and then gets brought over hereby a rural,carrier. However, the postmistress in Newburg, ND. deems it her job to decider which one of is gets to receive mail by post office number or street address. Although I have a p.o. Box, my UPS packages come to my street address, and the current land land telephone directory also lists the street address, so Christmas cards and Christmas packages were refused and returned. I was very upset and called her on it and she put me on speaker phone so her entire office could hear me. They all thought it was great that someone was calling her on her Gestapo tactics.
Then this past two months I have been bombarded with robe calls , 8'times a day for the past two months, and come to find out that although I had paid on a department store credit card, the address was the street address and so,although I paid trended,ver one, nothing else was allowed to be sent to me. So for 8 months I was unaware that a bill I wasn't receiving. Naturally it went into collections. Hence the robocalling. Come to,find out, again the Gestapo made the decision to return the bill each month. I got it straightened out, but not without a lot of frustration and anxiety on my part.But not when Shannon decides it is her duty to return them.
The kicker was today when I got 3 pieces of mail, all with my street address, and now I am wondering how much mail I have lost, thanks to miss nosy deciding which pieces of mail are deemed worthy to be sent to me. I am furious and so are other residents of these small towns. We all know each other, have for years, and although I know there are procedures, a little common sense and courtesy would seem to make sense. We are small towns, and for her to pretend that this is Chicago, (as she rudely informed me) is unrealistic. We prefer to live in a small town. But doesn't mean that we need a Gestapo to determine whether we should receive certain pieces of mail. This is America, after all.
The postmistress I am referring to is Shannon, and I would appreciate your not making my life a living hell by disclosing my name. This is unacceptable and I was told by her supervisor, Marie, that I had to make an online complaint to USPS so you have a formal complaint filed against her. I want and need my mail and don't expect someone to make the decision if I should receive it or not.

First of all, I think the Chatham P.O. usually does a great job. We are very happy with the service. But today, we had an unusual experience. A package was allegedly delivered to my house. Later in the day, a neighbor came by and stated that the package arrived at his house, but that my Wi-Fi must have accessed his credit card and charged the item to him. He wants money, although, he indicated a bogus amount. Obviously a scammer, as Pay-Pal advises that the funds will be deducted from my account shortly. I would like to know where you'all delivered the package, as I believe he may have taken it off of the front porch. Tracking Number: 9405509699938605210701. The tracking indicates that it was delivered, front door/porch. Hopefully, it wasn't on his porch, 2 blocks away.

Ordered an item from a seller in Cleveland Ohio 85 miles away. Took 12 days to arrive followed the tracking to Florida, Georgia, finally Pa. Ordered an item from California, arrived in 3 days. Just bought an item from a seller in Montana estimated shipping 2 weeks. Also we have several different mail carriers as we are a rural route. One carrier cant be bothered to close my mail box lid. Last week we had a thunder storm, before I could get to the box I had dripping wet mail including my vehicle registration. Talking to the local postmaster is useless as there seems to be a revolving door on that position.

Donna Nichols
from Edmond, OK
My son sent me a hand painted mirror he did for me for my birthday. He lives in Arizona, I am in Arkansas. The package was marked fragile but when it arrived there was a note from the Memphis Post Office that it had been damaged and they repaired it. I received part of the frame missing and in hundreds of broken pieces. I went to the Alma post office and they said it should have been wrapped differently and I asked them, why did the post office accept it?
I knew it would be put back on the sender. I spoke with my son and he said the post office employee asked him what it was and he told her and it was marked fragile several times on the packaging. I know we are becoming an illiterate society, but surely a postal employee should be able to read. I'm mostly distressed because my son took the time to give a gift he had put his time and self into it. He has 2 businesses and teaches part time at a college and his time is limited so the effort he made here speaks volumes.

Lori Guyton
from Houston, TX
My son moved out of our home, so he filled out form to change his address. Our mail is now going to his apartment address. Yes my husband & son have the same first name but different middle names. We have filled out the change of address numerous times, gone to the post office personally numerous times. The money that consumers pay to use the post office should get their stuff together, so that customers can get their mail without so much trouble. Even though machines sort the mail, sorters & mail carriers should pay closer attention. They sure do make good money. They make more than what we do.

John W. Balll
from Lincoln, NE
No mail was delivered to my home address on 5-5-2015. When I called the local Post Office, the Lady who answered the phone said they have a new delivery person. On 5-6-2015 at 1 PM no mail has come to my box. I called the Post Office again, and was notified that a new person is on the delivery and was late.
Normally, I get my mail at about noon. This time of the month is when I receive a lot of rent from my tenants. I do not want someone stealing the mail or is incompetent. Please advise me immediately on the status of my mail.

Unfortunately I have to file a complaint about my local post office 11224 located at Mermaid Avenue, Brooklyn NY. I am having constant problems receiving my packages. The packages go back to the senders as "undeliverable". My last package went back two days ago with explanation that my address was not found. The shipping label had my name and complete address indicated. I did not get any notifications from my local office that the packages are ready to be picked up. No attempts were made to deliver it either.
I have been receiving other mail at my address and had no problems before. My previous package went back because, as per my post office, my name was not on a package. My FULL NAME and complete address was in fact on a shipping label. Please - address this issue for me. It is extremely difficult to reach this post office by phone as they never pick it up which is another problem.

hai chi vuong
from San Francisco, CA
My mail was already delivered and the recipient was not there (April 29, 2015) to receive it and then I requested to redeliver and it already stated in the USPS tracking under 70142120000327560873 that my item will deliver on April 30, 2015 and I check on May 1st, 2015, but it hadn't deliver. So, when I looked at the U.S.P.S. tracking again, something changed, and it stated this, "The delivery status for this item has not been updated as of April 30, 2015, 8:35 am."

Ronald A Jordan
from Colchester, VT
On April 13, 2015 ,I posted my 2014 Vermont State Income Tax Return at the Milton Post Office with the Certified Mail Receipt provision, tracking no. 7014051000029530888. Subject posting arrived at Essex Junction, Vt. @ 8:31pm, April 13, and left Essex Junction @ 1:30am, April 15. Next notification is 11:16am April 19 showing the document to have arrived in Montpelier and, finally, that the document is available for pick up as of April 19 @ 3:21pm. It appears that it took a simple mailing (1 stamp envelope) 7 days to go approximately 40-45 miles. Can this be possible? Is there any indication of problems with that route? I remind you that the document was a tax return due April 15!!! What????

James Wiegand
from Lillington, NC
We have a great regular carrier during the weekdays. The one of the Saturday carriers and used as a vacation relief is terrible. Today, Apr. 18, 2015, I again received my neighbors mail. This is the 4th time in the past 2 months that the mail has either been stuffed in one person's mailbox or just delivered to the wrong address. I wonder just where my mail is today and how many letters have been mis-delivered and thrown away. If this were a rare occurrence then I wouldn't complain, but it is not. It is a the norm during vacation times and times when our regular carrier off work. We can not talk with the Post Master at the Fuquay Varina, NC Post Office because he will not come out of his office to talk with customers about problems. Seems he's either out of the office or on the telephone. If the US Post Office is going to continue to be in business then they need to get rid of the deadwood and insist that their carriers do their jobs correctly. Also the Post Master's should be ready to deal with the public and not hid from them.

Charles Bonner
from Ellensburg, WA
Went to P.O. to mail EDDM. Done that 2@ least 2 X's before. same size mailer as before. Clerk wanted to argue with me over the size. I told her a man from Seattle EDDM walked me through the process & I mailed before at that office. She told me other clerk would mail anything. She finally took after 10 minutes of searching. said she did not have correct or updated info. (the other clerk did a couple weeks prior).
Came back to my office 7 ck'd size of mailer on USPS postal web, it is correct size. I called customer service to ask how to get correct info to that post office. gave her my zip 2 X's. She does not listen and kept asking for it again. She was useless & said to call local P.O. I Told her that was useless as they claim they do not have updated info. I asked her how can that P.O. receive correct updated info. She hung up on me. Idiots!!!!!

Fred Ross
from Seattle, WA
I have a rural carrier. The mail carrier puts other peoples mail in my box. He does not pick up mail I am sending. I have gotten mail two months old. I went to the local post office to complain and they were rude and didn't care. He also refuses to even deliver very small packages so I have to drive twenty five miles to get them. So anyone else's mail I get I will write across the front in big red letters - "delivered to the wrong box" and remail it at the local post office. If that doesn't work I will simply burn it. I'm tired of these idiot donkeys. Get rid of USPS and lets just have private carriers. The United States Post Office SUCKS!!!
Have feedback for Postal Service?
Thanks for your feedback!
Sorry. Please try again later!