Uber
Contact Uber Corporate
Toll free phone number: 415-986-2104
---
Uber is one of the fastest growing transportation companies in the world, providing on-demand rides and taxi service to millions. Started in San Francisco, the "Uber cab" concept quickly spread throughout major cities in North America. 
Need to get in touch with Uber headquarters? Their address is 182 Howard Street, San Francisco, CA 94105​. You can find additional information on their company website, or give support a call at 415-986-2104. A live human is available 24 hours a day, 7 days a week.
Billed as a cheaper and more user friendly alternative to taxi services, Uber customers can hail a cab instantly from the mobile phone. Payment for rides and driver tips are done using the app, and no cash ever exchanges hands.
Common Uber customer service complaints include rude drivers, billing problems, delays, and problems using the Android and iOS applications. Let us know by leaving your feedback for the corporate office below.
Uber Contact Information
Report complaints to corporate and get satisfaction
Uber headquarters address

182 Howard Street
San Francisco
CA 94105
United States

Company website

1-800 phone number

415-986-2104

Support email address

help@uber.com

Better Business Bureau rating

A

Customer service hours

24 hours a day, 7 days a week
Browse reviews of other Cars
Top Uber Complaints
Browse more than 220 reviews submitted so far

Car was unclean, AC not turned on or not working. Music in a foreign language. Estimate for the trip at start was $75.00 but charged $94.25. The charges for travel upon return between same two points were $46.77. I made several Uber trips during past week and this was definitely the worst trip.


Arindam Handique
from New Delhi, DL
Sir,
The estimated fare shown at the time of booking my ride on 14.06.2018, 12:05 am in maruti suzuki swift desire, driver-Sumit from Malviya Nagar to ITC Welcom Hotel, Dearka, New Delhi was around INR 265/- .
But my billed amount was INR 412.32.
Kindly adjust excess amount in my next trip.
Regards,
Arindam Handique
8627961970

Naveen Selva
from Navi Mumbai, MH
Driver Name : Subbiah N
Car : TN72BZ4690 Tata Indica
This happend on 14th June morning.... This Asshole was coming to pick up but was standing just at the distance of my eyesight but din come to pick me up.... Wen asked he said his passenger was sick..... Am a Doctor myself and I offered my help..... Instead he started cutting all my calls.... Is he a trained person to treat sick people or is he the only person trained to help others..... I was made to wait for 15 minutes and that fucker made me cancel the cab so I was charged for that...... If this is the kind of servce ur providing then am suggesting my friends not to use Uber ever.....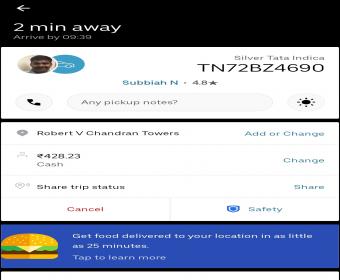 Rosemary Rakus
from Fair Lawn, NJ
Ok June 5th I took UBER from Elmwood Pk to Walmart in Saddle Brook. And I saw on my card it cost me $ 36,52. Instead of the regular UBER didn't pick me up. It was a limo who pick me up. I never ordered a limo. Please check on which one I wanted. Maybe I pressed the wrong button. Also I didn't want the guy to pick me up at Walmart. I had my husband to pick me up

Rosemary Rakus
from Fair Lawn, NJ
I took Uber on June 5th. He picked me up at 51 Chamberlain Av in Elmwood PK. to Go to Walmart in Saddle Brook. told him that my Husband is going to pick me up. I got charged $ 36.52. When I did the same not to long ago. It cost me a little over $ 9.00 I WANT YOU TO ACCOMEDATE ME FOR THE PRICE OF $36.52
Rosemary
Cel # 1.201.421.0539

Sayantani Banerjee
from New Delhi, DL
Unable to book Uber cab. Showing outstanding amount

Dianne Thomas Bryan
from Titahi Bay, WGN
My sister and I caught an Uber on Friday night from 58 Hobson Street to 41 Seatoun Heights Road. The fare was quoted as being $38. something.
I asked the driver to get to Seatoun Heights via Roseneath, where I got out. The driver then continued on to 41 Seatoun Heights Rd. I then found that there was a surcharge on the fare and that I had been charged $50.00. I am not happy about this, as although we may not have taken the most direct route, the increase in fare was $12 and there was not a lot of traffic. Can you please explain this.
Also, I'd like to say that it is very difficult to find out how to register a complain. Why can it not be more obvious.
Thank you.
Dianne.

Shibendra
from Bengaluru, KA
Motherfuckers they are . Bastards.
Drivers are goons and rapists.
Call center people are bastards
Son of a bitch.
They stolen my money by 3rd standard plan and bastards , wish my country judiciary would have been powerful. I would tear their motherfuckers company

Radhika Viswanathan
from New Delhi, DL
I was dropped off at the T2 terminal of the Delhi airport. Why am I then charged a parking fee of RS 147? The fare told to me while starting was about 187. I ended up paying Rs 334. The vehicle was in atrocious condition.. it was dirty and noisy and damaged.
Please refund the amount.

On Monday, June 3, 2019, we called to make an appointment for a pick up on Tuesday, June 4, 2019, at 10:00 through 10:15 am., at 6563 East Roland Street, Mesa, AZ. We were assured that the appointment was set for a fare of $26.12. At 11:00 am no driver had shown or contact me. I had to drive myself to Phoenix Sky Harbor Airport to keep from missing my plane. Make sure that you (Uber) do not bill me for this No-Show. I am very disappointed in Uber's customer service. I am 85 years old and very disappointed in Uber. I was looking to Uber for my future transportation.
Clote Morrow

Marie alexis
from South Ozone Park, NY
Uber charged me twice on 5/31/19. I took the Uber service to my client's address; they charged me $12.34. when I called the service back it was raining hard and they ask me to walk one long block. I sent a text to the driver asking that he pick me up at the address where I was. He refused to come pick me up and canceled the service. I see on my account that I was charged an extra fee of $5.44. I want this to be credited to my account. Thank you.

lalit gupta
from Delhi, DL
i had taken a uber from jhilmil colony to anuj goel associates and fare Rs.89. on the way secund ride came from UP and we had gone to pickup the other client from UP and come to delhi. The driver showed at fare of Rs.267.5 but i had enquaired about Rs. 267.5 but i had Rs.89. The driver asked me for Rs. 267.5 and he said you complained the uber for refund of 178.5.

Ujash
from Gāndhīdhām, GJ
Driver was drunk and he didn't care about my hairline crack I had at that time in right collar bone.
Drove car 80+ and kept on blowing horn for almost 25 seconds to over take a vehicle at Cross roads while the signal was red.
And plus after that I paid him in cash INR 118 and now UBER is showing 118 INR outstanding...

I was charged a wait fee and I was outside waiting, there should have been no wait fee charged. I got into the car as soon as he pulled up! I was also charged a sur charge and there were no told or any other extra driving charges

Manoj Choudhary
from Jaipur, RJ
Me uber jaipur rajasthan me 5 years se gadi chala raha hu ab mene gadi change kr li .
Meri gadi ko intercity me laga rakha he.
But intercity me duty nahi aati he.
Meri gadi ko local GO OR POOL me chalu nahi kr rahe.
Please My Car start go and pool me start kare.
Jaipur office wale to hamari sunte hi nahi.

While in Orlando, Florida I had requested a car to take me to the airport at 4;45 am. Uber said that I couldn't due to my card was not accepting it. I had to find another form of transportation from the hotel, the Hampton Inn & Suites by Hilton, 3450 Quadrangle Blvd., 32817. This was very stressful for my husband and I. We had used the Uber car service here four times already and with no problems. We were pressed for time due to we may miss our flight. I had entered another credit card which was my husbands and that also did not work though our cards were both active. Please inform me what had taken place that caused this to happen to us at a critical time. I need to know what to do in the future should this occur again.
I would have arranged for my daughter to come and pick us up and take us there had I known this may occur. at the time Uber had quoted the amount of $24.00 for the ride. Our alternative ride cost us $50.00 plus $15.00 for tip. I am very disappointed of this happening to us because of Uber service not working when we needed it the most. My husband and I are senior retirees and cannot be in any kind of situation like this again. Please advise as to what to do. To confirm this you can contact the hotel manager, Ms. Blanca @ 407-282-0029. Your prompt attention is appreciated. Thank you.

Sayyad Mohd Saleem
from Pune, MH
In hurry I have made double payment for same outstanding trip amount using UPI method by mistake. The bill amount was 472 so I deposited/sent 500 in first attempt by mistake as I was testing my internet service for a long time and then actual payment was done later for exact amount of 472 again after few minutes.
Can you refund the extra amount transferred?? i.e.500 as soon as possible and provide with some help as I tried raising a request using help on uber but haven't received any response yet.
For your reference, attaching screenshot of double payments to uber.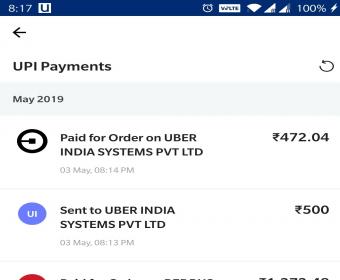 Preetha Nair
from Bengaluru, KA
My complaint is not about the service; however, I receive an otp for a specified amount.
The message is as follows:
OTP is 718903 for txn of INR 823.30 at Uber India Systems on card ending 0590. Valid till 20:48:54. Do not share OTP for security reasons.

I did not use a Uber on 4/22/19 and I noticed that $19.99 was deducted on my account.

I have booked a ride and chose master card for payment option. After the ride I have paid the due amount with my debit card. Amount got debited from my account. I got the message of money debit from the bank. After that there was outstanding balance showing in my account. Please help me to get the refund of my money.
For reference find the screenshot attached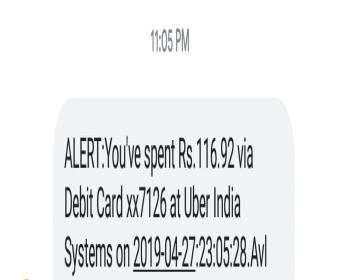 https://help.uber.com/eaters ---> This doesn't have any way to contact or complain the poor service provided by uber eats.
Then very shamelessly it is being asked to refer for any issue by the uber team.
I have already installed uber eats and if this is how Uber is planning to support its customers, it will soon loose a lot of them.
It doesn't just affect uber eats but also the uber cab option.

Raj Kumar
from New Delhi, DL

There have been a couple of very serious disputes with customers and near accidents in front of my hotel here in Las Vegas as your company has placed the wrong pick up point for your drivers on your navigation. The correct pickup point is our departure lounge 50 yards from the front drive. We have attempted to inform you of this error several times. To no avail. Please change it before something serious happens. I have a call with local counsel in order to make this official as my hotel cannot be responsible for your negligence. My mobile phone is 702 467 5011.
Rance Ryan
GM - Grand Chateau
75 East Harmon ave
Las Vegas, NV 89109

Chandan Kumar Thakur
from Pune, MH
I can't sign in into my Uber account. It says "Your account is currently disabled. Visit http://t.uber.com/account-disabled for more inofrmation".
Multiple times I have submitted request for account activation on above site, but no response from Uber.
Please let me know the reason for my account suspension.
Also, I request to activate my account soon.
My details are as follows:
Name: Chandan Kumar Thakur
Mobile: 7387889989
Email id: chandankum555@gmail.com

Sagnik Mahata
from Bhubaneswar, OR
I booked a Uber cab from 1, Chowringhee Square, Esplanade, Kolkata- 700001 to 19, Bireswar Chatterjee Street, Bally, Howrah-711201 on 18/03/19 at 05:02 am and the name of my car driver was "Debendra". Firstly I want to say about the car condition which was not that much comfortable at all. And secondly I was tired of asking him to turn on the ac button, but he was not listening to me. Where I am paying for that also. My main problem is on the billing process. Actually, I paid around Rs. 257.32 on cash but after that when I am going to book a new ride it's showing me that my last Uber ride bill was not paid and to continue my ride I have to pay that money through online. Now my point is I have already been paid that money, then why should I need to pay another 257 bucks? And please give me a proper solution, how to get rid of this? Please sort it out between a couple of days otherwise I need to take some other action. Details of that ride have been uploaded for your reference. Thank you.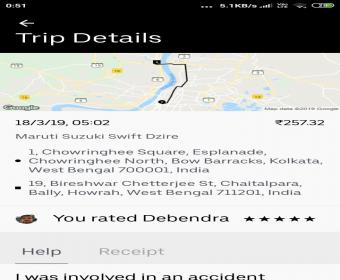 Julio Mejia
from Clifton, NJ
I have been a Driver form 2 Years approx., Uber has saved me from finical hardships in the past except for two times that I want to mention one was when a Drunk Driver hit my car with a passenger in it. Not only did he not have a license but insurance on the car, I was thrown into the Ubers insurance carrier that not only did not compensate for lot time but tied taking over $2000 away from me in the claim. The other was a customer Complaint that shut my account down till they reached back to me, they never assigned a agent or even had a follow up with the dept that I needed to take a statement with or upload my car camera that recorded the hole ride. There out sourcing fails the standard of even keeping the chain of custody safe and opens up legal suits that they still don't look at they endanger the Drivers with this and there own name that's why they ae taking sets to protect the rider like emergency services but what about the drivers

I have Uber credits available ,but u can't use it on any payments even if I had toggled the switch to on for Uber credits .

Justin schultz
from Phoenix, AZ
I drove with Uber for five years all together I drove my car into the ground when I moved to Boston I had a overdue inspection sticker that Uber knew about and let me drive over 80,000 miles on and got two tickets I didn't think that would impact my record sence Uber let me drive with it like that. Well wrong!!! I kissed my car I had to leave my daughters all the way across the country with there mother so I can get back on my feet I come to Arizona we're i finally got a rental car with my license witch is a hundred percent fine I go down to Uber and they won't let me work because of them tickets they let me drive on! Well guess what Uber I have a lawer and like he said we will take this to court even if it takes ten years! I have nothing to loose I hope carma bites you in the butt and your company goes belly up!! Instead of using all your money on cars that drive them self witch no passenger will take bye the way use to help your drivers you Disgusting piece of garbage company! No wonder why you have a one star rating shame on you!!!!!

Michael Ellis
from Arlington, VA
Gentlemen:
I would like to file a formal complaint against one of your drivers who behaved in an irresponsible manner causing me much trouble:
1. I reserved an uber in advance for pick-up at 4:45 AM on April 8, 2019, the pick-up address is 224 W 24th Ave Spokane Washington
2. I received an email confirmation for the 04:45 pick up
3. I received a text message from the driver, Brian; Washington License BHW2933 had arrived early and was waiting, time was 04:29
4. At 04:35 (10 minutes early before the scheduled 04:45 pick-up) I walked out of my house to the car, only to see the UBER driver drive away.
5. At 04:37 I received a notice that the driver had cancelled the ride?????
I was left standing on the sidewalk without a ride and had to madly try to fine another taxi, not easy at that time, and almost missed my flight.
Uber that had the nerve to bill me for the missed ride????
This driver abandoned me before the scheduled pick-up time, even though he had previously arrived, and left me in a very difficult situation almost missing my flight.
I demand that some action be taken in this matter!!!!!!!!!!!!!!!
Michael Ellis
Ellis3305@gmail.com

Mandy.winnaar@ominsure.co.za
I applied for a uber on 30th march the monies was deducted but the uber cancelled never got to use the uber. Please investigate and let me know..R37 was deducted from my account and didn't get my ride. The driver cancelled. Please let me know.
Thanks

Arnold Breit
from Campbell, CA
One of your Uber drivers continues to park his vehicle, Silver Nissan Altima CA lic # 7SUE551, in spaces in the downtown Campbell garage,
clearly marked with signage, restricted to tenants in the 155 office building. 155 tenants pay a price for use of those spaces, so this is akin to
petty theft. This is the SECOND complaint. Please have your driver park elsewhere. Thank you for your cooperation.

Nichole Paulk
from Chicago, IL
Hello
I utilized uber daily my driver cancelled twice and I was charged $5 charge how do I get my money back ???

Susmitha
from Chennai, TN
I have placed food in Uber eats. My money was deducted but the order was not placed.

Jeremy Kessler
from Toronto, ON
The route Uber gave the driver was insane. The usual 15min ride turned into about 46 min

Anamika
from New Delhi, DL
I booked an Uber auto from Garden Apartments Ghaziabad to Sector 19, Noida around 8: 45pm. When the auto arrived at my location there were 2 people in three auto, the driver himself and another man accompanied him. I asked that another man to deboard the auto. After that the ride was started. After moving around 1.5km, the driver deboarded me and said that his auto has some problem, and he can't start, and moreover started arguing for money, and I inferred that driver was drunk, as his mouth smelt as he was speaking. As we deboarded the auto within 5 minutes, he disappeared from the scene.
I had to face lot of trouble, this incident is not appreciated at all, and I am really disappointed.

Mohnish Pawar
from Pune, MH
Hi,
My name is Mohnish. This is in regards to a trip I had this Tuesday (12th March 2019).
I have paid the bill but still it shows to be outstanding.
Since I have paid through cash, I don't have a screenshot of bank/ wallet/ card statement.
All I have are the Uber app screenshots.
Its really frustrating that I am not able to use Uber because of this.
Please get this resolved asap.
Will wait for your reply.
Yours Sincerely,
Mohnish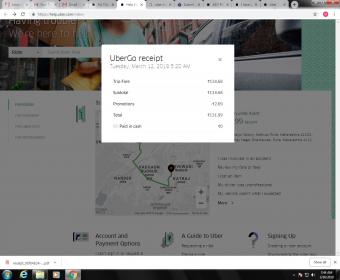 Jimmy
from Harrisburg, PA
You have a driver by the name of Jamal Dawson in the Allentown PA area that drives for you. He approached me after a ride and told me that the next time i need a ride, to call him on his cell phone number. He told me that he would use the UBER app to calculate how much it would cost from UBER and then charge me half so he can pocket all of the money. He told me has tons of customers like this and has been doing it for awhile. You would think that you would not get a complaint about this seeing how i could save money. However, I have morales and I am a business owner myself. I would hate to loose money this way from a thief like this. If this was me and my business I would fire him, or banish him from ever being able to drive for my company again. I have read several complaints toward your company, and i would think that you simply dont need more negative press. Thats why i am reaching out to you insrtead of posting this all over the internet. I hope you do the right thing. Thanks for listening.

My grocery shop also give me Tax Invoice for my purchases. But the company like UBER doesn't. This I infer from recent my 4 rides with UBER. When I asked to the cab driver after the trip, I was told that the Tax Invoice would have been sent to your email ID. But even 2 months of the trip it was not arranged and not sent.
Further the UBER is happy to send only receipt to the email ID which can't be treated as Tax Invoice.
Can you help?

I had my first Uber experience this morning and it was terrible. I had a Dr. appointment at 9:15am this morning at a facility located about 15 minutes from my home. I contacted UBER (I-phone a/c) at approx. 8:20 am. They responded and said they would be there in approx. six minutes and that it would take about 12 minutes to reach my destination. It is now 10:00 am and they have yet to show up. I have been following the driver on my I-phone UBER map and he/she has been as close as two minutes away and up to 12 minutes away. At one point the driver was at the intersection of my street and the next cross street an still couldn't find my location. Can't wait to see if they charge me for this.....

jyoti yadav
from New Delhi, DL
i faced an absolutey etiquette less driver who started my trip 3 km before my pick up and did not cancel when asked upon to do so . as a result i was charged INR200 more than the estimated cash . I infact asked the driver to call up the uber customer care since the customer has no facility to do so . HE REPLIED RUDELY and the kind of behaviour was not at all expected . H e in his arrogant tone asked me to go out the car without paying heed to the issue . I clearly want my money to be credited and also action to be taken against the driver

On march 5 2019.
I took uber flat share pass and I booked a ride from. Nkouda to gaziabad. I usually book this route ride for around 100-120 as this don't have any toll or mcd tax.
But today the uberap divertes on a longer route and took a ride from delhi which is border and has tax. We came so far com of map that going back would have been another 30 mins.
I was charged for that mcd toll and my flat fare went to 224 from 119..
Again similar thing happened while returning . Even again the coat went to 329 from 119.
How is this possible. I have sent messages through app on review my fare but am sure no response would be there. As its a trick to charge more in the of McD and long route..
Great work.so I believe coz I took the pass they automatically placed on a longer distance so that it is chargeable. Else it's impossible to repeat same thing again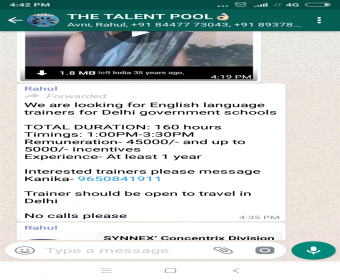 Liv Watson
from Phoenix, AZ
Your drivers keep cancelling and your service is unrilable . Amature day here at Phoenix airport .. and it is not getting better it is getting worse.

Kathleen Borrego b
from Lynnwood, WA
My ride was 40 $ instead of 16$ that I was quoted when I sent for a ride. He told us he was heading down town afterwards and charged us for that. We went 6 miles instead.of 22 miles and charged us for that . ASSHOLE I'm not going to ever use Uber ever again. All it does is over charge me and NO CUSTOMER SERVICE EVER. Fuck you.!!!

Someone open a account with Uber in my name not me please Call ASAP 415-7404866 need to close the account ASAP

David Taruta
from Chicago, IL
The 1st driver came to building, drove past without picking up and I was charged for the ride. The 2nd driver went to wrong location and again I was charged for the ride. I have filed a complaint and a stop payment with my credit card.

I have booked a cab on 07-02-2019 for my husband, it was showing that he will reach by me around 15 minutes. I called him for the ride, but he denied to come then i request him please come if possible then he replied in hindi "tumko sharm nhi aati hai? - Do have you shame?" how can i come around 5KM distance. I said to him just mind your lounge, is this the way to talk to a lady, I don't have any interest to call you, i booked cab through Uber and Uber has provided this ride to me. Cab drive did not cancelled my ride and when i cancelled, Uber charge 94/- INR from my account.
I really do not expect this type of service and this type of uncultured and rustic drivers from Uber.
Please take necessary action against him.
Here is the driver details:
Tata Indigo
UP14 FT5144
DRiver: Santosh, +919718973839
Also please find the attached screenshot for driver details.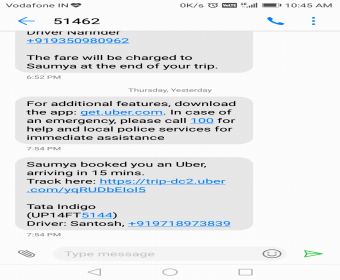 WILLIAM ORTIZ
from Fuquay-Varina, NC
on January 19 i update my debit card on the system not knowing that i had to wait for the system to verify the new debit card on that same day i contact customer service to find out the status of the payment i wasn't provided with clear in formation all i was told that i needed to allow 1 to 3 businesses days an im still waiting on the amount to be deposited in my account as direct deposit in the amount of 172.95. i need to speak with someone in america my number is 9108902266

Ronnie Smith
from San Diego, CA
Uber didn't pick us up for scheduled ride & we called for ride which ended up being late for our flight. Flight was rescheduled 3 days later, resulting in an added expense of $300.00 for rescheduling plus the fare of $40.00 for Uber ride. Uber said the best they could do was a $10.00 Uber cash rebate. They can charge you for a cancelled ride, but when it comes to their mistake and we were left without a ride at the proper time we had to eat the cost of rescheduling. Something is rotten in Denmark. I have all the emails between us.
Thanks for your feedback!
Sorry. Please try again later!