Target
Target Complaints Continued... (Page 1)
322+ reviews added so far. Upset? Call Target corporate: 1-800-440-0680

William Miller
from Fargo, ND
This weekend I bought a Blue-Ray DVD 5.99 special as a gift, for my wife, on her B-day, today. I, being the man that I am, waited until today to wrap it. Much to my surprise it still had the security box on it. We only have one car,I had my wife, who I am also hiding the present from, pick me up so I could then drop he off at work, to go take this security box off my wife's present. I understand that it is my own fault for not bringing the receipt or even doing this sooner but I was then asked for the receipt.
I wasn't returning it, did not want to bring it with my wife in the car. Was told they could not remove it without it. OK I get it you "can't just be taking these off for everyone" but really if I would have paid cash instead of using the card, would you have kept my movie? Worse called the police? I know she did not know about all of the other hassle this created, but a 5.99 DVD? and if I stole it, would I not have just broke the case, which I will next time instead of returning it to you.
Then I asked if they could be wrapped for wasting all of my time and gas and such, i was then met with a face of disdain, and "We don't do that here". OK I am not one to take the time to write e-mails, but this one I could not let go. I left still feeling like a thief. I manage in food service so have read a number of these. one reason I don't write them, so this may all fall on deaf ear, but this made my top ten felt like poo experiences at a help desk.

Margie
from Pinellas Park, FL
I purchased a Threshold Camden 5pc dining set on line using pay pal. When I received the dining set and opened it the Table was dented and the paint was coming off with scratches all over the set and the legs were not even covered just loose in the box. The chairs had scratches on the arms and the fabric was ripped. I call Target and they told me the could not credit pay pal but would give me a gift card or I could bring it back to the store for a cash refund, which I should not have to do because you ship me damage goods.
If you offered pay pal you should credit it back and have the items picked up. I never had a problem with other stores with returns to pay pal so I called pay pal and put a dispute in. Target agreed to credit my account but I had to ship it back at my expense. The items weights over 150 pounds and I should not have to pay to return damaged goods. I took this back to the store with the help of others,so I could at least pay my credit card off which I should not have had to do on such a large item but seeing that Target would not pick the damaged items I had no choice. I will never buy anything from Target on again.

I bought baby clothes to ship to my daughter in Fort Lee, VA, I live in Canada. Unfortunately I put down their previous address on base, and realized about 1/2 hr after placing the order. I called Target right away to update the address, they could not/or would not do this - apparently Targets policy is not to change addresses after the order has been entered, Target would rather ship it to the wrong address. I went from the 1st line of contacts, to the 2nd line of contacts, with no assistance. They transferred me to a UPS rep who could not help me, they said it was Target who had to change the address.
Nothing was done, it had to be shipped to the wrong address and I had to have my daughter go over to the people living there now and co-ordinate this ourselves. This doesn't make sense to me. Target would rather ship to a wrong address than change it in your system. I believe this policy should be looked at. I would imagine you have a lot of shipments returned due to this policy. It really discourages me from ordering on line when I cannot get any help from the Target Customer Service Dept. and spent over an hour on long distance calls, being transferred about, with no result at the end.

Kathy Ruuttila
from Saint Paul, MN
I bought 4 caramel cupcakes. When I got home and put them into the fridge. I have only the use of one arm. The box was not very sturdy the box fell onto the floor and opened the cupcakes fell out. I had to throw them into the trash. Is this what I can expect from Target now?

Wandra Cosby
from Norfolk, VA
received an eye exam on 02-10-16 at 457 Germantown Parkway Cordova TN 38018 at 4:30 p.m. When I entered the office I was greeted and given some forms to fill out. I filled the forms out including my insurance information. I waited to be seen by the doctor. Moments later I was called to the back for my eye exam. My experience with the optometrist was great. The eye exam was very professional. When the exam was complete, the optometrist informed the desk staff that I would only have to pay $10 co-pay. I was asked if I wanted to pick out glasses and advised yes. I picked out the frames and sat with another worker to get fitted for the glasses and go over insurance information.
During the fitting, I was advised that Target Optical did not take my insurance and I would have to pay $50 instead of the $10 co-pay. I am very disturbed by this because I was not advised prior to my eye exam that my insurance was not accepted by Target Optical. When I advised the workers that it would have been nice to know that my insurance was not accepted prior to the exam, I did not receive an explanation as to why I was not advised prior to the exam.
I don't believe that this is best practice as customers/clients should be informed prior to the exam that their insurance would not be accepted. Insurance information is requested on the paper work but no one checked my insurance. I am requesting to be refunded due to the negligence of the workers. They were ever so courteous to tell me that I could go to Wal-Mart because Wal-Mart would take my insurance. It was further suggested that I could go across the street to another optometrist who would accept my insurance.
I would have appreciated all of this information prior to the exam being administered. I also informed the workers that I would not have scheduled or sat for an eye exam or attempted to get glasses if had known that Target Optical would not accept my insurance.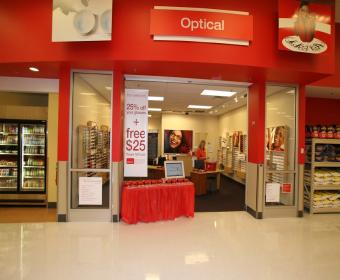 Trista Martinez
from Albuquerque, NM
A couple days ago I had bought a phone at Walgreens right next to one of the year to trade locations and I decided to go look just in case to see if target had the cheaper for one and in that case I would buy that one and return the other one but as soon as I entered the store I was treated badly. I have been being followed around the store was looking around because if I was stealing something I overheard the manager talking to one of the other workers a couple hours away saying how they saw me on camera the phone and they were they were going to get me for it and all kinds of stuff. I even come from him and told him I'm not doing anything he really told me I wasn't talking to you talking to her while this manager kept following me around even more and I have a couple of the loss prevention following me around and upholstery after it.
Starbucks asking me if it's sooner she had everybody and send me a friend waiting to arrest me all kind of yourself but I still have my receipt from Walgreens with the phone I just bought and a pack of cigarettes are there I think this is very rude judging people discriminating discriminating them because of how they look I would to do anything wrong and understand why I have to be followed just because the way that the way dress on my tattoos I don't know what it is but it was very rude and disrespectful and I'll never shop there.

Shirley Bates
from Fayetteville, NC
On Saturday, January 02, 2016, Upon entering the store I was followed by several employees including a plains clothes security man who left his post outside to follow me inside. Walking through the store there was a Black female employee who walked in front of me until I turned into one of the bath aisles (I used to work for Walmart and other retail stores so I am familiar with this tactic of following someone without being behind them). When I was at the bath items, several other plains clothes security personnel (a total of four - of which two females were together) surrounded me in that one aisle as I was looking at items, in particularly, plastic woven baskets similar to the ones Walmart sells.
Realizing what was going on, I left to look at flower vases - the reason I had visited the store. I selected two different styles of glass flower vases to purchase. I looked around the remainder of that section for a while and returned to the bath aisle I had previously been in. This time no one else appeared which allowed me to view items in peace. After looking at several items I wanted to know the price of one of the plastic baskets so I proceeded to find the price checker.
Not being familiar with the store (I rarely ever shop at Target) I did not know where the machine was located. I noticed a Caucasian female worker nearby and proceeded toward her. I was half way near when the Black female employee (the one who had earlier followed me while walking ahead of me) approached the other female employee and began talking. I stood before them, somewhat In between, while they carried on a conversation without acknowledging me.
After approximately five minutes, the Black female employee abruptly left and then the other Caucasian employee asked if she could help me. I was about to ask the location of the price checker when I noticed it, which the Black female employee had been standing in front of, but I could not see it. I then tried to obtain the price of the basket for what seemed like several minutes with no success. As I was about to ask the employees if the machine worked, it suddenly beeped without me placing the basket underneath to be scanned, as if it had been turned on. I was then able to obtain the price of the plastic woven basket.

Ordered a CD for Christmas gift giving. It was a very meaningful gift for someone very important in our lives. Though the item was not expensive it was a heartfelt gift and to be a way of thanking someone very special. Item has been delayed twice now. Christmas has come and gone and Target.com, could care less. I actually had a cs rep hang up on me when they did not know what to say. We would just appreciate Target.com, being upfront with us rather than leading us on to think that the item is coming, when in fact it is not even in stock. How and why would a company put an item on their website that they do not even have. Very disappointing. Will always use Amazon from now on.

Linda Vansant
from Rancho Cucamonga, CA
I was attempting to return the blu ray movie "A Walk in the Woods" I explained how on 3 different Blu Ray player's the movie came up with a black screen an how I had search on the internet and found that a lot of people that purchased the same movie had the same results (black screen) and that a lot of retail store were returning the movies. The Snarky customer service rep said that since we opened it that we could only be able to change it for the same movie being that this was the 2nd one we purchased we know a 3rd one would not work either.
Bought the 1st at Walmart had no problem returning it to them they were very understanding. I was told I would have to wait for her manager Which I did before I could explain it to her the 1st rep we spoke to was explaining the problem to her with an attitude wanting her not to return the money. After a brief explanation the manger agreed to return the money. The only thing the manager said to us very rudely was "the money as been applied back to your card".
FYI my husband prefers shopping at Target vs Walmart he has always said that atmosphere was so much nicer but after last nights experience he is not sure. (Oh, yes we look and there were no "A Walk in the Woods" on the shelves). The Target store was in Redlands on Lagonia we were in the store around 6:30 pm. I really expected the manger at the return counter to be a little nicer. In the past we had only one other problem at this store but it was resolved quickly with a very helpful employee at this Target.

Kiley kim
from Atlanta, GA
I came into a target store Tuesday morning and needed some assistance with finding an item. I asked an employee to help me but she was annoyed about some personal issue she was gossiping with her fellow coworker that she answered me in a rude manner. I ignored her attitude and asked her again. She gestured to the south end of the store and said we probably don't have the item and turned her fat ass back towards me and continued with her meaning less conversation. Meanwhile as I am standing there I smell marijuana on her breath. She was very unprofessional and rude. Please follow up on this issue. I believe her name was Melissa and she's overweight works at the Pinole CA store.

Donna Burghdoff
from Lansing, MI
The Target team at the stores I was visiting was holding some type of meeting in the boys clothing section. There were probably about eight or ten people present. As my husband and I walked past the manage, I assume since she was leading the meeting, called out loudly "is there something I can help you with"? While this seemed innocent enough the fact is it was rude and embarrassing. Everyone stopped talking and stared at us as though we were purposely intruding on their meeting. I'm not easily embarrassed but this was really bad. And what struck us the most was the fact that it came from management. We left right away and headed to Meijer to do our shopping. Ps as we were leaving I mentioned the experience to a male employee and he was great too bad he's not the manager instead.

monica heinrich
from Atascadero, CA
I have a friend that came home the other day with one of your "reusable plastic" bags for her merchandise. We live in California where plastic bags have been outlawed for 2 years now. I am appalled by the use of these bags. Please explain to me why you thought this was a good idea. Maybe I am missing something.

Char Beamer
from Lithia, FL
This is a medical issue. Order#! 922919762003. Placed on Target.com website on 12/13/15 Received 12/23/15 -- opened box I received order in. 2 boxes of AZO. UTI Test Strips were inside. One was already opened and 1 of the 3 strips were missing. Who ever packed the shipment must have took one out. I have pictures of the opened AZO BOX I called the phone # on the packaging list. Spoke to Delle in another country that COULD NOT help me resolve a replacement. Asked for her supervisor and she put me on hold for 47 mins. I hung up. Please this is horrible. Give me a real complaint phone number I can send these pics to.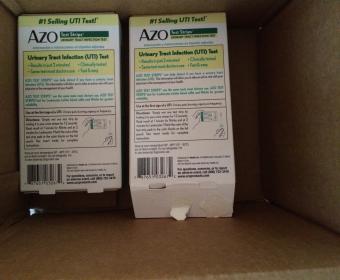 Kathryn Jacobsen
from Sacramento, CA
I ordered a Beats Pill 2.0 Black that came with a promotional Beats Pill Dude- Black. I, after checking the promotion still existed, canceled my original order #902882500065. I cancelled because I did not get my 15% off and I reordered order #902889642623. This order #902889642623 did not give shipping info for the Beats Pill Dude- Black. When the rest of my order came I called customer care at 1-800-440-0680. The person on the line told me it shipped separately and would arrive Friday, December 18th. When I did not receive it I called 1-800-440-0680 and spoke with Leslie- Target.com Manager, who told me this promotion never existed. I then asked to speak with a supervisor, and the Manager who also told me this was never a promotion. When I asked to speak with a different manager they told me I was not getting my item and when I asked to file a complaint they hung up on me! I have not received my Pill Dude to this day, 3 days before Christmas.

Linda Putnam
from Glendale, CA
I went to purchase gift cards for my employees and our boss's on Thursday Dec 17, 2015 at my local Target in Burbank Ca. I was going to purchase 11 Target cards and two Target Master cards. After a long busy week it was nice to know I only had to make one stop. I took them to the register only to be told that there was a 5 card limit and that was all I could purchase. I said I would do two transactions and was told I could only get 5. No signs were posted next to the cards informing me of this and I can't yet figure out why such a policy would be enforced especially right before Christmas, after all I am having 11 people come to Target and probably spend more than the value of the card. Needless to say I walked out with no gifts and real angry and took my business somewhere else, which is sad because I do like shopping at your store. I just think there should have been some type of notification of this strange policy. Thank you for your time and listening to me vent.

Victoria
from Williamsburg, VA
I place an order for an Electronic Software download. The website said that I would be emailed the product code in 1-3 hours from purchase (or up to 24 hours). I never received the email and when I called, I get people who can barely speak English and do not know what they are doing. It has been two weeks and I have yet to receive the code.

Andrea Johnson
from Memphis, TN
Two back to back bad experiences with Target online purchases. The first item ordered was never delivered to the store after confirmation with customer service twice. The second order cancelled but delivered, refused and return to the warehouse then two weeks later a refund finally issued in form of a gift card after stating that the refund should be credited in the form of payment issued. I am determined that the customer service department is undertrained and that Target pushes gift cards as a method of refund to retain profit forcing the customer to have to spend their money with Target anyway.
A gift card is understandable without a receipt present but with a receipt come on. A return to the warehouse truly has the original receipt with it. It is called the packing statement or list. Target's customer service, online ordering system and return system is a joke that was not funny and this is the last time I will pay to attend their comedy show. Walmart has a loyal customer.

Anthony Napolitano
from Garfield, NJ
I would like to relate an experience I had with Target that unfortunately was not pleasant. I was looking to purchase an Apple TV 64GB (MLNC2LL/A) this Black Friday. You had none in stock or on line nor did any store in my surrounding area have them in stock. Previously, when I called Target for a rain check I was given a ticket number and a case was created with a promise to honor the sale price once the item was in stock. And that promise was honored until today.
On 11/27/15 at around 9:30 PM, I called into Target customer care and spoke with customer service agent Rodrigo. I explained to Rodrigo what I was looking for and hoped to get a rain check. I gave Rodrigo previous ticket numbers for him to look up to see how the price match worked. He agreed with me that I was entitled to the rain check and issued me ticket number 08726348. He promised that all I would need is this ticket number when the item was back in stock for target to honor the 149.25 price.
On 12/02 I called back into Target as the item was now in stock and I wished to order it. Both Reps refused to honor the price match. In our discussions, I was told that no such policy existed even though Target had honored prices twice before. The ticket number 08726348 is linked to 3 other tickets in which you can see the history where by my wife and I were getting the price matches. It was insinuated that I was lying and that there was nothing Target was going to do.
I do not appreciate being made out to be a liar since anyone can look up the ticket numbers linked to account deanna.napolitano@yahoo,com and determine for themselves how the price match promise was upheld. I do not appreciate being made a promise only for some other service rep to disagree with it and refuse to honor it.
I am very disappointed in the customer service I received today (12/02). You should understand that I have a plethora of choices to choose from when looking to make my purchases. I shop Target because of your low prices and for the most part, great customer service. The ball was dropped here in those regards, and it looks like I will need to shop elsewhere for the Apple TV. Seems to me that such a small customer service issue could have been resolved easily with honoring the promise as opposed to upsetting the customer. In today's world, customer service is what differentiates one retail store from the next. This belief is lost today with so many retail giants.

betty-ann campbell
from Chambersburg, PA
I had several issues while shopping at the Chambersburg, Pennsylvania Target store. Through every problem, front end manager, Michael handled everything with ease and professionalism. Please extend this compliment to his supervisors as we never hear the good that's done, there's so much negativity. Thank you Michael for a, job well done ;)

Frank Leibl
from Liverpool, NY
I bought most expensive phone case, made of leather at Target. The leather peeled back and off rendering item non usable. Took it to target store on hwy 31 clay ny where i bought it and they exchanged it with another. several months later the same thing happened. I took it back to store for replacement or diff style but was told they wouldn't do anything for me since may have been past 90 days. I said this item is not a return, its defective. Girl blew me off said sorry nothing we can do for you. I spent 20 dollars est for this item thought was the best. It is defective in design as not only 1st one leather pushed back exposing metal inner but so did 2nd one. I am not happy. My previous phone case lasted 5 yrs and never did that and this one wont last 4 mos. Can someone help me contact Target corporate offices with my complaint?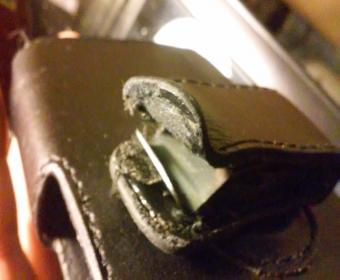 krystle halvosa
from Roselle, NJ
I am disappointed as a friend of mine had taken advantage of the 50% off Beats solo2 head phones and allowed her to price match to your online price. When I got to the store they refused to allow me to do the same, I then called customer service 800 number and was advised that I can in fact price match, but it must be with another company and not target online as your prices already reflect a discount since cartwheel doesn't work online and then I would be able to combine with cartwheel. Being that these are cheaper in many other stores.
I went back to the store and told them I was advised of this rule and that I should have no problem doing this, and was told that they don't care what your customer support had advised me that they would not be matching what your corporate has told me. This is very frustrating as I am pregnant had to make 2 trips to target to leave empty handed with my child. At the bare minimum, being that your company is huge, should warrant what your own staff advises their customers. It is not right to tell the customer that you do not care what you were advised by the company and that they will not do it. I hope this can be resolved.

Norma Andrus
from Buena Park, CA
I have heard from others that Target has employed Muslims cashiers that refuse to sell bacon or any pork product because of their religion. I am hoping that this is not true. You are wise enough to know the chaos and interruption that is already present in the US because of too much catering to the Muslims. This would be a catastrophic for your business. If you cannot hire someone to do their entire job, only a part of it, and put the part they can't do onto someone else, you do know that won't work. Just how many Christian or Catholic cashiers do you have that sells condoms, do you really want to open that can of worms? Do your job or take a hike, serve your customers or close your doors.

Mariana Cortez
from Pomona, CA
Earlier today, on 11/14/15 at 4:35 PM, I purchased a PS4 video game (Destiny The Taken One) from the Target located in Pomona CA on Rio Rancho Road. After coming home from a long day of running errands and eating dinner, I opened my game case only to find it empty. The only thing inside the case is the Play Station Plus trial code and small pieces of colored paper (one beige and one purple).
It's been about 3 hours since I bought this item so I decided to go back to Target for an exchange. I headed straight to their returns department and explained to the customer service rep. the issue. As soon as I finished explaining the problem to customer service I knew by the look on their faces they were not going to exchange my item. It's that same look you give your child or sibling when you know they are lying, a little roll of the eyes and 'that look'. The cust. serv. rep. gave the game and receipt to another employee. After a few minutes of waiting the rep. comes back and says they can't help me because when I bought the game it was sealed and I had to take up the issue with the manufacturer.
When I am upset I need couple of minutes to compose myself, otherwise I will lash out. So I took my game and receipt, walked out of the store into my car and ranted to my siblings who accompanied me through the whole ordeal. We contacted other Target locations nearby to question them on video game exchange policies. We explained the same problem to these stores as we did to our local Target. We spoke to two different managers, from two Target locations. They both said the video game could be exchanged with no problem but it had to be from the Target it was originally purchased. I gave this information to the Target manager from Pomona, Hilda, and her response was their policy was different and they didn't allow these types of exchanges.
Further inquiry of my item leads me to believe that the game disc was stole from a Target employee. My younger sibling purchased this same game, from the same Target, just a few days ago. He has confirmed that the plastic wrapping on my case is different from his. As well as the fact that the case is missing a code for DLC maps (DLC maps are extra content advertised on the special edition game I purchased). We also noticed the case has a small slash on one side of the case that can easily be missed. But this slash was not on the plastic wrapping.
One of the Target store managers we spoke with, from the La Verne location, explained that all video games are checked by the manufacturer before being sent to their Target stores for consumers. I strongly believe the disc was stolen by a Target employee and they are refusing to take care of the issue. Target would rather choose to imply I, the customer, is trying to gain a free copy of this game than exchange my item like all the other locations have told me they can. My family and I were planning on doing our Black Friday shopping at Target but after dealing with the abysmal customer service there we do not plan on doing any shopping with their corporation until this issue is handled.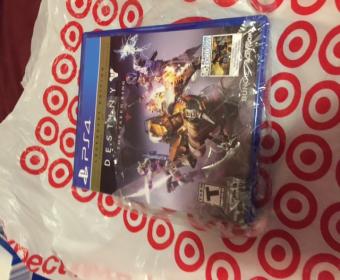 Randall Dietz
from Mount Pleasant, MI
I am very disappointed that the Target Corporation has chosen to trivialize the mental disorder that is Obsessive Compulsive Disorder with the sweater that You are selling. You should not joke about a disease that ruins people's lives. My complaint has nothing to do with the so called " war on Christmas " but rather just plain compassion for a very real illness. I will never spend any more of my money in one of your stores if you continue to sell this sweater. I thought you were better than this cruel joke.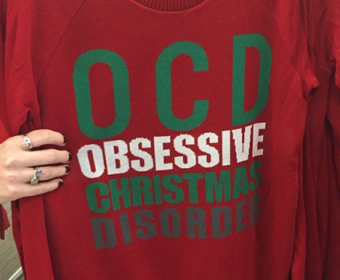 Judy Murphy
from Hendersonville, NC
This is a complaint regarding the decision to open on Thanksgiving Day. As a customer (not an employee) of Target, I feel that it is disrespectful to your employees to expect them to give up their holiday so that the stores can make a few extra dollars. This is an American holiday...it is not religious, it is not ethnic, it is not for a particular age group. I would never think to deprive someone of spending time with their family on such a holiday so that I can purchase a few trinkets which could be easily purchased at some other time. Shame on Target and the other corporations for this practice. This is Wal-Mart mentality (a store I refuse to shop in).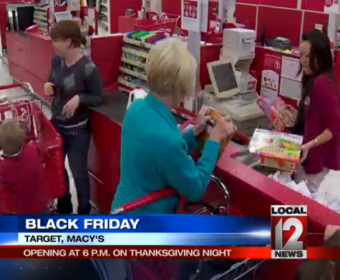 Patricia Bradford
from Cleveland, OH
I experienced the worst day of my life when I went to the Target in steelyard commons in Cleveland Ohio. I had a very bad experience from start to finish. To make a long story short I went in the cashier line first, she didn't speak, start scanning my items after that she just stood there looking all around so I ask her my total she said $113.39 I have the chip debit card so I inserted it into the credit card machine and she didn't know how to check me out with the chip debit card, I told her I'm always in target I can't swipe it I have to insert it, She then preceded to tell me that I was very unintelligent because I don't understand what she's saying, then the two customer at another register looked back in a state of disbelief of what they was hearing her say.
I then told her I think you need to work on your customer service skills and can I please see a manager, her reply was "if you don't understand me How the hell are you going to understand him" I said excuse me do you even know you're at work her reply was "I don't give a F*** about this job I'm from St. Clair I will go upside your head and let me leave this register before I do" she walked away I told the manager what happen he said he would take care of it, next thing I know is another manager is at the register saying the cashier just said I threaten her now I'm in disbelief first, I was embarrass about how I was talk from the cashier and now I'm humiliated, from the manager.
I am a district manager and I have been in management all of my life and I would never make someone feel the way that manager made me feel as if I was the aggressor and not the victim. I just left the store with the pending transaction that they said never happen on my account with no merchandise. I had to go in Walmart and shop, somewhere I never go because I always shop at Target but I refused to give them another $113.39. I tried to forget about this experience but I couldn't so now I'm going to a lawyer, the local news, BBB and all of my connections in the community are being notified because I refuse to let this happen to someone else. I also got the two customers in the store name, emails and numbers as witness. I will continue to use my resources until something is done.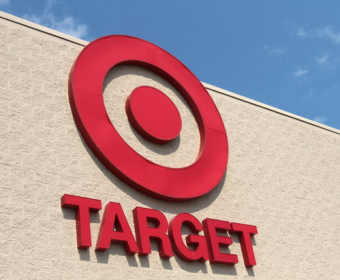 Stacy Hoover
from Buffalo, NY
I placed an order on Target.com and had issues with the site itself. Things in my cart would say something like, this quantity exceeds your limit. Well I finally got everything in my cart. I changed my billing and shipping address, placed the order and when the confirmation came through with the incorrect shipping address. I immediately called the customer service line. After being on hold for a bit, I spoke with an associate. She said there may be issues with the website. But, by that time, she said she couldn't help me because the order was processed. WHAT? She said that she would transfer me to a supervisor that possibly could help me. She transferred me to LaShawn? And it all went down hill from there. She was the rudest, kept interrupting me while I was trying to explain the situation.
Then she proceeded to say "Excuse you".? WHAT? This individual should not by any means be in customer service. I asked to speak with someone else and she refused, saying she it the top and that was it. I just wanted to see how to proceed. So now I have to run around to find not one shipment but 3 and after spending over $300. I will take my business elsewhere and I will make sure anyone who asks my opinion NOT to deal with Target.com. This supervisor should be ashamed of herself and Target.com should consider retraining her as to the skills of dealing with customers.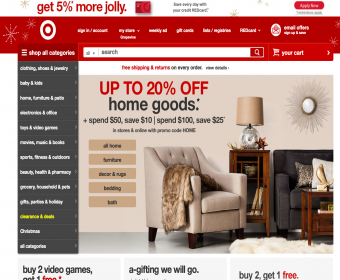 Kelley bourgeois
from Starr, SC
Went to buy an elf on the shelf, which was in the sales ad for the week. The store did not have any available, and I was told that they were still discounting Halloween products so they could put the merchandise out. Very poor customer service from Target and I'm not sure when Christmas does come around that I will want to shop with them.

Magda
from Mount Prospect, IL
Target, Where do I begin? I had a question regarding a coupon code for an online purchase so I called the 800-591-3869 Target phone number to be answered by a person in another country. I was on the phone for over 30 minutes back and forth because he kept asking his supervisor questions. He had no idea what I was talking about. I told him I received the coupon from the register and he came back and said registry. He told me Target does not give those coupons and abruptly said give me the coupon. I told him that is not how you should speak to someone on the phone. He then hung up on me. I called back and another woman from another country answered and I asked for a supervisor she repeatedly asked me how she can help and I politely asked over and over to speak with a supervisor.
She then put me on hold for 28 minutes and then it rang and she transferred me to an automated voice message asking me if I want to hear this message in Spanish press 1, credit 2, etc. Over one hour of waiting and this is the outcome. This was horrible customer service. I then had to contact Live Chat and they were of no help. This was the worst experience I have had with your company. Can you explain why this happened? Can you explain why no one was willing to help me?

Inka Yost
from Buena Park, CA
On my last shopping trip I got a $5.00 coupon for home goods. The coupon stated not valid for vitamins. I have been to the store twice to redeem the coupon and both times I was told that it is not valid for the items I purchased. The second time I told the associate to just throw it away. I must spend hundreds of dollars a month at the store with all the baby stuff we need. This coupon mess has me very frustrating. Why in the world can't you be more specific on your coupons and what they can be used for. In our household every penny counts. Thank you for listening.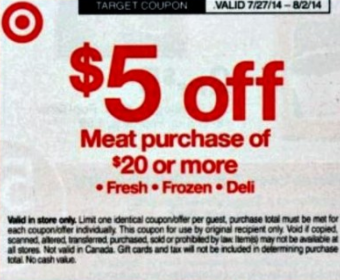 Samuel Wong
from Victoria, BC
Target order #102770270324 placed 10/15/2015 for store pickup thinking to minimize delay through delivery. After 10 days, pickup email notification on 10/26/2015 with a pickup deadline date of 10/27/2015 which is 1 day. I was on vacation after more 1 week since placing the order, I called customer service on 10/27/2015 to ask for an extension for pickup by 3 days. But was told that the "Target system" does not allow that and the order would be cancelled. It is sad that Target's marketing allows for a greater time for Target to fulfill orders but does not accommodate customers to pickup the orders. Is this the goal of selling? Not to actually CLOSE the deal. It seems Target just does not care about customer complaints or their reputation online. Thus I would recommend NEVER be a customer of Target if you value yourself.

Shakopee store, 7:30 PM, Saturday 10/24/15, cashier's name was Cheyenne. Rude, snippy, no "Thank you." She was talking about me to the next customer. I wanted some items marked off on baby registry. She was rude, rolled her eyes, made the comment, "Have you ever heard of the internet?" She was condescending and extremely unprofessional. It really put a sour fast in my mouth when it comes to target and I will no longer shop her because of this experience. The employee compliant is the easiest one to avoid Target!

Brenda Powell
from San Antonio, TX
I was on my facebook page and a friend of mine posted something that should not be selling at a Target store. You are selling a product called syringe pens. Age 4+. In light of all of the heroin overdoses this is not appropriate. Let alone being showing at a doctors so the kids are not afraid. Only as a prop. I wend send you a picture of it but there is no where to put it.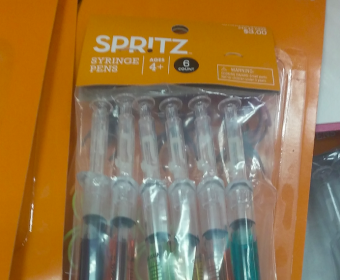 jessica thrall
from Washington, DC
I bought the new Guitar Hero for the playstation 4 console for my boyfriend. Much to my surprise the guitar didn't work properly. Upon calling to see if I could return it I was placed on hold for ten minutes and then disconnected. I then recalled and was once again disconnected. I then called target corporate and was transfer to the target store and was once again disconnected threw research online I found out what I needed to know. I will be returning the $100 dollar game to get my money back and WILL not be returning to the store. If they can't even pick up a phone to answer my question they don't deserve my business.

Debra Nossaman
from Oklahoma City, OK
On your website you advertised that the standard flu shot was to be $24.99. Today I went to the Norman, Ok store at 1400 24tth Avenue Northwest. I was charged $31.99 for a standard flu shot. Your website says one thing but the stores are charging another price. Either you should take down the information on your website. To tell the store that this is want has been advertised on the website. To be this is faults advertising . I will never shop in a Target store again. I don't like being lied to. That what you have done.

Ebony Cook
from St Louis, MO
This target is ok, but customer service could improve. The staff is mostly full of young people but I don't see where the older staff is doing much to steer them in the right direction. A few months ago, I needed assistance in the linen department and used the phone in the aisle to call for help. the first time I called, no one answered. the 2nd time, someone promised to be around shortly. after 10 min, I called back and the person who answered that particular time, was clueless that had even called the first time. I spoke to a woman at the customer service desk, who acted as if she could care less about my situation.
She answered my question with an attitude and never apologized that no one showed up to assist me in the aisle. I dropped the potential purchases in the nearest basket and walked out of the store. The woman muddled something under her breath and proceeded to help the next customer. The Starbucks which is located inside of the Target, is almost always unmanned and never has pastries stocked.
They are always out of something that Starbucks should not run out of-coffee related products. As I said, the store is not terrible, but the young staff need to be re-trained on how to behave in a work environment. A lot of them are "nice enough" but work ethic needs improving. Please look into this.

Manuel Abeyta
from Lemon Grove, CA
I went to the electronics department to look for some Bluetooth headphones I asked for some assistance to see where there Bluetooth headphones were located. I seen some Bluetooth headphones for $19.99 I asked the sales man that was helping me if that brand of Bluetooth headphones were good quality since they were $19.99 I let the salesman know that I wanted to buy the $19.99 Bluetooth headphones but was still shopping.
I went back to purchase the headphones they scanned higher than what the sale price was when I told the sales man that they were on sale for $19.99 and when he went to go check the ticket that said the price was gone someone had removed it I asked him if they honored the price that was shown he said yes but that it was up to his manager but he said that target should honor that price since it was their mistake
The manager that was in charge was named Kim I explained to her what had happened and the sales man that was first helping me seen the sale price on the Bluetooth headphones told her that yes they did have a sign that said $19.99 and seeing that they had made a mistake on the pricing so he removed the sale price .Kim the manager said that there was nothing that she can do. So that's why I am submitting a complaint on target for not honoring the sale price left target very unhappy when I shop at target every week.

Debbie
from Curwensville, PA
I tried to place an order on baby registry & would not let me proceed to checkout. The item was on sale. After spending at least an hour on line trying to get order to go through, I called Target line. Took me forever to get anyone to answer. Finally, after spending another hour on phone, they proceed to tell me that they're system is not working on their end also & to call back next day to try again! Of course when I called back the item was not on sale. Took me 2 hours on the phone talking to two different people that were hard to understand. They would not give me the sale price even though it was not my fault the order didn't go through!
Finally, I got a supervisor on the phone that was nice. She gave me the sale price & straightened things out, but then the wrong total was taken out of my checking - the one before the discount. I don't know why they do that! They said the discount will be taken off when shipped. Why wouldn't the correct total be taken out to begin with! I was so frustrated after two days of spending hours on the phone and computer & being passed around to different people. Now I have to wait to have the discount taken off! It is ridiculous! What kind of customer service is that!

Terrell Bailey
from St Louis, MO
I went into the Target Store on Hampton Avenue in Saint Louis, MO. on Tuesday August 11, 2015 around 2:15, where I do my shopping, if any, on my lunch break. I only get 45 mins. for lunch. Well I got in lane 4 to check out and their was 2 people (white) ahead of me. Well when the (white) clerk got to me to check out., He lifted his hand to me as in "wait" and told the couple that was behind me, (being a white male and female), to come on since I had a basket and they didn't. So I said "ok", they can go ahead and go since it wasn't that much they had. Well when the clerk finally got to me, he was acting if I was diseased or something. I put my things on the conveyor belt and the clerk went to get a pair of gloves to touch my things. Nothing I had was frozen, wet or dairy.
All household things and dvd's. I then tried to put the money in the clerk hand and he told me to "sit it on the counter". When I put it on the counter the clerk, still wearing gloves, then took the money up with 2 fingers and held it away from him. I got my receipt with the clerk still wearing gloves and went outside to look from the window too see if the clerk was still wearing gloves to check the white lady out that was behind me, and he did not. He must have taken them off as soon as I left the store. I just don't understand it. I go to Target every Tuesday for my shopping and I never had such a horrible thing happen to me at this store. I don't want anyone fired or anything I would just like to know, Are your employees allowed to treat a customer this way?
Are their limits to what a customer should accept from an employee and not complain? What rules were made for the Customer/Clerk? I just know that I love shopping at Target and would not stop going for the life of me. I just hated to have felt like I was being "divided" with an employee at Target.

Donela Canaday
from Cincinnati, OH
I shopped at the Everett Store and left my BOUGHT items behind and when I realized and returned to get them that had been put back on the shelve. I could see if they were just items left behind but NOT items that I had already paid for. How come they weren't just held with employees knowing someone would be back for them? The one was a gift and was then not found but we finally found it in the dressing room that someone else might have re bought. Please let your employees know this that if there is a receipt that someone will be back for it. Luckily I found the outfit again as it was a Birthday gift for my sister. It was a crazy day as I was looking for my daughters keys and set the bag down. Thank you so much for your time.

Nicole Hill
from Cleveland, OH
I went into your Target, Mayfield Ohio store. I had a very nasty customer service person who said her name was Saheedah, get very smart with me because I didn't understand the new return policy on 06/27/2015 around 12pm noon. She rudely told me that I could read the sign and that she needed for me to leave her line because she had to help others. I was so horrified that I didn't return my knit top. all I wanted to do was exchange it for a different color. I walked away from the customer service desk. She wasn't aware that I was still standing on the other side, when she said "It's not my fault her stupid ass can't read" I am so deeply hurt and I will never return to your store again.

Ronda Smith
from Mason, OH
I ordered a table (relatively inexpensive), unboxed the table and moved the pieces to a location for assembly. A corner of the table top was damaged. Upon calling I was informed the mfg. could not send a replacement top, but the entire table must be replaced. Not only do I have to go through the trouble of re packing the table, it must be returned via UPS and received before another will be shipped. The time and effort I expend on this is not worth whatever advantage I seem to think shopping Target offers. It also does not look like the table was damaged during shipping as the damaged corner appeared to have been packed in that condition. I will not do this again through Target.

Shirley McDonald
from Ventura, CA
Your pharmacy department is terrible. I purchase 8 to 10 prescriptions per month and I am on your automated system which is suppose to refill my prescriptions automatically when I have @ 7days of that prescription left. Wrong, you do not do this. You did before....but not for the past year. I am sick and tired of having to call you or go to your store to remind you that my prescription has not been filled. Why do you claim to have this automated system if it does not work.
I have been on my last pill, have gone to your store to pick my prescription up only to be told....I'm sorry, we don't have that medication in stock but we will have it on Monday. OK...so now I have to go through the weekend without my medication because you failed to refill it through your AUTOMATED SYSTEM and didn't order it either because your AUTOMATED SYSTEM does not work. I will be taking my prescriptions elsewhere and I really like the store but think I should also take my other shopping elsewhere also. So sad. This is the first time I have been on this website and I am shocked to see just how many people are not satisfied with your store. What a shame.

I bought 8 speed sticks deodorant from target few weeks ago and used coupons at that time. When I went today to exchange them for gel deodorants instead of powder one. At the customer service, the lady exchanged 6 of them and then called manager because computer had some problem saying too many because we heard her telling to the manager. Manager Carn who wasn't wearing her ID badge said you can do the rest of the exchange with the license but then she took our receipt somewhere and came after some time and gave us very hard time. She was very rude and said that I am not exchanging the deodorants and I am not giving you back these deodorant and receipt till you pay the full price. Then I asked her what is her name and the customer service number so that I can notify to the target headquarter. I am very frustrated from all this. I shopped at boulevard Target, phone number 716-831-8750. Please talk to her about how to deal with customers nicely.

Maureen Brown
from New York, NY
On Thursday, May 7th, I went to Target as I usually do on my shopping trips. I wanted to pick up 4 12-packs of Ginger Ale which were advertised in the Target flier on sale. As the shelves were empty of Ginger Ale I asked one of the floor workers if there was any in stock. The young lady called the storeroom and relayed to me that there was Ginger Ale in stock but as they were shorthanded that day there was no one available to put it on the shelves. She then advised me to come back the next day as the shelves would have been stocked by then. I knew the item was on sale until the 9th and I wanted to make sure they had time to stock the shelves so I returned to the store on the morning of May 9th. Unfortunately the shelves were still empty of Ginger Ale. I again approached one of the floor workers, who called the storeroom and relayed to me that the Ginger Ale would not be stocked on the shelves until Monday.
She then kindly advised me to go to the front of the store and ask for a rain check since the sale would be over by Monday. I went to the front of the store where I asked one of the Help Window clerks for a raincheck on Ginger Ale. She told me and not very kindly that Target doesn't give rainchecks for items that are put on the shelves by the company (Ginger Ale apparently) and then proceeded to pick up her phone. As she is punching in the numbers I explain to her that one of the clerks on the floor told me to come to the front and get a raincheck for Ginger Ale. Again she told me rather nastily and loudly "We don't give rainchecks for soda that's stocked by the company!" and proceeded to turn her back to me and start talking on the phone. I then said to her that I'd like to speak to the manager or someone in authority and was told very nastily with her back to me that there was no one here. That was my experience with Target today. I have to say that everyone else was absolutely kind and generous. Also, I shop at Target at least once and usually twice per week and I have never been treated so unkindly by any of the Target staff until today.
I just turned 75 2 months ago. Shopping is not just a hobby. It keeps me active and I really enjoy meeting and talking to people. Most people like me. That woman today was mean and quite cruel and it took alot to not let it ruin my day. I also would still like my raincheck for Ginger Ale at the sale price of 4 12-packs for $12.00.

Rebecca Shephard
from Bethesda, MD
I am trying to set up an auto pay for my Red Card by talking to a Person. This seems to be impossible. When I attempt to set this up online, their auto-online system does not respond to " forgotten password." This, in turn, sets up a circular mobile response asking me the same question, putting me back in to the circular pattern.
I have spent so much time trying to resolve this issue that I am canceling my Red Card, thus depriving myself of 5 % discount, but saving my 86 year old body from wear and tear.
I have been unable to get a usable response on their mobile system. Seems like very poor Customer Relations to me.

Louise
from Milwaukee, WI
On Monday, May 4th, early morning hours I went to pay my Target Bill. While waiting for a sales clerk to assist me at the service desk, a clerk came up and said that if I read the sign, it says go to lane 6. She were very rude, I said I am sorry but I did not see the sign and I continue to tell her that she do not have to be so rude this early in the morning. Her attitude did not change, so I decide just to not let her wait on me. I spoke with the store manager, her attitude then change. Customer service is very important to me and I will not be shopping at Target any longer.

Mary Ann Hasty
from Lady Lake, FL
I wanted to buy a bike that needed to be assembled. The clerk told me to come on Thursday and it would be put together by 3 P.M. I went and the clerk in then told me the bikes are assembled Mon. Wed. AND Fri. not Thursday. One trip wasted. He said he would put a hold on it and I could come and get it on Saturday morning. I went to pick it up Sat. morning. Couldn't find it. The clerk said they must have sold it. TWO TRIPS WASTED! I talked to the manager and he did apologize and said I could probably find another bike or have the last one in stock assembled. I said the only way I would buy a bike from you now is if you gave me a good discount for my time and gas. He said we sell plenty of bikes, I don't need to do that. I told him again what I thought of Target and left.

Rosetta Pringle
from Orangeburg, SC
I ordered two (2) items from Target Registry on April 17, 2015. Even though the Target registry was given all the information where to deliver the items.The store did not put the Apartment Number on the order for the UPS delivery, therefore, it was returned and not replaced. I had to do a second order for one of the item. It was finally delivered on May 1, 2015. This type of service from Target is unacceptable. I had to called Target several time before the order was done. I should be given a discount on this order because of Target's incompetent service.

Colette
from Columbus, OH
I was trying to get help with a return and the customer service rep called the manager over for an assist. This manager was very rude and unhelpful. This is by far the worse experience I have ever had at the Traverse City, Mi Target store. Surely doesn't make me want to go back or encourage people to go there for their shopping needs.

I recently decided to purchase barstools for my new place as I am hosting a dinner party at the end of the month. After moving in, I opened the boxes to set up my new stools except I was delivered 4 dining chairs of a whole different line. Not even close to what I ordered. So I called your customer service on Friday April 24th. I was told that they would need to submit some paperwork first before anything else could be done and that they wouldn't even be able to schedule a pick-up until I called back on Monday. But once I called in, they would be able to expedite my order, and I could possibly have my stools by this Wednesday. This call alone was about 30 minutes long.
Today is Monday, and I called back as directed. I was told by the customer service rep that I would need to schedule a pick-up and then wait a full week before submitting a new order. He stated they could not send a replacement because the same chairs might be delivered again. Instead, they would have to submit it as a brand new order. I was escalated to a supervisor at my request. After several minutes on hold, she told me the same thing. Then. she said she was going to check on something. I was on hold another 15 minutes or so. She came back on the line and I could hear her but she kept saying she couldn't hear me and that I needed to call back in to schedule a pick-up and then wait a week before calling back to have them submit my order. Then she hung up. I checked my phone, it was not on mute and I had done nothing different. I was very calm on the phone and not hostile in any way. This entire call was about 45 min to 1 hour.
I then called right back in as she suggested and had to talk to another customer service rep even though I had my case number and told him I needed to speak to a supervisor because I had been disconnected. He finally put me on with another supervisor who told me the same information. They send paperwork to the distribution center to make sure the bin# is not mislabeled. That whole process takes about 2 weeks and they don't want to risk the same wrong chairs being sent again. I finally told her to just issue me a refund and have the wrong chairs picked up.
I am so disappointed in this whole experience. It seems absurd that a cardholder customer would have to wait an additional 2-3 weeks to receive an item that they ordered correctly when Target messed up the order. I spent a total of 1 1/2 hours on the phone with your customer care department dealing with an issue that was Target's mistake only to find out, there is nothing anyone can do to make it right.

Mary Strickland
from Tyler, TX
I walked up to wait for my prescription. The girl behind the counter was coughing her head off. When she was ready to bag my pills, she opened the pill bottle and said, see? No red dye in these pills. She still had germs on her hands. She said she had allergies when I confronted her about coughing all over the place and then touching the pills. Even though there was hand sanitizer sitting right there, she didn't use any first. YUCK!!! I won't be shopping there anytime soon or filling a prescription. How awful!!! Another pharmacist refilled my pills, but I still don't trust it.

Michael Lewis
from Naperville, IL
The frozen fish had a sign stating they were on sale for $1.99 . The sign stayed up for a full 6 days after the sale price had expired in the computer system . Myself and others were purposely deceived thinking we were paying the $1.99 price ,but at the register the item rang up as $2.99 . I purchased this frozen fish over a weeks period and have receipts to prove my claim . Had I not complained to the Manager about this intentional deception -how many more customers would be duped into thinking they were buying the item for $1.99 when they actually were charged a higher ,non-sale price at the register ?
The fact that the "sale" sign stayed up a full six days past the expiration of the $1.99 sale is proof this was a blatant attempt to fraudulently deceive the public. This is but a single example of mis-management and poor store practices that reflect the sloppy and lazy attitude of the stores upper management . I have been labeled a "complainer" by employee's at this store because I bring to their attention expired , rancid , and unacceptably green/brown meats to their attention virtually every time I shop @ this store . T
he management "team" , all the way up to "Patrick" have done nothing but patronized and insulted me ,and I have seen little to nothing done to address these issues despite my numerous complaints . "Josh" told me today I might be happier shopping somewhere else since I complained every time I shopped there . "Marco" was more focused on my use of the word "shit" then addressing my frustration and anger at having brought these issues to their attention so many times I have lost count .

I was waiting at the store cafe for a drink, and the lady working there was in the back. Another man stepped up by the register and when the lady came from the back room she took his order. Granted he chimed in, but she should have asked "who is first?" I didn't know I wouldn't be first standing at the counter with my wallet out next to the register, not directly in front of it! I left without my order cause of this. I then returned later to tell her how she should have handled it, by asking, "Who is first!" I was quite upset, so I walked back into the store to find the people I'd come with. On my way out, I saw her talking to a manager, so I went over there and told her of my experience. She said that they help who's in front of the register. I guess then it was that man's fault? I didn't and won't buy anything from that Target ever! I still say you ask, who's next in line!!!!!!!!!!!!

Linda Potter
from Absecon, NJ
Lilly Pulitzer line released today, 4/19/15--I went there at 9 a.m. (They opened at 8) and there was NOTHING left, all old out AND there were groups if women who had loaded carts, some swapping items because they had obviously grabbed anything they could and some on the cell phones, sending pictures, telling people what they got and that they are going to sell them on eBay! I wanted some nice affordable summer things for myself, and had tried online earlier but everything there too was sold out and the website crashed. I am really disgusted.

Carolyn Davis
from Brandon, MS
While I enjoy shopping at my local Flowood, Me target; their Starbucks is CONSISTENTLY understaffed and sometimes just slow baristas. I love to start my shopping experience with a latte, but it's always too busy. Once again, this Saturday, they were understaffed. There were two baristas, but one was rudely attempting to put up traffic flow poles. She could have easily made a couple of lattes in the time, she rudely pushed me toward the counter not saying a word. I told her just that, and she smartly rebuffed me. I was admittedly rude, but she was very prissy in her remarks-told me I didn't need to tell her what to do. Her name was Jasmine.
The woman preparing my latte was very sweet and did a very good job. Jasmine was obviously annoyed she had to stay past her scheduled time. While I'm sure she was still on the clock she should have to experience a true job where you are paid salary with no compensation for extra hours. Btw- she was complaining about staying 12 minutes extra. People like this should really consider not being employed where they have to deal with the public. Flowood Target should really consider getting rid of their Starbucks if they can't staff it. It makes their otherwise well run organization look poor and the baristas they employ tend to have chips on their shoulders.

agnes abate
from Commack, NY
I purchased a Nostalgia Electronics Hard Candy/Cotton Candy Machine for my granddaughter's birthday in February from Target. She used it 2X. When she attempted to use it a third time, it was dead. I no longer have the receipt, but it was purchased in February 2015. I realize target will not accept responsibilities for all of their products sold, however it would be appreciated if a telephone number or an address be given so that I could extend my complaint directly to the manufacturer.

Tiffany
from Miamisburg, OH
I will never shop at a target again! While shopping there, an employee followed me around peeking around corners. I left my buggy and was leaving and he asked me if I found everything I needed and where I left the stuff like I was trying to steal. I was going to purchase this stuff until he creeped me out! I will never be back to that Target ever again. That creepy guy should be fired for scaring customers away!

Edie Dennis
from La Puente, CA
I purchased a DVD. Sister Act 1 & 2 combo and when I opened it up there was no DVD. Not a single one. Empty. I spent $9 on an empty case. I purchased in Escondido California. Traveling with my family back to Wyoming. The receipt got thrown away when we made a pit stop and emptied our trash can. I have proof from my bank card. If needed. I am so disappointed. It was sealed just like any other DVD should be.

Waste of my time & unfriendly service.
my girlfriend & I was doing a quick shop at Target on Easter Sunday 5 April 2015 @ 2.47pm. Store Glen Waverely Centro. **1st: @ the counter- the 1/2 price tag was put on the wrong chocolate box (%40019024 box 170gm) - so no sale. Sarah & the girl who were serving us were too busy talking about their weekend instead of customer service.
**2nd: I went home & found I was charged for 2 Tobleron (%11038276) instead of 1. We drove back to Target Glen & I spoke to Sarah (who worked at the service return counter). She made no apology for the error & her attitude was quite rude as she mumble something like "alright then". I walked away and was quite annoyed at Sarah's customer service.
I wasted my time & petrol coming back into Centro Glen for 1 small cheap item. it is not about the money for me but the service from Sarah was appalling. Friendliness is important for customer service relation & not rude sale assistant.

Emily Bjoraker
from Moville, IA
I can't find Circo brand jeans for my girls! Apparently you've replaced them with ugly Cherokee brand skinny jeans. My girls loved Circo brand jeans with the cute patterns on the side. Now I have to try and find something comparable elsewhere. Do you know how hard it is to find jeans they like and that fit them properly? Bring back my jeans please!

Rochelle
from Las Vegas, NV
Pharmacists and assistants at Target, Rainbow and Spring Mountain are EXCELLENT. I would still almost 86 Target permanently right now do to the following nightmare experience:
I wanted to find more info about Target red card/debit card discounts. I looked online and called their toll free number (888)7297-331 There was only one choice listed after Red Card. Didn't want to spend days emailing back and forth, the only other option Target offered for more info.
Called the number and was repeatedly asked for my Target number. No other choice offered. Started pushing buttons trying to get a real person. Then was repeatedly asked if my card was "lost or stolen." No, I don't have a card yet.
Miracle happened and I FINALLY got a human being. His accent was so heavy I could NOT understand him. He kept telling me info that had absolutely nothing to do with my questions. After MANY requests I finally got his supervisor. Same thing happened again. I then asked for his boss. I also said I'd like to give him my cell if we got disconnected. He said that I'd have to start the whole process all over again. Really?
Finally got a Target employee who really understood my questions. Sadly he couldn't answer them, as I was in the wrong department. I asked for the highest possible person in authority at Target. Instead I got a woman whose English skills were far worse than the 2 gentlemen I had already talked to. I then hung up the phone. Target HATES their customers.

Gerald M. Kassin
from Overland Park, KS
I purchase a cell phone from you and I have had a number of problem with it, Mitch I belive is the fellows name which seem to know a lot aboutt-mobile says the phone is working correct as far as he could tell. However when I am on a answer machine sometimes no matter what I do I cannot get the keyboard to put in a number or to s=hang up the phone. He suggest that I take it over to the service desk and return it and he would sell me one that would work. The service desk would not return it because I didn't keep the box or the reicite., something I didn't keep.

I went into your Owensboro Ky store to get a baby stroller that was advertised on sale. They didn't have any in the store. I ask for a rain check and was told yeah you can get a rain check by the associate (Donna) they helped me with it.I went to the service desk to get the rain check and was told that they didn't give rain checks on that product. I ask to speak to the on site manager and was introduced to Zac and Jess, Zac said that was an item that they didn't give rain checks on but he would give me one anyway since they were out of the item, then Jess jumped in and said no that i could not get a rain check and proceeded to explain why over and over, I said i understand what you are saying but how is the general public supposed to know what items you do and don't give rain checks on when it doesn't say that anywhere in the ad that there are no rain checks on this product. I was then given the name of several stores in a 100 mile radius that i could go and get the stroller. So I said that if i had to go there and get it I would just do my shopping there too from now on and not this store. I'm sure your not worried about one person and what little bit I spend in that store, but i felt like I had to vent anyway after all if they tell me that i'm sure other people get the same answer too.

My kids received giftcards for their birthday but my son couldn't find his! I called to have one reissued fine great! Until I go to the store and my daughter goes to use hers and they closed that one as well! I wouldn't be so angry but it was a little embarrassing and when I called the lady I first spoke to was rude! I called back later with the confirmation number to be told that they only issued the one missing but he closed the other that was perfectly fine but didn't even issue a new in for that! I was embarrassed at the store but more angry because when I spoke with the first guy I asked numerous times that he was only issuing a card for the lost one and the other two gift cards on the receipt wouldn't be affected and reassured me that was the case obviously not!! This is one of my favorite stores I spend a lot of money here but I don't like being lied to or embarrassed due to somebody else!!! Hopefully they will fix this problem!!

Anna Snipes
from Lubbock, TX
A huge line at Target. There was a woman controlling the lines. She directed a woman into a shorter line. I tried to join the shorter line. She told me that I was not allowed to, in spite that another woman right in front of me (wearing a Junior League shirt) had just done precisely the same thing. She told me repeatedly to stay in the long line. Eventually, I placed the items, which were perishable, on an empty checker's stand (of which there were many) and left the store. I tried to call the store manager from that parking lot and was told that he was too busy unloading a truck from the loading dock. I have worked in grocery stores. I know how stores work. That manager could easily have taken my call, but he chose not to. Six hours later I came back to try to contact the store manger. Those items were STILL sitting there, that I had left, on the same stall. And STILL, no manager. I want a call from the district manager in charge of this area. This is now not only bad customer service, this is a health and safety concern.

Pamela Jervey
from Miami, FL
Went to checkout at express line with one item. An employee of Target's (in uniform) was ahead of me and had 30 items, which she divided up and had rung through at 10 a piece so she wasn't TECHNICALLY over the 10 piece limit of the express line. She had NO compunction about doing this nor did the cashier. After she was done, she hung around gabbing with the cashier while the express line continued to grow and I for one, kept shooting the 2 of them dirty looks to no avail. I think Target should speak to their employees and figure out who the customers are versus the employees. Shame on you! This was at the Bird Rd, Miami, FL store on Apr 2, 2015 sometime between 2 and 4pm at express lane #2.

I call in to day asking about am items the person could not speak or understand English, I ask to speak to someone who can help me he did not, he hug the phone up.

Was happy with immediate response from Target, about the checkout experience a couple of weeks ago. I also had an experience this past Sunday at check out time . Approximately 3:05 PM on register 8, the ladies name was Denise ( i believe ) . All the checkouts were busy and we stopped at the one with the shortest line, the lady said sorry i'm closed , so we moved to the next register. Denise came running out from behind register 8 pushed my cart to the side , said pardon we as she ran bye , calling for one of her friends walking bye to come back , so she could check them out , so they would not have to wait in line. ( I have good luck at target check outs )

martin werner
from Anaheim, CA
on 3-25 i used my wells fargo visa at you lincoln anaheim store. the amount was $23.94. at 11pm while on line i notised a $948.31 charge from your store from the walnut creek store. i did not authorized any one to use my card nor was i in the walnut crekk store at 1130pm. i have notified the local police and will take legal action against the target stores.

Jose Miguel Arce
from Los Angeles, CA
You can not buy in target customers do not help the contrary are not interested in good customer is a shame my wife and I since yesterday 03/25/2015 stopped buying in optical target!

Availability of Featured (On Sale) Items in their circular. Target advertises items to get you in the store and then doesn't have the items in stock. Second time in a row I went to Ocala, FL Target to get something in their ad and it was out of stock. This time, it was the Meow mix that they had a big ad on the back page of their circular for. Supposedly, If you purchased Meow Mix and kitty litter in combination (two items), you were supposed to get a free $5 gift card. Non-service person pointed to her Dumb phone and said: Look: Store is out of stock but there are two online and you can order it. Right, how much shipping would I pay on 20+ lbs of cat food and would I even get the gift card. Why are there only two available online to begin with, and most importantly, why do they continue to not have their featured products? They don't even give an email address to send complaints to.

Letidda Anderson
from Cerritos, CA
I purchased 2 pairs if Beats headphones for Christmas. 3 months later the headbands broke. I was able to exchange 1 pair without a receipt but, was placed on some list for having done so. The next day I located my receipt, returned to Target to exchange the other pair of headphones and was quoted their 30 day policy. I emailed the corporate office and received a canned response containing the 30 day policy which they themselves overrode the previous day. To add injury to insult they would not allow me a store credit to purchase a more expensive model. Target's customer service is ambiguous to say the least. More appropriately, it stinks!

Athena Wheatley
from Dublin, CA
I recently signed up for your Target Red Dot card and the representative ran one of my checks through your scanner. I received the card and now a letter indicating I have a returned check and it denotes "we realize you probably just made a mistake" and then indicates that the reason for return is "Invalid Account". I immediately contacted my bank and they confirmed that my account is absolutely valid and that at no time have they returned any draft and specifically not the draft in question. I then contacted the department listed on your letter and was welcomed by the RUDEST most SARCASTIC and unprofessional staff.
In my first communication I asked the representative to explain and she eloquently told me she did not need too do such and when I asked to speak to a manager she refused and put me on hold for 14 minutes. I telephone back with the hopes that the initial contact was an anomaly only to find the next contact was a mirrored disrespectful exchange and again Richard (ID 46789) refused not only to escalate my concerns but also indicated the only contact for complaints within Target was via a PO BOX. I am preparing to tweet this and will be destroying the card provided, however will need to attain resolution to this nightmare with an understanding of what happened why am I receiving this communication and having to deal with such insolent representation of Target.

christine Milner
from Coos Bay, OR
I went to Target in Wenatchee Washington to do some shopping and was shocked to see the store was a mess. Looked like it had been hit with a bomb. The clothing items were all over the floor and had been walked on and dirty. The workers were RUDE. I could not believe my eyes. This was about 10:00 on Feb 28th 2015. The local dump was and is cleaner. I have always shopped in Target and been very satisfied, But that was in Spokane Washington. Are the people that work there to lazy to do their job's? When asked for help was told " that is not my department" and the person walked off. I was left standing at the counter. There was NOT another person in sight. I dought there will be any thing done, I will tell you the word will be up out about that store.

I politely asked a clerk if she was opened and she looked st me then turned away! I asked again and the customer she was serving said 'no." Then the clerk told me that she was closed." I went to another register next to the closed one and my daughter td me to turn around, when I did I saw that the cashier that had told me that she was closed was in fact ringing up another (Hispanic) customer! I said to her "I thought you were closed!" She again pretended not to hear me but the customer she was providing service to, looked ashamed! I have never felt so humiliated and degraded in my life! The cashier treated me as though my daughter and I were subservient, impotent and invisible! I spoke with Dina, the cashier supervisor and told her that I would follow-up in the morning with Ralph the store manager! I have shopped at the River park location in Fresno many years before and have bever felt so emotionally shaken and devalued like I did today! I feel that Olivia, the cashier needs additional cultural sensitivity! How she acted towards me and my daughter was not acceptable and degrading!

Edward Cauthorn
from Concord, NH
I cant get you clowns to accept my payment over the web. My wife was just hung up on by a "Manager" that told her that she did not hit the Submit button. And this is four times in a row. Are you people just plain idiots?

Cindy
from New Baltimore, MI
I went to target to purchase a shark steam mop, I was pleasantly surprised to see it was on sale for 109$ after picking up a few other costly items, I went up front to pay for my items, the steam mop rang up for 129$, I questioned the cashier who called over the customer service cashier, he went over to where they kept the item and came back saying there was no sign I went back with him, showed him wear the sign was and told him he took it down, I understand that mistakes happen and it was probably last weeks sale, if he would have explained that I would have purchased it anyway, I spent 345$ yesterday and walked out feeling like he called me a liar, I will never spend another dollar there, if something I want is on sale at target I will go to a place that price matches, they will get no more of my money!!!!

I went to Target today and purchased several items totaling $160.00. When checking out I attempted to use my Target Red Card. The cashier told me my card was denied. I asked why and she said I needed to call the number on the back of the card. I used my bank card but was unable to receive the 5% discount when using my card. I did call Target when I got home and was told my limit was only $200.00 because I didn't use the card recently I told the rep I hadn't used it much since the security breech and waited until I got a new card. My previous limit was $4000.00 and is now $200.00. The rep said he would have it increased, but I am not sure if I will ever shop at Target again!

When purchasing items from a list given through the Baby Registry at Target, Gig Harbor, Washington. Saturday, 10-22-11, I was told my check was rejected and I would have to pay for my merchandise in another way. The supervisor said the rejection was out of their hands and they were sorry. The checker was having repeated troubles with his scanner and called the supervisor several times and each time was told to manually key in the necessary information. Following her orders he manually entered my check ID and driver's license number.
He called her back again and they said something I couldn't hear, then she told me my check had been rejected. I contacted my bank, then TeleCheck. The bank knew we had never had any difficulty with them and had a good amount in our checking account with them. They only knew of the rejection because of our call. TeleCheck will send me a written confirmation that they did not reject the check and that we had never had any negative activity on our bank account. By process of elimation I deduced that the checker had made an error when he manually entered my driver's license information.
To their credit, when I contacted Target Corporate Office I did get a prompt call and they verified that that checker did make an error. What a huge error for the supervisor to have let the checker go on after he repeatedly let her know his scanner was non-funcitoning and what a wrong to infer the rejection was out of their hands. Why not just double check the entry and why not tell me the rejection was related to my driver's license? As the lines were long I did not made a scene (sorry about that) and chose to pay by VISA and get to the bank to see how they could help me.
I have been writing checks since college 6 decades back and NEVER had any difficulty. What a slap in the face to a long time customer to do this in front of all in the area on a busy day. Believe me, their little, "I'm sorries" do not heal the insult. The person from corporate said they would have a meeting with 'the team' to see how to do this better. I am so disgusted with this treatment and the thoughtless, careless, dishonest talk from the supervisor that I can't imagine wanting anything badly enough to deal with them again. The lady who said she was the Gig Harbor Target manager when I called back merely said I could call corporate (late Saturday afternoon) but that they do not give written apologies and that there had to be a reason for the rejection.
Of course she couldn't tell me the reason. I told her to begin with she could locate the one involved by checking to see which scanner wasn't working...she hastened to say that that had been taken care of. So she obviously was aware of the problem. She gave me no satisfaction whatever. I can't imagine she really is the manager. I think it was just too sloppy an operation and their treatment of people too indifferent. It would have been so simple to catch the error had they cared. Shopping for a baby gift on a Saturday should have been a fun experience.
I now think of Target as a place to avoid and maybe the lesson to be learned is to use my VISA...they didn't have any trouble with that.

On November 30, 2012 I went on line and ordered a heated mattress pad from Target. On December 3rd I received nothing that it had shipped and I would have it by the 5th. When it didn't arrive I called and was told it would be delivered by the 10th. Still nothing.
Called again and was told to be patient and I would have it by the 14th. Well here it is the 16th and still nothing. The customer service agents don't know what is going on. At this point I either want what I ordered or a refund of my $60.57.

I ordered a 3 piece dining set that required assembly. There were no instructions in the box. I called Target .com to request the assembly instructions. The first person I talked to put me on hold for 10 minutes after I explained the problem. When she came back on the line she stated she could not help me and transferred me to another person. I again explained the problem and was put on hold jfor 15 minutes and was told I would have to be transferred to another person . I repeated my story for the 3rd time. I was put on hold for 10 minutes and was told that they could not provide the instructions and I was then transferred to the 4th person. I told my story again and was put on hold on and off for 30 minutes. I was again transferred and told they would try to get the instructions mailed to me bout could promise they would arrive. I asked about returning the set and get a refund. I was then transferred to a gentleman the had a very difficult time understanding was I was talking about and was abruptly transferred to another person. She thought it was very amusing that I was transferred without warning. I got to repeat my story 7 times. I will be returning the set and will NEVER shop with Target again!

Target gave me the dates for arrival, so I went ahead and placed my order. What they didn't tell me was that the UPS was going to transfer my order over to the USPS. That took an extra 5 days. I was suppose to get it on Friday instead, Tues. This was a birthday present. Now it's late and the little girl is very unhappy. I even called on Weds. to make sure that the package would still arrive in time. The Rep DAVID said "don't start worring until Friday". What the package is suppose to be here Friday. Then Friday came and NO package.
Target Stinks at shipping merchandise. Seriously, don't waste your time with Taget shipping.

On New Year's Day I went to return an Innotab that had stopped working an hour after my daughter opened it on Christmas Day. She had received it as a gift and there was no gift receipt. I found out that it was purchased at a Target in Austin Texas where I reside. Ok, now I head there thinking this was going to be an even exchange an I'd be on my way, right? WRONG! When I get to the first store, yes the first store there were none in stock. I asked the lady working if she would please look and see if there were any more in the surrounding area because I really wanted my kid to have her favorite toy of the moment! The lady complied and called a store to ask if they had one in stock.
They said they did and would be holding it with my name on it. I arrived at the store on Louis Henna and yes there was an Innotab there with my name on it. I was so happy until the employee pointed out that the one on hold had been used and returned and she was not sure why it had been put back out on the floor! And was there another one in the store? Of course there was NOT! At this point I was only a little aggravated. The customer service rep did call around to a few other store that were all out of this Innotab as well! At this point I asked if I could just get a gift card now so that if this item didn't come in for a while I would not lose any value on the product. The lady said that was fine UNTIL she realized it was $79.00, $10.00 more than Target was willing to put on a merchandise card for a return without a receipt!
Now, I'm starting to get upset. The lady called the customer service line to ask if there was ant type of authorization code she could use to make this customer happy. She asked three times, they said NO three times! NOW I AM FURIOUS. I have worked in customer service all of my working life and most of that time has been spent managing. I am aware that all companies has its policies and procedures as they should. I'm also aware that in a situation such as this; my being inconvenienced by coming to a different store to get an item that was already used! Also, I was willing to eat that $10.00 and get a card for $70 but they would not do that either!! I left that store so livid that it ruined my day! I knew then that I would NEVER SHOP AT TARGET AGAIN! NOW LET ME TELL YOU ALL WHAT HAPPENED TWO DAYS LATER!
My boyfriend found the receipt!!!! I was so excited I made him return it right away! He obviously never returns anything because he turns to me and said " now that I found the receipt they will just go ahead and give me the merchandise credit so I can buy another one". I said no sweetheart, take the broken Innotab, your receipt, and get your cash back! There is no way I would give them my money after how they were so adamant that there was nothing they could do for me because of their policy! I actually felt sorry for the associate that attempted to get me that merchandise credit! I'm so happy and blessed that I work for a company that empowers its associates to make decisions that keep their customers happy!
If target can afford to lose customers because of their unwillingness to bend a little then so be it! I know I have told at least 15 people about my experience! So good luck with all that Target!

I purchased two face masks yesterday from the halloween section. After getting them home I decided I did not like them. I took them back with my receipt and was told I could not return them. I was told that the Forest Lake store has a policy not to take them back because they found that customers had worn them and then tried to return them. I explained that I had purchased these after halloweeen but she said that didn't matter. She said (the woman at the customer service section) that she had posted a note saying these could not be returned. I told her I did not see the note and in fact these were with many other items. I looked at my receipt and did not see anything saying that these items were sold as "final sale no return". I have always believed that Target provided good customer service but this time I am extremely disappointed and feel that I have been taken advantage of. I expect Target to take these masks back because they have not been worn and that I am entitled to my money back. Let me know if you agree with this request.

I spent $120 worth of goods today, 12/1/12, at your Orangethrope Ave., Buena Park California Target store. I did not expect that your cashier on duty by the name of WILLIAM JONES would embarrass me in front of other people in line for taking a couple of regular plastic bags simply because I needed to divide my large purchase. Mind you, he gave me ONE large bag which would obviously be more difficult to carry. I'm a regular shopper at this local Target and expected better customer service. All I needed was an apology from this employee. After complaining to him and his supervisor, I heard him tell his supervisor that he's definitely not going to apologize. Is this the kind of customer service Target has? If that is the case, I will not be surprised if I see that store close for business sooner that I thought.

Store Number : 1786. Location : Sugarland, TX 77478. Issue: Ordered a Bread Sticks and Icee -- My daughter refilled the Icee and the representative INDU said I have to pay for that because there is NO refill for that Icee - First of all there is NO sign says there is NO refill, but I thought it might have been printed in the Receipt so I paid the Money and even in the Receipt it was NOT mentioned there is NO refill. I asked the Representative where its been mentioned that there is NO REFILL, she says for a long time that's the practice, how do a Customer know that, the other drinks that are kept aside have the refill, if there is NO refill then Mention that.
I felt its TARGET fault and not mine for sure - INDU was very rude and Arogant and said if you want I will return the money, my concern is NOT that, keeping the fault on Target and putting the blame on a Customer is NOT perfect. So I requested for a supervisor and then came MIKE, who has NO patience and dont want to listen what the customer says, he simply said return the money its FREE for him - I was so surprised how Target made a person as Supervisor - Shame on Target.
Target has to remember customers are NOT beggars, this is totally an UNPROFESSIONAL treatment by INDU and MIKE - If I were the CEO definitely I would show the EXIT doors for these kind of reps who spoil the image of Target.

After standing in line at the Target store on Milwaukee St. in Boise, ID for 4 hrs. on Black Friday, I was in front of the 6 remaining 46" HDTVs for $298. I paused for 10 seconds to stabilize an elderly man's shopping cart as he loaded his TV. I turned and 2 young men loaded all 6 of the remaining TVs on 2 utility carts! When my husband informed them that the circular said "one per guest" they denied it and took them anyway. We informed 2 different security guards, they would do nothing about this. Why does Target not issue tickets, as other stores do to stop this unfair practice? It ruins the sale for everyone, is unfair and causes us to boycott Target indefinitely. Great marketing!

I purchased a set of chairs online, the product delivery was supposed to be delivered in 3-5 days and here i sit after 11 days without the product or communication from anyone at target. They arranged a shipping time to deliver and after the product was not received the neglected to call and tell me the product had not been received at local distributor. After reviewing the product on the website I noticed the chairs were now on sale at $100.00 less than I purchased. Requested they give me a credit and they will not credit me the difference because it was not within 7 days of ordering. This has been the worst experience ever. I will not be shopping at Target stores and will make sure to share my experience with every method available! Buy this product anywhere but here!

I was in the target Store in Cheektowago. NY (walden galleria). I went to purchase multiple items after collecting various coupons I used and spending a great deal of time finding the products and making sure they were appropriate for the ooupons being applied. The girl at the checkout bagged and put all the items in my cart (I had a very large order with multiple bags). After she started applying the coupons she began questing whether on purchased them and refused to look on the register receipt on the computer but made me dig though the bags to show her each iten (even if i bought three; i had to find all three!) really.
The line was building up. The last item she questioned (and by this time i was really annoyed) I could not find it while digging through the bags several times and it was in a bag by her; not even in the cart! We got the item out; she said this is not the right size for the coupon and I stood there thinking "how could that be"?. After I looked at the product I said wait a minute it is the right size and had to literally show her the size!. My daughter is a cashier at a local grocery store and she agreed that it was really ridiculous how she dragged out that whole transaction, held up the line and embarrassed me.
I have not had this happen in all my Target travels so I am assuming this female was likely poorly trained. I appreciate your feedback. I am a long time valued customer.

An item went on sale on Sunday. An hour after the store opened I went to purchase the item. I was told tha they must have sold out. Within the Hour? How many were in the store in the first place? They were so kind to offer me two more expensive models that were in fact in stock. They also offered me a rain check. If I wanted rainchecks I would order on line which is what I intend to do at another store even if I have to pay a little more. I know I won't be dragged to Target for something that is not in stock.

My wife has had knee surgery and has to get around by crutches . She has shopped at target for many years now . She unfortunately would like to be able to use the electric carts provided for elderly or disabled people . The six time that she has recently been there the carts are never charged . She sent a complaint by email and received back a reply that said this would be taken care of . Well guess what this morning at 11:30 am after the store had been open for only three and a half hours 4 of the 6 carts they have we're not charged . I been patient but now feel I have to take this a step further with the Americans with disabilities act . Obviously target does not care about this situation . Sad to say that this has left her with a choice to never shop at target again . And we will make sure our families are made aware of the situation also .

i just came from target the one on 120 city of hawthorne had the worst experience as a hispanic, bring the the items an had some coupons cashier shawntanett african american an maneger told me is per customer i said ok give me back the coupons an items i will get in line an pay, she anwer i cannot do that because u mite put it inside your basket an leave without paing for it i said are u calling me a thief she said no is the store policy i dont think u need to be better train u are calling me a thief infront of all these customers.

I was not allowed to use your $5 off $30 or more at the Target in West Hollywood , at Santa Monica Blvd. and La Brea. I was told I couldn;t use it becausre its a city Target, It may say City Target on the front but on the back it says TARGET COUPON EXPIRES 4/13/13.
I shopped today 3/21/13 and spent nearly $80. I don't live near a city Target , I do live 3 blocks from the one I went to today. Seriously your not the same company. How rude on your part to embarass me like that. I asked the manager and she was helpless, and when I asked her if it was the same company she was stalling for a second and then said we are told that we are not suppose to take them.
Then I asked you said your not suppose to but did they say you can not and she said the same thing again, she was useless. I am done shopping at TARGET, I HATE BEING CHEATED AND LIED TO AND YOUT COMPANY SHOULD BE ASHAMED OF MAILING OUT COUPONS THAT ARE NOT AVAIABLE IN YOUR SHOPPING AREA. BAD POLICY LAZY LAZY COUSTOMER SERVICE.

Friday before last- I had enough money in my account to finally purchase a 55" Phillips Flat Screen LCD TV with a 3 year service plan- Total $1,078.00. I made the mistake of going to the Target Store at 4575 West 11th Eugene Oregon. I was declined the purchase- all said and done, the reason for my decline? I hadn't spent ENOUGH money in the previous year to "qualify" to spend such a large amount. Hmph. I then proceeded to the Walmart store at 4550 West 11th, Eugene Oregon. Where- lo and behold!
Walmart had ABSOLULTELY NO PROBLEM with my money. Despite my not purchasing anything with them for the previous 4 years. Therein I purchased a Sanyo 55" Flat Screen TV LCD, complete with service plan for about two hundred and fifty dollars LESS. How Target stays in business with their patronising attitude- is beyond me. My apologies Target- for not being 'worthy' enough to spend even more money in your stores. And I apologise also- for my complete unwillingness to spend any more there- ever.
Later that month I went to the Target store in Van Nuys, CA. A large sign on a baby T-shirt display read "Clearance 70% reduction and more." I bought 3 T-shirts for my grandson and checked out. When I got home I realized that I hadn't received the reduced sales price. About an hour later I went back to customer service for the reduced price and they said those T-shirts weren't really on sale. So, I went to the department and shot a picture of the display and brought it back to customer service.
A representative was sent to check it out and came back with the sign and said it wasn't supposed to there. I showed the manager, Eduardo, the picture and he said sorry, we don't do our sale price tags this way and refused to sell it at the in store advertised price. Still have the pic in my phone.

I went to the Target to do some shopping today. I purchased, or intended to purchase over $200 worth of merchandise, only to have my Bank of America courtesy check denied by your agent. I went to BOA after leaving your store to see what was the matter. I was told my account had no issues. have had exemplary credit almost all my life. This was an embarrassment to myself being denied the purchase in front of the people behind me. The supervisor there offered no help just saying that's what the computer says!
Well I higly doubt I will return to a Target store after this. I was a monthly shopper there. I would like to see what kind of response I get from you at this level. I was wrongly parked outside of tour target store on sunday waiting for my wife who was about to come out when an employee from that store who was recollecting shopping carts came to yell at me and wanted to start a fight with me because he wanted me to move. I moved my car and proceeded inside the store for a complaint when that same employee came inside and told me i was a "wuzz and didnt have the balls to fight him instead of telling on him".
Why do you make it so hard to cash a "cash back check" that you send to my husband? No one has the right to ask for our social security numbers and yet that it what you require to cash a check. Why can't we just use our driver's license the way we do when we write a personal check? Also, why can't my husband sign and then I sign and cash the check with my driver's license ID? It seems that you purposely have made it difficult. This makes no sense when you are the one who sent the check to us. It has all the attributes of a scam.
The security employee who was at the door was hearing him as he told me this and wouldnt do anything. I told him that i was going to call the police as the employee kept on telling me the "lack of balls i had" for not confronting him, all of this happening while there was alot of people watching as you can imagine, the whole line of cashiers were just staring. After the security person sent this employee out the back the manager approached me, i told her i wanted to report the police because i felt threatened coming out but she (manager) told me she would take care of the situation.
She said there was cameras outside as well as inside the store and told me she would take care of the situation. I take responsability for my fault but there is no reason for one of your employees to insult, and threaten, pick a fight and try to embarass me in front of many people. If that employee would have been courtious in the first place none of this would have happened. I did not call the police because my wife convinced me not to, but i hope that this incident will not be taken for granted.

I live in Columbus GA and went to Targets on Bradley Park Drive. I was trying to purchase decongestion medicine. I went down the medication aisle and found the medicine I wanted but since it's controlled, I had to take the card to the counter to purchase it. I also had other medication items I was purchasing as well. When I handed the lady at the pharmacy counter the card with the item I wanted she told me to wait to see if they had it and they didnt. I asked her why then, was the cards not taken off the shelf if the items werent available. She went into a long process stating that the pharmacy doesnt put the cards in the medication aisle but the store does it. She wasnt concerned about my issue but was upset that she had to stop and explain to me why the item wasnt available. If the cards are located in the aisle where the medications are then the medication should be available. A customer shouldnt have to wait no matter how long in line to find out that the item isn't available. That isn't good business. So, then I took the medicines to the front counter due to the attitude of the person that waited on me and when I went up to the counter they asked me for my date of birth. I asked them why they needed it and they stated that they had to make sure that the medication wasn't being bought by underage children. I don't understand this policy especially if I am bald headed and have a bulging belly and am 58 years old. I have never had an issue with anyone knowing that I'm definately not an underage child so why should I have to provide that information. I could understand if I was a Young looking kid and walked up to purchase these products. Not understanding where Targets gets these ideas but it definately isn't customer relations based. If there is a Younger person coming through the line You ask THEM for their date of birth, but not someone that is 58.

My name is Ron Johnson my wife went to target today to do last minute shopping for kids school clothes got home and realized she was charged for 5polo shirts Itm#038033192 and actually only bought 2, the total spent $187.67 Receipt# 2-1240-1243-0078-7717-4 VCD#752-282-737 We called the store on Craig Rd 2189 N Las Vegas 89032 and were instructed to bring the receipt and all items back to the store, No problem just inconvienced to do so. upon arriving at the location we aproached the security guy who was Great! and very helpful he aproached an employee whos name we will get..
And asked him to help with the return he acted a little anoyed and was rushing, well the return / reimbursement was for 3 of the Polo shirts and he actually gave us $11.88 which was for 1 Polo and he headed off very quickly, my wife said to me Ron he only gave us a return for 1 shirt, I quickly ran over and flagged him down saying "hey you only returned to us the amount for 1 Polo" he came back and acted really anoyed! and said "NOW IM GETTING PISSED"! and the security guard actually apologised to my wife for what he said! He just walked right by us quickly and he immediately got the lady that supervises all the cashier lanes to help us, which she did!
It was so annoying that this guy said he was getting pissed off.. when she bought $187.67 in merchandise and was charged for items that she did not get, and then had to drive back to the store to get it taken care of and one of your store employees acts and says what he did! our experience tonight has us totally disapointed and my wife has been a loyal Target shopper knowing Walmart has cheeper prices and is directly across the street! Now Target will not be her first choice any longer.. I believe she will be shopping at Walmart. Thanks for the one experience that has changed how we now look at Target!!! His attitude towards us as a customer was so discusting !!

In today's ad you advertise a Baby Boat Float for $12, went to the store just now at 12:00 p.m. after church and your store and all stores in Sacramento were out of them. The store I went to said there were 7 in stock and sold out at 8:00 a.m. I thought could order online and this product cannot be sold on line according to your web site. Everytime it seems I want a product at Target, and I realize it is summer, or whatever time of the year it is, your stores do not get very many of them and it is first come first serve, I realize, however, but not everyone can come in when your store opens. You could at least have it online when it is advertised in your weekly ads. It is very frustrating.
On a good note though I do love Target and especially your grocery department. There are very few items I can't find at your store without going to a grocery store, but that is alright. While shopping at Target this past weekend, I purchase one bottle of wine. When checking out, the clerk asked to see my ID. I showed her my DL and she said she had to scan it. I told her to take the wine off our bill and she said she couldn't do that (why not--too much trouble?). We have purchased liquor from all kinds of retail stores and have never been asked to scan our DL. I let her do it but realized I should have refused.
There is already too much of our information out there. This is the most ridiculous policy I have ever seen--when did you start doing this? I will never buy liquor from Target ever again!! We are usually asked to see our ID for verification when using a credit card, which I have no problem with. You need to rethink this policy! An unsatisfied customer!

I went to target motile in west saint paul to add a line to an existing AT&T account and received extremely poor service! I was placed on the wrong rate plan and also the device that was supposed to be activated was never actually activated. I had to take a trip all the way to the other side of town to get the correct phone activated!
When I got to the kiosk they were so busy trying to up-sale me on the Apple protection plan they neglected to tell me the insurance that I asked for had not been added. About 31 days into my plan I found out not only had I been placed on the wrong plan and double billed but that I also hadn't been enrolled in the insurance plan I requested.
I spoke to a manager Shana Cover at the West Saint Paul Target who told me she would call me back within 1-2 days with a response but after 5 days of no response I contacted her back she then told me her district manager wasn't responding to email or text messages so that's why she hasn't contacted me back.
She proceeded to tell me there was nothing that could be done for the employees error! Talk about poor customer service! By far, one of the worst experiences ever.
Have feedback for Target?
Thanks for your feedback!
Sorry. Please try again later!