Target
Target Complaints Continued... (Page 1)
358+ reviews added so far. Upset? Call Target corporate: 1-800-440-0680

I ordered a light fixture online on 2/14/19 (order #: 1050662308534). It was scheduled to be delivered on the 22nd by Fed Ex. There was an adult home all day but Fed Ex never knocked just left a note on the door saying they would try next day because a signature was required. I waited all day with no delivery. On Monday received box with a random bulb from Target, Called was told to wait a couple of more days. (nothing) Called Target again (case #50067911) was told to wait further and send picture of bulb attached to the email he was going to send me.(never received email). Called today 2/28/19 case # 50141707 was told to wait again two more days and if I didn't receive email to call back.
To date I have been charged for the fixture it has not been delivered and the only thing I'm being told is to wait. What is it that I am waiting for? I hve wasted to much of my time getting no results. I expect more from Target Should I get my credit card involved?

My target.com password was reset and not by me. So I called immediately like the e-mail suggested to report. Had 1st agent the told me just to reset my e-mail. I could of done that with out calling. I asked if my account was OK and nothing ordered . He said yes. I asked how do you know, he said o I need your e-mail. I gave it to him he said all was OK. I ask to verify he was looking at my account, I asked what my last purchase was. Couldn't tell me. He repeated my e-mail and it was not correct. I gave him AGAIN my e-mail he said he then couldn't see anything, I just ordered something last week. I asked to speak to a supervisor because I was having my doubt I was talking with a actual Target person. After on hold for 10 minutes a supervisor Britney came on. She "finally" was able to verify my account. Not real impressed with your customer service at all!!!

Maureen Mitchell
from Riverside, CA
Dear Sirs: Our local Target at 3333 Arlington Blvd, Riverside,CA just completed a beautiful, long overdue renovation. That has been a blessing. The issue is obviously in the management staff and scheduling of stocking shelves. I have seen complaint after complaint on local Facebook concerning how inconvenient, cluttered and lack of customer service from employees. The aisles are filled with carts needed for restocking which prohibits customers from getting up and down the aisles - you can't get at the merchandise. I have never seen restocking during the middle of the day when the majority of your shoppers are in the store. The employees do not seem to be bothered to help customers - just concentrating on stocking. The beautiful new store now is junky because of this stocking issue.
I am puzzled because this does not seem to be the norm for Target. Please have someone look into our situation. Riverside loves this store.
Thank you!

Received a set of "Bose" Earbuds from my son for Christmas. Initially they worked fine in early January but problems syncing them with my iPhone & Ipad began while on vacation the week of 2/9/18. Contacted Bose who tried to trouble shoot for close to 2-hours only to be told the Earbuds where probably defective. I was also told that the Bose 1-year warranty expired on 6/20/18 (they would have had to be sold and registered on 6/20/18) which was a surprise as my son did not purchase these from Target until 12/18/18 (see attached receipt). So unless some ones records are incorrect, I can only think that Target accidently "sold us previously sold (used) & returned product". When I contacted Target Customer Service about this matter I was told you only give a 30-day warranty and it was not your problem, call Bose. Well, now unfortunately its my problem as we are out $213.24...

Everyone was rude! Rude attitude and was completely clueless only one with their head straight was this nice young woman named Janelle. No one would explain to me what was going on and when I was introduced to the "Store Manager" he was clueless and not helpful. I'll only resort to Janelle she was kind and only one who listened and made a solution to this mess. Needs to be more people like Janelle!

Pueblo Colorado - employee Rachel is RUDE! She made returning a cracked phone case (brand new in the box) an extremely painful experience. She treated us, the customer, like WE did something wrong. She has no customer service skills, and we will go elsewhere to shop where we are treated with respect. Shame on Target for having such a person represent your company.

In the past I've always went to Target to purchase black hair care they aways had a vast majority of products now they seem to have cut out most of the products that the have purchased. also they have put the hair care across from the condoms . . I will never shop at Target again and will pass this on to my friends and family members .
O

Armando Ramirez
from Hialeah, FL
Today was a day were I get in great bad moments w/this great company I came to the store it was a young man facing or standing at front of a place that I intent to buy some stuff for my grands. I made signal s to the girl that he speaking to then finally I say please do you mind can I see those items please . them he finally w/ bad actitude spoke to me and move ,Them finaly I get what I want but I still was so piss off with the man n I cama back, I told to one of the employees, to call the manager, and get what, the one talking to the girl about poppy love was him the manager, can we do something about it hes getting pay good money to take care of the costumers, them he walk away from me. first time . this the target by 1750 west 37 place Hialeah Florida. hes a not we'll educate person and less if you see that the customers very wellnew in this place. His name is short but do something about because he may be put this way around . Sincerely Your a 74 years old man, Armando Ramirez if you people, please call him the attention ,and teach him a nice way to treat a customer I know that he thought that I was a only Spanish language but dead wrong , this is my language. English speaking person put this way how many other people he have treat this way dirty way. you got my e/mail if you want to give me a nice apolozie to report this man and MANAGER THAT WHAT REALY PISS ME OFF> ARMANDON RAMIREZ SR<

david brodie
from Glasgow, SCT
this is not a complaint about your coffee (your flat white is excellent) it is about the cleanliness in your store at Braehead Shopiing Mall Glasgow UK I dont know who you employ as cleaners but the table bases ,floor and along the ledges of the windows were filthy with food stuff caked on

Eric Bach
from Madison, WI
Dear Target:
Recently we bought a storage cube, by
Furniture of America, model HFW-1453-6.
The kit has some serious problems.
1. The holes in the blocks for the long
metal screws are too small. I had to
drill them all out. They also should have
been countersunk to accomodate the wider
shank near the screw head.
2. You need to drill these holes, which
are going into a plywood-like material,
perpendicular to the grain. Because they
were parallel to the grain, one of these
blocks split and had to be glued. (I
am waiting for the glue to cure.)
3. I can't imagine one Phillips screwdriver
that would be sufficient for the job, as
the instructions indicate. I needed a #3
for the cam connectors and a #1 (much smaller)
for the cam bolts. Maybe #0 for the door
hardware (haven't gotten there yet).
4. For a high-torque application such as
the long steel bolts (number 4 in your hardware
list) you need to supply something better than
a small allen wrench. I had to clamp it into
a vise-grip to make the last few turns.
Allen wrenches with longer handles are made.
Please contact your manufacturer and get
them to fix these problems.
Best,
Eric Bach
bach@cs.wisc.edu

Kandis K Misner
from Stephens City, VA
I bought a $100 Visa gift card at Target... Used it a few times until I had around $40 left. At that time I had dinner at Applebees which came to $27.84. Somehow... the $27.84 showed as ringing up 3 times. There was not enough balance on the card for those charges but yet I was able to use the card at McDonald's for $5.88. I should now have a balance of a little less than $6.00. But am not able to use the card and it's showing a negative balance. I have phoned the Visa number on the card. Have spoken to 3 different individuals and their supervisor Jerry. They have all told me I need to fill out a dispute and have read my Yahoo email address back to me ( which I provided.. So that they could send me The dispute form).The first 2 individuals told me I need to contact Applebees about this issue. I did. They searched their records and found they had only been paid once not 3 times... So they could not remove charges they couldn't find. I delayed all this information to Jerry, the supervisor and told him that I had not received the dispute form. I still have not received any communication from the Visa representatives. While, I think it is totally ridiculous to have to go through this much trouble for under $6.00..... It is my $6.00, eand i feel it is being stolen from me. If this issue is not resolved to my satisfaction... I will NEVER buy a gift card - nor will I recommend to anyone else... That they but a gift card from Target.

Lori Clark
from Lockport, IL
Fraud gift cards was told it was stolen. I was on the target app and target sends me this response with no proof . Target app is not secure . They are aware of this problem and let gift cards to be transferred to another gift card with large amounts . They don't investigate.
Thanks for taking the time to give us a call on 01/09/18. It's disappointing to hear about the trouble you've had with your Target GiftCard and we sincerely appreciate your patience while we looked into your issue.
After review of the gift card, we don't see any fault on Target's end that would have caused the funds to be spent. Because of this, I'm sorry to advise you that we are unable to replace the missing funds.
We encourage you to visit: https://www.target.com/c/gift-card-fraud-prevention/-/N-lj9kh for additional information on Gift Card Fraud Prevention.
I know this is a disappointing experience for you. While we are unable to resolve the issue as expected, it may be to your best interest to pursue the matter further with your local law enforcement.
Thanks again for your patience with this matter.
Sincerely,
Chad
Target.com Guest Services

mark stephens
from Raleigh, NC
i feel sorry for your associates, staying open until 10pm on Christmas Eve.
i would not recommend Target to any family nor friends.
i will no longer shop at Target and will take my business elsewhere.
Enjoy being greedy Target!
Mark Stephens

Byrle Querry
from Washington D.C., DC
I order a jacket for my great granddaughter on 11/26 and was given a delivery date of between 12/8-12/11 to the store in Forestville, Maryland. On 12/12 I received an email that canceled my order. (1021974951723)
In the meantime I ordered the same jacket along with other items on 12/1 to have them delivered to a home in Lusby, Maryland. This order was received on 12/8.
I called to talk to some in Customer Service - waited about 20 minutes and someone picked up the phone and immediately hung up. I called again and waited about another 20 minute this time some answered the phone and as soon as I started to talk they hung up.
What is the problem having orders delivered to the Forestville, Maryland store.

Cathy Snedeker
from Newark, NJ
well where do I start. I was hired in 2017 for Christmas at Bullhead city. I was Layed off in January that was fine. But at that time I was told that I was Re-hireable so I call back the next year for Christmas and was told sure I will call you tomorrow. I was never called back very un professional .I called again a week later. Was told that HR is only taking messages. So I give a messages asking HR to give me a call back. Again un-professional.I feel that one of the supervisors didn't like me. That is not a good reason. And I feel I should be called back and told why. if I am re hieable. I love Target ! I worked in Redlands Target also for Christmas and they ask me too stay on. But we were moving to Laughlin NV. Redland said o we have one in Bullhead get a job there. So it cant be that I cant do the job. I feel that it is not professional at all.Please give me a feed back
Thank You Cathy Snedeker 2618 Ellis Plantation st. Laughlin NV.89029 or snedeker.cs@gmail.com

Lisa Mendel
from West Chicago, IL
Even though I did not receive all my 12 gift cards in the mail. I received 11 all gift cards were $25.00. I was finally taken care of 28 hours after my first initial call. And now I only need to wait for the gift card to be sent to my email. Now yesterday morning first chatting on line chat then finally phone number for someone else to take care of it the after all of that she said Some one will get back to you. No one got back to me!! Today the same thing but it took all of the same like yesterday but now a additional 58 minutes on hold and dealing with other people and then THANK GOD when I finally talked to an American! Very disappointed in your service. My husband said next time he will just give me $100.00 not to call!! Very sad and hurt feelings

robert jones
from New Port Richey, FL
returned merchandise and received gift card for 11 dollars. then shopped store for more presents. got to check out and was told I could not use gift card after being told I could. cashier tried 20 times to make it work, then called manager. after standing 15 minutes I finally left in a huff without merchandise or card. no one,i mean no one gave a care about the customer. I am 75 years old and will tell everyone I know about this scam. shame on target for cheating a social security old person out of 11 dollars.

melissa plett
from Littleton, CO
I was looking for a weighted blanket and found that the best prices were at target. I did some research and found they are helpful for those with autism and comforting people. I went to two different stores in Denver to pinpoint this soon to be Christmas gift only to find that they were all sold out at both of them. I ended up driving 3 hours to Silverthorne's location after calling to make sure that they still had some in stock and that it would be worth the drive. I was told that they had 8 left in stock and where they would be located in the store as soon as I arrived. After the drive, I couldn't find them in the store so I decided to ask for assistance. The lady had short dark hair and was wearing a green staff shirt. I asked if she could point me in the right direction, but she replied that they were completely sold out in those three hours that I drove and was very rude and unwilling to help in the slightest. I felt defeated and upset as I was told there were 8 left. I asked if there was any way that there were any in the back or if they may have a different place on the shelves for the holidays. She rudely replied there was nothing she could do and continued to do whatever she was doing. I went to the service desk and asked yet again if there was any chance there were weighted blankets after I was told there were 8 left. The young man kindly replied that they were in stock, but they weren't able to locate them in the store. He came out from behind the counter and walked around the store to make sure they weren't misplaced or in the stock room. He was very helpful and kind. He apologized and empathized with me. He went to go check with another employee who happened to be the obnoxious employee who refused to help me before. In front of me, she said she would not help me and would not look in the system to see if there was any chance she may have known were they were. While leaving I graciously thanked the young man that helped me and mentioned to him that he was the most helpful person. However I refuse to ever speak to the female employee ever again. It was unpleasant and she made the experience and company look awful. I left without a blanket and still have yet to purchase one.

Dennis Reeder
from The Bronx, NY
I keep calling the Mt Vernon NY store at the number provided 914-530-3000 to see if they have a certain cell phone in stock. Either no one answers the phone when you push the button for any of the options, or the phone call goes thru but someone hangs up before I can say a word. This is not good customer service.

MEREDITH FIRESTINE
from Sunnyvale, CA
I SHOP AT TARGET ALL THE TIME, BUT LATELY THE SHELVES ARE VERY POORLY STOCKED, ESPECIALLY WITH EVERYDAY TYPE ITEMS. RECENTLY THERE WERE THREE ITEMS NOT ON THE SHELF. THIS HAS BEEN A REPEATED PROBLEM WITH THESE PARTICULAR ITEMS. THE PRODUCE DEPT. WAS PRACTICALLY EMPTY!
THE STORE IS SUNNYVALE, CA. HOPEFULLY THIS CAN BE RESOLVED. I OVERHEARD OTHER CUSTOMERS COMPLAINING AS WELL.
THANK YOU

Order arrived damaged- soaking wet as the driver who delivered must have either left box out in the rain or dropped in major puddle. Customer service did not believe me- really!! And they disconnected me after I waited for a supervisor. No call back. No return. No refund! I gave more photos to share if interested. Threw out damaged items—- waste of money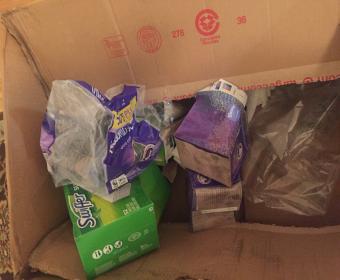 David Hickenbottom
from San Diego, CA
I ordered several items online (order #1020159816481) on 8/8/18 taking pains to make sure those items were available at my chosen store (in fact, I had to pass on several others, which were not available) because I needed them the following day. I happily went to the store after receiving a text stating my order was prepared. However, upon receiving my items, I noticed that several were missing. The clerk was very pleasant about the mix-up, so I wasn't too bothered, despite the fact that I had to search the store for comparable items (several of which were more expensive than the ones ordered). On my way out, I asked the customer service girl SPECIFICALLY if I should cancel the remaining items on my order. She replied there wasn't a need to do so, as the order was unfulfilled. I didn't have to do anything and my card would not be charged.
Today I received an email stating that my missing items were being delivered to my house (without any say/request on my part). Confused, I searched my email for anything from Target. I found several (in my junk email) and was able to cancel 2 towels I ordered that were not available yesterday. I also found an email stating:
Hi David,
Unfortunately, items from your order are no longer available at your store.
We apologize for the inconvenience. To make up for it, we'd like to offer you free shipping (based on item availability). If you'd prefer to pick them up instead, check availability at a store near you.
You'll need to act quickly. YOUR ITEMS WILL BE CANCELED WITHIN THE NEXT 2 DAYS IF WE DON'T HEAR FROM YOU.
The email also states one more time that:
IF YOU NO LONGER WANT YOUR ITEMS: NO FURTHER ACTION IS NEEDED. AFTER 2 DAYS, THEY WILL BE CANCELED, AND YOUR CARD WILL NOT BE CHARGED.
Needless to say, I did not respond, but the items were NOT canceled. Instead, they are being sent to my home. This is in spite of the fact that I never authorized Target to do so. Why would I want items sent next week that I need TODAY (I have a guest coming into town) and when I purchased replacement items at your store yesterday?
I was in chat, redirected, put on hold , then on the phone with one representative and then another (who was also pleasant) for about an hour (in total) and nothing was truly resolved. I was offered a prepaid label to return the items or told I could take them to the store when they arrive (which will be on different dates, so I'd need to make more than one trip), but declined.
Your system is seriously flawed. Several mistakes were made by your corporation. Why your would online system state that items were available when they were not? Also, when I specifically asked if I needed to cancel unavailable items on my order at your store (which could have been done easily) I was told not to worry. Things would be taken care of and I would not be charged. Instead the exact opposite occurred . I did everything a Target customer should do, but am being forced to pay for items I do not need and no longer want. Anything short of a refund for those items is unacceptable to me. If the money is not refunded to my PayPal account in a timely fashion, you will have most certainly lost a once loyal customer to your competitors.
David Casey Hickenbottom
619-955-2264

Morgan Monaco
from Palm Coast, FL
To who it may concern.
-I am over 80 & do not look 21 but I was forced to give my idea in order to buy French Champagne @ Palm Coast FL store. I refused.
-If this is Target policy it sucks, disgusting stupid nonsense. The one who drive that kind of policy is a pure idiot.
I see no reason to give my ID to Target, in fact you are stealing ID info's for sale to any for marketing.
-I will never go back @ Target.

Heather Zander
from Minneapolis, MN
Every time I go to the Shakopee Target for the past 3 months, the shelves are bare. Every time I am there I have to have someone go to the back room for stock for a certain item or 2 or 3 or I leave with my list not being completed and have to run to your Competitor, Walmart. You are losing business at this Target. Corporate needs to step in and make some changes, soon.

While shopping with my 2 kids. We were followed an watched by not one L.P. but 2. Then had an associate on the next men's pad watching us also. The most uncomfortable experience ever. Especially when I choice the garland texas location, because it's nicer. An to have a guy circling around us pretending to shop. An the other just standing behind fixtures watching. Just shows me even though we didn't have big baggy clothes on nor I was carry a big purse. Our behavior wasnt that of a shop lifter. That just being brown was enough to be followed. An the manager really didnt seem to care. But somehow she understood. Before i even told her what the problem was. Hmm i dont shop at target alot through out the year, Until Christmas. Not this year, ill do my Christmas shopping online and at walmart.

Richard Kohner
from Saint Paul, MN
My wife and I do about 80 percent of all our shopping at target.We don't normally have complaints and if we do customer service at the store we are at fixes it on the spot but today saturday august 18 I picked out a toaster Cuisinart CPT-180,i found it on line and the price says 54.99 and roseville has 2 in stock woodbury has some also.So we went to the roseville store and they had some but the price on shelf says 64.99 ,well we checked on our phones and it does say 54.99 but there is an employee close to us so we asked him and he said that was common but to go to customer service and they can honor online price .We purchased this toaster for 64.99 then went to customer service all of this was at roseville store,the person looked it up and said price was 64.99 and there was nothing he could do,so we returned said toaster went home and ordered it to pick up at roseville store tomorrow for 54.99 ,wow what gives?Two trips for a toaster because you won't honor online price when I'm there thats crazy. Please let me know if for prices online are only good online,I may start trying amazon if your prices are only good with stipulations.
unsatisfied customer Richard Kohner

Gaylien C Wright
from Lakewood, WA
I placed an order of $167.73 on 7-19-18, I received all of my items but my 2 pk of Cat & Jack pull on pants gray and blue both in one bag but were 2 different sizes an 8 I needed and the others a size 10 too big for the grandson. Order #1020047975172 I tried to get help on chat that I sat for 8-10 minutes waiting and then I was disconnected!! I could not get back on chat, it would not go through as I tried numerous times to no avail. I purchase on line with Target every few weeks if not more and it seems every order something is damaged or missing and I am truly getting frustrated. I have had really great customer service until this issue and I love Target but will stop ordering if I can't communicate with someone. I prefer chat over calling as I have anxiety on the phone and I also order on line because I do not drive. With this situation I would just appreciate having the blue pull on Cat & Jack pants in a size boys 8 resent to me. One last complaint, the packagers need to be refreshed on how to pack a customers items properly. I have received a large box(in poor condition from the drivers) that has had all my products just dumped in be it food, clothes, cleaning supplies etc, any and all in one big box. This is more than likely why I receive damaged goods. I have written you a book, please know I am a loyal Target customer and as of now I will continue to shop with Target. I need assistance with my minor clothing issue. Thank you Sincerely, Gaylien

Lisa jackie
from Farmington, CT
Just went to see if a charge was removed from my card at the customer service desk and the person was very rude to me. May have been a manager in the southington ct store on 4/17/18 at 10: 19 am. Kept insinuating that my card must not be active. Didnt listen to a word i said and then she doesn't apologize for the inconvience no thank u have a nice day.

Maryann Sorenson
from Denver, CO
horrible experience with purchase online. I ordered a bakers cart online and given an approximate delivery date of 2/15. Then on 2/10 @ 8:51 I received an email stating the product had been delivered. I was home all evening, so I knew I had not missed the delivery. Upon calling I was told they showed it had been delivered and that I should call back in 2 days if I still had not received. Thus I called back and was then told that I had to wait until 2/15 since that was the date of to be delivered. I called back on 2/15 and was told I should contact the police department since I hadn't received and it showed it was delivered indicating it must have been stolen. How in the world could I report something stolen that I never received? It is unbelievable that Target expects their customers to file reports and track down shipments that they are responsible for getting to their customers. Disgusted with this experience of online shopping from Target I asked for a return and will never purchase from Target online again. Very poor customer service. You have just lost a customer and I will be passing on this debacle to everyone and anyone that will listen. It's a shame because I am one of your best customers.

Tamara A Knoll
from Sioux Falls, SD
Hello,
I was employed in November of 2017 with the Aberdeen SD Target store. It was a fantastic experience. The store and the people are great!! They asked me to stay on past the holiday and I said yes but things took a turn for me and I moved to Sioux Falls SD. I asked what to do to work possibly in the Sioux Falls Target and they Aberdeen store assisted me. I applied with the Target in Sioux Falls SD. On January 18th 2018 Courtney phoned me and we talked about my position there and she said herself or Zach would be getting back to me about my schedule. I said great as I would be moving January 20th 2018. I advised I would have open availability. I than received an email saying I did not get the job. I called Target & spoke with Zach. He informed me that was for outside applicants and I was indeed employed there & he or Courtney would get back to me with a schedule. After 12 days I finally received a call from an employee about a schedule. I by than had taken another better paying job as I thought I was totally forgotten about. I like other bill paying adults need to be working as soon as possible. The Target employee I had spoken with apologized and said they just had no one to work last week and it was kind of crazy! Needless to say I was not impressed as I was waiting for them to call me that entire last week and I could have worked since I pulled into town January 20th! I was so confused. I was than told Courtney or Zach would be calling me. That never happened. They must be truly unorganized at this store in Sioux Falls. I am a very good employee and worked very well with the employees in Aberdeen. I was very hurt by all this. I than went into the Target Store in Sioux Falls to find my W-2. I went to the service desk to find an employee by the name of Saige having a not so nice conversation with another employee right in front of me and another guest that was at the service desk trying to be helped by another gentleman that I could tell was very uncomfortable by the entire situation. When you are reprimanding another employee I think it is more appropriate to take it to the back room and not right out in front of other guests and employees. In the end, I was called by Nancy from Aberdeen that my W-2 was sent back to Aberdeen and the Sioux Falls store terminated me without ever calling me or talking to me....EVER!!! I am so very disappointed in the Sioux Falls Target store I cant even tell you. I had such a great experience at the Aberdeen Target. The people and the look of the store far out ways Sioux Falls South Louise store by far. Like they say, you always remember how people make you feel and how you are treated. Sincerely, Tamara Knoll

joe smith
from Lubbock, TX
Tried to access the Target website, but was not able to do so because google wanted me to use "their" internet browsers. Not a fan of google or their ads. Guess I'll not be shopping at Target, either on line or in their stores. Joe

Henry Grimme
from Westmont, IL
Poor inventory control. At least the last three times I have been to your Willowbrook store I have been unable to purchase generic Benedryl Allergy Tablets in bottles of 100 or 300 tablets. I had to settle for a package of 24 tablets. This last time I had a few minutes after check out so I waited in at customer service so I could ask the person when do they get the shipments of 100 or 300 in. The answer I got was "I don't know.", not "Let me check" or "Let try and find out".
So today as I was preparing to fill my medicine dispenser for the week, I sat there scissor in hand cutting them out of the bubble pack. As I feed them, plop into the generic Benedryl bottle. I don't have the finger strength nor dexterity to push them out on the package.
Henry Grimme
Cell 630.220.5260
Feb. 3, 2018

Komushana Ouedrago
from Los Angeles, CA
I purchased the Star Wars BB8 on 12/24/17 at the Culver City Store(2632). When my son opened it on Christmas, to our dismay it did not work. My son was very disapointef. I was given the run around when I went to return it. I received contradictory information from customer service to supervisors. Eric in guest relation said, " would send me a 25.00 gift card for the inconvenience which I yet to receive. Customer Service was Horrible! Hopefully target will improve the guest experience.

Khristi Nicholson
from Rockville, MD
My daughter bought a juicer for $63 and some change. Unfortunately, she left the store without the bag containing the juicer. I called several times and was told I could come in and get a new juicer, but it wasn't in stock. I then asked them to just refund the money because my husband had bought the juicer at another Target store. I was finally told, that they couldn't do anything for me. The previous managers were so nice about it and tried to help me, but the last one I got pretty much told me I was out of luck. My family and I shop at Target AT LEAST once a week and have never had an experience like this. We would like to be refunded for the juicer since we did buy it at another Target. I thank you for your time and consideration.

julie case
from Cleghorn, IA
order number #9018002799218, was the wrong chair, The chair was sent back with instructions that we could not re-order until they received the return chair. The next day we saw that there was a chair coming, which was the wrong chair again. They have received the chair back that was sent to us, but refuse to give me a credit back because I am assuming the other chair was sent out. We finally got them to stop that chair from coming and I have no idea where this one is. I have called every day and receive no answers except I will receive an email in 24 hrs with my credit. There has been no credit and no email. I don't feel I should be punished because your people sent out the same chair with out us ordering that. My next action will be calling the better business bureau.

Dianne Duncan
from Ocean City, NJ
On Nov 24,2017 at 6:15 am we arrived to purchased 2 apple 8+ phone, we were told at the time that they were making appointments and ours would be at 8:40 & 9:00 that evening! Also told that was the only option. We came back to the Mays Landinf store at 8:30pm as instructed...we realize that the time was iffy...things happen...however when we arrived there were 2 customers being helped and 3 more waiting. After 45 minutes I interrupted the chatty associates to ask about appointments come to find out everyone in line ahead of us that were now being helped didn't have appointments...she finally got to my son at 10pm, told us it didn't matter if we had appointments!!! she finally got to me at 10:30pm at 11:20 we got asked to leave because the store was closed!!! Still no phone!!! We were there over 3 hours and they helped 4 customers ahead of us that didn't have appointments. I had paid for my phone and had to returned at 8am on Sat.25th to a very unhappy manager who didn't have any idea what had happened the night before...he called the associate and asked why they were not taking care of customers with appointments. Really unacceptable treatment!!!!

Delores T. Smith
from Charlotte, NC
I was at the target on Albemarle Road in charlotte today 11/24/2017. I went to clock section of the store, I could not believe the clocks the store had. There was not one that was a AM/PM clock radio with an alarm. I know the generation of today use their cell phones for everything, but it is not conceivable that the seniors who still use alarm with AM/PM clock radios are not even thought of today by target. I don't think I'm asking for a lot for you to carry some AM/PM Clock radios. This is a growing concern as I have been to Targets clock section before but thought that it had gotten better, NOT. I am so disgusted with Target, to say the least YOU HAVE LOST A CUSTOMER. Thanks for what you do not do or carry in your stores.

Amber Hossbach
from Towson, MD
Dear Target,
It saddens me to leave negative feedback, but Target.com needs to get its integrity back. As a middle class consumer who has a young family, I choose target for my household shopping needs and have always trusted that I would receive the correct items in a timely manner. My recent experience has me doubting if I will ever order online from Target.com again.
On November 6th, I decided to start my Christmas shopping and placed an order for 5 items and they were shipped in 3 different shipments. Shipment 1 and 3 was received shortly after, but shipment 2 showed that it was shipped but I never received it. Seven days after the expected delivery date passed, I contacted your customer service via chat and received the UPS tracking number and told to inquire about it from them. I contacted UPS and their system shows that the package label was created but that the package was never picked up for shipping yet. Again, I contacted your customer service and this time I was told that my items would be shipped to me. Well, the replacement items arrive with the 3 remaining items from my order…..except I was shipped an incorrect item.
For Christmas my daughter is going to get the Little People Disney Princess Castle. Did I receive that toy? No, I received the Little People Sit and Stand Skyway instead….a boys toy with cars. At this point my husband calls your customer service and both associates at level one and two are incapable of sending me the correct item. When I ordered the castle, it came with a promotional item of the figurines that accompany the set for free. I was told that the only thing that Target.com can do for me is to refund me once the incorrect toy is shipped back and I would have to return the promotional item and purchase that for an additional twenty dollars if I wanted it.
So let me get this right Target…you lose my order in transit, then send me the wrong toy…and somehow the customer is the one that has to go to the trouble of sending back the wrong toy, find the Disney Castle in store now that it is the day before Thanksgiving and you want me to pay twenty dollars for something I got free for placing the original order in the first place?
You see, mistakes happen, I know that and normally I am very reasonable. Both my husband and I have worked in retail management and have all dealt with those crazy customers that want something for nothing. I'm not that customer, but at this point I have a wrong toy sitting in my living room, I have to spend more time trying to track down a new one to buy and you have done nothing for me. All I want is the correct item, but apparently that is beyond your customer service staff. Target get your act together because middle class families like mine are your bread and butter. If I wanted a hassle, I would have chosen to shop at Walmart.
Sincerely,
Amber Hossbach
Akw962@gmail.com

Sharon
from Springfield, PA
TO WHOM IT MAY CONCERN,
My name is Sharon Atwell, I am a loyal target customer, who spends my hard earned money at your stores on a regular basis. The reason for this email is to inform you of the very poor and awful customer service I had to experience at your store recently. On 11-13-2017, I went into the Philadelphia West Target location to purchase a few items, which turned into the worst experience ever.
On this date I purchased two items that were both on the clearance rack. Once ready to check out, I explained to the cashier that both items were on the sale rack and the one item had no price tag on it. The cashier went to find a supervisor to assist me with this matter, she brings over a gentleman by the name of John. I explained the situation to this gentleman and he responded to me 'So what do you want me to do, it's not my fault that the item was misplaced'. His response made me feel very awkward, and uncomfortable. I explained to John that it may not be his fault but it's certainly not mine and I don't appreciate how he was speaking to me.
I asked to speak to someone higher than him. John went to get another manager by the name of Paulette. Paulette disgusted me with her customer service. She immediately said to me, " I refuse to discount any items because they were misplaced. This is our policy and if you have a problem you can take that up with Target's corporate offices".
Paulette never once greeted me nor did she give me the opportunity to speak. Paulette also refused to give me her name and title. As the customer, I do not and would never speak to someone in that manner. I felt as if I were being belittled and chastised.
Paulette truly embarrassed me by speaking and raising her voice at me. The very nice and pleasant cashier had done everything in her power to assist me even by giving me Paulette's name. She also apologized about what took place. Although it was not her fault, I was very appreciative of her being sympathetic.
I understand that we are all human, and things get thrown around. I was very understanding and nice to your staff. To be treated like that is really bothersome. If my children had been with me and had to listen to the things that your staff were saying. I wouldn't have been as nice. I did continue to purchase the items but, was and still am very disappointed and angry about what had taken place.
Again, I am an very loyal customer and I only want to be treated fair. Hopefully this email can shed a little light on the disrespect that goes on in Philadelphia West Target location.
Respectfully,
Sharon Atwell
(267) 285-6888

Victoria Minor
from Washington, DC
I went to the target in Baltimore West to shop with friends I went to buy juice it said 2 for $5 i went to the check out to pay for my other items it rung up a different price the cashier Called the manager she called someone to check the price she said the item was I had to buy two to get that price it was not on the on display the manager said are you mad because you did not get the promotional discount unprofessional and very rude to say something like that to a customer this was my first time coming to this target and will be my last

Earlier this week, I was at Target store in Gurnee, and this guy who works there by name Kevin (must be a new guy) spit down as I was walking by and his spit hit my shoe. He glanced where he spit and walked away quickly before I could confront him. I again visited this same gurnee target store later this week and found out his name.

Lisa Frazier
from Virginia Beach, VA
Cartwheel app had a 10%off on an Xbox game. I purchased the game and when I went to check out they said it was not the right version of the game. I read and reread the cartwheel coupon and no where on the coupon does it state any particular version of the game. It only states the name of the game.
When I brought the facts to the cashier and the in store customer service personnel they were dismissive and rude.
Will be sending a copy of this complaint to the BBB and will be spreading the information over every social media avenue at my disposal.
I have been a Target customer for many years and have overlooked many issues I have had in the past. But when I feel a company is trying to cheat me or use dirty tricks in marketing ; that company no longer has my patronage.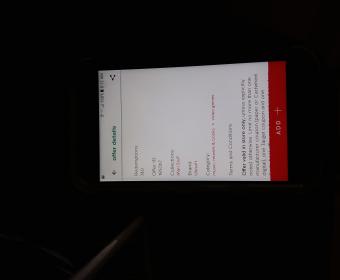 Jennifer Estensen
from Minnetonka, MN
The layout of the new target Ridgedale women's Ware and accessories is the worst in the city! I ran into day to look for a scarf for a birthday gift for a friend, and after asking for staff people came up empty and the ability to find a scarf. No one could find them in their computer, no one could direct me to where they were in a department. Eventually these for very nice people found me a manager who told me that scarves were now scattered here and there a monks the clothing department and they no longer have a scarf area for us to look at and compare and shoes thoughtfully for ourselves or others. I told her I thought that was a poor Choice for shoppers, and that I had no interest in looking through the teen department, the women's department, the children's department to find all the scarves in the store so I can find the perfect one to give us a gift. And she stuck her nose in the air and said well that's not how we do it anymore. I went to Nordstrom. Target has lost my business. The assumption that shoppers have nothing but time sashay around target looking for an accessory here… Or there… or maybe at the other end of the store… and that nobody knows or is able to direct you to the proper place… Ridiculous! And if I can't find it what I want to Nordstrom, or Macys, both of whom have nicely laid out stores, there's always Amazon where I can see everything in one place. Bye-bye target.

Mary giannone
from Portland, OR
I went to the target store in Clackamas Oregon I went to customer service to price match an item that was on sale at Walgreens, first I was told they would only price match one item then I was told they wouldn't even do that because now the Walgreens website said sold out on line but still available in store. When I asked to speak to a manager Brittany identify herself as the manager and said they would not price match. When I said that was not my experience with target and I was going to file a complaint she said go ahead. I am done being treated so poorly at target. This is the second bad customer service I have received from target in the last couple of months. The first at the mall 205 store in Portland Oregon was so bad that I will not shop there again.

Heather Zick
from New Port Richey, FL
Ordered a car seat for a baby shower and due to hurricane Irma, was unable to pick it up on time . Didn't have power or internet for several days. Showed up to get it and was refused the item because it wasn't picked up immediately after delivery. I didn't even know it was there hence the email sent during lack of power/internet. Item was sitting at the customer service desk with our name on it and was told that I had to reorder it. Reordered it and still don't have it. I emailed the CEO and his secretary with my frustration and never got a response. Called customer service again and was told that I would have to wait for it again again that I should have picked it up on time. Was also told that the store can't resale the item despite it sitting in front of me. I have never been treated so bad and feel that they do horrible business! Beware of who you deal with.

Melanie
from Independence, OH
I recently purchased an item online and went to the parma location to return it. The associate was extremely rude and unprofessional, I don't know why they would allow her in customer service when she obviously hates her job and thinks helping people is a burden. I wanted to return an item and was greated by a sigh and an eye roll and told that I'm giving information on how to return things online so they don't have to at the store. The item I was returning was the wrong size and was not sold I'm store for me to exchange. When I asked her if she could assist me in helping me reorder it online it was the end of the world for her. She said she had no way of doing that and I was on my own and it was my fault for not getting the right size in the first place. When I asked for a !manager she was just as rude and looked at me like how dare I waste her time with this issue and started laughing with the associate as I was walking away and calling me ignorant. Again how is someone like that a manager. Also any other store I go to they have kiosk for customers to order items in the store. How are people without computers or smart phones expected to order your products online. That is really discrimination. I ended up going to another target to return the item and bought it at kmarf because the associates were able to order an online item off the register for me without me having to put my credit card information online. I am truly disgusted with your company and will have a hard time every stepping foot in your store again. I was a loyal customer spending $400+ a month on average there but cannot continue to go somewhere I was treated like this.

Nora Lima
from Rocklin, CA
I went to the Target store today in Auburn California to shop with my WIC checks. I got every single item from the WIC allowed labels from the store. When I was checking out, one of the items I got rang that was not "WICable". I was beyond surprised because I saw that the item had the WIC sign underneath it, it had exactly the same amount allowed by my checks. So, the cashier called someone to help. Meanwhile, she rang another item that was also denied by the WIC program. So, at that point I had 4 people at my cashier trying to figure it out what was going on. This lady Denise had someone over there to check if I was lying or not, and the guy that went there to make sure I wasn't lying told her that there was no WIC sign on the items I've got. I knew I wasn't lying, and went there myself. I met the guy at the aisle I got the items from and he talks on the phone with Denise, "yeah, there is a WIC sign in here, it shouldn't have any problems, I don't know whats going on. Im sorry I really didn't see it". Im sorry but I don't believe he didn't see that. Anyway, as I come back, there were two other costumers being checked out by my cashier while my items were there. I was already extremely embarrassed that those people were being part of that whole mess that I didn't even ask to be part of.They couldn't even bother to have my cashier on hold while the problem they caused was being solve. As I pack my items which I did in a hurry, I just wanted to leave there, I got one of the items that wasn't checked out so the cashier grabs it from my kart and said that wasn't checked, all that with two people behind me watching the whole thing. Denise didn't offer to change the items, instead she was still denying the fact they made a mistake and refuse to apologize, all I wanted to do was leave that store ASAP. I decided to comeback to get their names to file a proper complaint, to my surprise, I find out that Denise wasn't that manager, and the store manager watched the whole thing and didn't stepped in to make it right. So, I tell him about what happened, he said he knew it but he was ready to leave and put the blame on me saying I probably got the wrong item thats why it wasn't accepted. Denise comes in and AGAIN tells to my face there wasn't any WIC LABEL ON the products I had and leaves. The manager which I beLive is called Andrew I am not quite sure, said he was sorry he didn't meet my standards that night, because according to him, everyone has a different standard (I am still trying to figure out what he meant by that) As I turn around to leave I noticed that a costumer was recoding the whole thing on her phone, to make things even more embarrassing. So, just like that I had the worst shopping experience of my life. At Target Auburn, CA.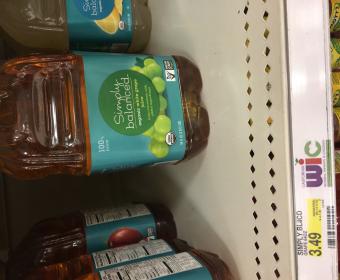 The holiday commercials with the little girl and the target dog are airing like crazy this time of year. Where in the world did you find this girl? She had to be one of the most annoying children I've seen in ages. Those giant teeth! I'm sorry but thumbs down on this holiday campaign. She's too annoying to watch.

Patty Olson
from Portland, OR
I applied for a red credit card today 11/28 around 12:30 am. I was approved, with a confirmation number. I reviewed a credit card # as I was going to purchase some Christmas items online Cyber Monday. This afternoon when I went to make the purchases I was unable to. I had a notice there was technical difficulties and I would receive a response in 2 weeks. I have attached both emails.
This has me very very upset. I had my hopes up and then you blew them up. That is very very unkind of you to do this.
I went ahead an purchased the one item on my MasterCard as my grandson had his heart set on it for Christmas. The other items I will purchase elsewhere. I do love your store but will refrain from shopping there unless absolutely necessary. I am not upset if my application was denied. I am upset that you approved my application and then took it away. Shame on you.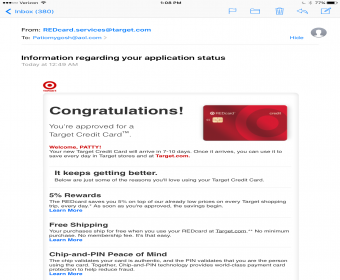 Carianne
from Redlands, CA
Please be careful with Targets delivery promises. I ordered Christmas lights from them yesterday for store pick up the same day and waited all day for the lights to come in. I called the online orders this morning who told me that it was the stores fault and the store said it was distributions fault because they could not handle all the orders. They said they will try to fill the order in the next 24 hours even though their website still says I can pick up the items today and even gives me an aisle number in the store. I asked to speak to a Supervisor who also is not available for 24 hours.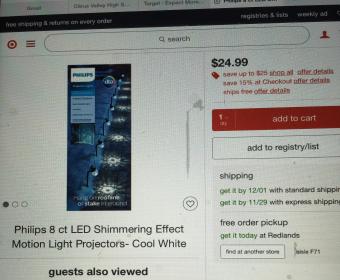 Have feedback for Target?
Thanks for your feedback!
Sorry. Please try again later!